50 years ago, Zenith made watch history. On January 10th, 1969, it introduced the first chronograph with an automatic movement, in the form of the 'El Primero'. It was a tough race between a few Swiss watch brands, and Zenith was only just ahead in the end. At that time, now-CEO of the traditional manufacture, Julien Tornare, was not even born – nevertheless, he is driven by the same innovative spirit of that time, and has been getting things moving again at the 154-year old maison, which (shortly after its great success of El Primero) became a victim of the quartz crisis. Tornare believes in less retailers and a reduction of product availability, but also believes in sharing more content. Above all, he believes in making the brand more dynamic and innovative, because in his opinion, the watch industry occasionally starts to repeat itself.
On the occasion of the 50th anniversary, we met Tornare for lunch by the idyllic lakeside of Neuchâtel. We talked to him about his return to Switzerland, his passion for wine, the great potential of Zenith, why in the past he did not always listen to his boss, and why this resulted in a life-changing call from Jean-Claude Biver.
1. What does a mechanical watch mean to you, which watch are you wearing today and which one do you wear the most?
---
A mechanical watch for me is an object that is alive. You have, in a metaphorical way, a heartbeat – something that you don't have in a smartwatch or your iPhone. It is one of the very few objects that you rewind with your own energy to make it run. A mechanical watch is also quite unique in the way that it stirs emotion. For example, whenever I show my kids a mechanical watch, they are fascinated and start playing with it. And let's not forget, a mechanical watch is related to time. Time is something very important and abstract in our lives; time sometimes goes fast, sometimes slow, and we don't know how much time we have left in our life. So, watches measure something that is always there, everywhere around the globe.
Today I am wearing the DEFY Inventor. I change watches once in a while depending on my activities. In my position as CEO at Zenith, I only wear Zenith timepieces of course, but nevertheless I do have some other watches that are kept in the safe. For the DEFY Inventor in particular, I like the innovative spirit. I strongly believe that Zenith, and also the whole watch industry, must remain dynamic and innovative, because sometimes in history, the watch industry has been known to start to repeating itself.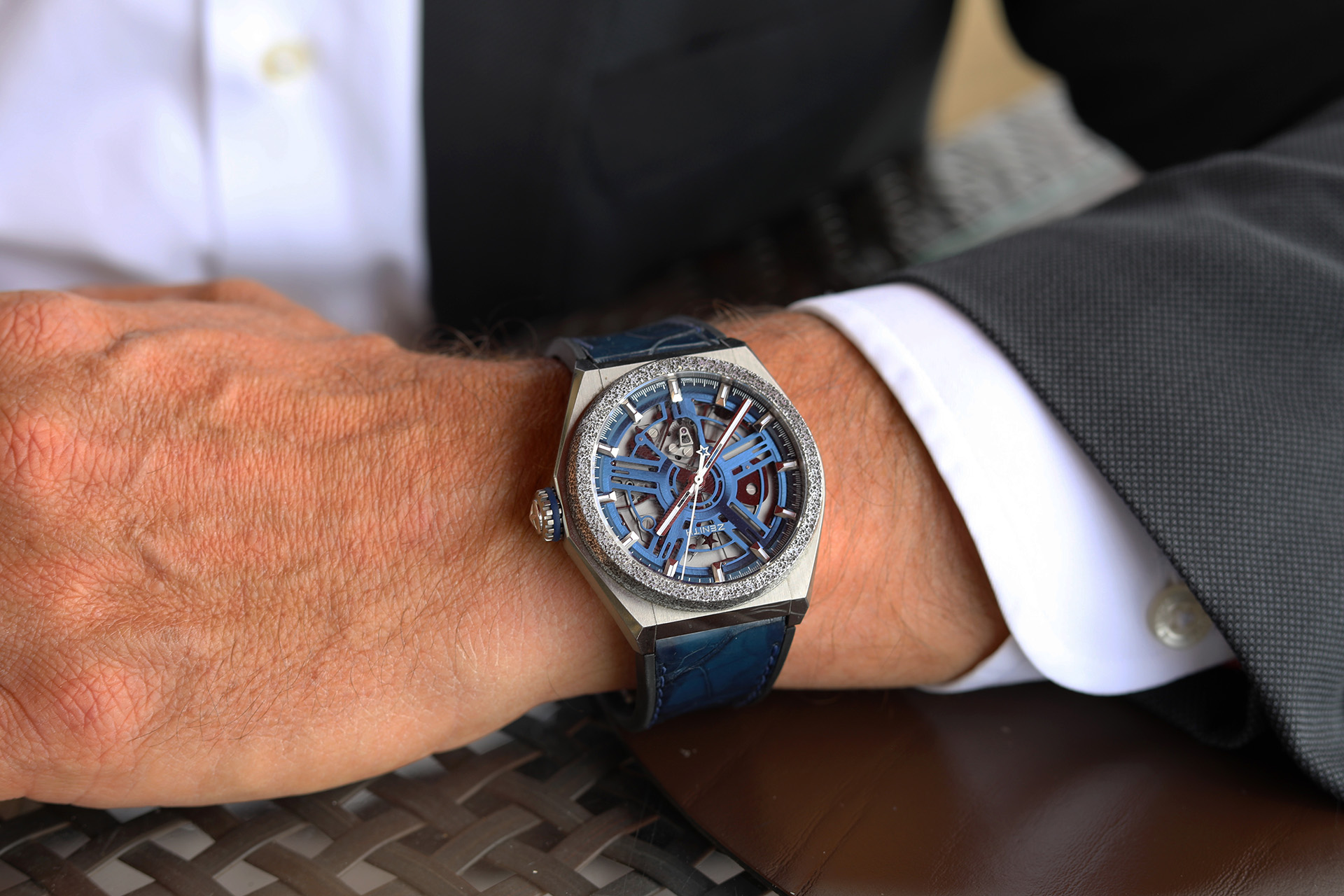 Zenith Defy Inventor
2. Are you happy to be back home after such a long period abroad?
---
Yes, I was raised in Switzerland, so it's my home country. But I am also very lucky to have spent all of those years abroad because it has opened up my mind so much. I spent five years in the US, and almost seven years in Asia. You know, Switzerland is a small country and if you always live here you might become a little narrow-minded. But it's nice to be back to see my children grow up and connect with my parents who are getting older.
– The manufacture is based in Le Locle in the Swiss Jura, where some great wines are produced. Are you personally a fan of Swiss wines? It is, after all, a local craft.
Wine has actually become one of my passions. I really got into it around 12 years ago and started reading books and taking wine tasting courses. I mostly bought French wine in the beginning, then Italian followed by wine from the New World – but rarely Swiss wine. At the beginning, I simply knew that some were good with Swiss fondue. But now, since I am back in Switzerland, I have started to drink Swiss wines, mainly reds, and they have improved a lot. I can personally highly recommend the Shiraz from the Swiss canton of Valais.
3. Why was Zenith stuck in a crisis for so many years?
---
First of all, I think that Zenith is such a beautiful brand with a history of 154 years, which was one of the reasons that I came on board. Zenith has all of the key elements of a true manufacturer. Zenith is probably one of the last five or six brands to equip all of its watches with its own movements.
But to answer your question, it has been lacking a bit in clarity in terms of who we are, and in terms of the style of the watches. The brand went in too many different directions, and my first intention in entering was to bring stability to the management, the team, the product lines and their design. Zenith is a brand with a strong manufacturing heritage, and few people are really aware of that. Luckily, people today have much more access to information, which helps us to tell our unique story.
4. Why do you think Jean-Claude Biver chose you to take over at the helm of Zenith?
---
I will tell you a true story. When I was working at my previous job in America, I had already met Mr. Biver a couple of times. He saw that I was a bit frustrated, because I believed that the marketing methods implemented by the headquarters for this brand were not exactly ideal for the US market. I decided to not always listen to my boss and his marketing director, and to do activities locally, which would help the brand in America.
In their opinion, I disrespected the guidelines. But Mr. Biver liked that I adapted to the market. Then, three years ago, while I was working in Singapore, I received a call from someone in the industry who told me that things at Zenith were changing and Mr. Biver would like to talk to me. Twenty minutes later my phone rings and it was him. He told me everything about his new strategy for Zenith and asked me what I thought about the brand. I was totally honest with him. He seemed to appreciate that, and asked me to come to Switzerland to meet him.
Eight days later we met, and we had a great long discussion about Zenith. He liked the fact that I had some market knowledge, and that I am very hands-on and client orientated. Also, Mr. Biver and I shared the same vision for the Asian market, on how the shift of generations will affect buying behaviour in the future. We got along very well, very quickly. He told me once that he hired me due to my people skills. I asked him what he meant, and he said: "You are simple, you are accessible, and you like people." I think what he meant is that for the most part, it's emotions and relationships that leads to people buying watches.
– What promise did you give Jean-Claude Biver when you took over as CEO in 2017?
He said from the beginning that it would not be an easy task. I told him that I would give 200 percent of myself to this job. I also said that I completely believe in the potential of the brand. The minute I stop believing, I will leave.
5. You were asked to present a new strategy within the first eight weeks of your inauguration. What were your main plans?
---
First of all, I collected all of the information I could get on Zenith and wrote up a plan about what was happening at that very moment, about the weaknesses, the first improvements, the quick wins I should put into place, and the more long-term objectives. But when I went to the board at LVMH to present my ideas, I also asked them for more time, and they agreed. After six months, once I had gotten to know the brand in greater detail, I came back with an advanced version. My fundamental strategy was to keep the brand authentic and use its history to improve our brand image. One of my very first steps was to improve the motivation among the employees. There had been a lot of changes over the years, and I needed to show them that I was here for the long haul, and was bringing them stability.
– How much of it were you able to implement by today?
If I look at the plan that I wrote three years ago, in terms of the numbers, we have improved on between 15-20% of the objectives that we had. We completely changed our visual merchandising, the displays, the corners, the boutique concepts and strategies. We have reduced the distribution drastically from 841 to 600. This was a step the brand had to take, because we had too many retailers doing too little business. My aim was to have fewer retailers doing more business so the single retailer becomes more important. Hence, we get more space and can raise our visibility. My aim is to go down even further to 500.
We have also reduced the number of references. We had 178 different references three years ago and even 800 ten years ago. Now we are close to 100 references, which is a very clear and approachable number. Furthermore, we are finally starting to get things in place in terms of e-commerce. Three years ago, the website was not even accessible on mobile devices.
6. Before your time at Zenith in 2017, the brand was basically non-existent on the Asian market. Did that change due to your long-term relationships in this market?
---
Yes. We were already strong in Japan, where our weakness in terms of desirability and visibility was widely compensated for by the fact that the Japanese go so much into technique and valued our movements, especially from the El Primero. To develop the brand in China, we took a celebrity called Eason Chan, a fantastic singer from Hong Kong, to help with brand awareness. A celebrity is an awareness accelerator. So, the first step was to make the people aware of the brand, and the second step is having good content – which we have. You must know that we are catching up 12-15 years, which is how far behind we are in China. Recently, I had dinner with fifty collectors who own five to twenty Zenith watches, and they didn't know anything about the story of when Charles Vermot hid the El Primero movements during the quartz crisis to preserve the history of the brand. They were completely thrilled.
7. Let's take a step back… In the 1960s, several brands were rivals for the introduction of the first automatic chronograph movement. What made Zenith the winner of this competition?
---
It was a race between a few brands and there was a lot of tough competition. But no one was going for an automatic chronograph running at high frequency because they didn't believe it was possible. Eight gentlemen developed and produced the El Primero, and they had exactly the same spirit as we do today; to show the world that we are very creative and always push the limits in being inventive. In the end, they were the fastest to produce this movement and managed to commercialize this in a watch. Hence the name 'El Primero'.
8. Vacheron Constantin, where you worked for 17 years, and Zenith are two brands with a very long tradition. Generally, it seems that Zenith is more open-minded in its technical innovation, new colours and materials. What is the reason for this?
---
After talking to some historians and reading many books about Zenith, I found out that this innovative spirit has always been part of the brand's DNA. It all started with Georges Favre-Jacot, who gathered all of the crafts under the same roof. He was only 22 years old and crazy innovative for his time. Many traditional brands are afraid that if they change anything, they will not respect the past. They don't want to take too many risks. But I think respecting the past is to take the history and create something new with it, instead of repeating what they did.
Imagine that I were to tell the guys who made the 'El Primero' 50 years ago that I would produce the same movement again – they would not feel very impressed. That's because 50 years ago, it was incredibly difficult to produce this movement, and today, it is no longer a challenge with all of the computer assistance and high tech, so it would not be innovative. That is probably the difference between Zenith and some of the other traditional brands.
9. In 2017, you surprised the industry with a new mechanical movement without a traditional balance, the calibre ZO 342, which debuted in the DEFY Lab. What's so special about the new regulating organ named the ZENITH oscillator?
---
The oscillator developed and patented by the Zenith manufacture replaces the traditional sprung balance used for more than three centuries. This major innovation for the industry offers several benefits: this includes increased reliability, as this unique ultra-thin element (0.5 mm) replaces some 30 components in a standard regulating organ, promoting stability by eliminating contact, friction, wear and deformation. Like its predecessor, the DEFY Inventor combines superlative technical performance with modern aesthetics, a sophisticated openworked construction and unprecedented materials such as superlight Aeronith that is three times lighter than titanium, while asserting a unique modern style. Doubtless most importantly of all, the new version of the ZENITH oscillator operates at the high frequency of 18 Hz (129,600 vph).
10. The next generation of the Defy, called 'Inventor', costs almost 18,000 euros. The watch is not very complicated and is not even a chronograph. Why should your customers spend so much money for a watch that only displays the time?
---
When you develop a new watch, you have to consider two things in terms of pricing: the cost of the production of the watch and the level of expectation of the clients. It is always difficult to find the right balance. For this one you are right, it is not highly complicated. But we are bringing such strong innovation, replacing the whole regulating organ, which people appreciate if they understand it. And on top of that, people really like that it is different. It's not a minute repeater, it is not a tourbillon, there isn't even a balance wheel, so people start becoming curious. Besides the technical aspect, the DEFY Inventor is also visually appealing. And you must not forget that developing this mechanism has taken a lot of time and has been expensive. We are the only ones who have this.
11. This year you introduced the Defy El Primero Double Tourbillon Chronograph, which can time 1/100 of a second. TAG Heuer, also belonging to the LVMH Group, has launched a similar complication before. Are you not afraid that it might harm the independent brands' identity in the long term by having a corporate research- and developing-division where all innovations emerge from?
---
Absolutely not. Sharing of resources on a group scale creates intelligent synergies, while respecting the individual identities and autonomy of our various maisons. The combined strength of the LVMH Group is leveraged to benefit each individual maison and gives us access to economies of scale that we could never otherwise have and which also free us up to focus on other unique elements of our brand.
12. In your view, in what direction is the watch industry moving?
---
We like to say that we are designing the future of Swiss watchmaking. But basically, the future of watchmaking is dependent on innovation. That being said, Zenith, along with the rest of the watch industry, must develop its growth with new strategies in new markets with a new generation of customers– but nonetheless respect its own more than century and a half history.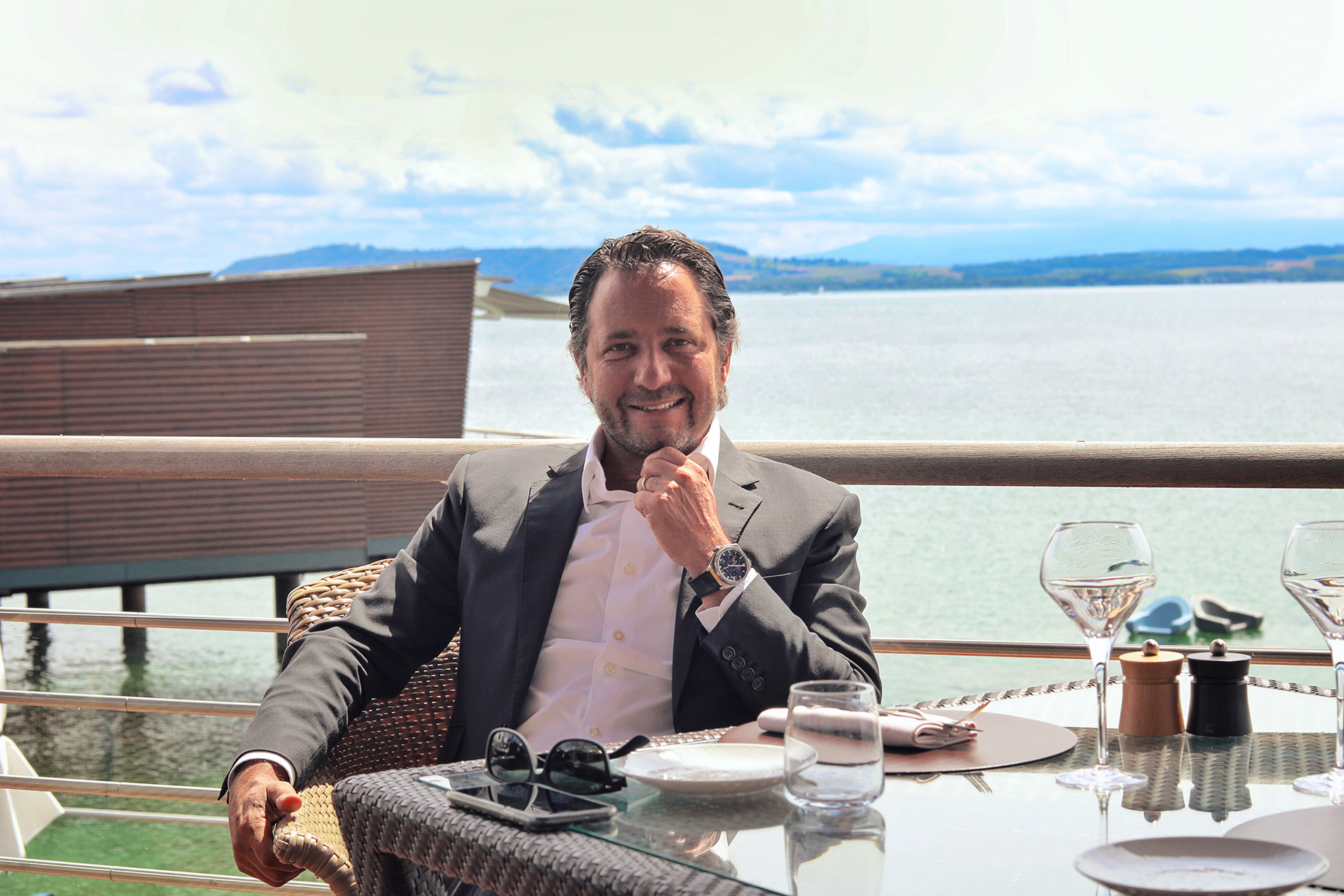 Zenith CEO: Julien Tornare (left)
Zenith Defy Inventor (right)