What makes the young Swiss brand and its new chrono so special?
It was almost two years ago that I first stumbled across NORQAIN watches, while skiing in Switzerland – whether on posters in the winter sports resort, or on the advertising windows of the ski lifts. Since then, however, particularly as a close observer of the watch industry, it can be said that one often thinks too narrow-mindedly, and unfortunately tends to leave little room for the unknown, in favour of traditional brands.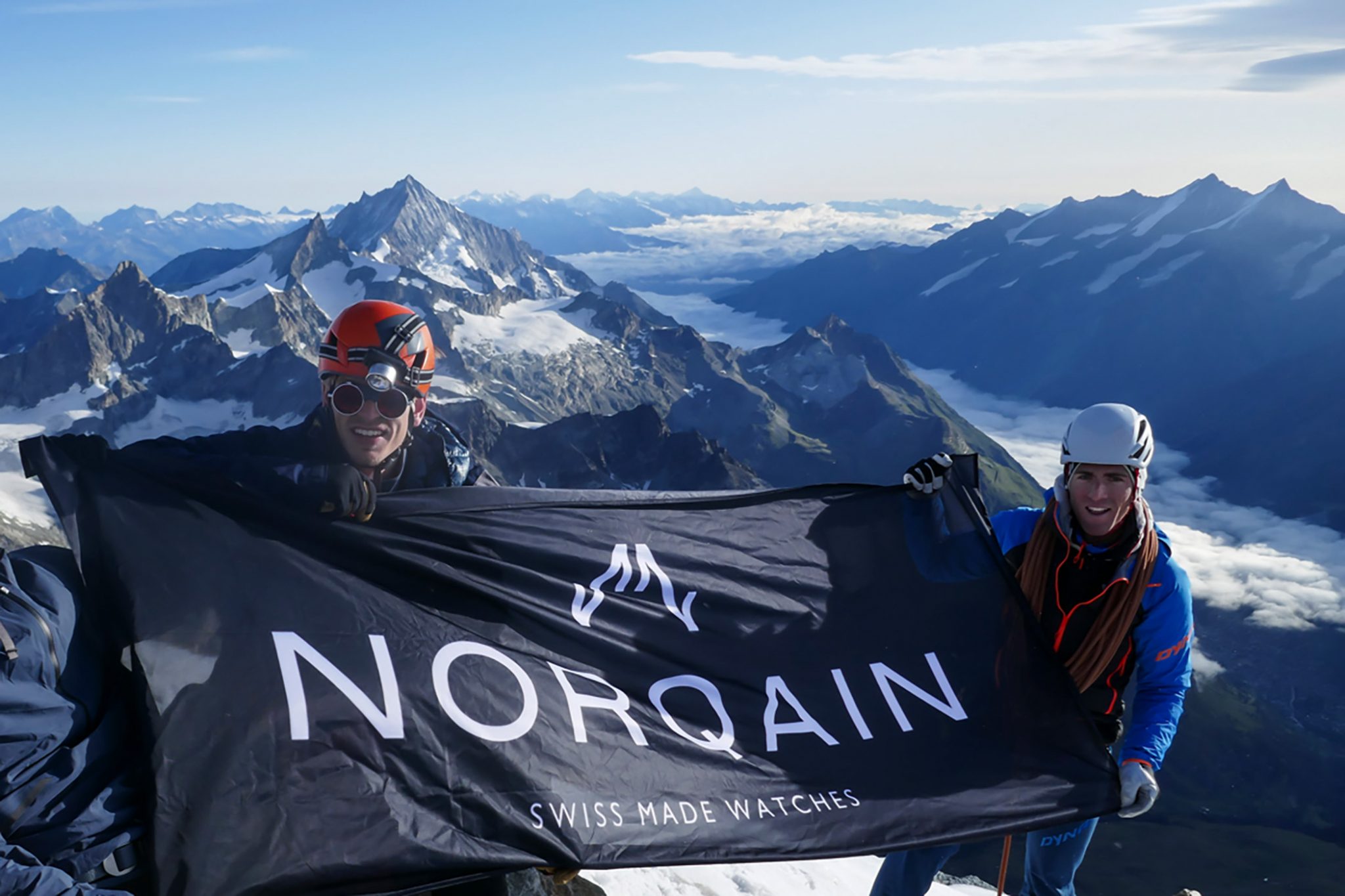 With this in mind, the NORQAIN timepieces quickly fell into oblivion for me as well – wrongly so, as I was able to learn when we became curious about the launch of a pretty cool new limited edition model and wanted to take a closer look at the young brand from Nidau (near Biel/Bienne). During our conversation with founder and CEO Ben Küffer, we discovered an up-and-coming young company, which reminded us not to stifle our curiosity for new brands with closed-minded bias and the comfort of what we already know.
The Brand
At only 32 years old, Ben Küffer has already seen a lot in his life. Before founding the new brand, he was with Breitling for eleven years – before that, he even was a professional footballer. He has had a close relationship with Breitling since childhood due to family connections – his father Marc Küffer is a long-standing friend of Théodore Schneider, whose father Ernest Schneider in turn owned Breitling for almost 40 years.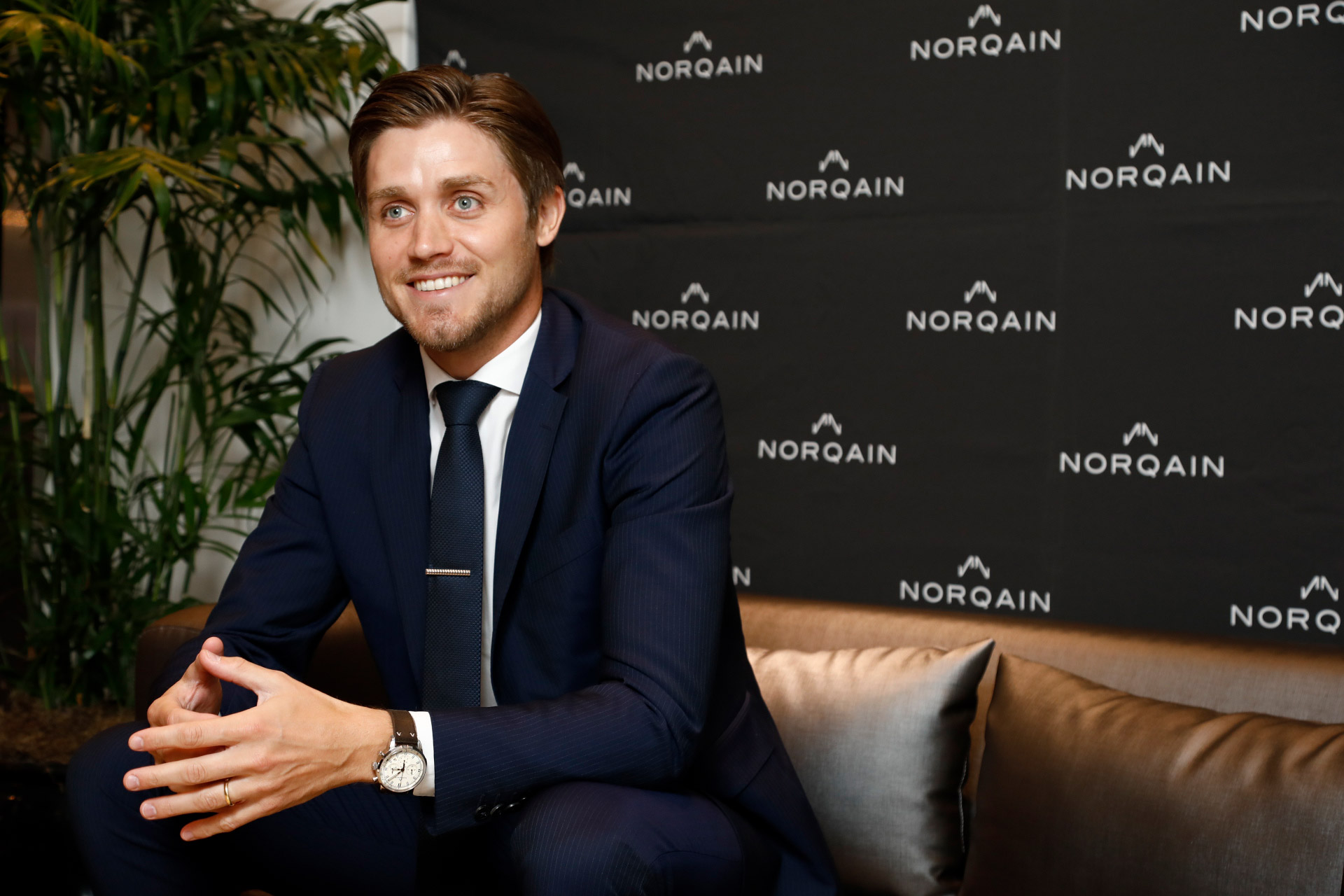 NORQAIN CEO Ben Küffer
Küffer in the end witnessed the transformation of a company that had long been managed by the owners under the Schneider family, before undergoing a major strategic transformation in 2017 when it was sold to the British private equity firm CVC. He quit his job at Breitling the same time when the company was sold, however agreed to help build up the Asian market under the new CEO Georges Kern until December of that same year. During this phase, he became aware that there were fewer and fewer family-run companies in the Swiss watch industry. This, in turn, encouraged Küffer to realise his vision of creating his own independent brand.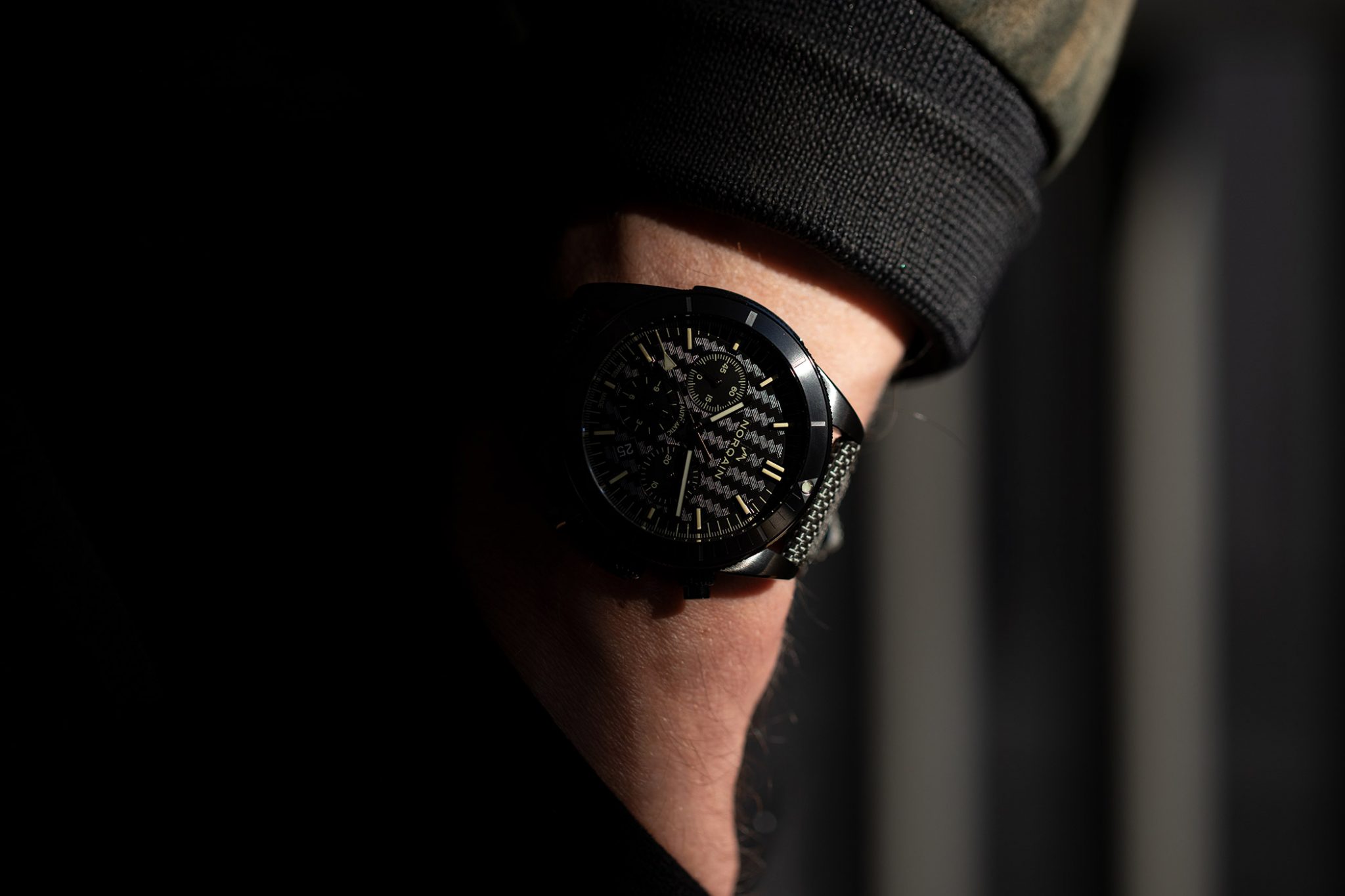 Adventure Sport
Initially, though, it was not so much a "vision" that he was soon to establish with two friends as a brand. Küffer's long-time companions Ted Schneider (son of former Breitling owner Théodore Schneider) and Mark Streit, a Swiss ice hockey legend, were brought aboard by Küffer and were immediately taken with his idea. As far as we can see, NORQAIN is not a naive start-up concept with fast growth targets and maximum value enhancement for a foreseeable exit, but rather a sustainable and – above all – independent company.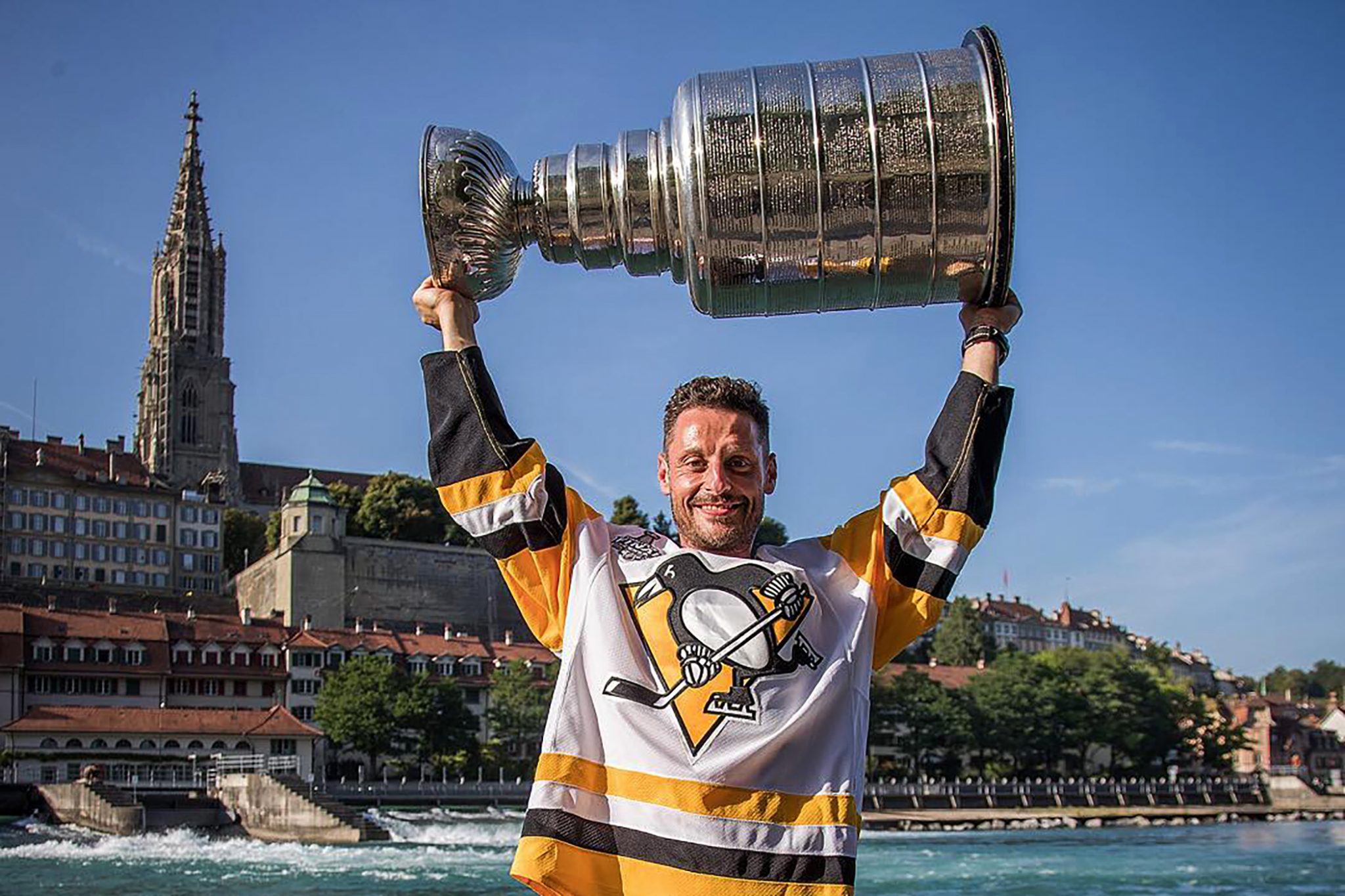 Mark Streit, a Swiss ice hockey legend
Just as fate likes to toy with us, a torn ligament, of all things, was what propelled Küffer into founding of the brand. Küffer initially sought his fortune as a footballer in the Swiss regional league. His grandfather and father had already become Swiss champions ­­– but at the age of 18, he doubted that his talent on the pitch would be enough for a professional career – and thus, he turned his attention to watches. Incidentally, his father Marc Küffer also entered the watch business after his football career, and now has over 45 years of experience in the manufacture of Swiss luxury watches. He is now the Chairman of the Board of Directors of NORQAIN and supports his son in the business.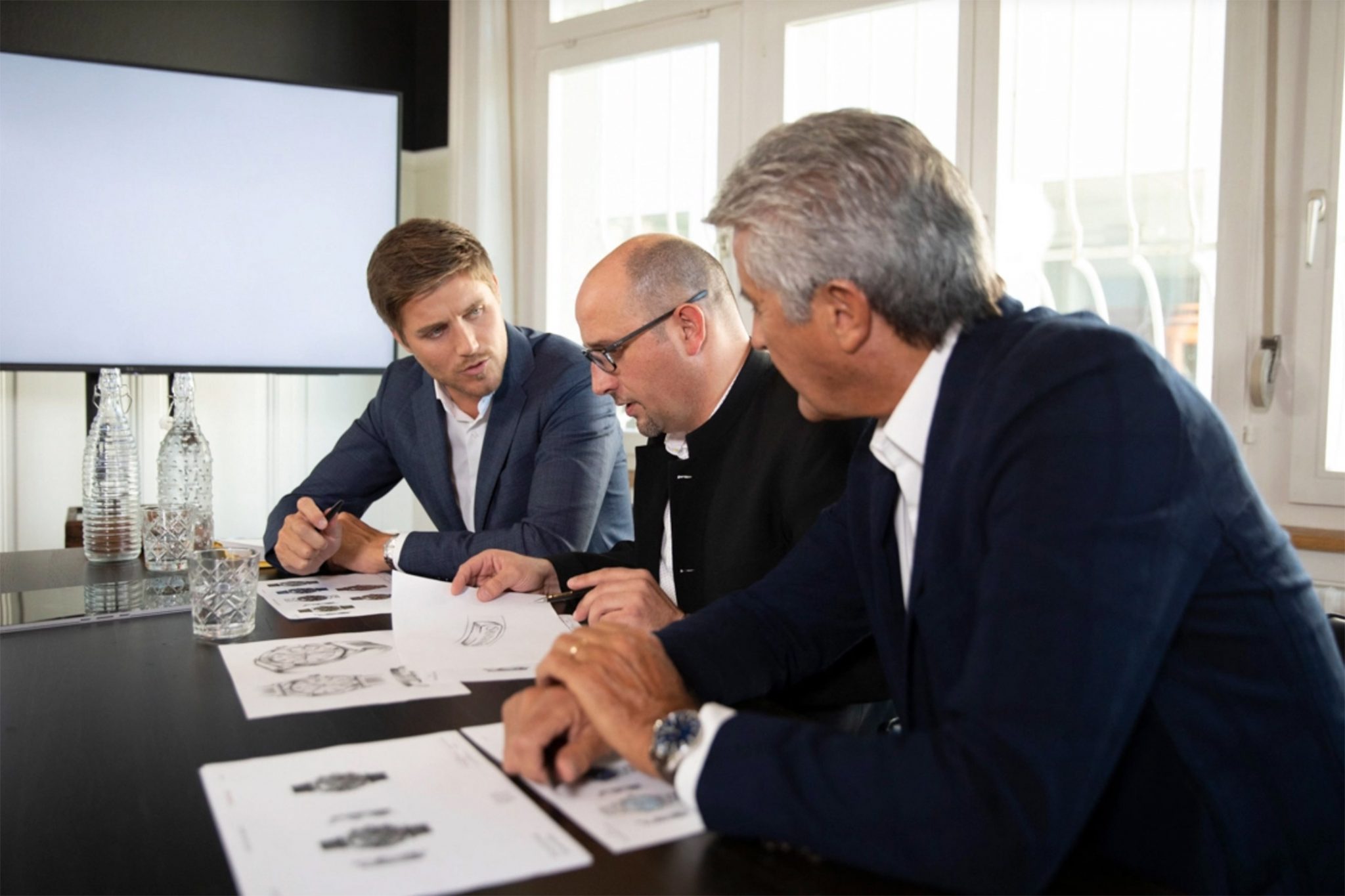 Ben Küffer with his father Marc Küffer (on the right)
Küffer was originally supposed to continue working for Breitling until December – however, the cruciate ligament rupture forced him to leave the operative business. However, it did allow him a little more time to push ahead with creating the new brand. As a result, the company was already able to be founded by the beginning of 2018.
Why NORQAIN?
It was important for Ben Küffer and his two partners to tell their own story. In their search for a suitable brand name, they wrote down their values and ideas on a piece of paper. At some point, the word NORQAIN emerged from every letter that stands for a certain value: New, Open, Rebellious, Quality Time, Adventure, Independence, Niche. Why in this order of all things, we do not know, but the name seems to hold what it is supposed to express. The letters "N" next to each other in the logo symbolize a mountain top, inspired by the Swiss Alps.

There are three core collections: Adventure, Freedom and Independence. Adventure embodies the sporty collection, while Freedom watches bring a touch of vintage. The Independence watches are, as the name suggests, quite unique in design and aesthetics and are always limited editions. We always ask ourselves: what would happen if the brand's logo was taken away? What are the details by which you can still recognize a brand or a model?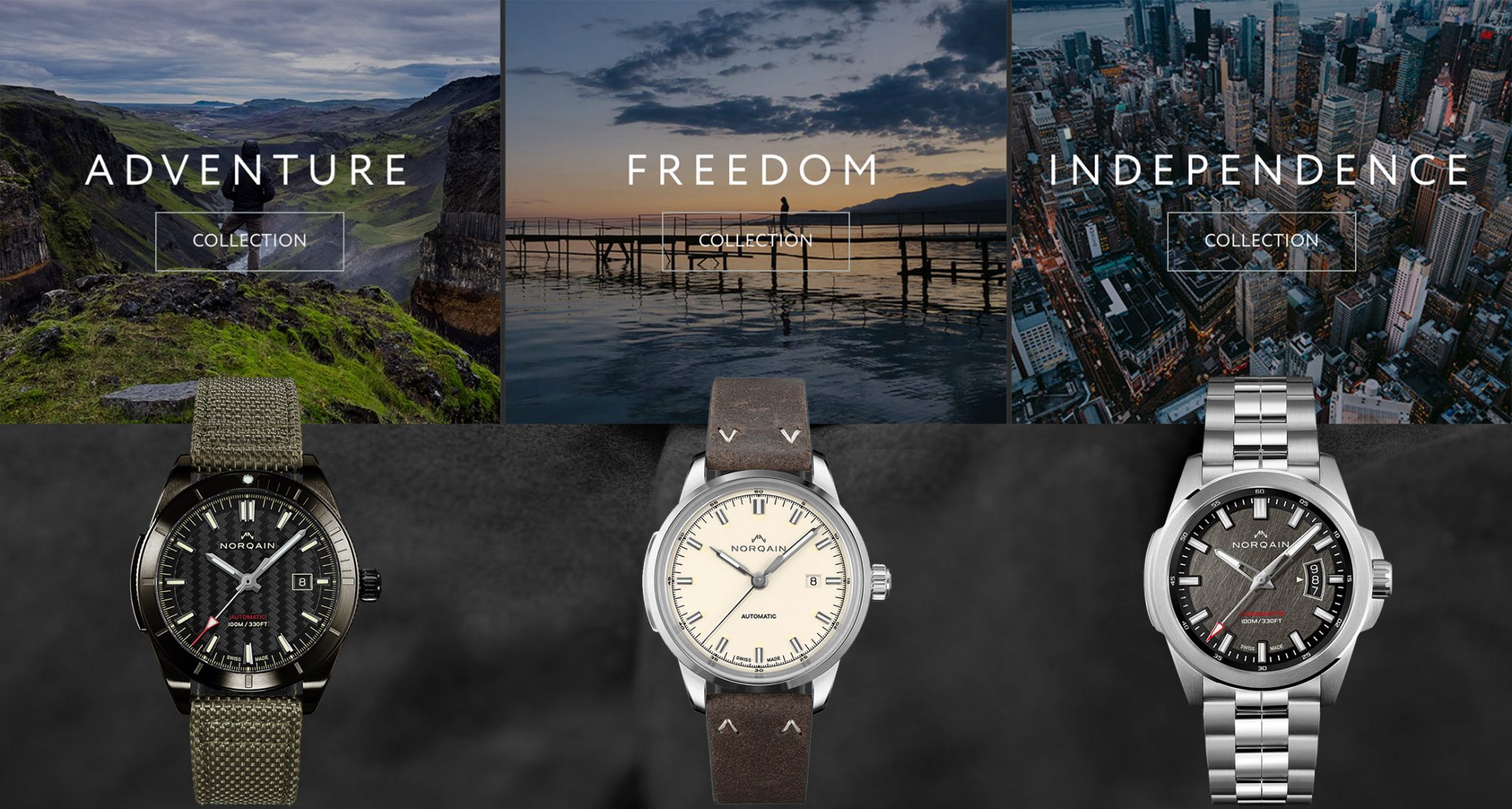 At NORQAIN there are a few interesting features, first of all the striking "NORQAIN pattern" on the dial of all models in the Adventure line. It reminds a little bit of a graphic repeat as it's called in the fashion or design industry – but at least in this form, it is unique in the watch industry. The stainless-steel bezel has a high-quality ceramic ring.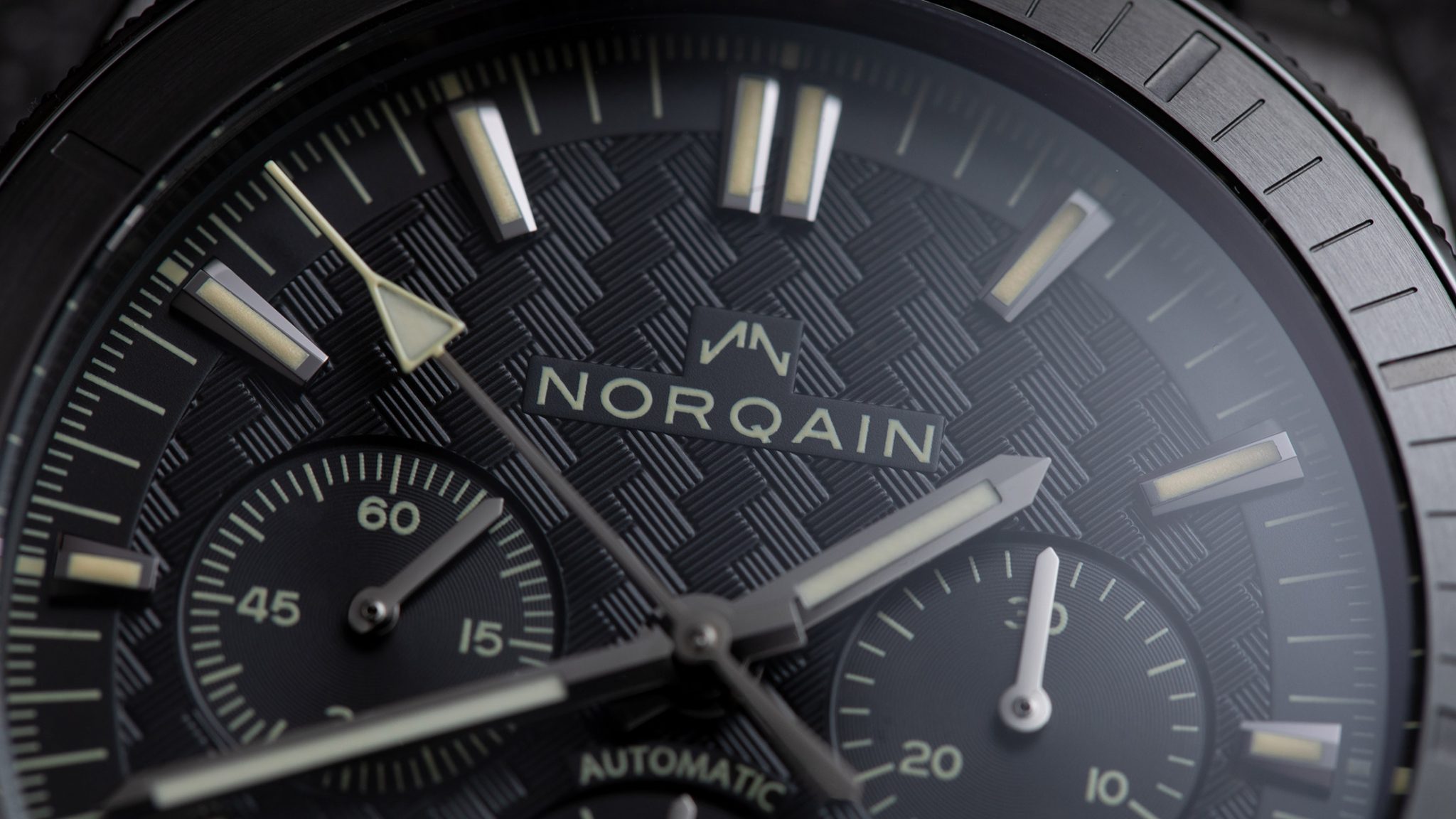 NORQAIN also offers a stainless-steel bracelet, rubber, or a "Nordura" textile bracelet. The Adventure Chrono is even available with a Kevlar bracelet, which is almost reminiscent of the indestructible tool watches of extreme mountaineers. The strap has a so-called RECCO reflector incorporated, which is a chip that can send a helpful signal in an emergency.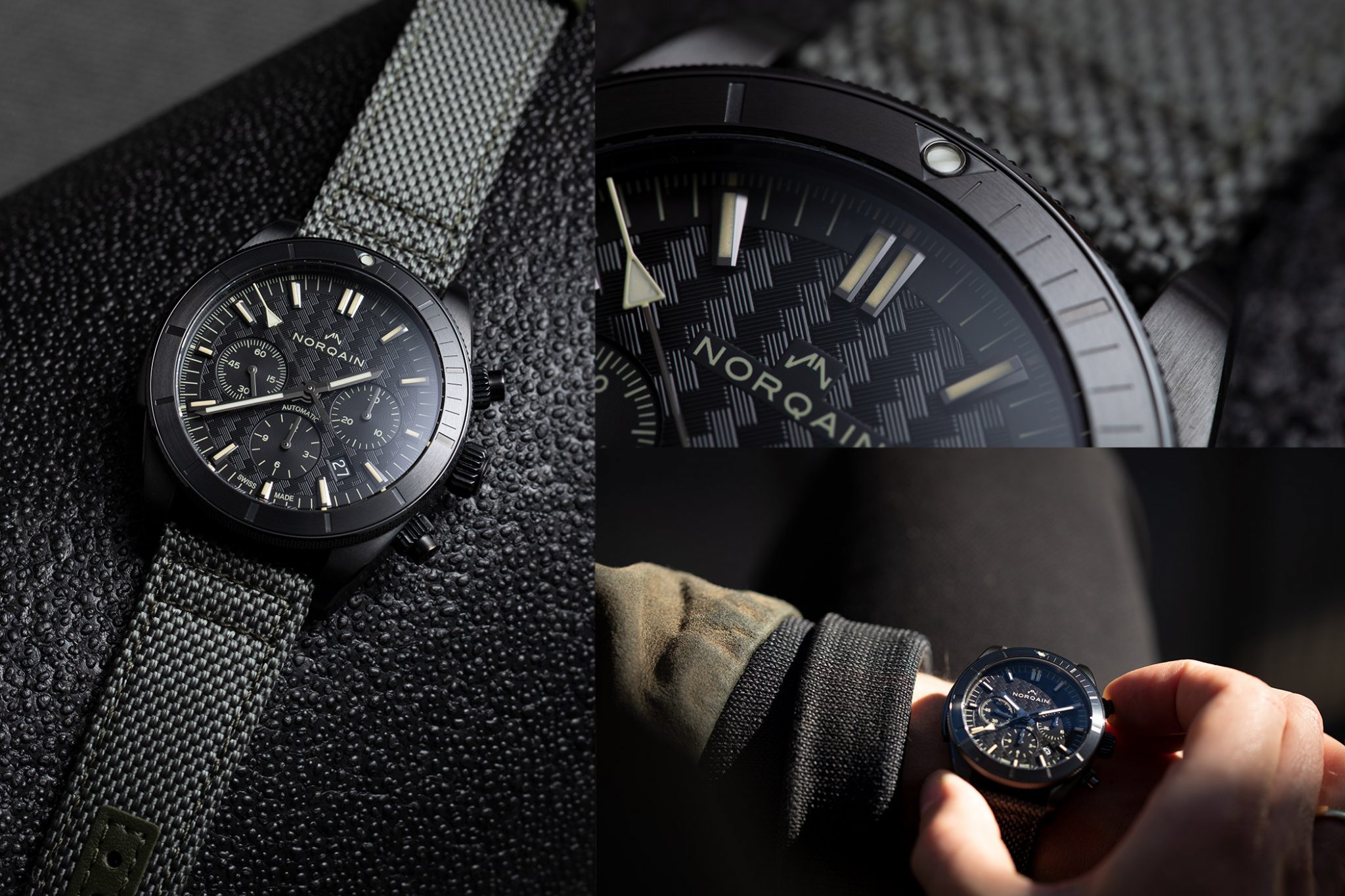 On the Freedom models, the unusual seams on the leather strap are called "NORQAIN stitches" and they are – as can be found in the logo ­– inspired by mountain peaks. To emphasise the watches' vintage character, the dials are domed, while the hands and indices are coated with Old Radium SuperLumiNova luminous material. In addition, the indices are neatly applied by hand.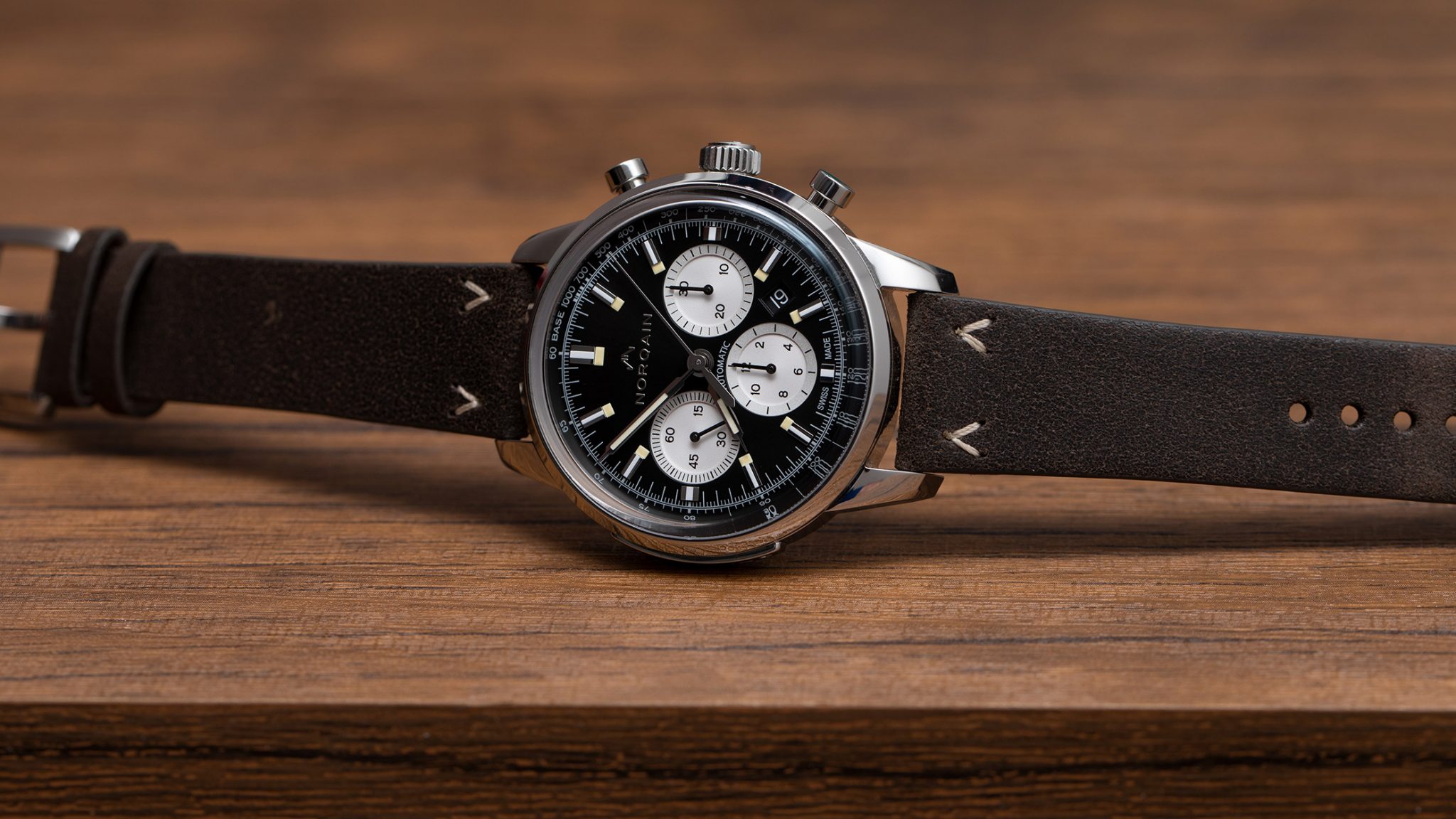 Freedom 60 Chrono
A feature that certainly distinguishes NORQAIN watches from other brands and their watches is the so-called "NORQAIN Plate". This is a small plaque on the left side of the case of each watch, which can be personalized with an engraving. Depending on the model, it is worked into the case in either an eye-catching or subtle manner. An engraving is a matter of taste, but the badge itself is a very successful case feature.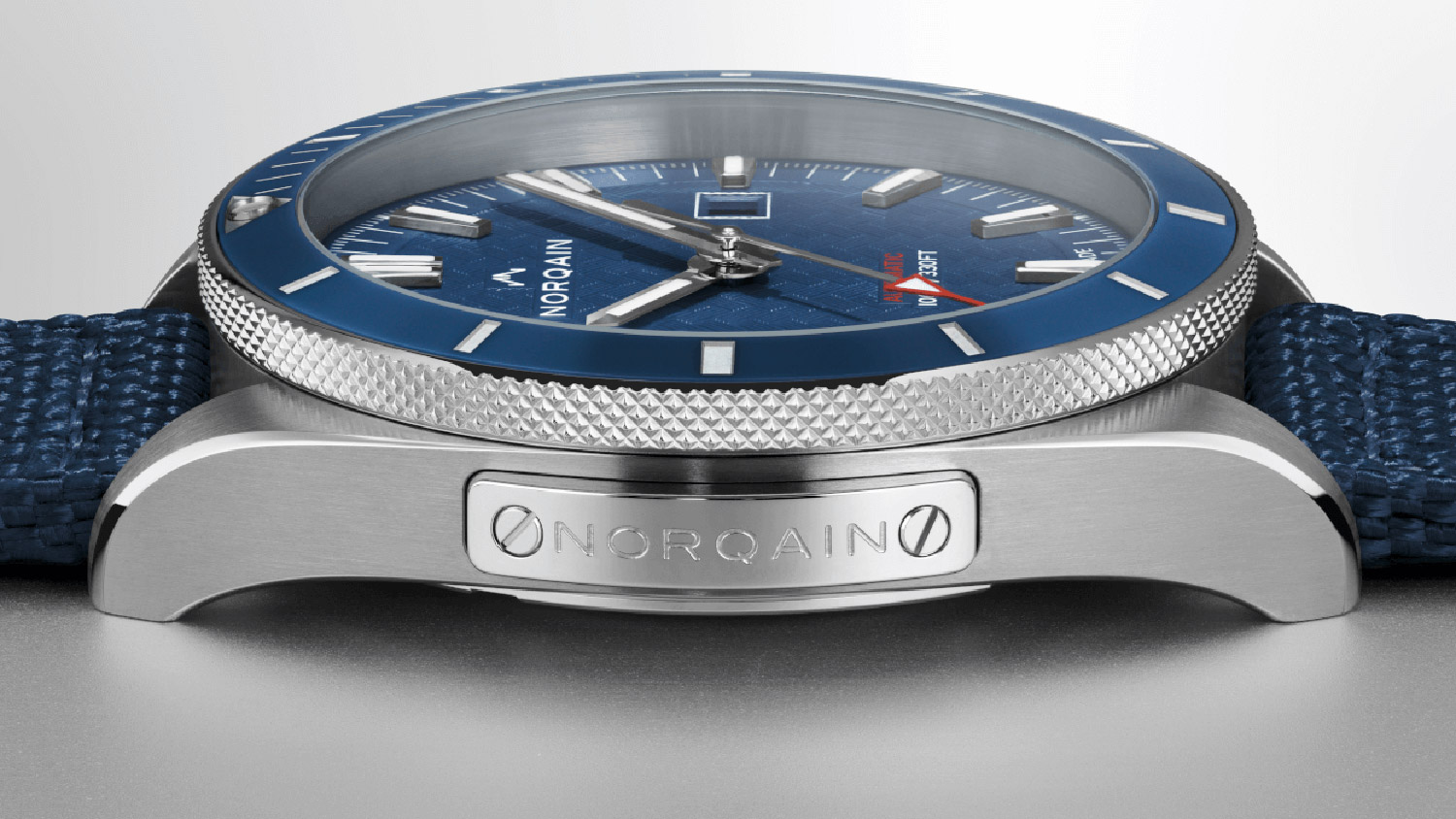 Adventure Sport with NORQAIN-Plate
It's also nice to see that NORQAIN doesn't compromise on the quality of its watches. Material-wise, they mainly use 316L stainless steel, 18-carat gold and ceramic. The date discs are specially made for NORQAIN depending on the model and version. In addition, all models are water-resistant to 100 meters. For all this, the prices are very moderate, which is not least due to a well-thought-out distribution system – but more about that later.
What's inside the watches?
NORQAIN uses either ETA (7753, 2824) or Sellita (SW 200-1) movements for its watches. These are robust movements and are pretty common in the industry. NORQAIN deliberately refrains from using quartz movements and is therefore one of the few Swiss watch brands that offers exclusively mechanical watches. The movements are assembled by hand and are fitted with a personalized NORQAIN oscillating weight.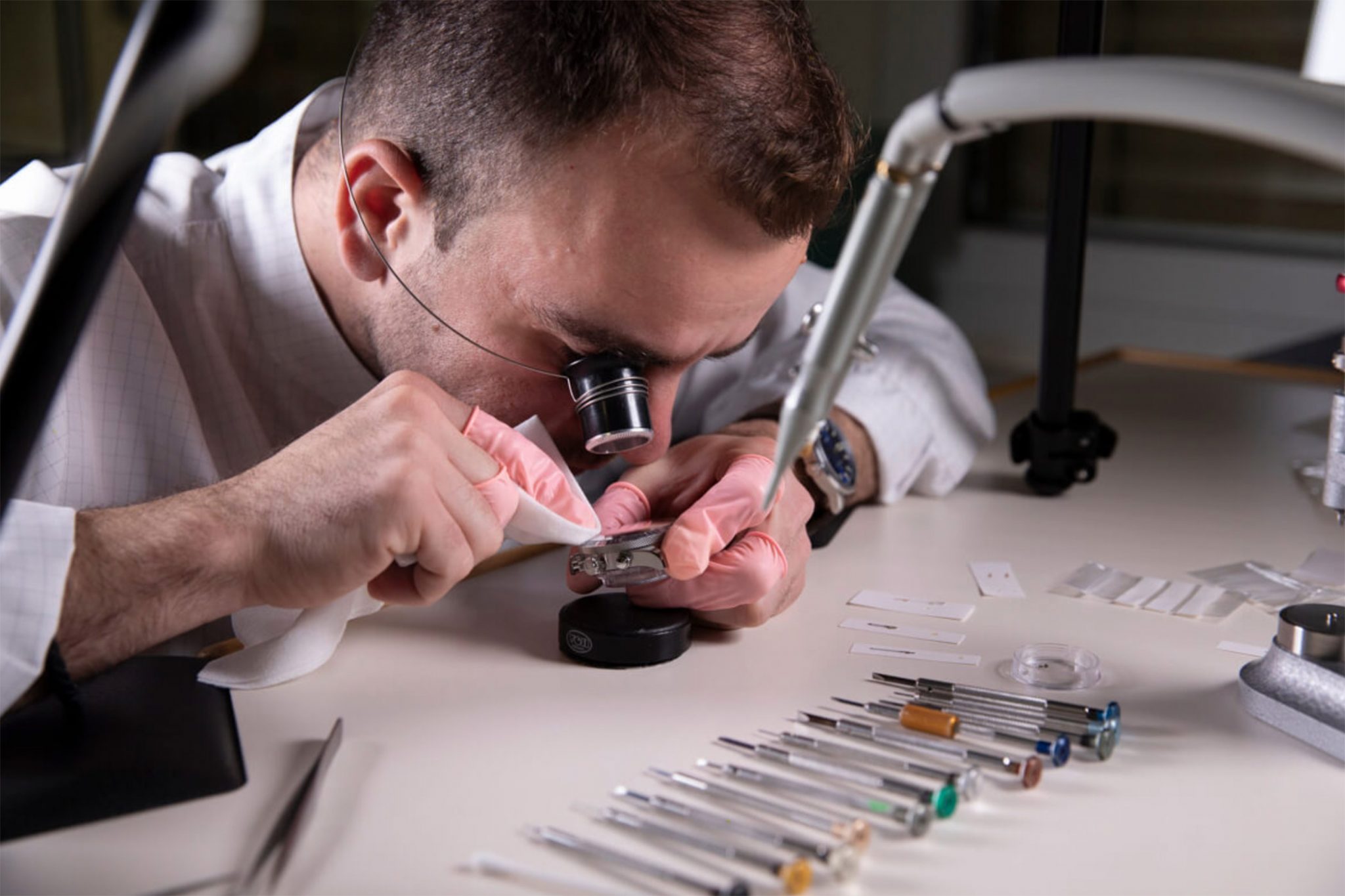 The brand recently announced its collaboration with the movement manufacturer Kenissi. Interestingly, Kenissi was founded by Rolex's sister brand TUDOR and is therefore known for its particularly high-quality and high-performance movements. Kenissi is now exclusively producing two COSC-certified manufacture calibres for NORQAIN; the three-hand calibre NN20/1 and the GMT calibre NN20/2 (coming in September).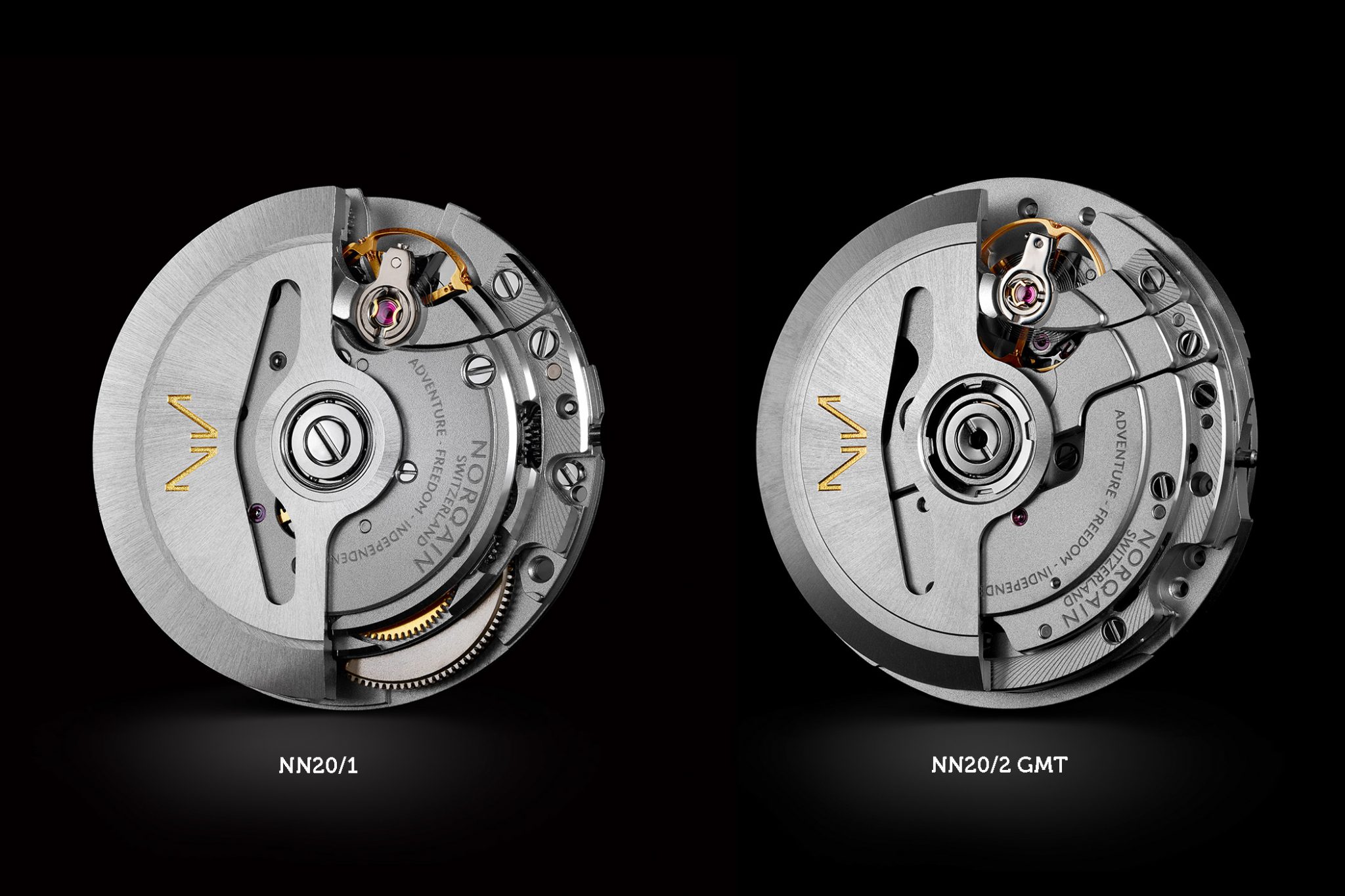 For such a young brand, that's quite a big step to take – even though the movements are of course not made in NORQAIN's own manufacture – which is not at all what one might expect for such a small and young brand. Currently, NORQAIN produces around 5,000 watches a year. Küffer's target, however, is 10,000 pieces. The prices of the manufacture models are expected to be from 2,500 to 3,500 euros, which will be a very exciting price range for fans of such quality movements. Additionally, there is a full five-year guarantee, which has almost become standard in the industry.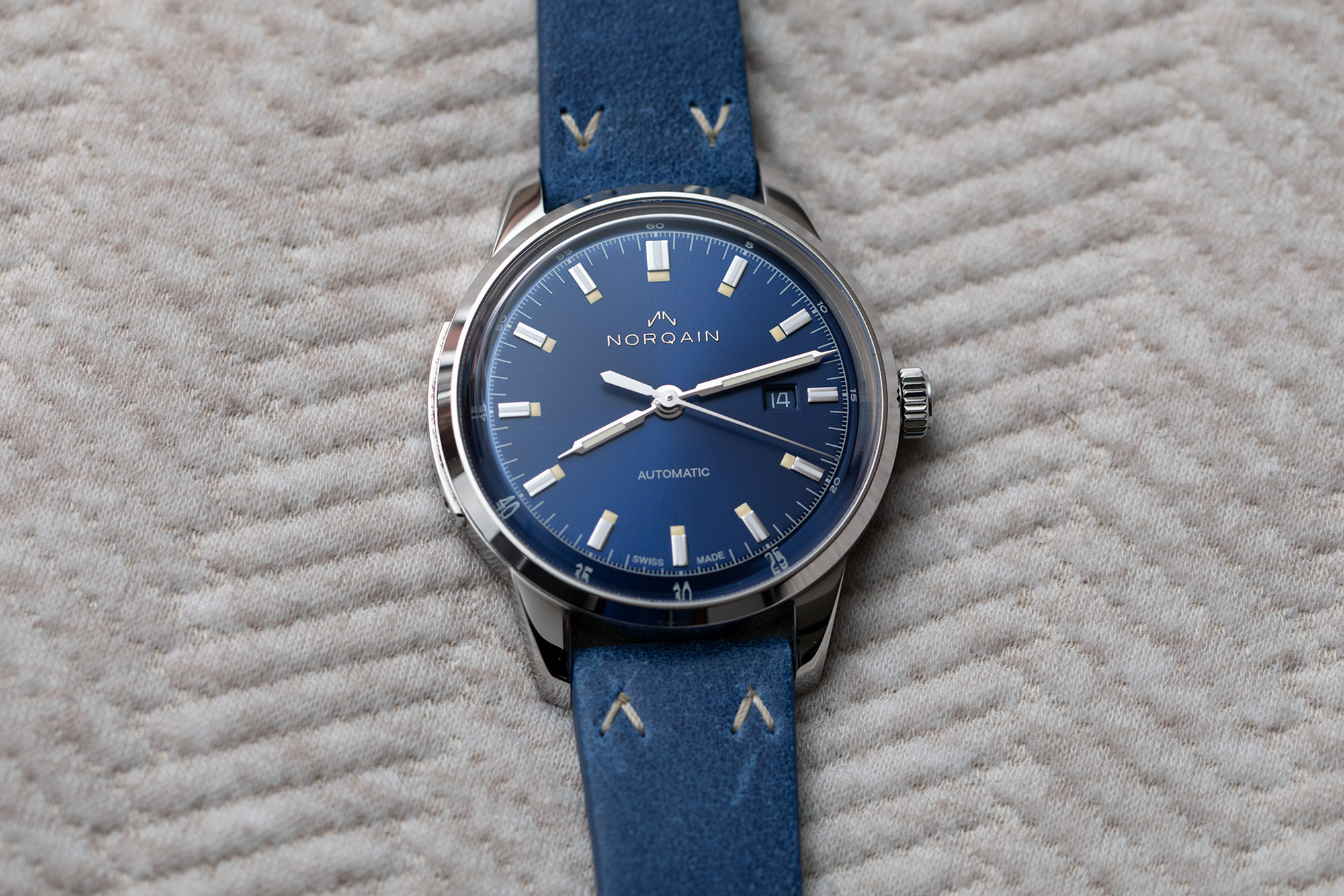 Freedom 60 with a Norlando leather strap and faceted hands
The Novelty – Freedom 60 Chrono Steel
The reason why we only really became aware of the brand recently is due to the new Freedom 60 Chrono Steel, which is being launched today as a limited edition of 200 pieces. Its design and the colour combination of anthracite and black subdial counters is incredibly well done. With a height of 15 mm, and despite the raised box-type sapphire crystal, the watch sits pretty damn well on the wrist. As always, you have to see the watch live to really understand the feel, design and comfort on your wrist.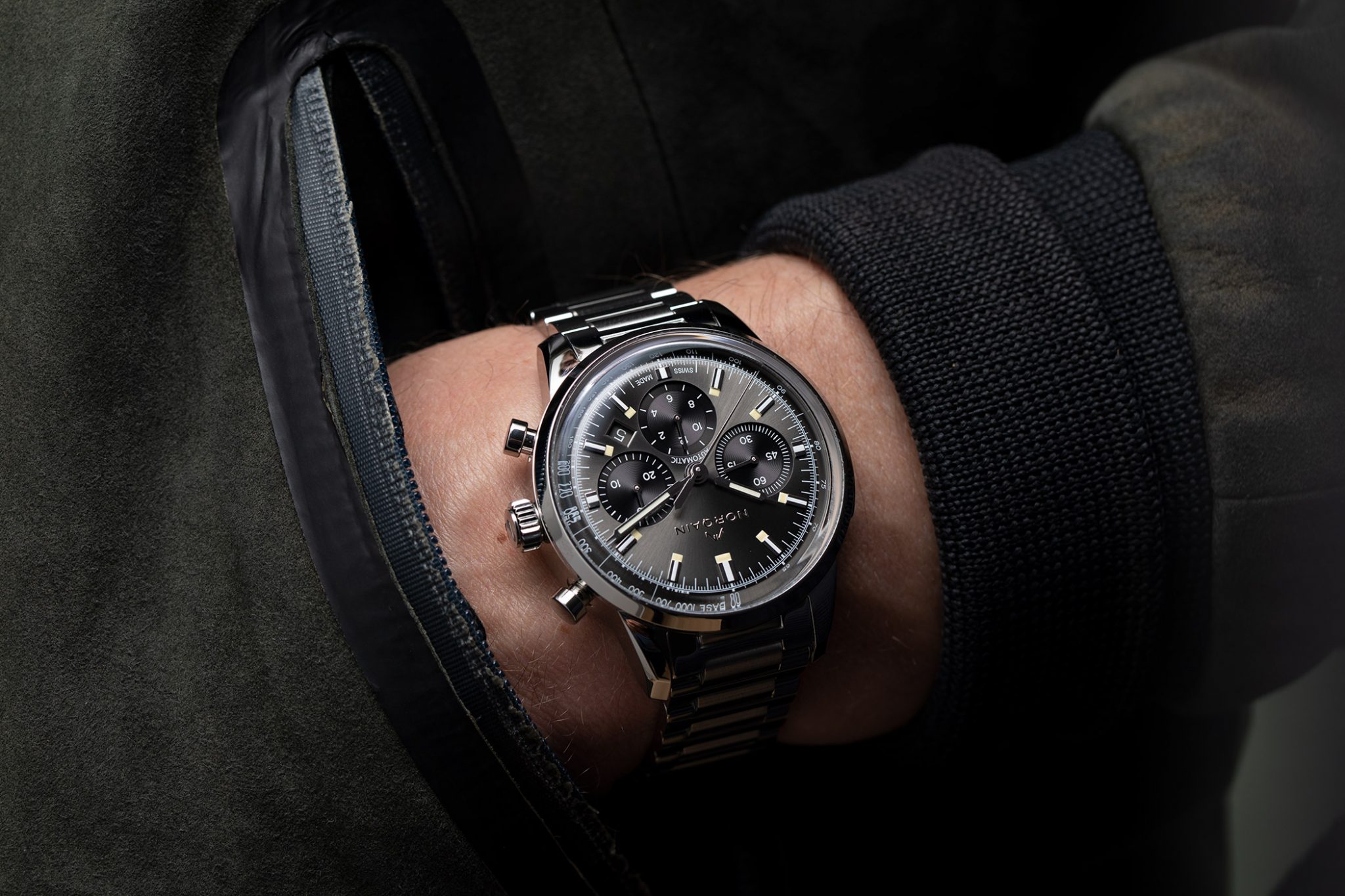 The all new Freedom 60 Chrono Steel Limited Edition
Perhaps they have taken some inspiration from the sport chronographs of the 50s and 60s. They always have been and still are contemporary, however are experiencing a special revival lately and are reissued by many brands as 'heritage' collections or 're-editions'. At NORQAIN they stay true to their principles and also add some distinctive features on top of their novelty: The small polished plate on the left side of the case has a special engraving "Limited Edition – ONE of 200". The oscillating weight and the crown show a NORQAIN lettering or logo.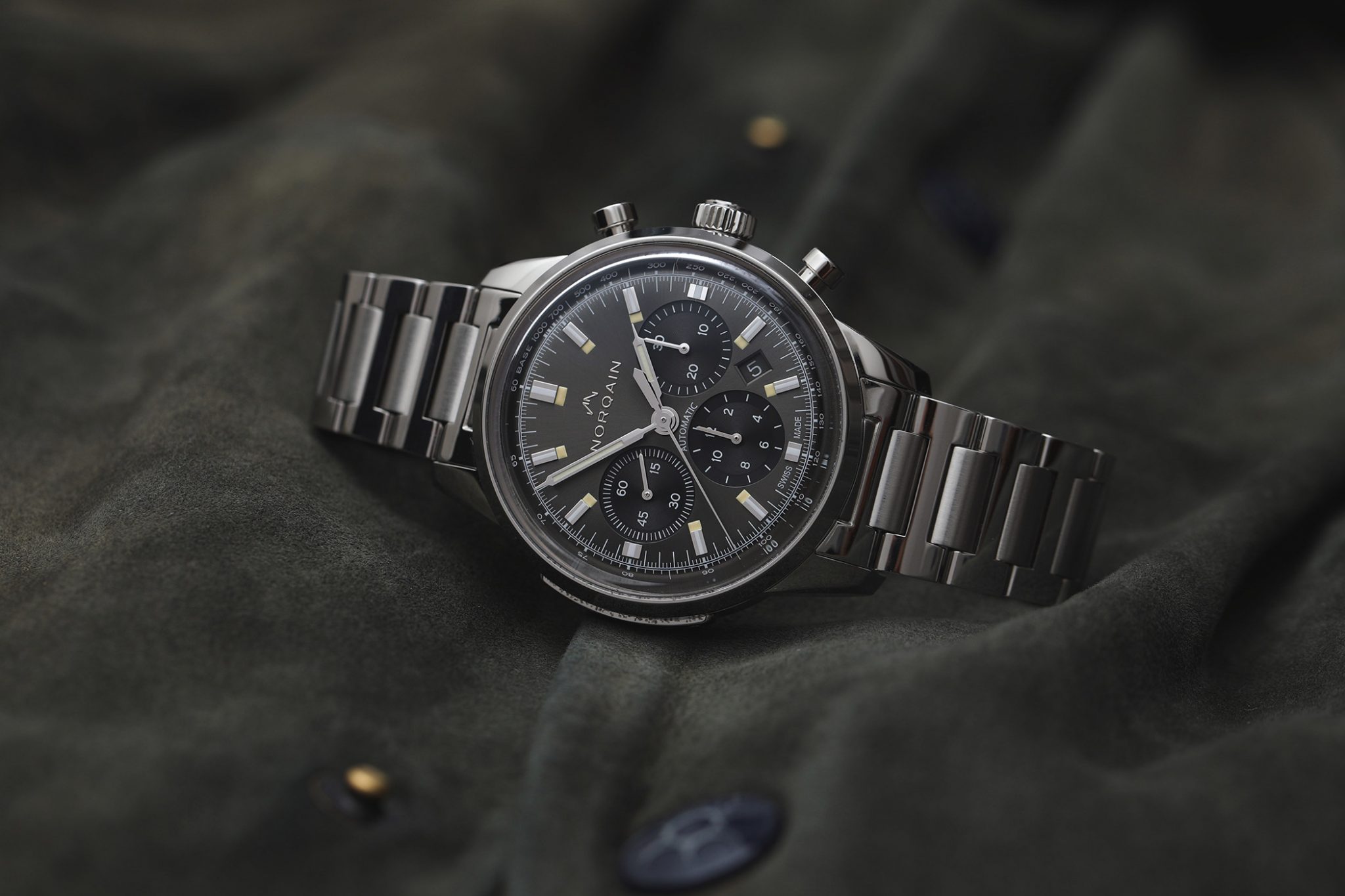 Freedom 60 Chrono Steel – limited to 200 pieces
The new Freedom 60 Chrono Steel is equipped with calibre NN18 (ETA 7753) and a power reserve of 48 hours. It costs 3,690 euros with a steel bracelet, or 3,450 euros with a "Norlando" leather strap.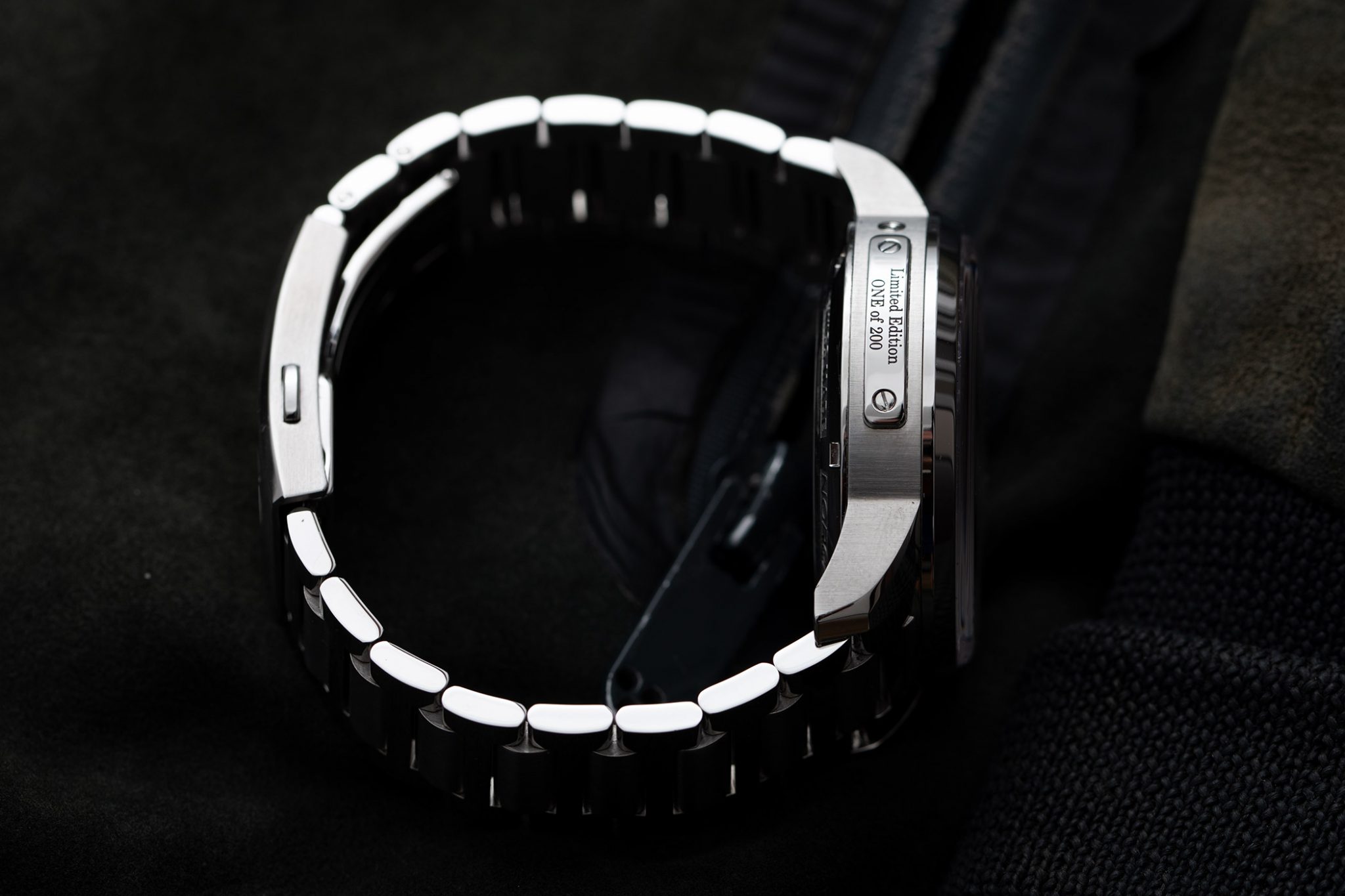 How can I obtain a NORQAIN watch?
From the beginning, it was Küffer's aim to build up a strong partnership with a retail network. Also, e-commerce was inevitable to consider, however with the requirement to find a good e-com solution with his partners to not displace one or the other. NORQAIN shows that stationary trade and online can go hand in hand by requiring every online buyer to specify a particular stationary retailer for service queries. The selected retailer is then given 20% of the sales margin by NORQAIN. "For us, the retailers are the ambassadors at the front – they share the passion and long-standing relationship with the customers," Küffer adds reverently.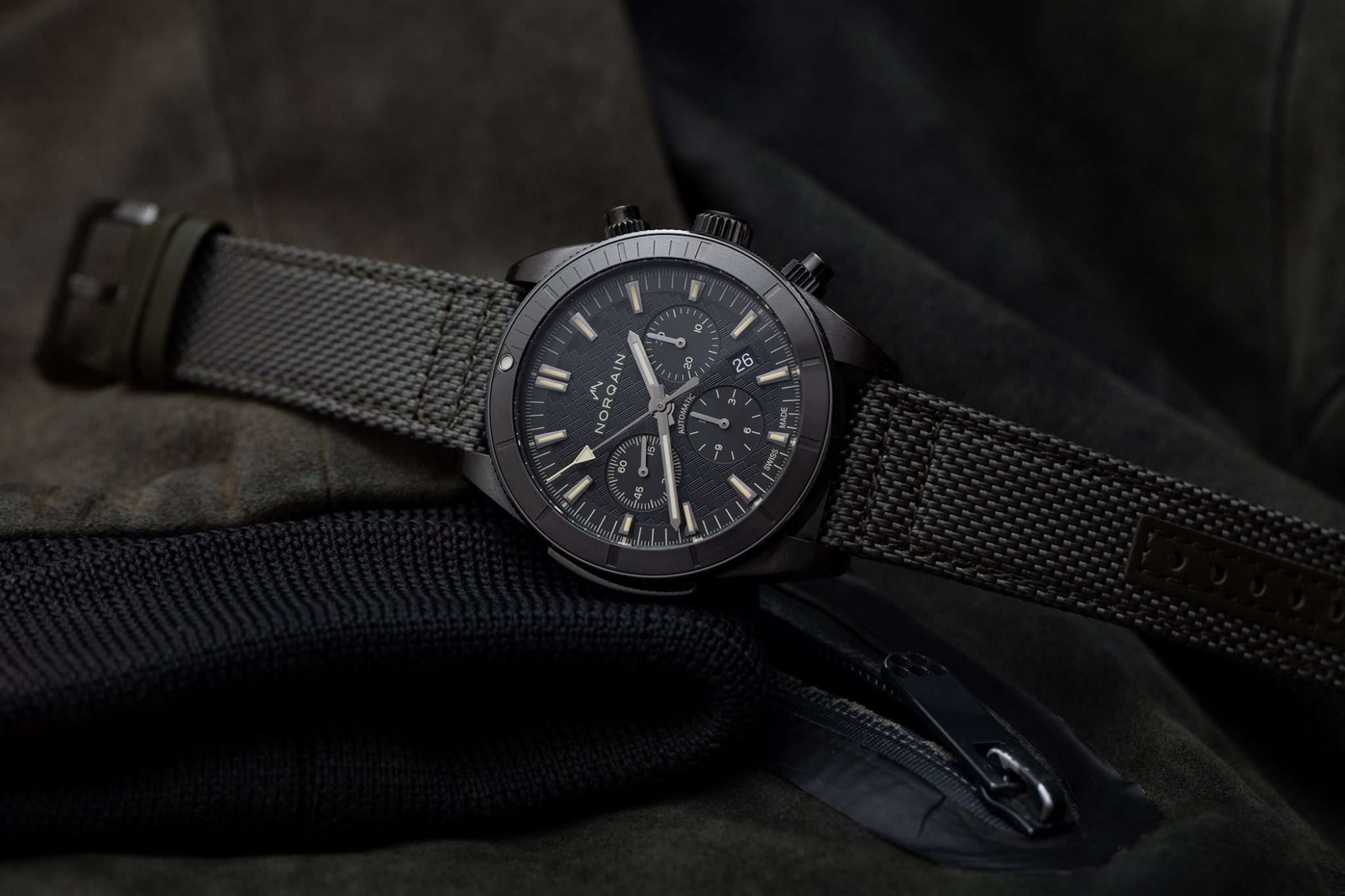 Adventure Sport Chrono
In Germany, the watches are currently available at Juwelier Wempe in Munich's Weinstrasse. Otherwise, they are also available via the retailer's e-shop or NORQAIN's own online shop, through which all its models (also a women's collection by the way) are available. An interactive configurator is designed to help the customer visualise their desired combination digitally as best as possible.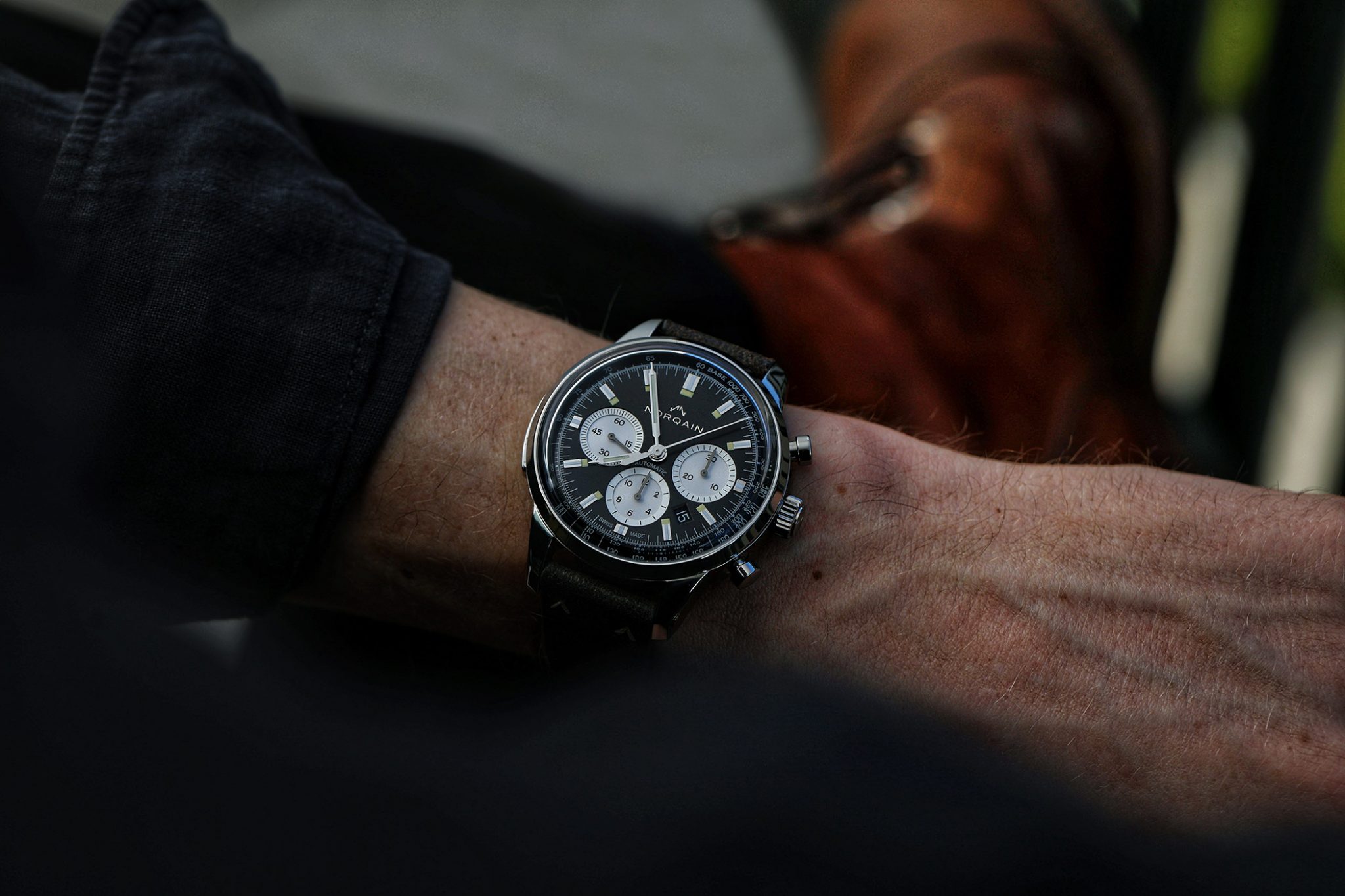 Freedom 60 Chrono
Conclusion
Apart from the fact that Küffer is a fundamentally likeable guy, he has also advanced a successful watch company within a very short time frame. This feat would certainly not be possible without the necessary experience and basic understanding of mechanical watches, as well as entrepreneurial skills. You don't become a winemaker just because you like to drink wine. With eleven years of Breitling on his CV, Küffer has certainly learned from the best in the business and can draw on the over four decades of experience accumulated by his father. Furthermore, his business partner Ted Schneider certainly has the right contacts in the industry to expand sales, while Mark Streit is probably partly responsible for the numerous ambassadors that NORQAIN has been able to win over for the brand. Schneider and Streit are friends and part of the family, but also, strategically speaking, important partners.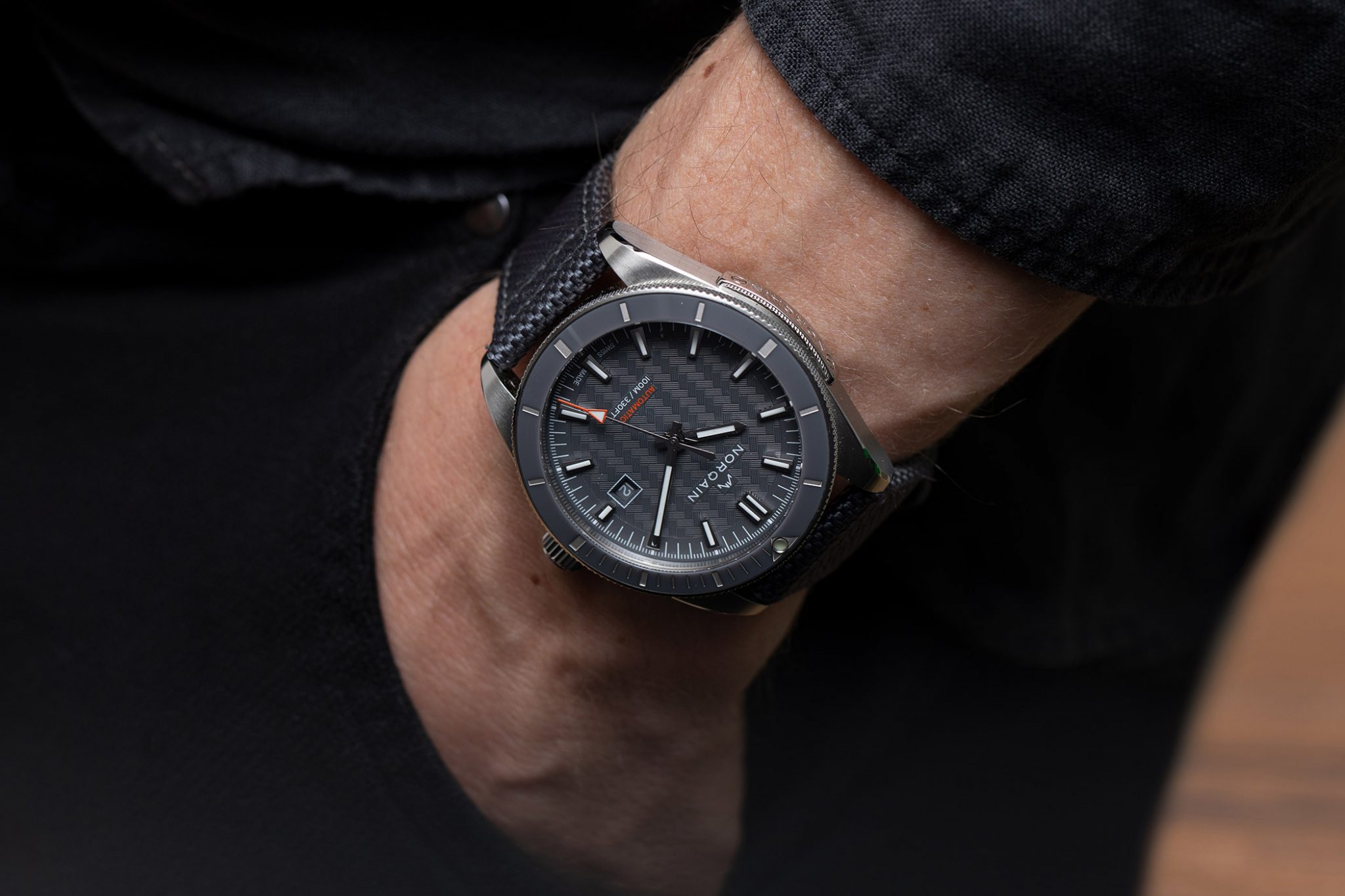 Adventure Sport
The quality and craftmanship of the watches is impeccable – at a very attractive entry-level price level. The design is contemporary and well thought out in that it is compatible with the taste of most men, while still standing out with a few distinctive features. I personally especially like the new Freedom Chrono 60 Steel ­– the watch is masculine and not too playful. The case is pleasantly flat and not too bulky. Its 43 mm diameter fits surprisingly well on the wrist and the somehow shimmery, anthracite-coloured dial, in contrast to the black subdial counters, looks very classy.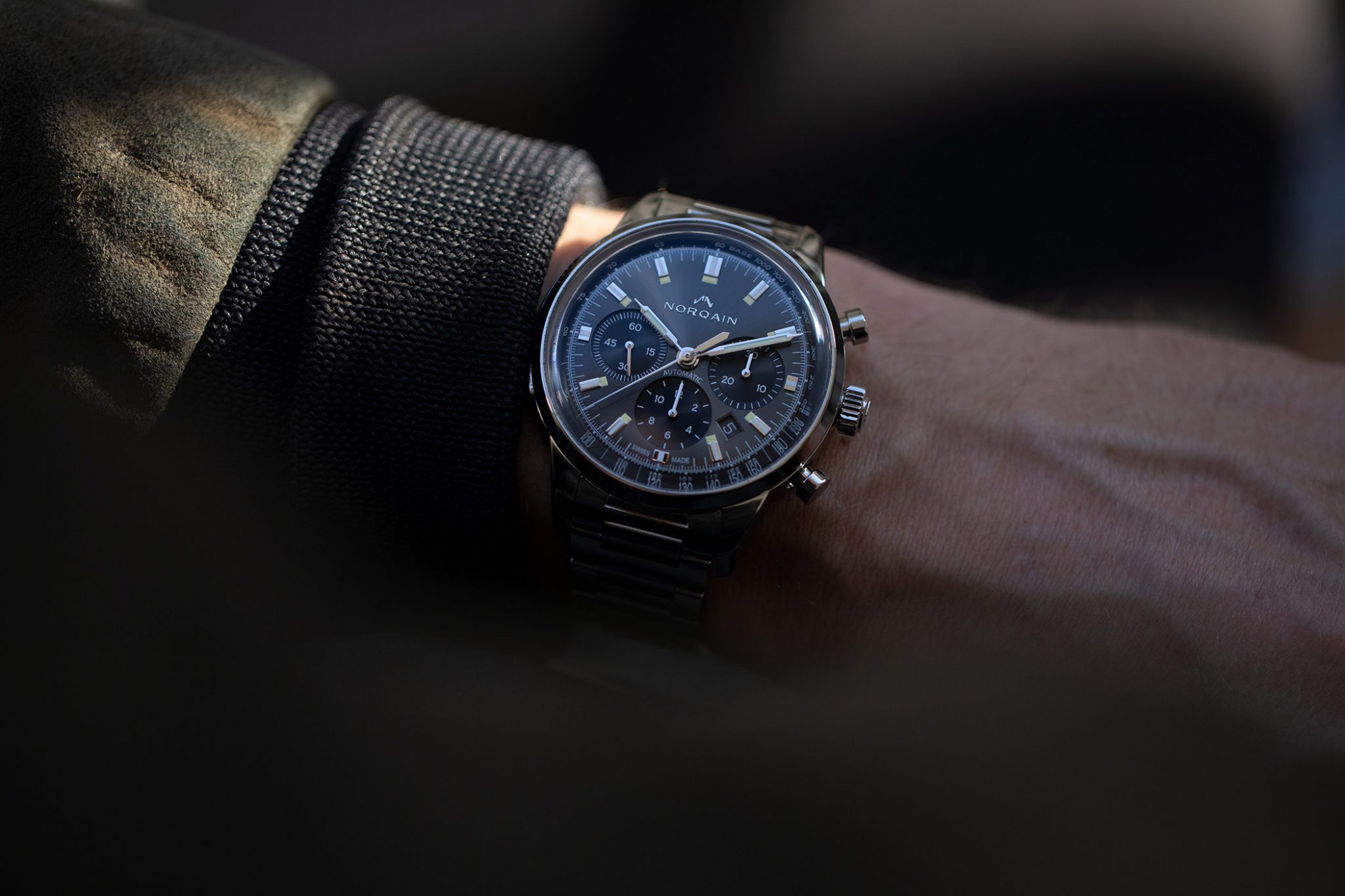 Freedom 60 Chrono Steel Limited Edition
Building up a strong stationary trade network will be an indispensable part of NORQAIN's strategy in the future, because they must be able to make the watches experienceable for the customer. The online configurator is certainly a nice tool, but it won't be able to convince a curious customer to buy a watch without being able to strap his desired model to his wrist at least once in advance. The requirements for a long-term successful, respected watch brand are fulfilled – now, all that remains is finding its followers and spreading the word.
---
Find out more at NORQAIN
---