If you want to use an altimeter when mountaineering or hiking, you can of course do so with countless electronically operated gadgets. But it gets exciting when the display is built into a purely mechanical wristwatch. The watch manufacture Oris from Hölstein took on this challenge when it launched the ProPilot Altimeter, the world's first mechanical watch with an automatic movement and integrated altimeter, back in 2014. Now Oris is presenting a revised version that reaches new heights and has become even slimmer and lighter. But how does an altimeter in precision mechanics work anyway? We spoke to Richard Siegrist, product development engineer at Oris.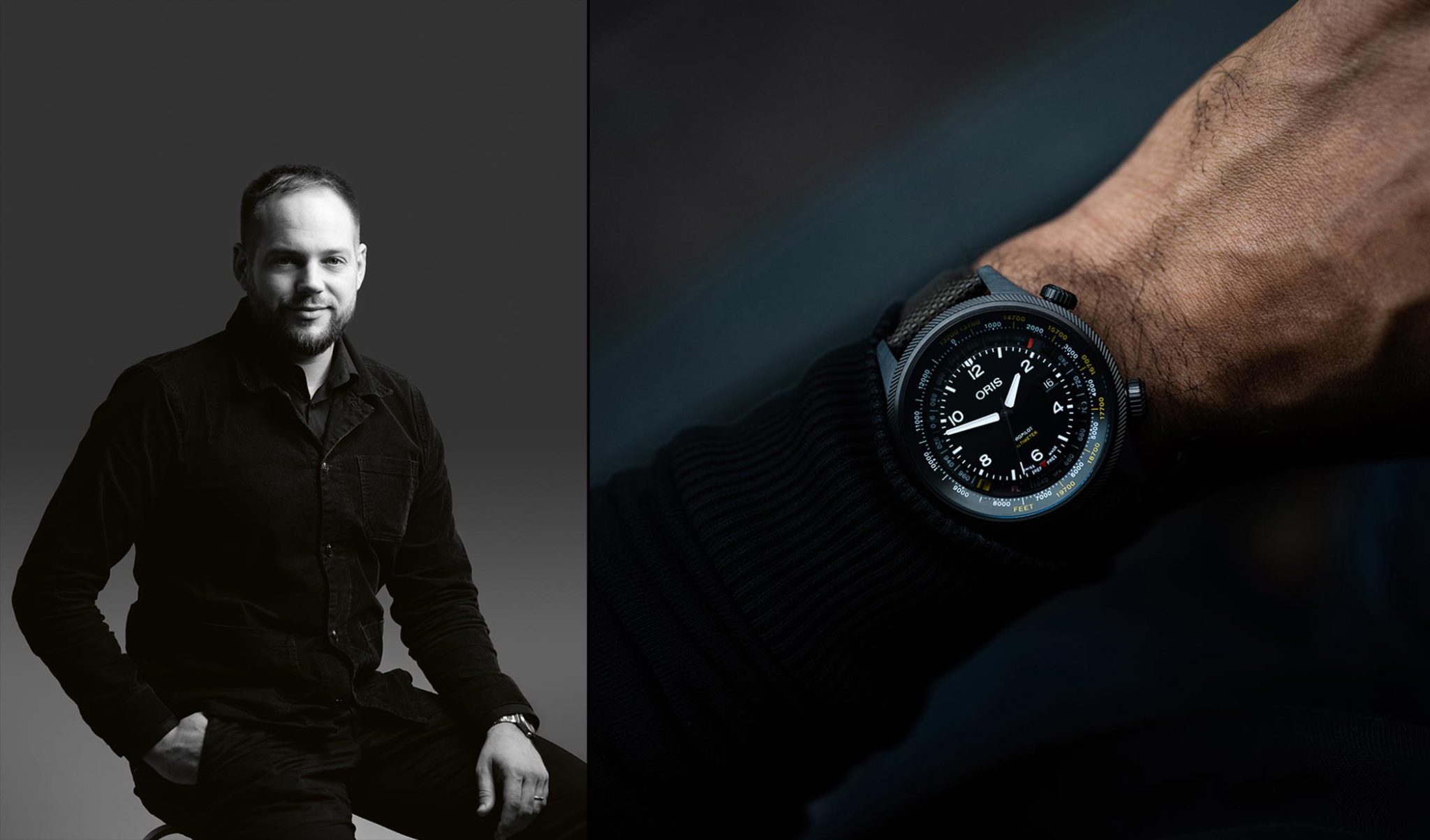 Oris has developed over 280 calibres since it was founded in 1904 – always with a focus on functionality and added value. The best example of this is the Big Crown first created in 1938, the first pilot's watch from Oris with the oversized crown and a pointer date. The oversized crown was intended to make it easier for pilots to set the watch with their leather gloves, while the pointer date served to improve readability. The altimeter is no clumsy gimmick either; rather, it is a logical further development of a pilot's watch with a useful function.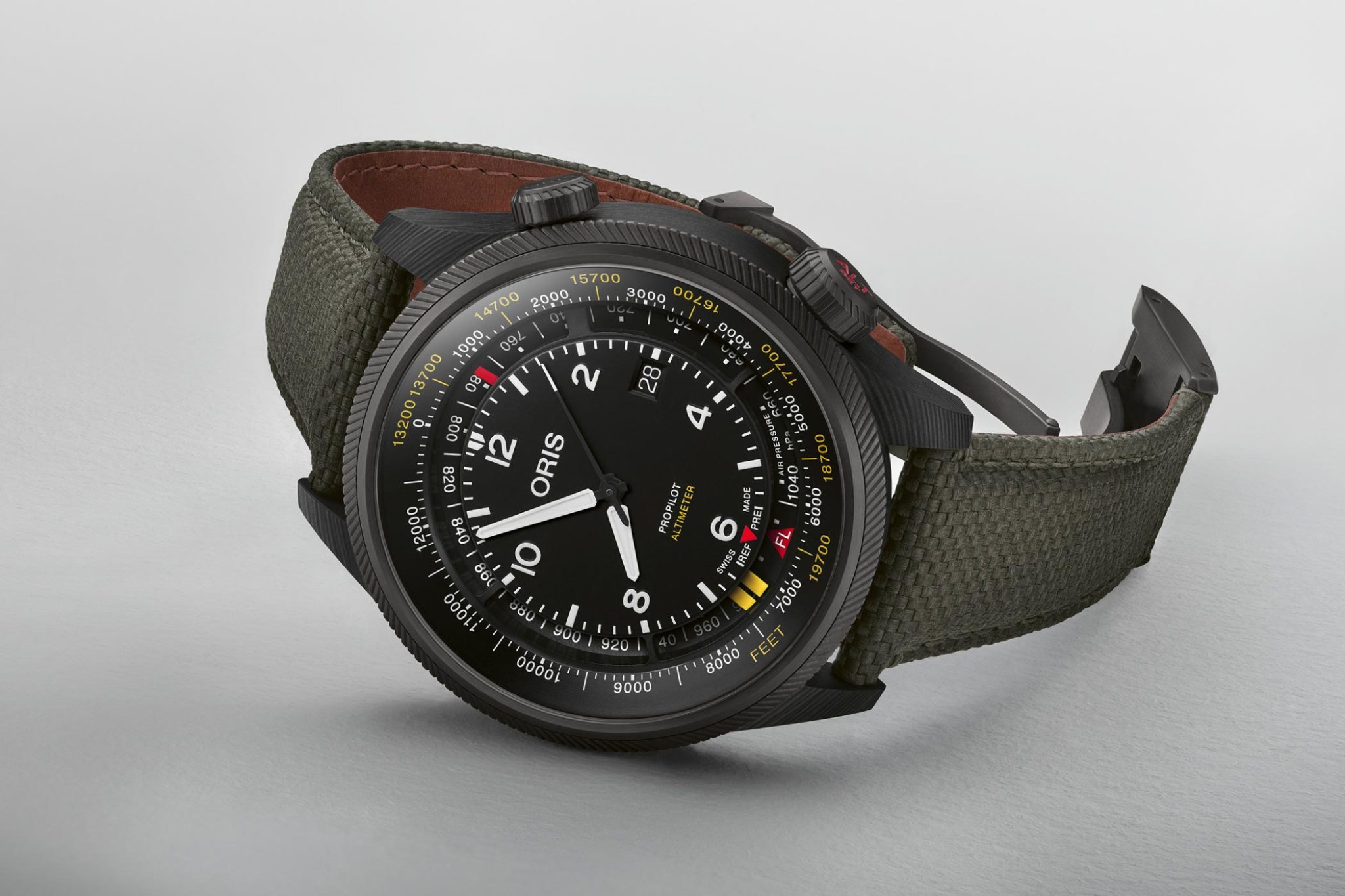 However, when we speak of the 'world's first mechanical watch with altimeter', it is important to mention that Oris is the first watch manufacture to have succeeded in integrating this mechanism into a watch with an automatic movement. In 1962, Favre-Leuber became the first watch manufacture ever to integrate an altimeter into a mechanical wristwatch. However, this was a manually wound movement – a small but crucial difference. This is where Oris comes in. In 2014, it became the first manufacturer to develop a mechanism that could also be installed in an automatic movement (i.e. with a rotor).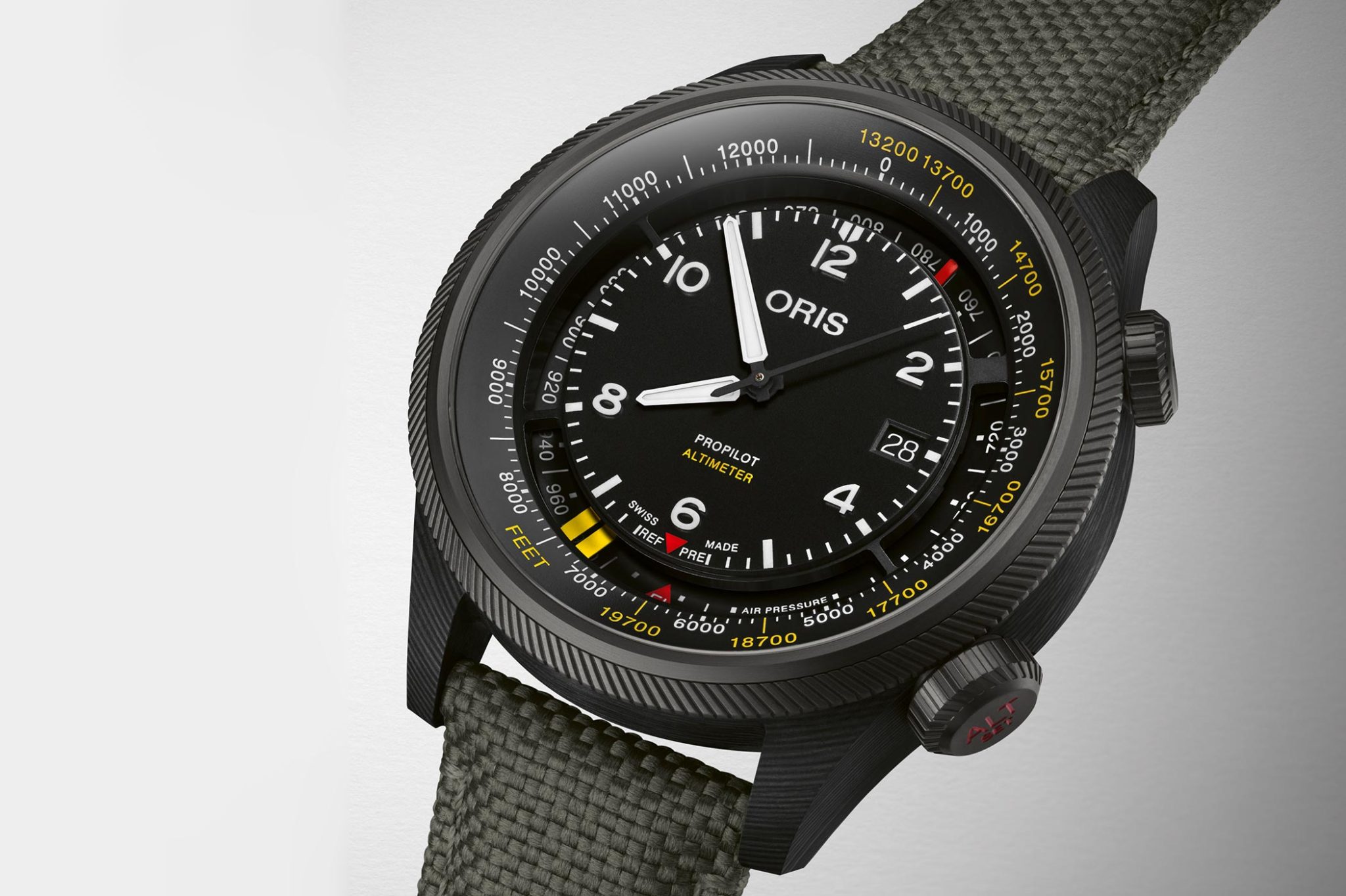 How does the altimeter work?
Mechanical altitude measurement requires a pressure chamber to measure air pressure. In the Oris ProPilot Altimeter, this is located under the movement, looking at the dial from above. Therefore, the pressure chamber is not directly connected to the movement and has its own hand, which must somehow pass through the movement in order to be displayed on the dial. This is where the challenge lies. With a manually wound movement, the hand of the pressure capsule can simply be guided through the movement, which is of course not possible with an automatic watch with a rotating oscillating weight.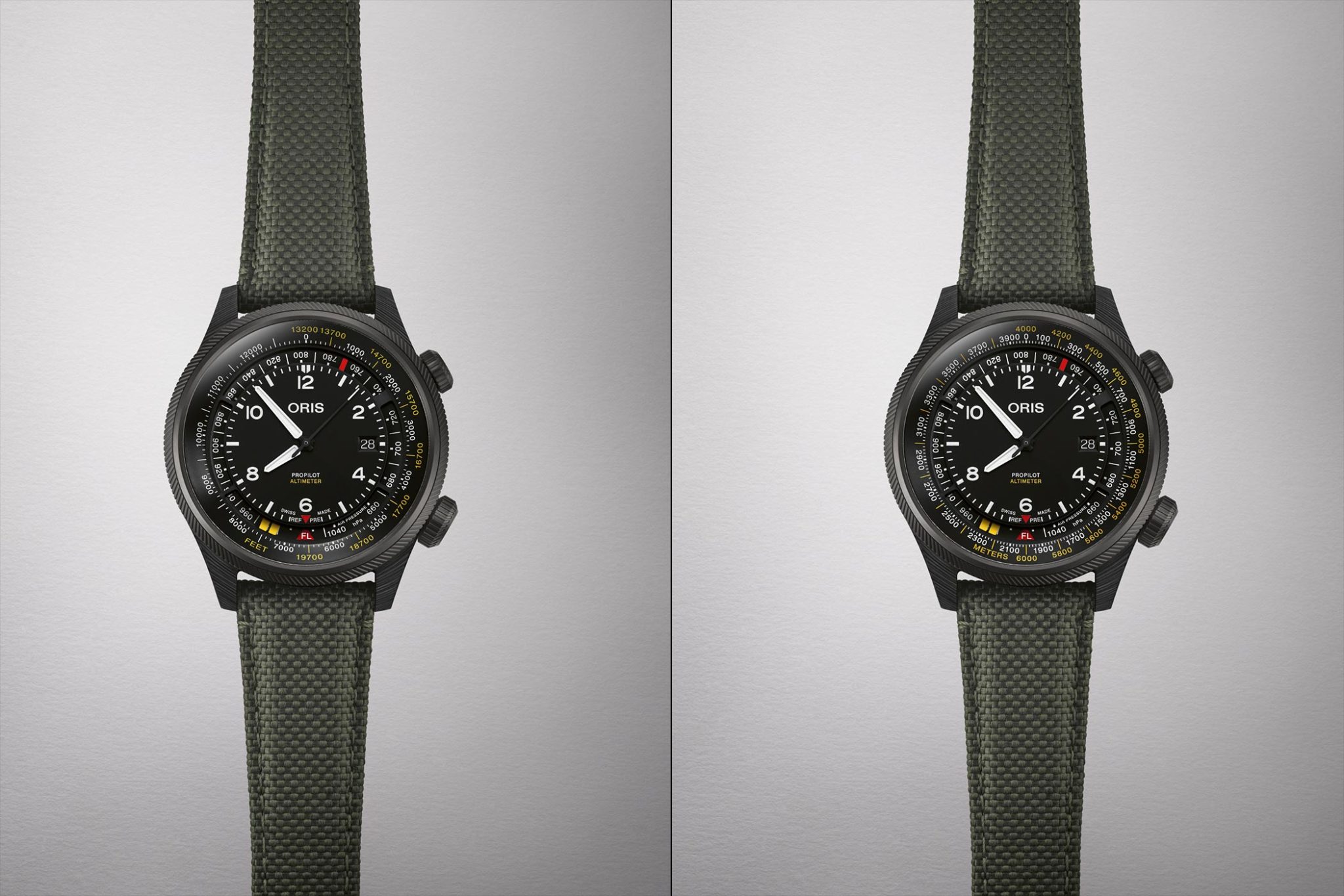 Oris solved the problem by guiding the hand around the movement. This was only possible with a hand made of carbon, which is particularly stiff and does not bend or stretch, meaning it won't accidentally get caught on the rotor. Then there is the two-layer architecture of the dial. On the upper level is the classic time display. On the lower level is the display for the altimeter – with the extra hand of the pressure chamber.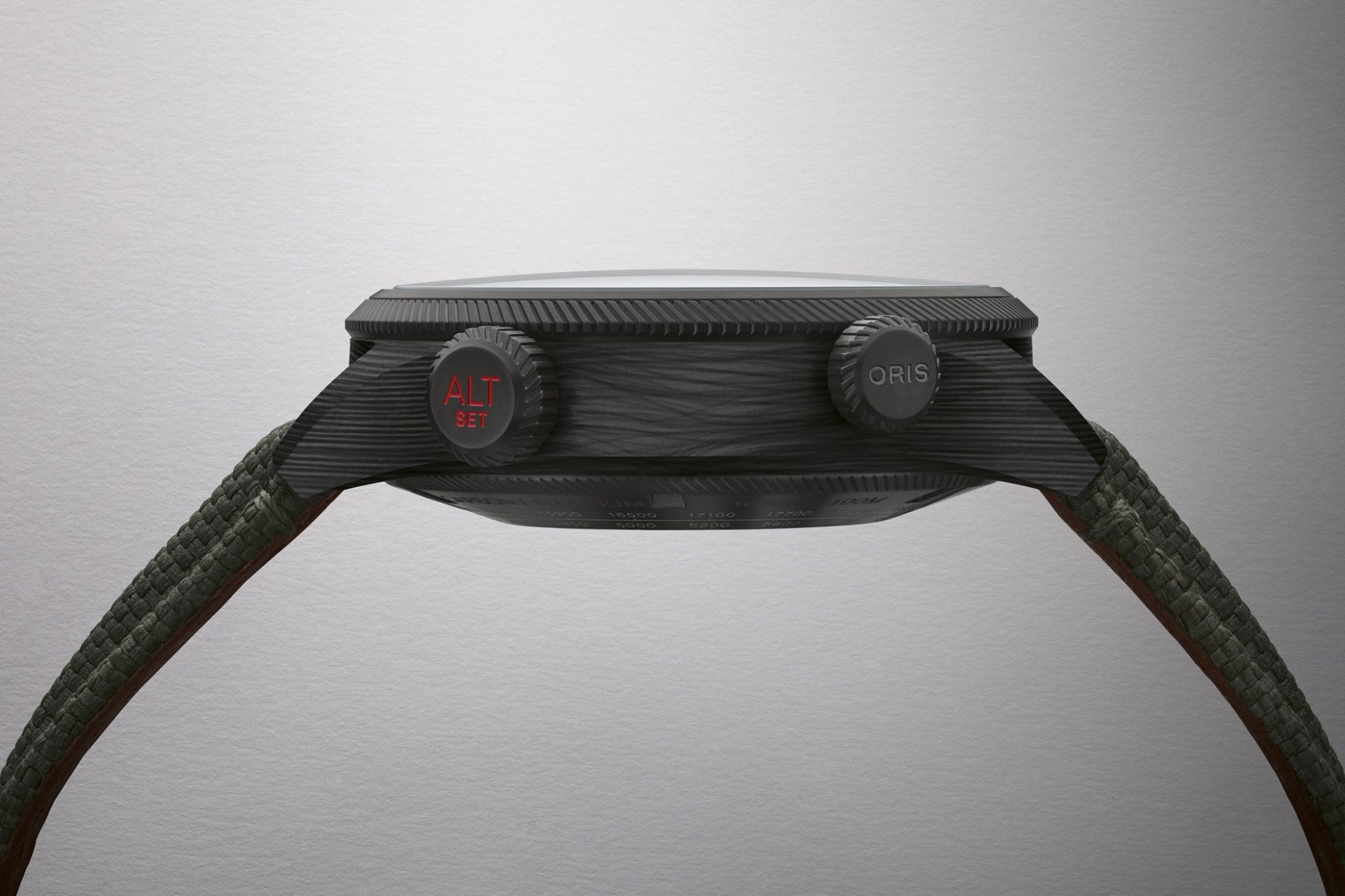 The ProPilot Altimeter, just presented at Watches & Wonders 2023, has a reworked movement and new case. With the new Oris calibre 793 (with a 56-hour power reserve), the overall height could be reduced by 1 mm, thanks to the Sellita SW300 base movement which, unlike its predecessor SW200, measures only 3.6 mm instead of 3.7 mm. The measuring range could also be extended from 4,500 metres to 6,000 metres thanks to a revised pressure capsule. It is now slightly stiffer and does not expand as much, which contributes to better performance, explains Siegrist, product development engineer at Oris. The pressure chamber is produced and supplied by an external specialist especially for Oris. But the architecture and construction for the barometric display was developed and manufactured in-house by Oris.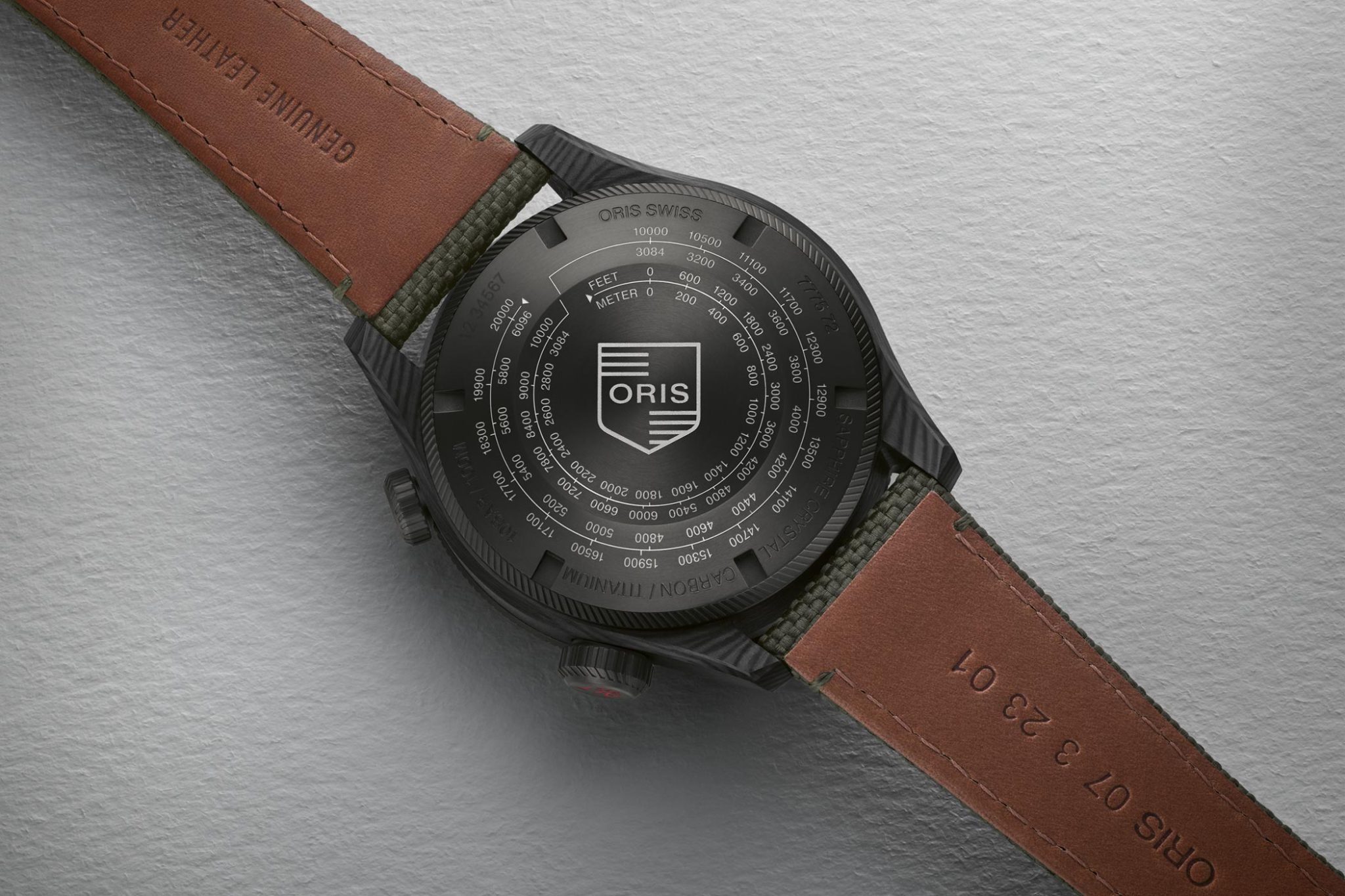 Altimeter in a carbon guise
Then there's the brand new 47 mm carbon case, which makes the new ProPilot Altimeter 70 grams lighter than its predecessor. However, since carbon composites, which are not particularly environmentally friendly, are not very compatible with Oris' ambitious sustainability strategy, the company from Hölstein has also tinkered with an innovative approach here. The result is a carbon fibre housing developed in partnership with 9T Lab, whichis recyclable. 'After a 3-year research phase, we developed a polymer (plastic) that can be melted at a certain heat and thus becomes separable and recyclable,' explains Siegrist. 'This is because ordinary carbon composites are made of polyuretane (duoplast) and, once hardened, cannot be separated into its components.' Of course, even the new process does not make the production and use of carbon the same as ecological, but it is also about finding new approaches to solutions and remaining innovative.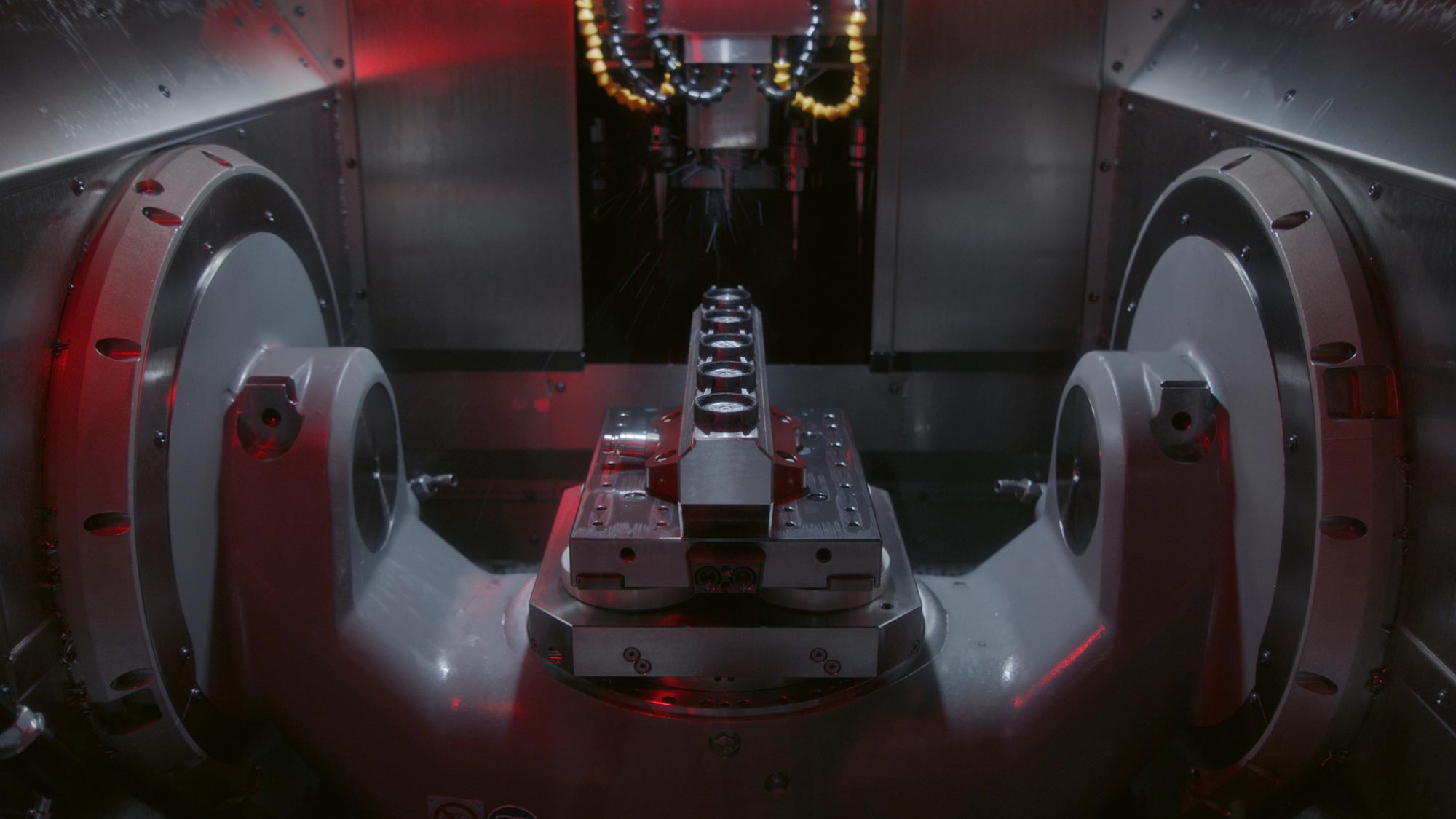 The new ProPilot Altimeter is worn on a green textile strap with brown leather lining. The functional watch is water-resistant to 100 metres and costs 6,200 euros.
---