At this year's Watches & Wonders 2022, Panerai's CEO Jean-Marc Pontroué sat down with Swisswatches to introduce us to his company's "Submersible QuarantaQuattro" diving watch. Its name already reveals that the models come with a new case diameter of 44 mm – but Pontroué also had many other thoughts to share. In addition to three basic models, there are also new timepieces made of the sustainable material eSteel. We accordingly dipped into a conversation about Pontroué's continuous efforts to transform the industry into a more sustainable sector. Last but not least, Pontroué introduced us to an elegant model that celebrates Panerai's partnership with the sailors of the Italian Luna Rossa team – one of whom we also had the pleasure of dining with that very same week.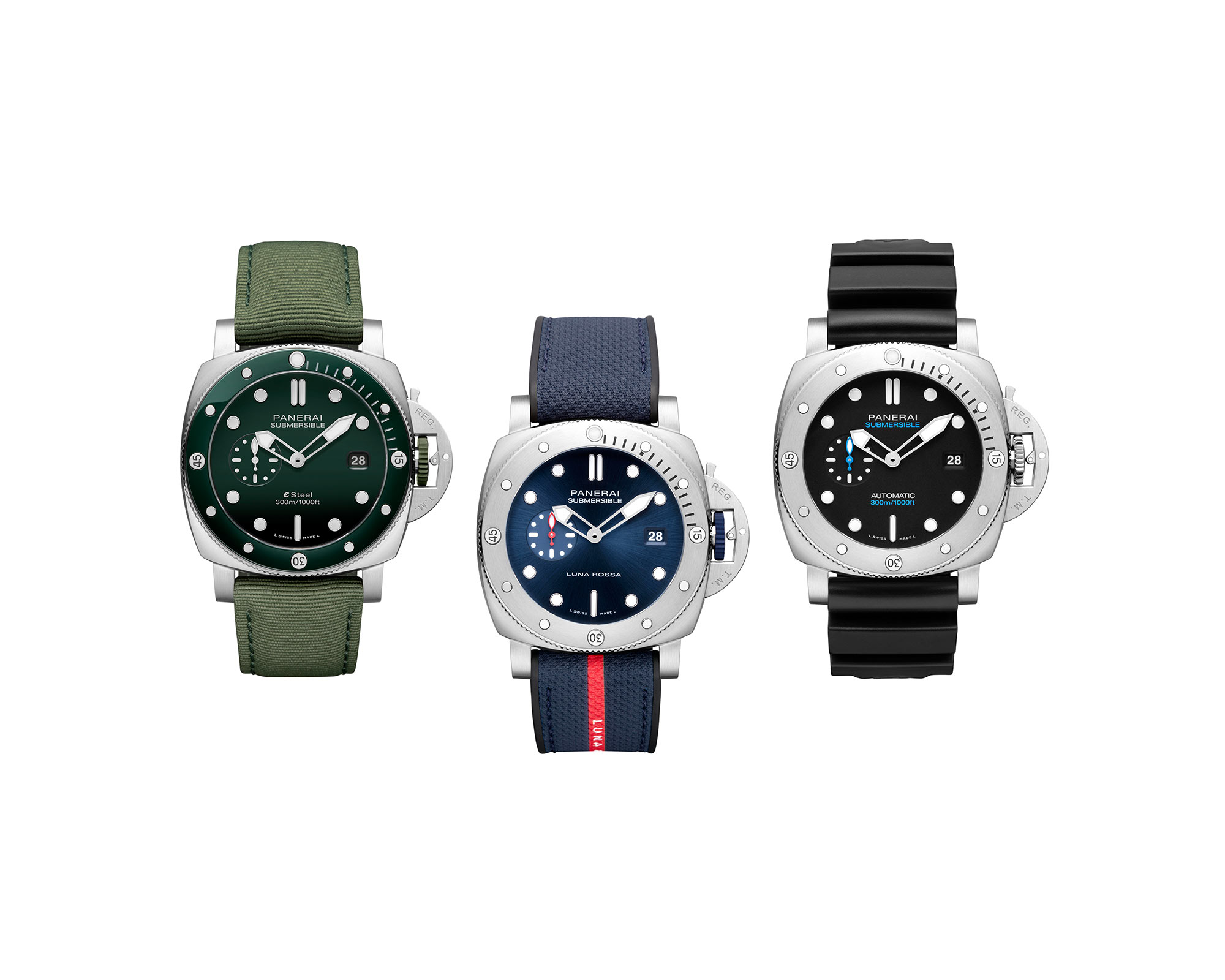 Fun fact: attending Watches & Wonders involves spending your days throwing yourself at maximum speed across a huge convention space known as 'Palexpo' on the outskirts of Geneva, as you attempt to meet with as many watchmakers, businessmen, and colleagues from across the industry as possible. At each one of your incalculable number of meetings, you will inevitably be offered a drink; champagne, tea, sparkling water – take your pick. There is one drink, however, that is notoriously difficult to come by: the humble cappuccino.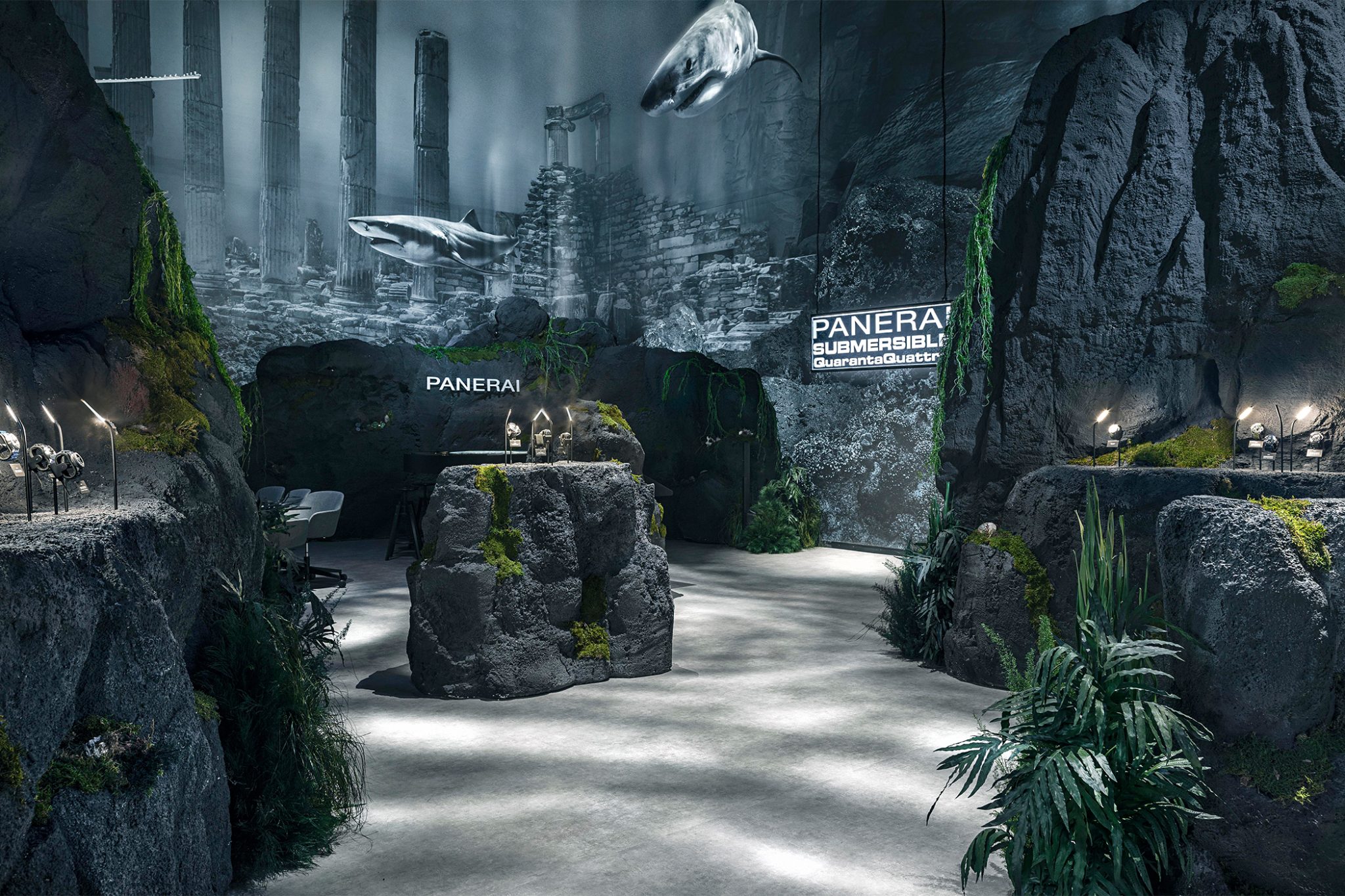 Panerai booth in Geneva, Watches & Wonders 2022
Credit © Panerai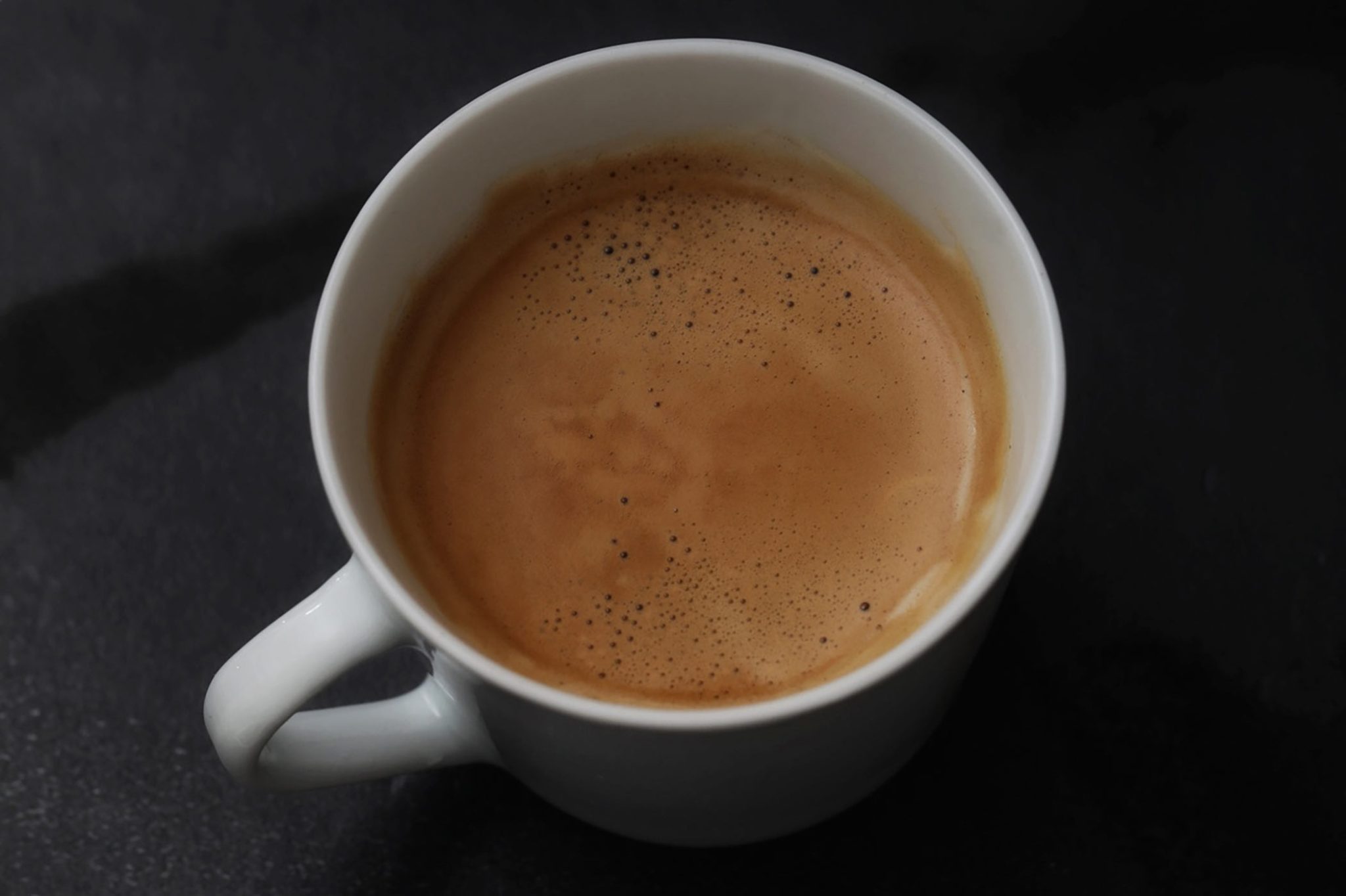 Credit © Watches & Wonders 2022
It is this pressing topic that greets the Swisswatches team as we step into a moss-covered 'cave' at Panerai's underwater world at Palexpo. "No cappuccino?" In true Italian style, Panerai CEO Jean-Marc Pontroué looks appropriately aghast. "It's not as if your request is such an incredible thing," he tells me. "I mean, it's a cappuccino." I insist that an espresso will do just fine. "Man, we have to become one of the only brands to offer cappuccino here. We'd be the talk of the town," he continues to muse, before finally, like any good CEO, reaching a resolution. "I think we have a machine in the headquarters – we must bring it tomorrow."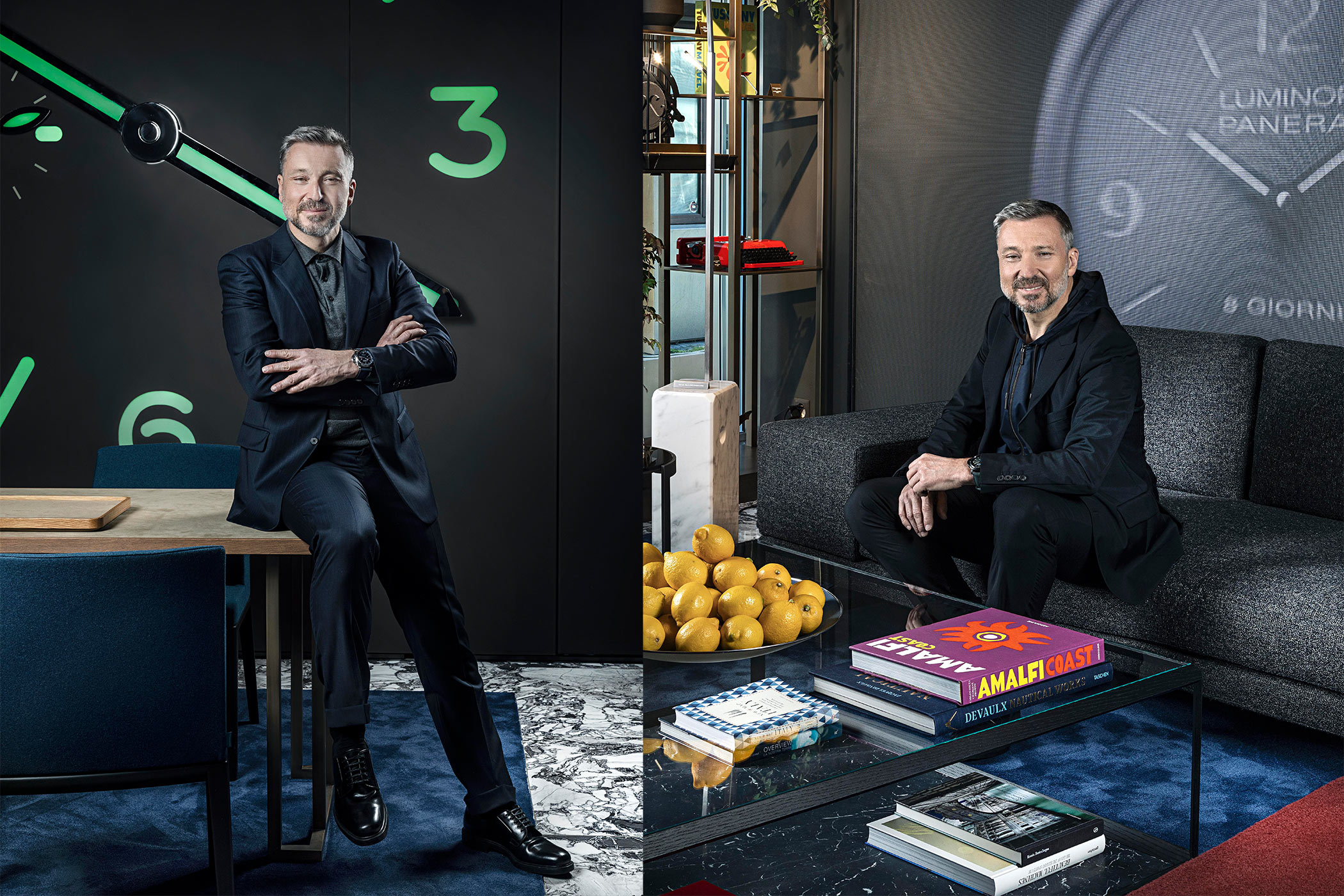 Jean-Marc Pontroué, CEO of Panerai
Credit © Panerai
Naturally, the CEO of Panerai also has larger things on his mind than my noble quest for a cappuccino, and his headquarters has rather more to provide the watch world with than a coffee machine. This is why we are here: to talk about Panerai's latest releases.
---
The Submersible QuarantaQuattro
---
The Submersible QuarantaQuattro first and foremost stands out for its eponymous case diameter of 44 mm. But why the decision to introduce it? "There is of course a huge difference between 42 and 47 mm," explains Pontroué. "In terms of our Luminor watches, 44 mm was already the best-selling size. Additionally, we had many people telling us we should introduce the size into the main Submersible collection." I ask whether the Paneristi (aka a legion of the world's ultimate Panerai fans) play a significant role in decisions such as this one. "The Paneristi know the brand very, very well – they know the history of our watches since the very beginning. We certainly listened to what they were saying."
The Panerai Submersible QuarantaQuattro is available in three different versions, all of which are water-resistant to 300 metres. A new feature is an optimised date window, which is to be incorporated into all future models of the Submersible collection. Inside the watch is the automatic calibre P.900 with a power reserve of 3 days (72 hours).
PAM01226 & PAM01232 & PAM01229
The Submersible QuarantaQuattro Carbotech Blu Abisso (PAM01232) has a case made of the in-house composite material Carbotech. The material is based on carbon fibre and is lighter than titanium, yet very scratch-resistant. Since the carbon fibres align themselves randomly during the manufacturing process, each case is unique. The crown, however, consists of titanium with a DLC coating. The dial here appears in deep aquamarine blue with contrasting indices and hands. Last but not least, the matching rubber or fabric strap also appears in the same shade of blue as the dial.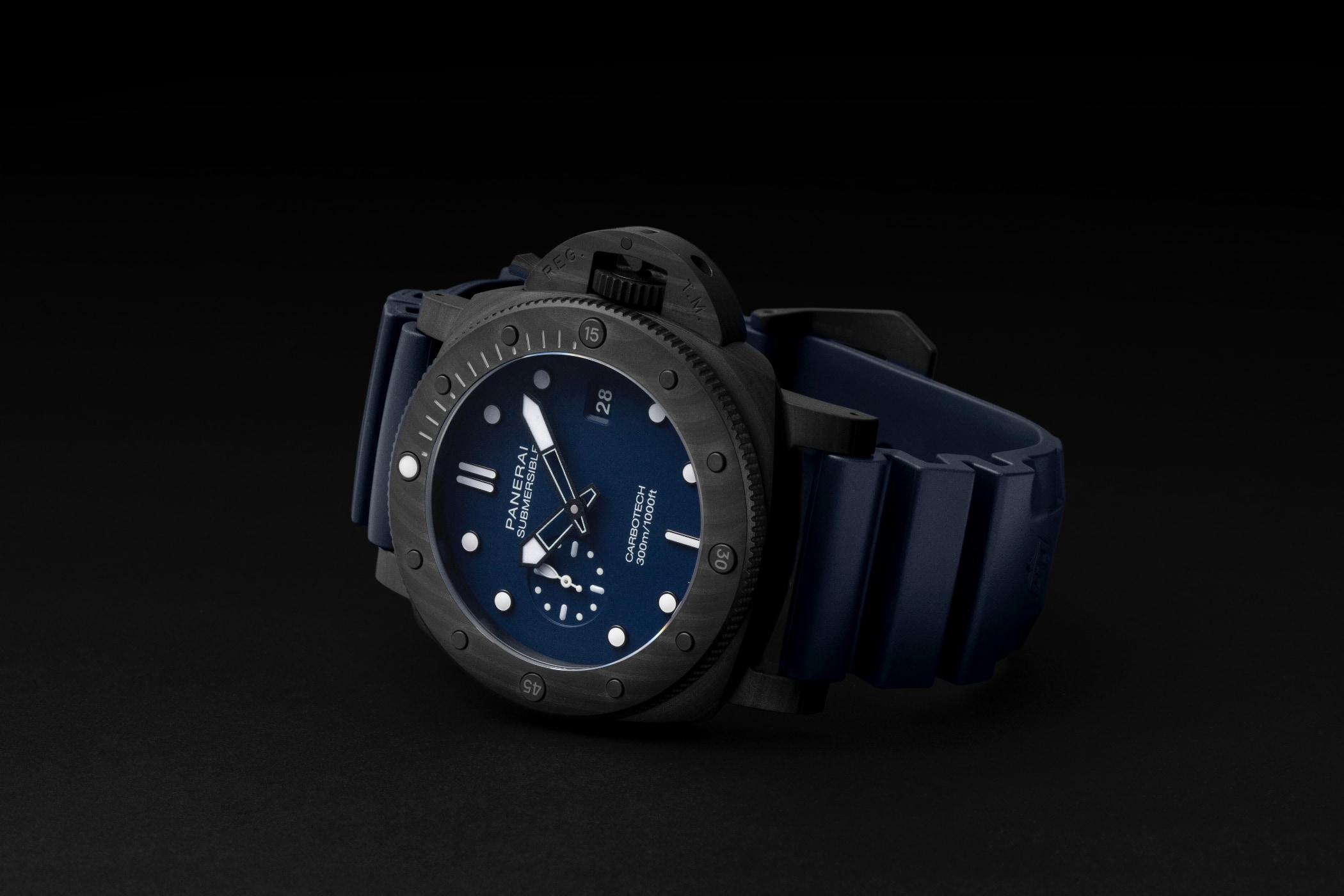 Submersible QuarantaQuattro – Blu Abisso
The brand is also introducing the Submersible QuarantaQuattro Bianco (PAM01226), a version with a steel case. The dial here gleams white and has applied indices that are bordered by a black edge. A rubber or fabric strap in green fixes the diver's watch securely to the wrist.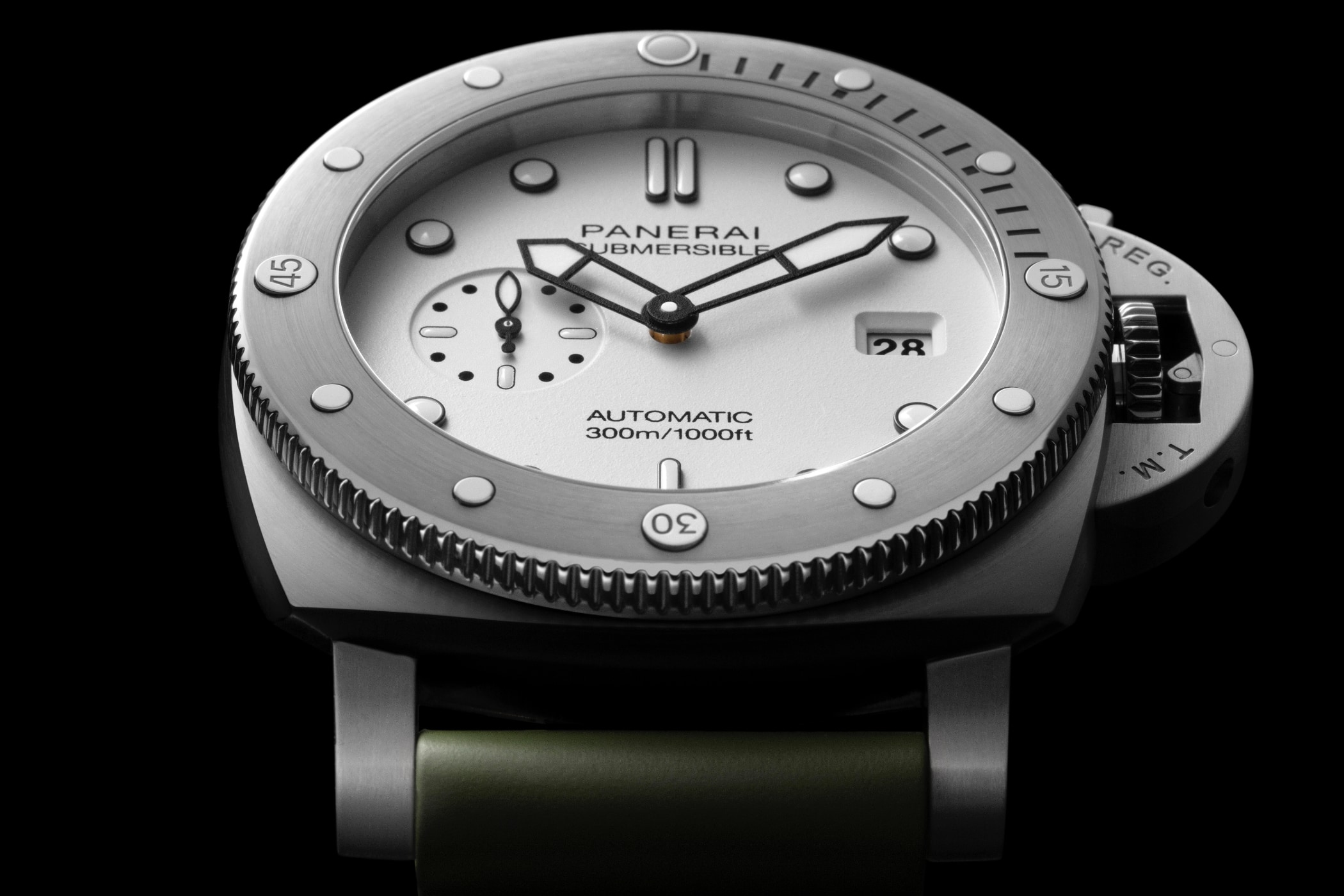 Submersible QuarantaQuattro – Bianco
Finally, Panerai has launched the Submersible QuarantaQuattro (PAM01229), again with a steel case. Here, however, the dial is black with blue accents, while white appliqués provide additional contrast. The model is matched with a black rubber or a dark grey fabric strap.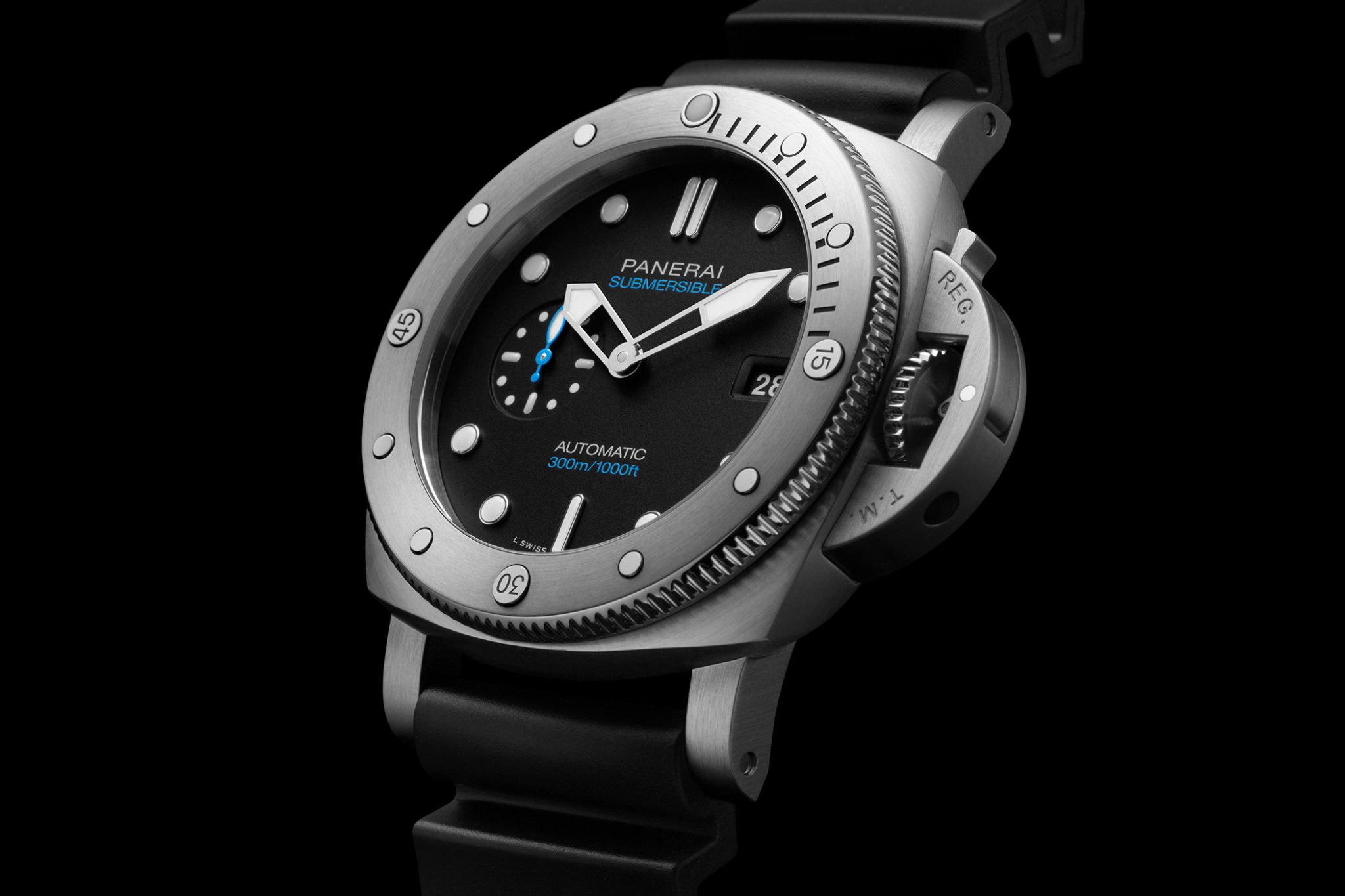 Submersible QuarantaQuattro
---
The Submersible QuarantaQuattro eSteel
---
With its eSteel watches, Panerai emphasises its commitment to sustainability. Eventually, declares the company's CEO, all the new steel models are to use eSteel. I query whether this is working well for Panerai – after all, some clients are still even deterred by the idea of luxury products using recycled materials. "It's completely the opposite case for us," states Pontroué. "In fact, today we even having people asking why certain things aren't recycled." He then whips out Panerai's new packaging; an incredibly slick watch travel case made from 72 percent recycled materials.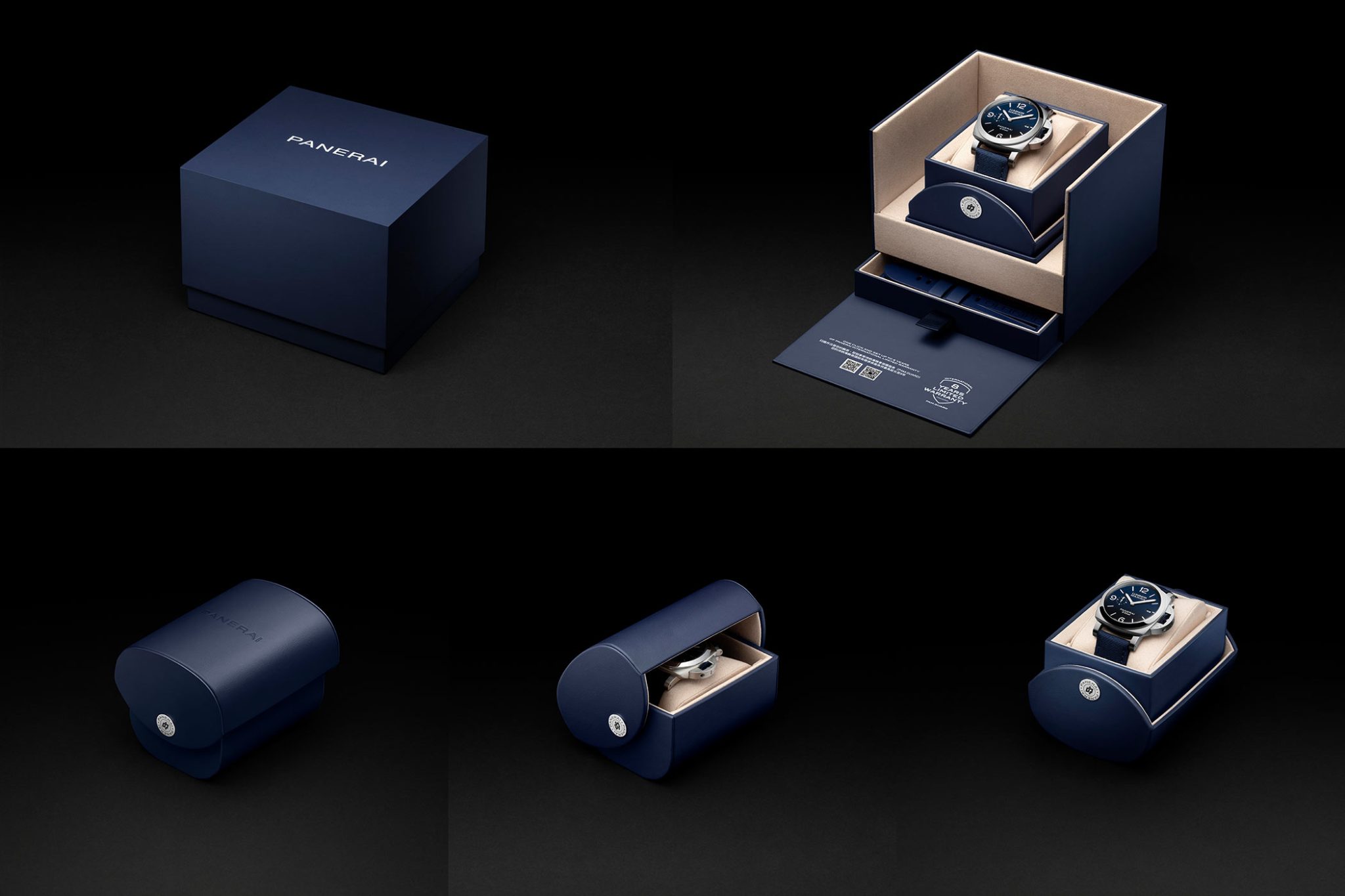 Panerai is well-known for its effort in the field of sustainability. It uses certified, qualified suppliers, alongside its own materials such as eSteel, to help the environment – and this is by no means meant to be an exclusive and appealing asset of the watch company. Rather, Pontroué tells us, he would happily share the names and addresses of all Panerai's suppliers with every watch manufacture present at Watches & Wonders. "The more people get on board, the more it will push this new sustainable way of manufacturing and business within the industry."
As Paneristi and several others will be aware, there are already several Luminor models with cases made of the recycled steel. Now three 44 mm Submersible are following suit. By using eSteel, the new diver's watches consist of 52% recycled materials, yet the material still has the same properties as conventional steel. The use of eSteel is indicated by an engraving on the crown protection bridge and an inscription on the dial.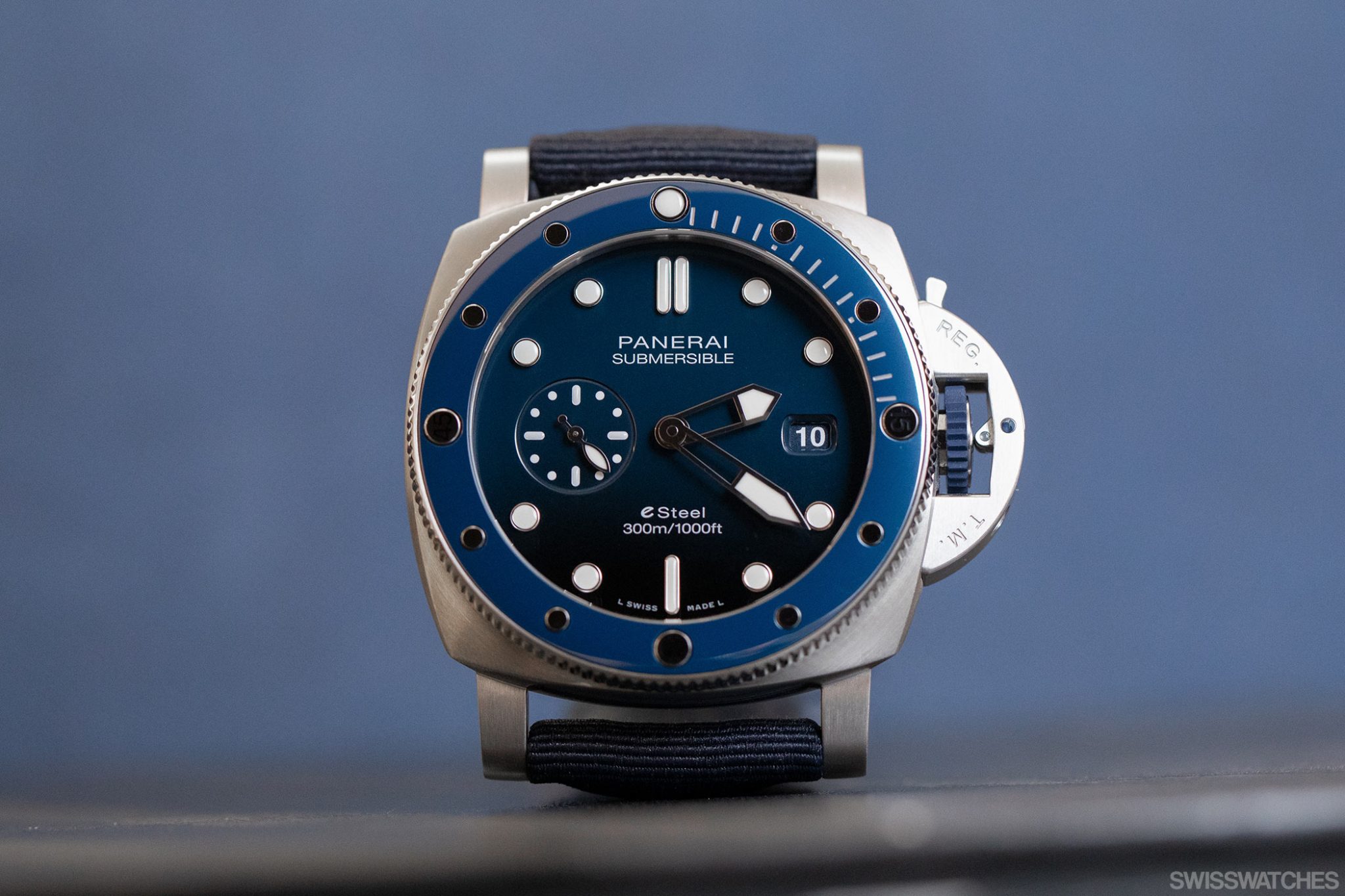 Submersible QuarantaQuattro ESteel™ – Blu Profondo
For the first time in its history, the brand is using polished ceramic for the unidirectional rotating bezel. Depending on the model, the bezel shines in black, green or blue, while the dials appear in matching grey (Grigio Roccia – PAM01288), green (Verde Smeraldo – PAM01287) or deep blue (Blu Profondo – PAM01289). Their polished surfaces showcase a colour gradient from light to dark, and the new date window lies at 3 o'clock.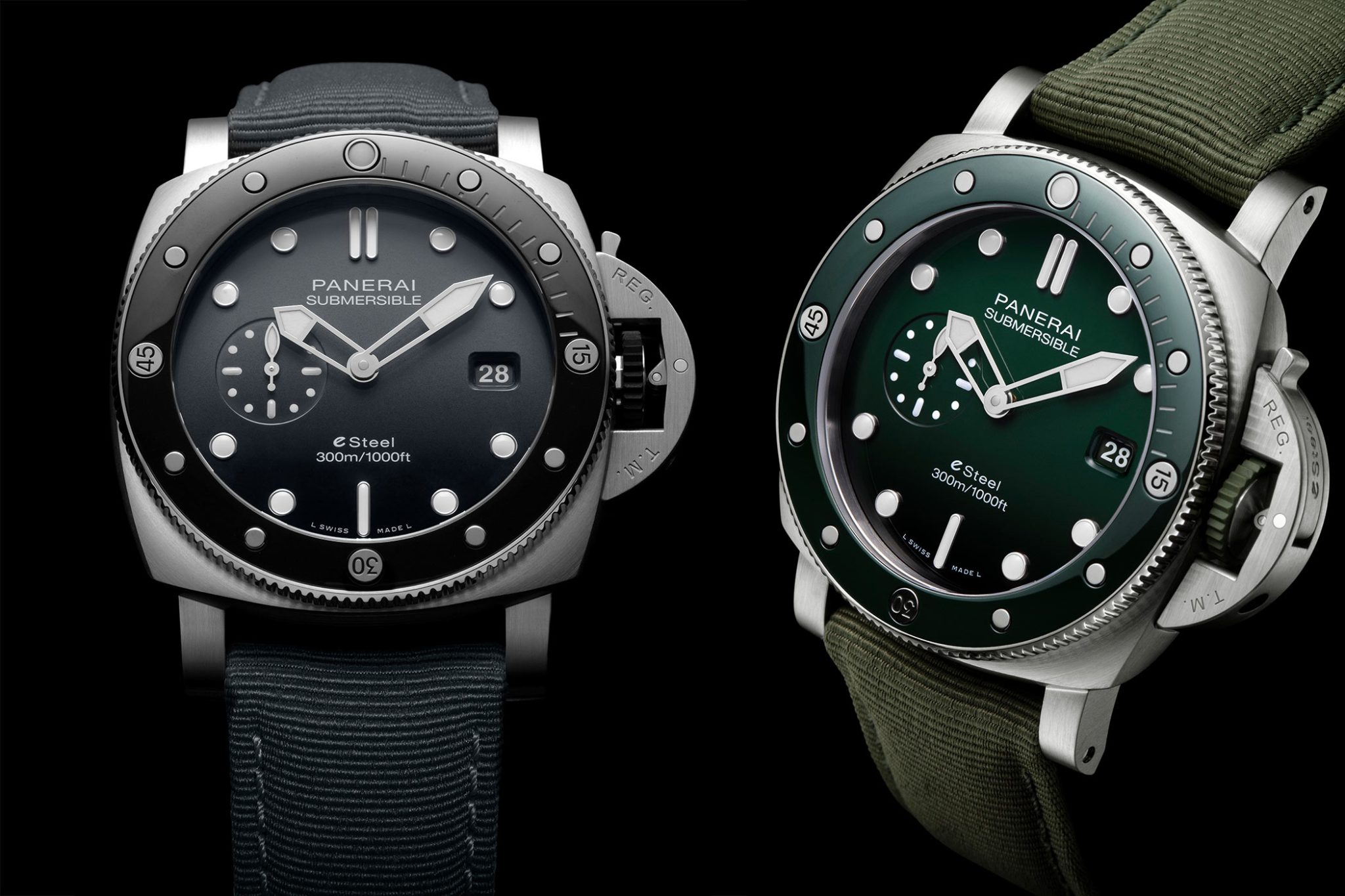 Submersible QuarantaQuattro ESteel™
Grigio Roccia & Verde Smeraldo
The P.900 calibre powers these three new timepieces. This means that the watches not only have automatic winding, but also 72 hours of power reserve. The models come with a fabric strap made of recycled PET and are also available with a rubber strap. These three Submersible QuarantaQuattro eSteel watches are available both in Panerai boutiques and online.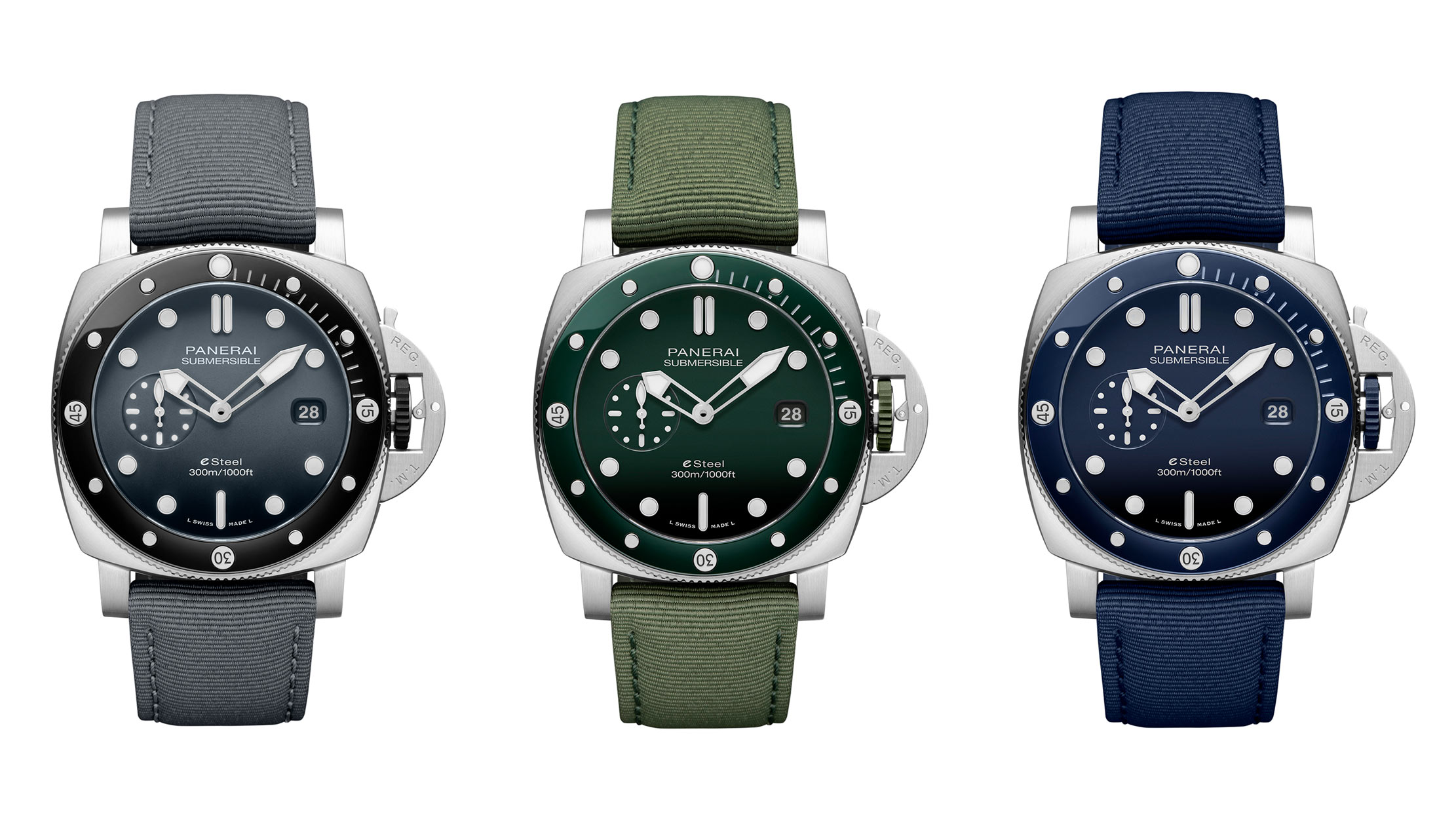 PAM01288 & PAM01287 & PAM01289
---
The Submersible QuarantaQuattro Luna Rossa
---
Last but not least, Panerai is presenting the Submersible QuarantaQuattro Luna Rossa (PAM01391), continuing its partnership with the Italian sailing team. The Luna Rossa team's association with the America's Cup (also known as "Formula 1 on water") stretches back to 1997. Alongside Prada and Pirelli, Panerai now helps the team to bring the cup home to Italy, and of course creates some collaborative watches along the way. "You know, it took us some time before we could really start with Luna Rossa, because we launched only a couple of days hours before COVID-19 began," Pontroué tells us. "So, it was not the best-chosen moment in which to launch a new concept."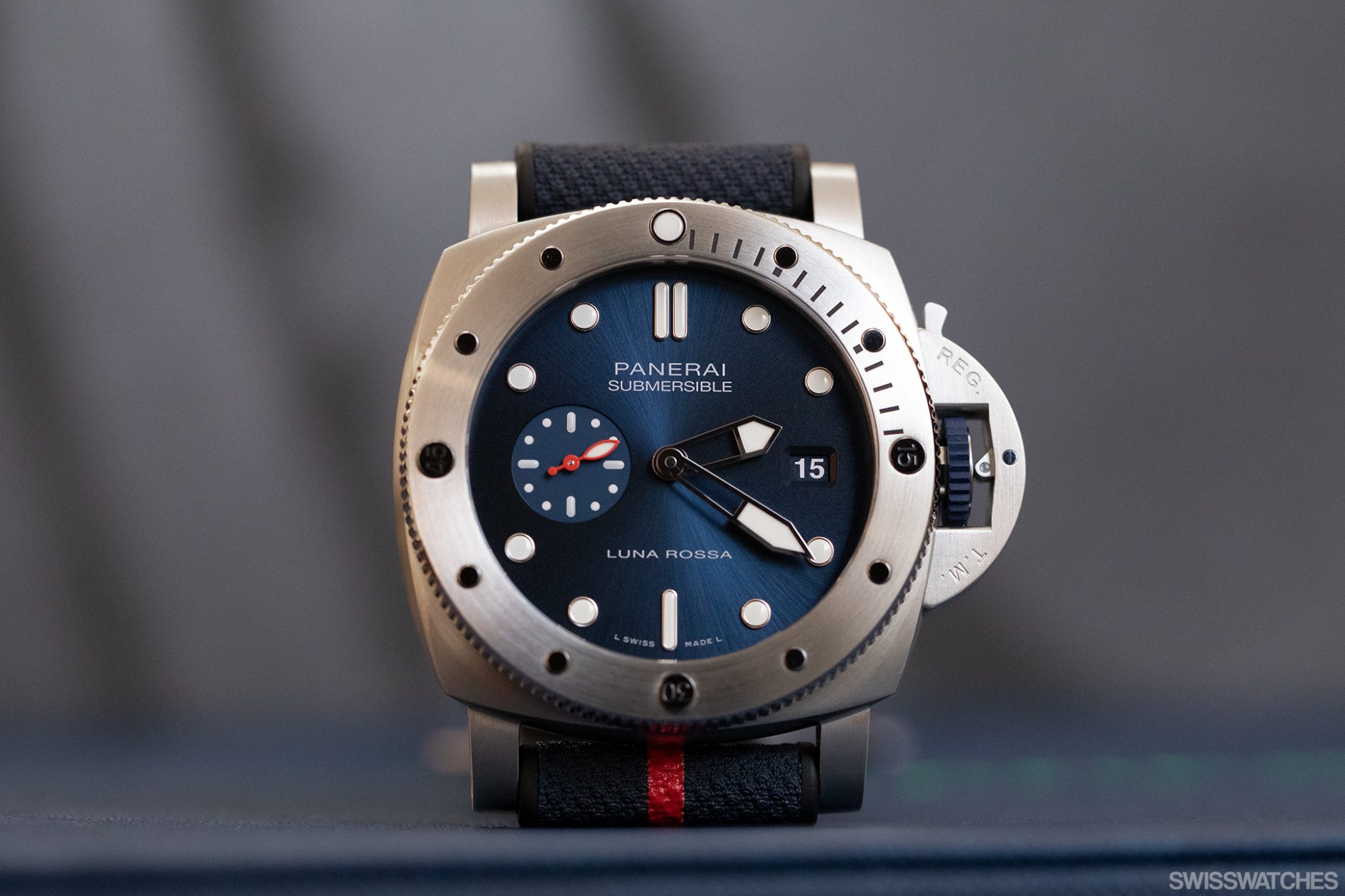 Nevertheless, the collaborative watches have been an incredible success. The latest Luna Rossa breaks with the all-black look of its predecessors, featuring an elegant blue, white and red colour scheme. The 44 mm steel case also has a bezel for tracking dive time. The blue crown is encased in rubber, while the caseback features a neutral caseback without the elaborate decoration present on the other models in the Luna Rossa range.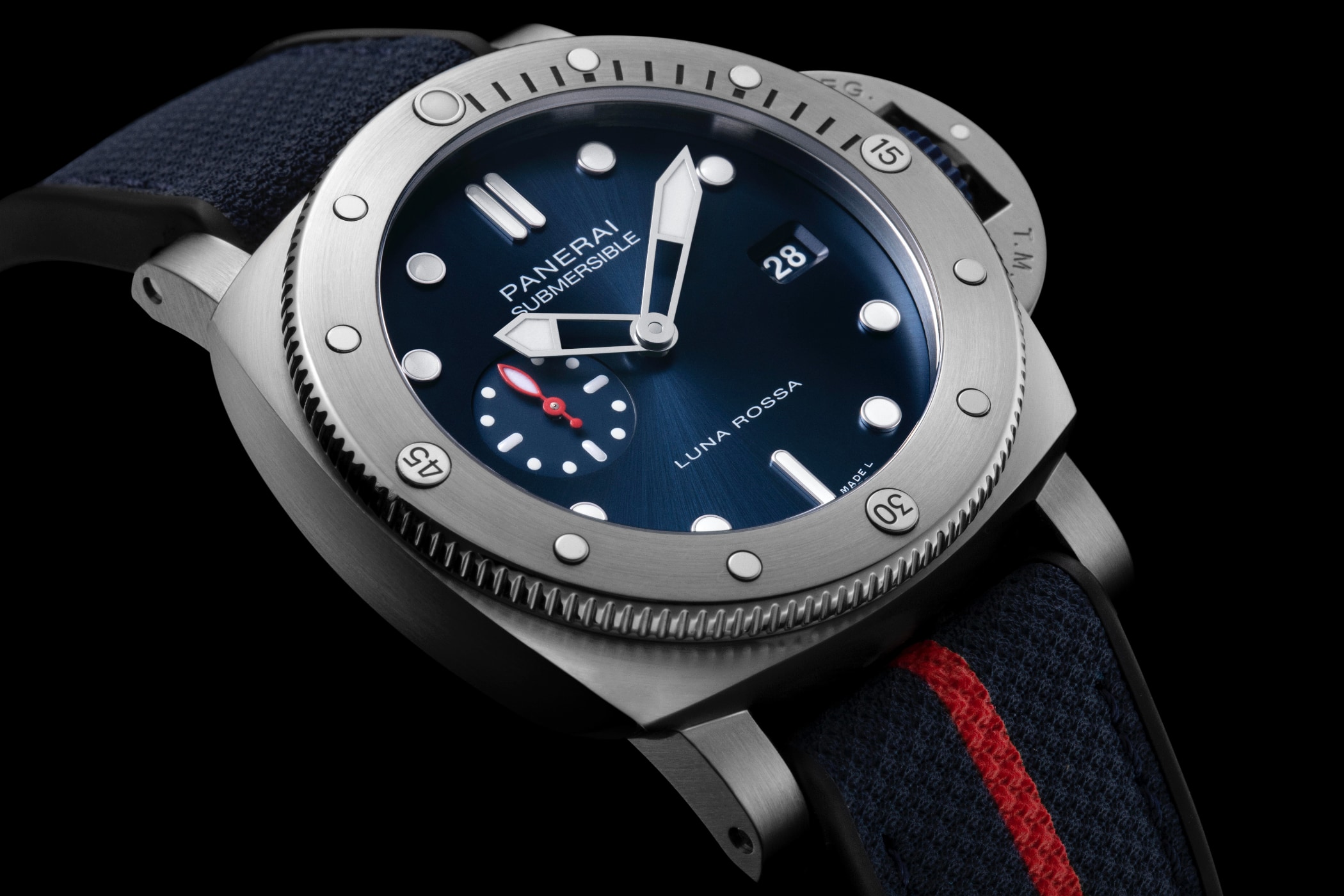 The dial has a sunburst finish and shines in a vibrant blue, and features applied indices with luminous material and a small seconds with a red hand. On the opposite side is the optimised date window. At 6 o'clock, a lettering also indicates the partnership with Luna Rossa.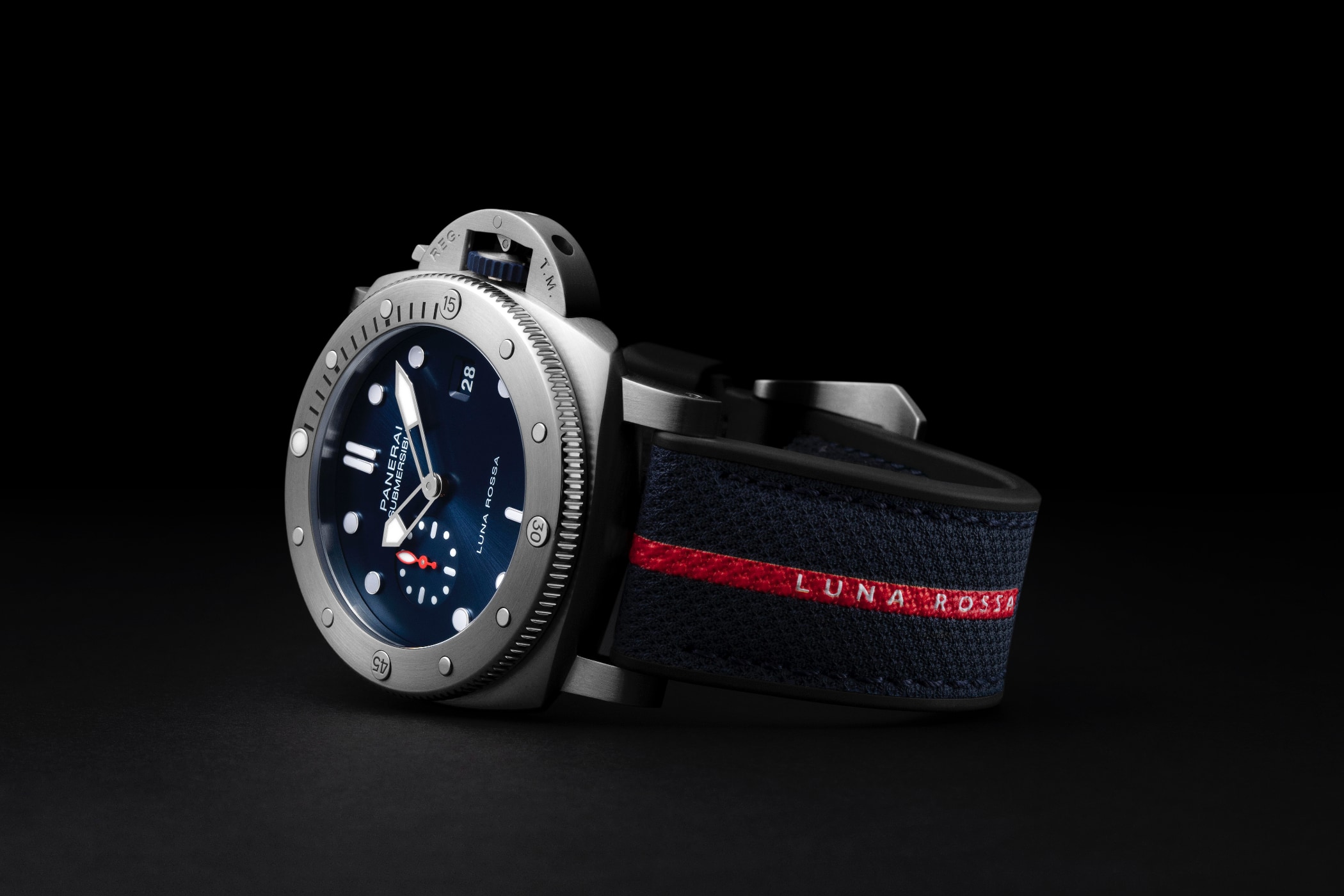 Once again, the calibre P.900 with automatic winding powers the watch. The barrel has room for 72 hours of power. The watch comes on an array of very comfortable straps. This includes a dark blue strap made of fabric and rubber, also featuring the Luna Rossa logo, as well as a strap made of recycled rubber in the same colour.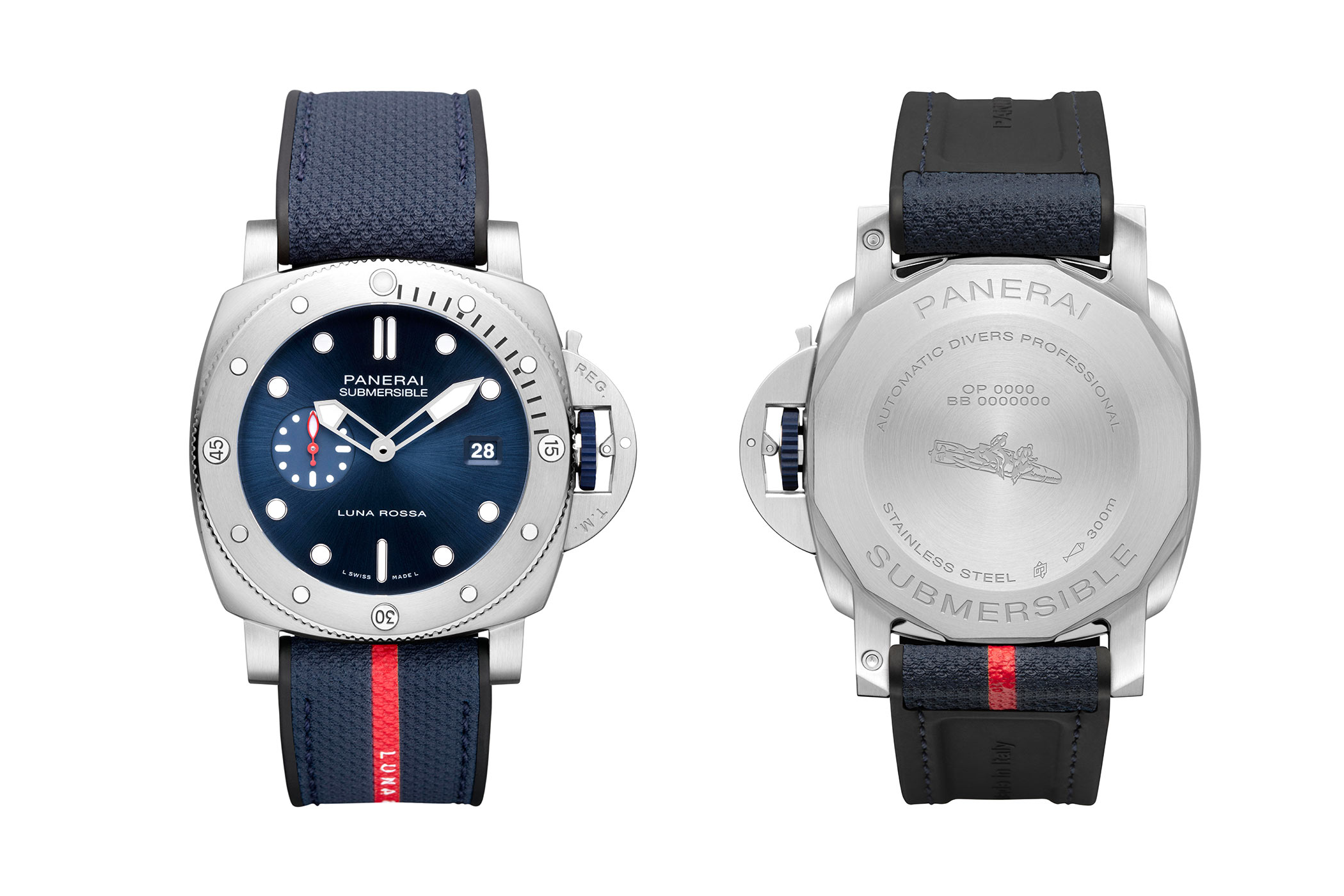 Submersible QuarantaQuattro
Luna Rossa – PAM01391
Later that evening, we attend a dinner hosted by Panerai (pointedly serving only the Italian drink 'Aperol spritz' or champagne at the reception). Amongst others, including an ambitious French magician enthusiastically hired by Pontroué, the event is attended by the team director and skipper of Luna Rossa Prada Pirelli, Massimiliano "Max" Sirena. As he tells his story of working alongside Panerai, it becomes clear that he and Pontroué have a close bond. The significance of this is not lost on me; it's the same kind of relationship to the one the CEO has with ambassador Mike Horn, who also seems to have maintained a genuine, deep friendship with Panerai over the years. It is meaningful to note that these partnerships are evidently far more than a mutually beneficial business move.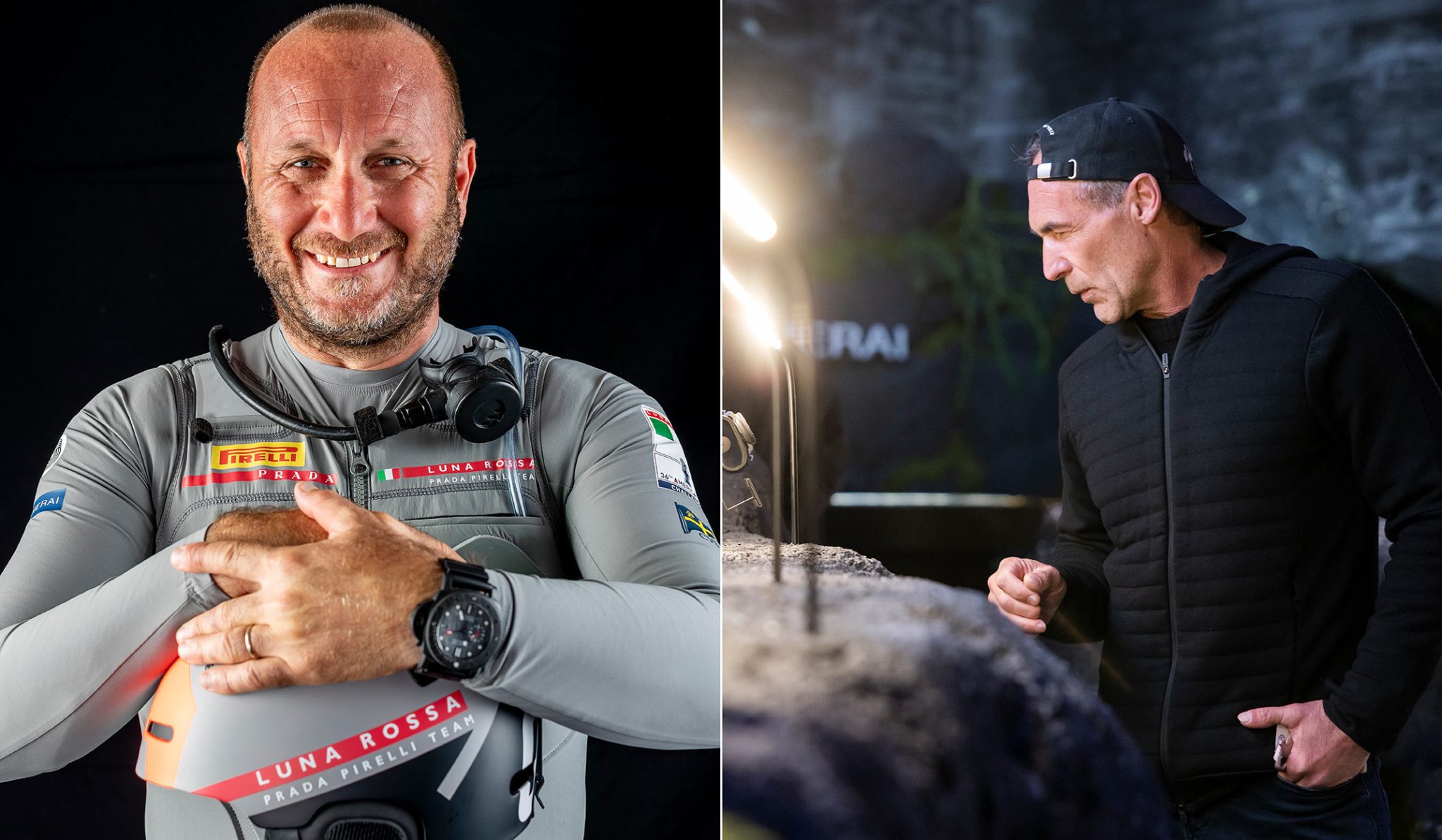 The team director of Luna Rossa Prada Pirelli – Massimiliano Sirena (left).
Panerai ambassador and Explorer of the Extreme – Mike Horn (right).
Credit © Panerai
I conclude our time in Panerai's shadowy Watches & Wonders 'cave' by asking about the manufacture's recent unexpected excursion to space, which Pontroué partly puts down to having already created watches suitable for high pressure and low temperatures for Panerai's Mike Horn. "We didn't know that a Panerai watch was going to end up in space, so the news was totally incredible," enthuses Pontroué. "We were told: 'You probably know that your watches are deep in the ocean, but what you probably don't know is that one of your watches is now in space.' At first, I thought it was a joke. It took me four days to find out if it was true or not. We called the dealer of the watch, and eventually confirmed everything. Our watches are being tested out not only in space stations, but also outside the space station. This is what makes it so interesting." The watch on the wrist of the astronaut spotted was the Radiomir PAM210. Since then, it has become known that the PAM01616 Submersible Carbotech has also headed up to space, equipped with a special strap to wear on top of the astronaut's suit.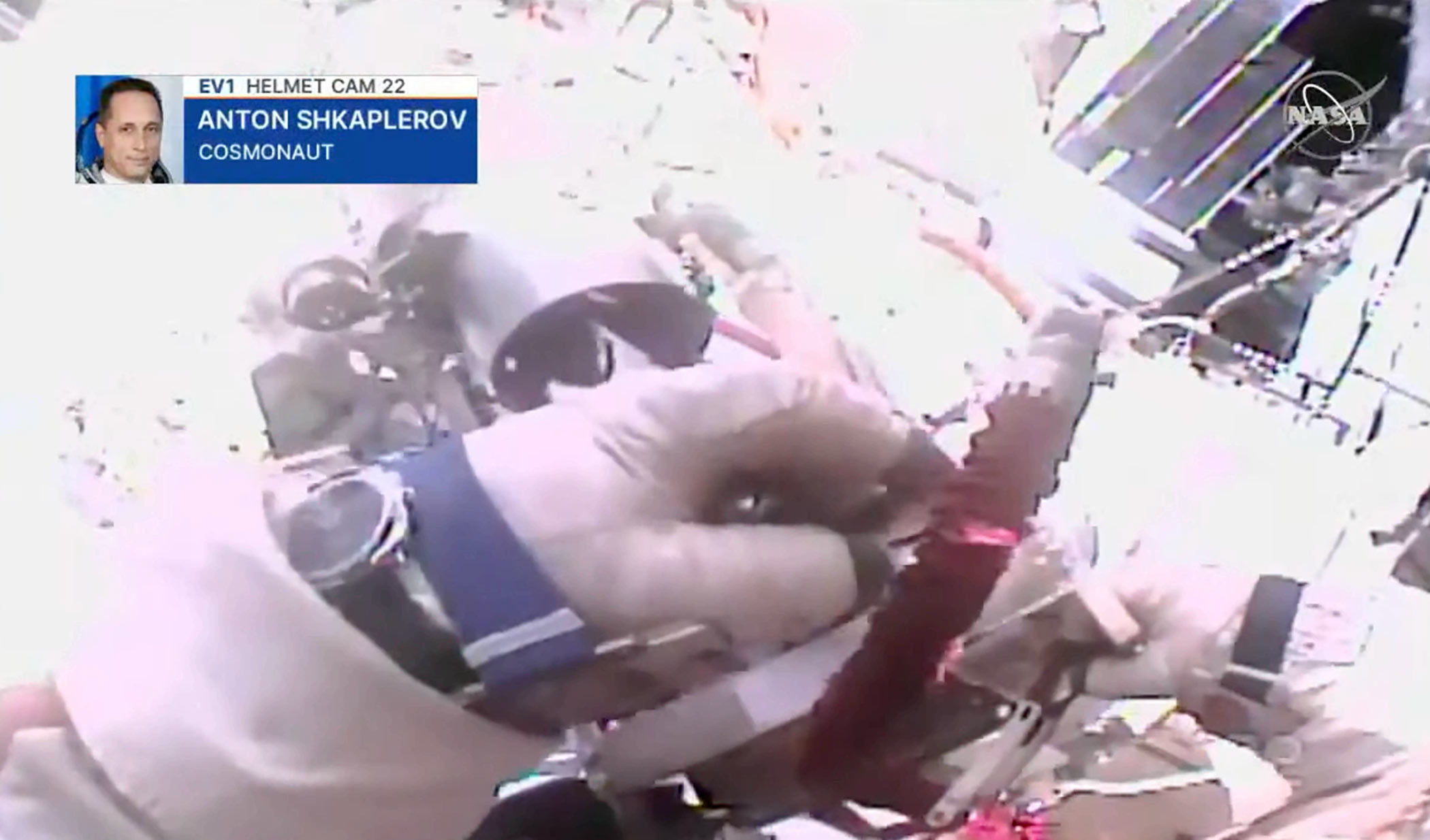 Of course, Panerai watches have appeared on many famous wrists, from Dwayne Johnson to Arnold Schwarzenegger. Pontroué is keen to emphasise that this is not the doing of Panerai's marketing department – it's because many well-known personalities simply want to opt for Panerai watches. "That's the beauty of the brand," concludes Pontroué with pride.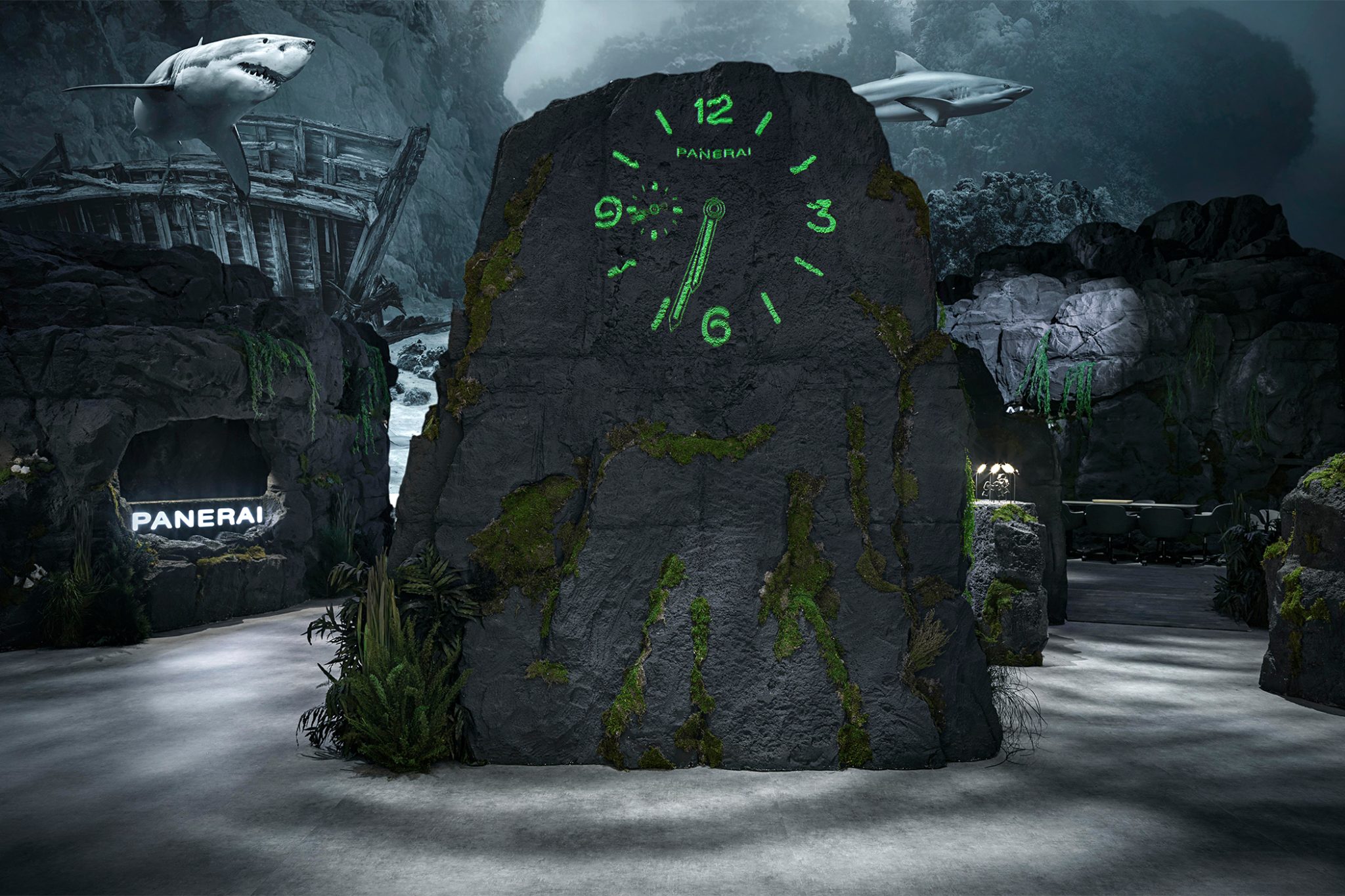 Credit © Panerai
A final note for those who want to be prepared for next year's Watches & Wonders – to my knowledge, the elusive brands offering a (very good) cappuccino at the fair include Hublot and IWC Schaffhausen. Let's see if Pontroué joins their honourable ranks in 2023.
---
---