'Candyman' is not only a horror movie from 1992, but also the movie's main character that appears when people look into a mirror and call his name five times. The watch reality in 2019 is less supernatural though, but almost as creepy: In real life, you might even stand in front of the Patek Philippe concessionaire a dozen times and chant 'Nautilus' as often as you want – most likely it will still not show up. The Patek design is incredibly omnipresent on social media, the desire of the Nautilus is so huge that some Patek aficionado started to become irritated. The reason is because the Geneva manufacturer is much more famous for many other achievements than just the Genta design. In its DNA it carries the striving for more, the striving for the next step in Haute Horlogerie for horological excellence. One of the best examples of this: the reference 5204, a split-seconds chronograph with a perpetual calendar. One of the most sophisticated complications alongside a minute repeater.

The reference 5204 is also one of these models that is not only extremely rare – money and patience isn't enough to get hold of it. Instead, you have to apply to Patek Philippe, and prove that the applicant is worthy of paying 264,240 euros – for reference 5204/1R-001 with black dial and rose gold bracelet, it's 290,770 euros.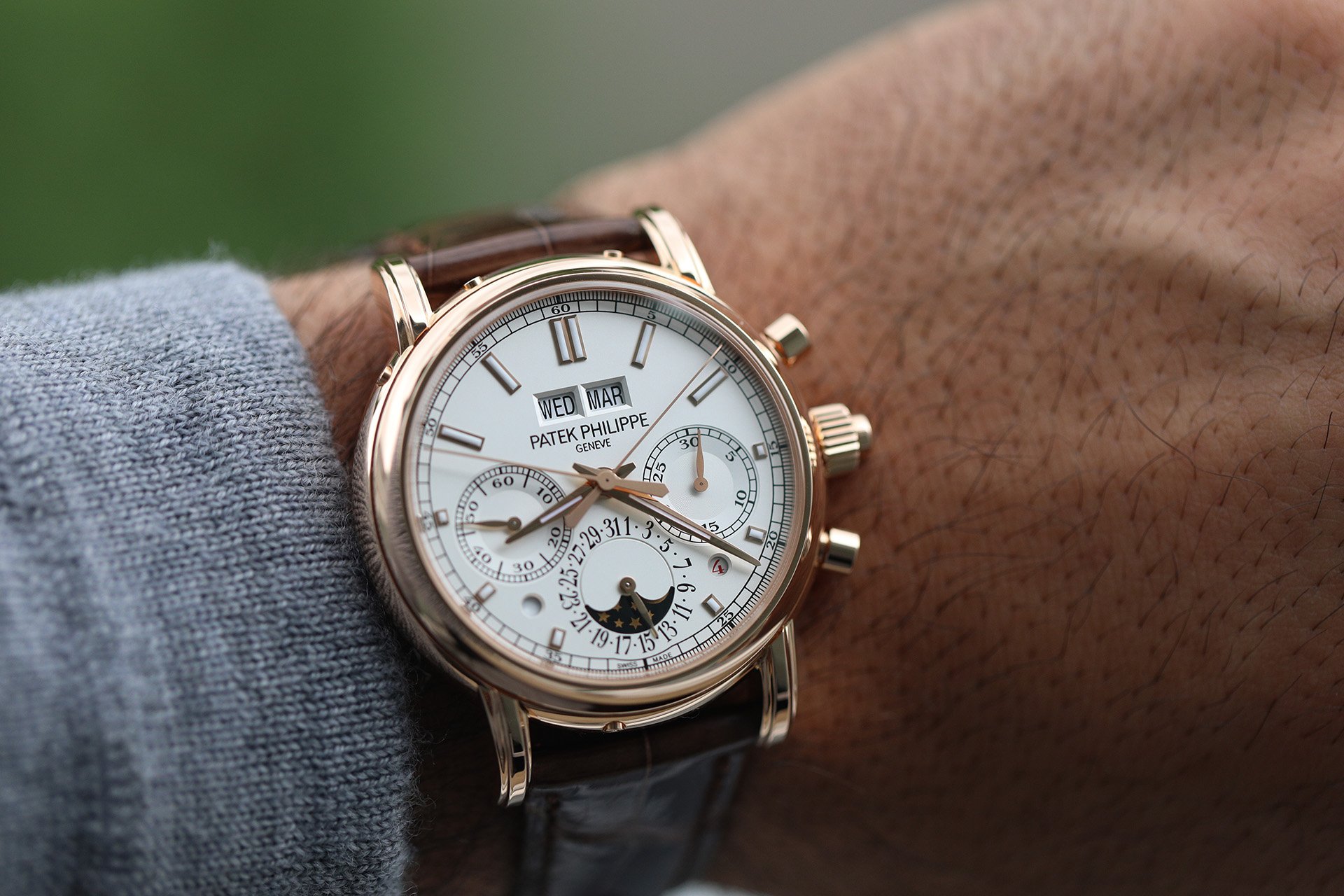 Ref. 5204R Split-Seconds Chronograph Perpetual Calendar
Whereas this is not so much about the price of this timepiece, it is still an unmistakable indication that even in Patek's world, you move in extreme spheres. Indeed, the 5204 is a milestone in recent Patek Philippe history. The reference was first introduced in 2012, in platinum and again with a silvery-opaline dial, and also a version with a black dial in 2014.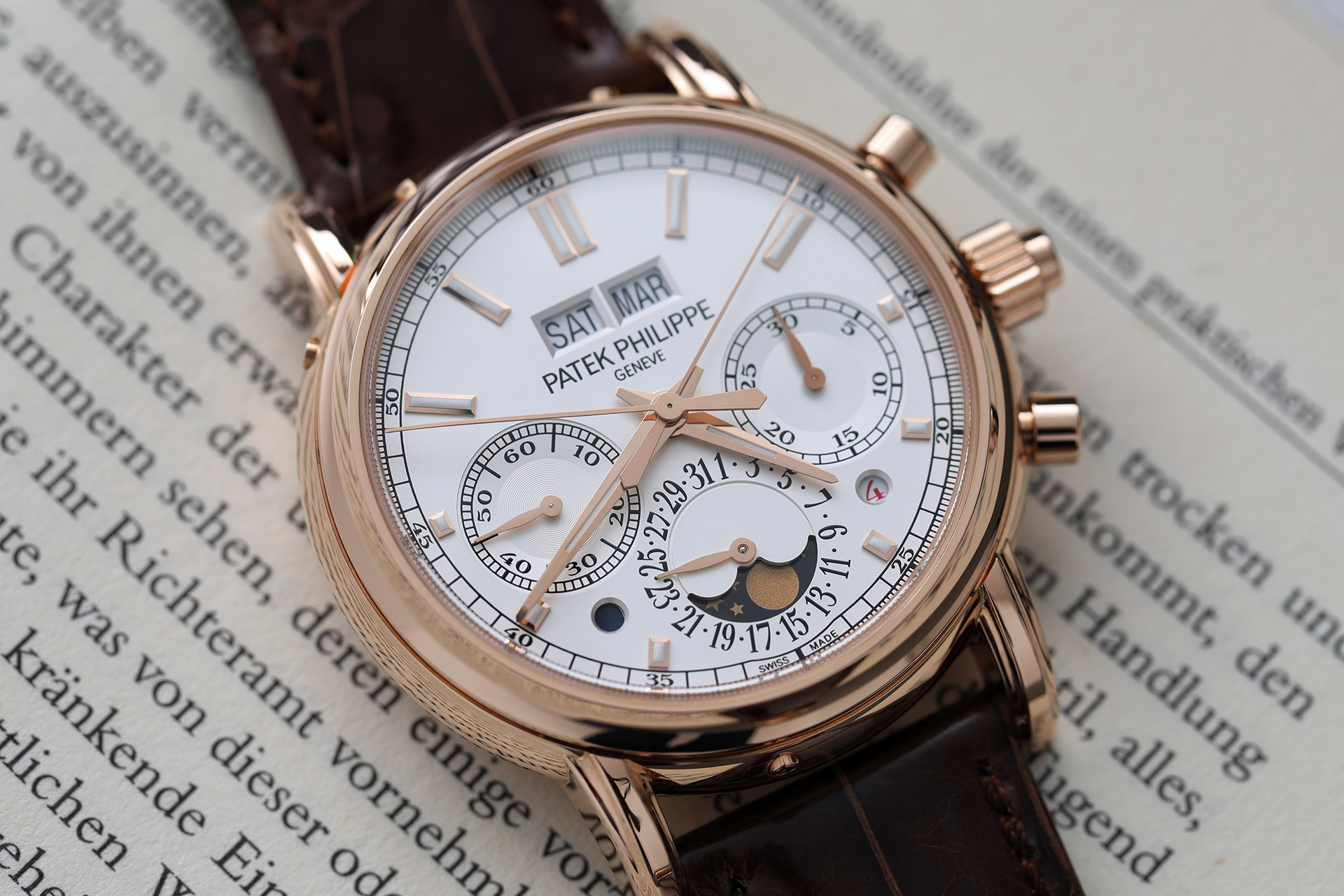 Ref. 5204R is the secret star of Patek and much rarer than any Nautilus
First in-house split-seconds chronograph with perpetual calendar
The presentation of a split-seconds chronograph with perpetual calendar was a loyal and logical step from the Geneva watchmakers when it came to the presentation and product development of great new 'complications': on the basis of the new calibre CH 29-535 PS, they implemented a standard chronograph into their boutiques (ref. 5170 in 2010), followed by a standard chronograph with a perpetual calendar (ref. 5270 in 2011), and now the split-seconds chronograph with a perpetual calendar and its calibre CHR 29-535 PS Q. The new calibre replaces the calibre 27-70 by Nouvelle Lémania that had been used up until now. And although this movement was modified and finished to Patek's fullest expectations, the step to produce this movement entirely in-house was indeed historic.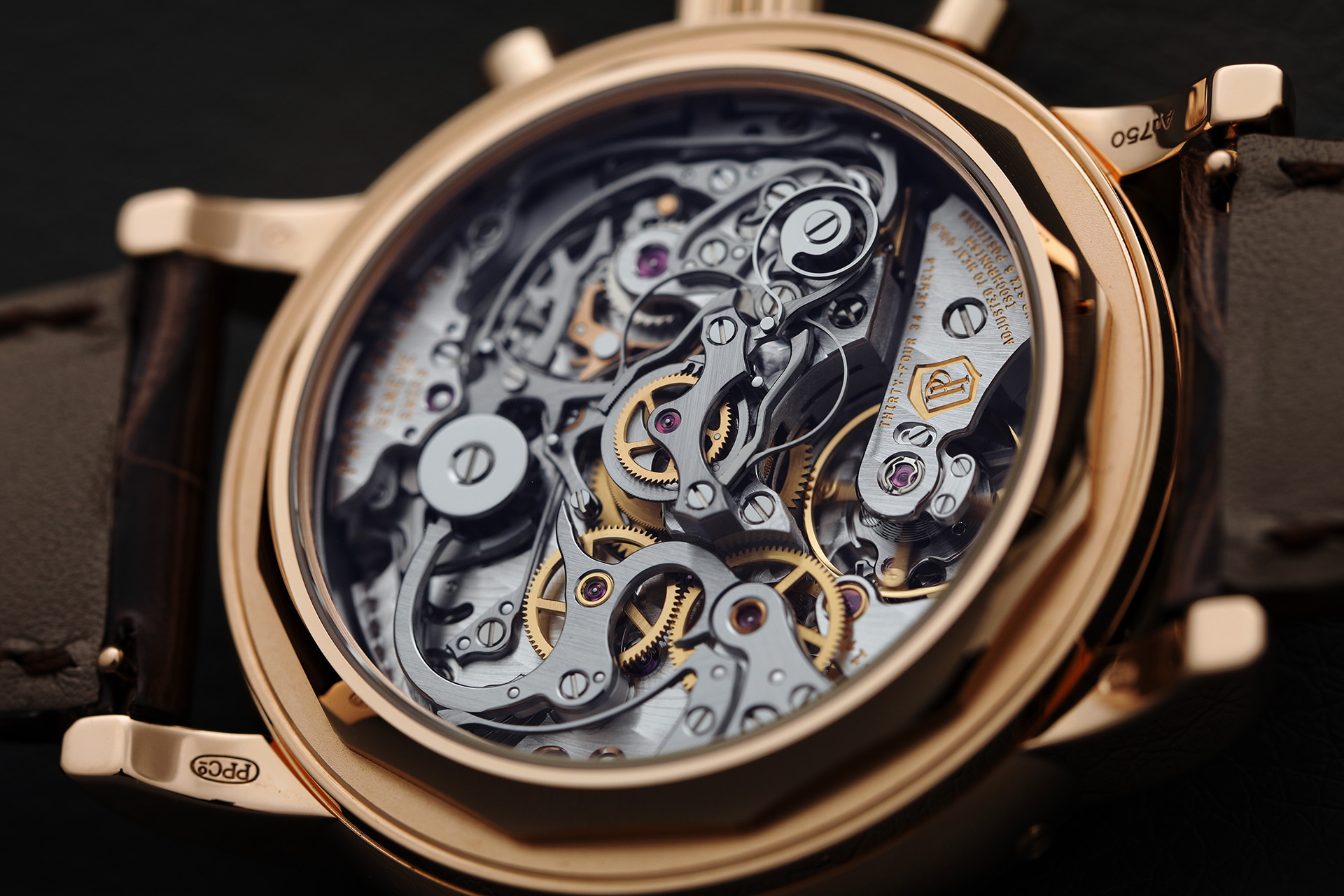 Patek's first in-house split-seconds chronograph with perpetual calendar
Hence, the 5204 stands for tradition as well as for the future of the brand. With a hand-wound movement, two column wheels and horizontal clutch, it certainly is a classical offspring of the Patek family, and the dial also shows a familiar 'face'. With a case diameter of 40.2 millimetres, however, they are taking a big – one might say: contemporary – step. Its predecessor model, ref. 5004, measured a mere 36.7 millimetres.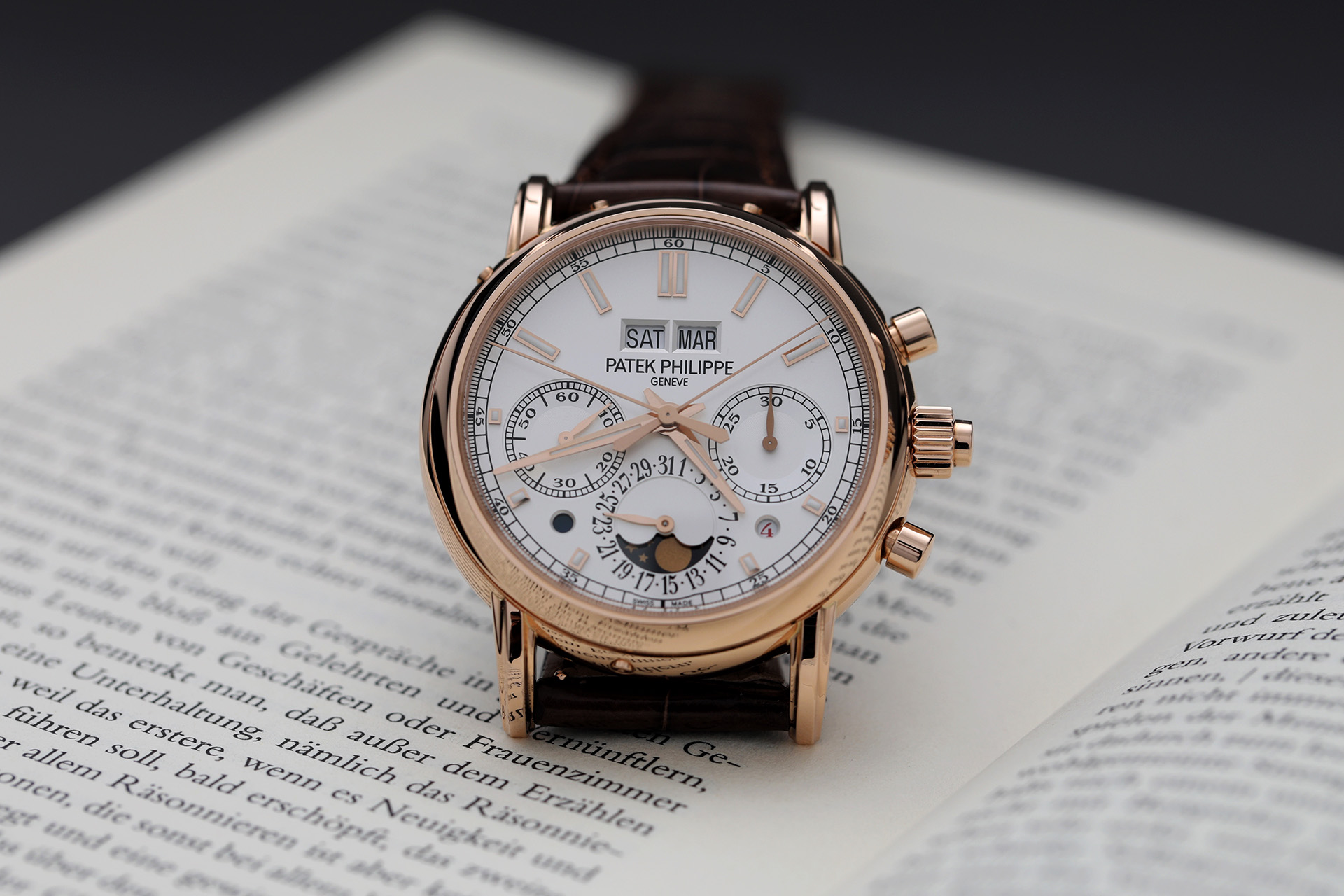 Contemporary or daring? Ref. 5204R has a case diameter of 40,2 mm instead of 36,7 mm like its predecessors
That is also why 'the chin' is most controversially discussed, the sub-dial at 6 o'clock and its moon phase and date indication that sneaks into the outer ring of the minute display and brings the symmetry slightly out of balance. It's just a tiny design detail – but the new dimension that offers more space on the dial is causing some irritation. A great number of contemporary Patek collectors seem to be pleased, however: The American TV-presenter Ellen de Generes as well as football legend Frank Lampard are amongst the proud owners of a ref. 5204.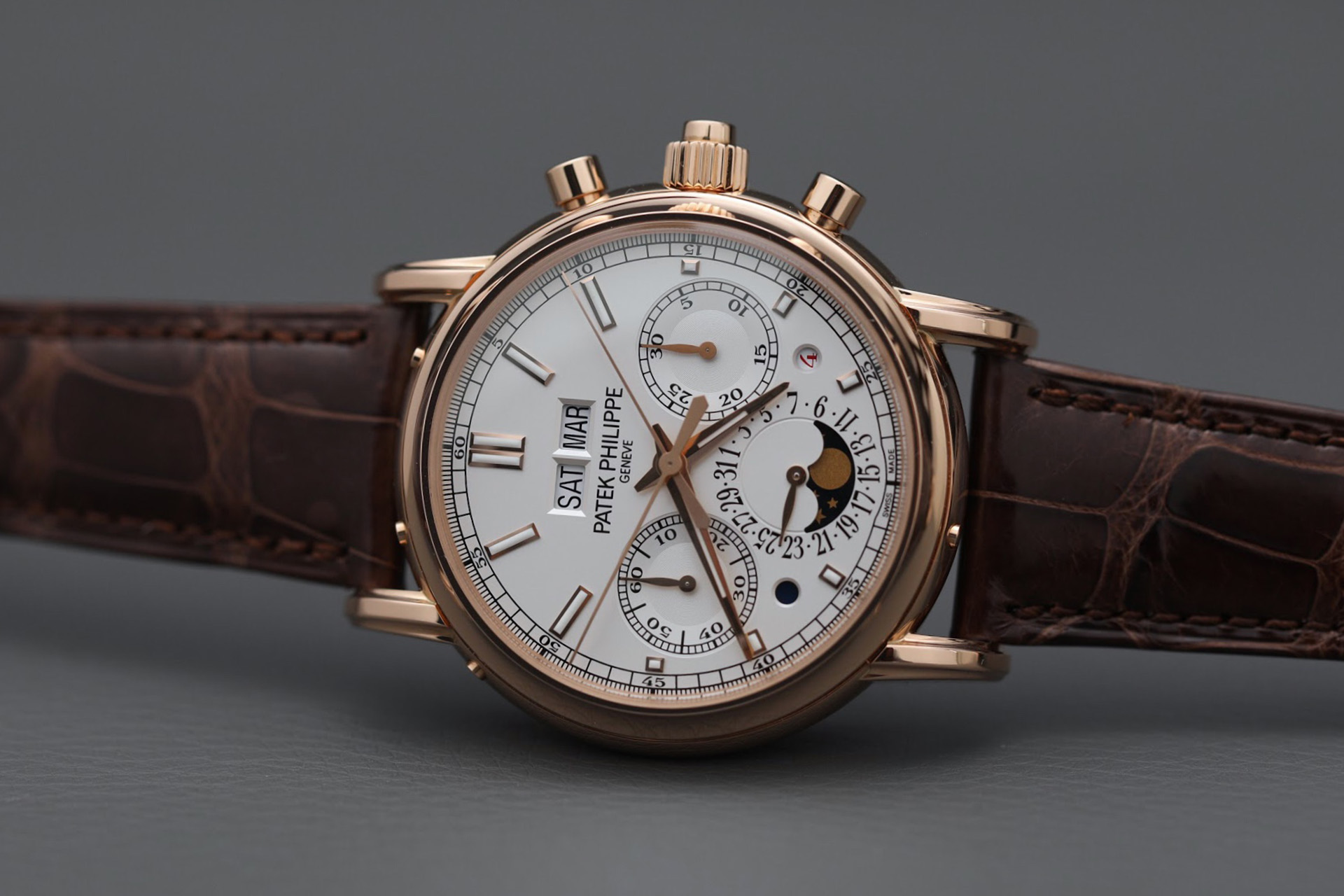 You can imagine how demanding CEO Thierry Stern's job is, a permanent balancing act, especially in terms of aesthetics: The faction of traditionalists is especially large when it comes to 'grandes complications' – for them, everything seemed to be better back in the day. At the same time, you can be sure that brand owner Stern doesn't need any extra lessons in brand history, but rather is leading the manufacturer into the future. From all of the laurels Patek has won in the past: stagnation is not an option, especially in the watch industry.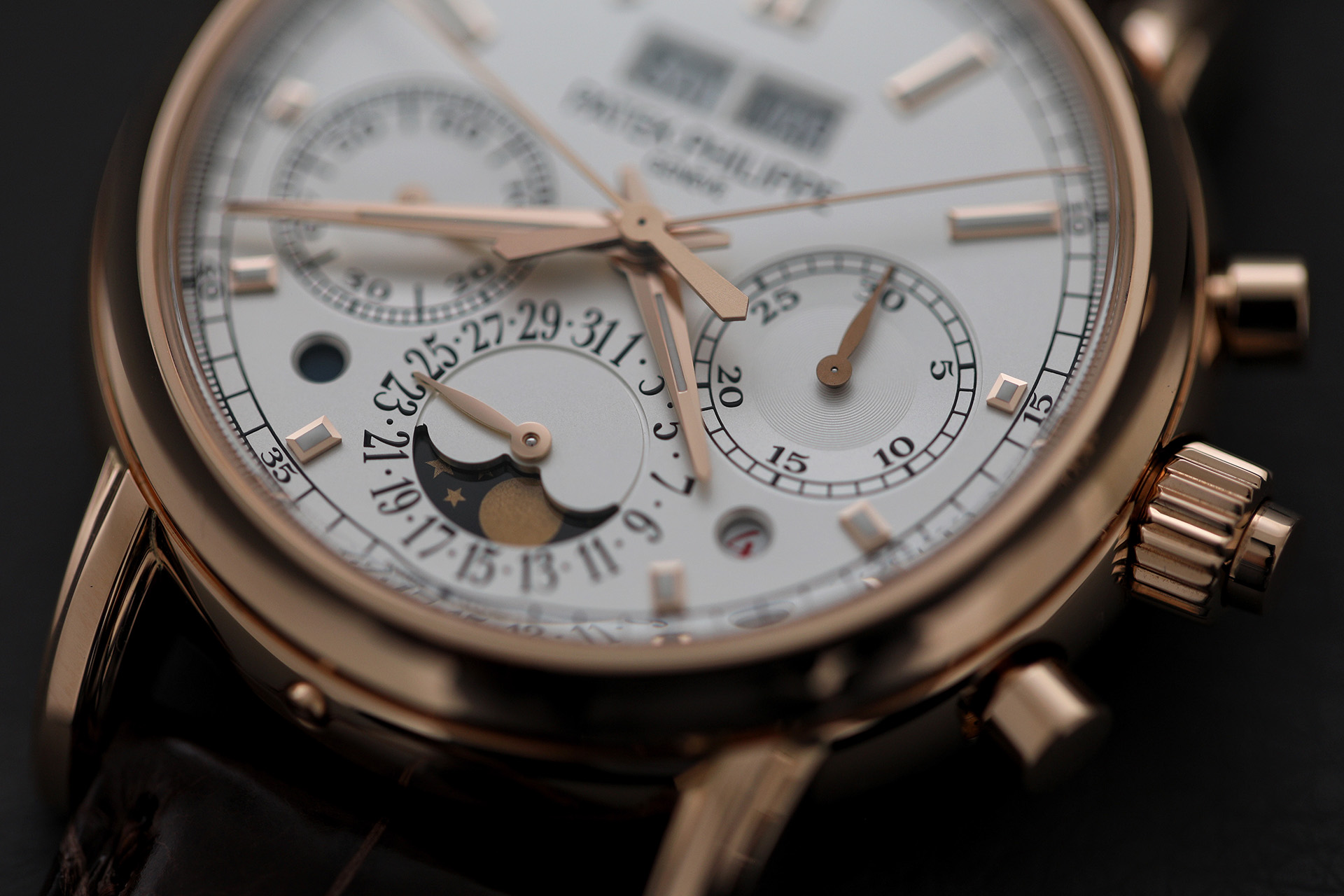 The split-seconds chronograph is one of the three most difficult complications to master in watchmaking
Calibre CHR 29-535 PS Q with isolator-system
It is therefore worth taking a glimpse of ref. 5204 with its silvery-opaline dial in white gold, cased in a perfect rose gold hue. The view through the sapphire case back revealing the movement is even more fascinating, where a new isolator system presents a great horological novelty. This isolator uncouples the split-seconds wheel from the chronograph wheel as soon as the split-seconds hand is stopped to display a lap time. The decisive advantage of the new isolator is that it can move back and forth when the split-seconds clamps are opened and closed. This is more reliable than the mechanism used in the previous reference 5004 that only rotates in one direction. This mechanism alone consists of 42 parts, and of 469 in the entire movement. The balance runs at a frequency of 28,800 semi-oscillations per hour, which is a great modification to the previous model at 18,000 vps.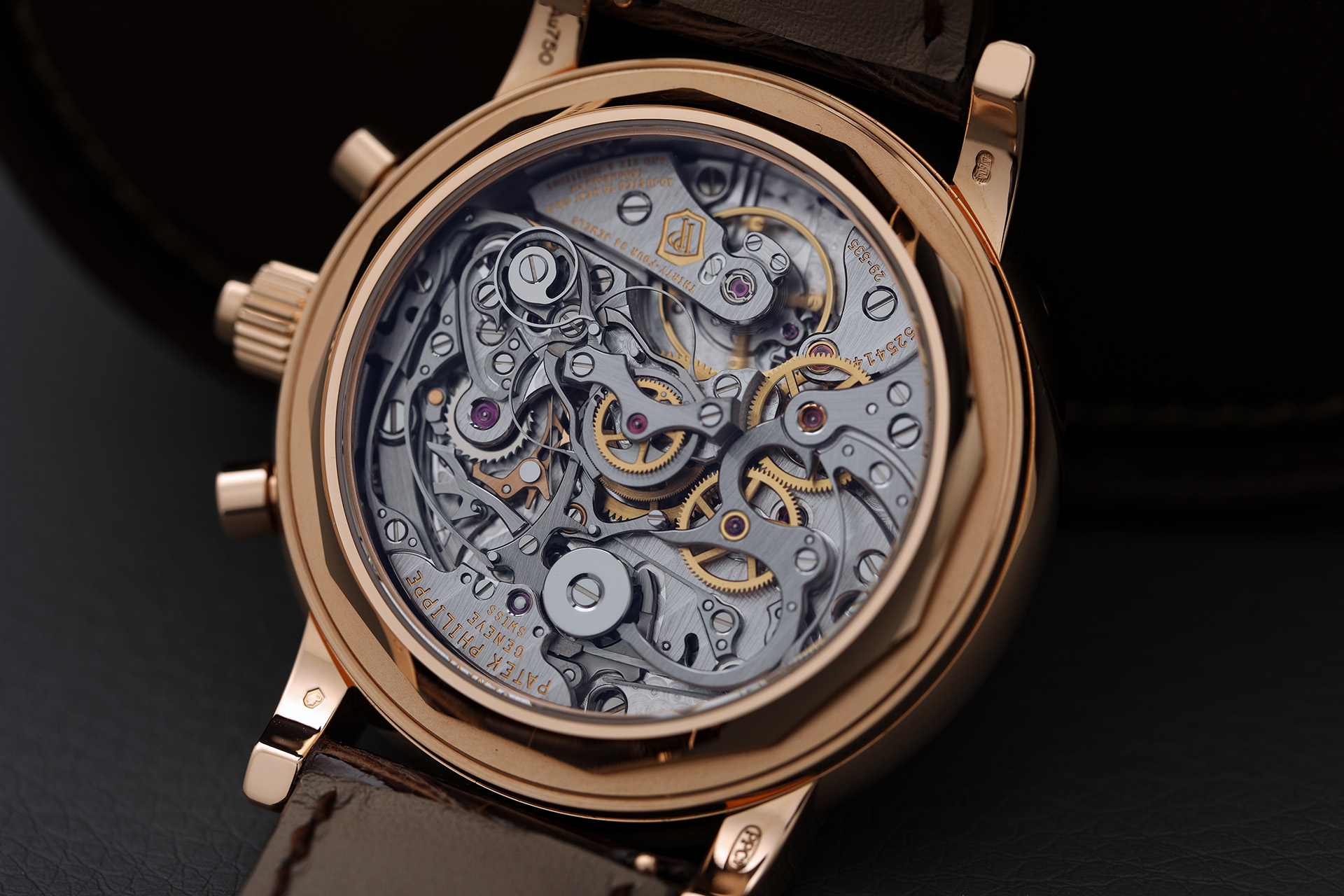 Calibre CHR 29-535 PS Q with isolator system (left)
In-house calibre CHR 29-535 PS Q (right)
This first in-house, split-seconds chronograph perpetual calendar with its inner and external appearance is the hidden star of the Patek collection. Much rarer than any Nautilus, and at the same time a watch that has brought Patek far further. Only the rose gold version is available in the collection at the moment. And if Patek stays true to its rhythm – apart from the visually slightly updated chronograph ref. 5172 presented this year – we cannot expect a truly new design for this split-seconds chronograph with perpetual calendar until 2021.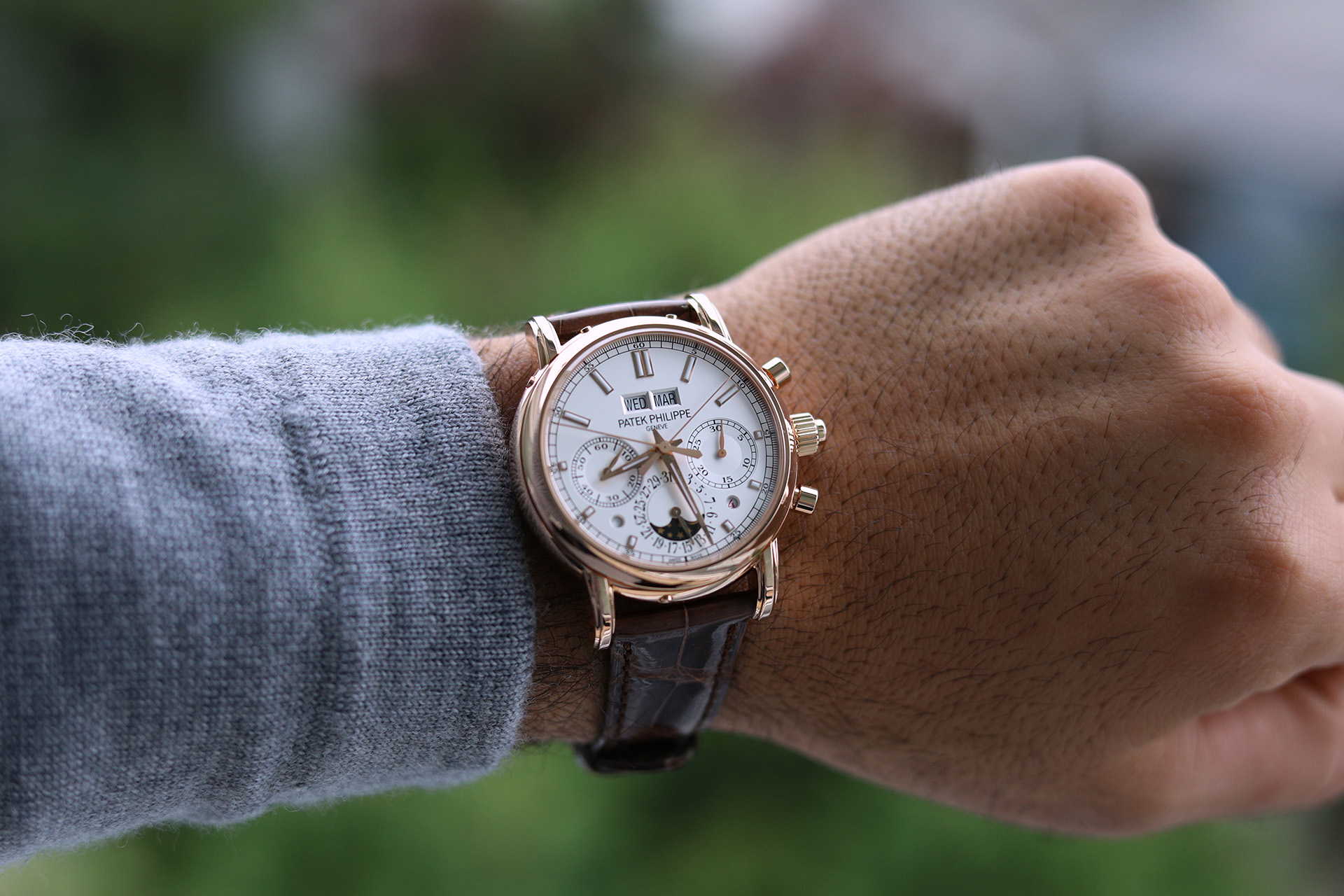 Ref. 5204R Split-Seconds Chronograph Perpetual Calendar
---
---