Breitling has been enjoying a new lease of life since mid-2017, under the new leadership of Georges Kern. His manufacture doesn't simply offer a diverse array of models for the sake of wide-reaching popularity. Yet a broad appeal is exactly what the Swiss horology house is now enjoying. When Kern took over as CEO, he began to breathe new life into several of the company's older collections and celebrate their heritage.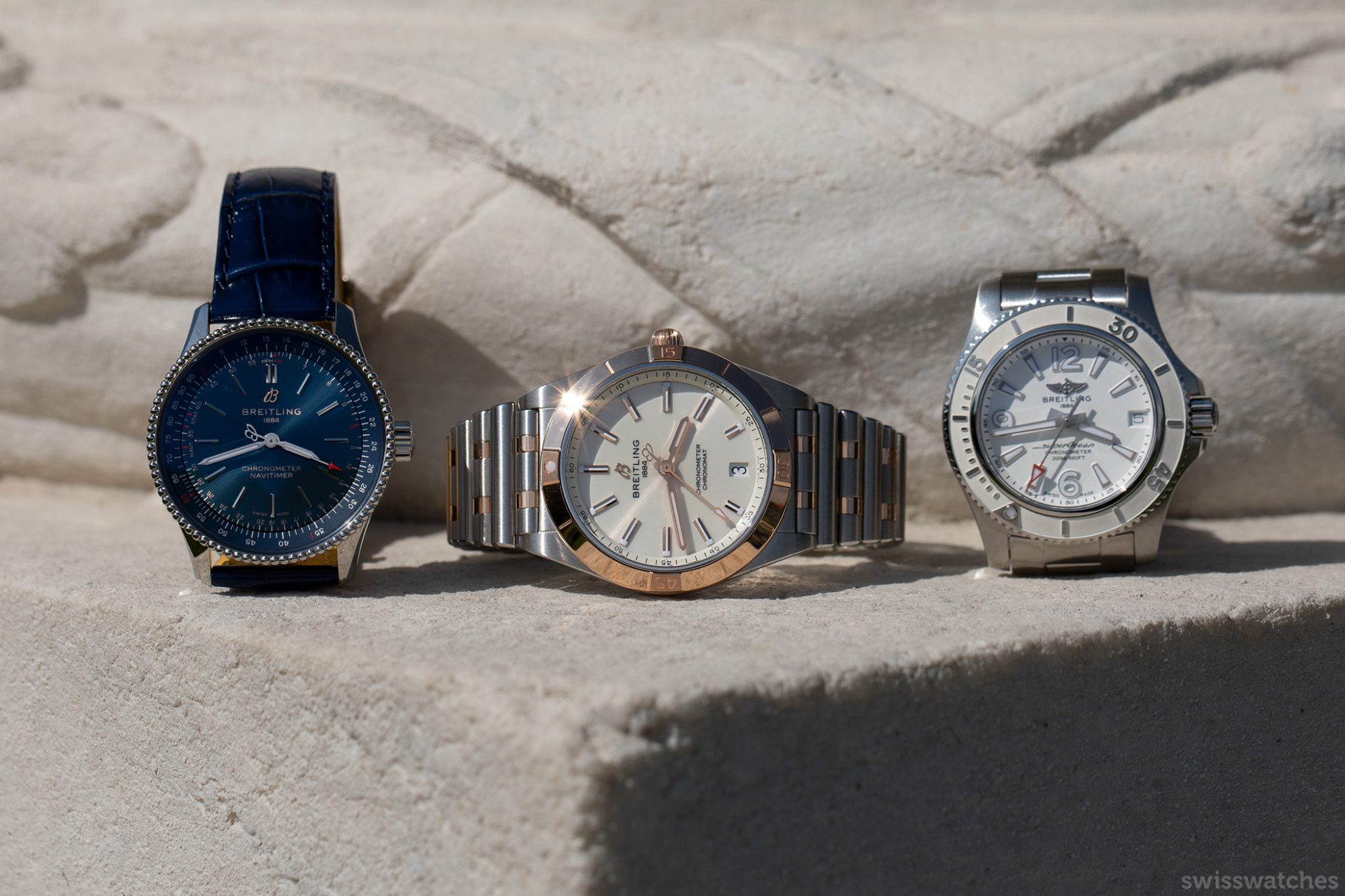 Three of the most popular models amongst Breitling's fast-growing following includes the Superocean, Navitimer, and Chronomat. These are also available for women with slightly smaller cases and other colours. We decided to take a closer look at these Breitling ladies' models. Let's get to know the Superocean Automatic 36, the Navitimer Automatic 35 and the Chronomat Automatic 36.
---
The Breitling Superocean Automatic 36
Think Kelly Slater, Stephanie Gilmore, and Sally Fitzgibbons – this contemporary ladies' Breitling enjoys powerful representation by the "Surfer Squad". For many, the Superocean will evoke images of surfing boards and ocean clean-ups. The Superocean, Breitling's well-known dive watch, first appeared in 1957. With a water-resistance to 200 m (660 ft) it was meant for both professional and military divers. Willy Breitling conceived the watch to celebrate his 25th anniversary of heading the brand but it remains a cult classic to this day.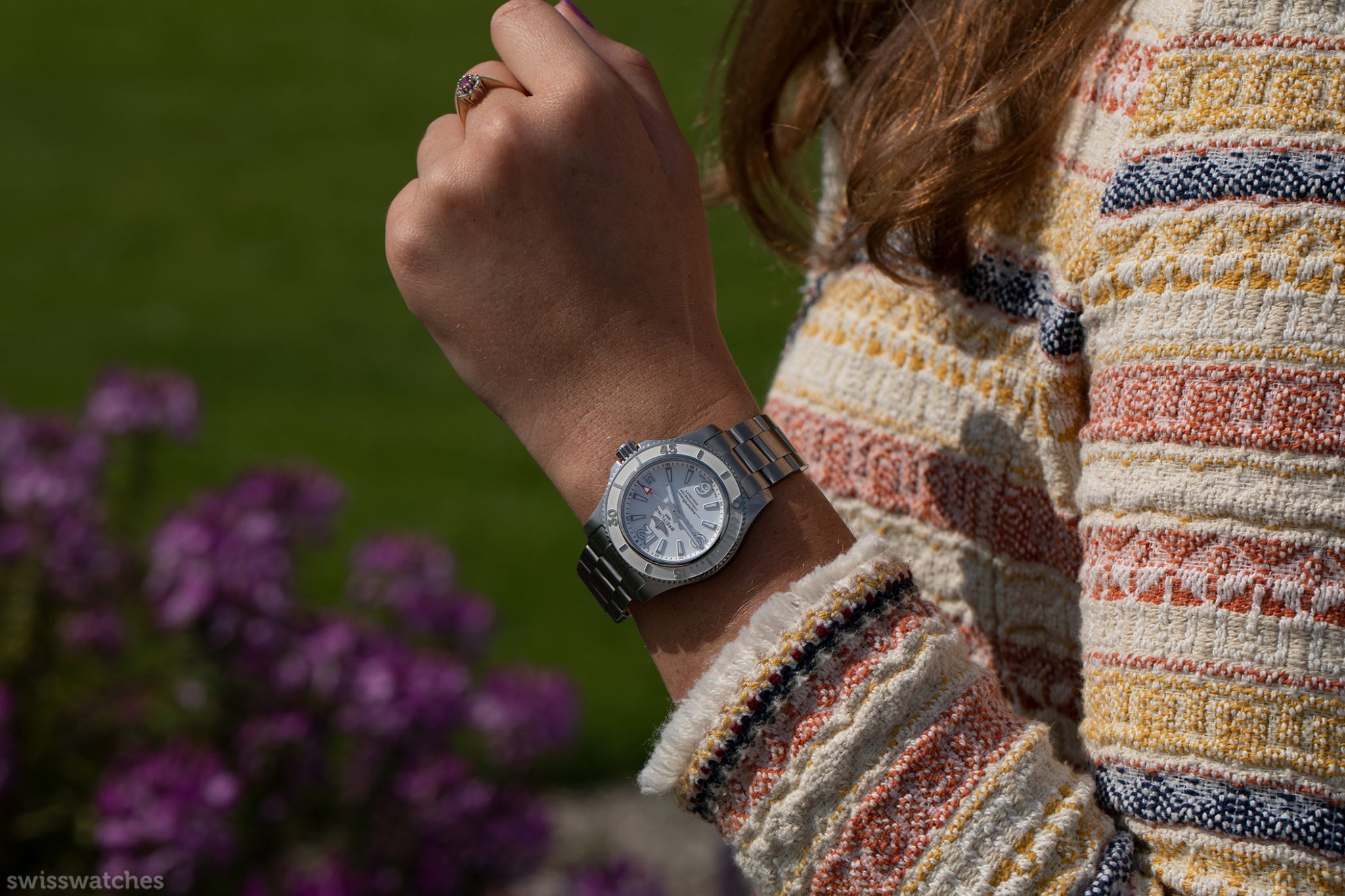 The Breitling Superocean Automatic 36 Ref. A17316D21A1A1 for women has, in my eyes, the most recognisable Superocean design of all, coming in a bold all-white colour scheme. The white unidirectional, ratcheted bezel and matching sleek white dial make it stand out from the rest of the collection. While available with a stainless-steel bracelet, it is the white rubber strap option that makes it truly stick in the mind, whether having made an appearance in a sultry black-and-white advert or on the wrist of a sporty-chic friend. If all-white is too flashy for you, another nautical option with a totally different feel might be the Ref. A17316D81C1A1. In any case, the white Superocean Automatic 36 is not a watch for those with a taste for the traditional. Rather, it's an eye-catching, contemporary, not to mention highly reliable piece that longs to be in the water.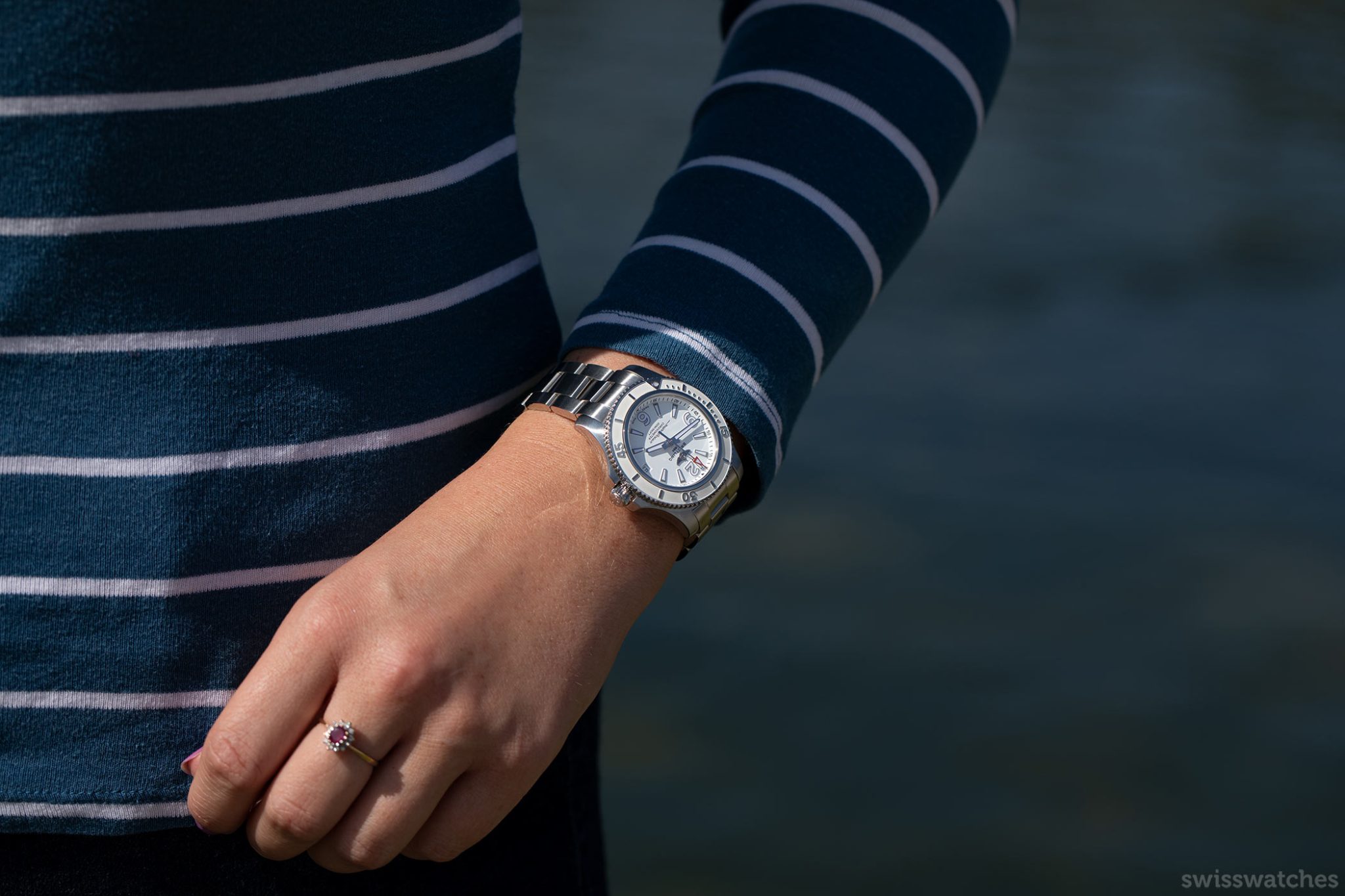 Technical Facts and Figures
Powering this tough yet trendy ladies' watch is the self-winding Breitling Calibre 17, with a 38-hour power reserve and frequency of 4 Hz. Additionally, a date window lies at 3 o'clock. The crown is screw-locked and equipped with two gaskets, helping to keep out water, dust and grease during the day. Meanwhile, cambered sapphire crystal, which is glare-proofed on both sides, protects the dial. What we can surmise from these features is that this Superocean Automatic 36 is a pragmatically put together little ladies' watch that you can trust.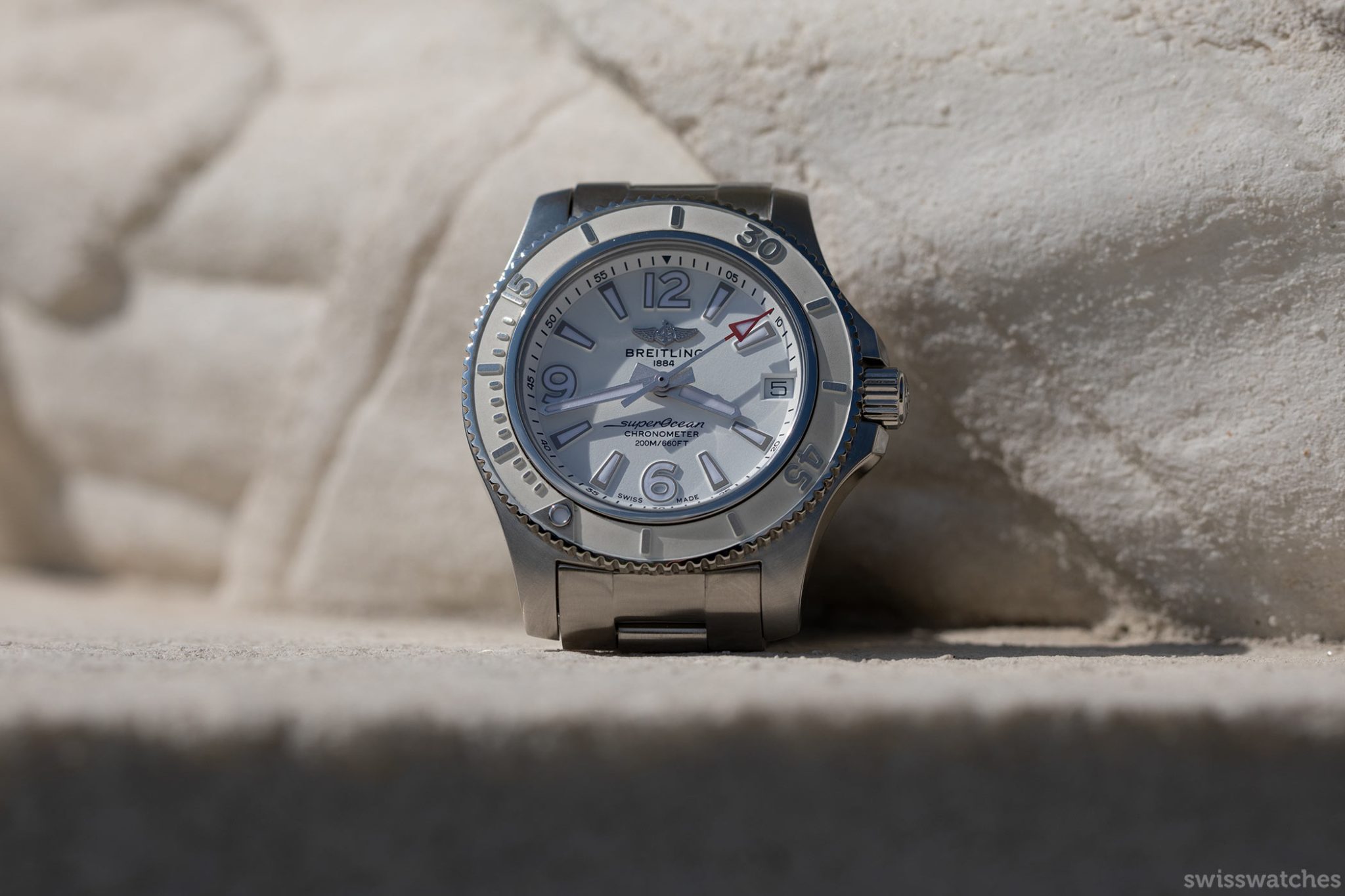 Breitling Superocean Automatic 36: The Verdict
When I say little, I mean 36 mm – nothing too out of the ordinary for a ladies' watch. But for such a robust and sporty steel watch, a larger case diameter would be a good idea in my eyes. The new Superocean Heritage '57, for example, has a diameter of 38 mm. These extra 2 mm give it a more open, modern and legible look in comparison to the Superocean Automatic, which looks somewhat crowded. Furthermore, the watch case measures a decent 11.2 mm in height, while its weight comes in at about 120 g. A very slightly larger diameter would complement these measurements well. The most affordable of the three watches in this review, the Breitling Superocean Automatic 36 Ref. A17316D21A1A1 costs 3,950 euros.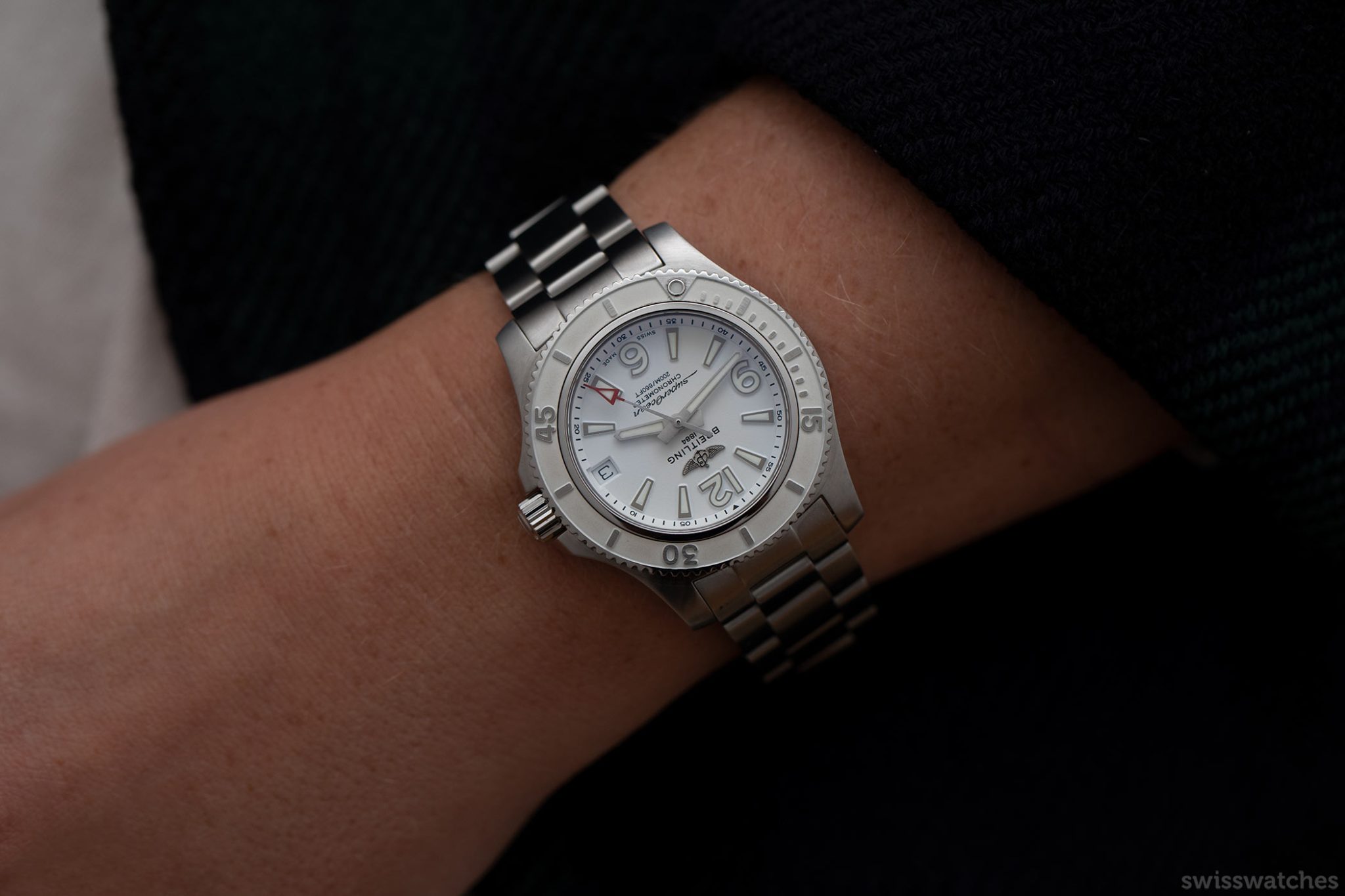 ---
The Breitling Navitimer Automatic 35
Few Breitling watches are better known than the Navitimer, with its intriguing story and slide rule. The Navitimer first appeared as a prototype in 1952, with its name being a portmanteau of the words "navigation" and "timer". The slide rule is essentially a calculator. In the case of the Navitimer, one of the slide rule's two scales is on the bidirectional bezel. Meanwhile, the second fixed scale is on the dial. Pilots (many of whom still learn how to use the device) can calculate the likes of speed, distance, fuel consumption, descent and ascent, as well as even temperature or currency conversions. Despite its numerous potential uses, it likely remains a largely redundant yet intriguing historical feature for many Breitling fans today.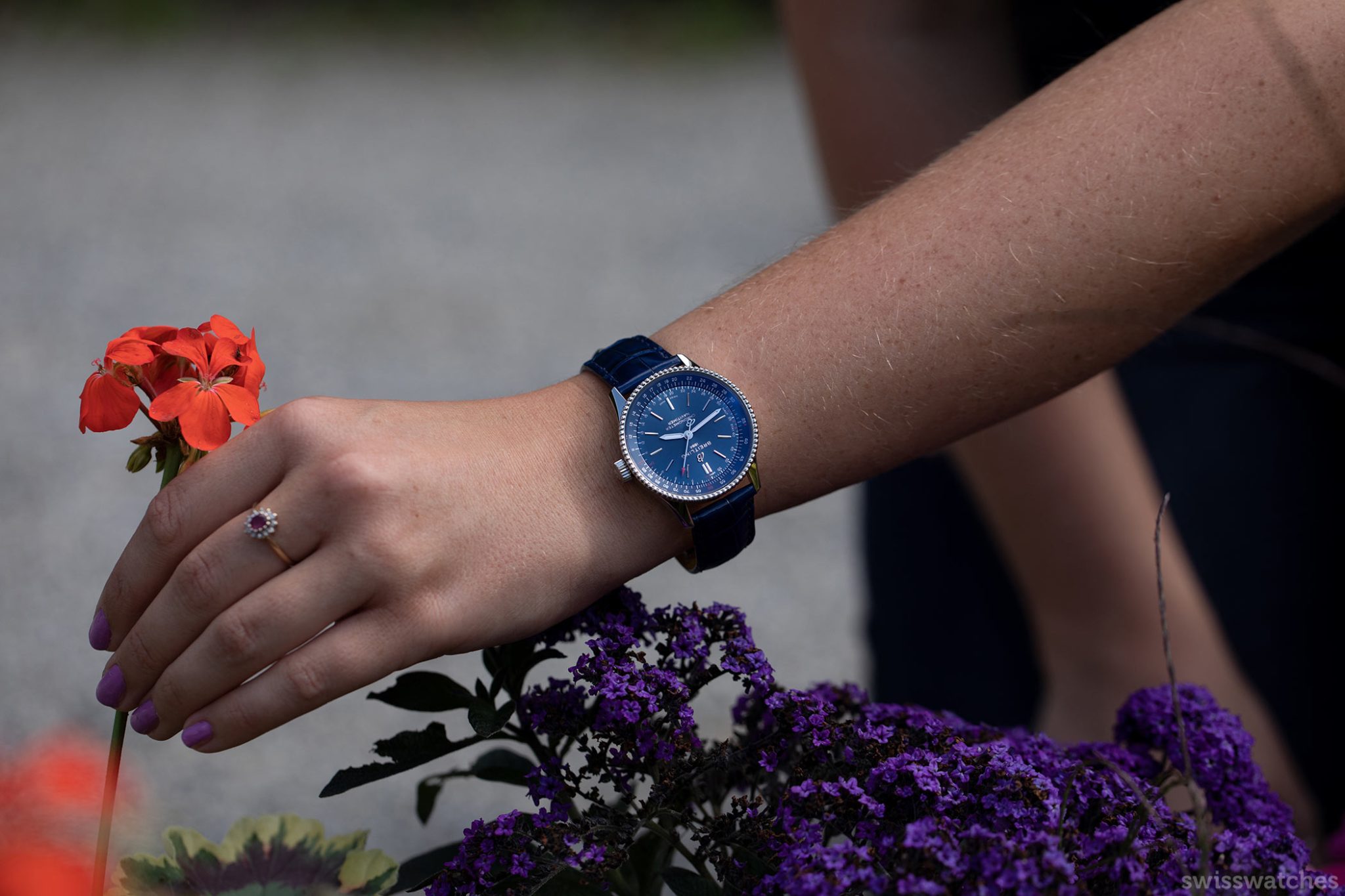 Presented on a smart blue leather shiny blue, brown or burgundy alligator strap with a folding clasp, this Navitimer Automatic 35 (A17395161C1P2) is definitely a mature and versatile timepiece. With its steel case, recognisable "rice bead" bezel and dark blue dial, one can envision it on the wrist of a chic former Sloane who drives a Volvo around Highgate Village – in other words, it suits a slightly older, sophisticated audience. Other nice touches include the rose-gold "B" logo at 12 o'clock, plus the subtle red accents and sunburst finishing on the dial. Protecting the dial is cambered sapphire crystal with anti-reflective treatment on both sides.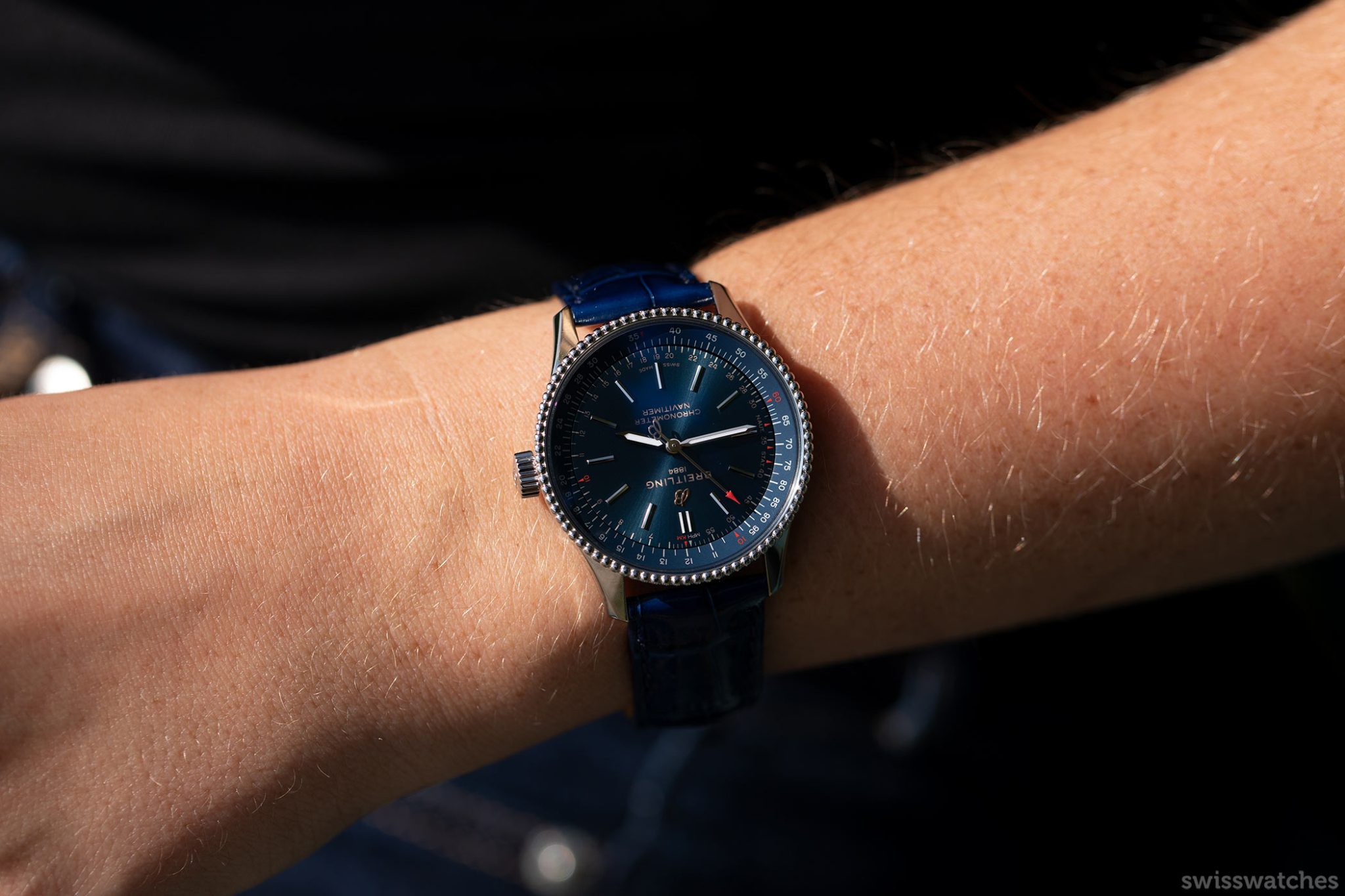 Ladies' Breitling Watches: The Question of Size
Once again, though, the diameter (35 mm) of the stainless-steel case is a slight issue for me. While well-proportioned and equally well-executed in theory, it feels strange to have what is technically a pilot's watch morphing into an everyday watch as well as being downsized for women. Even the very first Navitimer, back when watches were significantly smaller, was 40.9 mm in size. Horology fans may therefore agree that this smaller diameter turns a historic piece into something that feels slightly less authentic and thus less exciting. Fortunately, however, the ladies' Navitimer is also available in 38 mm.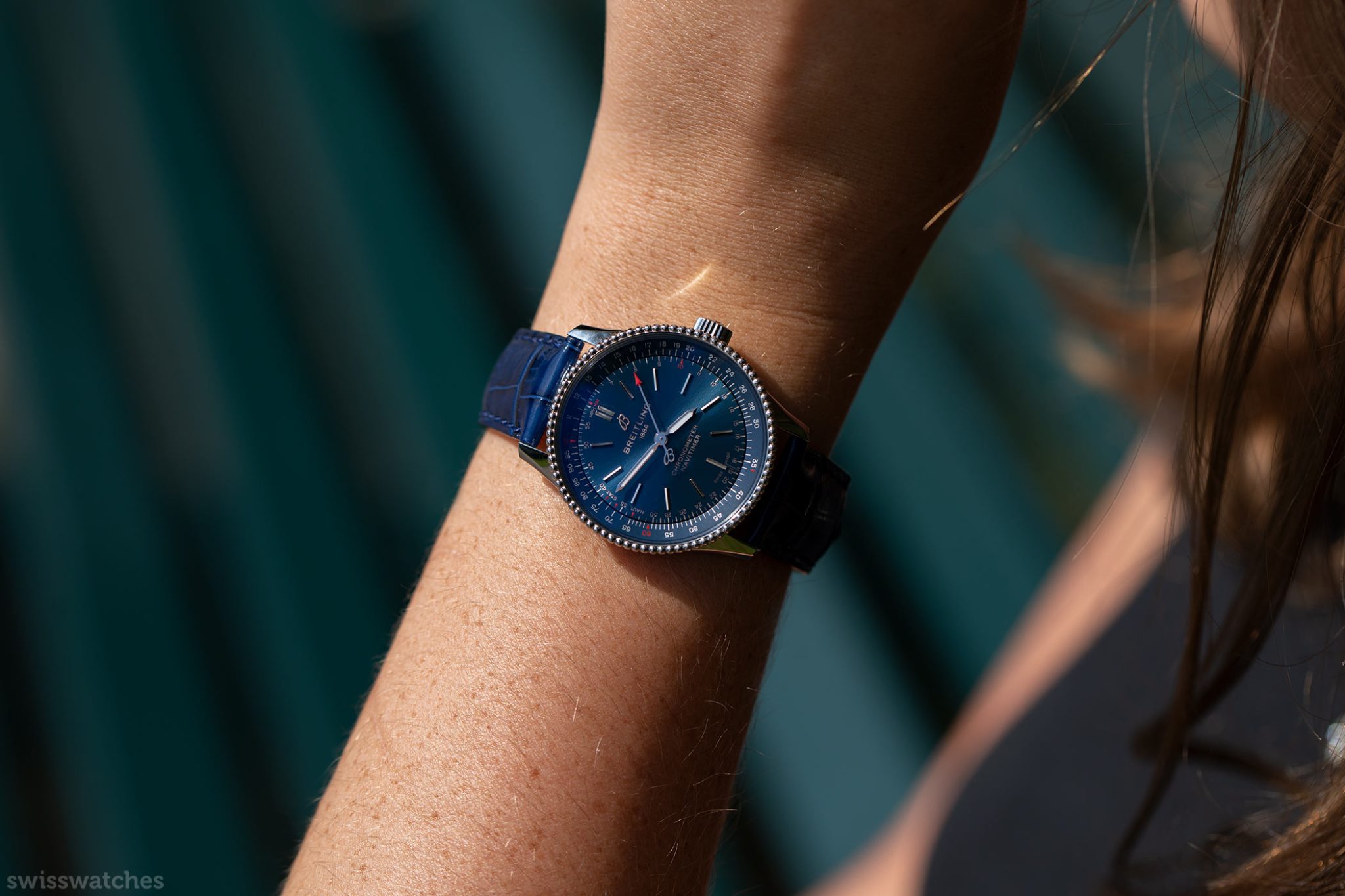 Powering the watch is the Breitling Calibre 17, a COSC-certified chronometer. This self-winding movement ticks at a frequency of 4 Hz, as well as a 38-hour power reserve. Furthermore, the watch is water-resistant to 30 m thanks to the screwed-in caseback. Finally, this watch is for those who don't enjoy a heavy timepiece; the steel watch measure a mere 60 g and feels very light on the wrist.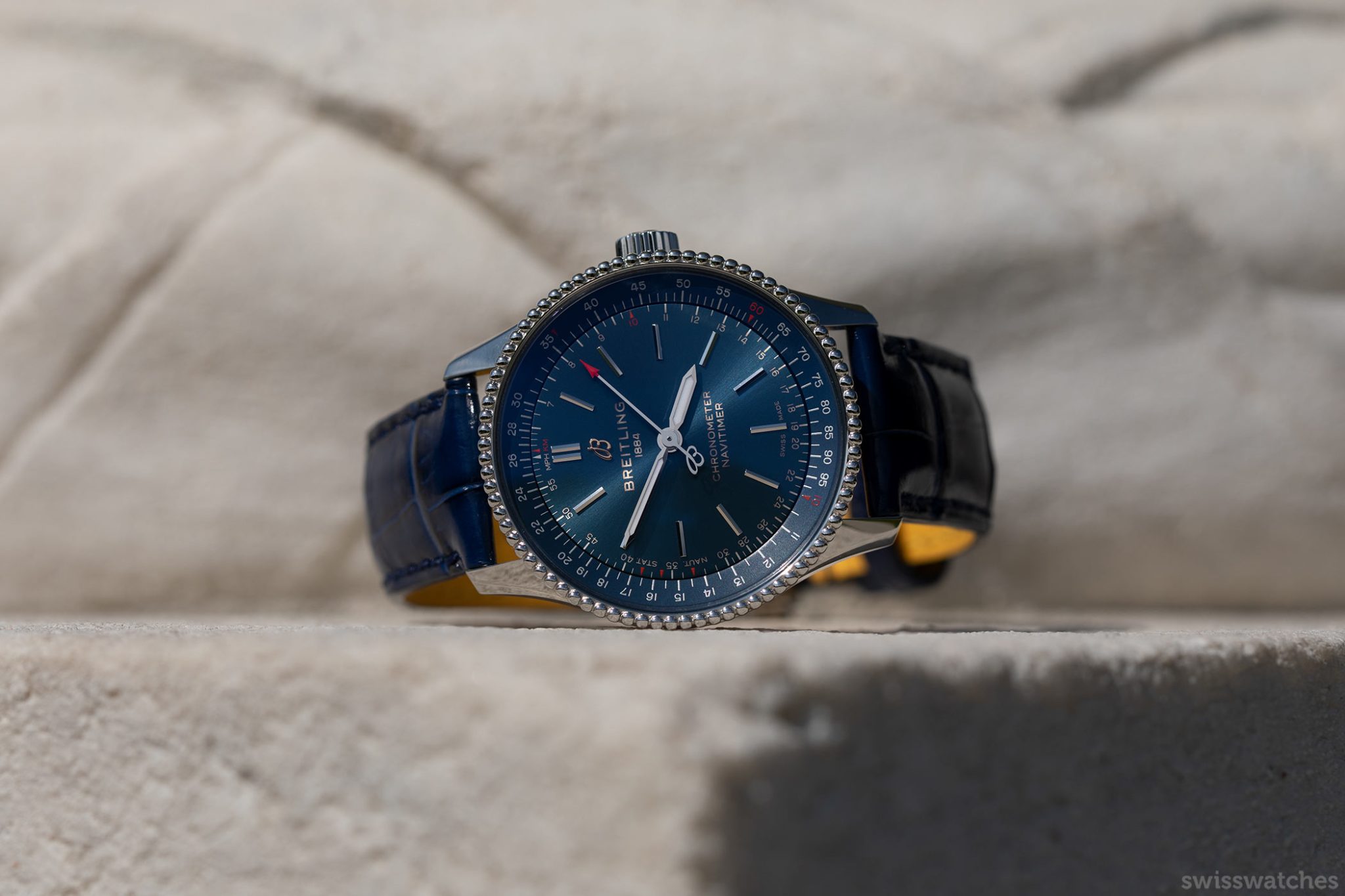 Breitling Navitimer Automatic 35: The Verdict
Despite my reservations regarding the size, those looking for an aesthetically pleasing, refined and interesting ladies' Breitling will have met their match. The colour scheme of the Navitimer Automatic 35 (A17395161C1P2) works perfectly and is sure to easily match with any casual outfit, not to mention definitely receive a few compliments and questions upon closer inspection. After all, not every watch can offer its own multi-purpose calculator. The price of the model is 4,250 euros.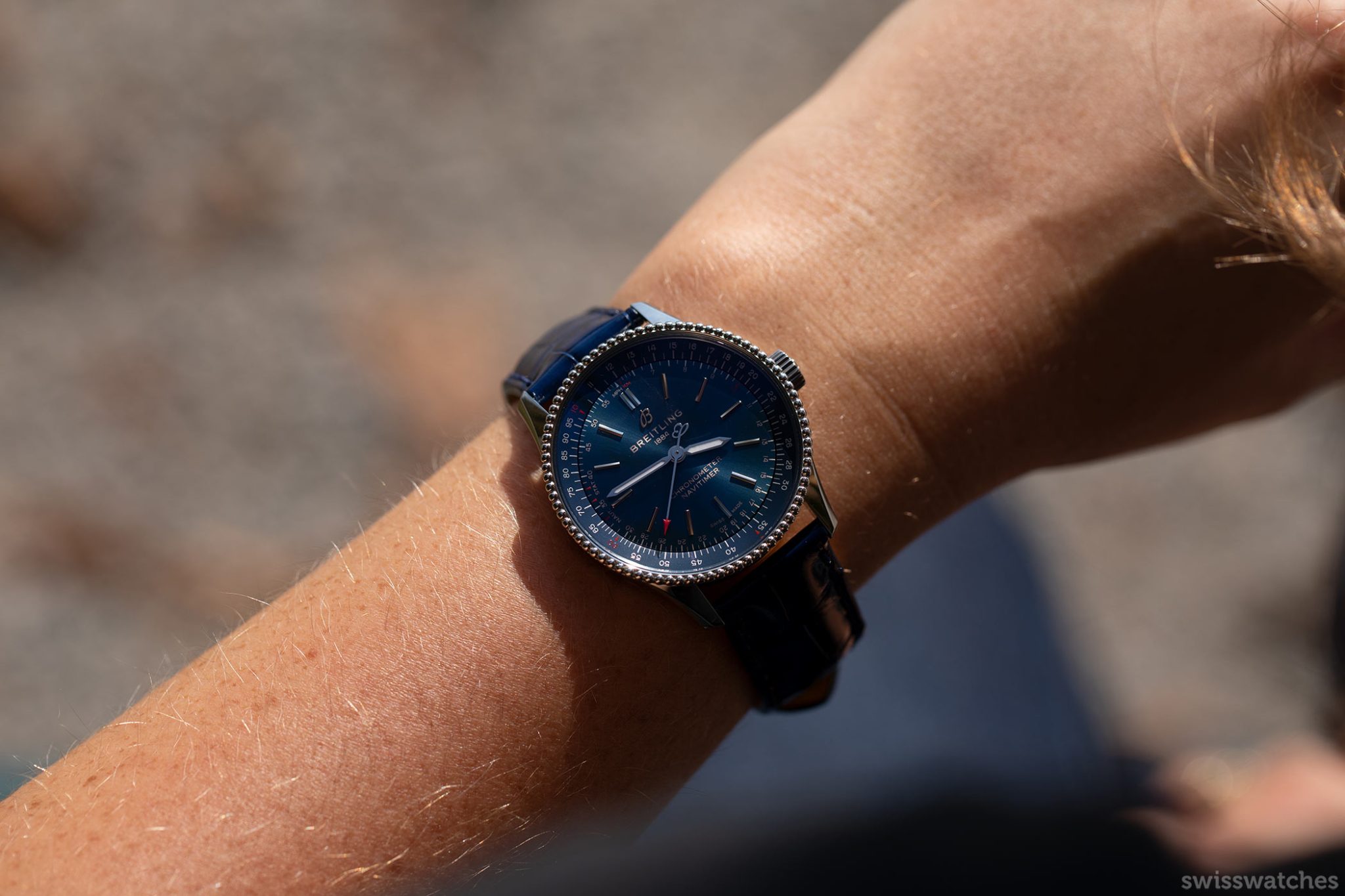 ---
The Breitling Chronomat Automatic 36
The star of the show for me, however, is the Chronomat Automatic 36. My model of choice (U10380101A1U1) comes in stainless-steel with 18-carat red gold. Representing the watch is Breitling's "Spotlight Squad", with its ambassadors including actresses Charlize Theron, Yao Chen, and ballerina Misty Copeland. In other words, this is definitely a watch for women who like to indulge in elegant, refined watches. Hugely popular in the 80s/90s and then-spotted on the wrists of icons such as Bruce Willis, it's also something for those who appreciate an (albeit beautiful and understated) blast from the past.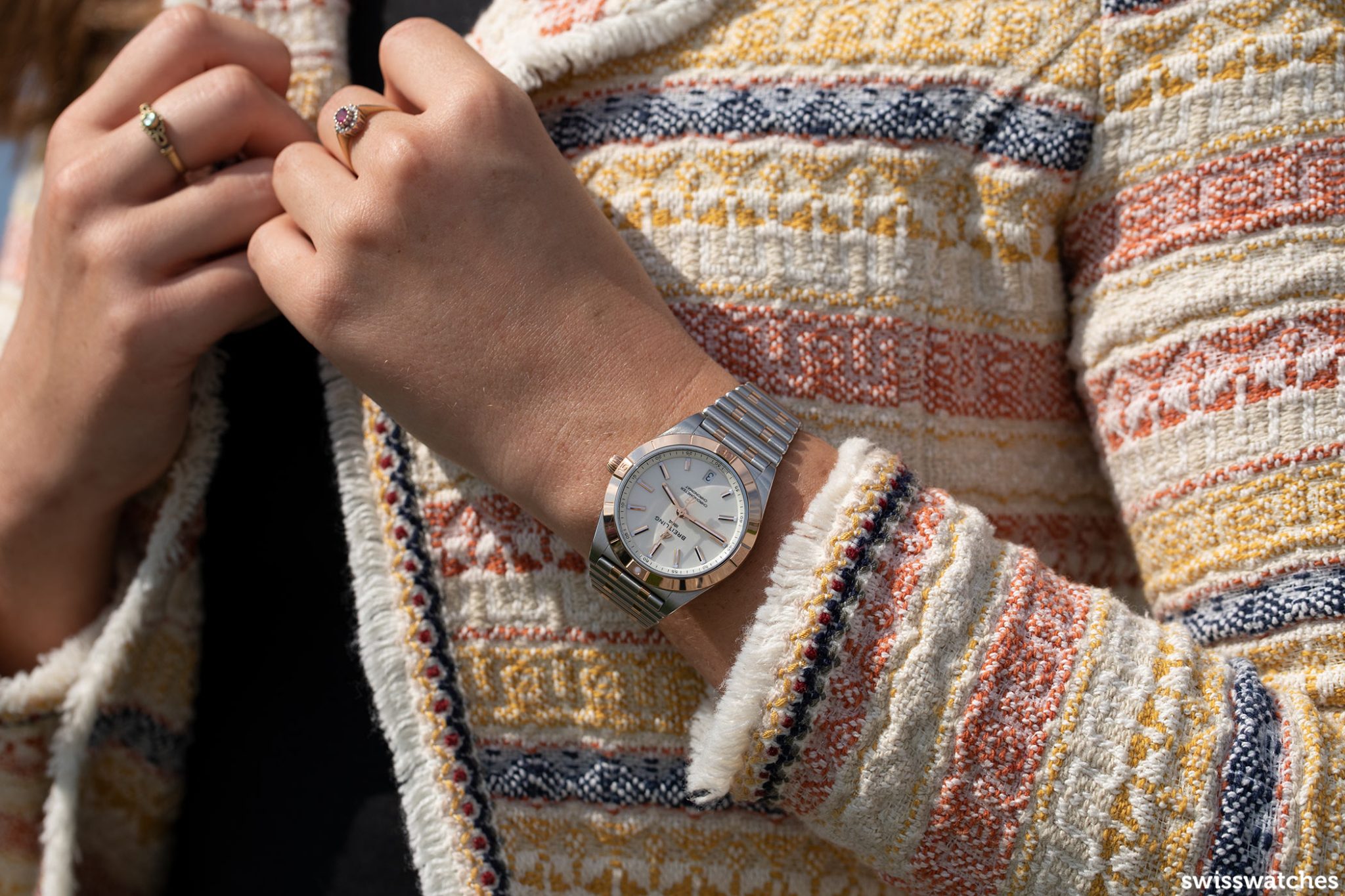 This Chronomat Automatic comes in a 36 mm bicolour case with a matching bracelet. If bicolour isn't your style, there is also the subtle stainless-steel Ref. A10380101A2A1, with tiny diamonds complementing the hour markers. Alternatively, those looking for more of a statement could try the stainless-steel version with an en vogue mint-green dial (A10380101L1A1).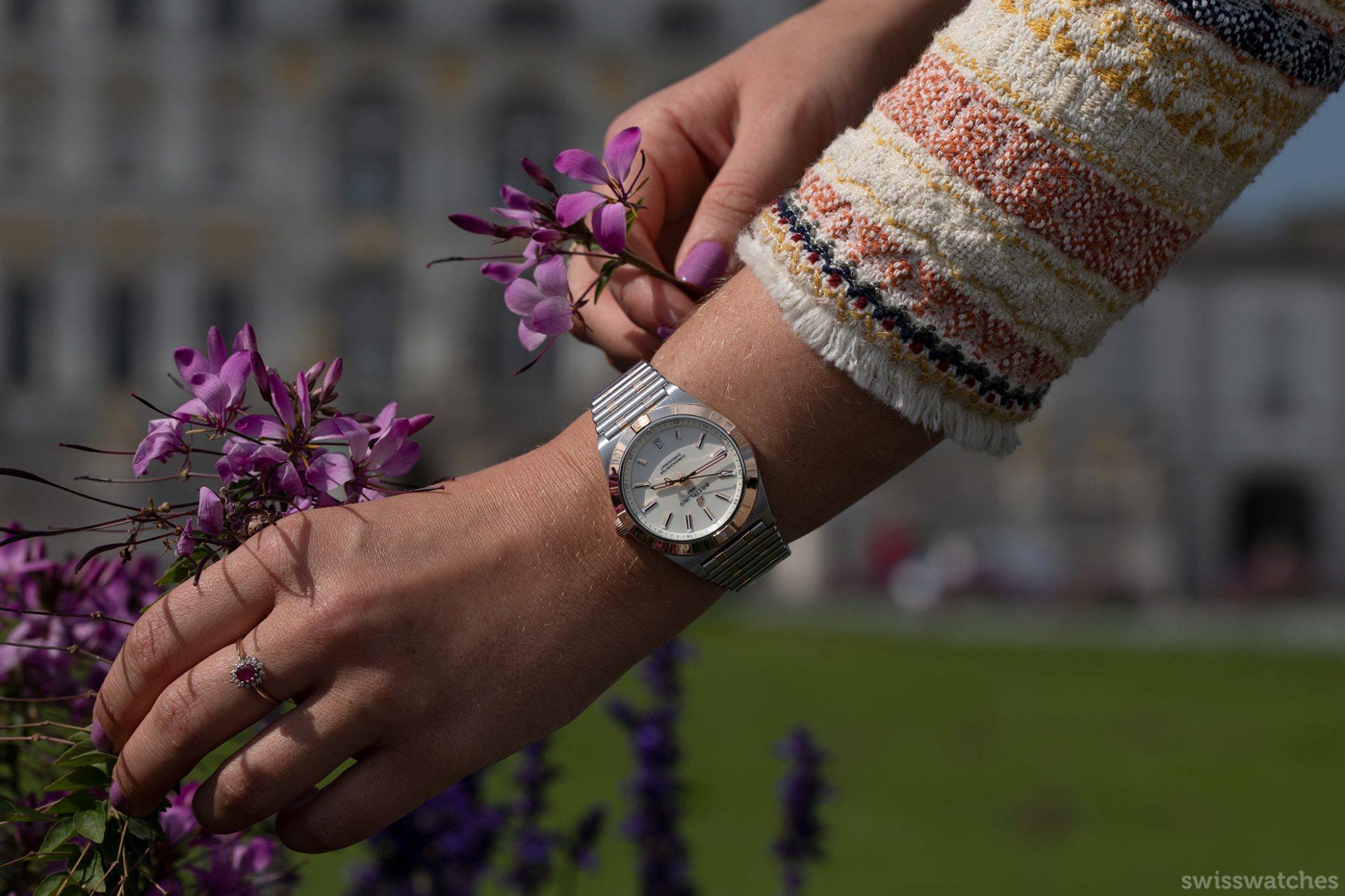 This Ladies' Breitling is Causing a Stir: The Revered Rouleaux Bracelet
This excellently executed timepiece features an uncluttered dial, rose-gold hour markers with luminescence, as well as a subtly integrated date at 6 o'clock. The real talking point of the Chronomat, however, remains the Rouleaux ("roller") bracelet, reintroduced alongside the revamped watch last year. The delightfully comfortable bracelet, consisting of long, cylindrical links first appeared in 1984. Alternating between polished and brushed steel and red-gold links, the bracelet stands out without being too flashy. Both the unidirectional ratcheted bezel and non-screw-down crown with two gaskets use red gold. The warm yet balanced metal tones give the model a confident, feminine feel.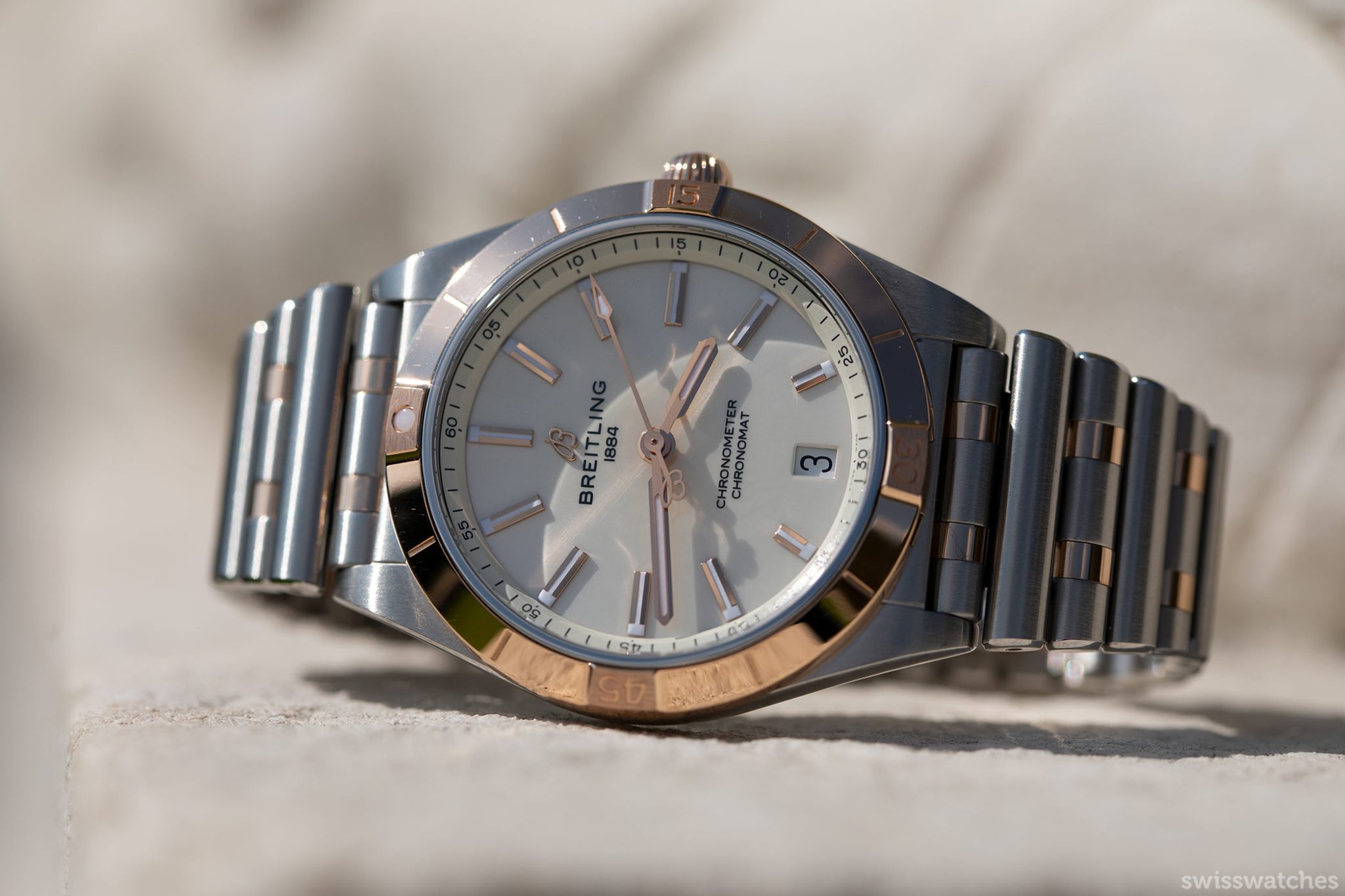 Last but not least, this ladies' Breitling has a real presence on the wrist, weighing in at 111 grams and measuring 36 mm (diameter) x 10 mm (height). Additionally, the case offers water resistance to 100 m (330 ft). Powering the watch is Breitling's excellent Calibre 10, a self-winding movement with a 42-hour power reserve and frequency of 4 Hz. In a dream world, this watch would have an open caseback; however, the sporty looking timepiece's closed caseback still looks old-school and dependable.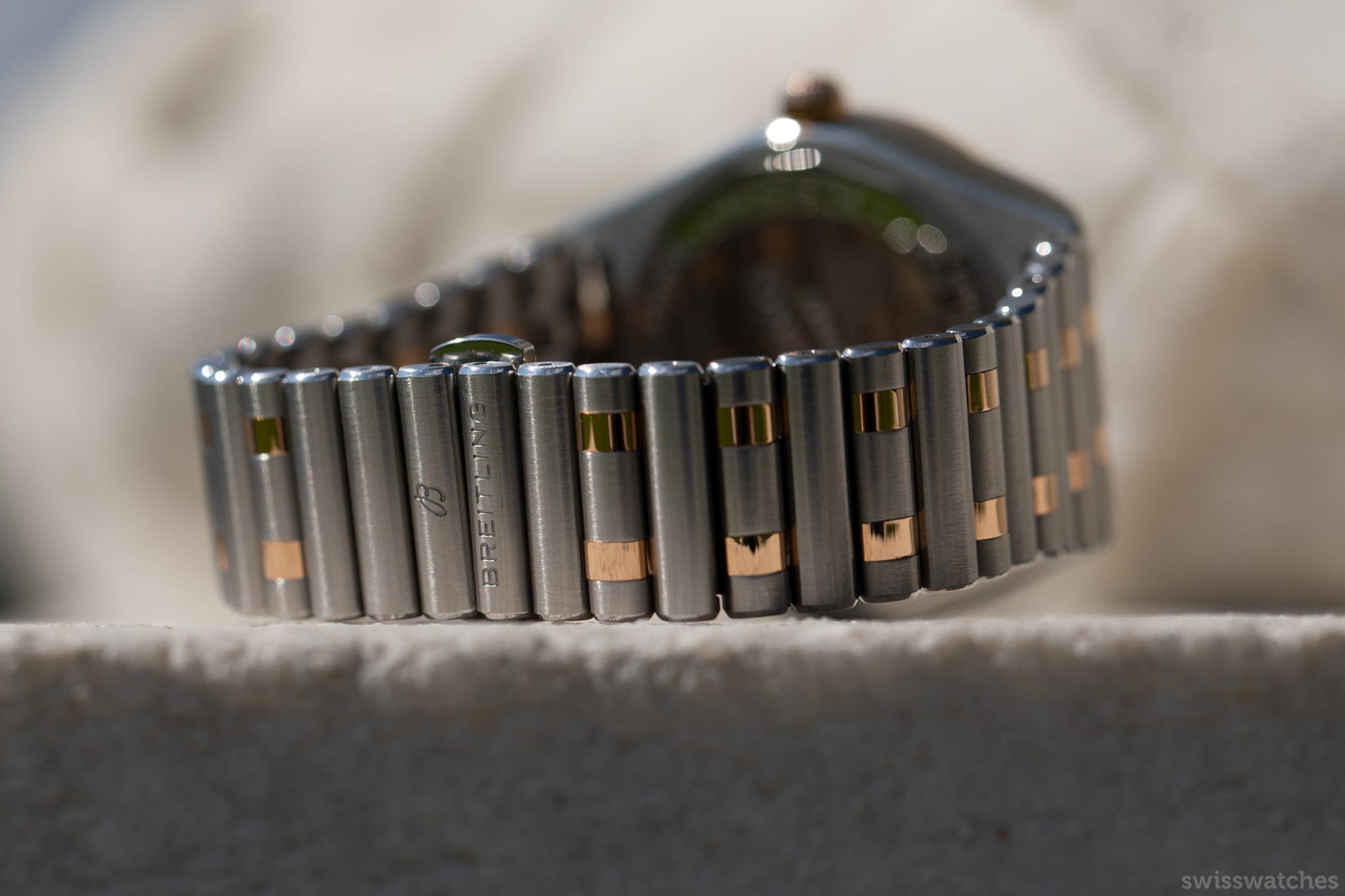 Breitling Chronomat Automatic 36: The Verdict
Both the aesthetic DNA and evident popularity of the Chronomat collection in general are very promising. The Chronomat has everything an icon needs to make it in the watch world, from a strong, widely appealing design code and interesting historical background to a unique, recognisable feature in the form of its bracelet. It is also fairly priced for such a highly attractive and increasingly well-known Breitling watch. The Chronomat Automatic 36 (U10380101A1U1) costs 7,850 euros.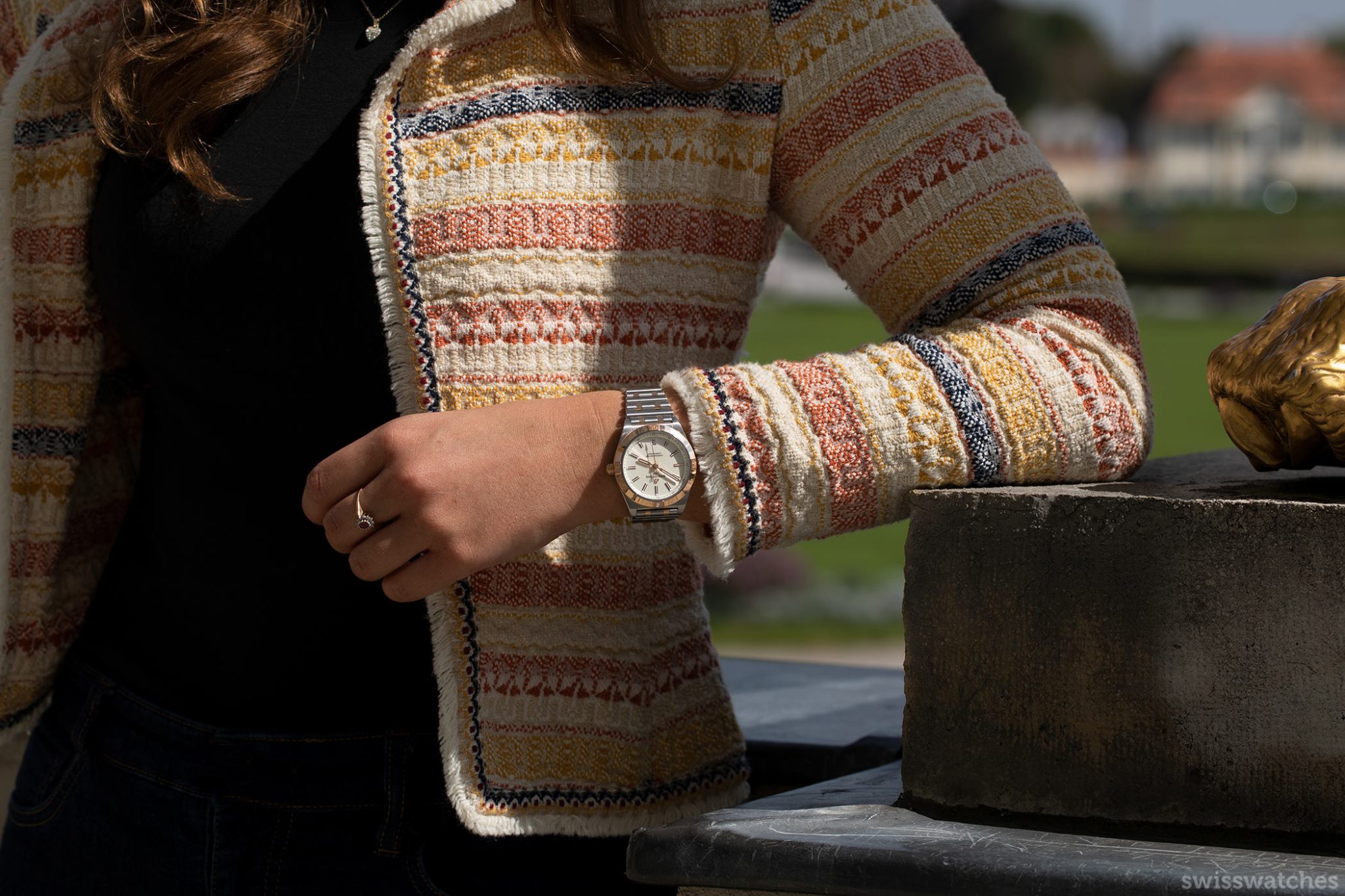 ---
Testing Breitling Watches with #BreitlingSelect
Finally, it is definitely worth mentioning the brand's #BreitlingSelect scheme. While Breitling is evidently able to appeal to vastly different tastes with its collections, if you find yourself unable to decide between this trio of ladies' Breitling watches, #BreitlingSelect might be just the ticket. It offers customers the opportunity to (for 125 euros per month) test out three Breitling watches on rotation for twelve months – each for the duration that best suits you.
---
---