An interesting thing about the Richard Mille brand is their incredible thirst for technical innovative watches, always researching on new materials for the most possible light, strong and advanced timepieces. Something else we find interesting is the fact that the brand has managed to commit sportsmen to wear their watches even during competition. We have already introduced Rafael Nadal and Alexis Pinturault, only to mention a few sportsmen out of many who teamed up with Richard Mille and wear their dedicated watch in action.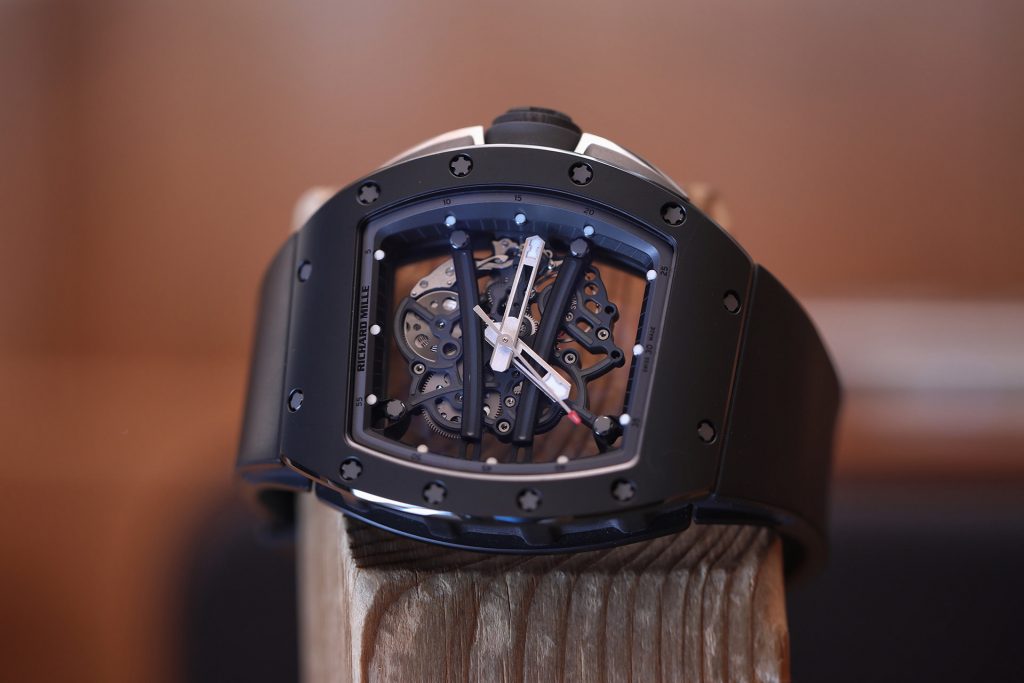 All Grey – the newest version of the Richard Mille Yohan Blake collection
In 2013 Richard Mille first introduced the Yohan Blake edition, dedicated to the Jamaican sprinter and second fastest man over 100 Meters. The watch came with a funky green case and yellow dial symbolizing the Jamaican flag. Looking at the colour and price (562.500,- Euro ) it was certainly an exceptional collector's item. In 2014 Richard Mille reduced the colours and launched the Baby Blake version with a black case, a green inner bezel and yellow upper flange. A nice visual reduction we think. The newest version (from 2015) is kept just in All Grey and is the one we picked for this article.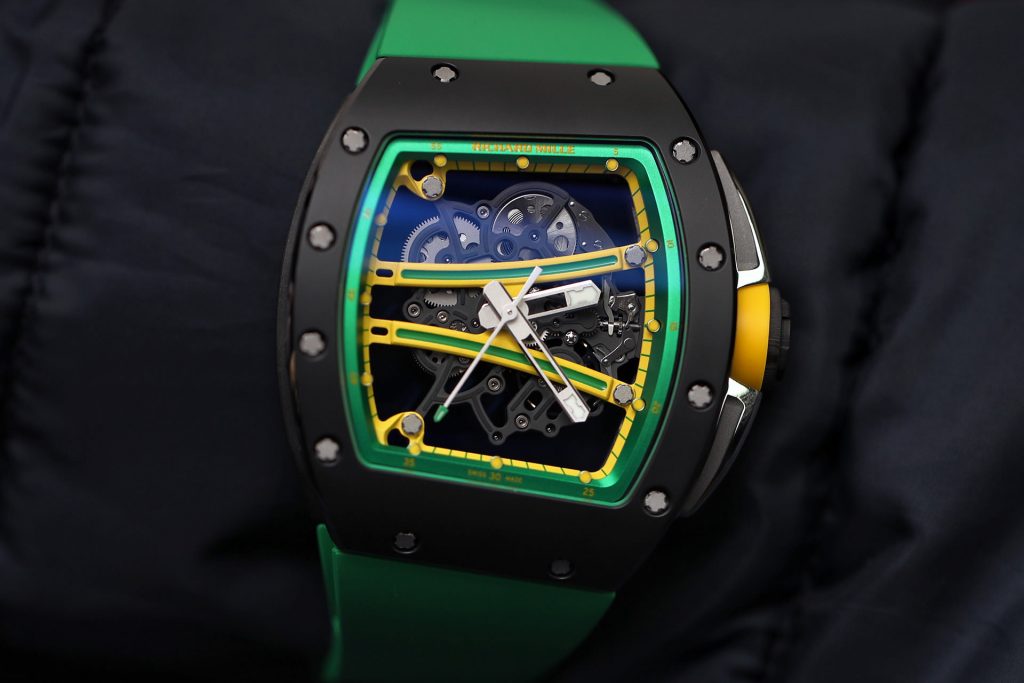 The Richard Mille Baby Blake with the typical colors from the Jamaican flag
Just like all Yohan Blake watches, they feature an asymmetrical case. To enhance the aerodynamic on the wrist, the left side is lower and thinner then the right side. It works for Yohan Blake because he wears his wristwatch on the right site. This reduces the air penetration during running. Probably to a very limited amount, but at professional sports every time saving counts. For a more comfortable feel Richard Mille has added two crown protectors between 2 and 5 o'clock to stop the crown from rubbing against the wrist.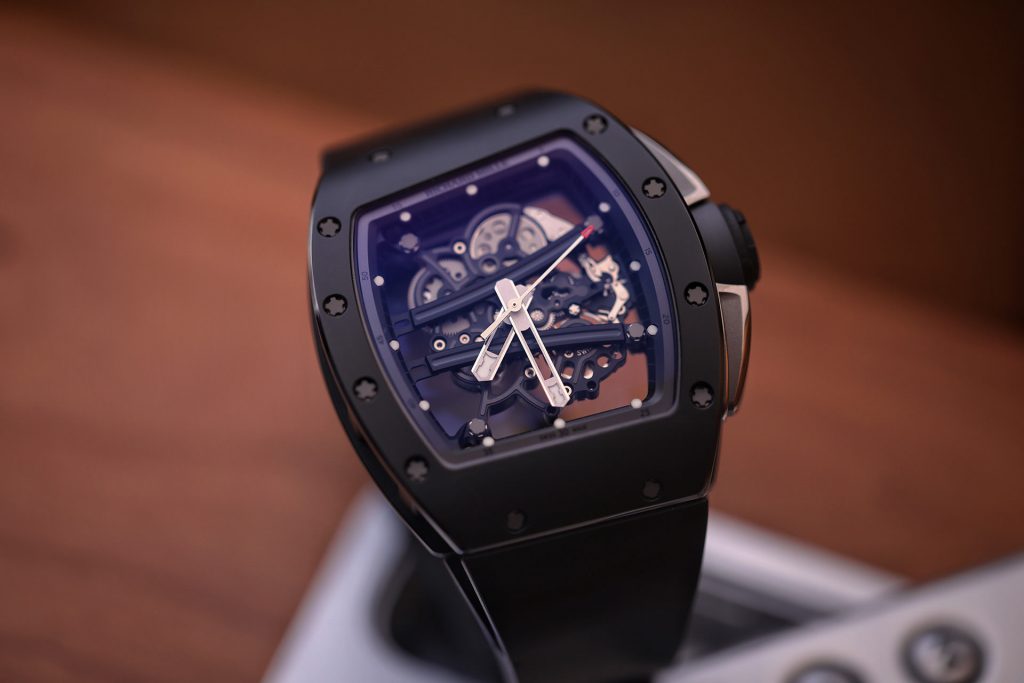 The asymmetrical case shape helps the aerodynamic
The bezel and caseback of the Yohan Blake All Grey are made of a special TPZ black ceramic. A material, that due to its low density allows a high resistance and a low thermal conductivity. That means, that it can also withstand very high temperatures. It's made to 95% from Zirconium. The caseband is in NTPT carbon – a material that is exclusively used at Richard Mille. It consists of over 600 layers of carbon fibres that are glued together. Sounds a lot, but it weights nearly nothing. And it is almost not possible to get any scratches into it.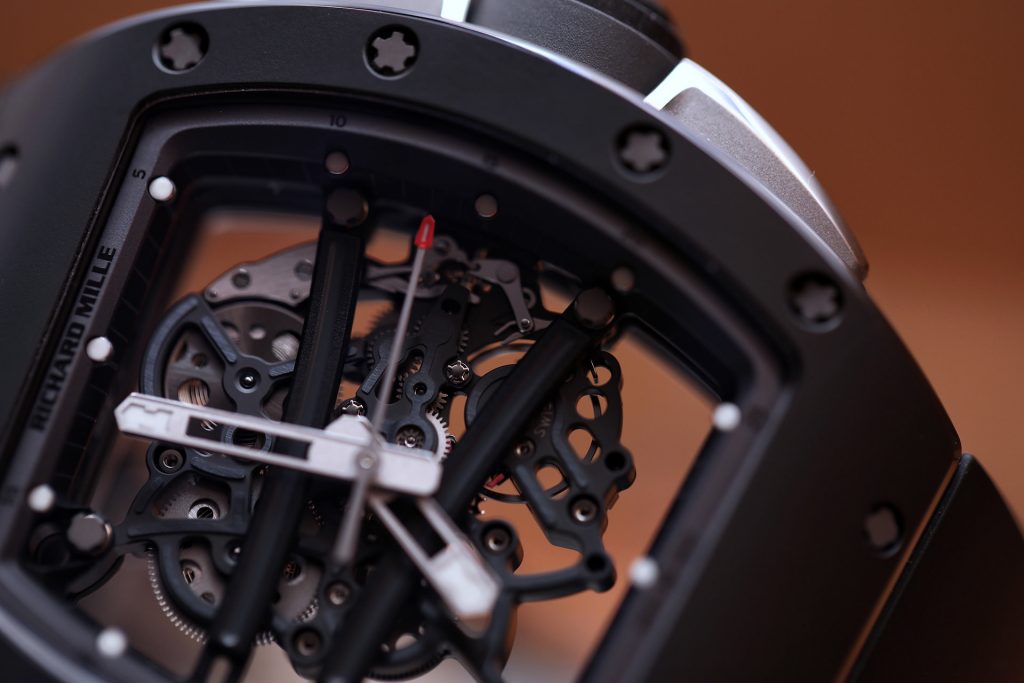 The movement of the Richard Mille All Grey only weights 4,3 grams
The Richard Mille Yohan Blake All Grey is equipped with the calibre RMUL2, manual wound and skeletonized. Even the movement is made from a super-light material: Grade 5 titanium treated with PVD and Titalyt. The movement only weights 4,3 grams. This edition is limited to 150 pieces and costs 124.500,- Euro.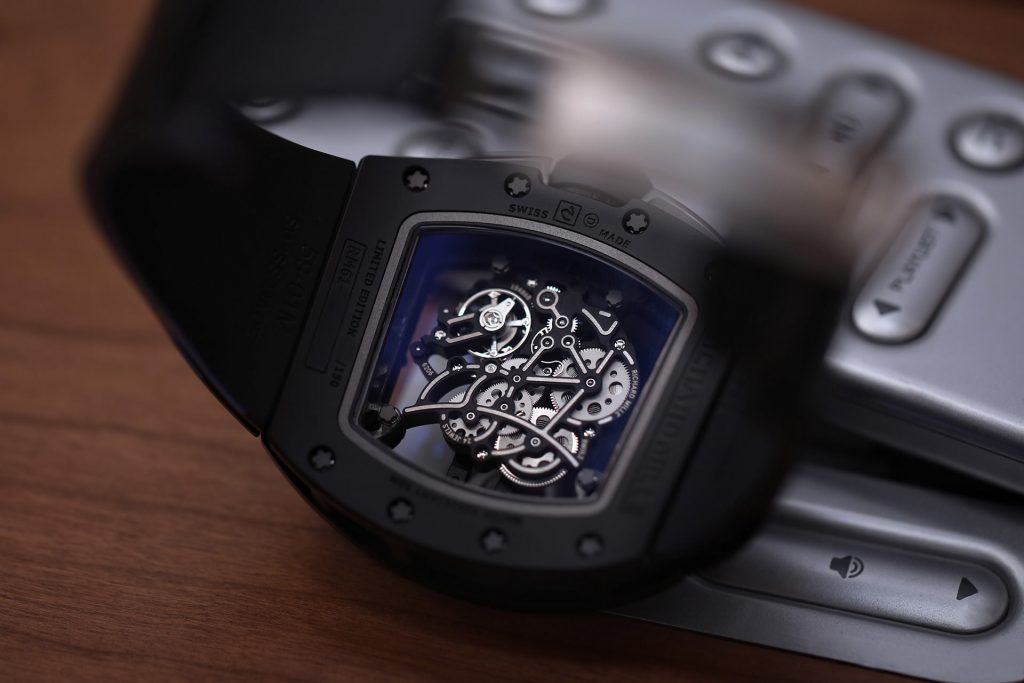 Skeletonized and manual wound
---
---