Swisswatches Magazine is always on the go. But in August we started an adventurous journey which took us 17 days, over 7.000 Kilometres through 17 places across Europe! Our luggage: some shorts and some watches! Departure: Munich. Destination: surfers paradise spot Ericeira – just by car and through the beautiful landscapes of Lugano, Portofino and Genua, crossing the French boarder to Monaco, Cannes and Marseille into Spain's cities of Valencia and Sevilla to Lisbon and Ericeira in Portugal, only to mention some spots.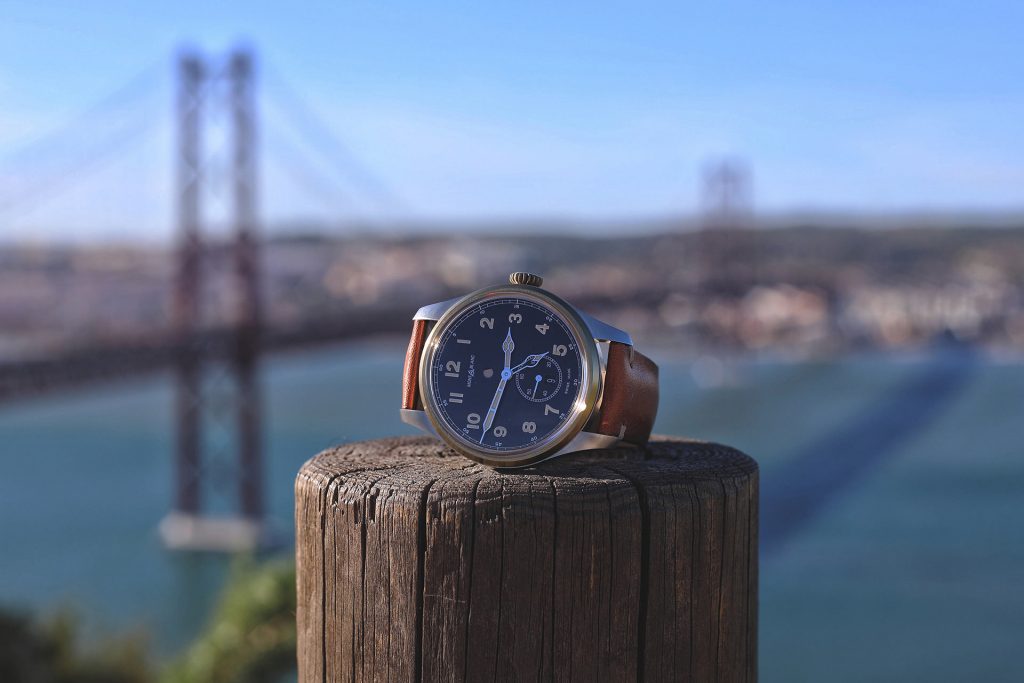 The Montblanc 1858 Automatic Bronze Dual Time in front of Lissabons skyline
We have chosen three (actually four) novelties from Montblanc, which all differ in style, but are at the same time related to each other. They all emerged from the Minerva family. Minerva was founded in 1858 in Villeret and was acquired by Montblanc in 2007. Minerva was famous for their advanced technology in terms of Chronograph complications. In 1911 they developed stopwatches able to measure a tenths of a second. In the years to come Minerva used their advanced technology and started to produce Chronograph watches for car races and pilots which where known to be extremely accurate. Montblanc has made use of this knowledge and adopted it into modern timepieces.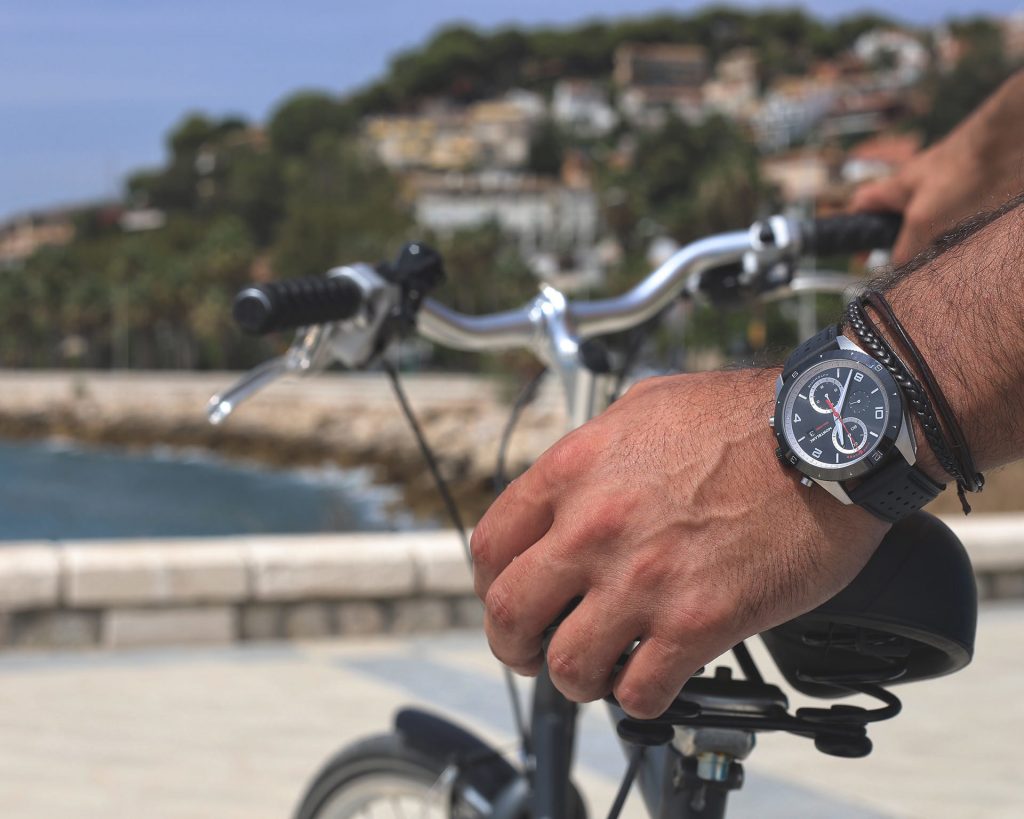 The TimeWalker watches are inspired by stopwatches for car racings from the early 20th century
One watch that evolved from this 'marriage' is the 1858 Automatic Dual Time, which joined us on our journey. The watch is inspired by the 1930s and 1940s military pilot watches. The case is made of steel and the bezel of a special bronze-copper-aluminium alloy, which allows the watch to develop a very unique patina over time. The calf leather straps of the Bronze Automatic Dual Time watches are made in Montblancs' own leather manufacture 'Pelletteria' in Firence, where all leather straps are made for the brand from Hamburg, Germany.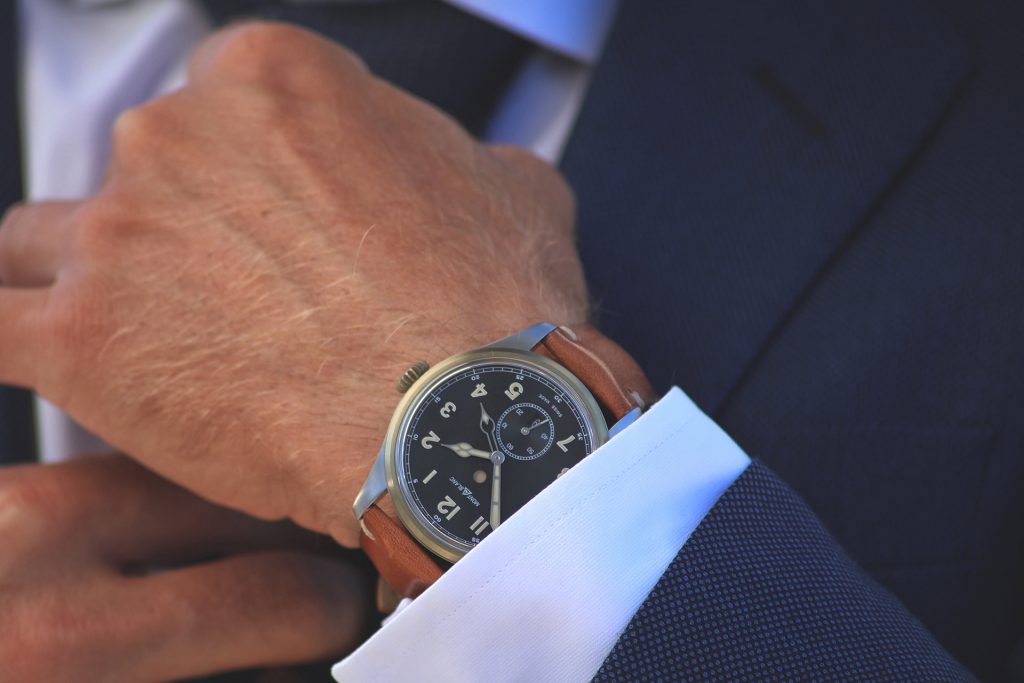 The Montblanc 1858 Automatic Dual Time with a special bronze-copper-aluminium alloy
Another novelty, which was also originally inspired by Minerva pilot watches and a passenger on our tour is the Heritage Chronométrie Quantième Complet. A watch that is so elegant that you would rather expect it on a pilots wrist when on a date or business mission ­– being on the ground – rather then a military mission. Its comfortable 9,7mm slim steelcase flatters smoothly on a man's wrist and the silver-white coloured dial blinks gently from underneath a white button shirt. However, the collection is actually less designed for dresswatches but inspired by the legendary Minerva Pythagore pilot watch from the 1950s. The Heritage Chronométrie Quantième Complet is equipped with the MB 29.16 calibre and a moonphase at 6 o'clock.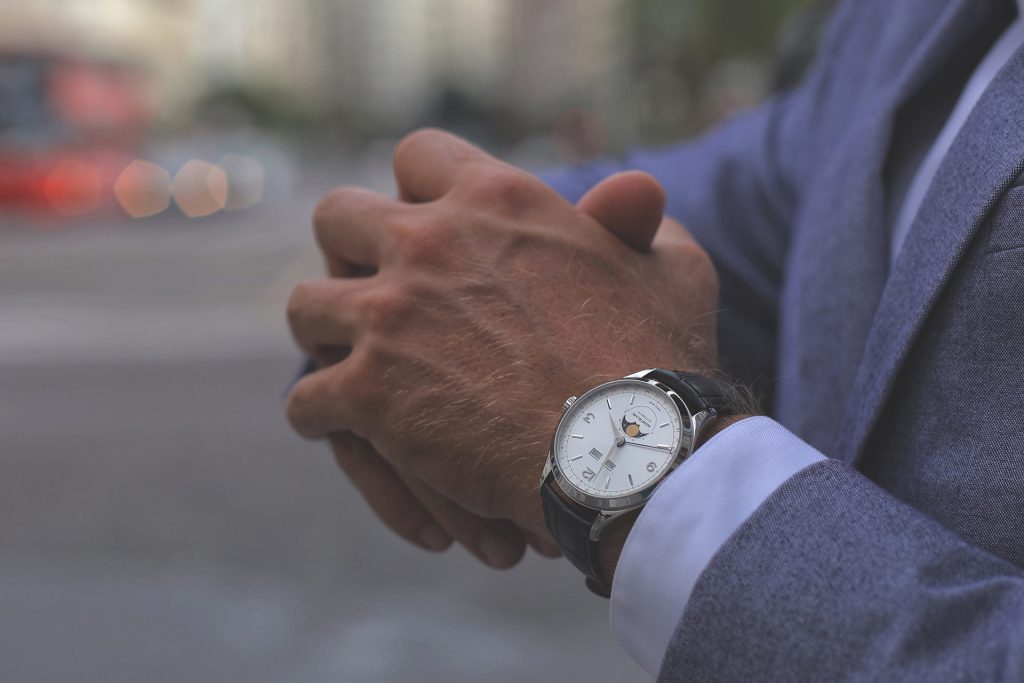 Minervas' heart and watches not only beat for and in airplanes, but also for and in racing cars! The reason might simply be the brands early knowledge in highly accurate stop watches, which they became famous for in the early 20th century. In 1911 Minerva developed stop watches which were able to measure a tenth of a second. In 1916 they even introduced a high frequency movement able to measure a hundredth of a second. Soon they were taken to the race track and the Chronograph watch became the star on the watch stage.
Montblancs' TimeWalker collection was inspired by these early Chronometers and for our track around the Atlantic coast we were able to trace our time with the new TimeWalker Chronograph Automatic and the new TimeWalker Date Automatic. Looking into details in terms of style we can spot the link to race cars. The bezel is made of high-tech ceramic. A car might not be of ceramic, but it displays a solid framework. The crown is ribbed like the filler caps of old-timers. The caseback has a smokey glas like the windows used on top of the V12 engines. The wristband is perforated like the leather gloves racers wear.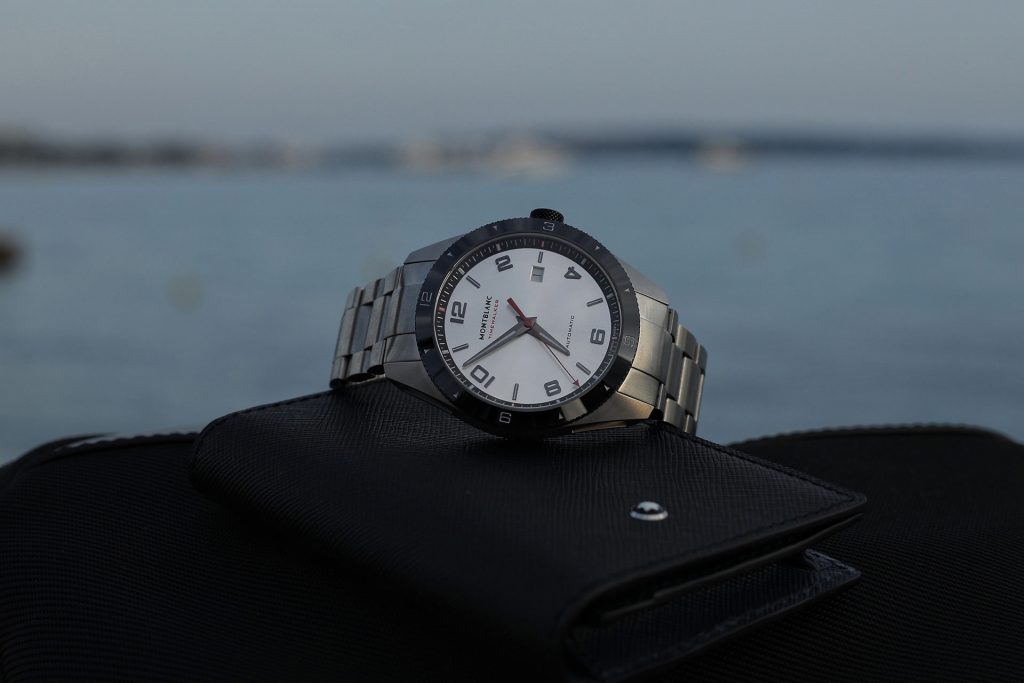 The bezel of the TimeWalker Date Automatic is made of high-tech ceramic
All four watches undergo the "Laboratory Test 500" which has been developed by Montblanc. The watches are tested within 500 hours under real time and exceptional circumstances. Only then the watches find their way out of the manufacture in Le Locle.
---
---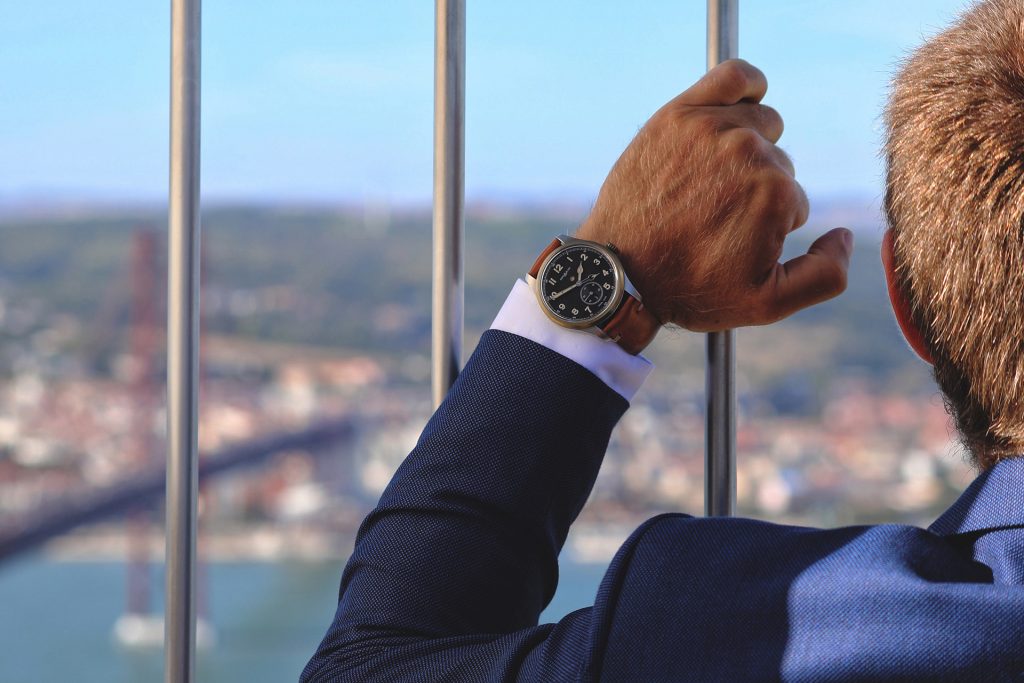 ---