They love timepieces and make no secret of it: get to know our horology enthusiasts Philippe and Alexander in conversation.
---
The elephant in the room
---
Philippe: You can't talk about Patek Philippe's new Advanced Research Minute Repeater without first talking about what happened last Saturday.
Alexander: The Phillips auction in New York?
Philippe: Exactly. I was having Italian food in Munich shortly afterwards, and we were talking about the result of the auction. The waitress just overheard the number – 5.35 million dollars! – and knew immediately that we were talking about the Tiffany Nautilus. And this is not meant to sound disrespectful towards her, but: watch auction results are not usually general knowledge by any stretch.
Alexander: It all shows what a maximum marketing success the Tiffany Nautilus is, and one from which Tiffany & Co. profits more than Patek Philippe in my eyes. Because the million-dollar connection with Patek Philippe is now truly universal, which is an invaluable asset for Tiffany & Co. because as famous as the brand is, in the end it certainly does the most of its business with relatively "normal" silver and gold jewellery, and not with haute joillerie.
Philippe: One way or another, you simply have to come to the conclusion that result is huge. The difference between the official sales price and the auction result is apparently tax-deductible in the USA – it was a charity donation, after all. So, the buyer also has a certain benefit. But all this does not distract from the fact that 2021 is THE Patek Philippe year par excellence. It already started with a pretty frenzied watch market, and after the new launches this year and the hype around the discontinuation of the Nautilus Ref. 5711, you have to ask yourself: how are you going to top that in the coming year?
Alexander: Maybe it's actually less about topping and more about grounding. In other words, it's about maintaining the brand's incredible desirability – and reminding us that Patek Philippe is much more than just the Nautilus. And that's where the new minute repeater comes in. A watch that didn't excite you one hundred percent – did it?
---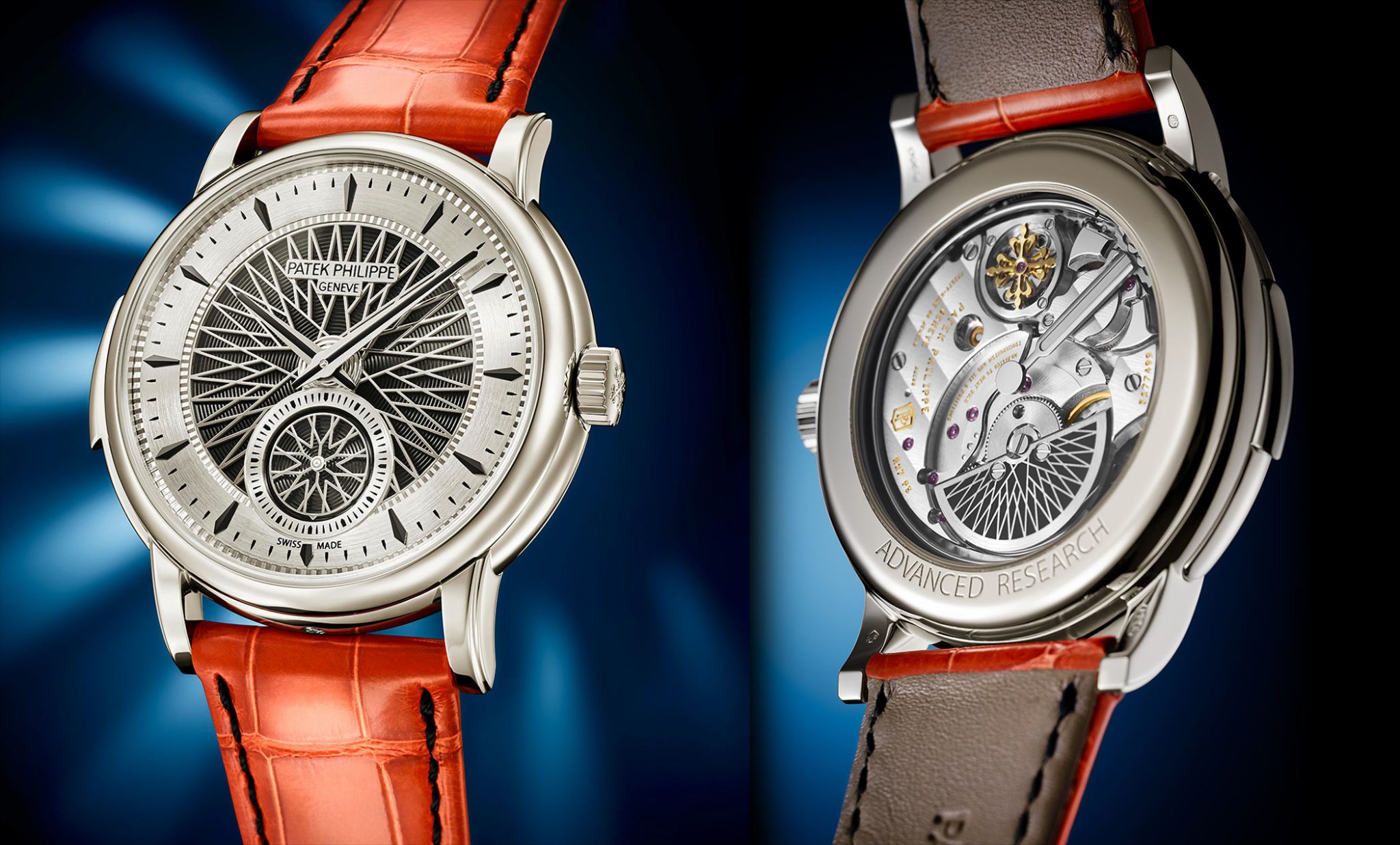 Patek Philippe "Advanced Research" Fortissimo Ref. 5750P
---
New watch on the block
---
Philippe: That's a bit of a very intense way to put it! Technically, the watch is incredibly impressive! But you can argue about the design, and no matter how sophisticated the production of the dial may be: it's not "my" design. However, I understand the idea behind the watch, i.e. to show what is possible and to rejuvenate the brand, and to equip it with a strap that is not "typical Patek" in terms of colour. The watch is completely different from a reference 5270, for example, the chronograph with perpetual calendar. You can clearly trace the design development and history of the latter from 5970 to 3970 to 2499 and 1518. But unrelated to that, I have to say something for which I will probably be ostracised: I don't really understand the benefits of a minute repeater. Of course, the sound of such a watch touches me deeply and gives me goose bumps, but it's only really useful at night in bed when you can't see the time display. But then I'm not sure your partner is going to be thrilled when you let the minute repeater chime – especially when it's so much louder on the new 5750P than on its predecessors. Apparently, you can hear it quite well even from 60 metres.
Alexander: So, the new reference is not something for you?
Philippe: The question doesn't arise for me for various reasons. On the one hand, I don't really have such a soft spot for minute repeaters. Secondly, I would never wear such a valuable watch, nor would I buy one. Would you? Let's imagine the following situation: The German Ministry of Economics informs you that they have identified the Swiss watch industry as an industry worthy of support, and you are therefore given half a million euros in free credit at Patek Philippe. Would the 5750P be your choice?
---
The prize question: What is it worth to you?
---
Alexander: Good point. Maybe I would actually prefer to choose three, four, five or even more different references. Nevertheless, I am extremely fond of the Advanced Research, and as absurd as it may sound, the watch is almost modestly priced, considering its rarity compared to other minute repeaters.
But let's leave the price aside and talk about value. In my eyes, Patek Philippe has presented the ultimate "Srew-You-Watch" with the 5750P. Of course, they would never put it that way in Geneva, so let's put it more elegantly: it cements the claim and the well-deserved reputation of making the best watches in the world. No question, the reference is visually unusual. But I like the design. Also, with the combination of very classic and at the same time innovative haute horologie, the just 40 mm in diameter, use of platinum as the material and a design that is very unusual for Patek Philippe, the watch is also a casual nod in the direction of the competition. By this I mean the many smaller independent brands that are celebrated for their horological courage and confidence. This watch sends out the following message from Patek Philippe: "If we want to, we can do ANYTHING – and if we want to, better than you!" It is a watch that points to all that Patek Philippe can do beyond the Nautilus. It shows how a brand can be modern and constantly renew itself without losing its soul. And with its limitation to just 15 pieces, it is in any case a watch that was presented more as a statement and less as a major sales generator. As small as the market for minute repeaters may be, it would have been possible to sell considerably more. And at least that's what I've heard, not a single one is coming here to Germany.
Philippe: That's really exciting, by the way: not all Advanced Research models were or are in demand. The first one, an annual calendar, was introduced in 2005. This was followed by other models in 2006, 2008 and 2011, but there was only real hype in 2017 with the Aquanaut Travel Time Advanced Research Ref. 5650G, of which there are 500 pieces, and which are now being traded at prices beyond 500,000 euros. The older Advanced Research, on the other hand, of which there are also between 100 and 300 pieces, are not nearly as sought-after.
Alexander: With this watch, though, the secondary market is probably also going crazy, although I don't believe that even one watch will be offered for sale in the near future. But that's what I find so great about this watch: it represents a value and is above being an object of speculation – because it is a kind of performance show.
---
The Outlook
---
Philippe: Yes, and because we hope that the technology used here will also find its way into series production. Just in the same way as innovations from Formula 1 are expected to find their way via the S-Class into the A-Class at some point. But also, because the innovations for the next seven years at Patek Philippe have supposedly all already been decided, and this model gives a feeling for the direction in which the brand is developing. It would be great if a similar minute repeater were to be presented soon. After all, the "advanced research" from the earlier models, which mostly involved the use of silicon parts in the movement, was later used elsewhere. There is only one thing I find a pity.
Alexander: What's that?
Philippe: That you will probably never see the 5750P. With a watch as extreme and valuable as this – it's not about owning it for me or for the vast majority of others. It's enough to know that something like this is possible. But it would be nice to send one on a roadshow. I assume that a model will remain in the Patek Philippe Museum, and it would be good if this watch were sent around the world for exhibition. After all, this novelty is at least as exciting as a Grandmaster Chime, but much rarer.