Anyone who leaves school at the age of 9 is either clearly not suited to academia, or has already realised what their calling is. George Favre-Bulle must have been a visionary even as a child, because he had bigger plans for himself than to sit wasting several years in school. At the tender age of 13, he set up his own business and devoted himself to watchmaking. At the age of 20, he married the watchmaker Louise-Philippine Jacot-Descombes, henceforth becoming known as Georges Favre-Jacot. By 1865, aged just 22, he had founded the "Fabrique Georges Favre-Jacot" in Le Locle, which was later renamed Zenith, as the watch brand remains known to this day. Up until this point, Favre-Jacot manufactured precision pocket watches, marine chronometers, as well as early wristwatches, signed with the different names used by the company.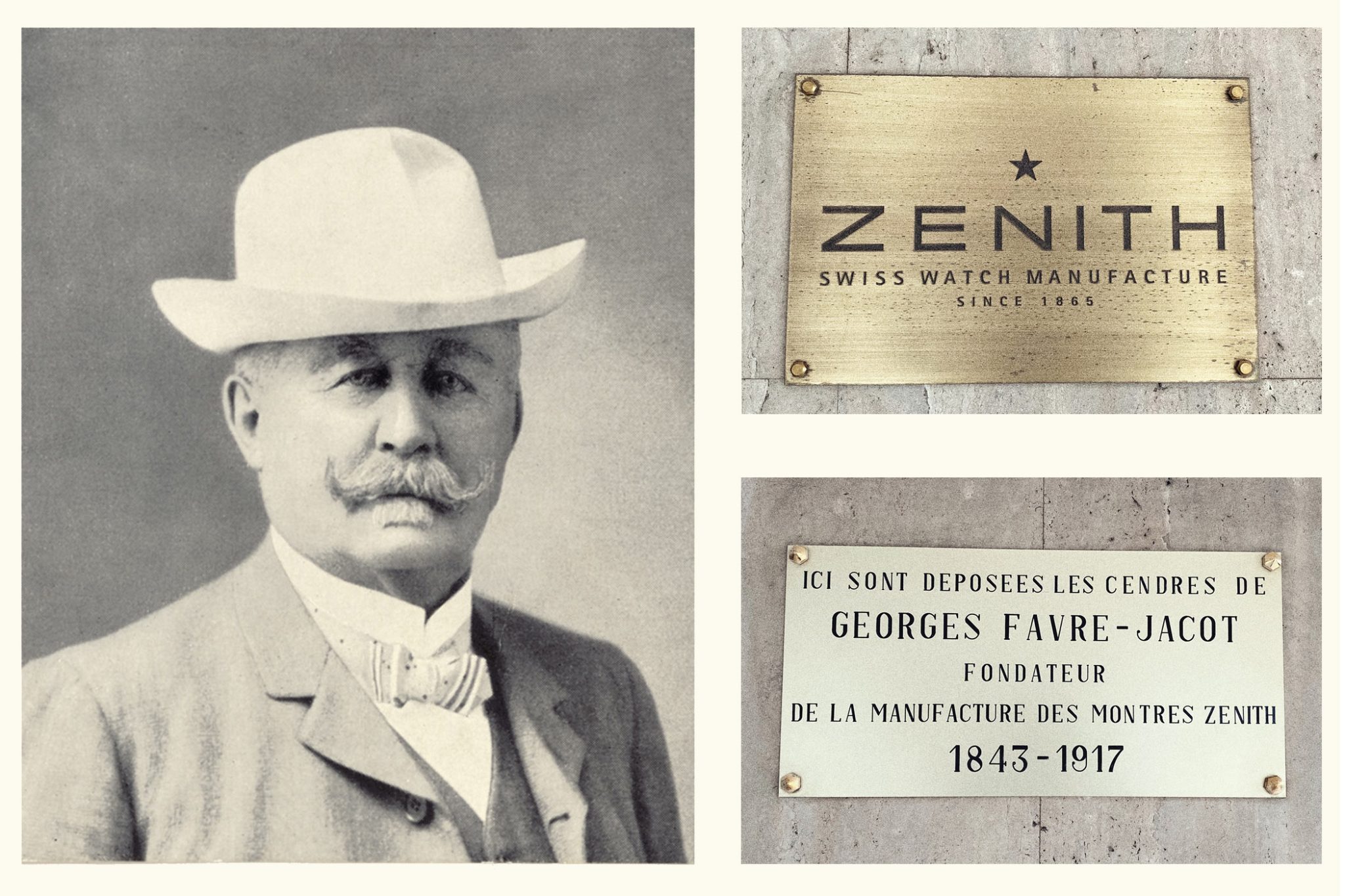 Georges Favre-Jacot
---
The cradle of watchmaking
---
Arriving in Le Locle, you find a seemingly inconspicuous little town, lying in what is known as the Jura Neuchâtelois. But perched 1,000 metres above sea level, together with neighbouring La Chaux-de-Fond, these two towns represent 'the cradle of watchmaking', having evolved over the past 150 years. Both towns have also been UNESCO World Heritage Sites since 2009.
The full extent of Favre-Jacot's creative influence becomes clear in the reception of the Zenith manufacture. A large reproduction displays the many factory buildings that Favre-Jacot built from 1865 onwards, which we are to visit during our tour. In the middle, a large chimney rises into the sky, which we had already observed upon arrival. Was it metaphorically pointing the way for the company, even before it got its name? The chimney reaches high towards the sky – up towards the zenith. In reality, the chimney served as a vent for the steam machines built by Favre-Jacot, which supplied not only the factory but the entire town with electricity. At first glance, the complex displayed on the enormous engraving looks like a giant production plant for heavy machinery. Indeed, at the time, such a production building for watches was completely novel. But Favre-Jacot had decided to change things with the introduction of a novel concept: the manufacture.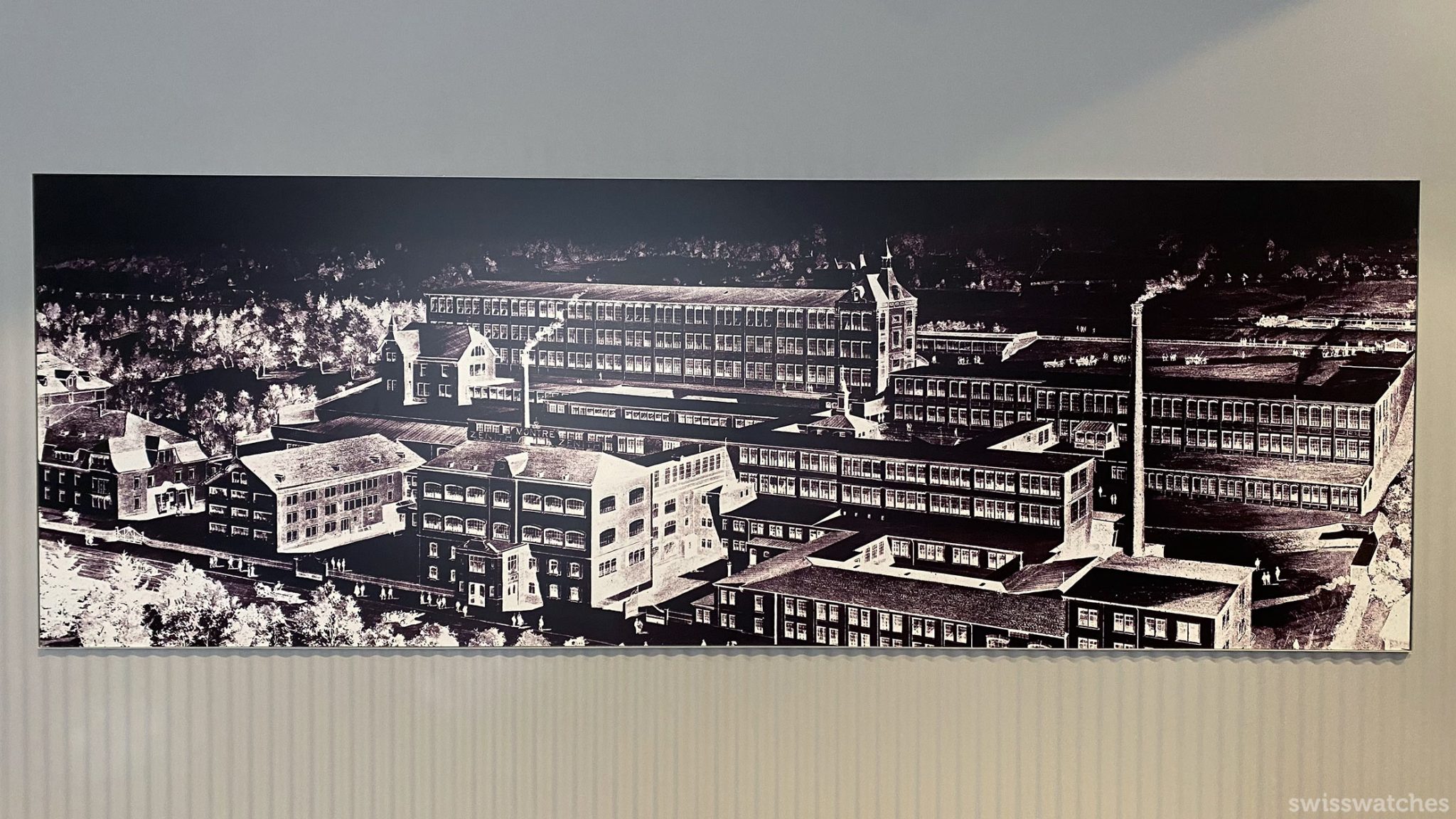 A reproduction of the factory buildings around 1865
---
The idea
---
How did watchmakers come to the Jura valley in the first place? In the middle of the 16th century, Calvinist Protestants in France, also known as Huguenots, were expelled and fled to Geneva. Many of John Calvin's followers, in particular, followed him there. Many of them were goldsmiths and watchmakers, a profession long established in France by that time. Meanwhile, the Swiss Jura valley was mainly inhabited by farmers who, during the long winter months at an altitude of around 1,000 meters, were unable to keep up their farming activities and had to look for extra income. Thus, the watchmakers based in Geneva brought their toolboxes to the Jura valley, where peasants began to convert their living rooms into small workshops over the winter months, making parts of movements.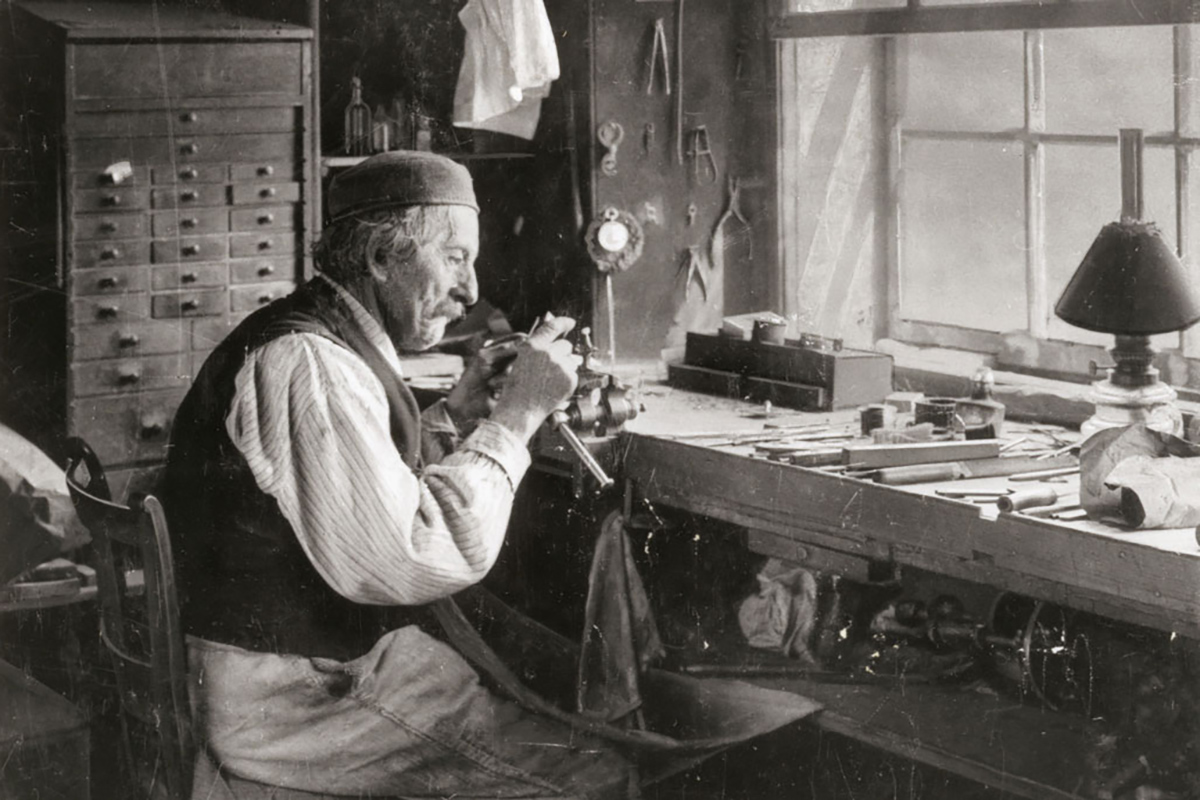 Watchmaker, Vallée de Joux © Musée de l'Elysée, Lausanne
The various watch components were thus ultimately made and supplied by many individual craftsmen from the region. Favre-Jacot, who, as mentioned, was then just 22 years old, had a vision; uniting all the trades for making a watch under one roof. The idea of integration came with new working conditions, consisting of bright and modern premises as well as job insurance, which appealed to the locals.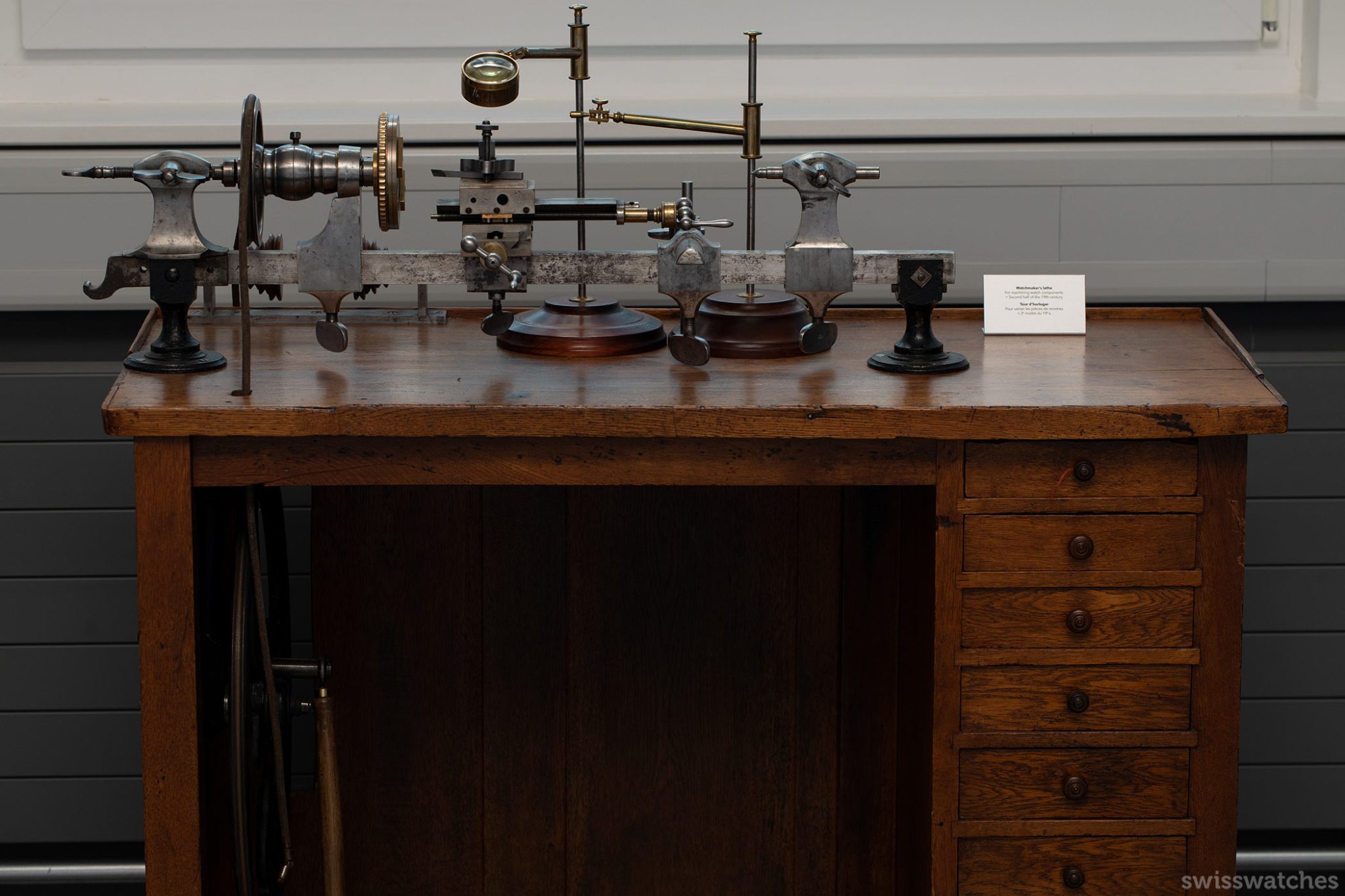 A watchmaker's lathe from around second half of the 19th century
Favre-Jacot thus had halls with large windows built across an area of 17,000 m2, making sure it was connected to the village railway station, so as to speed up the import and export of materials. The individual buildings are connected by corridors so that the watchmakers could easily move between sections within the factory in any weather. Favre-Jacot added a further incentive by training his employees in various tasks to avoid monotony. There was a lively hustle and bustle in the company halls, which appealed to the watchmakers much more than the social isolation of their mountain huts. The factory grew and prospered. Almost 100 years later, some 1,000 employees were making around 350,000 watches a year at Zenith.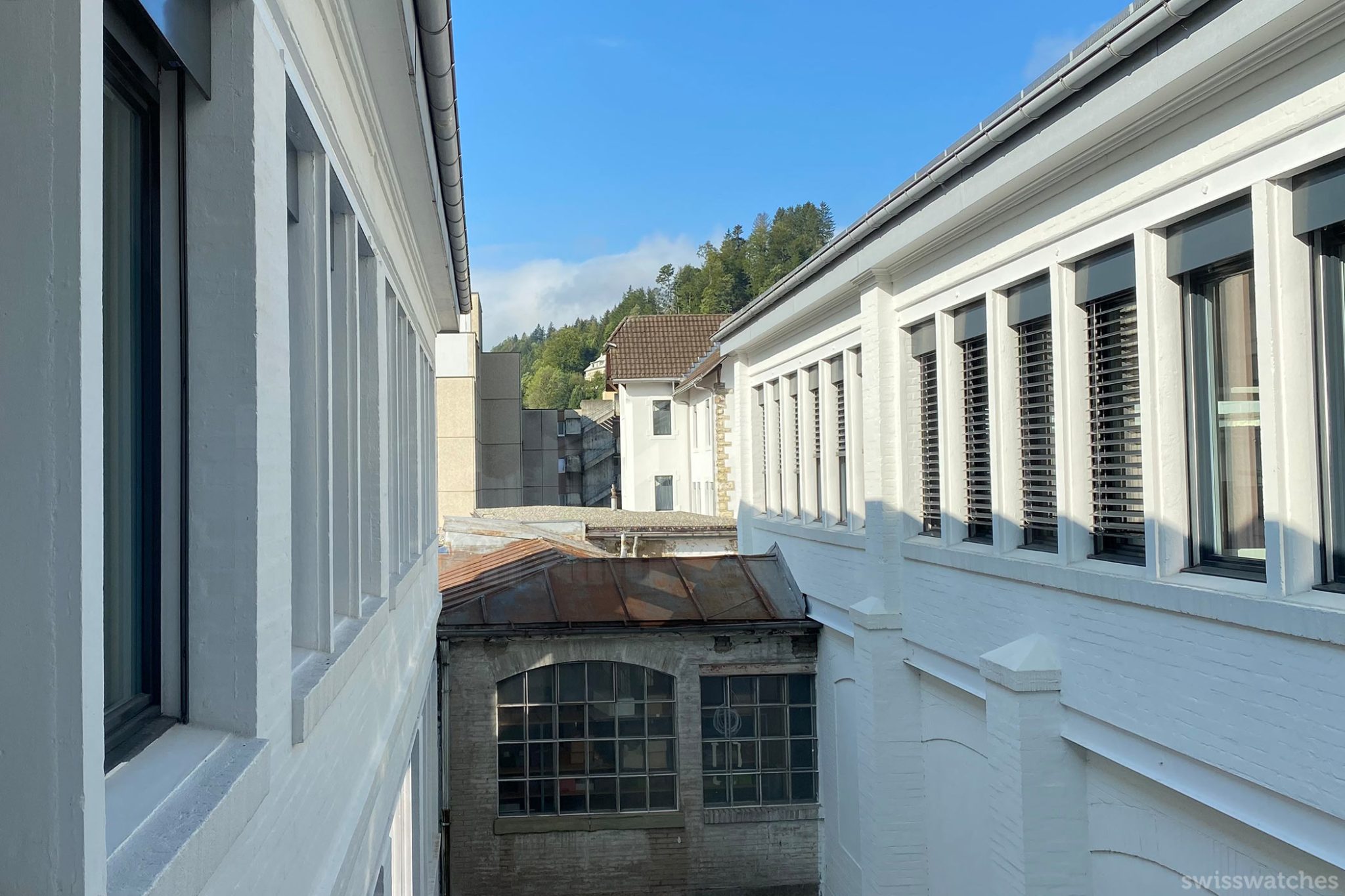 The factory buildings are connected by corridors
---
Zenith today: Vertically integrated and eco-friendly
---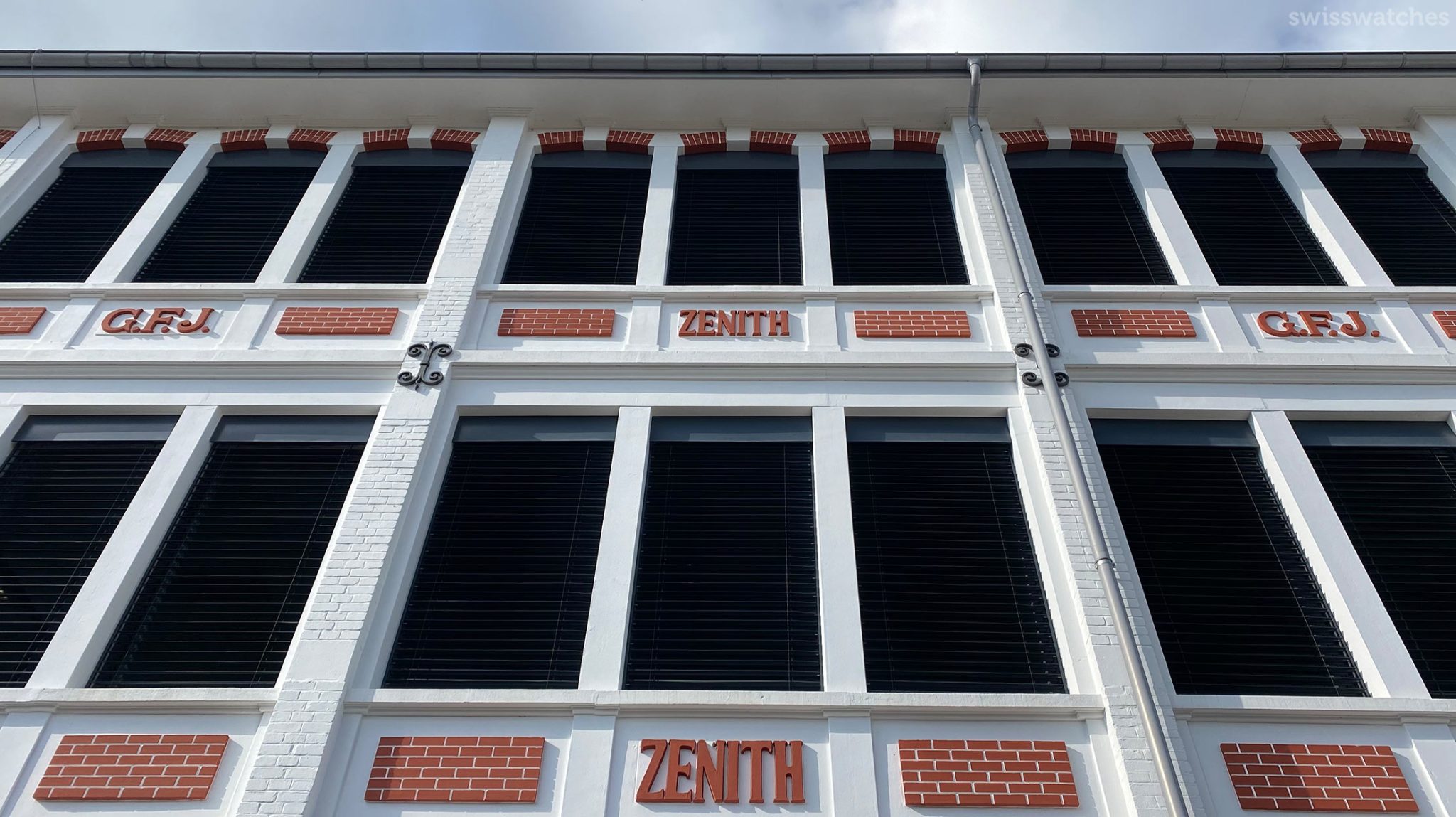 With all this nostalgia, however, one must be sure not lose sight of the new, which began with the renovation in 2012. Today, 80% of the resources in the manufacture are now recycled. A sophisticated heating system uses the heat generated by the machines to heat the manufacture's rooms. Triple-glazed windows, in turn, prevent heat from escaping in winter. Water used for cleaning components and cooling the machines is also recycled. Today, vertical integration also applies to acting in an environmentally responsible manner.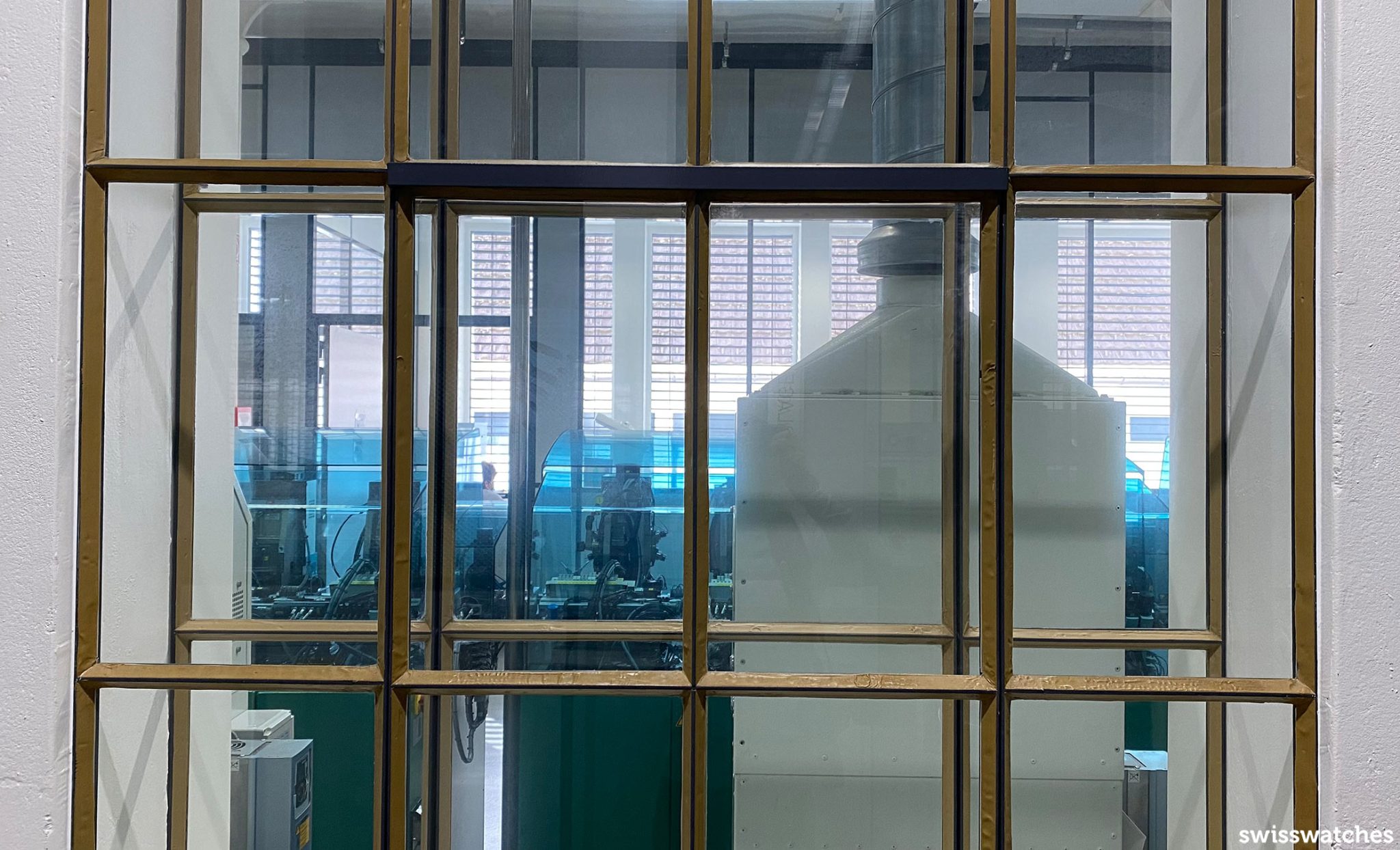 ---
Manufacture know-how
---
Today, Zenith remains a fully integrated and largely self-sufficient manufacture. All movements are produced in-house. Only components such as hairsprings, jewels, screws, and a few other components are supplied by external manufacturers. This requires a remarkable amount of production know-how, considering that even the most independent watchmakers rely on external service providers for the procurement of these components.



The basis for today's savoir-faire was provided by Favre-Jacots, who quickly made a name for himself with precision pocket watches and chronometers, winning prizes for all of them. In 1900, Zenith was awarded the Grand Prix at the Paris World's Fair for the eponymous "Zenith" calibre. Favre-Jacot named the movement "Zenith" because he was convinced that it was better than anything ever produced. In 1911, the entire company was then renamed Zenith. His numerous chronometer calibres, such as the 135 or 5011 – to name but only a few, also brought home several prizes. The official timekeeping of Switzerland was even based on Zenith's regulator, which was used as a reference to set precise time.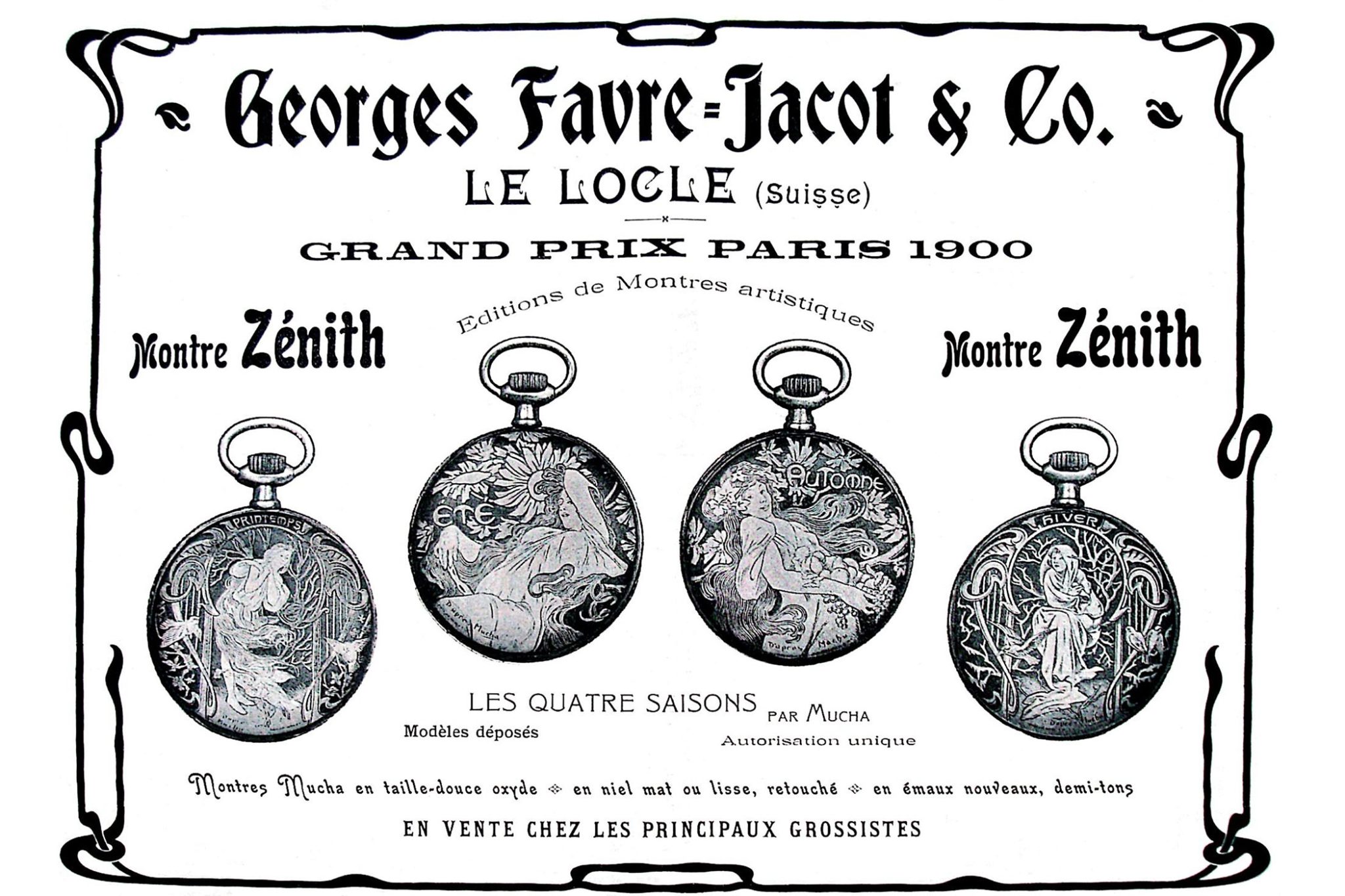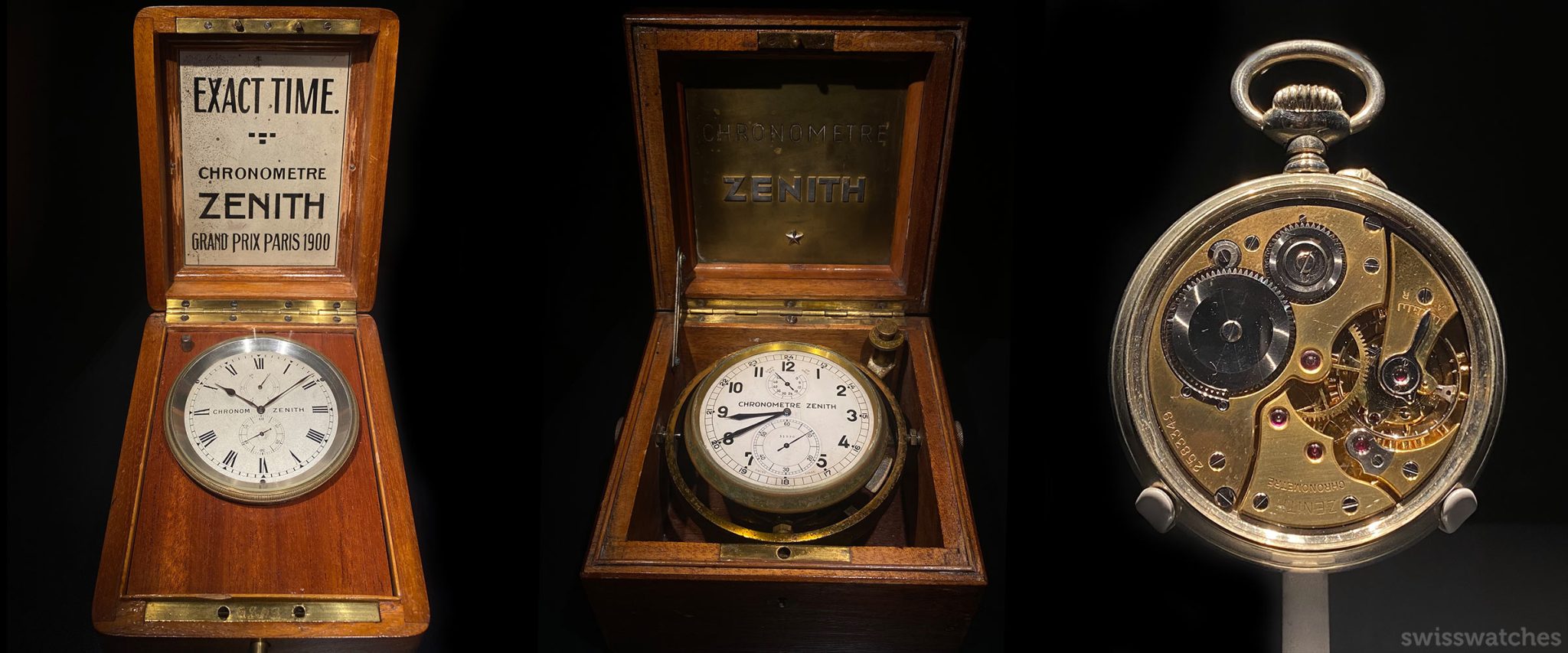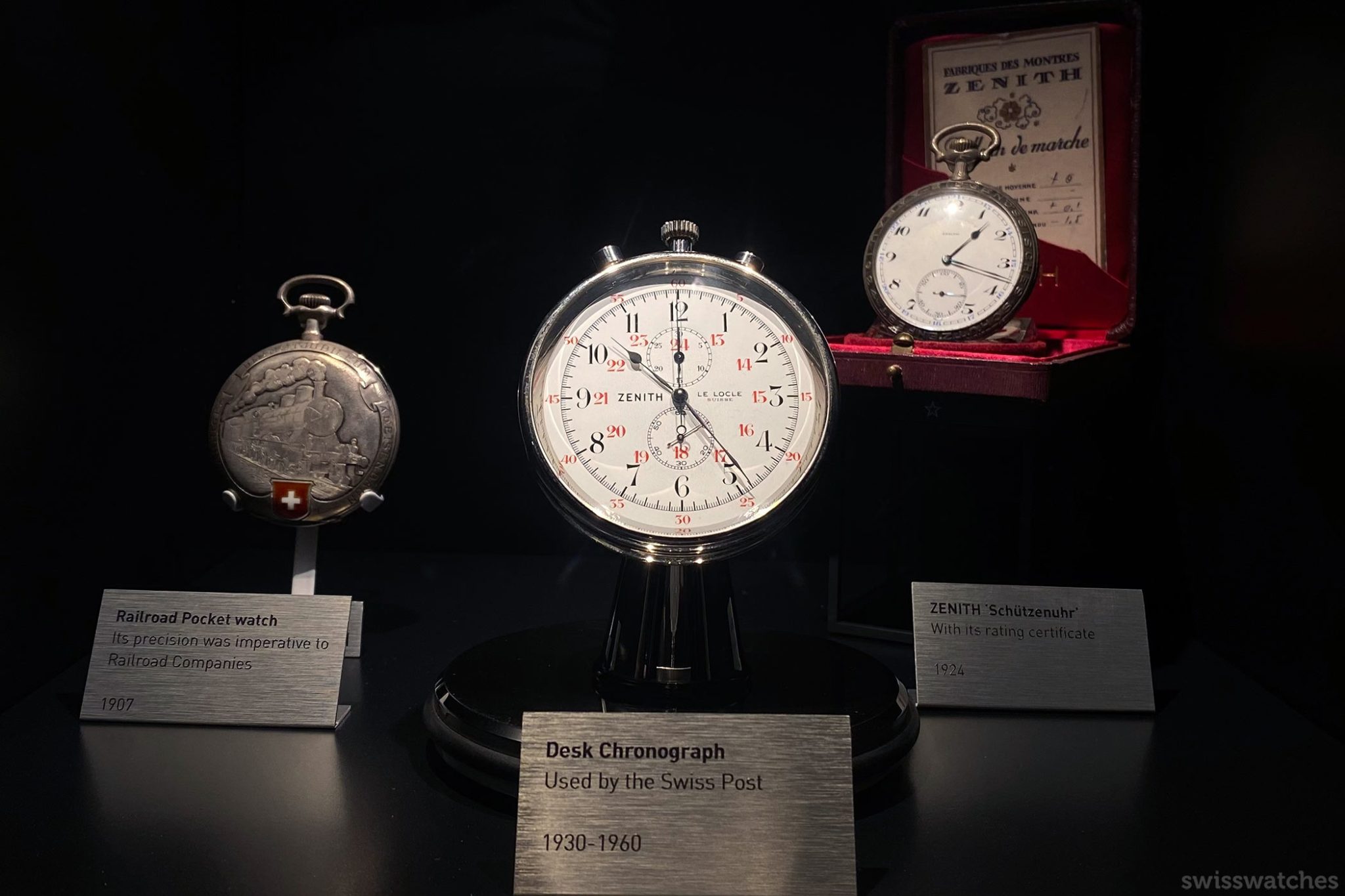 ---
El Primero: The first self-winding chronograph
---
For the company's 100th anniversary, Zenith pursued a particularly ambitious goal. They wanted to present the world's first fully integrated automatic chronograph. Self-winding wristwatches had long been established at the time, but there was still no such thing as an automatic chronograph. However, the Zenith management did not want to simply add a module to an existing calibre; they wanted to develop a completely new movement. They decided to use a high-frequency oscillator to ensure greater precision. The result was the El Primero calibre, with a frequency of with 36,000 vibrations per hour.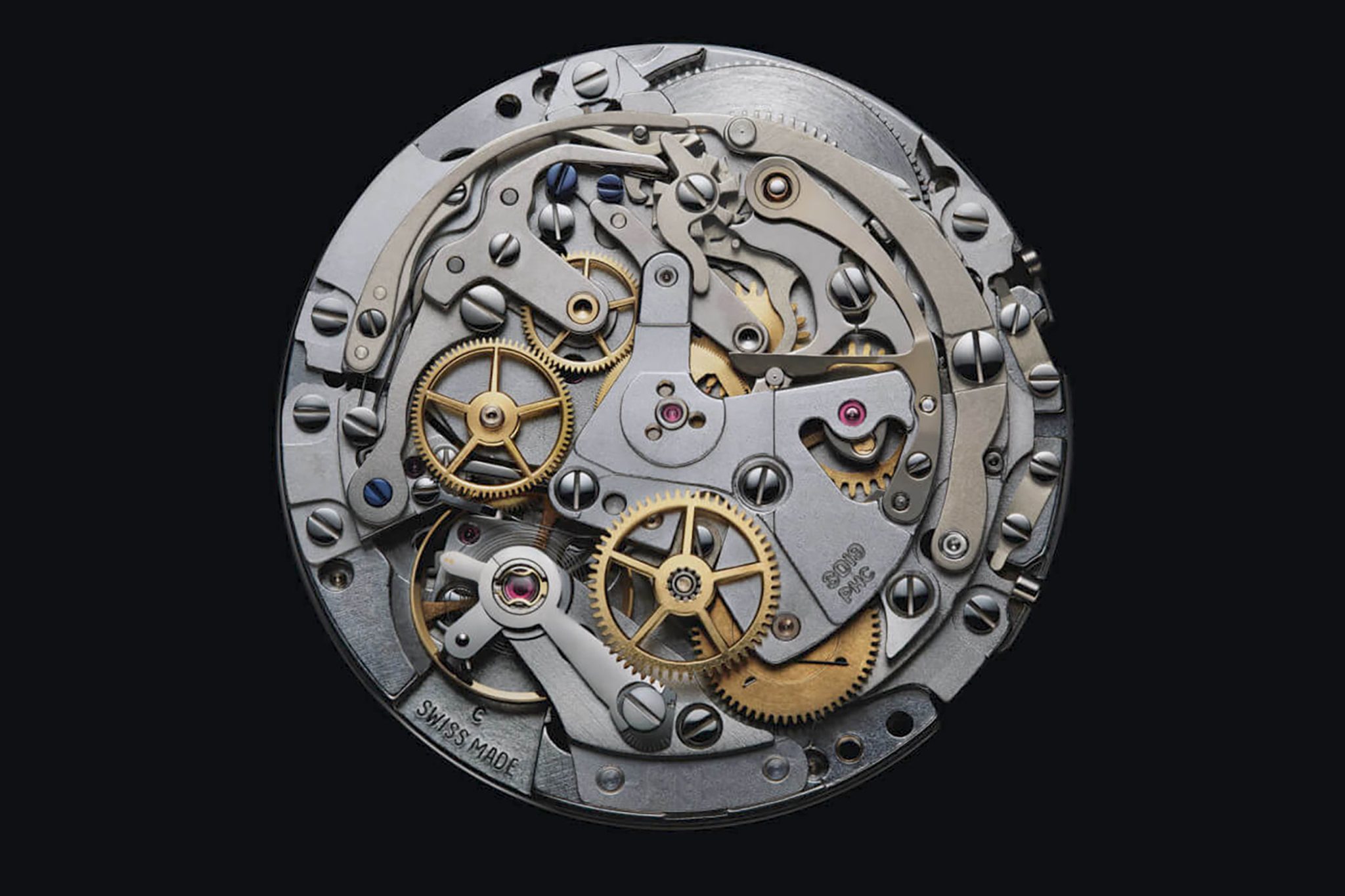 Zenith El Primero Calibre 3019 PHC, 1969
They narrowly missed their goal of presenting this world first in time for Zenith's 100th birthday. In the meantime, other companies such as Hamilton-Buren, Breitling, Heuer and Dubois Dépraz had also started working on the first high-frequency chronograph with automatic winding. As a result, there was enormous competitive pressure. Although all competitors completed their new movements in the same year, Zenith was a tick faster, presenting the El Primero at a press conference in Le Locle on January 10, 1969.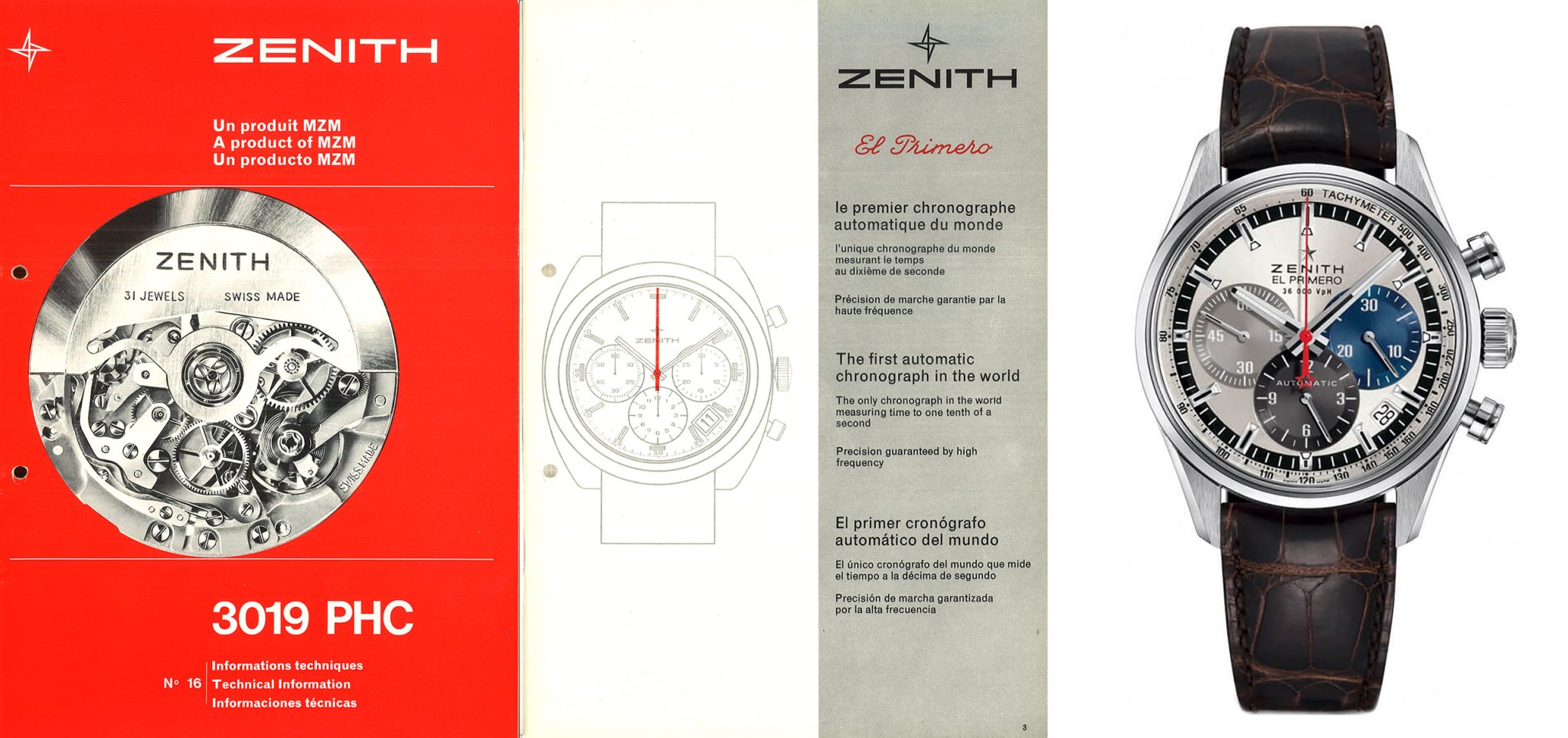 First Zenith El Primero watch, 1969
---
Behind the scenes
---
The effort required to manufacture such an in-house movement becomes clear to us in the manufacture's Mechanics Department. Here, there are countless stamping tools, made of solid cast iron; each one for a specific movement component. For the sake of assigning these to the different movements, they are colour coded. The purple stamping tools are for the movement of the original El Primero, while the green ones are for the movement of the Defy El Primero 21. Around 150 presses are required for the production of the El Primero movement alone. Not only the movements, but even the stamping tools are made by Zenith itself. Furthermore, each of these stamping tools cost around 40,000 euros and 300 working hours. With 150 of them for one movement, that makes about 6 million euros just for one type of movement. If you still don't understand why your mechanical watch has a certain price, you should perhaps look for another hobby.

Of course, an established horology house like Zenith does not simply leave the stamped movement components to their fate afterwards. In the Decoration Department, they are decorated by hand with perlage, anglage (beveling of edges), Côtes de Genève and other decorations. This also applies to components that the wearer does not even see. With the patience of a saint, Zenith employees remove tiny residual particles that are created during the machining of the presses and CNC machines. This is important to ensure that every screw, no matter how tiny, fits perfectly during further processing.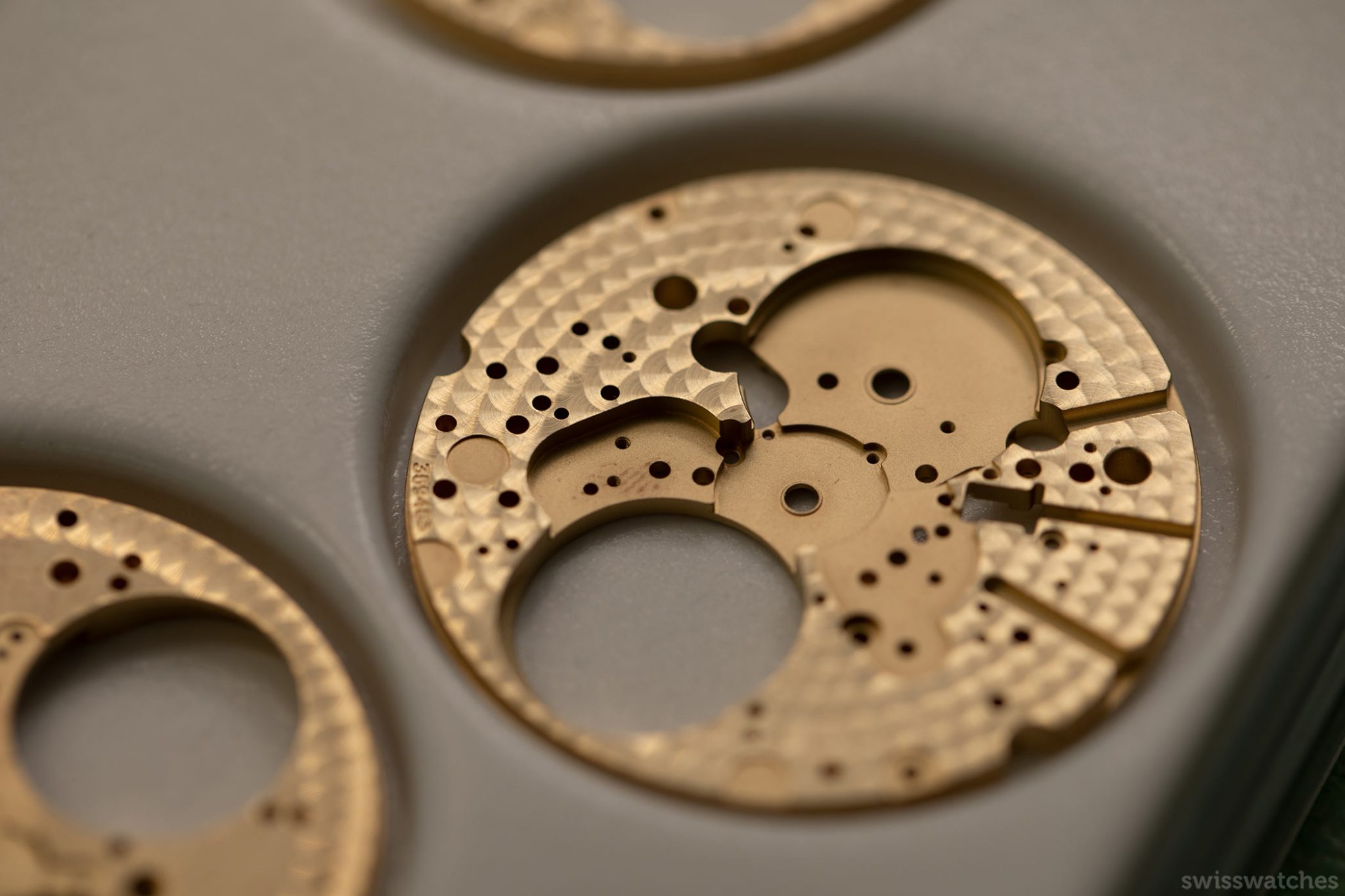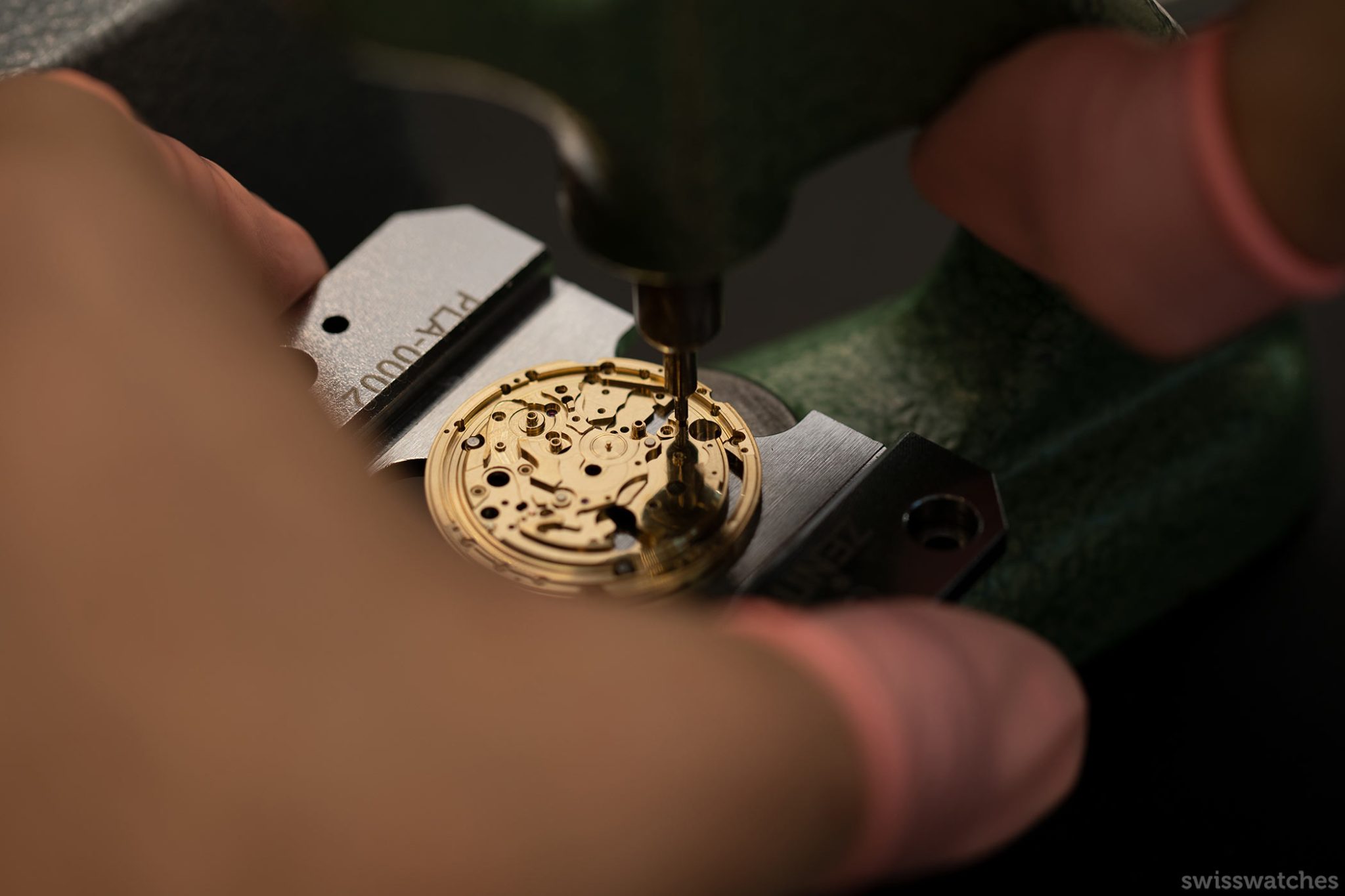 ---
Trust is good; control is better
---
Each movement part – and that's several hundred per watch – must not exceed a certain tolerance during production. We are talking here about deviations in micrometres. The employees in the Quality Control Department take a fixed number of random samples from a batch and check whether the deviation is within the tolerance. The measurement numbers of the individual components are written on a long paper slip, reminiscent of a cash register receipt roll. If a part is above tolerance, it is first reworked by hand. If a certain percentage is defective, the entire batch is checked. If tiny inconsistencies creep in here, this has all the more negative effects later on during further processing. The employees are sensitised to this. There is a saying among watchmakers: "The last to touch the parts is the one responsible.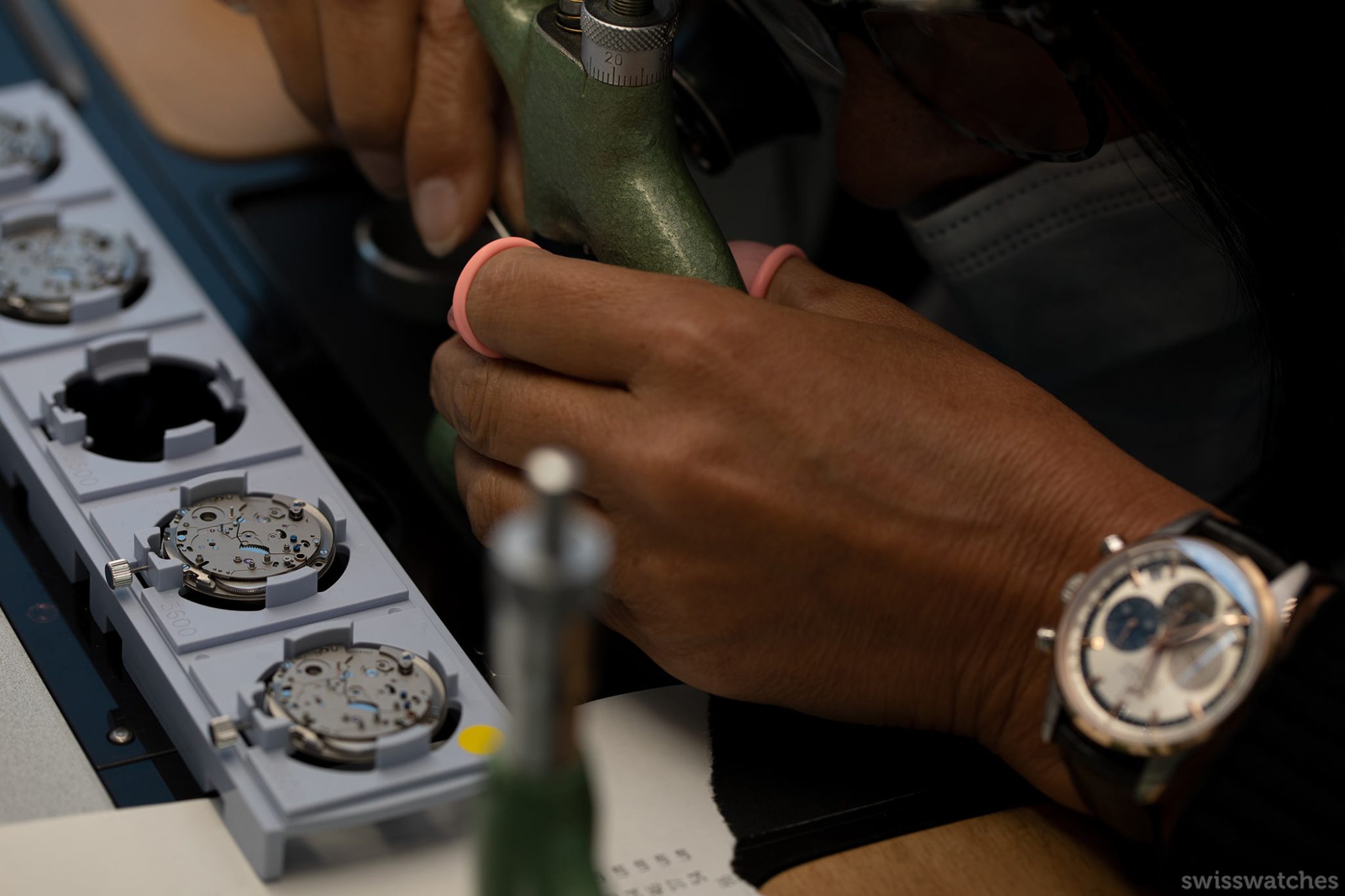 ---
Charles Vermot and Rolex
---
---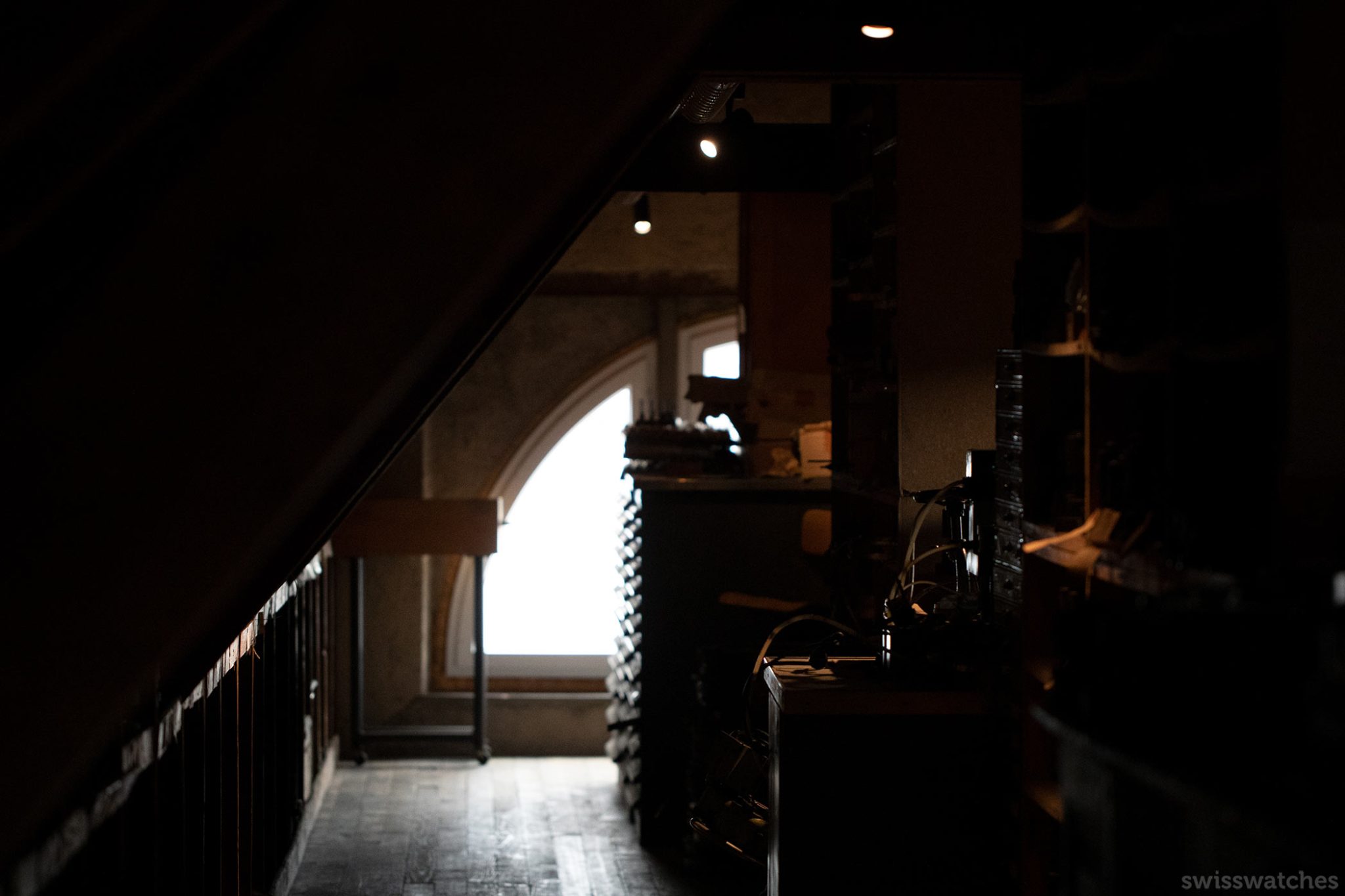 The holy attic in the Zenith Manufacture
---
El Primero Adé: Hello, quartz!
---
Charles Vermot, a long-time employee and head of the chronograph workshop who was also instrumental in the development of the El Primero, was not about to let this happen. For more than half a year, he secretly moved all the props from the manufacture to the company attic late at night: movement components, punches, cams, drawings, presses, screws, dials… More than a tonne of production equipment. Charles was so obsessed with his mission that he even (unwittingly and unintentionally) put his marriage at risk. As he was coming home late at night for months at a time, his wife assumed he must surely be being unfaithful. Fortunately, the suspense only lasted until the real secret came unfold, and their marriage lasted until his death in 2003.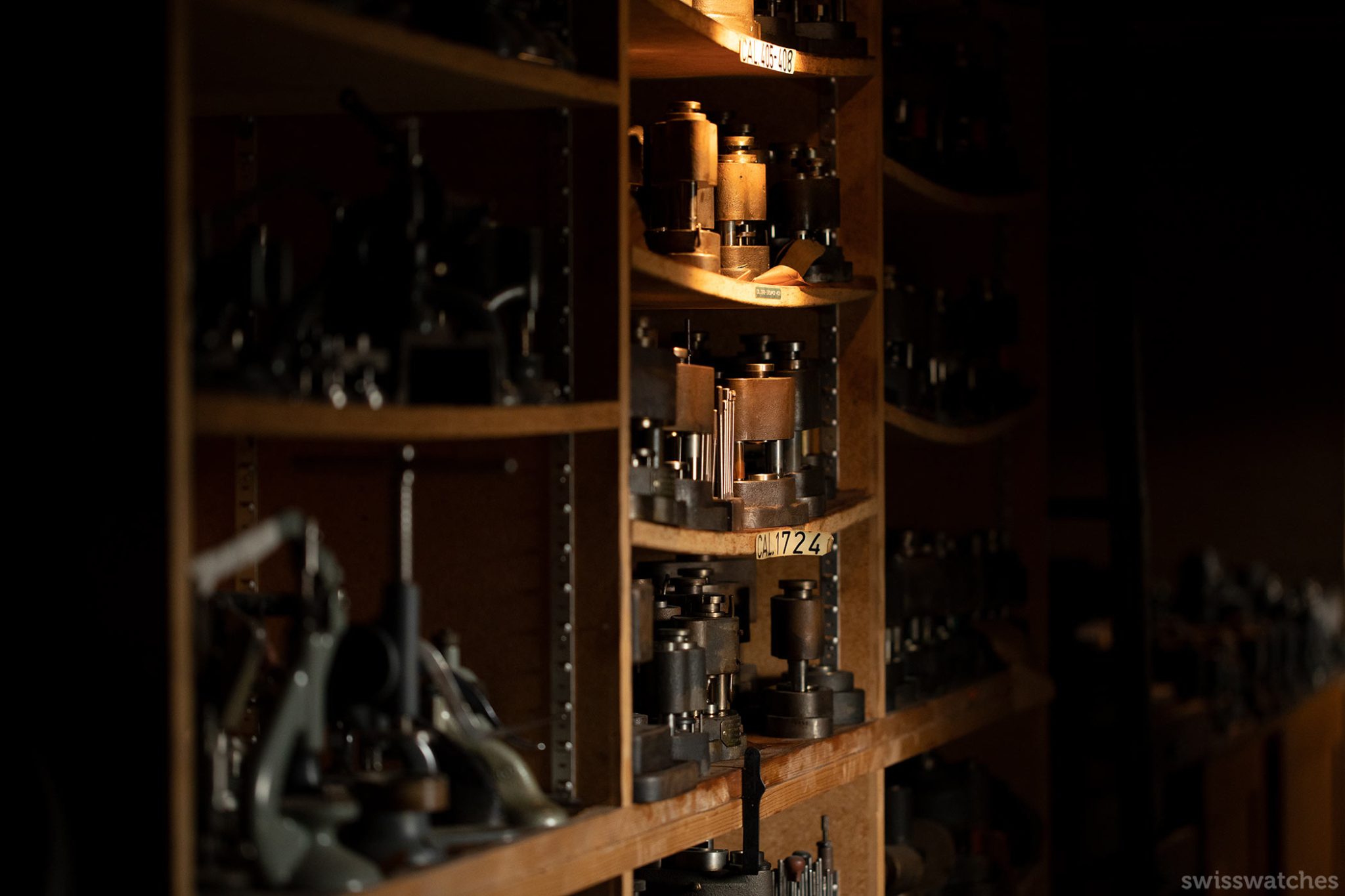 Quartz initially prevailed, but it did not seem to have brought the desired success for Zenith's new owner. In 1978, the Americans lost interest in the brand and Zenith was sold to Paul Castella's group of companies, Dixi, who believed in a renaissance of mechanical watches. Perhaps a decisive moment for this was Rolex's sudden interest in 1982 in Zenith's automatic movements, which they wanted to – and did – utilise in their Daytona. Thus, almost ten years later, Charles Vermot revealed his secret and showed the new management his until-then walled-off hiding place within a remote attic above the manufacture. In 1983, production of the legendary chronograph finally started again.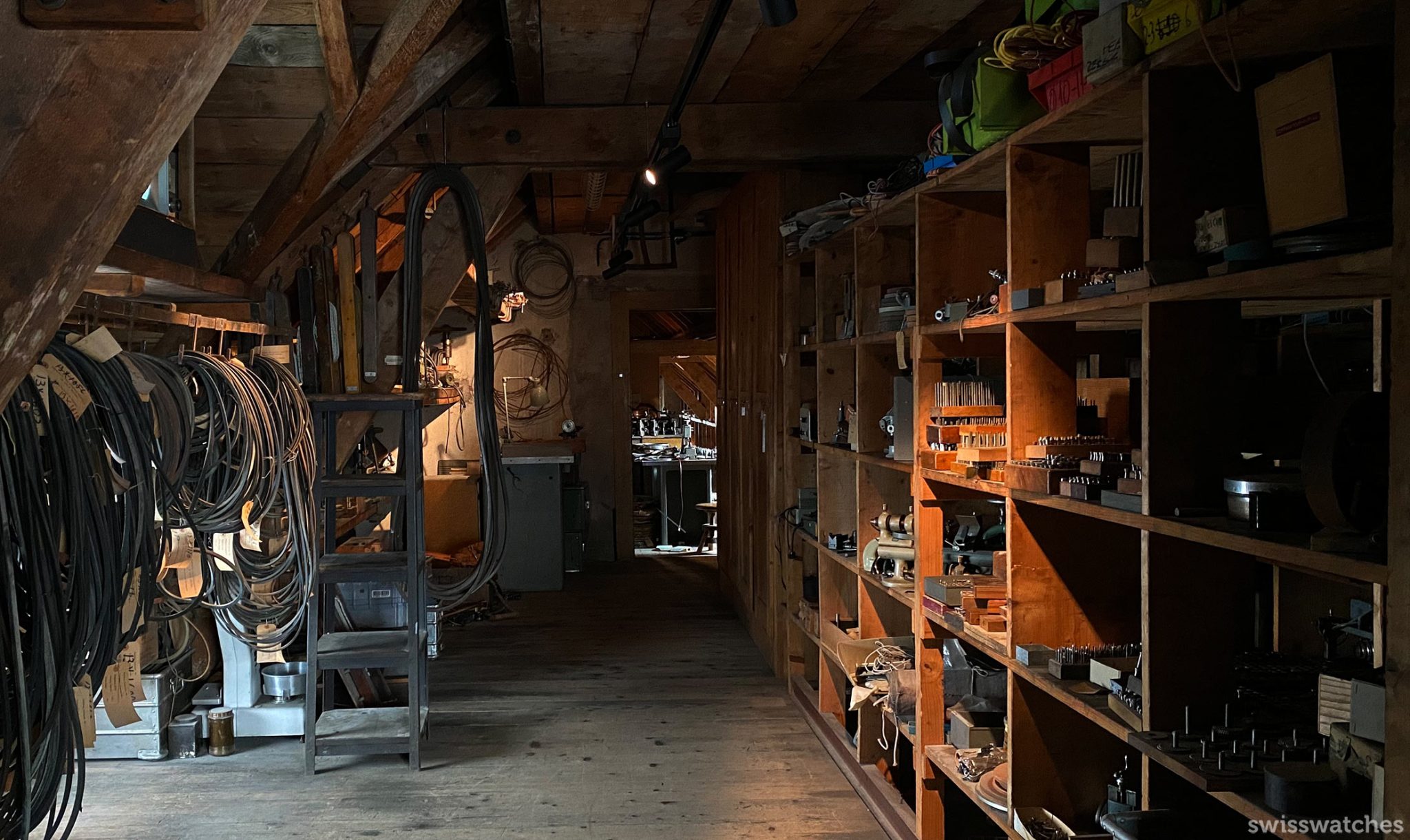 Now here we are, standing between the beams of a small building on the company's premises, where Charles Vermot dragged vast quantities of materials up the narrow staircase almost four decades ago. It's a watchmaker's playroom; wherever you look, there are heaps of material scattered haphazardly over every square metre, yet some of it meticulously sorted into the old wooden shelves and numbered by factory. And even today, the company makes use of finds from bygone days to reissue them as historically relevant models.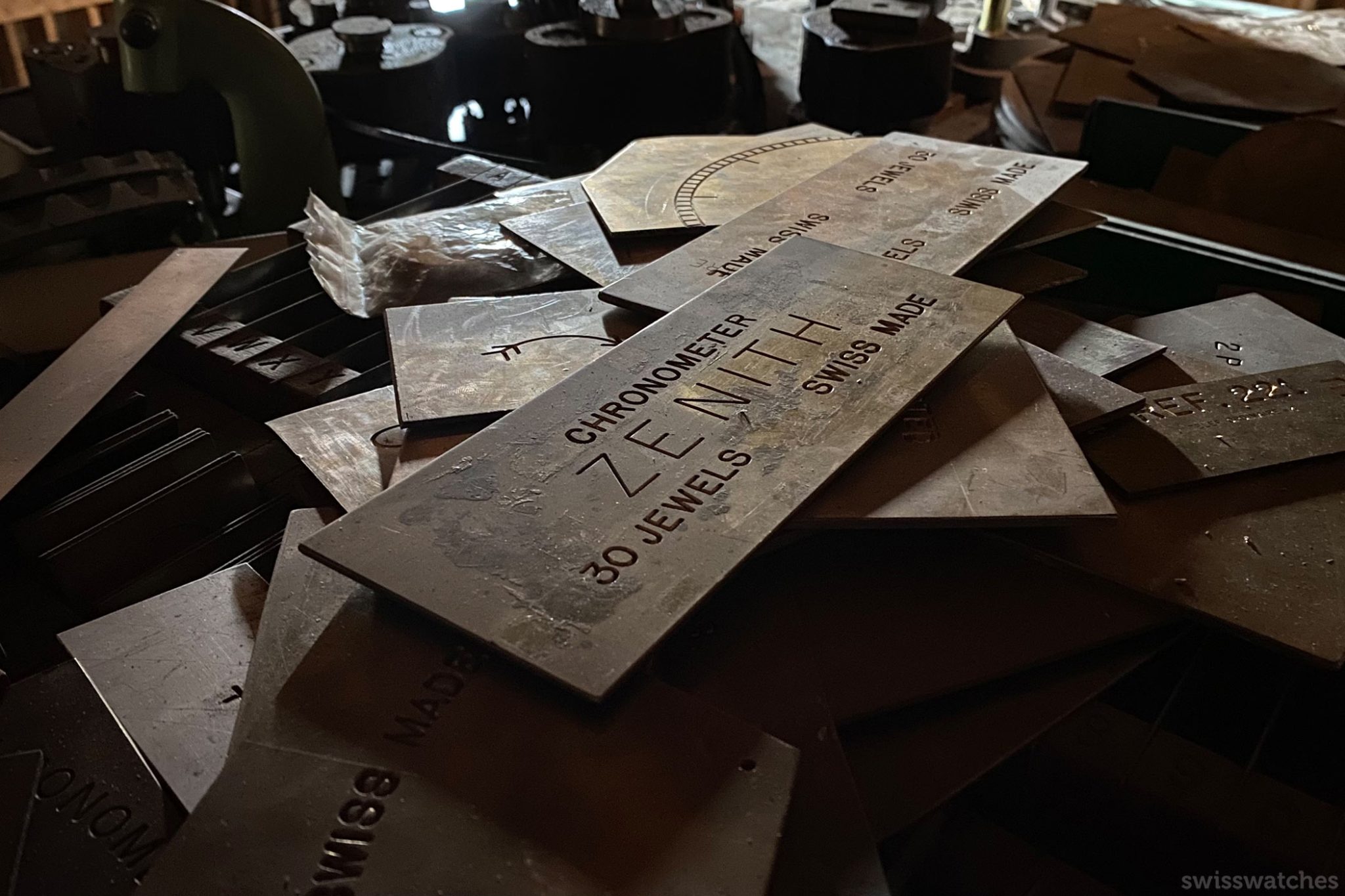 ---
El Primero in the 21st century
---
In 2020, Zenith launched the Chronomaster Revival "Manufacture Edition", which features an imitation of a dial found in some old boxes in this very attic. They were prototypes of the original 1969 El Primero A386, with subdial counters in three different shades of blue.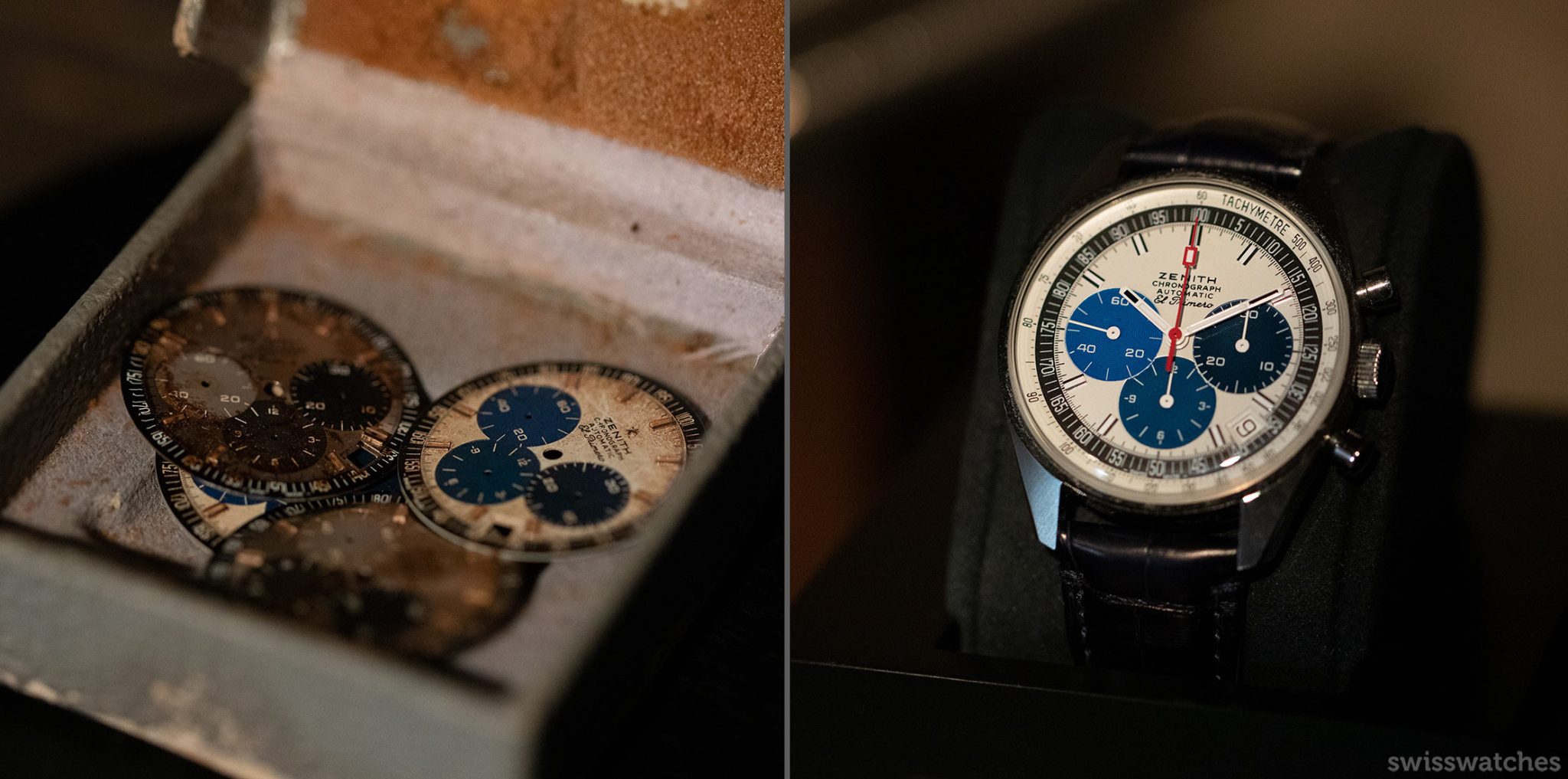 Zenith Chronomaster Revival "Manufacture Edition"
Zenith CEO Julien Tornare and his team spent the past four years gradually awakening the brand from its far-too-deep slumber and carefully rebuilding the best-selling 1960s El Primero. In 2019, Zenith unveiled the state-of-the-art Defy El Primero 21 calibre, which beats at 50 Hz (360,000 vibrations per hour). In particular, with the Chronomaster Revival and latest Chronomaster Sport, Zenith has made it back to the tableau of the most exciting watch brands of the moment.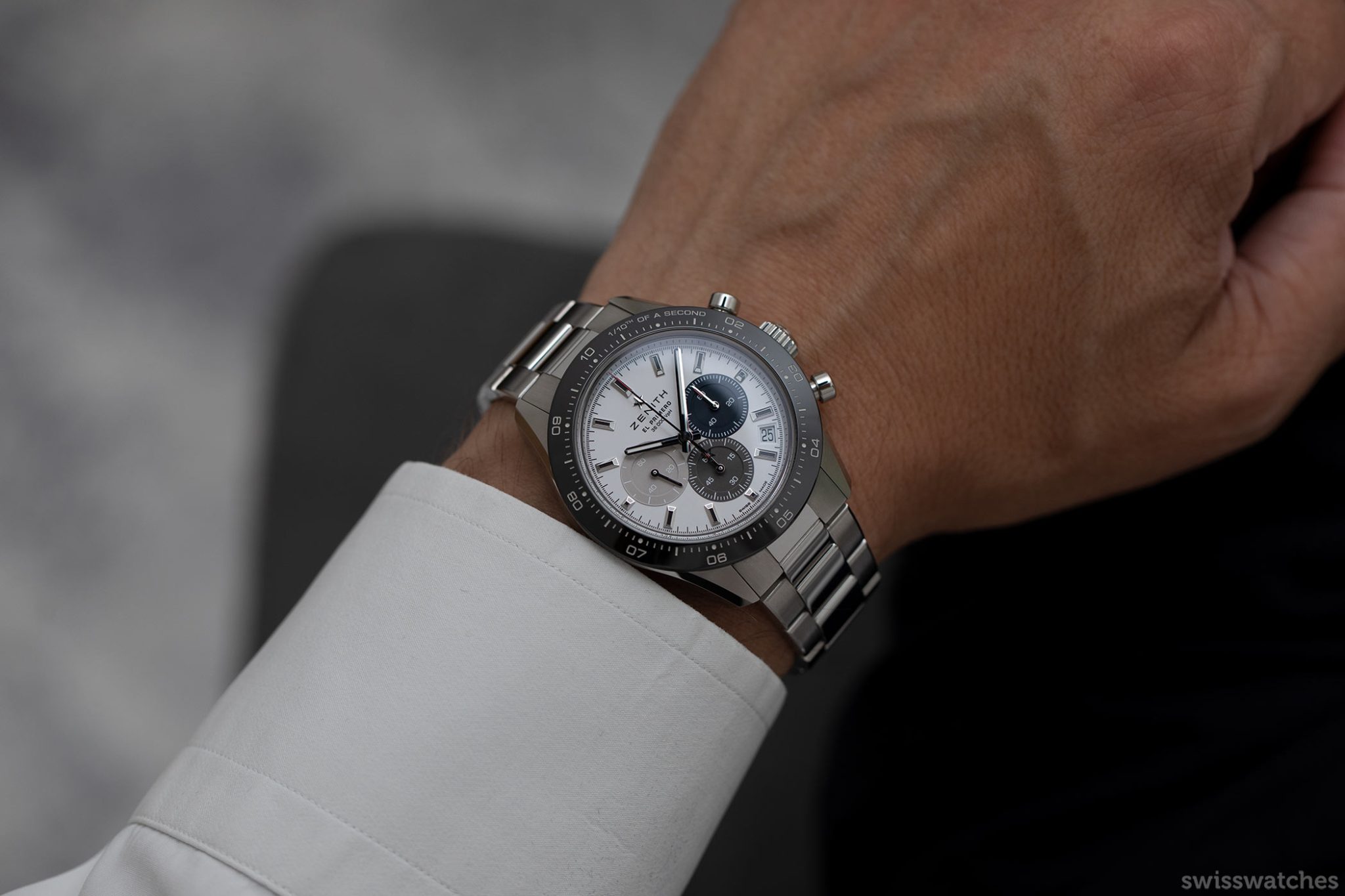 ---
Watch Clinic
---
At the end of our tour, we are allowed to take a look at the "Watch Clinic", which has been open since September 2021. This is not where malfunctioning watches are treated, but where guests of the manufacture have the opportunity to take part in an interactive workshop and try their hand at watchmaking themselves. In the three-hour courses – which are divided into three modules depending on level of knowledge – participants can choose between a basic course on how a mechanical movement works, a course specifically about chronographs, and a course on restoration of vintage watches, before they will be able to operate on real El Primero movements. Six workbenches are currently offered and can even be sent to workshops around the world as mobile units – the watchmaker can then guide participants through the course live from the manufacture via an interactive TV screen.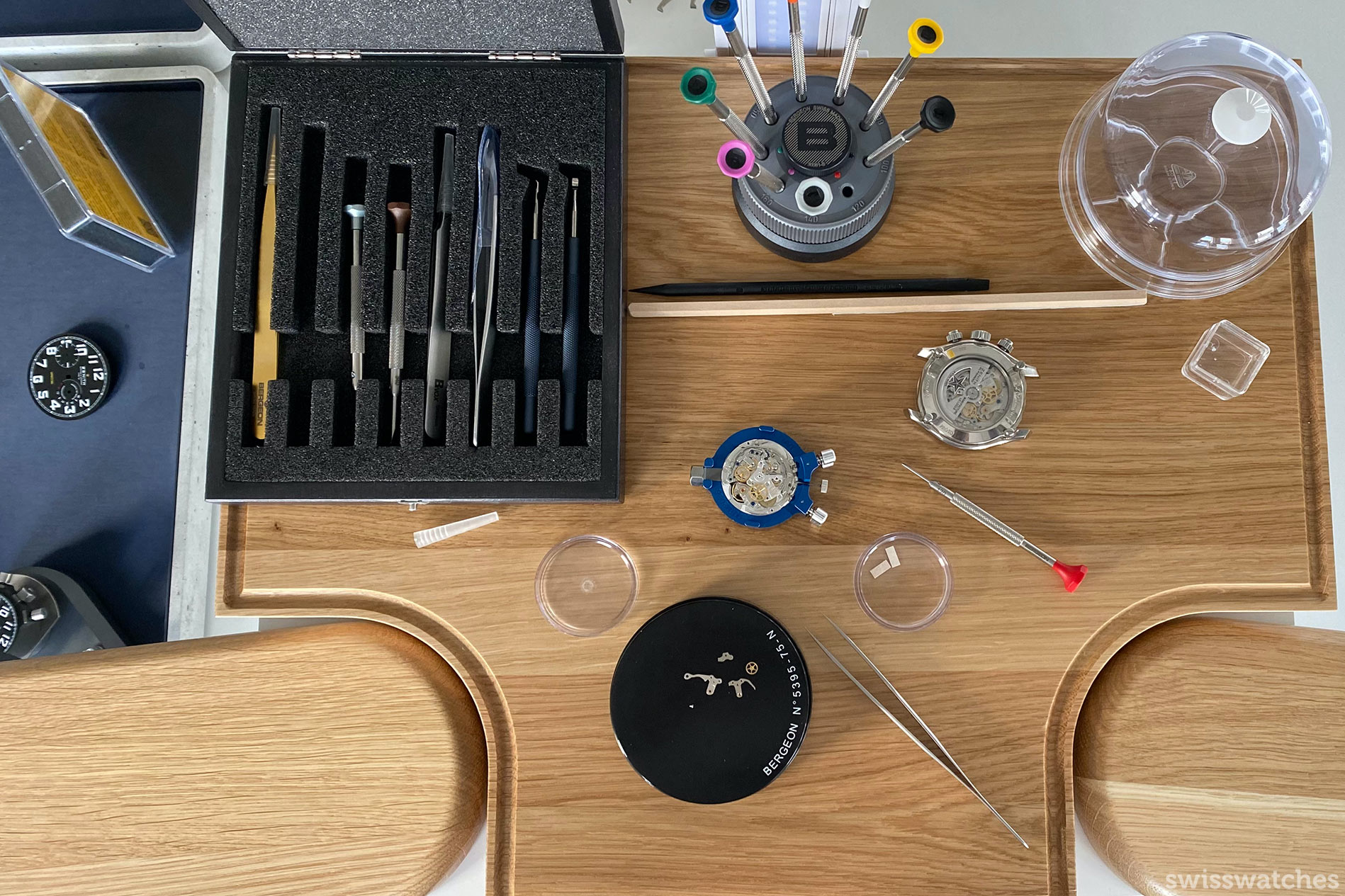 Watch Clinic
---
Inclusive instead of exclusive
---
When you enter the manufacture's reception, you have no idea about the impression you will be leaving with. This is partly because you can snoop around in every corner of the manufacture without being constantly reminded to stay out of the way. On the contrary, photography is expressly encouraged. We get to talk to the watchmakers without feeling like we're disturbing them at work, or getting answers that are pre-rehearsed by management.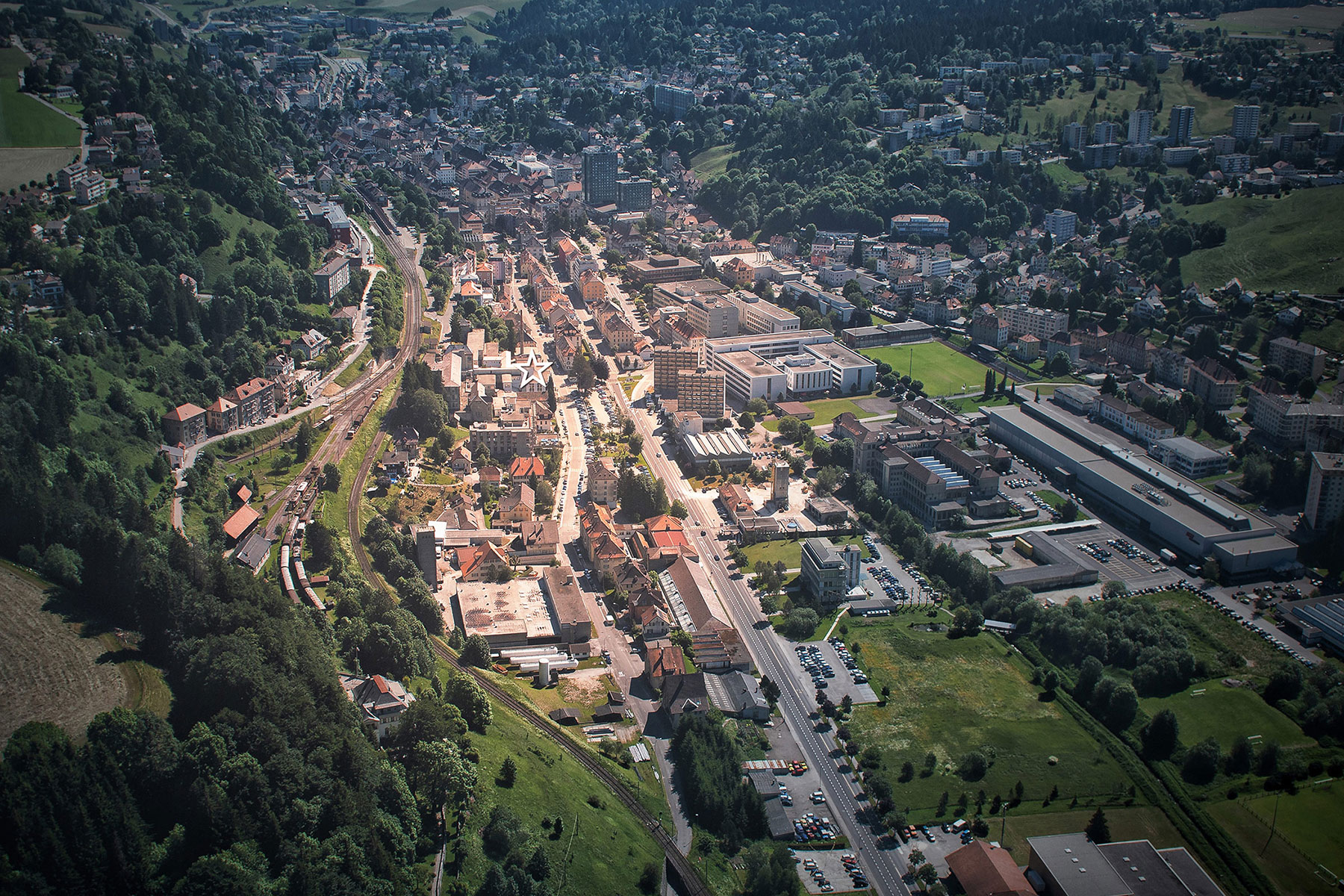 Le Locle with the Zenith manufacture in the centre (white star)
Every Friday morning at 9:00, Zenith offers public tours in six languages. The tour lasts 3 hours. Afterwards, we highly recommend lunch at the small family-run Italian restaurant Chez Sandro, about a 10-minute walk from the manufacture and the perfect highlight to end our trip.
---