The trend for blue watches has been around for a while now. After all, blue is the favourite colour of most men and in terms of fashion, blue is always sophisticated and sporty at the same time. As there seems to be a strong demand, the trend lives on within most brands collections. Whereas blue was mostly associated with sports watch in recent years, Vacheron Constantin expands this colour scheme increasingly within their dress-watches – each collection receives its own blue shade that we rarely saw before as subtle and elegant as used in the novelties, that have just been presented at SIHH 2019 watch fair.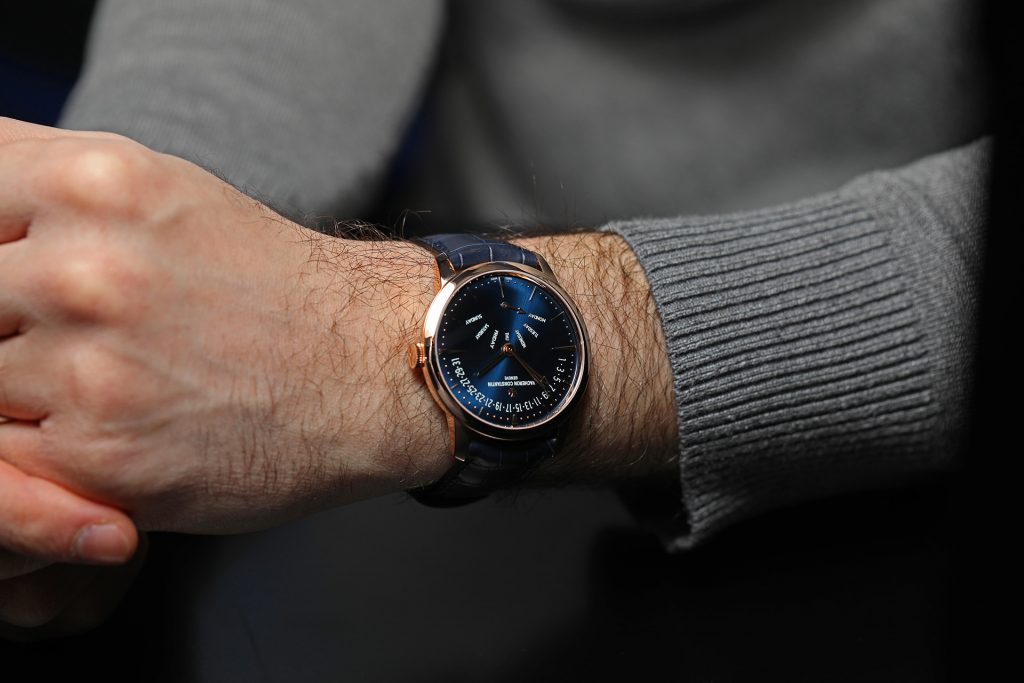 The dial of the new Patrimony Retrograde Day Date shines in majestic blue
Vacheron Constantin for the first time ventures to combine blue with rose gold, not only for their classical line like the 'Patrimony' or the 'FIFTYSIX®', but also for their sporty 'Overseas' line. Even the prestige Atelier 'Les Cabinotiers' introduces a Grande Complication with a blue dial.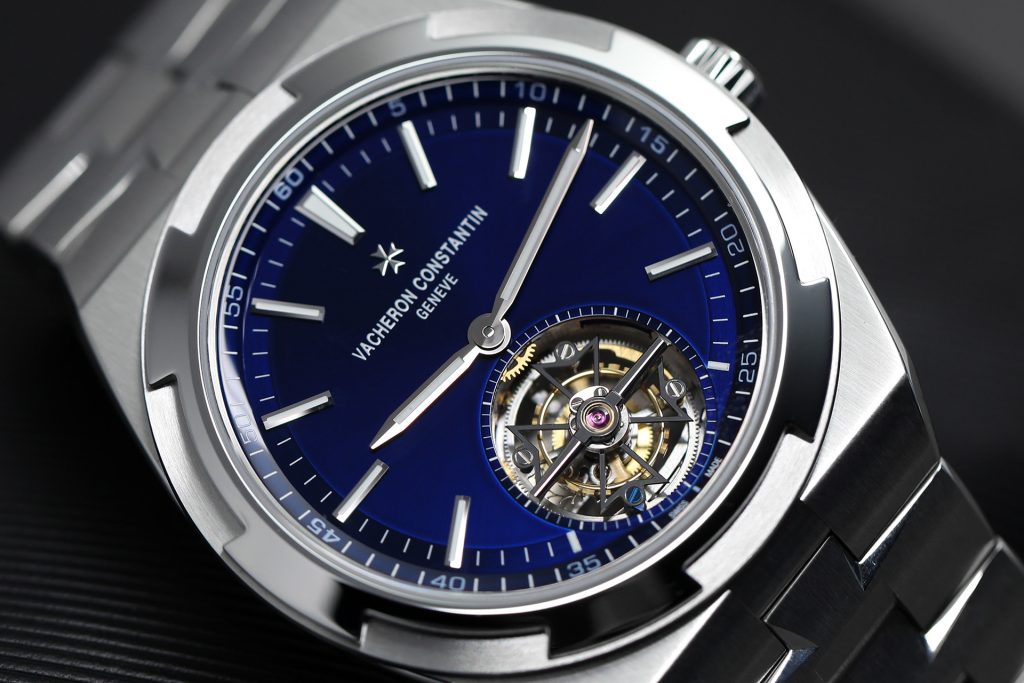 The new Overseas Tourbillon in petrol blue
The watch that has left the most impression to us is actually the most modest one out of all novelties. Due to its colour-given harmony, the Patrimony Manual calibre 1400 shows a perfectly balanced aesthetic. Of course, it's a matter of personal taste, but a yellow gold case would probably have affected the design in a negative way. Vacheron Constantin calls this colour shade 'majestic'-blue. The reason why this blue is so thrilling lies in the slightly concaved dial with a sunburst satin-finishing that gives this blue shade a fascinating shimmer. The slim 6,8 mm case can perfectly be worn underneath a suite as its sleeves slide smoothly over the watch.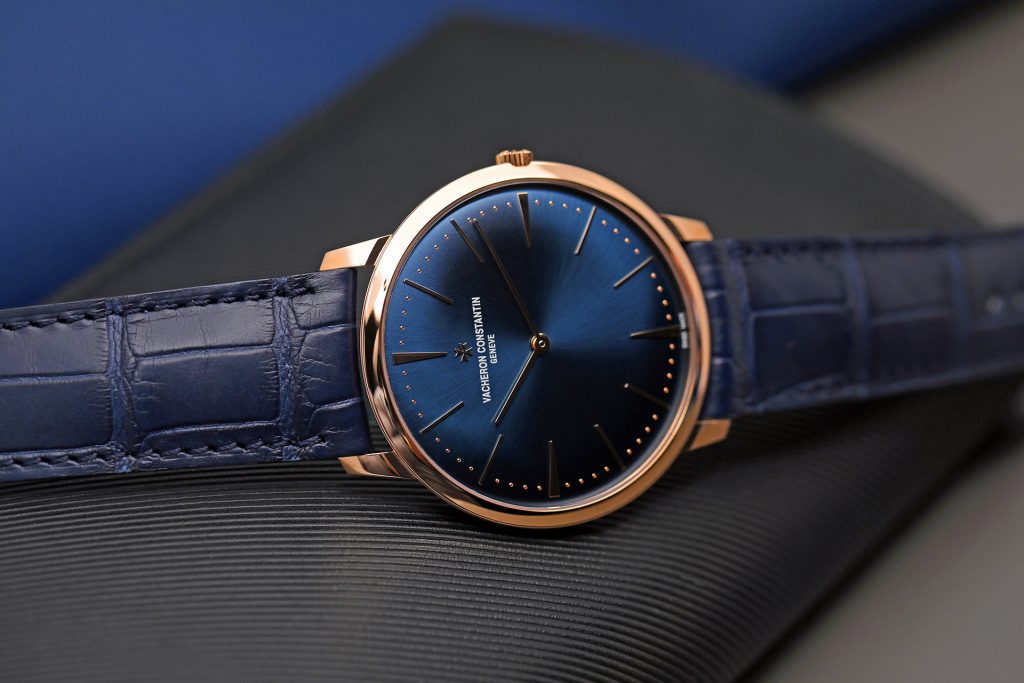 In line – the majestic blue harmonizes very well with the rose gold case
If you like it somehow more comfortable, you can also choose an automatic Patrimony Self-Winding with date indication (calibre 2450 Q6). And if you like it somehow more complicated, Vacheron Constantin offers a double retrograde day-date (calibre 2460 R31R7/2). Day and date jump back instantly at the end of a week or month. The display fits very well to the classic look of this collection – it was applied subtly onto the dial without the use of additional sub-dials.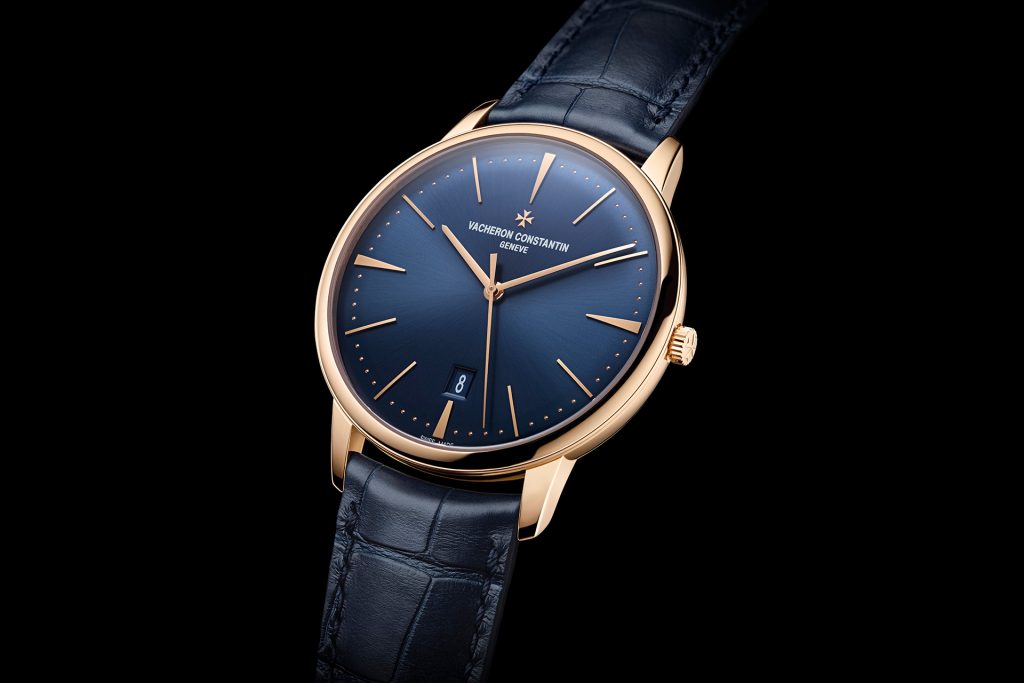 Vacheron Constantin Patrimony self winding with date (left)
Vacheron Constantin Patrimony Retrograde Day Date (right)
The 'FIFTYSIX®' collection celebrates its sweet first birthday this year. It is a tribute to the reference 6073 from 1956, an elegant timepiece for every occasion and it was the first automatic watch of Vacheron Constantin. Its predecessor models had a silver-toned dial. Now, the Maison introduces two new models in petrol blue: the first reference Fiftysix Self-Winding is a classical three-hands-watch with date and an automatic movement calibre 1326 with a stop-seconds system. The retro look that represents this collection has remained untouched. It's symbolized by the angular sapphire glass that slightly towers above the bezel.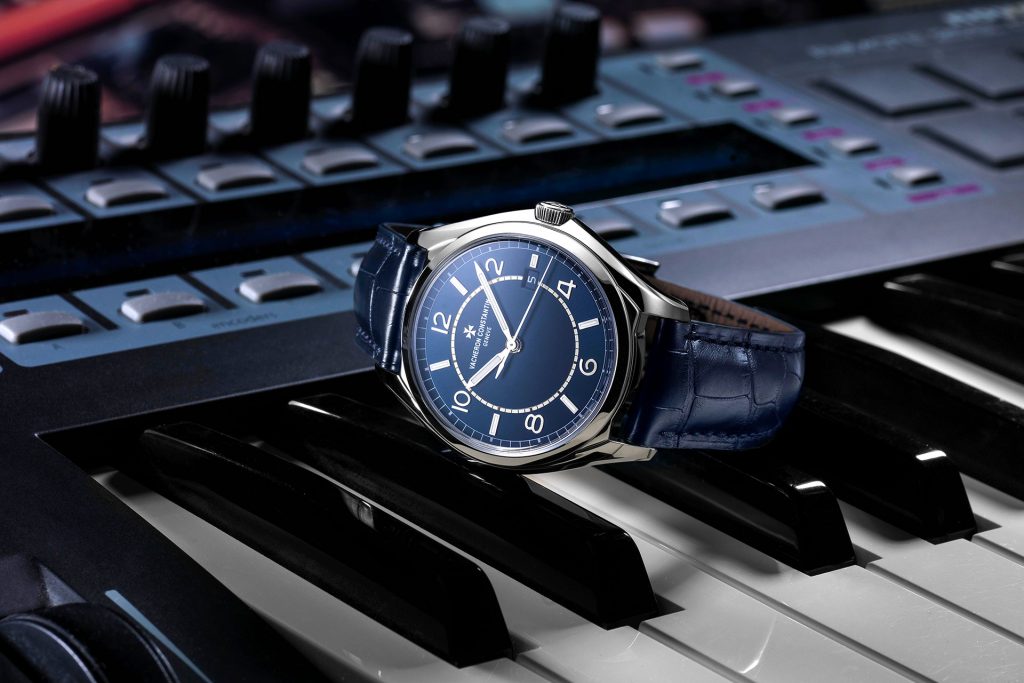 The Fiftysix collection receives a new dial – in petrol blue
The second model Fiftysix Complete Calendar runs with the calibre 2460 QCL/1 that has also been used for the predecessor model and means, that you don't have to care for its correct calendar indication for the next 122 years.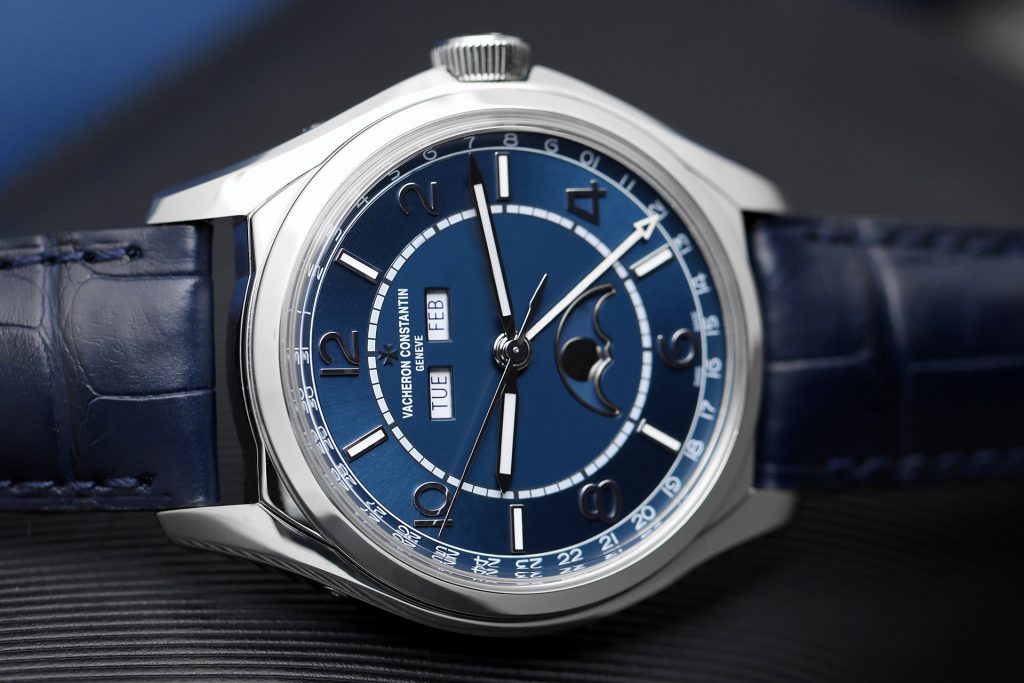 Vacheron Constantin Fiftysix Complete Calendar in petrol blue
As already mentioned before, Vacheron Constantin also presented some sporty watches in the trend colour blue. The 'Overseas' collection stands for convenient travel watches – they are sporty and chic and can be fitted with different straps depending on their utilization. The hexagonal bezel became a hallmark of the 'Overseas' line and indicates the Maison's Malteser cross. Vacheron Constantin launches the first 'Overseas' steel-watch with a Tourbillon, as well as a new interpretation of the ultra-thin Perpetual Calendar, whereas it is the first blue dial combined with a rose gold case in this collection. The new Overseas Perpetual Calendar Ultra-Thin is also available with a silver-toned dial. Additionally, it comes with three straps that can be changed without any tool: 18k 5N rose gold, blue Mississippiensis alligator leather or blue rubber, available and delivered with all models.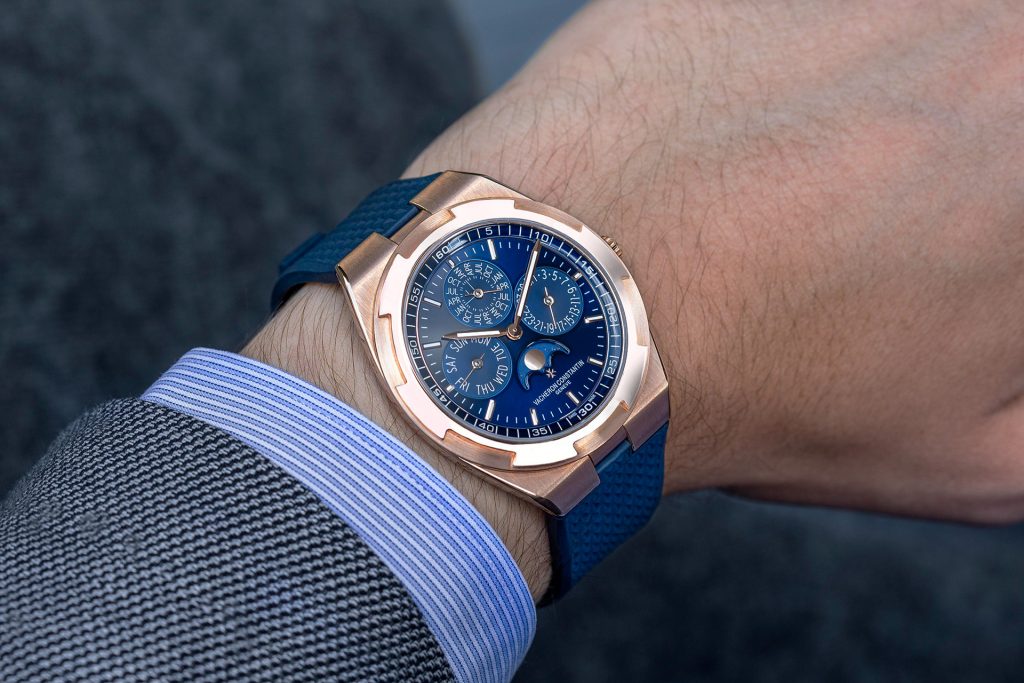 Elegant travel watch – Overseas Perpetual Calendar Ultra Thin appears in rose gold for the first time
The new Overseas Tourbillon also comes with these three strap variations. The calibre 2160 was only introduced last year and also runs in the 'Traditionnelle' line. The advantage of this calibre: it's 5,65 mm thin, thanks to the peripheral rotor (yet unmissable in its 18k gold coating) and offers a power reserve of around 80 hours.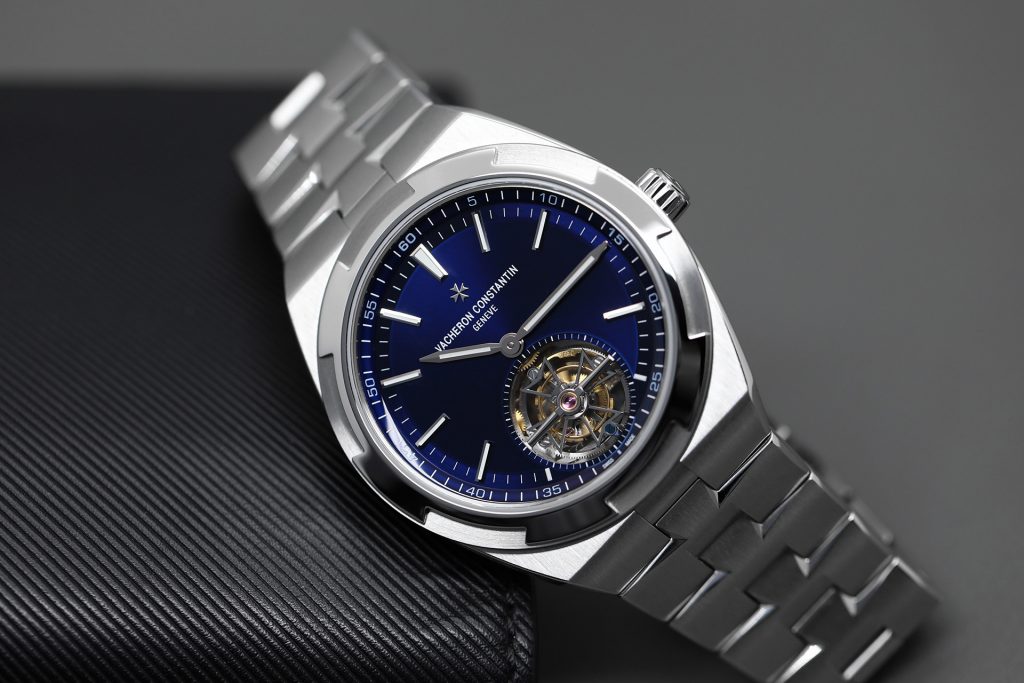 The first Overseas steel-watch with Tourbillon
Finally, Vacheron Constantin reminds us again about the true purpose of the 264 years old Maison. In the Atelier 'Les Cabinotiers', the world's oldest manufacture produces its most complicated and flamboyant watches. In the 18th century, the most experienced Geneva watchmakers exercised their talent in light-filled workshops called 'cabinets', located on the top floor of the buildings. They were called 'Cabinotiers' from which later the name of the Atelier derived. Reference 57260 is probably the most famous piece that has left the Atelier. It is a pocket watch with a diameter of 72 mm and a height of 36 mm that houses 57 complications. It took three of the best watchmakers eight laborious years to manufacture this unique piece. In comparison, the new Les Cabinotiers Minute Repeater Perpetual Calendar can kindly be called every-day suitable. The case is 42 mm slim and its calibre 1731 QP a mere 5,70 mm high – and that's exactly why it should not be underestimated as it houses two Grande Complications: A Minute Repeater and a Perpetual Calendar.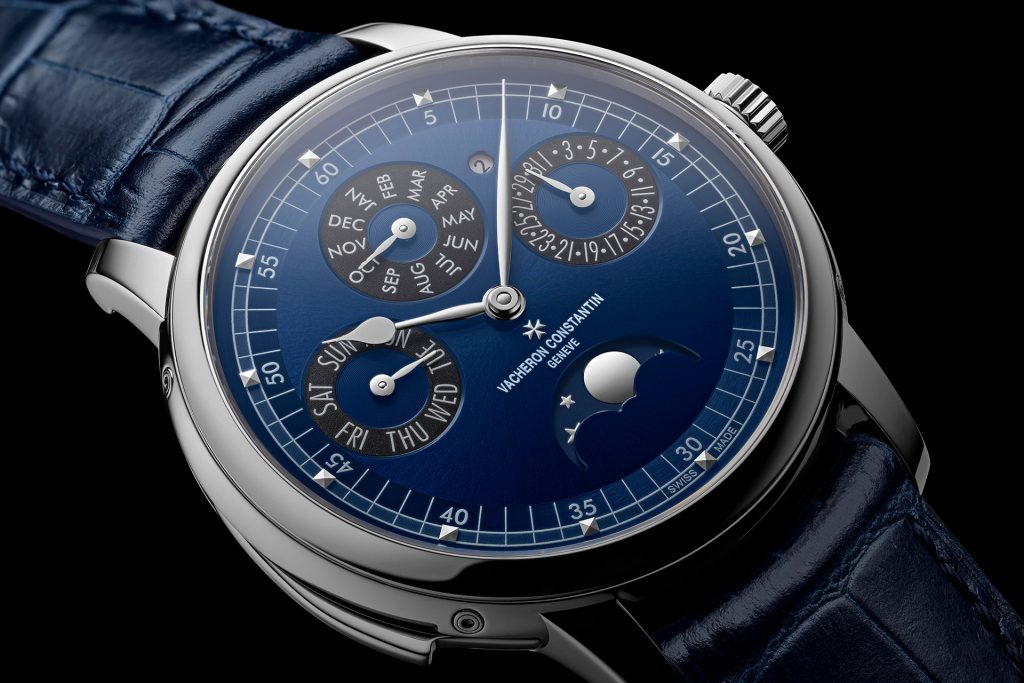 Vacheron Constantin Les Cabinotiers Minute Repeater Perpetual Calendar in midnight blue
The calibre 1731 was first introduced in 2013 as an ultra-thin Minute Repeater and indicates the birthyear of Jean-Marc Vacheron. Now the movement has been enhanced by a Perpetual Calendar. The Les Cabinotiers Minute Repeater Perpetual Calendar is also available with a rose gold case and a brown dial. It comes with a winding-box made of Makassar ebony wood, which is also manufactured from 'Les Cabinotiers'.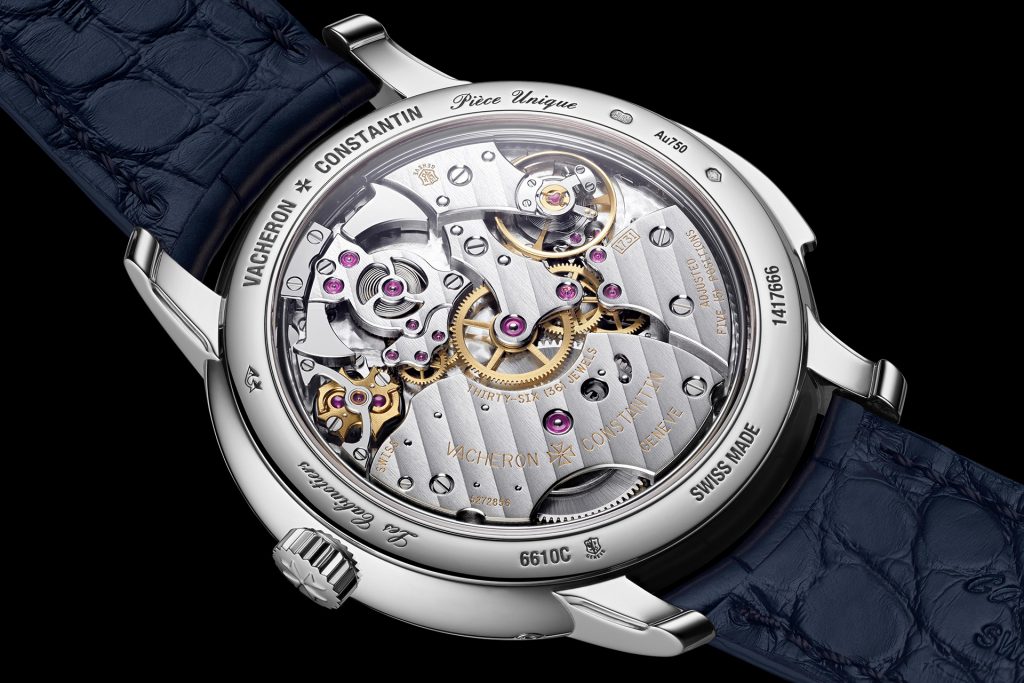 Vacheron Constantin Les Cabinotiers Minute Repeater Perpetual Calendar
---
---