The French language sounds just as pretty like a chanson from Edith Piaf. A rather uncharming word like 'cow horns' turns in French into an elegant 'Cornes de Vache'. This example is not chosen by accident: it is the nickname of a very special watch from Vacheron Constantin, that in 1955 appeared by the simple name 'Reference 6087'. Well, Vacheron Constantin of course is a Swiss Maison, but located in the French part of the country, which is the reason why most models have such melodious names.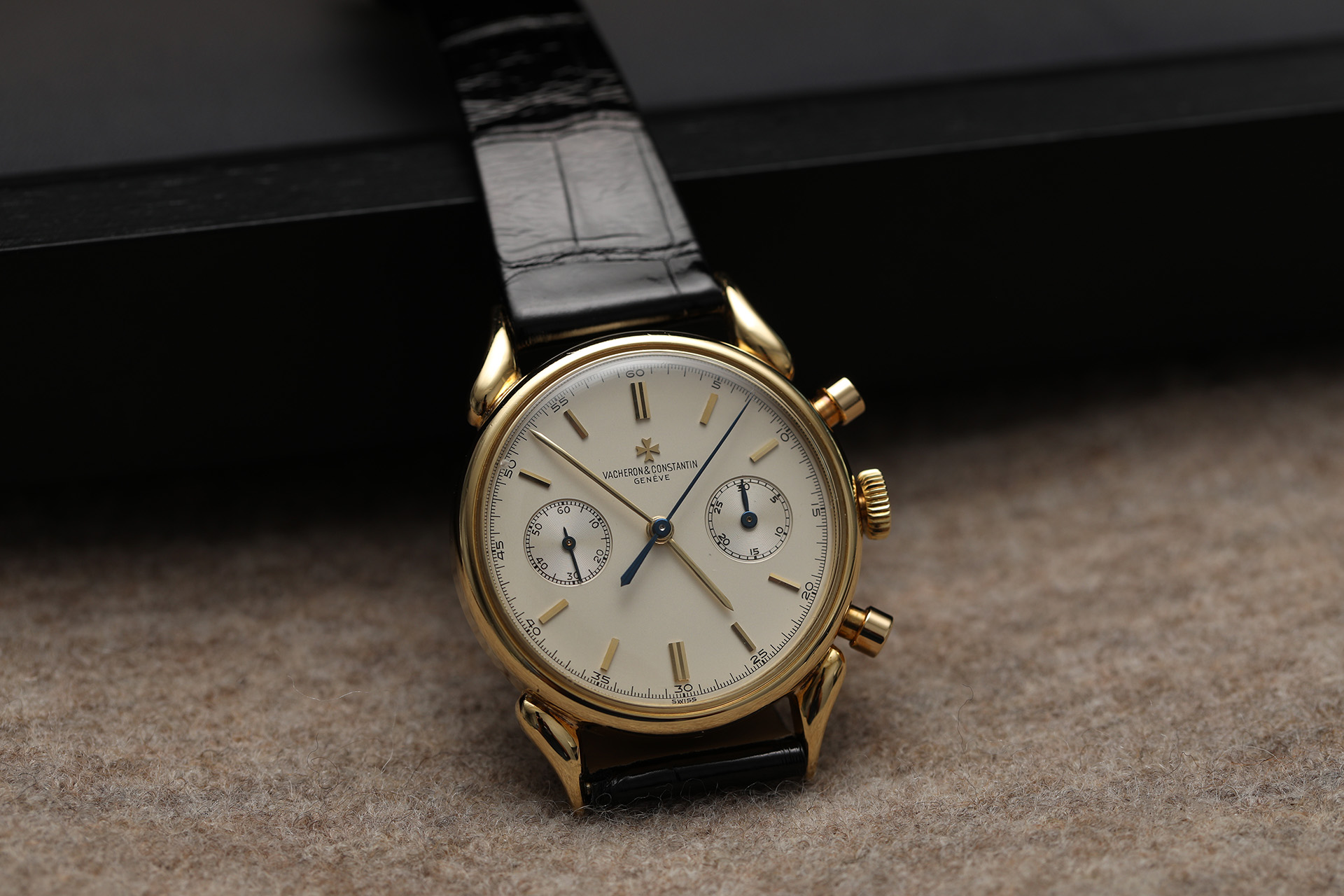 The reference 6087 'Cornes de Vache' from 1955
Shortly after being launched, the nickname was picked due to the lugs, that remind of cow horns, which has today become a distinctive feature of this model. In 1955, it was presented as the Maison's first waterproof and antimagnetic chronograph – and has experienced a renaissance in the collection 'Historiques' since 2015. Now, a steel version arrives, about which we were able to talk with Christian Selmoni, Style & Heritage Director of Vacheron Constantin during a visit in Geneva recently.

At Vacheron Constantin, they have access to an impressive rich archive of historic letters, documents as well as private collections of watches starting from the 18th century. Hence, it was logical at one point, to launch a collection that would pay tribute to all horological achievements of its long history. Therefore in 2006, the collection 'Historiques' was established, in which the most considerable references are re-issued, like the 'American' from 1921 or the 'Historiques Triple Calendar' from 1942.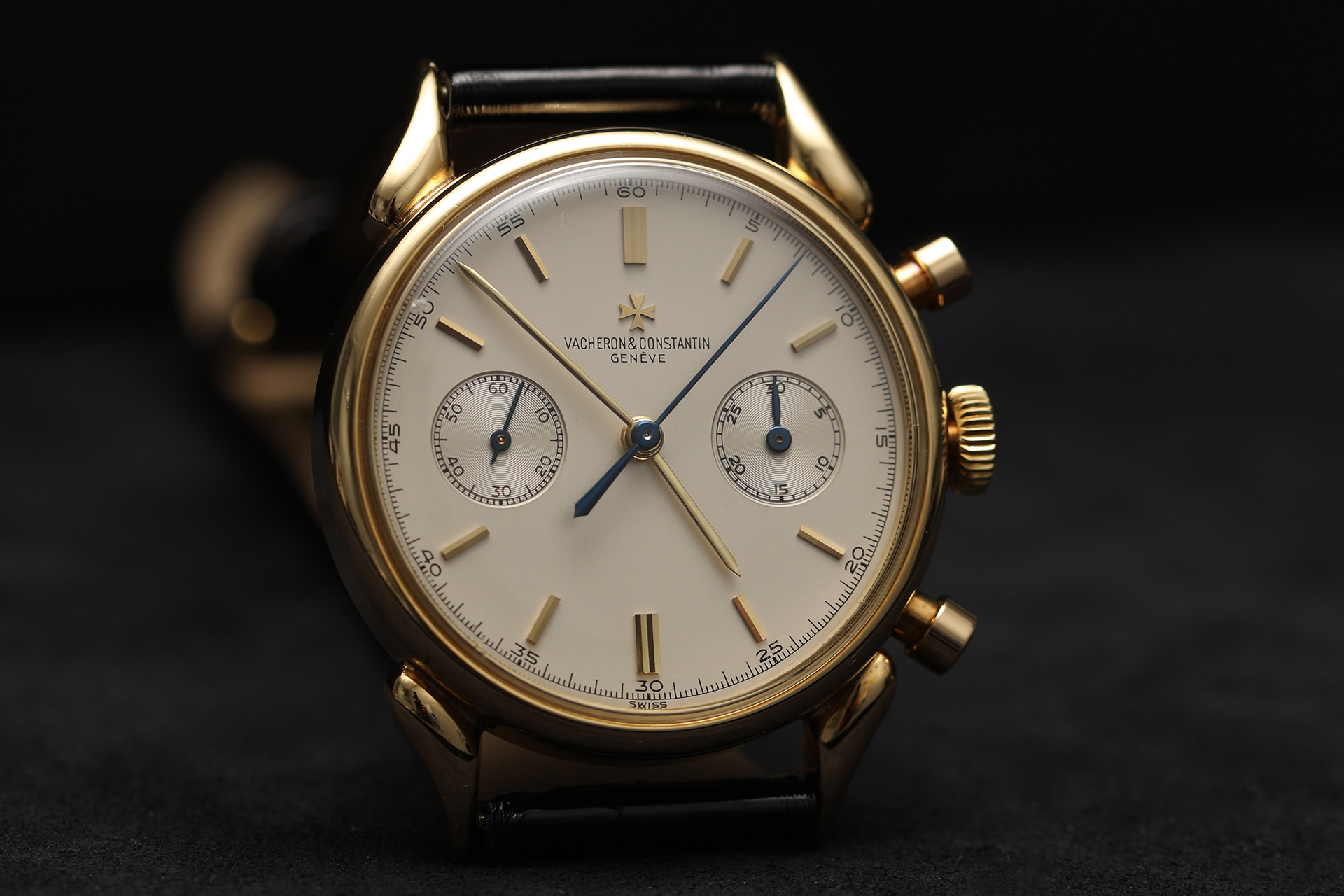 Extremely rare – only 34 pieces of the reference 6087 have been produced
The reference 6087 'Cornes de Vache' from 1955 is in fact one of the rarest vintage chronographs of the Maison. Only 28 pieces in yellow gold and six pieces in rose gold were produced. It was unusual in the mid-fifties of the past century to manufacture antimagnetic and waterproof chronographs and only made for advanced watch enthusiasts and professionals. Surely, the manufacture also wanted to demonstrate their long-time competence in producing complicated timepieces. At that time, Vacheron Constantin also produced non-waterproof and non-anti-magnetic chronographs like the reference 4178 and 4072, that were less sophisticated and would address a broader audience.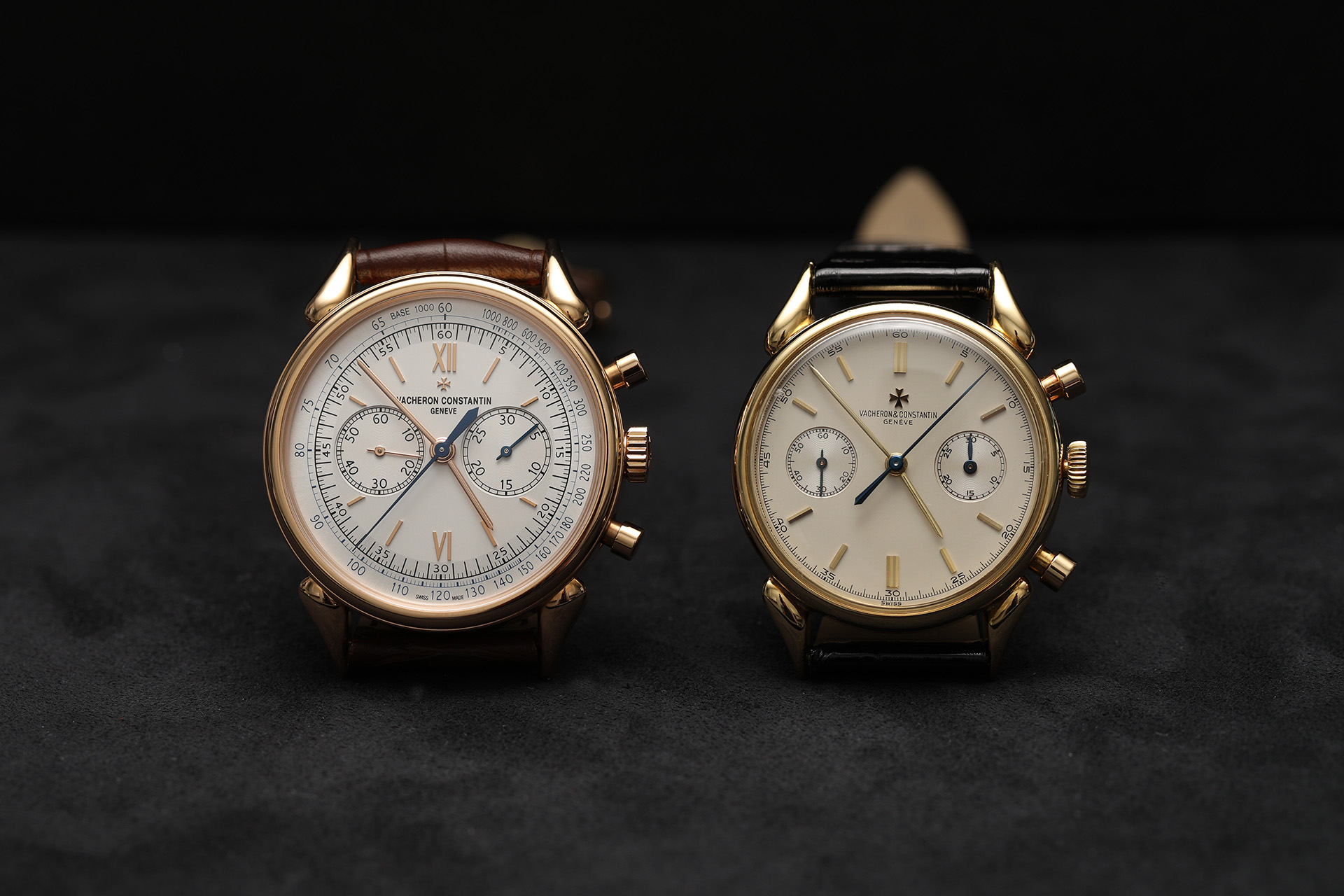 New edition Cornes de Vache 1955 in rose gold (2016) and the original reference 6087 (1955)
In 2015 finally, just in time for the Maison's 260th anniversary, Vacheron Constantin not only presented the world's most complicated watch, reference 57260 with 57 complications, but for the very first time made a re-edition of the reference from 1955, hence the Cornes de Vache 1955 for their 'Historiques' collection. It was also equipped with a chronograph calibre for the first time. They have certainly been waiting for a special occasion to launch this piece – and covered this revelled newcomer in platinum. In 2016, also a version in 18 k rose gold was added.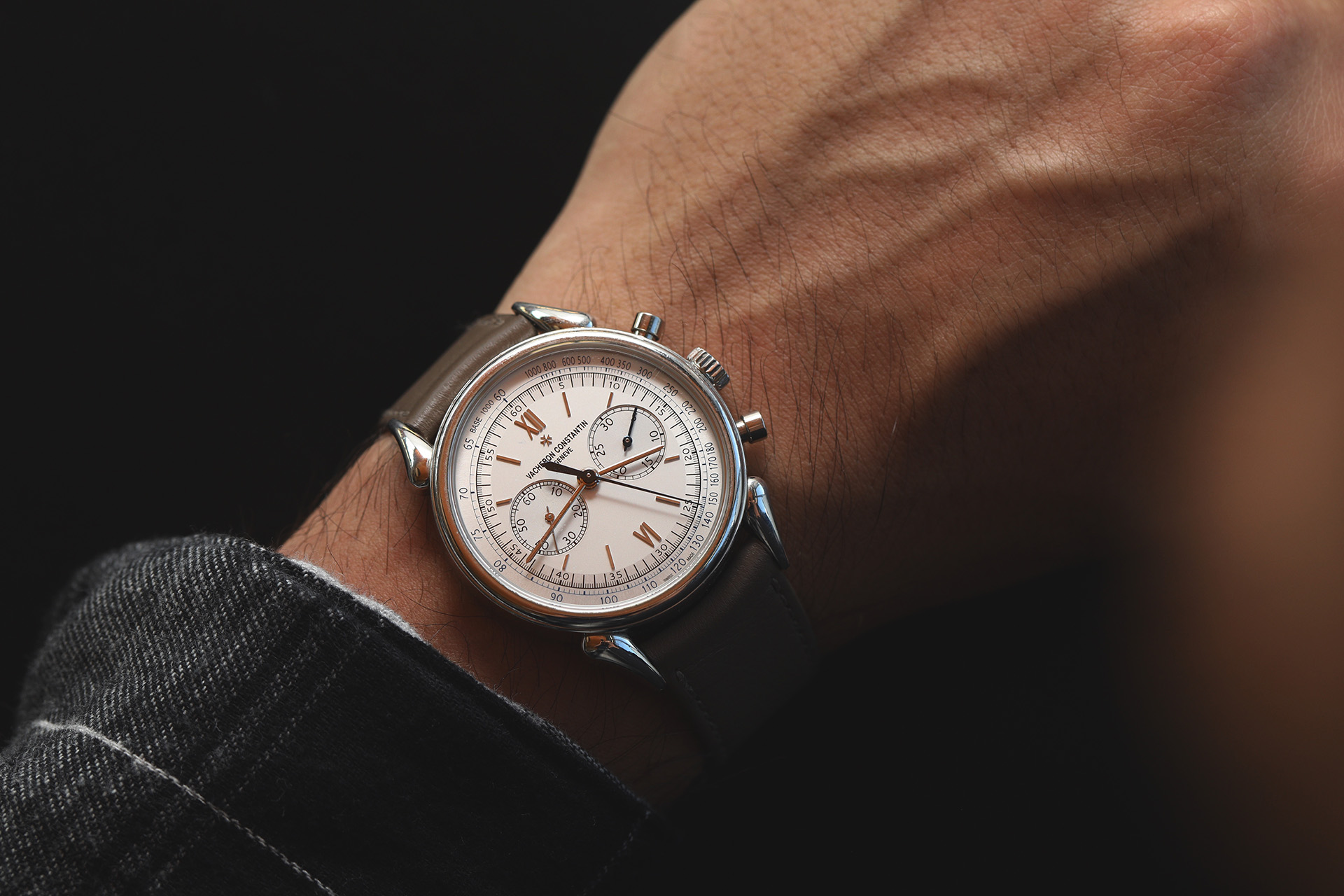 Now, an execution in stainless steel joins the collection. That is especially interesting, as it was unthinkable for a long time that high-end brands in this segment would present their dress watches in steel. Only recently, steel has become decent on elegant timepieces. Even Patek Philippe has done it this year with their Calatrava Weekly Calendar – although Patek boss Thierry Stern has made clear, that he will not expand the production of steel watches in the future.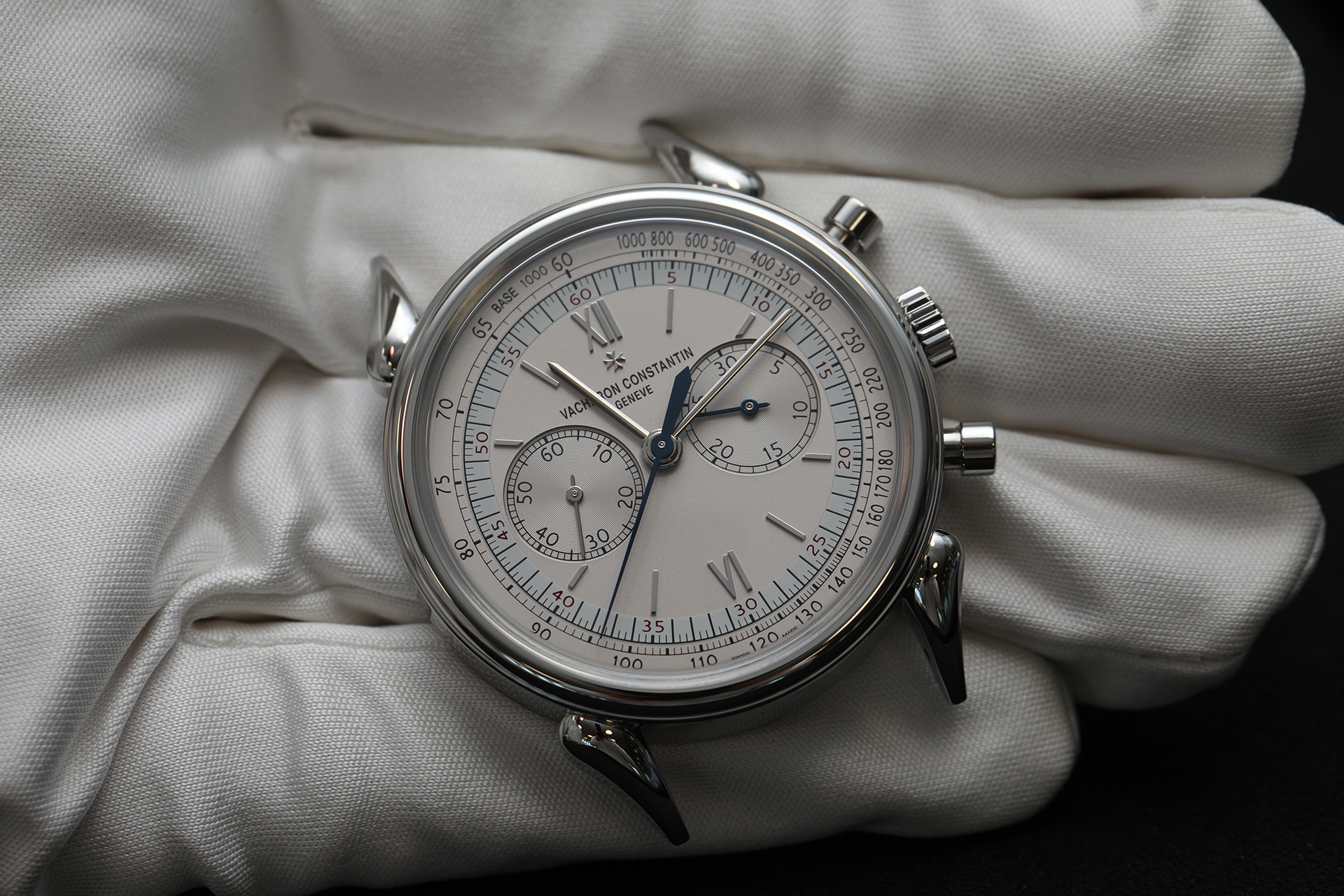 The new Cornes de Vache 1955 in steel (2019) (left)
Vacheron Constantin Calibre 1142 (right)
Steel dress-watches are en vogue. Christian Selmoni, Style & Heritage Director of Vacheron explains: "Today, people want to use their watches more versatile. They don't wear them just for one occasion, but love to wear them in all occasions". Hence, it is favourable as stainless steel is more solid and scratch-resistant then platinum or gold. It can still be manufactured or finished in the same way.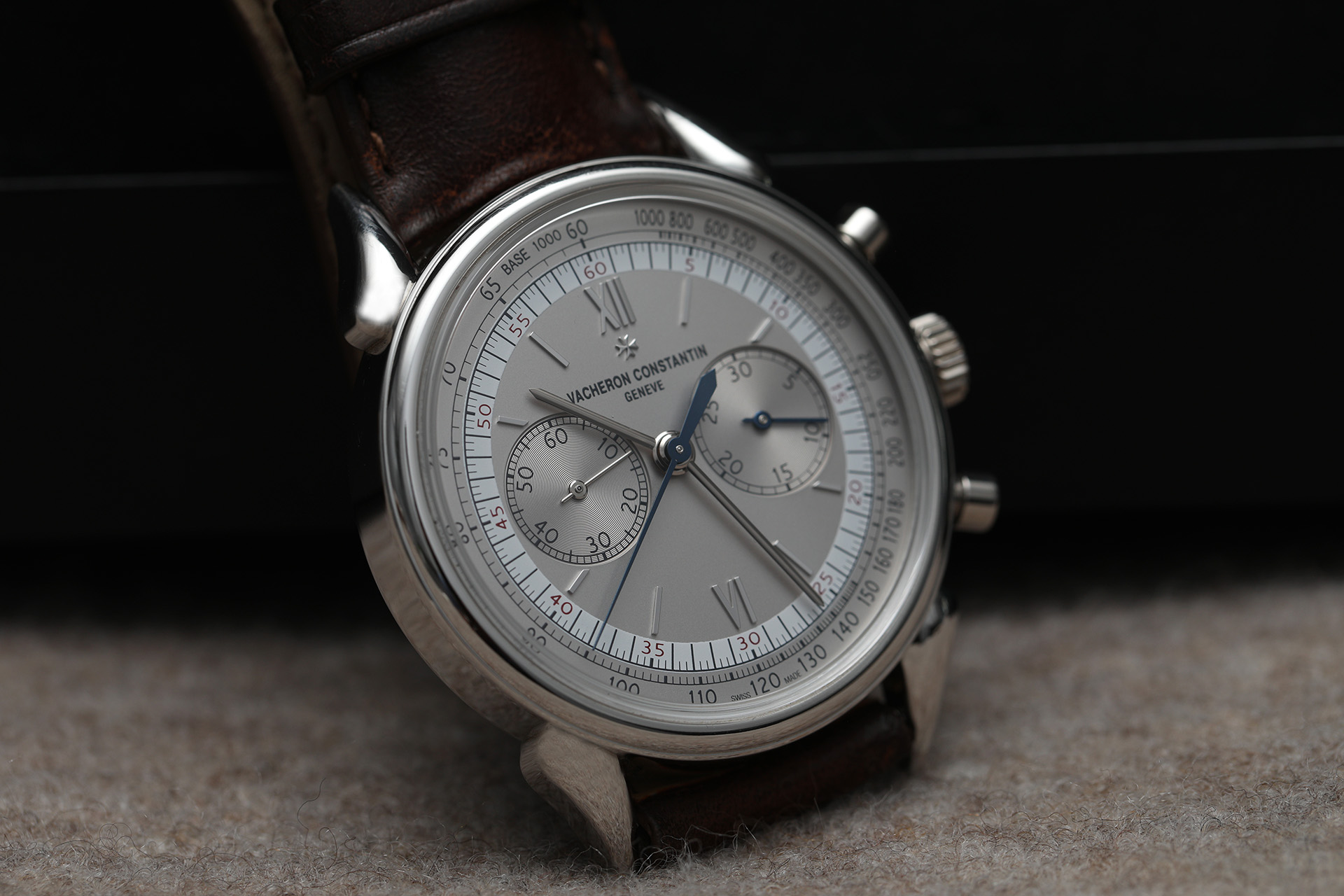 The steel version has a grey-silver velvet-finish opaline dial
The new Cornes de Vache 1955 in stainless steel is pretty much identical to its predecessor models in platinum and gold – only the dial and strap are showing differences. It has a grey-silver velvet-finish opaline dial. The open case back reveals a beautiful, classic hand-wound chronograph movement with its exceptional finishing including hand-beveling.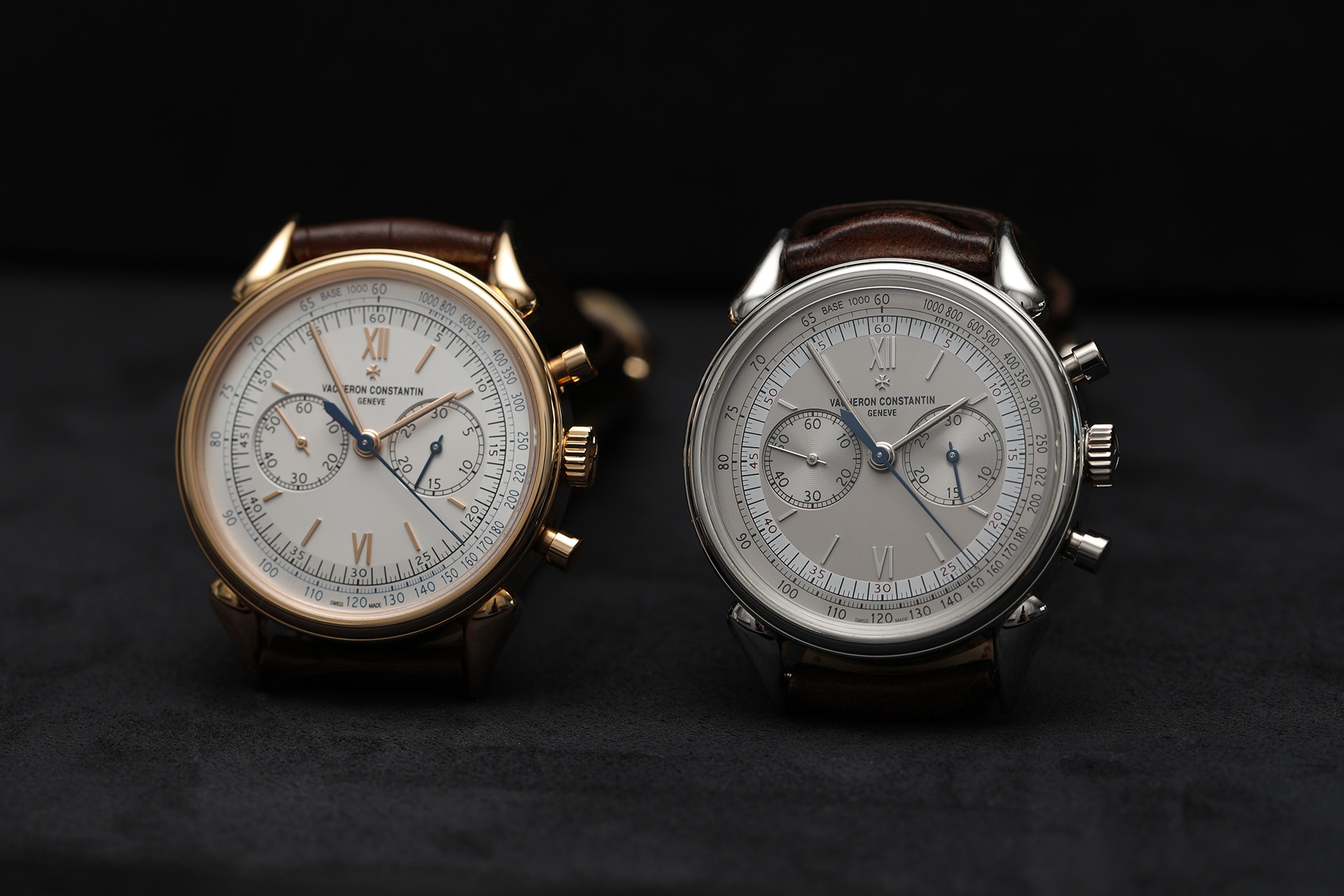 Vacheron Constantin Cornes de Vache 1955 in rose gold (2016) and steel (2019)
Like with all 'Historiques' models, the new timepieces have been slightly re-designed to address today's client expectations. In the same way, the Cornes de Vache 1955 has all features from the reference 6087: a traditional double pusher chronograph with 30-minute-counter and small second, a tachymeter scale on a 1000-metre base, Roman numerals at 12 and 6 o'clock. And not to forget, the lugs à la 'Cornes de Vache': in cow horn style. The central chronograph seconds counter features blued steel hands, just like its original. The changes are made so subtle, as if the watch would have fallen into a fountain of youth in 1955, and rose again almost 65 years later – as fresh as ever, but still different.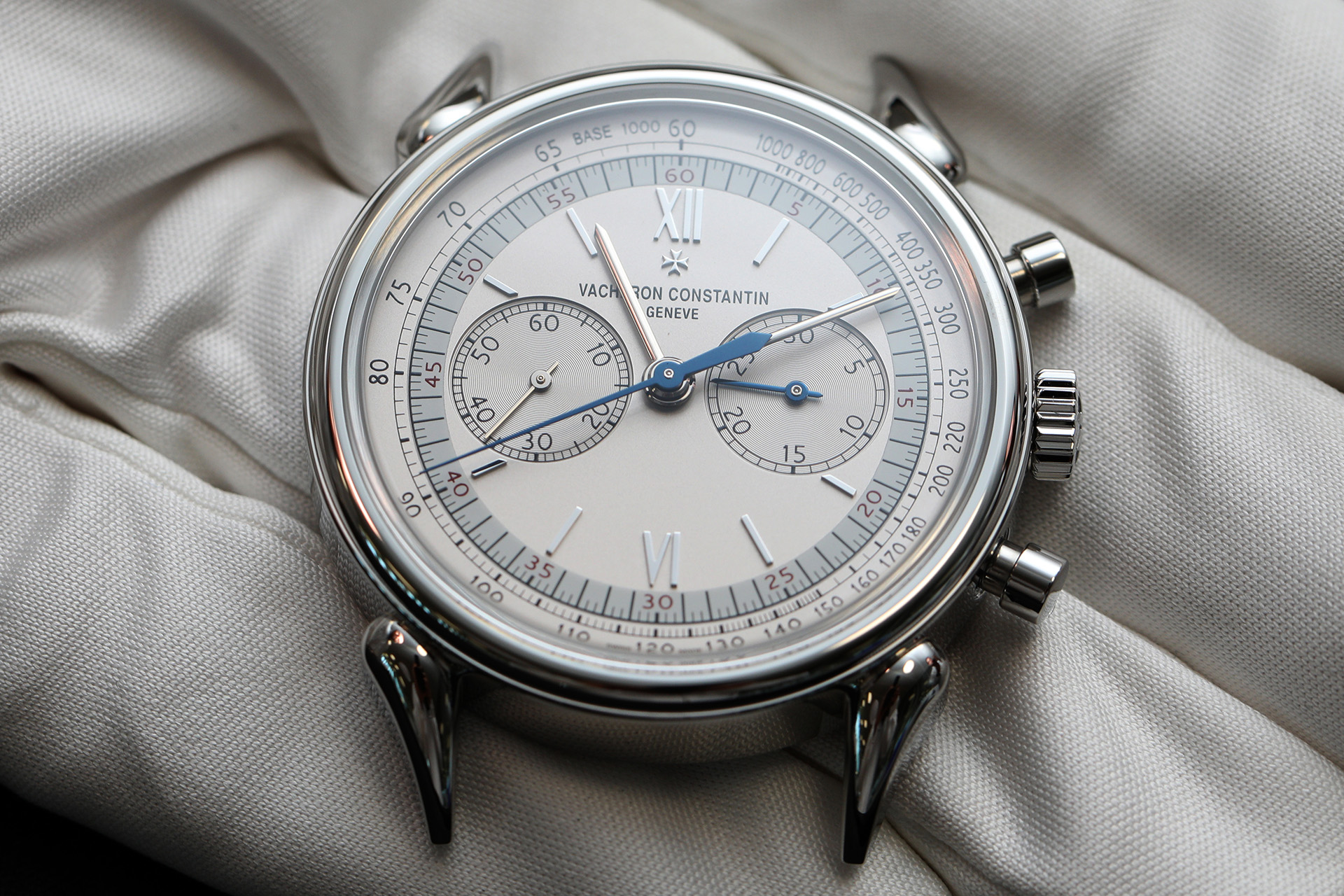 Vacheron Constantin Cornes de Vache 1955 in steel
Well, over the years it has gained in size and now measures 38,5 instead of 35 mm in case diameter as its original piece. And at the latest, by taking a closer look into the heart – the engine of the watch – a newcomer emerges from the technical progress. The calibre 492 was revolutionary at that time, however the balance spring of the current calibre 1142 (hand-wound with 48 hours power reserve) is to some distinctive extend more resistant against magnetic fields than 65 years ago. But in keeping with the grand watchmaking tradition, the short-time measuring mechanism is controlled by a column-wheel, adorned with a screw head shaped like the Vacheron-typical Maltese cross. The Cornes de Vache 1955 in stainless steel is worn on a dark brown calf leather strap, manufactured by 'Serapian' in Milan, a luxury leather company founded in 1928. Price: 41.200 Euro.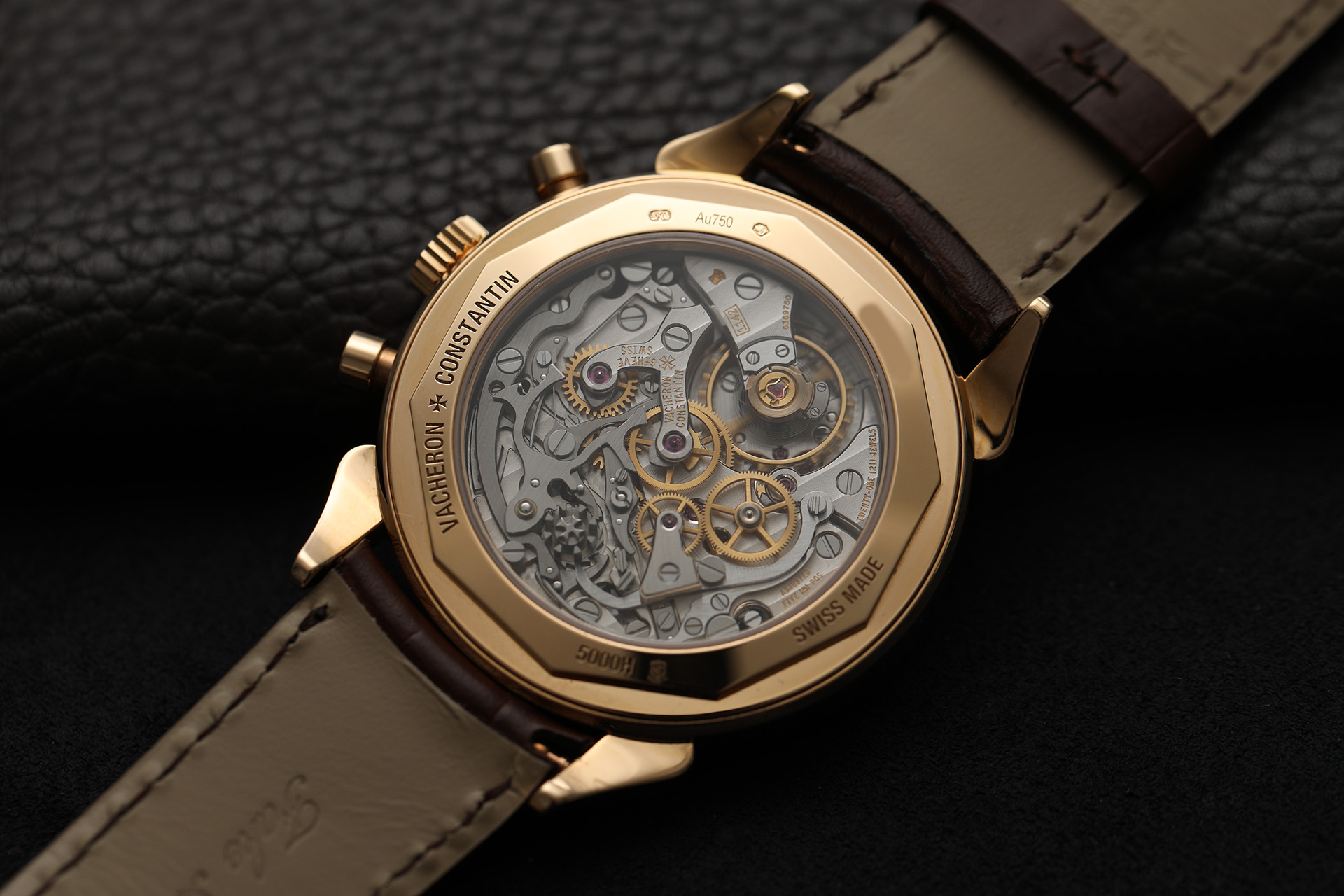 Haute Horlogerie – the short-time measuring mechanism is controlled by a column-wheel, adorned with a screw head shaped like the Vacheron-typical Maltese cross
---
---