At this year's Watches & Wonders, Swiss watchmaking giant Rolex is proving that whatever they're doing is, as always, working – at first glance, many of the latest Oyster Perpetual additions keeps things pretty much to the status quo. Highlights include: an Air-King with new crown-guards, a GMT-Master II with a new colour scheme, a Day-Date 40 featuring an all-new bezel, and a Yacht-Master 42 making history with a new material. Meanwhile, ladies' additions include a reimagined Datejust 31 and precious-stone adorned Yacht-Master 40.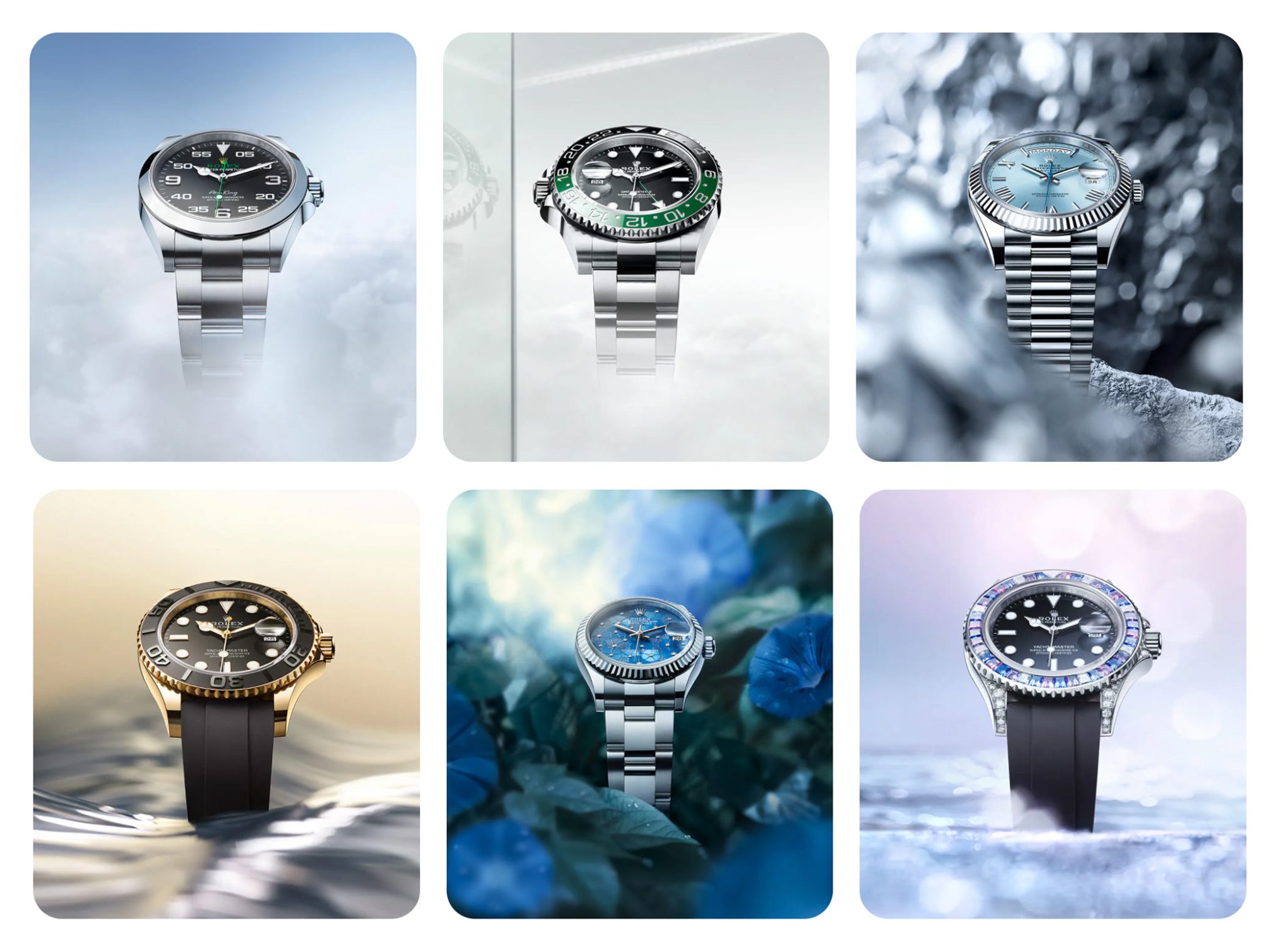 An array of new highlights from Rolex
---
GMT-Master II
The watch that is truly the talk of the town at W&W's Rolex stand this year is the Oyster Perpetual GMT-Master II (Ref. 126720 VTNR). What makes this GMT stand out is first and foremost the left-hand crown, as well as the date that has moved to 9 o'clock. This required a reshuffle for the date disc, accompanied by additional precision tests – serious business given that precision is unequivocally one of the most valued priorities for all watches made at Rolex.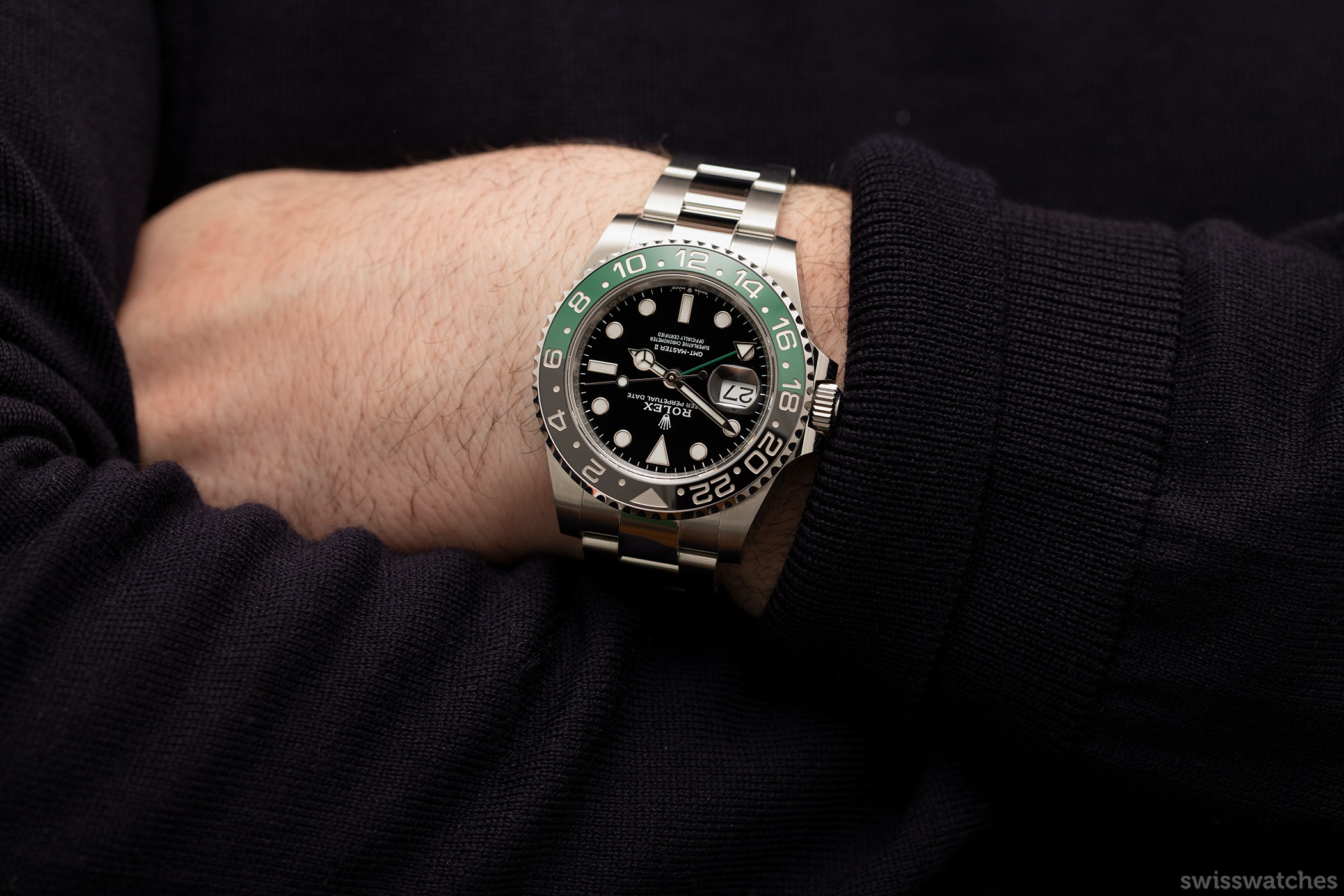 Talk of the town: the black and green GMT-Master II
This new edition showcases a bidirectional rotatable Cerachrom bezel insert in green and black – an intelligent decision given the on-going green hype amongst the horological giants of the industry. What's more, this is an original colour combination for this model, which one will not find elsewhere, and is sure to quickly gain many admirers.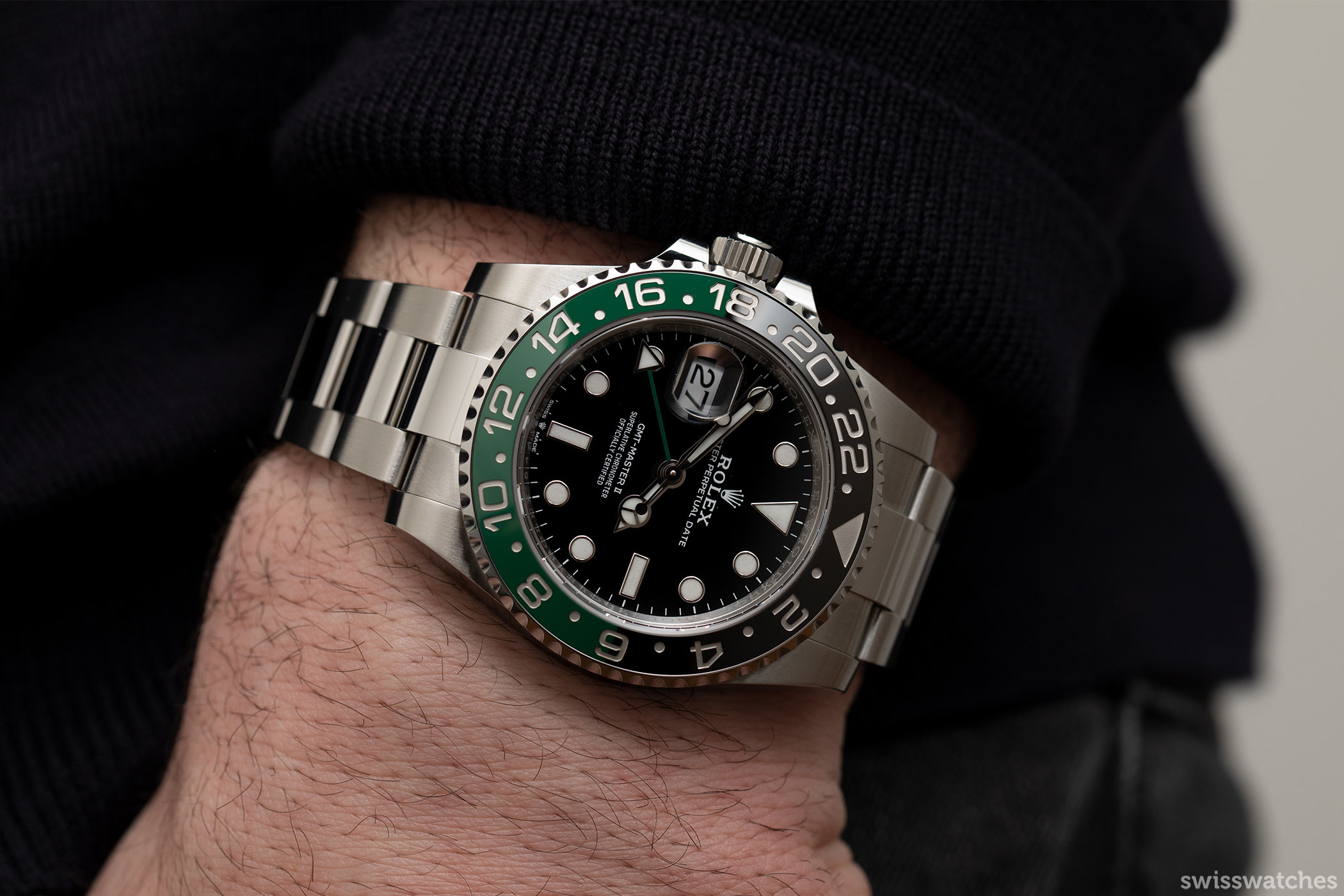 Interesting move: the crown makes an unusual shift to the left side of the case
---
Yacht-Master 42
Another piece that will certainly be a crowd-pleaser is this Yacht-Master 42. Until now, we have never seen this specific model available in yellow-gold. But, with this currently being an increasingly popular material amongst men in particular, it's a choice we would hope and expect to see. Presented on an Oysterflex bracelet, it seems to be ticking boxes at every corner in terms of what an increasingly number of clients seem to on the lookout for right now. Rubber straps are only getting more common in the 2020s, and certainly give Rolex's sports watches a contemporary, wearable spin. Rolex also maintain their quintessentially slow and steady approach by adding that extra-subtle layer of legibility to this Yacht-Master by making the dial 0.8 mm larger dial, while maintaining the same 40 mm case.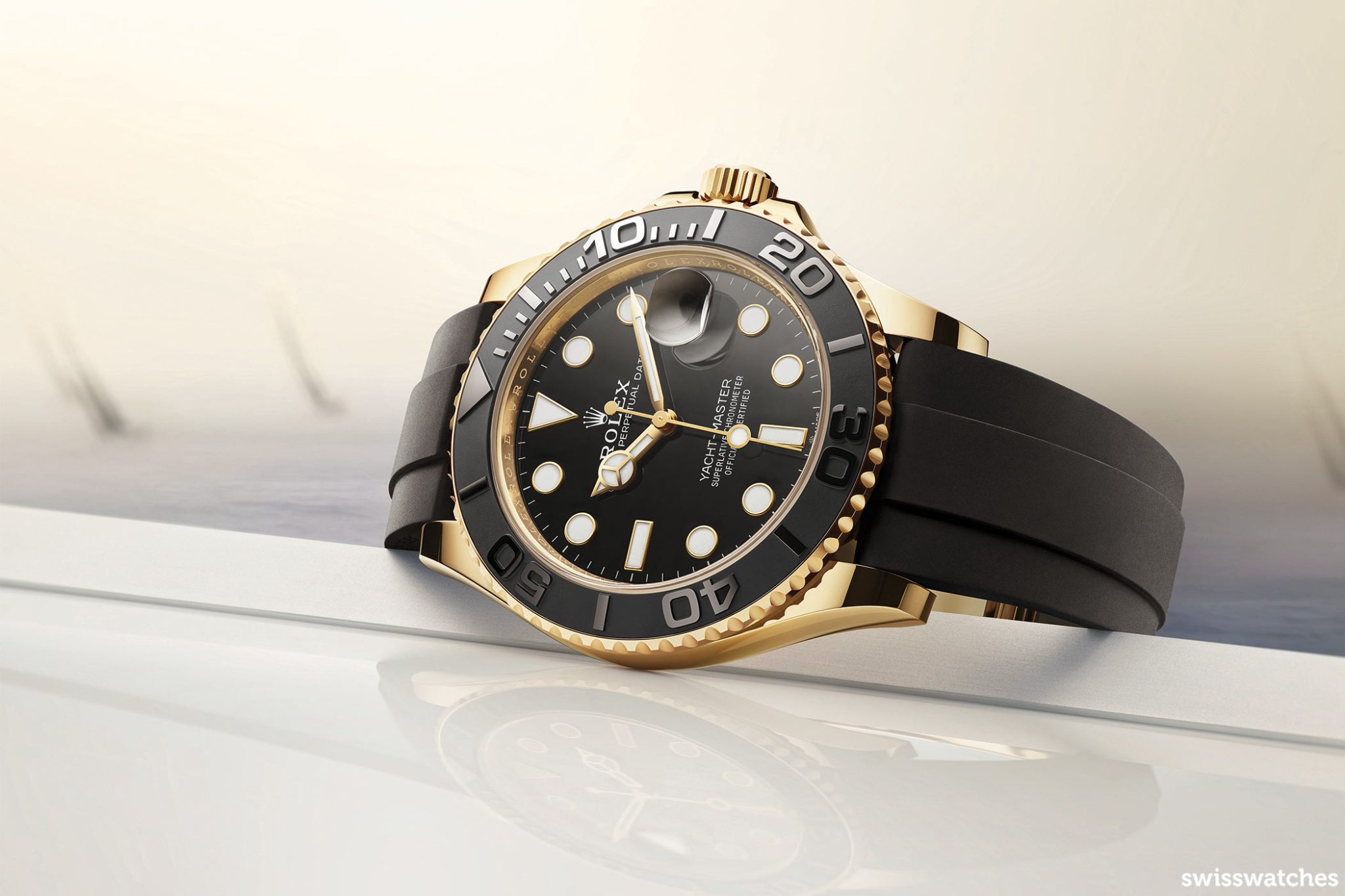 Rolex gives its Yacht-Master 42 a subtle but well-calculated glow up
---
Air-King
Known for being a real instrument watch, the latest Air-King proves that for Rolex, the devil really is in the details. Similar to the Submariner 41 mm of 2020, although the old and new Air King look very, very similar, there are actually a few changes. For starters, as with the new Yacht-Master, Rolex are enhancing legibility. This is achieved by switching up the previous '5' at 1 o'clock and replacing it with a more balanced '05'. Speaking of readability – the updated model now features an optimised Chromalight display as well as an anti-reflective coating on the sapphire crystal.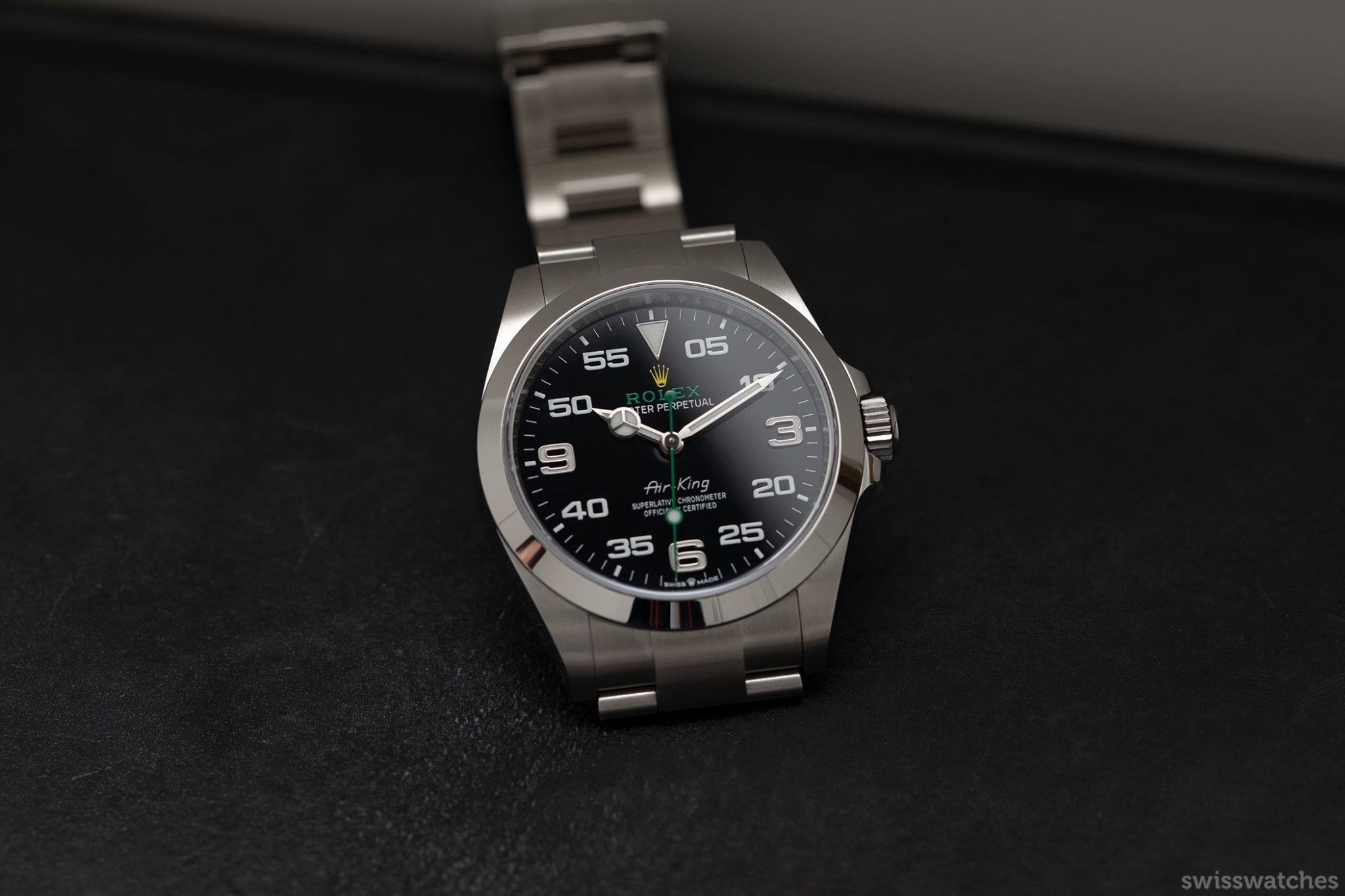 New look: the Air-King now has crown guards
Another rather more noticeable change is the bracelet, which becomes slightly broader, alongside a more streamlined case. Another unusual new touch is the crown guards and straight sides, which is sure to divide fans of this historic tool watch in the game since 1945. However, while perhaps less purist in style, it does put the model in keeping with other Professional tool watches from the brand, of which the majority also implement crown guards.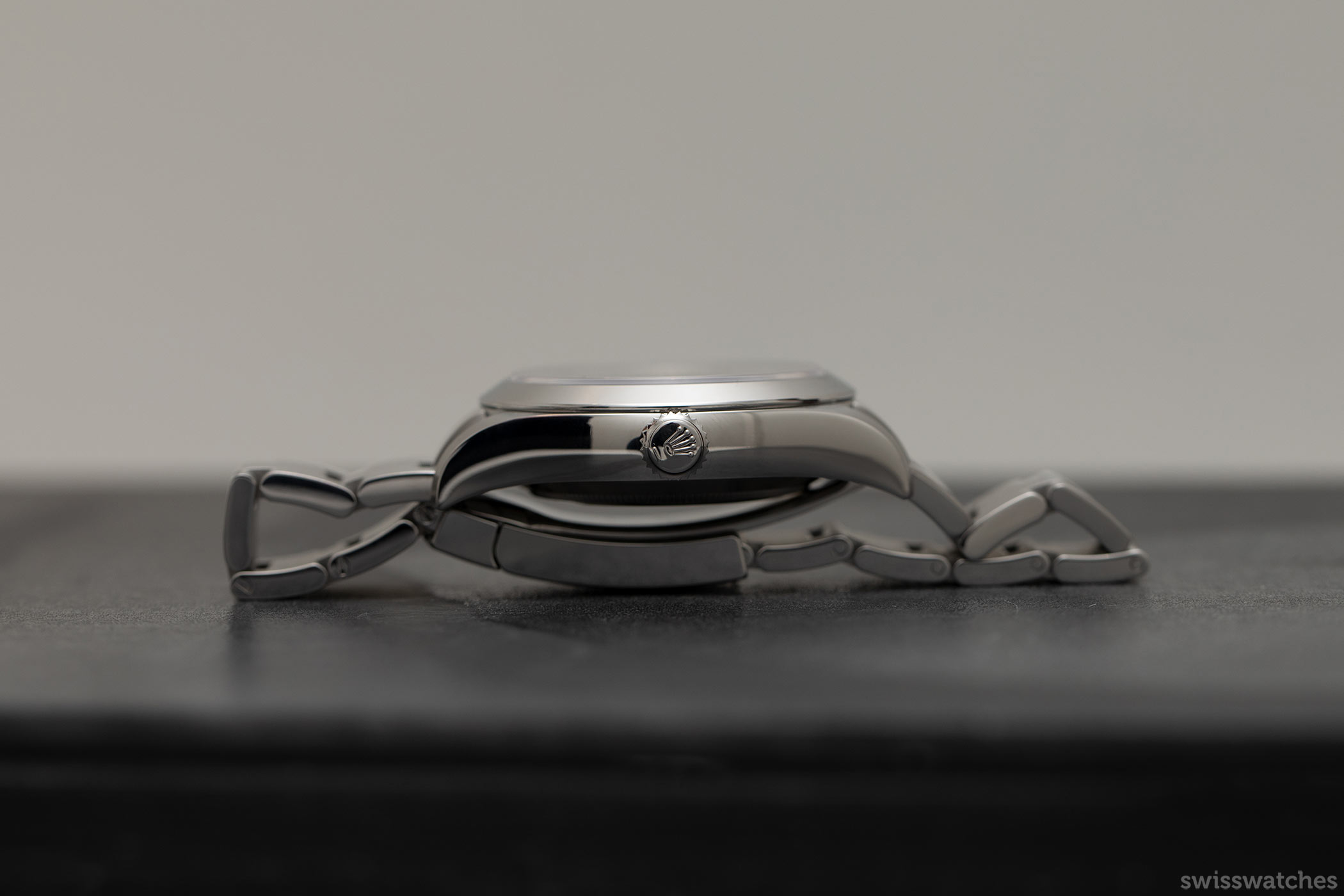 Note the contrast: the 2022 Air-King (left) and its predecessor (right)
---
Day-Date 40
This is a fairly big day for the Day-Date 40, as it becomes available in 950 platinum alongside a fluted bezel for the first time in Rolex history. Prior to this, the fluted bezel was available only on 18-carat yellow gold, white gold, or Everose gold models. From a visual perspective, it works incredibly well, especially with the ice-blue dial accompanying it. The reason that it is only now becoming available is that platinum, the noblest of metals, is by no means easy to work with; fluting is a much simpler effect to create using gold. The result is a watch with some serious presence, shine, and weight on the wrist.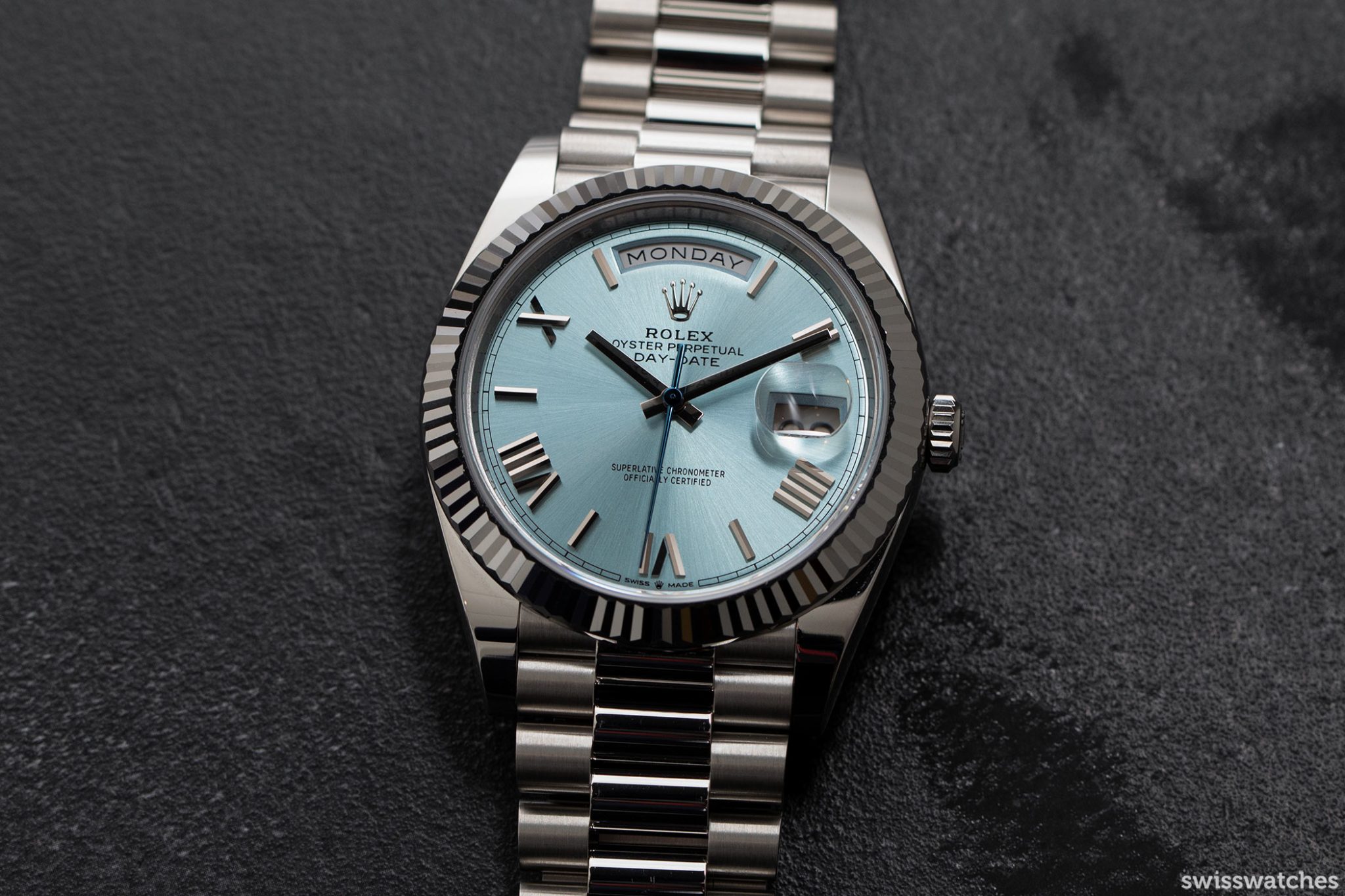 A platinum fluted bezel makes an appearance on the Day-Date 40 for the very first time
---
Datejust 31
Moving onto the ladies' watches, it is actually these pieces that are arguably the real standouts from this W&W 2022. This series of Datejust 31 watches bring a brand new dial to the table. While diamonds can be overbearing, Rolex incorporates them to these patterned dials in an unusual and subtle manner. Each gem is shaped to a different size in accordance with the flower that encircles it. Furthermore, the flowers use different finishings by showcasing matt, sunray, and grained effects.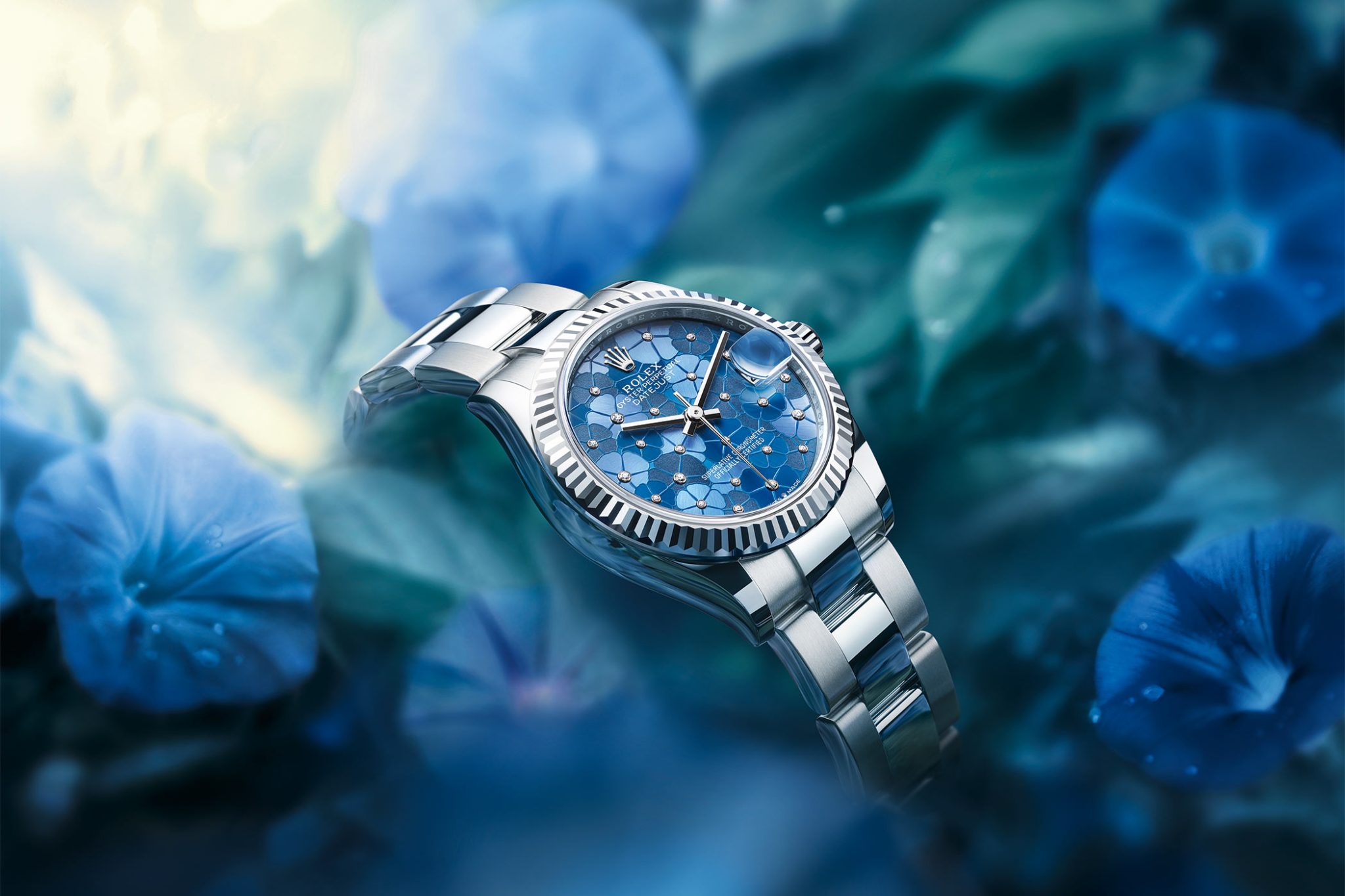 The Rolex Datejust 31 in azzurro blue combines finesse with good looks
On the surface, it might look like a pretty little feminine option for ladies. Beneath the surface, however, from the exquisite expert range of finishing to the movement, this new model is the epitome of Rolex style, quality, and finesse. The dials are available in either azzurro blue, olive green, or silver.
---
Yacht-Master 40
Evoking the aurora borealis, the eye-catching Yacht-Master 40 is unapologetically glitzy. Yet when combined with this 40 mm case size on the female wrist, it's a seriously cool choice. Likewise, adding a rubber strap into the mix brings things back down to earth, keeping it sporty and in balance with the glittering diamonds and shimmering sapphires. What works so well for women who are horological enthusiasts, however, is that this is not only an excellent watch in technological essence, but also a watch that completely maintains the DNA of the Yacht-Master with its bold, highly legible and no-frills dial.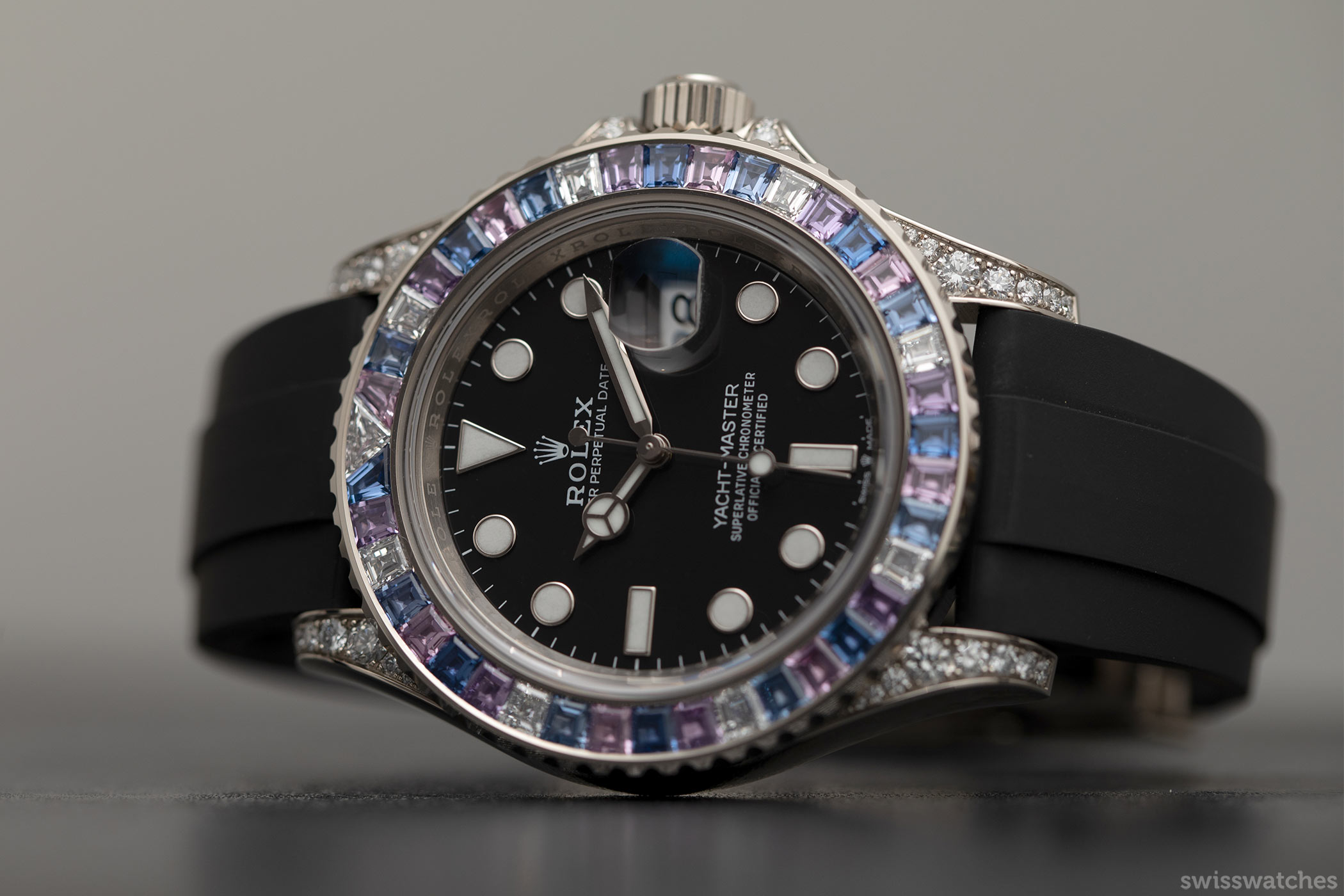 A diamond and sapphire-adorned Yacht-Master 40 turned heads at W&W 2022
---
The Verdict
Happily for some of us and mildly disappointingly for others, it is really the ladies watches that are in the limelight this year. The latest Rolex Datejust 31 mm and Yacht-Master 40 pieces demonstrate how Rolex thoughtfully combine elegance, style, and innovation with ease. Of course, the one disadvantage for some women from European countries in particular will be that 31 mm case of the Datejust goes against preferences in terms of case size – yet the well-executed and creative dials might just win them over.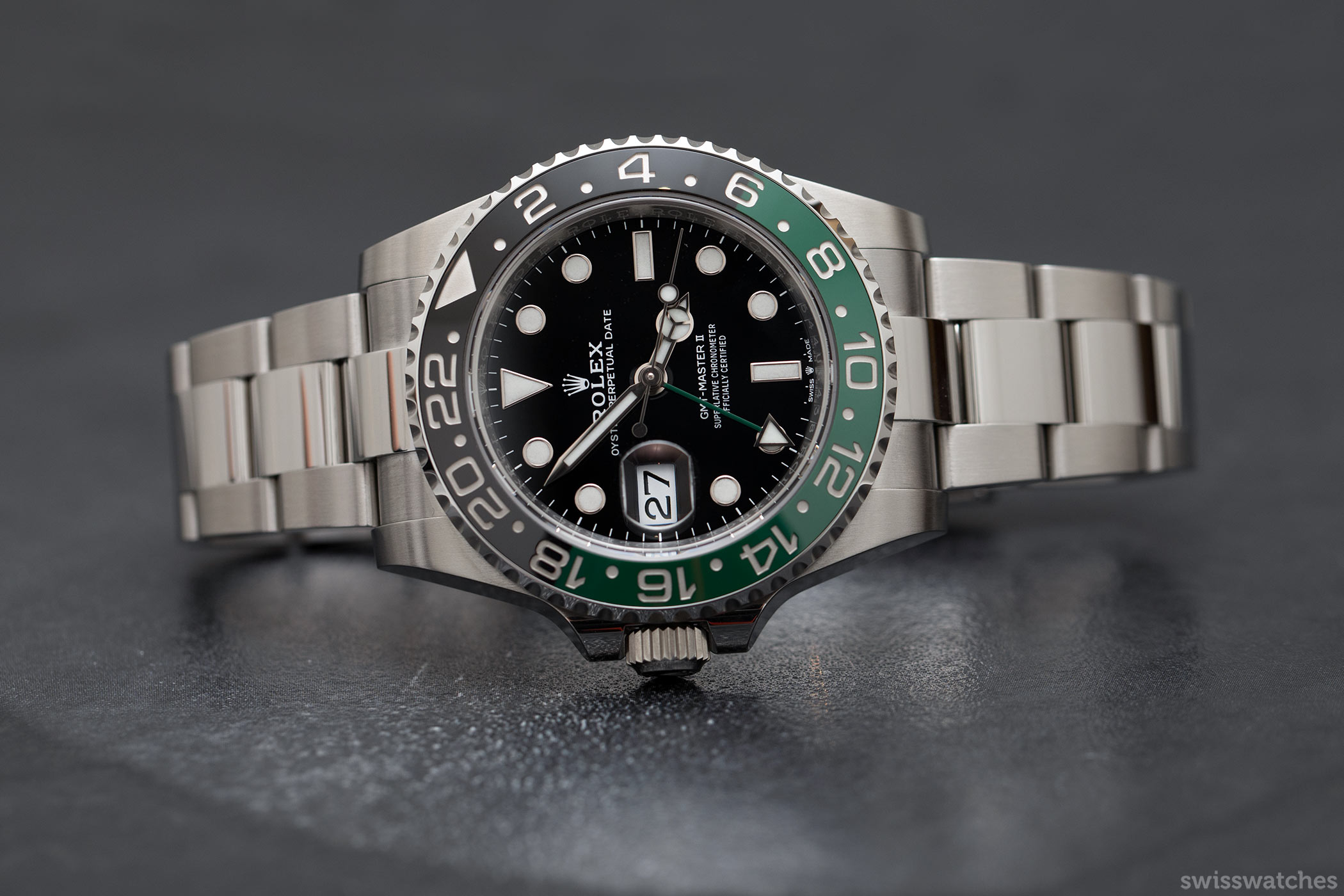 The Rolex GMT-Master II is a definite favourite for many Rolex fans this year
As for the men's pieces: as has long been the case, Rolex is well-aware that it can afford to follow a foolproof 'slow and steady wins the race' mantra. The result is a selection of watches that may not be groundbreaking in comparison to many novelties at this much-anticipated watch fair, but nevertheless mark a new-and-improved progression from predecessors. That said, the most substantial change for men has to be the GMT Master II's switch to a left-side crown. This decision was most likely influenced from demand by Rolex fans and collectors pushing for this to be an option on offer too.
Even with an increasing number of competitors bringing out rivals to match Rolex's Oyster Perpetual models such as the everyday Datejust, Rolex knows how to stay on top. The small but important changes in the watches this year are therefore proof of the manufacture's confidence in its current models, which continue to make this brand one of the most revered horology houses in history.
---
---