It's a blisteringly hot day in Geneva. Even within the cool stone walls of the luxurious Beau Rivage Hotel, and despite its breezy terrace looking out onto the lake, I am fairly sure that a good half of the guests in Frederique Constant's suite at Geneva Watch Days have a headache. To let you into a secret: it's not just the weather. The previous night, a small fleet of Bond-like boats headed to the shores of Lake Geneva to pick up press, employees, and friends of the brand alike, ferrying them across to Les Voiles beach club to celebrate 35 years of Frederique Constant. Following a whirlwind night of sushi, fire dancers, and a surprise performance from DJ 'The Avener' amongst other sensational moments, it's fair to say that the horology house's supporters were all in need of a good sleep – and perhaps an aspirin – the following morning.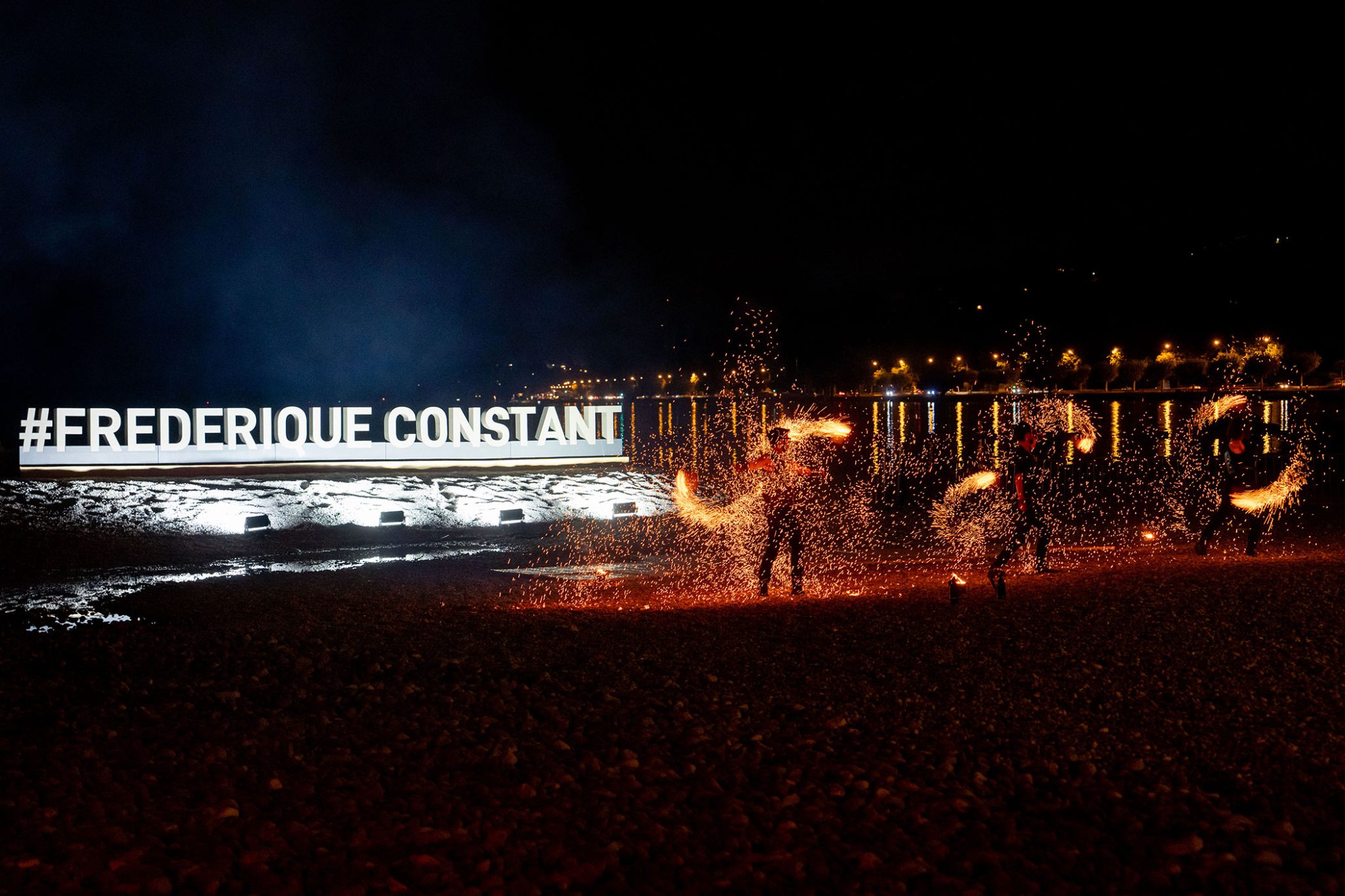 Fortunately for Swisswatches' readers, it takes more than a night of revelry with Frederique Constant to put us off meeting with CEO of the Swiss watch manufacture, Niels Eggerding. After valiantly embarking on an early-morning tour to the exquisitely designed manufacture, we sat down with the debonaire Dutchman to discover exactly what makes the watch brand tick after 35 years.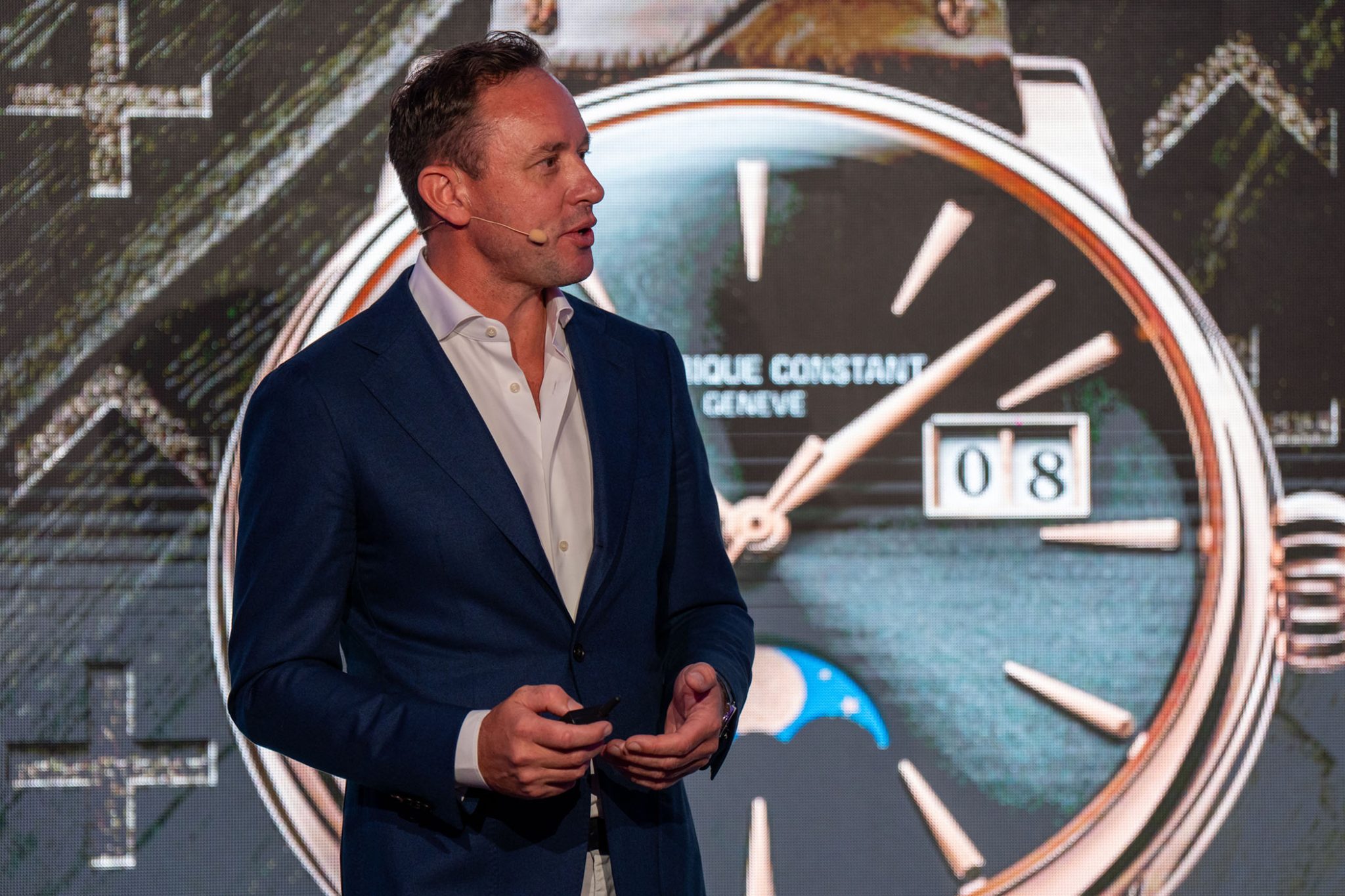 ---
What is very unusual about the Frederique Constant manufacture – not least in comparison to your compatriots – is the strong sense of 'Dutchness' at the manufacture. Is this something you feel, too?
---
Certainly. In fact, the Dutch way of working is instilled into our manufacture. The mentality of Dutch people is very entrepreneurial, very linear, and very down to earth when it comes to human relationships. All of those working with us know that my door is always open; if the watchmakers have an idea, they can come directly to me.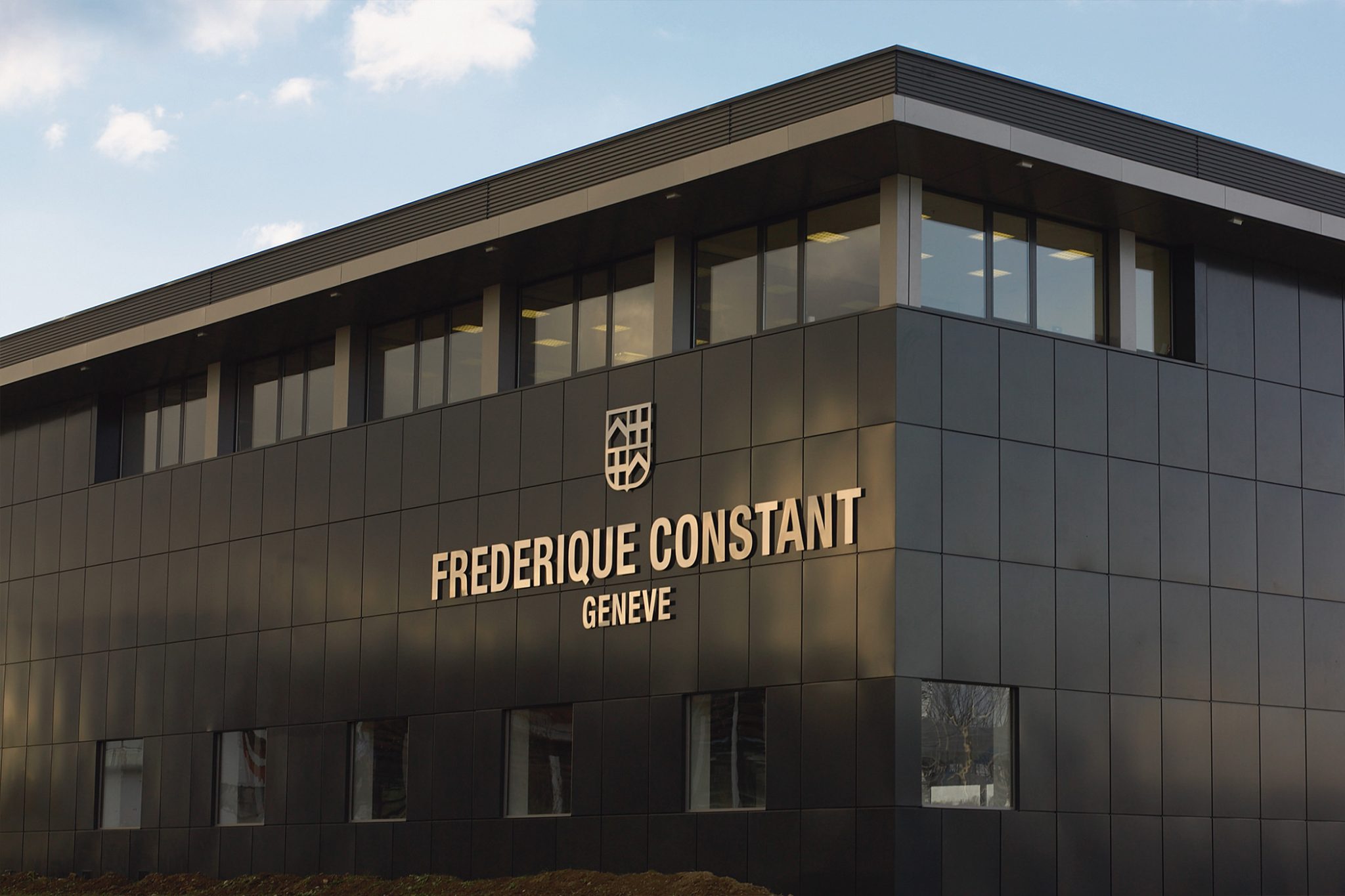 We've got at least four Dutch people working with us, including two Dutch watchmakers. This is something of an achievement given that the Netherlands is home to only one watchmaking school – and from the people you can actually hire, this narrows down to only around five to seven people who actually finish the school year. We really have to push to get people, and the Dutch often turn to older watchmakers from Belgium and France. Drawing in young people is difficult, as many don't even know that watchmaking exists as a job. We've already seen jobs such as carpenters die out, and we need to make sure that watchmaking is a craft that stays put.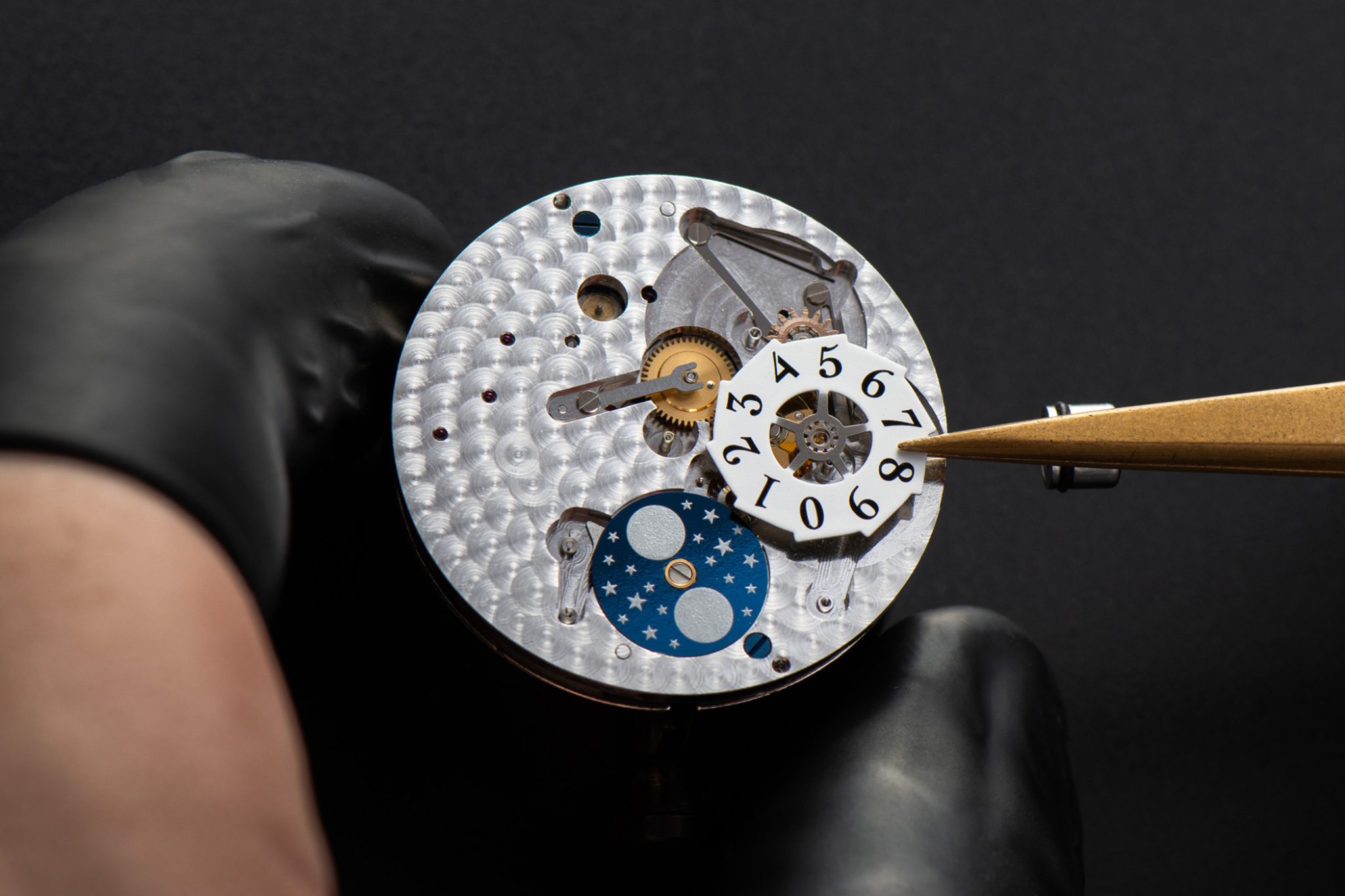 ---
Speaking of company culture, how has the brand developed since its founding 35 years ago? Or has it remained, in essence at least, the same?
---
Let's start with what has stayed the same. I think we are definitely still offering a very beautifully finished product for a fair price. That's how our whole mission started. I also think that the spirit has stayed the same over the past thirty-five years, even if it was somewhat different under the leadership of Frederique Constant's founders [Peter Stas and Aletta Stas-Bax]. Their management was done more from the top down, while my vision of leadership advocates a horizontal hierarchy. Peter and Aletta had initiated the brand's innovative spirit, and we've also pushed it a step forward, with the introduction of the Monolithic oscillator for instance. With every new innovation, we gain more credibility. This is very important for a young watch brand, in order for it to be on people's radar.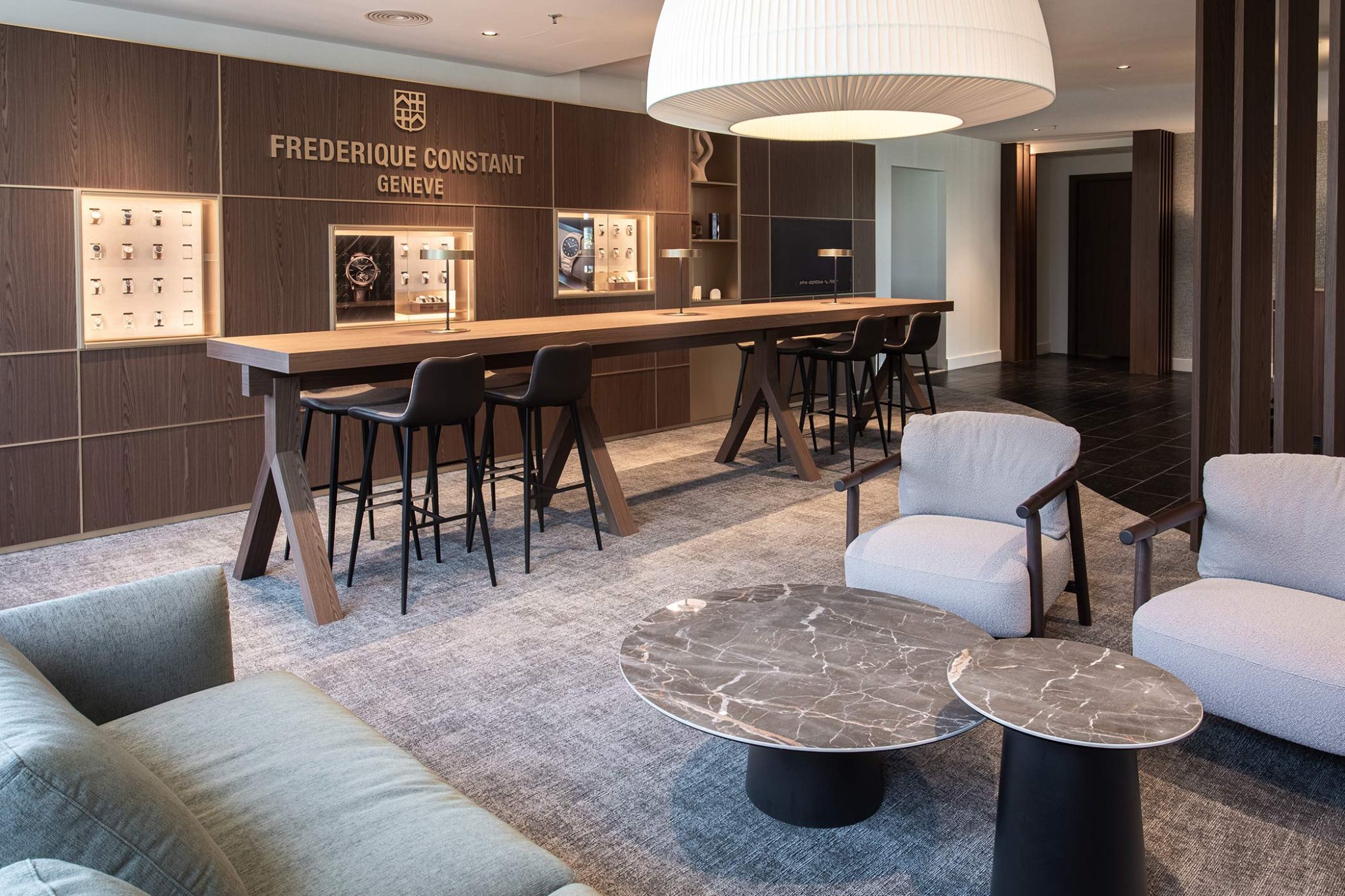 ---
Things are now developing quickly for the brand, meaning your prices may have to increase. How will you balance this with your fundamental principle of keeping things affordable?
---
If we do go up in price, we will make sure that it is justified. For instance, if we launch a new watch with a higher power reserve next year, then it will also be more expensive. But I can tell you, other brands have been much more aggressive with their pricing than us.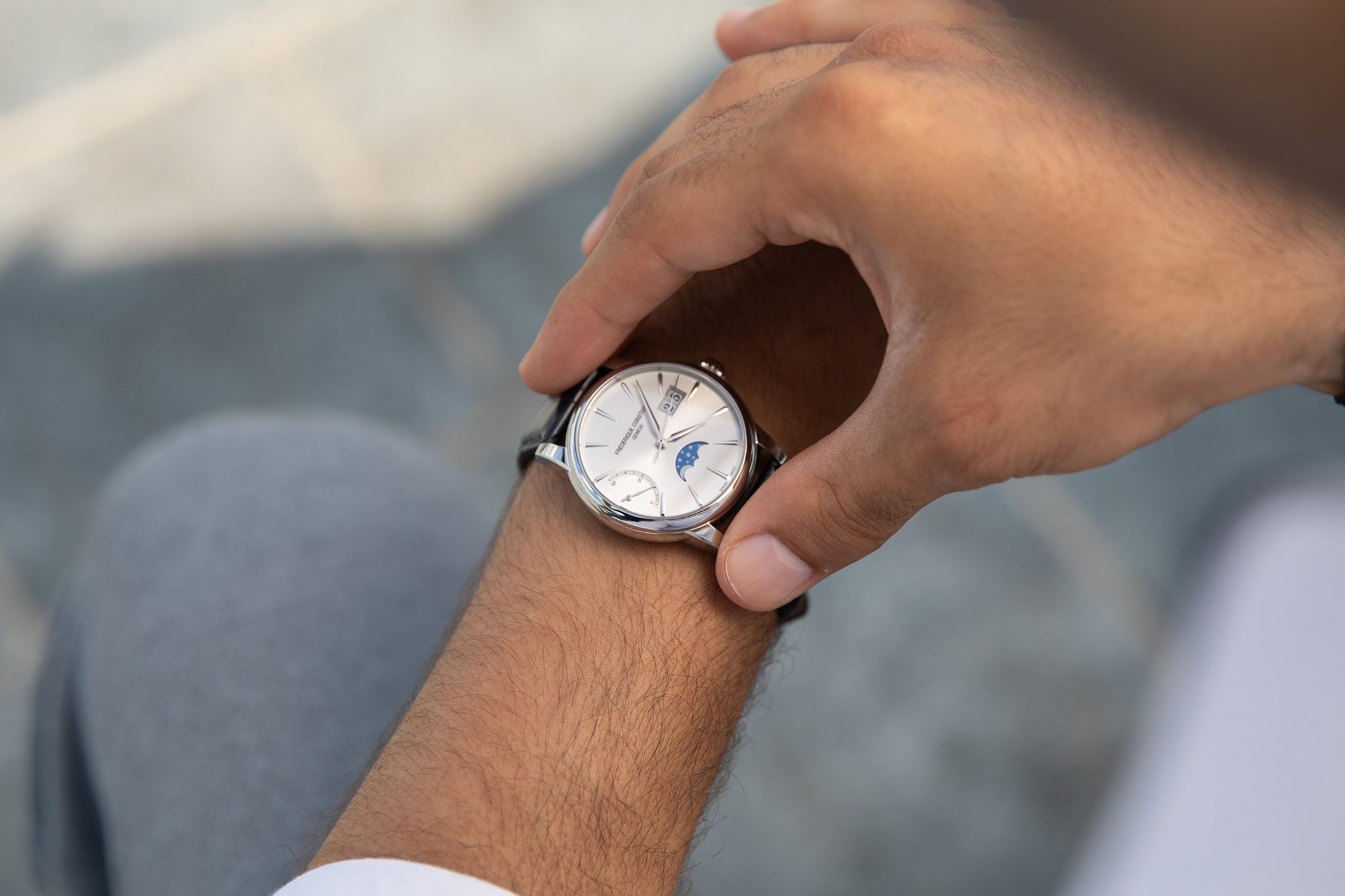 My concern is, things are currently coming back economically, and we are going to see a positive result in terms of demand because the luxury market is doing very well. Yet at the same time, this will slowly flatten out, since for some brands, the secondary market has started to offer the same prices as the retail prices – something that didn't happen for many years, but it's a sign. For the most part, our segment is doing well. But if you increase your prices too drastically, there is no way back.
---
It's fair to say that competitive pricing plays a huge role in Frederique Constant's appeal. I showed one of your watches to a young male acquaintance, and he was so impressed. I thought he was the perfect example of who the brand appeals to because he's in his 30s, he has a bit of money, loves watches – and it's something he can actually afford and admire for its beauty at the same time.
---
That's exactly the Frederique Constant customer. With some major brands that we all know very well, you tend to receive the watch as a present from your parents, from your grandparents, or from your husband or partner. I consider Frederique Constant a brand that allows you to purchase the watch yourself – because you can. It's a fair price for a very nicely finished product, and it really makes a statement on the wrist. At the same time, it's still a luxury piece. That's really what the brand is offering to the customer.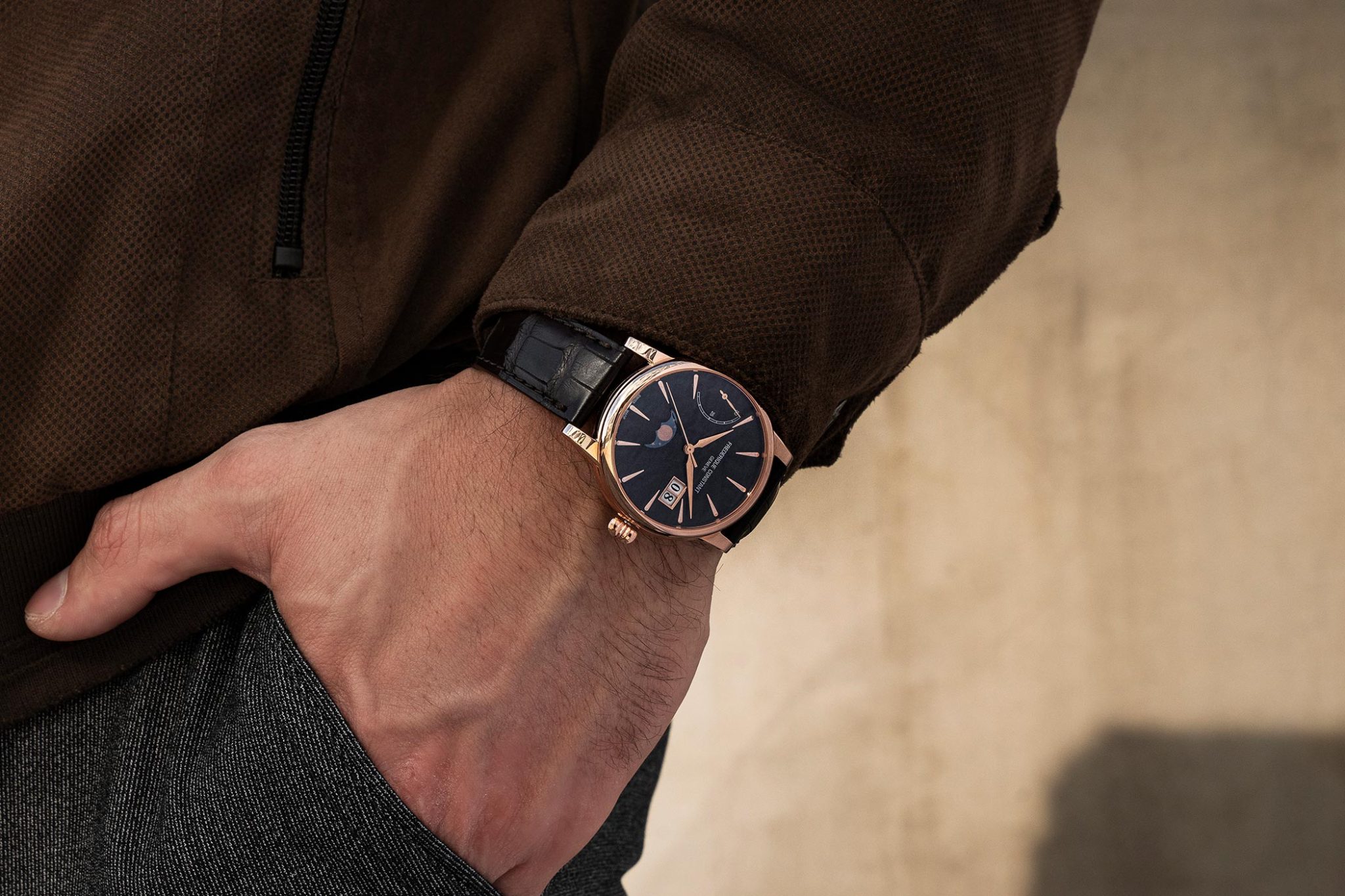 ---
Would it be fair to say you're planning to increase production overall? I understand that it currently stands at around 140,000 watches per year.
---
I can't confirm or reveal any production numbers, but yes that is the plan, even though we have been putting our money elsewhere due to a much higher demand for our pieces in the higher price segment. My aim is to focus on the volume, as this will help us to consistently invest in whenever we'll need to.
---
Would you like to bring other components in-house or would you prefer to stick with suppliers to maintain the watches' affordability? For example, bracelets are currently made outside out the manufacture.
---
Think of it this way: if car manufacturers started to produce their own tyres, they're probably going to be the worst tyres they ever made. This is because such companies have existed for 100 years in order to become specialists. It's the same for us. You have companies that are producing only tyres, only cases, and so on. So, yes, these types of components will remain produced externally.
---
Some things, however, are created entirely in-house. Let's talk about the new FC 735 movement, conceived for this year's new Classic Power Reserve Big Date model. It's an interesting combination of complications – how did you come up with it?
---
Approximately four years ago, I asked the team if we could add a big date onto a movement. I have a team of master watchmakers who can work very quickly alongside the engineer and developer, who in turn make drawings to check if the idea is technically feasible or not. After only a few months, they brought forward their proposal. Then we added in the moonphase, because without the moonphase we felt the watch was a bit empty. It took roughly three years to create the complication [featuring a big date, moon phase, and power reserve indicator] and it was all done in-house.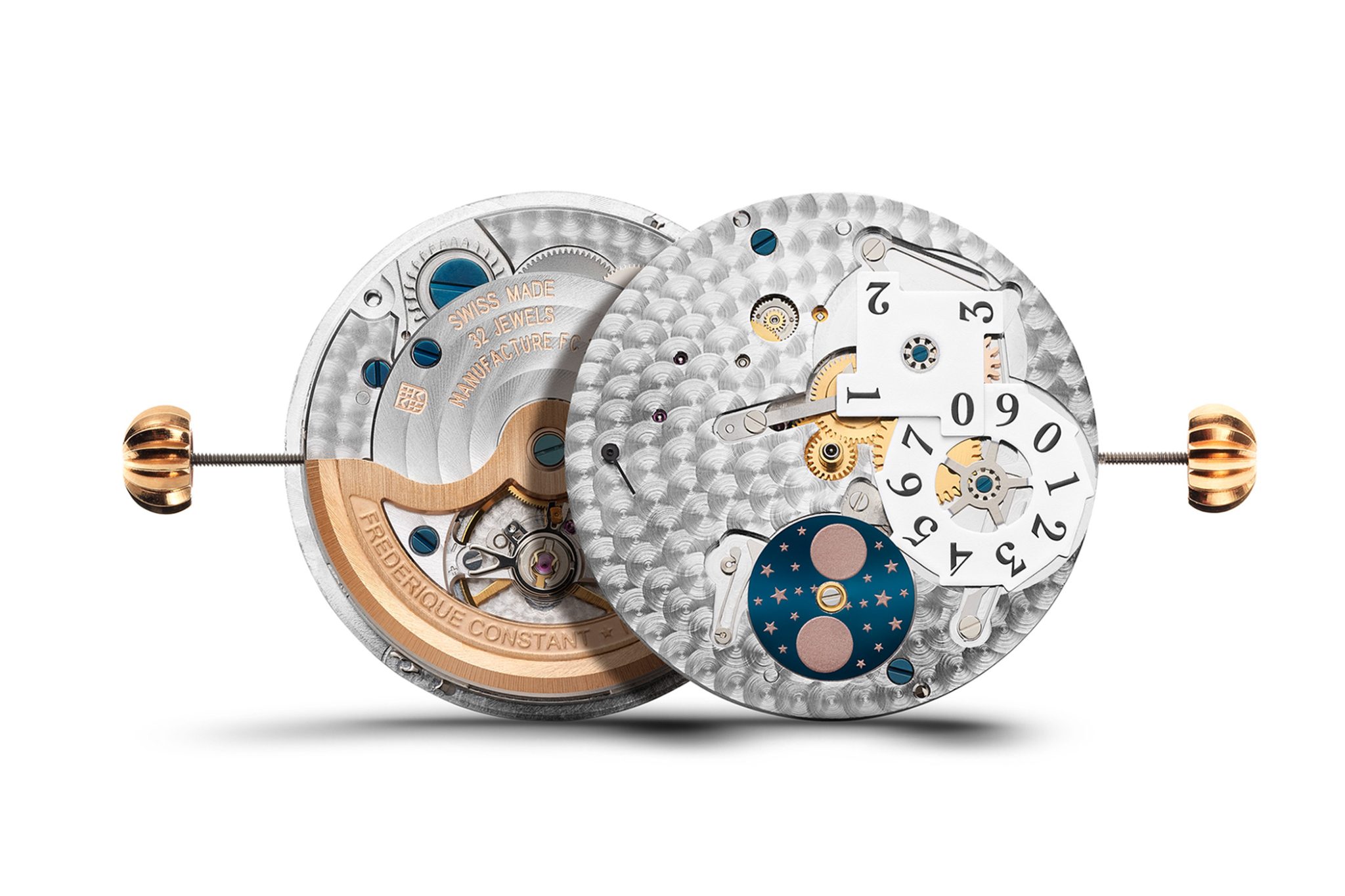 ---
So, you just have the one main designer at the manufacture?
---
Yes – this is important for us as it helps us to keep the DNA. Everything that comes out of the company needs to be validated by him.
---
One challenge for Frederique Constant, some might say, is that the brand has only been around 35 years. This must make it difficult when it comes to creating classic pieces because there are no historical archives. How do you approach designing such pieces?
---
It can be difficult when you aren't able to revisit and redesign from the past. Therefore, we have to consider to whom we are selling and what we are selling. At Frederique Constant, it's generally a collaboration between my creative team and the marketing team, who can in turn consolidate the selling part.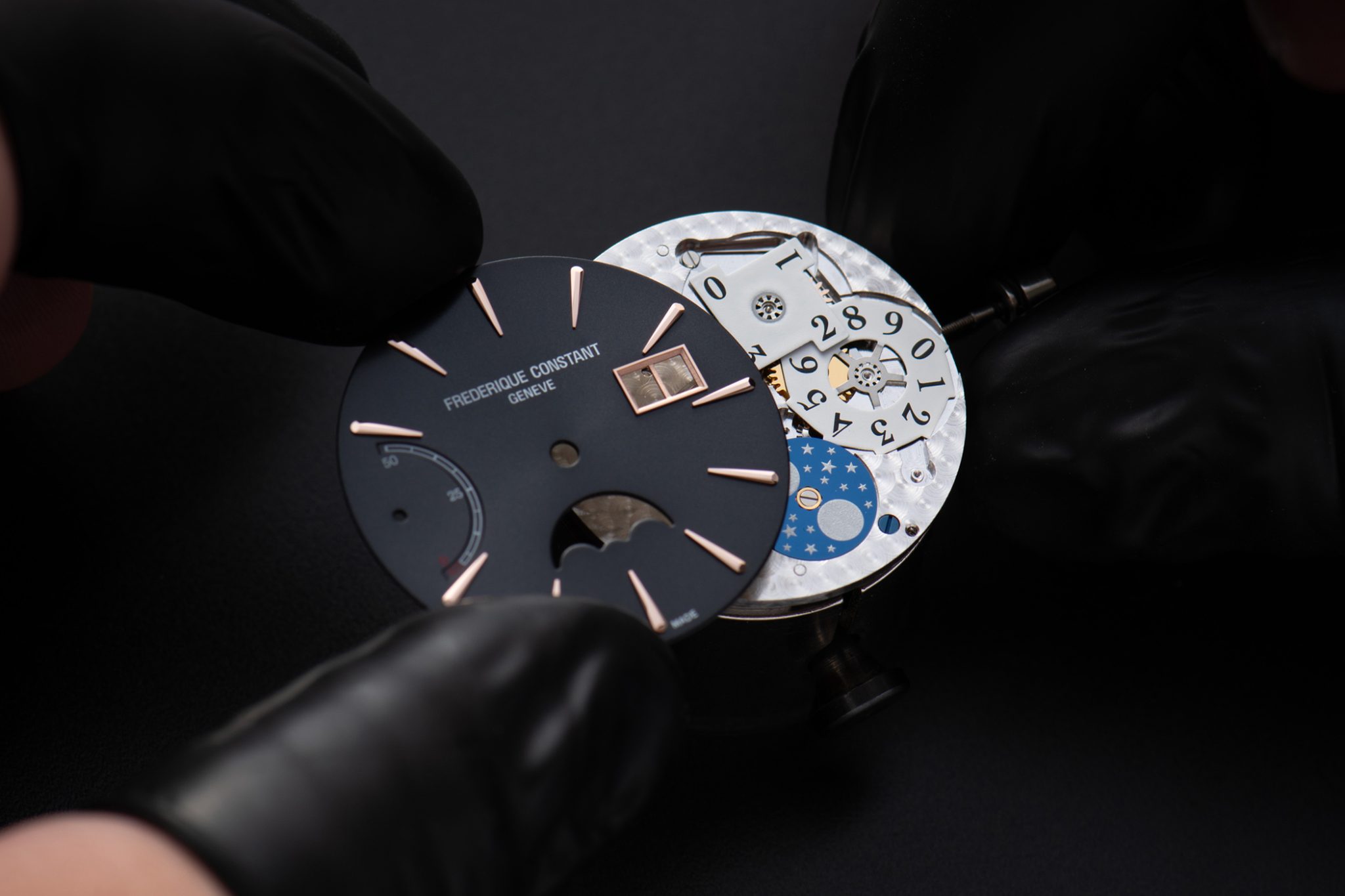 ---
So you're saying it's about popular appeal?
---
It's about finding a pattern and realising exactly what sells and what is being picked up. It's interesting to observe.
---
Speaking of popularity, let's touch upon the Highlife collection. The watch really enjoys a broad appeal. What do you think is the key to its success?
---
The Highlife collection has been my baby, in fact, my life, because it was the first thing I did when I took over as CEO five years ago. I wanted to bring back a sportier design. While our classic watch cases are curved, the sporty models' cases are straight. At the same time, I wanted to stick to our existing DNA – so I created a straight case, but curved the bracelet instead. This is how the watch remains somewhat classic and very sophisticated. I wanted it to be clear from a distance that this watch was unique and that it was a Frederique Constant – not a copy taken from elsewhere.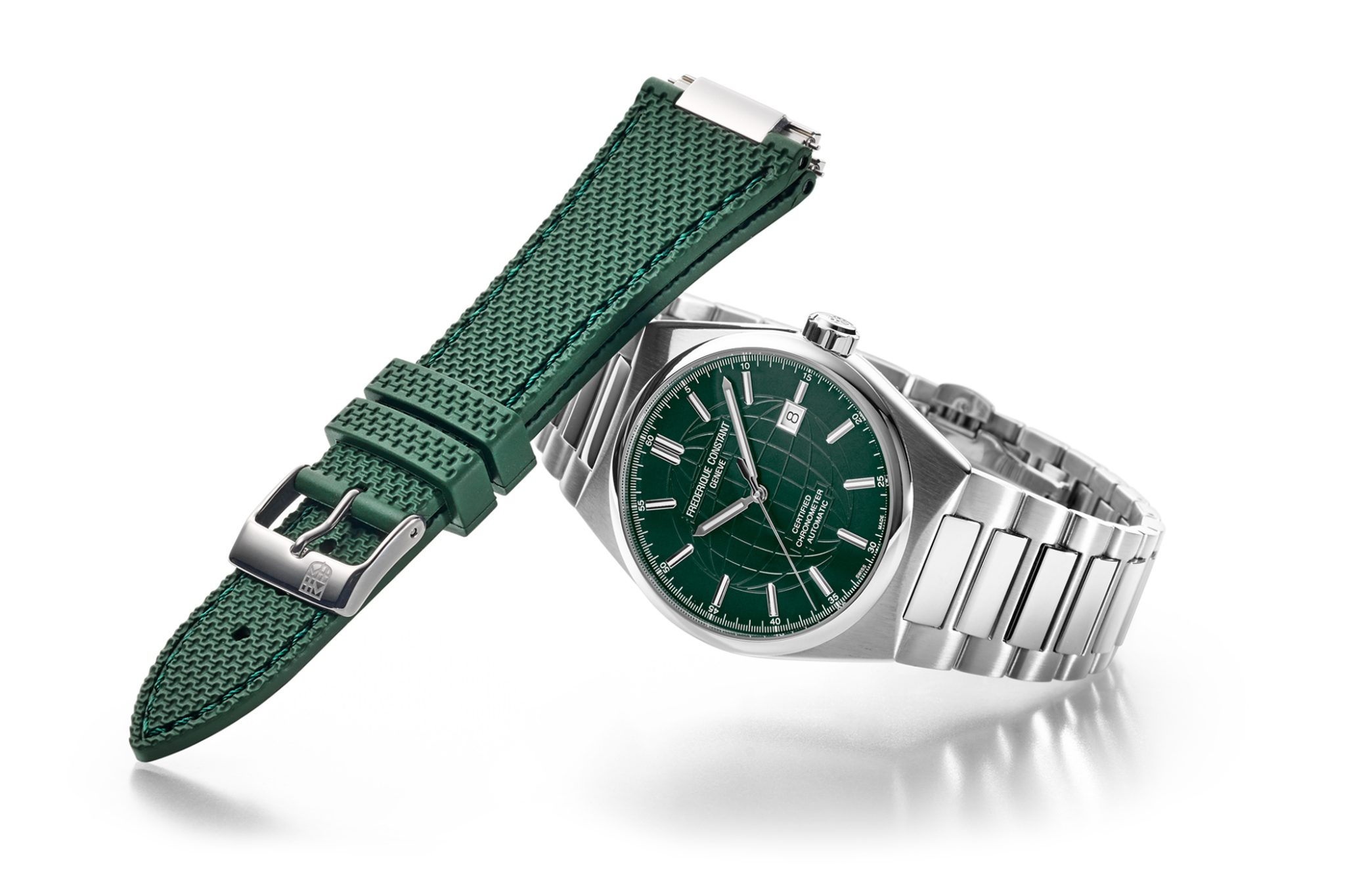 ---
Would you call the Highlife line Frederique Constant's icon?
---
Yes. There are a lot of complications added into the models now, yet the watches still all have a very acceptable price tag. I think that customers like not only the price coming from our brand, but also the fact that we have been always very classic. As explained, this was integrated into something for customers who want a bit more of sporty design. The moment we launched it, we had access to a new target group who previously hadn't considered the brand because it was too classic.
---
For what reason did Frederique Constant cease to produce smart watches? The production was certainly a rarity for a luxury Swiss watch manufacture.
---
Launched in 2015, the smartwatches sold very well within the first five years. We expected many other brands to also start producing smart watches, but they didn't. So, the problem we faced was that retailers were not pushed to create more awareness around smartwatches. Plus, a connected watch is more complex to sell than a traditional watch, because of its technology.
---
In terms of retail, Frederique Constant has a strong presence internationally, not least in airports. Is this a deliberate strategy?
---
Our strategy used to be that the brand was always available in Duty Free, but nowadays, we are starting to reconsider this as we continue to elevate the brand and rethink our distribution. Ten years ago, that was indeed a clear strategy for us – but now, as things change at the manufacture, we are starting to change the approach to sales as well.
---
Let's end on a personal question. What's your favourite thing about the manufacture? It's a very light, warm place to be, and it has a very beautiful atmosphere.
---
Despite having to drive for an hour to reach the manufacture, the drive is always a pleasure for me as I have a lot of work that I can do in the car. For me, even this first part of the day is a gift. I love it. And as you say, the Frederique Constant manufacture is a very warm place to be. Each morning, I sit down for a daily meeting with my management team, which is very important for me. But I always start the day at the manufacture by going to the production to visit the watchmakers themselves, and by seeing if things are on track by checking the KPIs. The watchmakers arrive early, at around seven in the morning – some of them choose to continue working until nine at night. Our watchmakers are very passionate; and there's pretty much never a day when I am not happy to go to the office.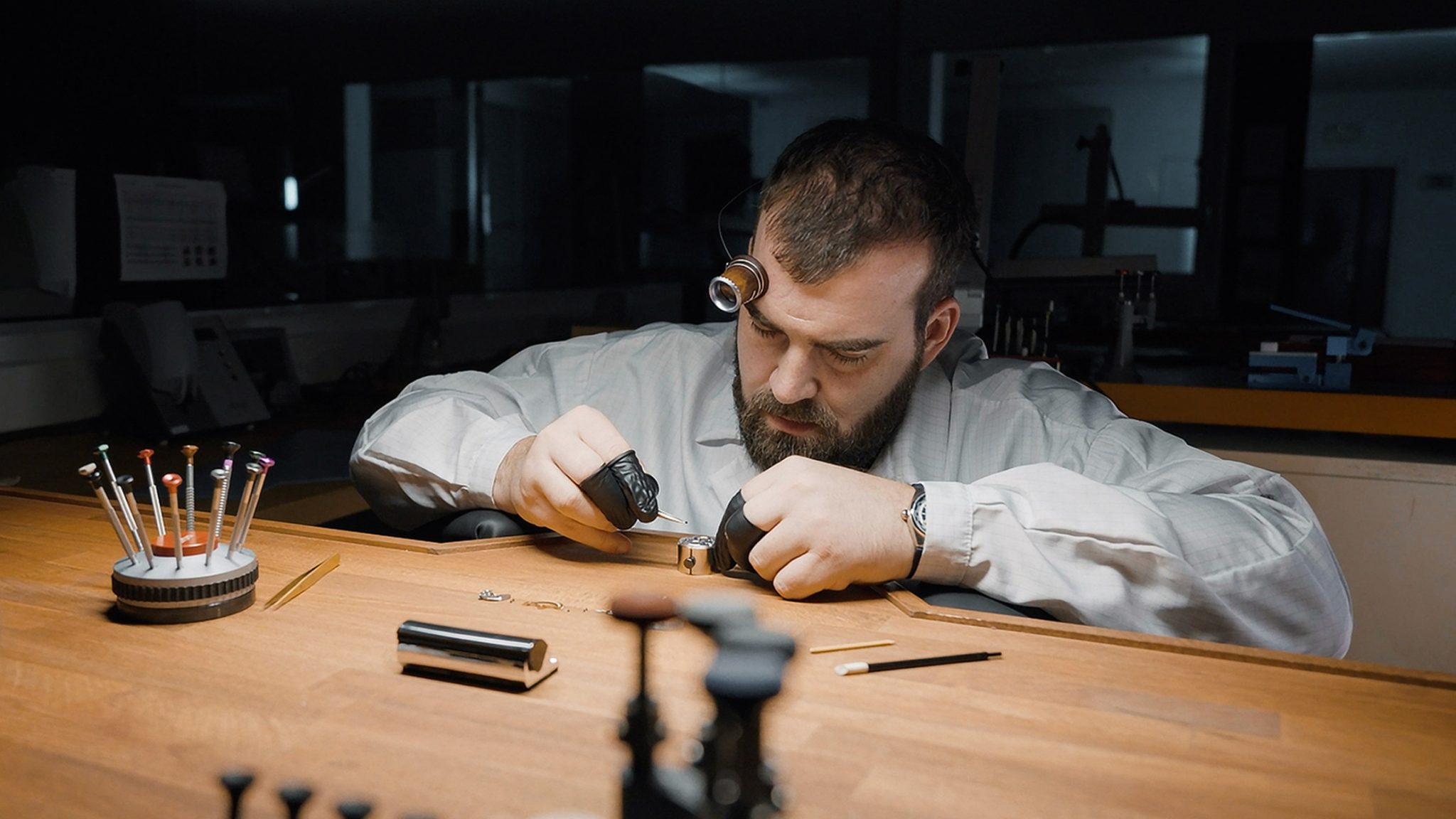 ---