The rattrapante function, or drag pointer, enjoys a certain level of prestige at A. Lange & Söhne. It comes in every variation you can imagine: Double-Split, Triple-Split, combined with perpetual calendar, Tourbograph Perpetual with tourbillon, chronograph and perpetual calendar, or even in A. Lange's Grand Complication, with large and small chimes, minute repeater, perpetual calendar and a rattrapante chronograph function with flashing seconds. However, it's never flown solo – until now. Here comes the new A. Lange & Söhne 1815 Rattrapante Honeygold "Homage to F. A. Lange".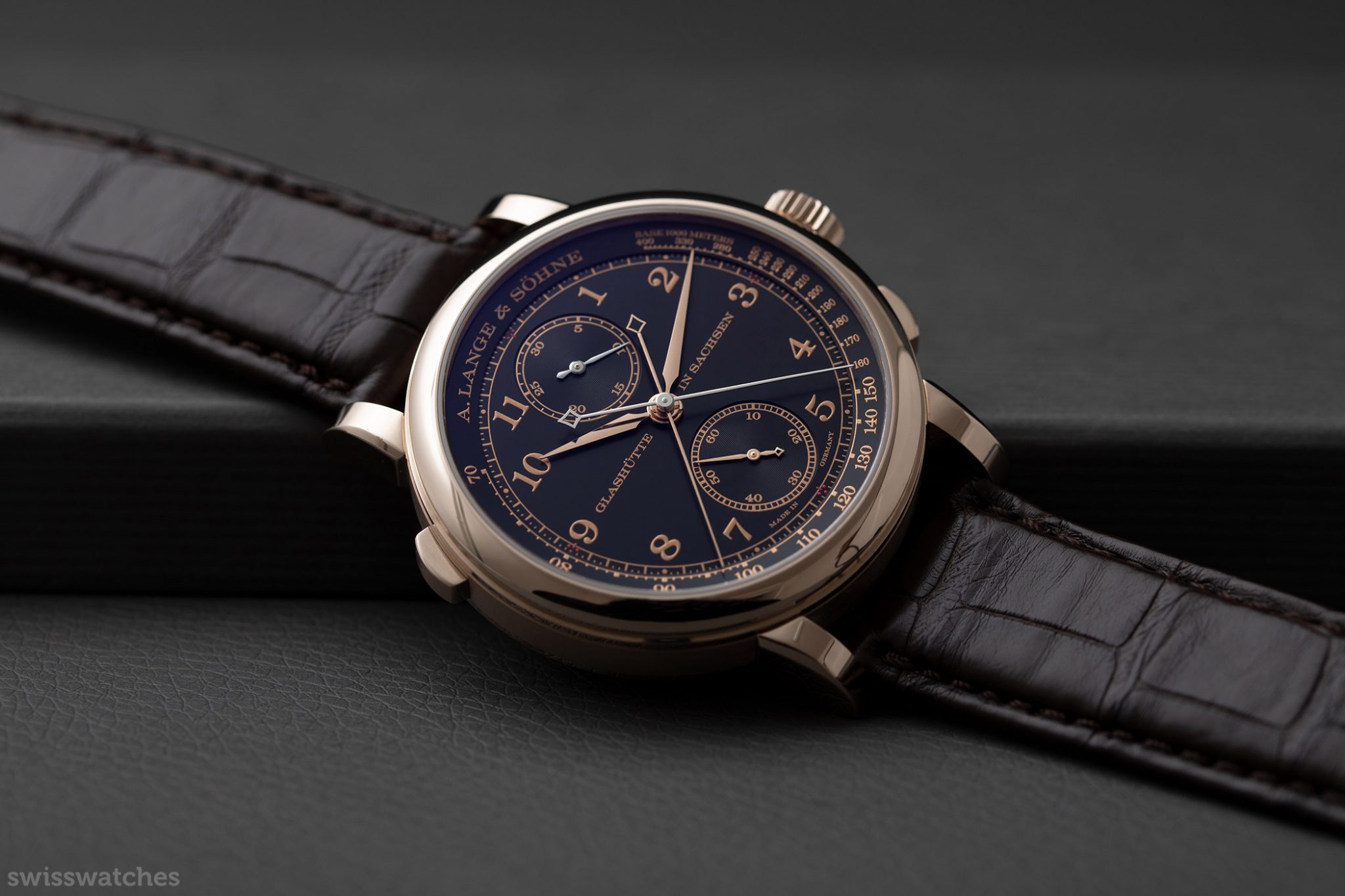 The manufacture from Glashütte is finally giving the highly complex function its own watch model, in which it plays the leading – and only – role. At the same time, the watch also marks another first: the combining of its own honey-gold alloy with a black dial. By doing so, the timepiece joins the ranks of the most beautiful modern mechanical split-second chronographs out there.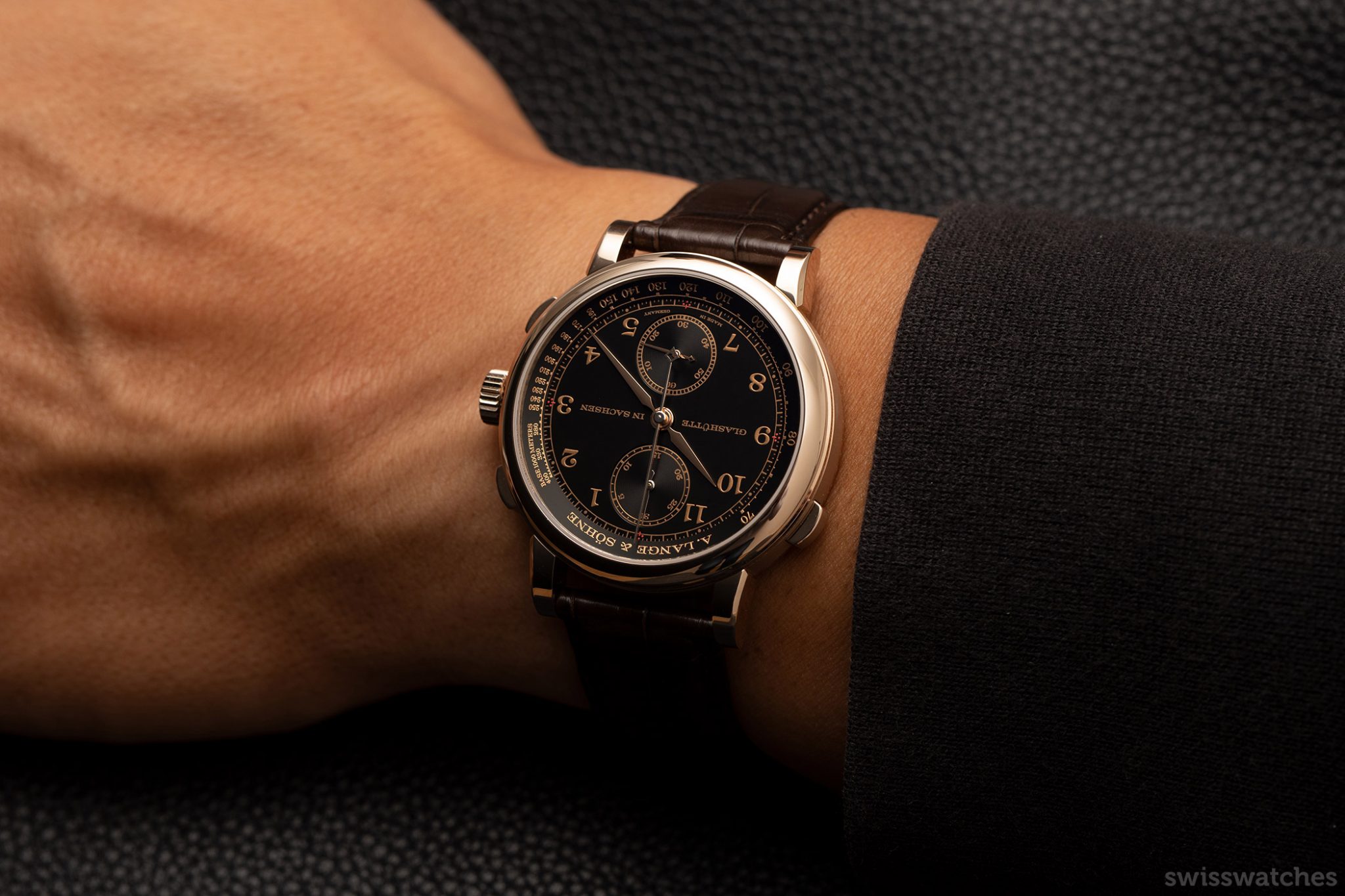 A. Lange & Söhne 1815 Rattrapante Honeygold "Homage to F. A. Lange"
Master of the rattrapante mechanism
Back in 1831, a certain Joseph Thaddaeus Winnerl invented the first drag pointer mechanism. The reason why this mechanism is nevertheless so important to A. Lange can be explained by the fact that Ferdinand A. Lange spent a large part of his apprenticeship years with Winnerl. However, there was still one crucial additional function missing that made a genuine chronograph, and later a split-seconds chronograph: the reset function. This meant that the hands could be started and stopped, but not automatically reset to zero. This mechanism was invented in 1844 by Adolphe Nicole, however it was not until 1862 that Nicole presented his mechanism in an actual watch case, thus completing all the functions required for a genuine chronograph: start, stop, and reset to zero.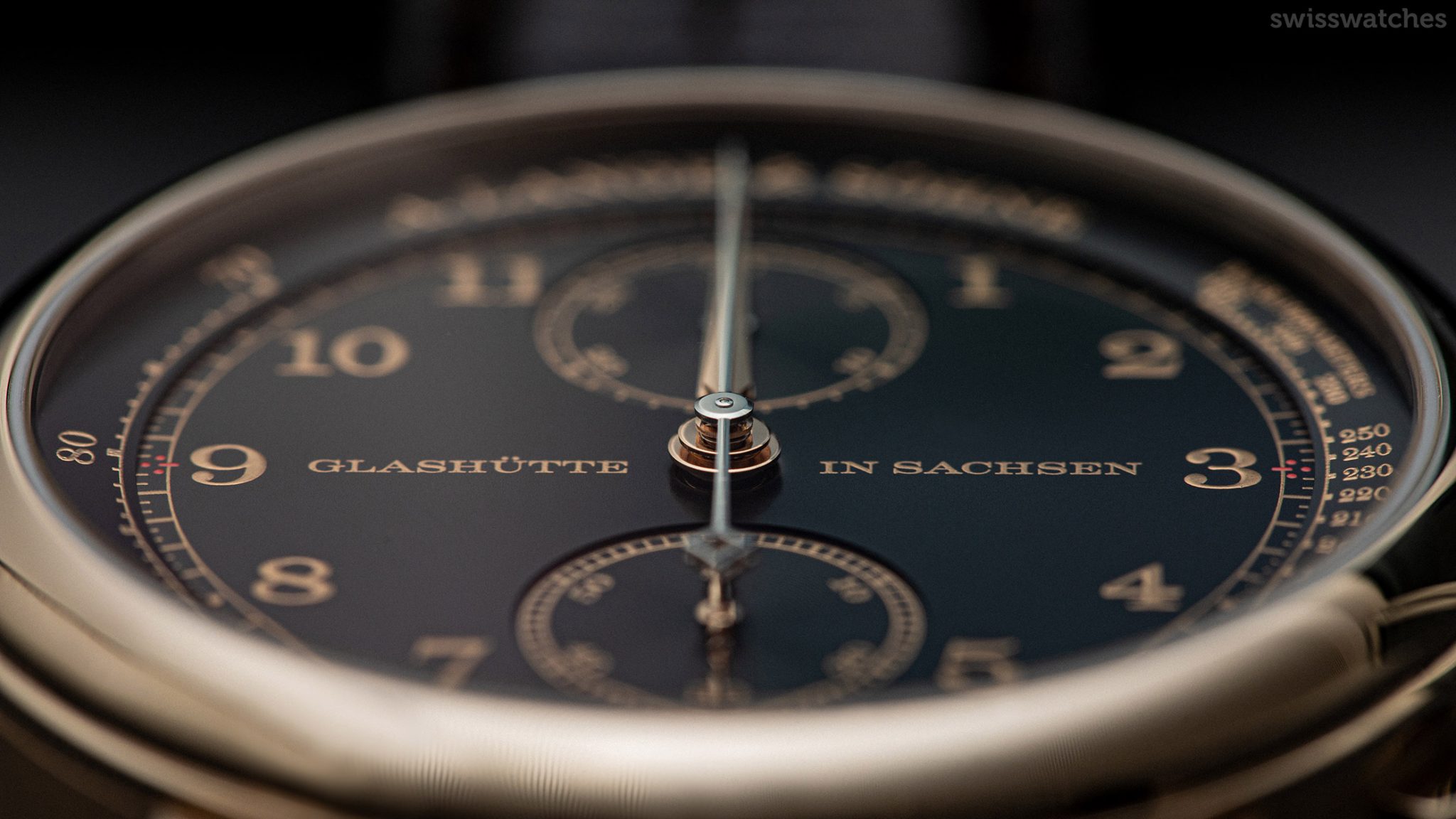 At A. Lange & Söhne, these basic chronograph functions have been controlled by column-wheels (instead of cams) since 1999, which to a certain extent is regarded as a benchmark for high quality, due to the high manufacturing costs and level of reliability. The technically advanced rattrapante (split-seconds hand) mechanism in the chronograph offers an additional stop hand, which can be stopped independently of the chronograph hand and also synchronised with it again. In the starting position, both hands are directly above each other. A rattrapante chronograph therefore allows for comparative and intermediate time measurements.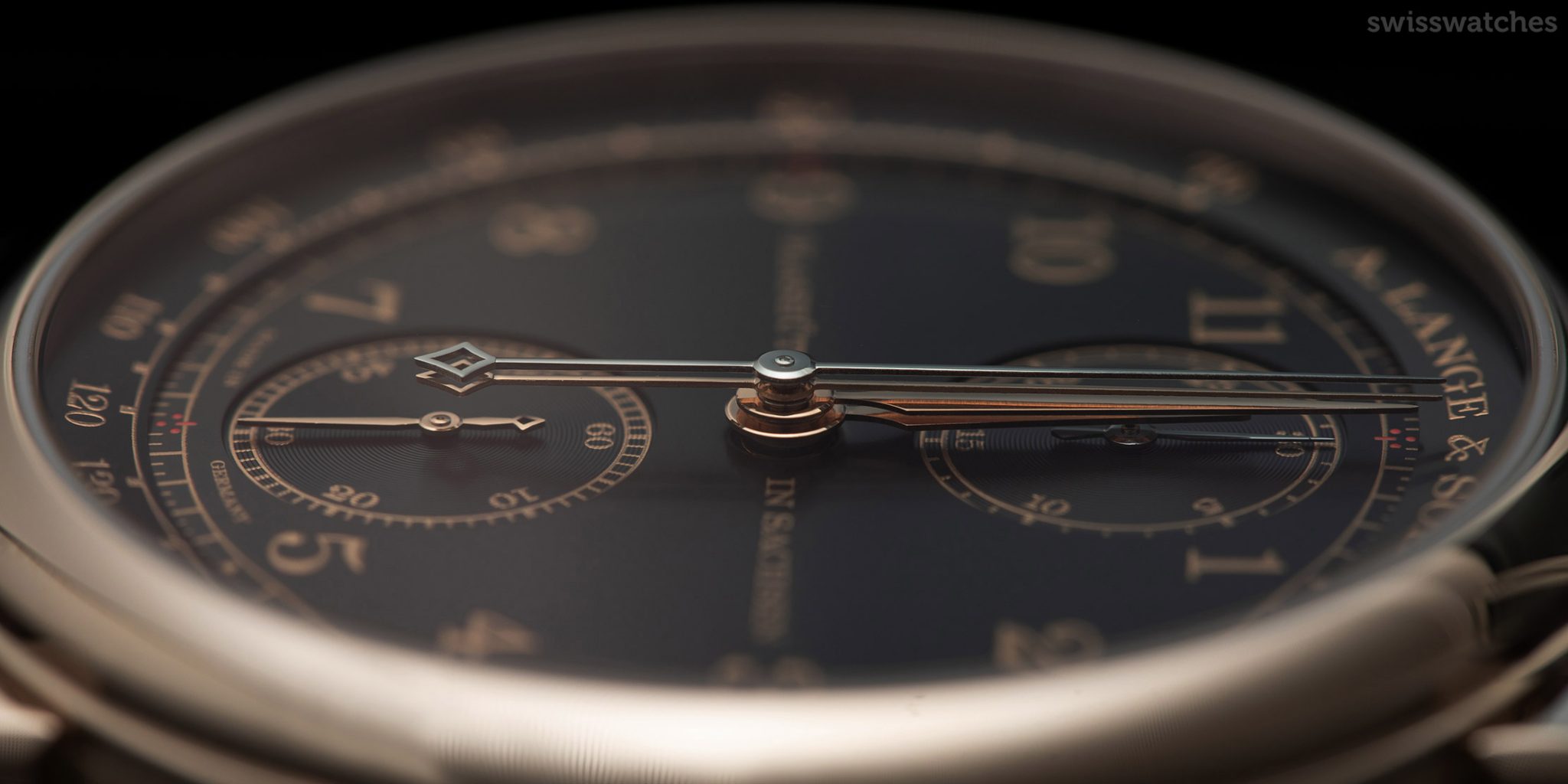 Double and triple rattrapante
In 2004, Lange set a milestone in the history of split-seconds mechanisms with a double rattrapante – it was the first double split-seconds chronograph in the history of watchmaking. The Double Split from A. Lange & Söhne not only has two second counters, but also two minute counters. Things went truly wild in 2018, when A. Lange presented the world's first – and to date, only – triple Rattrapante mechanism. In addition to seconds and minutes, the Triple Split has an additional hand for the hours. This allows any number of intermediate and reference times, as well as two events started simultaneously, to be measured and compared up to 12 hours. It is the first and only one of its kind.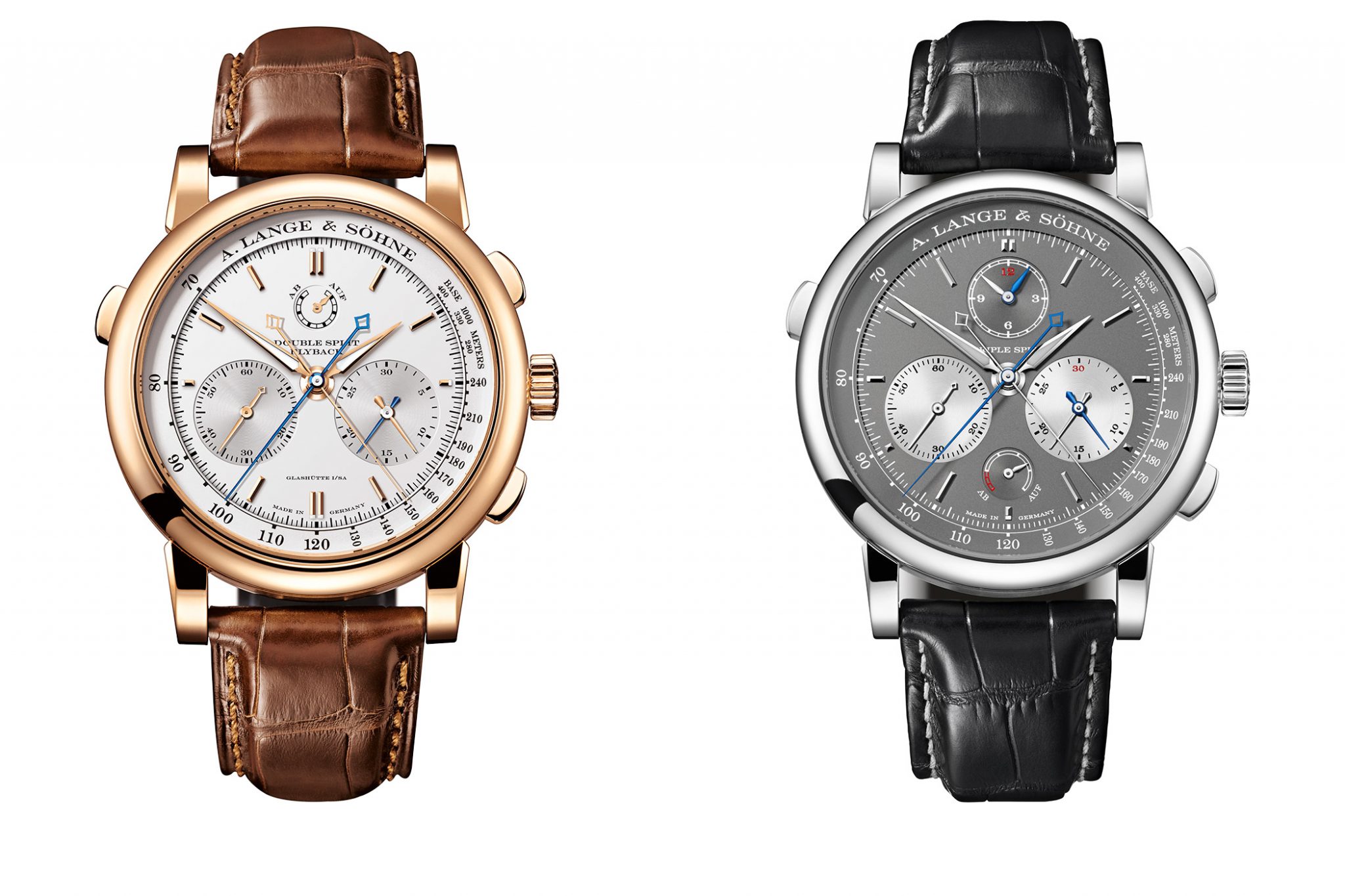 A. Lange & Söhne Double Split (2004) und Triple Split (2018)
Despite its considerable complexity, Lange did not bring the "simple" rattrapante into the world without another strong companion by its side. On the occasion of the 175th anniversary of Ferdinand Adolph Lange's first pocket watch production since its foundation, the Glashütte manufacture dedicated a limited model to him, which would fly – and shine – solo.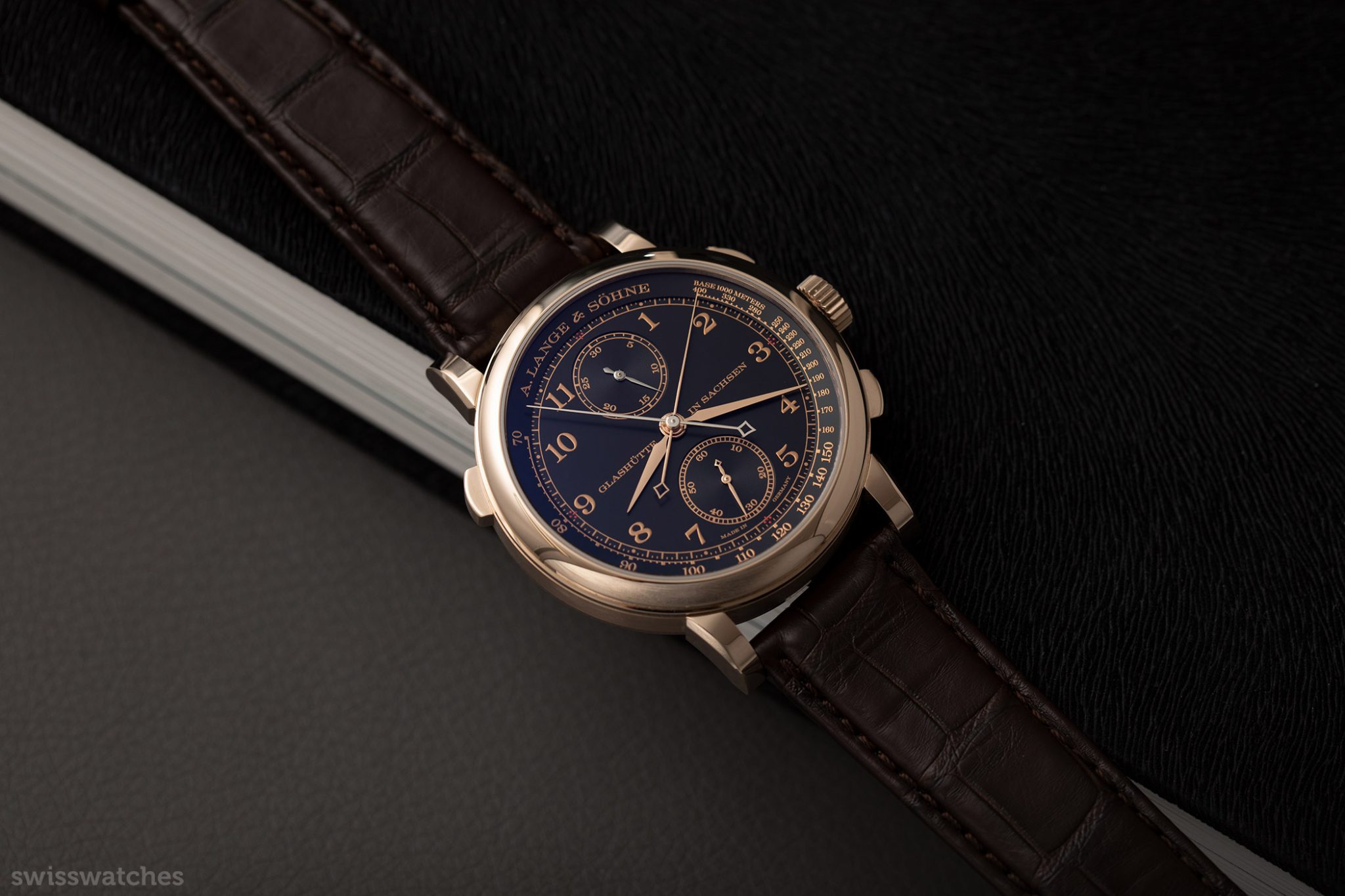 The A. Lange & Söhne 1815 Rattrapante Honeygold – One of the most beautiful modern split-seconds chronographs out there
The new 1815 Rattrapante Honeygold "Homage to F. A. Lange" is one of three models from the anniversary collection – each with different functions, but all with the same honey-gold case material. This alloy is, on the one hand, particularly hard – at any rate, harder than platinum – and is thus resistant to damage, but, on the other hand, more difficult to work with. The alloy exudes a notably warm shine, which, depending on the lighting, fluctuates between a white-gold and light red-gold tone. Since 2010, this gold alloy has been available exclusively from Lange, and its exact composition remains a company secret.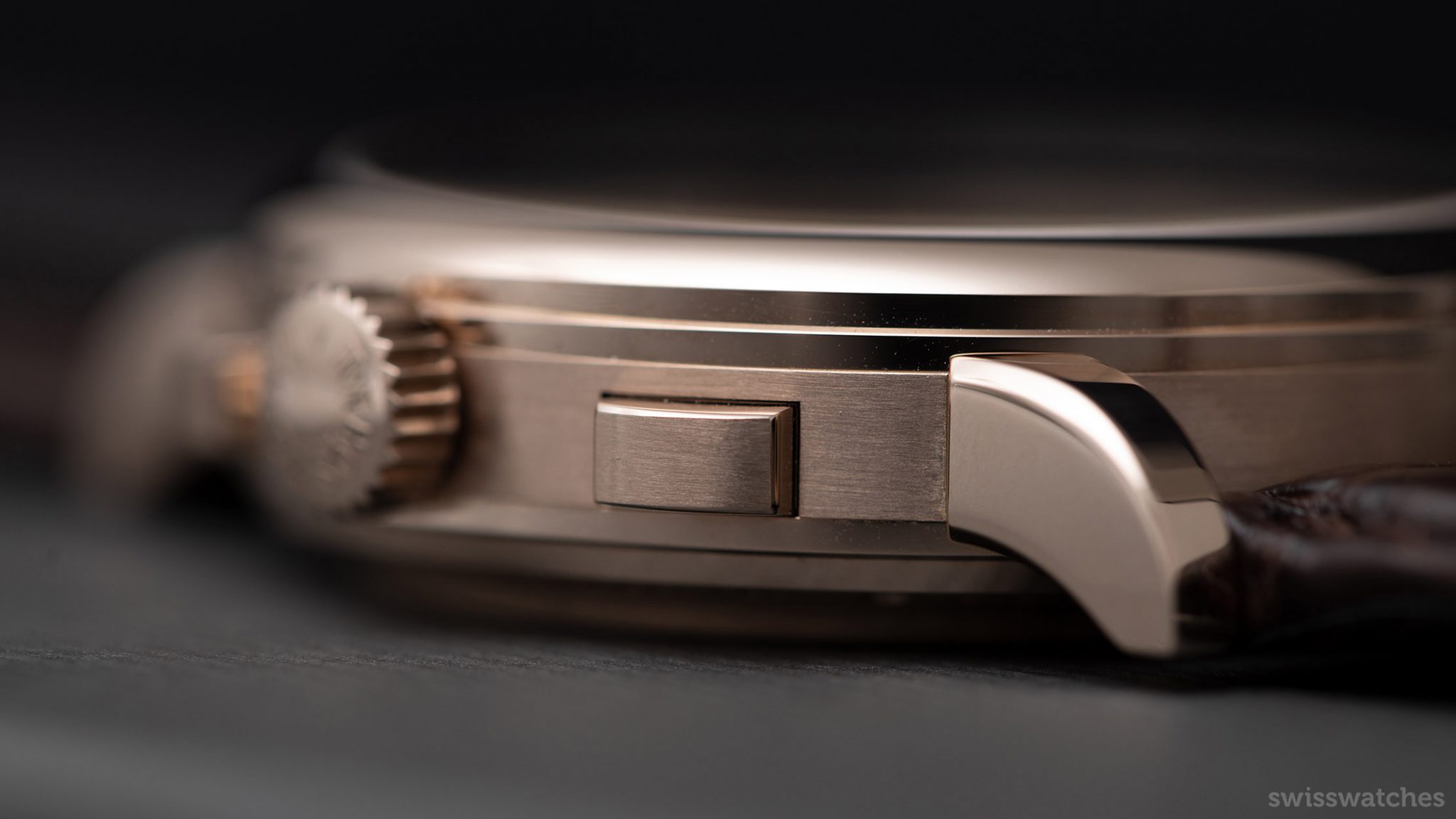 Since 2010, we have only seen eight limited edition models – all of which have been wrapped up in the same golden bee-like honey colour, but up until now, they have always been combined with a bright dial. It took Lange ten years to come up with a new color combination. Clearly, it was worth the wait, because the black dial and honey-gold tone have turned out to be a perfect match. Yellow gold in combination with black doesn't quite work, and while red gold does work well with black, the high copper content often causes the gold tone to become slightly too red. Honey-gold, on the other hand, in my opinion, offers the perfect balance between red and yellow gold, and combined with a black dial, it's enough to send watch fans into a frenzy.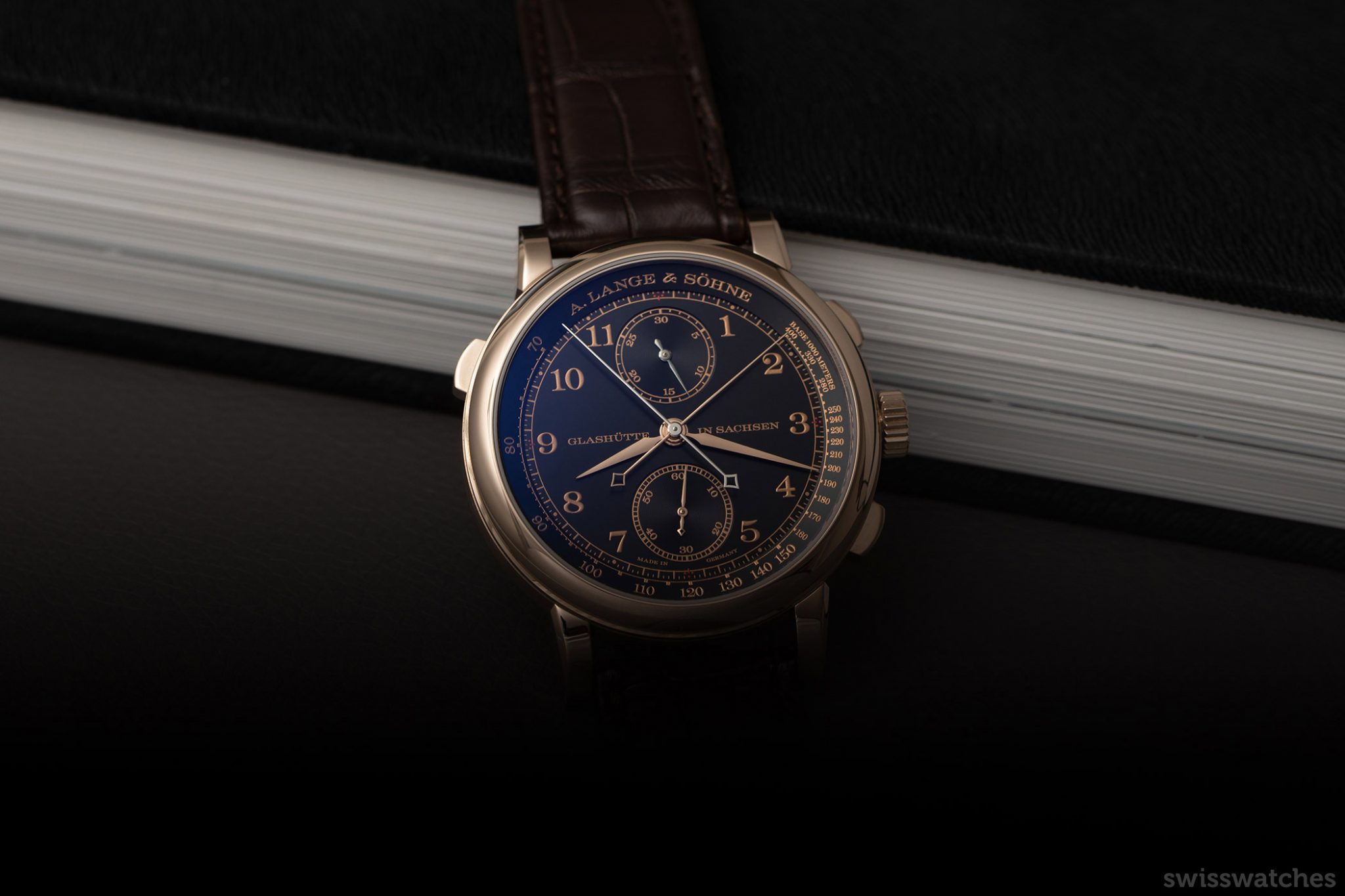 The details of Lange's new split-second chronograph – The A. Lange & Söhne 1815 Rattrapante Honeygold
In my personal view, a dress watch should not be larger than 42 mm in case diameter – possibly 43 mm by adding any complication. Patek's rattrapante chronograph Ref. 5370P – actually for me also one of the most beautiful modern drag pointer chronographs – proves impressively how to bring Haute Horlogerie and aesthetic perfectly into line. It has a case diameter of 41 mm and the discontinued execution with black dial (5370P-001) actually possesses the same appealing charm as Lange's newest creation. However, it has a platinum case instead of honey-gold that comes in a 41.2 mm case and 12.6 mm height for the new 1815 Rattrapante Honeygold "Homage to F. A. Lange". The black dial is made of solid silver and displays hours, minutes and small seconds with stop-seconds, plus a rattrapante chronograph with a 30-minute counter.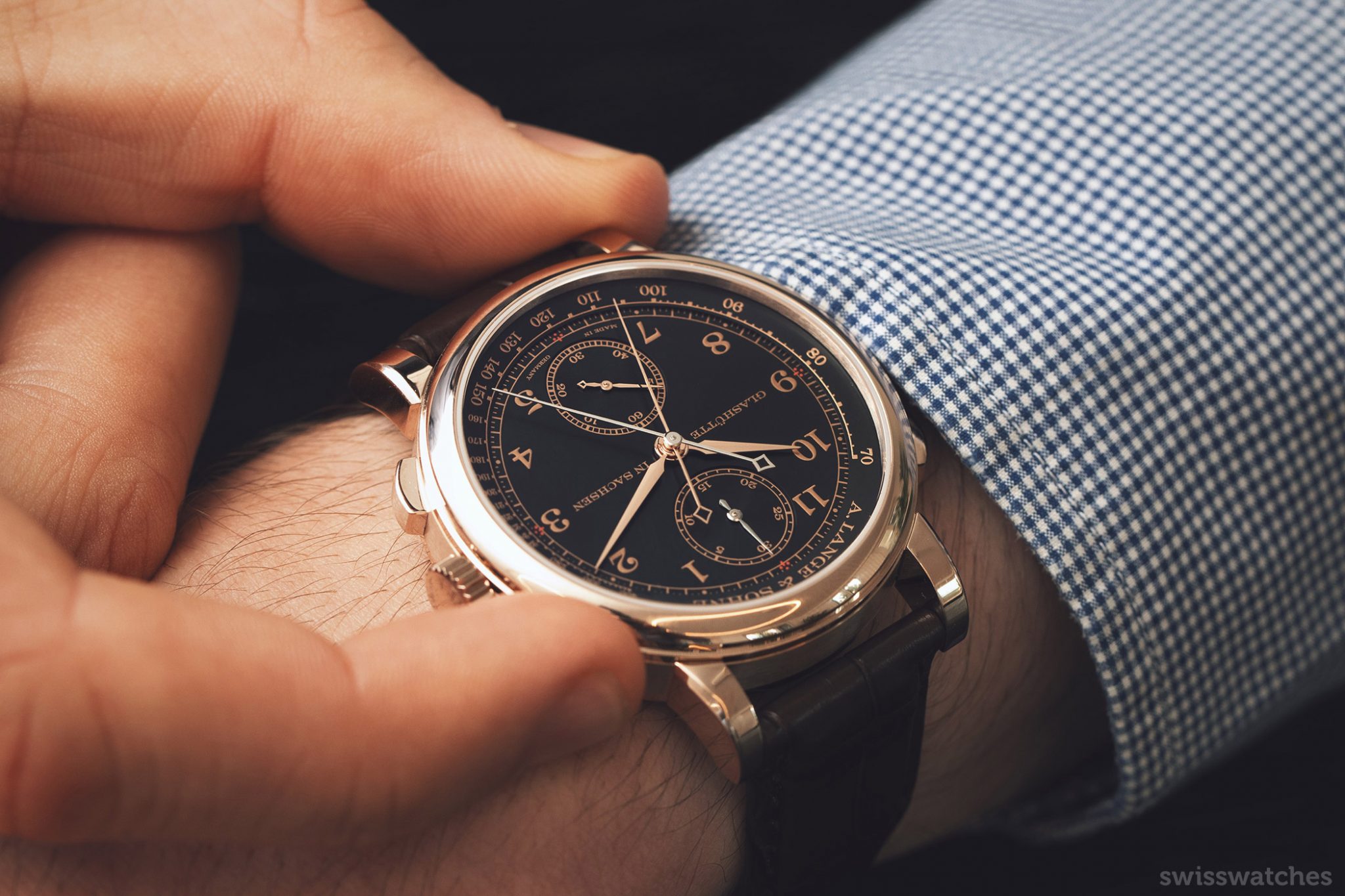 In my opinion, it is particularly pleasing that the subdials are also in black and are not highlighted in bright colors, as is the case with the Datograph Up/Down in red gold with a black dial. In addition, the subdials have been arranged vertically instead of horizontally, which makes the chronograph look less sporty, but significantly more elegant.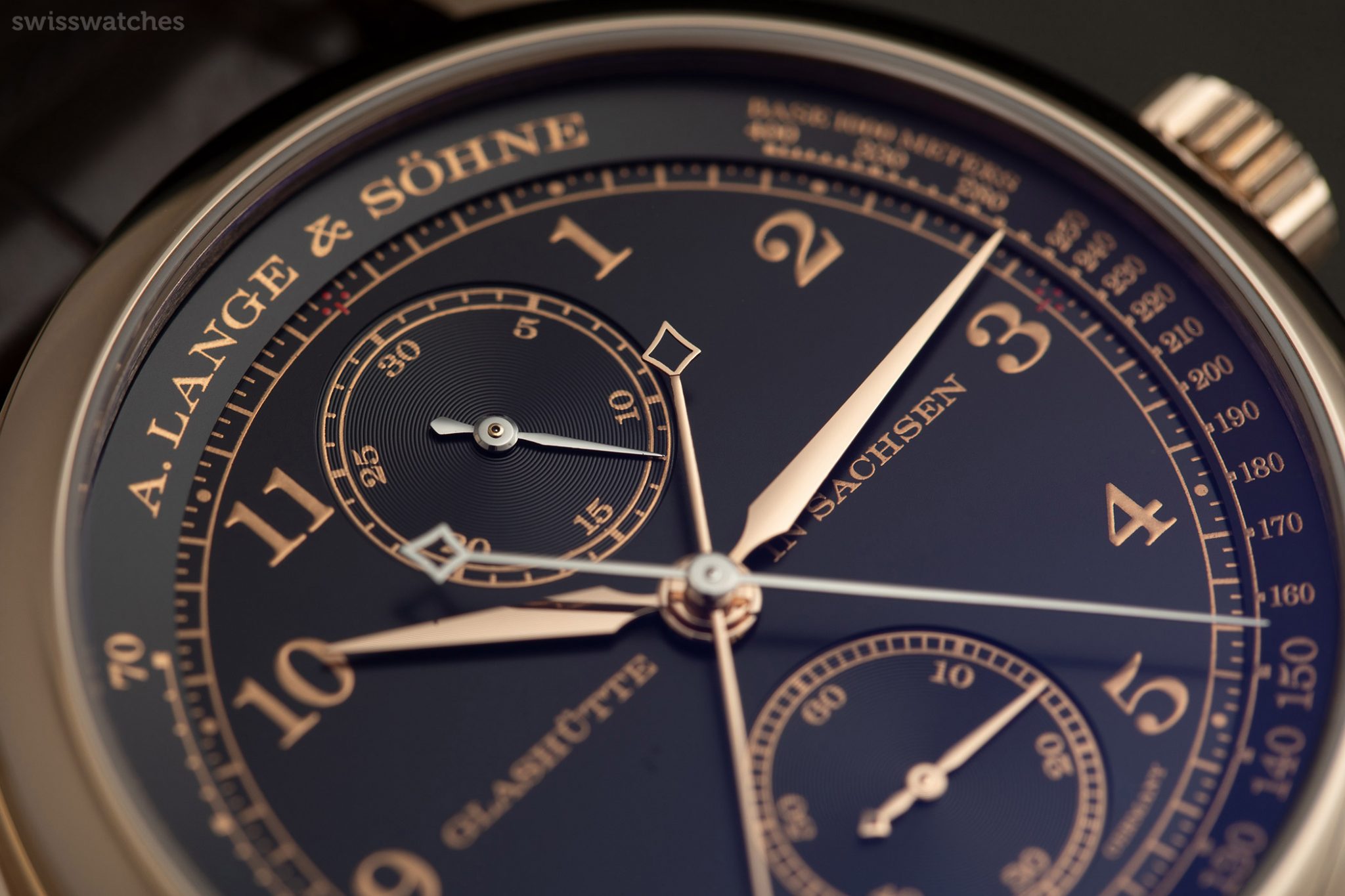 The chronograph hand at the bottom is made of red gold-plated steel, while the rattrapante hand at the top is made of rhodium-plated steel. The drag pointer for the second time measurement is operated by the pusher at 10 o'clock – a small detail that wearers generally appreciate. This is because the split-seconds function is often controlled by an extended pusher in the crown, which for some people diminishes the watch's wearability and comfort.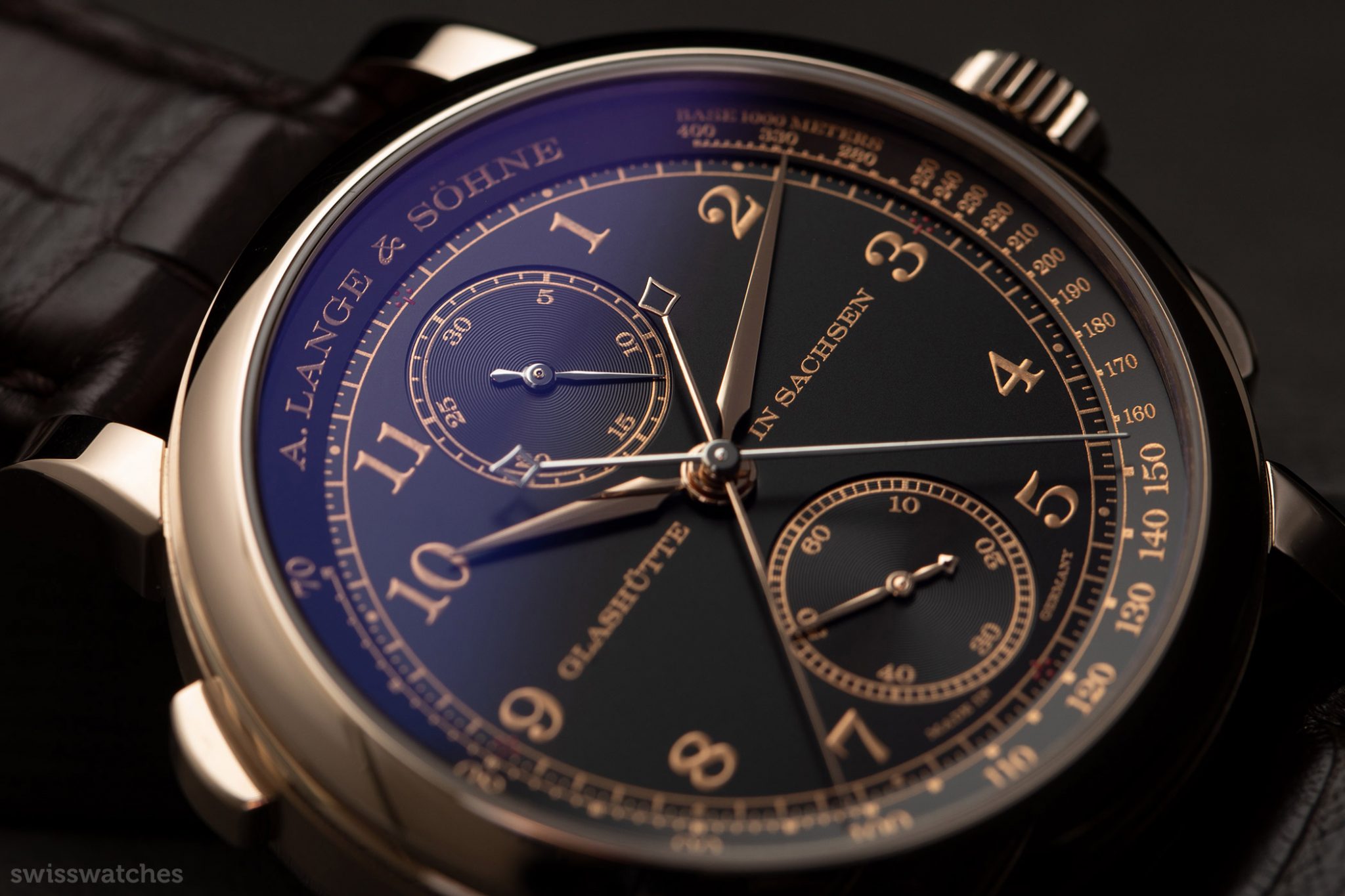 A subtle but unmistakable feature distinguishes the 1815 Rattrapante Honeygold "Homage to F.A. Lange" from the other two models of the trio. On the dial, the inscription "Glashütte in Sachsen" can be seen, commemorating a 175-year-old watchmaking past and its anniversary year.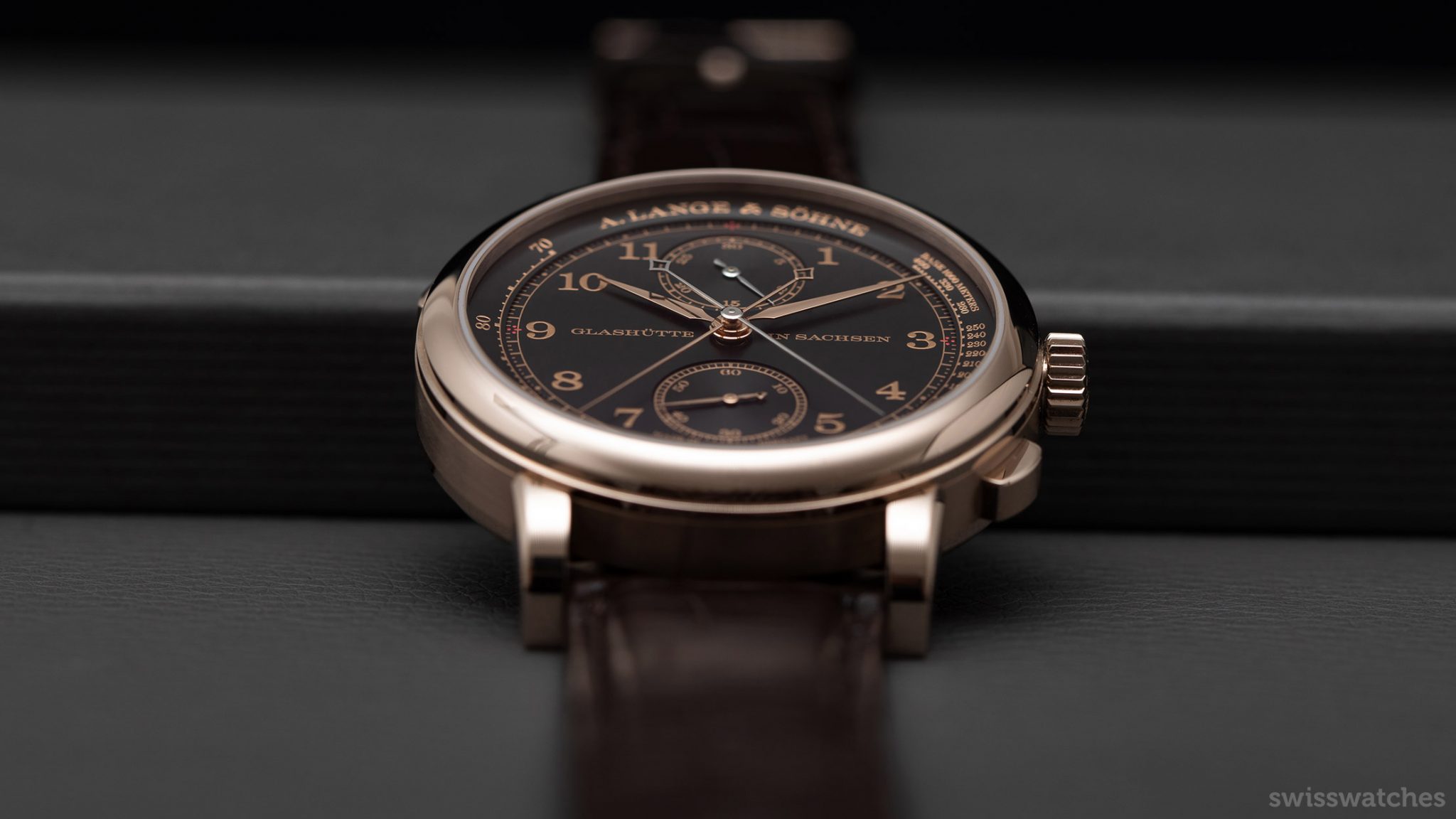 Lange Manufacture Calibre L101.2
Specially for the new 1815 Rattrapante Honeygold "Homage to F. A. Lange", the watch makers created the hand-wound calibre L101.2, equipped in the classic manner with two column wheels. To share some of the technical operations with its wearer, the column-wheels and rattrapante clamps, which fix the rattrapante hand during the intermediate timings, are beautifully visible through the sapphire crystal back. The typical Lange balance hairspring and shock-resistant Lange screw balance run at a frequency of 3 Hz (21,600 A/h) and offer a power reserve of 58 hours when fully wound. All 365 individual parts are assembled by hand.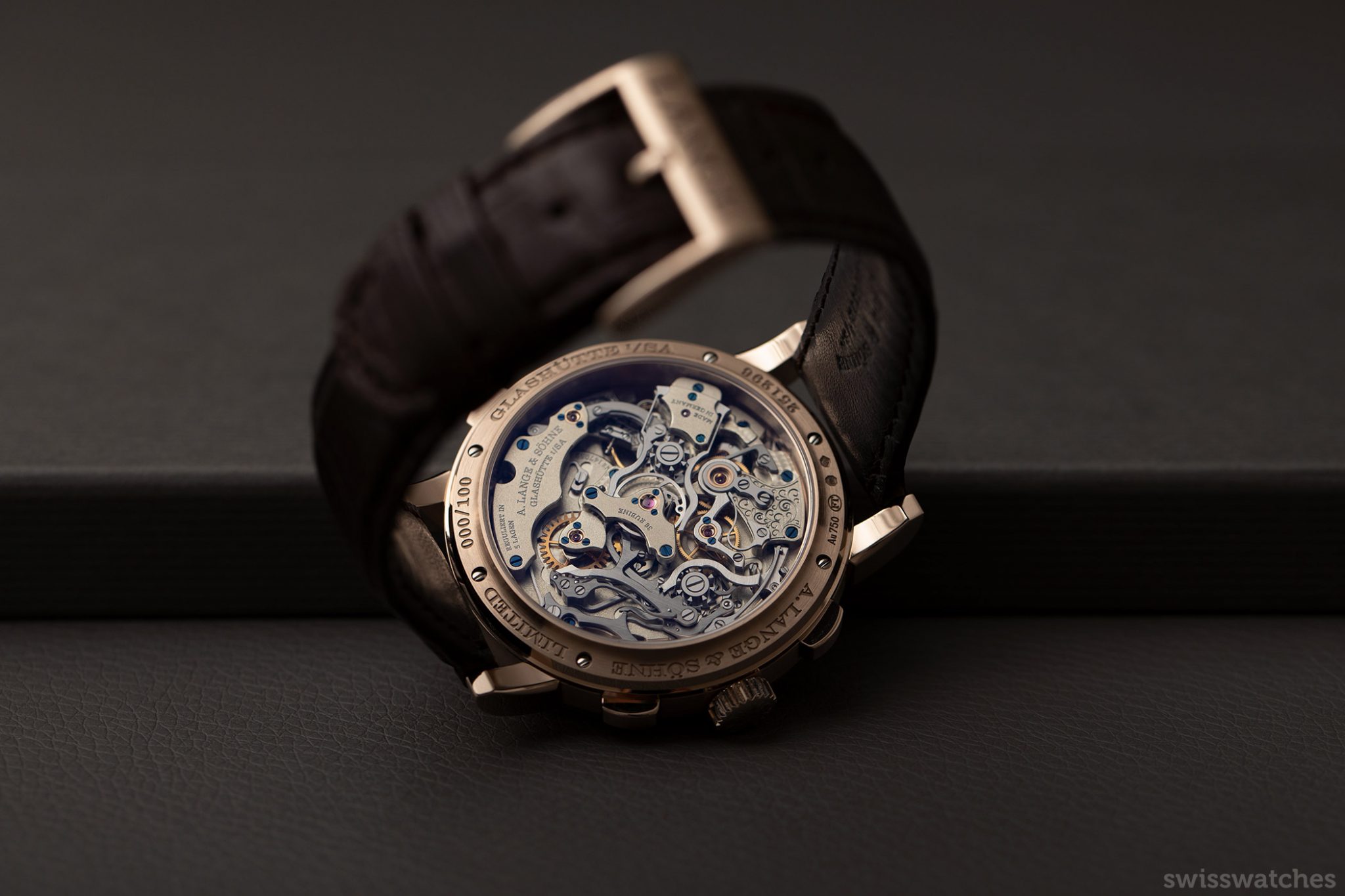 Lange Manufacture Calibre L101.2
Further development of traditional finishing techniques
The manufacture A. Lange & Söhne is known for its particularly sophisticated in-house manufacturing abilities. Consequently, the in-house calibre L101.2 has been manufactured according to the highest Lange quality criteria and decorated by hand. The raised nickel silver frame parts feature granular surfaces, while the chronograph levers, springs and latches are decorated on the upper side with a brushed finish and the surrounding bevels are polished. It is particularly difficult for the finisseurs to polish the acute-angled inner corners of the bevels.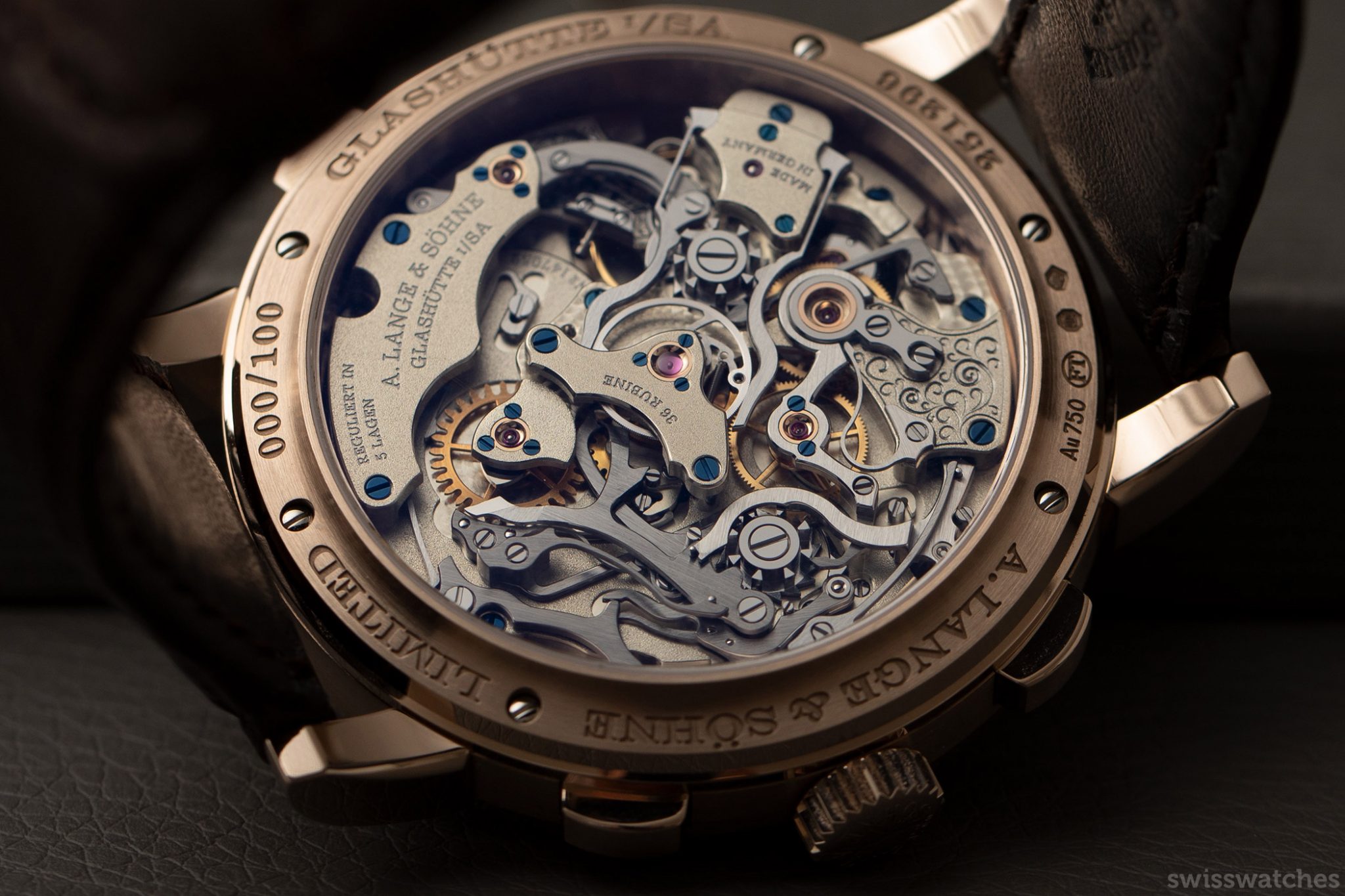 The balance cock and chronograph bridges are engraved by hand and the inscriptions on them are black-rhodiumed. Due to the dark color of the galvanic coating it gives the engravings a more vivid appearance. Instead of a classical perlage, the cocks and bridges' granular surfaces are like the historical watches, with the "Lange 1A quality" used as inspiration.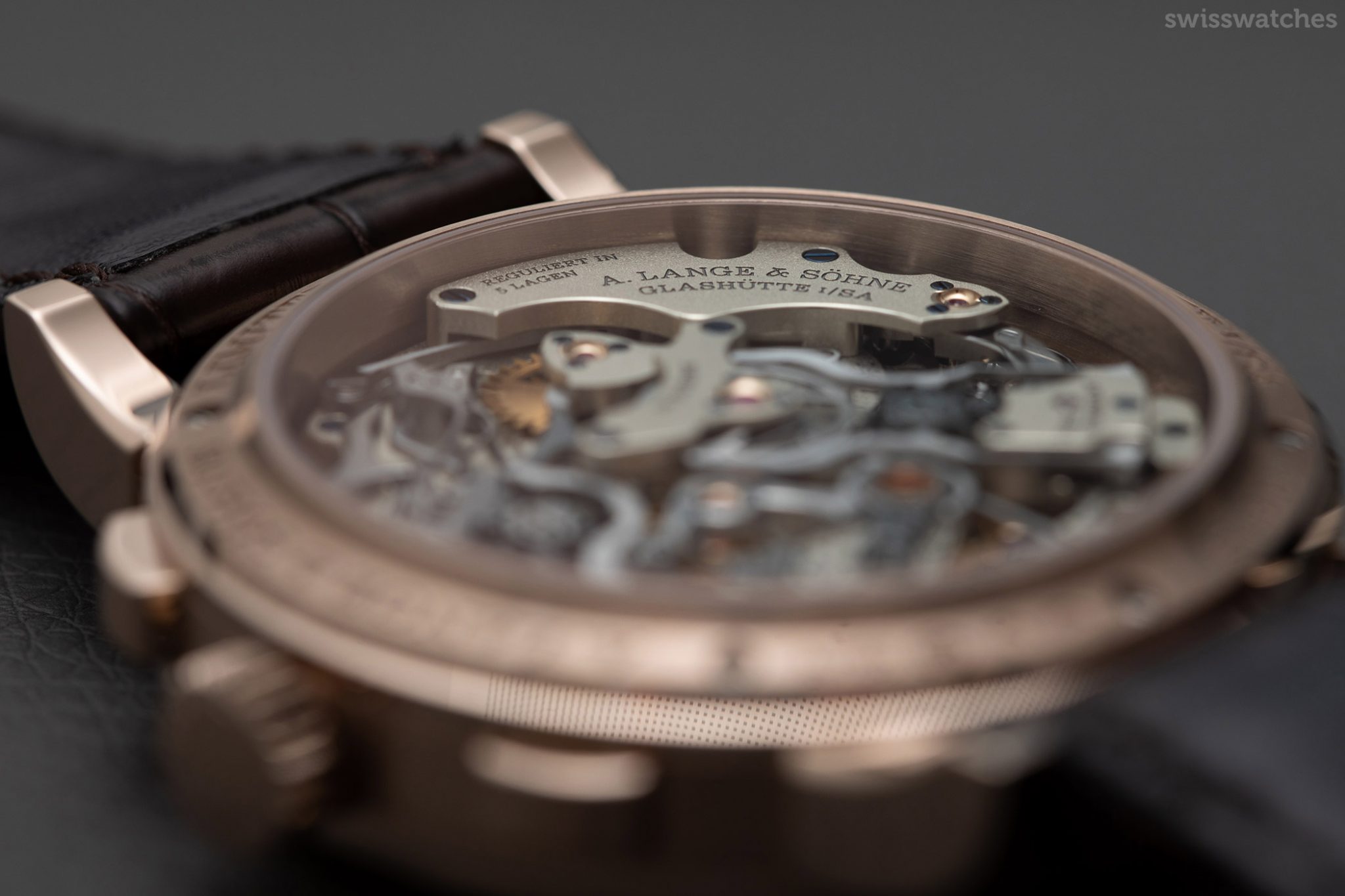 Even if the A. Lange & Söhne 1815 Rattrapante Honeygold "Homage to F. A. Lange" is aimed at only a small target group, given its 130,000 euro price, it is likely to seduce pretty much every watch enthusiast out there. The timepiece is almost irresistibly elegant due to the combination of honey-gold and black, the decorated movement is beguilingly stylish – playful but not exuberant with its drag pointer function – and finally, with a case diameter of 41.2 mm, it is perfectly wearable. For me, it's simply watchmaking in the most perfect form. The timepiece is limited to 100 pieces and available exclusively in A. Lange & Söhne boutiques.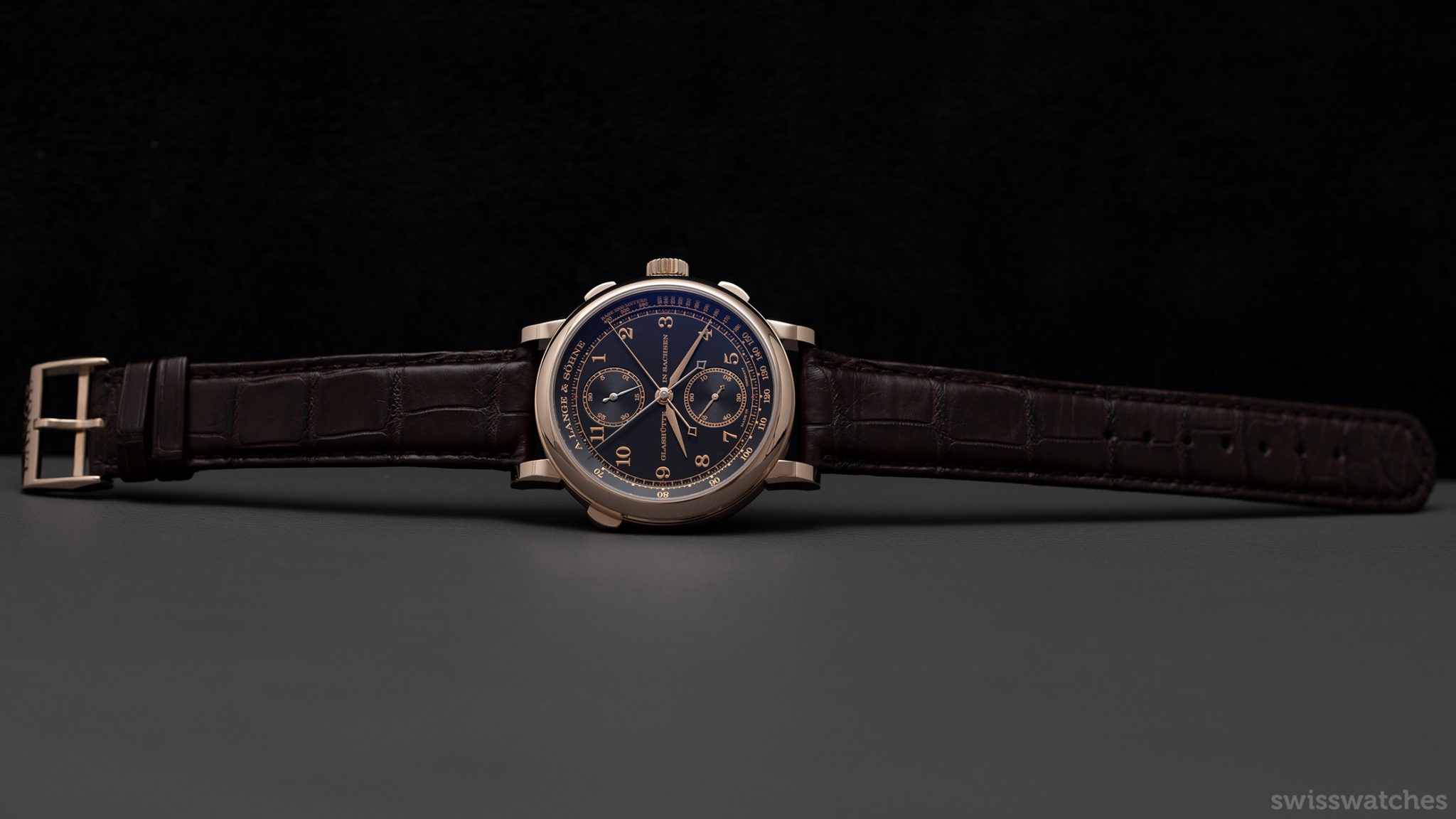 ---
---