Upon hearing the word Montblanc, not everyone automatically first thinks of its high quality wristwatches. This is no bad thing, says Nikolas Baretzki, who has been at the helm of the Germany's best known luxury manufacture since April 2017. Alongside its famous fountain pens such as the Meisterstück, Montblanc is a universe of luxury products, ranging from high-quality accessories to leather goods and luggage.
That's not to say – as the former international director of Jaeger Le-Coultre for over eleven years – that Baretzki doesn't know a thing or two about mechanics. But as the CEO of Montblanc, as well as the fully integrated Minerva manufacture, Baretzki also has to keep an eye on the bigger picture. What's more, as a holistic-thinking CEO of a luxury goods company, he couldn't have learned his trade at a better place than one of the best-known luxury companies out there. For four years, Baretzki served as the commercial director at Cartier.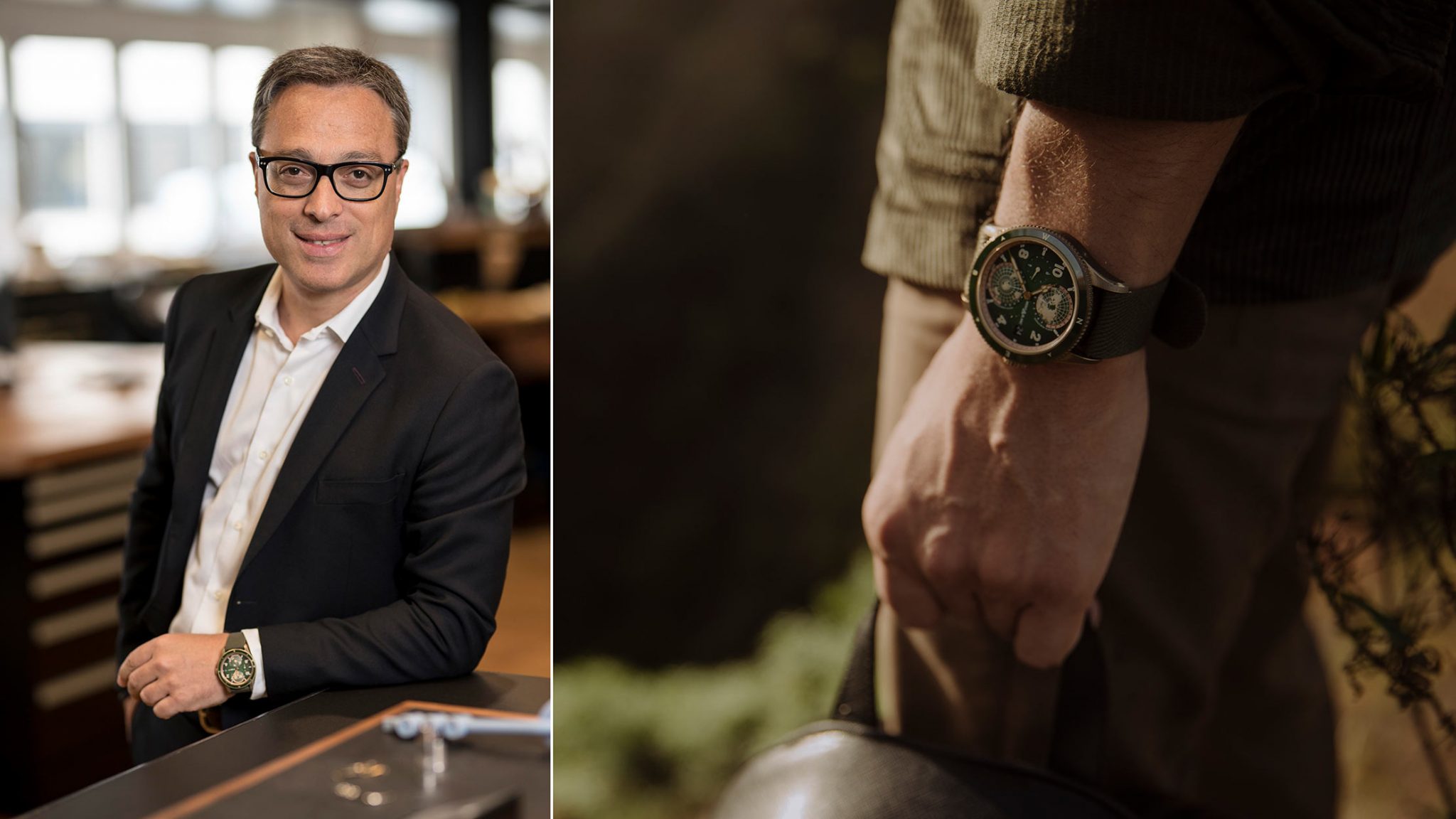 The current Montblanc slogan is "What Moves You, Makes You". But what really moves Nicolas Baretzki? Is he more enthusiastic about high-quality wristwatches or classic luxury? And why are so few people aware of the wonderful history of Minerva? These are all questions to which Swisswatches Magazine wanted answers. The answers we received demonstrate a commitment to fine watchmaking that will likely fulfil the expectations of the watch collectors of Montblanc today as well as tomorrow. In fact, the answers provide an insight into a real collectors' brand with serious potential.
---
What are your personal highlights from this year's Watches and Wonders in Geneva in terms of Minerva novelties?
Naturally, that is always a difficult thing to answer. There are no watches in the collection that I don't like – but let's take the model Montblanc 1858 Split Second Chronograph Limited Edition 18 in lime gold.
Today, I think that perhaps we held back too much in terms of the rarity of this model. However, we really wanted that perhaps only a couple of people in Germany, for example, then likewise just one person in Hong Kong, would be wearing this very special watch.
To develop such a unique 18-carat gold alloy for such a rare piece is also, I think, a major innovation. After all, do you know many other companies that are able to come up with their own gold alloy? There is perhaps one company with an "R" in its name that also has done something similar – but nevertheless, it is incredibly rare. In terms of limited edition models, I don't know of any others. These eighteen pieces will be out of stock extremely quickly.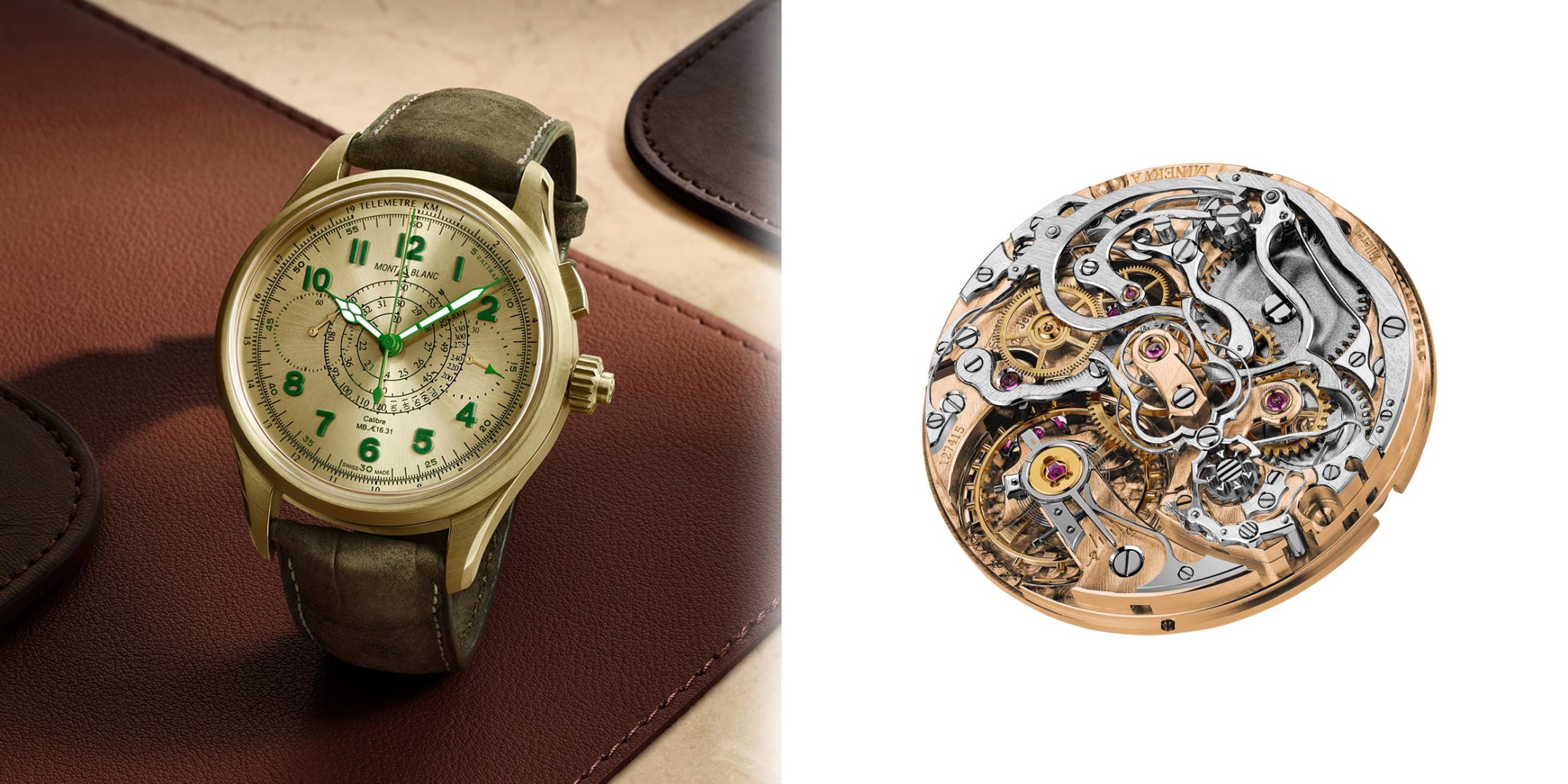 What makes Minerva watches – some of which come under Montblanc 1858, some under Heritage, and others under Star Legacy – so special?
With Minerva, it's really about always creating something completely extraordinary. It has been this way ever since the first collection in 2007. The new Pythagoras, the monopusher chronograph, the Exo-Tourbillon, or the Metamorphosis – of which there was also a new version to see at W&W – are each-for-themselves, exceptional watches that are also extremely limited. With the Star Legacy Metamorphosis, the collection with eight pieces is currently pretty tiny. Since 2010, the year of its introduction, this collection has sold out incredibly quickly. Furthermore, the pieces are practically nowhere to be found. Collectors call us up directly, but we have to hold them off until our next round.
In terms of price, the watches vary between 30,000 to 200,000 (for the aforementioned Metamorphosis. Who are these Minerva collectors? Montblanc fans or classic watch collectors?
Our customers really come from both areas. There are the classic Montblanc fans, who love our maison and know our writing products since forever. They also have an interest in the watches, above all because they treasure the savoir faire of the House of Montblanc. But when we take the 1858 Pulsograph with the Montblanc calibre MB M13.21 in a 40 mm case, we are speaking to customers of another order; first the chronograph fans, then fans of Minerva – of which there are many – and then, of course, the big watch collectors looking for rare pieces. But naturally, there are always Montblanc fans among them.
The term "manufacture" is very overused today. Which parts of your watches do you really make yourselves? How about Minerva in particular?
In every collection, we have three levels of in-house production. In the mainstream collection, we work with reliable but bought-in movements from Sellita or others that we then finish. On the second level, not only are all developments done in-house, but also, we combine foreign movements with complex, function modules – as with the Geosphere and its timezone slides. Then, we have our own Minerva calibres, which are 100 percent produced by us in Villeret. This is up to the level by which we even produce our own hairsprings. Thus, we are one of the few companies to master this ourselves. This movement is then, of course, built and tested out.

Even though we source our cases or straps externally, I know that when it comes to Minerva's movements, we easily rival any other watch manufacture in Switzerland. This is true only for the relatively small numbers of limited edition watches, but that's what collectors want: low quantities! As for the straps, we even have our own leather producer in Italy. For the Minerva watches, however, we mainly use crocodile straps, which we do not manufacture ourselves. In terms of quantity, we end up being tied down by manufacturing alone. With our current capacity and enormous demand on the movements, I couldn't have more than 100 monopusher chronographs made per year.
This year, you introduced a new watch movement – not a chronograph, but rather, by way of exception, a mechanical manufacture movement with small seconds. So what's the deal with this?
I love the Pythagorus calibre. I am a big fan. The beauty of it is just dazzling. The idea behind it was also clear; we wanted to offer watch lovers all the quality and beauty of Minerva already at a slightly lower price level.
Today, Minerva watches begin at just under 30,000 euros, whereas with the new watch, we start at under 20,000 euros. The movement also allows us to have a new base movement, so we can integrate new functions and complications into future models. At the same time, the history of the movement, which harks back to a famous calibre, is absolutely authentic.
But once again, what makes the Minerva watches so special? Also, why can't one find them on the website?
To answer the first part of your question – with Minerva, we work using an old principle; a watchmaker works on a watch from A to Z. This might not always be the most economical approach to creating a watch, but it's the way that we have chosen with Minerva. This is the absolute backbone that collectors can rely on with Minerva. Believe me, if you visit our museum in Villeret today, you will see around 1,000 different models. Such a rich history is rarely found in the watchmaking sector. There are then always two ways for us to implement it; more industrial or more artisanal. But all roots are firmly anchored in the history of Minerva.
As for the second question: we are currently working to overhaul our entire website. Yes, many of our high-end pieces are not online at all. This is also the case for rarer writing instruments, too. This year, we will change that, then the high-end area of Montblanc will get the status it has already held internally for some time. Up until now, the philosophy has been to keep these collector pieces somewhat secret. While that is understandable, we are living in different times now. These should no longer be secrets because the offer wonderful stories, which we need to get out there and tell people about.
In recent years, you have gone against the grain of the market and come up with your own themes, such as mountaineering in the case of your watches. Why this relatively sharp focus? Is this a clever marketing ploy?
In a saturated, crowded market like the watch industry, you very much need to have your own strong identity. We don't see ourselves as a marketing company. We simply love true stories. Mountaineering and Montblanc go together almost automatically when you consider why we are called Montblanc, or notice that we bear the five Montblanc glaciers as an abstract company logo: the star of Montblanc.
Likewise, the collaboration with Reinhold Messner, one of the most important mountaineers of our time, is absolutely authentic. By the way, the Reinhold Messner edition from last year is completely sold out. But there are also good technical reasons for the success of our watches in recent years. Our watches and dials have a very unique character, plus the movements are special.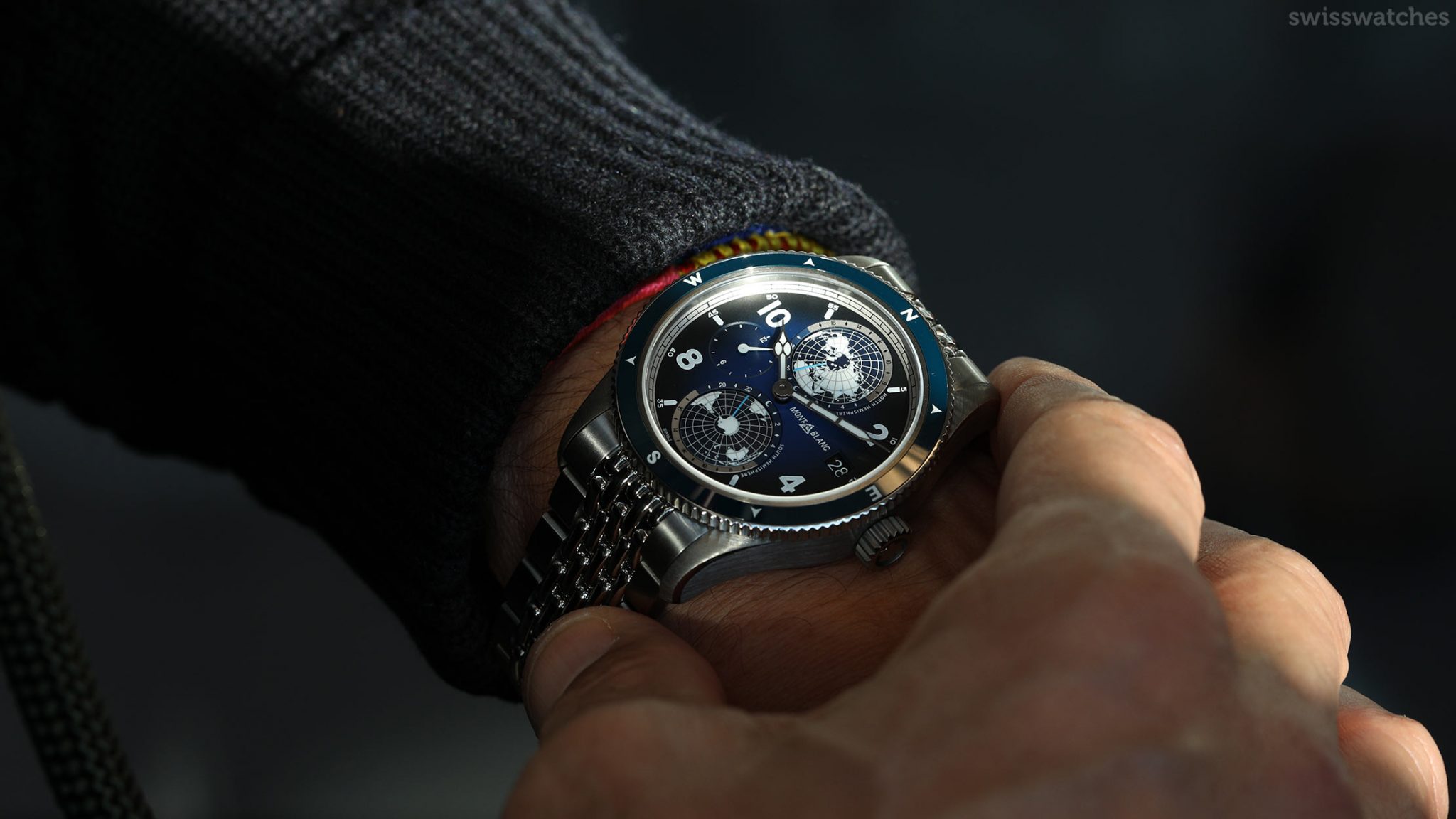 Take the Geosphere with its manufacture world time complication, with its unique form; two domed hemispheres rotate in opposite directions and complete a full rotation within 24 hours. Both hemispheres are surrounded by a scale with the 24 time zones. They provide an instinctive reading of the different time zones. Best of all, it was developed by the watchmakers in Villeret, again showing how closely Le Locle and Villeret work together.
My goal is very clear; people should desire the Montblanc Geosphere because they know they can't get it anywhere else. Also, nature and mountaineering are not only something that many are currently longing for, but will also play an even more important role for our company in the future. I am convinced that our customers will like this, too, because everyone can identify with nature and the mountains without having to bring along certain prerequisites.
These days, you can justifiably be described as the "German Louis Vuitton". So how can Minerva become the German Patek Philippe?
Thank you. I take it as a compliment when someone describes us as the German Louis Vuitton. First of all, I am convinced that it will be a great advantage in the future to be perceived as a holistic brand and not merely as a manufacturer of a specific category of products. It is very much in our interest to make the brand so desirable that customers first ask about Montblanc, and not just about watches. Don't forget that over the last decade, we have transformed from a manufacturer of excellent products to a global brand.
Our current slogan is 'What Moves You, Makes You'. With this, we look at things from the same perspective as the customer. We don't promise social advancement or something like that, but we do offer to accompany you on your next journey or adventure. We always want to offer everything available to customers as experts, with the greatest possible expertise. This includes watches, but also stationary, leather goods and even the new-tech products, as we call them, such as smartwatches or headphones. Here, too, the rule is that it always has to be the best technology available on the market – but customers also get a dedicated luxury product on top.
When one speaks with older collectors, the name Montblanc is still not in their minds – let alone Minerva. How do you want – and how can you – change that?
Yes, that's true. However, I don't need to convince either dealers or journalists of the fact that Montblanc is a true watch manufacture. That is already worth a lot in itself. But do we need to do this for everyone else? Definitely. This is because for us as a global luxury goods house, the directive is: strong pillars hold us up, and when we do build a new pillar, we 100 percent succeed. The history of Minerva and watchmaking expertise are the two most important anchoring points for future customers, in order to understand why we are a watch manufacture to take seriously.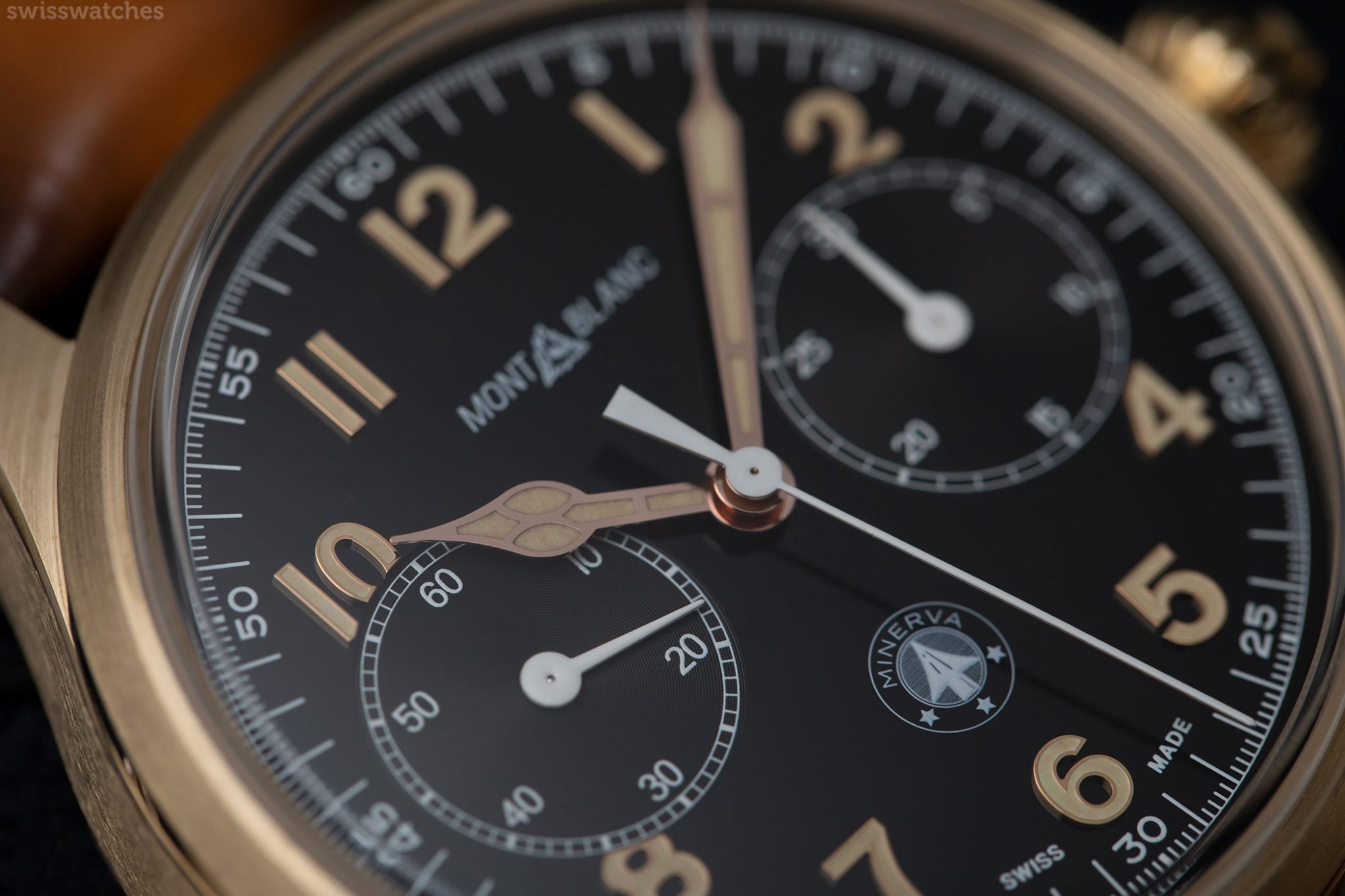 Thanks to Minerva's rich history, for example, what is currently called the vintage or retro trend is very authentic for us, and not simply a design gimmick. We bow down to our own history in this respect. However, our archives are so full of watches and writing instruments that you might think there's almost no need to be creative anymore. Therefore, in the future, it will be crucial to always pick the right exciting theme at the right time. It's also our job to explain to customers that we want to be among the best in the respective categories.
In doing so, we believe in the idea of a manufacture. This is something anyone can see at our headquarters in Hamburg, where our pens are manufactured. Our Montblanc House, which opens in less than a year, will hopefully prove this. Let us surprise you!
One obstacle for Montblanc watches is that you are a global luxury goods group. Which share of this is actually made up of watches? What are your most important markets? Could you potentially do without watches in the future?
As you know, we don't give out any numbers; the average number would be confusing for many. Why? Because we are an international company. As we began in China, we had watches, writing instruments and leather goods in our portfolio. When the Chinese got to know Montblanc, watches were naturally already present. Over there, one would not even consider Montblanc without thinking of its watches. In these dynamic markets, wristwatches account for a significant share of sales. Meanwhile, in our traditional writing instrument markets such as the USA, this turnover is lower. This is despite the fact that the watch segment is growing solidly right now. But in Korea, for example, we are extremely well known for our leather goods and do drive the market.
But regardless of where we are around the world, watches already make up about 20 percent of our sales. There is, therefore, no question as to whether we could survive without our watches. They are a key component of our company.
If the watches are so strong, could they not benefit from another extra push? Also, is not the gap between the entry-level segment and a watch like the Metamorphis, for a quarter of a million euros, too large?
First and foremost, my job is to make Montblanc visible as a Grande Maison, as large luxury houses are called in France. It's about representing a whole new universe, not just a small segment. Here at Montblanc, we have the one-off, historical opportunity to establish ourselves as such a luxury company. This requires a strong foundation, in both our mainstream and high-end areas.
Our Metamorphosis for over 200,000 euros is not something I see as contradicting an entry level model for 2,000 euros. Only large luxury companies are able to offer such a range in price. We are a very large, widely spread company. In my opinion, it also doesn't conflict with collecting watches, as it allows us to accompany fans throughout their lives.
An important man behind the watches, head of the Watch Division Davide Cerrato, left the company in January. Who will succeed him and what was behind this decision?
Yes – for four months now, we have had a new man behind the head of our Watch Division, Laurent Lecamp. He has an interesting CV, given he already founded and led his own watch brand. This means he understands all areas of a watch manufacture, from design, to production, to sales. Furthermore, the position we are talking about here at Montblanc is almost that of a second CEO. When you come to Minerva in Villeret, in addition to our headquarters in Le Locle, you have to be able to be very sensitive to the people. He also brings another good quality with him; he has a very strong sales background. He loves to interact with collectors and customers.
We definitely see ourselves as a local company with collectors, whether it's in China, India or Mexico. No matter where, it's all about what makes the top customer tick locally; what do they need, what do they want? This will become increasingly important in the future. It doesn't end with a beautiful design; in the end, the client is waiting for their own personal product. Lecamp's credo for the future of Minerva is that it's all about innovation, distinctiveness, as well as the brand's close emotional connection to customers, watch experts and fans. How can we stand out from the rest? This approach is the right way for Minerva and, of course, for Montblanc watches.
---
---