A couple of shots as a car backfires abruptly break up our interview. With a smile, Wilhelm Schmid apologises: "James Bond sends his regards." Next door, collector Fritz Burkard is showing off one of the most famous Aston Martin Coupés in the world: an original from the film set, a DB5, which was intended to promote the Bond film Thunderball. Welcome to the Concours d'Elegance, an exceptional classic car event held in the park of Hampton Court Palace, for which A. Lange & Söhne has now set up a pavilion for the fifth time. Fine automobiles and fine watches are a perfect match for Schmid, a private car collector himself. However, you can't build a brand philosophy on that. All the more so, however, when customers appreciate it. A conversation about a luxury market in upheaval, strategies for a niche brand, and the big question: what can we expect to see in the important anniversary year of 2024?
---
Which watch are you wearing today and why?
As CEO, I have the privilege of being able to choose a watch I can wear every day. But, of course, the availability is limited here as well. For the Concours today, I am wearing the Odysseus in white gold. As a sporty and elegant watch, it fits in perfectly with the ambience here, is wonderful to wear with the rubber strap and, with its white-gold case, there's something very noble about it.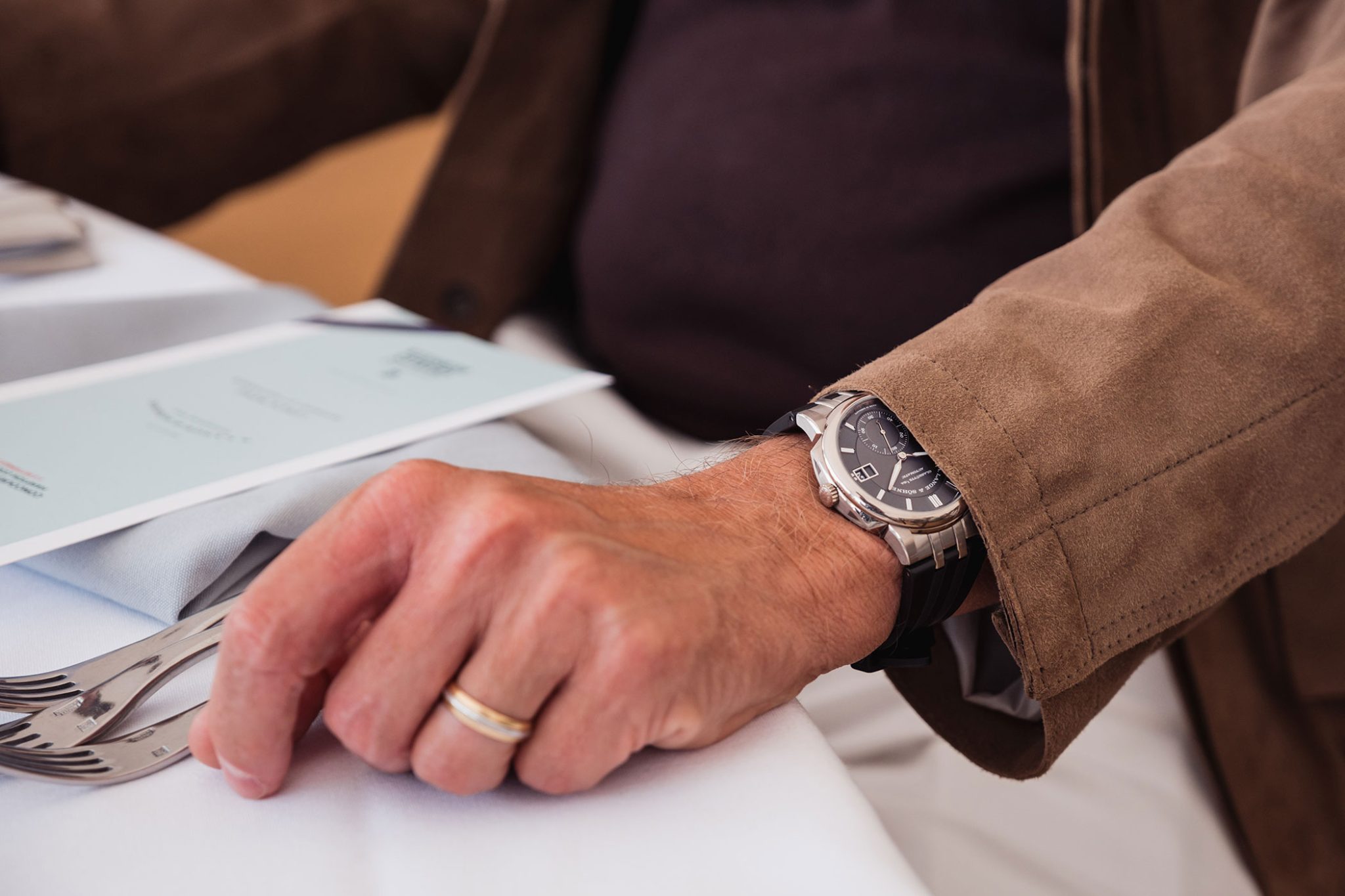 The global luxury market is in upheaval, as many top brands increasingly shift their focus to millennials and even Gen Z. I don't have that feeling at Lange – or is the view from outside deceptive?
Our focus has always been and will always be the collector. Whether they are 60 years old or 16 is not a decisive factor for us, even if the latter is rather unlikely. What matters is what we do, and that is what makes us different from everyone else. That said, you can't be in this business today without social media, and it should be possible to find us no matter where customers might be looking. And, of course, it matters whether you are communicating with a 60-year-old European or a 20-year-old Asian collector.
You have been with the company since 2011, long enough to be able to judge customer development at A. Lange & Söhne very well. How have your consumers developed?
To be honest, I can only answer that to a limited extent. When I arrived back in December 2010, we sold almost all our watches through dealers, and didn't even know who bought our watches in the first place, let alone why they bought them. Five years ago, we started to change that. I know that today, the largest percentage of our consumers by far purchase through our own boutiques. So, we now know exactly who buys which watch, when they buy it, and why. During the last five years, interestingly enough, little has changed from my perspective. I always have the impression that many retailers and manufactures understand customer relationships to refer to how they speak to their customers. For us, though, how our customers reach us is just as important. How can they find us? How can they communicate with us? We simply have much more knowledge about that today. I doubt very much that the customer is really any different than ten years ago.
I am convinced that we are a brand for people who have already been on a journey through the world of mechanical watches. These people have a certain idea about watches and want to get something for themselves, so I think the motivation is no different than it was five years ago. But maybe the path people take to get there today is different. What used to happen via special print magazines now happens via the digital world.
Besides consumers getting younger, becoming more female-friendly is a real challenge for many brands outside of the classic luxury brands. How will A. Lange appeal to women in the future? There is currently no specific ladies' watch at A. Lange & Söhne. What is the importance of women as a target group?
On this point, we are very clear: we do not build watches for age groups, cultures, tastes, or gender. We create watches that are in line with the respective watch collection, with A. Lange & Söhne, and our value system. Nor do we develop watches for tall or short men or slim or big wrists, as some brands do. Some of our watches are bigger and thicker because we have to fit all the parts of highly complex movements in somewhere, so that they work solidly and for a long time. Others are flatter because we simply have to fit fewer parts. To be honest, I am convinced that the basic idea of developing something only for women or for men is wrong.
Your big theme in 2023 is 'Uncharted Territories' – in other words, entering new watchmaking territory. Isn't that fundamentally the A. Lange mantra? What particular examples are you using to illustrate this?
We opened up a new playing field in 2019 with the Odysseus. We had said to ourselves that we would stay true to ourselves, and if we now exclude the handful of steel watches that were made in the 90s, we have historically largely stuck to precious metal, i.e. gold, platinum, white gold or our own alloy, Honeygold. That's who we are, and that's what we want to stay with. But if you want to remain creative as a brand and outside the norm, you need a playground – and that is the Odysseus. We can experiment with it, for example with steel, titanium, water resistance, and the rubber strap. But at the same time, we said we wanted to stay true to ourselves and not make something that resembles another watch of ours, only this time water-resistant and in a steel case. Rather, the goal was very clear: we wanted to develop it into a collection. Just as every Lange 1 or every Zeitwerk, regardless of the complication, it always looks like a Lange 1 or Zeitwerk at first glance. We have found a face for the Odysseus that is clearly recognisable, no matter which models are to follow.
On the other hand, you still don't have silicon hairsprings like Patek or Omega, and when it comes to case materials, others are more innovative, using the likes of carbon fibre or ceramics. This underlines your conservative approach. How do you interpret the term 'innovation' at Lange?
You can't do something new and not take a risk. But where we remain absolutely traditional is with the movement. In fact, we have become even stricter. We will question everything if we have to, but not our way of creating and developing watches. This will remain the case. But, of course, you can always add that extra innovative twist, e.g. a tourbillon that can be stopped, a tourbillon with zero reset. Perpetual calendars where all the display elements jump ahead at midnight.
There are already many areas in which we go the extra mile. And that, too, is innate within the brand and its new beginnings. Take, for instance, the chain-screw drive in 1994 or the big date from the same year. There are always areas where you can push boundaries without losing yourself. The important thing to understand is that we are not an industrial brand. What we do is manual work – and since you mentioned it: silicon components are not what our customers want from us.
Some colleagues in the industry were surprised that there was only one watch on show at the Watches and Wonders fair: the Odysseus Chronograph. It's a great watch – but why this reluctance to launch more?
We did this once. That doesn't mean we'll always do it. We like to remain unpredictable in that respect. But honestly, if you look at the watch you see on the screen here [the Odysseus chronograph, pictured in front of us on the outside of the pop-up boutique at Hampton Palace], what other watch should we have put against it? Why, after all, should we become our own worst enemy? It will take us a year before we even deliver the first watch of this model. Why do I have to put something against it now, which in the worst case no one will notice, be distracting, or even worse, be something we might not have been able to deliver on time! That would have made no sense.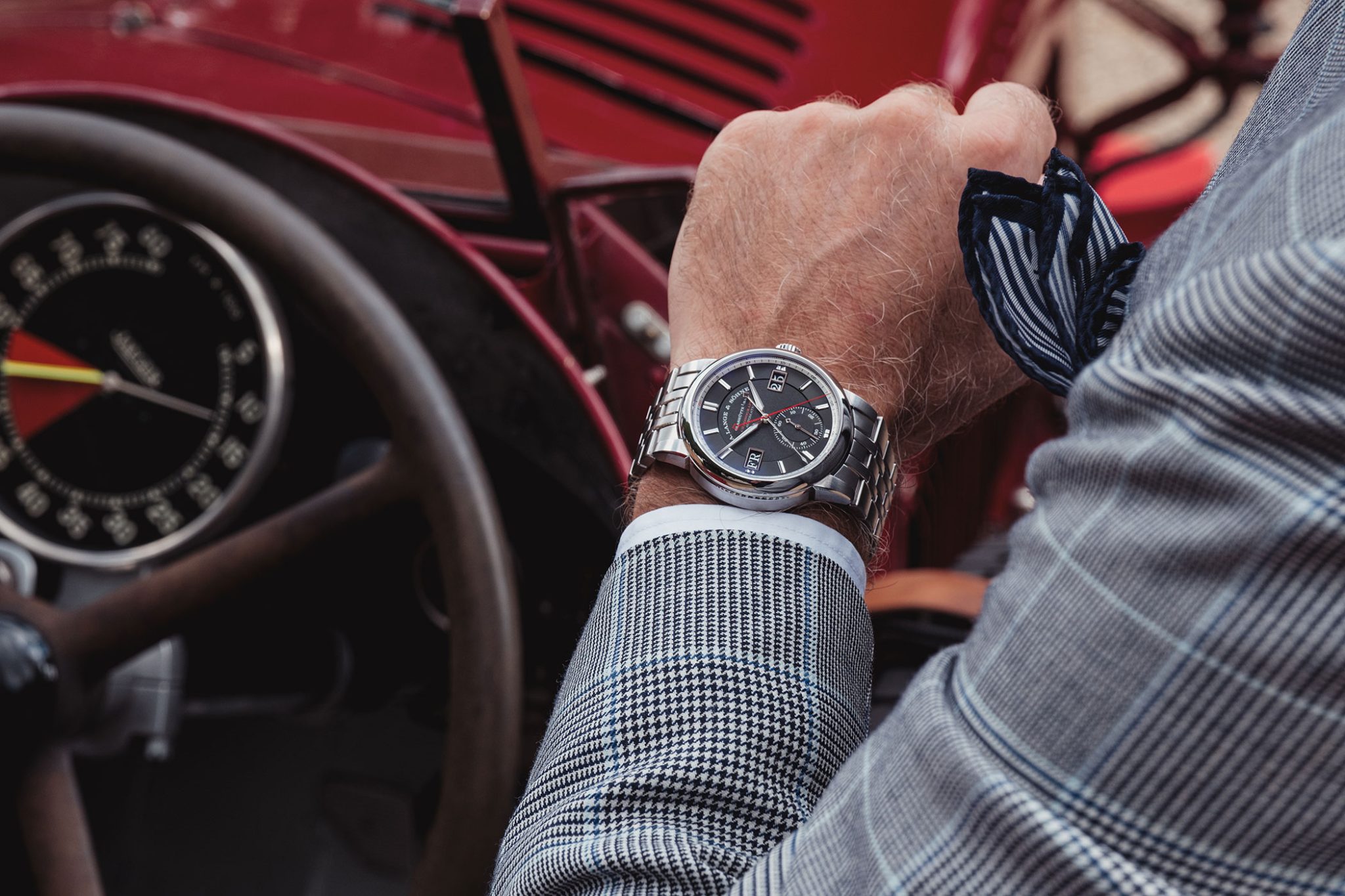 On the other hand, there is clearly a trend towards collections that are distributed throughout the year.
But we have been doing that for a long time – we started to introduce new models throughout the year back in 2019. Of course, we have to focus on the most important trade fair, Watches and Wonders, because the watch industry simply gets more attention during this time. But you also need enough events during the year to reach and inspire your customers. No company can afford to say that every twelve months a train passes by its customer's house, and if he misses it, it's all over. That is the reason for this change, at least for us.
You have been massively pushing the boutique business for a few years. You currently have over 47 boutiques worldwide (28 own, 18 external). In 2022, your own boutiques opened in Frankfurt, Berlin, and Zurich. The next boutique openings are planned in New York, San Francisco and Paris. How do you make the strategic decisions for a new location?
We have actually just opened New York. In terms of strategic decisions, there is always a combination of several factors. We are now broadly present in America. There are markets like Singapore and Dubai that also need to be occupied. These are markets that have a strong local clientele on the one hand, but are also important in terms of tourism. The same also goes for New York, although this is mainly American tourism. The basis for our business decisions is always: if no one can travel, then the city still has to be strong enough for the local clientele to support the business.
In what areas can your boutiques still improve? Doesn't the customer also like to have a choice? And why are you cutting back on collaborations with well-known retailers? Is this going to continue?
If you look at multi-franchises in detail, you'll see that in pre-internet times, when you didn't live in a big city, watch buyers and local dealers formed a community. You also bought your car or had your washing machine repaired at the local dealer. But those days are over. Today, when someone spends as much money on a wristwatch as ours cost, the likelihood of an impulse purchase is pretty low. Nobody goes into a shop and says: 'I have 50,000 euros. What can I get for it?'
And how do they decide whether to leave or stay with a dealer?
We go down until we have enough watches at the points of sale that are left. It must not happen, as it is happening to some at the moment, to have great shops yet no products. That quickly creates the impression of a culture of arrogance towards customers, which no one wants.
You said in an interview in spring that you cannot build more than 5,500 watches per year. But why can't A. Lange & Söhne build 10,000 watches?
Because unfortunately, our employees cannot work more than eight hours a day in the long run. And since we really do finish and assemble everything by hand, that's just the way it is. Our growth is determined solely by how many people we can get trained. We have just taken on 21 new apprentices in August. It takes three years for them to pass their exams, then another year and a half on average until they can be fully employed. That way we can grow healthily. Yes, we could run the machines longer to produce the raw parts. But that doesn't help us if we can't find someone to finish the parts later or if there is no pre-assembly. The way we build, design and develop watches simply requires smaller quantities, even with overtime.
Your prices range from a Saxonia at 24,500 euros, to a Tourbograph Perpetual Honeygold for over 500,000 euros. Can this broad range be maintained in the long run, or will Lange's entry-level prices become higher in the future?
The entry-level price range will inevitably be reduced, for one simple reason – and please forgive me now, but I am also a businessman. Selling complicated watches is much more sustainable in terms of customer loyalty than simpler models. There is no question that we will always make watches with simple functions. We also need simpler watches that are equal in quality to the very expensive ones, but simpler in terms of mechanisms, so that new watchmakers can develop their skills. But our journey is clearly moving towards more complicated watches. The supposedly simple models may well become considerably more expensive than what we are asking for today.
Where do you see trends for the future of fine watchmaking, in a time when even Rolex is now making its movements with sapphire crystal casebacks and elaborately finished movements? Doesn't that alarm you, even though it's a very different brand?
All I can ever say is, 5,500 watches, 600 people. So much handiwork goes into every single one of our watches. Why should I be afraid if someone tries to do the same with machines? No, seriously – I know that independent brands can do what we do. But I also know that there are not so many players on the market who can achieve this level of finishing and then come up with comparable quantities. I see a natural limit there.
Lange has held back with steel so far. Now, the Odysseus has appeared in a titanium case. Are you considering any other materials? What are your thoughts on the boom of using ceramics and carbon fibre or even rarer precious metals as watch materials?
I would say now, in the spirit of the James Bond Aston Martin here beside us: never say never. But in the foreseeable future, I think we are very well positioned with titanium and steel and of course our own alloy, Honeygold. A lot would have to happen for us to say that we have now worked our way through it.
What lessons did A. Lange & Söhne learn from Covid?
Time has given us the opportunity to transform as a company, and to speed up our processes significantly. We had to engage directly with our customers and bridge distance through digital meetings. That changed the whole company. We knew we couldn't rely on commerce. We had to do it ourselves. A lot of it was painful, but in the end, it was good and right.
One example that has inspired me, and is truly exemplary for A. Lange & Söhne, was our presentation of the 175th anniversary collection on 24 October 2020. The first dials for the Tourbograph Perpetual "Pour le Mérite" were supposed to come in April 2020, in the middle of lockdown. Nothing came. Then we said: Let's see how we can do it; the team can create a dial that is better than anything we could have ever bought. It made me realise once again what infinite know-how we have in the company, which can be called upon just like that when it matters. It was a very uplifting moment when our chief developer, Anthony de Haas, came to me with the dial for the first time – and it was just perfect.
We are at an automobile event today. Why does this automotive theme work so well for Lange?
Careful – we are at a Concours d'Elegance. That works well – not cars. There's a big difference. We don't do car races, either. What we have here is art on wheels; at A. Lange, we have art on the wrist. That's the connection. All of the cars we see here are not industrial products. They are all shaped, refurbished and repaired by people – people who are hard to find today. Of course, with these cars, history is also important – as it is with us –, as is the idea of remaining true to oneself. In the end, of course, the whole setting here is also very appealing.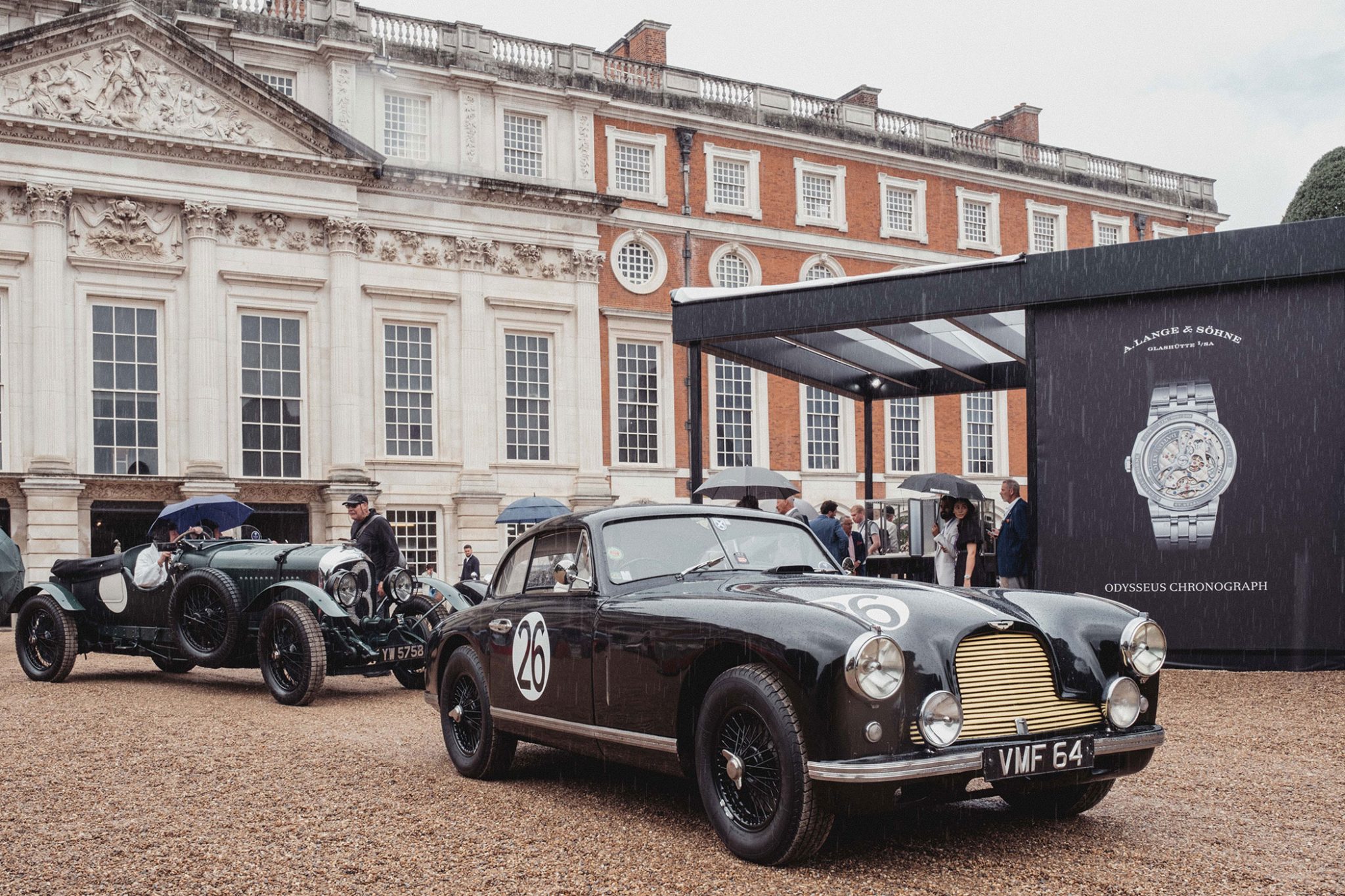 And this despite the fact that there is no evidence of an automotive reference by A. Lange & Söhne. To this day, they have not cooperated with any car brand…
That is a relatively simple question to answer: we don't have any brand ambassadors, and we don't do any collaborations.
Have there been many offers so far?
A lot – also from really top brands. Unfortunately, I'm not allowed to name names. But it's just not for us, and it just doesn't suit us.
Next year, there are a couple of not entirely unimportant anniversaries coming up. In fact, there's a very important one happening. What is your approach to such big anniversaries and how long do you work on them for? Do you feel a lot of pressure? The Odysseus chronograph is sensational as the first in-house chronograph with automatic winding, but obviously not quite worthy for the anniversary.
We know when these dates are coming up. It's not something that comes overnight. Just allow yourself to be surprised!
The famous Lange 1 is obviously the ultimate manifestation of the brand. It is certainly also the bestseller; can you tell our collectors what could still be improved on this watch?
I don't know. There was a reason that we said, back in 2015: "The movement is now 25 years old and today we know more than we did back then – and today we can also do things ourselves that we couldn't do back then, such as our own balance spring. But there's a reason why we didn't touch the design, not even in the dimensions." That actually explains everything: technically improved, but we left the rest as good as it already is.
In terms of sales volumes, the order for you must be Asia, North America and then Europe…
Careful – because we have waiting lists everywhere, there is no clear ranking. The turnover depends on where we send the watches. To outsiders, it looks as if this or that market is stronger, but that impression is deceptive.
If you were car manufacturers, you would now start building models to appeal to certain tastes. How do you manage to maintain the Lange design so strictly?
As I said at the beginning, we don't design for gender, cultural areas, or tastes. We have six watch collections and we develop everything that fits into these six product lines in a way that is coherent from our point of view.
You are extremely committed to the automotive sector. We heard that next year there will even be the first German Concours d'Elegance, taking place at Lake Tegernsee in Bavaria.
Small companies have to focus. If you start doing little things everywhere, you won't be particularly good at anything. You have to be honest with yourself and accept you are a small company and can't do what the big ones do. We don't do it with watches, either. Why would I have to be present everywhere when we only produce 5,500 watches? I think that by now, we have acquired a reputation in this field that makes us interesting for the right customers, for the participants of events like this one, but also for the organisers behind it – and that is decisive for me.
You have now been with the company for almost 13 years. What is your interim balance? What prospects do you see for the future of Lange – and for yourself personally?
I am someone who rarely lives in the past. I'm only interested in the past to the extent that in some situations, I think about whether I've encountered a similar problem before and how I managed that past situation. The transformation we have initiated is not over yet, and we are working on it every day. We are currently working on the further development of our strategy, because a good strategy never stands still.
As an entrepreneur, what concerns Wilhelm Schmid about the future?
I have a concern that really moves me. I just spoke about the 21 young people who are currently coming to us for training. My job is to set up the company so that there is always enough work for these people. What are watchmakers supposed to do if we don't ensure that mechanical watches remain relevant and that the market remains large enough, especially for a small manufacture like A. Lange & Söhne? That is what concerns me and my entire management team. Walter Lange always said that the worst moment of his life was the great recession of 1929. There was no more employment for the people who had worked at Lange. That was a long time ago, but no one wants to relive such a development.
How would you explain the enormous popularity and interest in the world of mechanical watches, especially in recent years?
Of course, the internet has helped a lot. Today, everyone can find information more easily and, above all, more quickly. Access to information, especially specialised information, is extremely simplified compared to 20 years ago. That makes a big difference. The first watch magazine came out in 1989, I seem to remember. You waited until the next one came out. In the meantime, you could browse through it, and that was that. Today, you can go on the internet every day and visit your favourite blog every day. In addition, you can see the development of the value of models, and you don't miss any news from your favourite brand. You can keep yourself busy with mechanical watches 24/7. Plus, many wealthy people have much more free time today.
---
---