Let's start with the obvious, basically there, where this story will eventually end: the name of this special edition? It's problematic. The new "Pride of Germany" – that sounds like a cruise ship christening at best. At worst however, the combination of 'proud' and 'Germany' leaves room for discussion in this country, due to very different but partly very good reasons. The predecessor editions from Audemars Piguet, amongst them the "Pride of China" and "Pride of Mexico" as well as "Pride of Indonesia" didn't have to face this discourse.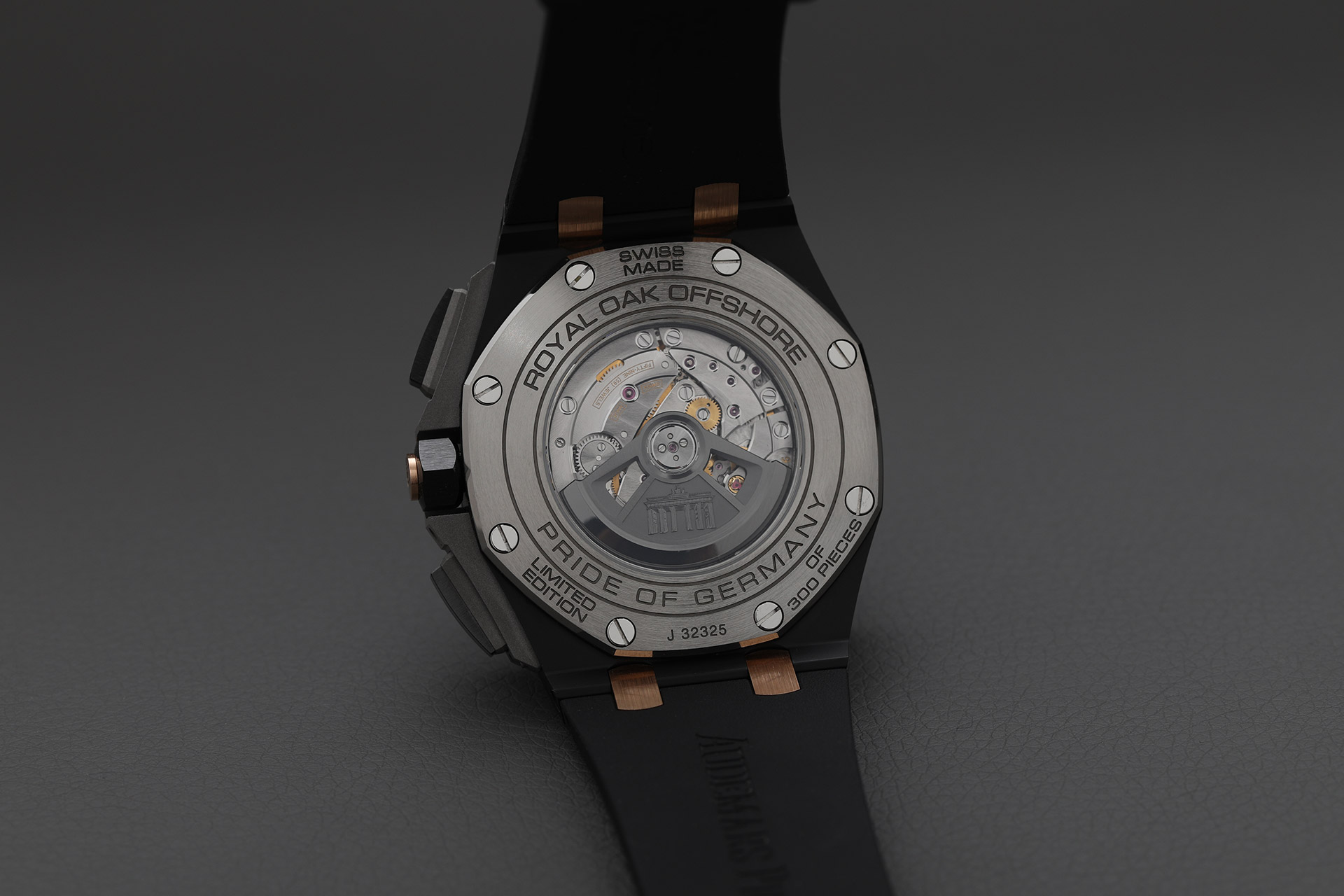 Audemars Piguet Royal Oak Offshore 'Pride of Germany'
At this point, everyone may take a deep breath if necessary, before even our passion for watches starts to turn into a political-correctivated issue. We are writing about Audemars Piguet: The manufacture from neutral Switzerland. And the Royal Oak Offshore is a Chronograph-made group discussion anyway – in any possible execution. A timepiece that polarizes. You go into a bar with this watch and ask: "Who likes it?"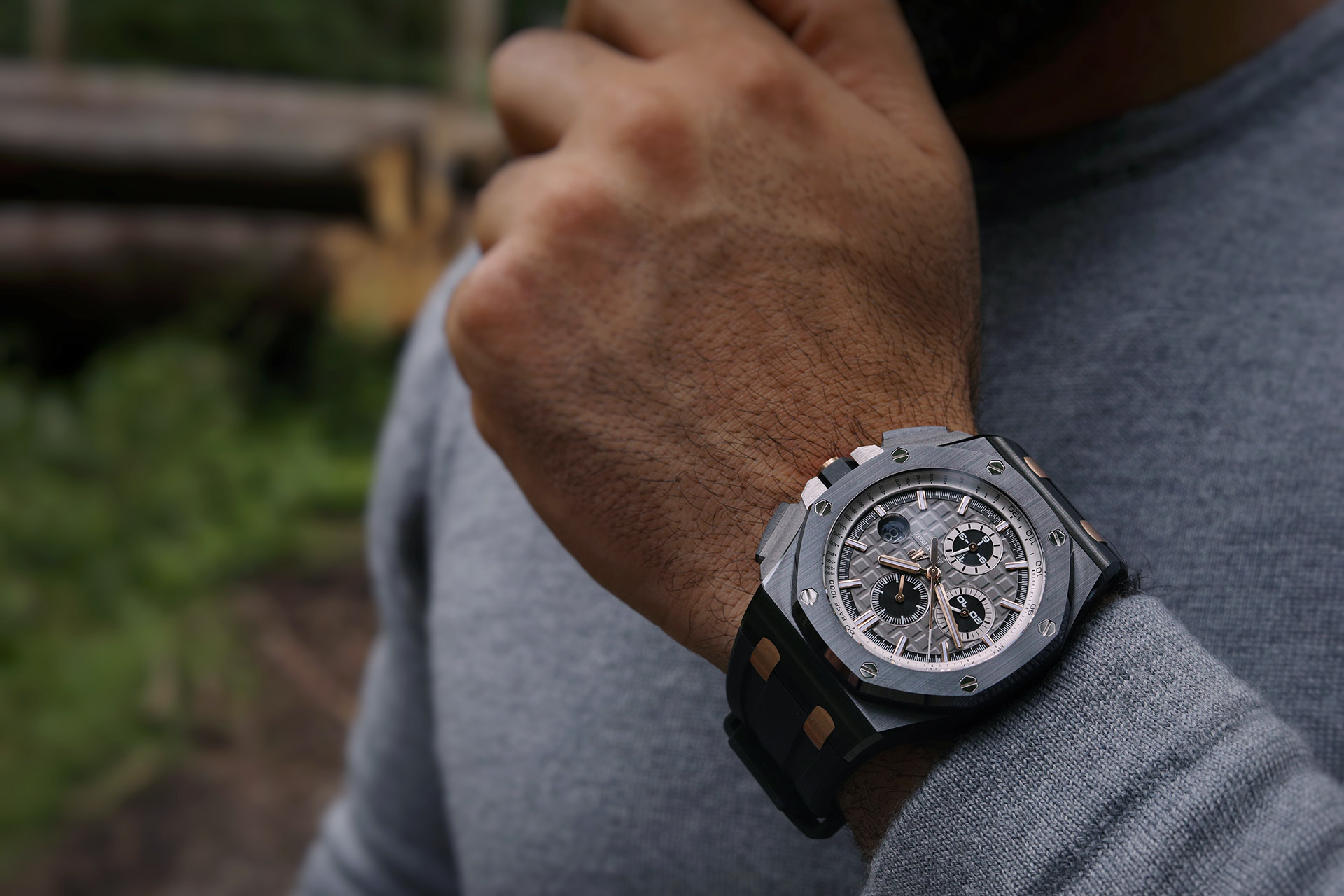 A timepiece that polarizes – Audemars Piguet Royal Oak Offshore 'Pride of Germany'
Normally there will be silence. Because they love this watch. Or the opposite. But simply 'liking'? That's not what the Royal Oak Offshore deserves, because it stands for so much passion and it attracts so much attention.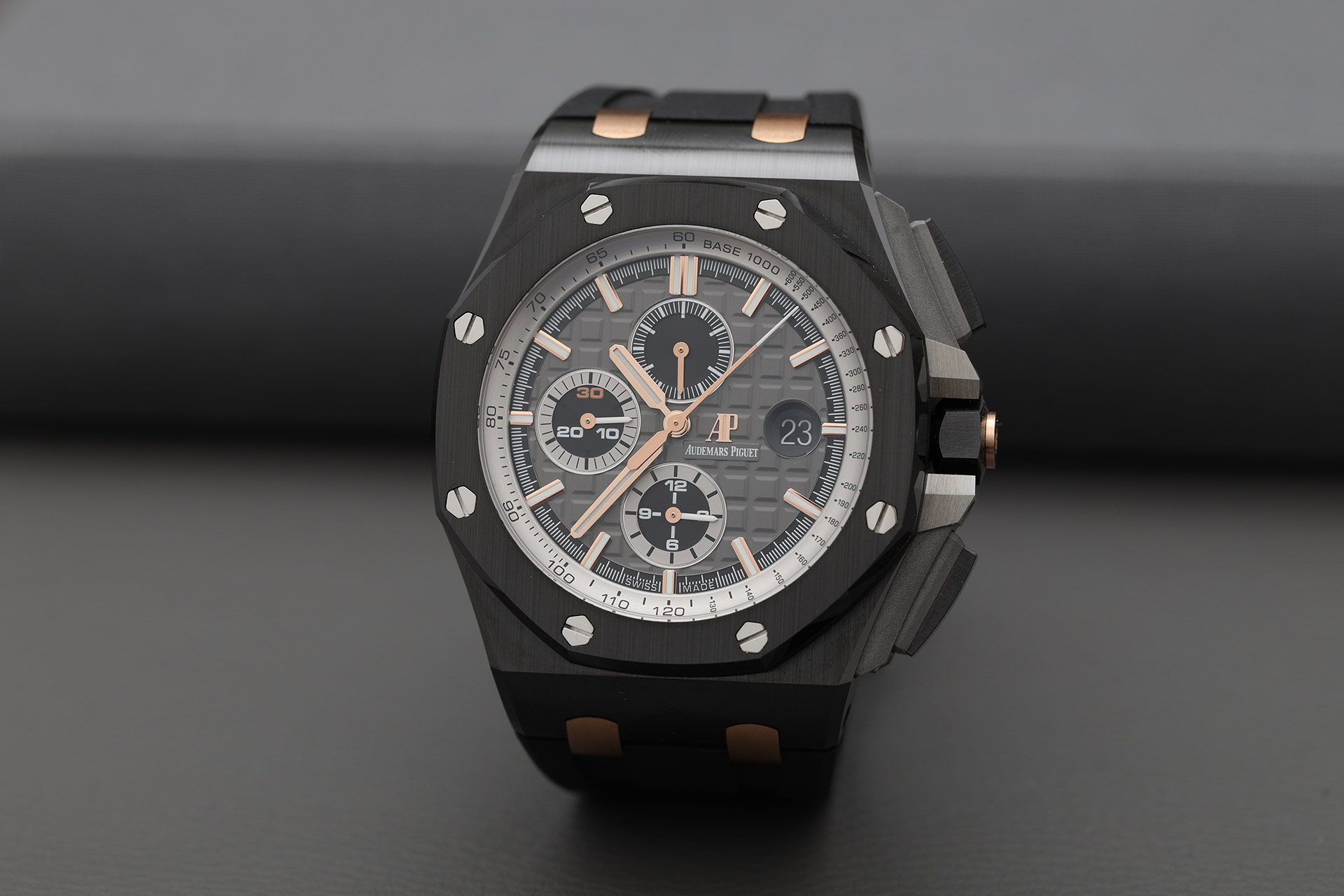 The case of this 'Pride of Germany' is made of black ceramic
So, this Audemars Piguet Royal Oak Offshore Chronograph 44 "Pride of Germany" Limited Edition comes 13 years after the soccer world championship's summer tale, and just in time for the 30th anniversary of the fall of the Berlin Wall. It will be available at AP-boutiques, Rüschenbeck and some others. Then again, seven years have passed since the author of this article nearly bought the DFB-limited-edition, a IWC 'Big Pilot' dedicated to the soccer European championship in 2012.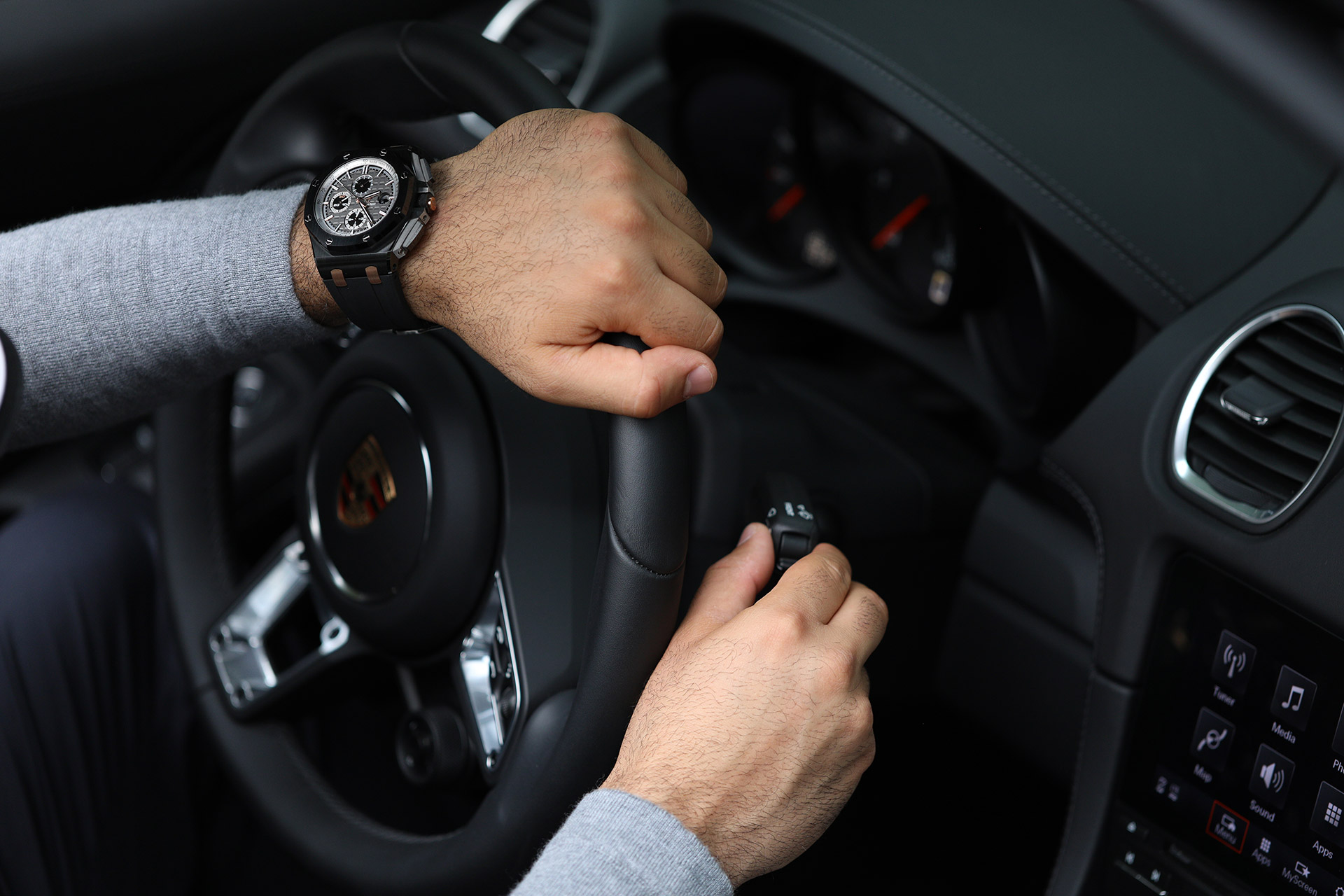 So, the idea of a Germany-watch is more than familiar to us. It is cherished. Also, the Nomos special edition "Orion 1989" in 'November-grey' to celebrate the 25th-anniversary of the fall of the Berlin Wall is just stunning. These watches have so much charm and character. Because they are made with the love for detail, instead of being simply coloured in black-red-gold.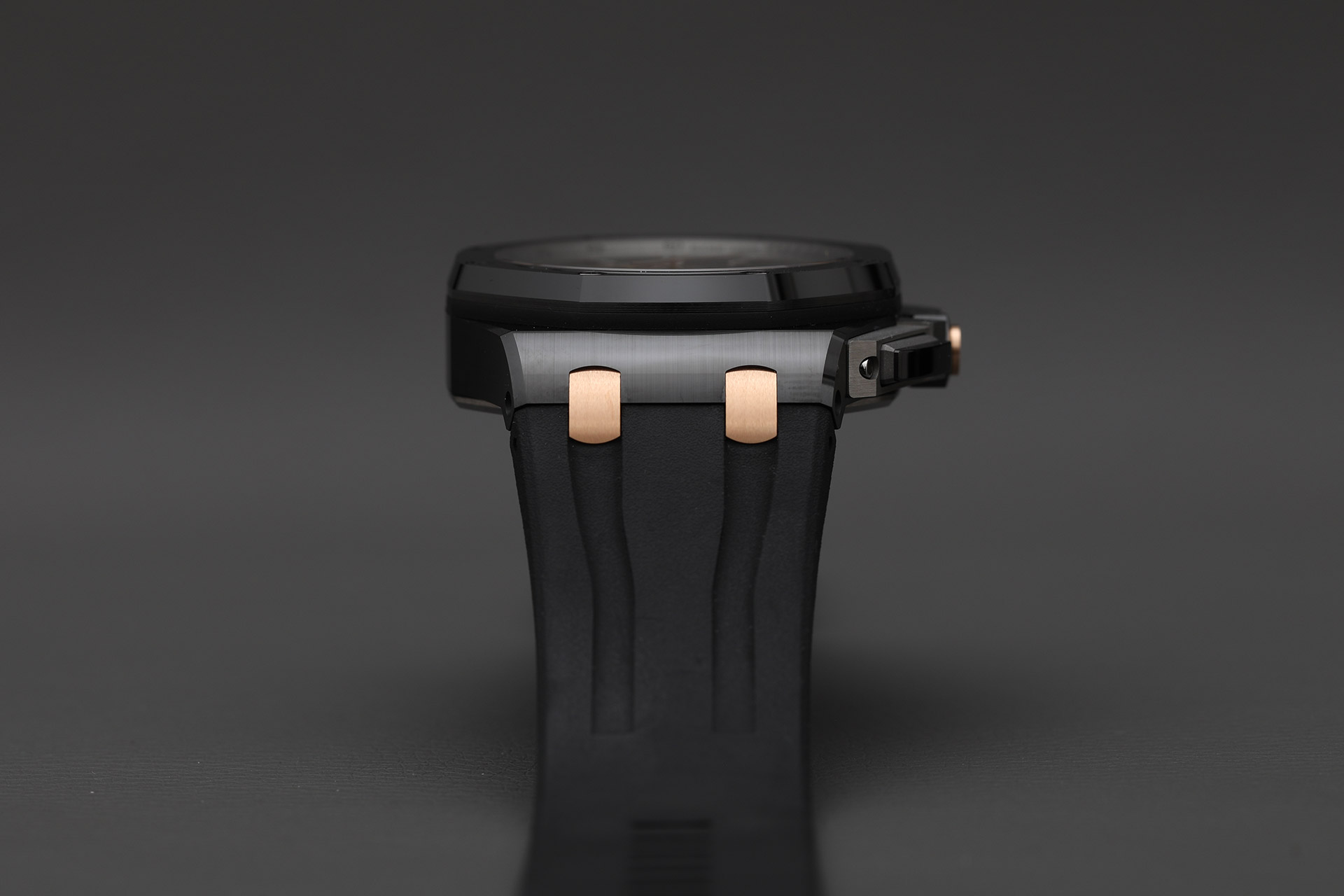 Just like the new Audemars Piguet: It comes in two executions, which will at first glance not remind you of the German national colours at all. But although they are used very subtle, you cannot miss them. There is a version with a black ceramic case and red gold lugs, limited to 300 pieces (33.000 Euro, available at the AP House, AP boutiques and some retailers like Rüschenbeck, Bucherer and Oeading-Erdel). There is also a more exclusive version with red gold case, limited to only 30 pieces (47.000 Euro, exclusive for AP Houses and AP boutiques).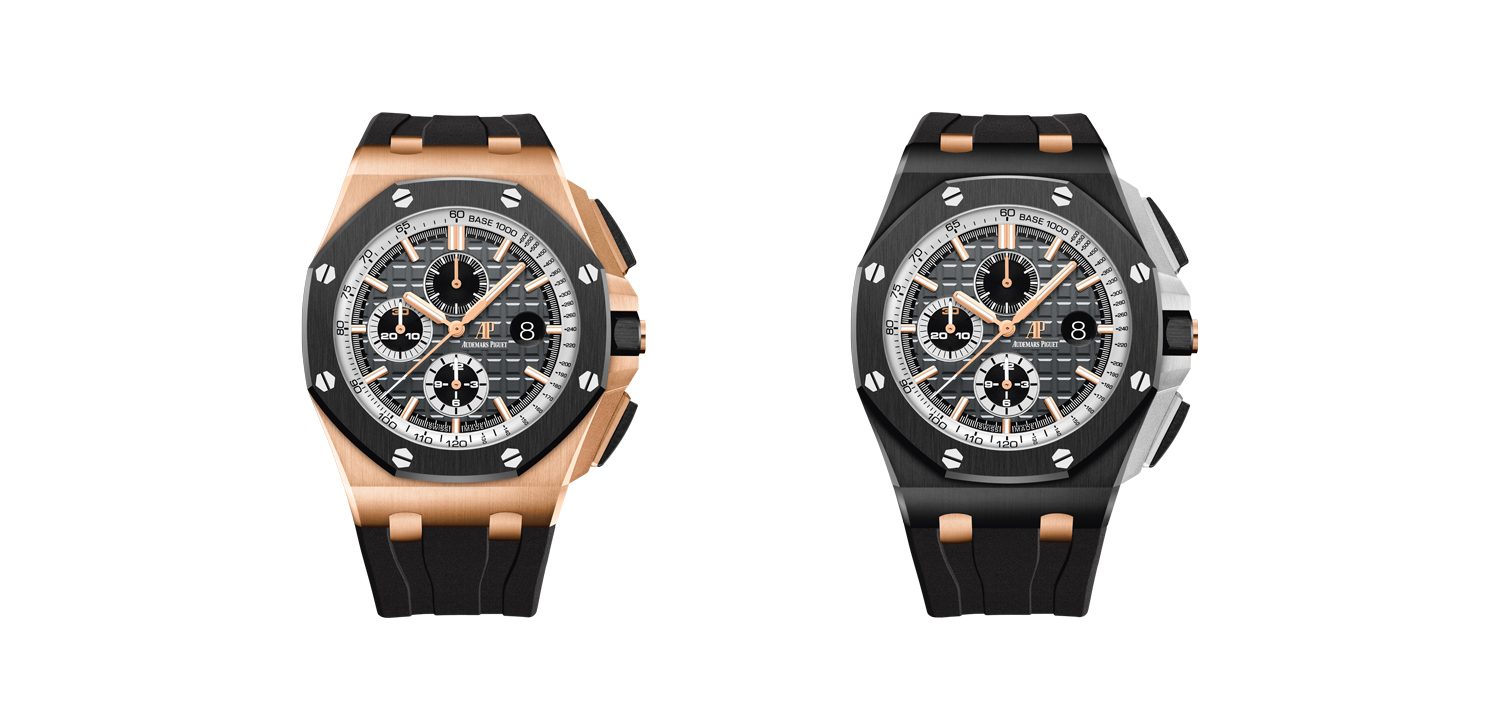 The 'Pride of Germany' is available in two versions: with a black ceramic case (limited to 300 pieces), or with a red gold case (limited to 30 pieces)
Both come with a black rubber strap. The dial: grey in its most elegant form – in AP-typical Méga-Tapisserie with the totalizers in black-white-and-grey-again. The hands are kept in rose gold, which is not unusual but, in this combination outstanding well balanced. Not to forget the lovely idea of automatically looking at 'rosy-golden' times over and over again. The caseback reveals an engraved mass, showing the Brandenburg Gate – probably one of the smallest motifs of this very massive construction.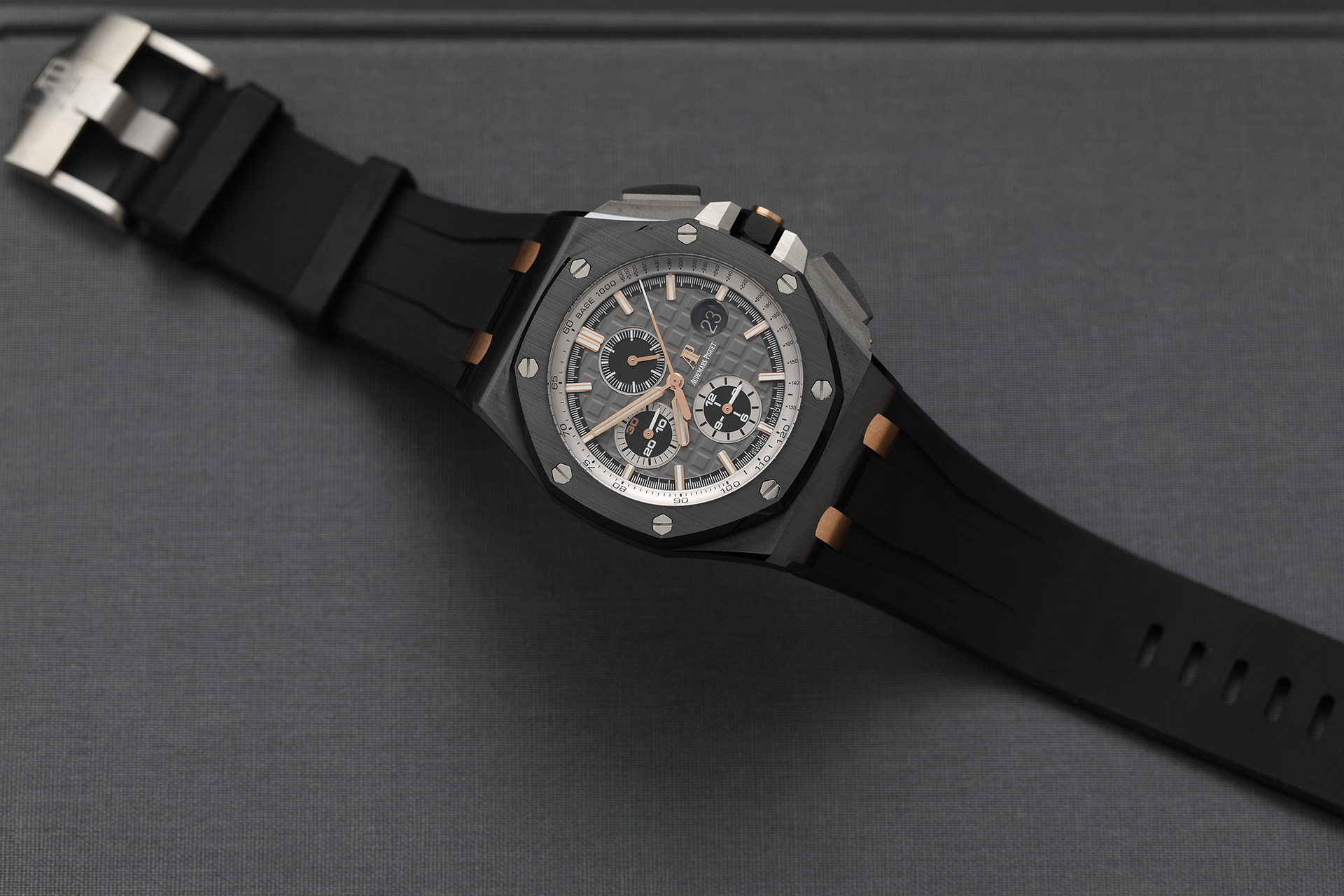 Audemars Piguet Royal Oak Offshore 'Pride of Germany'
The watch is equipped with the reliable calibre 3126/3840 with 50 hours of power reserve. It is the engine of a timepiece that has much more in common with the year 1989 than 30 years of the fall of the Berlin Wall. 1989 is the unofficial birthdate of the Royal Oak Offshore. It was only launched in 1993, but already some years before, Audemars Piguet assigned the creator Emmanuel Gueit with a horological tough task: to design a watch based on the Royal Oak from Gerald Genta, that would appeal to a younger audience. However, his first draft was so radical, massive and full of testosterone that it could have impossibly be realized, as there was hardly any demand for watches of this size. Even when the design was presented to the public, it was heavily controversial. Just like the first Royal Oak in 1972.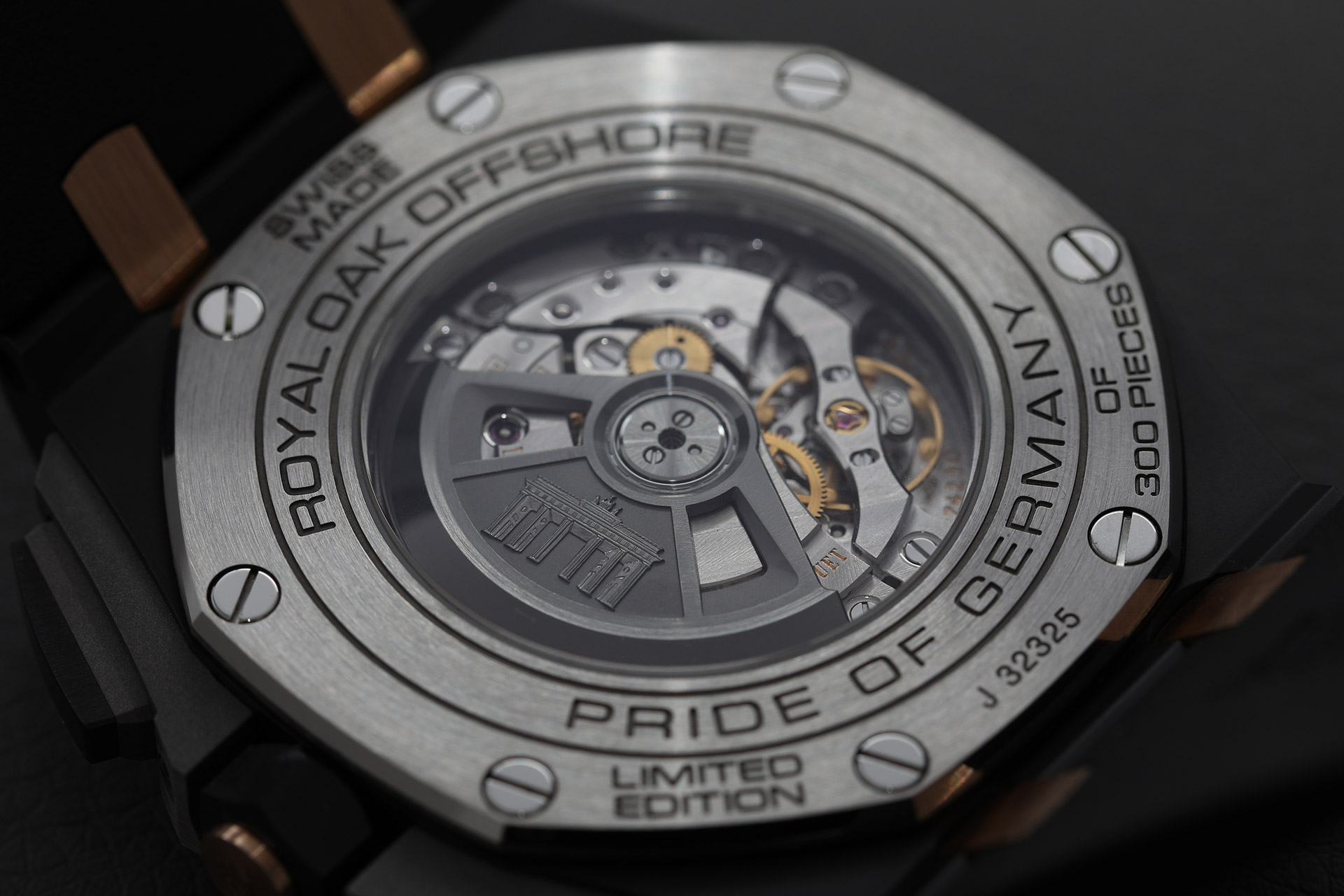 A miniature motif of the Brandenburg Gate is engraved on the mass
For a long time now, the Offshore line pulls a good amount of turnover for Audemars Piguet. On its long way of success, it was always accompanied by the criticism from enthusiasts of classical and elegant watches. Whenever they launch a new Offshore, in candy-like colours for example, they would get all excited on how anyone on earth would want to spend such an amount for such a fashionable watch. But the answer is simple: It's made for watch aficionados, who don't think as conventional and appreciate the revolutionary charm of the Offshore. It's for those, who like contemporary design and don't want to be dictated what a 'good watch' has to be like. In this sense, the "Pride of Germany" fits quite well into this tradition of breakup, resistance and change. Where would we end up, if we would let anyone ban the word 'proud' from our vocabulary, and how boring would the world of watches be, without black-redgold statement pieces like this one.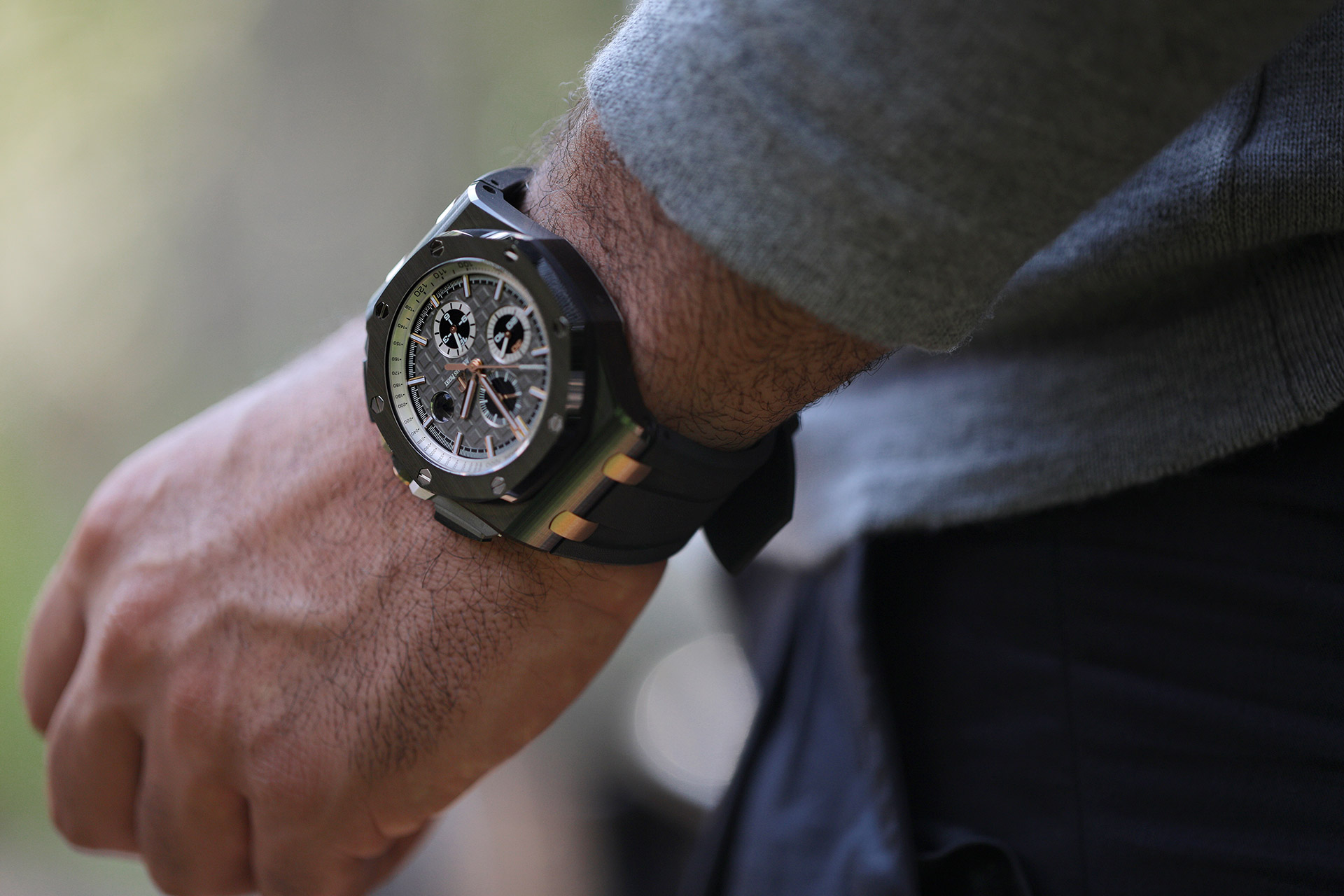 ---
---