Following the launch of Breguet's new civilian and military Type XX models last month, Swisswatches caught up with recently installed CEO Lionel a Marca to find out his take on the brand's new pilot's watches, which caused quite the stir. He explains the thought process, execution, and plans for the future vis-à-vis the brand's all-important pilot's watches.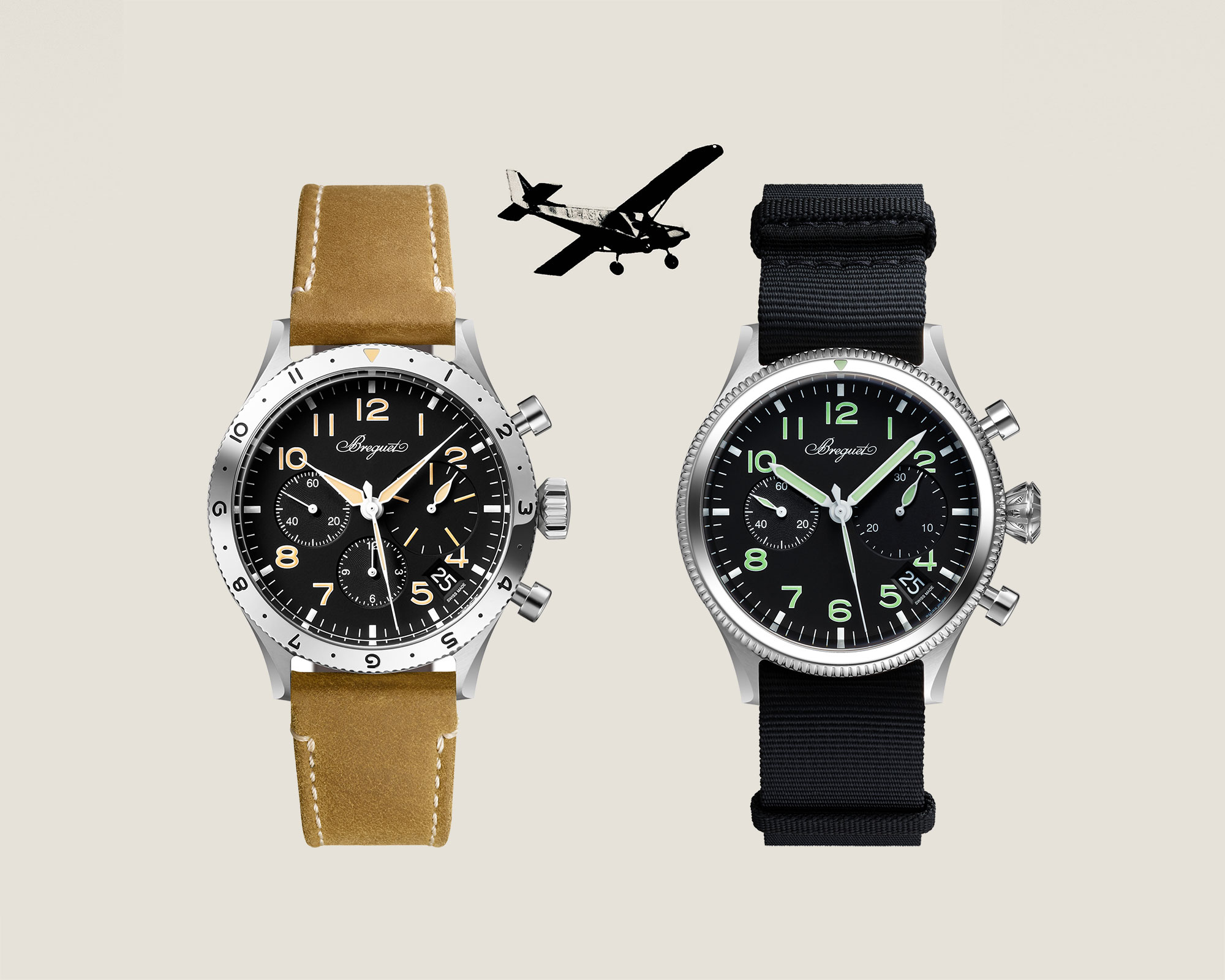 Breguet has a rich history when it comes to aviation, not least thanks to the achievements of Louis Charles Breguet. Putting the watches aside for one moment, how do you make sure to communicate this history to current and potential customers?
---
Our incredible history of almost 250 years is what differentiates us from many other brands. Inventor, genius, designer, friend of many important historical figures – Abraham-Louis Breguet wasn't only part of history; he also participated in writing important chapters of modern watchmaking, playing a part in many discoveries and even helping to change the course of history with his inventions. Take navigation, for instance: Abraham-Louis Breguet first invented maritime clocks to be used as navigation tool on the oceans. Later, this continued through the incredible achievements of Louis Charles Breguet, but also through the development of air navigation tools installed in many civil and military planes as well through the choice of Breguet to produce pilot watches for the French army in the early 50's.
This is definitely something we want to relay through our new slogan 'Make history with us'. Our customers are not only spectators of the history passing by, but also are writing it with us. I am here not only to preserve Breguet's heritage but also to prove myself worthy of the legacy of innovator. To please the brand's loyal customers, it is essential to preserve its essence and tradition, while still creating innovative and contemporary pieces. For this reason, we constantly invest in our R&D department in order to innovate again and again.
In what areas do you still think Breguet's marketing of its incredible history could – or should – still be strengthened?
---
While every watchmaking connoisseur is aware of what Abraham-Louis Breguet brought to our industry, there are a lot of potential customers who don't have this knowledge and we have to convince them that without Breguet, watchmaking wouldn't be the same. I do think that today, not everyone realizes the extent of what our manufacture is producing: for example, each component of the movement is decorated by hand. It is a facet of our know-how of which we can be proud, and something we should still promote even further. This is something we are working on.
Relaunched or reissued vintage watches are enjoying their heyday right now, with professional tool watches such pilot's watches counting amongst them. Why do you think this is?
---
Life itself repeats itself eternally, as do fashions. This rule also seems to ring true for watches. In my opinion, pilot's watches have such an appeal because of the history they convey, and the aspect of communication also plays a role. Simple and elegant in their design, it's plain to see that vintage watches are timeless, and this is probably also part of pilot's watches' continued success.
We've seen a few special editions in the last few years, but the Type XX has now officially made a comeback. What inspired this decision and what future do you envisage for the Type XX? Were you inspired following the success of the 2021 Only Watch?
---
Type XX has always been part of our main collections and with this 4th generation we have the same ambitions. So, it is very different to design a unique piece for an auction than to define the new standards of an iconic collection, so in this sense, we cannot compare both approaches.
The Type XX comeback was already a project when I arrived in the summer of 2021 under the direction of Marc A. Hayek. One of Marc A. Hayek's priorities was also to create a watch from the 21st century and make this watch benefit from all of today's technologies, so it was essential to develop a movement from scratch – which takes, as you can imagine, several years! Since I arrived, we have worked on this famous calibre, but also on the visual aspect of these military and civilian versions. To do this, we went through the archives to find the pieces that inspired us. At Breguet, we do not launch a novelty without being entirely satisfied with it. Fortunately, the launch coincided with the 70th anniversary of the creation of the Type XX name.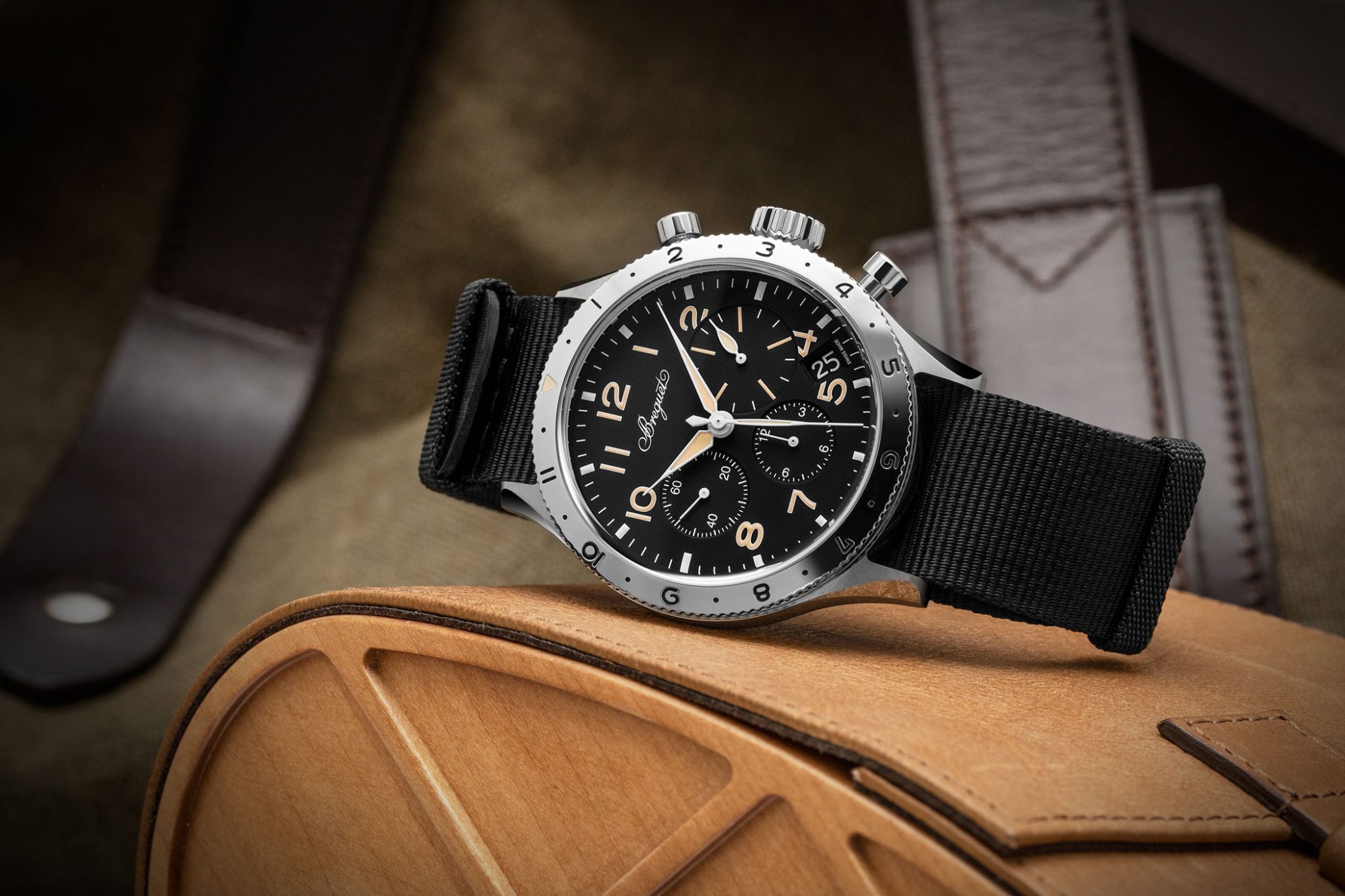 The new Breguet Type XX
In the watch community, the placement – or even inclusion at all – of a date on the Type XX has definitely proved a hot topic. Can you explain this design decision for us?
---
The new Type XX collection is inspired by the original models, but with a contemporary twist. Our intention is not to make perfect replicas of our watches, but to meet today's needs with the watches we release. As a chronograph user, you want not only to know what time it is, but also the elapsed time in case you use your chronograph as well as the date. These are the pieces of information that you read on every time tool today. Thus, we felt it was important to add a date.
The team gave a lot of thought to the positioning of the date aperture, and we felt that the best place was between 4 and 5. Indeed, for the 3 counters, the only place where you would not lose information by opening a date window was there. At 6, you would have lost the information of the 12 hours counter.
Let's not forget that the primary function of the Type XX is to be a chronograph, so legibility shouldn't be compromised! These new models lay the foundation for a new generation, which is designed to grow with complementary models over time. There's nothing that prevents us from making another watch without a date. This is the beginning of a new adventure, and there's plenty of opportunity for new models, versions, colours, shapes and sizes.
The calibre 728 and 7281 were four years in the making. It seems to us that resistance, accuracy, and easy usability took precedence in the new calibres, with the latter even beating at a frequency of 5 Hz and both movements using silicon components. From your personal perspective, what would you say were the focus points in the creation of the two calibres, and what obstacles did you need to overcome in the process of designing them?
---
The challenge was to develop a completely new, resilient chronograph movement that incorporates state-of-the-art technology. It was essential to have a column wheel and a sophisticated vertical clutch mechanism, both of which provide a smooth and pleasant sensation when operating the chronograph, as well as the iconic flyback function (retour en vol in French) inherited from the original. We also decided that a hairspring and escapement made of silicon, which is impervious to magnetic forces, would be indispensable for the next generation of Type XX movements. A very important point for me was the chronograph: I wanted the owner of the watch to be able to put it on Friday evening on his bedside table and pick it up on Monday without needing to reset it. It's proved to be a successful challenge since our chronograph benefits from over 60 hours of power reserve.
Finally, regarding the difficulties, I can easily speak about the pandemic as we were in the middle of the project. The difficulty was managing the supply chain, as certain components were hard to come by. Nevertheless, our R&D team at the manufacture works very closely together, so we were able to overcome the difficulties and challenges in the development process.
Why was it important for you to introduce a fully integrated manufacture chronograph movement at the horology house?
---
Because we are Breguet: one of the creators of modern watchmaking. Because we have a real know-how, the chance to have a whole manufacture within our brand! This is rare today, and so we must honour this magnificent brand and the heritage that comes with it.
Did any other brands in the Swatch Group contribute to the research and development behind the calibres in the Type XX watches?
---
We worked internally for this project.
What do you envisage for the future of pilot's watches at Breguet? Will they continue to be a main focus point for the brand in the coming years?
---
I hope so. Our goal is to develop the collection with various models, sizes, materials. However, just because we have these new timepieces doesn't mean that we won't address our other collections. Our goal is to offer a diversity of watches to our customers. Every person has to find their Breguet according to their taste!
---