The beauty of traditional watch manufactures is, that on the one hand production methods that once made them strong are still being emphasized today, and on the other hand this unbroken innovation spirit from past times still generates modern and exciting new techniques. The Breguet Classique Tourbillon Extra-Plat Automatique 5367 that has been introduced at the beginning of this year is a perfect example.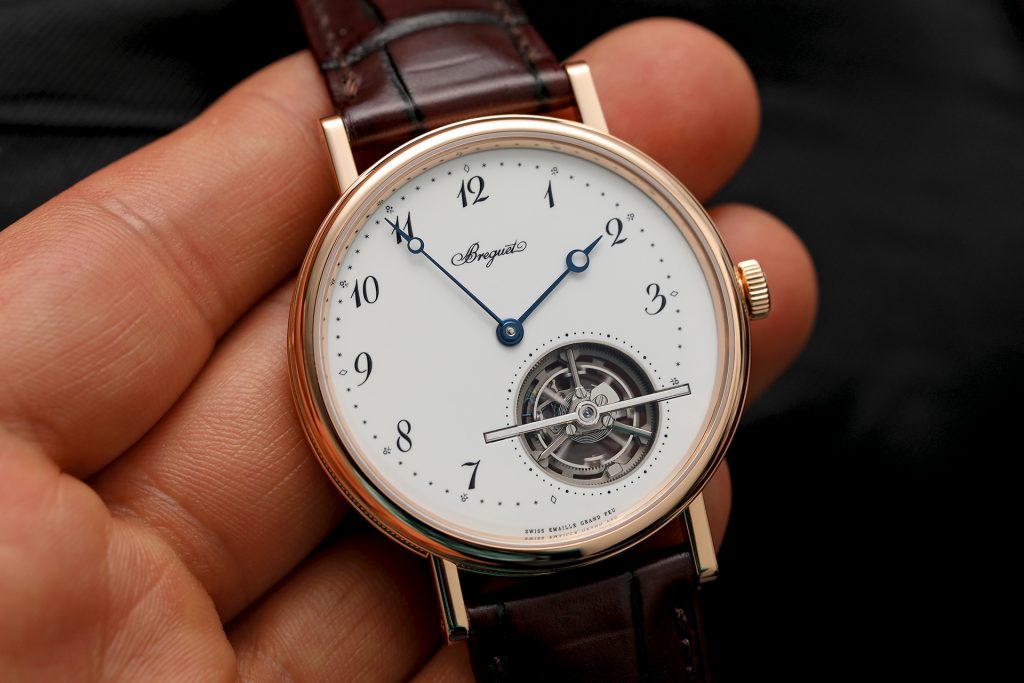 Tradition meets modern – the Breguet Classique Tourbillon Extra Plat
In 2013 Breguet presented the previous model with Ref. 5377 which visible appearance was shaped by a hand-guilloche dial. The silvered gold dial is adorned with 'clou de Paris' hobnail, barleycorn, straight chevrons and cross hatching. Inside floats a highly modern Tourbillon with its cage and balance made of titanium, the balance spring made of silicon and the escapement from a mixture of silicon and antimagnetic steel. The rotor is placed peripheral, which enhances the view on the movement and strengthens the power. The result is a strong power reserve of 80 hours.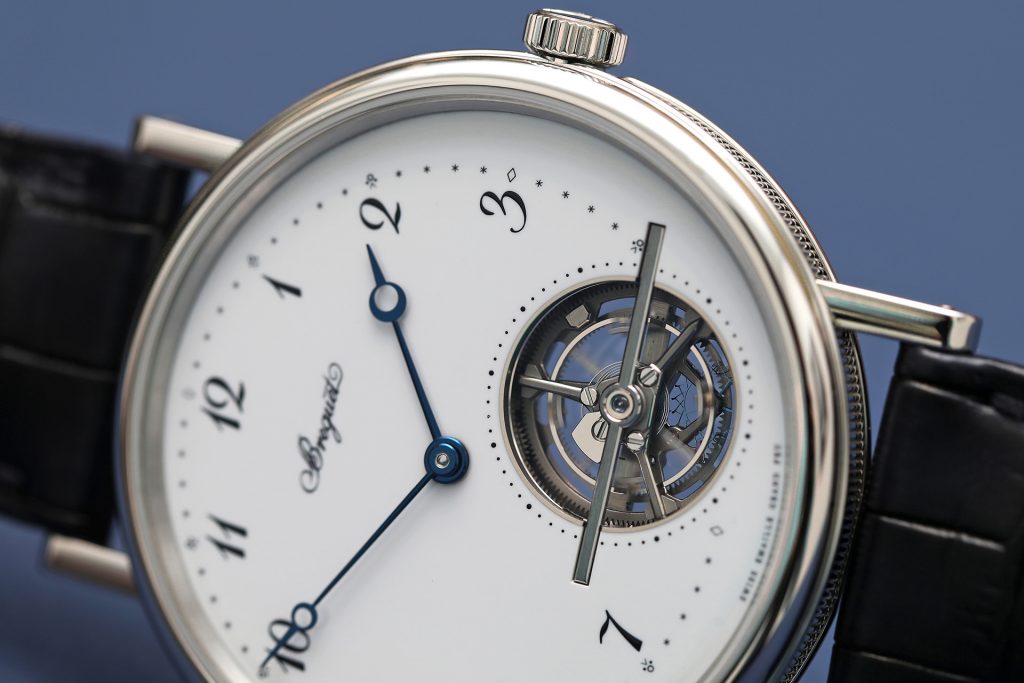 The floating tourbillion cage and balance are made of titanium
The new watch with Ref. 5367 is equipped with the same powerful movement calibre 581. However the dial is decorated with another very traditional craftsmanship that is rooted in the watchmaking history since over 300 years – the Grand-Feu-Enamel. The name originally comes from the old Franconian 'Smalt' or 'Schmelz' meaning émail in French and consisting of a mixture of silicate (salts) and oxides which turn into that shimmery, glassy form when melted. It is in detail much more complicated – just to give you an idea.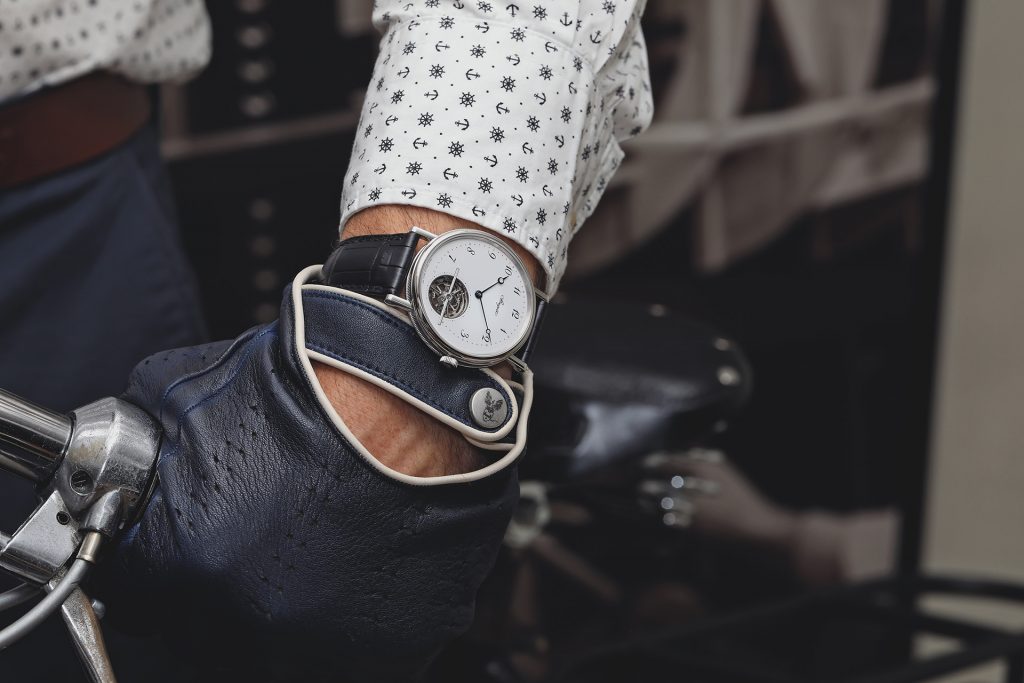 Breguet Classique Tourbillon Extra Plat
When manufacturing the enamel dials, the blanks are being painted with a glaze and then dusted before they cure in the kiln at about 800 degrees. Afterwards numbers and indices are being stamped onto the surface and cured once again in the kiln. As the blanks happen to deform under the enormous heat, they are being flattened in the end. Finally the gaps are being cut out precisely – in this case a small hole, which makes space for the Tourbillon complication at 5 o'clock.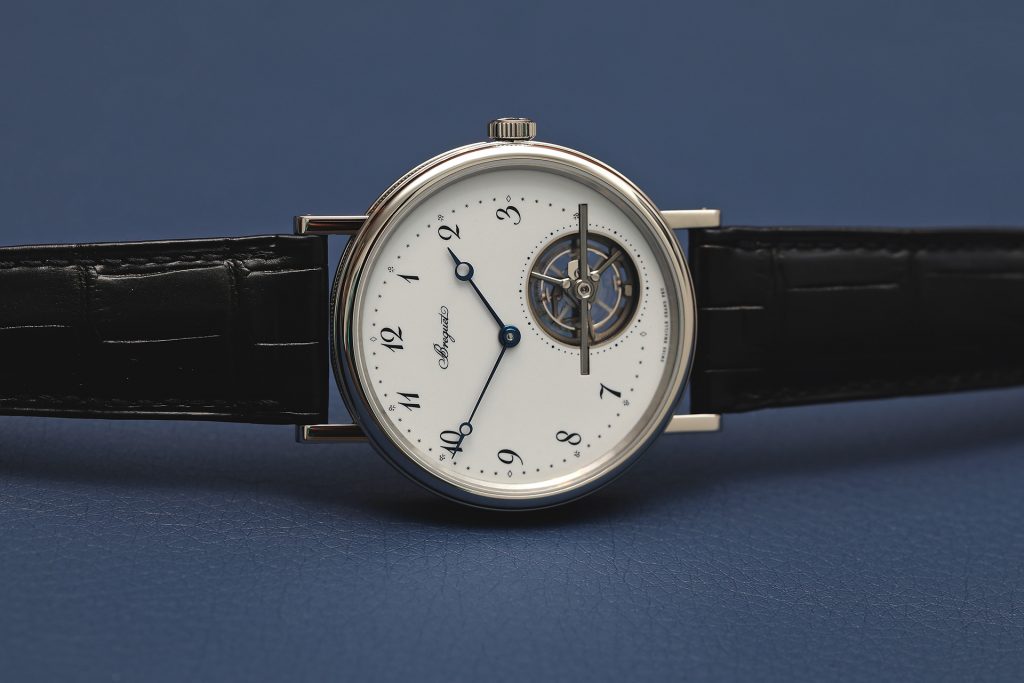 Traditional craftsmanship – the dial is made from Grand-Feu-Enamel
In opposite to its previous model the Classique Tourbillon Extra-Plat 5367 is kept more minimalistic from the outside, the movement however is even more laborious. Bridges, barrel and rotor are hand graved. The rotor is made of platinum and rotates peripherally around the 3mm flat movement. The Tourbillon also plays an important role in this watch – after all, Abraham-Louis Breguet has invented the first Tourbillon-Regulator in 1801.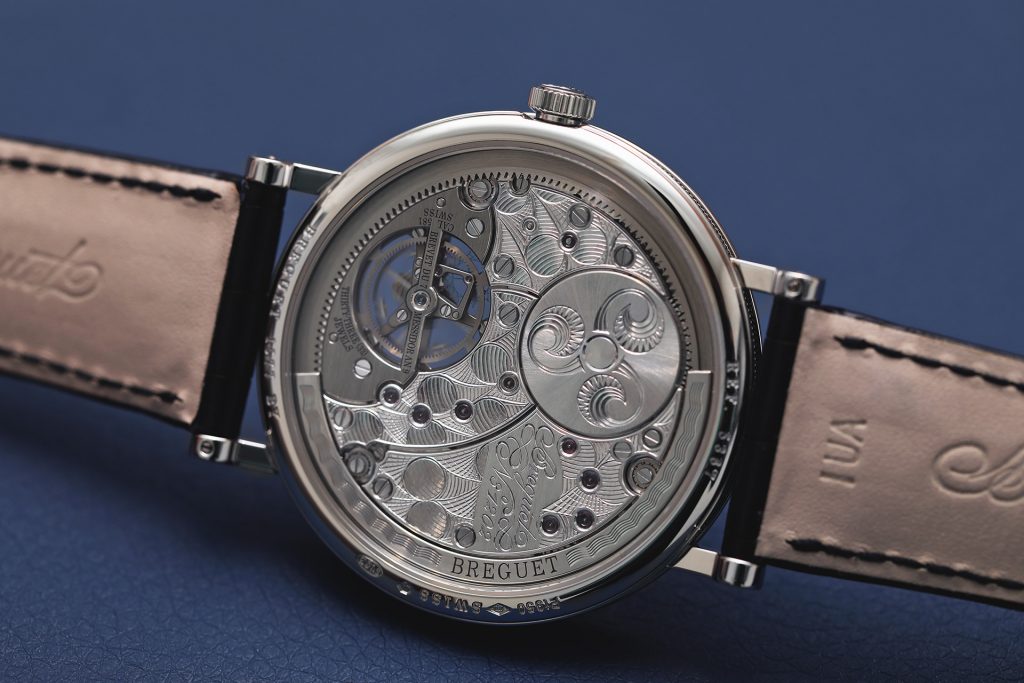 Full attention for the movement – the rotor is placed peripheral
The Classique Tourbillon Extra-Plat 5367 is available with a case in rosegold or platinum and a noble mahogany brown or blue alligator strap.
---
---