Today at Baselworld 2018, the watch manufacture Breguet and the Race for Water Foundation announced their partnership with a special exhibition on the Swatch Group Plaza in Basel, which is also open from today. Marc A. Hayek, President of Montres Breguet and Marco Simeoni, President of the Race for Water Foundation have been personally attending to celebrate the partnership.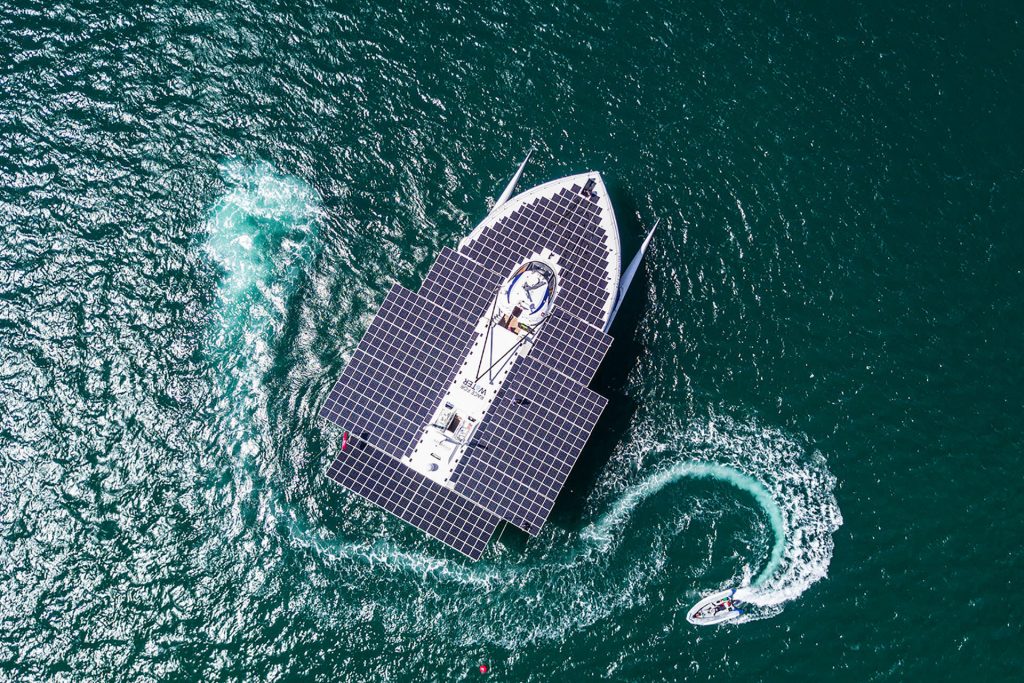 The Race for Water vessel which has been especially designed for this mission. Copyright © Race for Water. (Photo by Peter Charaf)
The Race for Water Foundation is an organization which aim it is to raise awareness of ocean preservation and the massive threat from plastic pollution, which without doubt affects all of us. With a highly advanced team of scientists they undergo research on the marine ecological system and have come to the conclusion, that a global clean-up of the oceans from plastic is not realistic. Instead they believe that plastic waste could become a valuable good by transforming it into energy resources with a machine developed with ETIA, a French company specialized on building equipment for thermal treatment.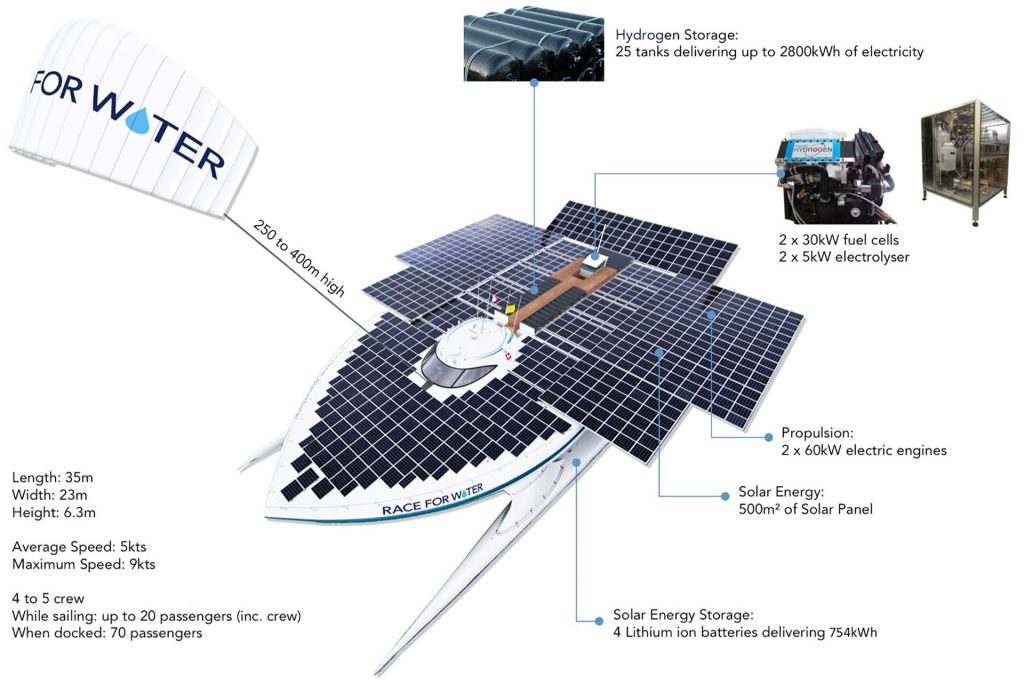 The vessel is powered by a mix of solar, hydrogen and kite only. Copyright © Race for Water
The mission already started in 2017 and will last until 2021 with over 35 stops around the world to spread the Foundation's ideas. The Maison Breguet has committed itself to 'get on board' and support this Odyssey through its completion in 2021.
Warum Breguet?
Not only that Breguet still offers a Marine collection today, already in the early 19th century when timekeeping played an important role in maritime navigations, Breguet equipped vessels with accurate chronometers to calculate longitude at sea. Not enough, in 1815 the watchmaker was appointed the official chronometer-maker to the French Royal Navy.
For this new mission Breguet created a special edition of its Marine 5517 timepiece, which is dedicated to the partnership. The watch is made with a light titanium case and a custom blue dial that features the Race for Water vessel in a clous de Paris motif. The special edition watch will be worn by the Race for Water explorers during their mission.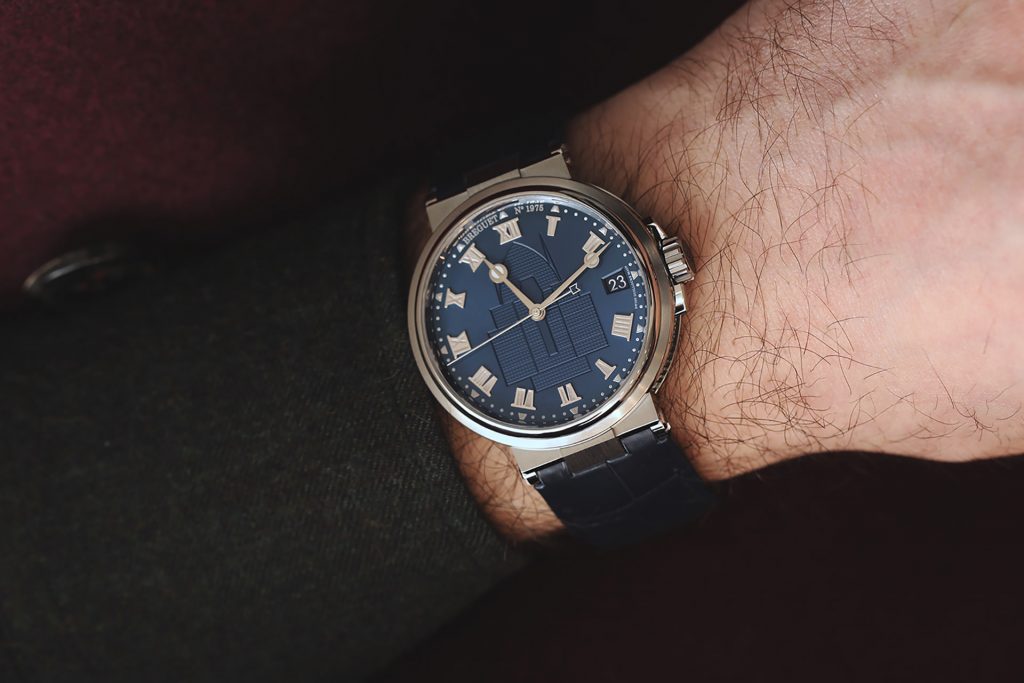 Maritime – the blue dial features the Race for Water vessel in a clous de Paris motif
So far they intent to visit 35 stops all over the world until 2021, where scientists and decision-makers come together to share their experiences on preserving water. Most of these destinations will be reached with a clean renewable energy vessel powered by a mix of solar, hydrogen and kite, illustrating that a 100 tonnes boat can circumnavigate the world without fossil fuel. The exhibition launching today at Baselworld will travel to various of these destinations to support the mission.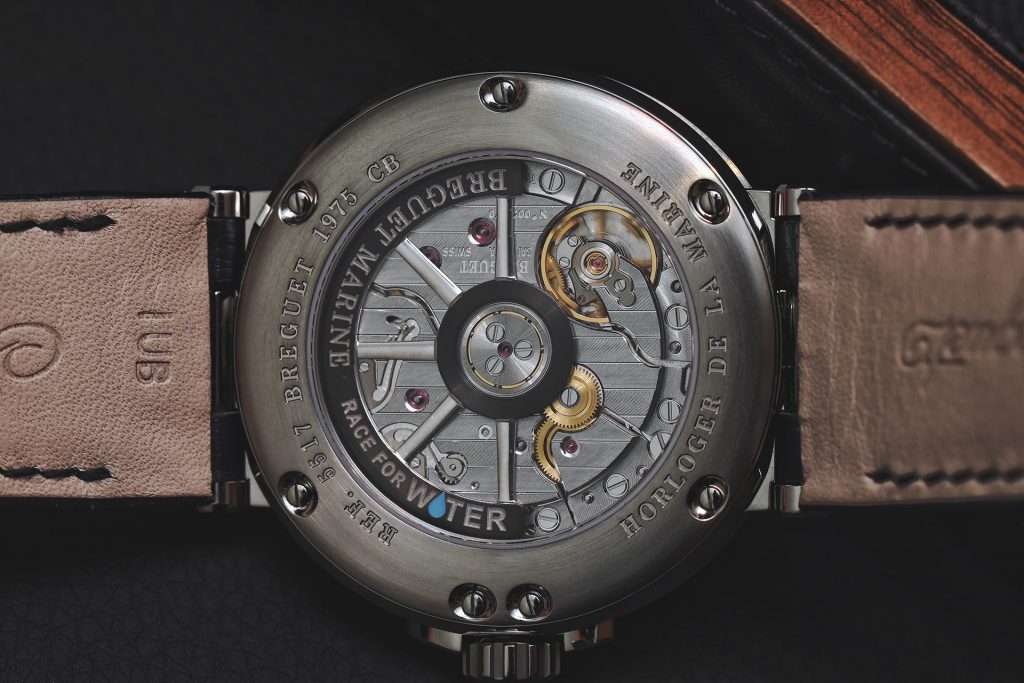 The Breguet Marine 5517 Race for Water Special Edition
---
---