What is watch collecting really about? For me, it's primarily about discovering the myriad of ways in which humanity measures time. Time is not a physical but rather an abstract sequence, that we can neither change nor reverse. The way in which timekeeping can be reinvented is infinite. Even today, dials, movements, and complications are constantly being dreamt up anew.
The same idea of infinite evolution applies to a watchmaker, whose journey of ingenuity is never complete. New techniques can always be learned, just as ancient crafts can always be imparted upon the next generation. In this sense, watches are much like pieces of art. The advancement of aesthetics, performance and innovation can literally continue forever.
But back to the question at hand: 'What is watch collecting really about?' A more straightforward answer is the community that surrounds it. According to a book by the CEO of the 'Happiness Research Institute' in Copenhagen, one of the most important factors improving happiness levels within societies around the world is a sense of community – or in Danish, fællesskabsfølelse. From children trading Yu-Gi-Oh cards in the playground to automotive executives decompressing at vintage Volvo meet-ups, it is the sense of connection to other people that make the collector experience so fulfilling. People and personalities, past and present, come together to celebrate one shared passion.
Bucherer's Masterworks
This is where a new concept from Bucherer comes into play. The idea of Masterworks – derived from 'master at work' – is to meet the increasing demand for individual and exclusive luxury products by offering clients 'exceptional masterpieces of artisanal and innovative haute horlogerie'. From this, a scheme has evolved that brings a carefully curated selection of remarkable timepieces – 'Masterworks', if you will – to the doorsteps (or at least, cities) of collectors across Europe and America.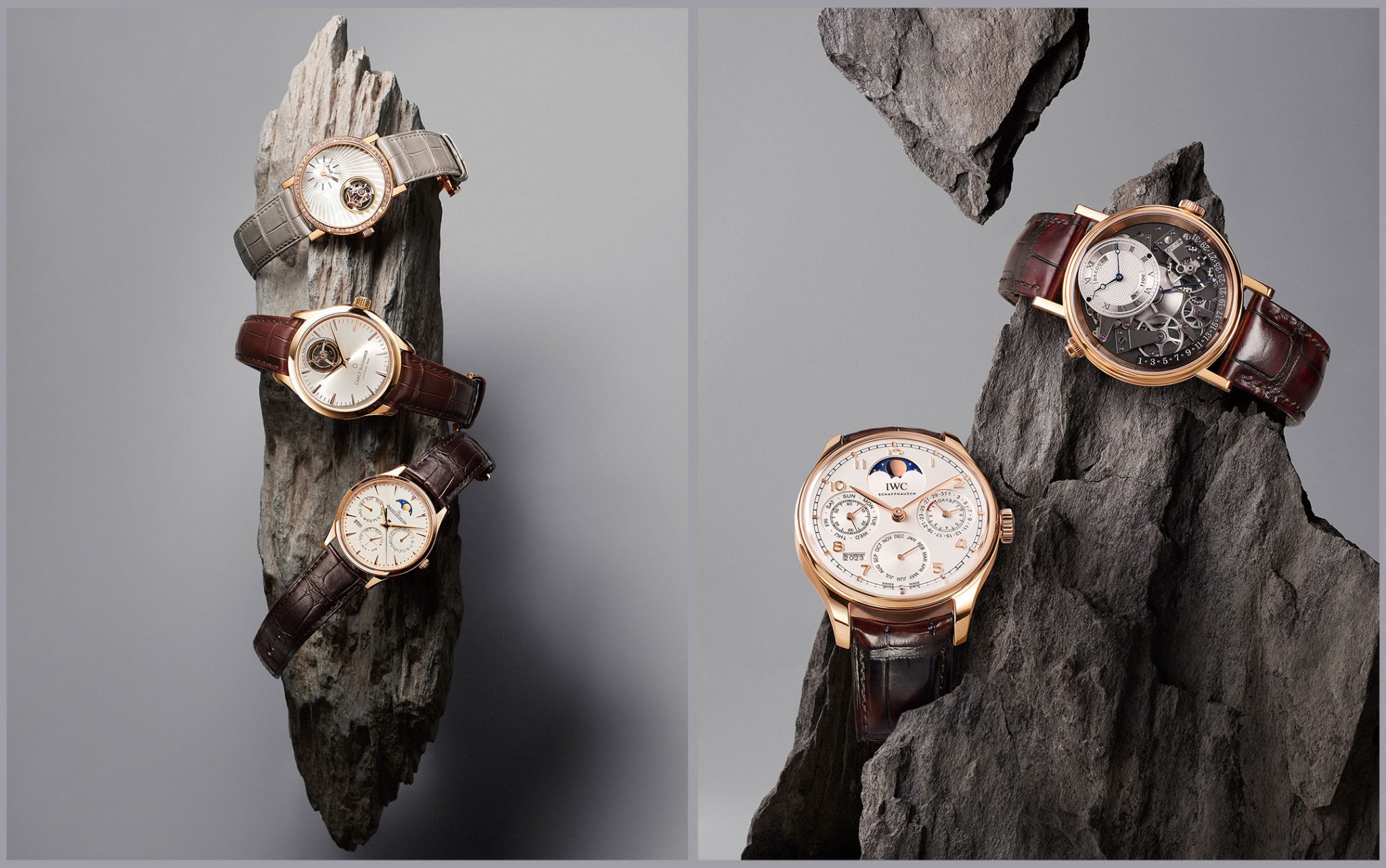 How will Bucherer implement Masterworks?
In selected Bucherer flagship stores, a permanent display of Masterworks watches will be available, staging and curating well-established brands but particularly focusing on exciting niche brands. Serving as a stage for world-class watchmaking, Bucherer hopes to not only provide for, but also pass on the knowledge through Masterworks. Bucherer Masterworks-experts will educate clients in-store by providing a clear narrative and detailed information behind each exceptional watch.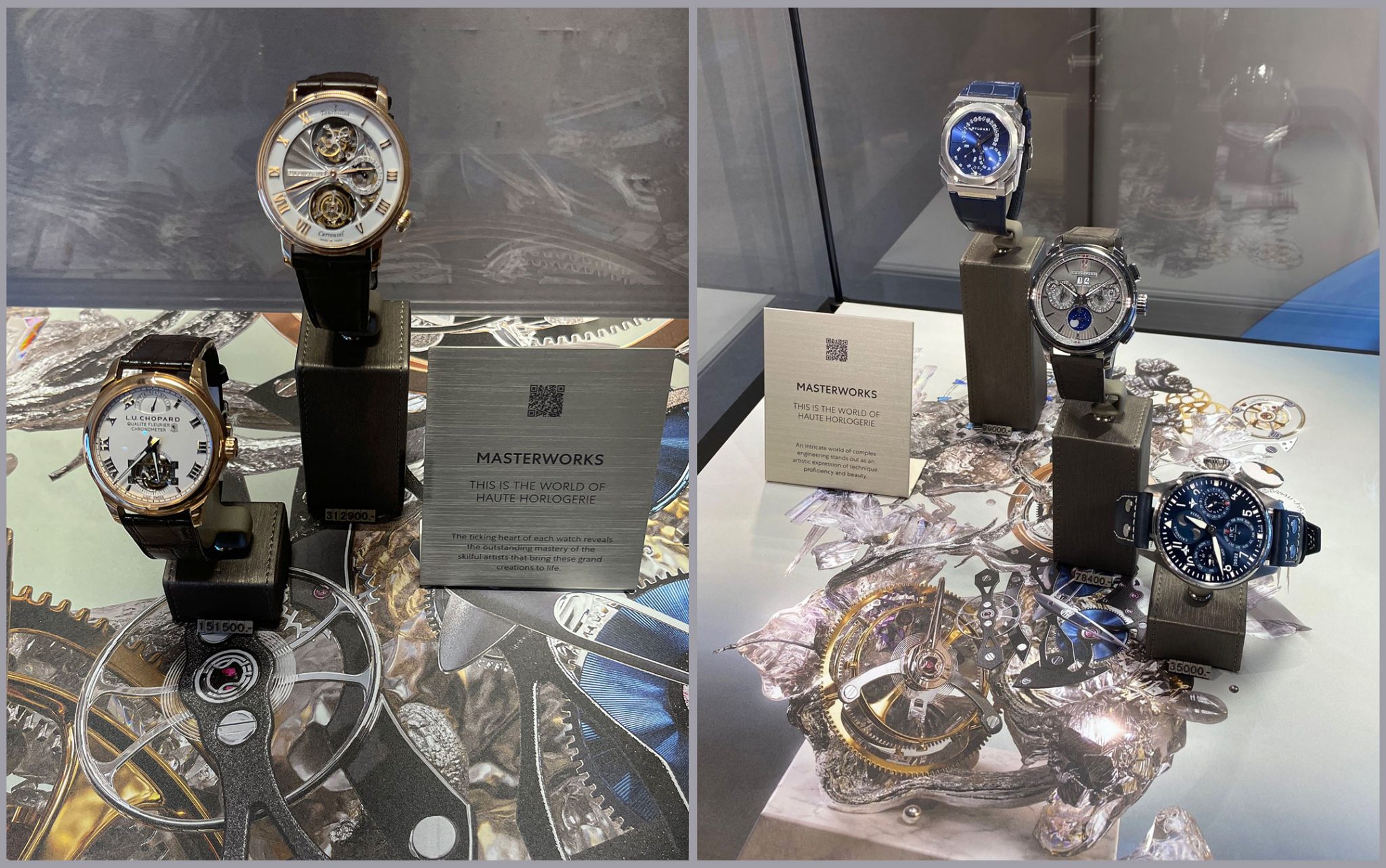 At the same time, what can effectively be described as a roadshow will take Bucherer's specially curated watches to various points of interest. The roadshow is currently traveling in Switzerland and Germany with a separate Masterworks collection. From Lausanne to Basel and Bern, ten cities are served with the roadshow in Switzerland – in Germany, the roadshow comes to Frankfurt, Berlin, Hamburg and other cities. By creating a roadshow, Olivier Gantenbein, Head of Haute Horlogerie at Bucherer explains, the retailer can offer a higher level of accessibility to its customers. With the roadshow, a carefully curated Masterworks selection will be presented to customers during a limited time.
'This way,' explains Gantenbein, 'we can bring the client timepieces they might not otherwise get to see. In turn, this piques their interest more than if they were simply offered a mainstream collection. So far, we've really seen the 'wow' effect with our customers, who are discovering watches in a new way or new watches they might previously not have known.' This brings us back to the Danish idea of fællesskabsfølelse; the Masterworks' multi-brand strategy unites collectors around the world by providing equal accessibility to a vast and varied range of special pieces.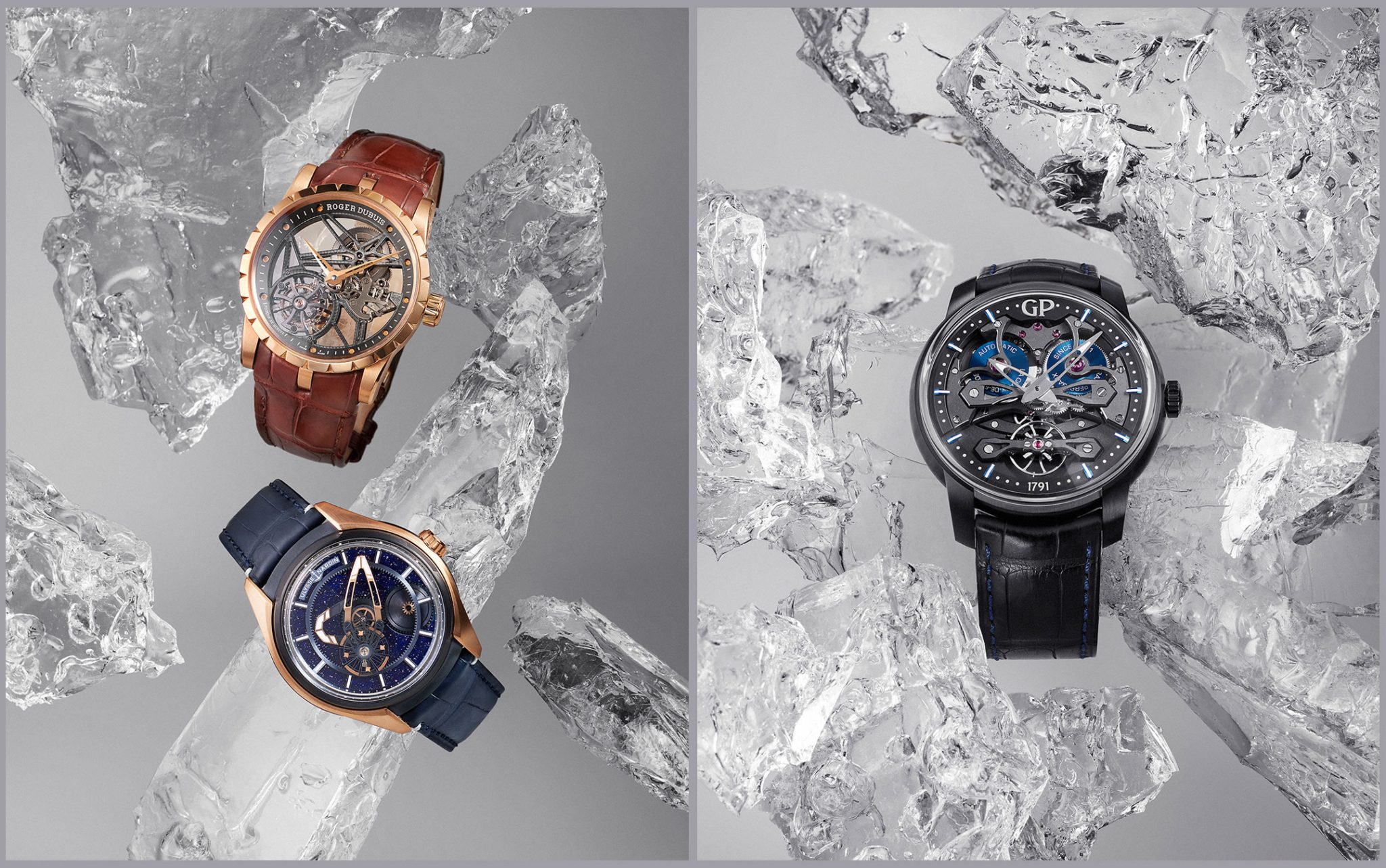 A platform for everyone
As Gantenbein reminds us, Bucherer is well on its way to position itself even more than before as the gatekeeper, curator and leading destination in the world for fine watchmaking. Interesting, then, that the Masterworks concept places emphasis on including both independent and established global brands. 'We want to use our credibility and popularity to give niche brands, who we effectively regard as small artists, the opportunity to step into the spotlight. This way, Bucherer can become a pioneer and trendsetter of brands for the future.' And why not? Bucherer is already amongst the largest watch suppliers in the luxury segment, meaning their strategy of promoting independent brands could potentially have a resounding effect across the entire market. It's an exciting thought.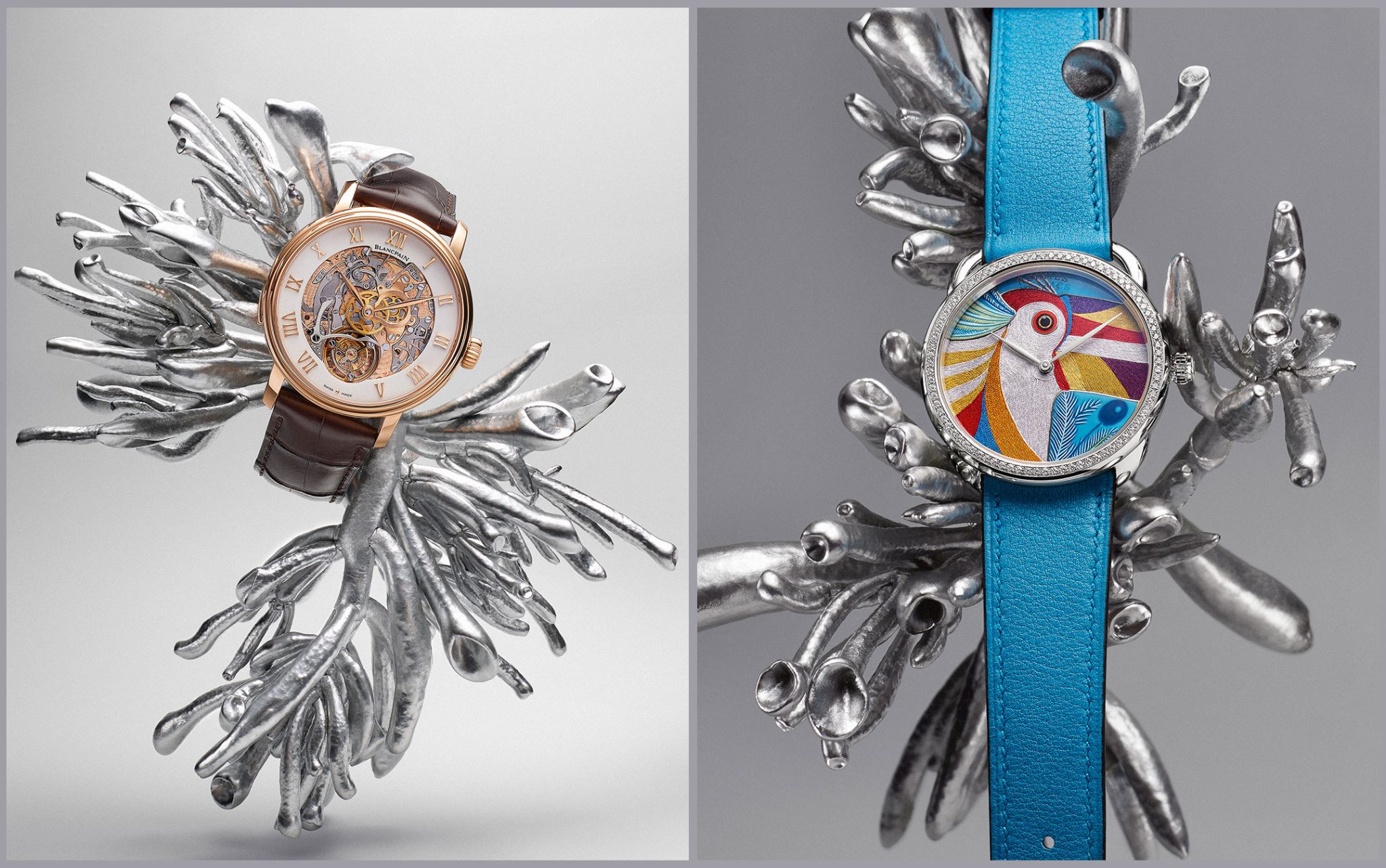 What sort of pieces can we expect to see?
Early Masterworks pieces on display will include contributions from brands such as Roger Dubuis, Piaget, Jaeger-LeCoultre, and Ressence to name just a few. One of the first timepieces to enter the scheme is the Urwerk UR-210 RG, which can serve as a prime example of the type of timepiece the scheme will offer. The UR-210 RG features a patented revolving satellite complication with wandering hour and three-dimensional retrograde minute hands. Furthermore, the movement integrates a world-first indication: a pointer that indicates winding efficiency over the last two hours.
An equally special piece presented under the Masterworks scheme is the Girard-Perregaux Neo-Bridges Earth to Sky Edition. Its distinctive bridges act as much a part of the movement as the design, with the 'Neo Bridge' holding the balance wheel echoing the famous bridges traditionally supporting Girard-Perregaux's tourbillons. Fitting well to the Masterworks scheme, the bold black titanium watch thus bridges the past with the future by reinterpreting a symbol of the manufacture's traditional watchmaking as a high-tech, contemporary timepiece.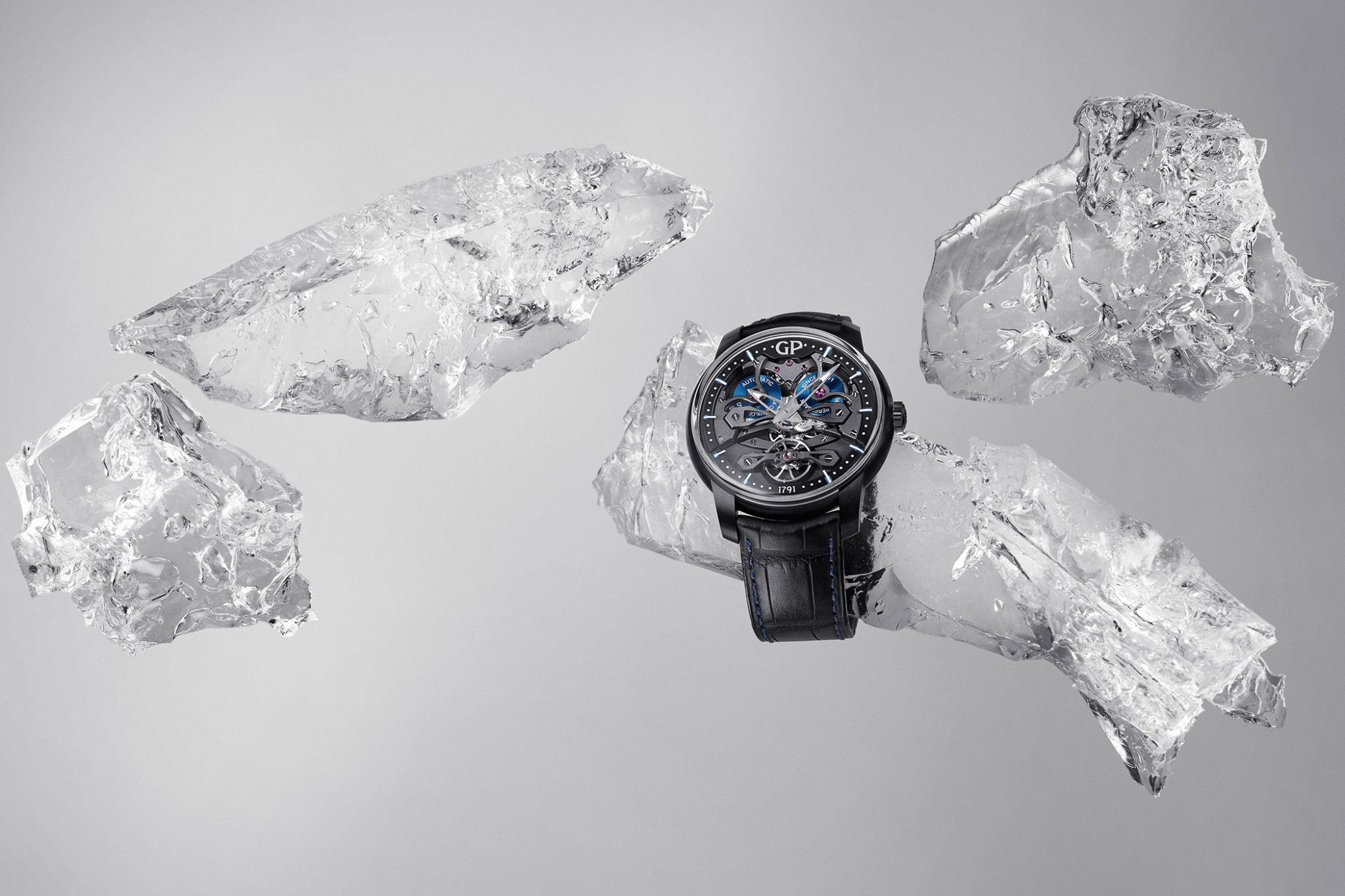 But remember, Masterworks isn't only about being cutting-edge. Other pieces remain very classic – and what is more classic than the Jaeger-LeCoultre Master Ultra Thin Perpetual Calendar? Despite its complicated nature denoted by its very name, this purist pink-gold watch is all about the finer details. An eggshell-beige dial showcases gilt hour markers and elegant dauphine hands, while a long, thin blue seconds hand tops off the refinement of the timepiece. Via the caseback, the wearer can admire the complex movement that Jaeger-LeCoultre's watchmakers have finished to perfection and which is even able to take leap years into account mechanically and thus knows that the month of February in 2024 has 29 days instead of 28. Sophisticated in both aesthetics and mechanics, it's easy to see why this piece qualifies as a Masterworks watch.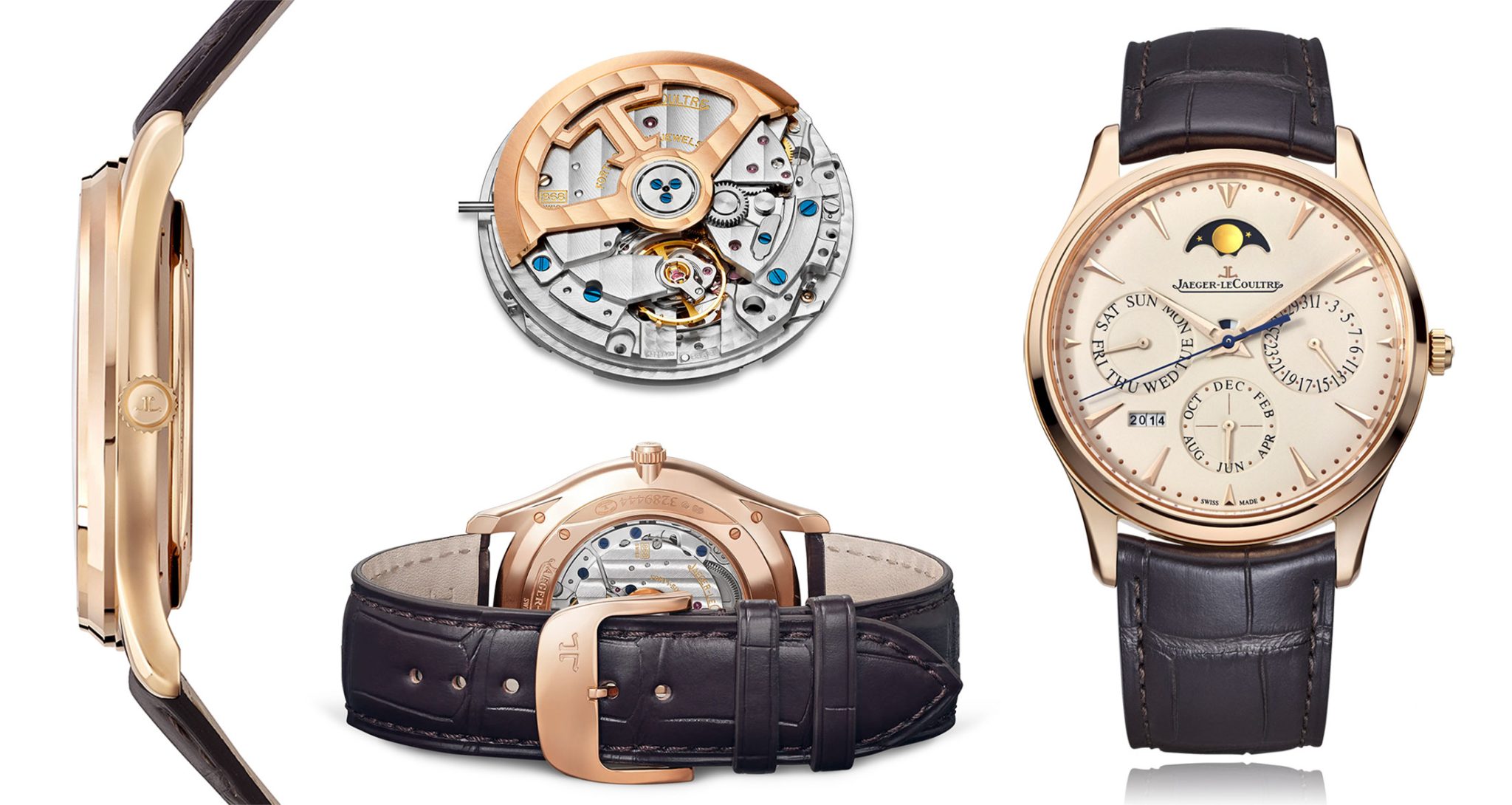 Last but not least, another noteworthy piece included by the curators of the Bucherer's current Masterworks selection is H. Moser & Cie's Endeavor Tourbillon. Another excellent example of making the complicated appear simple, the white-gold watch features the horology house's distinctive fumé dial in 'cosmic green'. While this distinctive dial, devoid of a logo and hour markers, is certainly mesmerising, the wearer's eye is nevertheless drawn first and foremost to the double hairspring flying 60-second tourbillon, boasting superlative precision and a mesmerizing kinetic spectacle for all those who lay eyes upon it.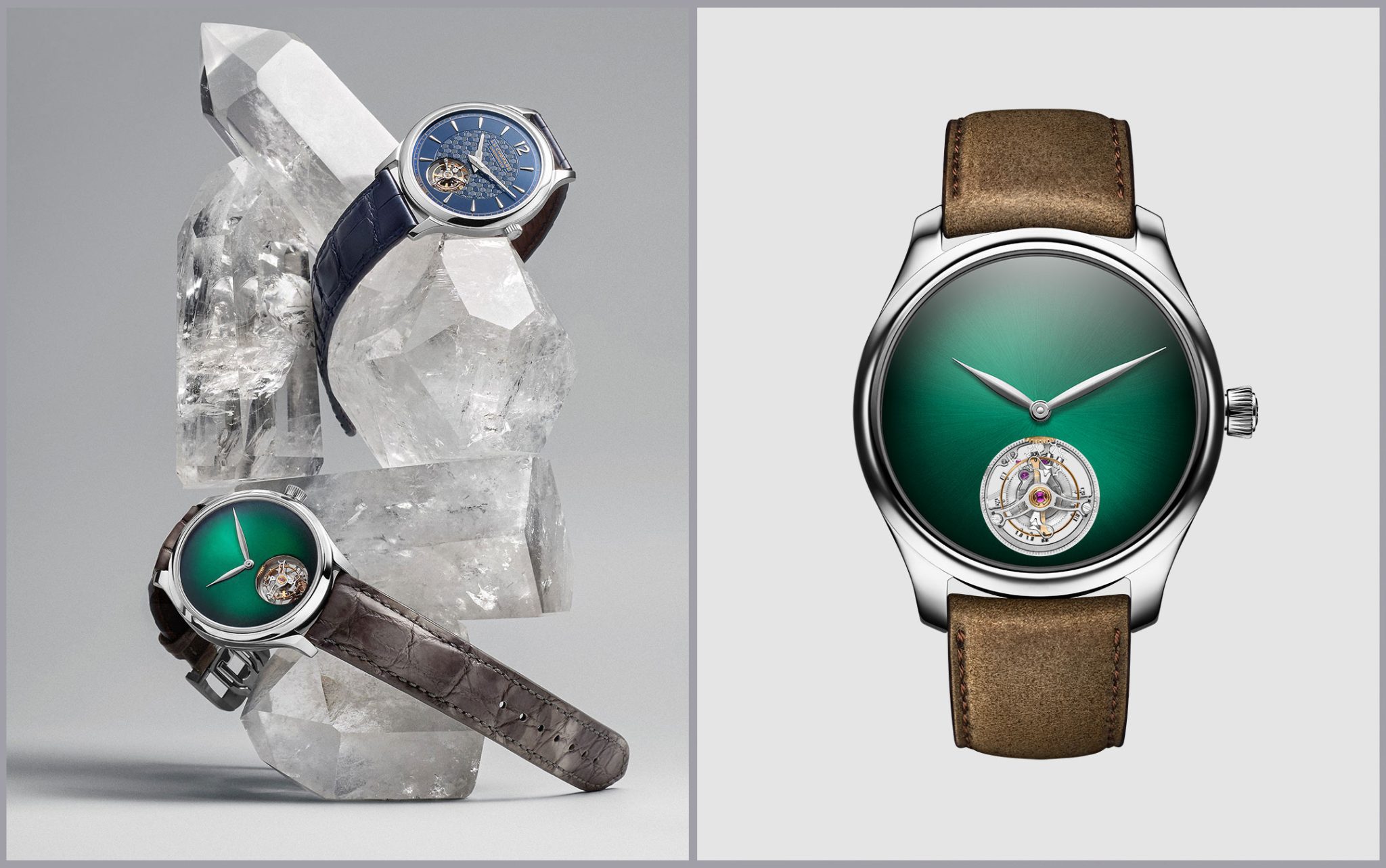 How are Masterworks watches chosen?
Despite the careful balancing act of established and niche brands, Masterworks displays are not actually curated according to brands, but rather themes. The first round of watches, for example, consists of tourbillon, skeleton, and calendar models, alongside a permanent selection of niche brands, for example a L'Epée clock. The Masterworks watches do not have to literally feature a complication – rather, their complex nature can come in a variety of forms, for example use of materials and their decoration, design, or movement.
Within the Masterworks stage, Bucherer aims to highlight the true works of art and examples of exceptional masterpieces. Gantenbein gives us an example: 'We have an H. Moser and Cie. Endeavour Centre Second Lime Green in our selection, without any complication, but with a "Grand Feu" enamel dial and the movement integrates a double hairspring which increases the accuracy. For us, it therefore meets the Masterworks criteria.'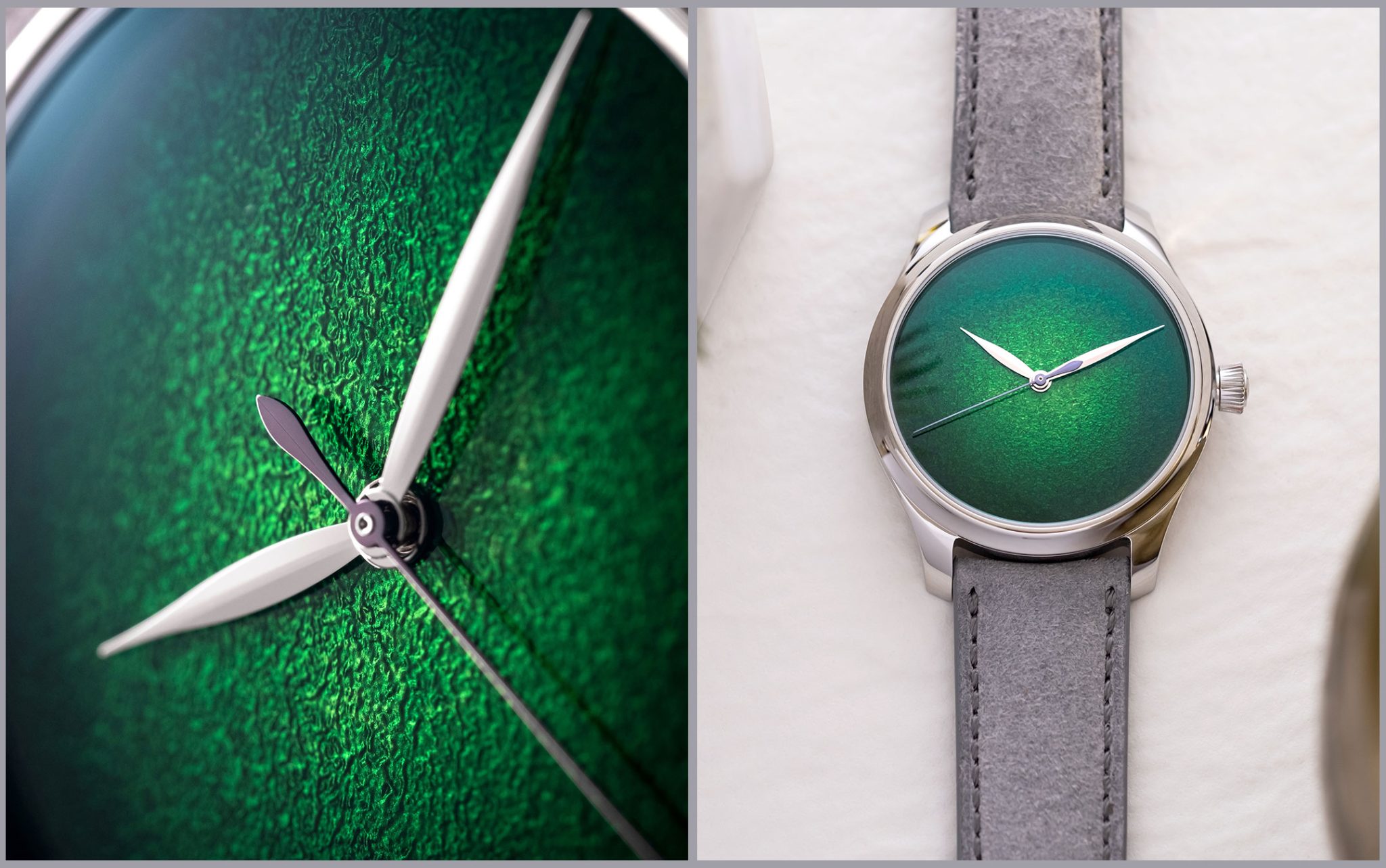 A new role for Bucherer?
As the largest multi-brand retailer, Bucherer wants to use the Masterworks concept as a tool for bringing out another important aspect of the company: as a creator and curator for remarkable pieces in the luxury segment. Masterworks' multi-brand approach offers up specific skillsets and generational know-how from each horology house. Whether a refined IWC Portugieser Perpetual Calendar or a contemporary Ressence Type 1, we may hope that Masterworks can encourage us collectors to broaden our horizons – and avoid an arguably insular fixation upon the same few brands time after time.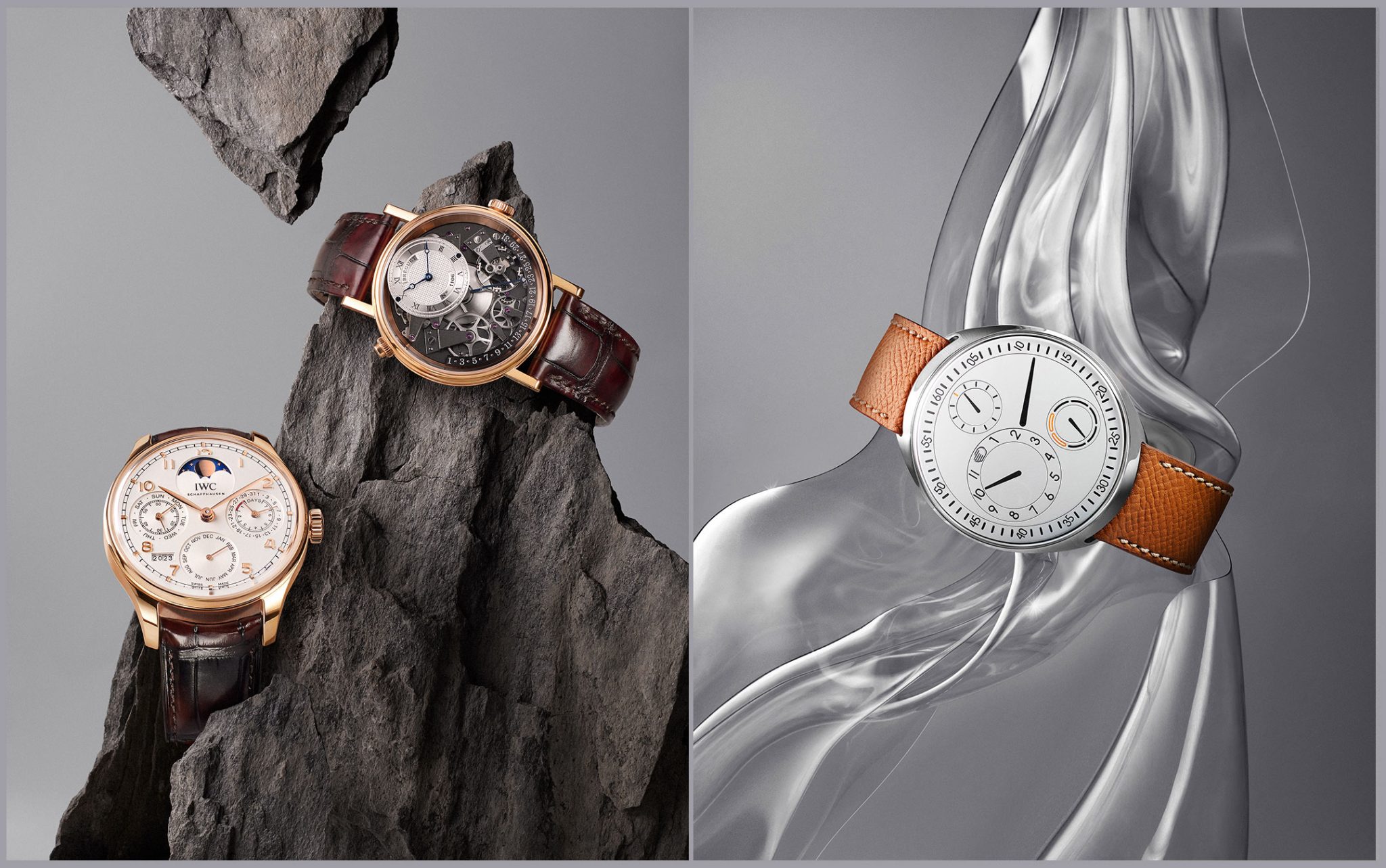 Masterworks and art unite
Bucherer defines masterworks watchmaking as the ultimate art form, where creativity knows no bounds, where ultra-modernity and tradition coexist. Bucherer Masterworks expresses the love of materials, precision and beauty.
This May, Bucherer will commission digital artist Jon Emmony to create a piece of work inspired by the beauty and elite craftsmanship of Masterworks watchmaking. With Emmony counting the likes of Valentino and Burberry amongst his clients, his artwork will work as a standalone piece with the ability to be broken into smaller sections for a multitude of different purposes. 'We wanted an artist's view into how they interpreted Masterworks,' explains Gantenbein. 'Our only request was that Emmony incorporate watch parts into his 3D artwork, which is what he's best known for. Aside from that, we just let him do it. After all, watchmaking is art. That's why we work with artists for the visualization.'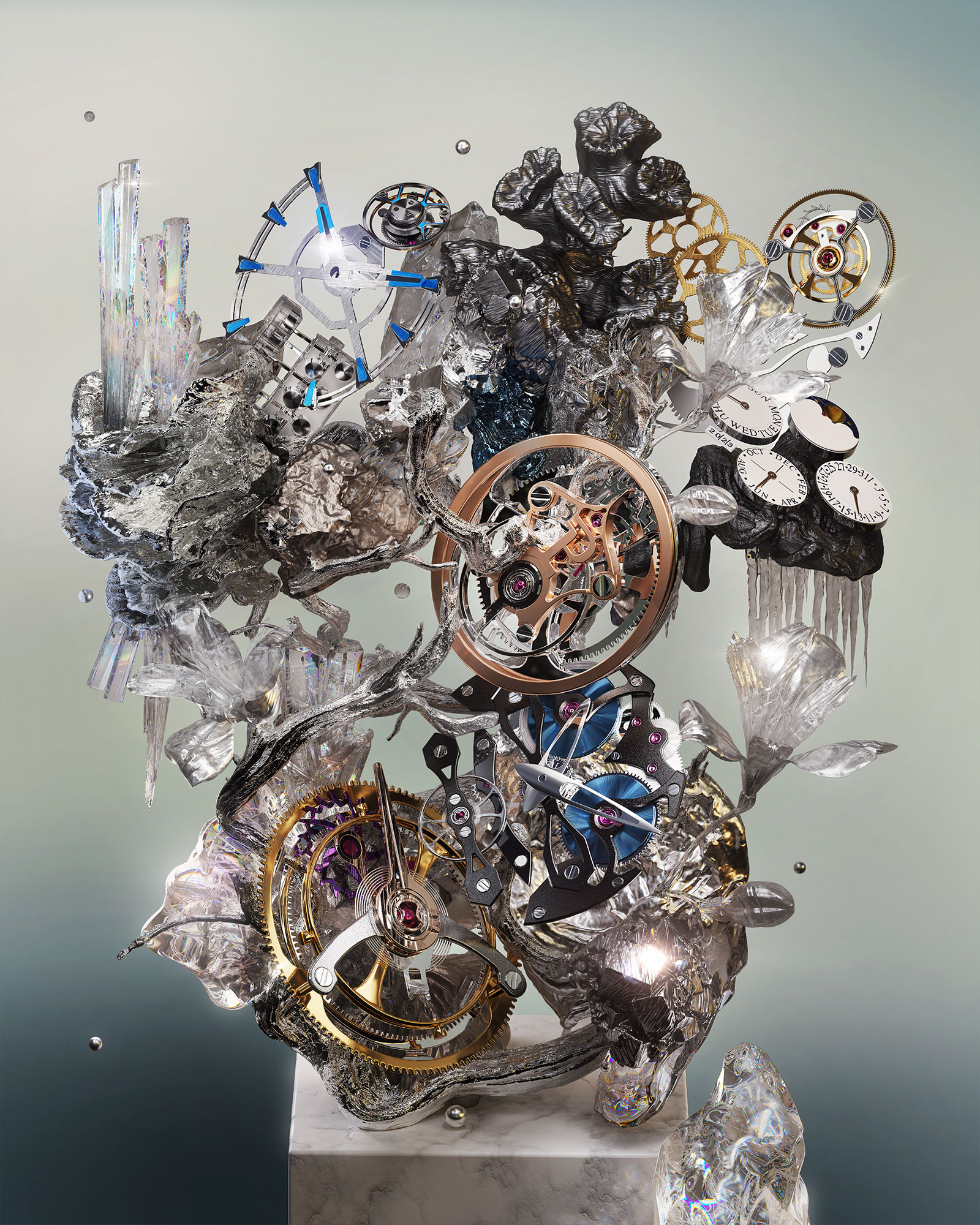 Looking to the future
From fantastical to technical to traditional, Masterworks is a sign that the luxury landscape is changing, and here we have a retailer that is responding accordingly. In times in which an increasing number of companies are actually going mono-brand, Bucherer's Masterworks is offering a retail experience that mono-brand stores cannot provide. In turn, this multi-brand retail experience should encourage new consumer impulses and ideas that take classic retail into the future. On that note, here's to hoping that the ambitious Masterworks scheme ignites the passion we share for horology – and inspires us to never stop dreaming about the infinite measurements of time.
For our German readers: Interested parties can already experience a permanent Masterworks display at the Bucherer Berlin boutique. Find out where the next Masterworks Roadshow will take place and all the latest news about it in the following link: bucherer.com