The Audemars Piguet Royal Oak Selfwinding Black Ceramic 34 mm: it's a watch that trends on social media, enjoys demand and discussion, and consequently gets its own article on pretty much every watch publication. We are also keen to get to know this Casanova of the watch world, which is why editor Catherine Bishop took it for a spin to let our readers know what the hype is all about by asking all of the important questions.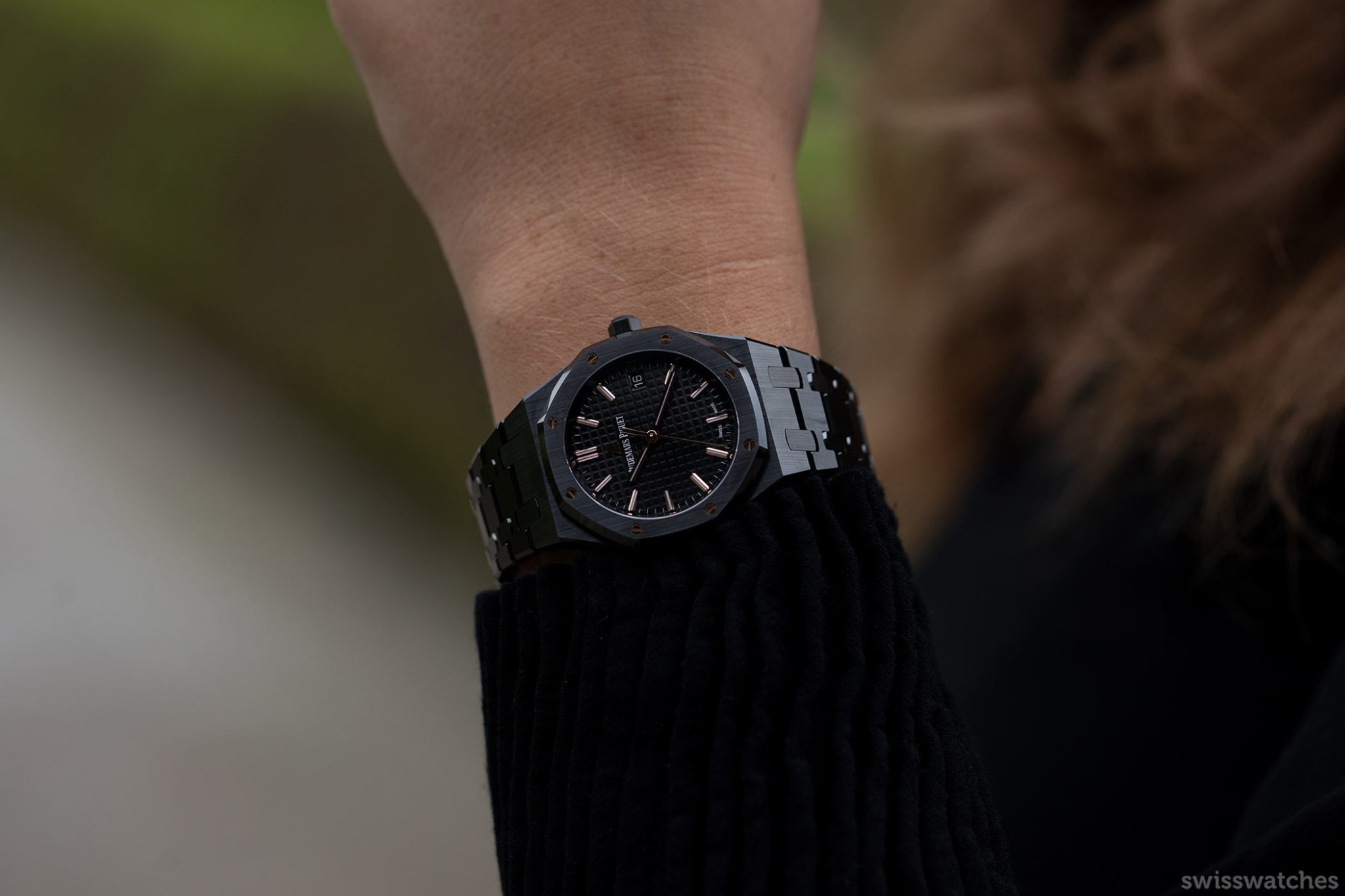 ---
When did the Audemars Piguet Black Ceramic appear?
---
In the summer of 2021, the Ref. 77350CE.OO.1266CE.01 was launched alongside several other new pieces. Other stand-out Royal Oak novelties included skeletonised rainbow gem-set masterpieces, a purple-dial chronograph set with amethysts, and an ever-rare baby blue dial piece in white gold. To the untrained eye, the black ceramic Royal Oak arguably looked like the most lowkey.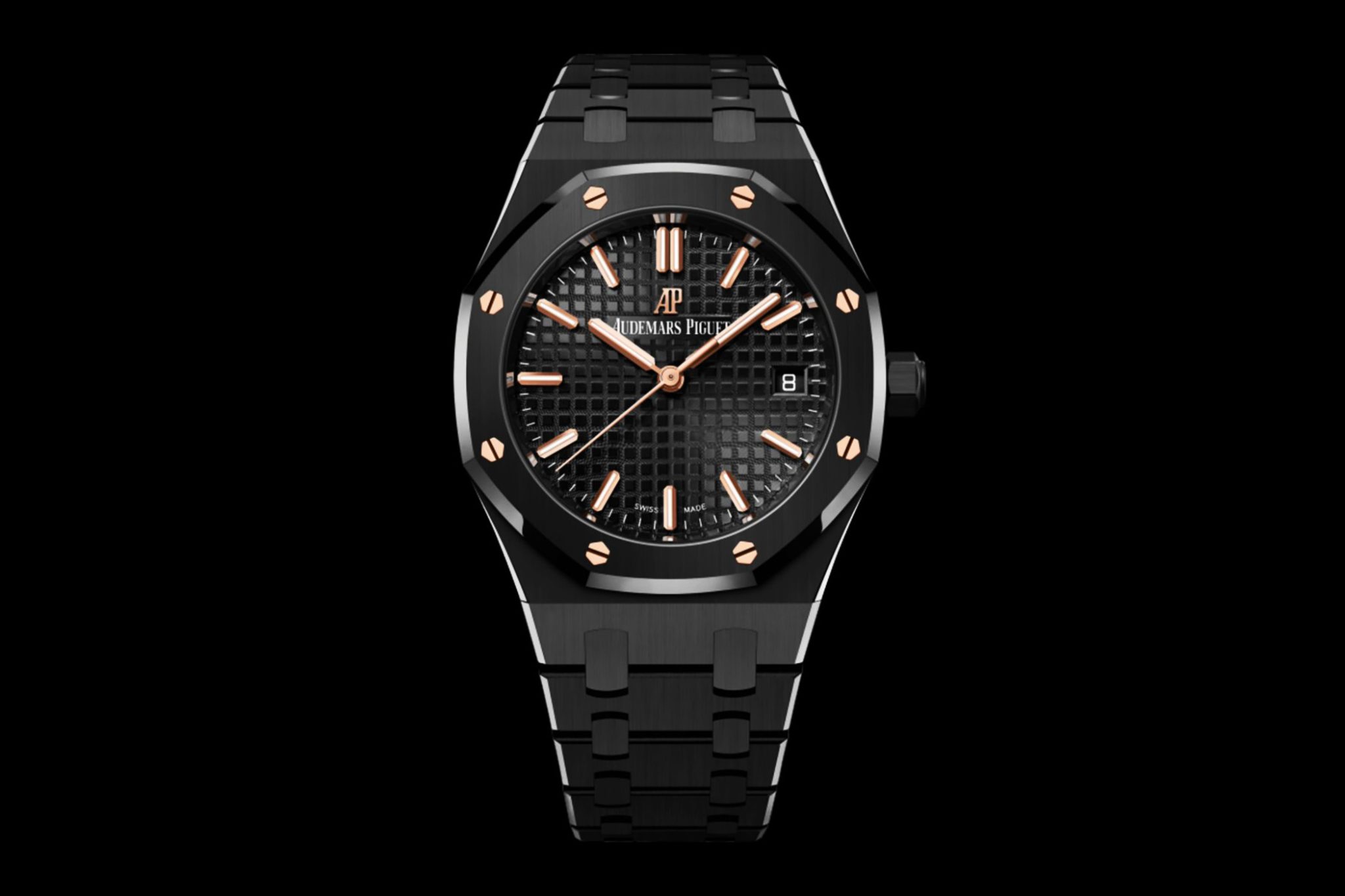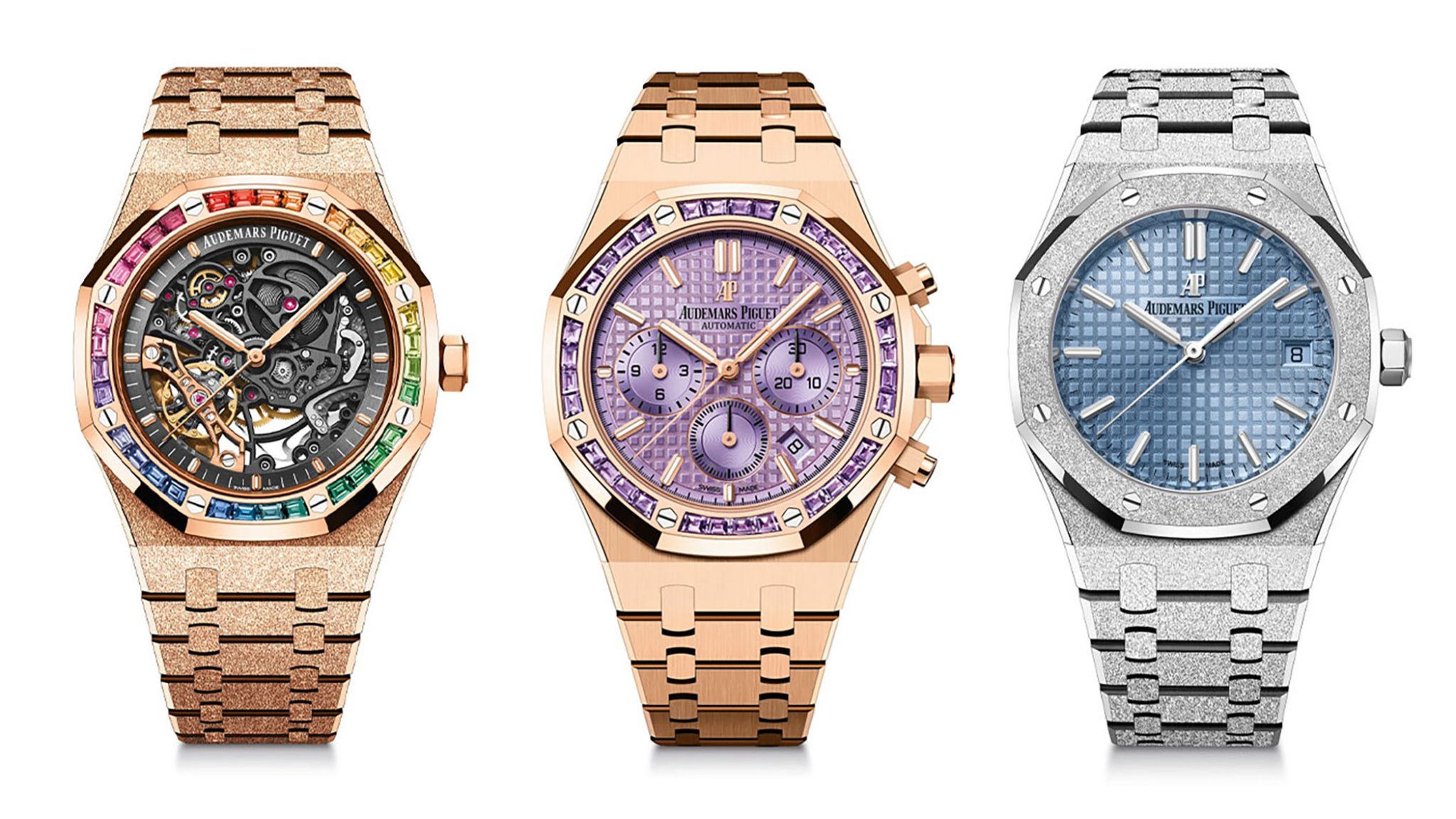 So what's the hype for us watch fans? Against this star-studded backdrop, what is it about the black ceramic watch that sent our horological world into overdrive? I would put it down to several factors, which we can walk through together one by one: 1. the ceramic material, 2. the contemporary design, 3. the smaller size, and 4., the self-winding calibre.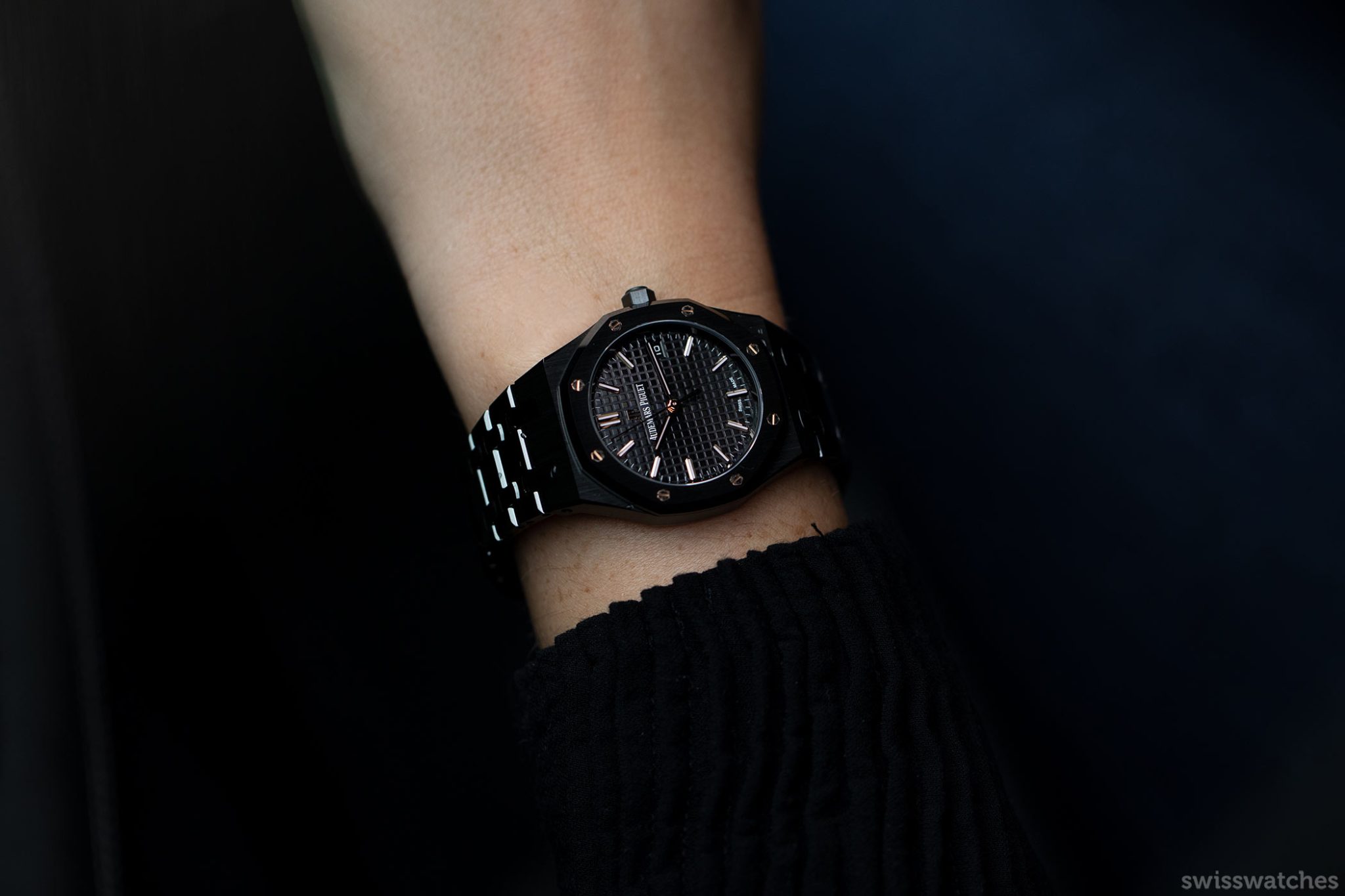 ---
Material of the moment: Ceramic
---
First and foremost, the thing attracting many to this AP is the material. So, let's talk black ceramic. Of course, this is by no means the first time that Audemars Piguet has graced us with a black ceramic Royal Oak. The first ever black ceramic case came in the form of the 48 mm Royal Oak Offshore Arnold Schwarznegger 'The Legacy' Chronograph, back in 2011. The limited edition of 1,500 pieces was the first Audemars Piguet watch to feature an all-ceramic case. It also commemorated the end of the manufacture's vibrant partnership with Schwarzenegger, while celebrating their long-lasting friendship. Meanwhile, 2017 saw the arrival of the first full (including case and bracelet) black ceramic Royal Oak within the main collection, in the form of the Royal Oak Perpetual Calendar 41 mm. Its open-worked successor was released in 2019.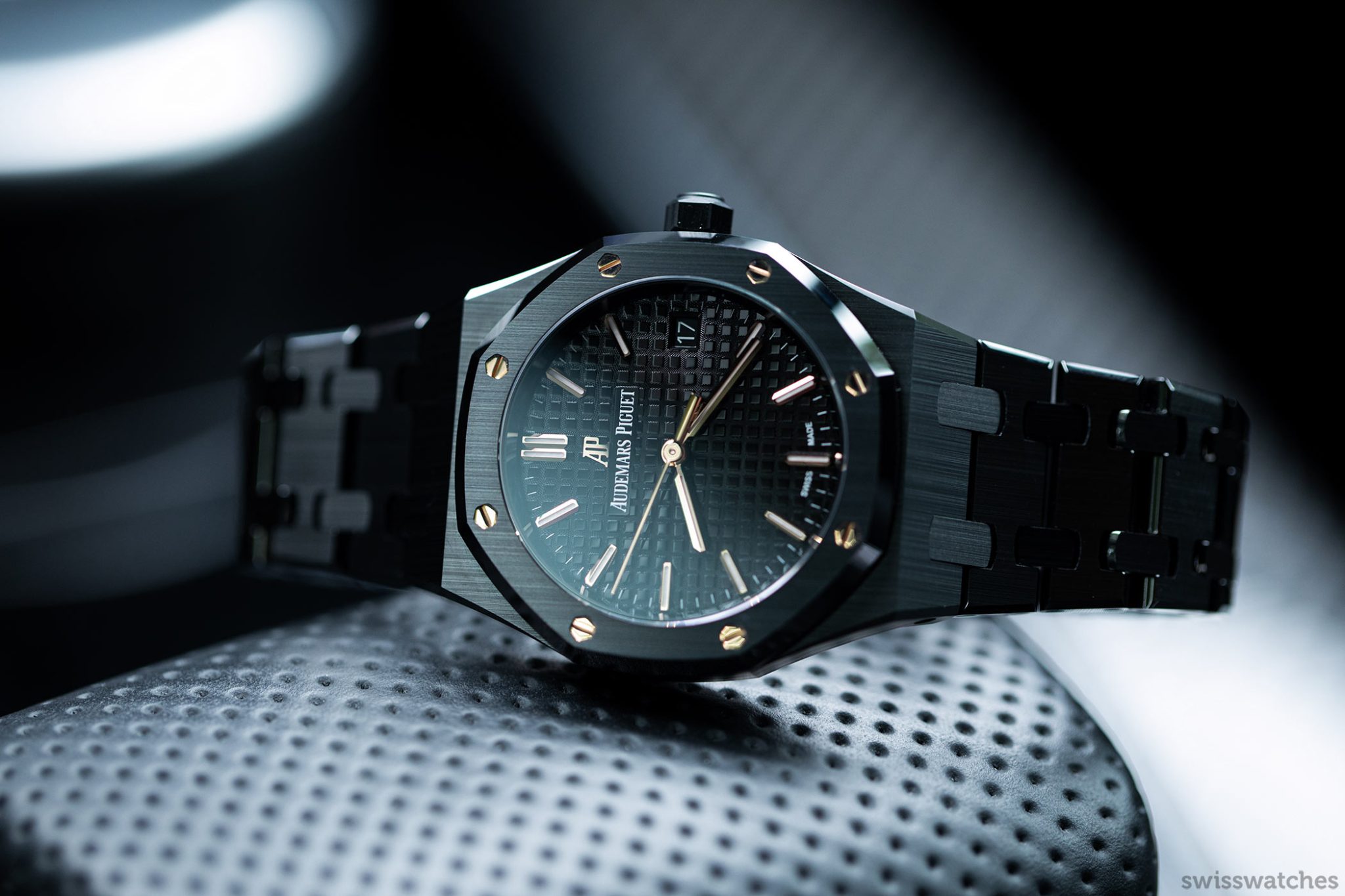 That perpetual piece was, in essence, the catalyst that sparked the ongoing ceramic watch hype. Ceramic watches began to pop up increasingly often on the AP scene; think of the Royal Oak Tourbillon Chronograph Openworked, the Royal Oak Tourbillon Extra Thin, and the Royal Oak Double Balance Wheel Openworked, to name just a few. The difference, of course, is that these were all complicated models. By contrast, the AP Royal Oak Selfwinding Black Ceramic 34 mm offers merely hours, minutes, seconds and date (at 3 o'clock). What this demonstrates is that you don't have to make something complicated in order for it to be a hit.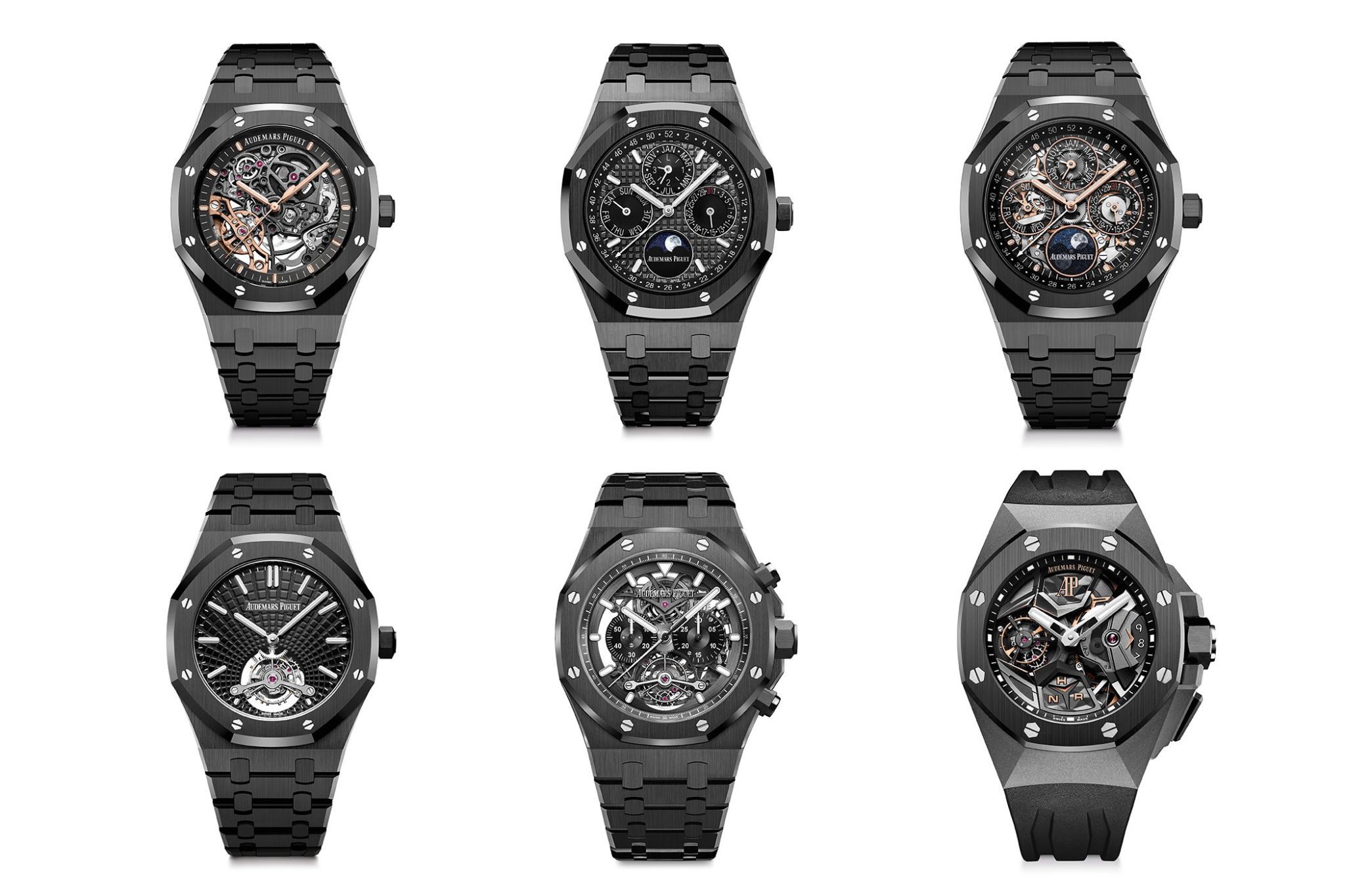 ---
Creating ceramic: No easy process
---
AP are certainly experts when it comes to craftmanship, but even they occasionally need a helping hand. Therefore, the company works alongside Bangerter, a family-owned Swiss business. Bangerter's area of expertise is manufacturing precision components made of advanced ceramics and various other super-hard materials. Here's the part for the scientists – the recipe to creating AP's black ceramic.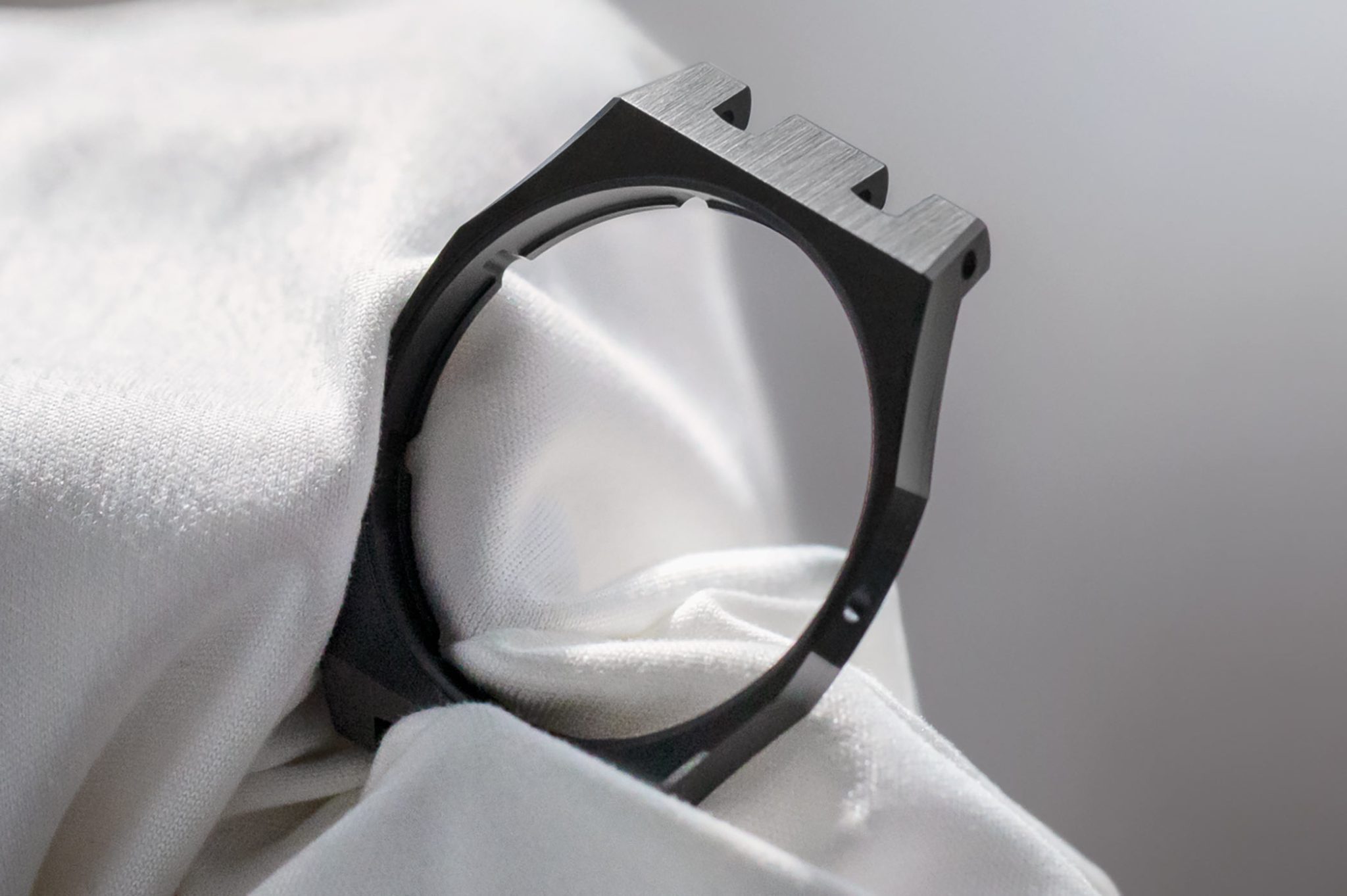 The first ingredient on the road to black ceramic is Zirconium Oxide powder, which the manufacture combines with a 'secret' binder ingredient. Using 5-axis CNC machine technology, the parts that will make the preliminary case and bracelet components are formed. After this, the 'secret' binder can be removed. Next, the ceramic needs its hardness.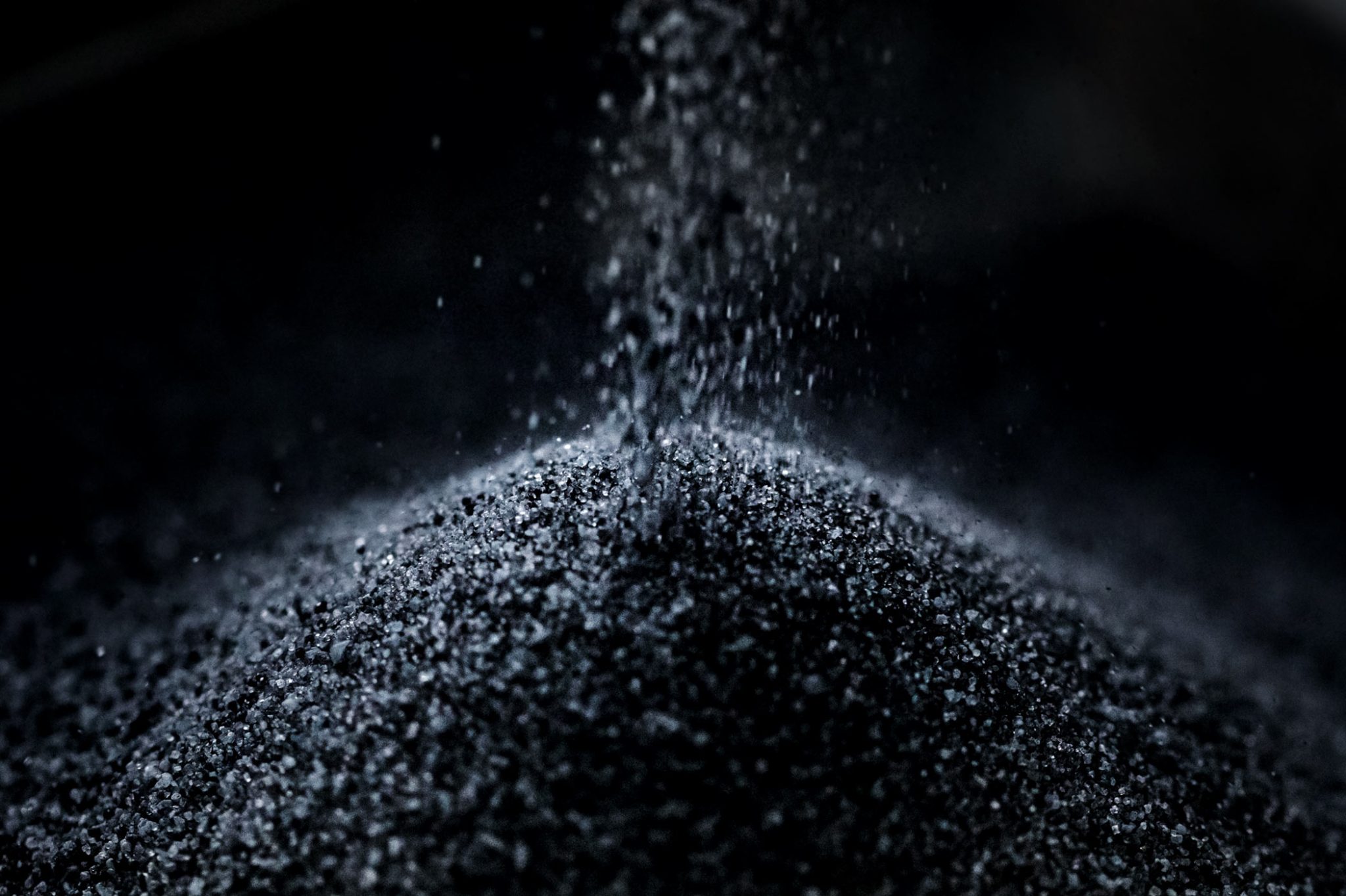 Bangerter do this by sintering the material at a temperature of around 1,400 C, during which time the material shrinks by around 25 percent. Then, the ceramic can be shaped diamond tools, one of the few things able to shape ceramic. The surfaces can then be pre-polished and pre-satin brushed before a final finishing by hand.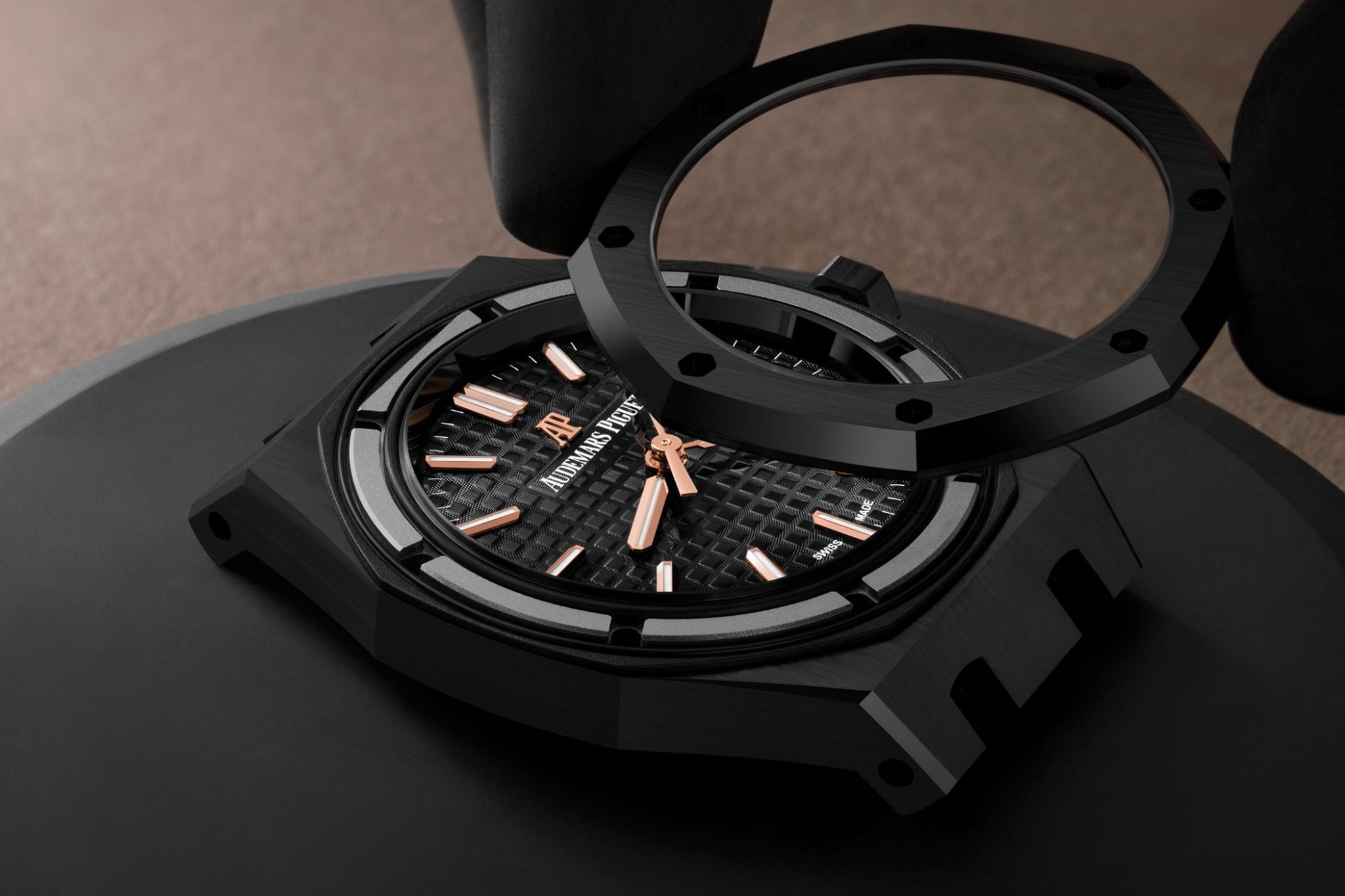 ---
Black watches
---
We all like to follow what's hot in the watch world; blue and green dials; grained dial limited editions; and, of course, all-black watches. In recent years, we've had numerous black watches surfacing: think Panerai's Submersible S BRABUS Black Ops Edition, Montblanc's 1858 Geosphere UltraBlack, TUDOR's Black Bay Ceramic, OMEGA's Seamaster Diver 300M Black Black and and the Porsche Design's Chronograph 1 – 1972 Limited Edition. In a fashion world that is all about statement – think of those huge designer logos on bags – or minimalism –think of those muted, scandic-style coffee shops with long wooden benches –, the striking colour of black ticks both boxes. As the little black dress proves, black is an eternally chic colour that will never go out of style.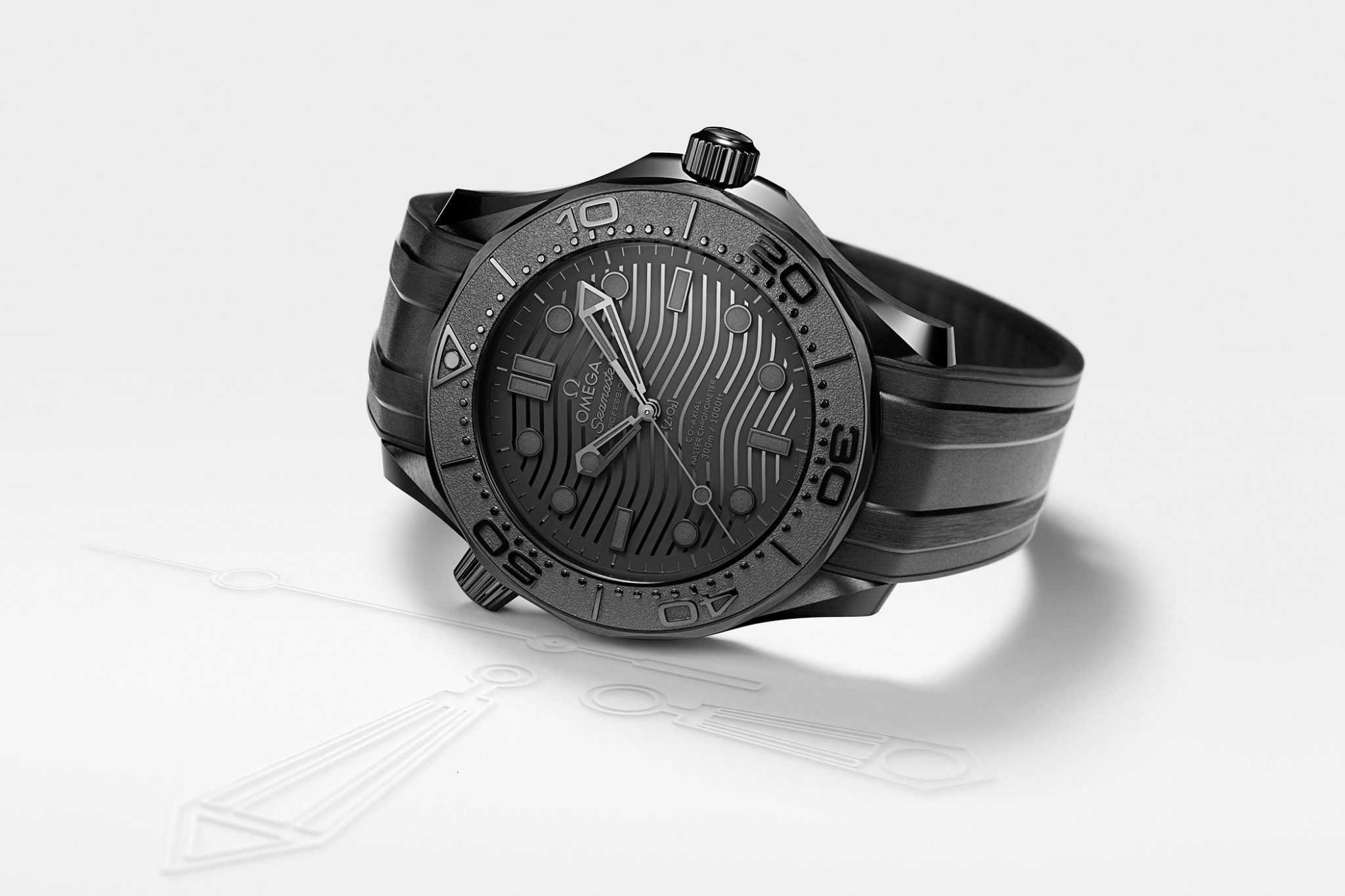 ---
The design
---
As is the case with its siblings, the black dial showcases AP's Grande Tapisserie pattern. Luminscent-filled pink-gold applied hour-markers and Royal Oak hands indicate the time. Arguably, this whole watch would not work so well if it were not for these glowing pink-gold details on what is otherwise a sultry watch. They add a touch of refinement and glamour that gives the Royal Oak a new feel. From a female perspective, at the risk of sounding like a 1950s advert, it really does feel like a piece for the 'modern woman'. By that, I mean the aesthetic is versatile, confident, and stands out from the crowd with style and poise. From a more neutral perspective, it's a unisex piece that is suave and unique (quite literally, this is our first main collection ceramic Royal Oak).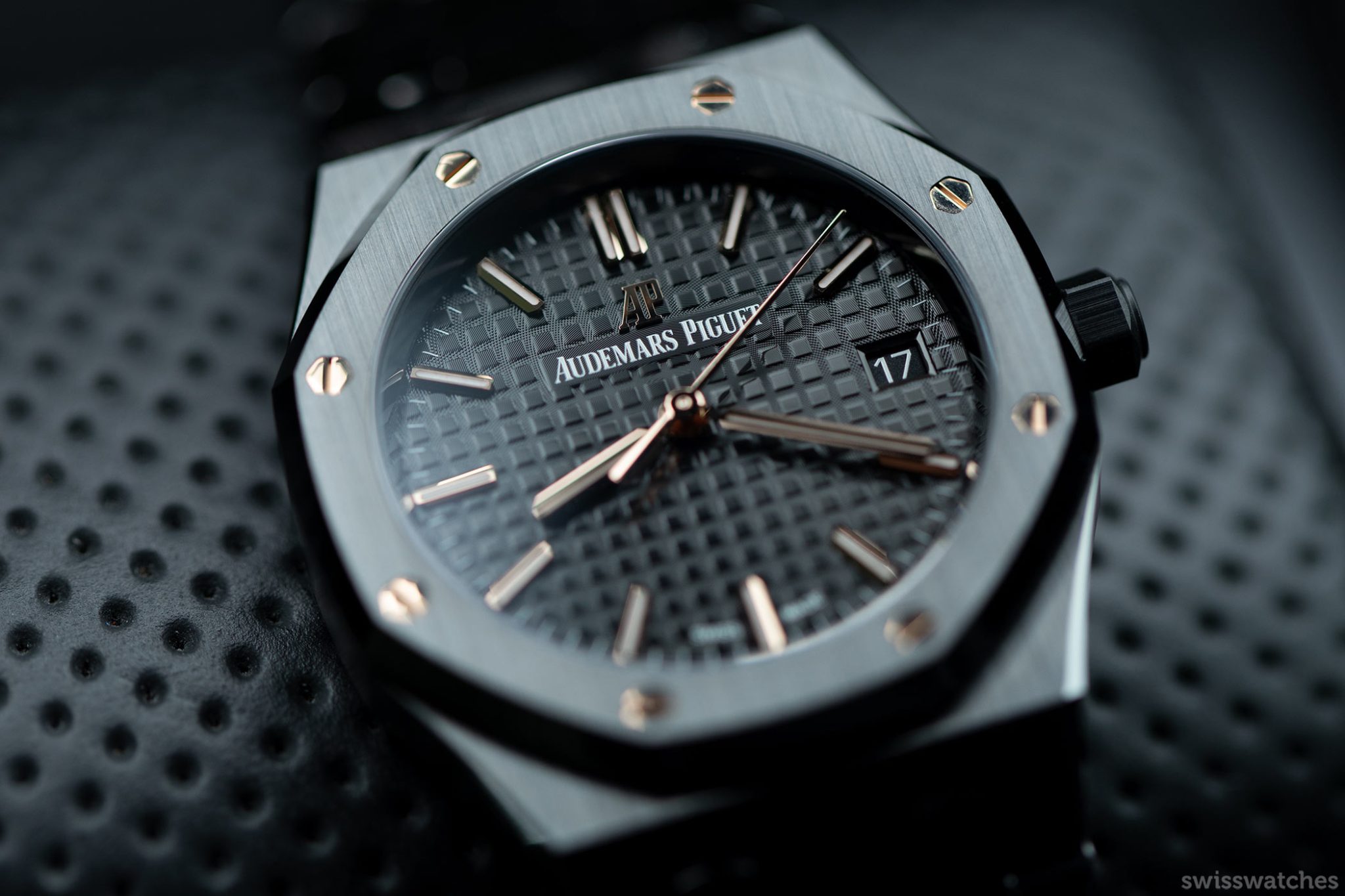 ---
The size
---
Beforehand, those with slimmer wrists searching for an AP Royal Oak had only the option of a 33 mm (quartz) model or a 37 mm self-winding version (too big for some, not least given that the integrated bracelet can make the watch feel bigger than it really is). Nevertheless, the 34 mm x 8.8 mm case, which is water-resistant to 50 m, sits well on the wrist. For those often use to larger watches (I, for example, tend to go for 36 mm), it can take a moment of getting used to. But the small size of the Audemars Piguet Royal Oak Selfwinding Black Ceramic 34 mm also just adds to the edgy watch's cool yet lowkey appeal. The bracelet also takes a minute to adjust to. As with titanium watches, you find out wrist adapting to an unusual weight and even temperature on the wrist in comparison to a steel or gold piece.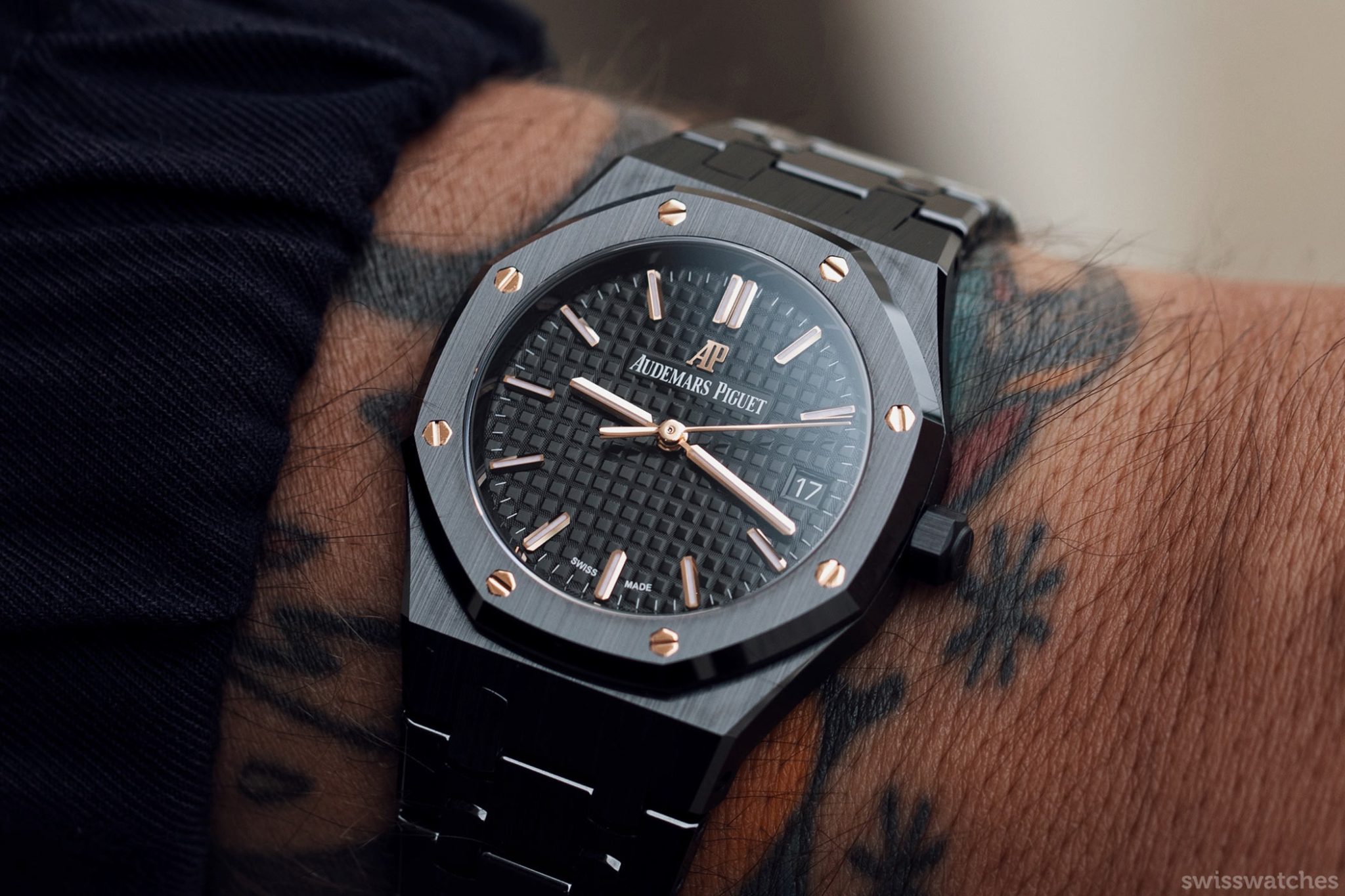 The ceramic timepiece's siblings include two steel models (one of which boasts a diamond-set bezel), a pink-gold model (also with a sparkling bezel), a two-tone steel and pink-gold edition, or a special frosted white-gold model. But Audemars Piguet's decision to create a 34 mm model in ceramic, too, was an ambitious undertaking in itself. As explained, creating ceramic is no easy process. To elaborate further, consider this: creating your average Royal Oak bracelet (inclined machining, polishing, hand-finishing, assembling) takes six or so hours per piece. By contrast, this process for the brushed and polished black ceramic bracelet takes 30 hours.
---
Creating a Royal Oak for ladies
---
This watch is not specifically aimed at ladies, but also men with slimmer wrists, but it is worth touching upon the subject given that this is certainly a watch that will appeal to a lot of AP girls out there. While many will know that the Royal Oak surfaced for men back in 1972, ladies would have to wait four more years until they, too, could enjoy the icon. In 1975, Jacqueline Dimier took over as Head of Product Design at the AP manufacture. This was somewhat of a revolution in itself, as watches remained very much a man's world. Her first goal was create a Royal Oak for women, first appearing in 1976.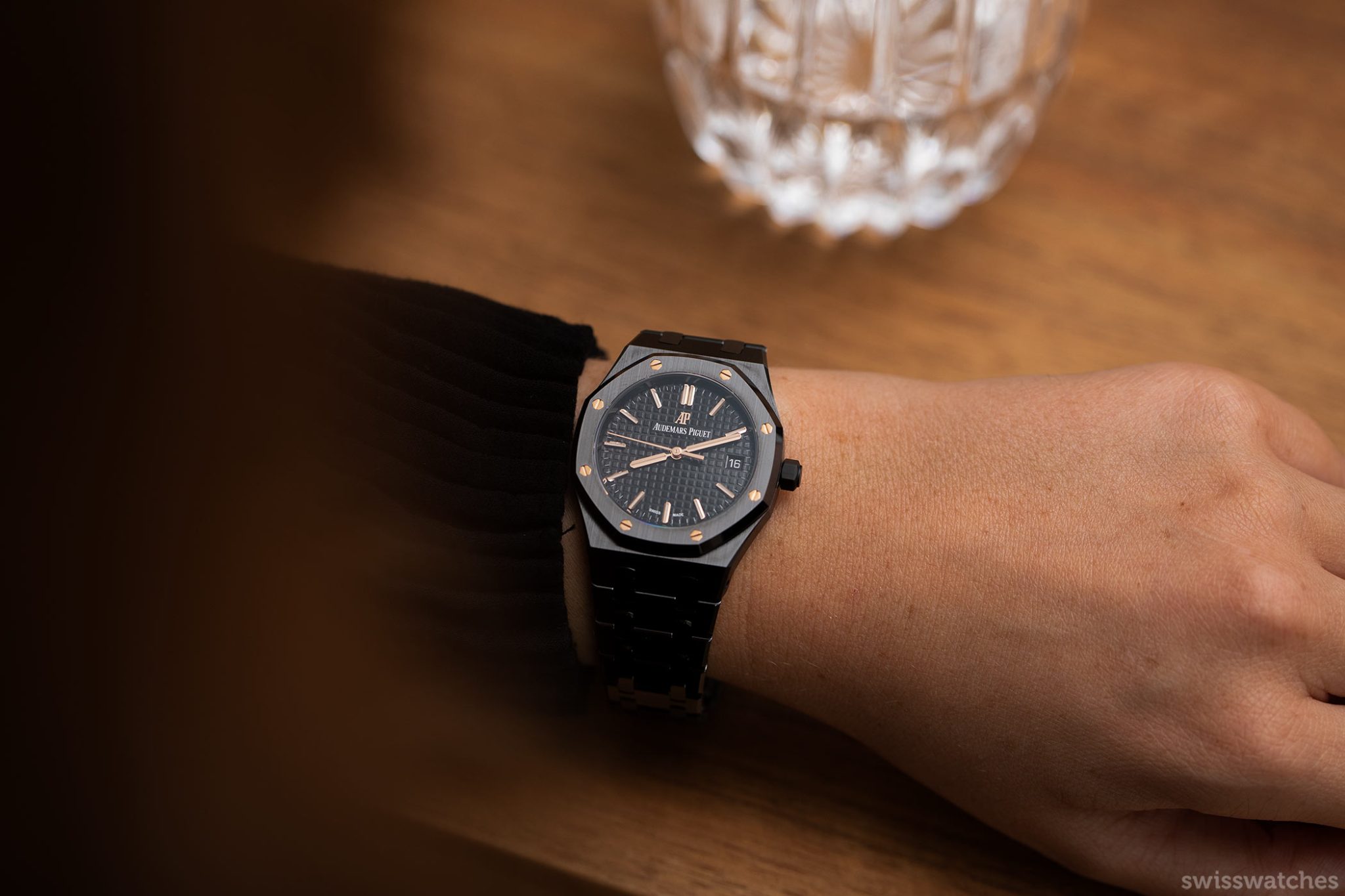 If you think how revolutionary the watch model was upon its introduction, just consider how unusual the design was to be seen on a female's wrist. Dimier focused on creating a lighter watch, without effecting the water-resistance, and creating a more comfortable, flexible bracelet. Since then, visionaries such as Carolina Bucci have worked to give the ladies' Royal Oak its own feminine, free-spirited voice.
---
Ref. 77350CE.OO.1266CE.01: The movement
---
Royal Oak ladies watches do, of course, also come in 33 mm. However, those are quartz. The new 34 mm models, including the Audemars Piguet Royal Oak Selfwinding Black Ceramic 34 mm, therefore open up new doors for the slim-wristed, mechanical watch fans of the AP world. The calibre inside the 34 mm Royal Oak is the calibre 5800. This self-winding movement with a 50-hour power reserve and frequency of 4 Hz fits perfectly to the pragmatic ceramic watch.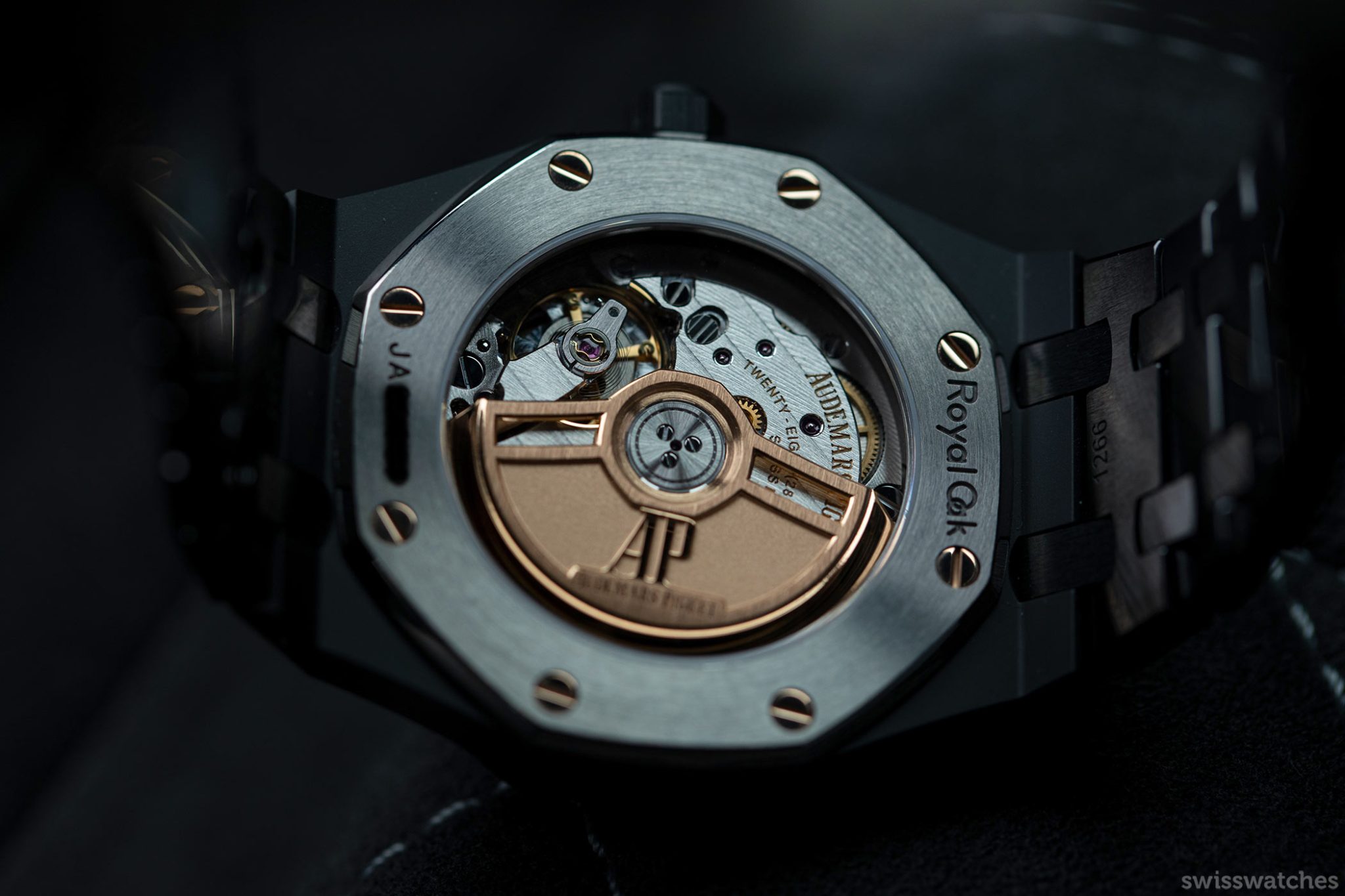 First introduced in 2020, the calibre 5800 uses Vaucher's (sister brand to Parmigiani Fleurier) VMF 3002 as its base. Consisting of 189 parts including 28 jewels, it has a 23.9 mm diameter, meaning it fits well into compact 34 mm model, and is visible via the sapphire crystal caseback. Surrounding the sapphire crystal, the material in use is titanium. The reason for this is that the hardness of ceramic means that it cannot withstand torsional force (e.g. twisting or turning) so well. If one of the exposed screws was tightened, for example, the ceramic could crack. Therefore, a titanium caseback helps avoid a disastrous situation.
---
Audemars Piguet Black Ceramic: The Verdict
---
So what are you ultimately getting for 47,000 euros? A well-executed, well-known watch with a still-rare material at AP and an exposed self-winding movement, of course. But more than that, it makes for a significant piece in the never-ending Royal Oak story. For me, this watch also shows that Audemars Piguet is a brand which, under the cool-headed leadership of CEO François Henry Bennahmias, has zero problems with moving with the times. In this sense, this watch is comparable with the Royal Oak Selfwinding Flying Tourbillon Titanium from last year, with its notably modern appeal. It's also thoughtful, given the materials; neither ceramic nor titanium are going to show perceptible signs of ageing over time.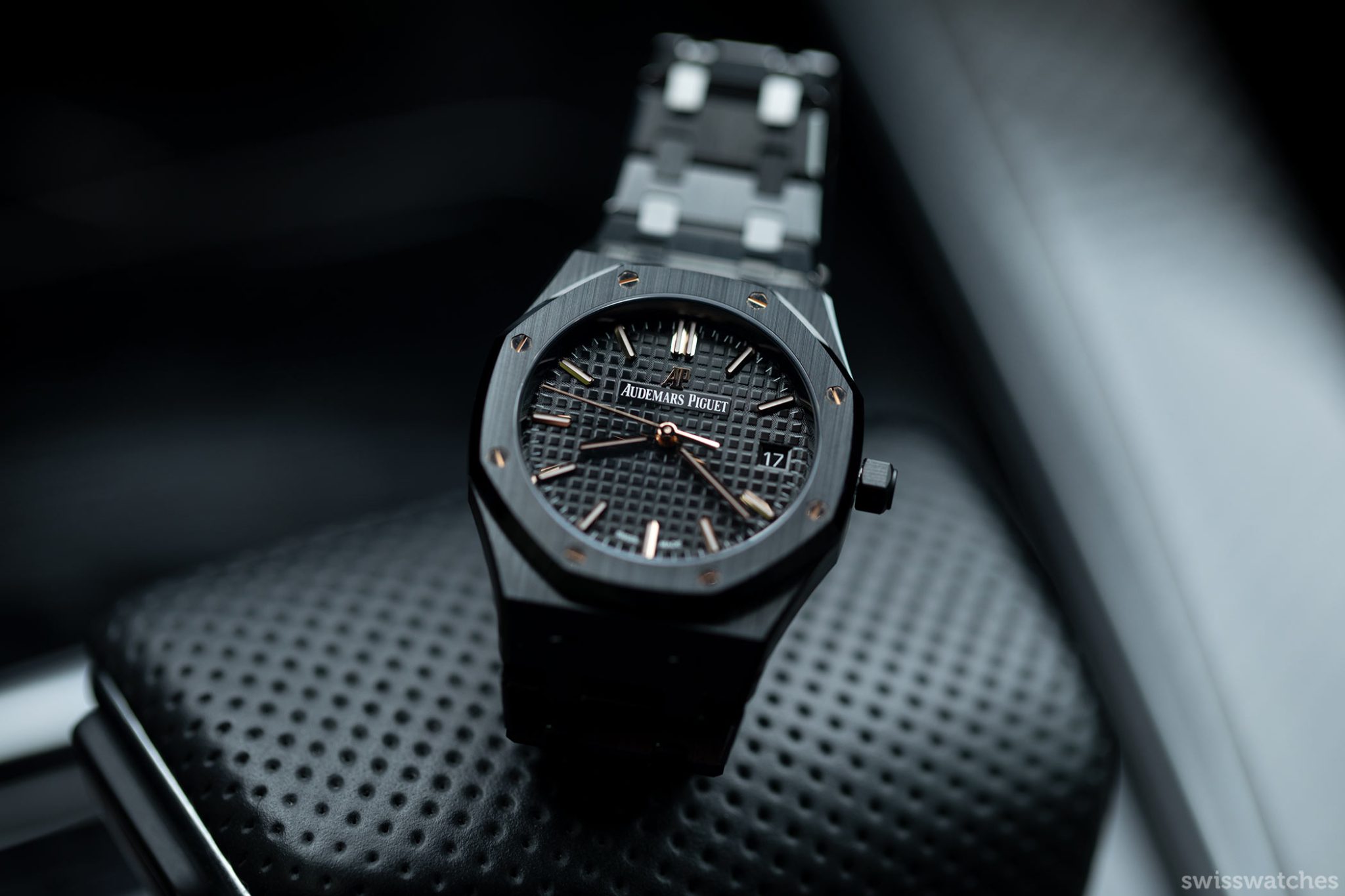 What is so surprising this time, however, is that this is not a crowdpleaser out there to impress everyone looking for a sleek, sultry AP. Rather, it is specifically offering a compact and contemporary to the small-wrist and ladies minority. The sadistic part of me hopes that this special watch remains reserved for ladies and those with small wrists. These days, watches of this size causing a stir in the horology world are a rarity in comparison to the majority of watches with a larger diameter. It feels like an acknowledgement.
---
Royal Oak Selfwinding Black Ceramic 34 mm – 50th Anniversary
---
Since the publication of this article, we have actually seen yet another all-black ceramic 34 mm Royal Oak on the block, as AP marks 50 years of their most iconic watch with a range of new pieces. At first glance, it is pretty similar to the predecessor we look at in this article. Yet there are a few differences; some easy to spot, some not. Starting with a more subtle change, the new version's bracelet has been slightly tweaked for, according to AP, 'visual appeal'. The pins connecting the links to the refined bracelet's studs are no longer visible on the bracelet's sides, but fitted directly into the studs, creating a sleeker look. Furthermore, while still powered by the same movement (calibre 5800), the rotor features the special "50-years" logo and Audemars Piguet signature created specially for the anniversary – making it sure to be a coveted edition indeed.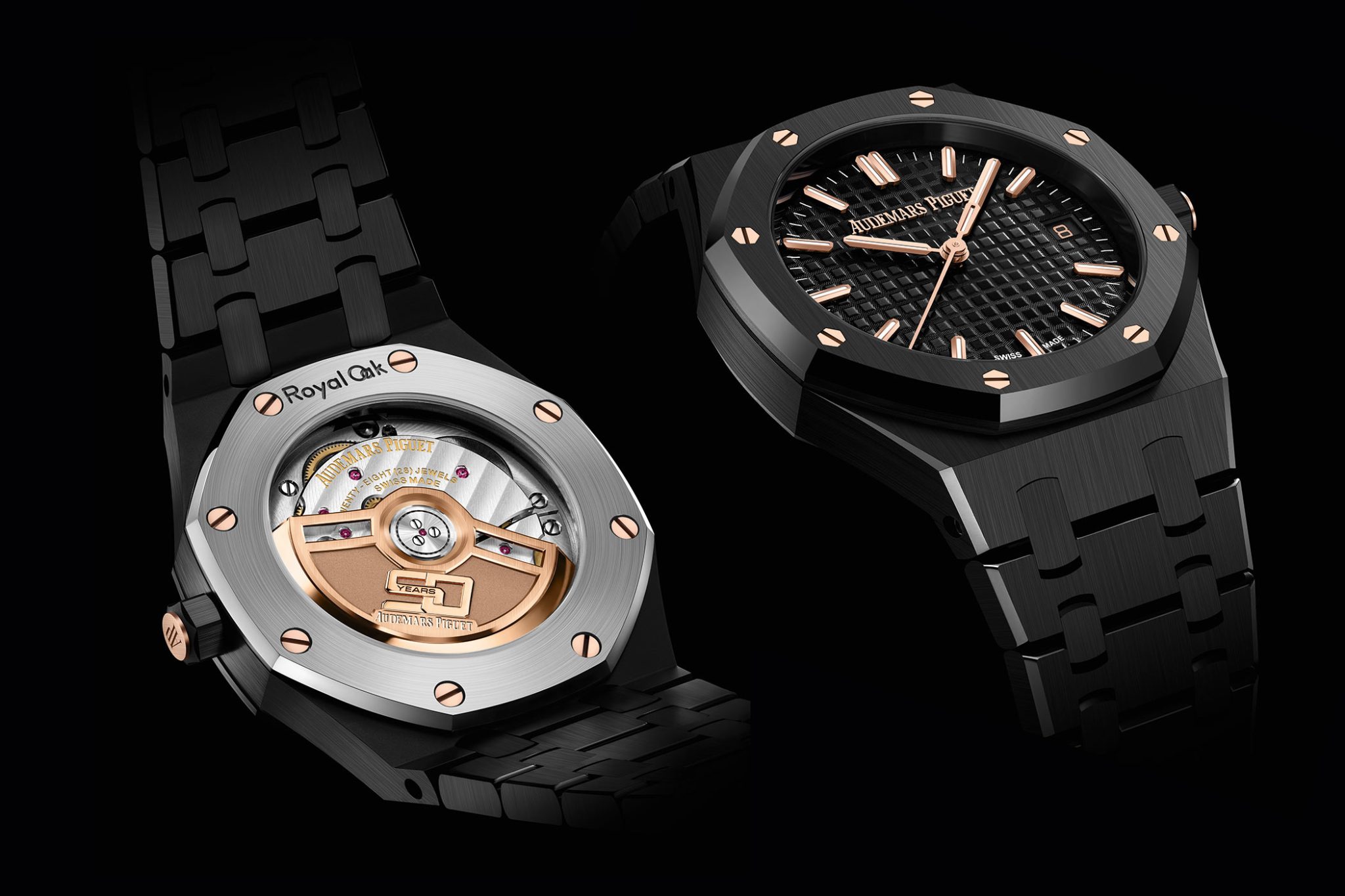 Finally, the other key difference can be found on the dial, which showcases the brand's technically complex logo now in 24-carat pink-gold, created via a process known as galvanic growth similar to 3D printing. Also the date appears in pink gold and if you look closely, you can even find some pink gold accents on the crown. With the AP monogram disappearing on the logo's signature and the additional rose gold tweaks, the new anniversary version overall appears more subtle and elegant.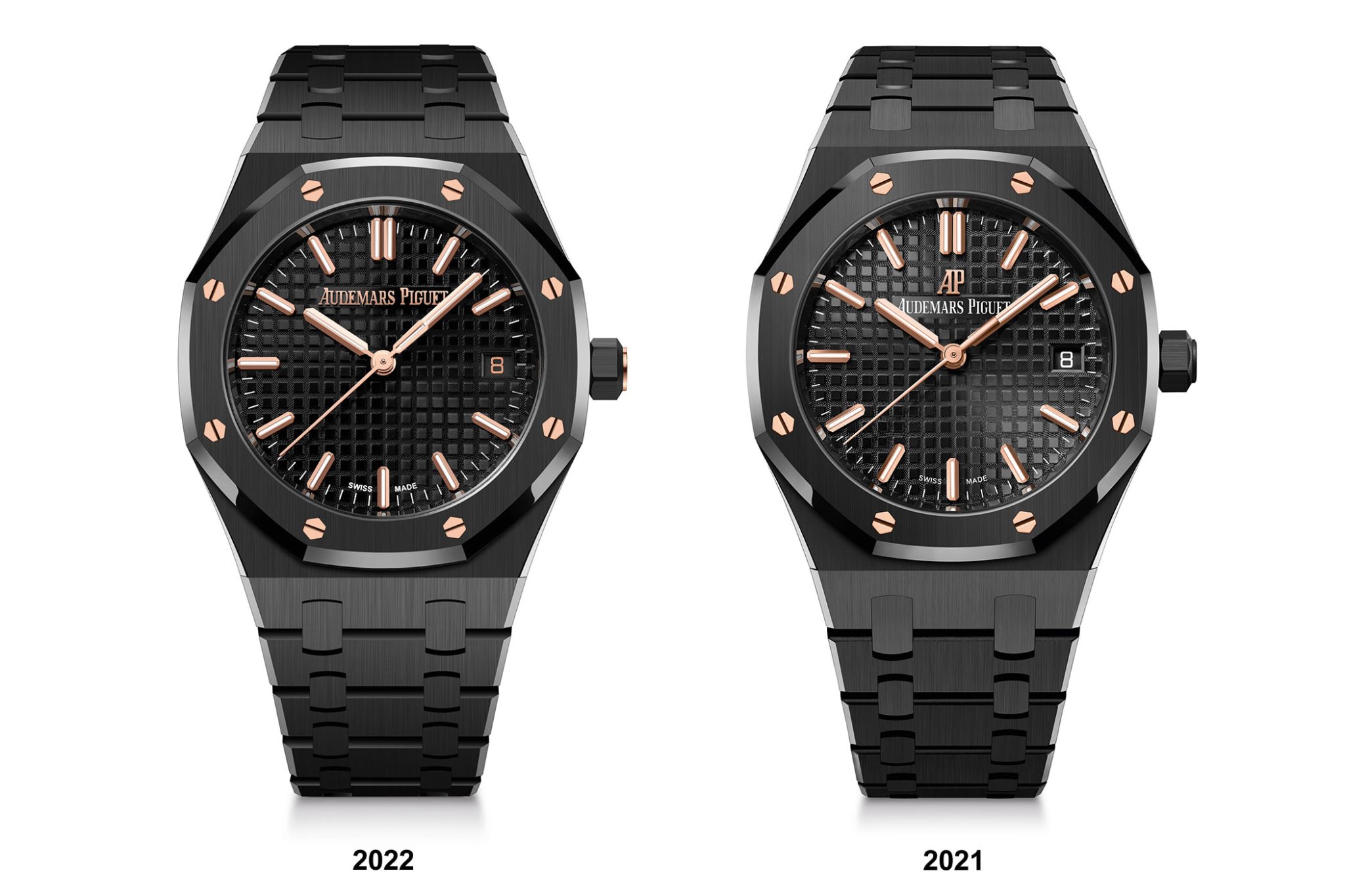 ---
---