Patek Philippe Takes Things to the Next Level
---
A very personal encounter with Patek Philippe owner Thierry Stern and Kim-Eva Wempe, managing partner of Gerhard D. Wempe GmbH & Co. KG, on the occasion of the inauguration of the new Patek Philippe boutique at Hamburg's Binnenalster.
Patek Philippe operates only three salons across the globe: one at its founding headquarters in Geneva, one in Paris, and one in London – and for good reason, as owner Thierry Stern explains in this interview. Yet its new branch in northern Germany is different, as became clear to each of the 120 guests at the boutique's inauguration. Thierry Stern's clearly audible comment upon reaching the upper floor, with its large panoramic windows overlooking the Binnenalster fountain, speaks volumes: 'Wow'.
The new boutique in Hamburg, operated by retailer Wempe, goes above and beyond in its defining of the term 'boutique' at Patek. It is one of the largest boutiques on the planet, even if this is only pointed out off the record.
Spanning over two floors, two hours numbers, and with a sales space now triple the size of its predecessor, the Geneva-based company now welcomes customers under Hamburg management to a lush 230 square meters situated next to the Apple Store. Sitting prominently on the Alster, the view of the fountain outside inevitably evokes the maison's famous flagship building on Lake Geneva.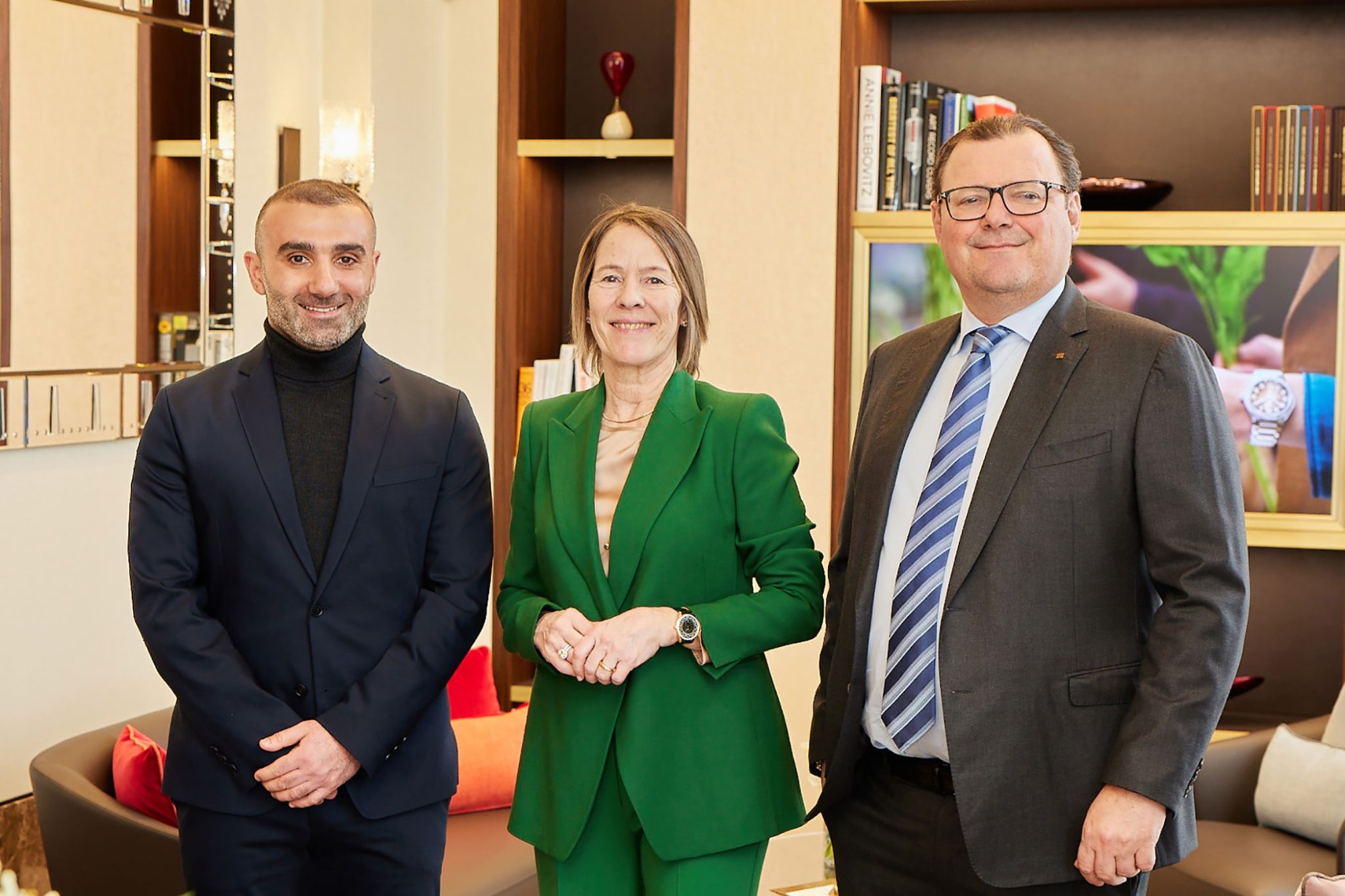 Zurab Zazashvili, Kim-Eva Wempe, Thierry Stern
Credit © Patrick Möckesch
The conversation with the two full-blooded family entrepreneurs, whom Swisswatches asked to talk to, is also on another level: the team has never experienced a more personal, honest interview about the status quo of the Swiss watch industry in recent years. No topic was left out, whether it was the difficult issue of succession planning for family-run houses such as Wempe and Patek, or the hype surrounding sought-after models and the resulting low availability of certain models, or even the topic of Certified Pre-Owned Watches initiated by Rolex. But read for yourself.
---
Congratulations on the new boutique! How is Patek Philippe doing following the crisis year of 2020, when they lost around 20 percent of their sales?
---
Thierry Stern: We are doing pretty well. I think what really helped us during the crisis was the fact that we worked a lot with local customers – that was the key to our success, and that has been our strategy for a number of years. That was, and is, my stated goal. So, to be honest, I wasn't too worried about it. You have to remember that our unit sales are so low compared to demand that I lost almost nothing at the end of the day. Most local customers were happy because they had the stores almost all to themselves. Yes, we had to stop production at times, but the boutiques were still able to deliver, and we were very happy with that. Of course, it wasn't a record year, but for me it wasn't a bad year either. And we also took the time to work on all of the things we didn't have time for before.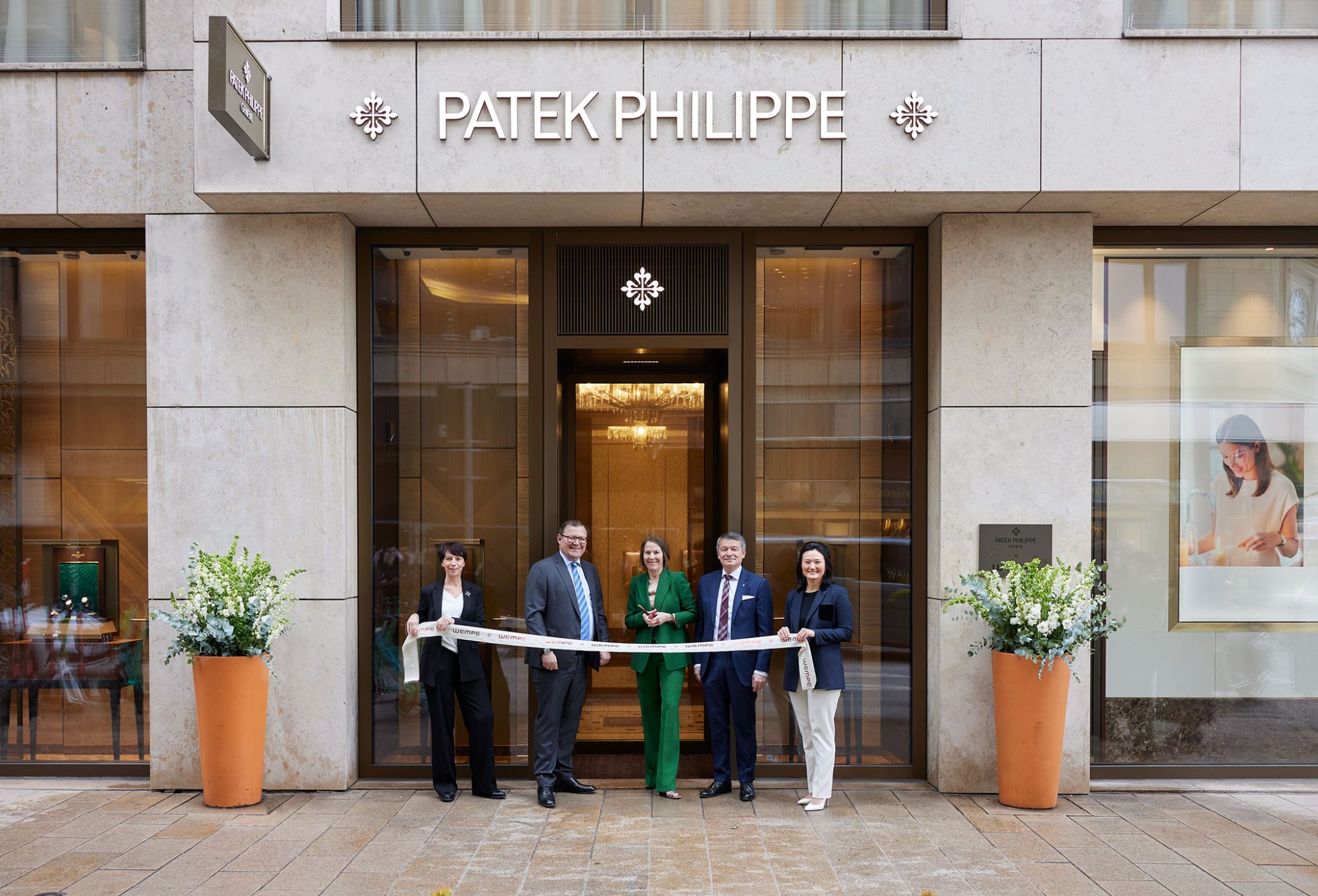 Opening Patek Philippe Hamburg
Photo credit © Patrick Möckesch
---
The luxury watch industry has been spoiled for success for years, did Covid catch it off-guard?
---
Thierry Stern: I was always prepared for challenges to come my way eventually. My father taught me that when difficulties arise, you should take advantage and continue working elsewhere. That's exactly what we've done: we've used this time to work on our processes, in terms of organisation.
– How is Wempe doing, Kim-Eva Wempe?
Kim-Eva Wempe: I can only echo what Thierry said. Wempe has a very special role in Germany; we are traditionally very strong here, having been in business for five generations now. We were very lucky throughout the Covid crisis, because even if we sometimes complain about Germany: in the end, it's a wonderful country that is well-organised when it comes to crises. That makes people confident, and that's what we need. As long as our customers are confident, there's not going to be a problem.
---
I remember very well having to change batteries on watches.

– Thierry Stern
---
How exactly did the cooperation between the two companies come about?
---
Kim-Eva Wempe: It all started with my grandfather and Thierry's grandfather. I had the opportunity as a young woman to do an internship at Patek, and my son has now also had that same opportunity to work at Patek Philippe. When he left on the last day, Thierry gave him the copy of the original of the first watch delivered to Wempe in 1929.
Thierry Stern: I also had this experience at the beginning of my career; like Kim-Eva and your son and I did an internship, but at Wempe in Frankfurt. For me, it was equally impressive to start in business and have to leave my home, being all alone and suddenly communicating and working with other people in another language. I remember very well having to change batteries on watches. They were Movado watches. If you pressed too hard, the watches broke. I must confess, I broke a couple of them. Another time, I had to get flowers for Kim, who was visiting – I was very young. I walked around town with this huge bouquet of flowers. Everyone was staring at me. That was an important period in my life, because it was then that I began to understand not only the relationship between Wempe and Patek, but also the relationship between a retailer and its end customers. That was, after all, the reason I was there: to learn that. I still keep that experience to this day. It's nice to see our kids starting their careers now, just like we did back then. It's a cycle, and especially in two family businesses like ours, it's very important to keep that relationship with education because that's the only way you learn. It's important because when they follow in our footsteps and when we expect them to be even better than us, it takes time. Then we can step back and relax, right Kim-Eva? (Laughs)
---
Hellmut Wempe recently passed away at the age of 90. Our sincere condolences. What impressed you both most in your fathers' business life and what could you learn from them?
---
Kim-Eva Wempe: Thank you, yes, he lived to be 90 and had a wonderful life. What influenced me a lot was his sense of duty, which he had inherited from his father. He actually wanted to become a journalist and travel the world, which he eventually did, but in a different way than he had envisioned for his life plan. He had promised his father that if his older brother did not return from the war, he would run the family business himself. And that's exactly what he did. I know that he became happy. He gave us the motto: "Don't always think with your head and don't only have your eye on the numbers, listen to your gut feeling, too."
Thierry Stern: It's about how to maintain a strategy that Kim and my father followed when they built their companies. It's not an easy thing to do. You know, they were not the founding generation, but they were the generation that really started to take our companies to the highest international level. And to do that, I think you have to have a very clear and distinct strategy. That's what my father also taught me: to always stay focused. To focus on what you can do and not try to diversify too much, too soon, and do everything too fast. When you're young, you always expect everything to happen very quickly. But that's not how business works. You can't change people in five minutes. That's what my father taught me. It was always about the people – the product, yes I learned that later, that's for sure. But just in terms of strategy and dealing with people, I think it was very important that our parents taught us that personally. He told me, "You have to follow my steps, but you also have to add your own. You know, the DNA of the brand is there, but your DNA will be a part of it one day." That was a very good way to motivate me. It's not about just repeating something, it's about adding something.
---
You both have children at an age where you can talk about handing over the business. What would your children do differently if they were to take the reins now?
---
Kim-Eva Wempe: At our annual meeting with all the managing directors and department heads this year, I watched my kids talking about their projects and thought to myself, wow, this is great. After all, my son and daughter are already in the company and have taken on responsibilities at 24 and 26. But I never said, you have to do this. If they couldn't have done it, we would have had to decide together that they were not right for the company. You have an enormous responsibility to the company, to the employees and to the customers – not just to your family. I think that also applies to you, Thierry. We have to do everything for the company and make the children happy at the same time. But my children seem to really love Wempe, which makes me very proud. Your children still have a little time, Thierry?
Thierry Stern: Yes, that's true. But what will they do differently? Not much, because they still have to learn. My own experiences when I was young give me the opportunity today to say, ok, I remember how I was. I remember what I did, what was good, as well as what was perhaps weaker. Currently, I'm trying to really develop a strategy to train them. I'm also applying that strategy to retailers who also have kids like Kim-Eva, where their children might come to Patek Philippe for training. They should all learn a few models in detail, then the trade, production, and of course the retail business. It's very important to build your future with a very clear plan, because otherwise they would just be Mrs. Wempe's or Mr. Stern's daughter or son. That's dangerous. They have to stand on their own two feet professionally. I'm working on optimising that and will see if they like it. Let's see.
---
It sounds harsh to say that the company has priority over the children.
---
Thierry Stern: That may be, but very many people rely 100% on our companies. If Kim-Eva were to sell Wempe or I were to sell Patek Philippe, it would be a disaster for many. This prioritization is very important for the future of our companies. So, we have to live with it, and I think Kim is absolutely right. Yes, in some ways it's difficult to say that the priority is favouring the company. Of course, your own children are always the priority as well. But when they get into the company, they have to understand that they have the responsibility for a few hundred or thousand people. That's very important – and that's maybe the first step you have to explain to your children. If they are willing to do that, then of course we can help them tremendously with all the resources we have. But respect for the people in your own company is really crucial. It doesn't work with a big ego. One day, we will go to them just like our parents did and say, 'You should to do this and that', and they will say, 'Yes, Dad, slow down'; the important thing is that they can make their own independent decision. Like all of us, they only have one life, so I always say: You had better enjoy it.
---
Diversifying into a retailer could be dangerous for me; I need 100% of my capacity to create good watches.

– Thierry Stern
---
What is the advantage of running your boutiques as a joint venture with a retailer compared to doing it on your own?
---
Thierry Stern: I would have a lot more problems. My job is to create, develop and manufacture watches. That's what I'm made for. That's what I like. That's what I've learned. Retail ticks differently. We have three stores of our own, our salons, but for a special reason: the Geneva store is historically significant at our former headquarters. We opened Paris at a time when nobody wanted to do that back then, to be honest. As for London, I vividly remember my father telling me that we should have a store there. I never talked to my father about any other business in the world. I don't know why, but he always said London was the key. He was absolutely right about that. Other than that, it's important for me to work with the best retailers, and it's a big advantage because they know their customers and they know how to sell to them. Companies like Wempe also know how to build boutiques – beautiful places like this in Hamburg – and also to find the right people, the store manager, and so on. I, however, know how to build a beautiful watch. But don't ask me to suddenly come here and try to find the best place and the best people. I can't. And why should I?
– Working with a dealer inevitably means giving up margin.
Thierry Stern: Yes, you are right, you have more margin. But is that really important? For me, no. I'm very happy with what I already have. I have no shareholders, so no one can push me. I prefer to stay independent and create beautiful watches that Kim can enjoy selling. Diversifying into a retailer could be dangerous for me; I need 100% of my capacity to create good watches. I will maintain that. As long as dealers create beautiful places like this, that's perfectly fine with me.
---
The American boss of Patek Philippe in New York once said to me, "Kim, I need you. Please, you need to educate the customers."

– Kim-Eva Wempe
---
Kim-Eva Wempe: That's just as true for us. We have the customer in mind and what makes him happy. It was my grandfather and great-grandfather who sought the best selection in terms of the quality of the products, for their customers, as well as the best service. That's what made us strong. The American boss of Patek Philippe in New York once said to me, "Kim, I need you. Please, you need to educate the customers." That's just it: we have to find the right customer for the product. Sometimes we also have to reject customers.
---
Ms. Wempe, as a retailer you buy watches in advance at the Watches & Wonders watch fair in Geneva. In many cases, Patek watches are so highly sought-after that it might not be easy to get hold of the right pieces, even as a dealer. Is the process in your own boutique fundamentally different from that in your Wempe stores?
---
Kim-Eva Wempe: As you know, the number of pieces at Patek is capped. We sit down together by country and discuss how many customers we expect for a product. There are a lot of different aspects that we have to keep in mind. Our idea is not to just sell products to people. We want to find the right customer; the enthusiastic collector as well as the customer who wants to realise his life's dream.
Thierry Stern: It's not easy when you have a boutique like this. The challenge is that customers come in and say, 'Oh, this is a Patek boutique, so they must have all the products onsite' – but that's not true. We make a global effort to make sure that there are always watches in every store window, because not too long ago it was really a disaster when there was nothing. I'm sure you've seen that, too. It wasn't just a Patek problem; Rolex had that problem too – in fact, all the good brands had that.
So, the most important thing remains first of all that the customer can see the watches. These watches are not sold directly. But many still assume that it's a Patek boutique, meaning they can surely have the watches much easier and faster. That's neither really right or wrong. Since Wempe invests a lot in such a boutique, I think it's logical that they get more watches. I can't say that they will have 50 percent more than before, because I can't offer that; I simply don't have these watches. But you also have to do your homework. That means that I have to provide enough watches here so that Wempe can achieve good sales and also represent the brand well.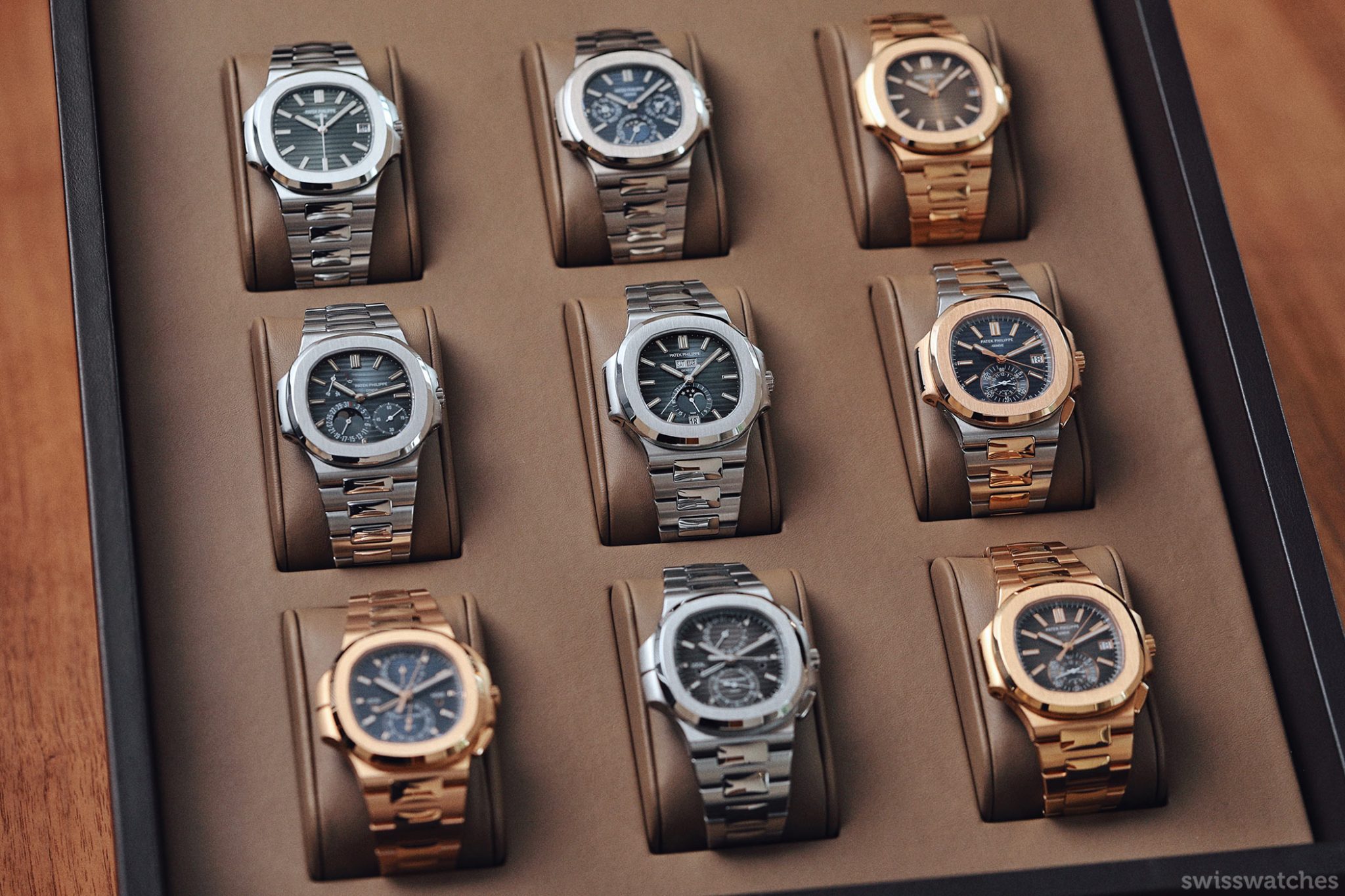 – So, customers will have to keep their patience with Patek Phillippe in the boutique?
Thierry Stern: Of course we will have watches for sale here, and of course we will increase this. But on the other hand, everyone knows that the global demand is enormous and production can't keep up. Every fan of the brand knows that. So it will remain a challenge to politely explain to everyone who comes to us that they will have to wait for a Nautilus. No, I certainly can't deliver it today. But with anything that is rare and beautiful, you have that challenge. I come back to what I said at the beginning: you need the right people who are able to talk to customers and explain these circumstances to them.
Kim-Eva Wempe: The most suitable person for the position of managing director was Karl-Heinz Peters, who comes from the store over there. (She points to the other side of the street, headquarters of the Wempe branch on Neuer Wall in Hamburg). So we know our own customers very, very well and know their history. If he's a watch collector, what does he know about the watches? And that's how we build the teams with qualified and passionate employees. Everybody here knows exactly what they are doing, otherwise it wouldn't work with the huge demand.
---
But Patek Philippe is also currently limiting the number of locations around the world. Why?
---
Thierry Stern: I've closed a lot of doors in the last few years. Not because I felt like it – because I knew I wouldn't have enough pieces. I can't just increase my production like that. And I don't want to, to be honest. So, unfortunately, the only way to help the retailers was to close some of them to help the others have a few more watches. That was a very difficult decision for us as well. Also, with a location like this, you have to make a certain amount of revenue. As you can see, Wempe has highly professional employees who should also earn a good salary and I have always fought to keep the profit margin good for retailers. I don't want to be like some groups who are maybe a bit tougher and whose profit margin is maybe too low at the moment. I'm not greedy in that regard. I think it's a fair relationship that we're going to have. I make money. Retailers have to make money, and the customer also wants to be happy. My job is also to protect the value of the watch that customers buy.
– Is that the reason why you keep taking products out of the range?
Thierry Stern: Yes, that is exactly the reason why we sometimes take references out of the program. The best example is certainly the Nautilus, but I've done it with many others. Why? Because I know that Patek Philippe has to constantly evolve. I don't want to be a hero model brand. Secondly, it's because that's how the value of our customers' collections will increase. I think it's part of my job to help them do that. It's as simple as that.
---
What criteria do you use to close multi-brand points of sale? What is the deciding factor?
---
Thierry Stern: We have always worked with multi-brand stores and will continue to do so. We are just pulling out of locations that may no longer be in the right place. Maybe there are too many retailers with our products around them or maybe we closed them because they were too weak as well. There are many reasons. Today, this is the stylish store. Tomorrow, this store may not work anymore. I know examples all over the world where suddenly the customers change, a city changes or other streets become more attractive.
Kim-Eva Wempe: That reminds me of the situation we had with Patek Philippe in London. Patek Philippe wanted its own location. And you, Thierry, said to me, "Kim, your father found the right place: the best place in London. But we have to do a big project here ourselves." I can understand the decision, although I'm understandably not very happy about it. But I always look at both sides.
Thierry Stern: Sure, when I see Wempe building everything for us, it's difficult to say we have to change something. But I also have to preserve the Patek Philippe brand. Only if the brand is preserved will the retail trade flourish. Fortunately, we have a long-term vision, whereas other brands don't care at the moment. But I think that is dangerous.
---
For me, it really doesn't matter whether Apple is next to us or not.

– Kim-Eva Wempe
---
Is it a coincidence that this boutique is located right next to one of the most valuable modern brands in the world, here in Hamburg next to Apple?
---
Kim-Eva Wempe: For me, it really doesn't matter whether Apple is next to us or not. The Neuer Wall location is the gateway to the most valuable street in the city. And we love the view from the large windows on the second floor of one of Hamburg's landmarks, the fountain on the Binnenalster. There couldn't be a better place.
Thierry Stern: In any case, it doesn't hurt to be near Apple. The question reminds me of the time when smart watches took off. 'Oh, what are you going to do now? Mechanical watches will die out!' Everyone was saying that the Apple Watch would destroy the market. The opposite was true. I knew it from the beginning. If you look at all the interviews I've given, I've always said, no, it's very cool because the younger generation is starting to wear something on their arm again, whether it's an Apple Watch or something else. They're regaining the habit of wearing watches and not just having a phone – and that's exactly what's happened. So to me, it's not a threat. I think it might actually help us.
– We have a lot of collectors at Swisswatches who come from the tech industry.
Thierry Stern: You are right: it is us who help them (laughs). No, seriously, when I had a meeting with customers and entrepreneurs in New York, there were a lot of people from Apple, Google and all these companies. I looked at their wrists: they were all wearing Patek Philippe! I said, 'Gentlemen, explain this to me. You created the iPhone, you created the Apple Watch. Why are you wearing a Patek Philippe?' One guy, I think it was from Google, stood up and said, 'You know what, I think I can speak for all of us. We like Patek because it brings us back down to earth. It gives us pleasure to see something that we know works mechanically.' It's also fantastic for me. I never dreamed 20 years ago that I would be competing on the same street level as Apple, so that's not a tragedy, anyway. That's pretty nice!
---
What can the new Hamburg boutique offer that other boutiques cannot?
---
Kim-Eva Wempe: It offers a comprehensive Patek Philippe brand experience in a decelerated and very private atmosphere with a sufficient selection of watches. But it's not about the quantity of watches, but above all about properly welcoming the customers, who are often collectors. Together, we have created a world in which we can now also hold individual events with customers. There, people talk business, exchange ideas and talk about their favourite hobby amongst like-minded people. We create personal customer experiences.
Thierry Stern: Our boutiques are about trust in the brand. The customer should feel how Patek is developing. That means boutiques create security; it's not just about the watches, but a long-term vision of the brand. When you walk into a store like this, everyone senses that it's not just some pop-up store where you buy something that might last six months. The fact that you can come to a place like that is very important, in my opinion, because it gives the customer the assurance that it's about a long-term customer relationship.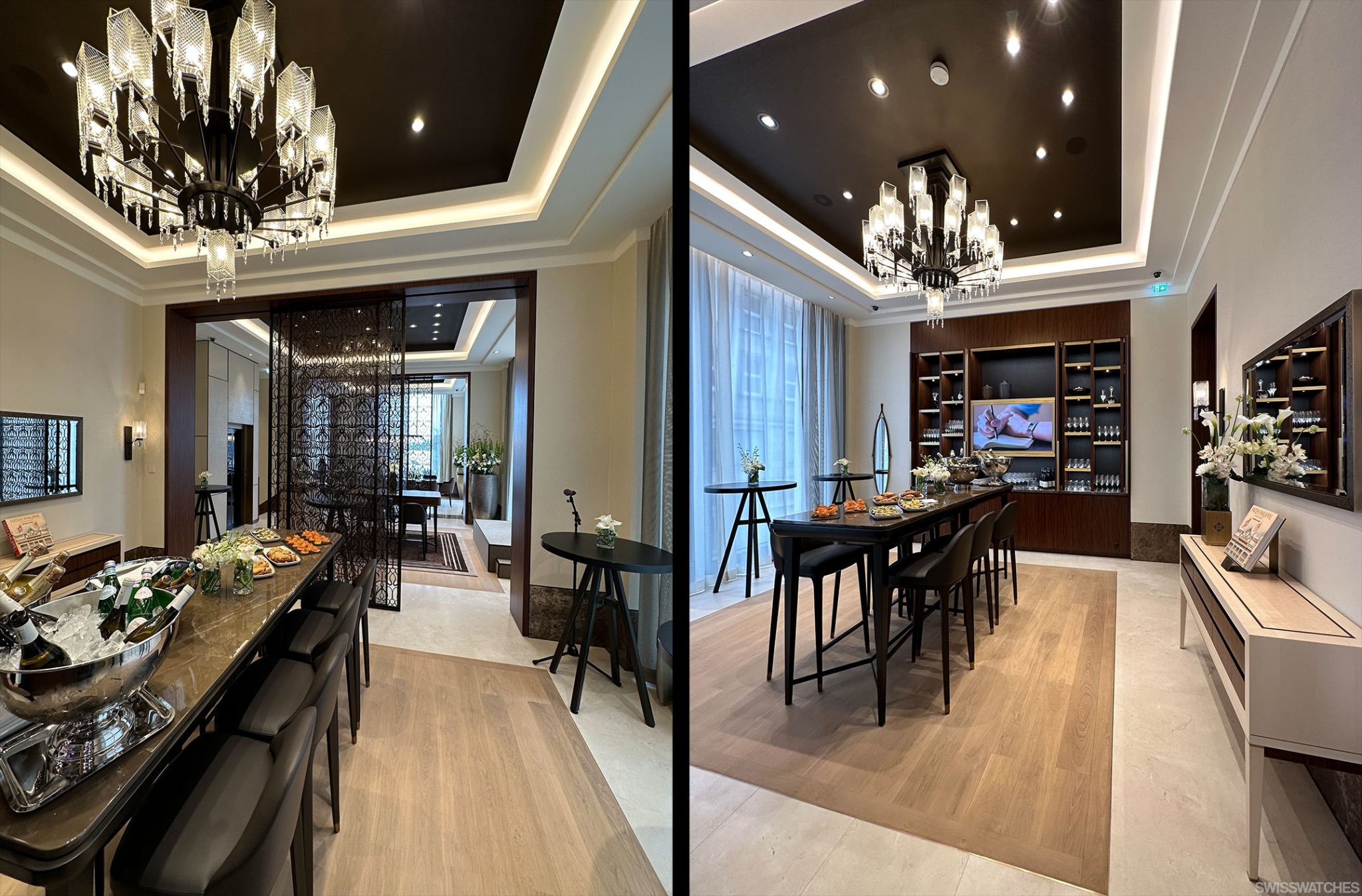 The new Patek Philippe Boutique in Hamburg
Credit © Joern F. Kengelbach
---
In Hamburg, the 'Neuer Wall', the city's most famous shopping street, will soon be morphing into 'Watch Street'. Do you see this as more of a positive development? Is it good to have so many watch stores in one street?
---
Kim-Eva Wempe: That's a very interesting question. We are not convinced that companies that produce watches are also always the better operators of retail stores, especially from the customer's perspective. If the customer wants to have a choice of different brands, they want to have an opportunity to see a curated selection of watches and jewellery within one location. They will find excellent, knowledgeable sales consultants there who can explain the pros and cons of each brand. Now, one often has to go to multiple boutiques, absorb all the information, and then make a decision for oneself from memory about the watch that meets their needs and desires. I don't think anyone has really asked the customers if that's what they really want.
Thierry Stern: I agree with Kim-Eva. You should know, by no means are all boutiques profitable. It always looks easy when business is good for everyone. But when bad times come, and they will come, that will change. It's not bad for a brand to do a boutique. Why would it be? But too often, it's all about collecting the full margin.
---
When I went to China once, I had 160 watches with me. That was all. And they looked at me and said: This guy is crazy. He's coming to us with 160 watches.

– Thierry Stern
---
So you're sticking with creating no other salons besides Geneva, Paris and London? Not even Tokyo or New York?
---
Thierry Stern: No, not Tokyo and not New York. Why should we go to New York, too? Wempe is there, Tourneau is there, and Tiffany is there. The only location, to be honest, would be maybe India. A lot of people ask me to go to India, but I don't have any watches. But it would make sense because we don't know too many retailers there. In such a case, it would be better if we did it ourselves. But I would hardly have any products! I have an anecdote about this. When I went to China once, I had 160 watches with me. That was all. And they looked at me and said: This guy is crazy. He's coming to us with 160 watches. So imagine India. Our customers are not interested in quantity, but in quality.
---
In recent years, we have seen how platforms like Instagram have changed the watch market, spreading information with enormous visibility and speed. What role does this increasing digitalisation play at Wempe and Patek Philippe?
---
Kim-Eva Wempe: Digital communication increases the points of contact with a brand. Digitization is a fundamental part of the journey for customers, potential new customers, and digital natives and is therefore very important. Customers today, before they buy a watch in a store, want to have a lot of information in advance. They want information about the latest product developments, about how a mechanical movement works, and they want to participate in insider knowledge. Once the decision has been made to buy a watch, they also want to try it on and have its functions explained to them in detail, for example. For this, brick-and-mortar retail is and remains relevant.
Thierry Stern: Digitalisation is an important tool, but you shouldn't use it just to sell. That is difficult. It's a tool for the next generation. They like it, and it's good to communicate with it. For me, it's more about education. It's not about really selling. Is it helpful? Yes, definitely. But it's another tool you can use. And it costs a lot of money in the meantime. For me, it's important marketing.
---
Doing business with pre-owned watches myself is not something I intend to do today.

– Thierry Stern
---
Major brands are currently starting to sell their own used watches; Bucherer is working with Rolex on the Certified Pre-Owned program. Under what conditions would this be a model for Patek Philippe and for Wempe to enter this business segment together?
---
Thierry Stern: We sell new watches today. Quite a few people who want to sell a Patek Philippe go to auction houses. Doing business with pre-owned watches myself is not something I intend to do today. It would also be very complicated to compare a new Patek Philippe with an old one. How should I handle it: Same reference, different price? But I also know that I owe retailers information on this as well, because they ask me, okay, what can or may I do myself? That's challenging. So I say to everybody: let's wait a little bit longer, and let's see how it goes with other brands. Then we'll figure out how to act.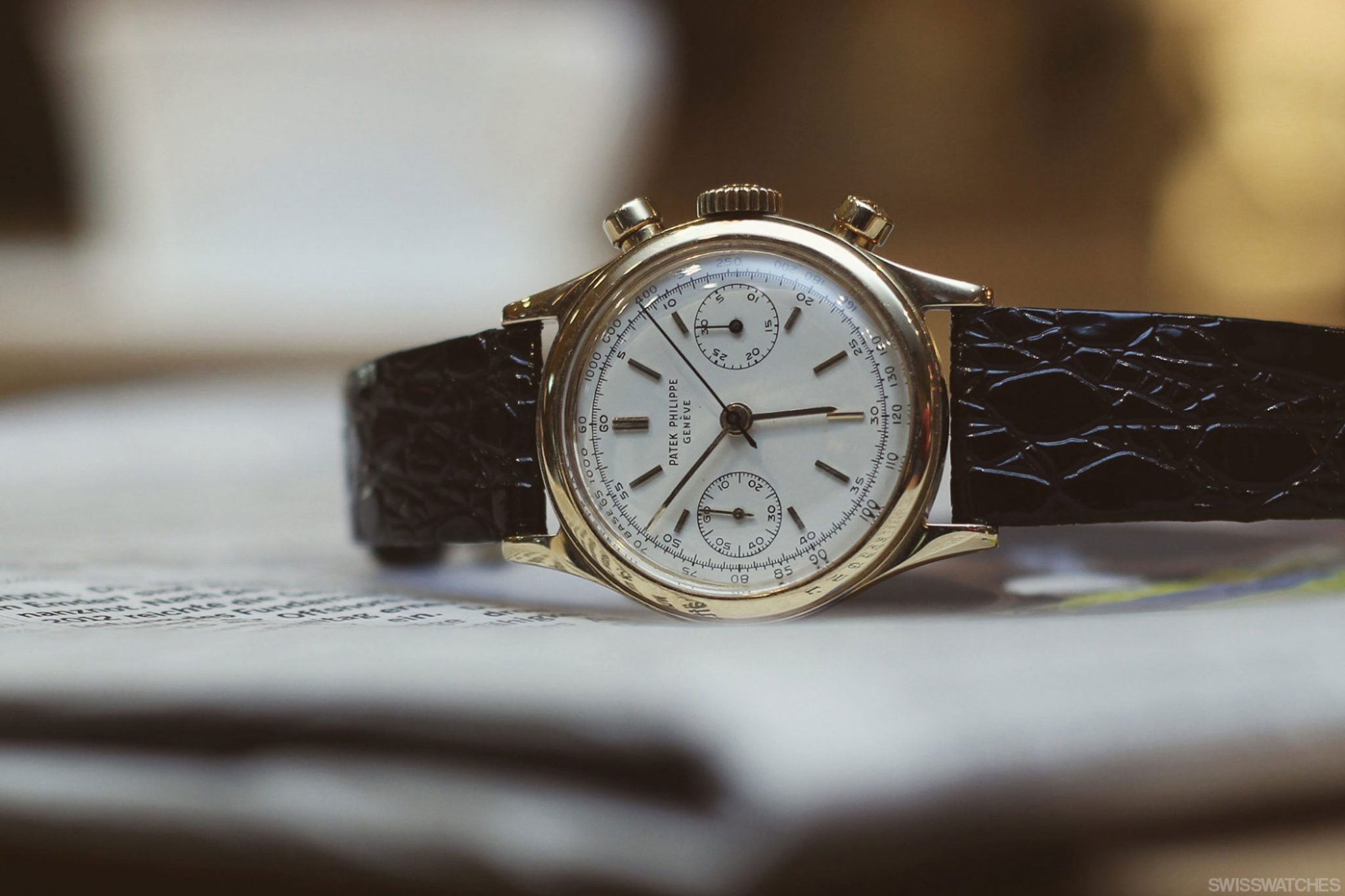 ---
But isn't the pressure enormously high and the opportunity very tempting to enter as such an extremely sought-after brand?
---
Thierry Stern: It may sound paradoxical, but the only urgent thing for me is not to act too quickly. Today, we are not ready and willing to take back all the used watches, repair them and then redistribute them. Because that's the crucial question: to whom? Which retailers? Patek Philippe retailers or possibly to a non-Patek Philippe retailer?
---
Are you at least looking at the business?
---
Thierry Stern: So far, we continue to work as usual: if you buy a new Patek Philippe, you get a rare piece. The rare vintage models usually go to auction houses like Christie's, Sotheby's or Phillips. That's where they should go, too. But I always keep an open mind, partly because I know how many pieces we've created in total since 1839. And yes, of course I'm learning. I was just in Philadelphia to see Watchbox because I want to understand everything. It's very important for me to choose the right strategy, because if I get it wrong, it can hurt the retailers, and it can hurt the customer. So it's a big challenge, and to be honest, I can't yet estimate how hard it will be to repair all these watches. It's going to take a lot of watchmakers and craftsmen…
– The market for watchmakers has been swept clean!
Thierry Stern: The only thing that helps is cloning (laughs). A good company like ours has an easier time getting people willing to work for us. There are great schools for new watchmakers and then we also have an internal school at Patek where we train our own watchmakers. We have one in Singapore, one in Munich, in New York and in China, where we train 6 to 8 watchmakers each. We are investing massively here. At Rolex, we are talking about as many as 500 watchmakers being sought after. In any case, our goal is to find the best, those who are able to make particularly beautiful and rare pieces, people who can also make a chronograph or a minute repeater.
Kim-Eva Wempe: We need watchmakers not only for Patek Philippe watches. We also need them in large numbers for all the other brands we carry. The most important thing is to inspire confidence in the profession of watchmaking, because that was not the case in the eighties and early nineties. In our company alone, we now have three trainers and 24 apprentices. Every year, six apprentices start to learn the watchmaking trade. After their training, they have several opportunities with us: whether in the service workshop at our Hamburg or Glashütte locations, in our own watch production in Glashütte, or in watch service at one of our national and international branches. We offer every apprentice who graduates with us a position within the company.
---
The industry needs watchmakers to meet the global demand for luxury watches. Will this always continue? Where do you see Wempe and Patek Philippe respectively in 10 years?
---
Thierry Stern: You should ask our children that! For me, I see a very nice continuity above all. Ten years is honestly nothing at all for Patek Philippe. We are currently planning up until 2037 as far as new movements are concerned. If we continue as we are, we will be very successful. However, maybe more by means of new technologies, that's the one thing that's happening a lot for everyone right now. Today people follow Patek on Instagram, maybe tomorrow there will be something else?
Kim-Eva Wempe: I can definitely only agree with that. Ten years is a very short period of time for our industry.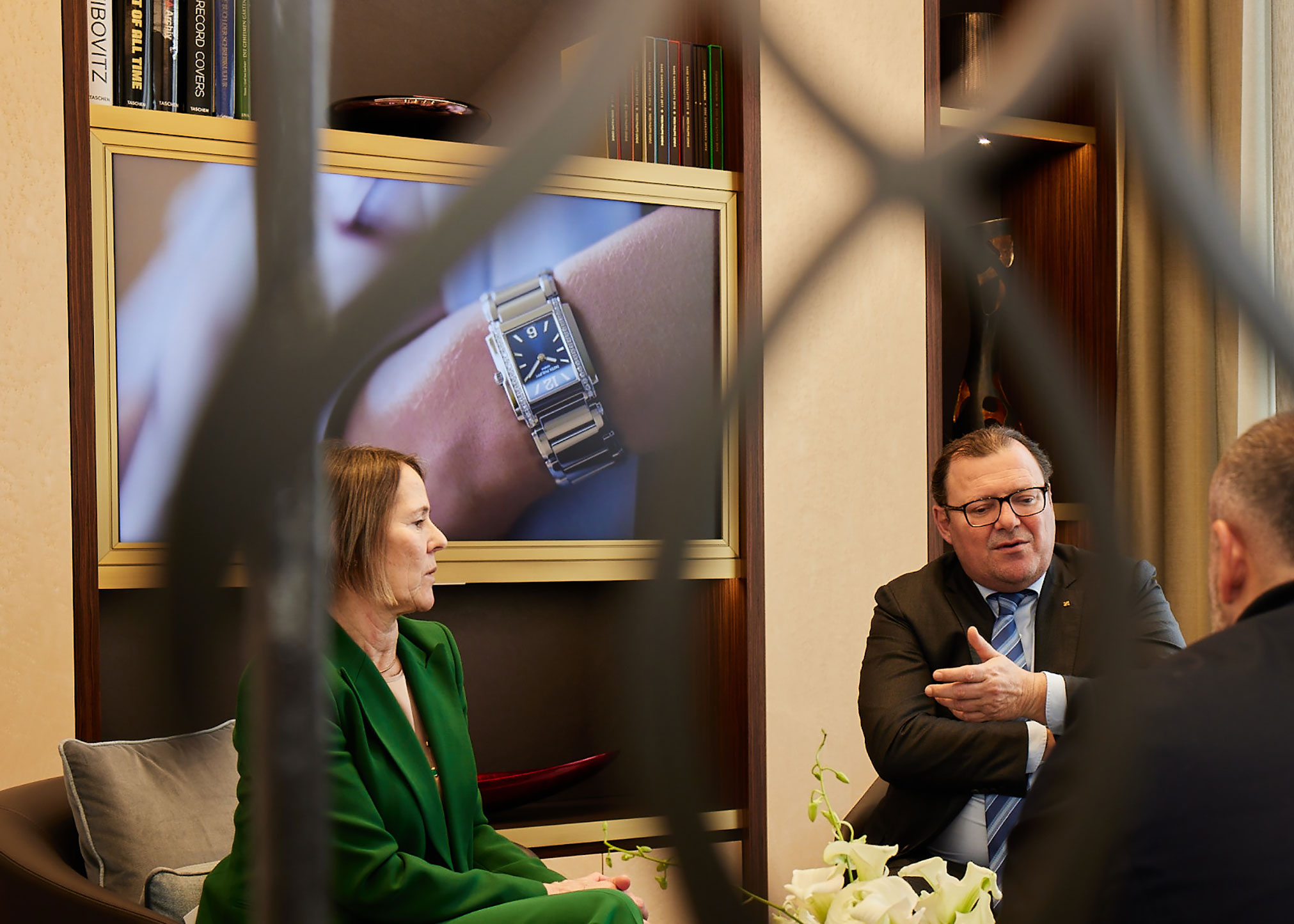 Credit © Patrick Möckesch
---
Thank you for the interview!
---
---
Cover © Patrick Möckesch