From a Rockstar point of view, IWC's 'Big Pilot' watch has at least two advantages. First: being on tour, you can easily turn it into a bedside table clock due to its size and strong luminous power. Second: if you're looking at pictures from past gigs one day, it just takes one glimpse onto the wrist to know exactly what time it was then, again: due to its enormous size and luminous power.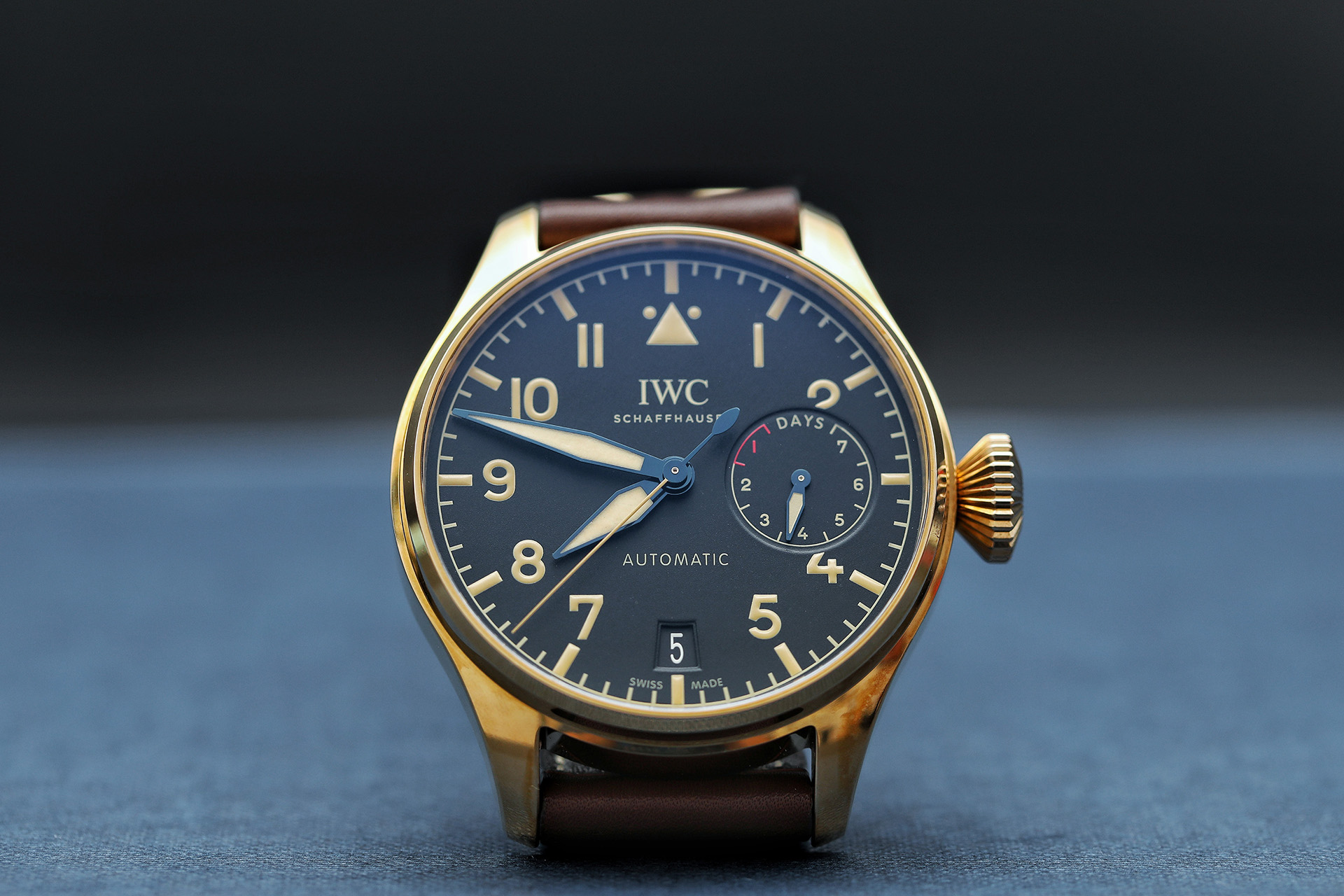 IWC Big Pilot's Watch Heritage in a trendy bronze material – IW501005
It's an ultimate tool watch not only for show stars, and not only for pilots neither. This is how John Mayer recently praised this in many ways extraordinary watch. And although, if that point regarding the tour recordings might rather be a niche topic that plays no role for most 'Big Pilot' owners, you certainly should respect his general excitement for this watch.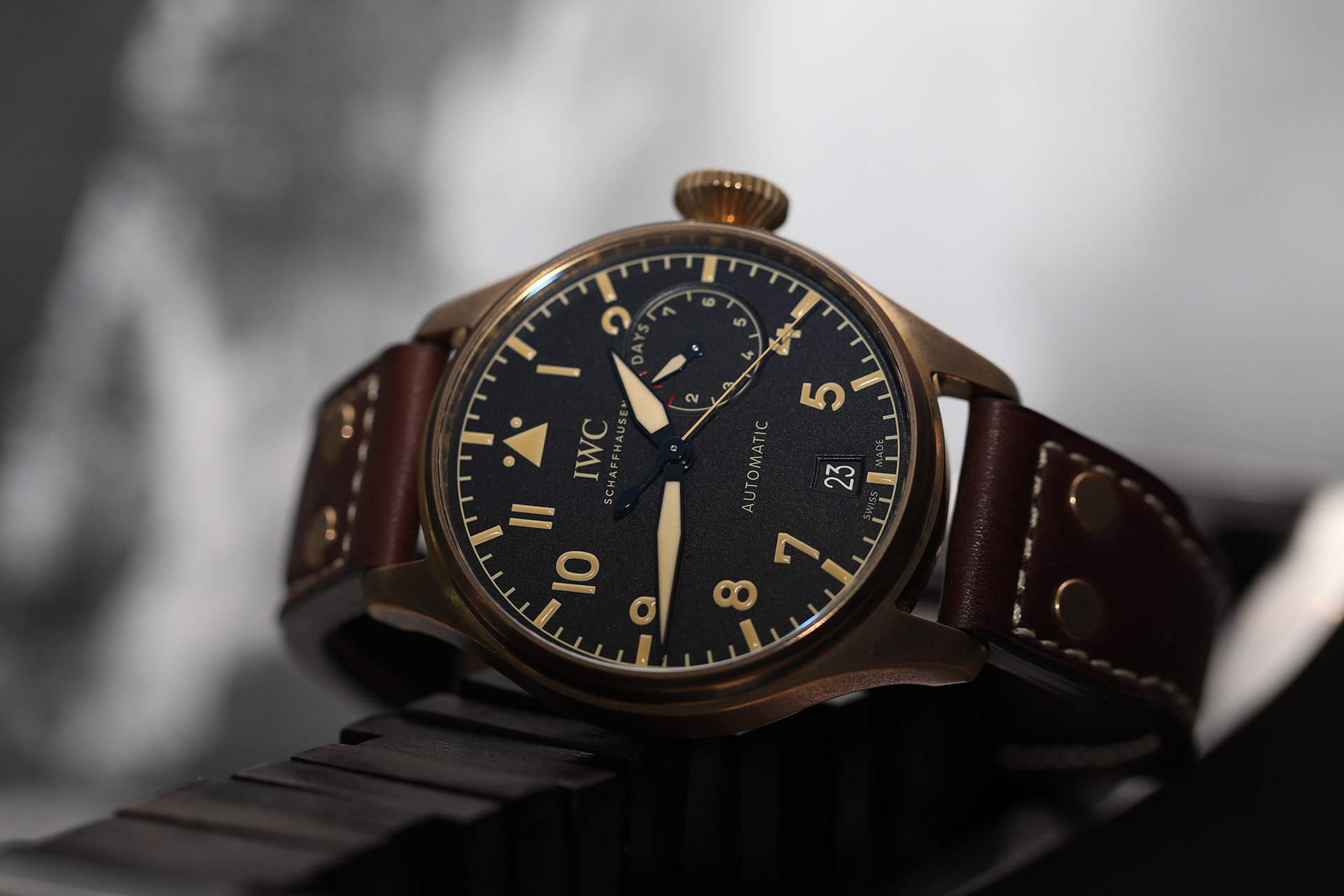 IWC Big Pilot's Watch Heritage Bronze – IW501005
Amongst all the many well-known IWC designs, the 'Big Pilot' is a unique appearance that is available in numerous varieties nowadays – including the heritage model with a case in a trendy bronze material, limited to 1.500 pieces. It's certainly worth taking a closer look: is this still a true aviation watch – or more of a fashion accessory?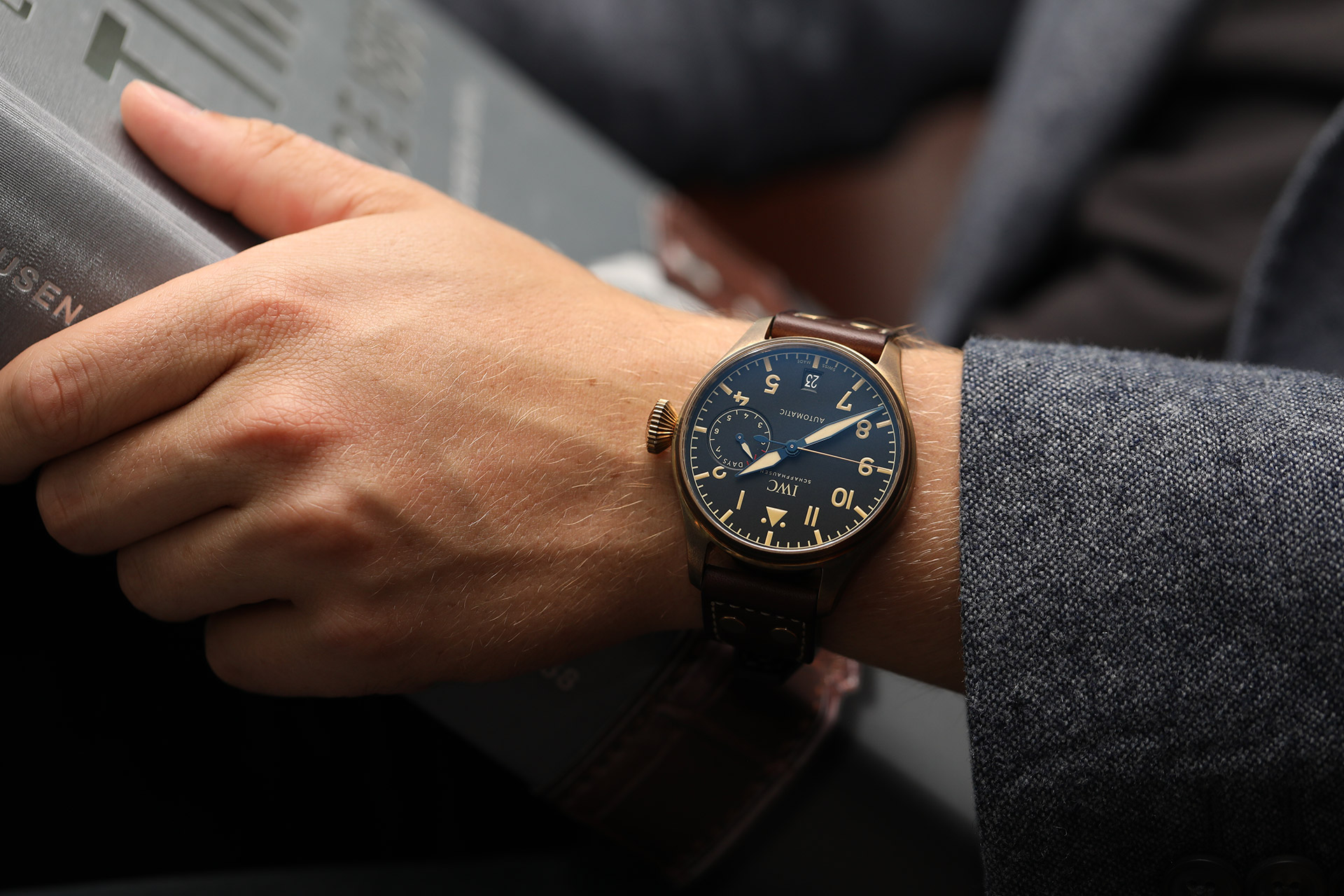 A true aviation watch or more of a fashion accessory?
In general, the aviation watch theme has a long tradition at IWC and almost no other brand has decisively shaped it to this extent. Since 1936, they have built watches specially made for pilots in Schaffhausen, which can be attributed to the enthusiasm for aviation of the former IWC general director's sons. The 'B-Watch' from 1940 was an inspiration for one of IWC's most iconic watches in terms of design, the 'Big Pilot': an oversize timepiece for second world war bomber pilots, equipped with an extra-long strap that could easily be worn over a jacket. It was produced in an edition of 1000 pieces. This great-grand-pilots watch had a stainless-steel case with a diameter of 55 millimetres and was powered by pocket watch movements.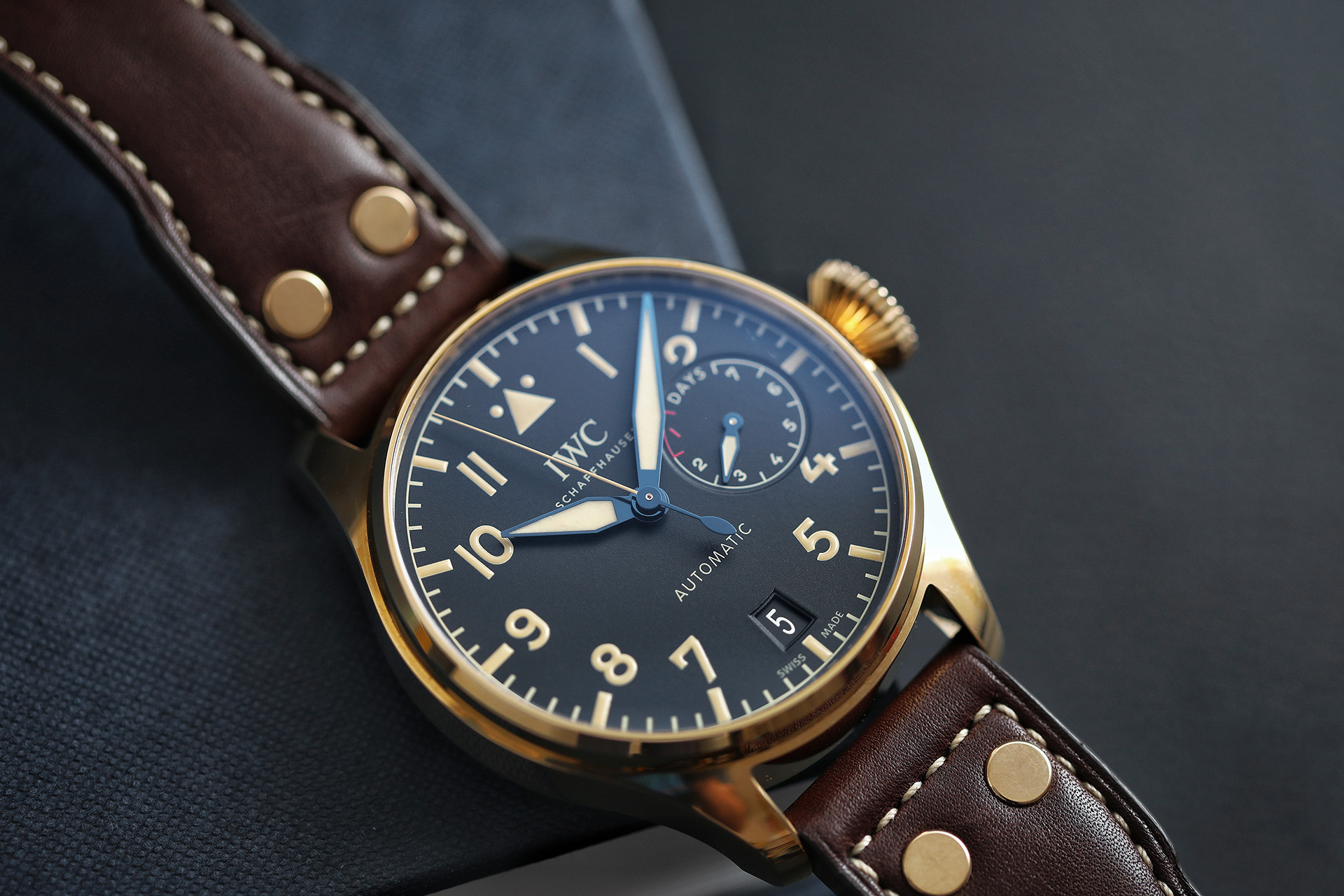 The IWC Big Pilot's Watch Heritage Bronze is limited to 1000 pieces
Since 2002, the successor of this watch – the 'Big Pilot' – has become an integral element of the IWC collection and a rare example where the vintage model was actually larger than its modern interpretation: the bronze 'Big Pilot' measures 46,2 millimetres in case diameter, still big enough to offer great readability in all situation of everyday life. It can indeed be called a statement watch, although it's not an unusual size in modern days. Despite its scope, the 'Big Pilot' is surprisingly comfortable to wear on smaller wrists. The watch is powered by the manufacture calibre 52110 with a power reserve of seven days. The case back is made of allergy-friendly titanium that is resistant to skin-coloring. The dial is kept in classical black and the hands are coated with a luminous material in a patina-like yellow shade that fits perfectly to the bronze case.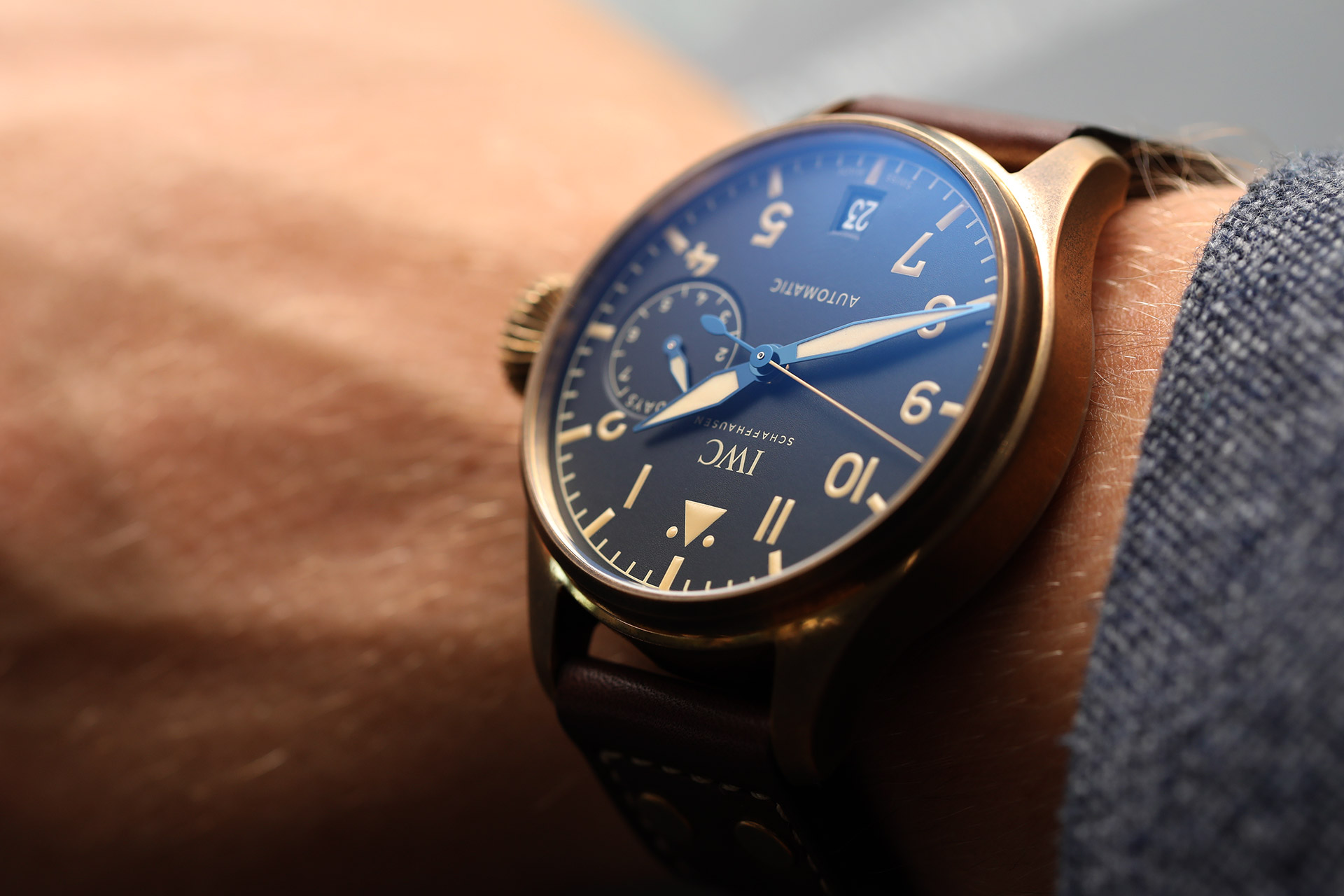 The 46,2 millimetres case diameter offers perfect readability in all situations of everyday life
With this look, the Big Pilot's Watch Heritage – originally trimmed on functionality and practicality – spreads the charm from past times. One could say: it is the vintage-version of a model that has been designed very classically anyway. But what's the point in using bronze for a pilot? A material that is known to fade over time, depending on once lifestyle.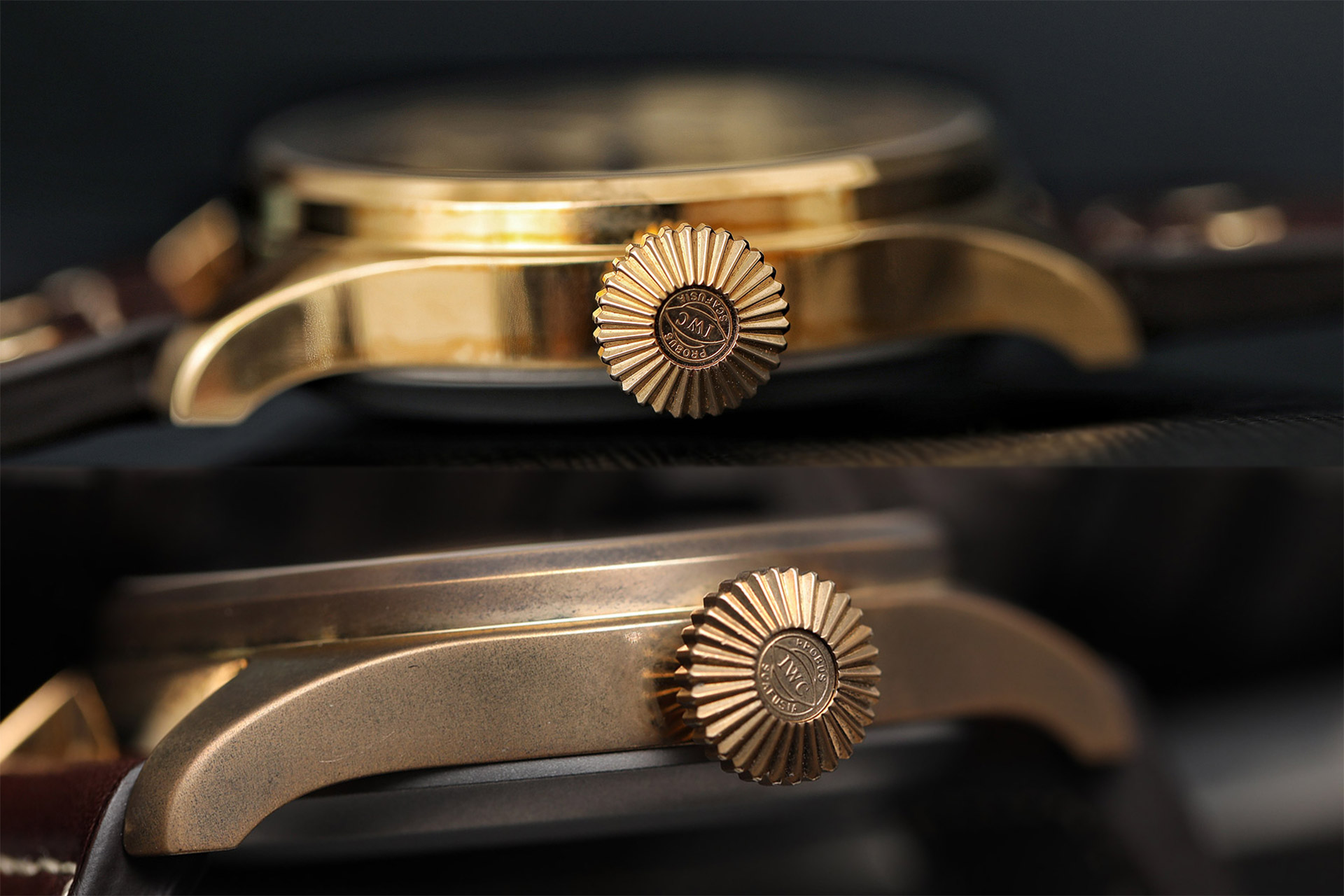 New vs. worn – bronze fades over time depending on once lifestyle
Actually, the bronze 'Big Pilot' in this execution is very typical for the brand's identity in the 21st century. "Engineering" is one of the keywords in the strategy of the guys from Schaffhausen. They are committed to clear, simplistic and objective watchmaking. Things should become better and simpler instead of redundantly complicating processes. At the same time, it is also always about reinterpreting icons and not poise in tradition. Hence, the 'Big Pilot' has been presented in platinum and gold versions over the years – you can get it in steel or bronze, in titanium or ceramic, they offer a classical 'Big Pilot', but also with tourbillon, annual or even perpetual calendar.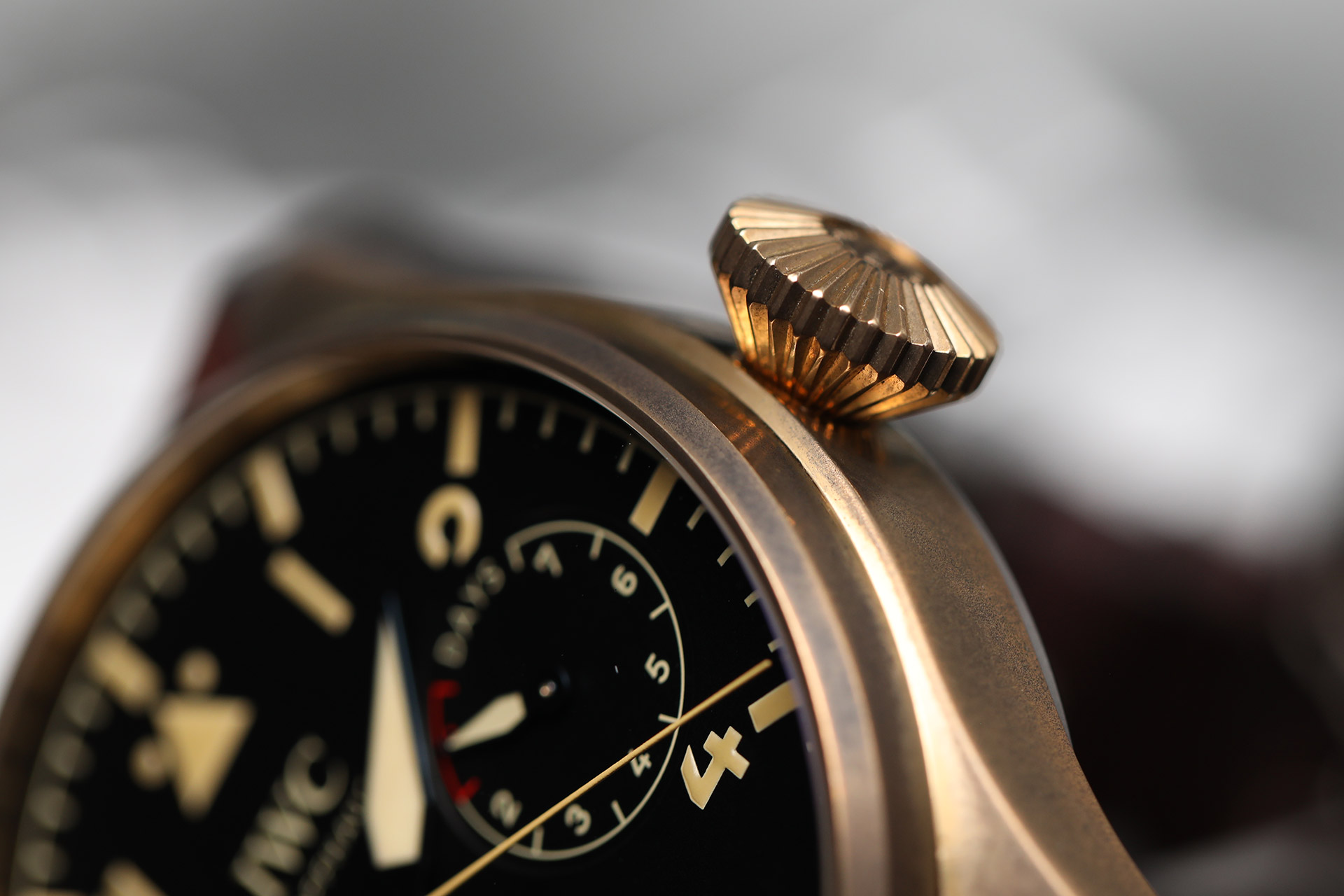 The onion-shaped crown is an important feature of a true aviation watch
This diversity however never seems over-construed. Instead, even the major complications of watchmaking are in very good company inside the 'Big Pilot'. Realistically saying: Just like the most diver's watches are not really used for diving, and most aviator watches are not being worn inside a cockpit above the clouds. Hence, to present this icon in bronze is overall speaking not only reasonable, but also very appealing in terms of look, as long as you like the idea of a watch that optically ages with you over the years. Furthermore, bronze watches are very popular at the moment. With this watch, you are not fashionable, but rather modern.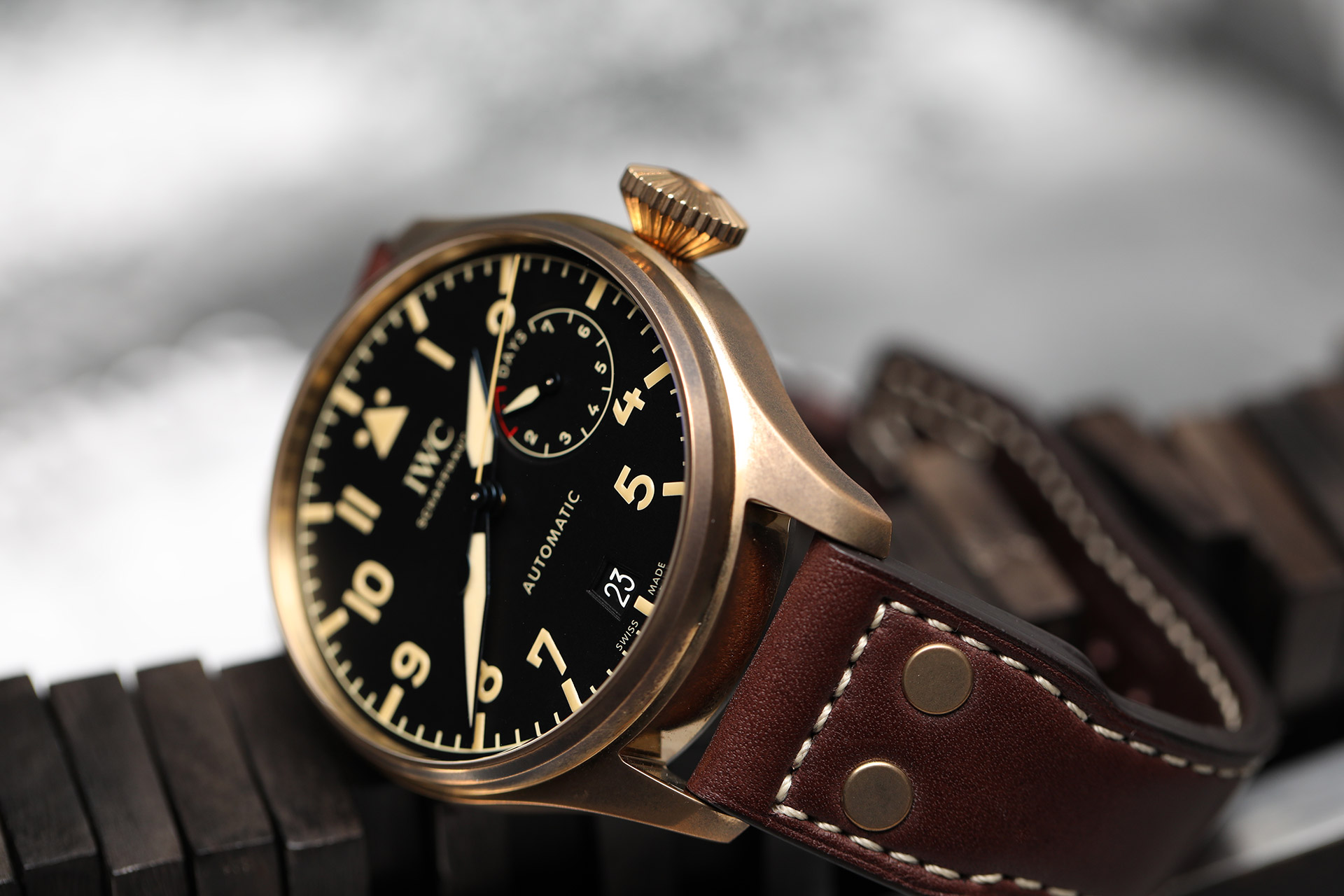 IWC Big Pilot's Watch Heritage Bronze – IW501005
Moreover, IWC makes sure by constantly launching new version like the bronze 'Big Pilot', that the first horological thought in terms of aviation watches goes to IWC. Doing so, it doesn't really matter that competitor Zenith for example has been producing aviation watches already a few decades before, with their 'Pilot Type 20' with its onion-shaped crown that can look back to a similar successful history, not just look-wise. The big aviation watch as such is clearly located by most people to the experts of IWC who have conquered this field. The brand has introduced a whole range of new aviation models this year. At the very moment, they support the world circumnavigation by the restored world war fighter plane 'Silver Spitfire'.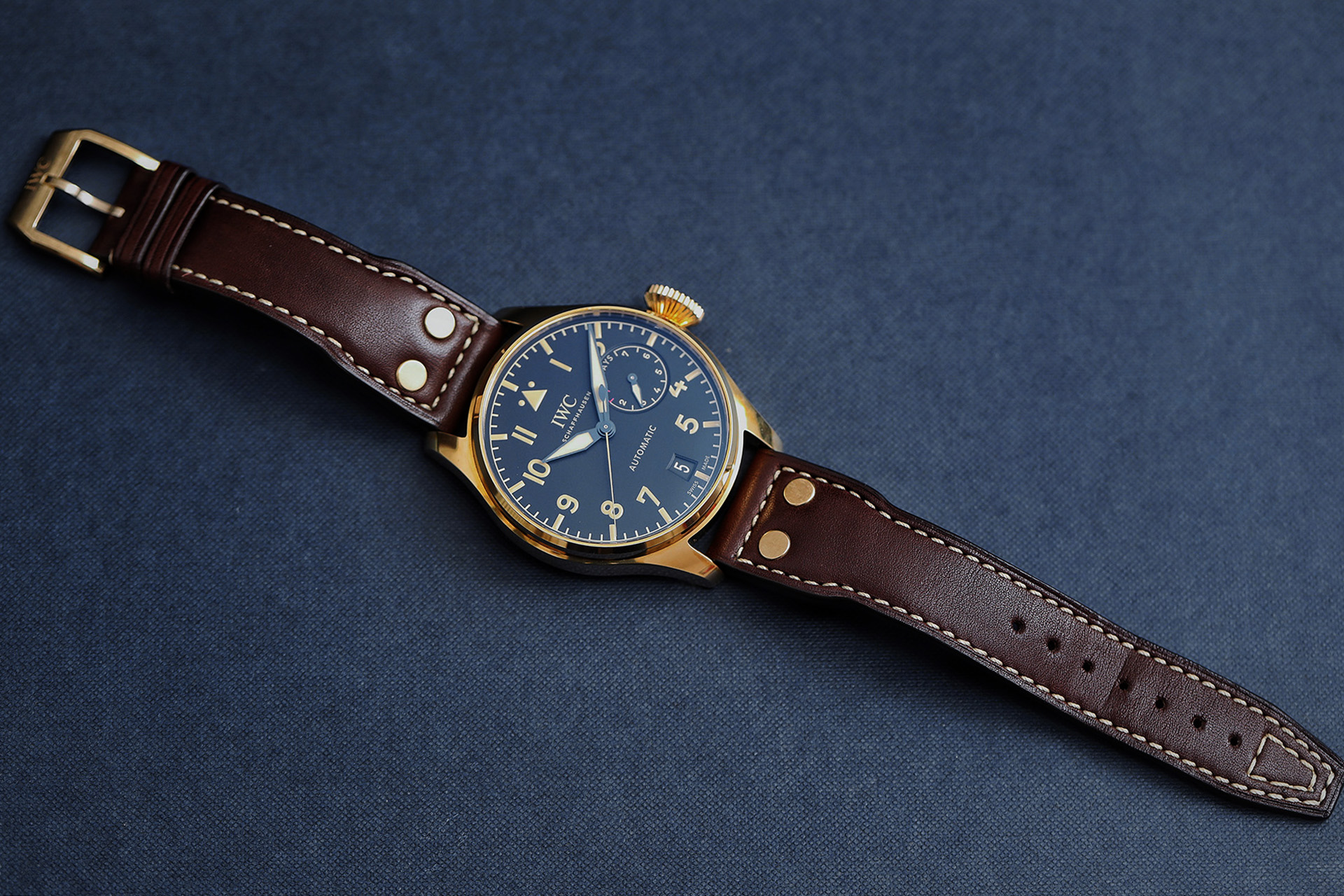 IWC Big Pilot's Watch Heritage Bronze – IW501005
Considering this long-term passion that is still present today, the 13.300 euro 'Big Pilot' in bronze is really something very special: a watch that is extremely linked to the past. It could not possibly be more functional in its fundamental design and at the same time, it could hardly be more contemporary in this version. The bronze execution holds an almost poetic promise: how will it develop over time and how will it change life? Nobody can say precisely. But this bronze sculpture is more than just a suitable instrument, that reliably gives the beat in this uncertain future. A watch, that stands by your side even in the darkest nights – high up in the sky, but also in everyday life.
---
---