Jaeger-LeCoultre is much more then just 'Reverso', an icon that most watch enthusiasts might instantly have in mind thinking about the brand. Jaeger-LeCoultre also characterizes a deeply rooted passion for extreme sports watches. After all, the Reverso was originally made for sports too – for Polo players, but it can more likely be regarded as a classical men's-/women's-watch. Also the Master Compressor sports collection by Jaeger-LeCoultre is more or less made for adventurous gentlemen. A technical extreme sophisticated watch with plenty High-Tech equipment, but also classically in design and made for everyday use.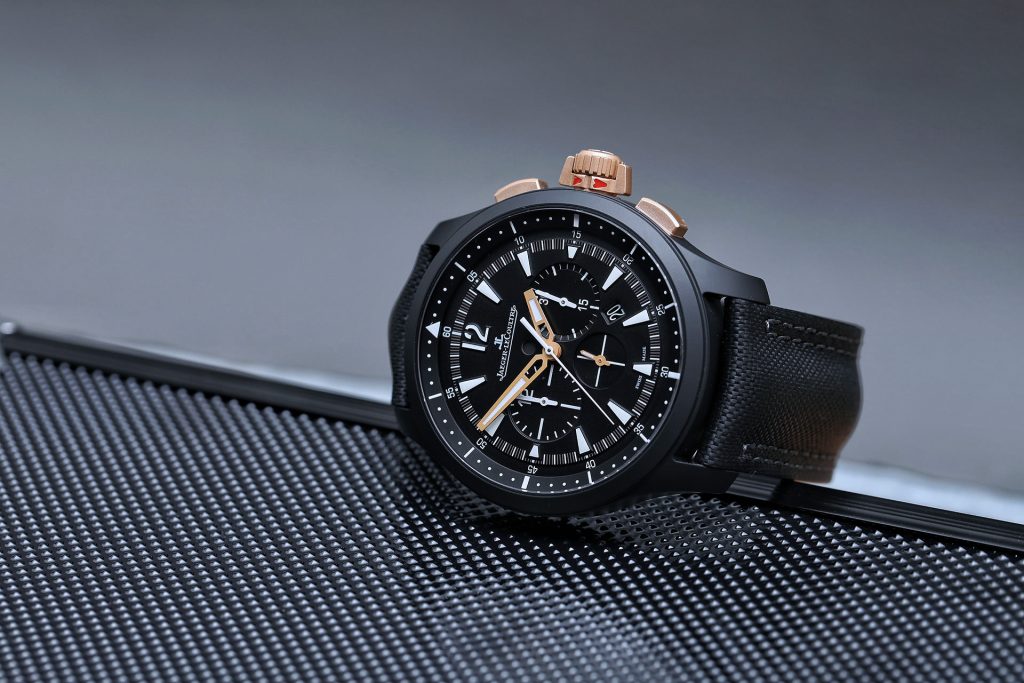 Casual and elegant – Jaeger-Le Coultre Master Compressor Chronograph Ceramic
The Master Compressor Chronograph Ceramic (Ref. 205L570) is a good watch that combines both attributes. This new Reference is a continuance of the Reference 205C570 from 2014. The elder model was limited and had subtle distinctions in colouring. At first sight two things stand out. The chronograph function and a coloured mechanism on the crown. We will reveal little later what this is all about. But something that does not become visible at first sight is the second timezone-function. The second timezone hand is hidden underneath the skeletonized hours hand and runs inconspicuously along, if not being used.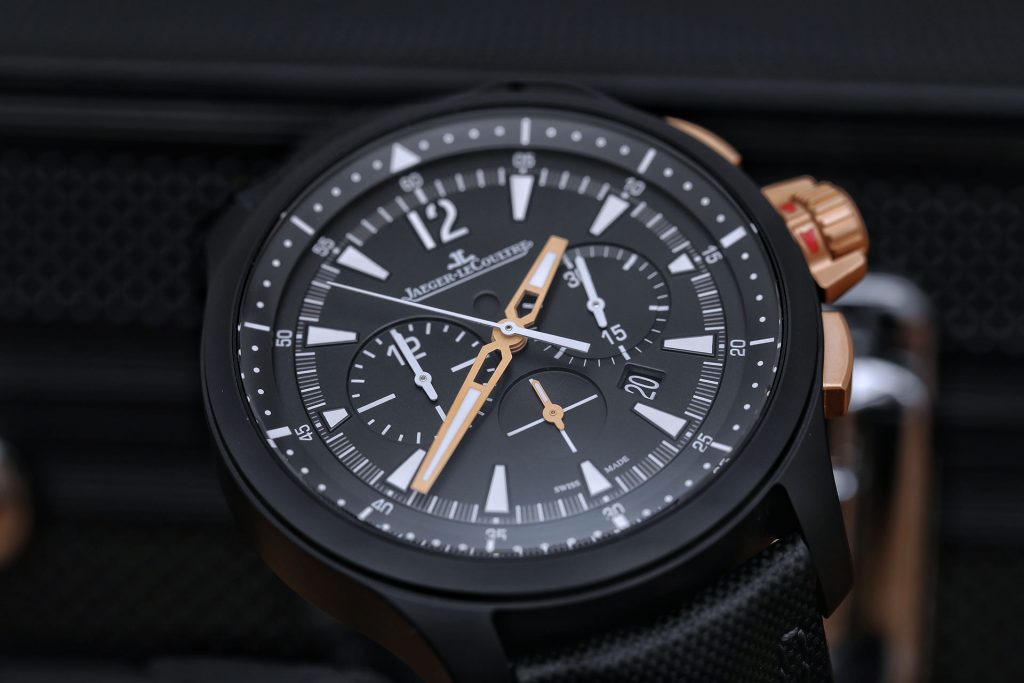 Hidden – the second timezone hand runs underneath the hours hand
Another refinement is hidden below the brands logo at 12 o'clock. The tiny round window changes between a black and a white indication depending on day or night time at the second timezone. It is about these subtle details that give sport-watches at Jaeger-LeCoultre this elegant look. There is also a date indication between 4 and 5 o'clock, that many customers appreciate.
A small day / night indication is placed below the brands logo (left)
A subtle finished date indication between 4 and 5 o'clock (right)
We now take a look at the crown. What you see is a compression key that in this way was first patented by Jaeger-LeCoultre in 2006. You can lock the crown with half a turn in arrow direction to avoid any unintentional manipulation. The movement is perfectly protected and waterproof to 100 meters. When you see the two red arrows you can make settings – when you see a green arrow the settings are 'blocked' and the case guarantees full water resistance.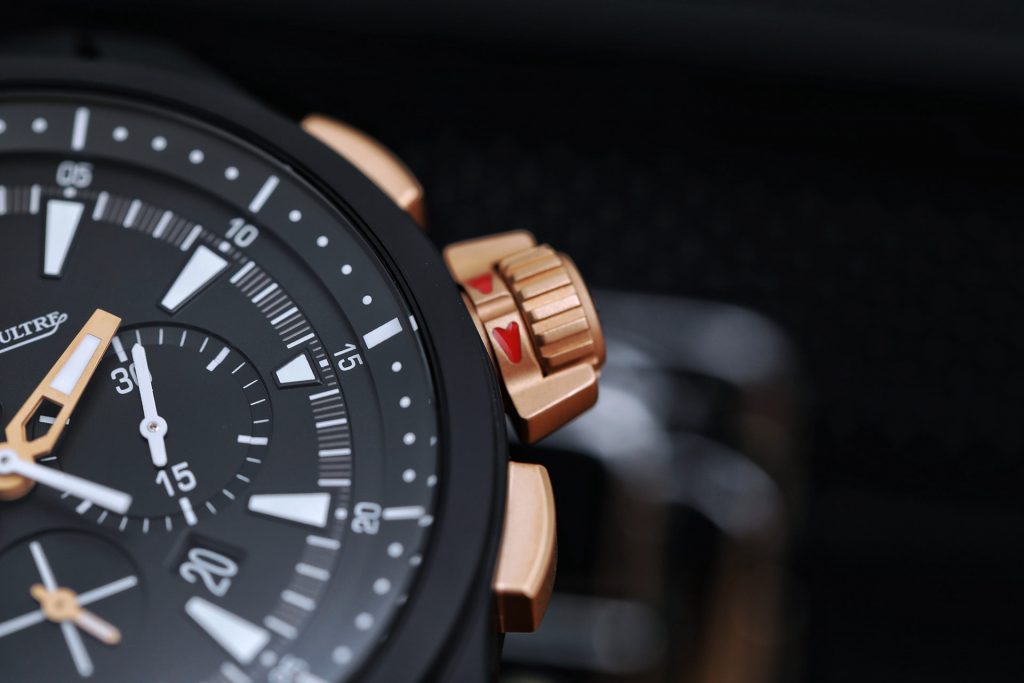 The crown with compression key for more water resistance
The 46-mm case is made from scratch resistant ceramic. Inside the case runs an automatic calibre Jaeger-LeCoultre 757, crafted, assembled and decorated by hand. It offers a 65-hour power reserve, which is quite impressive. The matching 'Trieste' calfskinstrap has a lovely structure and is – also due to its double seam – especially tough.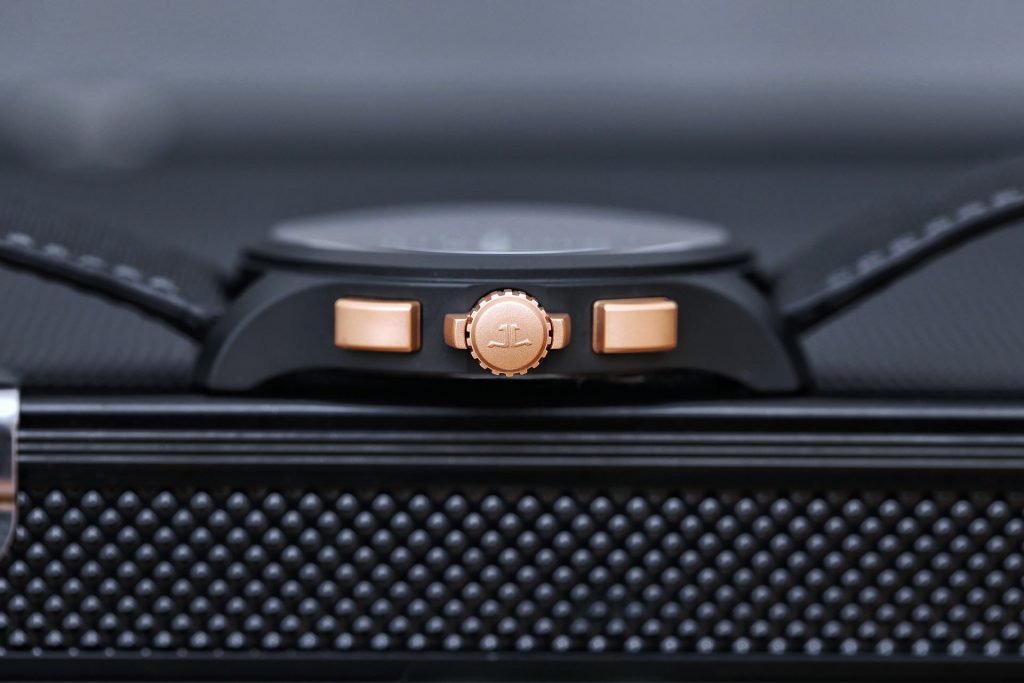 Jaeger-LeCoultre Master Compressor Chronograph Ceramic
It is also worth mentioning that Jaeger-LeCoultre submits all its watches to a strict "1000 Hours Control". The engraved seal certifies that the timepiece has successfully passed all the tests relating to regularity of rate, temperature, atmospheric pressure, resistance to shocks and magnetic fields as well as water-resistance trials.
---
---