The 186 year-old history of Jaeger-LeCoultre is based on many technical and artistical achivements. By now the Swiss manufacture has developed more than 1,200 calibers and has over 400 patents. On the Swiss watch fair SIHH 2019 the brand, established in Vallée de Joux in 1833, presented the Master Grande Tradition Gyrotourbillon Westminster Perpétuel, the first multi-axis tourbillon with a constant-force mechanism, Westminster chime and perpetual calendar.
The Master Grande Tradition Gyrotourbillon Westminster Perpétuel is the latest generation of multi-axis tourbillon to emerge from Jaeger-LeCoultre, following the 2004 Master Gyrotourbillon 1, the 2008 Reverso Gyrotourbillon 2, the 2013 Master Grande Tradition Gyrotourbillon 3 Jubilee and the 2016 Reverso Tribute Gyrotourbillon.
The newest model has a Westminster carillon minute repeater, which associates with the British capital: The striking mechanism replicates the chime of the famous Big Ben clock tower in London every quarter of an hour. Other than that the watch has a one-minute constant-force mechanism to provide consistent energy to the sensitive tourbillon, resulting in a precisely jumping minute hand and repeater mechanism.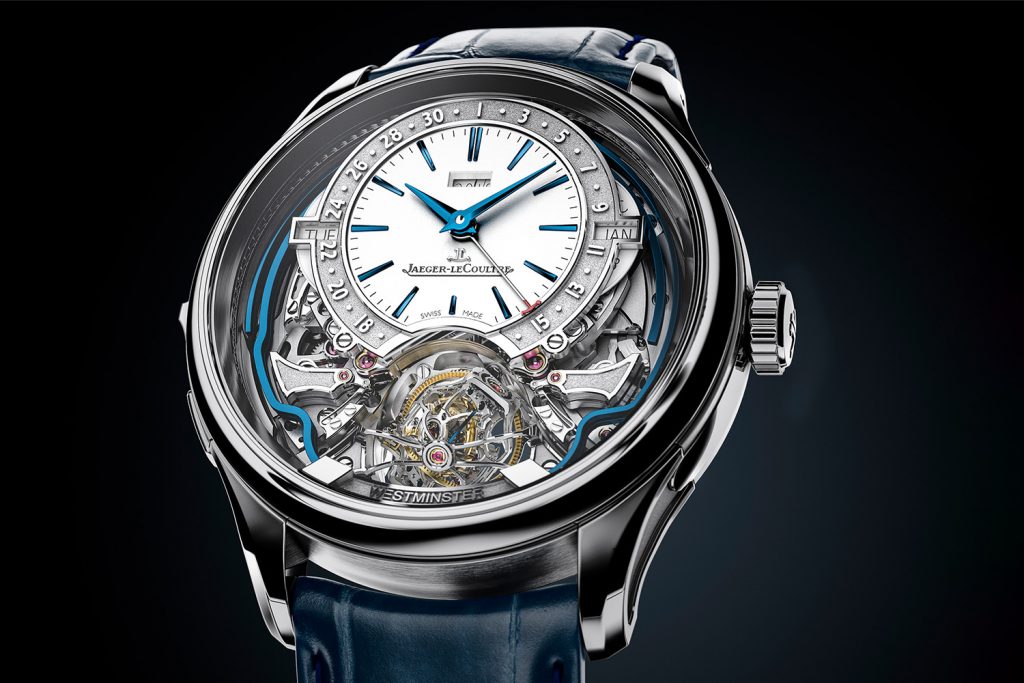 Most special about the Westminster mechanism is the silence-reduction function built into its chiming mechanism. This ensures that even when the full set of Westminster quarters is not struck, there is no time delay corresponding to the missing quarters before the minutes are struck. When the Master Grande Tradition Gyrotourbillon Westminster Perpétuel is activated, the hour strikes, quarter strikes and minute strikes are seamlessly joined. In this model four gongs and hammers are working. To improve the tones in the Master Grande Tradition Gyrotourbillon Westminster Perpétuel Jaeger-LeCoultre used Trebuchet hammers, which deliver strong and quick strikes to the gongs. Other than that square cross-section gongs, developed to provide the greatest possible area of contact with the striking hammers, were used.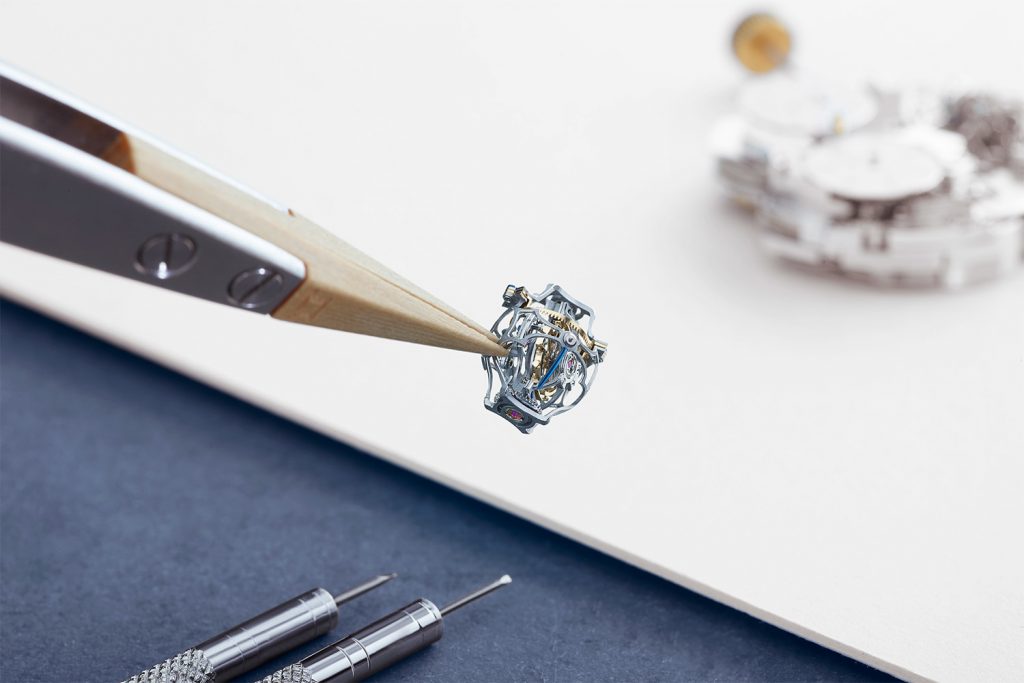 The Constant Force mechanism consists of a spring, known classically as a 'remontoir d'égalité', that is periodically re-armed by the mainspring and acts as a secondary power source to protect the regulating organ of the movement. In the Master Grande Tradition Gyrotourbillon Westminster Perpétuel, the constant-force mechanism has an additional advantage. It regulates the motion of the minute wheel, creating a jumping minutes hand that offers greater precision in time display.
As well the model has a perpetual calendar, which automatically shows the correct date without manually adjusting between months of different lengths. The 29thof February in leap years is taken into account as well.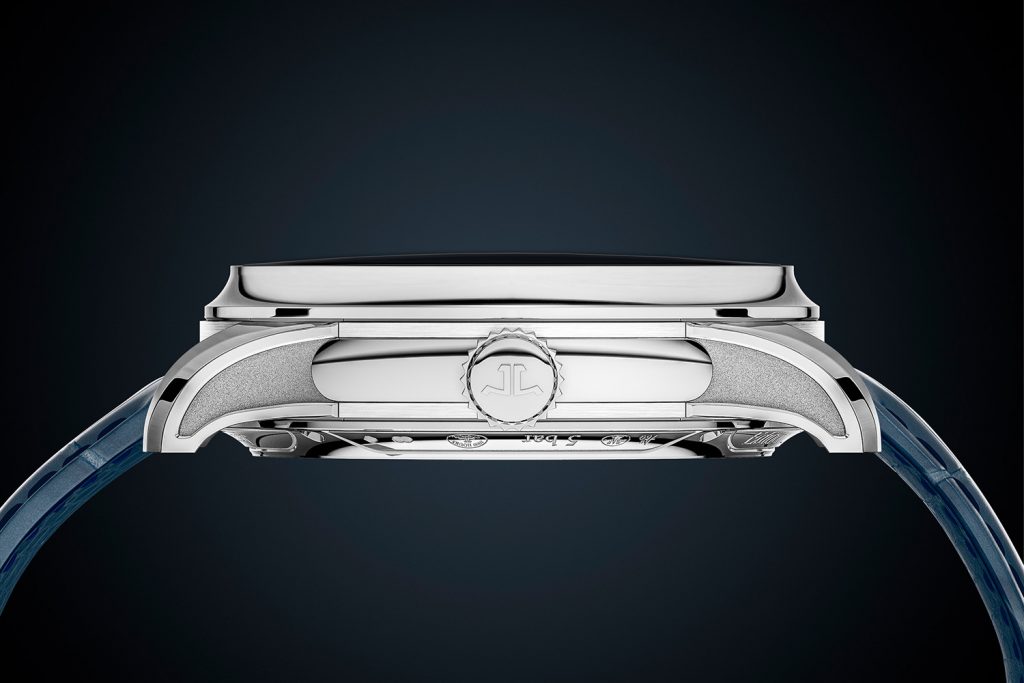 The case of the new model has a diameter of 43 mm and has a retractable minute repeater pusher, which emphasizes the smooth lines of the case. Hand guillochage, fine hammering (martelage) and the grand feu enamel are an important part to the design if this watch. The dial is available either in a deep-blue grand feu enamel (Ref. Q52534E1) or in a more classic silver-grained version (Ref. Q5253420).
---
BRAND:
Jaeger-LeCoultre
MODEL:
Master Grande Tradition Gyrotourbillon Westminster Perpétuel
REFERENCE:
Ref. Q52534E1
Ref. Q5253420.
PRICE:
On demand
CASE MATERIAL:
White gold
DIAMETER:
43 mm
DIAL:
Blue guilloché enamel
or
Silver grained.
CASE BACK:
Sapphire crystal
STRAP:
Blue alligator leather strap
CALIBRE:
Calibre 184
MECHANISM:
Hand-winding
POWER RESERVE:
52 hours
FUNCTIONS:
Hours, minutes, jumping date, two-way perpetual calendar (day/date/month/year), gyrotourbillon, minute repeater with Westminster chime