For some people travelling is the epitome of freedom – for others it is just normal daily business. "Once a year you should visit a place you have never been before" Dalai Lama said and points out a desire that is deeply rooted in many people. In this growing connected world people don't only travel for holiday, but also increasingly for business reasons. Recently we stumbled over an interview with a top manager who travelled to Japan more then 100 times in his life, but never stayed longer then a night. London today, New York tomorrow, Tokyo and so on. As we have a set world time since October 1884, everybody knows the time at any place in the world and the temporal difference to their home place – no need to be surprised about a jetlag any longer.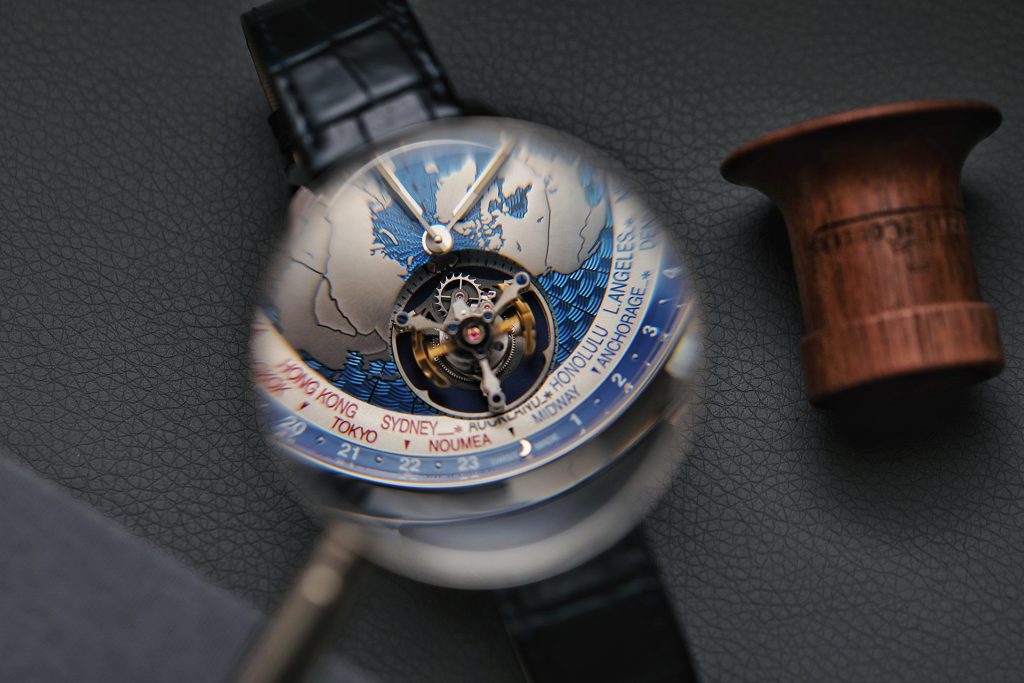 Jaeger-LeCoultre Geophysic Tourbillon Universal Time
If you don't want to listen to your inner clock and also enjoy travelling in style, you best have a watch with world time indication on your wrist. The Swiss Maison Jaeger-LeCoultre presented a range of stylish and exciting world time watches in the past few years, which give a nice overview about the different ways of indicating this function. But not only frequent travellers profit from these functional timepieces but also everyone who works globally connected and who needs to be informed about the time of a client in Hong Kong for example or if his colleague in New York is already up.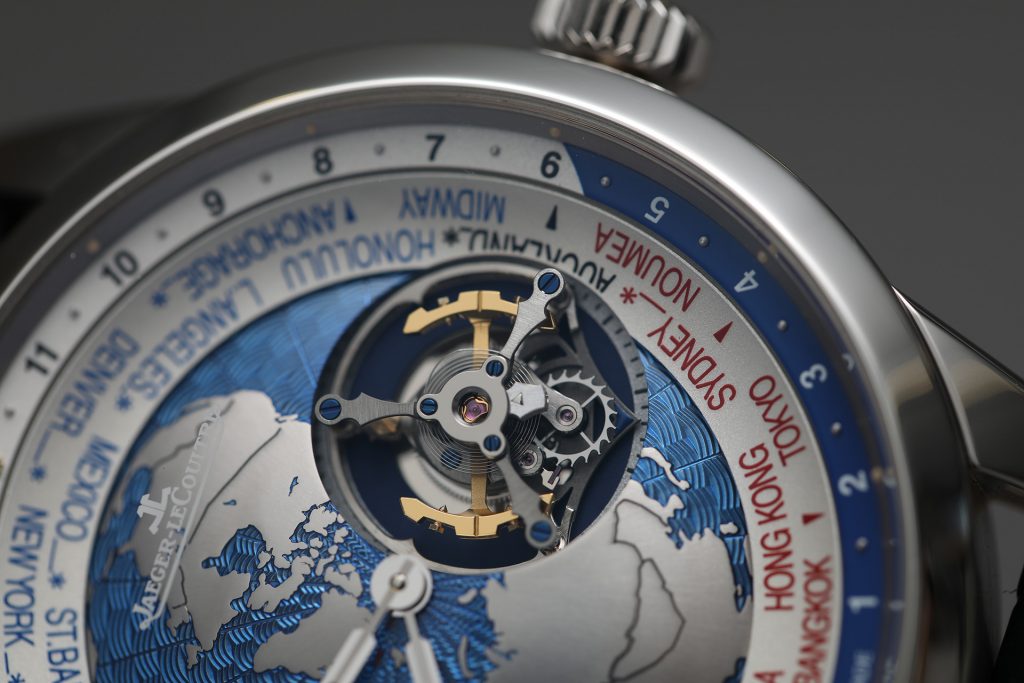 The tourbillon of the Geophysic Tourbillon Universal Time circles around the dial
Usually the 24 world time zones are displayed on a circular disc on the dial. There are also ways of display with a rotating globe or a dedicated indication window on the dial showing only the desired time zone from a hidden disc. The right decision for a world time watch depends on your personal type. Do you want the world time to be in focus? Do you want additional functions? Do you have design preferences?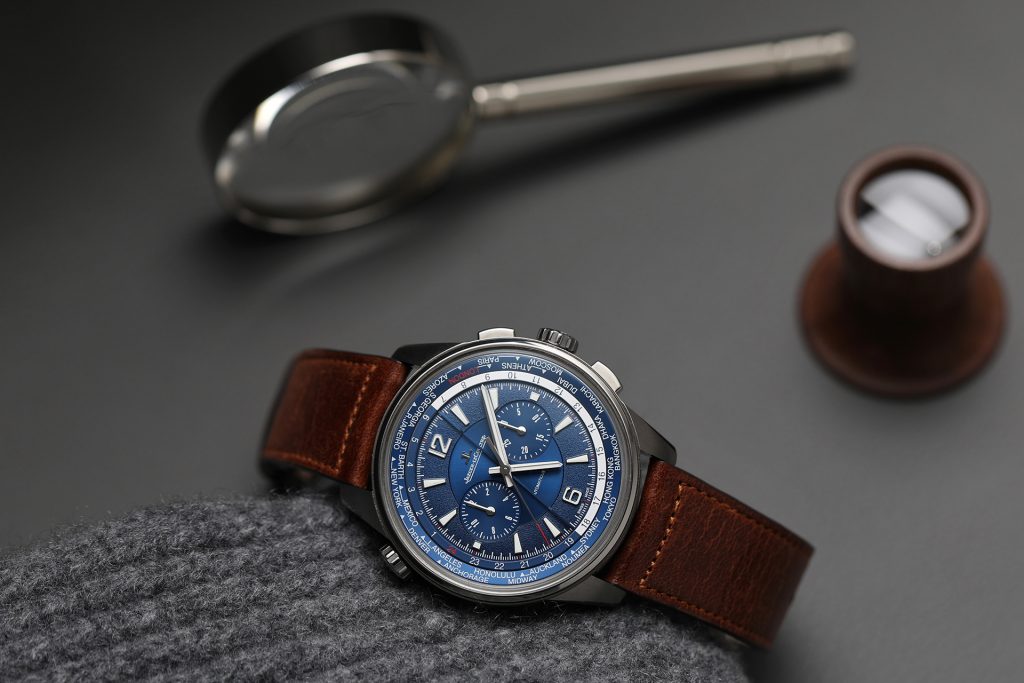 Jaeger-LeCoultre Polaris Geographic WT (World Time)
For Jaeger-LeCoultre, a clear readability and simple handling play a crucial role in the design of their travel watches. The Polaris Chronograph WT has a case diameter of 44 millimetres to provide the indications with enough space. Besides a world time function it also offers a chronograph function with twin counters. On the crown at 10 o'clock you can simply adjust the requested city and its time zone. At the same time all other 23 time zones become visible at a glance. The tiny white triangle marks next to the city names indicate the summertime in this time zone.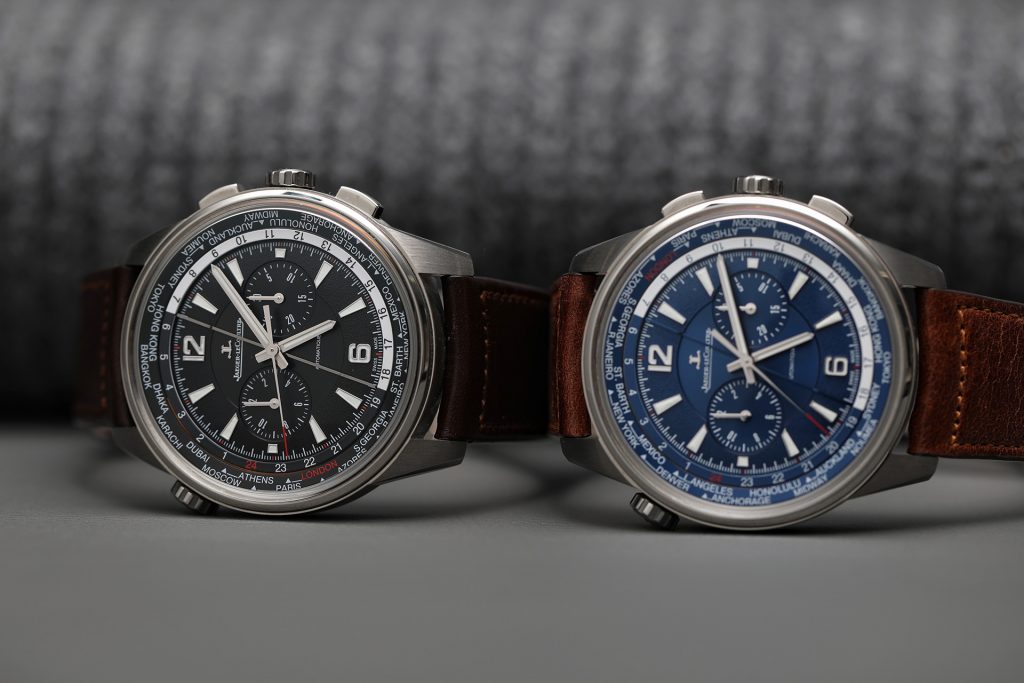 The Polaris Geographic WT comes with a black or blue dial
Jaeger-LeCoultre offers another Polaris world time watch, limited to 250 pieces, but without a chronograph and slightly smaller with a 42 millimetres case diameter; the Polaris Geographic WT. The world time function remains unchanged, only the chronograph is replaced by a date indication at 2 o'clock and a power reserve indication at 10 o'clock. Additionally it offers a second time zone indication at 6 o'clock.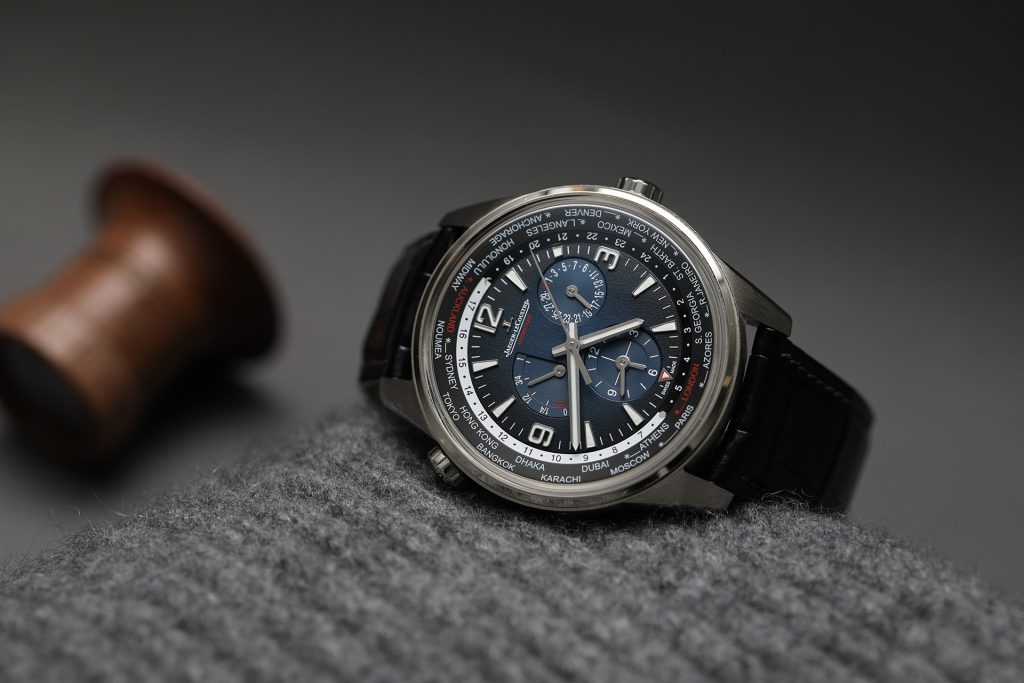 Limited to 250 pieces – Polaris Geographic WT Boutique Edition
Everyone who likes to experience the whole world time nostalgic a bit more intense should have a look at the Geopyhsic Universal Time and the Geophysic Tourbillon Universal Time. It shows an oversized world map on the dial that is enhanced by the lightly convex sapphire glass. The hour disc for the world time zone indication runs around the world map and can be adjusted by one single crown only. The hours settings are made by one-hour jumps clockwise or anti-clockwise. The blue lacquered and guilloche dial with its oversize world map will catch people's attention already – but if you decide for one of these watches, you will have even more aces up your sleeve. The Geophysic Tourbillon Universal Time is equipped with a remarkable flying tourbillon with ellipse isometric escapement. The tourbillon performs the normal rotation each minute within its cage, but additionally rotates inside the external time zone disc taking the entire world map with it on its journey. A nice interactive element to symbolize the earth's rotation.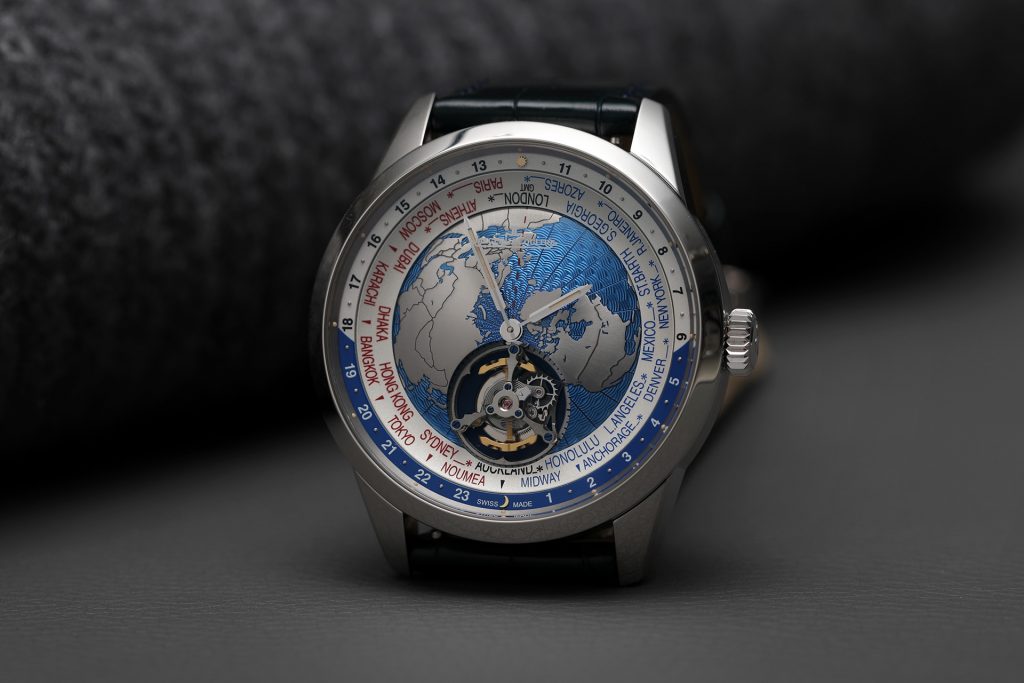 The tourbillon exposes the Gyrolab balance wheel
On the other hand, the Geophysic Universal Time with calibre 772 is equipped with a 'true second' mechanism that usually only appears in non-mechanical watches. Mechanical watches normally have a 'sweeping second' that seems to move without intervals. The 'true second' jumps once every second. It is a complex mechanism to adapt to a mechanical watch. You also have another technical sophisticated detail inside the movement of all Geophysic watches: a 'Gyrolab' balance wheel. The innovative 'Gyrolab' has a non-circular shape to reduce the air friction. The engineers at Jaeger-LeCoultre found out that air friction has a minor impact on the aerodynamic performance of the balance wheel and hence has an impact on the precision. The new balance wheel only consists of two compensators that are inspired by the shape of the Maisons' logo.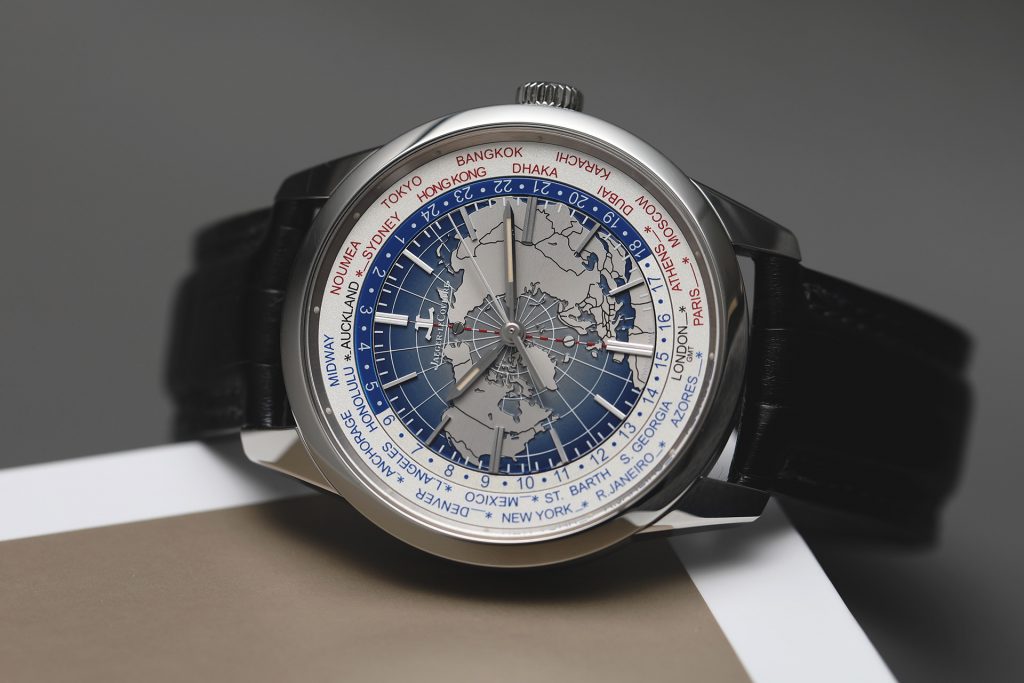 The world map at a glance – Jaeger-LeCoultre Geophysic Universal Time
Whereas the Geophysic and Polaris world time watches appear more contemporary in design aspects, Jaeger-LeCoultre also offers a more classic world time watch in their Duomètre collection. The Duomètre Unique Travel Time with its calibre 383 however isn't any less technical, but appears in a 42 millimetres red gold case, hand-wound, with grained and silvered dial and fine 'Feuille' hands, a jumping hour and a world map in the shape of a globe.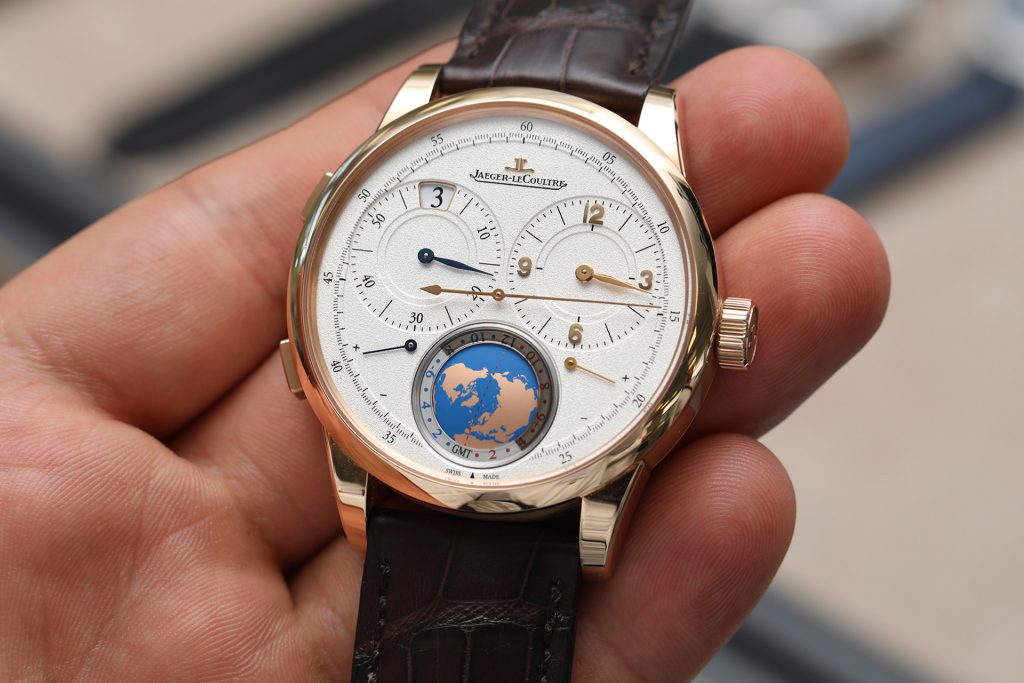 Jaeger-LeCoultre Duomètre Unique Travel Time
The world time surely lacks on accuracy compared to the Geophysic or Polaris – however its miniature globe has a circular disc with GMT as reference time and hours with day / night indicator for some vague orientation. What makes this watch especially appealing: the two time zone indications at 2 and 10 o'clock are run by two different mechanism and each have their own power source (dual-wing-system). However both indications can be adjusted by one shared crown – clockwise and anti-clockwise for each time zone. Both mainsprings can also be mounted by this crown. As soon as both time zones are synchronized the wearer uses the pushers at 8 and 10 o'clock to set the jumping hour according to the desired time zone. Hence it can be set to the minute, which is helpful for countries with half- or even quarter-hour time zone differences. The advantage of the dual-wing-system is to avoid the energy loss resulting from the interaction between the mechanisms. Each mechanism has a power reserve of 50 hours that are displayed at 4 and 8 o'clock.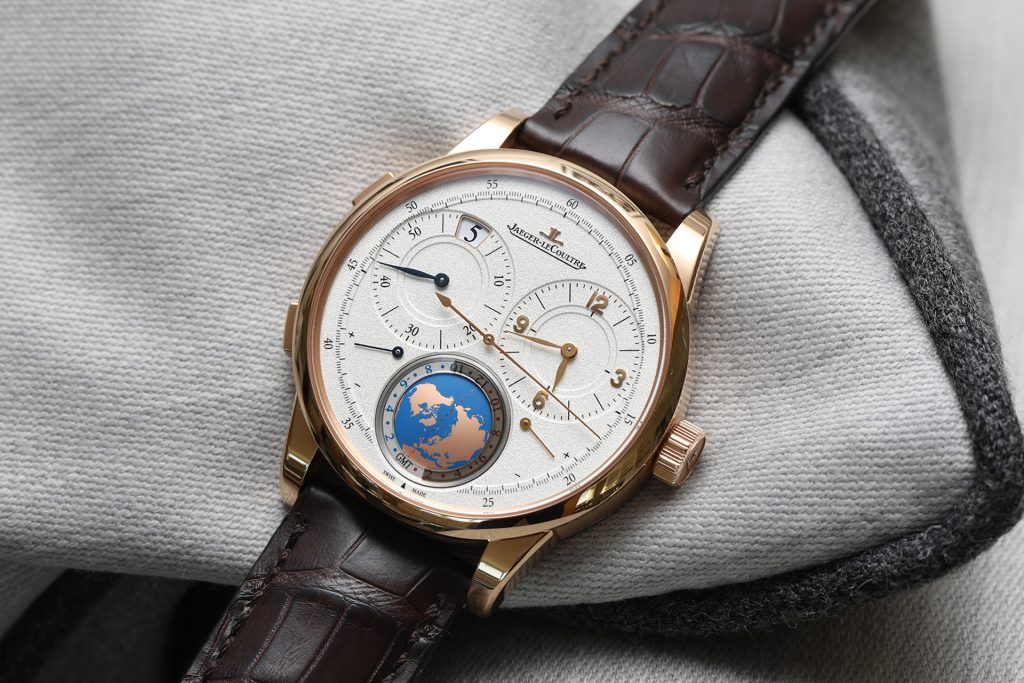 Jaeger-LeCoultre Duomètre Unique Travel Time with dual-wing-system
No matter if anyone is actually reliant on his world time watch or not, we are again and again thrilled by the way that Haute Horlogerie watch manufactures are able to put such a complex technique by pure mechanics in such a tiny case. It's probably more about the joy of operating your watch, about fathoming possibilities, about the stories, rather then about the functionality as a real support in daily live.
---
---