A name to pass on through the generations: Jean-Claude Biver
Having lunch with the man who bears this name is a sensation in itself. Not because Jean-Claude Biver doesn't take the time. The grand master of the Swiss watch industry has always made time for the media, and even at the age of 74, and especially today, he is willing to do so. The reason for it being such a sensation is because you are sitting across from someone who represents 50 years of Swiss watch history – and he knows so damn much. This man resurrected Blancpain from nothing, brought Omega to James Bond and Hollywood testimonials to the watch industry. He turned a niche brand of the 1980s, Hublot, into a global company that every football fan in the world knows today. Later, as head of the watch division at the LVMH Group, he catapulted Zenith and TAG Heuer into the 21st century. This man, who has achieved it all, wants to return to the game and has thus committed – in the biggest mistake of his life according to his critics – to founding his own watch brand!
Biver schedules two hours for the Swisswatches team directly after Watchers & Wonders 2023. Before the fair, pretty much the entire watch industry had been eagerly awaiting Biver's first watch under his own name, which he, marketing genius that he is, launched on the eve of the world's most important watch fair. The expectations were enormous, and followed by much digital criticism. We want to know: what is there to the criticism and does it matter to him? Is it envious people who don't want him to have another great success in the last stage of his life? It is our belief that before judging, you first have to wear his first Carrillon Tourbillon Biver on your wrist. A pleasure that only 35 people in the world will be granted permanently. 29 have already been sold – so much for the criticism. Most of the criticism comes from people who don't want to spend 520,000 euros on a mechanical minute repeater.
We find Jean-Claude Biver, rather relaxed, in his corner suite on the second floor of the legendary Four Seasons Hotel de Bergues. Opened on 1 May 1834, it was the largest and most impressive hotel in Switzerland at the time. The location seems to have been chosen with care in every respect. From the balcony, you can see the founding house of Patek Philippe across the street on Rue du Rhone, the company this man reveres like no other. His 22-year-old son and co-founder of the new watch brand, Pierre Biver, curated Biver's exciting watch collection himself for several years.
Unfortunately, his son Pierre cannot join us, but we are happy to accept the invitation even with his father alone. Also in attendance is his loyal and ever-charming PR companion, Marine Lemmonier-Brennan. Despite the array of fresh salads, fish and sandwiches, it's hard to even think about having a bite to eat; larger matters are at hand.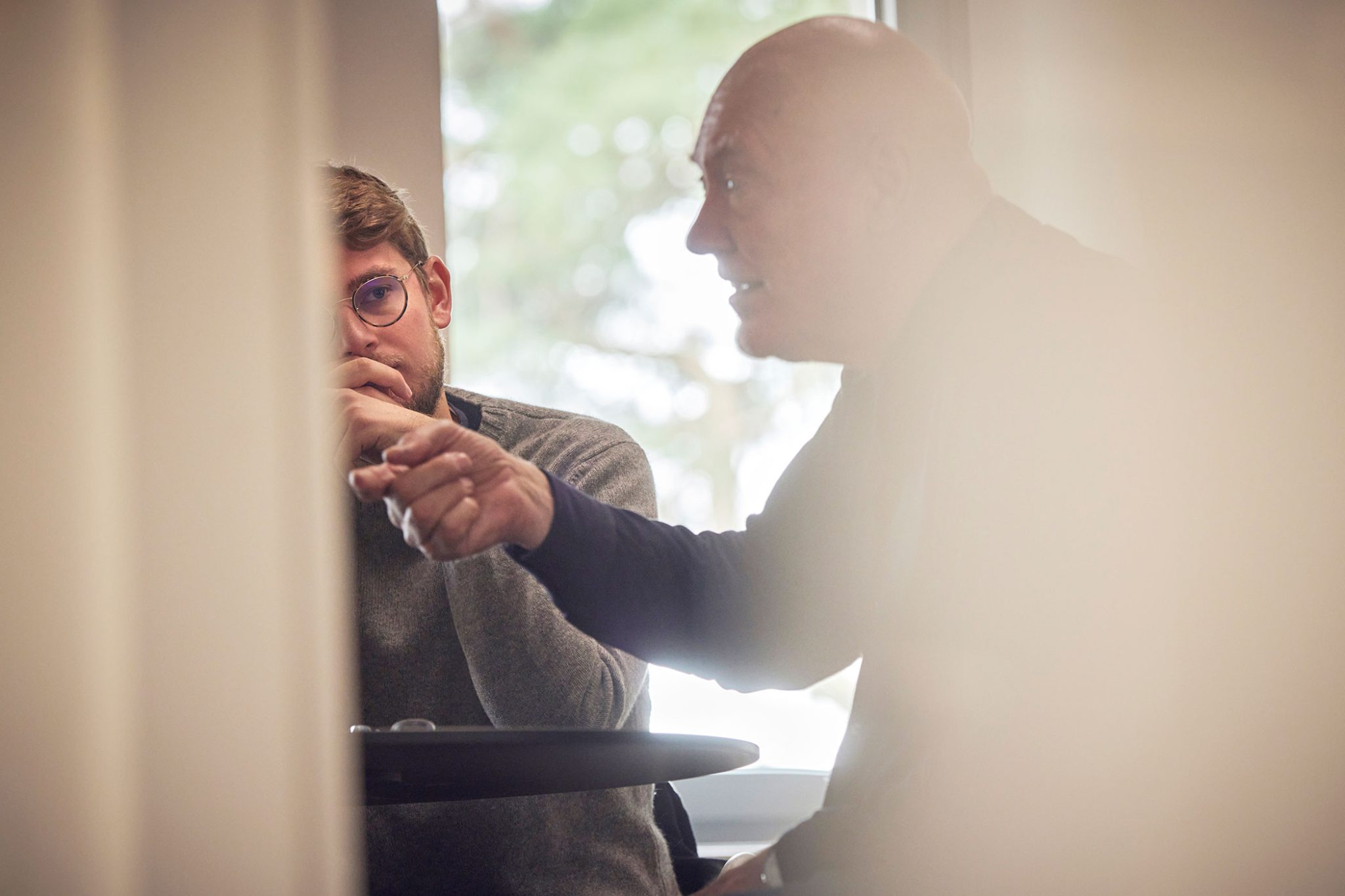 Congratulations on the big step into independence. Every new watch brand today must have a hard time…
Wait, that's not true at all, because there is a shortage of production among the top brands. There are many big and well-known brands that can't deliver any products at all, and their customers are very frustrated at the moment. And when people are frustrated, they might opt for a brand that they might not have known before – perhaps one that the retailer has argued for. And so, as consumers, they currently have the opportunity to discover completely new brands. So, the situation is not so bad for a new start.
It is said that you have already sold many of the watches?
A lot. 29 of the 35 watches. We could have sold all of them. So why not sell more? We stopped at 29 because we simply don't want customers to have to wait longer than two years for their watches, even with us.
You want to deliver 29 minute repeaters in two years? That's enormous for such a complicated watch!
Not exactly, because we won't start producing until September, but from September it will take a maximum of two years until the last customer has also received his first Biver.
Who are the customers who spend at least 520,000 euros on a watch brand that has never before made a watch?
Customers who buy our watches have their very own character and are mostly big personalities. They no longer need a car, and they certainly don't need a wristwatch, just to be a bit more credible. It's also no longer about being recognised by a certain group. If you wear a Rolex Daytona Rainbow on your arm, a certain group of people will recognise it. Our watches may already arouse the curiosity of certain people, but even they are far from necessarily recognising what it is that their counterpart is wearing on his or her arm. It may be difficult for many people to imagine, but we are in an area completely outside of status symbols here.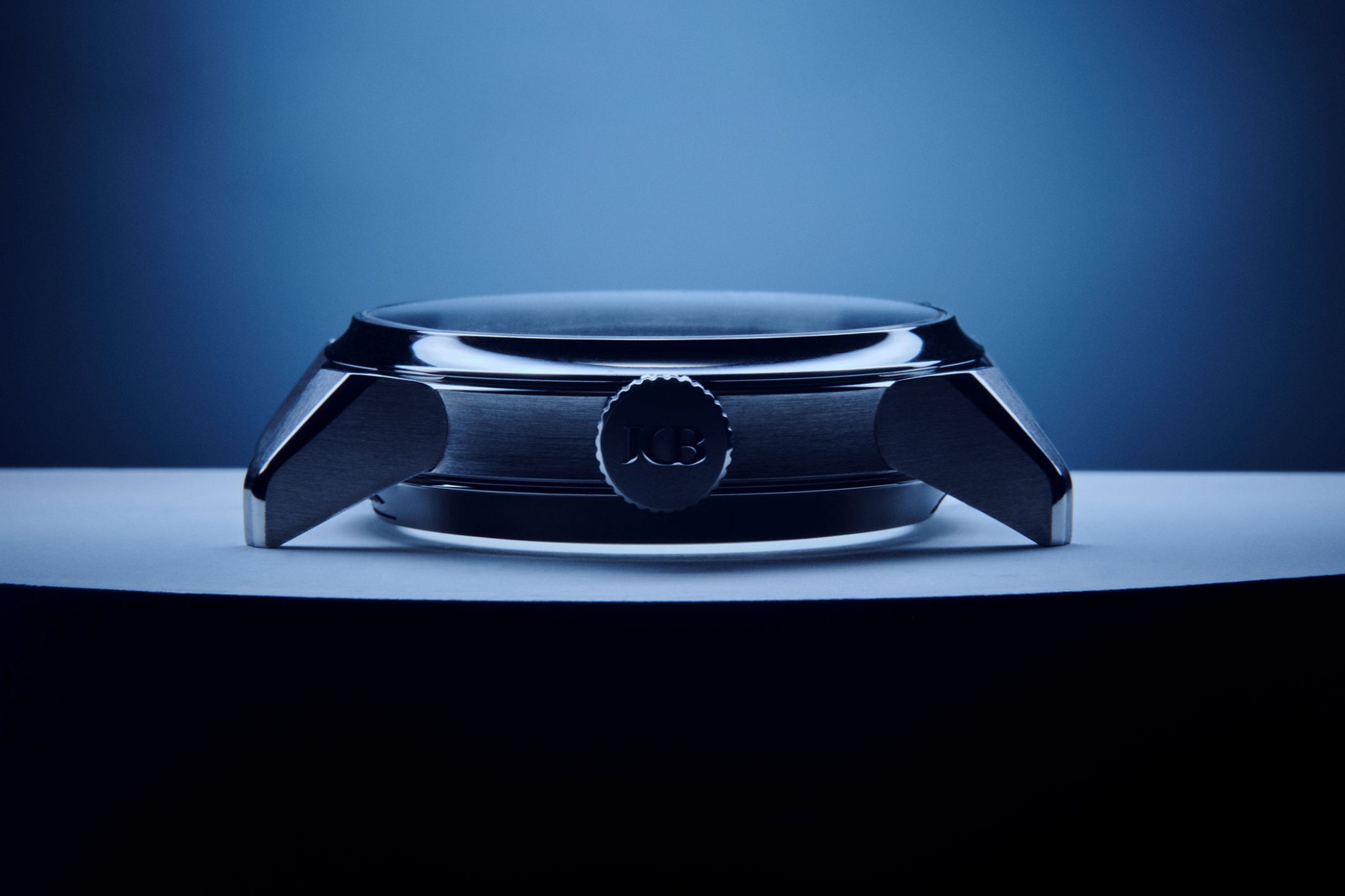 A watch for over half a million euros is not exactly a discreet understatement?
It's about personality, but above all about connoisseurship. I don't want to exclude the possibility that we might one day become a status symbol, but we're not trying to be that and it's not in our power. We are happy to play in this segment. For example, we have many customers who are big art collectors. Anyone who collects art knows that it is a somewhat different status symbol than cars or watches.
How many of your clients do you know personally?
I know more or less all of them, although you have to distinguish between dealers and end customers. I didn't know all the end customers, of course. With the dealers, it was easy because we only work with five dealers in the world and some of them have been with me for decades.
You sell exclusively through these five dealers? Who are they and why only five?
We have chosen what I consider to be the five best dealers in the world for this segment. To be honest, we could perhaps have had ten in total. But it works very well with five: in Asia, we trust Yoshida in Japan. I've known him for 50 years. He is the biggest Patek, Audemars Piguet, Bulgari and Hublot dealer in Japan. He dominates almost all of Japan. For South East Asia, Singapore, Malaysia, Indonesia, Vietnam, we rely on The Hour Glass. For me, that is the reference in the region. For the Middle East, it was clear to work with Seddiqi. I have known him personally since I was 14 years old as he completed his schooling in Switzerland. Bucherer represents us in Switzerland and Europe. You don't have to explain that to anyone. In the USA, we work with Material Good in the Soho district of New York. Not everyone knows it, it's on the 70th floor, but I like that for the USA, this sense of understatement.
Why don't you sell directly to end customers?
We are located far away in Switzerland, but of course we can also show the watches to people who come to us or service the watches directly for existing customers. But above all, we discuss with customers directly at my place the particulars of a design they want. Because what the customer orders from us is always individual in a way, depending on the country. But the price is paid to the retailer and the retailer delivers; they know their top customers much better than us.
As one of the most famous watch managers in the world, how difficult is it for you to let go and hand over to your son?
Honestly, without him I wouldn't have started creating this brand at all. So it's not difficult for me at all, because I want to pass on the brand! I am 74 years old now. You can imagine that I'm not doing this just for myself, because I no longer have the time to build it up on my own. I won't be able to enjoy this brand any more either, and will very probably die before that time. That's just the way it is. But I also started it because of my passion and that's why we're sitting here. It keeps me busy every day and it makes me happy. But passing it on is part of my plan: Biver is for my son. So, it's also essential that I don't make all the decisions for him; that wouldn't work for long. I may be re-checking things at the moment, but I have to let him take the wheel. When you're learning to fly, you can't share the wheel for long either. I have to learn to sit next to him, but more in the role of flight instructor.
Has Pierre had any experience with other Swiss watchmakers?
He went to London and worked at Phillips auction house for two years and later managed my watch collection and totally restructured it. He was 15 or 16 years old when he started to be interested in watches.
What principles do you pass on to him that you learned for yourself?
The most important thing as an entrepreneur is to gain certainty, to make decisions. Because that's what makes a manager or a leader at the core: to make decisions all the time. But decisions have to be easy for good leaders and not a source of worry. You have to feel joy in making decisions. That's what counts. That's what I see as my most important task is to put him in a position in which he dares to take risks that he can oversee. Often, bosses today are too controlling and don't give their progenies enough space to make their own decisions. The fear of doing something wrong dominates many minds. I always tell my employees, it's not a big deal. Just do it and I hope you do it wrong! Because only then will you learn something. And in my business, there are maybe 50 mistakes and at some point you've made all 50. After that, you can work without a care in the world.
Would you say that you both have similar tastes in watches?
We don't have the same taste at all, fortunately! He has the taste of the present and I have the taste of my youth. For example, I had a Mercedes 300 SL Gullwing and a Mustang Shelby GT 350. These cars appealed to me because they reminded me of my youth. He has completely different tastes: for him, these are undoubtedly beautiful cars, but they don't appeal to him. Instead, he has a Lancia Delta Integrale that once won the Monte-Carlo Rally. Everyone adores different eras. That's life.
How do you deal with each other when you have disagreements?
Most of the time I listen to him, or to put it another way, he definitely has an influence on the decision. Sometimes his influence is 100 percent, sometimes less. We don't have a rule.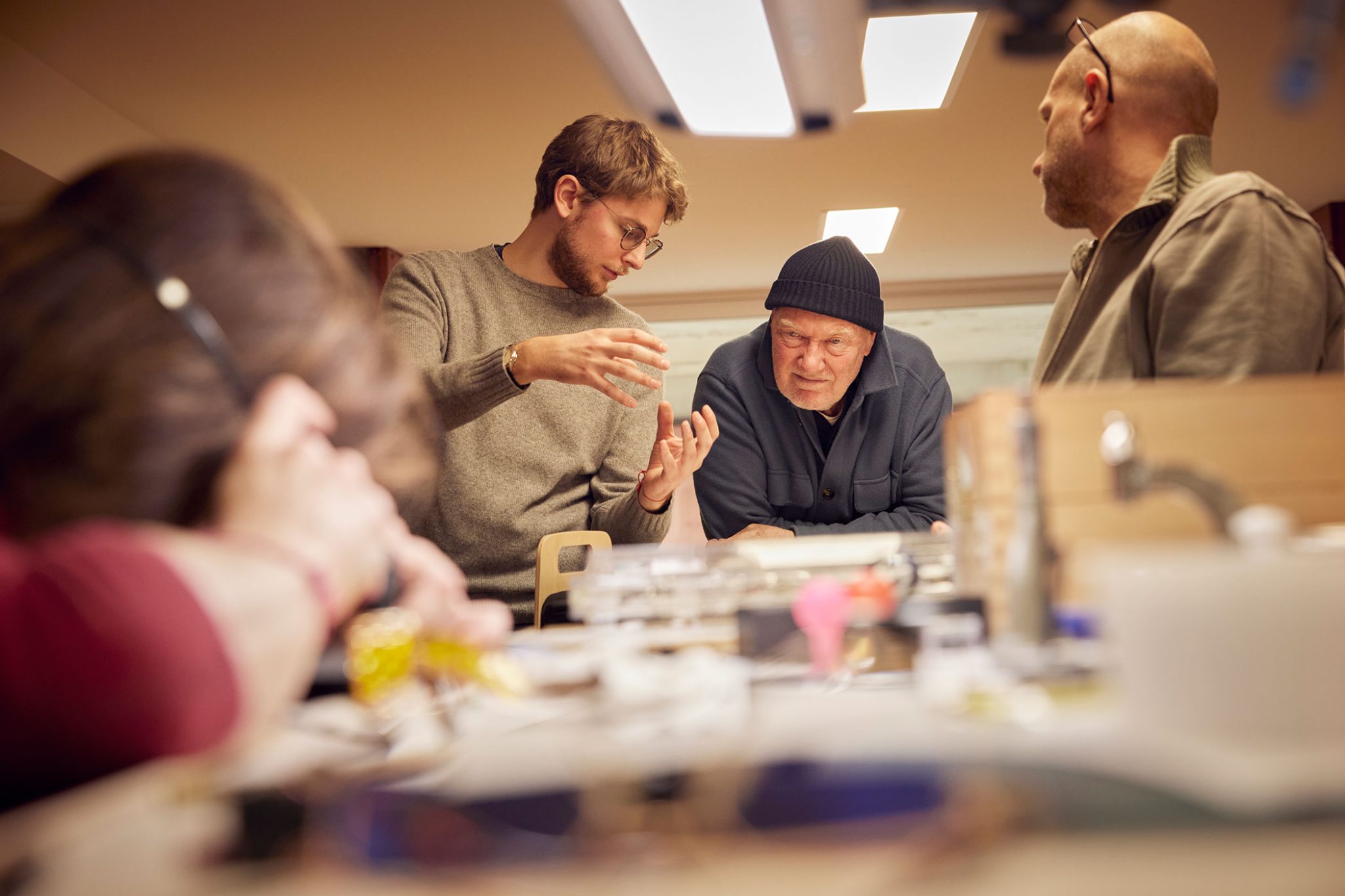 Credit © Sébastien Agnetti
You mentioned that your son curated your collection. Collectors know that you love Patek Philippe watches. Were there historical pieces that inspired you?
Yes, but forgive me, I can't remember the reference. But I was particularly impressed by the models that have a concave bezel, i.e. one that curves inwards. Visually, it's very pure, very reduced and very austere. It makes watches look lighter and makes them look smaller. But it's not just Patek Philippe watches: everything that has interested me in my watchmaking life is in this wristwatch.
What does a mechanical watch mean to you?
Mechanical watches are pure emotion for me. The time display? To be honest, I don't care a bit. It's about the emotion I get for the object. The emotion is related to the way it's made, the quality, it's a total work of art. My wife, for example, wears watches that always show the wrong time. She is likewise concerned with the beauty of the object, not the accuracy. For her, a watch is a piece of jewellery, and for me it's somewhat the same.
Which watch do you actually wear most often, apart from your own?
That's easy since I no longer work for the LVMH Group. I used to wear my Blancpain Black Tourbillon, which we had developed at the time. And then I was given a very special watch by Recep from Akrivia: his number one, the platinum model with a dial leaf. Not only did I like the gift enormously [laughs], I have worn it every day for the last four years. Recep and I have become friends. I have supported him. Today is the first time I am not wearing this watch, understandably so.
The first Biver you wear on your wrist is hotly debated on the internet. Are you interested in reactions on social media?
No, not at all! I swear to you. Why? Because it has no meaning, even though I was the first to use social media intensely for Hublot back in 2005. Facebook was only founded in 2004. A few years later, I got a lot of criticism from the internet about Hublot, that this was wrong, that was not perfect. There were no proper movements in it and so on, the whole programme – all that crap! Then I said to myself: I'm going to do a little advertising campaign on the web, and invited ten people from the internet to Switzerland with a plane, overnight accommodation and all the trimmings. All my worst critics were among them. When they flew away again, they had become the best ambassadors. Back then, I learned an important lesson: in the anonymity of the internet, many feel very strong. That's why I don't give much to social media. By the way, I am not saying that social media is bad. On the contrary, it helps brands gain enormous exposure.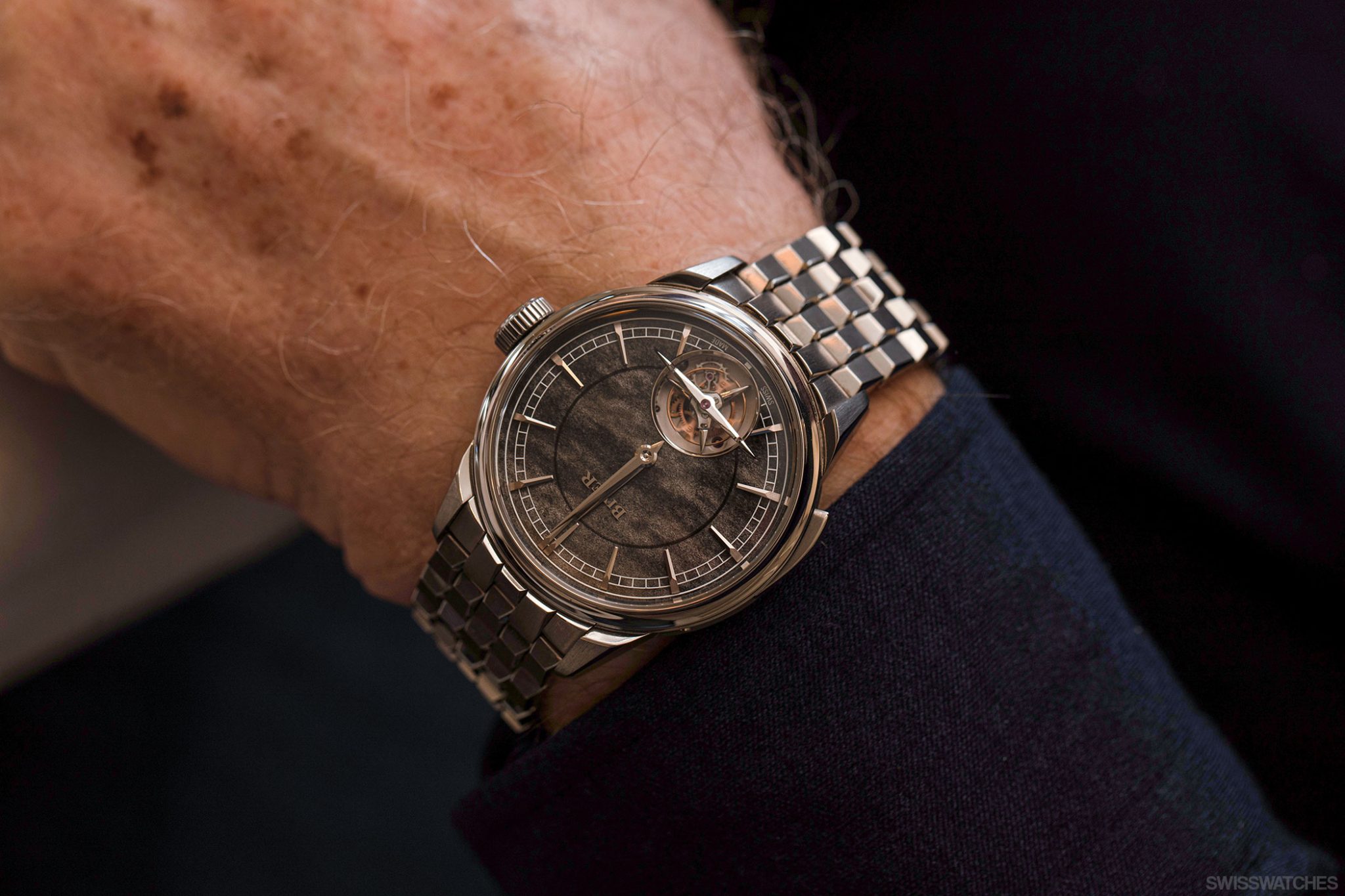 Who do you listen to then?
If someone sends me a letter by hand today – and that really happened to me once – and sends me back their casket with a minute repeater because they think it's not right that so many trees are cut down for a watch, then that's a lesson for me. That happened to me at Hublot, by the way. It's quite different whether a customer writes to you compared to someone who just wants attention.
A Biver doesn't do anything rashly. What are the reasons for this design? Some commentators have pointed out that the first Biver actually looks fashionable!
I think 'fashionable' is an interesting reaction. I don't mind; I'd rather be in fashion than out of fashion. On the other hand, I think it's much more likely that the watch is absolutely classic. But since classic shapes are trendy, maybe it's fashionable, that would only be logical then [laughs loudly]. No, seriously: do you think the watch is fashionable? I really see the watch as a classic design, maybe with a bit of pepper. In other words, classic with a modern twist.
And that also fits the story of its creation. I came to the design with the very person who drew me the first Blancpain. In terms of design, my current brand is clearly a return to my first brand, Blancpain.
You can see the similarity even in the letters in the logo, the capitals and the capital B and the R. Who is the designer?
That was nothing unusual in the past. My great-grandfather also used a capital B and a capital R in his shoe shop in the 19th century, just as Blancpain uses a capital B and a capital N today.
The design of the comes from M Design, a company founded by Miodrag Mijatovic and his head of product design Philippe Girard, with whom we have worked since the Blancpain era. I knew Miodrag since forever and he drew the watch from A to Z, including the strap. He drew almost everything for me: for Blancpain and Omega, then for Hublot, later a bit for Zenith and then for TAG Heuer. We didn't have many requests for changes in the design either. I only gave him the hint to use inwardly curved surfaces, as in some Patek references. Unfortunately, Miodrag Mijatovic passed away; by the way, his cousin was a great football player.
You went in with a very high price tag of about half a million. Very brave or very well thought out. In this field, people usually know each other personally: will Biver only play in that segment or in other segments as well?
After fifty years in the business, I can't just start at the bottom. I simply don't have the time!
Is the next watch already planned? Are you planning annual innovations?
Definitely not annually, we wouldn't be able to cope with that at the moment. If it had been up to me, we would have started last year, but unfortunately we lost that one year, so we have to slow down a bit. But I can tell you this: the second Biver movement will have hour, minutes, seconds; a classic three-hand watch. The exact opposite of the Carillon Tourbillon, an automatic watch with a micro-rotor. So we can become extremely slim in terms of case height in the future. This model will be released in September of 2024.
Will it also be as elaborately finished as the Carillon Tourbillon Biver?
It will be a very simple watch, but the decorations will be just as elaborate. For example, the two hands of the first Biver cost 8,000 Swiss francs, and of course the second Biver watch will have the same hands. The quality must always be identical. No matter which movement, the finishing always remains the same at Biver. We don't do it like some car manufacturers or other watchmakers who then put their expensive name on industrially produced movements.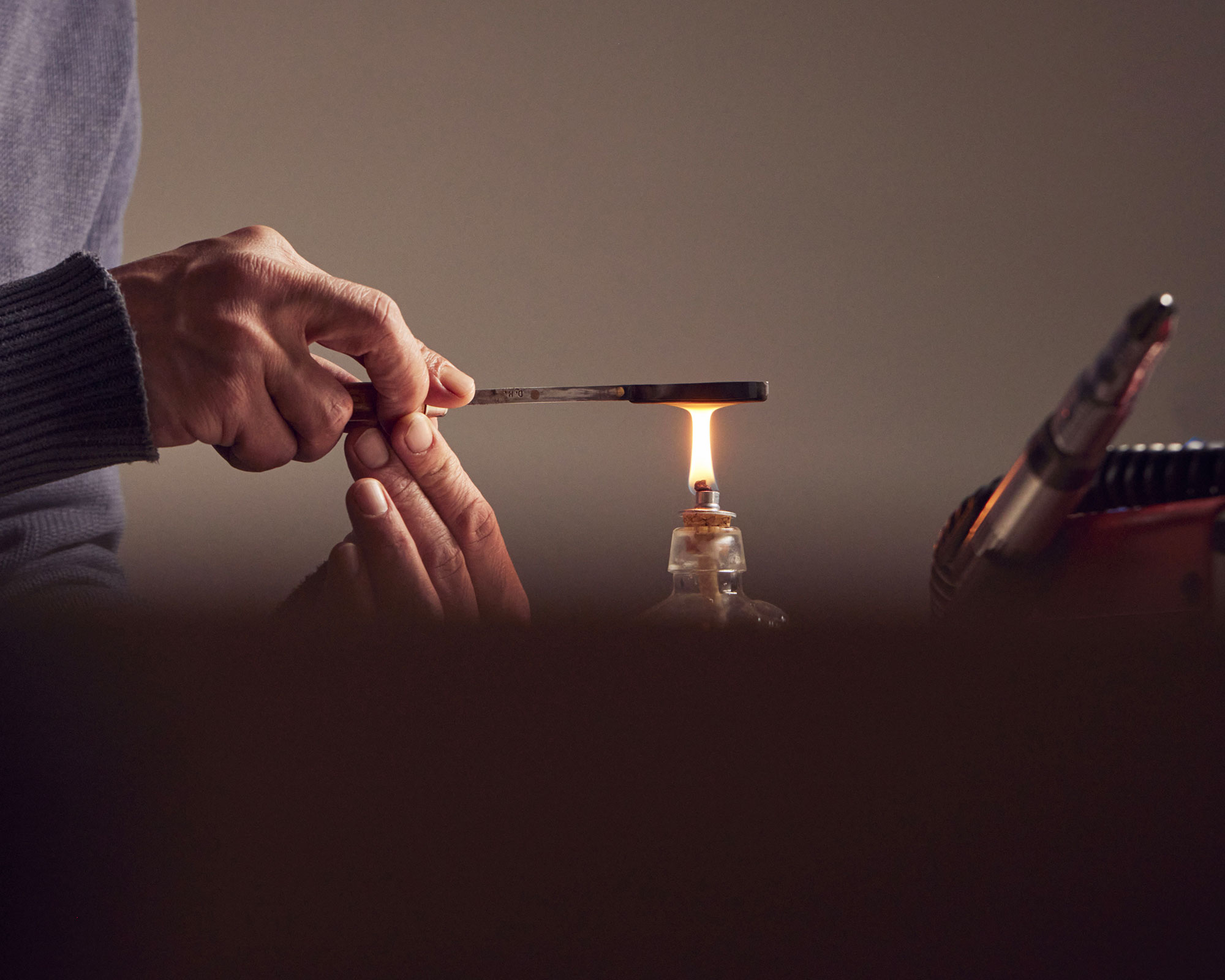 Which suppliers are the most important for you and why? What does the cooperation with them look like?
It's like design, I know them all personally and some of them have known me for 50 years. The relationship is so good that I was able to start late and still get to market almost on time. The case comes from EFTEOR, the strap from UM2. The dial comes from LM Cadrans, the hands from Blandenier and the movements are from Dubois Dépraz. It was developed by Le Cercle des Horlogers, my in-house designer.
What was the biggest technical challenge with a minute repeater?
The biggest technical challenge was indeed the sound. The sound is the enfant terrible because in one watch it sounds one way, yet in another it sounds completely different. All minute repeaters sound different! I was really desperate in-between, because for the first time we brought a really water-resistant minute repeater to the market: we are water-resistant to 50 m. Until then, only A. Lange & Söhne had one with 30 m. I was so desperate that I asked my designer to leave out the stupid sealing ring and give up water resistance. But he was persistent and rightly fought for it.
Where did you get the inspiration for the Sodalite dial? Rolex is the only other Swiss watch brand we know of that occasionally works with this material, for example on some very rare Daytona and Datejust editions?
The dial should become a hallmark; we are more concerned with the spiritual value here. You can't repeat a stone. Each watch becomes a unique piece.
We can create very different watches with our selection of sodalite. For example, one with a very high white content and one with a very high blue content. Since Piaget in the seventies, no one really makes stone dials anymore, so that appealed to us because it can become a distinguishing feature.
You named the brand after yourself: Biver. That's also the name of your son. But the movement bears their name abbreviation, JCB. Is that logical or will the calibres be called JCB?
JCB is a trademark for us and will become a quality seal in its own right. We have directly developed our own seal. I thought a B was enough at first but now a B doesn't make for a nice stamp. Since I am the one who came up with this seal, it makes sense to name it after me. B can be anything. JCB is me. We offer the seal to all brands that want to use it. In some cases, it is much stricter than the Geneva seal itself; one of the strictest seals in the world. Otherwise, it would be too easy to invent such a seal.
Had you never thought about quitting watches for good? Your successes are hard to beat.
I didn't want to start again, so I didn't have anything in mind as far as my own watch company was concerned. It was only when my son approached me that the decision was made. Only when he came to me was it clear to me that it made sense. Then I was 100 percent sure that I even had to do it. I'll be honest with you, I really didn't want to make the mistake of my life and take one step too many. Because it's true: you should always quit while ahead. My role model was always the French ski racer Jean-Claude Killy, who was a Rolex ambassador. Killy was the second ski racer after Toni Sailer to win the gold medal in all three disciplines held at the time. After three gold medals, he simply stopped in his mid-twenties. That was brilliant! But the company already brings me a lot: I'm no longer bored, I'm busy. I stay young and active.
In which direction is the watch industry moving?
In a good direction! [Laughs] Because it is seen, because it is perceived as an industry. Think about where we were 50 years ago: Take magazines like The Times, Der Spiegel or big business titles; there was nothing to read about it. Today we are in every issue at least once. We belong to the world. The world never wrote about watches. Now we have attention. But we are also abused as an extreme status symbol, to return to the Rolex Daytona Rainbow. Visibility has its price.
Has your departure from the corporate world at LVMH changed your view of the industry?
Having a luxury group behind you like LVMH or the Swatch Group has many advantages, in production but also in finance and especially in distribution. But you often lose the interpersonal feeling. You become very rational. Everyone who knows me knows I'm not really rational, though. I hate rationality, so I fit more into a small company than into a group. That's why we started completely from scratch. We consist of just 12 employees. Just as a small example: there is no lunch that we don't take together. That is important to me. Everyone always comes together at lunchtime. We are a community. Everybody helps, everybody shares. I'm actually building a commune, like from my hippie days. I live my own culture. My son can then gladly change that and adapt it to his lifestyle.
Are you still interested in what your old brands are doing?
No, I'm relatively uninterested. I have one big disadvantage: I hate repetition.
We read time and again that you regretted selling Blancpain. Was that the mistake of your life?
I have never been able to forget it and I have always regretted it. It was a mistake, yes. I owned Blancpain for ten years and I never really digested the sale. I said it many times in interviews. Now, with my own brand, I am finally overcoming that. The Biver brand is the logical successor to Blancpain, which has died for me personally. Thanks to my new brand, I will eventually be able to forget this mistake.
What would be your greatest wish for how the Biver brand should be perceived in 100 years?
It should then stand for truth, for substance, for honesty and for quality.
---
The prototype: Biver Carillon Tourbillon in titanium – a big hit?
—-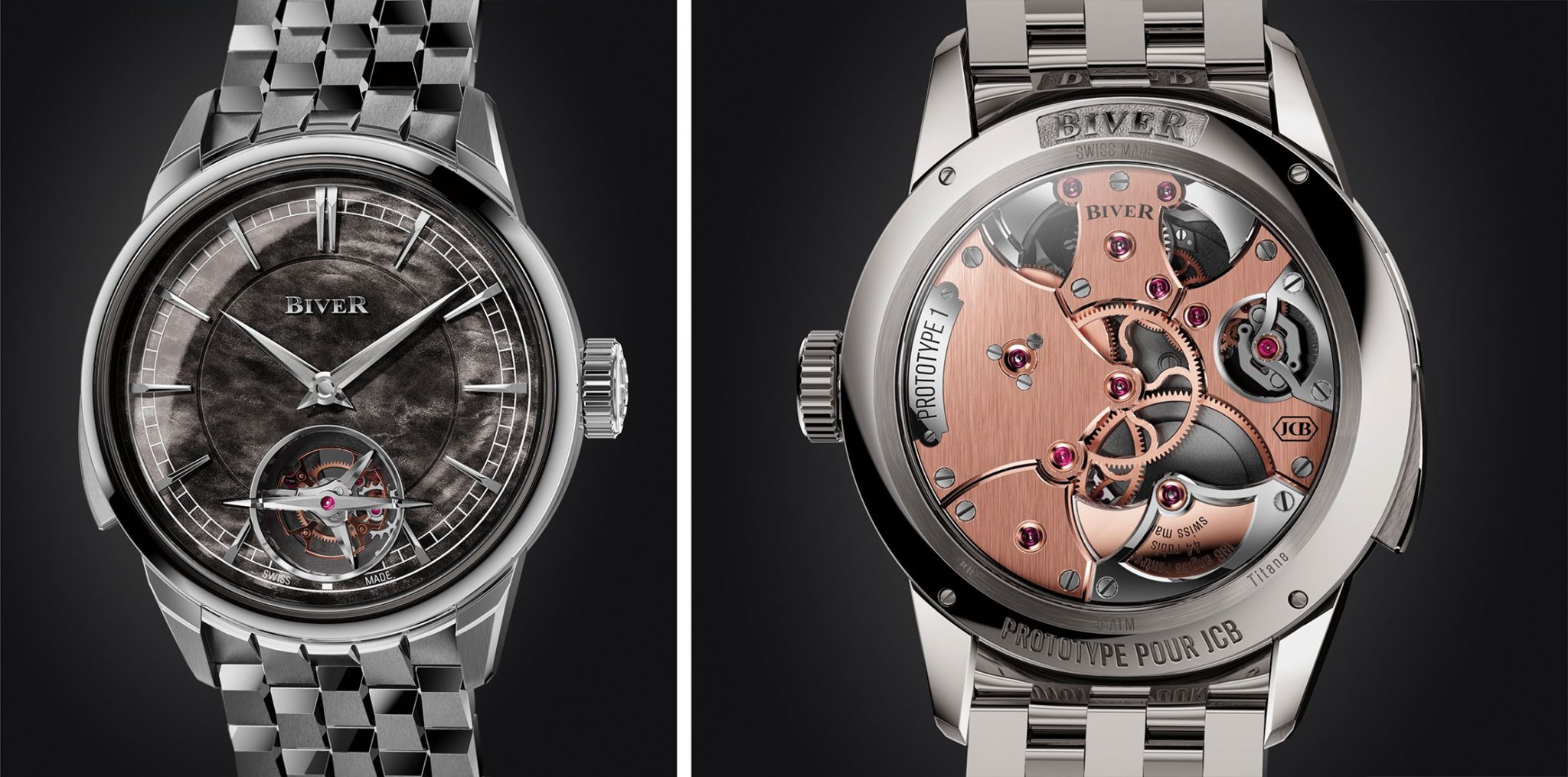 BIVER on the front, JCB on the back: to launch his own watch brand, the company founder created his own quality mark called JCB, which even exceeds the requirements of the Hallmark of Geneva.
After the interview, we look at the watch and immediately agree: it's a big hit. The bracelet is visually and haptically wonderful and looks very high value. Everything about this watch is well designed. The movement with its golden bridges makes you think of Greubel Forsey at first glance, the case is somewhat reminiscent of Patek, but in many ways it is remains quite different. The dials are unique and look much finer than on the unfortunately not very good press renderings. On the wrist, the watch looks quite discreet and can be worn very well even on slender wrists. Then it's time for the sound test. It is crystal clear, but with an astonishing volume, despite many people in the hotel room that itself absorbs a lot of sound due to carpets and curtains.

Jean-Claude Biver bids goodbye to Swisswatches, saying that he now has to go to his customers. Japan, Arabia, USA. Biver is going on a world tour again. As we mentioned at the beginning, meeting this man is a small sensation in itself.
---
A unique piece
The watch that JCB wears on his wrist will only exist once: it's a unique prototype tourbillon wristwatch with minute repeater in titanium, obsidian dial and matching bracelet.
This Biver prototype will be auctioned during the Phillips Spring Auction on 13 and 14 May 2023.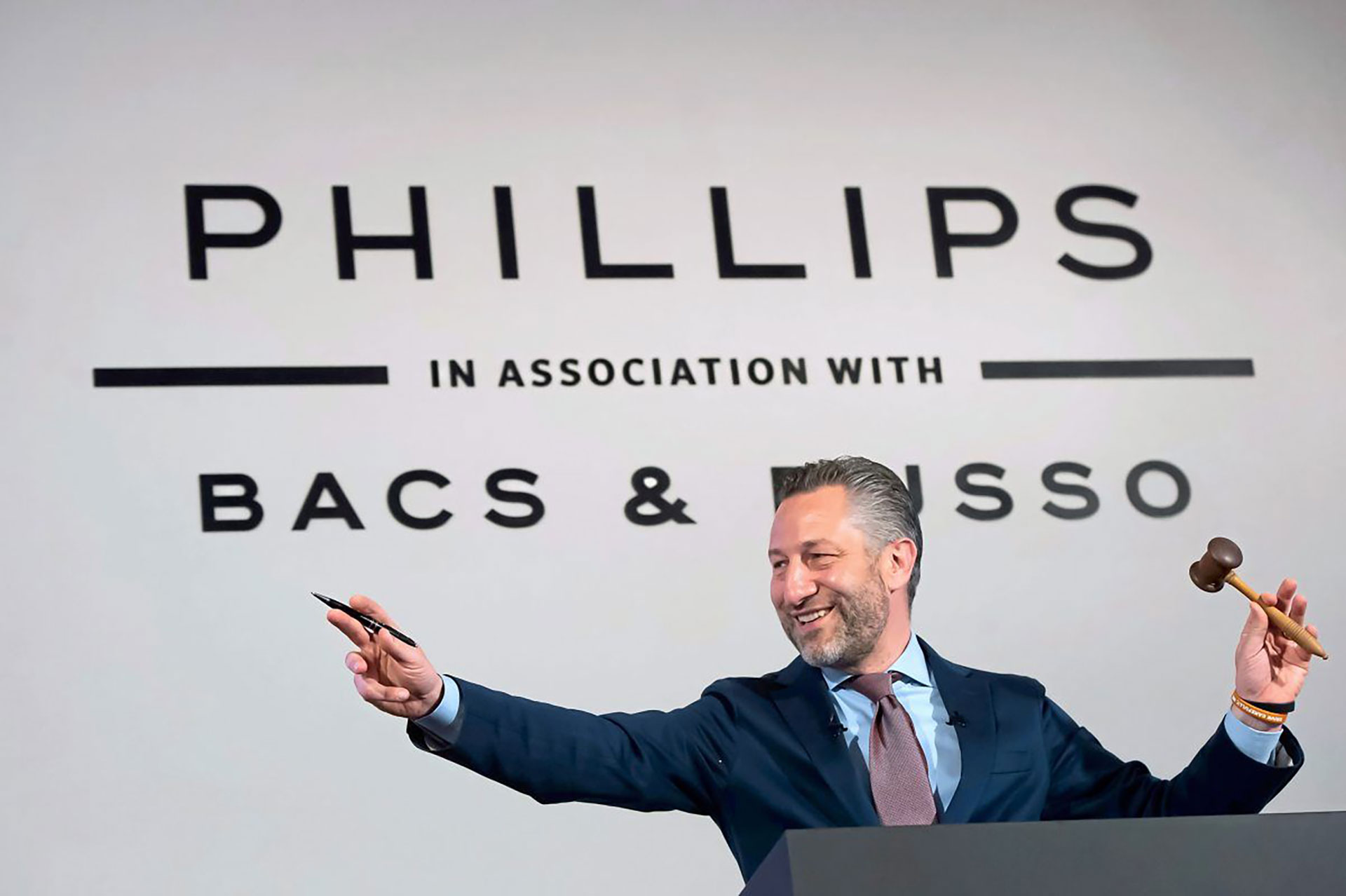 Aurel Bacs, Phillips in Association with Bacs & Russo
Credit © phillips.com
The watch with the titanium case has the king of complications: a minute repeater. And not just any repeater, but a Carrillon chime with three hammers, i.e. the quarter hours are struck by three hammers that strike three gongs with three different tones.
This watch will also be unique in its configuration, as it will be the only Biver watch made of titanium with a silver obsidian dial. Never again will this configuration be used for anyone other than the owner of this watch. He or she will also have the option of commissioning his or her next Biver watches in titanium/obsidian – so these watches will remain unique.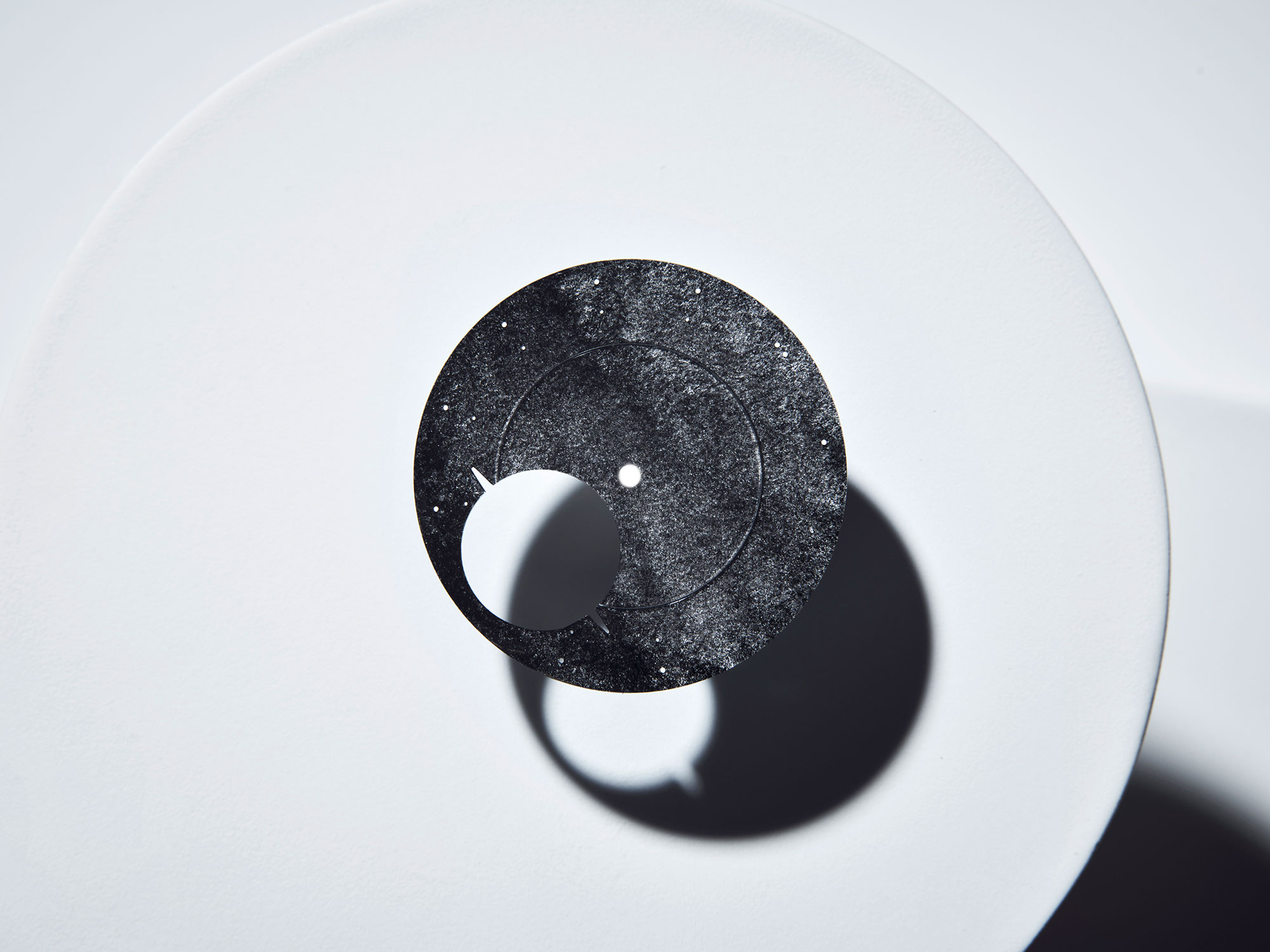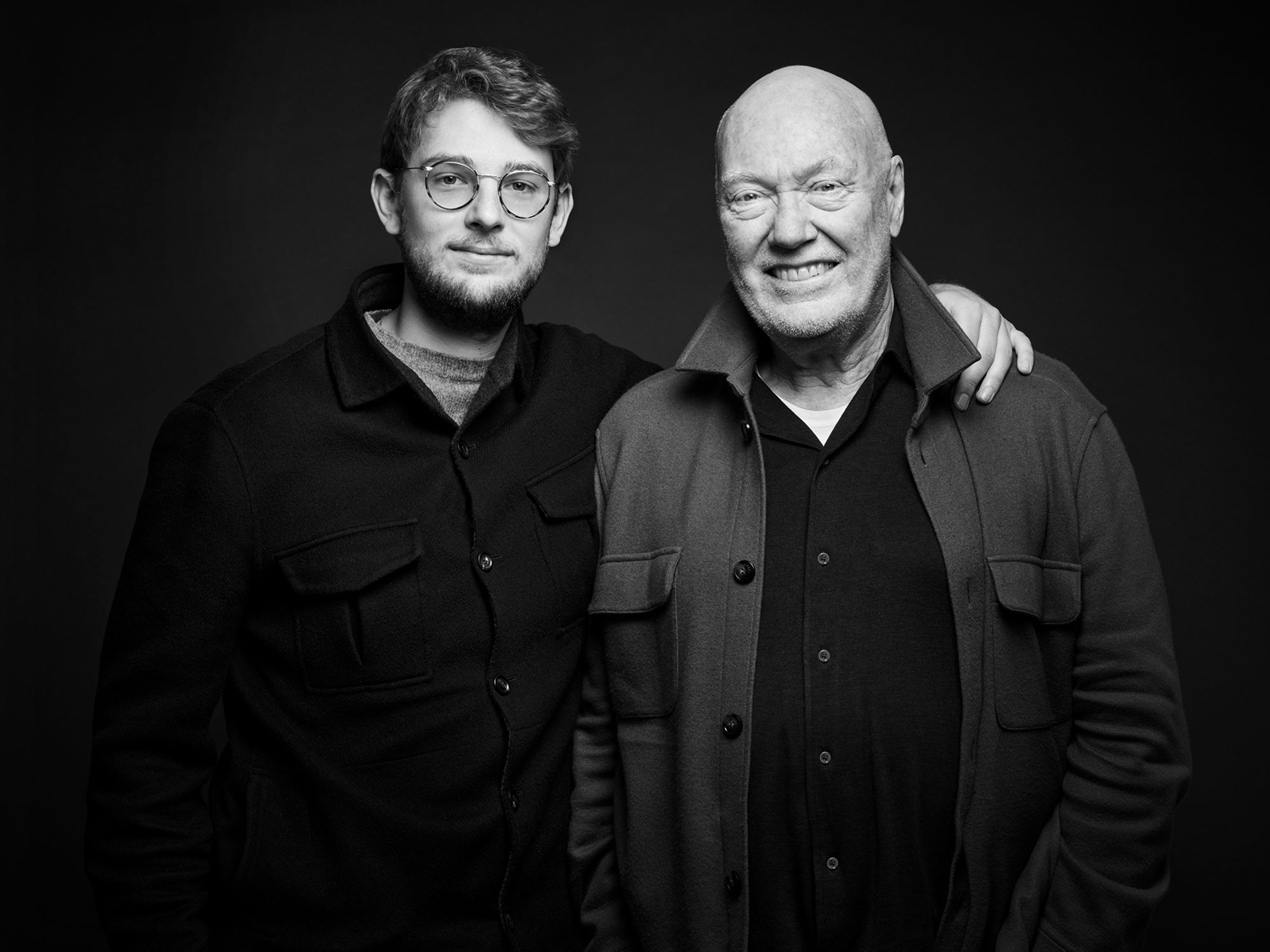 Pierre Biver and Jean-Claude Biver
Credit © Sébastien Agnetti
---