When genius and madness come together in watchmaking, Greubel Forsey is the place to be. While some people feel satisfied once they have understood the fundamental principles of a mechanical three-hand watch, even the most complex complications cannot really challenge Robert Greubel and Stephen Forsey any longer. Their company logo reads: "Art of Invention" – and the name says it all. With 29 in-house calibres and seven other ground-breaking innovations, the pair are taking traditional watchmaking apprenticeships to new dimensions. Terms such as Mechanical Nano herald a new era of experimentation, from mechanical movements that run for 180 days, to testing whether the air present in a watch could be the key to the seemingly unattainable perpetual motion machine. And yet, on the other hand, the duo of watchmaking geniuses are committed to preserving the purest form of watchmaking, promoting traditional craftsmanship and building a watch (almost) entirely by hand. During lunch with Stephen Forsey on their farm and Atelier in La Chaux-de-Fonds, we met a down-to-earth, very humorous and pretty lateral thinking person. It wasn't always easy to follow him, but that is most likely due to his genius and madness that also expresses itself in his creations.
1. What does a mechanical watch mean to you, which watch are you wearing today and which one do you wear the most?
---
On the one hand, time is the watchmaker's worst enemy. Because we spend our whole lives trying to catch something which is always running away. And along the way trying to catch it, we have so many ideas but it does take time to create a new calibre that will eventually power a watch, so we are always running against the clock. It is something that we can't control. What we can control is how well and precise we catch that time in a mechanical watch.
On the other hand, it is always a pleasure to look at a nicely done watch – it doesn't necessarily have to be one that we have created. But if you look at the technical side, the finishing, how people made it and how it was done in the past, that is what I find very nice about mechanical watches.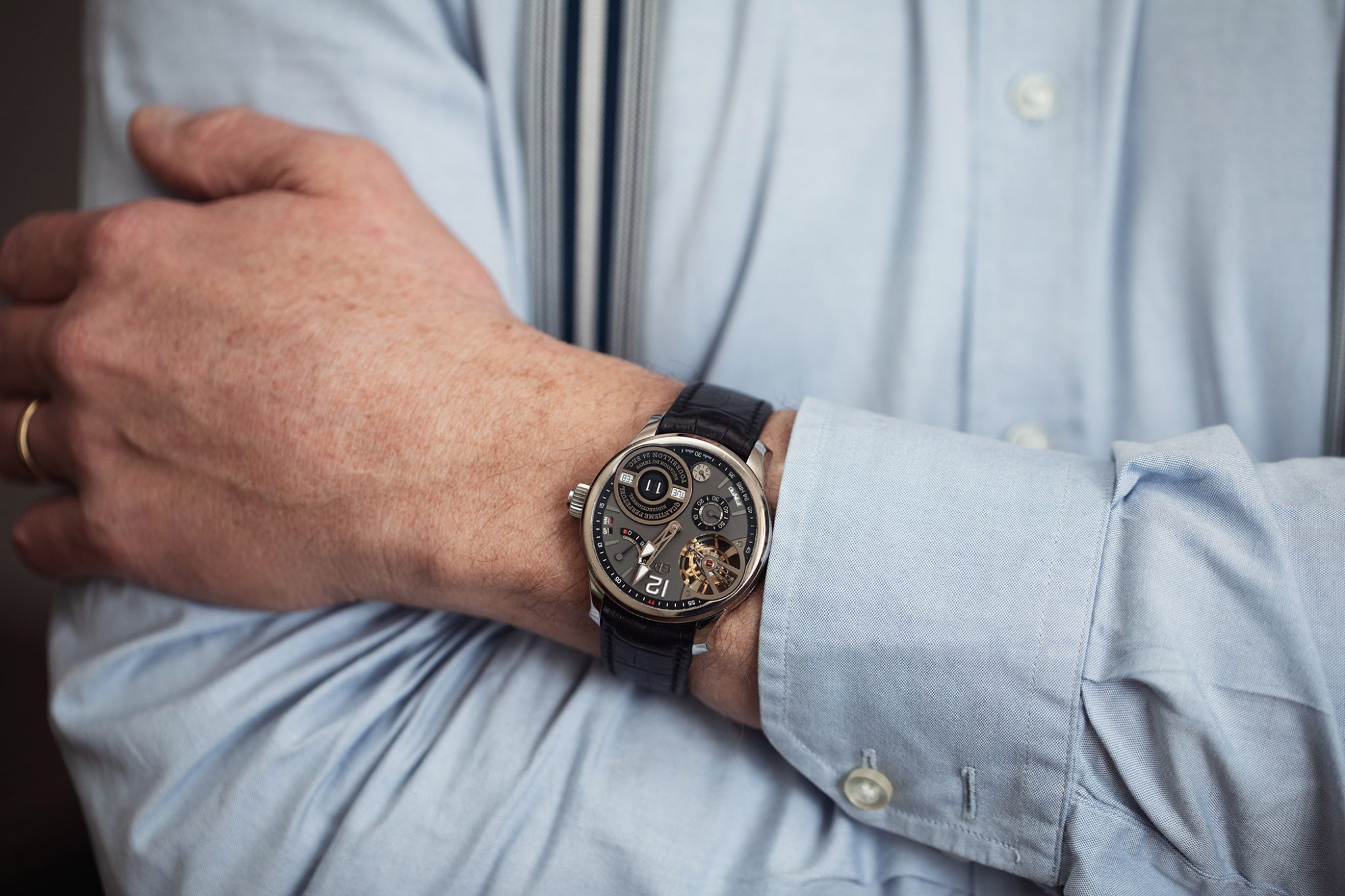 Greubel Forsey Quantième Perpetuel à Équation
Today I am wearing a prototype of the Quantième Perpetuel à Équation which is actually not entirely decorated yet on the movement side as it will go to our laboratory first. This is done with a thousand years of calendar correction. With 29 calibres that we have developed there is quite a range of choice. I don't have one favourite piece, but I am rather testing long term performance of a particular calendar for example. However, I have a special relationship with our first Double Tourbillon 30°. It really is an important watch as it was our first milestone.
2. You and your partner Robert Greubel established the brand Greubel Forsey in 2004. How do you distribute roles? Who is responsible for which field within the business?
---
Robert and I met in the early 1990s working in Switzerland just down the road in Le Locle. We were both watchmakers as a ground foundation profession. I am more on the technical side and as I am a native English speaker, I do more of the brand representation. And Robert oversees the creative design side, the strategy and management side of the business.
3. How would you describe you and Robert Greubel? Are you watchmakers? Architects or designers? Engineers or even inventors?
---
Well we are definitely watchmakers. That is the profession that we studied and the only one we have. But Greubel Forsey has also become an incredible adventure of inventions. However, you can have a fantastic invention but when it doesn't look interesting it is going to be difficult. You also need an aesthetical balance to it. For us, rather than creating a movement and then making up a design around that, it really is more about the design of a whole creation.
4. You have developed 29 different calibres – most of them with new approaches like the Tourbillon 24 Seconds, the Double Tourbillon 30° or the Quadruple Tourbillon. How can you stay inventive in the increasingly industrialized and automated world we are living in?
---
We had this interesting discussion with a physicist that visited us once saying it is kind of a waste of time trying to make a mechanical watch even more precise. In his opinion the quartz watch was much more useful. But our Double Tourbillon 30° manages to hold an average performance between 0,3 and 0,8 seconds. That is ten times better than COSC (+4 and -6) which is a great performance. We are, although 45 years later, at the precision of the electronical watches from the 1970s.
You know before Einstein and his theory of relativity and before the Large Hadron Collider (LHC) it was only theoretical that we might get to the speed of light. It was considered impossible that we could accelerate a particle to the speed of light. Meanwhile we have shown that we can do it.
You are blocking your creativity if you refuse to open your mind to the possibility of new inventions. And that is our state of mind. So, coming back to your question, we have enough stuff to do for the next ten years and more.
5. It is interesting that watchmaking is mostly associated with Switzerland, or the French part of Switzerland. But you have always taken your inspiration from British watchmakers. What did they do differently or better?
---
Well I was born in the UK and I grew up there. And I restored antique watches and did after sales service for five years in London before I came to Switzerland. Robert was born in Alsace, close to the French and German border. He had a lot of knowledge and inspiration from French watchmaking and a bit from German. When we first created the concept of the Double Tourbillon 30° we asked ourselves what should it look like. We thought as we are from outside Switzerland, maybe we can do a different architecture and use some different finishes which are no longer used. Côtes de Genève is a fantastic finishing which we have done on the Signature 1 in an artisanal way with a wood disc. So, there are different elements of finishing and I think we have mixed different inspirations from France, Germany and Britain.
6. You once said that "A coffee that costs four euros is expensive, only because a brands logo is displayed on it". Your watches cost a minimum of a six-figure amount. How do you qualify this statement?
---
Our perpetual calendar took us eight years of development. People are mostly not aware how much it costs developing a new calibre. A very simple movement will cost you around 1.5 million Swiss Francs. A more complex one will cost you between four to six million Swiss Francs. And it goes up the ladder the more complex it gets and the longer it takes to develop.
7. For a few years now, you have been experimenting in the field of 'Mechanical Nano'. Can you explain this project in more detail and also, what progress have you made so far?
---
Mechanical Nano goes back to 2006 when we were already trying to think in terms of our fourth invention of making a very unique balance wheel system. The idea was to find a material which would have the same characteristics for the spring as for the balance wheel. Because in traditional movements where you always have two different types of material you are trying to work together with different physical properties of the material; expansion, elasticity and heat and cold which is always difficult. It's like making mayonnaise – it is not always easy because you are mixing egg and oil. With these things, if you do them wrong it does not work.
The balance wheel system is an interesting topic. There was an early attempt where we tried to make a synthesized diamond oscillator. That diamond oscillator is part of our EWT (experimental watch technology) and as we went along from there with some patents of frictionless bearings etc., we realized that we have come together with some pretty interesting elements of which we might be able to do a very different mechanical movement. We realized that there were two fundamentals to overcome; space and energy and how to use it. We have a very small amount of energy in a mechanical movement and the idea is to make it last as long as possible. We realized that by rethinking the fundamentals of it, it would be possible to take the energy of a three days movement and multiply that running time by 60 times. We managed to demonstrate that with a prototype.
But to get to that 180 days power reserve movement there were a number of milestones that we needed to build and put together. One of the important elements was to look at the Foudroyante system, so splitting seconds into the number of beats of the movement. In a traditional movement that requires a separate gear train, hence a separate energy source. By applying the principles that we were working with the Mechanical Nano we were able to make one which is incredible simplified to it. It requires about 80% less space and the amount of energy that we use here is infinitely smaller compared to the traditional one. It is about liberating energy to use differently and developing that along the way.
– Aren't you also experimenting with air?
Yes, we are also testing if the air movement inside the watch could be enough to generate energy. It is a quite complex system but to cut it short, we are asking ourselves the question, is it possible to arrive at perpetual motion.
8. At the end of last year, you introduced the GMT Sport. What was the driving force for a brand like Greubel Forsey to create a sport watch?
---
It is our first sports-oriented watch. We didn't want to be restrained by any kind of conventions. We experienced that our collectors wear their watches in everyday use. Our watches are incredibly shock resistant but we are restricted to water resistance and so on. With the GMT we made the lightweight titanium case with the black ADLC to give it a nice protection. We had collectors that straight away asked for rubber. So, we decided it might be interesting to study this aspect of a more sport-orientated approach. But it needed to have its own style by creating a distinct and new architecture. The caseback, the bezel and the crystal are curved in this crazy shape.
We decided that we needed to go at least to 10 bar which required a complete reconstruction of the case and glass. We picked the GMT because it is a world-wide complication and fun thing to have. On the GMT you normally have a sub-dial for the hours and minutes. We wanted to have a clearer display, so we make it concentric.
9. Let us talk about the "Time Æon Foundation". A truly ambitious project to preserve traditional watchmaking methods. Why is this matter so important to you and watchmaking in general?
---
When we started with Greubel Forsey, the Swiss watch industry was still in the shadow of this terrible crisis that it lived through. There was a push with more technologies through more industrialization. In watch school there is all this new stuff to learn. So, there is a limited amount of time to cover all the fundamental information, which means that also training has to be done faster. So, they cut out what the industry doesn't really need. And 99% of the industry does not need a watchmaker who knows how to bevel a bridge or how to replace a pinion. But it is important that we keep these skills alive. We are building these fantastic timepieces using a lot of technology today. But in 30 or 50 years time, who is going to restore them? We need to keep a core of watchmakers who understand and practice these stills.
In 2005 we (Robert, Philippe Dufour, Vianney Halter and myself) realized that the younger watchmaker generation coming up does not have these sorts of skills, so we decided to do something about it. Robert knew Michel Boulanger. Being a teacher, he was the ideal candidate to share that knowledge. If we would have taken a bright young star from the independent watchmaking, he would just go on and make watches. But we needed someone to spread that knowledge.
– It's good that you try to preserve traditional methods of handcrafting. But what about the machines and tools that you need for this?
Yes, that is also an important aspect. But the good thing is that most of these old machines can still be repaired – it is, however, important that also the craftsmanship is kept alive. Luckily there are two companies in this area, just one in Le Locle restoring them. But it also gets limited, that's true.
10. In a metaphorical way, is your newest timepiece Hand Made 1 the mechanical incarnation of the Foundation's ideology to present watchmaking in its most pure and traditional way?
---
Yes, absolutely. For Robert and myself it was the connection between the collectors who were more aware about traditional handcraft techniques as a different approach than the modern approach. With the Hand Made 1 we really wanted to push watchmaking further and see how many components we can actually do ourselves in a traditional method. Only the sapphire crystals, the case gaskets, the spring-bars, the jewels, and the mainspring are not handmade by us. It took us 6,000 hours to make that first piece.
11. In terms of Hand Made 1, are people able to appreciate this work, considering the money they have to spend? Do you really believe this should be the future of watchmaking?
---
We had a fantastic return from that. When we started with the Naissance d'une Montre project, people didn't really see what the difference was. People were wondering why it costs a six-figure number when other companies produce thousands of watches that were also handmade. But the difference is that there is a handmade watch and a watch with hand work on it. When you have a watch that costs 20,000 euros there can only be a limited amount of work by hand.
These watches have their legitimacy, of course, but it is a different approach to our philosophy. We have set some criteria for our Hand Made 1 project. Every part that we call hand-made does not have any CNC input. The watch needs to be assembled by one watchmaker by hand. And lastly, we defined that at least 90% of the piece needs to be handmade. And we are at 95% I think, which is a pretty good start.
It is not the future of watchmaking. But you never get to practice all these techniques if you don't carry on making timepieces in a traditional way. And there are still enough people out there that enjoy and appreciate this level of hand-craftsmanship.
12. In your view, in what direction is the watch industry moving?
---
In every way really. What's interesting is looking back again. Before the electronic watch there was only the mechanical watch. It was a utility item. The electronic watch brought a new category. It liberated the mechanical watch from purely being a useful item. So, the cheaply made watches have disappeared and we were left with a better quality of watches. Today you also have the technology connected watches, a third category. Even in the mechanical watchmaking you have different fields. There is the System51, which is a wonderful demonstration of expertise and industrial mastery. Then there are the watch companies producing in large amounts, the smaller ones, the traditional ones and the independent ones that only produce a very limited amount. There is a versatile offer for watch enthusiasts and collectors. I think we are in the most exciting times of watchmaking history.
---