This is not a story about every tiny technical detail of every Submariner reference. This is a story that tells the tale of one of most famous watches on the planet. Whether the wearer is a diver or data analyst, the Submariner holds the position of Rolex's best-loved line to this day. But why is this cult classic of a diver's watch available with a date – and moreover, should it be?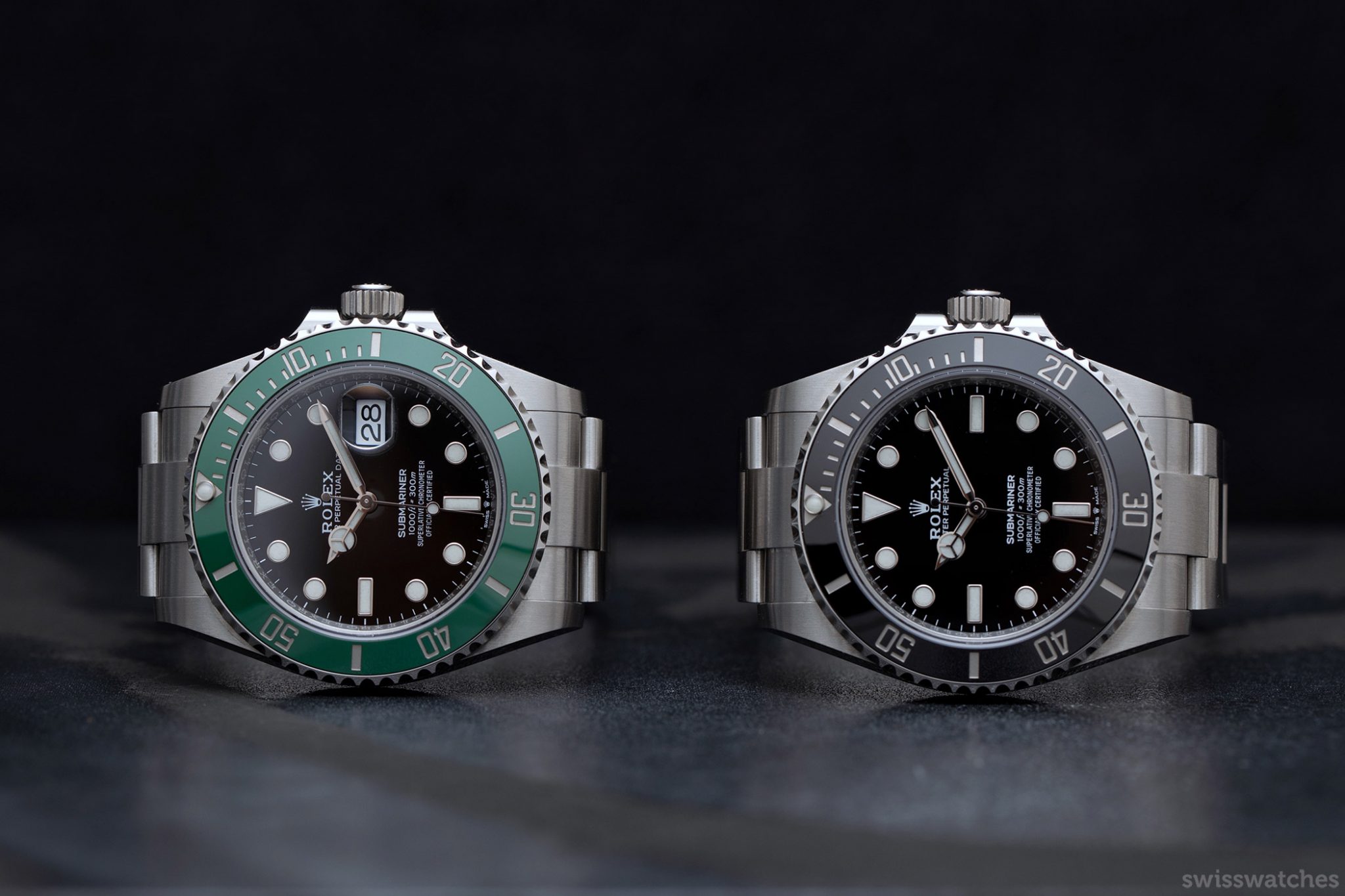 Rolex Submariner Date and No Date
---
Understanding the Submariner
They say that imitation is the sincerest form of flattery – and the Submariner is not only one of the most popular watches out there, but also one of the most counterfeited. Regardless of age, wealth, or even culture, there are few watches more desired by men across the globe than the Submariner. Before we delve into the debate of "Date or No Date", let's consider what makes this watch is so coveted. Why do people love the Rolex Submariner?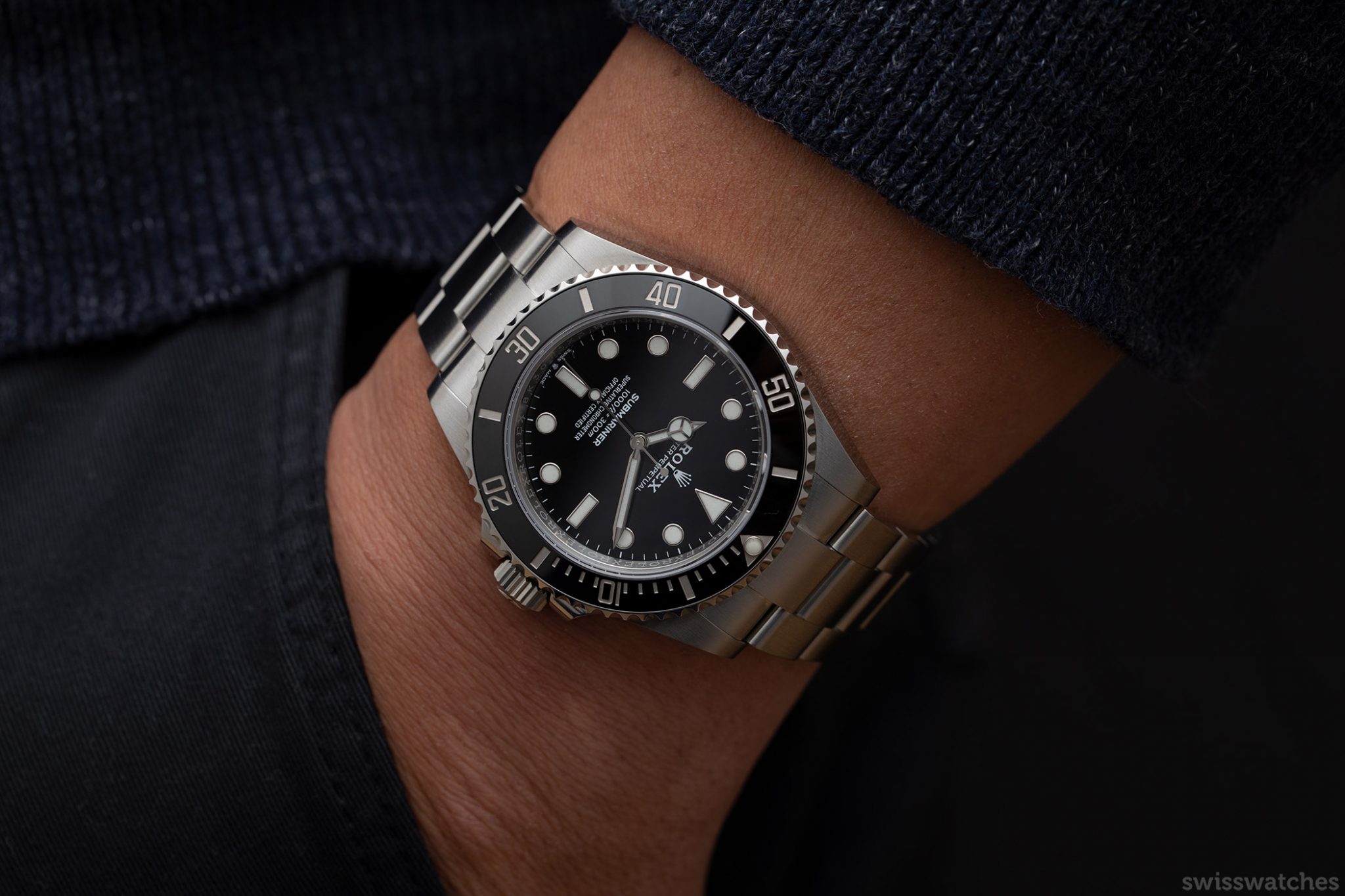 One of the most desired watch models across the globe
For one thing, the Submariner pretty much paved the way for the rise of luxury steel sports watches, headed by the likes of AP's Royal Oak or Patek's Nautilus. This is partly because of its design. While starting life as a purely "Professional" sports watch, its simple design already looked very good on the wrist.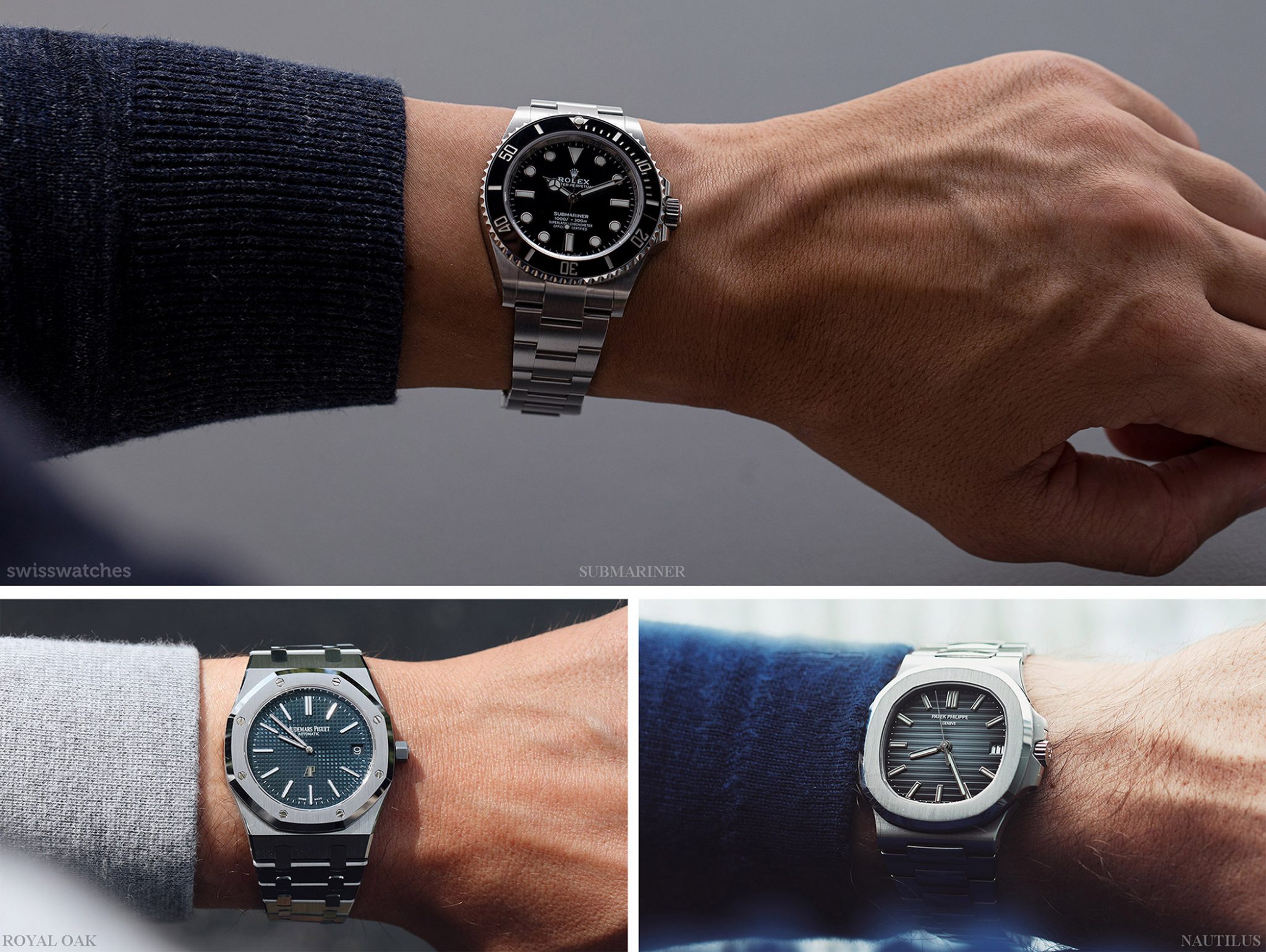 Three sporty steel icons: Rolex Submariner, AP's Royal Oak and Patek's Nautilus
Secondly, as a commercial piece (we'll get into how it reached this status later), the Submariner is very recognisable. This element of being easily distinguishable undeniably remains a priority for many customers in the watch market. It is also a reason for the model's long-lasting success.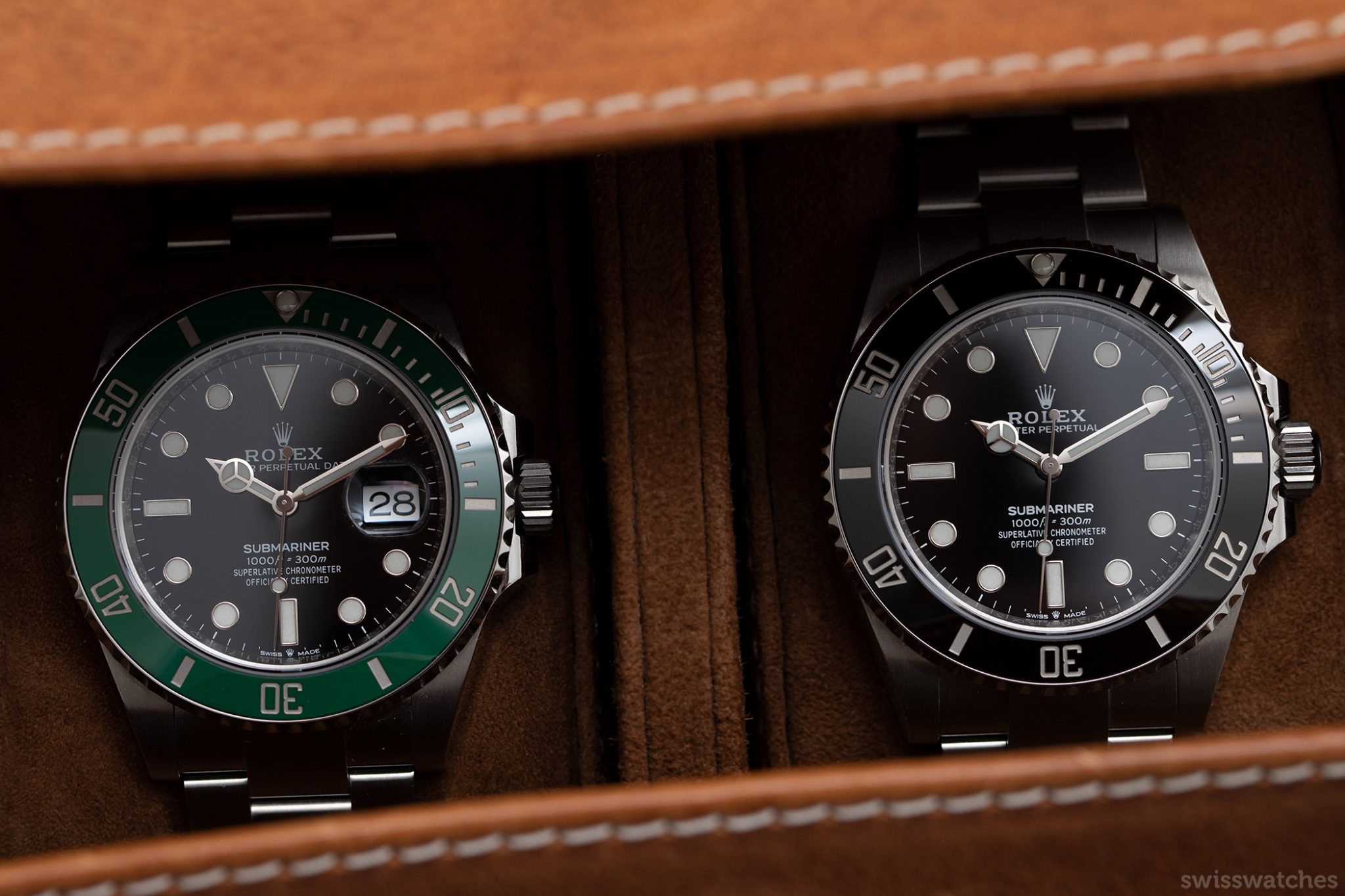 Thirdly, there's its celebrity aspect. The Submariner is worn by numerous public figures, from Tom Hardy (stainless-steel black dial "Date") to Bruce Springsteen (stainless-steel black dial "No Date"). Of course, there's also James Bond – a hero and even a role model to many gentlemen – who famously wore a Submariner back in the day.
The importance of Bond's Submariner
In the very Bond first film, Dr. No, Sean Connery wears the "No Date" Ref. 6538 Submariner. The same model stays on his wrist in From Russia With Love, Goldfinger, and Thunderball. George Lazenby also wears the Ref.6538, as well as the "No Date" Ref. 5513 in His Majesty's Secret Service. Again, Roger Moore dons the same reference in Live and Let Die and The Man with the Golden Gun.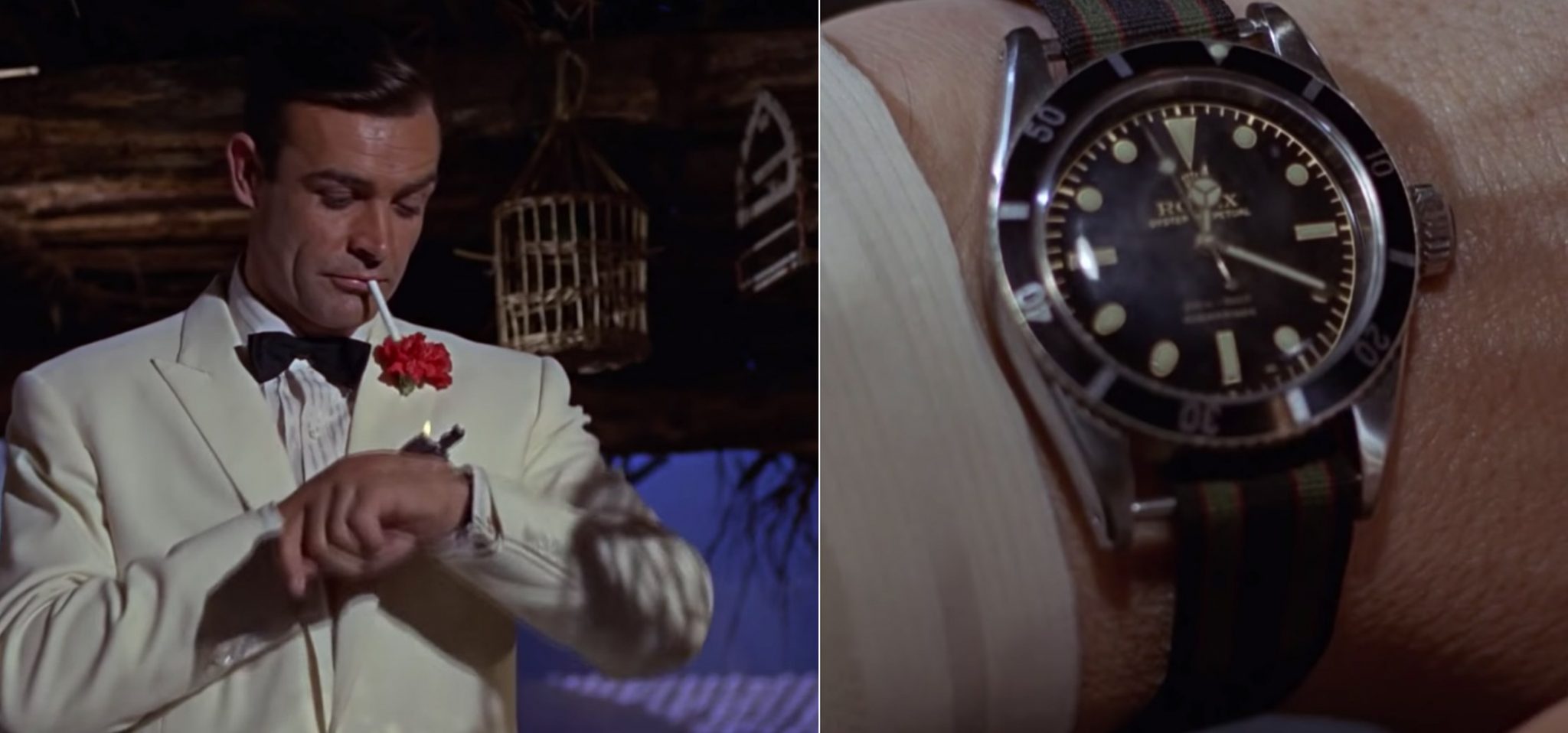 Sean Connery donning the Ref. 6538 in Goldfinger
In a final comeback, Timothy Dalton is thought to be wearing the "Date" Submariner Ref. 16610 in 1989's Licence to Kill. Bond's choice of watch did more than catch the attention of admiring men. It also famously proved that the Submariner could serve for both a man of action and a man of style. If Bond can wear it just as well diving under a yacht as in a tuxedo at a casino, an insurance broker can surely wear it to the office.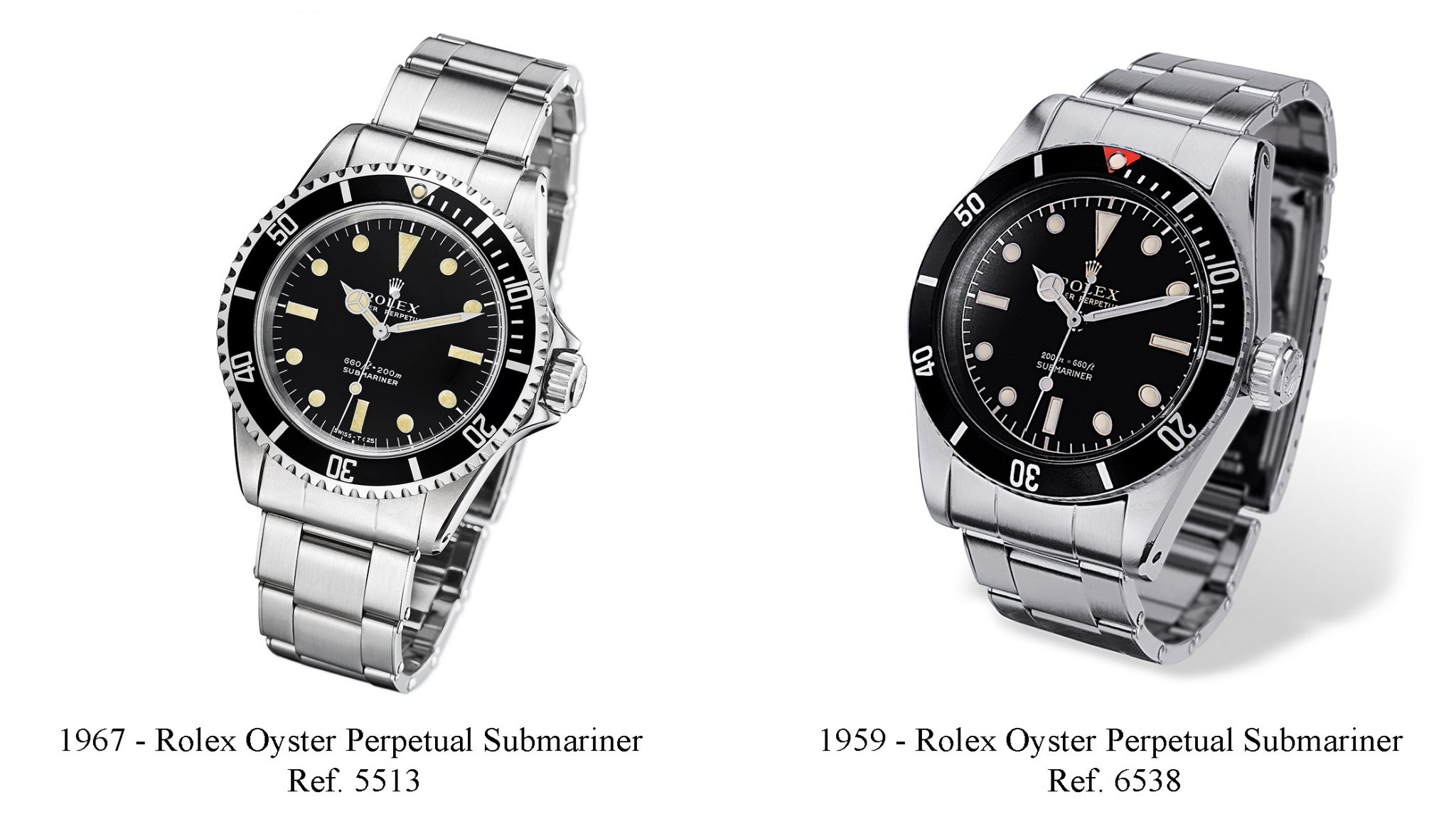 What this teaches us is that the Submariner owes its enduring success to three fundamental factors. These factors include: its highly functional yet easily recognisable design, its overtly masculine appeal, and its versatility (partially thanks to the "Date" versus "No Date" options).
The story of the Submariner "No Date"
Having covered the basics, let's move onto the story of the original model, a "No Date" Submariner. Created in 1953 and introduced at Baselworld the following year, the practical Oyster Perpetual Submariner is known as the first diver's watch to be water-resistant to 100 m.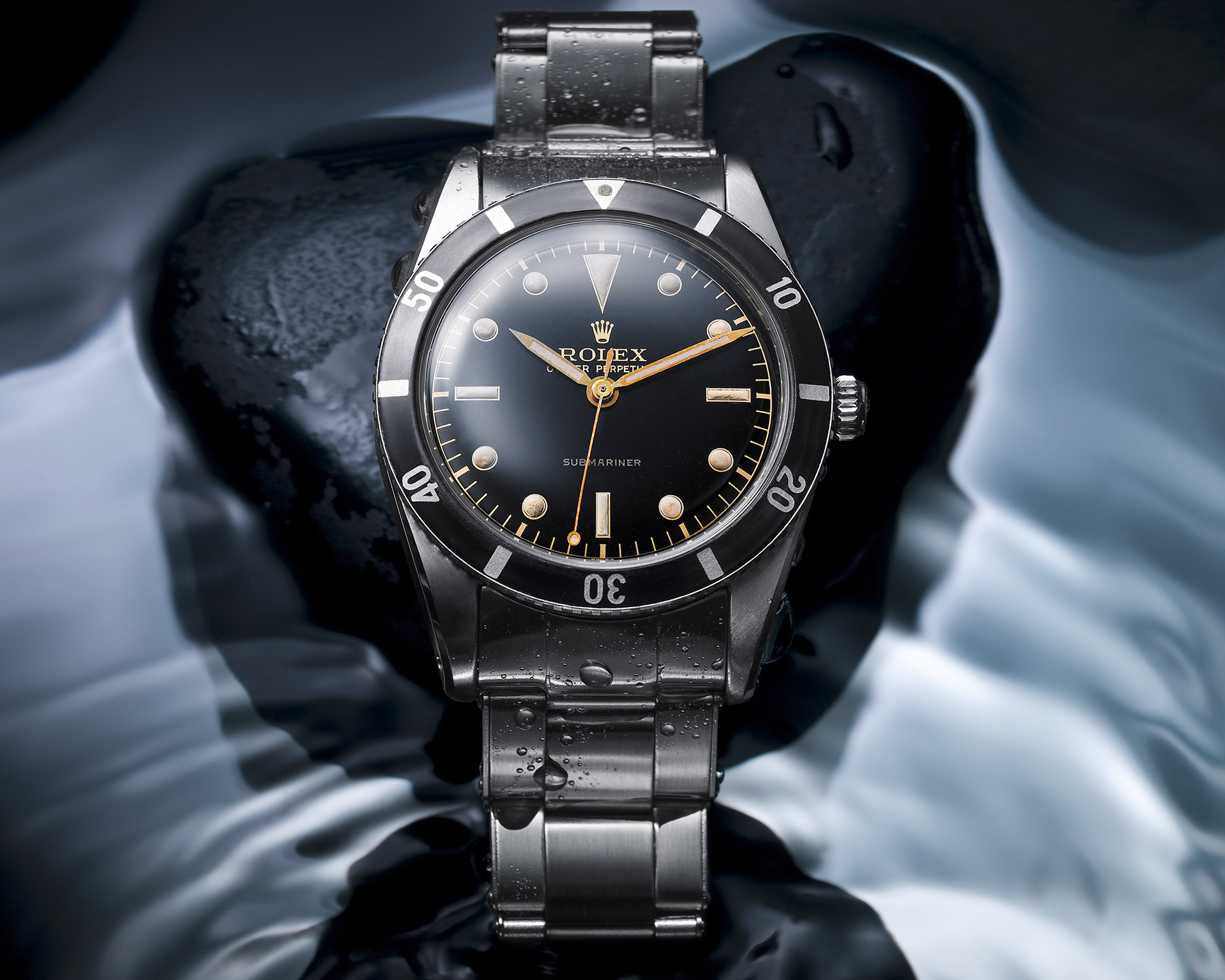 Rolex Oyster Perpetual Submariner from 1953 – Ref. 6204
In the early 1940s, Rolex faced a challenging few years. Based in Geneva, the pro-Allies watchmaker was entirely surrounded by Axis nations by 1942, cutting it off from international markets. Fortunately, things started to look up by the late 1940s, when diving began to take off as a sport. Rolex was well-equipped for the rise of tool watches, having patented its famous Oyster case way back in 1926. By the early 1950s, tool watches were really taking off. It was at this point that Rolex began collaborations with professional divers in order to create the perfect diver's watch.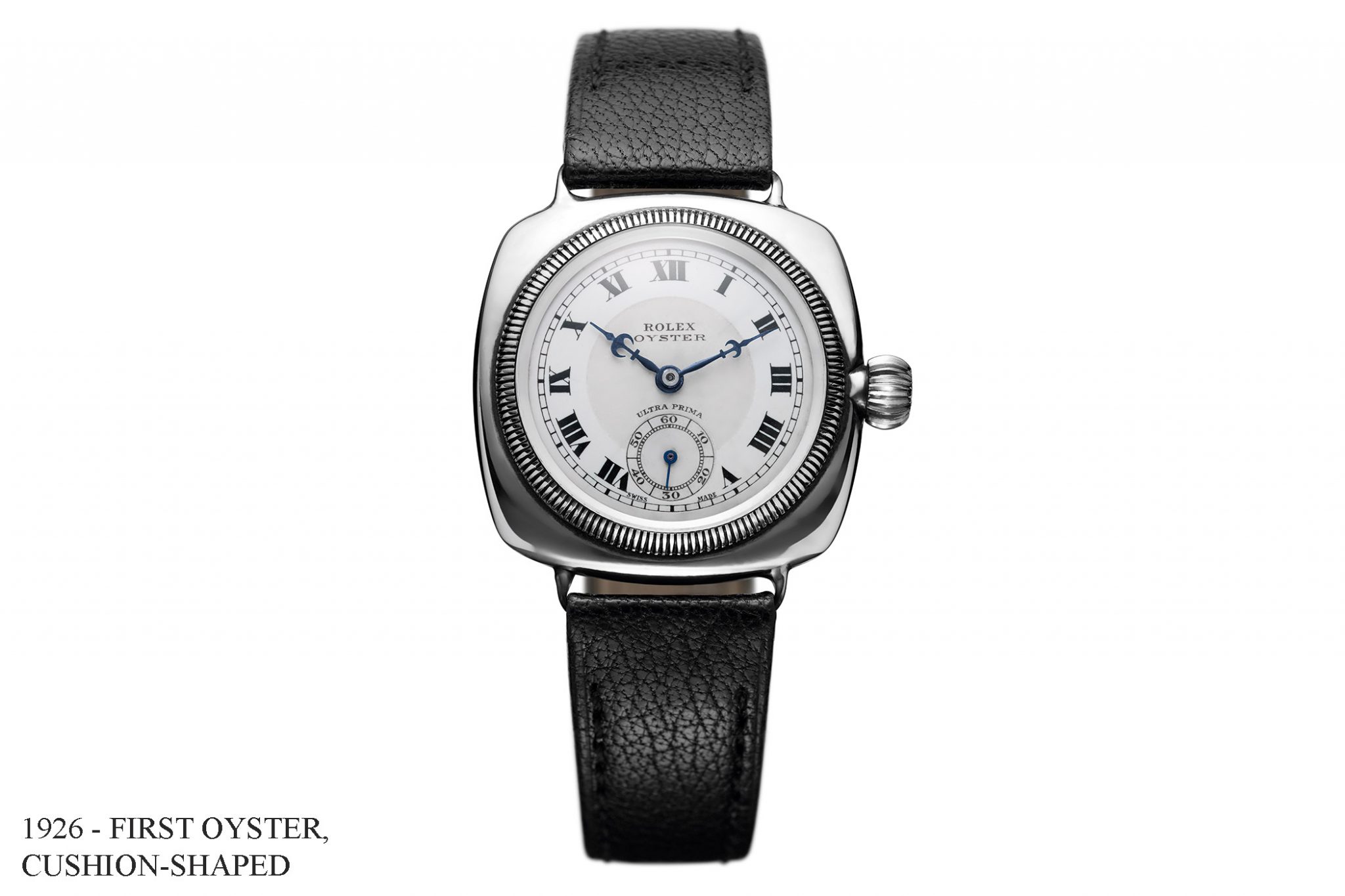 The Submariner: A true tool watch
Rolex dubbed its tool watches "Professional", with its first series starting with the Oyster Perpetual Explorer and the Oyster Perpetual Submariner. The first Submariner (Ref. 6204) was equipped with a rotatable graduated bezel to display immersion and decompression time, plus water-resistance to 100 m. Rising to 200 m a mere year after its launch, this was eventually followed in 1979 by today's water-resistance (300 m). These achievements explain why Rolex considers its Submariner line to be so deeply intertwined with the history of diving. Additionally, the use of Oystersteel, which is still in use for some Date and all No Date models today, also relates to the line's heritage. Belonging to the 904L family, Oystersteel is particularly resistant to corrosion; a necessity for any tool spending time in the salty ocean.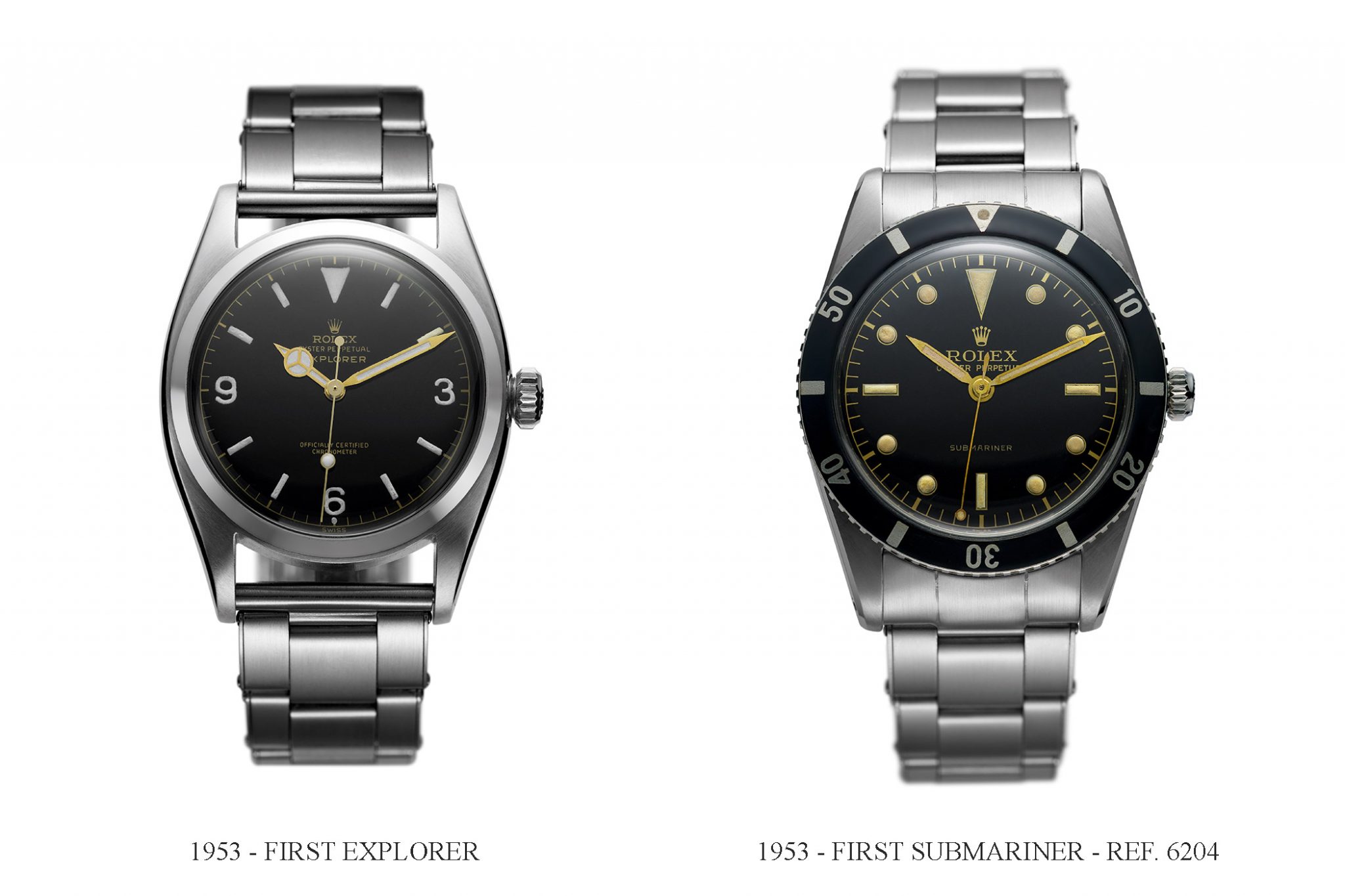 By 1950, Rolex had introduced an automatic movement with a date function to some of its watches. Nevertheless, it's perfectly understandable why at this point, the Submariner remained without a date. After all, the marketing of "Professional" watches was then based around adventure and action, in a time of discovery and daring sports. In the progressive post-war 1950s and 1960s, the users of Rolex tool watches included astronauts, divers and explorers alike. Even the British Royal Navy joined forces with Rolex, wearing models such as the Ref. 5517. These naval watches were, of course, without a date function. They became known as the "Milsub" Submariners, solely available for military use. Unsurprisingly, they are now highly coveted collector pieces.
The story of the Submariner "Date"
It wasn't until 1969, the year of the Moon landing, the first Concorde test flight, and the Beatles' Abbey Road album, that Rolex brought forth its Submariner "Date". This was the Ref.1680. Given that at the time, computers were not yet a household – let alone office – object, having a date function was far more necessary than we might appreciate today. It gave men the chance to wear a high quality and very reliable (not to mention iconic) Rolex every day. Thus, the Submariner "Date" created its hybrid position as an outstanding everyday watch offering "Professional" functions. While Rolex tool watches and Rolex watches with a date function existed, the Rolex Submariner "Date" was offering both.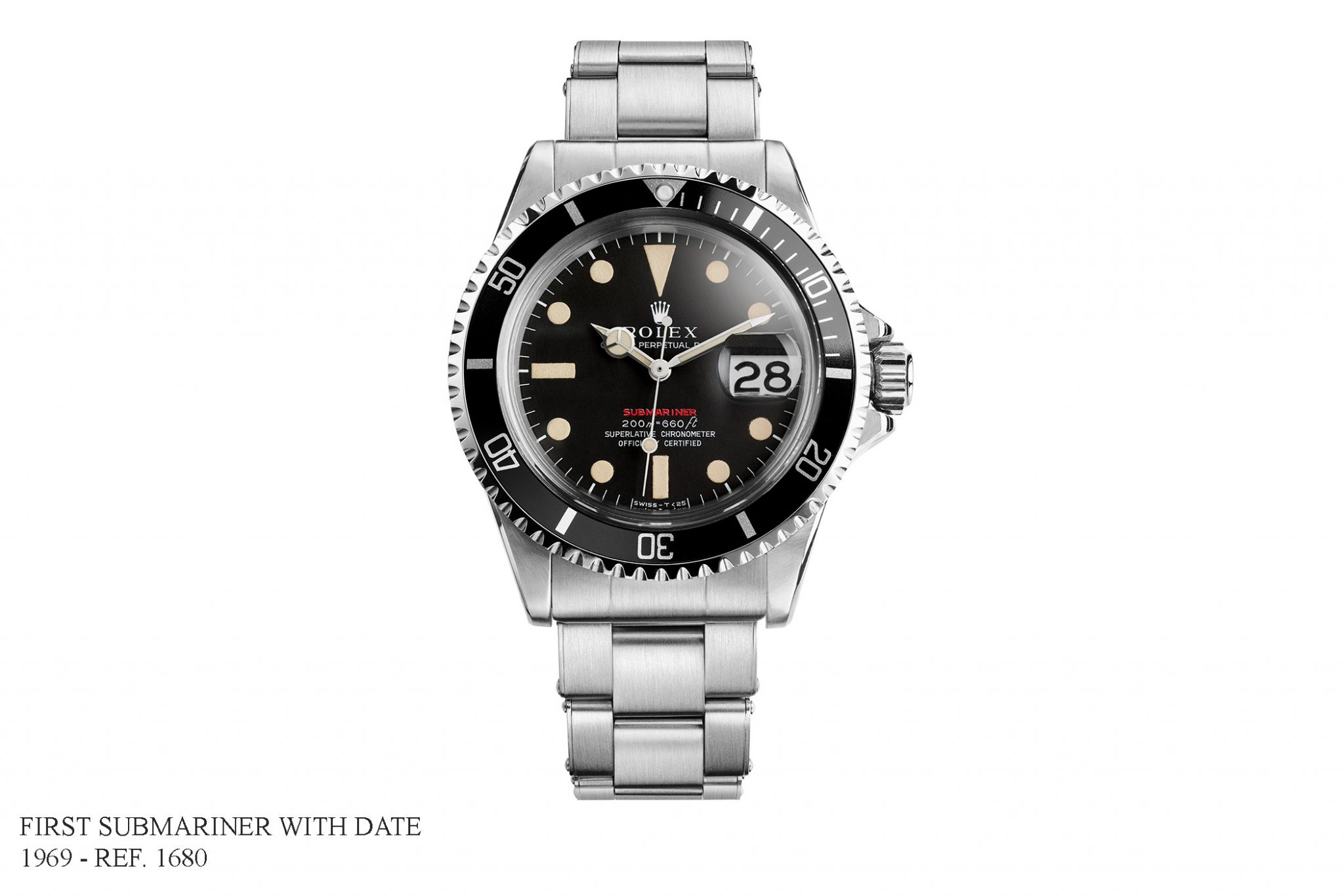 The Cyclops lens
The date function is a pleasing feature for a number of reasons. Not only is it useful, aesthetically pleasing (at least in my opinion), and a Rolex hallmark, but it also has a good story. As the legend goes, Wilsdorf's inspiration for the Cyclops lens stemmed from a water drop falling on his watch while washing his hands, thus magnifying a part of the dial.

An enduring success
Following the recession that extended into 1970, the decade saw the increasing popularity of cheap quartz watches. However, Rolex and its Submariner model was able to weather the financial downturn, thanks to its marketing strategy of presenting its mechanical watches as a luxury – a reputation that rightly endures to this day. Secondly, the introduction of the date watch had transformed this from being a tool watch to a more useful, if you will, everyday watch. As the years went on, Rolex watches continued to be a symbol of affluence and success thanks to the company's marketing skills – and the recognisable Submariner was no exception.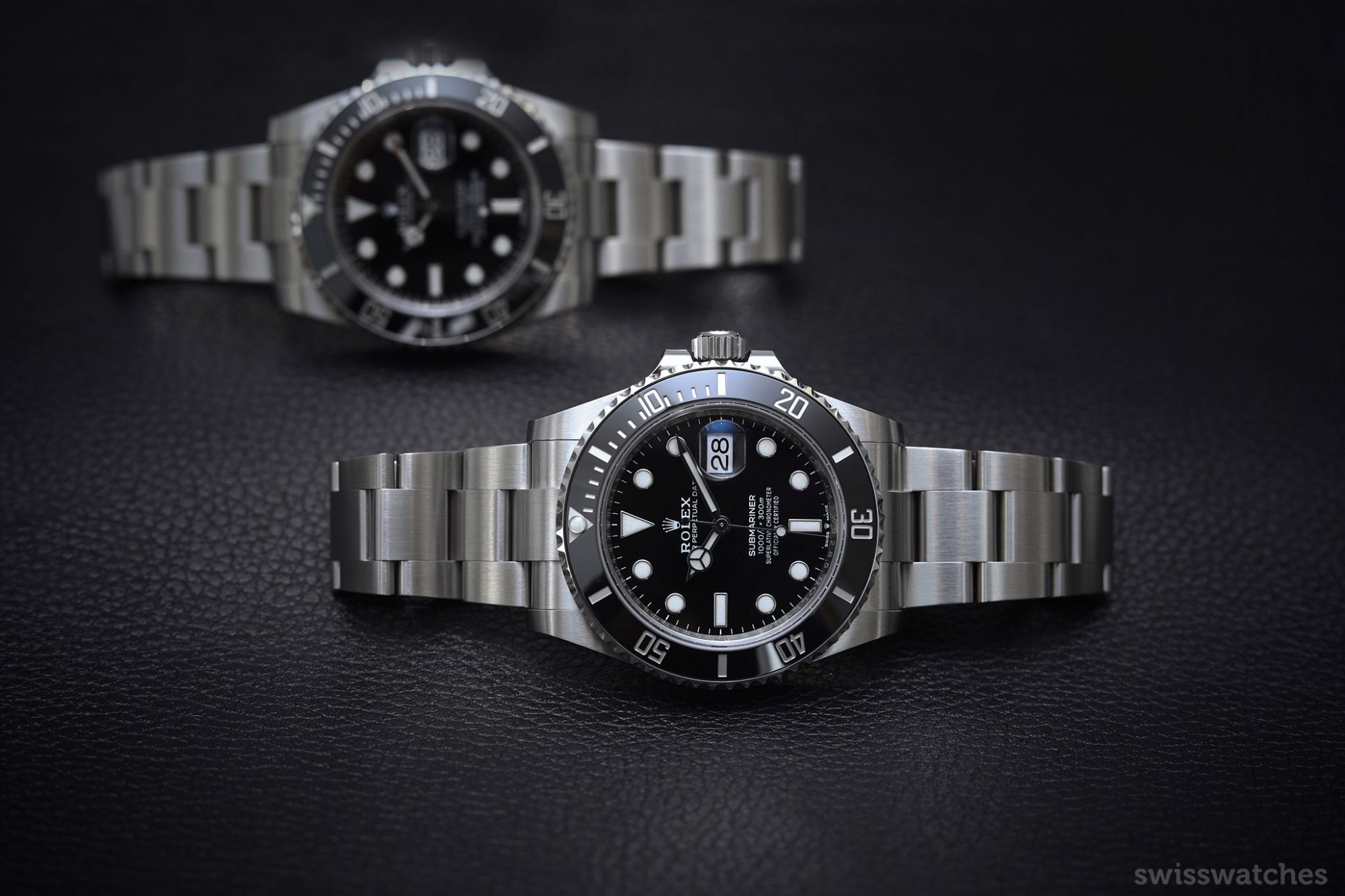 It is unsurprising that the everyday yet status-affirming Submariner Date maintained its popularity amongst men across the following decades. In the 80s and into the 90s, the idea of "logomania" truly kicked off. Essentially, "logomania" began as the endorsement of capitalism, consumerism, and monopoly, instigated by the likes of Thatcher and Reagan. In recent times, it's enjoyed a resurgence thanks to apps such as Instagram with its work hard, play hard, show-off-what-you've-got philosophy. The recognisable, everyday yet exclusive Submariner Date was and remains an inevitable beneficiary.
Date or No Date – What's the deal today?
This brings us to today. Many men choose the Submariner to accompany them through life. After all, its story provides it with a well-deserved reputation of high functionality and style, while simultaneously symbolising both aspiration and achievement.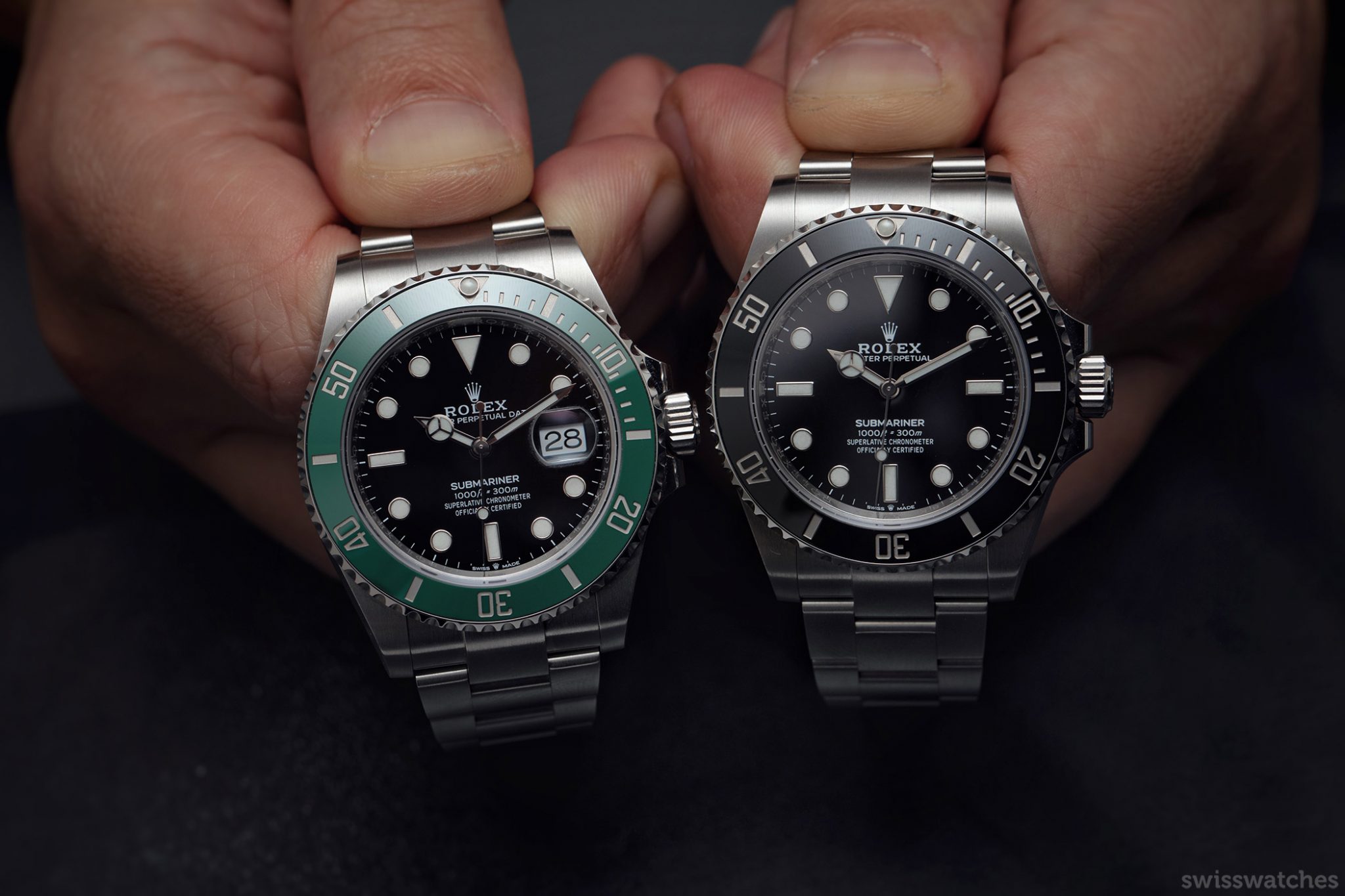 At the end of 2020, Rolex turned heads by introducing a new generation of Submariners, measuring 41 mm. This included seven new versions of the popular Submariner Date, as well as one "No-Date" Submariner, the Ref. 124060.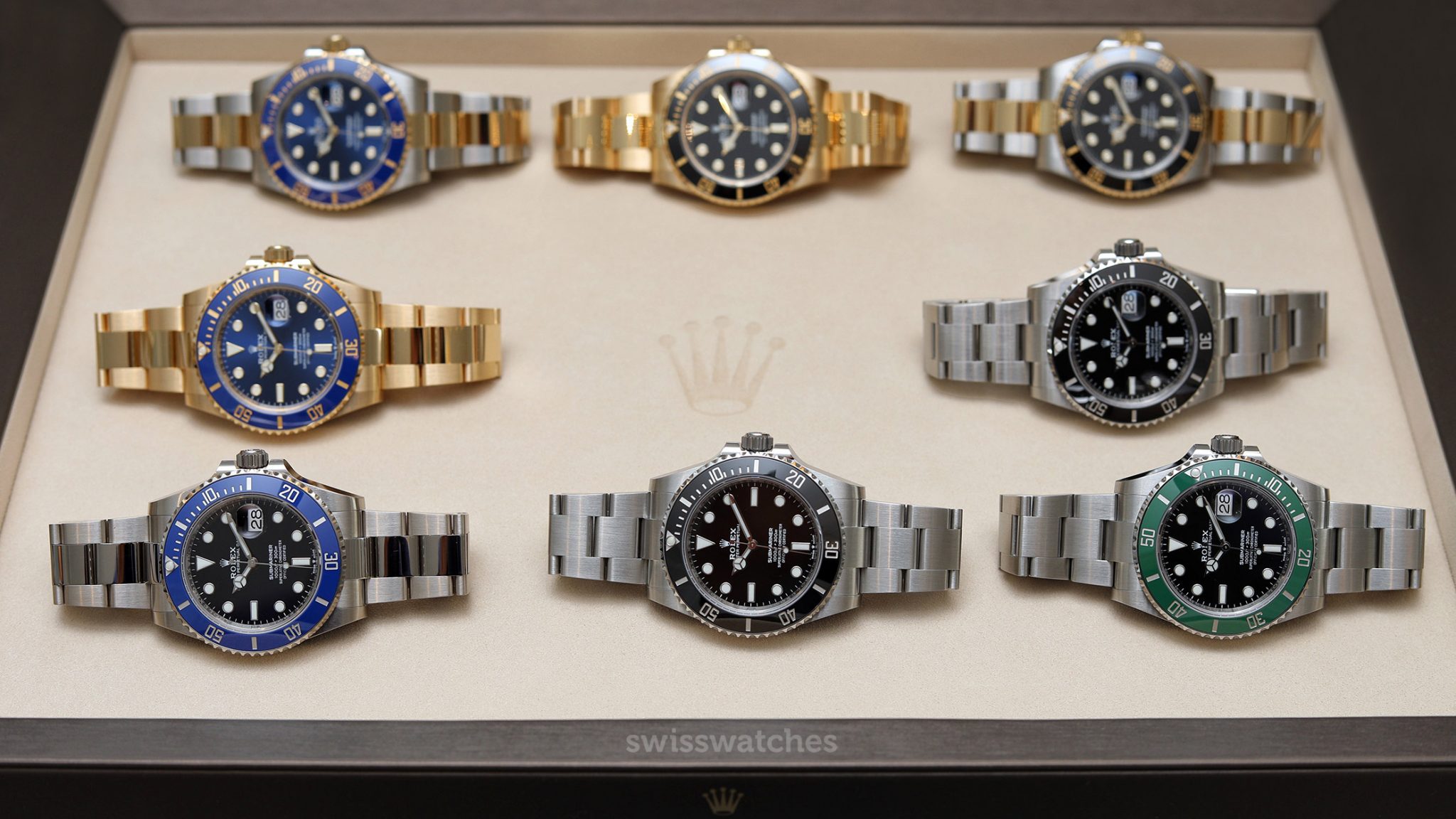 The latest generation of Submariners measuring 41 mm
The new Submariner "Date" editions appeared in an array of new colour combinations in 2020. The stars of the show in the watch community are evidently the distinctive Ref. 126610LV (Oystersteel with a black dial and green bezel), as well as the brazenly bling Ref. 126618LB (18-carat yellow gold with a blue dial and matching blue bezel).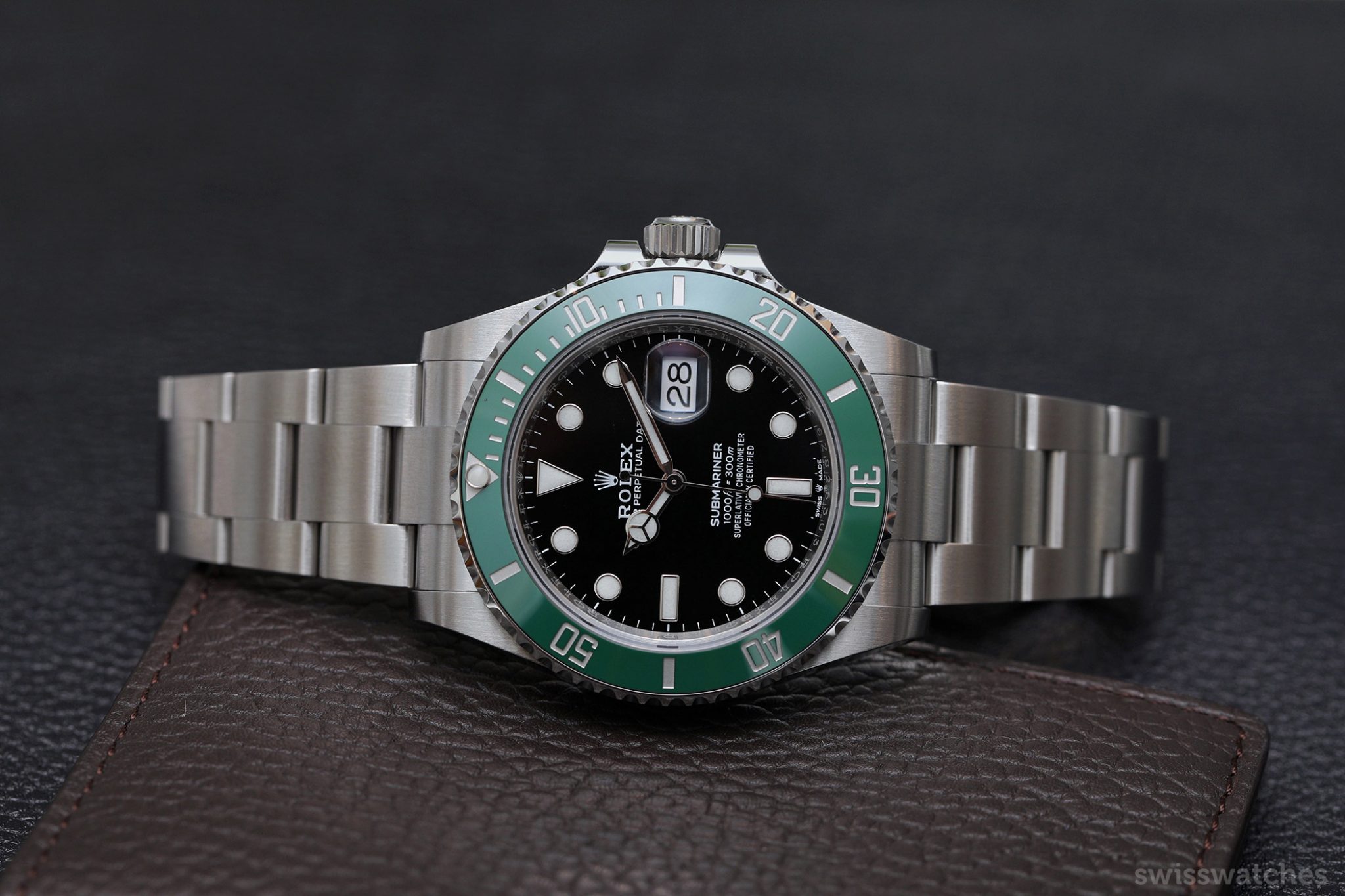 The Submariner Movements
The models are all powered by the Calibre 3235 ("Date") or 3230 ("No Date"). Both calibres offer a 70-hour power reserve and incorporate Rolex's Chronergy escapement. The escapement enjoys an excellent reputation thanks to its efficient and reliable performance. Made of corrosion-resistant nickel-phosphorus, it is insensitive to magnetic fields.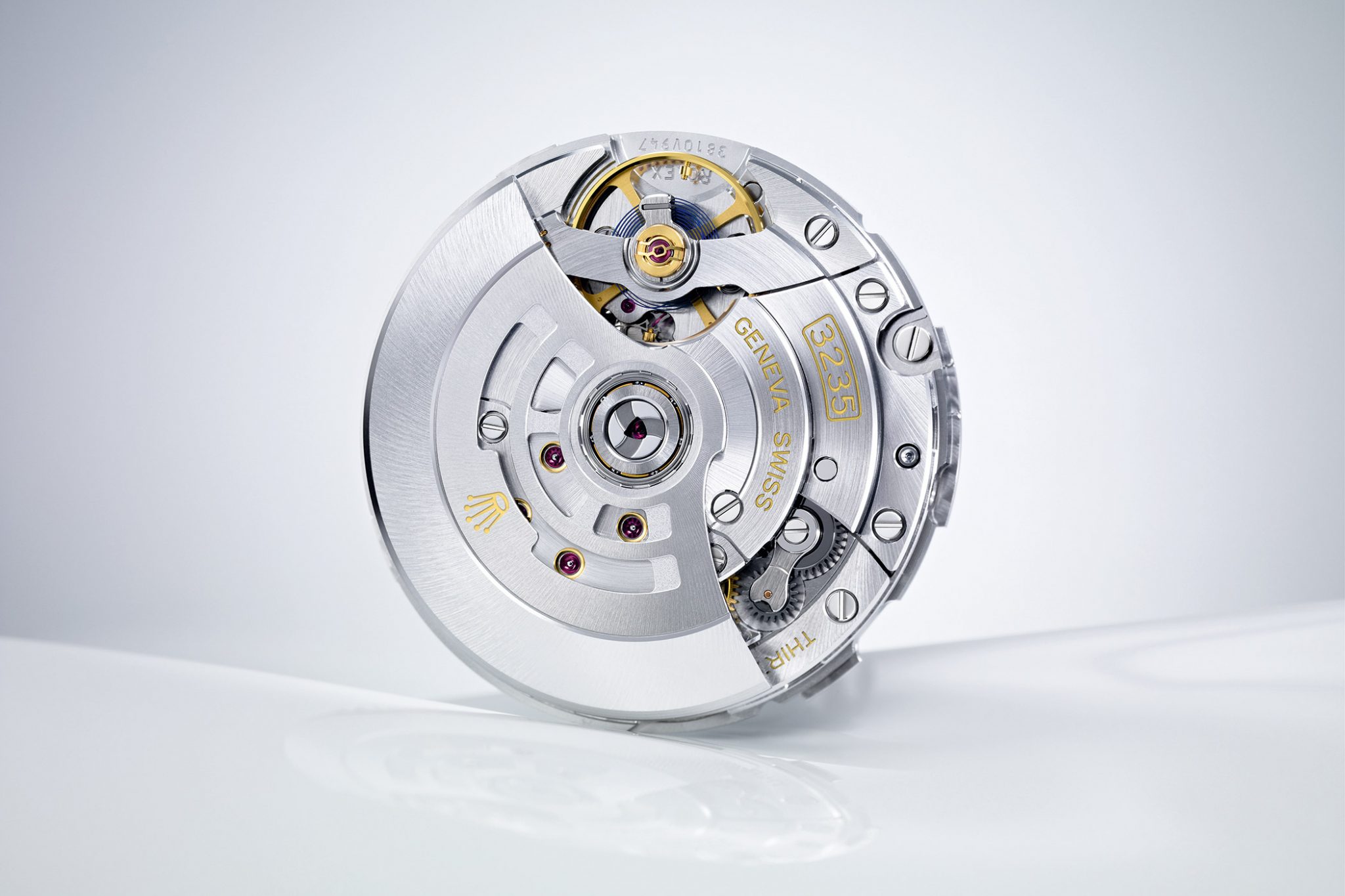 Furthermore, both movements use an optimised blue Parachrom hairspring. This makes it 10 times more precise than a traditional hairspring in the case of shocks. The blue Parachrom hairspring's inclusion of a Rolex over-coil ensures regularity in any position. Finally, the oscillator's positioning on Paraflex shock absorbers increases the movements' shock resistance. As I remarked upon their release, these movements demonstrate Rolex's continually excellent, reliable and technologically advanced watchmaking abilities.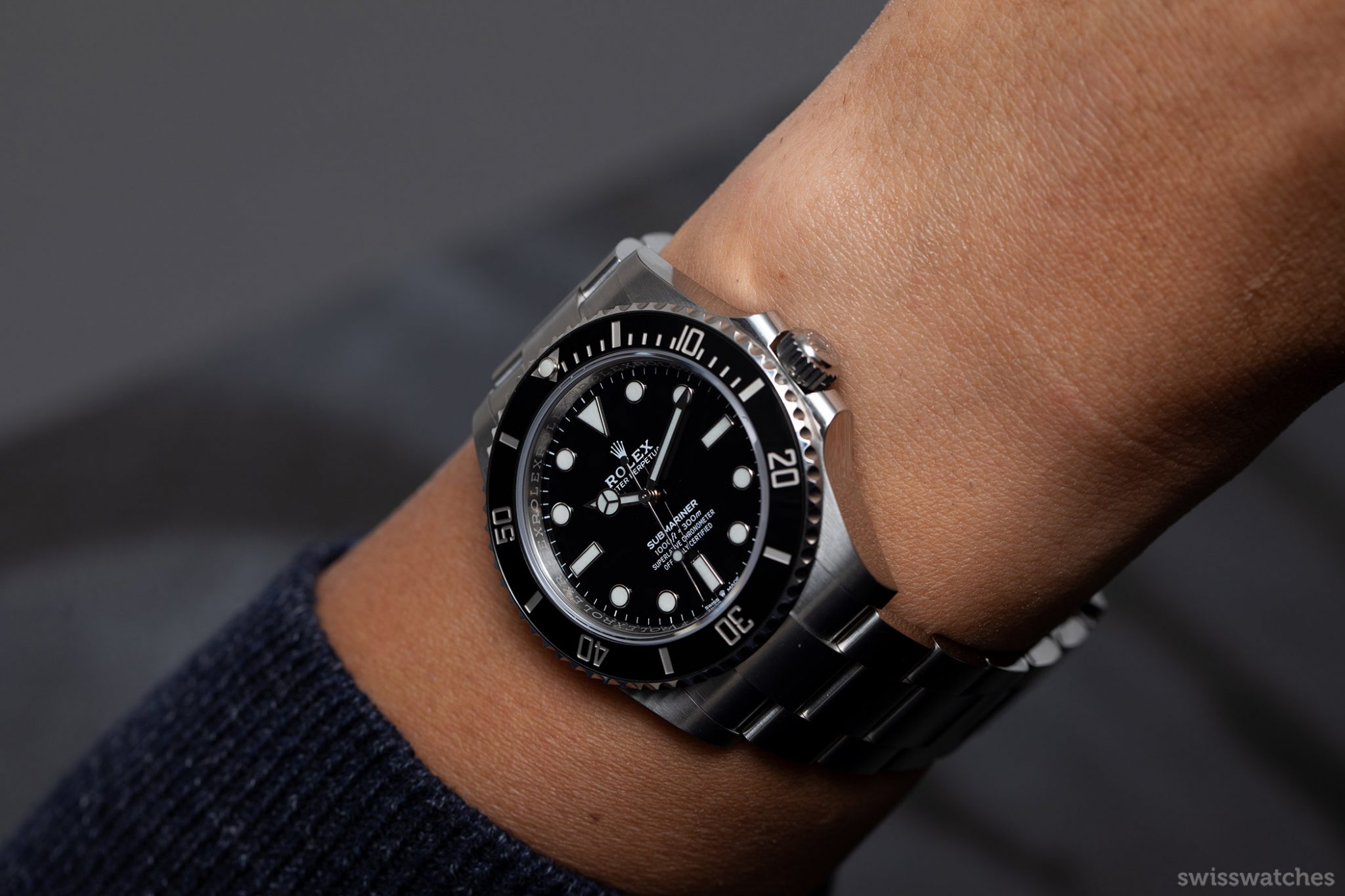 Just as these latest models demonstrate, the Rolex Submariner is a perfectly timeless, stylish, and ultimately very reliable gentleman's watch. Like we said at the beginning, this is the key to its success – the perfect hybrid watch.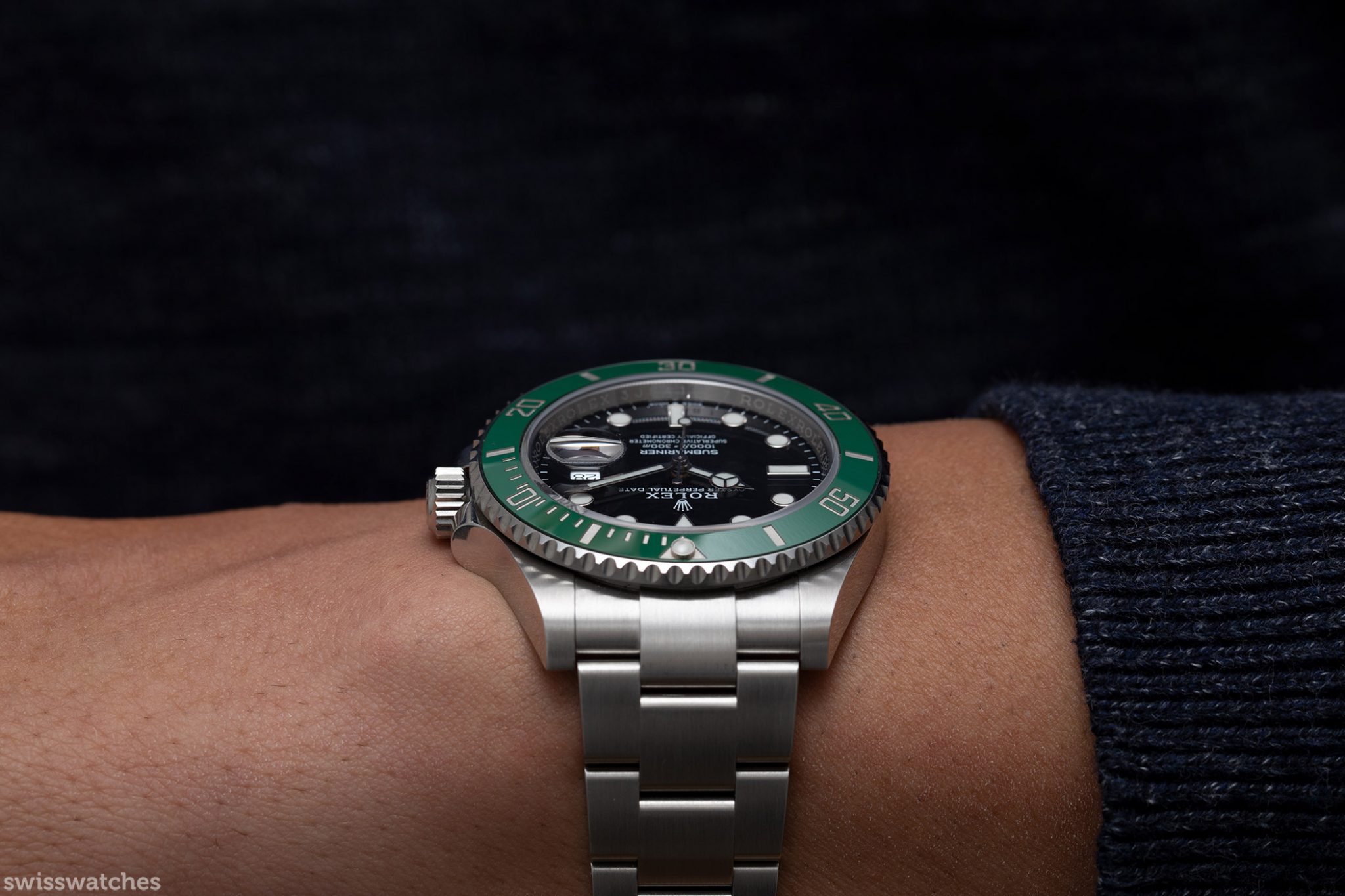 The Verdict
Clearly, both the Submariner "No Date" and Submariner "Date" are powerful models that have captured the hearts of millions of men. However, the Submariner "Date" does arguably lack such a strong heritage – something important to the watch community, if not the market in general. Of course, historically speaking, the Submariner "Date" was able to bring the watch to the wrists of many more gentlemen by providing them with an all-important function. These days, the necessity of a date function is something we overlook, surrounded as we are by laptops, phones, and smartwatches.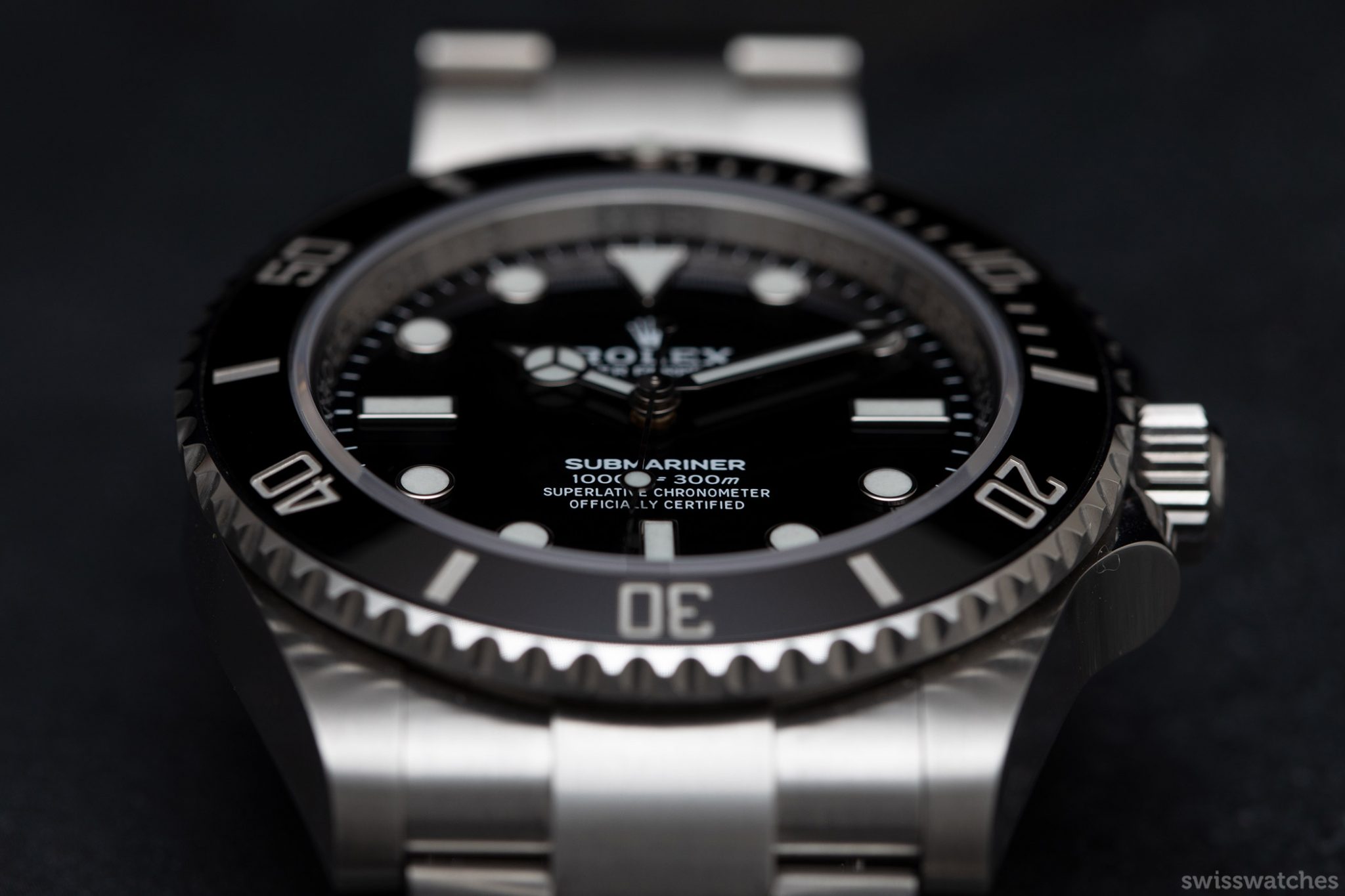 However, from an aesthetic perspective, the Submariner "No Date" is somewhat more versatile. This is thanks to its subtler dial design, not least in comparison to its numerous, colourful Submariner "Date" siblings. In this sense, the latter is a good choice for those wanting a Submariner that is bold and contemporary. There are also those who would like to have a date function, but are not particular fans of the Cyclops lens. What this all really proves is that when it comes to watches, a small detail can make a great difference.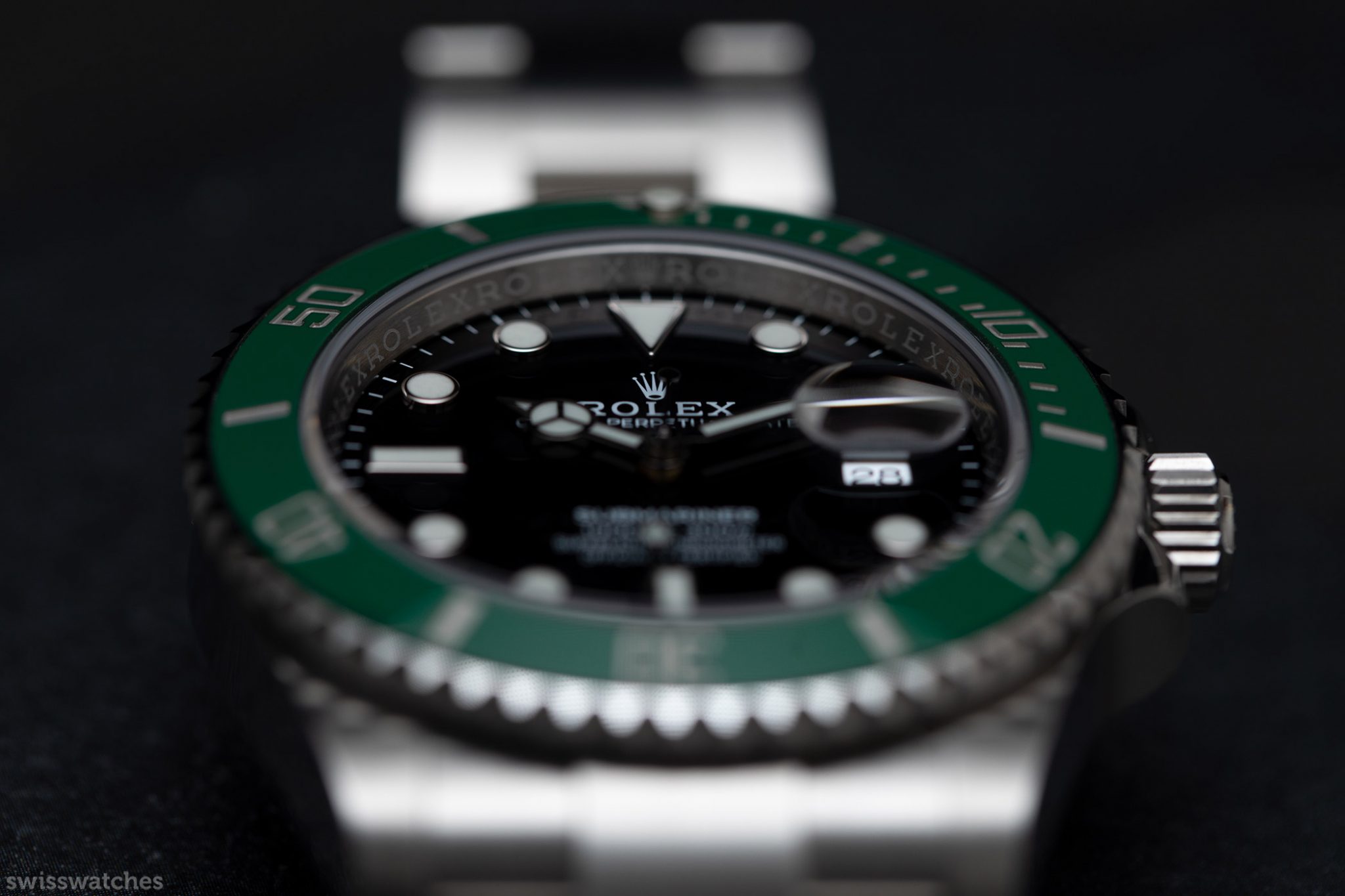 Submariner No Date: A symbol of history and purity
Many watch aficionados are likely to favour the "No Date" version, which is pure not only in terms of its design, but also its purpose. Of course, the Submariner "Date" is ultimately that bit more useful in everyday life. However, the original Submariner entered the world purely as a diver's watch, for use by adventurers in a post-war era of tentative renewal, hope and progress – not only for the wearers, but also the watchmakers. For this reason, the steadfast Rolex Submariner "No Date" wins for me every time.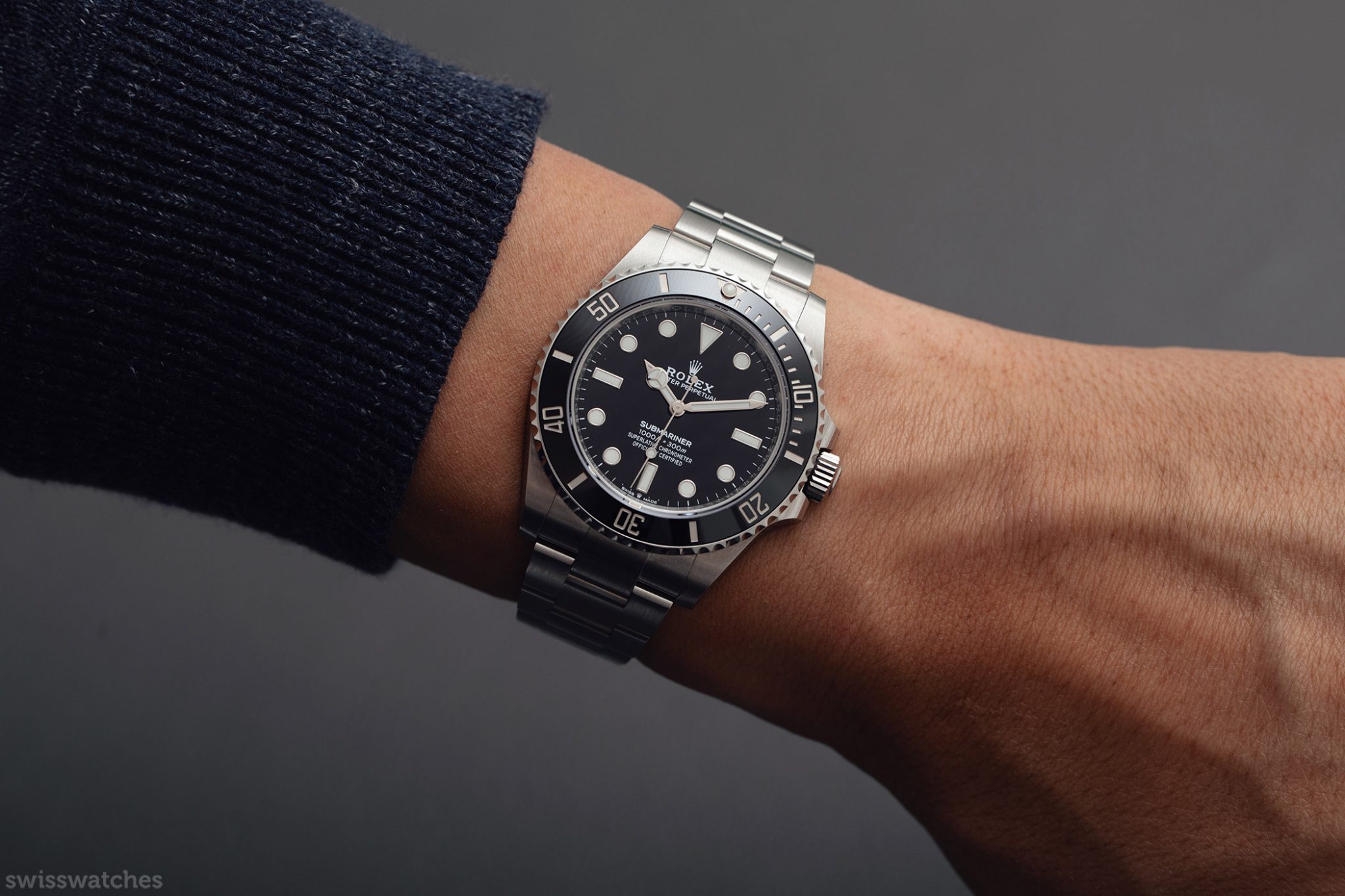 ---
---
Sources:
Lowe, L., 2019. Luxury Watches as Investment. Barnes & Noble Press.
A. White, C., 2020. The Vintage Rolex Field Guide. 2nd ed. Morning Tundra.