They love watches and make no secret of it: get to know our horology enthusiasts Philippe and Alexander in conversation. 
---
Alexander: Rolex plans to take over Bucherer. What do you think – is this why the chances of getting a Daytona or GMT-Master II there in the future are higher than with other Rolex concessionaires?
Philippe: No, I don't think that every Rolex fan has to become a Bucherer customer. Of course, this is a very exciting development, but at the same time Rolex has more than 1,800 concessionaires. Bucherer itself currently sells Rolex in 53 of its total of around 100 shops. That's just under three percent of the total market. And even if all Bucherer branches were to do so from the day after tomorrow, it would still only be a fraction of total Rolex sales.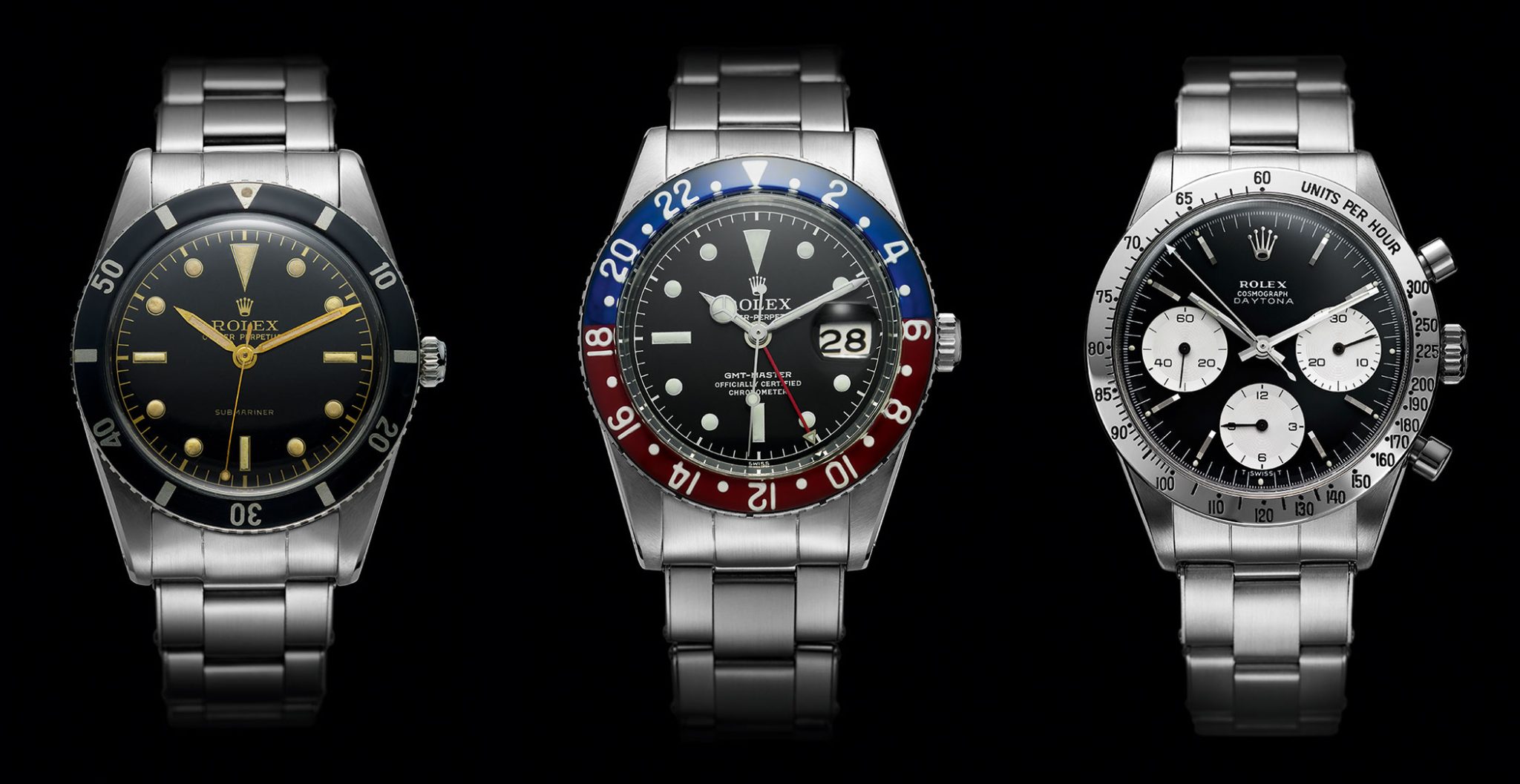 The first Rolex Submariner, GMT-Master II and Daytona
Credit © Rolex/Jean-Daniel Meyer
Alexander: Absolutely. It is interesting to see how the news is being celebrated within the watch community as absolute breaking news, although all that is known at the moment is that Rolex wants to take over Bucherer in the absence of a successor from the Bucherer family, but basically does not want to change anything in the business.
Philippe: The market seems to believe the 'everything stays the same' only to a limited extent: the share price of Bucherer's competitor Watches of Switzerland has slipped by 30 percent, at least for the time being, and is now slowly recovering.
Alexander: The move also marks a departure from the Rolex principle of only wanting to manufacture watches, but leaving the sales to external partners. While the trend towards self-managed individual shops has long been very popular among competitors, Patek Philippe and Rolex have always relied on strong partnerships. Rolex is now – at least partially – also going a different way.
Philippe: Yes, and I would love to know what Patek Philippe thinks about this step. If I were them, I would at least consider opening a new business with Bucherer in the future – precisely because, as a self-confident manufacture, I might not want to produce for Rolex. At the same time, I think Rolex is the best conceivable buyer for Bucherer for the industry as a whole. As a foundation, Rolex simply works and thinks differently than its competitors from LVMH, Richemont and the Swatch Group.
Alexander: You could say that with the Bucherer takeover, Rolex is cultivating its preference for strong multi-brand retailers in an altruistic way. Theoretically, the management could not have cared less what happened to Bucherer. Even without Bucherer, the business would have continued. The competition shows that it is possible to build up independent boutiques, and the 53 concessions could have been reallocated elsewhere in the event of a purchase by Richemont or a private equity fund. There is much to suggest that the decades-long partnership between the two companies was the decisive factor here. If Bucherer were to become slightly better supplied from now on, would anyone be surprised? But it is no different with mono-brand boutiques being run in partnership with jewellers; where there is a lot of investment in retail, the manufacturers also deliver more than with smaller concessionaires, regardless of whether we are talking about Rolex, Patek Philippe or IWC, Breitling & Co.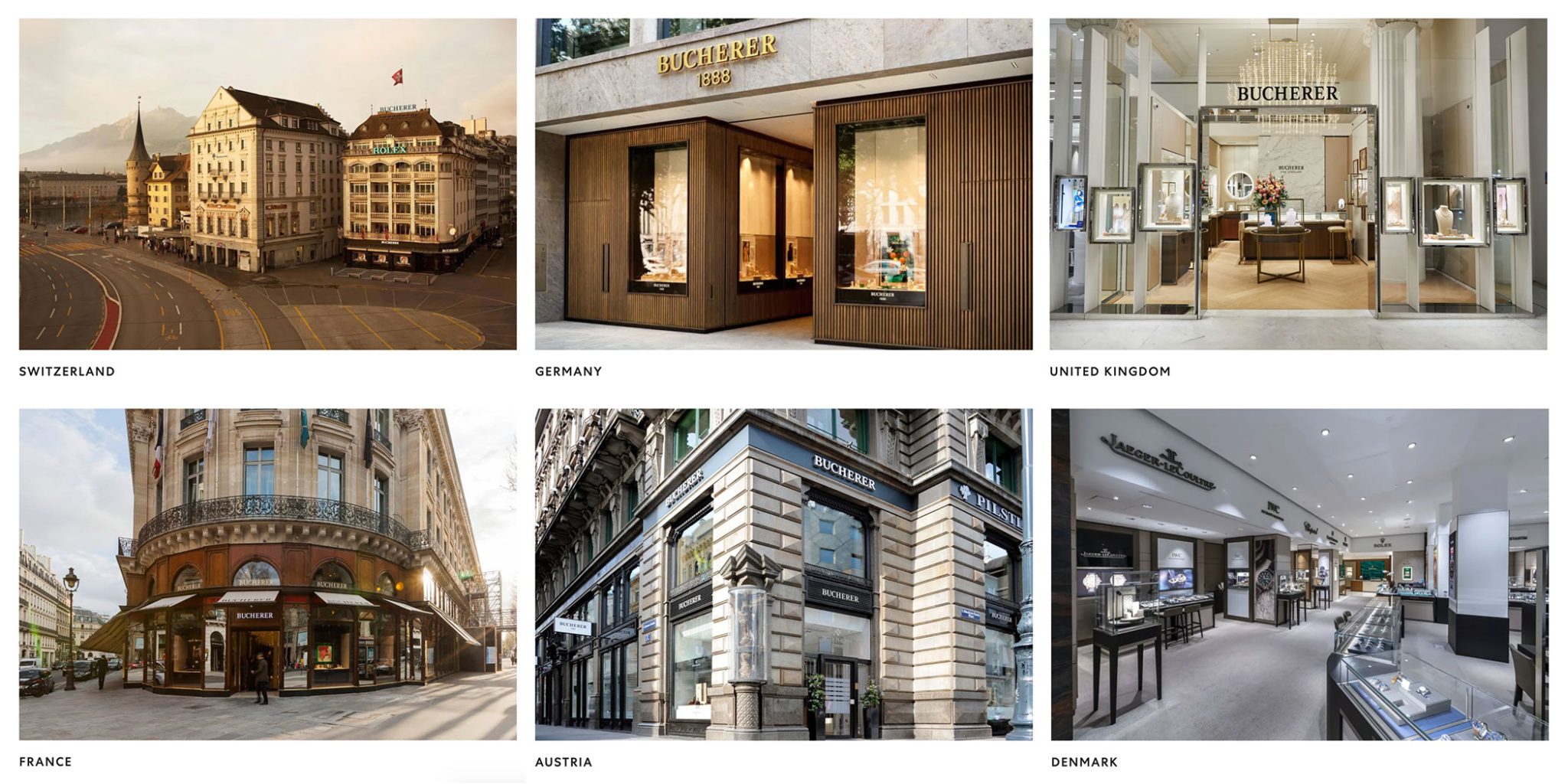 Bucherer boutiques around the world
Credit © Bucherer
Philippe: That's right. In my opinion, the most exciting thing is not so much what Rolex is doing now, but what the other Bucherer partners will do – that is, the other watch brands that are sold there. It will also be exciting to see how other big Rolex partners like Wempe or Rüschenbeck deal with the new development.
Alexander: In what way?
Philippe: Well, if I were Wempe, I would continue to sell Rolex, but I would expand and diversify my assortment upwards, so I would focus more on even higher-priced brands like Patek Philippe, and on top of that I would also strengthen the independents. Like the Seddiqi family in Dubai: they of course have Rolex stores, but they also sell MB&F, Ressence and H. Moser & Cie.
Alexander: In the end, the whole industry is in a state of upheaval, with the biggest brands tending to sell directly to the end customer. So Rolex is really opening up all its options with this step.
Philippe: I also think the timing is brilliant: August is rather quiet, the private equity industry is on holiday like pretty much everyone else, but next week a good part of the watch world will meet in Geneva at Geneva Watch Days and discuss the move – but without Rolex, because they don't attend it. I would also like to know whether the step to sell Certified Pre-Owned Rolex watches via Bucherer was a first test and precursor for the partnership.
Alexander: This deal certainly didn't happen overnight. Now we have to wait and see how the competition reacts – and how much Rolex promotes the new acquisition.
Philippe: At the end of the day, I feel quite confident about it. Perhaps it's the romantic in me, but somehow I have this idea that the Geneva watch managers are all gentlemen.
---