Independent watch manufacture Urwerk is known for its futuristic designs and innovative creations. The Urwerk UR-100 first appeared in September 2019 and is now available in an 18-carat gold case. The new gold version aims to evoke the blundering robot C-3PO from Star Wars. The model tells the time by using the brand's rotating hour satellites and a minute scale around the lower edge of the dial. Additionally, the watch discloses astronomical data, such as the orbital velocity of the Earth around the Sun.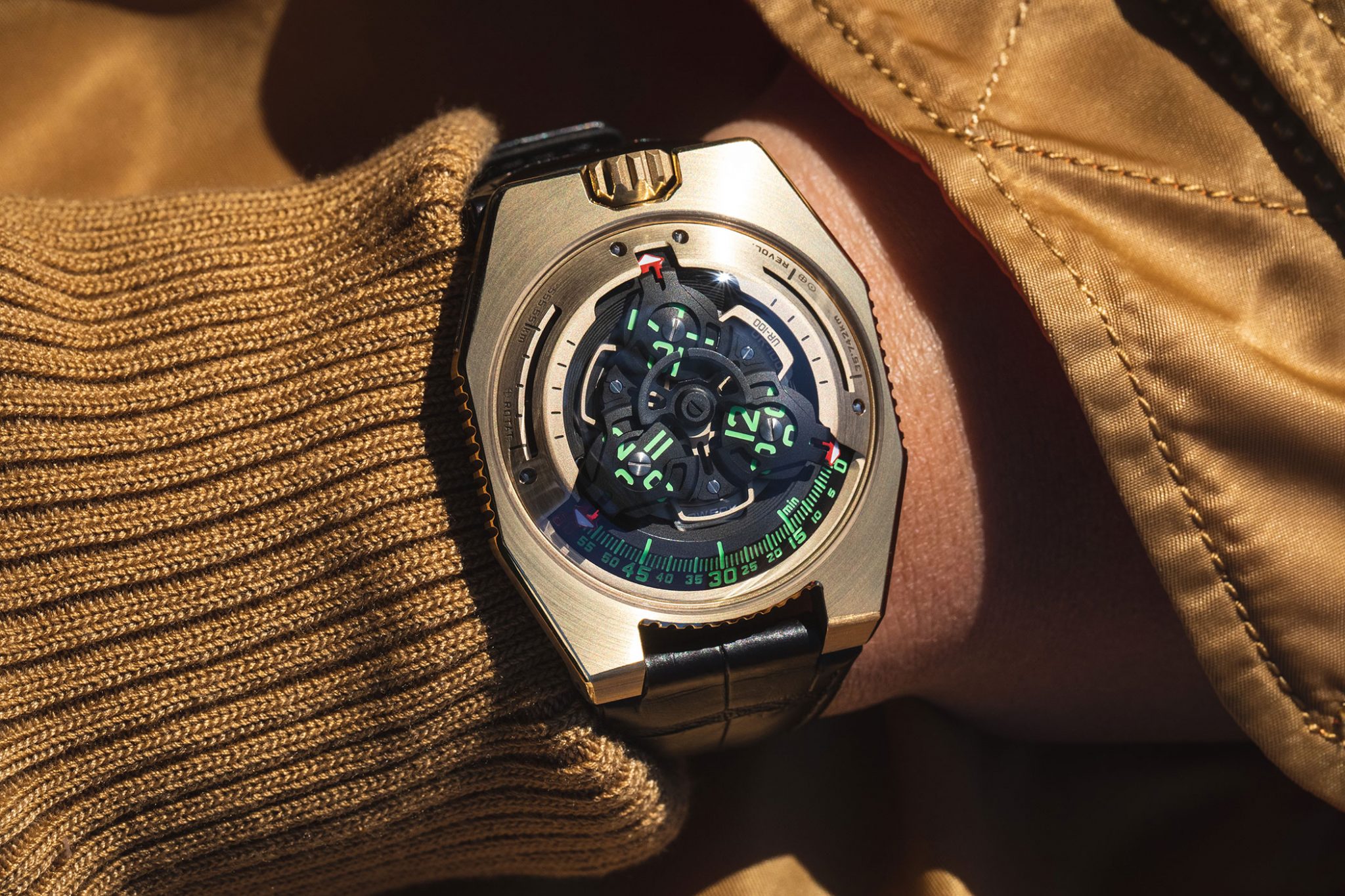 Initially, the Urwerk UR-100 was available as the UR-100 SpaceTime Iron (titanium and steel), plus the UR-100 SpaceTime Black (titanium, steel, and a black PVD-covering). Then, the UR-100 GunMetal edition followed in January 2020 (titanium, stainless-steel, and a grey PVD-covering). Finally, the 18-carat gold version marks the fourth variation of the watch.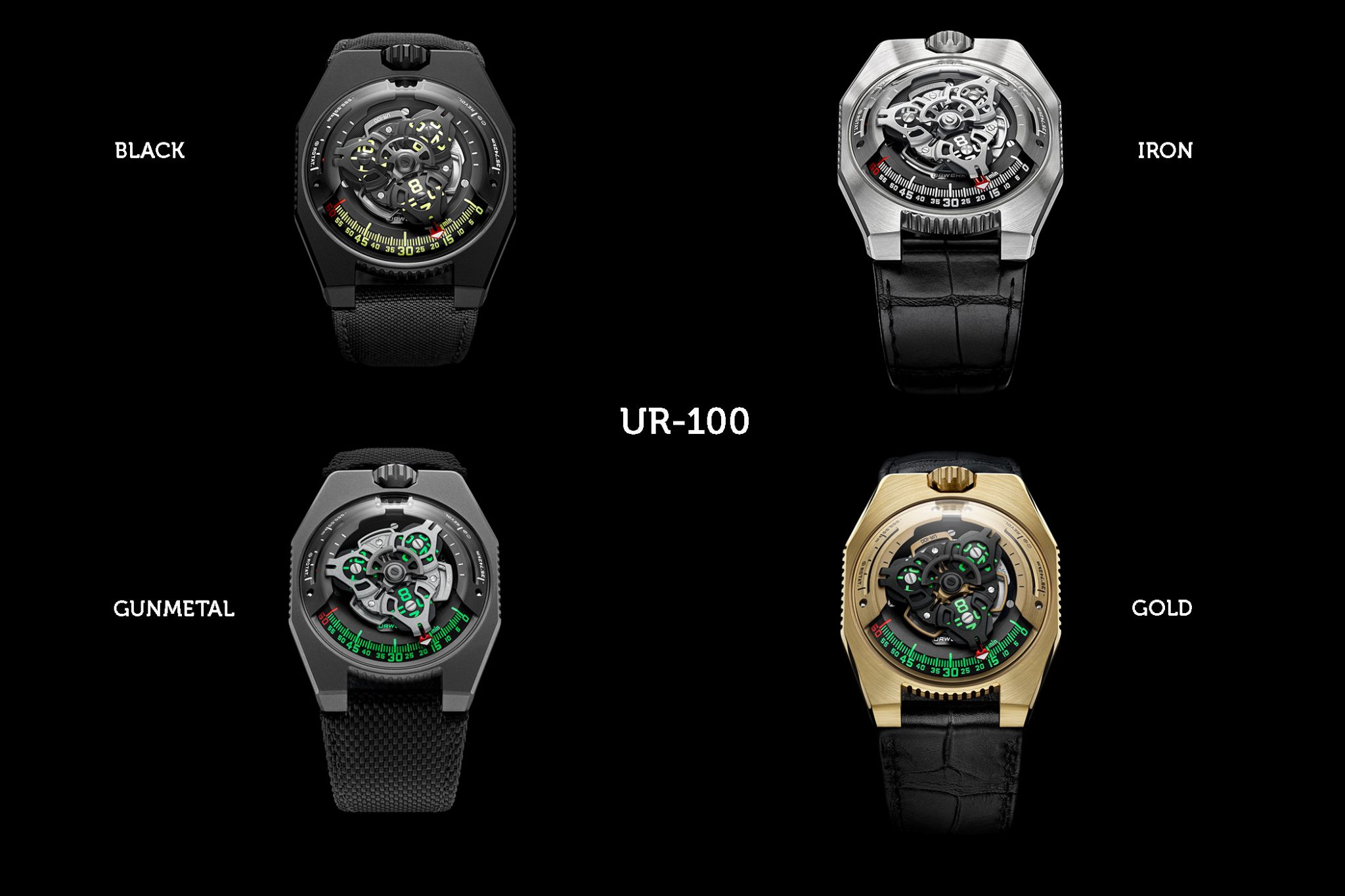 The Urwerk UR-100 does not tell the time with hands, but rather with the help of a carousel with three satellites. These satellites move along the minute track – filled with Super-LumiNova and also show the hour. After 60 minutes, the satellite at work leaves the scale and the next one is on hand to start the following hour.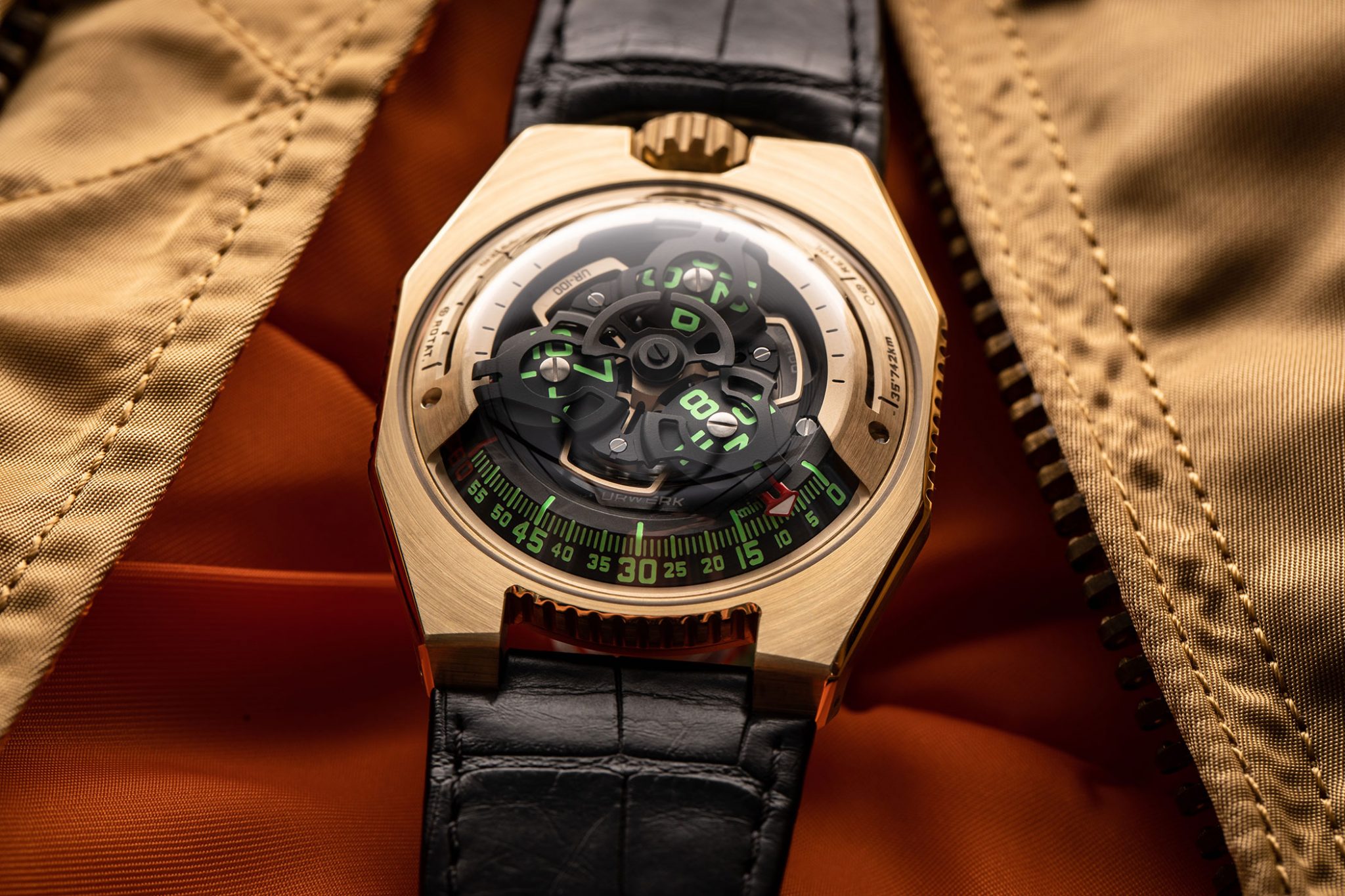 In addition to showing the time, the UR-100 also indicates the 555 kilometres travelled by the Earth in 20 minutes on the equator. At 3 o'clock, it shows the orbital speed of the earth around the sun, i.e. 35,740 kilometres every 20 minutes. As soon as the minute hand of a satellite leaves the minute track, it reappears in the slot at 9 o'clock then later at 3 o'clock, displaying the corresponding data.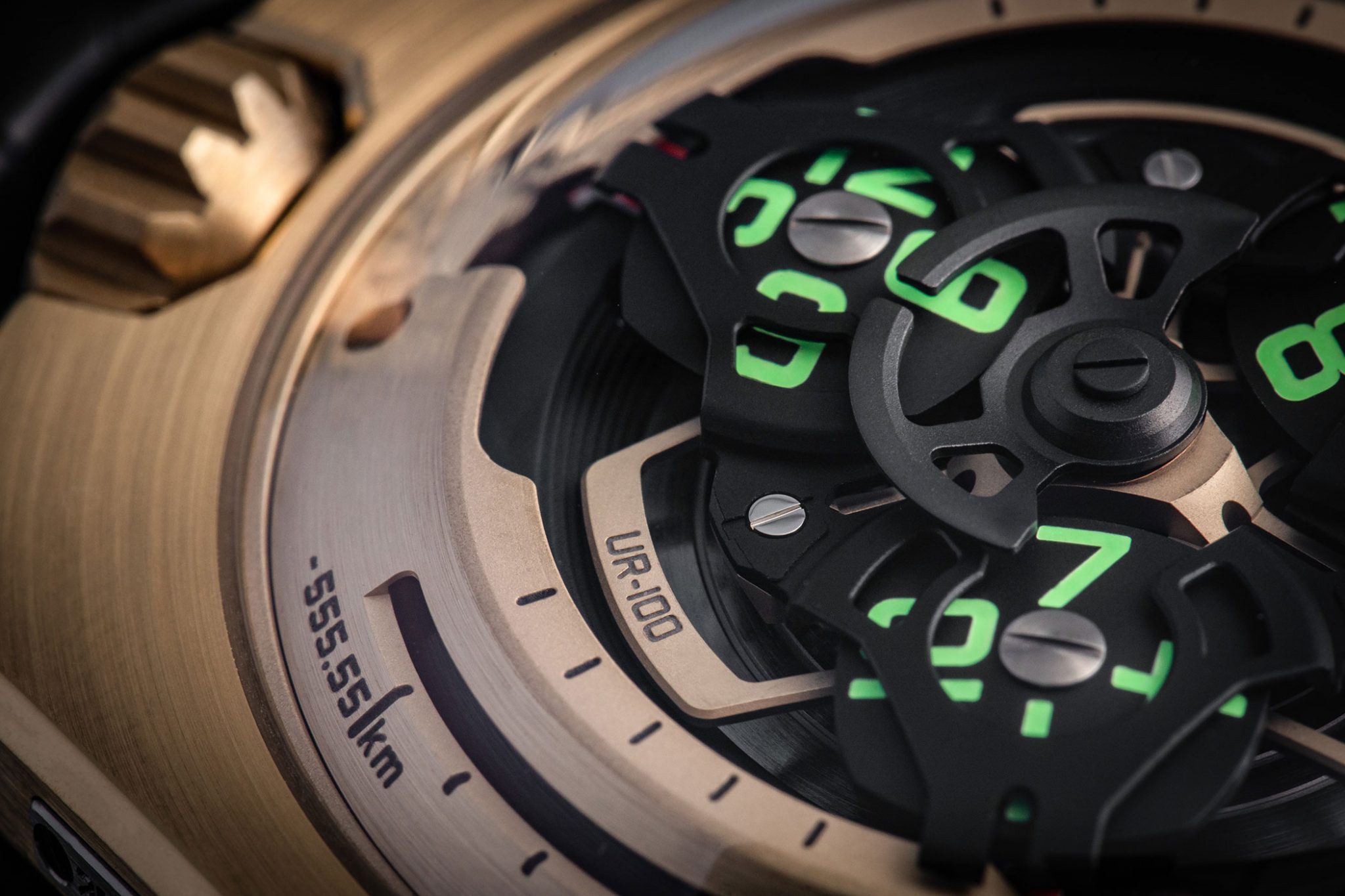 Powering the mechanism is the automatic-winding calibre UR 12.01. It moves the satellites with a frequency of 4 Hz and offers a 48-hour power reserve. The so-called Windfänger' – meaning 'air trap' is a wheel that is paired with the oscillating weight and regulates the speed of the rotor. This is to prevent excessive winding of the spring.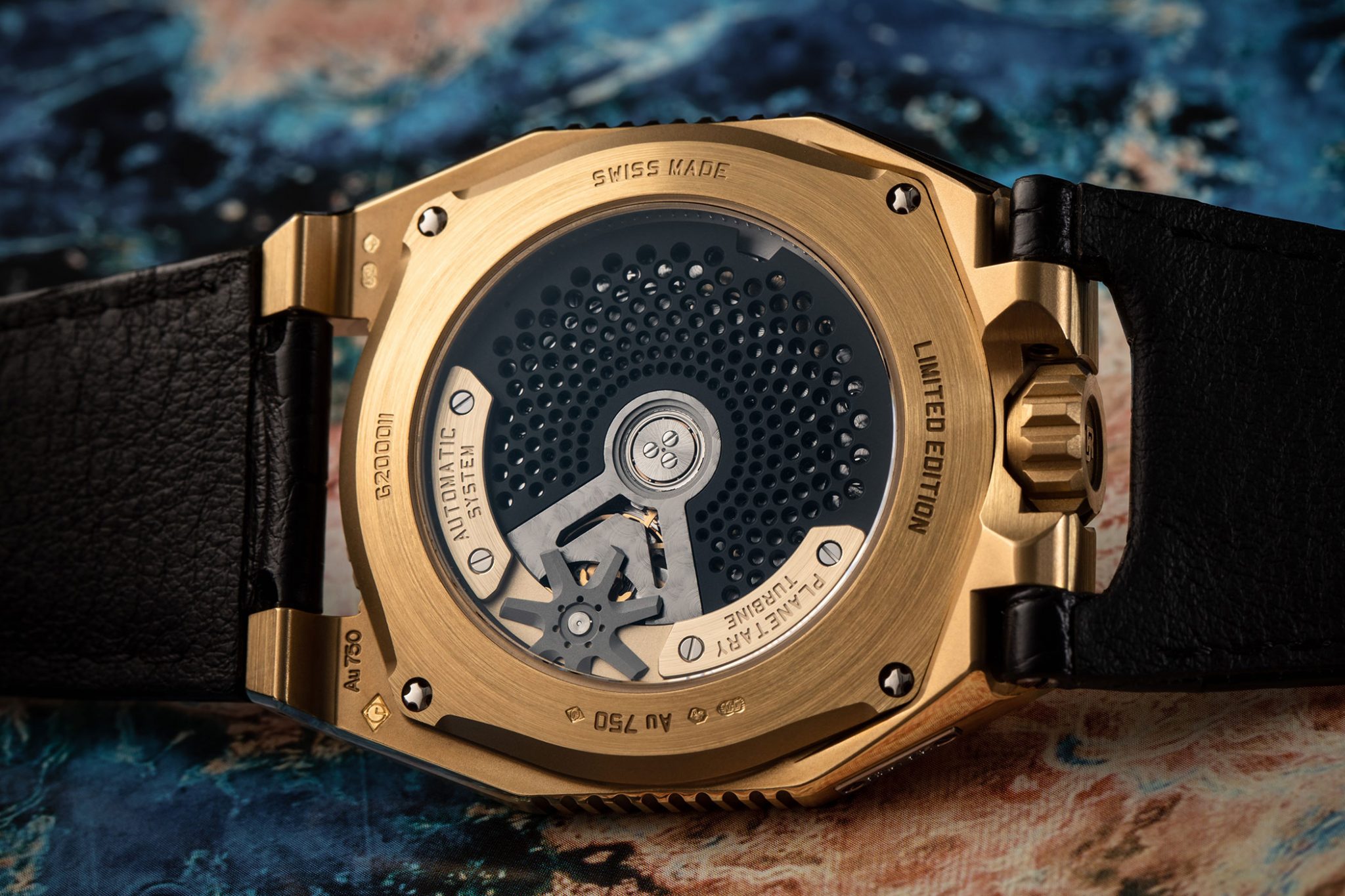 The new Urwerk UR-100 in gold is a limited edition of 25 pieces and costs CHF 58,000.
---
---
FEATURES
BRAND:
Urwerk
MODEL:
UR-100
REFERENCE:
N/A
CASE MATERIAL:
18-carat yellow gold
DIMENSIONS:
Diameter: 41.0 mm
Height: 14 mm
WATER RESISTANCE:
3 bar (~ 30 m)
DIAL:
Hour display via satellite, minute track with Super-LumiNova
STRAP/BRACELET:
Leather
MOVEMENT:
UR 12.01
MOVEMENT TYPE:
Automatic
POWER RESERVE:
48 hours
FREQUENCY:
28,800 vph / 4 Hz
FUNCTIONS:
Hour display, minutes, distance covered per 20 minutes at the equator, orbiting speed of the earth around the sun per20 minutes
PRICE:
CHF 58,000 – limited to 25 pieces