An epic rendezvous: so describes Roger Dubuis its new partnership with Goodwood Festival of Speed. As of 2022, the notoriously 'disruptive' horology house is acting as the Official Timing Partner of the world-famous motorsport event. It is here at Goodwood Estate that the Swisswatches team is spending the next 24 hours, in the company of Roger Dubuis and its partner Lamborghini. With the help of both brands, we gain insights into the watch manufacture's deep connection to motorsport and the story behind its latest creation.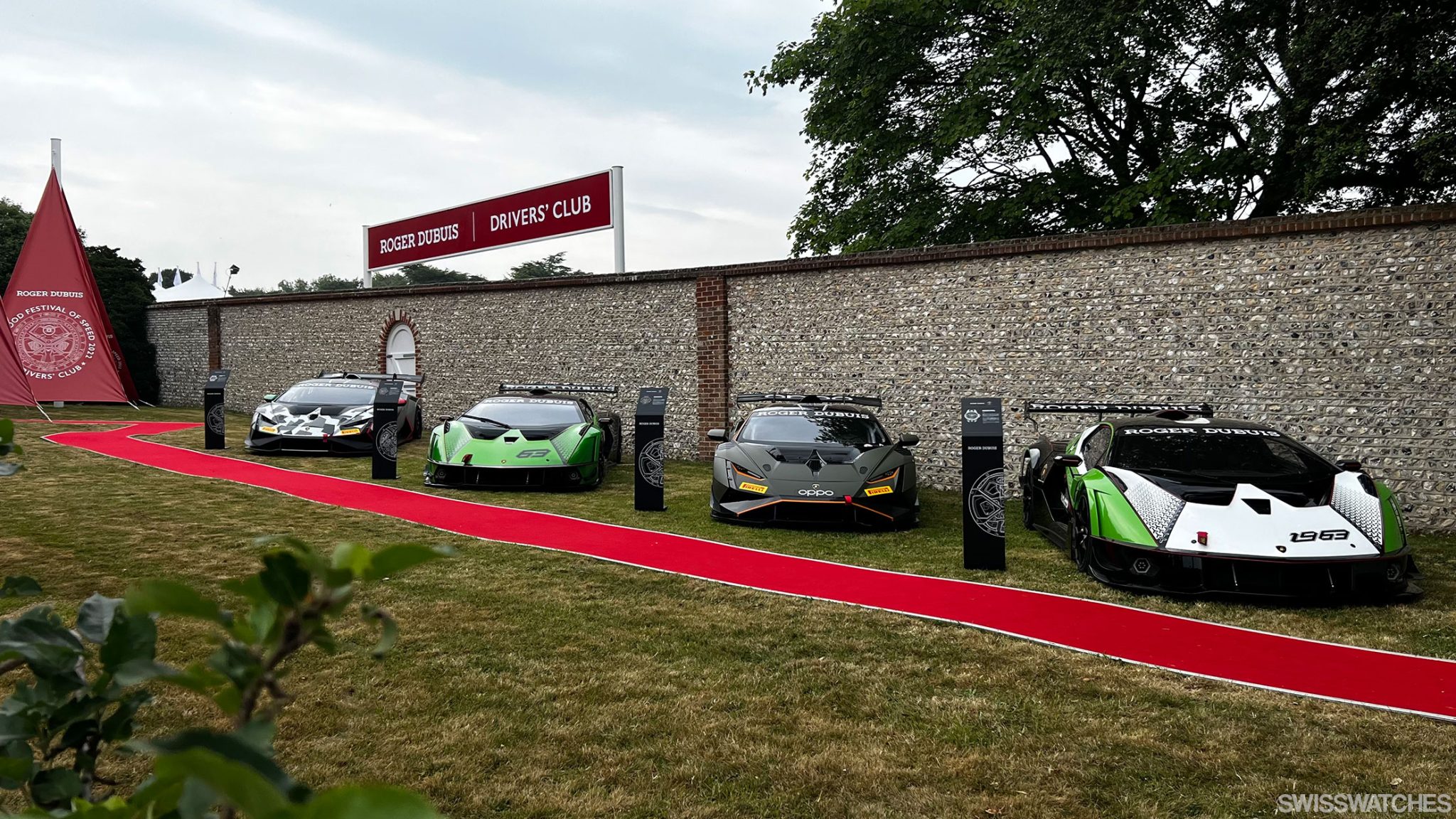 Goodwood Festival of Speed
Meticulously organised as it may be, Goodwood Festival of Speed exudes a certain level of chaos. Set across the idyllic British country estate, owned by the event's founder, the 11th Duke of Richmond (amongst other various titles), it's a sprawling mass of white tents, food stalls, and an array of cars from across the decades.
Swisswatches enjoyed a very British stay on the Duke of Richmond's country estate
The festival is filled with motorheads fervently seeking out favourite automotive models and watching races where fire flashes from exhaust pipes. Fathers and sons gawp at revving engines, while drivers saunter past in their racing overalls, helmets tucked under their arms. Cars fly across the track, leaving cheering crowds to breathe their dust.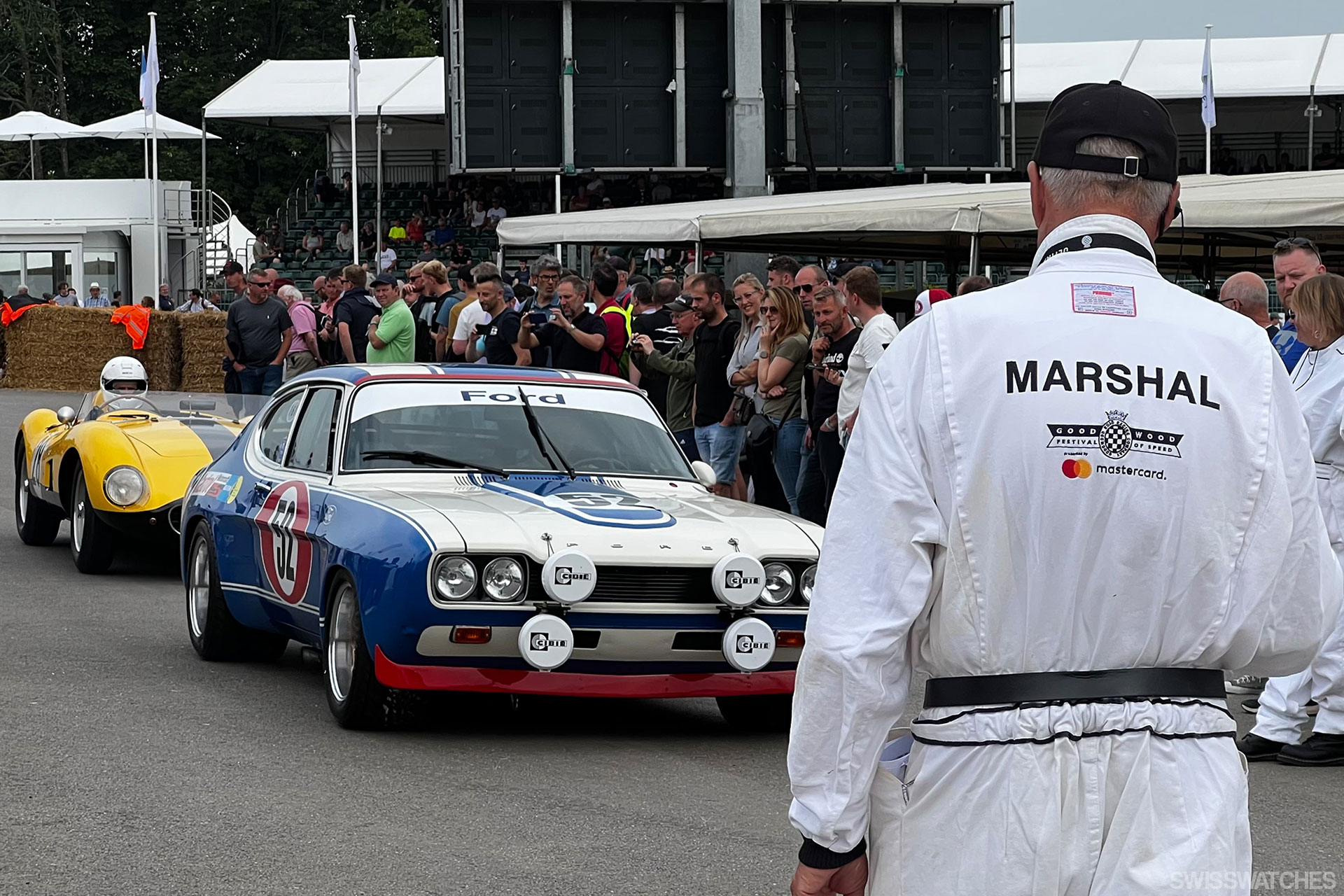 Goodwood – Festival of Speed
Credit © Jayson Fong
Standing out from these fume-filled surroundings arises a sizeable booth with red flags flying high: the stronghold of Roger Dubuis. Surely it is the unruly, frenzied atmosphere at Goodwood that first attracted Roger Dubuis to the Festival of Speed. Just like the event, the values of the watch manufacture are based upon extremity and adrenaline. Roger Dubuis' clientele are not looking for traditional timepieces; they are looking for something pushing towards the future, something unexpected – even something shocking.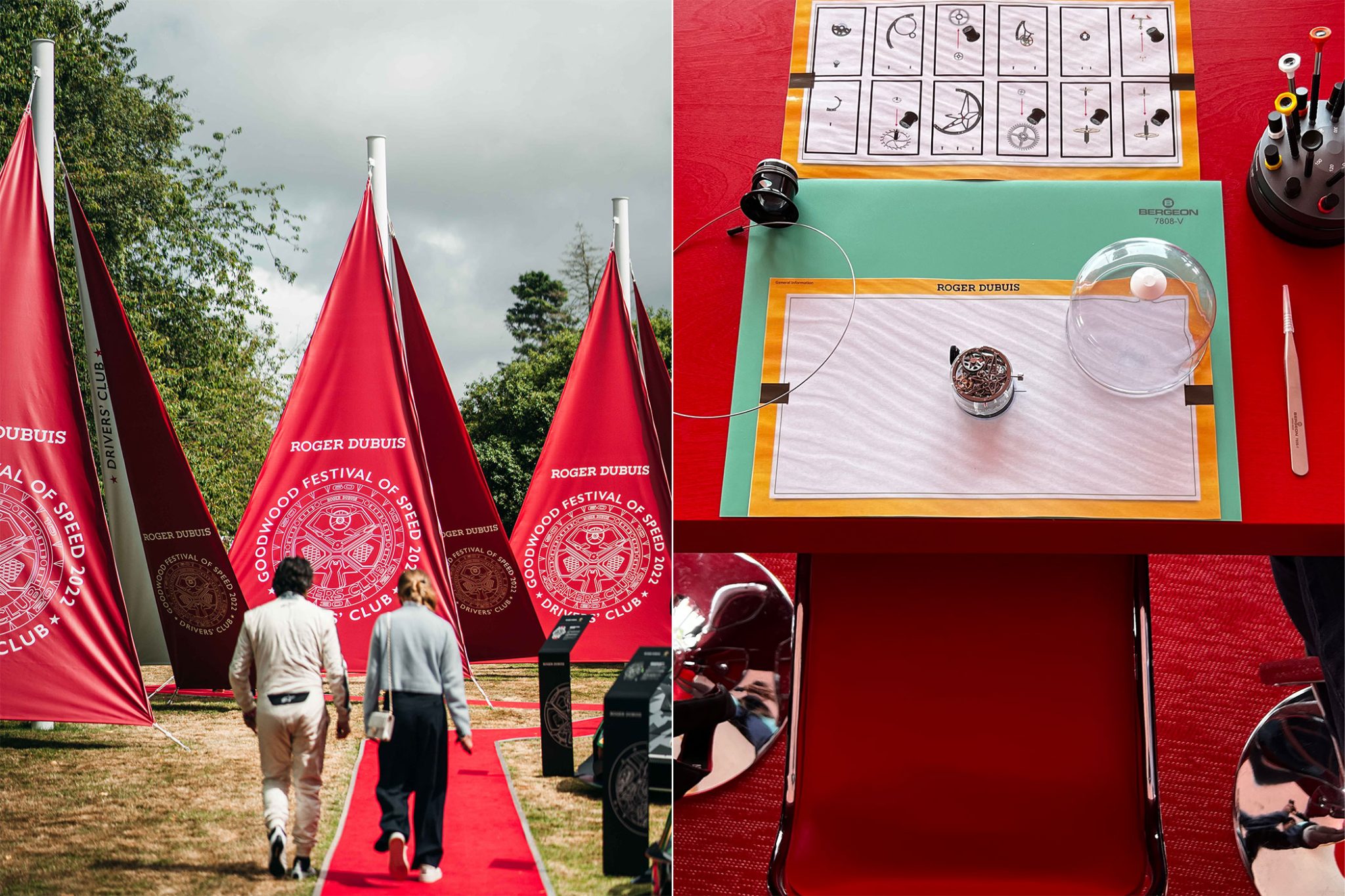 Horology house Roger Dubuis made its presence known at the festival
Lamborghini Squadra Corse Partnership
A key reason for Roger Dubuis' role as Official Timekeeper of the Festival of Speed is the watchmaker's strong partnership with supercar manufacture Lamborghini. Lamborghini, more specifically the Lamborghini Squadra Corse motorsport department, plays a significant role in the creation of numerous Roger Dubuis watches within its Excalibur Spider collection. This splits into the Aventador S or the Huracàn models. Often, these models push the limits in terms of both materials and craftmanship. Case materials include the likes of black SMC carbon and black DLC titanium. Alongside colour schemes paying tribute to specific models, rotors are built like supercar wheel rims, while calibres use strut-bars to evoke engines.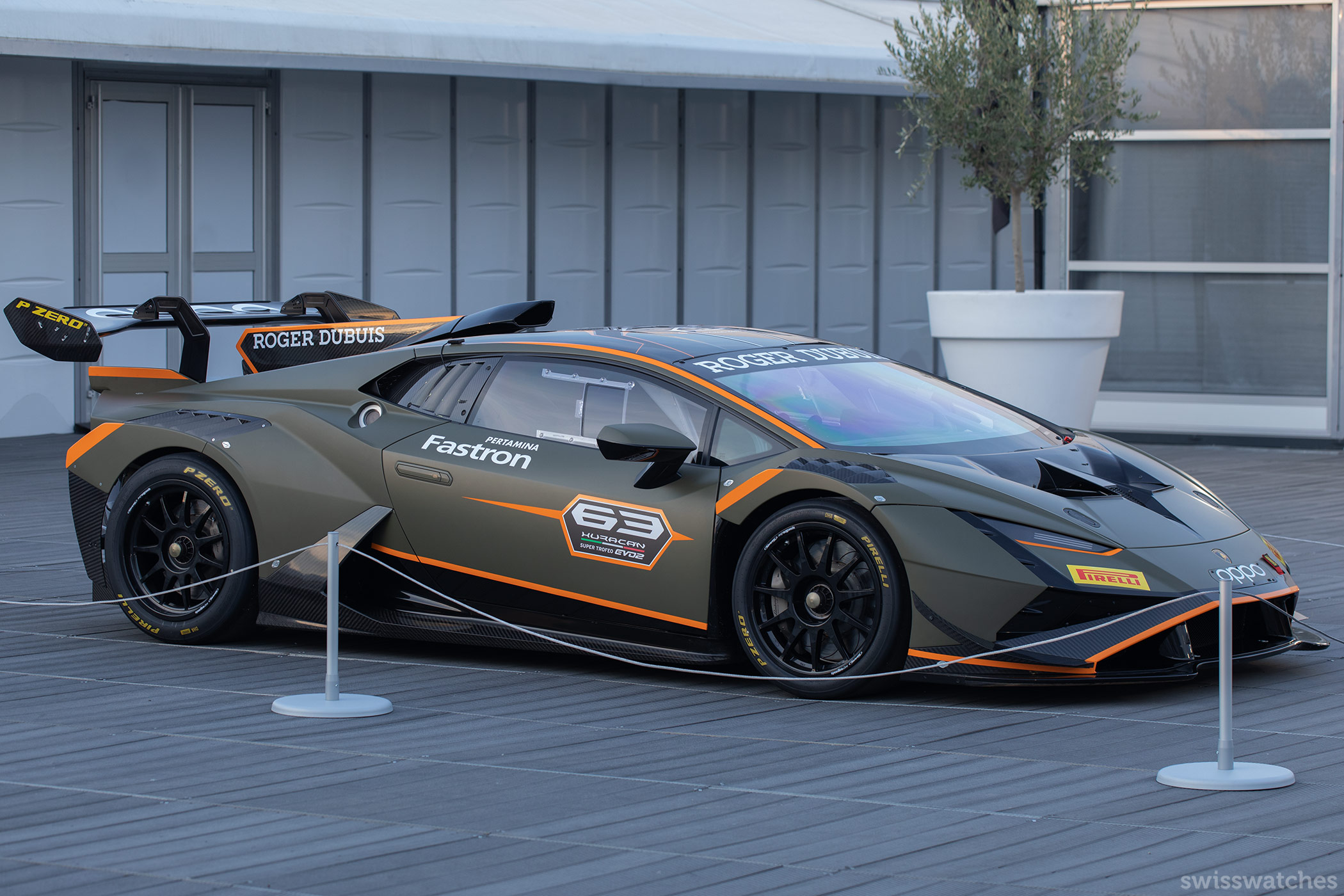 The process between Lamborghini and Roger Dubuis collaborative watches is interesting. 'We exchange things from both our worlds', explains Sadry Keiser, Chief Marketing Officer at Roger Dubuis. 'We used to ask Lamborghini when their next launch would take place, so that we could fit our plans together and create some consistent storytelling through our products. Today, though, this isn't so necessary. We have a more fluid relationship in which we share some common vocabulary, allowing us to work together in parallel.'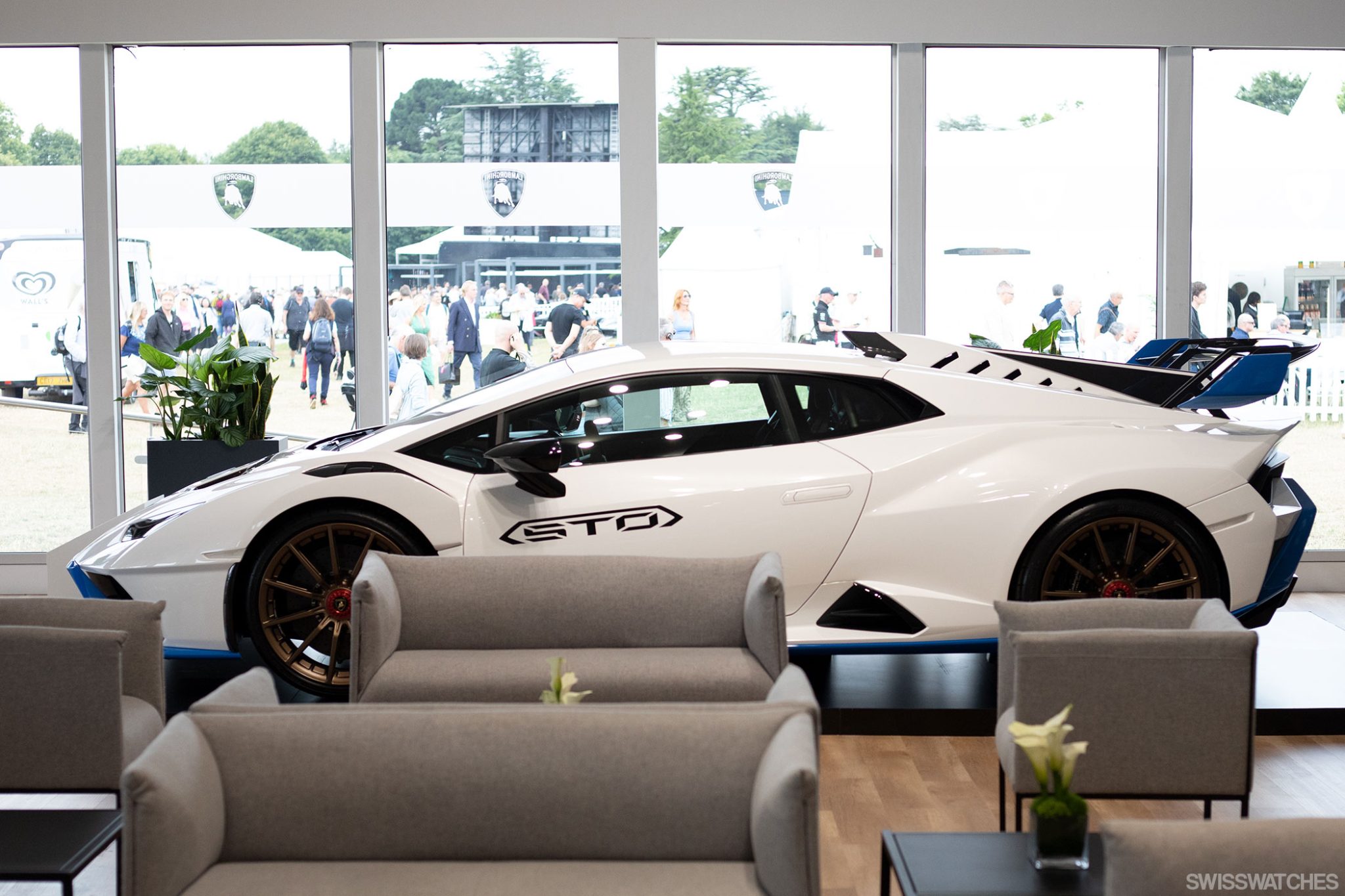 When it comes to designing the watches, Roger Dubuis and Lamborghini do not work overwhelmingly closely as a whole. Rather, as Tim Bravo, Head of Communications at Lamborghini, informs me, Roger Dubuis is independent regarding the manufacturing of its watches, and mostly use Automobile Lamborghini and Lamborghini's products as an inspiration for watch designs. 'Roger Dubuis designers make sure certain standards and expectations are met and that qualitative, exclusive products are developed,' he elaborates. 'Through the development process of Roger Dubuis watches that are inspired by Automobile Lamborghini, Roger Dubuis designers can then focus upon having a certain link in the shapes, details, and tangible components.'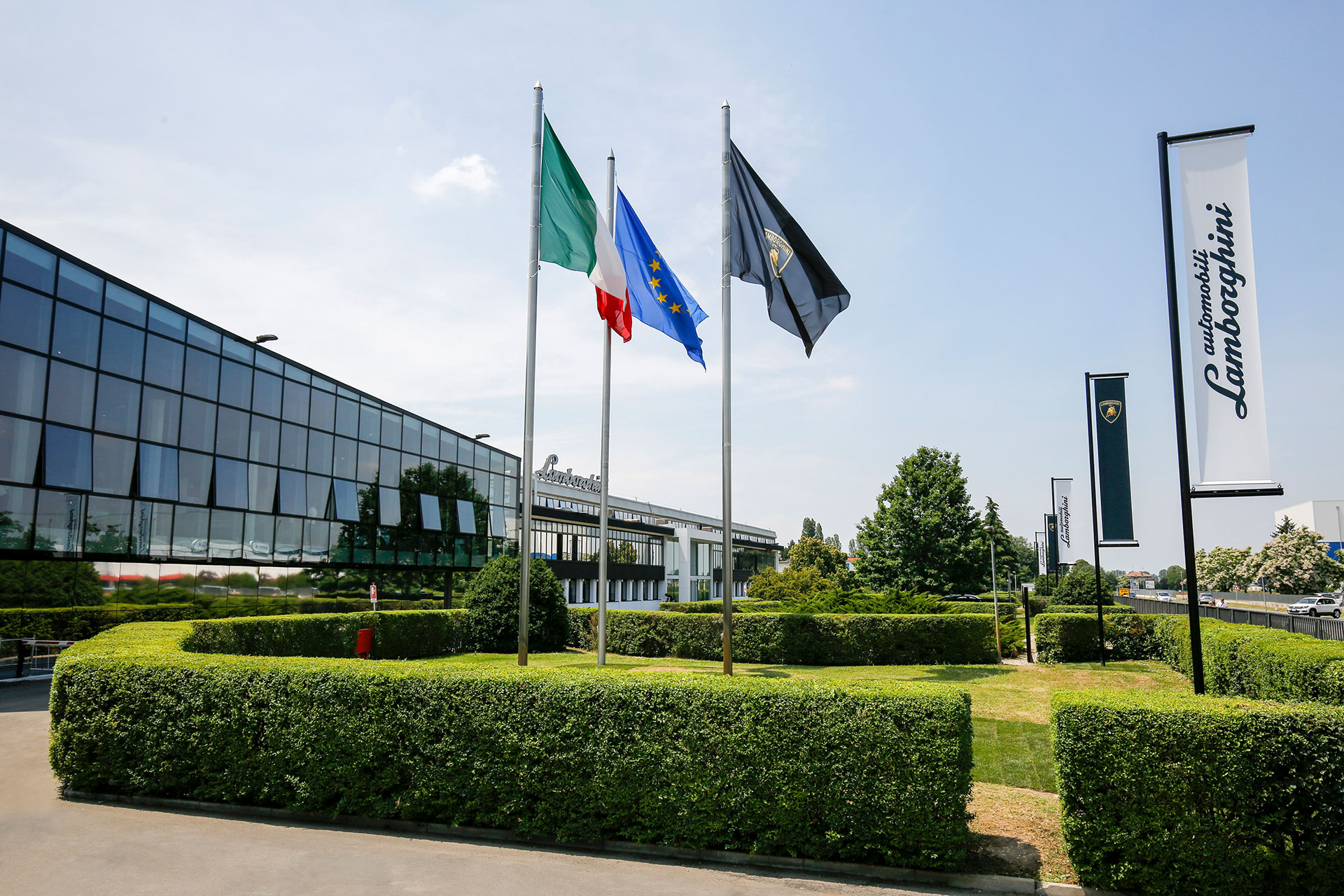 Lamborghini's formidable headquarters
Given this level of creative independence, one wonders in what ways the supercar manufacture benefits from the collaboration? 'Our partnership with Roger Dubuis is mutually beneficial,' is Bravo's take on the matter. 'We share the same type of luxury clientele and image, giving both companies greater visibility and access to a certain niche of customers.'
During some of the companies' main events, clients have the possibility of trying both products and developing a different, more personal contact with the brands. This, explains Bravo, inevitably creates potential new customers and collaborations. 'There is also an exchange through the design and values of both companies, which in turn creates synergies benefiting the precision and quality of both companies' products.'
Priorities: Roger Dubuis and the Poinçon de Genève
Each Roger Dubuis watch produced today holds the Poinçon de Genève (Geneva Seal), a certificate awarded to individual watch models demonstrating high levels of decoration and finishing. Having first been created in 1886, this set of standards is now a source of both guidance and pride to many luxury Swiss watch manufactures, particularly Chopard and Vacheron Constantin, to name but a couple. The Poinçon de Genève's four focus points are provenance (origin), quality, craftmanship and reliability. Every tiny detail of the watch, from the movement right down to the screws, must comply with certain standards in order to bear the Poinçon de Genève certificate.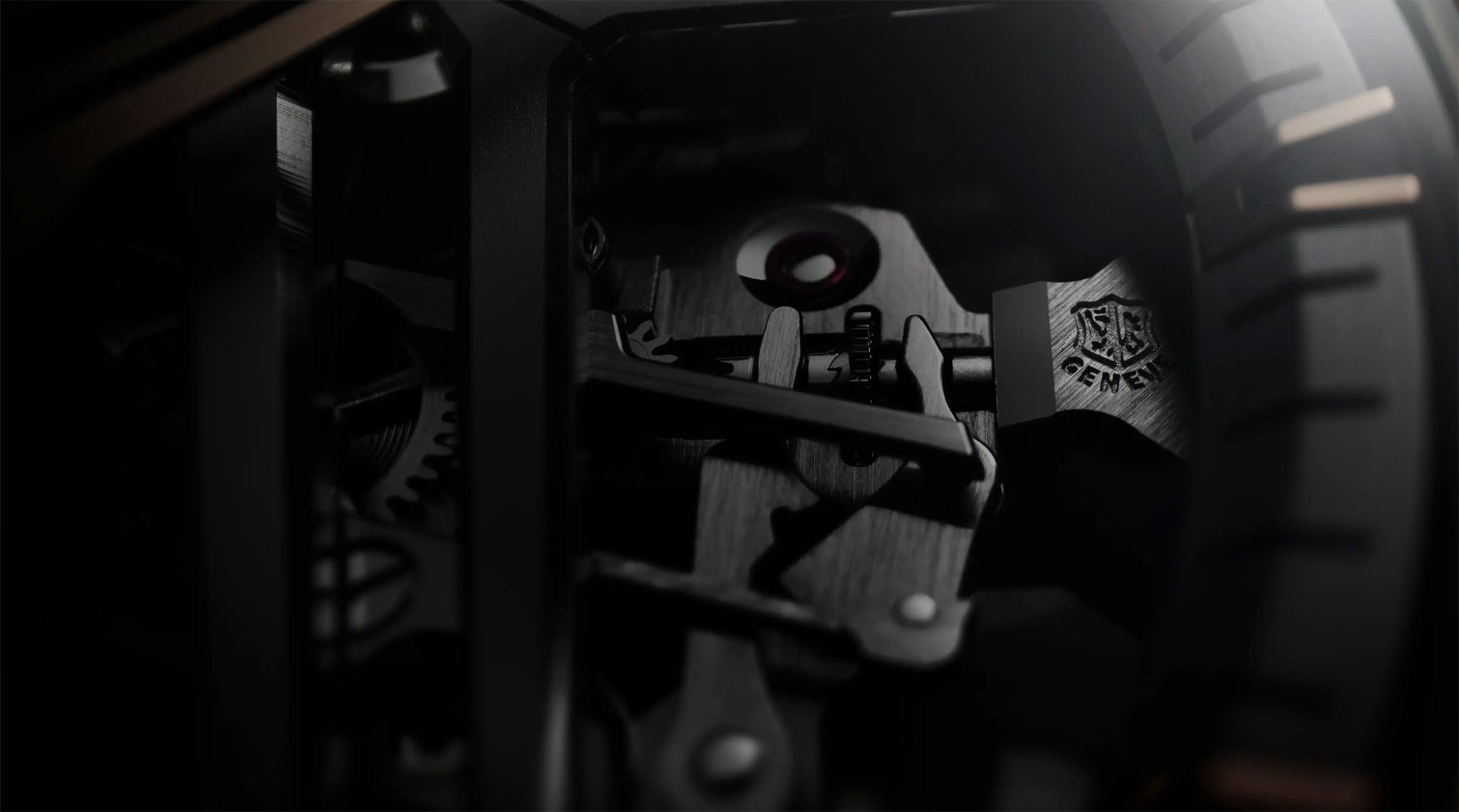 A movement bearing the coveted Geneva Seal
The certificate is of the utmost importance to Roger Dubuis, as the manufacture's CEO Nicola Andreatta informs us. Ever since his arrival at the end of 2018, Andreatta has insisted on producing 100 percent Poinçon de Genève certified watches, despite the extra 30 to 40 percent work this requires. This is one way to make a Swiss watch truly stand out. After all, of the 20 million watches produced in Switzerland every year, a mere 24,000 bear the Geneva Seal.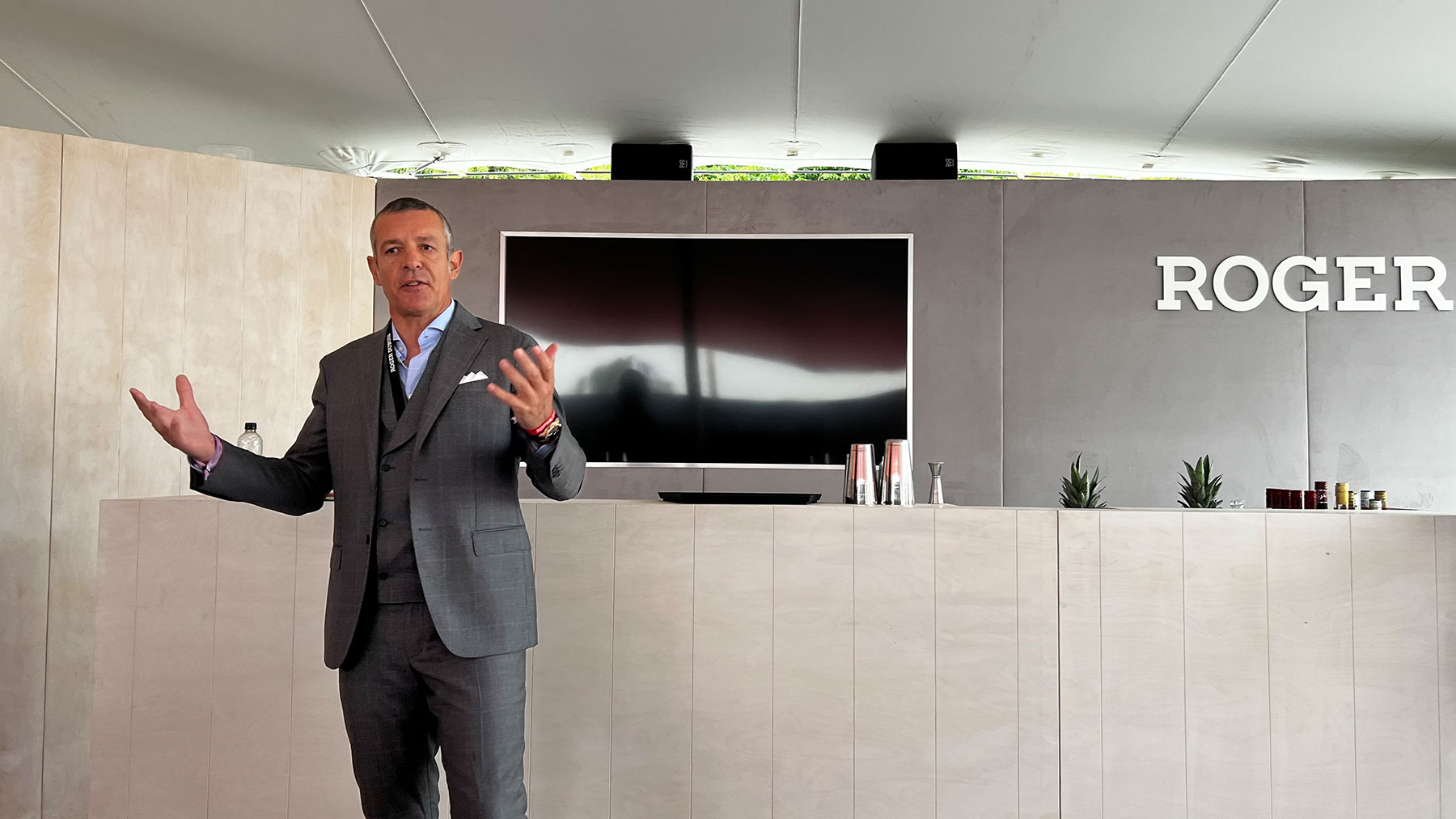 Nicola Andreatta – CEO at Roger Dubuis
As for the Geneva Seal-approved Lamborghini Squadra Corsa models: common hand-finishing and decoration includes NAC or rhodium-plated bridges, shot-blasted or trued-up bridges, and circular grained plates.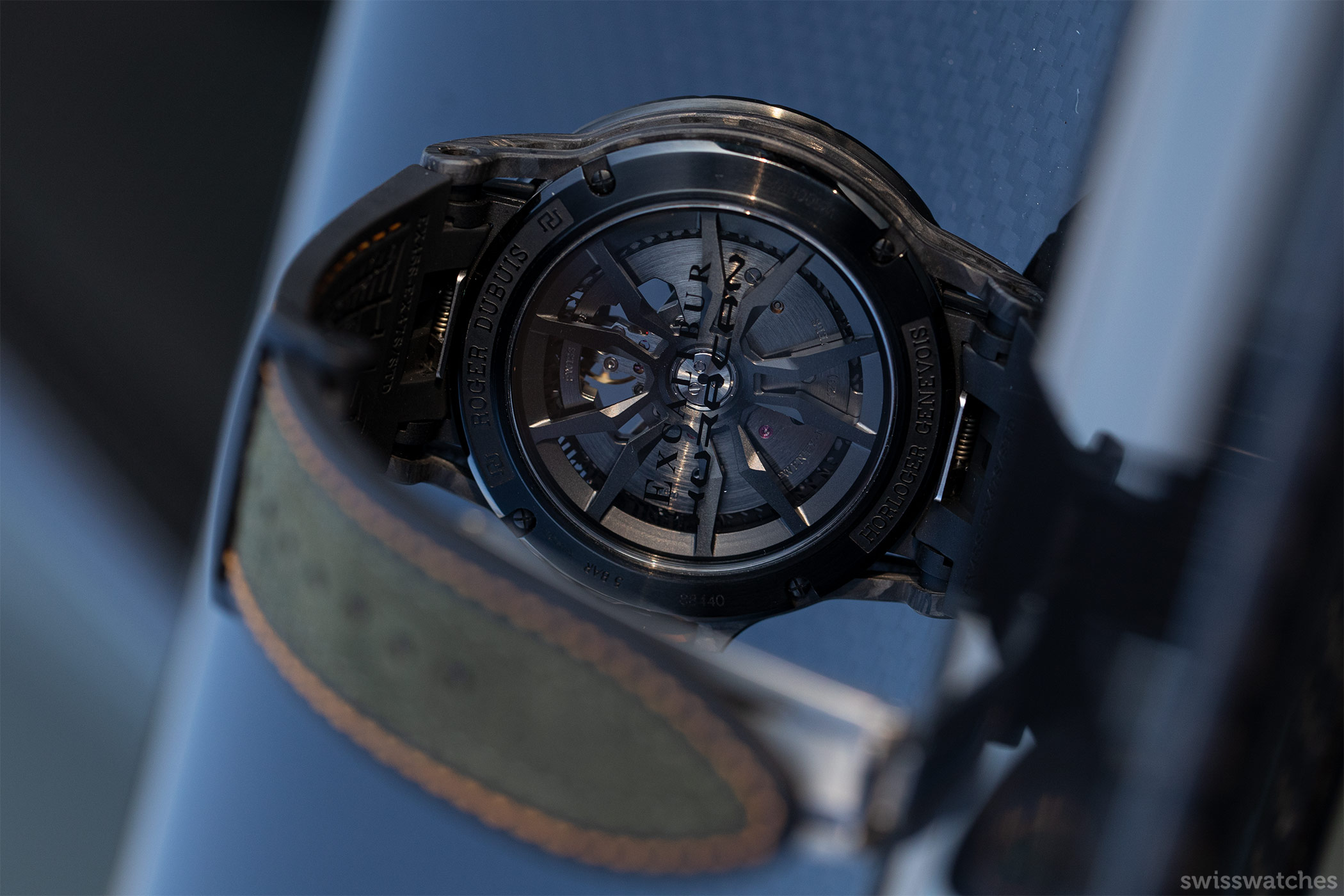 CMO Sadry Keiser is keen to explain why the Geneva Seal is so crucial for the watch manufacture. 'It's partly about obsessing over details to be sure that our creations are absolutely top notch in terms of what the industry is able to provide. We are convinced that our clients also feel the difference.'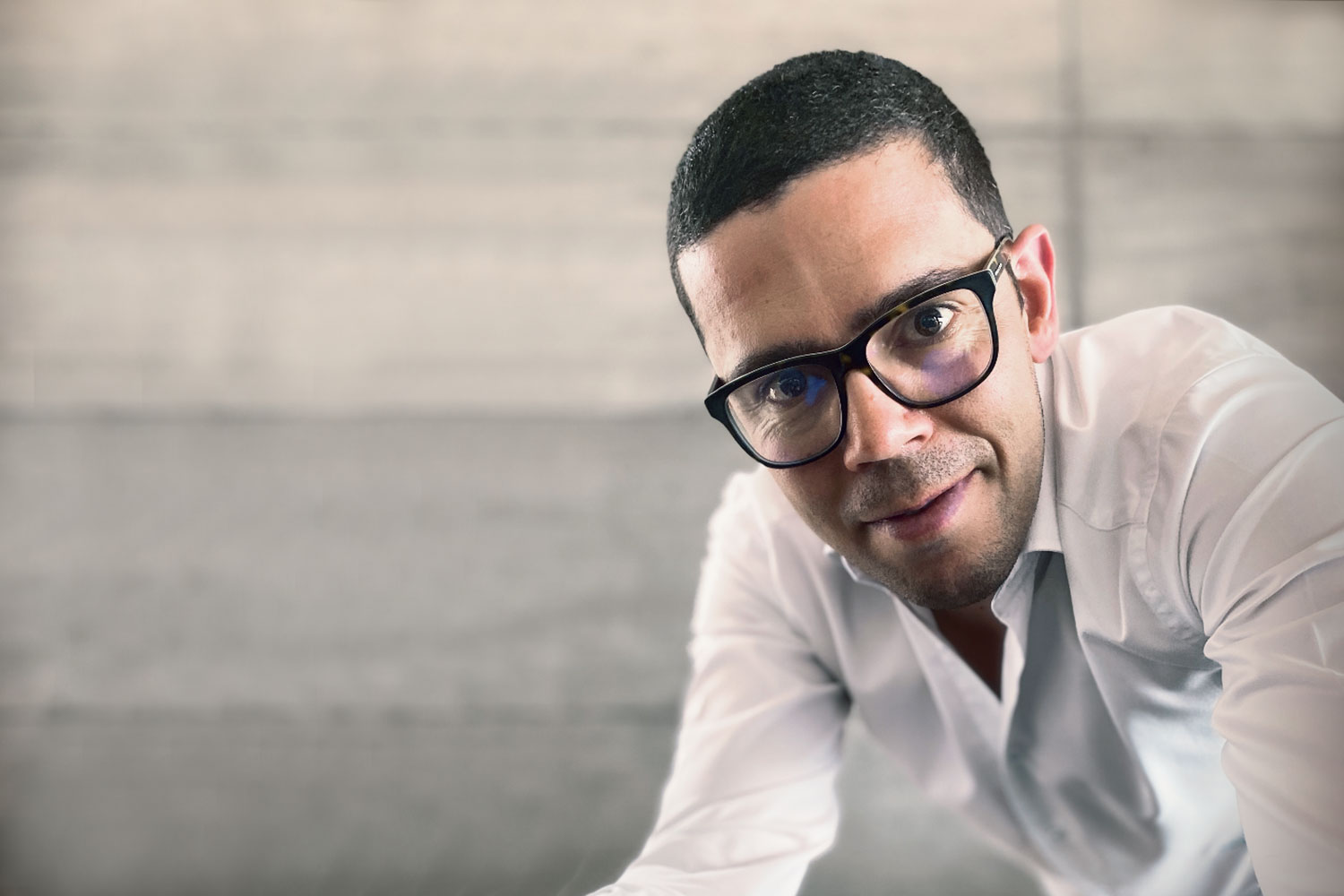 Sadry Keiser – CMO at Roger Dubuis
'The Geneva Seal allows us to keep an eye on quality,' Product Director at Roger Dubuis, Gregory Bruttin, chimes in. 'We create products with a very modern interpretation. For me, one of the most interesting things is that we can challenge status quo and come up with new ideas. We want to evolve, and be dynamic, or else you risk already becoming vintage within a few years.' Bruttin continues, 'Having the Geneva Seal means we have a playground in which it is not possible to create stupid things – we need to respect tradition. It also means you can never take a shortcut.'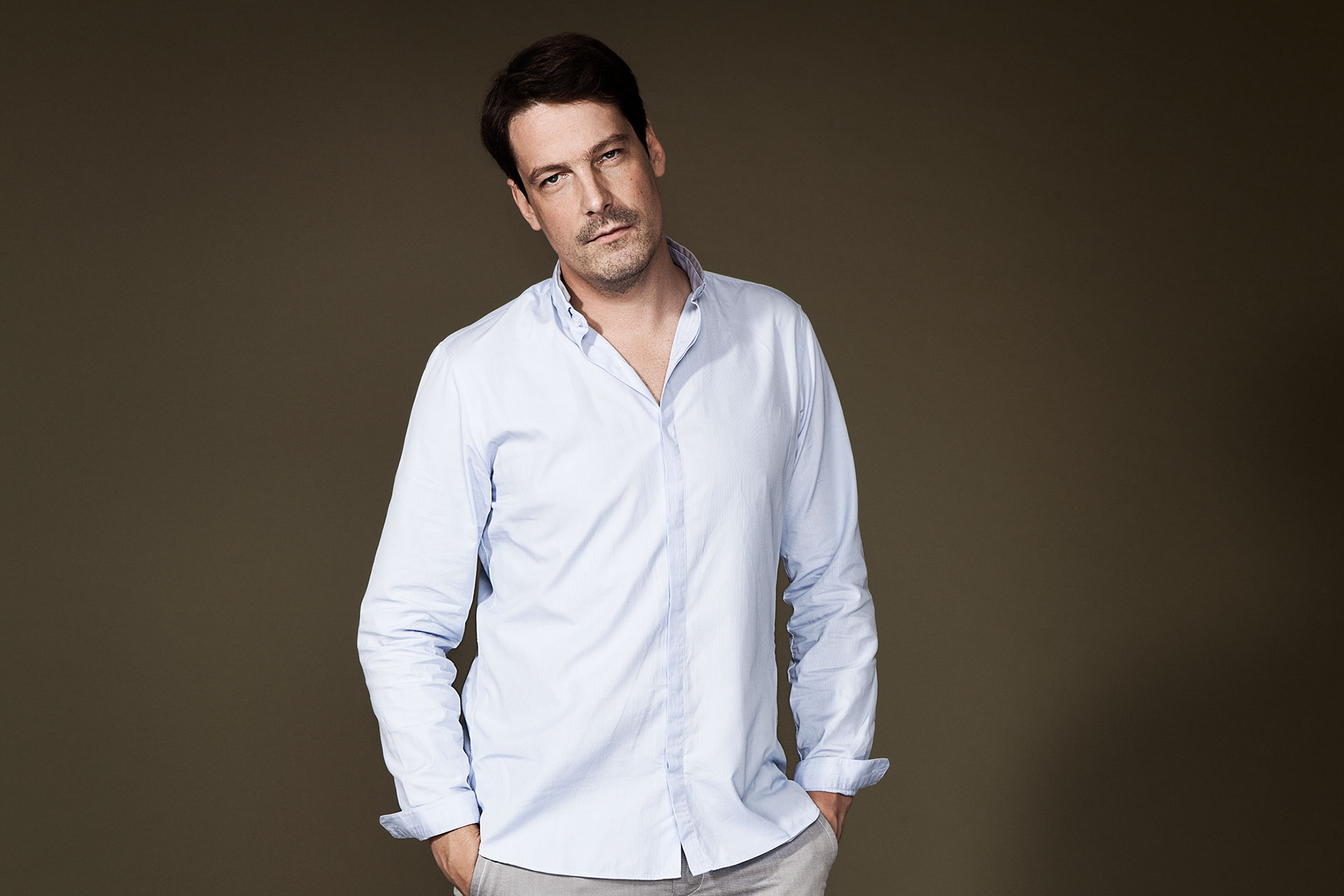 Gregory Bruttin – Product Director at Roger Dubuis
Bruttin, a well-known figure at the company and across the entire industry, has been with Roger Dubuis for over two decades. Armed with a mischievous charm and easy-going attitude, he admits his first and foremost passion is skiing. Watches, however, is an area in which he certainly excels. With experience working for horological giants including F.P Journe, Rolex, and Patek Philippe under his belt, what is it that made him settle at Roger Dubuis – a far less traditional establishment than his previous employers? 'I'm very young and need to be with an equally young brand,' he jokes. 'No, the reason is that at Roger Dubuis, we have the possibility to write our own story. If you are in an older company, the DNA is very strong and it can be challenging to create a new identity or new concepts.'
Roger Dubuis and Lamborghini talk design
When it comes to design at both Roger Dubuis and Lamborghini, it seems that recognisability is key. Mitja Borkert is Head of Design at Lamborghini, yet compares himself to being 'like a child'. The reason for this is that he is drawing – at the airport, at cafés, in the office, waiting for the train – constantly. Born in East Germany in 1974, the design engineer rose from the realm of slow-moving Trabis to becoming Director of Exterior Design at the Porsche Design Centre. Borkert took on the role of Head of Design at Lamborghini back in 2016. Armed with wisdom gained at the most revered automotive manufactures in the world, Borkert is happy to share his recipe for creating a successful supercar design.
Shape and silhouette
'As with watches, supercars need to stand out from the others', says Borkert. 'Here at Lamborghini, silhouette is of particular importance. Straight lines and minimalism both play a role in this.'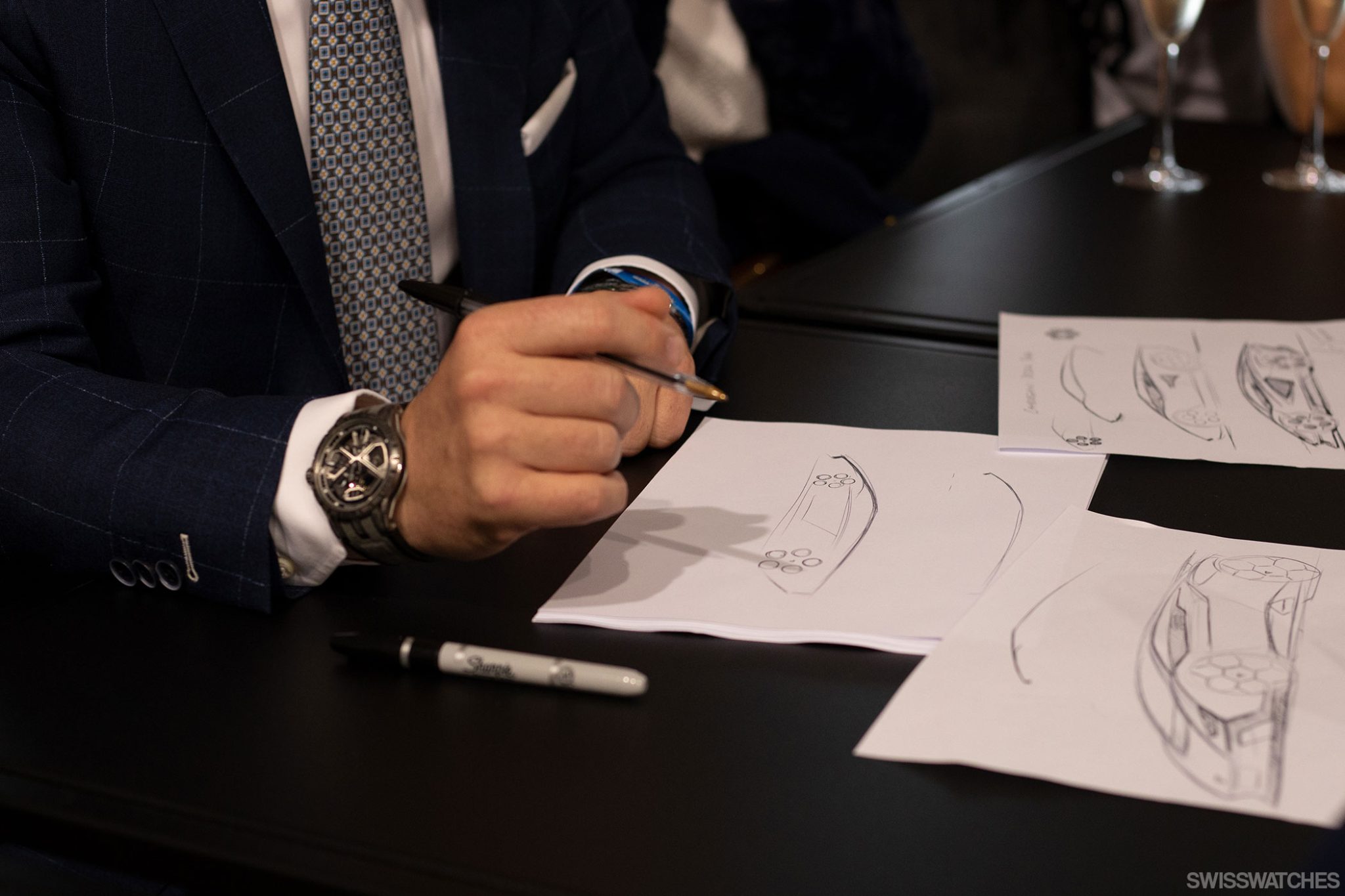 The Head of Design at Lamborghini can't be kept away from his sketchpad
Shape is also important for Borkert. The predominant shape in many of Lamborghini's designs is the hexagon. Back in the 1960s, explains Borkert, the hexagon was a sign of the future; this was a time in which the Concorde was taking off, men were going to the moon, and anything seemed possible. It was during this era that Lamborghini adopted the hexagon as a futuristic symbol. It first appeared in a concept car back in '67, in the Marzal. The hexagonal shapes in that model would endure in Lamborghini's automotive designs to this day.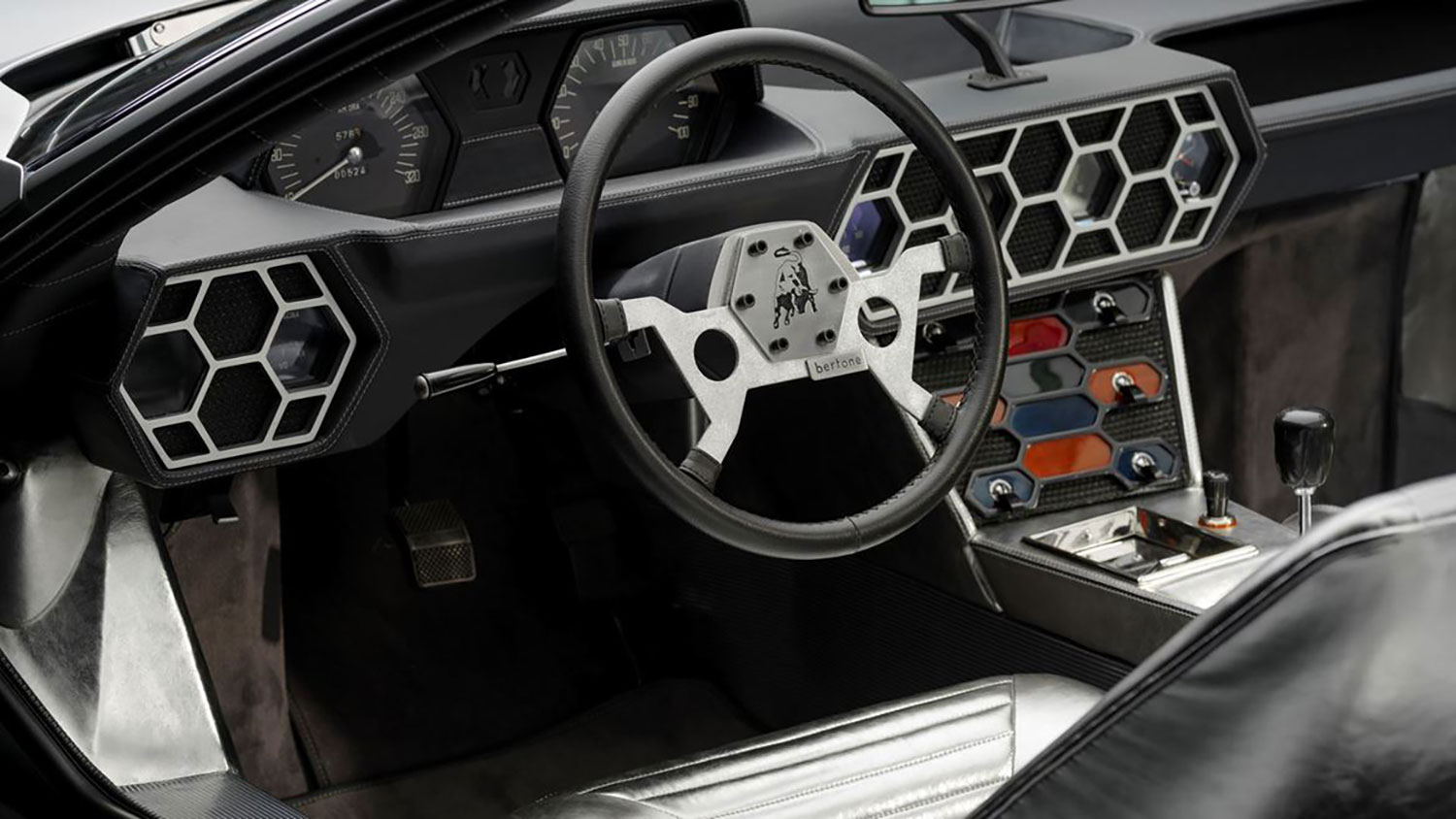 The Lamborghini Marzal interior sparked inspiration for the hexagonal
motif now present in many Lamborghinis
Credit © Maynard's Garage
Prioritising performance
When it comes to looking at a Lamborghini, distance also plays an important role. 'You want to have maximum impact on people,' explains Borkert. 'You want the car to be unmistakable, even from far away. Every line in each design has a consequence. Every surface must be high performance.'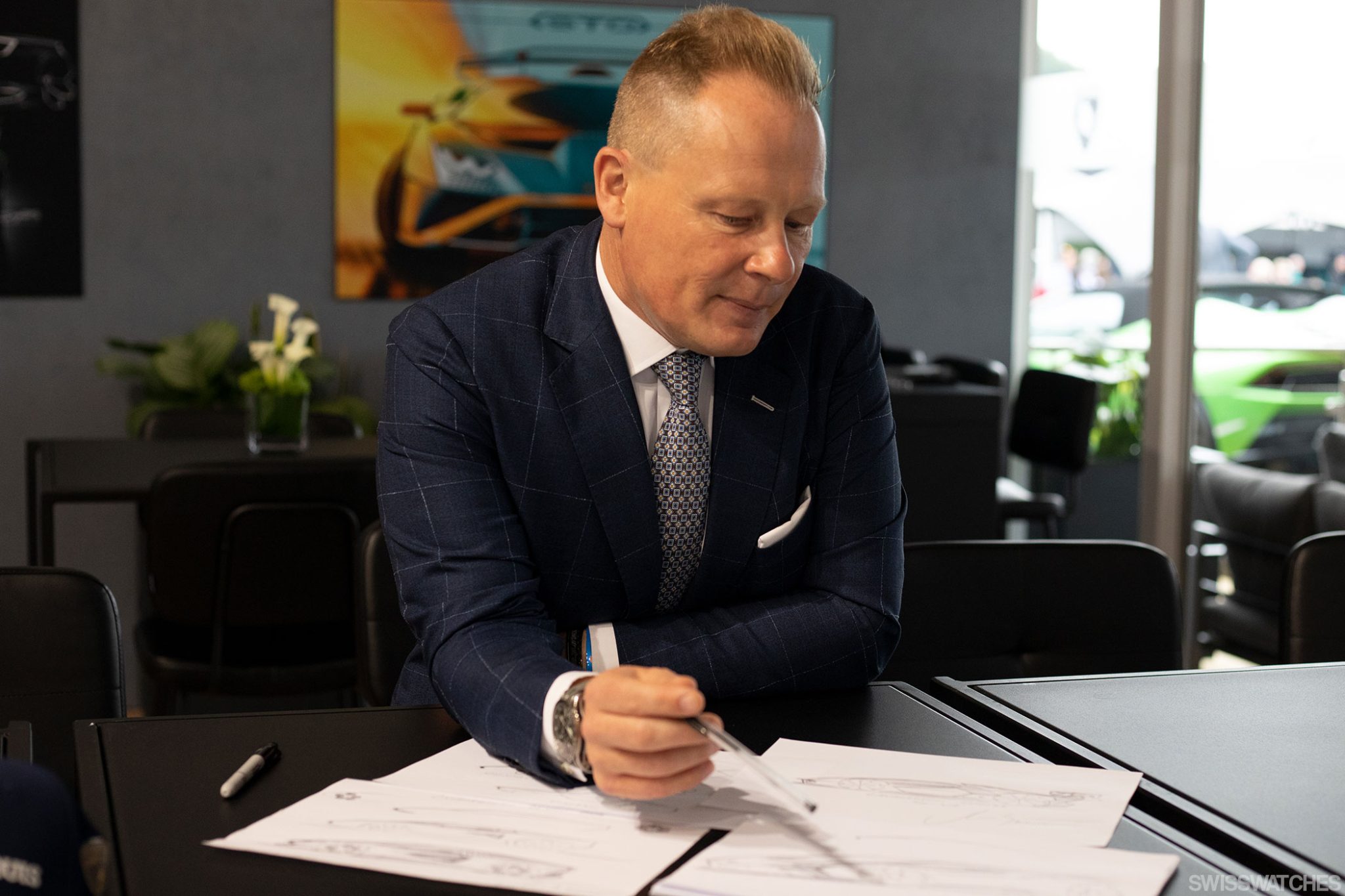 With that in mind, what role does the ever-referenced Bauhaus principle of 'form follows function' play? 'At Lamborghini, I would never say that form follows function,' counters Borkert. 'It's all about shaping the performance. Our basic shape is first and foremost defined by working with the wind.'
At Lamborghini, it's essential for the designers to have a strong affinity with the engineering as well as the aesthetics, meaning they must not only have a background in design, but also a deep understanding of the factors contributing to a supercar's performance. 'Working in design at Lamborghini is a complex, challenging, but fulfilling job,' concludes Borkert.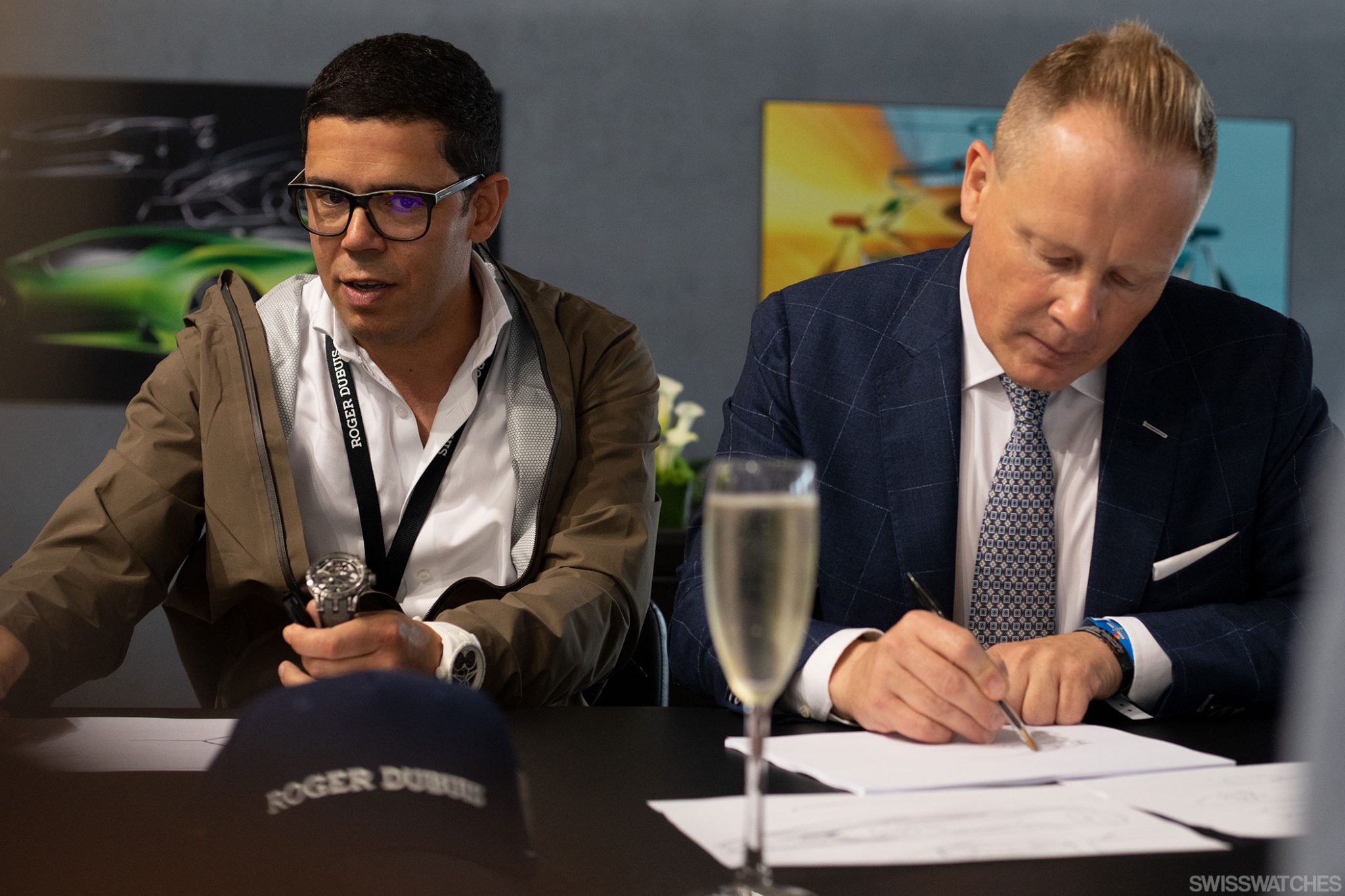 Side by side: Roger Dubuis' Sadry Keiser with Lamborghini's Mitja Bokert
Speaking of defining designs, Roger Dubuis often uses the shape of star. Yet, as explained, Roger Dubuis also takes a fair amount of inspiration from its partner. As with the supercars, the design of Roger Dubuis' watches boils down to two key focus points: performance and structure. These days, Roger Dubuis watches tend to be skeletonised, revealing the innermost parts of its complex movements. 'It's all about how you connect the layers – kind of like a sandwich,' says Keiser. 'The structure has to be constructed in a very specific way'.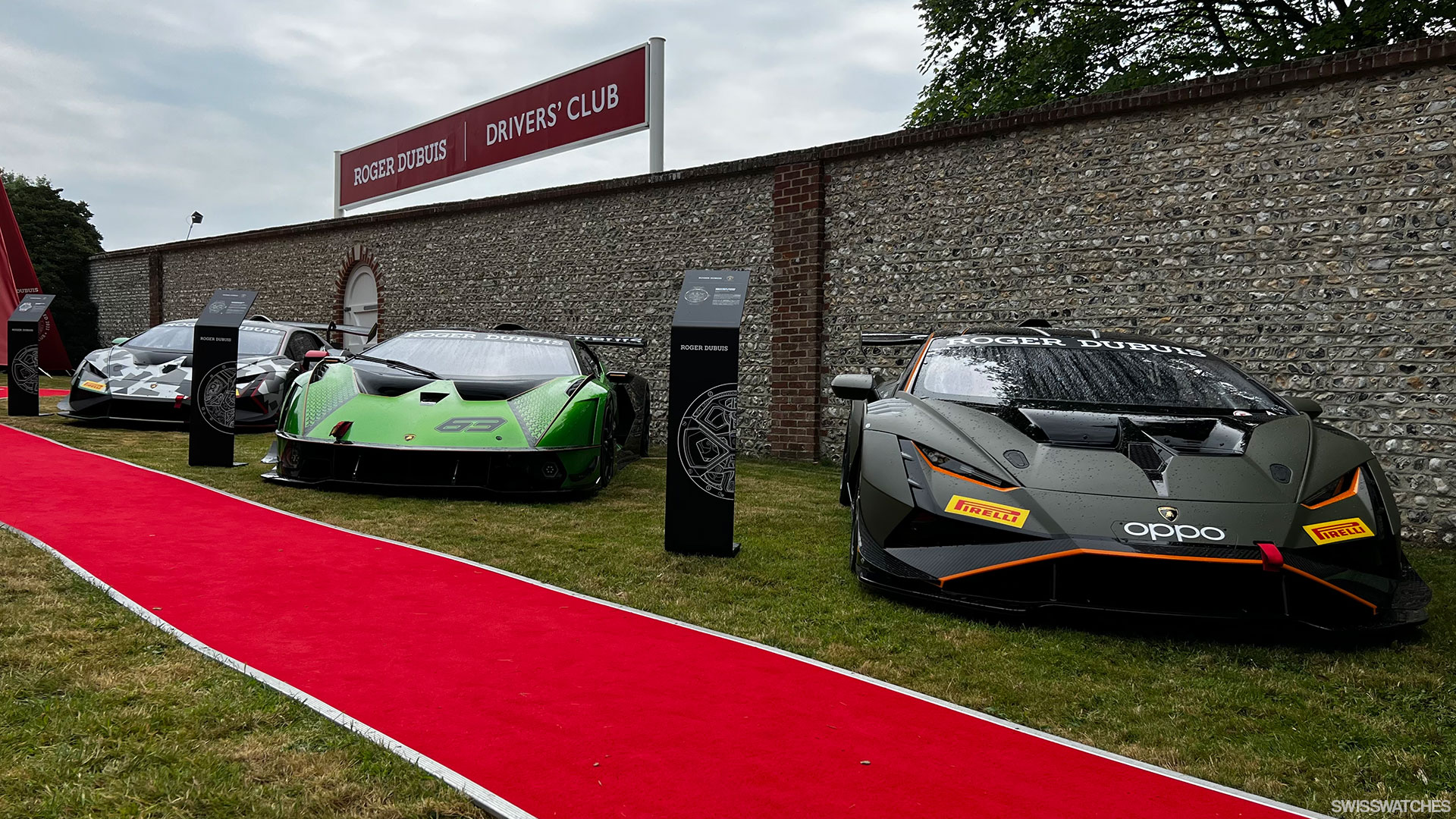 Materials and colours
Another hot topic at both Roger Dubuis and Lamborghini is the use of new materials and the colours these can produce. 'The aim of both brands is unlimited personalisation. My personal dream is for every Lamborghini to be unique,' enthuses Borkert. 'With the way technology is advancing, with the likes of 3D printing, this is actually becoming possible.'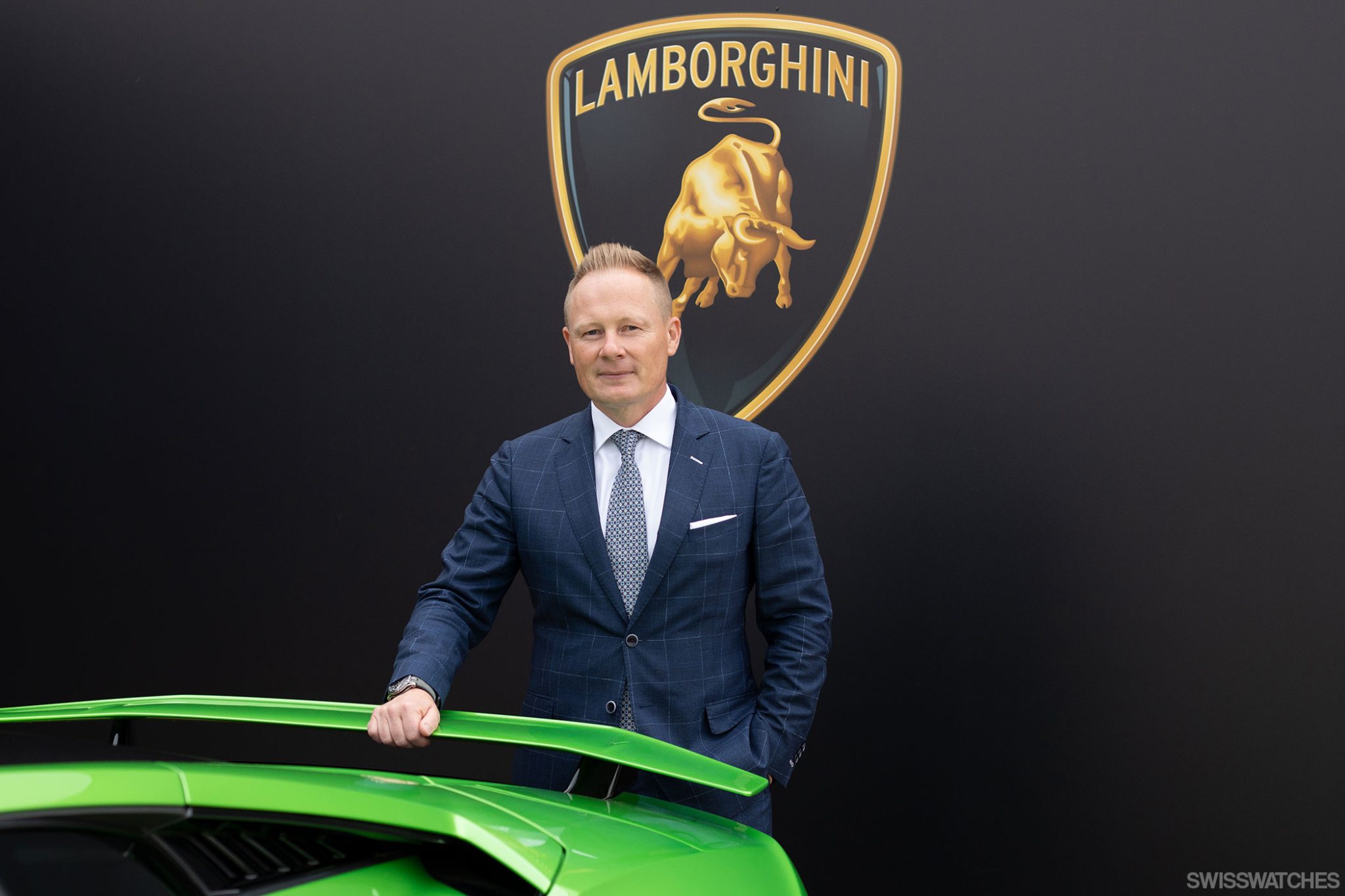 Mitja Borkert – Head of Design at Automobili Lamborghini
Lamborghini is also highly invested in providing an array of colours for its clients, with the manufacture currently offering over 400 different options for its cars. New colours are worked upon every single week. For Borkert, it's all about emotional performance: 'We want to inspire people through colour.' RD's Keiser nods in agreement. 'It's the same principle at Roger Dubuis. Colour is a way to enhance your own character. Colour, shapes, small details: all of these elements allow clients to put their own emotions into our products.'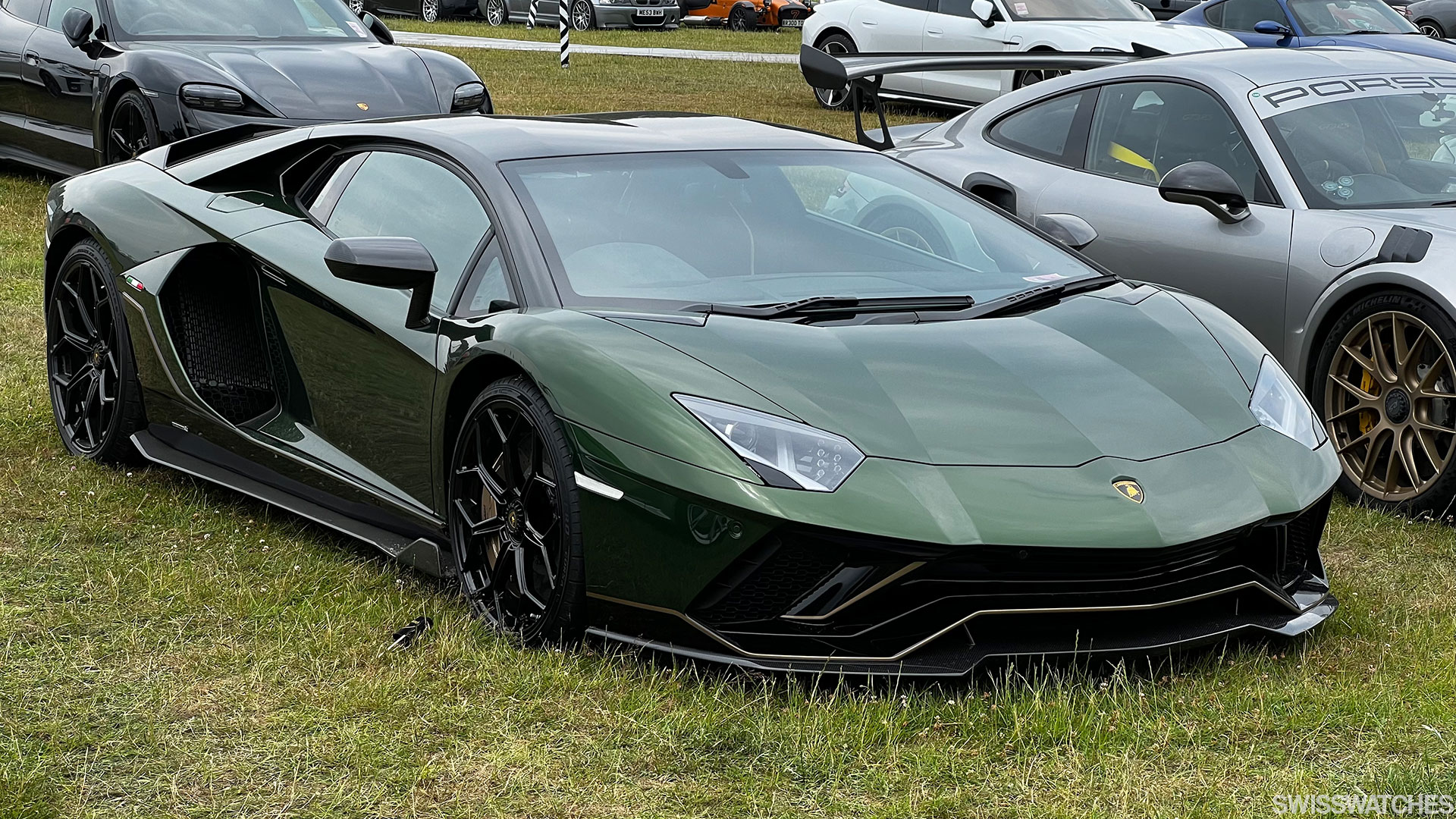 Roger Dubuis Excalibur Spider Huracán Monobalancier
The most pivotal moment for Roger Dubuis' debut as Official Timekeeper of Goodwood Festival of Speed was the launch of its new watch: the Roger Dubuis Excalibur Spider Huracán Monobalancier. Consisting of 88 pieces and costing 64,000 euros, the watch makes up a part of Roger Dubuis' Excalibur Spider collection.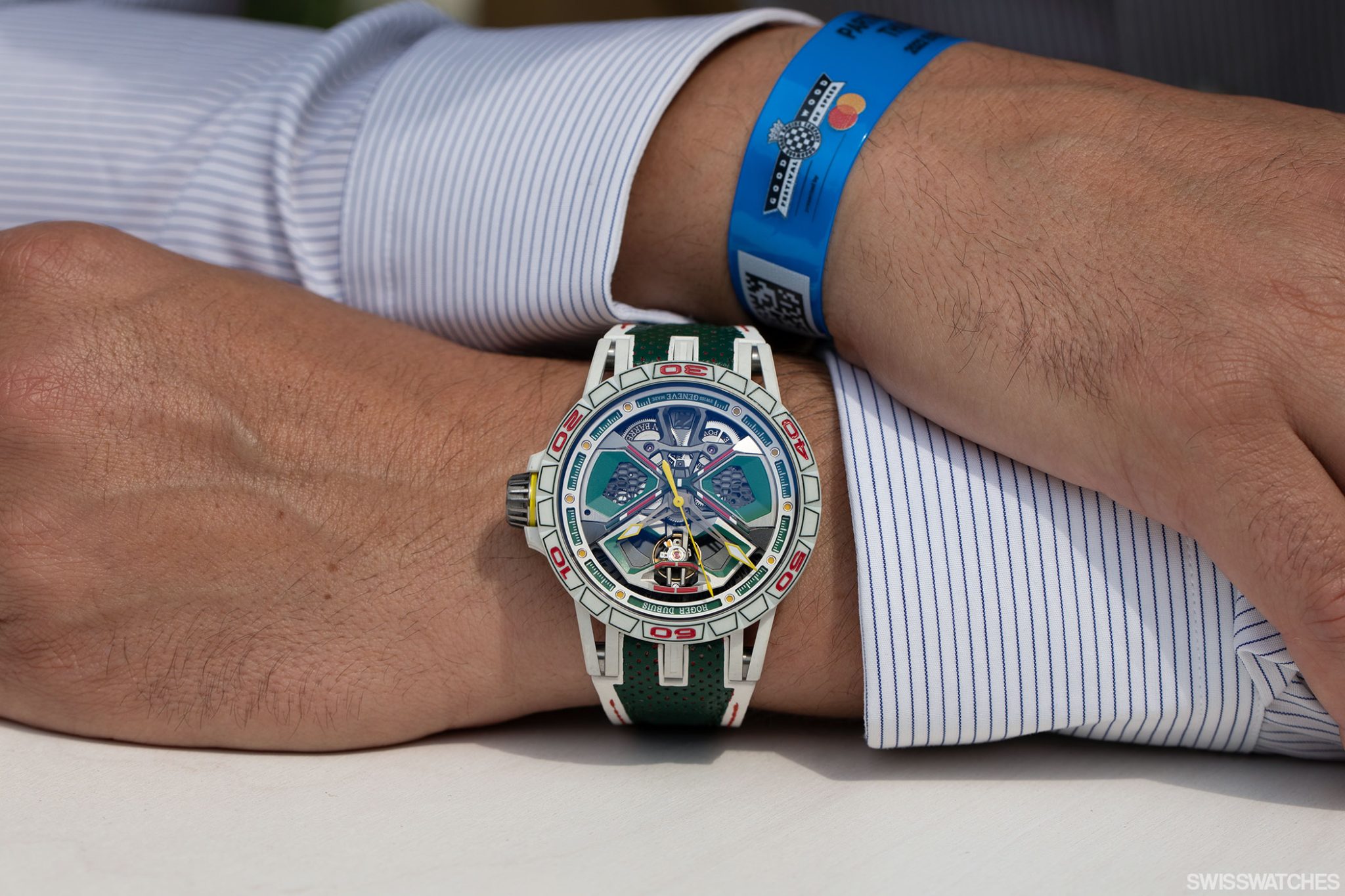 Roger Dubuis Excalibur Spider Huracán Monobalancier
As mentioned, this line generally centres itself around motorsport: Lamborghini as well as Pirelli. The collection is really about experimentation and pushing the limits by using more daring case materials such as carbon. In the case of the new Monobalancier, the 45 mm case is made from mineral composite fibre. Roger Dubuis only use this patented material in one other watch, the high-profile Excalibur Twofold from 2020.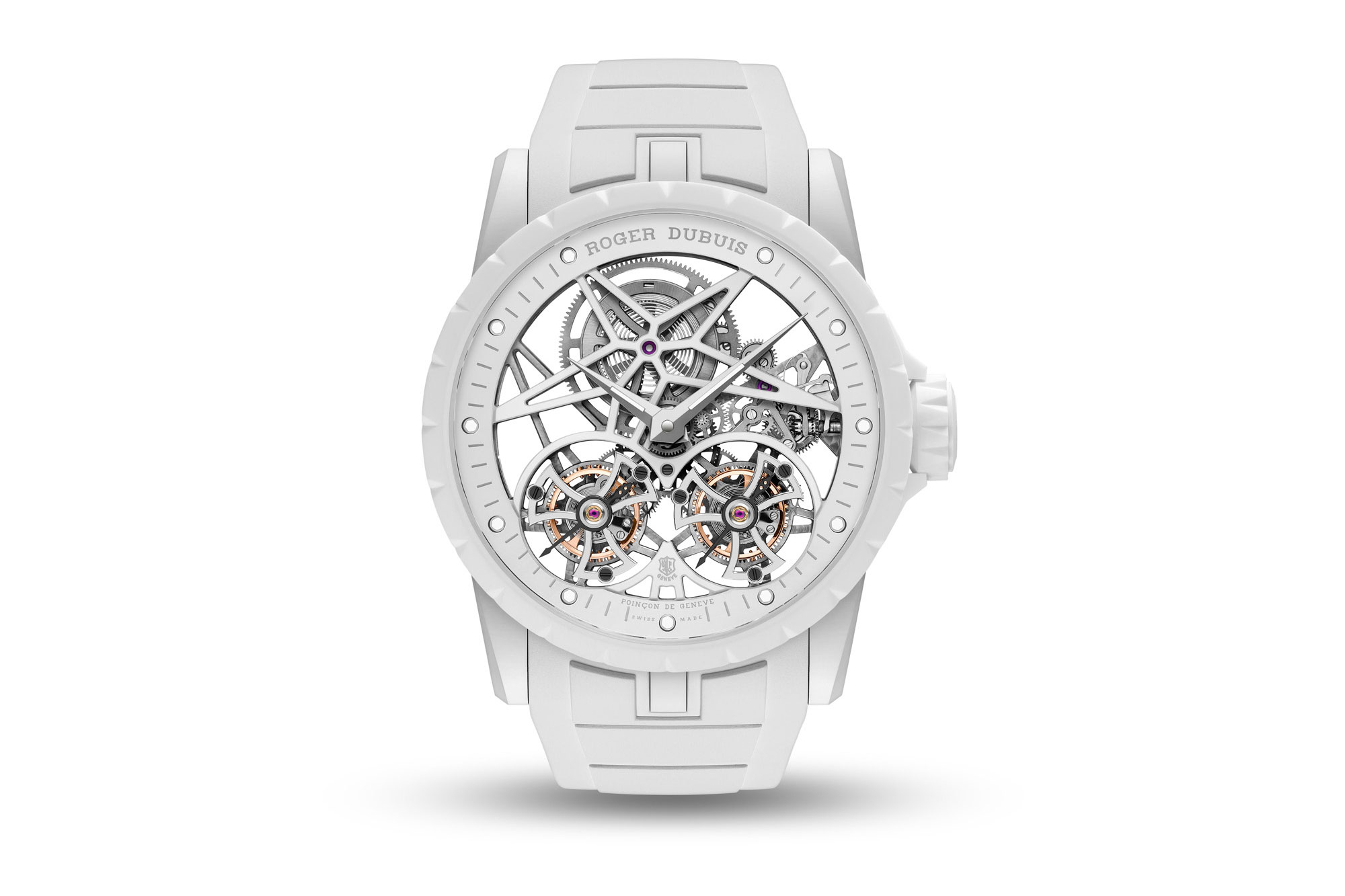 Creating Mineral Composite Fibre
Creating mineral composite fibre is no easy feat. Fortunately, Lamborghini specialises in composite carbon, meaning Roger Dubuis found some help along the way. The main selling point of this material is that it is not affected by UV rays, which tend to turn white composites yellow. Roger Dubuis counteracted this issue by creating a silica-based mineral composite fibre recipe. The result is a material that not only stays white, but is also at least 2.5 times lighter than ceramic and 13 percent lighter than most carbon materials. As Bruttin explains, these are all vital elements that a Roger Dubuis watch should be offering.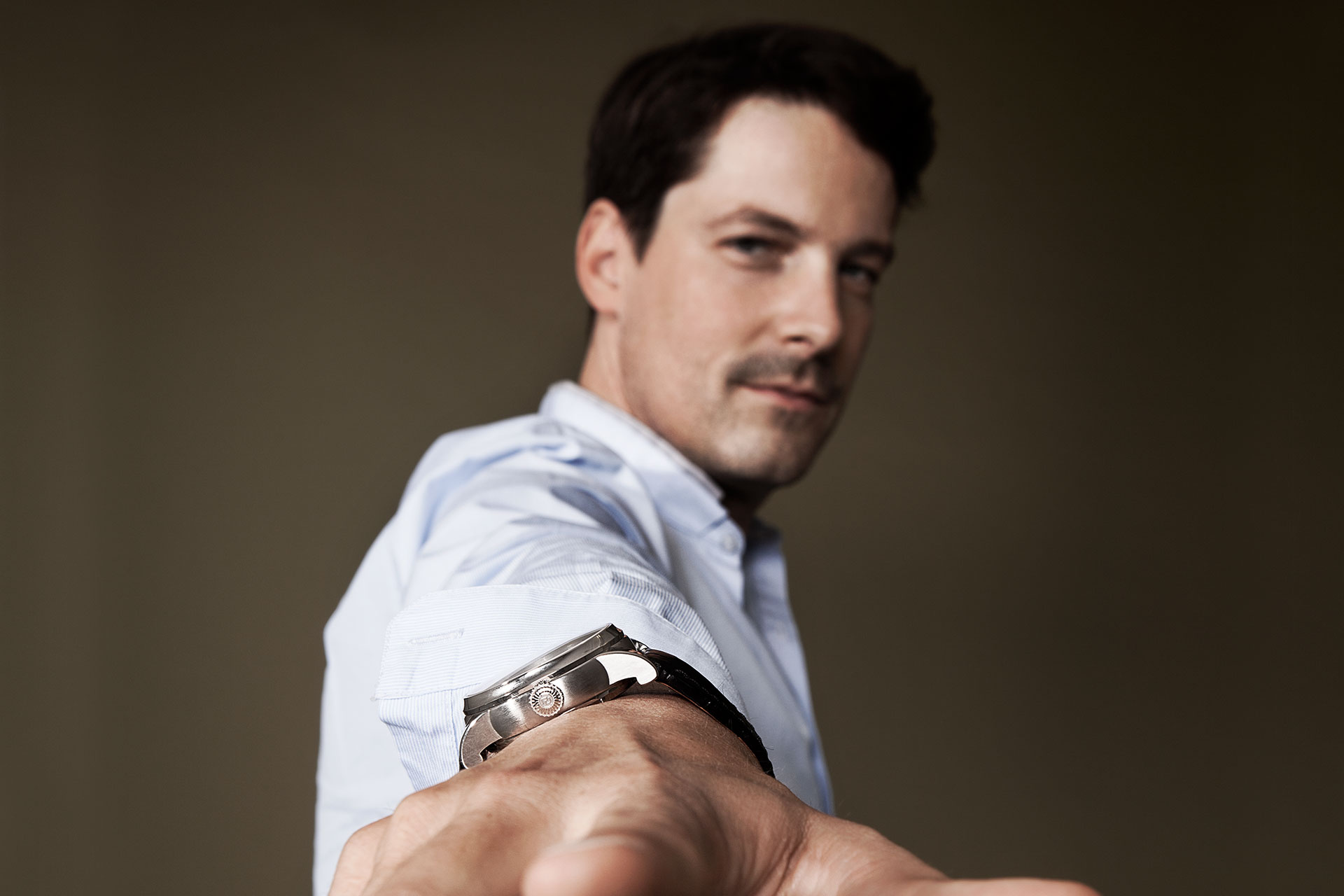 'When we develop materials, we have three particular elements in mind,' explains Bruttin. 'Firstly, there is the aesthetic. People observe how their watch material changes over time. Secondly, the resistance of the material is important because a timeless product should last forever. Thirdly, there's the matter of lightness. Lightness is really important from a comfort perspective.' The white mineral composite fibre Roger Dubuis developed with Lamborghini evidently combines these elements. Not only is it UV resistant, but also, as I can attenst light, and very comfortable. Creating a product that can stay white is certainly not easy, though.'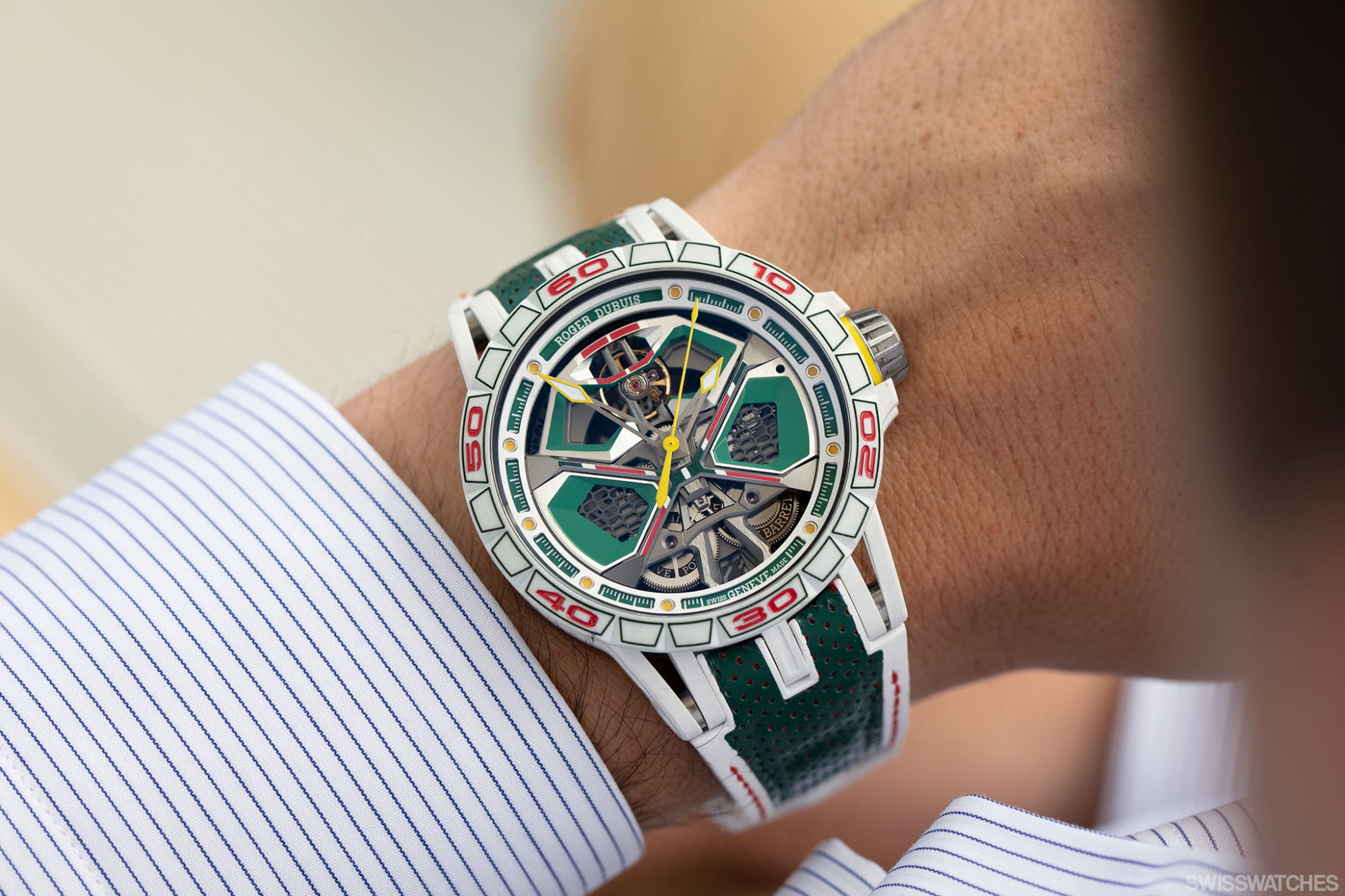 'The most challenging element is the UV,' continues Bruttin. 'It's like being a chef in a kitchen. You know, you have the recipe in front of you. You have the ingredients. But it's all about how you combine the ingredients into the recipe. In terms of creating materials, you have to consider specific aesthetics and technical properties, then consider how to put these factors together. Then you go back and forth, modifying the recipe. Like a chef, you can always keep on changing your recipe; it need not be finalised. The whole process is totally worth it though. It's very important to produce materials on this level if you are to be a trendsetter.'
The GT3 Evo2
The colour scheme of the new Monobalancier watch is a tribute to the Lamborghini GT3 Evo2. The dial reflects this with its coloured red and green structures, as well as the honeycomb pattern often found on Lamborghinis. At 12 o'clock, the balance wheel is on display, evoking the engine of a supercar. Visible via the caseback, the entire movement (calibre RD630) features a skeletonised rotor in the style of a Lamborghini rim.
Roger Dubuis Excalibur Spider Huracán Monobalancier
But what is so special about the GT3 Evo2 that Roger Dubuis made a watch in its honour? For one thing, the GT3 Evo2 is the racing car Lamborghini competes with in some of the most challenging races around the globe. It was designed and developed by Squadra Corse of Sant'Agata Bolognese based on the Huracán STO, with which it shares important design elements: in particular, rear-wheel drive only and a naturally aspirated V10 engine, which in the road version delivers 640 horsepower.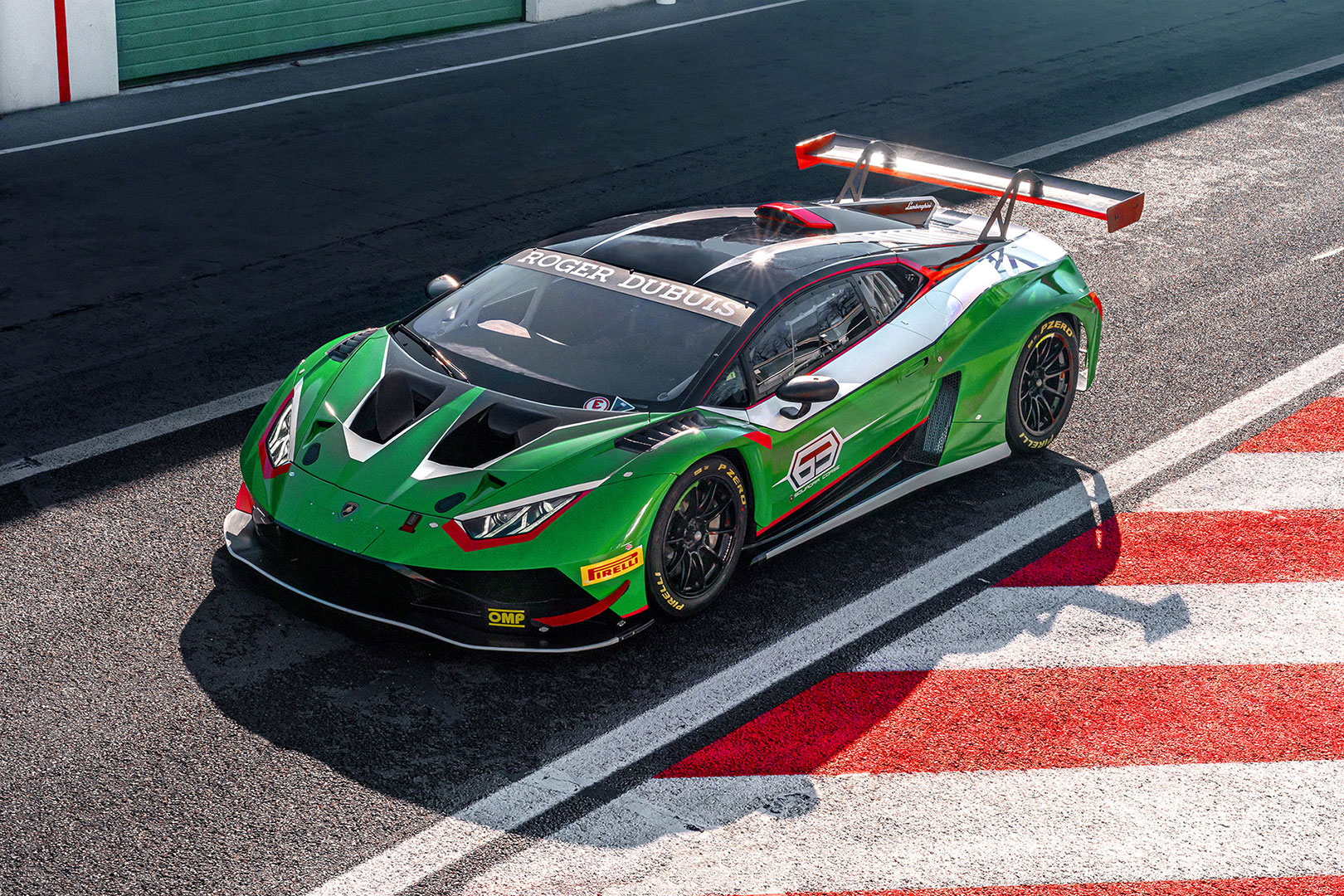 Lamborghini Huracán GT3 EVO2
'Lamborghini Squadra Corse is always raising the bar higher when it comes to new technologies and testing them on the racetrack to bring them into our series production super sports cars,' says Bravo. 'This makes them a crucial component of the success story of Lamborghini in the recent years.'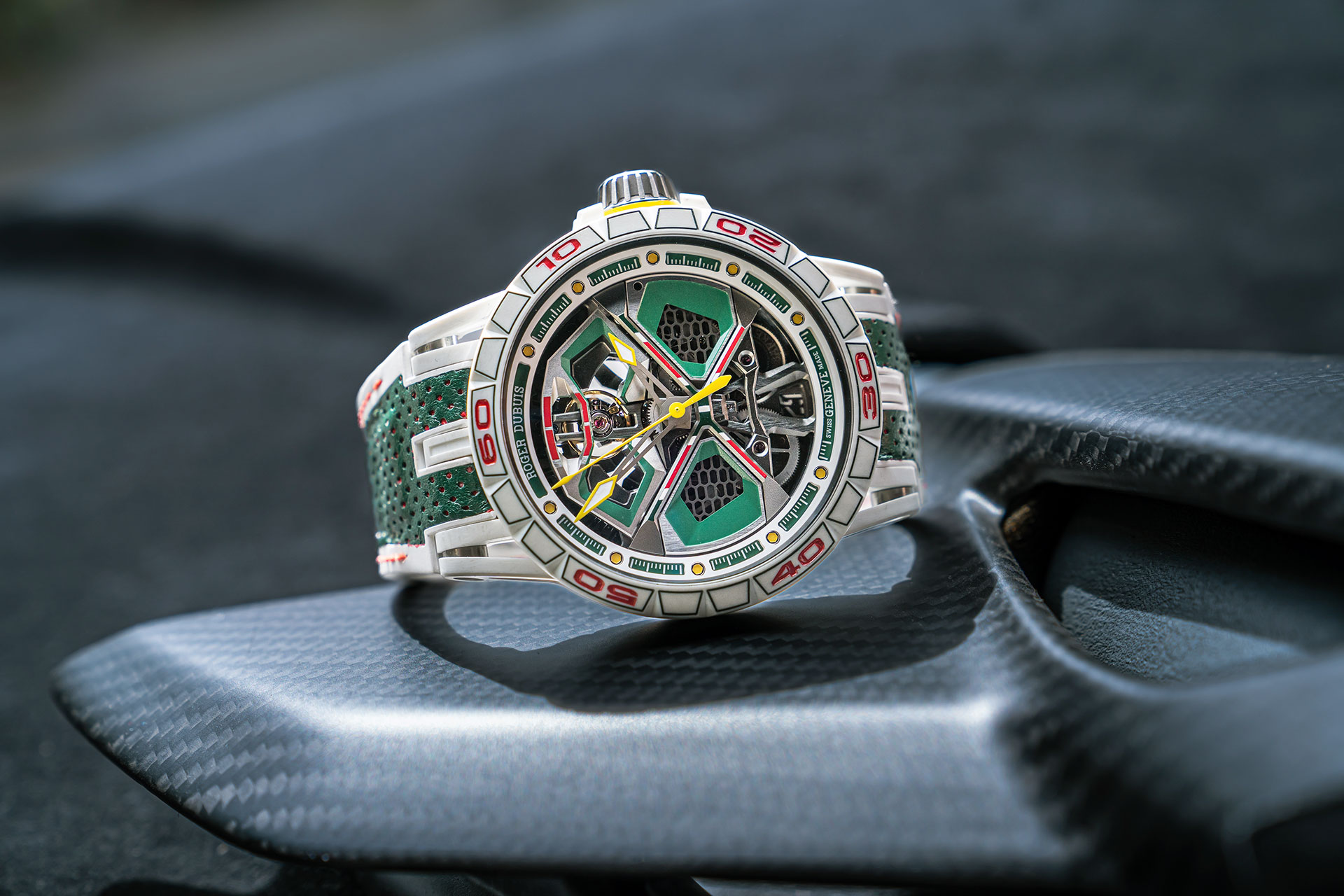 Goodwood Festival of Speed: A success story
As our time at Goodwood comes to an end, Sadry Keiser shares his thoughts on Roger Dubuis' first stint at Goodwood Festival of Speed. 'It was definitely a success. Not only was this a world premier, but also an opportunity for us to discover new dynamics as well as the world of passion that goes with it. If you've never been to Goodwood before, it's impossible to capture the energy and atmosphere. It's such an open-minded place, varying from people interested in rallies and hypercars, to those invested in what could be future electrical performance hybrids. For us, it's very inspiring to work out how we can project ourselves within this dynamic, as well as gaining understanding when it comes to new technologies.'
During our time at here, the Swisswatches' team observed that numerous visitors were curious to discover the big red stand belonging to Roger Dubuis, tentatively poking their heads into the contemporary space. 'We do share the same passion as the visitors. The visitors are all very happy to discover what we are doing. Events like these are full of people who want to discover new things.' says Keiser.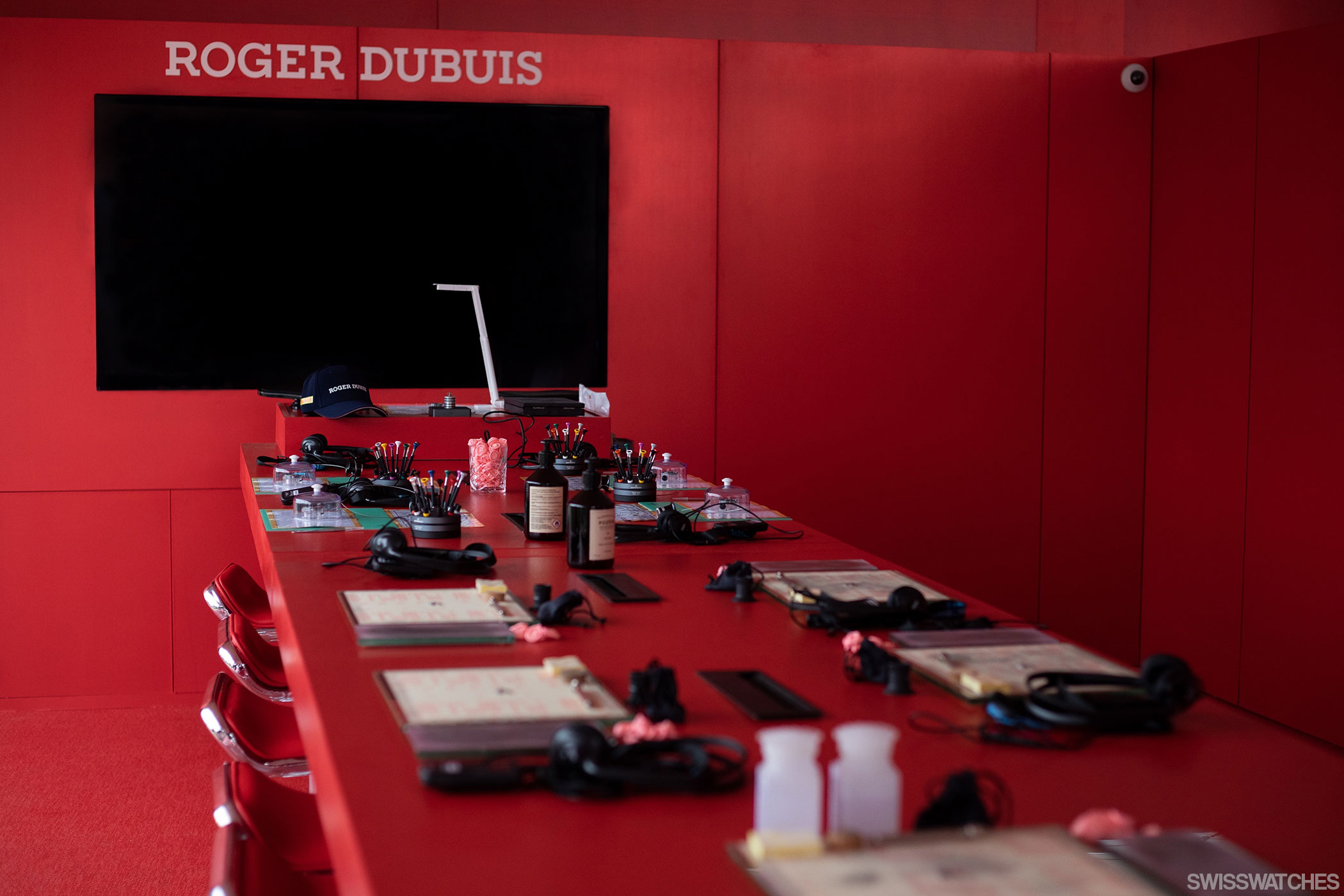 Nevertheless, Keiser admits that there was a certain level of stress coming to Goodwood because the watch manufacture was basically in discovery mode. 'Now we understand the mood, we can transform it into something that matches our own style and go home with a much clearer vision. The learning curve has been exponential. We are really looking forward to next year because we understand the energy here – and it can certainly be turned into something very interesting.'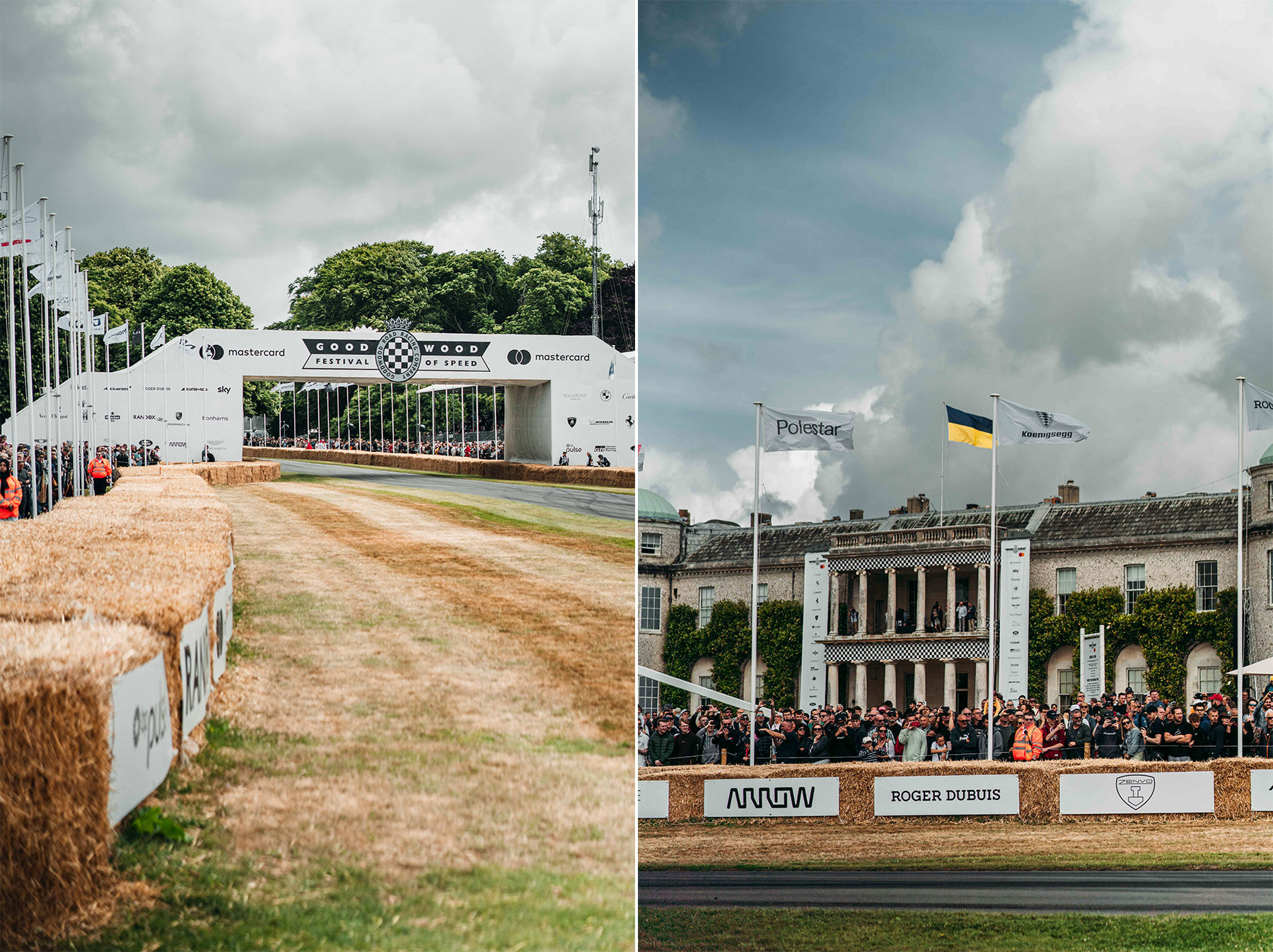 Leaving Goodwood, I reflect upon the fact that Roger Dubuis was a man of mechanics himself. Perhaps this, too, plays a role in the watch manufacture's collaborative decisions today. The founder was the proud owner of a Jaguar, which, Gregory Bruttin supplements with one last smirk, unfortunately spent most of its time being fixed in the garage. If Roger Dubuis could see the brand today, fuelled now by some of the most prestigious hyper cars and boundary-pushing materials in the world, he'd know his legacy is in very safe hands.
---