When it comes to the LVRR-01 Chronographe à Sonnerie, it's a tale of opposites: an artisanal workshop tucked away in Geneva and the largest luxury lifestyle brand on the planet, coming together as one. When Louis Vuitton x Akrivia announced that they would be collaborating to create a new watch, we questioned how these vastly different brands could come together with a sophisticated timepiece. Yet, with the LVRR-01 Chronographe à Sonnerie (a chiming chronograph with tourbillon), you might say they've done just that. But how – and why?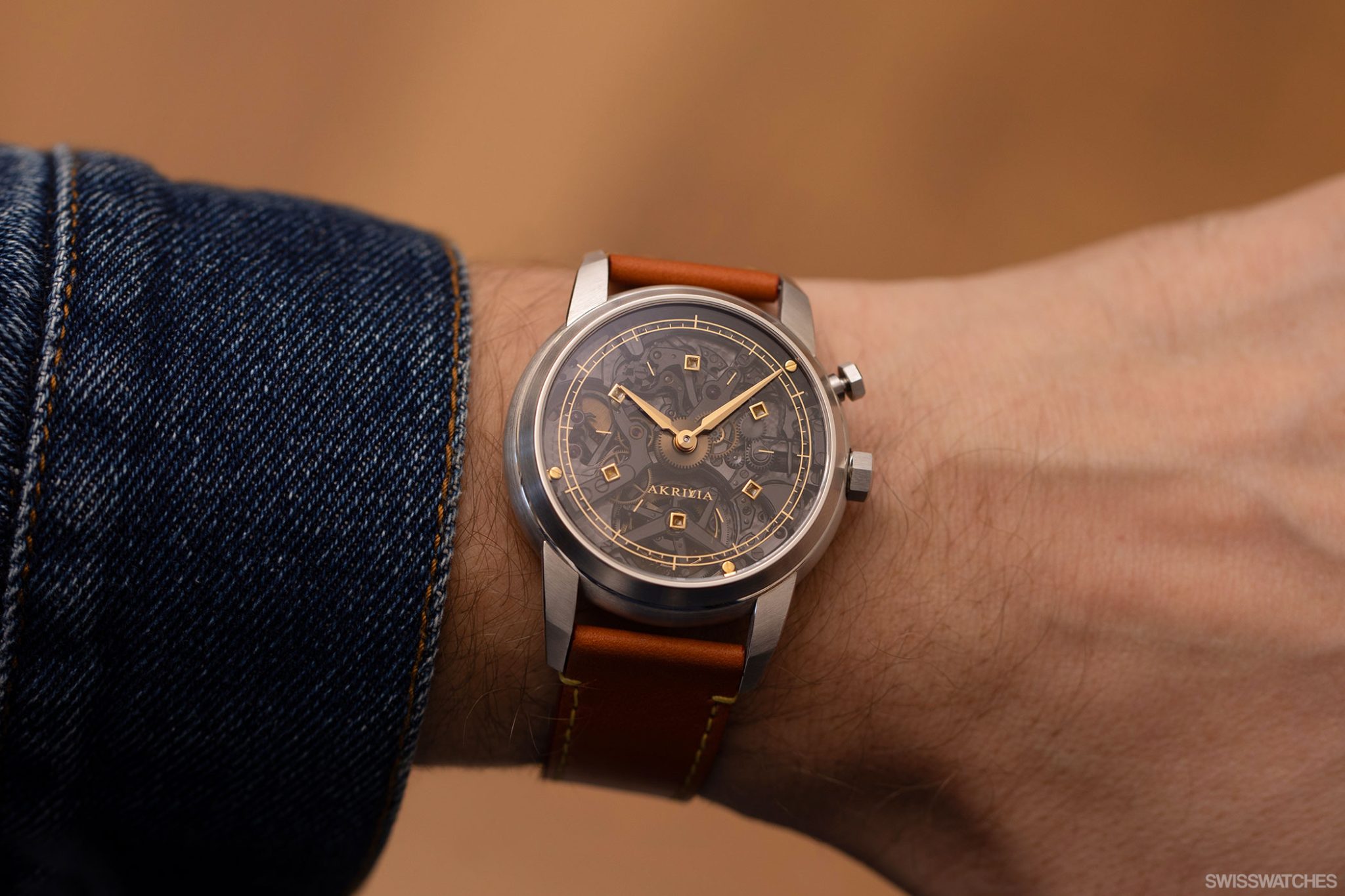 ---
An affiliation with independent watchmakers
---
As we learned in our recent interview with Rexhep Rexhepi, this is not a man who particularly enjoys collaborations. This is, in fact, the first time he's agreed to do something like this. One reason for taking part in the project is the fact that it puts Rexhepi on the map as the very first to partake in Louis Vuitton's five-year plan of collaboration with fellow watchmakers to help fund the LV Watch Prize, a scheme that supports independent watchmakers. Swisswatches first became acquainted with Akrivia in July 2015, only three years after its founding, so we are perfectly aware – and as Rexhepi freely admits – that things weren't easy for the atelier to begin with. Furthermore, having previously worked for the once-formidable BNB Concept, Rexhepi knows just how easily it is to crumble in this high-stake yet extremely lucrative luxury sector. In this sense, Rexhepi's participation seems largely born out of his own empathy for the plight of the independent watchmaker.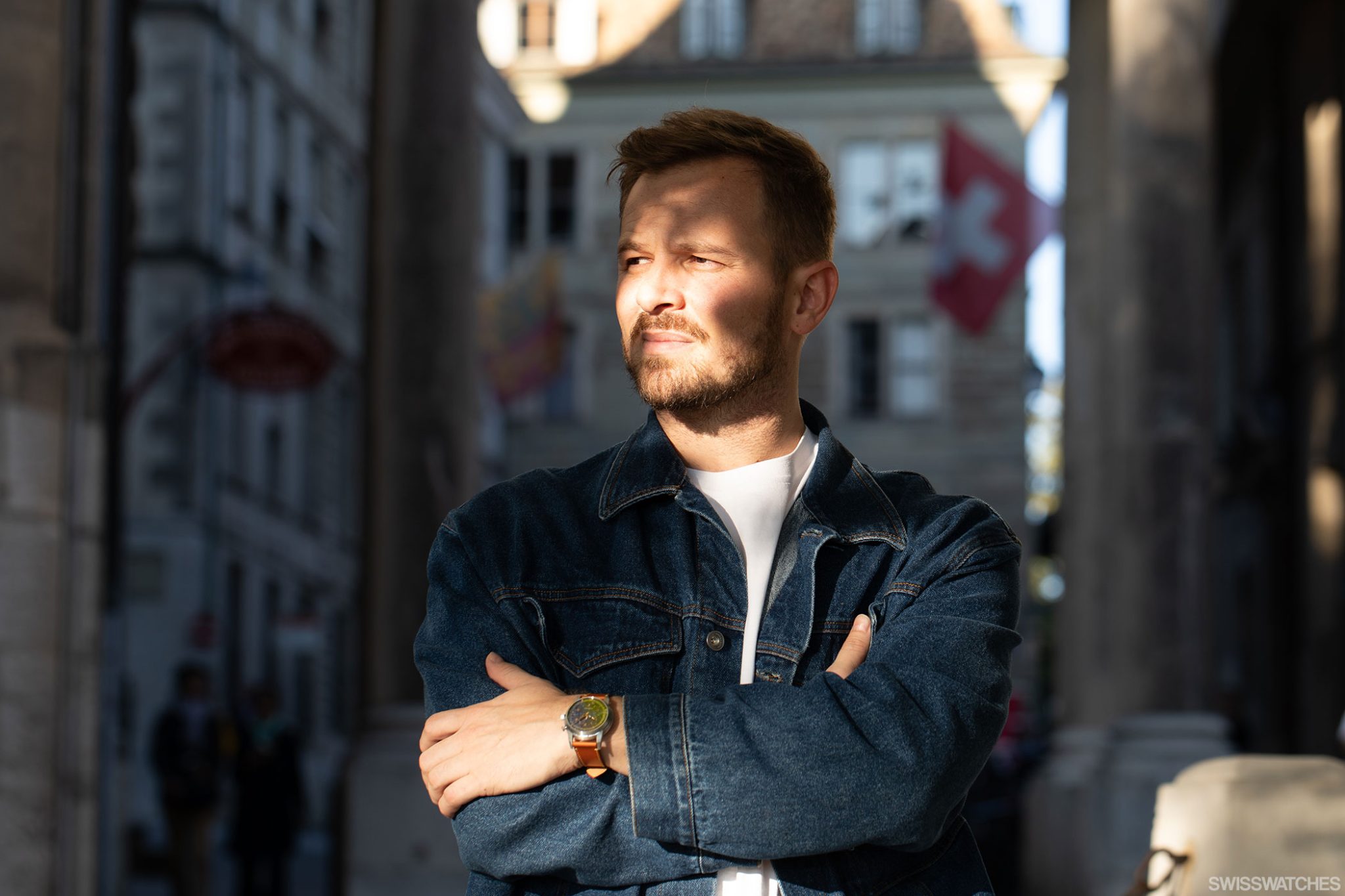 Rexhep Rexhepi
---
A close friendship: Rexhep Rexhepi and Jean Arnault
---
A second reason for the partnership also boils down to human relationships: more specifically, the friendship between Rexhep Rexhepi and Jean Arnault.
Rexhep Rexhepi stands out in the industry in the sense that, unlike many in the field of luxury Swiss watches, his upbringing was far from easy. Born in 1987, the Kosovan watchmaker's mother left when he was only three years old. His father left to work in Switzerland almost a decade later, leaving Rexhepi to live with his grandmother. Forced to flee the brutal Kosovo War for Switzerland aged 12 and struggling to assimilate, he nevertheless signed a contract with Patek Philippe aged 14, started his apprenticeship with the horology house at 15, and remained there for the next half a decade. He would often buy and decorate ETA movements, a skill he had become specialised in during his time with Patek. True to his anti-collaborative spirit, if you will, Rexhepi started Akrivia in 2012 using his own savings, rather than turning to investors. It was the best of the times, it was the worst of times: a young man in a foreign country launches a niche company in one of the world's most exclusive cities, yet chases his long-standing dream of becoming an independent watchmaker.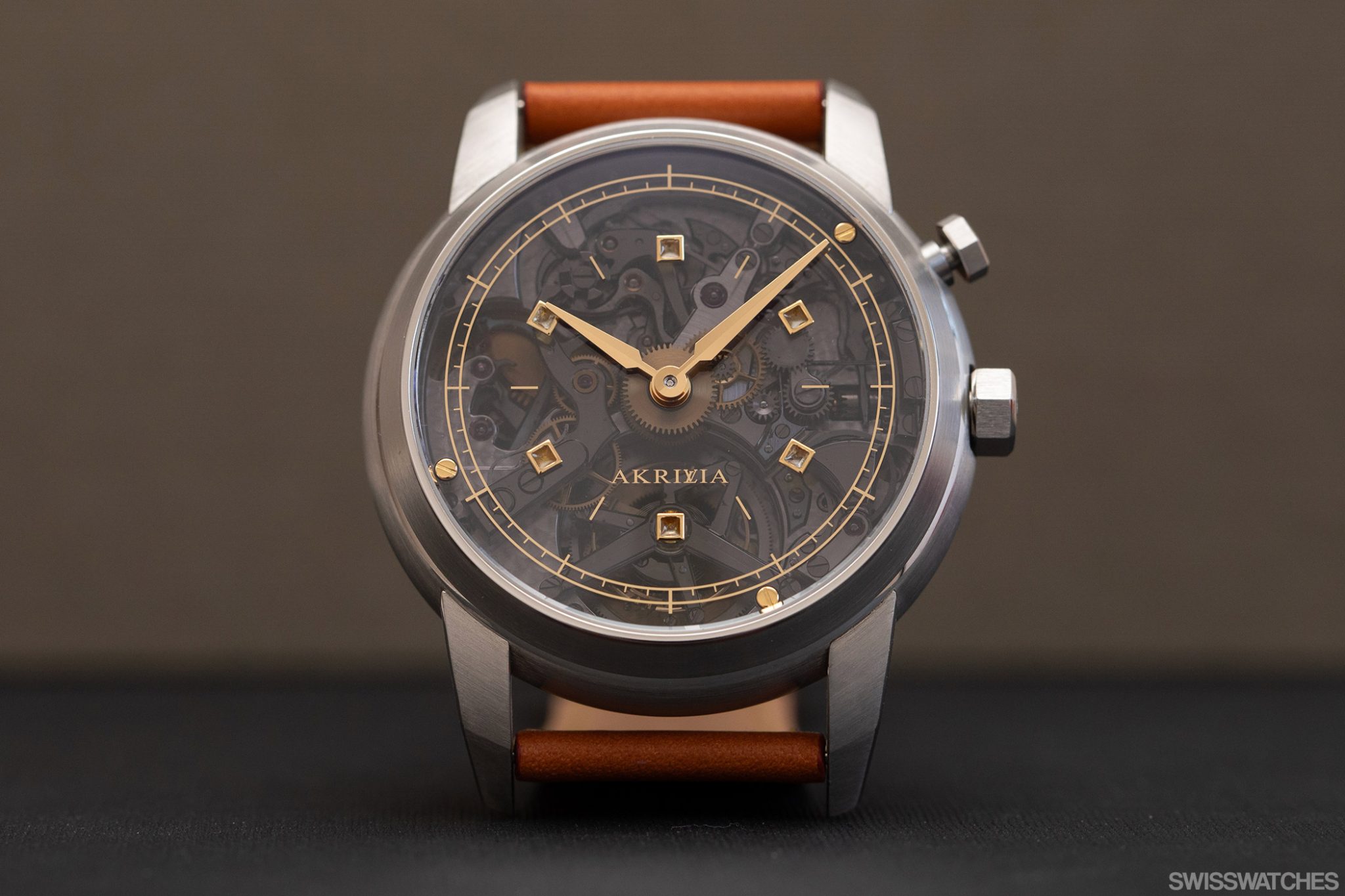 Then there's the other face of the collaboration: Jean Arnault. As the youngest son of the world's richest man [LVMH CEO Bernard Arnault], it's fair to say that Arnault's background is a world away from Rexhepi's. Alongside his studies at Imperial College London and MIT in the USA, Arnault did a brief stint at Louis Vuitton working in Sales six years ago (aged 19), before moving onto respective summer internships at McLaren and Morgan Stanley. He became Director of Marketing and Development in Watches at Louis Vuitton about two years ago. Cynics who might have questioned both his age and experience have swiftly been proven wrong. Since taking up the post, Arnault has commandeered the brand's watches and the accompanying La Fabrique du Temps, first acquired in 2011, into a new era. Most notably, Arnault recently brought the brand's iconic Tambour watch into its next generation with a much-refined new model that simultaneously set a new standard for all future LV watches to emerge from the manufacture. Furthermore, during his tenure, the brand has bought up formidable watchmaking names, chiefly Gerald Genta and Daniel Roth. It is this courageous yet astute approach to the job that has won over the respect of Rexhepi, in his words, 'man to man'. Ultimately, this collaboration is not so much a business deal as an agreement between two people who hold each other in very high regard.
---
LVRR-01: A win-win situation
---
But for the cynics out there: this collaboration is also perhaps a two-way street. Many independent watchmakers dream of working alongside brands privy to endless resources like those held by Louis Vuitton and La Fabrique du Temps. Just imagine: what might George Daniels, who famously shared his coaxial escapement with Omega, have made of such a collaboration for his modest yet vital British watchmaking workshop? Are these collaborations, not least in today's climate, something that independents cannot decline? According to Rexhepi, he prefers for his brand to think in the long term, prioritising the legacy his watches should leave down the line. A Louis Vuitton x Akrivia watch would certainly be one for the books.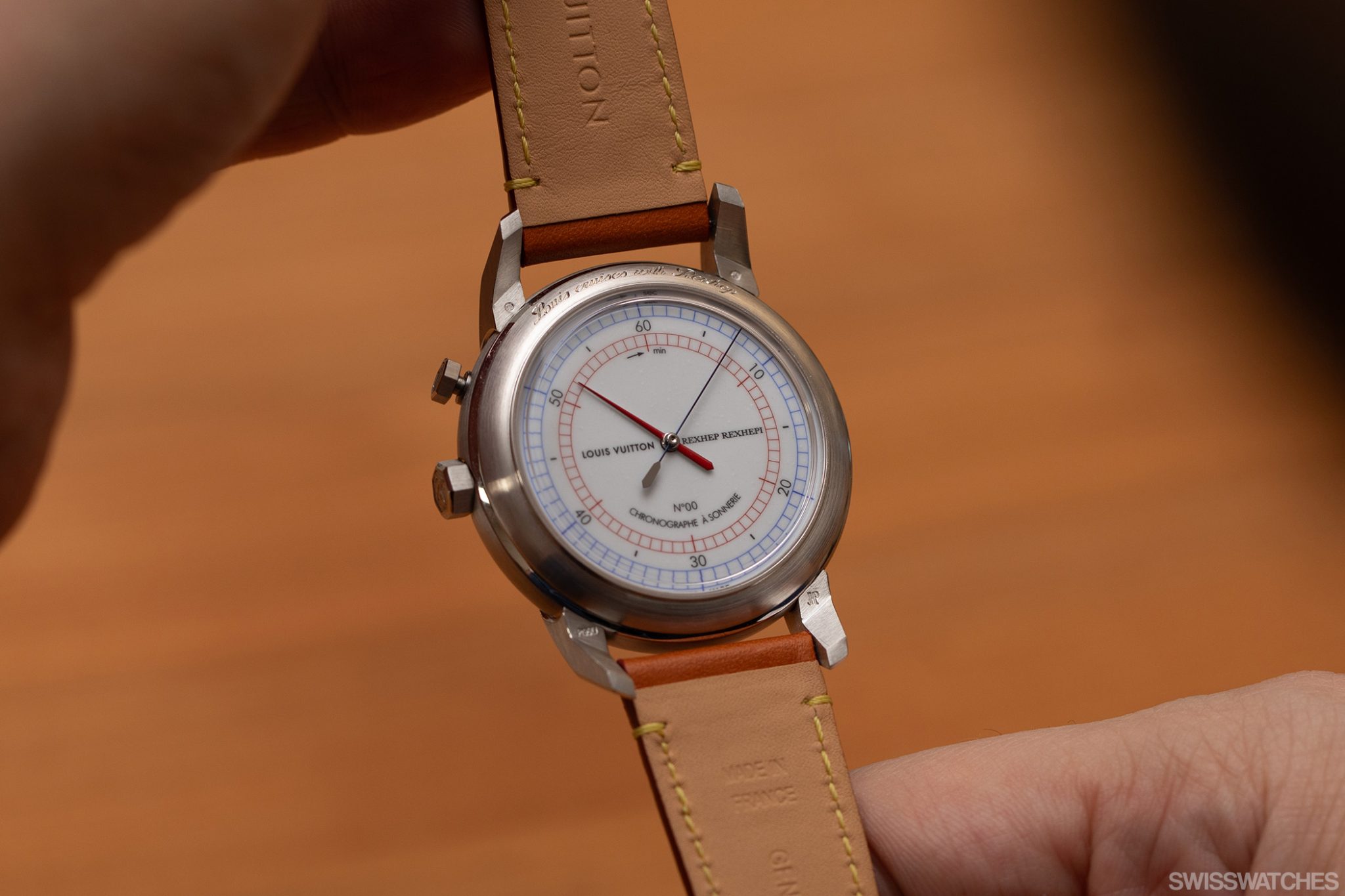 On the other side of the coin (or in this case, watch), while Louis Vuitton provides an international stage for Akrivia and its associated Rexhep watches, Louis Vuitton benefits as it continues its ascension into the world of haute horlogerie. Strictly speaking – and despite an intriguing history (which we have covered extensively) – Louis Vuitton is only just entering its third generation of watchmaking. In order to remain relevant, the brand's young watchmaking department needs to ensure that it can provide both its collectors and critics with new and unexpected products, whether they be niche or extreme. In order to stay in the high horology field, Louis Vuitton will inevitably need the help, and arguably the endorsement, from the likes of Akrivia as it ramps up its advanced watchmaking department – and Jean Arnault seems happy to seek it.
---
Price of the Louis Vuitton x Akrivia Chronographe à Sonnerie
---
A portion of the proceeds from the Louis Vuitton x Akrivia LVRR-01 Chronographe à Sonnerie will go towards supporting an independent watchmaker as part of the LV Watch Prize, with the winner receiving 150,000 euros as well as a year in the capable hands of La Fabrique du Temps. To quote Charles Dickens' A Tale of Two Cities, 'A day wasted on others is not wasted on one's self' – yet it has to be said, despite the prize's benevolent purpose, this watch is the result of not days, but well over a year of labour. There are only ten pieces available (five destined for Louis Vuitton clients, five for Akrivia collectors, Rexhepi confides in us). Each is priced at 540,000 euros. As Rexhepi made very clear in our conversation, it will never be produced again. And, as Nicholas Foulkes points out in his analysis for the Financial Times, creating a new movement can cost between 1.5 to 2 million Swiss francs, without even taking the production costs into account. This isn't a watch made for quick profits.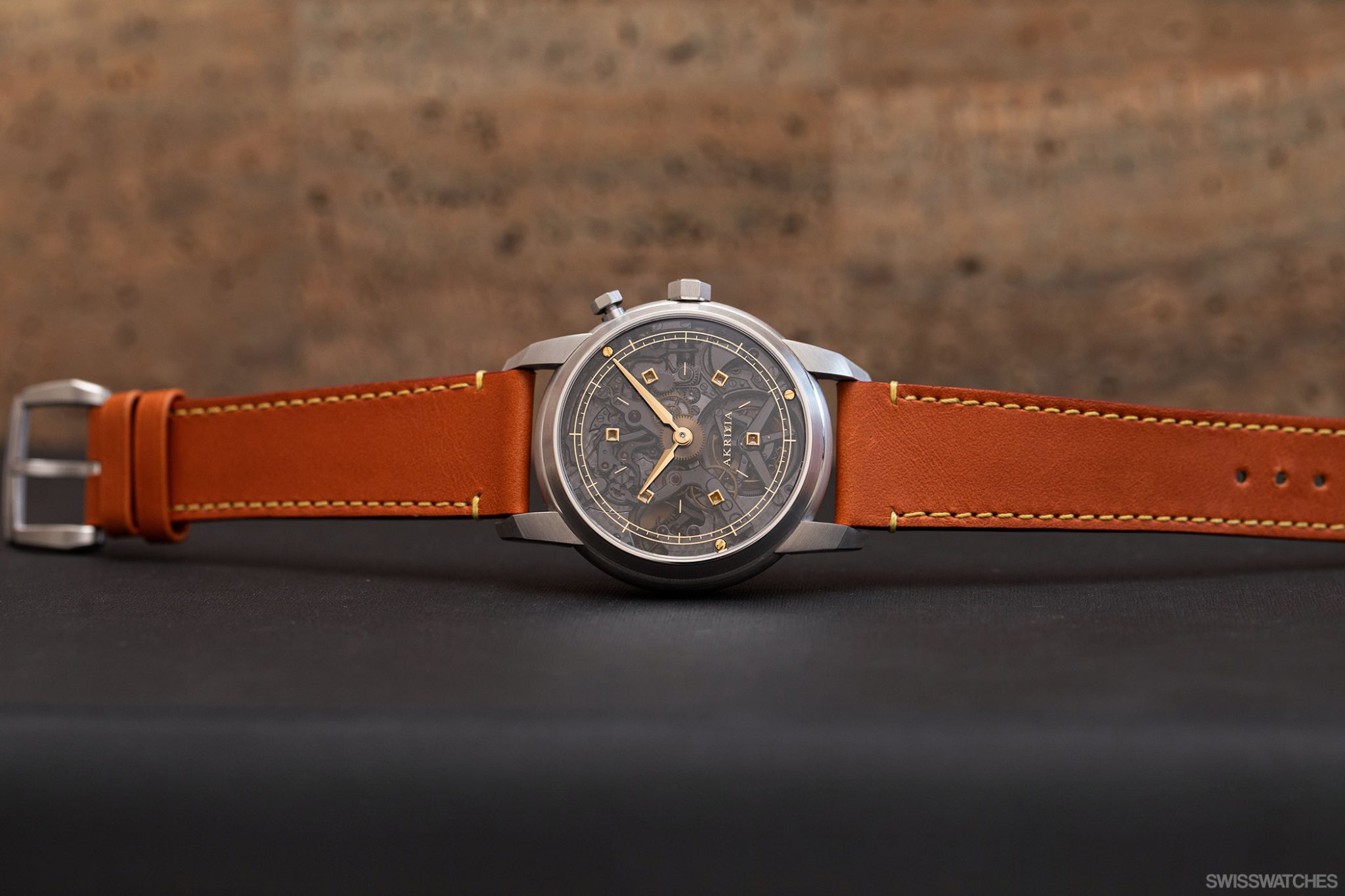 ---
The watch: Louis Vuitton x Akrivia LVRR-01 Chronographe à Sonnerie
---
Last but not least, we are still awaiting the more technical details about the watch, but here's what we know so far. The Louis Vuitton x Akrivia Chronographe à Sonnerie was conceived, designed, and manufactured at the Akrivia/Rexhepi workshop in Geneva, while the dials are the work of La Fabrique du Temps. As is always the case, almost all of the components come from in-house. This included the one-of-a-kind Tambour-esque case, which has undergone a range of tweaks to match up with Akrivia's own in-house expertise – likely with considerable input from revered case maker Jean-Pierre Hagman, recruited by Rexhepi several years back.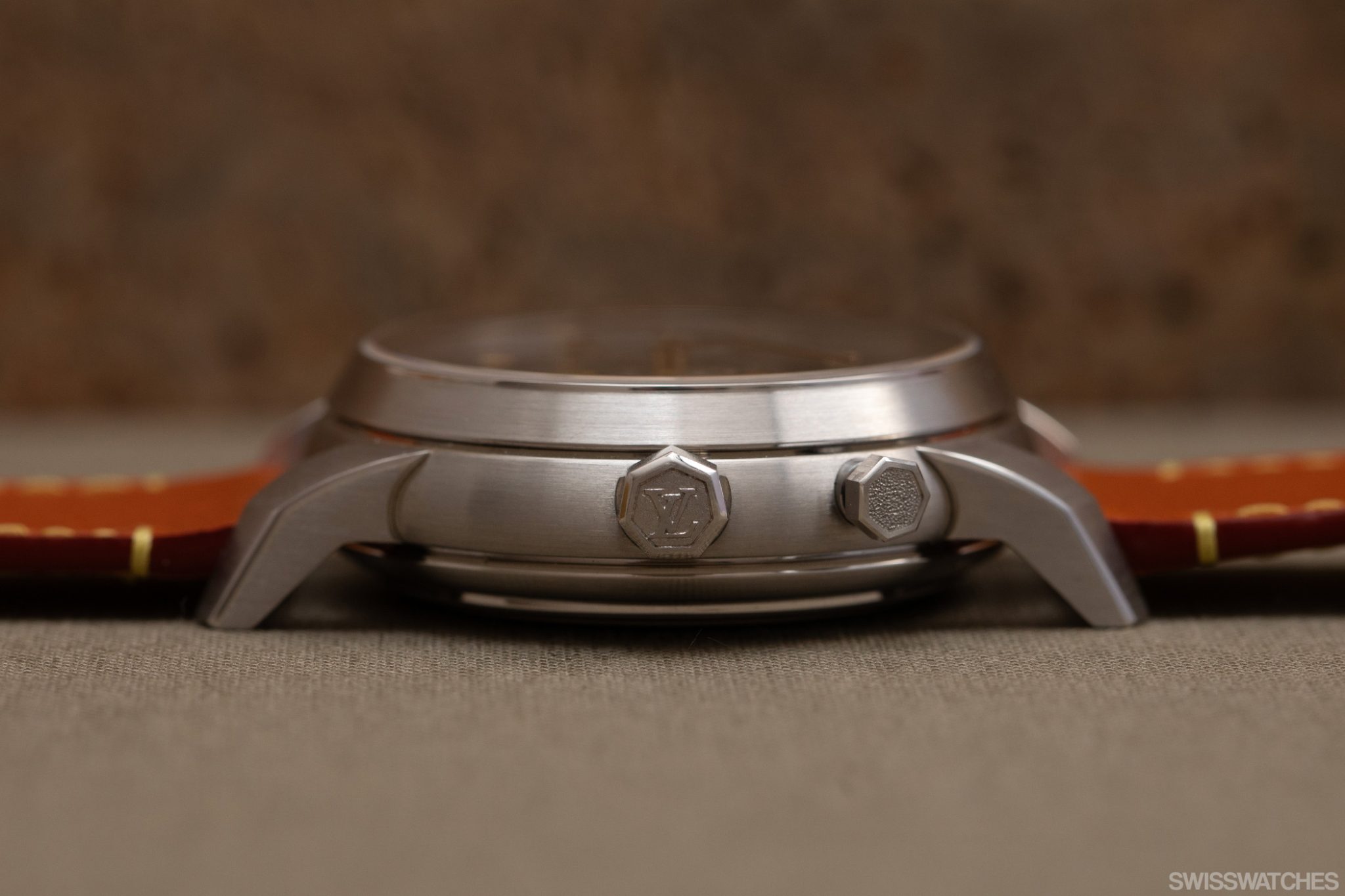 The watch is home to two vastly varying dials. The front simply displays hours and minutes with the help of two gold hands and what seem to be plique a jour enamel indices, and it takes a second glance to notice the shadowy skeletonised movement underneath. Three exposed gold screws add to the slightly industrial aesthetic of the dial, although the use of gold balances this out nicely. Black screws on the movement beside them are obscured into the background, and again, admiring the exquisite decoration across several components really does require a second look. This makes the quietly beautiful timepiece very much a watch for the wearer, which is quite an achievement for a brand (Louis Vuitton) that admittedly must attribute much of its modern-day success to its popular hallmark logo. Indeed, collectors will likely breathe a shared sigh of relief that the LV logo is very elegantly and subtly presented: at third glance, you'll see that 'LV' is cleverly integrated into the word 'AKRIVIA' above the tourbillon at 6 o'clock. Genius. It's a captivating dial that requires several good looks and definitely a watchmaker's magnifying loup for good measure.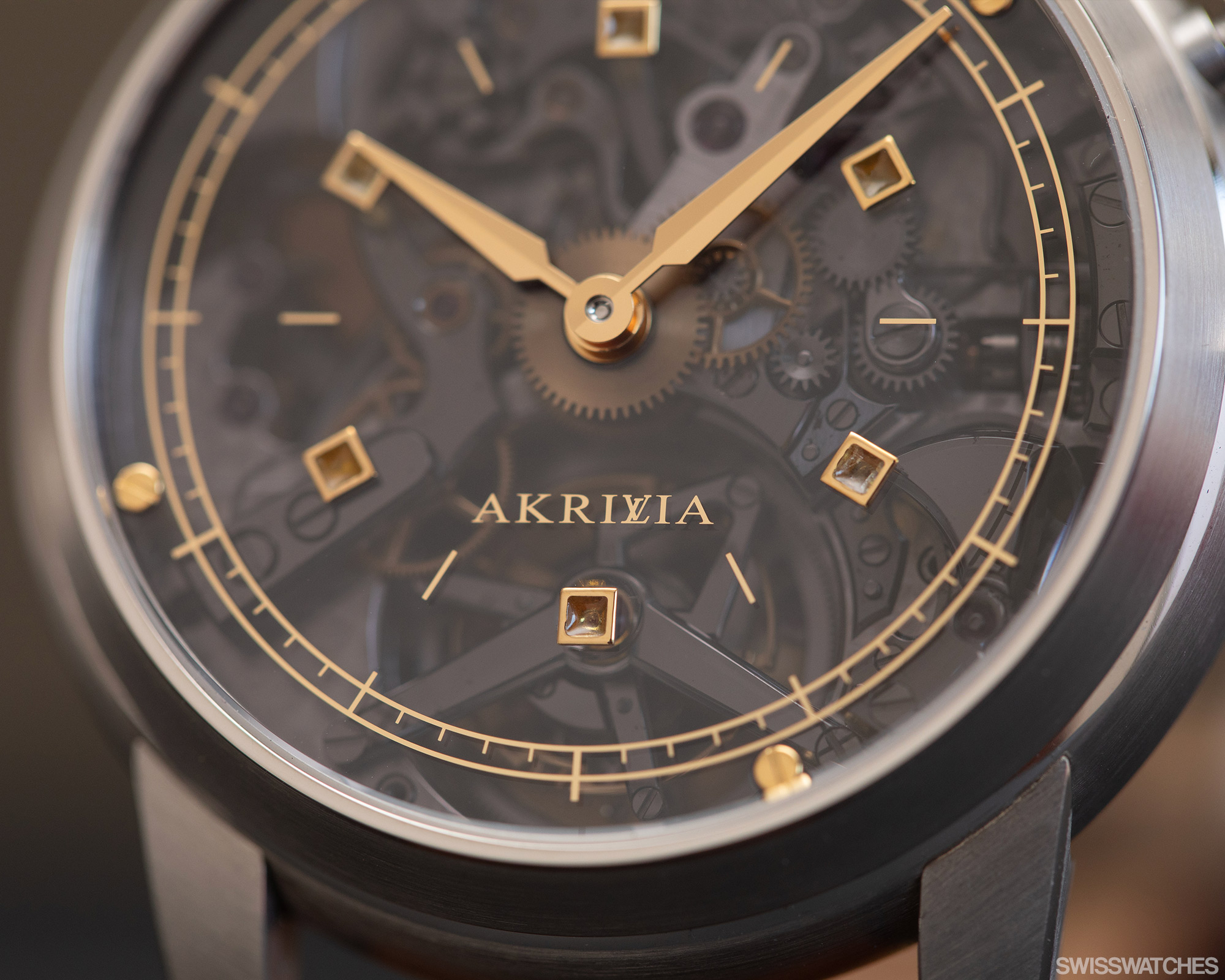 Moving onto the second dial on the back (the watch isn't reversible, but rather can be held from the back like a pocket watch), things get a lot more 'Louis Vuitton' – but in all the right ways. My first thought upon seeing the typography on this watch was 'Monterey', aka Louis Vuitton's first watches designed by the legendary Gau Aulenti alongside IWC Schaffhausen in 1988, initially featuring the phenomenal combination of World Time, an alarm function, date and moonphase. While the Monterey I and successive Monterey II were quartz, they were an astonishing amalgamation of art, fashion, and design, thus perfectly encapsulating the essence of Louis Vuitton. What is interesting is that these Monterey watches have quietly been enjoying a comeback in recent years, with the quartz watches actually – and rather unusually with the exception, perhaps, of the battery-powered Rolex Datejust Oysterquartz – increasing in price. In true 2020s style, this is partly due to its coverage on TikTok by the likes of Mike Nouveau, who also spotted it on the wrist of musician Tyler the Creator.
---
---
Of course, let's not cheapen the Chronographe à Sonnerie – but its design absolutely taps into popular appeal within the watch world. It's also home to an impressive mechanical movement that we look forward to studying in more detail. The chronograph functions are displayed with the integration of elapsed (blue) seconds and (red) minutes on a pair of Monterey-esque tracks, with the help of two colour-coordinated central hands. Activated using one angular pusher bearing the LV logo that adds to the more industrial aspect of this watch's design, the sonnerie mechanism chimes following the start of each new minute. Another design point worth pointing out is that the plain white grand feu enamel dial is very clear and highly legible – and while it projects a strong historical DNA on the side of Louis Vuitton, this also matches to Rexhepi's famed love of 1940s officer pocket watches, known for their elegant lines, accuracy, and legibility.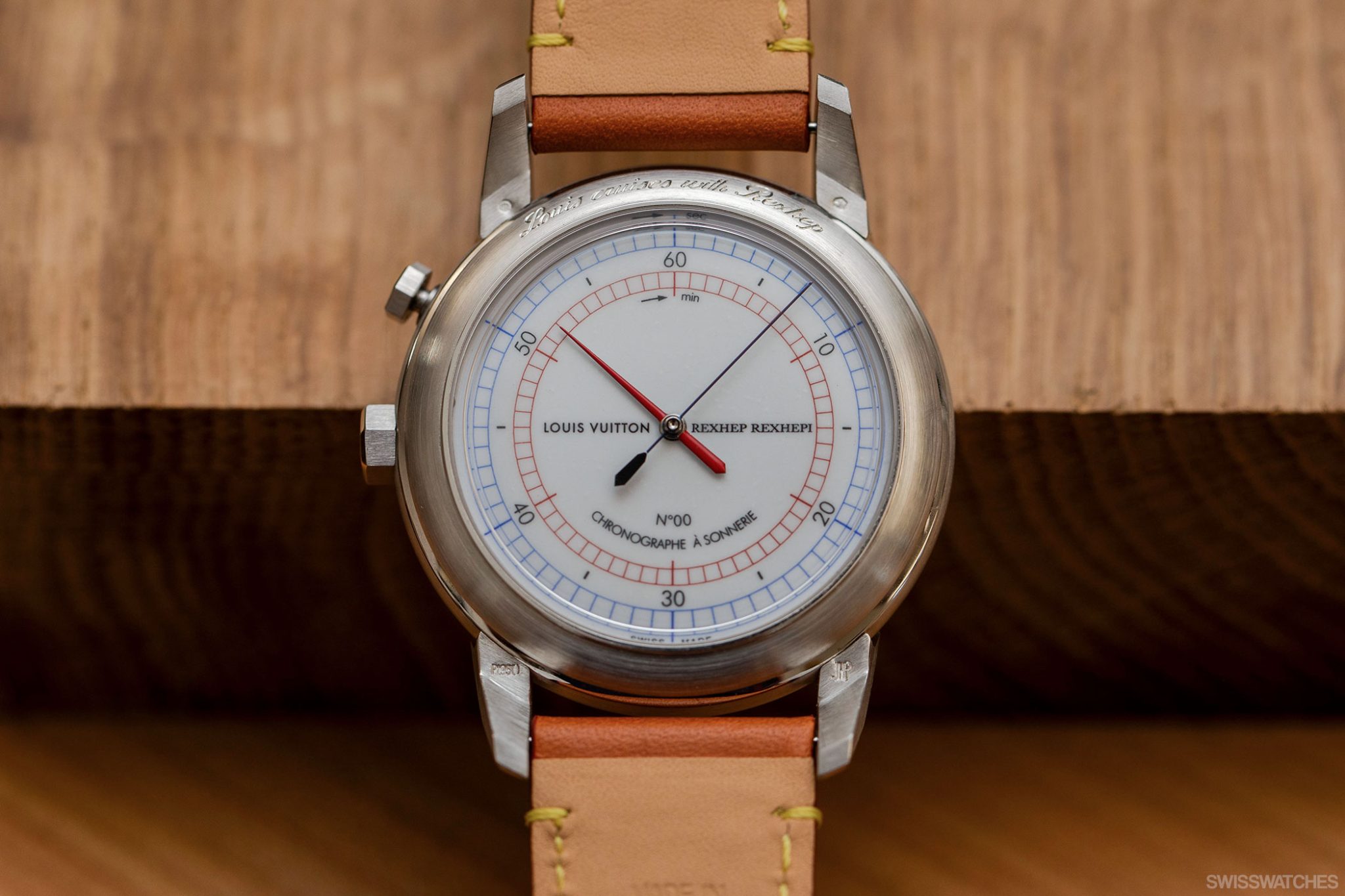 Continuing on this tangent, the presentation of the tourbillon is quite interesting to interpret – while scarcely visible from the front dial, the tourbillon is absolutely hidden on the back dial. Rexhepi holds historic watches in high regard, and aficionados will know that for many years, tourbillons often remained concealed on watches – the only reason for their exhibition on dials today amounts to providing a show of a manufacture's craftsmanship. Originally, however, Breguet's invention of the tourbillon was solely to provide precision – and guess what 'Akrivia' means in Greek? Precision. I like to think everything about this watch goes full circle, and every decision is meticulously thought through.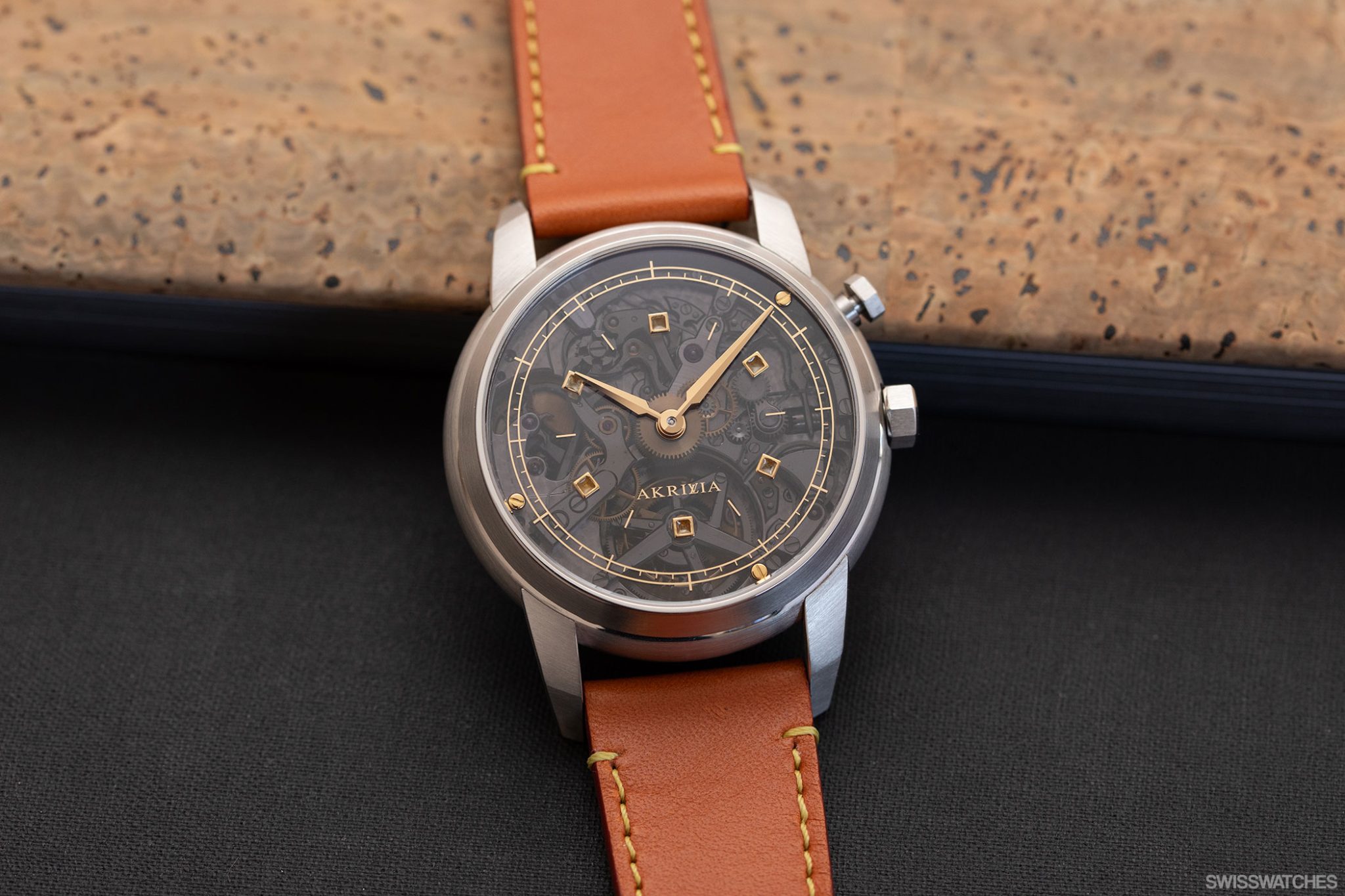 ---
Leaving a legacy
---
While 'Louis Vuitton' is written in the brand's characteristic font on the left, the name Rexhep Rexhepi is proudly written on the right. The name 'Akrivia', as seen on the more contemporary front skeletonised dial, is used to reflect the atelier's 'youthful spirit' and 'more ambitious complicated movements'. Meanwhile, Rexhep Rexhepi's own name (as visible on the old-school second dial) reflects the atelier's 'commitment to traditional technique' and its 'love of neo-classical elegance'. As he told us in our interview, "It's not about just doing a watch for the just short term; the watch is really a long-term entity."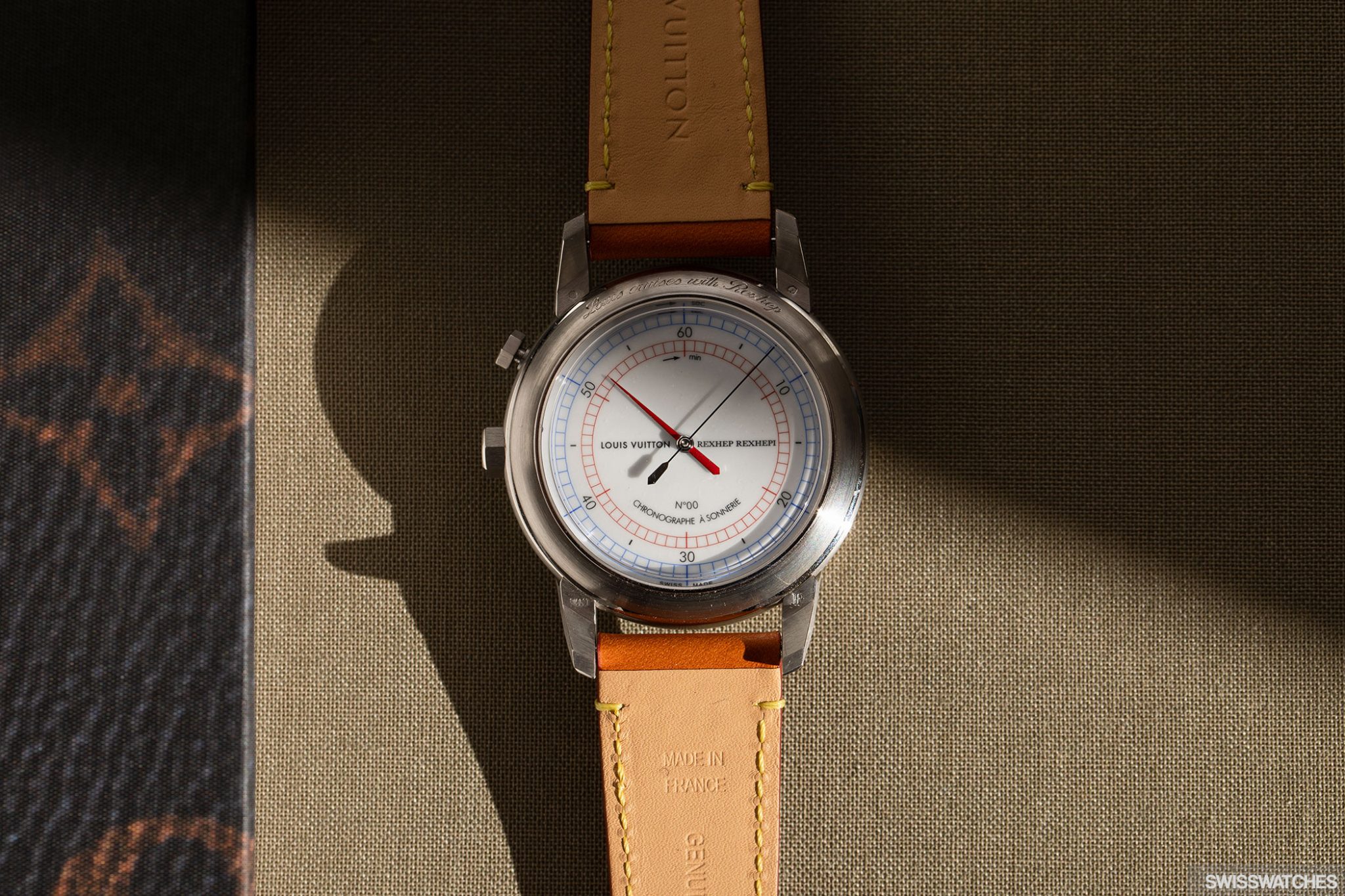 Last but not least, the watch comes on what we dare to assume is a Louis Vuitton leather strap (to do otherwise would be a scandal). With a distinctive orange tint, the soft inner lining of the strap bears the words 'LOUIS VUITTON'. Complimented by white stitching, the leather strap was made in France and secures to the wrist with a classic pin buckle.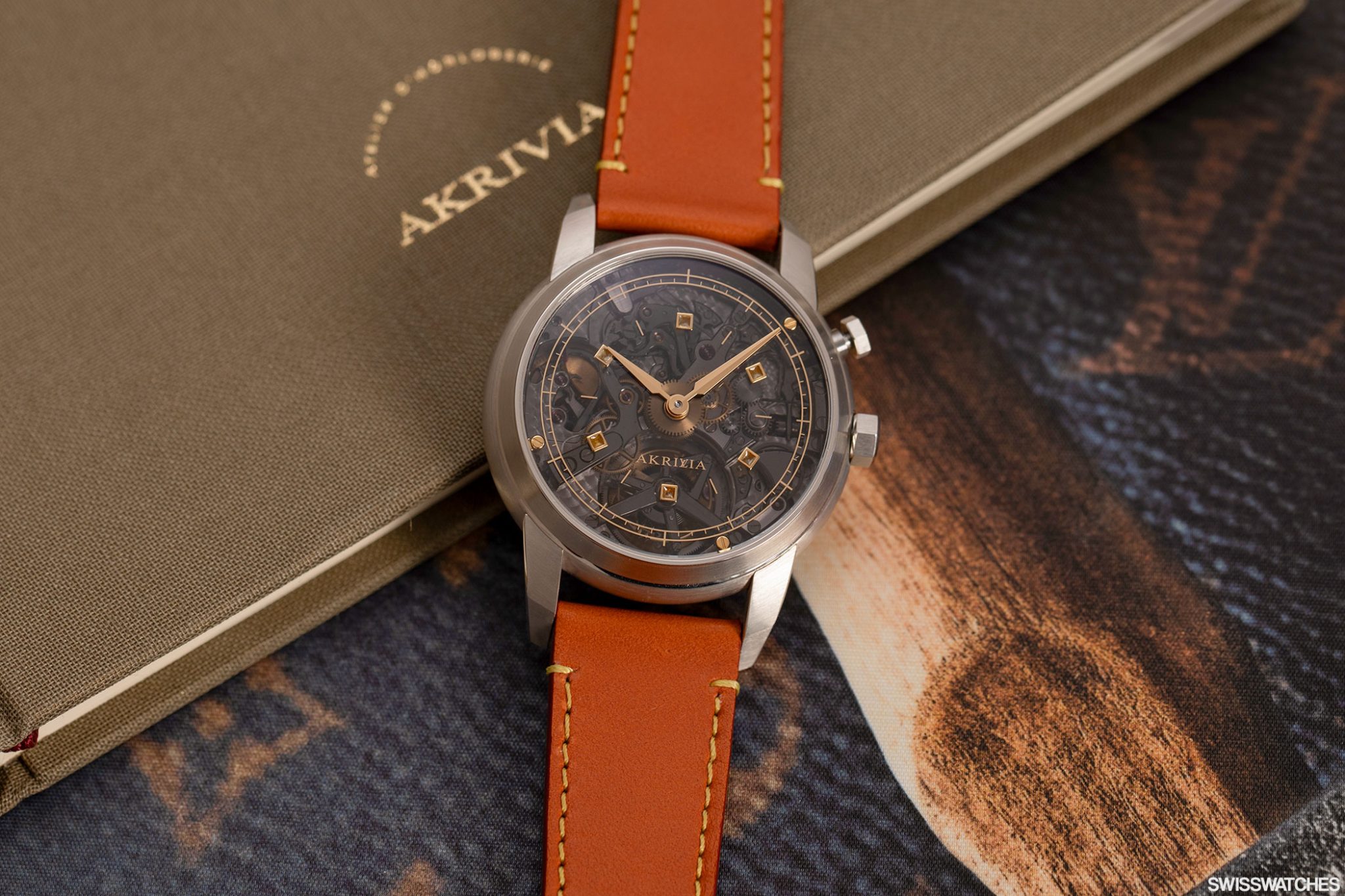 Just like the unexpected collaboration itself, this is really a watch of opposites: the old, the new, the contemporary, the classic. Whether some critics will see its contrasting two-dial design as inconsistent or potentially disjointed from an aesthetic perspective remains to be seen in the coming days – but the one-of-a-kind movement is something to be revered, and we look forward to taking a closer look at the technical details behind it. However this (in my opinion magnificent) watch from Louis Vuitton La Fabrique du Temps and the Akrivia atelier is received by the watch community, there's no doubt that this is a collaboration that will go down in horological history.
---
akrivia.com | louisvuitton.com
---