Form follows function. This basic principle coming from product-design and architecture might have been the major inspiration for Audemars Piguet when they first designed the Royal Oak collection in 1972. It is such a distinctive design that people with some watch passion will recognize this model with an eye blow. But interesting to mention is, that this octagonal design needed some time to be widely accepted. At the first presentation in Basel 1972 the overall critics were rather split.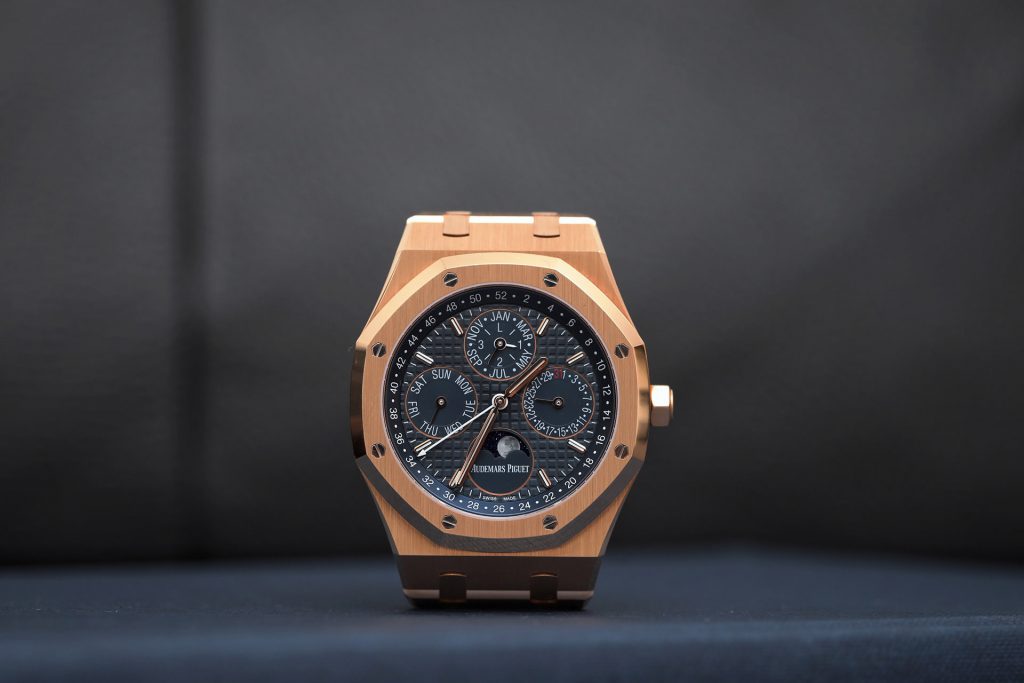 Audemars Piguet Royal Oak Perpetual Calendar
It is worth mentioning some facts about Audemars Piguet before getting down to the Royal Oak collection. The two watchmaker Jules Louis Audemars and Edward Auguste Piguet were specialized in making pretty complicated watches and joined forces in 1875 to market them under the name Audemars Piguet. And today, it is actually the only famous Swiss watch brand that never changed owners and still remains in the hands of the founding families. Jules Audemars and Edward Piguet were from start on dedicated in making perpetual calendars. At that time they were made for pocket watches only, simply because they offered just enough space to implement the complex movement.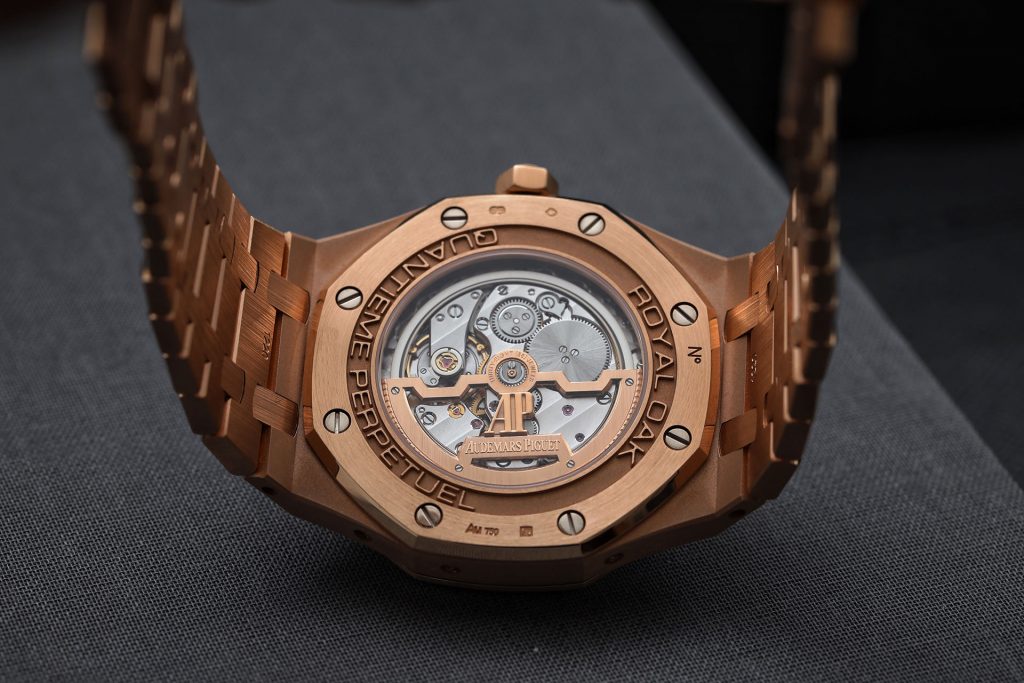 Audemars Piguet Royal Oak Perpetual Calendar
At the beginning of the 20th century a few watchmaker were able to produce wristwatches with a perpetual calendar. Many brands produced wristwatches with moonphase but for most of them it was not possible to create a perpetual calendar. Patek Philippe was one of the first renowned watchbrands that introduced a wristwatch with this complication ­– that was sometime around 1925. But it was Audemars Piguet who managed to produce the first ever wristwatch in 1955 with perpetual calendar that also displays the leap years on the dial. This watch with Reference 5516 was only produced in a series of 9 pieces.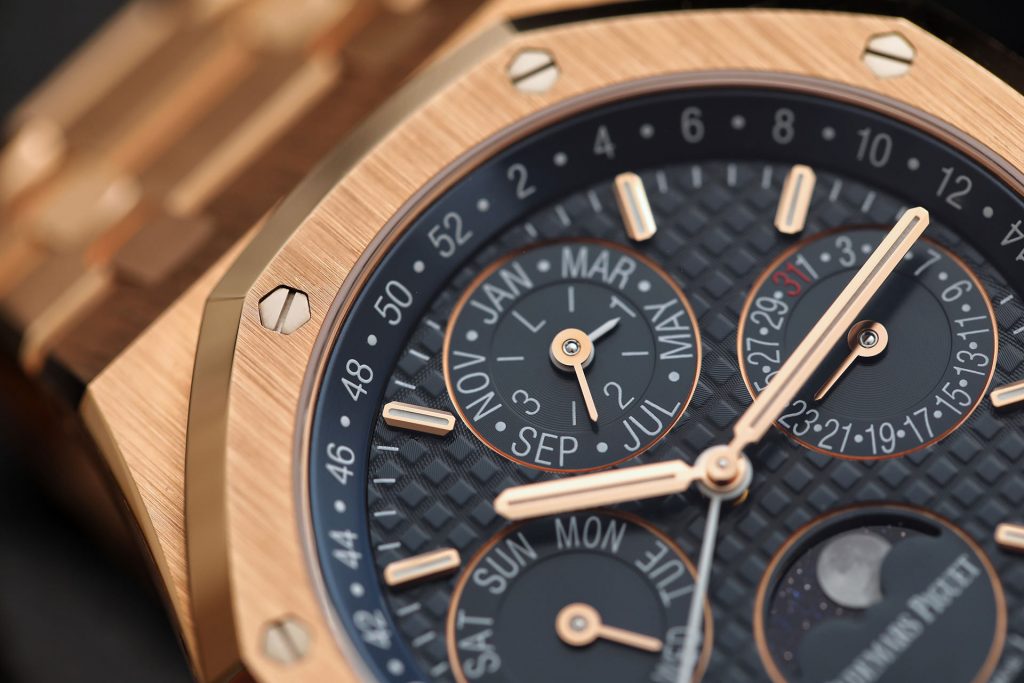 The Royal Oak was first introduced in 1972
It took about ten years until Audemars Piguet equipped their 1972 introduced Royal Oak collection with perpetual calendar (and leap year indication). Designer Gérald Genta was responsible for the incredible unique visual appearance of the Royal Oak models. Unfortunately this great mind has passed away in 2011. Another feature that makes this collection distinctive is the 'Grand Tapisserie' patterns on the dial. They are created by Audemars Piguet using the guillochage technique applied by an early 20th century automatic engraving machine. The machine is equipped with a disc bearing the enlarged motif. This process serves to cut out the small squares and form the grooved pattern between them. This method is seen exclusively at Royal Oak dials.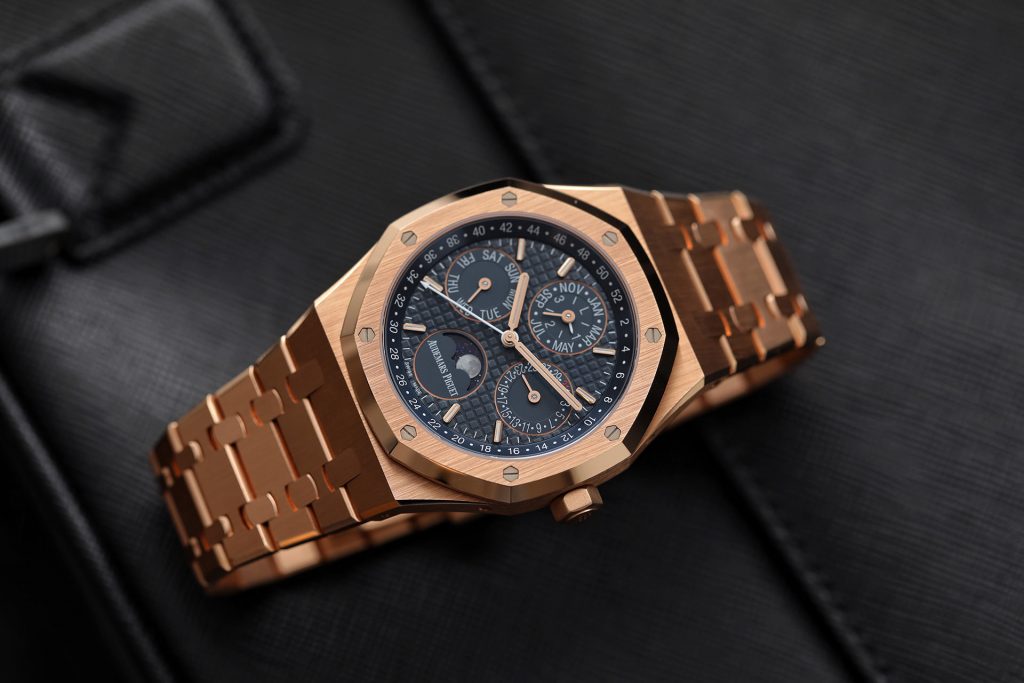 Audemars Piguet Royal Oak Perpetual Calendar
The basic principle of 'form follows function' is, that every design is based around the function to enhance its functionality. The primary objectives of the eye-catching case design used for the Royal Oak is to protect the precious movement inside from dust, moisture and temperature variation. But another important function of the Royal Oak collection is its distinctive design that has burned into people's memory and therefore is another wonderful example where form follows function.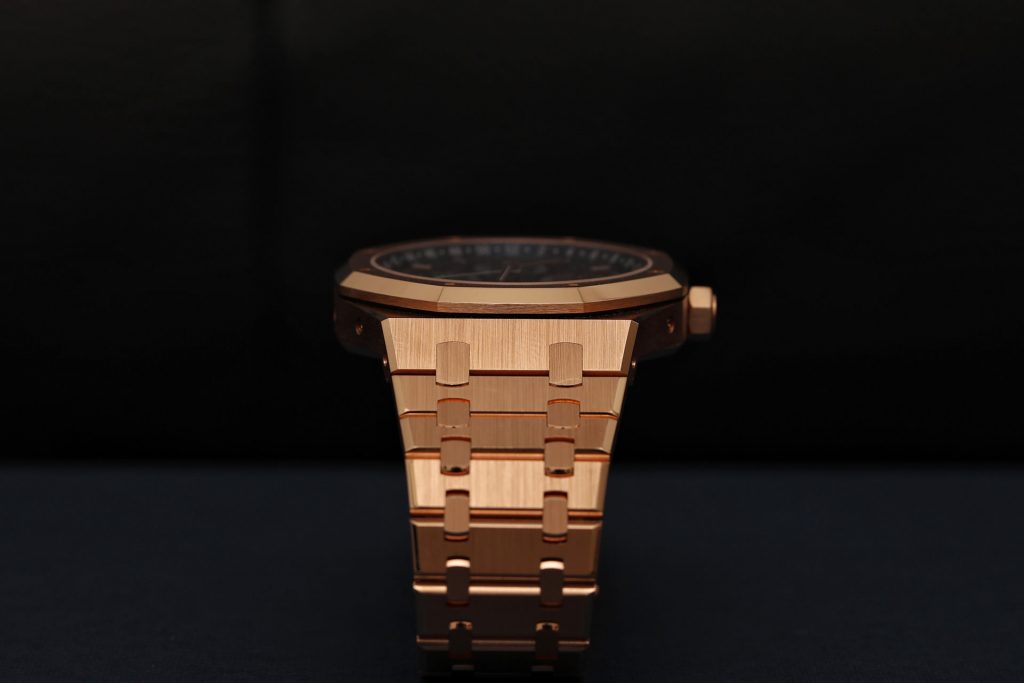 Audemars Piguet Royal Oak Perpetual Calendar
---
---