In retrospect, those responsible at the New York Parson School of Design are likely now less than pleased that they turned down an application from a certain Matthew M. Williams in 2004. Had the renowned design school accepted him, they could have added another big name to their Hall of Fame, alongside fashion giants like Tom Ford, Marc Jacobs, Donna Karan or Alexander Wang. Despite the rejection and lack of fashion training, the American and self-taught Matthew Williams has managed to become one of the most important designers in today's fashion culture.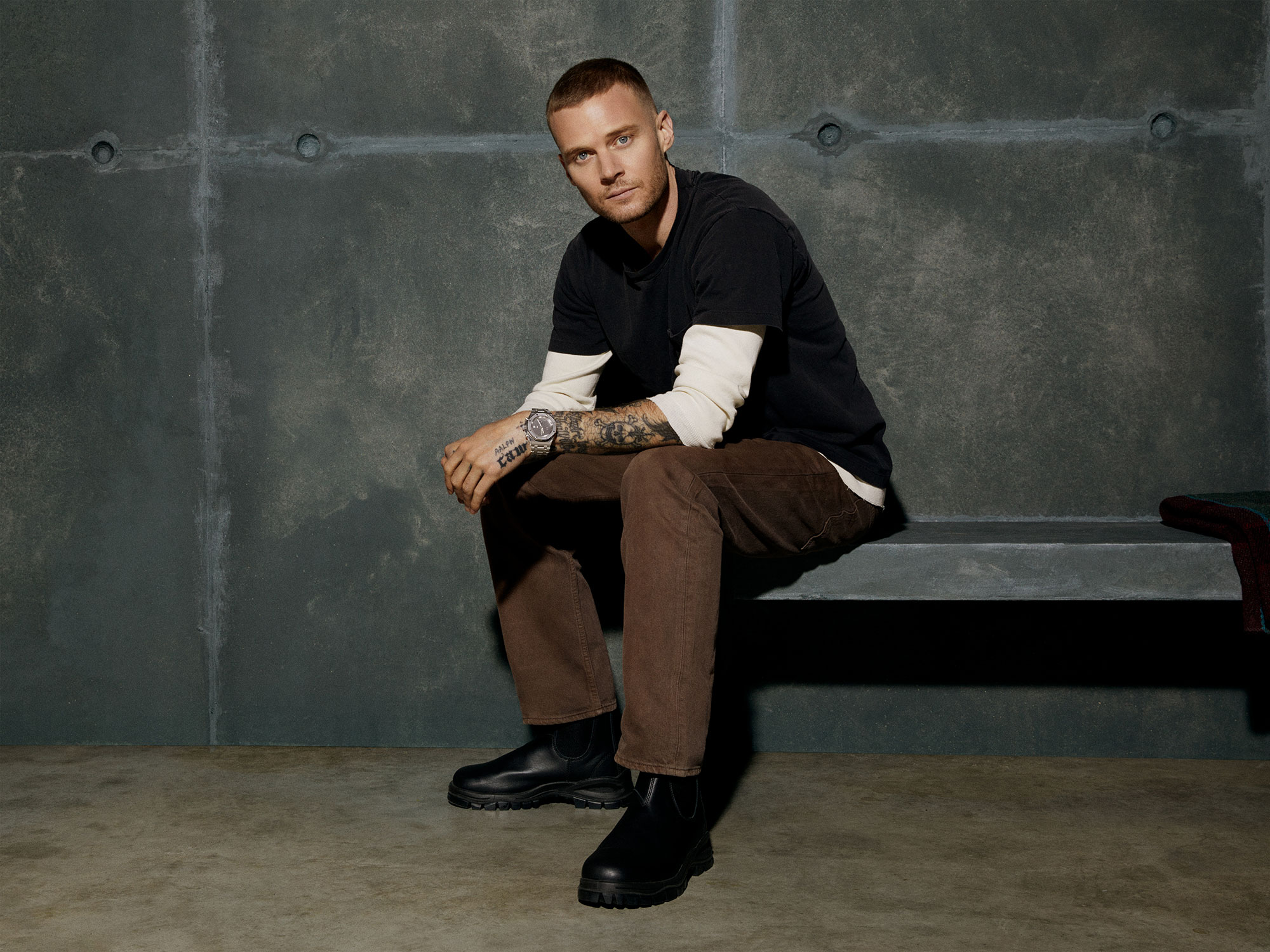 Matthew M. Williams
In 2015, he founded his own label "1017 ALYX 9SM", named after his elder daughter Alyx. In 2020, Williams was appointed creative director of Paris haute couture fashion house Givenchy, whose dresses some may remember as Audrey Hepburn's 'little black dress' in Breakfast at Tiffany's. Williams has a reputation for functional but martial designs and an obsession with innovative fabrics and materials. So what watch brand could suit him better than Audemars Piguet, with whom Williams has now launched a limited collection? The design, however, is not entirely new.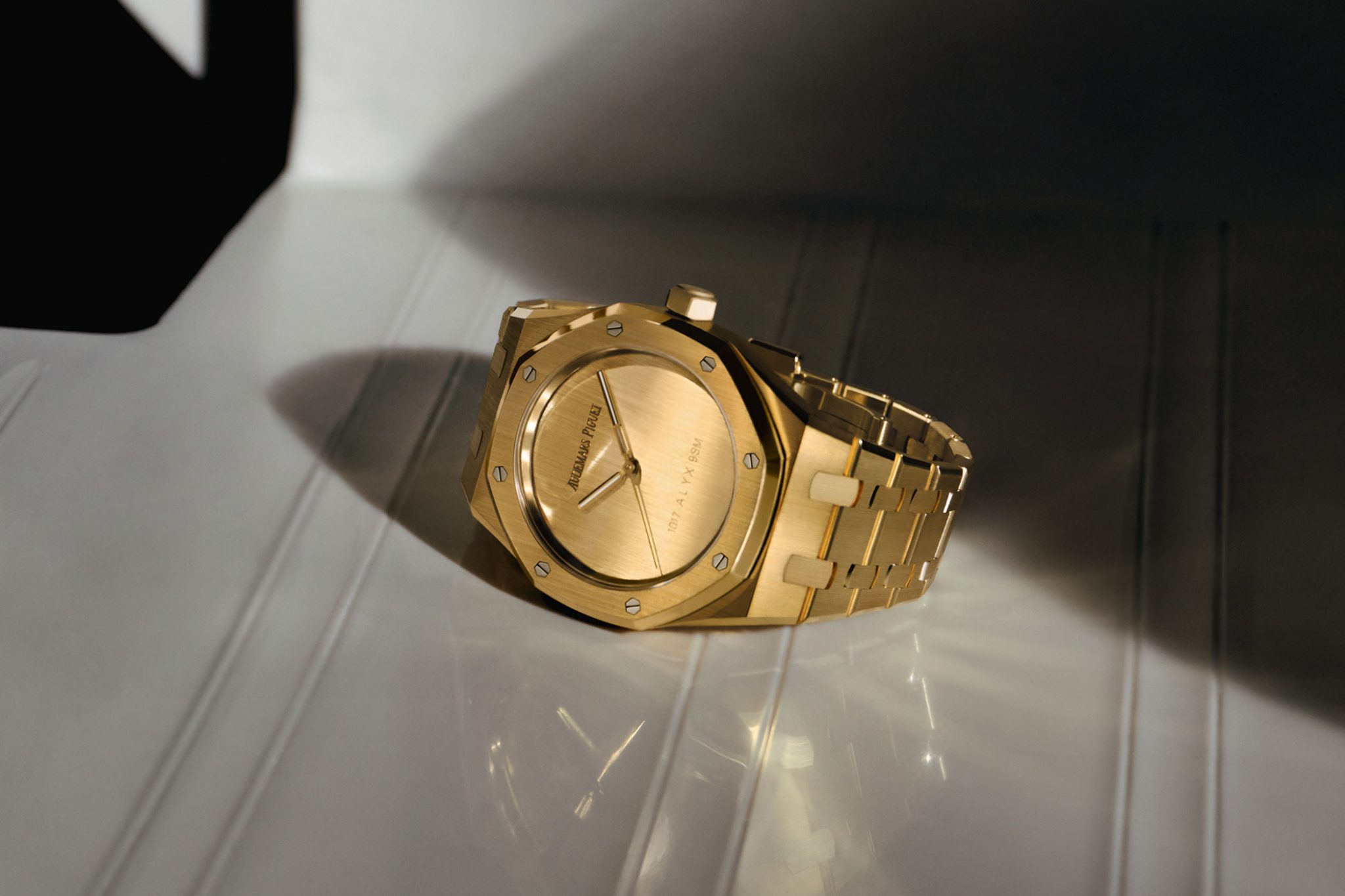 Audemars Piguet Royal Oak "1017 ALYX 9SM"
---
Why Matthew Williams?
What makes Matthew Williams so interesting for a horology house like Audemars Piguet? Aside from his obsession with functionality and materials, there's the fact that Williams appeals to the target group of Gen-Z and Millennials with the young, urban designs of his brand "1017 ALYX 9SM", which AP also aims to reach. Williams grew up in California and was interested in the street culture and music scene at a young age. At just 21, as a self-taught stylist and costume designer, he created a jacket for Kanye West for his performance at the Grammy Awards. A few years later, he designed costumes for Lady Gaga and founded the streetwear collective 'Been Trill' with Virgil Abloh (deceased 2021) and Heron Preston. Preston recently performed as a guest DJ at an Audemars Piguet charity event in Dubai. It shows how busy the watchmaker already is in this much-hyped streetwear scene, which has been upending and dominating conventional fashion for many years.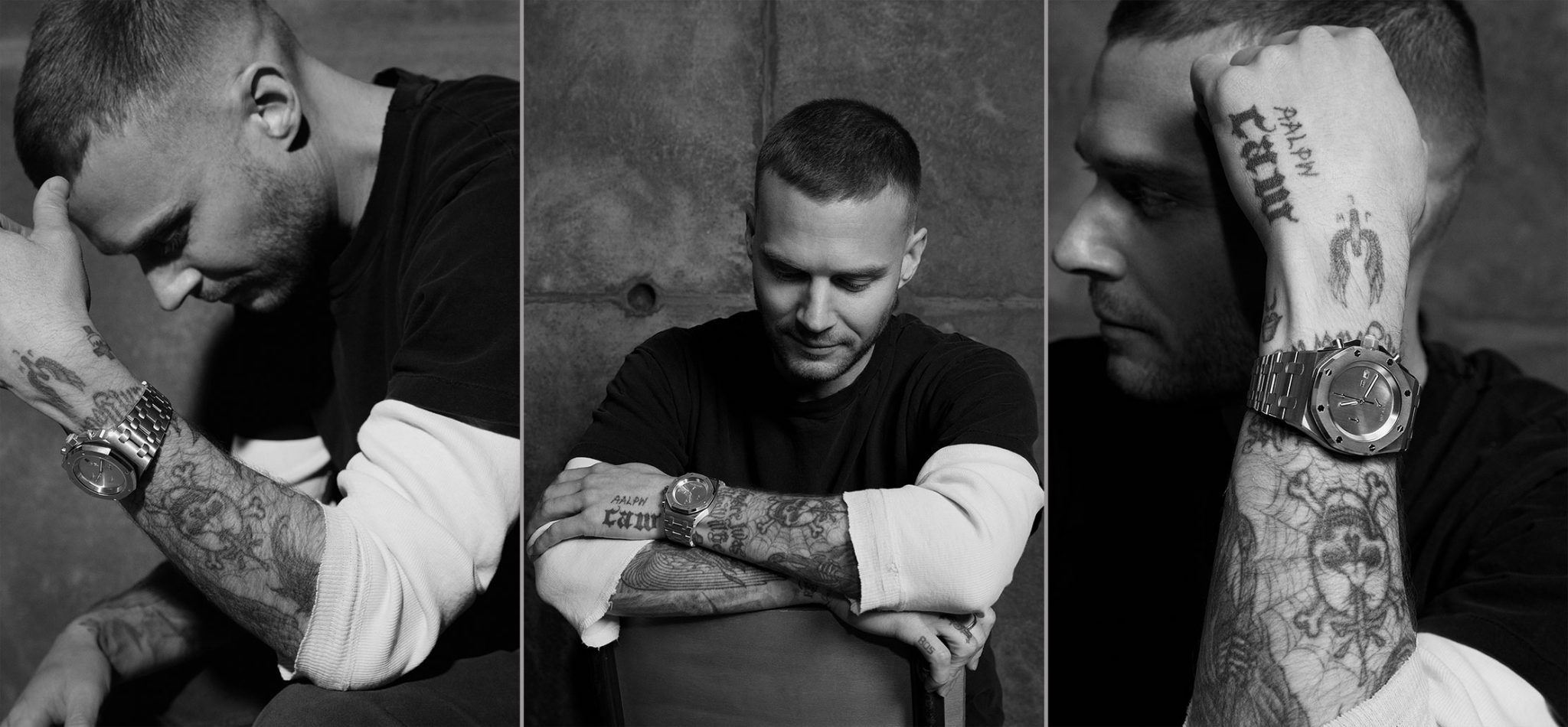 In October 2019, Matthew Williams posted a never-before-seen Royal Oak on his Instagram account. It was a steel Royal Oak designed especially for him by Parisian watch customiser MAD Paris, with a purist stainless-steel dial, three hands and a date window. The lettering of his label '1017 ALYX 9SM' can be seen on the dial. 40 pieces were produced. In 2021, the next coup, when Williams again designed a limited Royal Oak together with MAD Paris – this time in rose and yellow gold and exclusively distributed by Browns in London.

MAD 1017 ALYX 9SM Royal Oak in steel, rose gold and yellow gold (2021)
Credit © MAD-Paris.com
Now AP is taking it into its own hands. It's a smart move, both to tap into the young target group and to get a piece of the pie, and of course to do it themselves to ensure the quality is at the level they're used to. Although there are official collaborations between customisers and watch brands – see Zenith, Chopard or TAG Heuer and Bamford – Audemars Piguet has not officially had a hand in the creations of MAD Paris for Matthew Williams.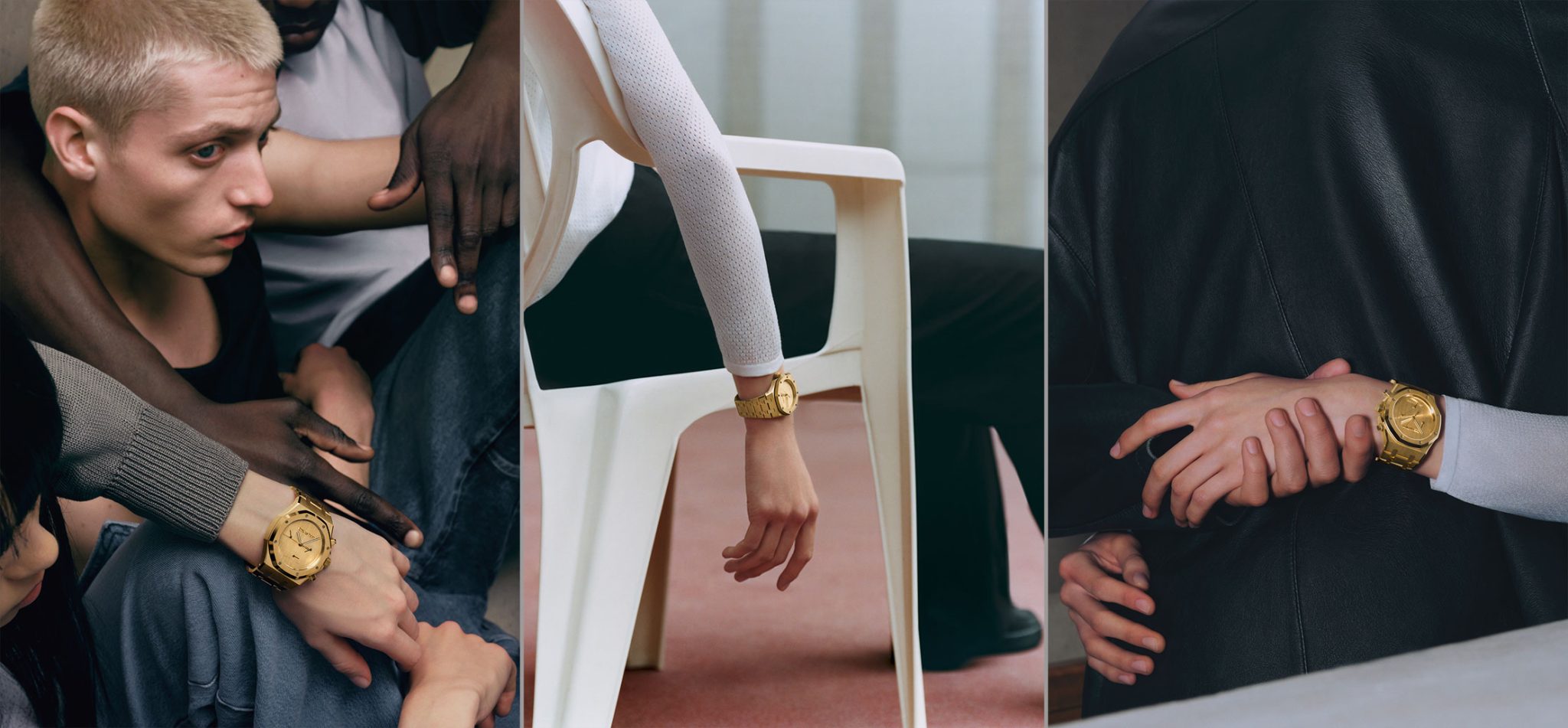 ---
Four new references and one unique piece
With its new watch collection, AP bridges the gap between the urban fashion universe and the world of haute horlogerie. For the first time ever in AP's history, the Royal Oak and Royal Oak Offshore merge into one design language. Unlike the rough, mostly black look of the label 1017 ALYX 9SM with its straps, buckles and zippers, the four new models are defined by a clear, almost minimalist design.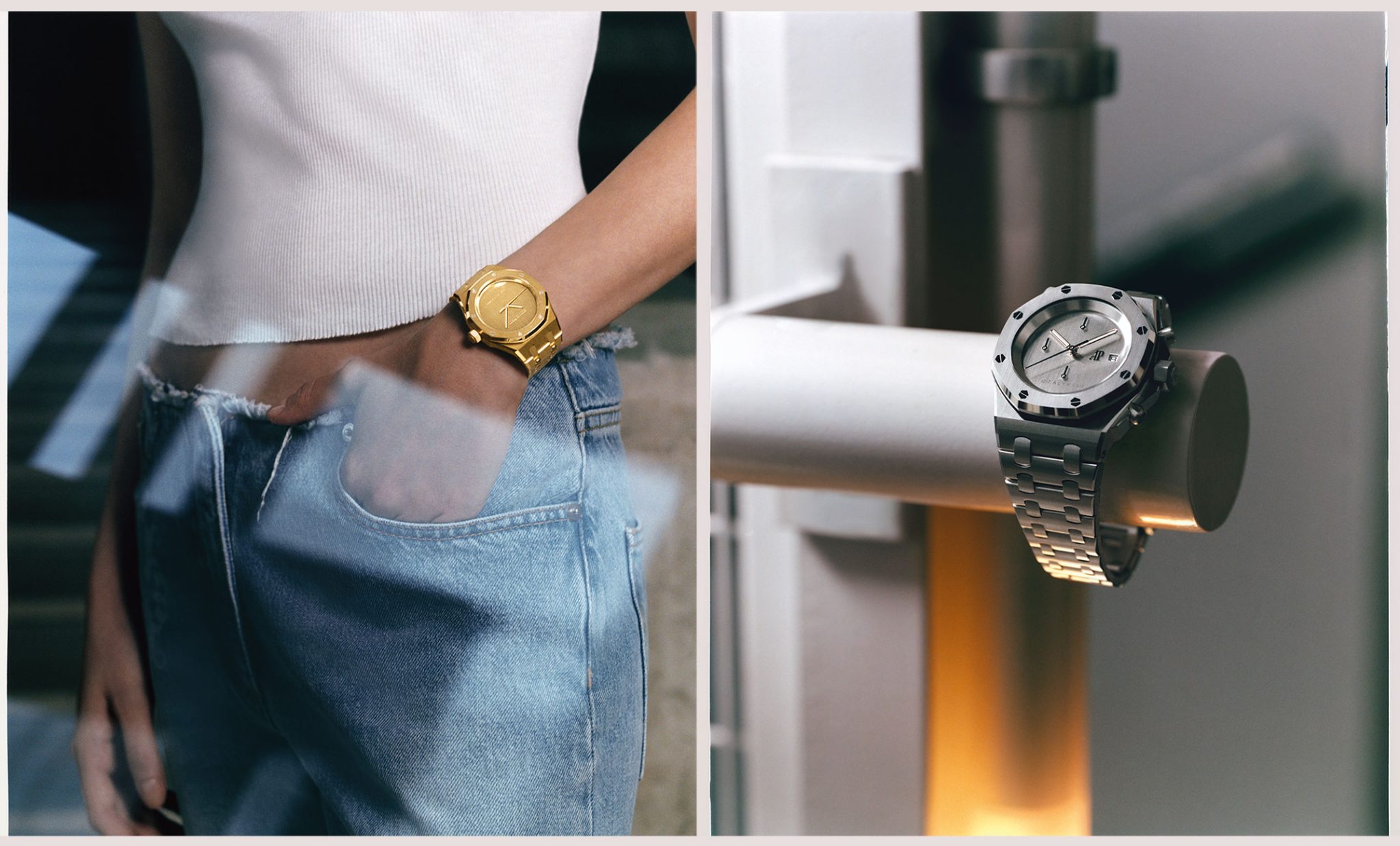 Audemars Piguet x Matthew M. Williams
Royal Oak und Royal Oak Offshore '1017 ALYX 9SM'
The dials of the four models are made entirely of 18-carat yellow or white gold with a vertical satin finish. Not even hour indexes are visible. On the two Royal Oak models in 18-carat yellow gold, even the date window has been removed. Thus, the focus is on the hour, minute and seconds hands – even on the chronograph, only the hands of the chronograph counters are visible. The signature 'Audemars Piguet' was applied to the gold dial and the lettering '1017 ALYX 9SM' was coated on it. The automatic model has a case diameter of 37 mm and the chronograph a 41 mm case.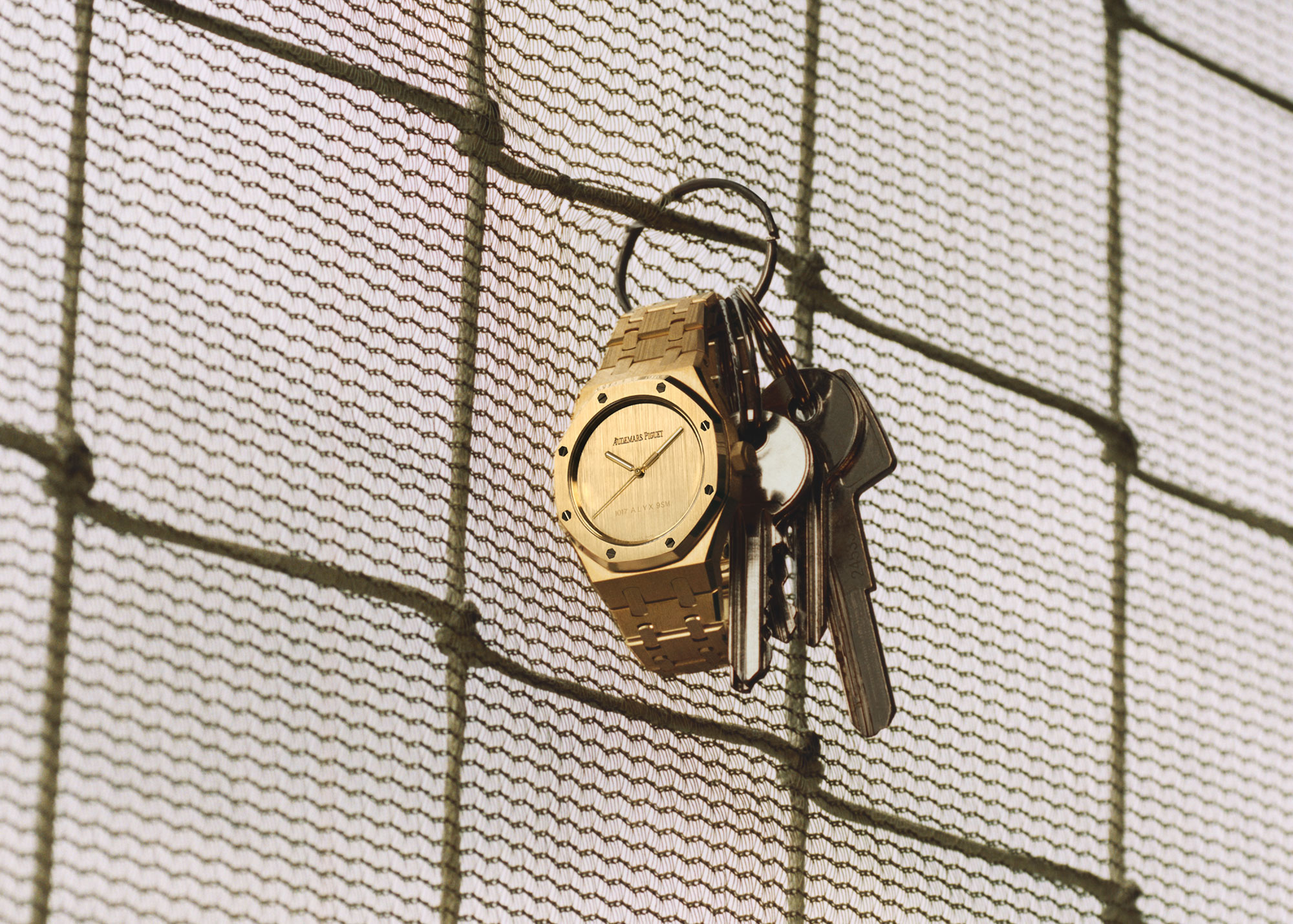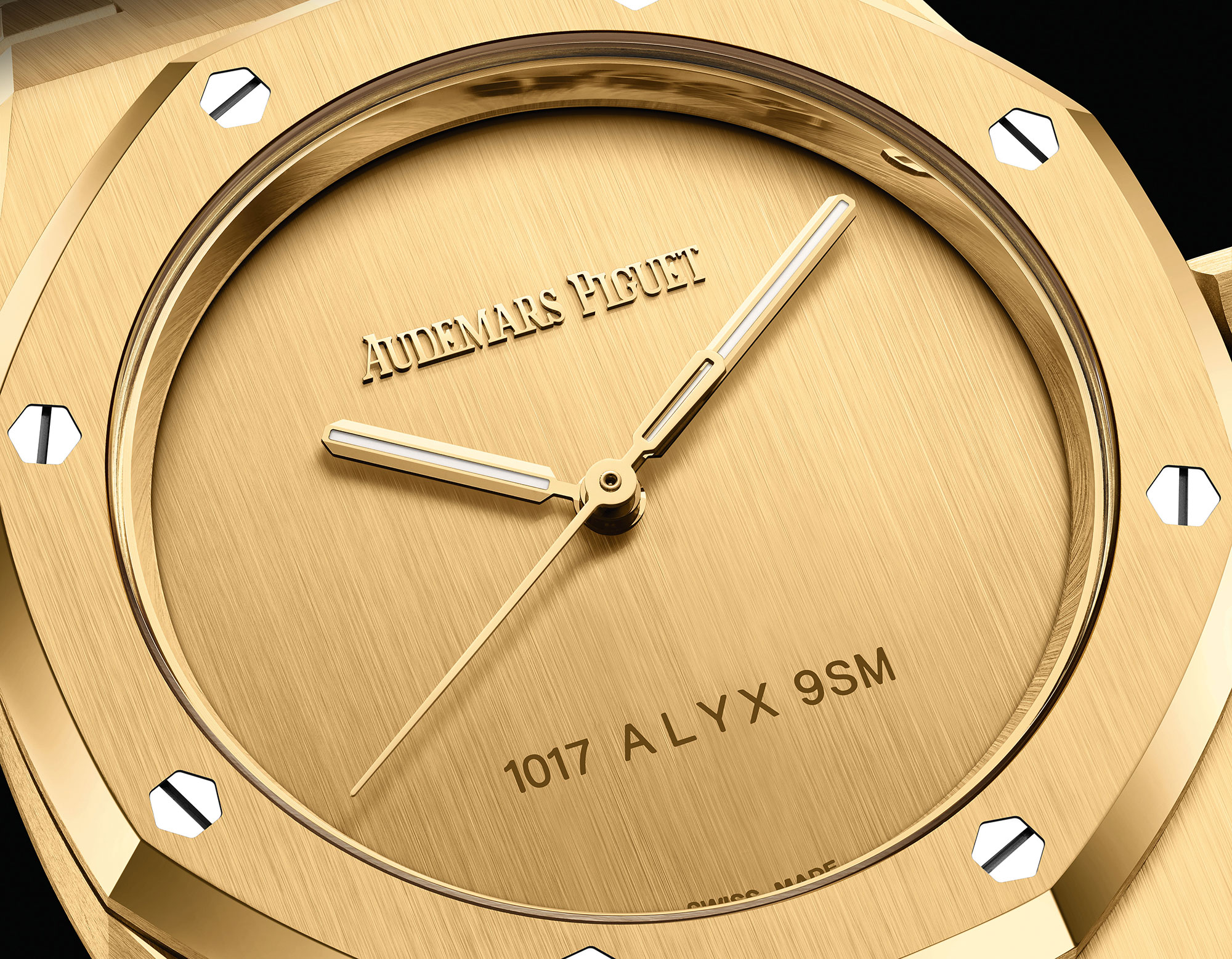 The two Royal Oak Offshore variants are available as chronographs in 18-carat white gold or yellow gold. The case diameter is 42 mm in each case. In addition to the rather bulky design for the Offshore collection, the two models can also be distinguished from the gold Royal Oak versions by the date window. They can also be changed to a black rubber strap.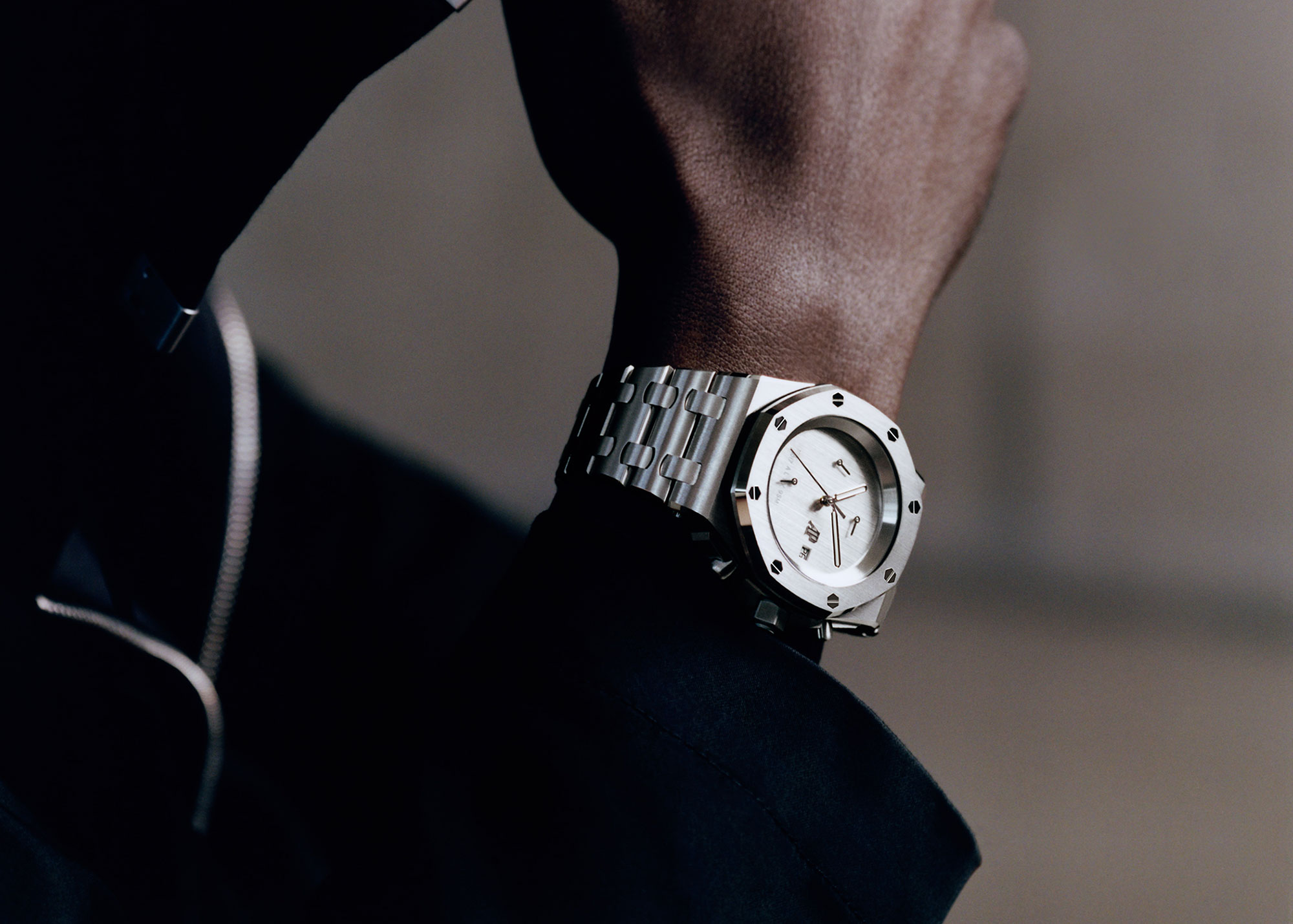 ---
Movements
The Royal Oak Automatic runs on calibre 5909, introduced in 2022, with a 60-hour power reserve. The Royal Oak Chronograph is powered by calibre 4409 with an integrated chronograph. It has a flyback chronograph and has already been fitted in the (Re)Master01 as well as in earlier Offshore models. It offers a power reserve of 70 hours.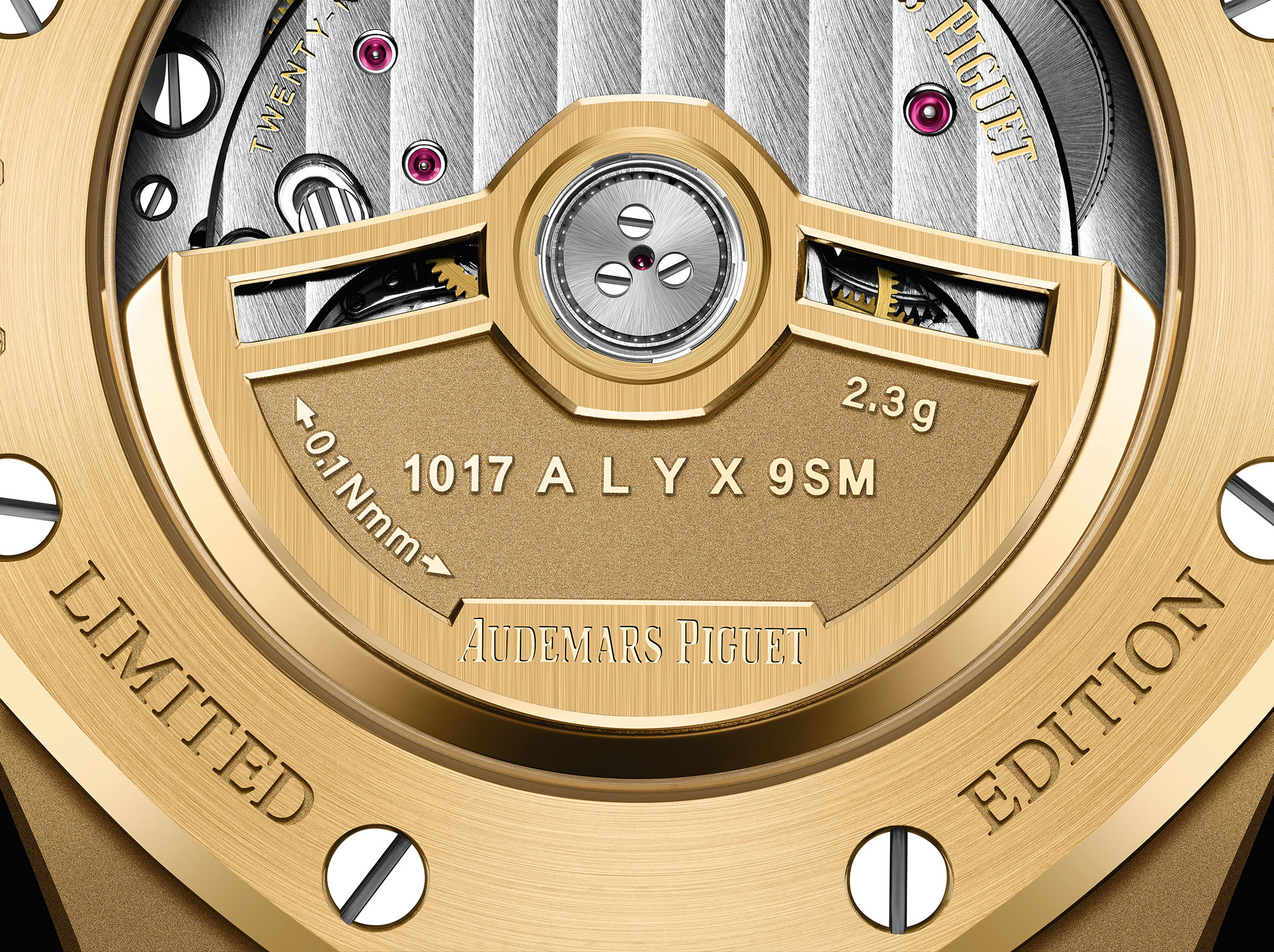 Calibre 5909
The two Royal Oak Offshore models run with the calibre 4404, also with an integrated chronograph mechanism and flyback function. It is built to be slightly higher than the calibre 4409 and thus fits well into the larger case of the Royal Oak Offshore. The oscillating weight was specially developed for the limited editions and is made of 22-carat yellow or white gold with an engraving of '1017 ALYX 9SM' and indications of Newton millimetres and rotor weight – an allusion to the technical references on Williams' typical clasps. Behind the sapphire crystal caseback, the fine decorations such as Geneva stripes, perlage, sunburst as well aa satin finishes and polished bevels also come to light.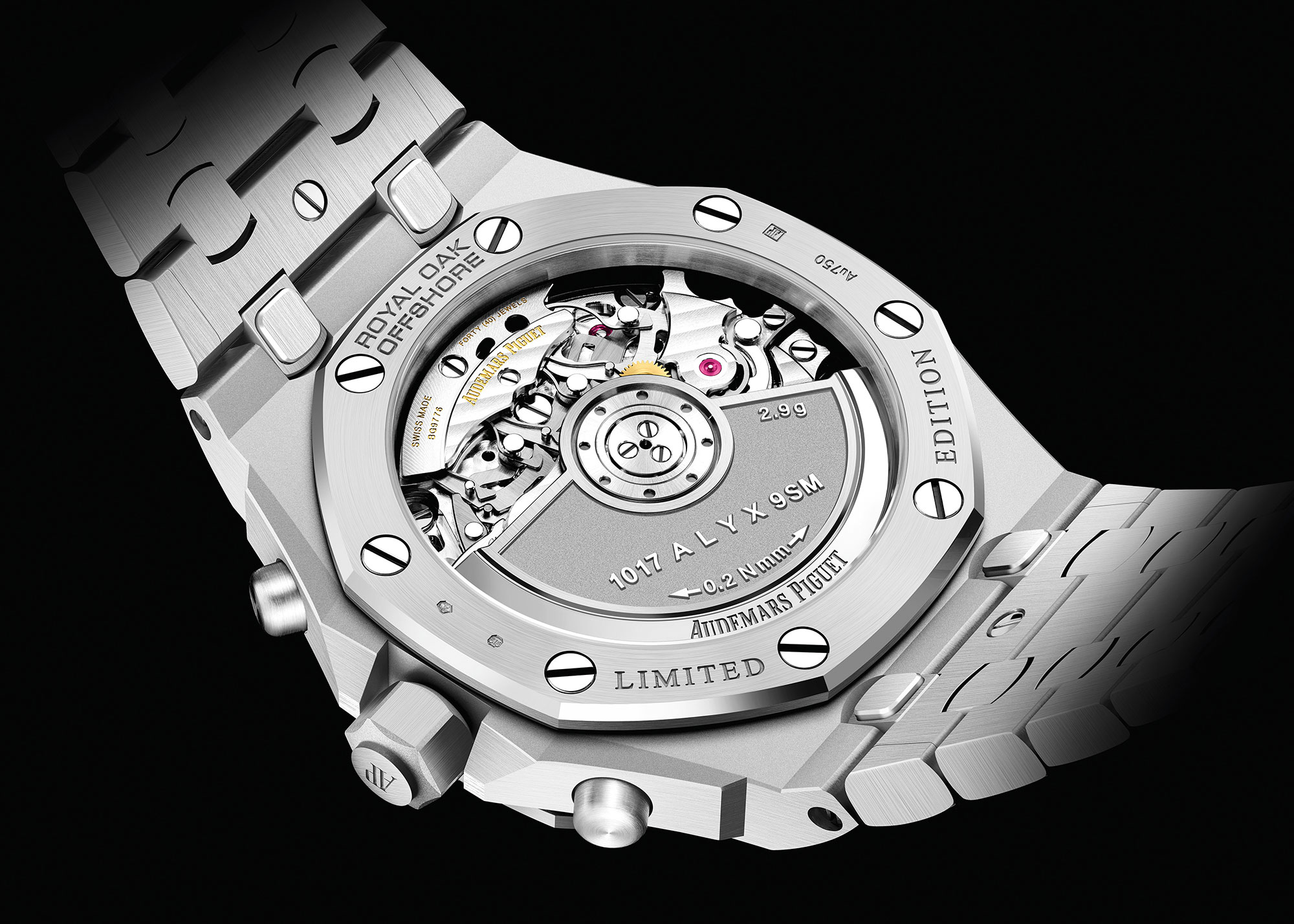 Calibre 4404
---
A unique piece for a good cause
In a time when supposedly unconventional collaborations have become commonplace, this collaboration cannot be called a coup, especially since the design is similar to the pieces designed with MAD Paris. Nevertheless, the collection is coherent and extremely successful because both worlds uniting here place the highest value on uncompromising craftsmanship and each is a master of their own trade. The four new models impressively demonstrate what can come out of this. Both brands are so sought-after that the timepieces are sure to sell quickly.
The designers and AP crown the collaboration with a unique piece that will be auctioned off for charity at a launch event in Tokyo on 24 August. It is a Royal Oak Automatic Chronograph with a 41 mm bicolour case and bracelet in 18-carat yellow gold with stainless steel. The dial of this exceptional creation is made of gold with black PVD coating and a vertical satin finish. The proceeds go to support the education of disadvantaged children promoted by the NGOs Kids in Motion and Right to Play.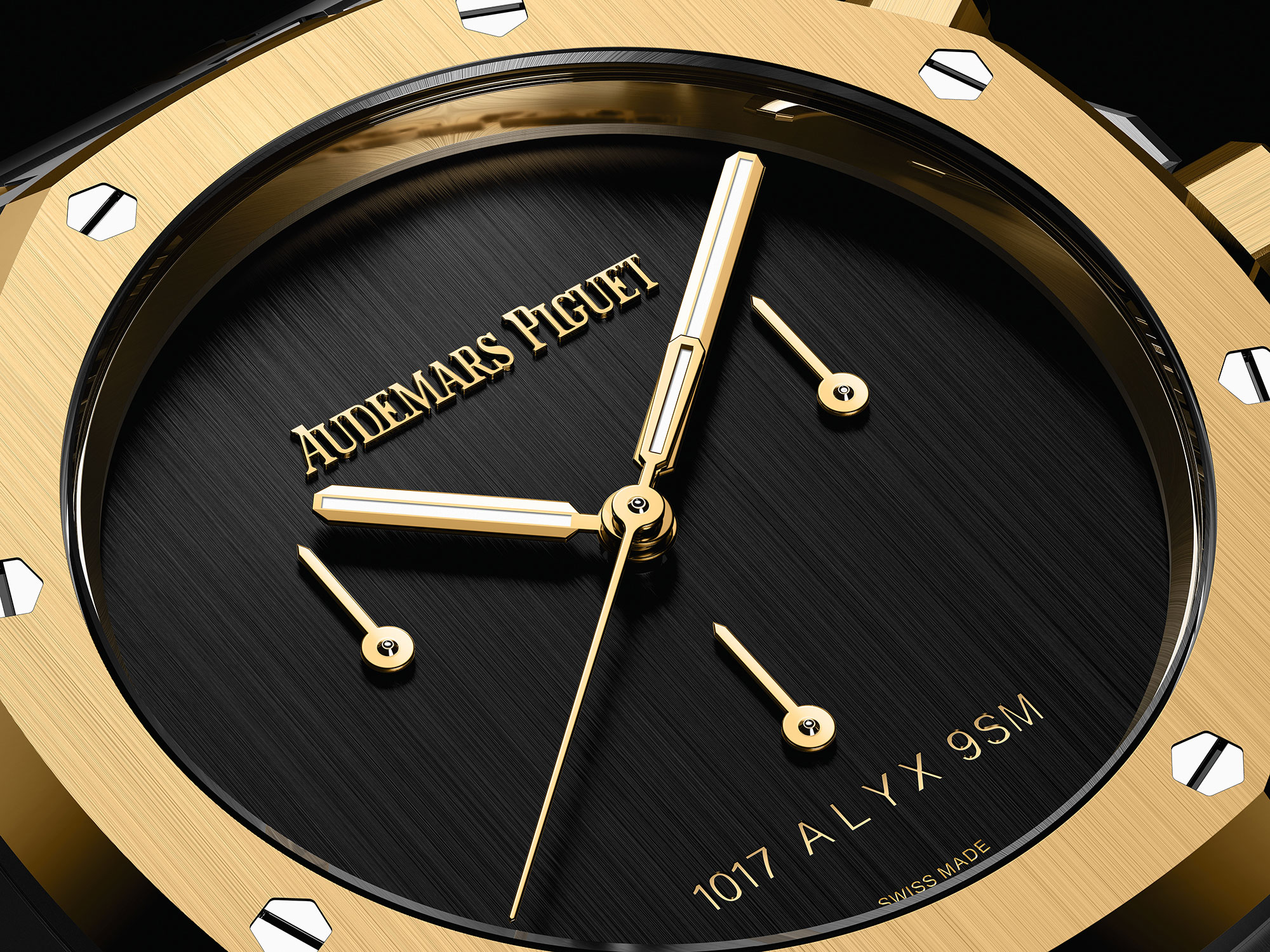 ---
Price & Availability
The Royal Oak Automatic 37 mm (15550BA.OO.1356BA.02) in 18-carat yellow gold costs 72,000 euros. The Royal Oak Chronograph 41 mm (26240BA.OO.1320SA.01) in 18-carat yellow gold costs 88,500 euros. Both Royal Oak Offshore Chronographs in white gold (26238BC.OO.2000BC.01) and in yellow gold (26238BA.OO.2000BA.01) cost 109,100 euros each. Around 200 pieces each of the Royal Oak x 1017 ALYX 9SM will be available and around 75 pieces each of the Royal Oak Offshore x 1017 ALYX 9SM. They are available exclusively in Audemars Piguet boutiques.

---