How a Rolex, Zenith and Ressence proved to be the right watches for braving the eternal ice.
Our author was faced with this question: Which timepieces to take to an Antarctic journey?
'There is no law south of the 50th latitude – and there is no god south of the 60th latitude', seafarers used to say. There is a good reason why the Antarctic is one of the world's most uninhabitable regions for humans. It's a continent with double-figure minus degrees most of the year long. A region with huge icebergs, of which some are bigger than the Balearic island of Mallorca, and which used to be the backdrop for numerous heroic stories that emerged at the beginning of the 20th century, both through the exploration of the Antarctic and from the race to the South Pole.

Robert Falcon Scott lost his life, and Ernest Shackleton failed in reaching the pole, however he did manage to save his crew. Ever since, he has been regarded as the epitome of the self-sacrificing and compassionate team leader. By contrast, it was Roald Amundsen who eventually won the race, although he failed to gain any respect from his fellow competitors due to his egocentric methods. Back then, it was more about gentlemanly values and chivalry than setting world records.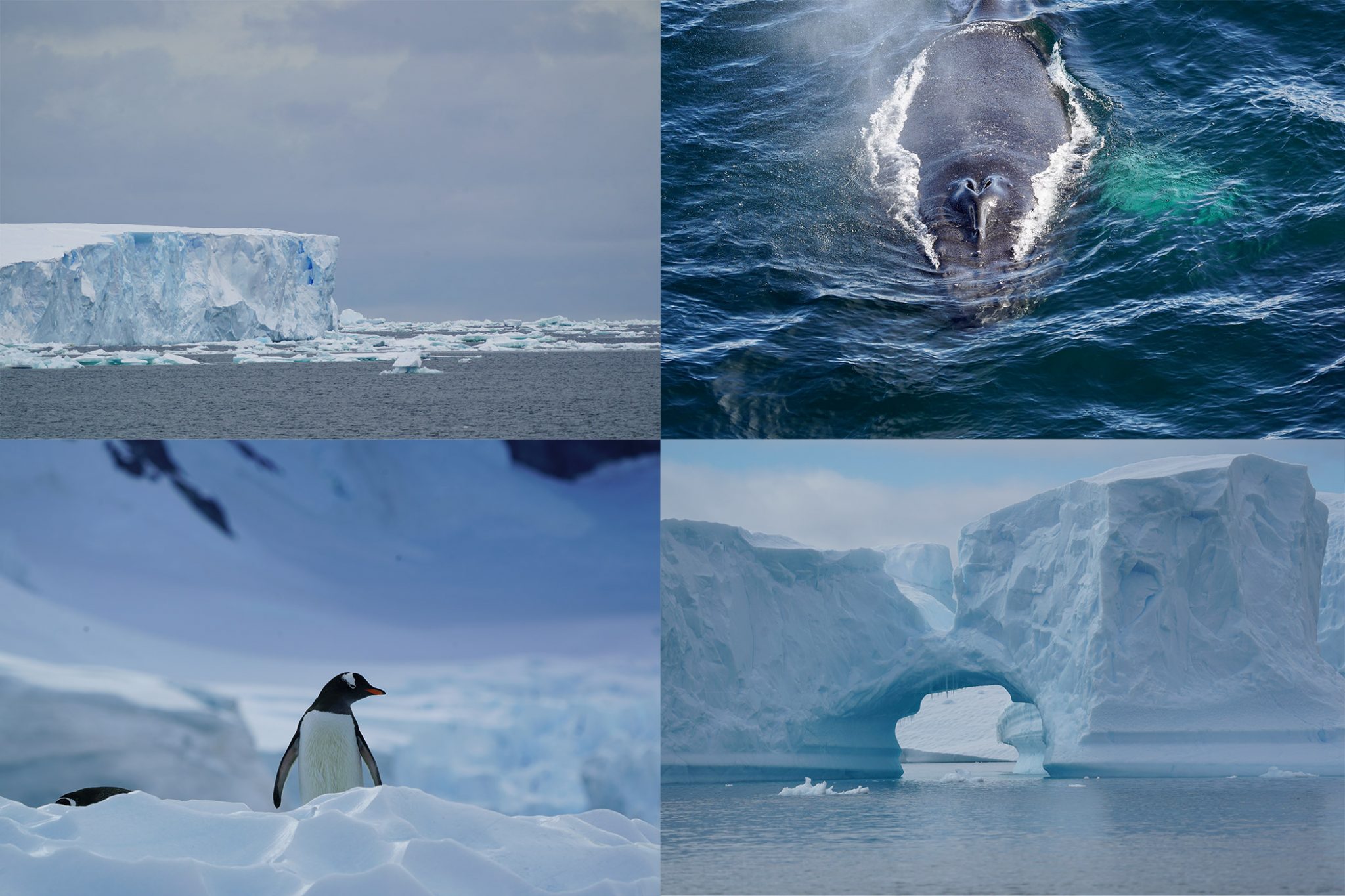 The Antarctic – an uninhabitable but beautiful place © Alexander Stilcken
Yet, also at that time, watches were an essential part of the equipment used to keep track of time in a place of eternal darkness, and help explorers face the endlessness of the Antarctic. Amundsen relied on the famous observation watch called "Deck Watch", created by Julius Assmann from Glashütte – an inspiration for the current Senator Observer from the Glashütte Original collection. Ranulph Fiennes used to promote his Rolex GMT-Master that he used for navigation during all of his expeditions. Reinhold Messner took the OMEGA Speedmaster to the South Pole. So, I was faced with the question: Which watches should accompany me on my journey?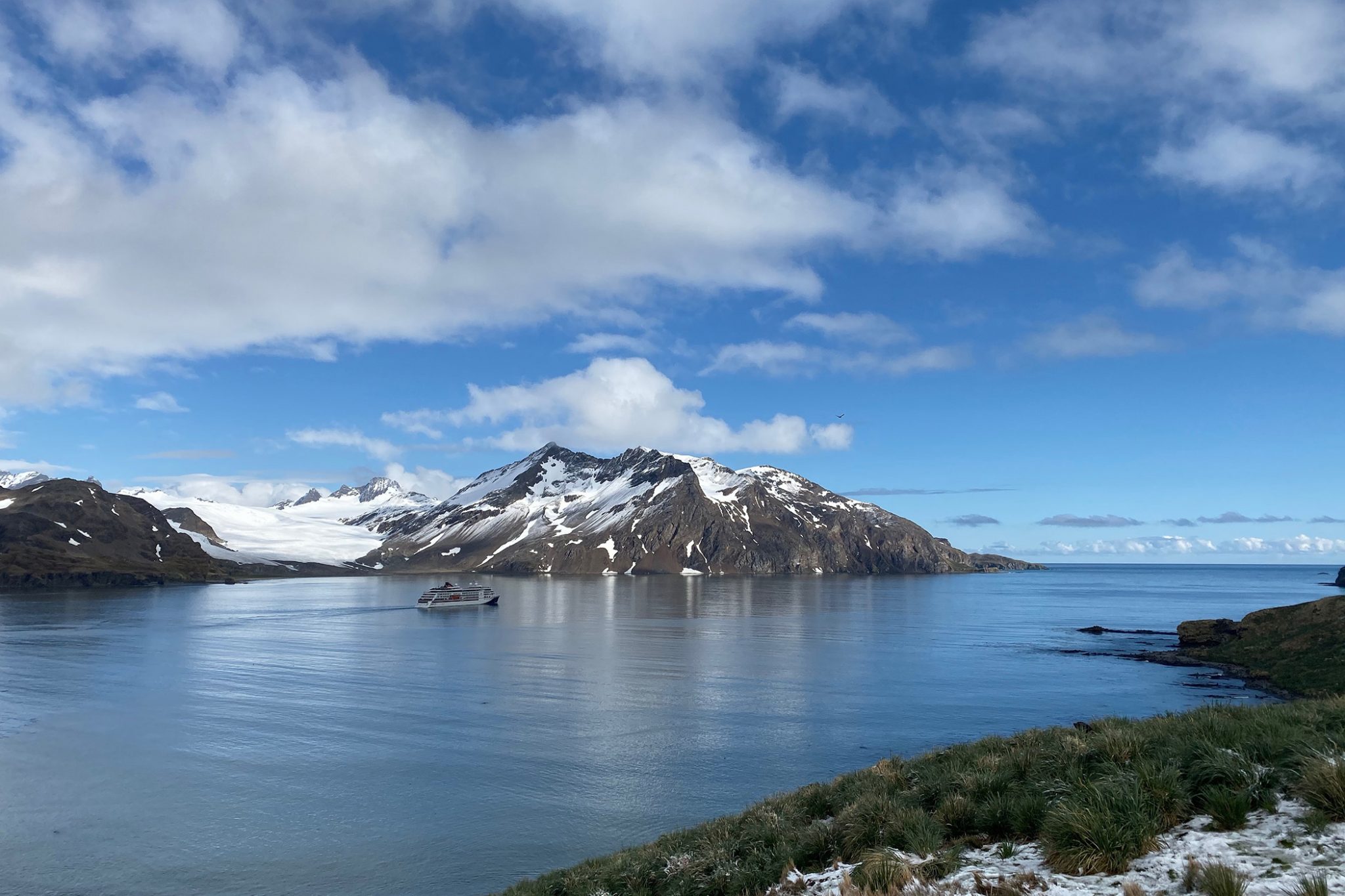 With Hapag-Lloyd Cruises on an Antarctic journey © Alexander Stilcken
At this point, I had to be realistic and consider my requirements for my watch. Instead of life-threatening missions, I was with Hapag-Lloyd Cruises. It's the 21st century and the possibilities to travel to the Antarctic have changed greatly. Instead of sleeping in a tent, I was comfortably installed in cabin 514 – equipped with a balcony, shower, minibar and a safe for watches. The "Hanseatic Nature" is just over a year old and although it is an expedition ship, it is more like a floating five-star-hotel. One day during the journey, orcas soared by in front of the gourmet restaurant's panorama window. Often, I sat in the observation lounge on the eighth deck, listening to piano music, enjoying the Antarctic stretching out before me, and reading about the failed struggle of Robert Falcon Scott from the great Scott-biography by Ranulph Fiennes.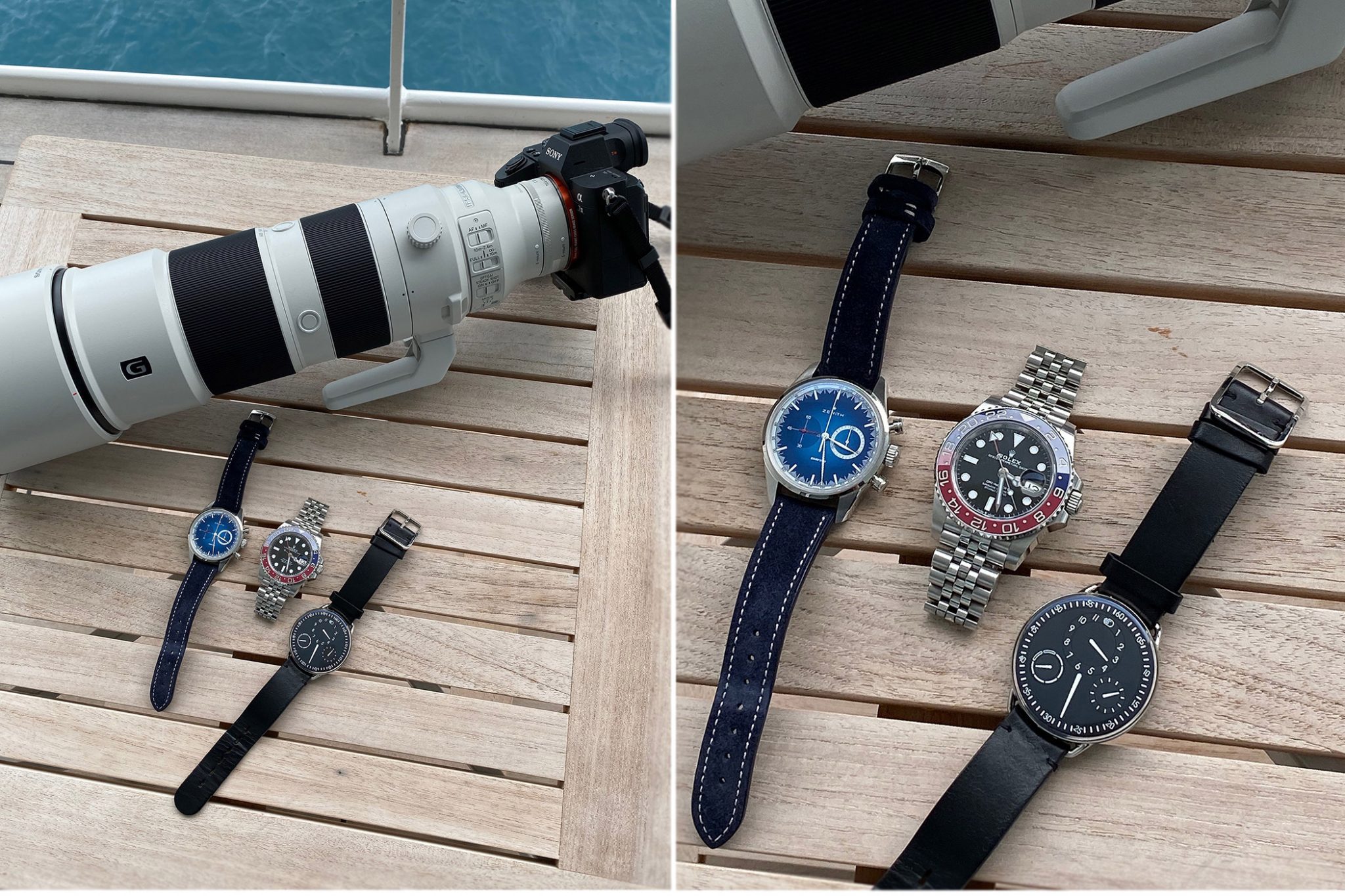 Well prepared for braving the eternal ice © Alexander Stilcken
From these books I know that the pioneers from past times knew exactly how to have a good time. They took plenty of rum with them, as well as gramophones and letter cases to print their own newspaper. What seemed supposedly unnecessary gave them strength and inspiration. With that in mind, I am not afraid to say that only one watch wouldn't have been enough for me during my journey to the Antarctic – in the end, I took three with me. I appreciate being able to have several options for the wrist and for me, there was not one single perfect Antarctic watch for such an expedition. Hence, my choices of watches were: the Rolex GMT Master-II, the Zenith Bamford Watch Department x Mr. Porter Heritage 146 Solar Blue Limited Edition, as well as the Ressence Type 1. I chose these three timepieces for entirely different reasons.
The "Pepsi"
Perhaps the most obvious choice. Although I knew very well that on this journey my adventure compared to threatening exploration eras will be limited on moments of excitement (not to mention fascinatingly and endlessly beautiful scenery), I still decided that it was a must to take a Rolex with me. Not that I actually had to use the GMT function – three to four hours time-difference to home was easy to calculate without a second time zone – but it was a good feeling to have such a tough and reliable companion by my side while being at the end of the world.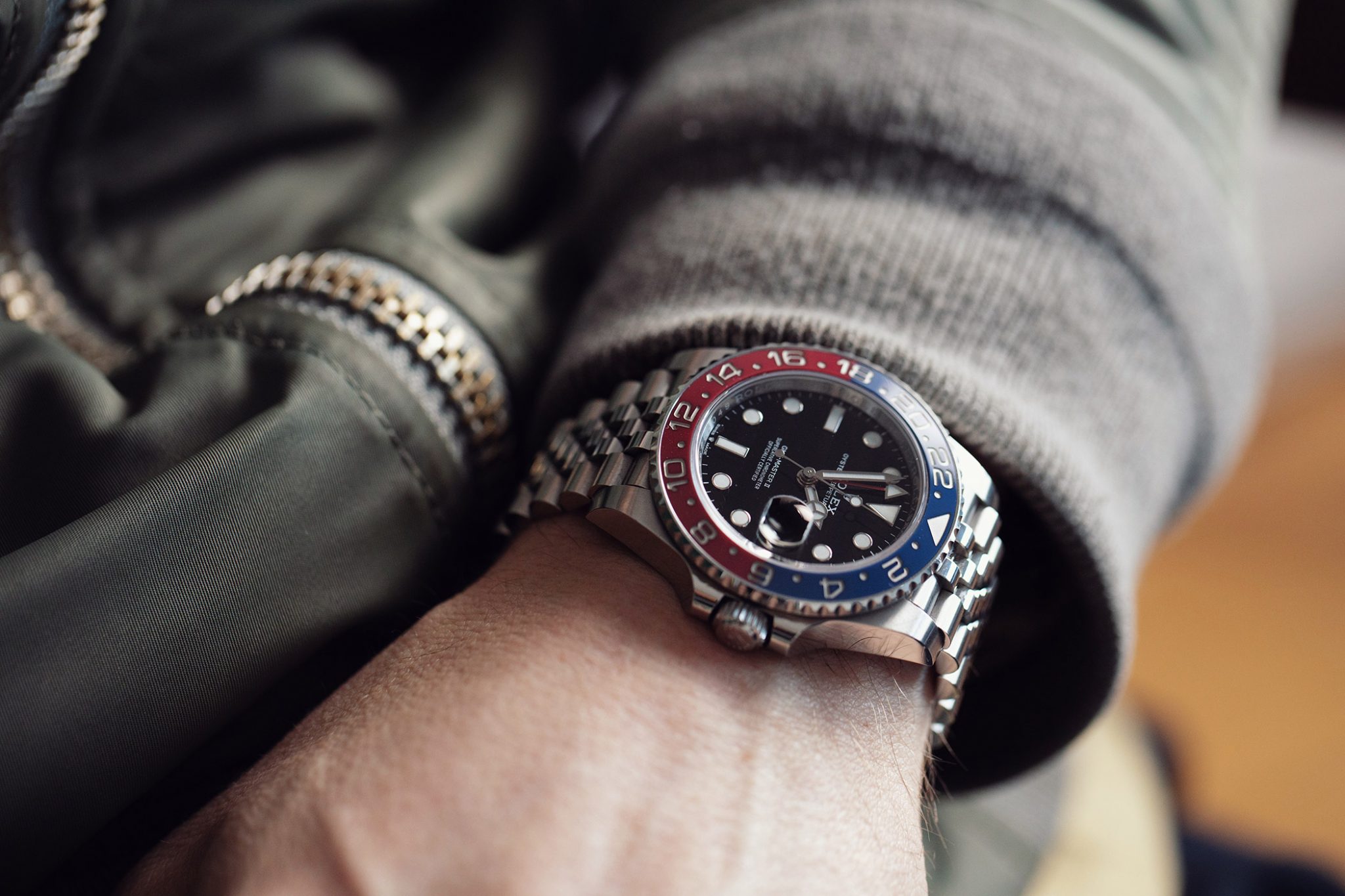 Rolex GMT-Master II – M126710BLRO
A watch that had already accompanied me on a hiking trip to Shackleton's traces in South Georgia and was to now go swimming with me in the 2-degree freezing cold Antarctic water. That's no challenge for the new "Pepsi" – hardly anything presents a real challenge for this watch. For me, it is simply an important piece of tool watch history that incorporates decades of technical optimization.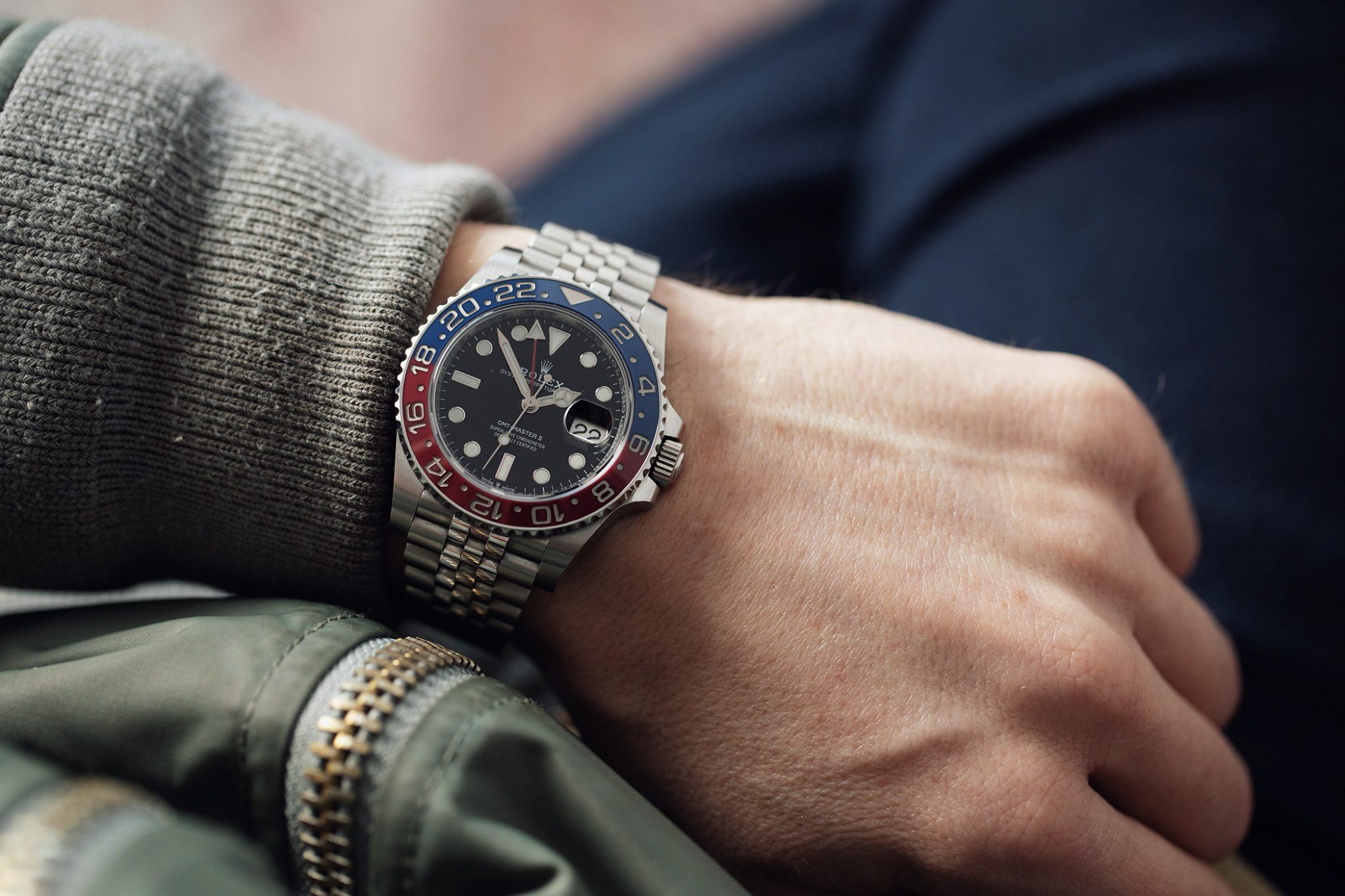 Rolex GMT-Master II – M126710BLRO © Alexander Stilcken
The Zenith
I also was pretty convinced about my choice to take this watch with me. Within my small collection, the Solar Blue holds the status of a "snow watch". The shining blue dial with the white tachymeter-scale reminds me of a snowflake, which is why I prefer wearing it in the winter. During skiing – or now also exploring the Antarctic, – it perfectly matched the icebergs and the sea. With its 38mm case size and Alcantara strap, it offered an elegant addition to the sporty Rolex. There is another reason why it was perfectly fitted to the "Hanseatic Nature".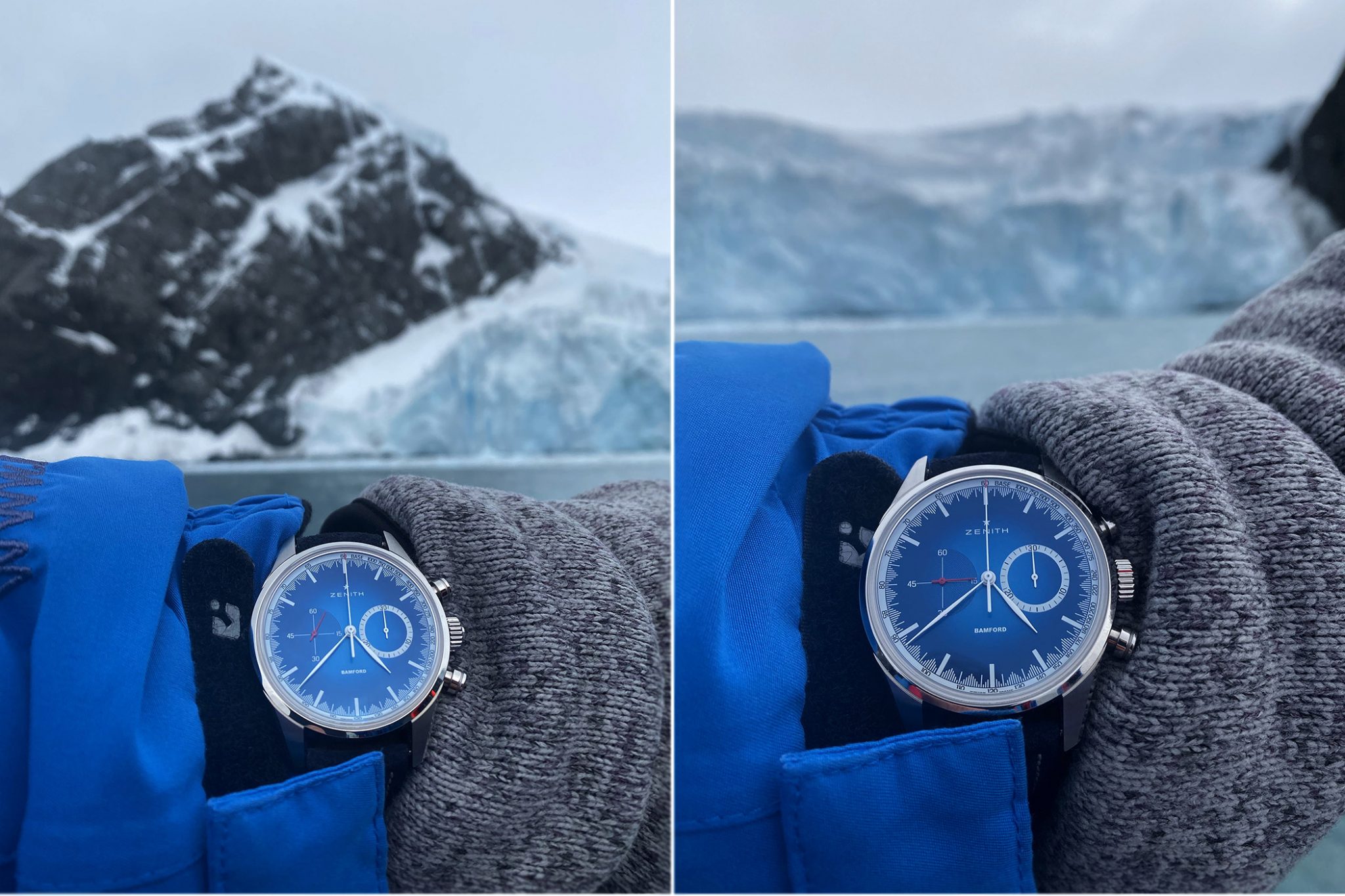 BWD x Mr. Porter Zenith Heritage 146 'Solar Blue' © Alexander Stilcken
Just like Hapag-Lloyd redefines the way of expedition with a luxury approach, George Bamford has also had a great amount of impact on modern watchmaking. Once reviled for deconstructing watches, he has now become a respected partner of LVMH.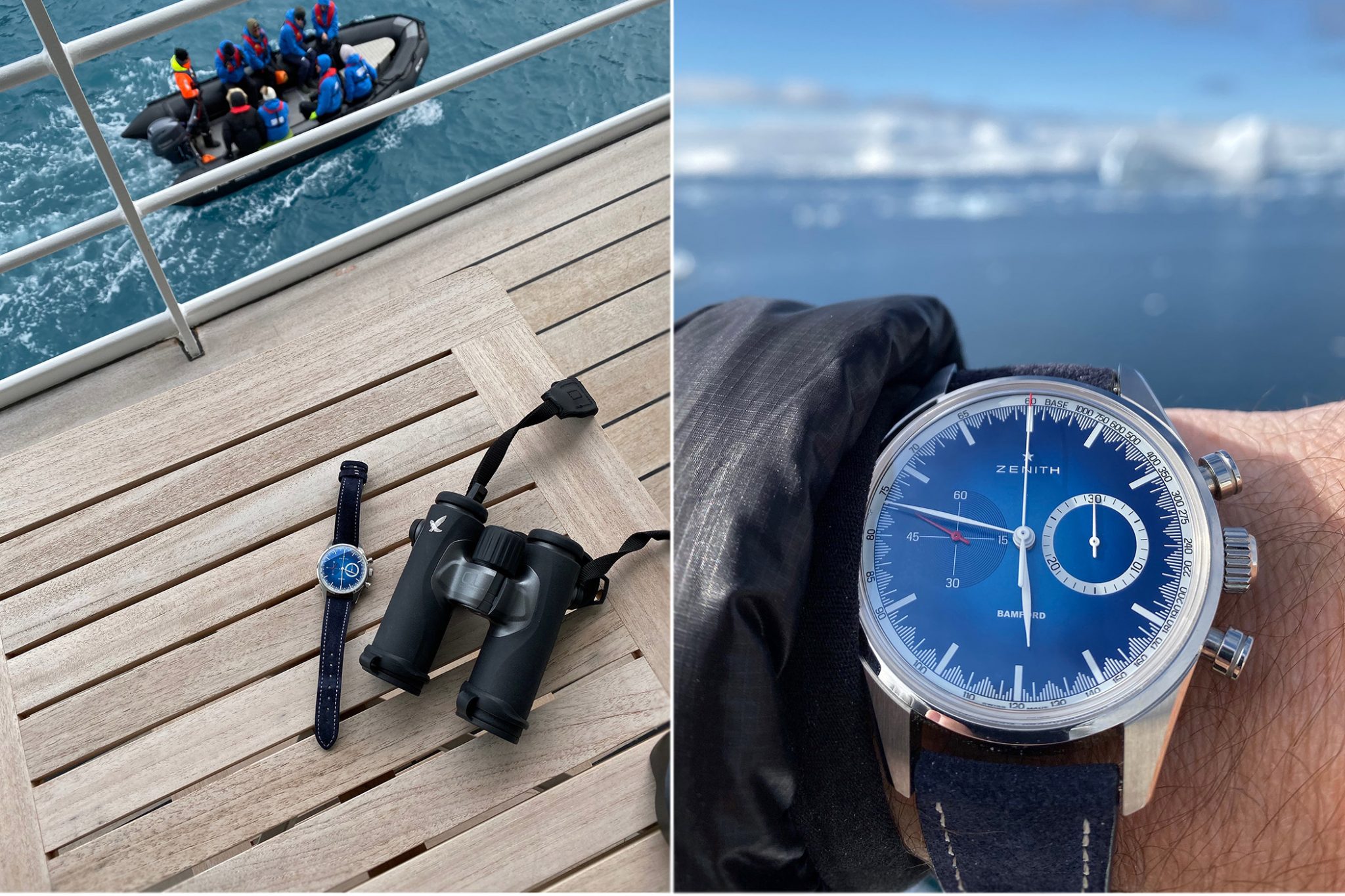 BWD x Mr. Porter Zenith Heritage 146 'Solar Blue' © Alexander Stilcken
The Solar Blue is the first Zenith that he designed with his team, however it was produced to heed the quality standards of Zenith in their manufacture and sold exclusively online via Mr. Porter. The 25 pieces were sold out immediately in 2017. Therefore, the 2018 models were extended to 50 pieces, however these were also completely sold out. Innovation and good quality pay off.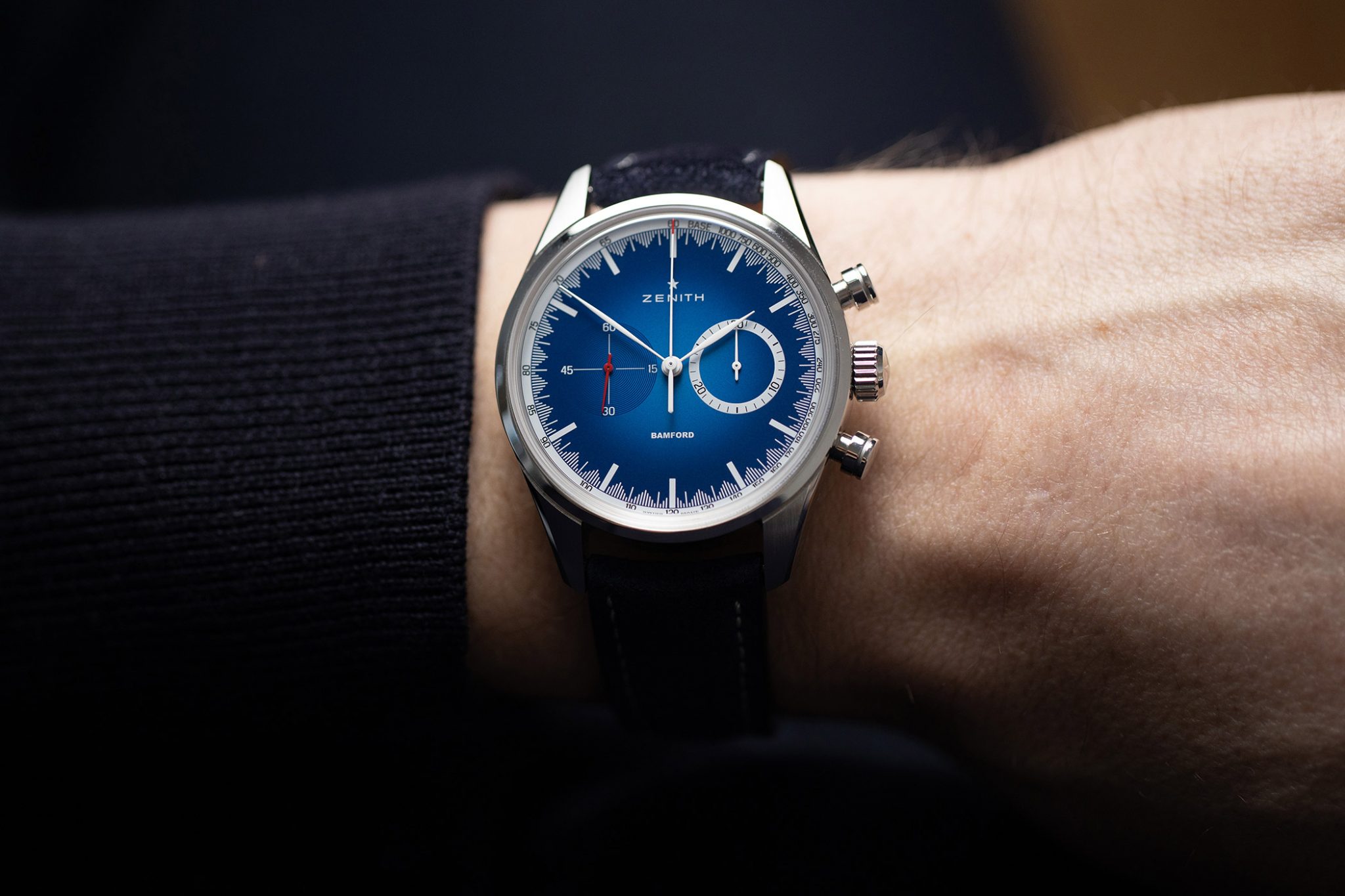 BWD x Mr. Porter Zenith Heritage 146 'Solar Blue'
The Ressence
To be honest, I only chose the Type 1 for communication and show-off purposes. There is no other watch in my collection that attracts more attention. Not because people know the brand Ressence, but because the crownless case and display of time on a turning disc is so unique. It is a watch that catches the attention of watch enthusiasts just as much as people in the street. It is an extraordinary watch and what's more, an uncommonly beautiful timepiece. When meeting Ressence-founder Benoit Mintiens in Antwerp he told me: "It's not the design but solely the price that makes our watches become niche products."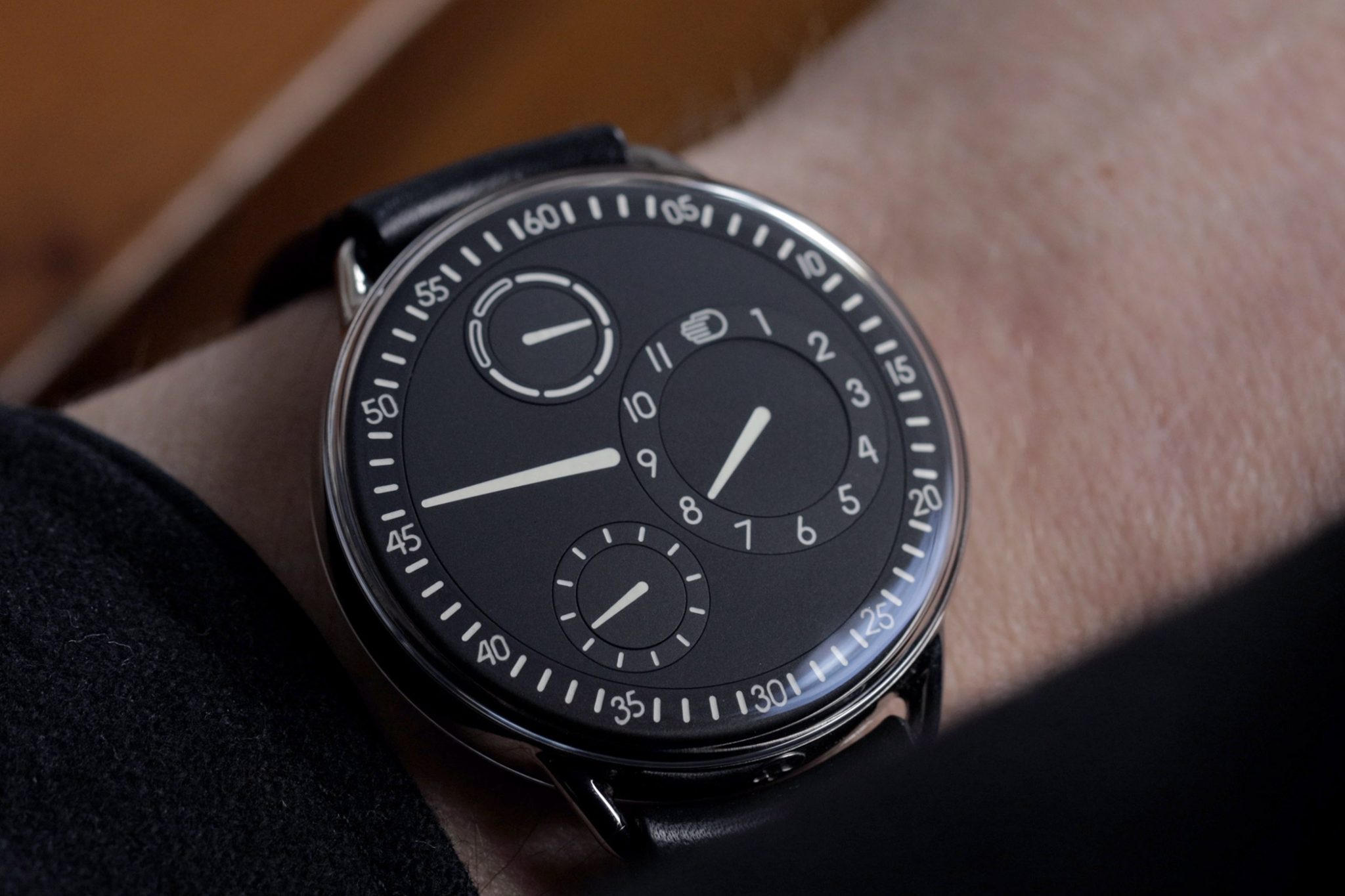 Ressence Type 1
Mintiens only produces a few hundred watches a year and has a completely different technical and visual approach in terms of displaying the time. He is a visionary, a maverick, and a great pioneer of the watch industry. With a Type 1 on my wrist, I wanted to stand out from the general Rolex, Breitling and Apple Watch wearers. I only partly succeeded. On the one hand, the number of watch enthusiasts on board was limited: I spotted a Audemars Piguet Royal Oak, a Hublot Big Bang, a Cartier Santos and another "Pepsi" – but in reality, there was only one star on this journey that reigned supreme: Nature. The ice. The whales. The thousands of penguins. We were all deeply moved, to the extent that we talked about anything but watches. Time was only mentioned in relation to: "How sad that this journey will eventually come to an end".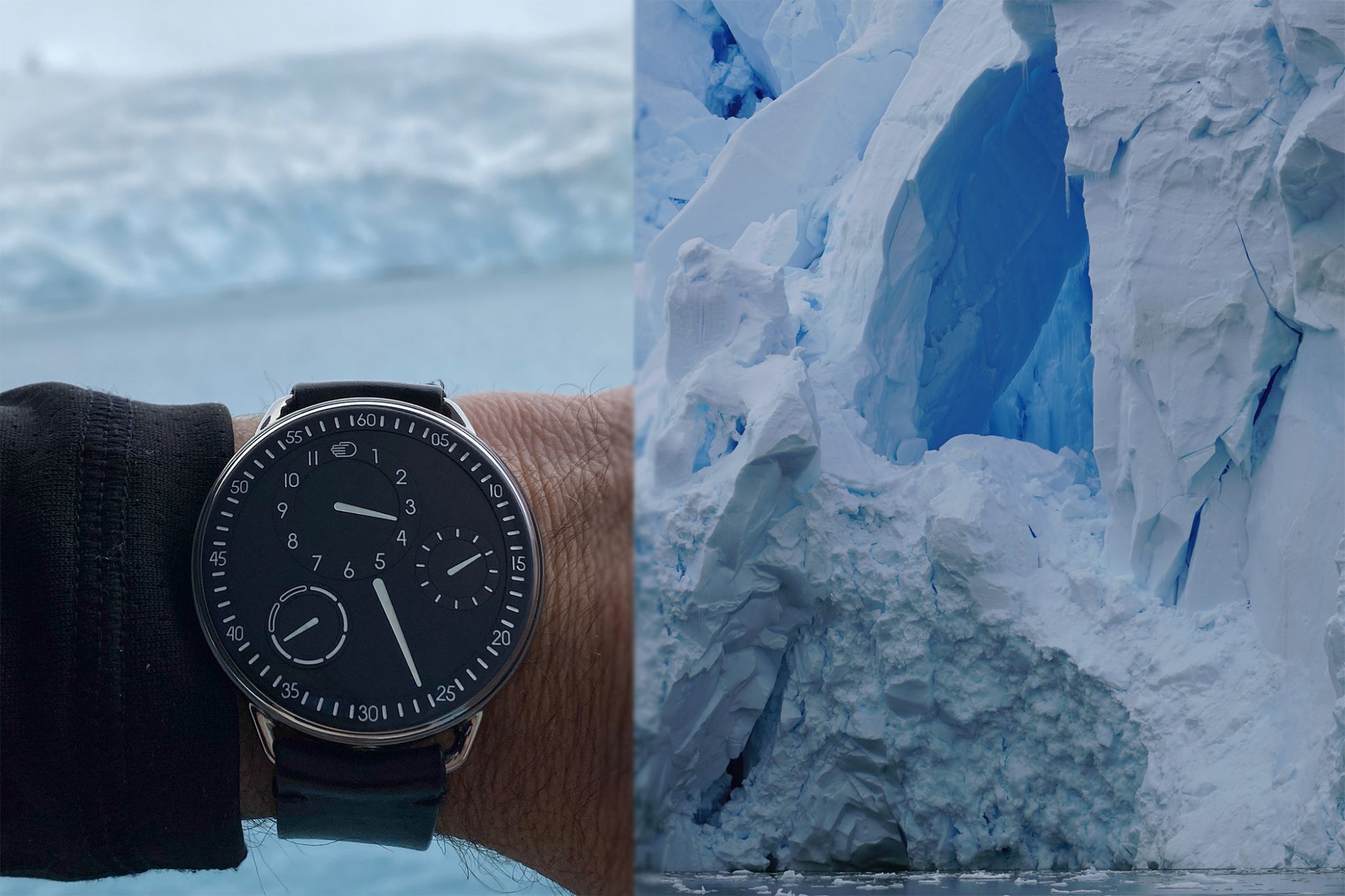 Ressence Type 1 © Alexander Stilcken
However, wearing the Type 1 while standing in a colony of penguins was a truly special experience. That is because I can assume that with only 20,000 tourists per year, I was the first Ressence wearer in the Antarctic. Then there's the style point of view: black and white matches very well with penguins. I didn't wear any watch more often on this journey than my Type 1.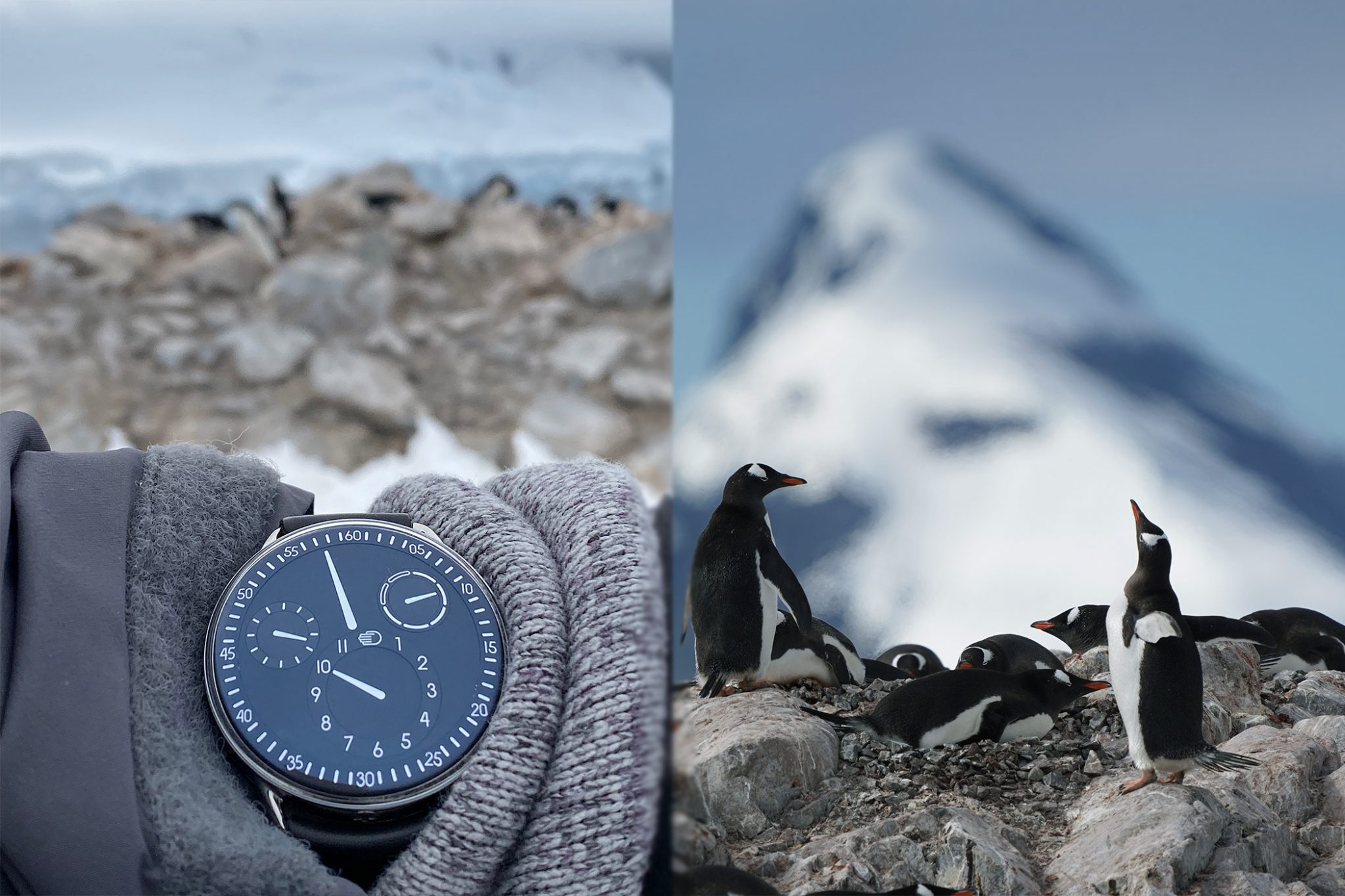 Ressence Type 1 © Alexander Stilcken
It was also the Ressence that I wore on my way back to Germany, a journey that took four days (two days at sea, one night in Buenos Aires, and one night to fly on to Frankfurt). This slowly coming home step by step was also another charming aspect of the whole journey.
Conclusion
Did I choose the right timepieces? Absolutely. Each of the three has a special meaning to me – just like the frozen continent.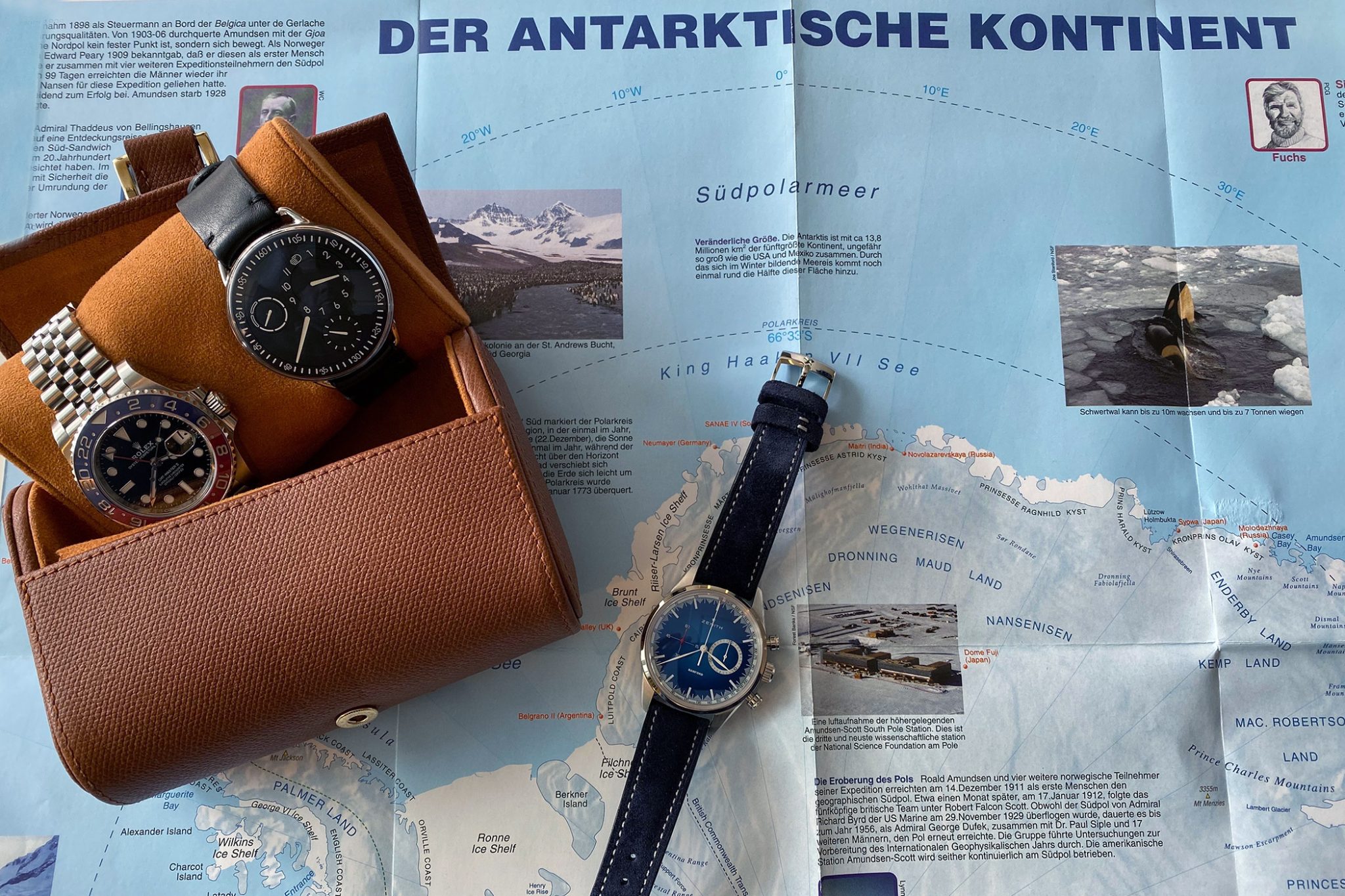 The right timepieces for the Antarctic continent © Alexander Stilcken
(The journey already took place in November 2019)
---
---
---
---
Photos © Alexander Stilcken