They love watches and make no secret of it: get to know our horology enthusiasts Philippe and Alexander in conversation.
---
Alexander: Today we are going to play the millionaire lottery. That means: we talk about our three favourites in each of the categories up to 20,000, up to 50,000, up to 100,000, up to 200,000, and finally, up to 500,000 euros. Then a little about what still comes after that. But all this is completely subjective, and without any reason or arguments such as 'conservation of value' or 'useful addition to the collection'. Nevertheless, it will come as no surprise to you that I have managed to find a Patek Philippe I love in pretty much every category.
Philippe: Even in the first one? Do you use the budget of two favourites to get an Aquanaut together?
Alexander: No, Patek Philippe is actually still missing. Instead, I started out quite classically. For example, the new Rolex Yacht-Master in titanium is an absolute favourite for me because it is so unusually restrained for a sporty Rolex in matt titanium. I also like the light feel of it. At the moment, I'm in a titanium frenzy anyway: the IWC Ingenieur in titanium is also on my list – even if you have to wonder why IWC is charging a higher price than Rolex for its model. Last but not least, I've fallen in love with the new Polaris chronograph from Jaeger-LeCoultre – with its grey sunburst dial and black subdial counters, the watch is a dream.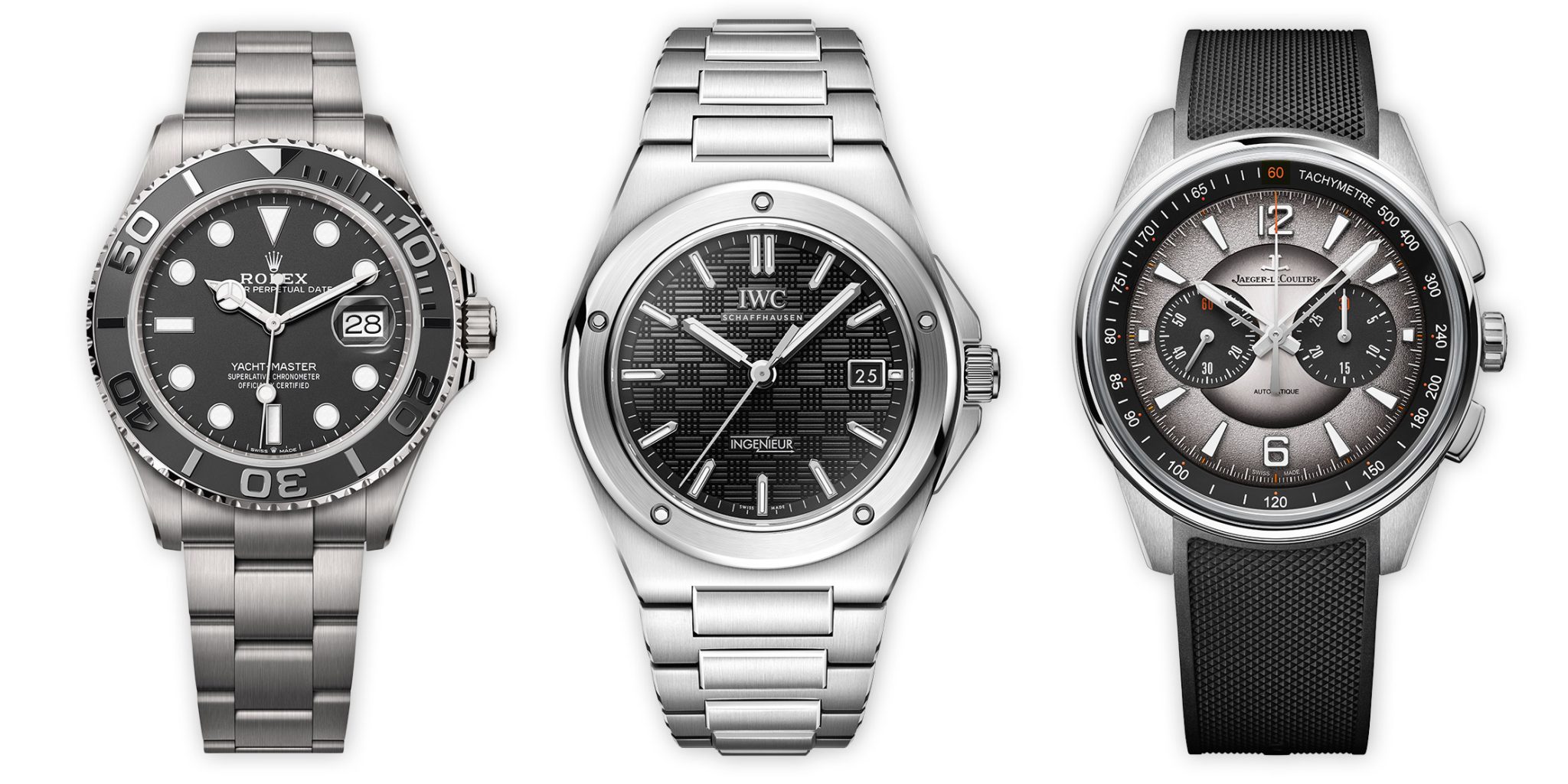 Philippe: Yes, I can understand all that – and yet I come to a different choice. My favourite in this price segment is the Zenith Pilot Chronograph. I find it very, very good in ceramic. The large date is perfect to read, the relief structure on the dial is very cool, and it wears very nicely. In this category, I also like the classic Rolex Explorer in 40 mm. And for a woman, I would choose a Tank right away. For myself, however, it would rather be the Ressence Type 1-2N with the midnight-blue dial.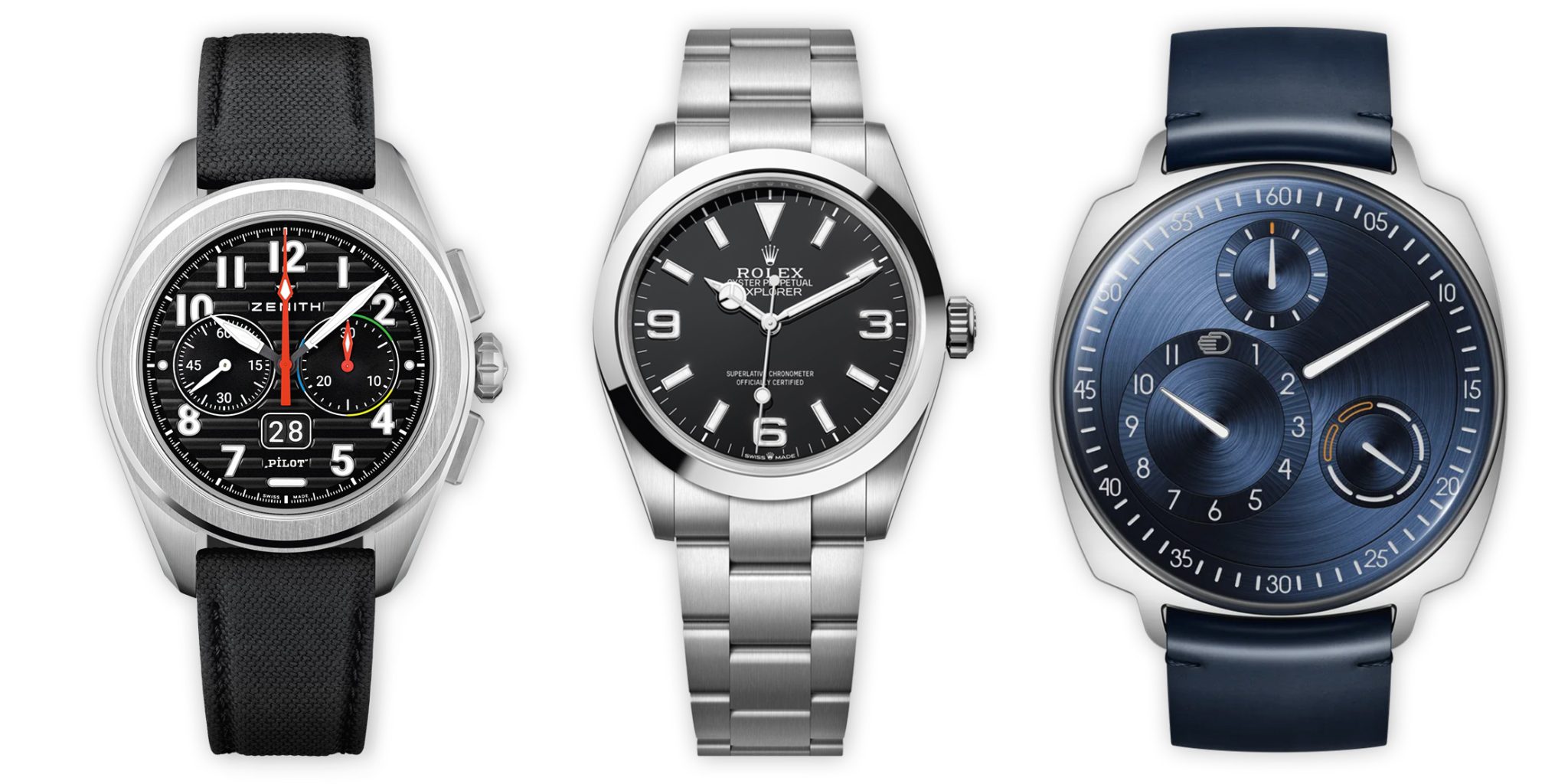 Alexander: You're preaching to the choir. To be honest, in the up to 50,000-euro category, both the oil-filled Ressence Type 3 and the Type 2 are way ahead – the latter is the mechanical watch that can be set via app. There are solar cells in the movement that store energy for this. I also love the reference 6119G from Patek Philippe, which, for me, is the epitome of an everyday wearable Calatrava. And since we are explicitly allowed to daydream: the Rolex Daytona Le Mans would also be something – but it's just over 50k. I'll have to negotiate a discount…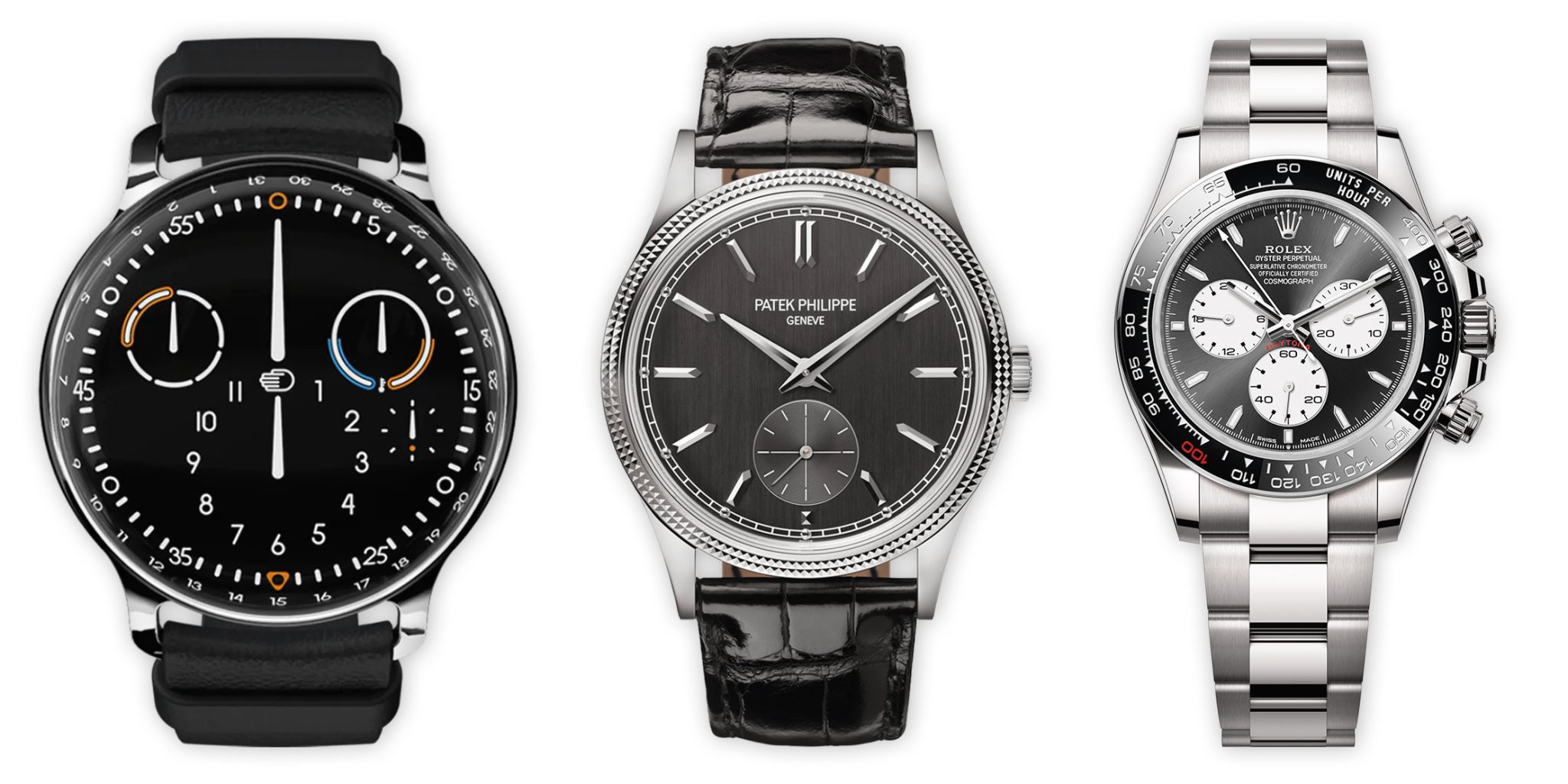 Philippe: Just say that you don't want to have espresso or champagne when you visit the boutique, then it will certainly work out. By the way, I'm also very Patek-oriented at this level: I think the reference 5212A, the Calatrava with a weekly calendar, is great. The classic Aquanaut 5167A would also be something for me, preferably with both a steel bracelet and a rubber strap. I also really like the Chronomètre Souverain Havana from F.P. Journe – the vanilla-coloured numerals together with the brown dial are incredible. It's a watch that you could wear everywhere without attracting attention.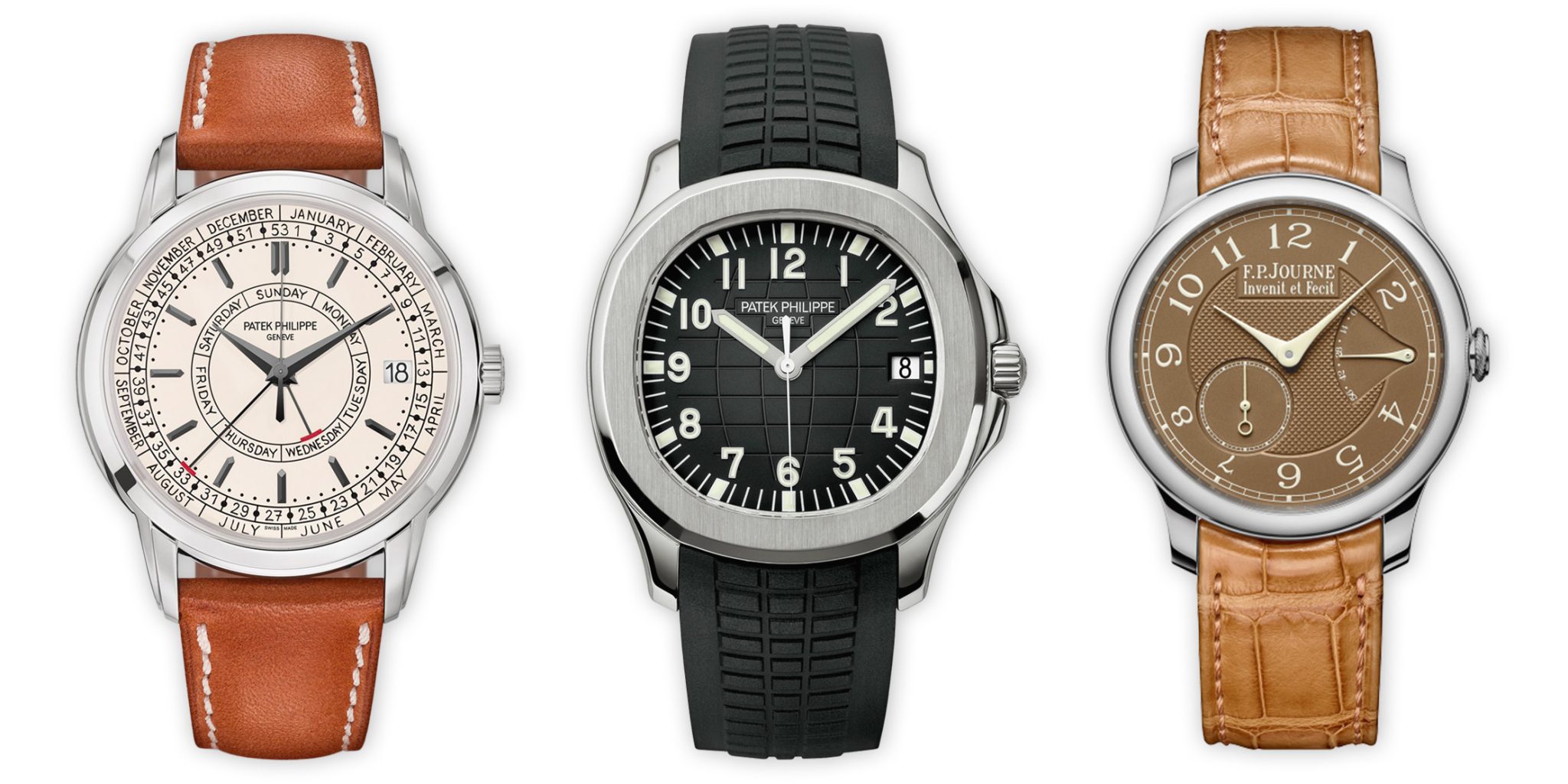 Alexander: And if it could be a little more – what are your favourite watches under 100,000 euros?
Philippe: That would bring me to a Nautilus, the reference 5990A. I also love the World Time Chrono with a salmon-coloured dial, the 5935A. I also have a weakness for the Pioneer Cylindrical Tourbillon Skeleton by H. Moser & Cie. That's where the exciting world of high-end independents begins for me. What would be your choice?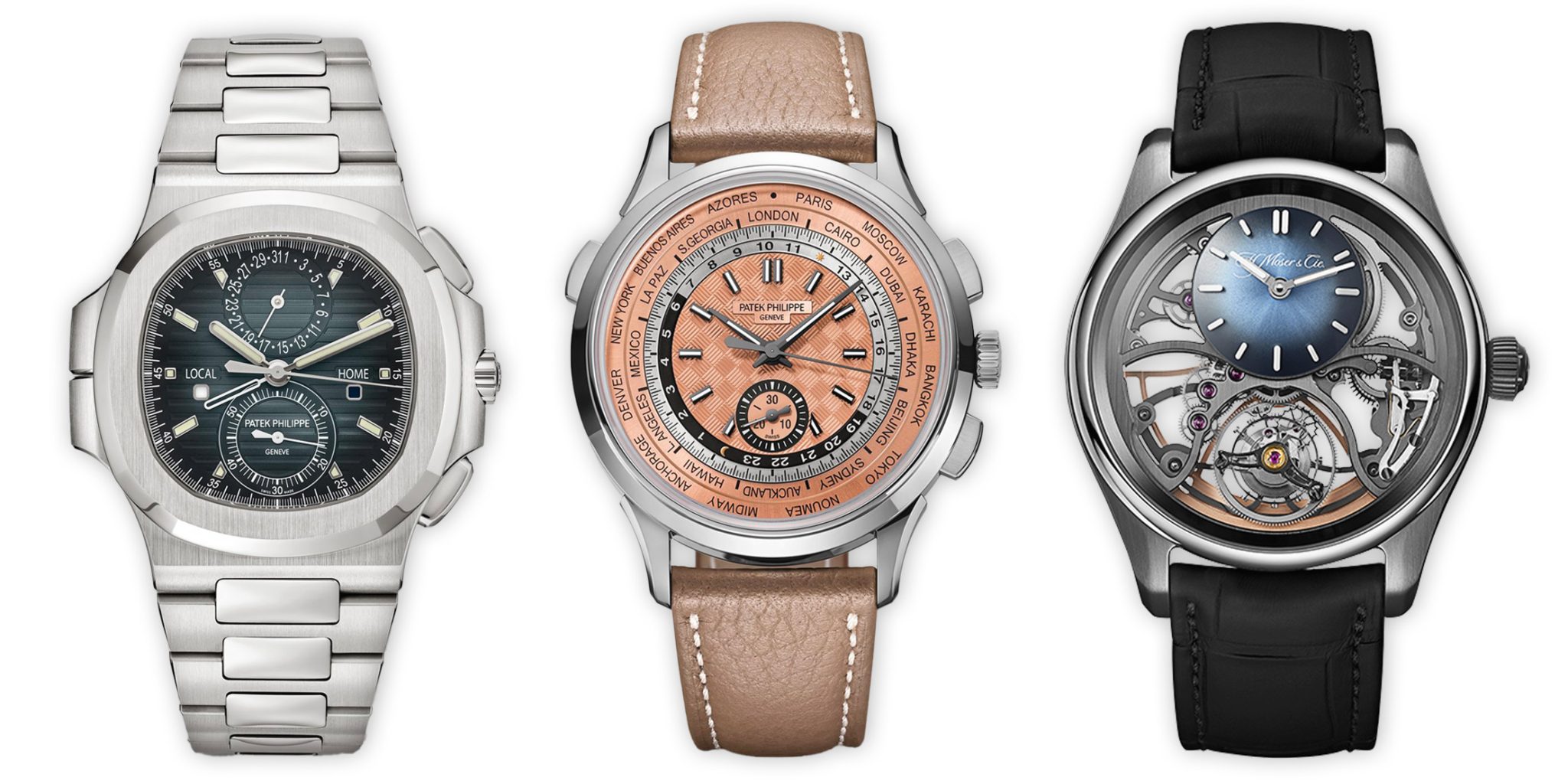 Alexander: At the top of my list would be a Patek Philippe, but a white gold one: For me, the 5811 is really an improvement over the 5711. The deep blue dial is a dream, and the one-millimetre extra diameter gives this dial even more space and thus power – for me, it is now even more beautifully scaled than before. I also have a crush on the Code 11.59 Starwheel from Audemars Piguet. This is by far the coolest version of this collection so far for me, and I love the representation of time on this dial. I also picked out an H. Moser & Cie., but the classic Endeavour Perpetual Calendar. There is hardly a clearer way of implementing a perpetual calendar, perhaps apart from the Patek Philippe reference 5236.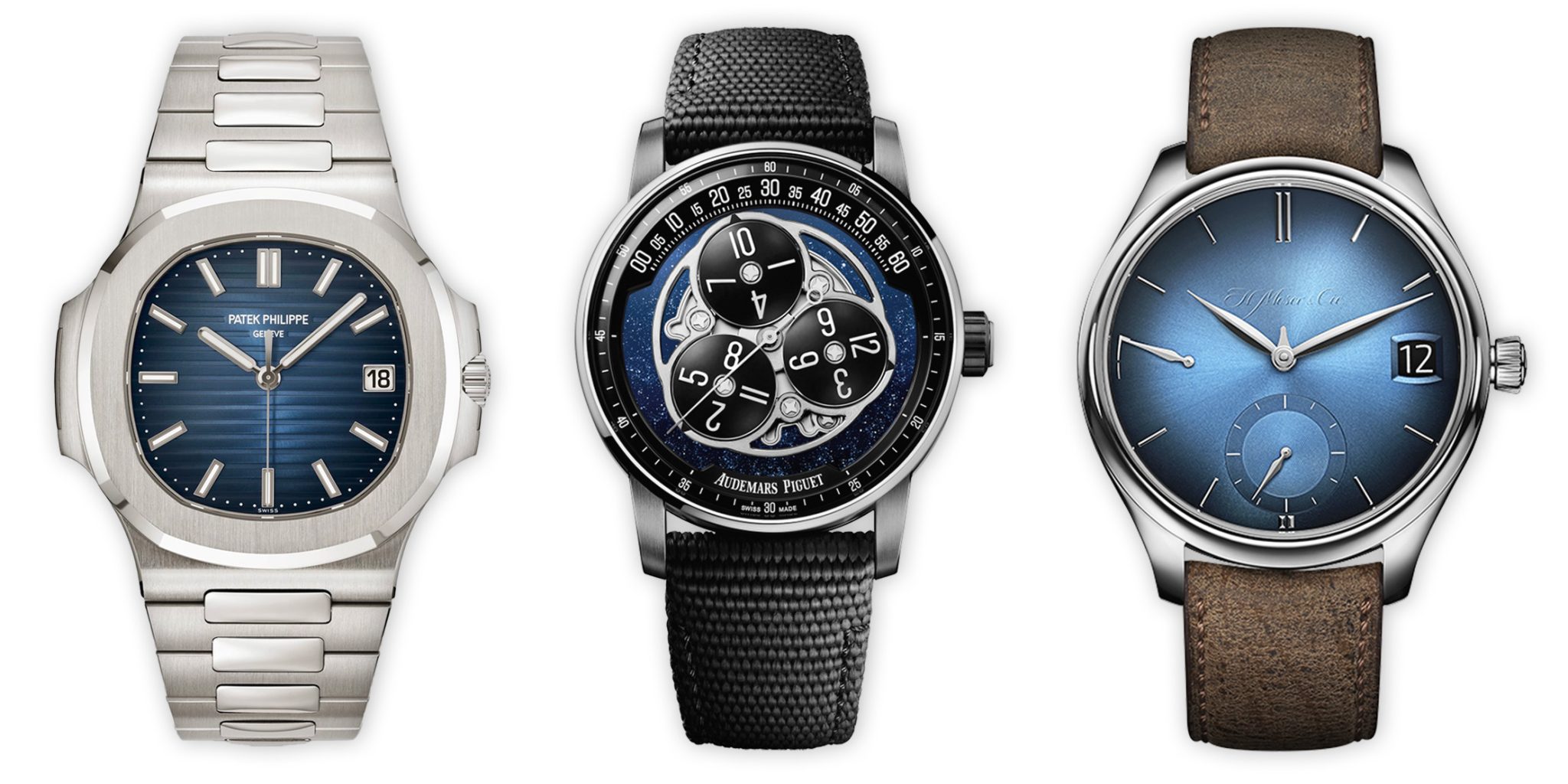 Philippe: I guess you won't be able to get by without Patek Philippe even for 200,000 euros?
Alexander: Wrong! It may be your fanboy influence, it may be Max Büsser's incredibly likeable manner, but the longer I study MB&F, the more I understand that many super collectors can't help but transfer their money over to Büsser. I myself find the Evo Sequential Chronograph with its countless timekeeping functions simply amazing, but the same goes for the perpetual calendar. And pretty much every Horological Machine. I also find the skeletonised perpetual calendar from Vacheron Constantin for the Overseas collection fabulous. I also have a soft spot for watches that have to do with the moon, astrology and tides. That's why I'm in favour of the Krayon Anywhere, which shows the time of sunrise and sunset at a place that is particularly important for the wearer.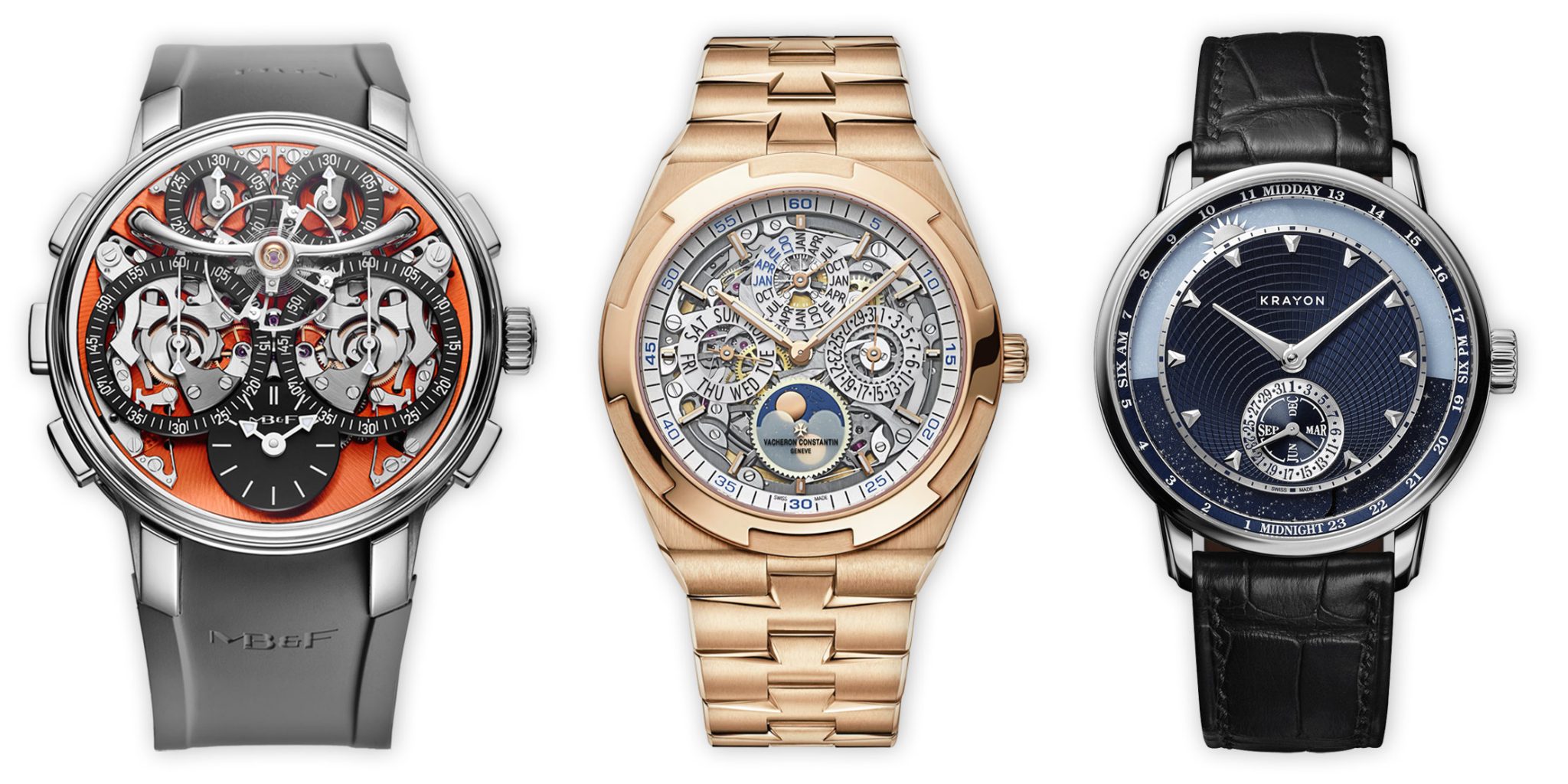 Philippe: Cool, I hadn't even heard of that one. My wish list also includes the MB&F Evo Sequential, the LM Perpetual in steel with a salmon-coloured dial, also from MB&F, and indeed the reference 5236, the perpetual calendar from Patek.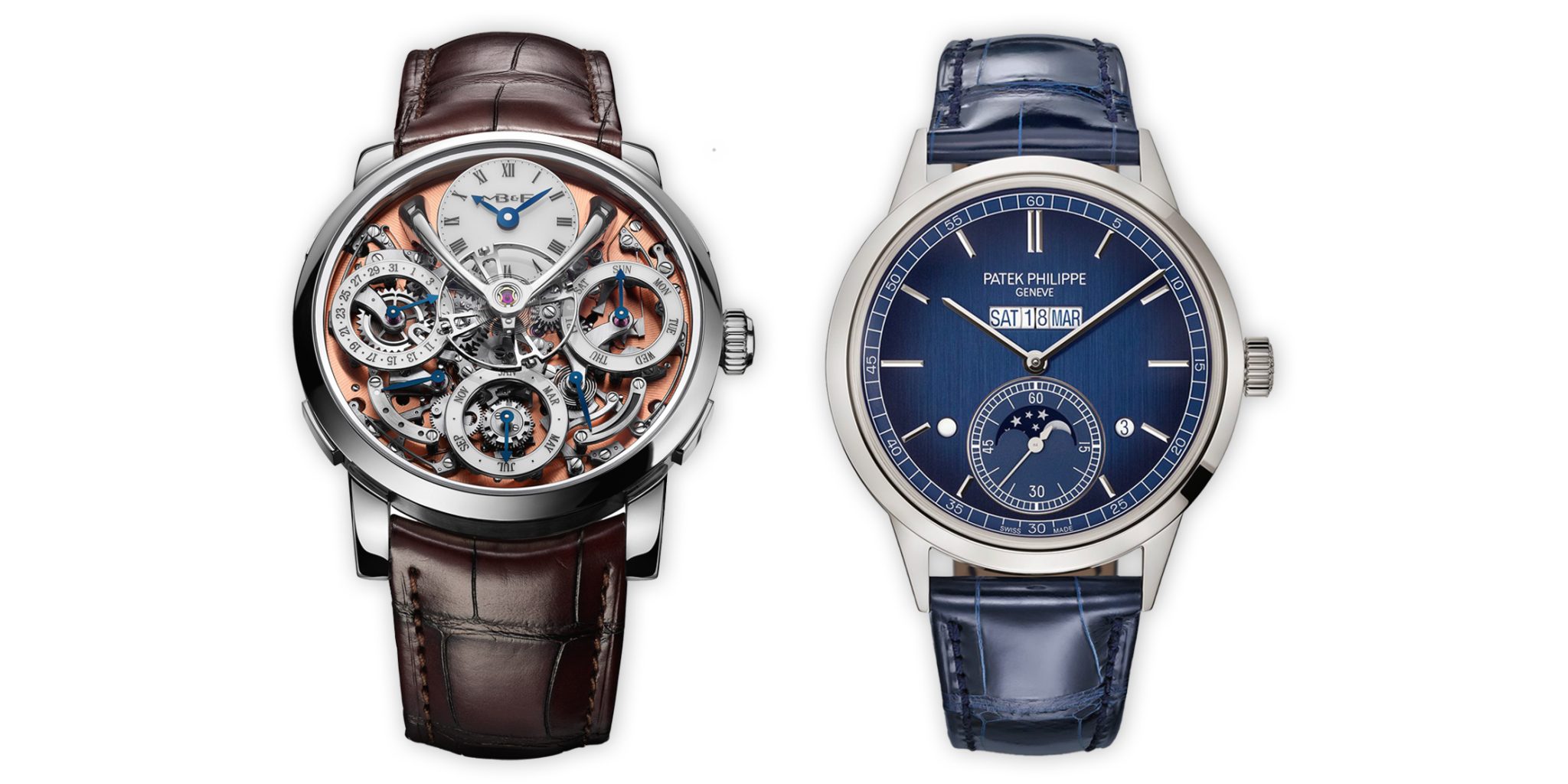 Alexander: That would put us in the range of up to half a million. What now?
Philippe: I think the 5373 from Patek is still in this price range – the left-handed Grande Complication. Purely in terms of design, I think it's the coolest reference in the entire current collection, and THE epitome of contemporary Patek design. I think it's just incredibly good. Apart from that, I'm enthusiastic about the Sonnerie Open Dial by F.P. Journe. And as a fanboy, I would invest in the MB&F HM9 SV, the latest version of this 'machine' with a sapphire crystal case. And you?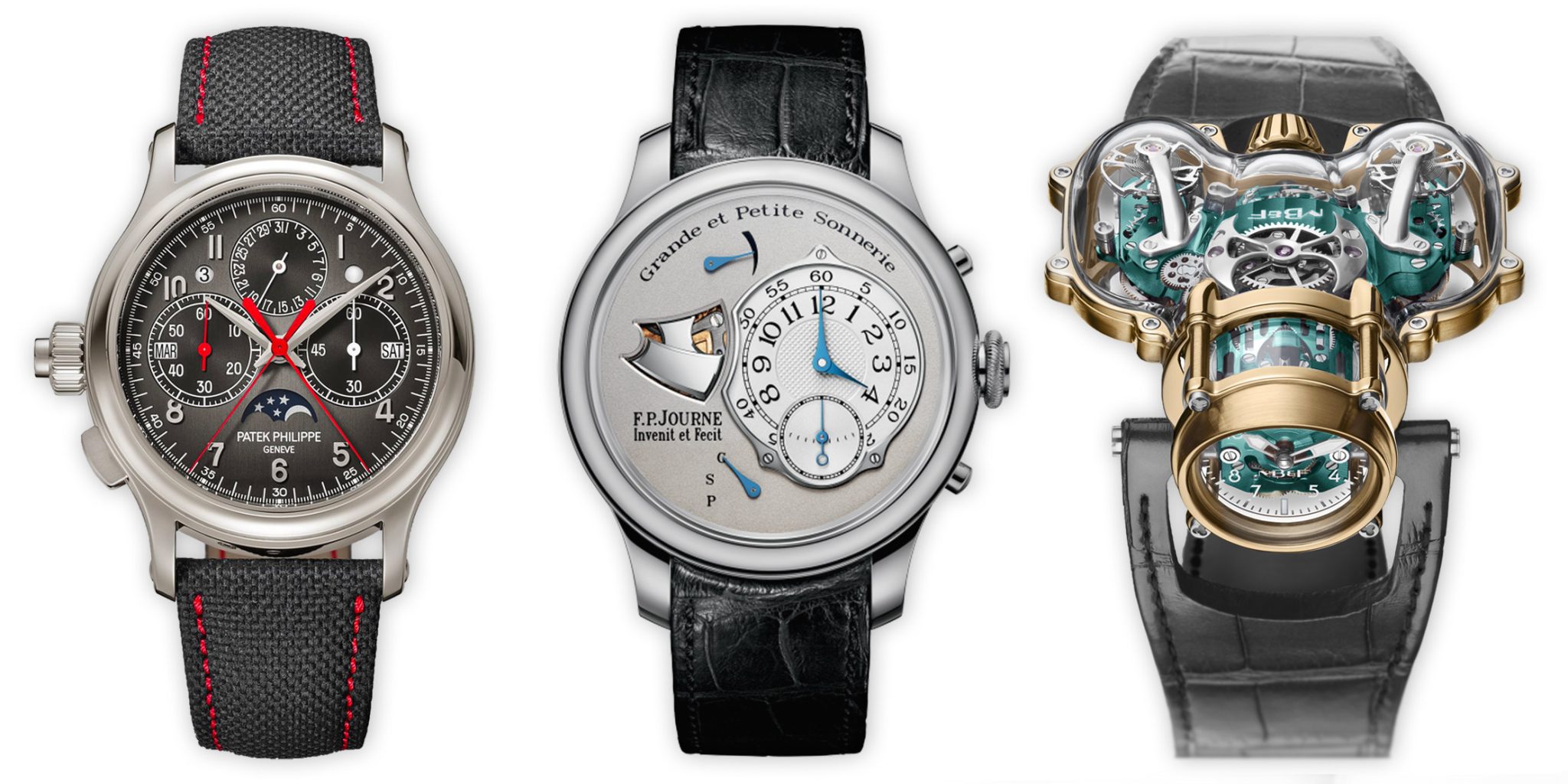 Alexander: In the case of Patek, I find the 5178 minute repeater with the guilloche dial very strong – especially since a minute repeater sounds all the better the fewer complementary complications that take away from its tonal space. And because I was just talking about my love of astrologically inspired watches: the Celestial by Patek is also awesome. And so is the Midnight Planétarium by Van Cleef & Arpels.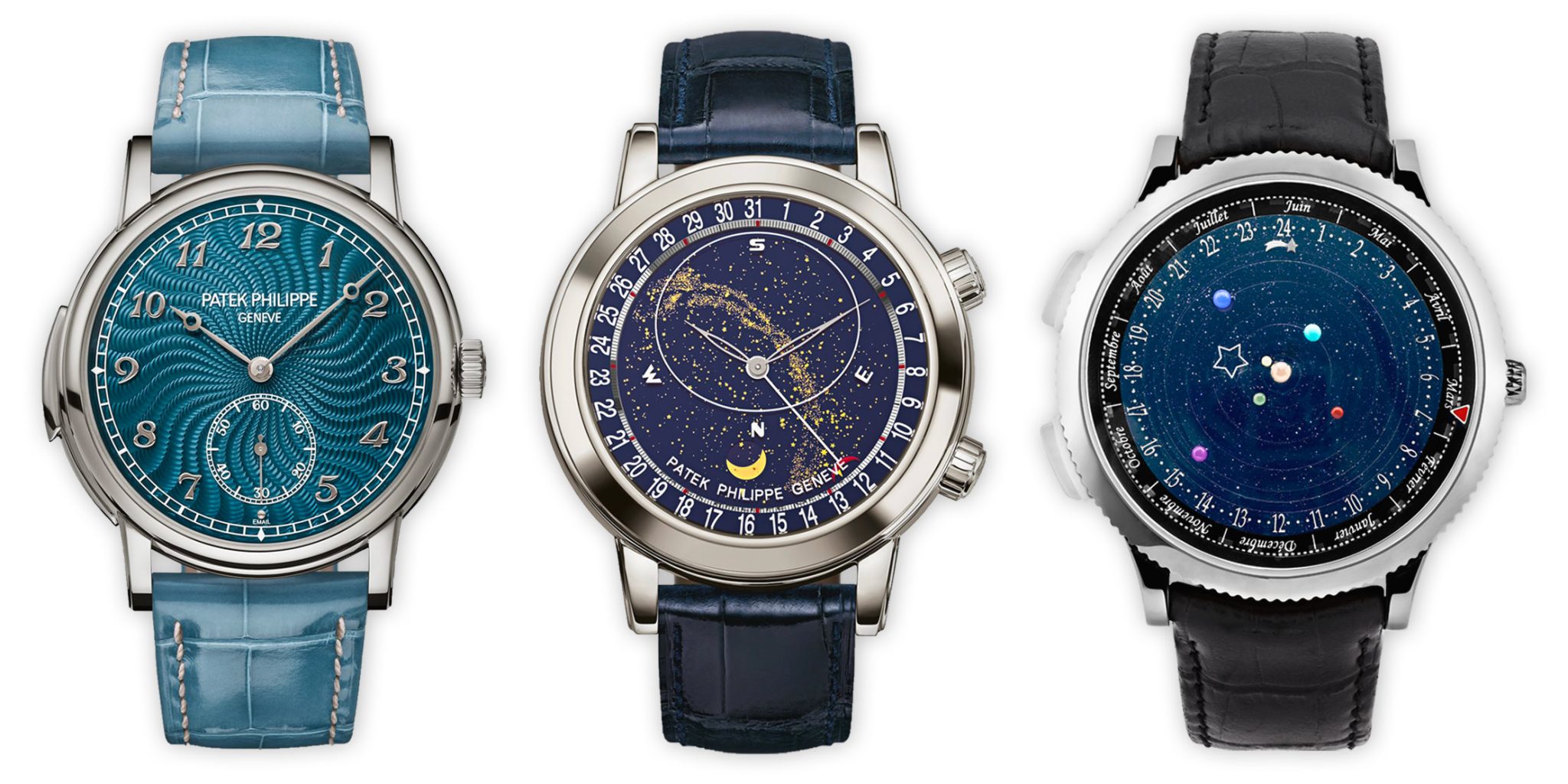 Philippe: We've already put together a number of insane watches. But as you know in this industry: more is always possible! Is there anything else that appeals to you beyond these price ranges?
Alexander: There are definitely some models that I find incredibly exciting from a horological point of view. At the same time, you are moving into a segment whose prices would probably be described as 'indecent'… But, ignoring that, I find the reinterpretation of the Patek Philippe reference 5316 with the semi-transparent glass dial, which was presented this year, to be way ahead of the game, even if it is not really a new watch. But with its minute repeater, tourbillon and perpetual calendar, there's a lot in this comparatively delicate watch.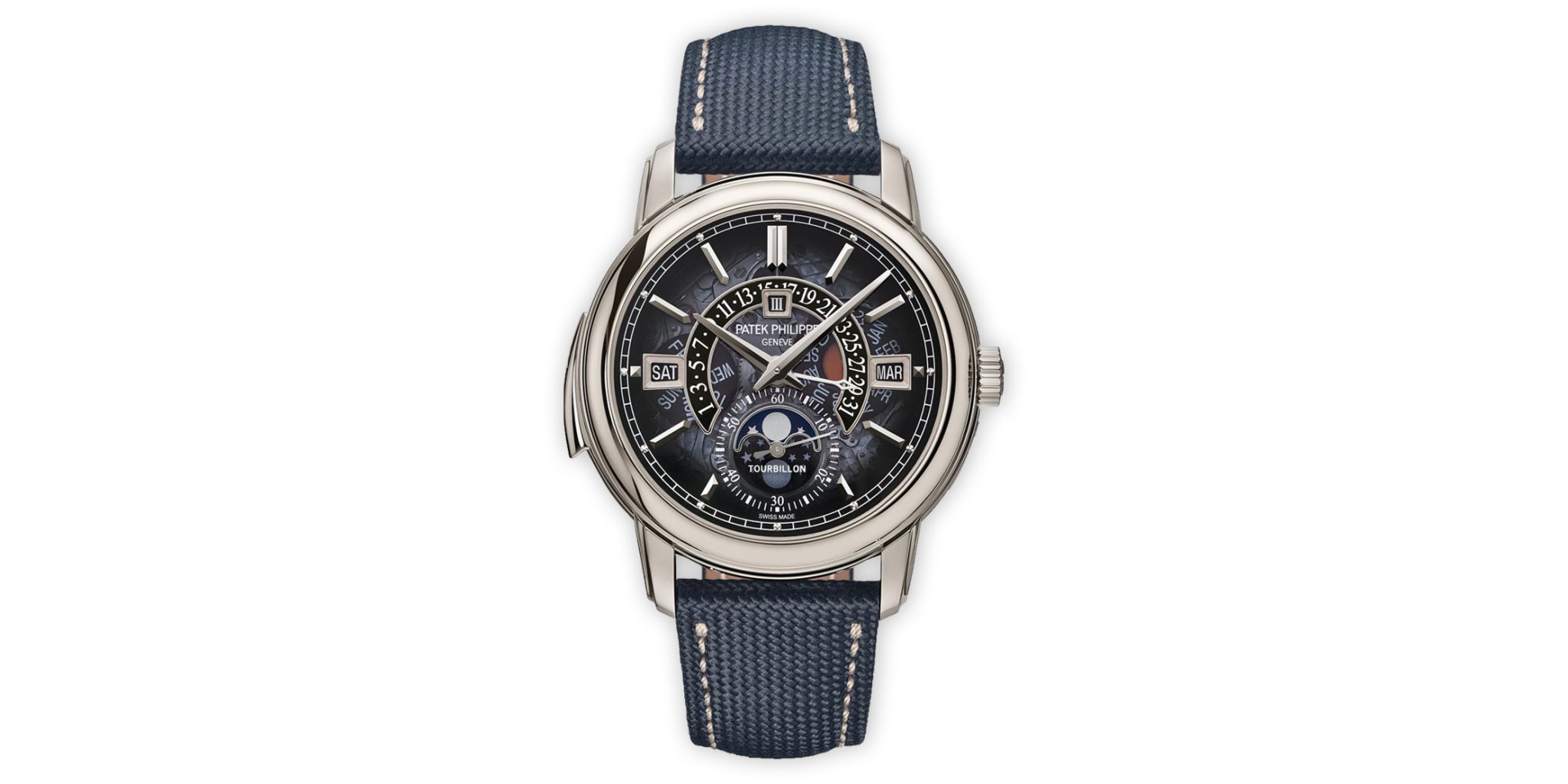 Philippe: I feel the same way in this price segment. But at this point it's about dreaming, not justifying – and dreams inspire, after all. To look at it objectively, I consider the F.P. Journe Astronomique Souverain to be the absolute Champions League. But before we go any further, I have an idea.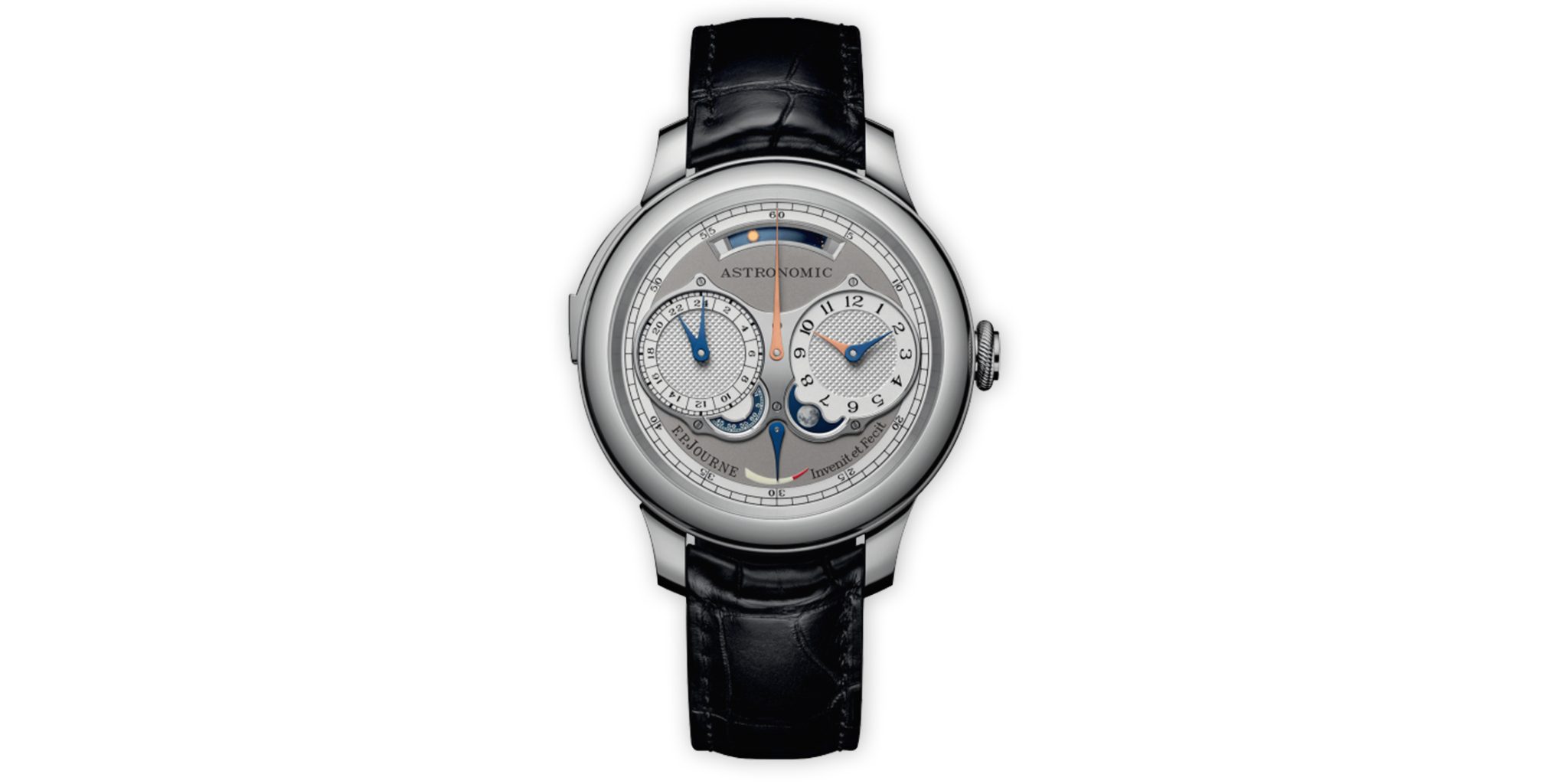 Alexander: What?
Philippe: We're going to make a Part Two, where you have to at least do some housekeeping with your dreams: three watches for a total of 20,000, three watches for a total of 50,000, three watches for a total of 100,000 euros – which would they be?
Alexander: Excellent. So, to be continued…
---