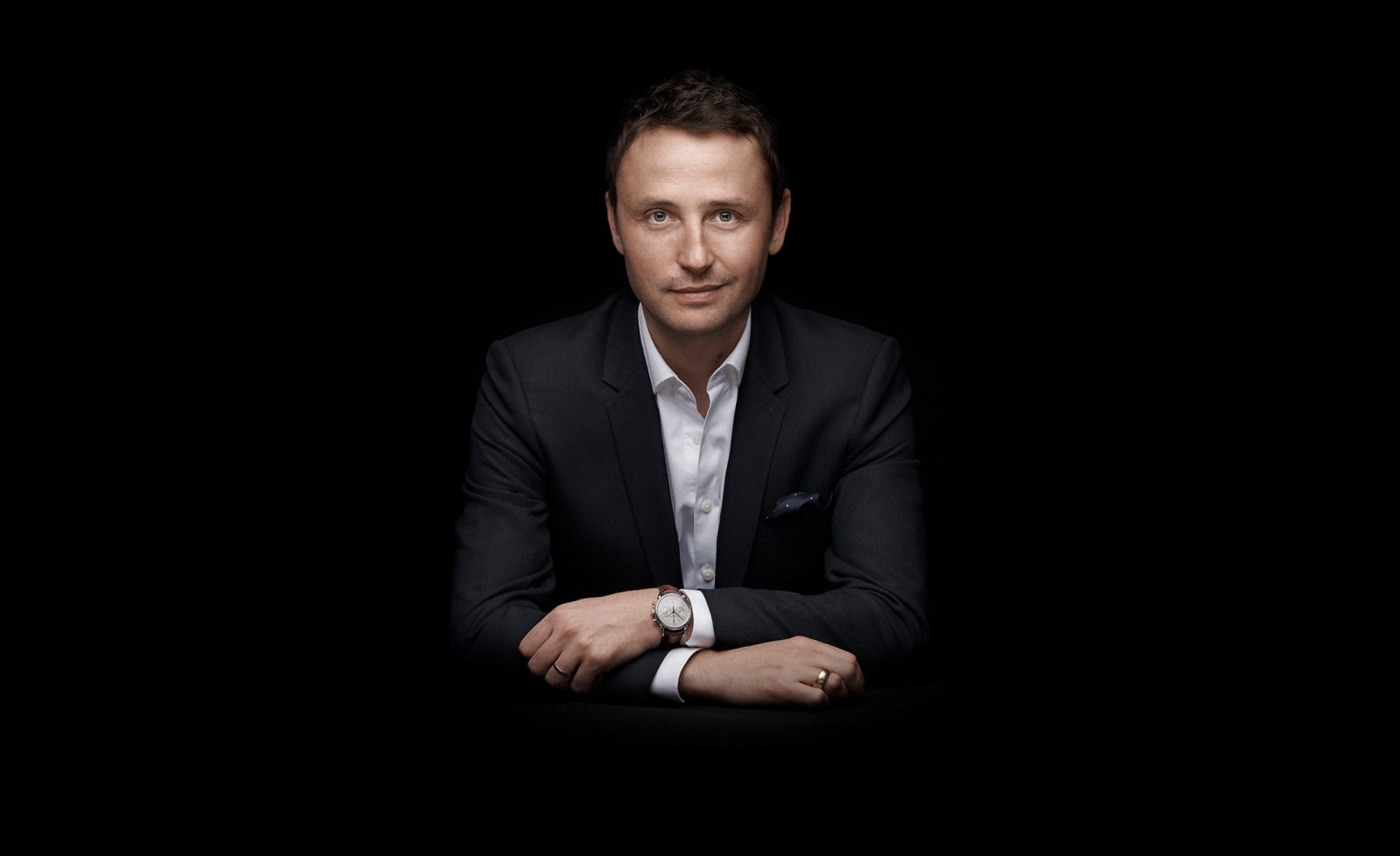 Laurent Perves has a lot of topics to manage at Vacheron Constantin, from shopping experience and customer service to product design, innovation and communication. On top of that, he has recently been appointed International Sales Director, and is also responsible for the expansion of e-commerce, as well as the balancing act between offline & online retail. We sat down with Perves to find out how he manages these many responsibilities, as well as the exciting plans he has for the future.
---
Let's first talk about your manufacture, which is an incredibly impressive modern building outside, which also combines the traditional from the inside.
---
We are 266 years old but somehow, we have always used modern techniques. Plus, watchmaking is a science, and there is a lot of technology involved. If we were in a very old building all round, full of wood and so on, it wouldn't reflect what we are creating.
The Vacheron Constantin manufacture, © Credit: Maud Guye-Vuillème
---
As the oldest watch manufacture in the world with an uninterrupted watchmaking history since its founding in 1755, what do mechanical watches mean to the maison in today's increasingly digitalized world?
---
We are living in a digitalised and virtual world. People are looking for something tangible, that they can touch and feel. We have also never seen as much interest in the past and traditionally created material products as today. There are now people buying phones that aren't smartphones, which can only make calls and do not have internet, because they want to get away from all this technology surrounding them. Meanwhile, a watch is something that works on its own using a mechanical movement, and also has some tradition behind it. More importantly, there is a man sitting there working on it, assembling it, and finishing it. This idea of craftsmanship and the human behind the watch resonates more and more with clients.
---
What does the manufacture most value about mechanical watches?
---
A manufacture is a place where people work, where people learn; the apprenticeship of a watchmaker is a cycle created by man, which we at Vacheron Constantin aim to perpetuate and continue with humans at the core. But we always need to find the right balance between what technology helps us to do and the work of the watchmaker. The human presence brings the emotion. If our products were simply made by machines, I'm not sure our clients would have the same feelings of emotions towards the watches, either.
Laurent Perves
International Commercial Director / Chief Marketing Officer,
Vacheron Constantin
---
What is your favourite complication in a mechanical watch?
---
Chronographs, as I think they are very intricate and complicated movements. They're really something you can admire as well as play with. If you play around with the date, for example, you have to reset it, whereas with a chronograph, you can use it any time of day – with my daughters, for example, we measure how long it takes for them to go to their rooms and back.
I also love the minute repeater complication because of the story behind it, and the idea that there was a time when there was no electricity or lights at night, and you actually needed to hear your watch in order to know what time it was. Few people still know this. I also find the extremely complicated way that a miniature chiming system is built fascinating.
Vacheron Constantin Chronographs:
New edition Cornes de Vache 1955 in rose gold (2016) and the original reference 6087 (1955)
---
What is the ratio in sales between automatic, manual winding, and quartz watches? Which lines are particularly popular with women and men?
---
I can't share exact numbers, but to give you an idea: the number of quartz watches is super small. We only use quartz for size reasons – for our watches with a diameter of less than 33 mm. The number of automatic watches has been increasing in recent years, for example in more contemporary collections and sports models. We usually correspond to what our clients are needing. That being said, in categories such as dress watches or historic watches, manual winding watches remain the preference of our clients. We can clearly see a split between those looking for a complicated or traditional watch, where manual winding watches are preferred because it gives you a particular feeling and creates a different relationship with the watch, and people who are looking for a more contemporary, versatile everyday option where automatic movements makes sense.
Clients also really appreciate the movement. They particularly love the rotor and its decoration. The peripheral rotor, in particular, has advantages for two reasons in particular. Firstly, it allows us to make thinner movements, which is important when we want to make a thinner watch, for example the Overseas tourbillon model. It was also absolutely the case with the split second chronographs Traditionnelle Split-Seconds Chronograph Ultra-Thin, one of the thinner automatic ones on the market. Secondly, it allows you to admire the movement, which is always magical on an automatic watch.
---
What are Vacheron Constantin's most popular lines?
---
Today, men go for sporty elegant watches such as the Overseas, and one of our most successful models is the Overseas Perpetual Calendar Ultra Thin. Men also go for dress watches, so Patrimony and the Traditionnelle lines. On the women's side, we see increasing interest in complications, particularly astronomical complications such as moonphase – particularly our Traditionnelle moonphase model. Overall, complications are really a growing segment. This whole paradigm that men prefer simple watches, or that women prefer watches with diamonds, is changing; diamonds and precious materials are still liked, but now also with the addition of complications. It's good to see that complications are no longer an exclusivity reserved just for watch fanatics.
Overseas Perpetual Calendar Ultra Thin
---
A few years ago, when smartwatches first became a big topic, mechanical watchmakers in the high-end segment weren't too worried. Now, an increasing number of people tend to use these gadgets in everyday life. I wear a mechanical watch on the left wrist and a fitness tracker or smartwatch on the right. However, many choose one or the other. How does Vacheron Constantin approach its customers so that they don't lose their desire for mechanical watches?
---
For me, there is no competition or overlap with smartwatches. They have become a utility as a fitness tracker. They are, however, a gadget, and they have a very short lifespan. The client knows that their smartwatch isn't their first and it isn't going to be their last. So I think there is a clear difference. That said, it is probably tougher in the lower segment of the watch industry. It's still very important, though, to educate people about high watchmaking, so that we don't become an obsolete category, and this is something that we spend a lot of time on.
This is why we share our history and archives in the most open way possible. In some of our boutiques, such as in New York, we also offer experiences with our digitalised archives. We also like to do masterclasses with our clients and have them visit the manufacture, so they can see how we work and how things are done. In everything we do, Vacheron Constantin is trying to either tell a story or teach something to its audience, and that's how our category [of mechanical watches] stays where it is.
---
How do you approach the trend of sporty elegant watches from a marketing point of view – be it Nautilus, Royal Oak, Odysseus or your own brand's Overseas – which have become incredibly popular in recent years? What do you think is driving this trend?
---
Today, sporty elegant watches are easy to wear every day, which matches the more versatile lifestyle of our clients. There is also a question of aesthetic trends, and we currently see sport, elegance, and fashion increasingly merging. You have sports watches becoming more fashionable and vice versa with fashion becoming more sporty; you just have to look as leading sportsmen to see this trend. Wearing things like sports sneakers is now much more democratised. Somehow, we have also been doing sports watches for a very long time.
Before the 222, we had sports models even in the 50s, such as with the Turnograph, one of the first of its kind – so it's something we've been doing for 60 or 70 years, as we follow the lifestyle of our clients. We don't see it as a sub-segment. We now even have clients wanting the likes of a minute repeater sports watch. Of course, we are highly limited in production today, so the way we respond to demand is to be as transparent with the client as possible.
We also see that while sports watches are working extremely well, there is also a trend returning to the historic models such as the Historiques American 1921. We've seen a huge resurgence of interest in this area, too. Therefore, it's a matter of not always telling the same stories, but rather telling as many new stories as possible, so that people are as interested as possible.
---
Has the buying criteria or expectations of a mechanical watch changed massively for consumers in recent years? If so, why – and how?
---
Yes. As mentioned, lots of our clients have many watches, from both us as well as other brands. Yesterday, I was with a client at the manufacture, who already bought a Vacheron Constantin dress watch, a Patrimony, and then an Overseas. He wanted to now get something completely different, such as a vintage model or a very high complication to wear on special occasions. So, people also start choosing their watch based on its particular usage, depending on whether they like to do sports on the weekend, or a classy event during the week, and so on.
---
You have recently also been appointed as International Sales Director and hence responsible for the expansion of e-commerce. In your opinion, what are some of the driving factors that lead luxury watch brands to adopt e-commerce as a distribution strategy? What are some of the key reasons for speaking out against an e-commerce approach for luxury watches?
---
Way before the crisis, we started with e-commerce. We were actually one of the first high-end horology houses to sell some of its pieces online. Our first online interaction was with Hodinkee in 2017, in the form of a special edition, and we have renewed this experience many times. This has always worked well for us. Our belief has always been that if something is done or made well, online will always be complimentary to our network. Every time we do something online, we also see a positive impact on boutiques and physical sales, so we combine it and do both. It's true that during the crisis everything has accelerated, although there were already underlying trends. We have been able to sell to a lot of clients remotely, all the while knowing that they still appreciate direct contact such as WeChat, Whatsapp, and so on.
For me, though, the key is to understand how to use e-commerce as a way to understand your client and not as a gadget. An easy mistake is always to jump into it thinking that going digital is trendy, without considering its actual benefits. What we saw, though, is that we will not replace our boutiques with online sales, because people do want to touch and try watches on. Therefore, people can access the price of our watches online, see the technical details and watch our videos, but at some point they do want to come in, check the size of the watch on the wrist and see it in the flesh. Every time we do something online, we try to make it complimentary to what we already do. We are very open and we see it's all working well with our clients. Making sure things are client-centric is key – and making sure it is not just a matter of joining the game of digitalisation without a clear goal.
---
Do you think that younger consumers (Gen Y or Z) are more likely to purchase luxury watches online?
---
I think our clients were already at ease with e-commerce prior to the pandemic, but it also helped get more customers onboard. I went to an event in San Francisco where many people were younger than me, and all of them had a perfect understanding of e-commerce. They also loved our watches and what they represent. There's always been a kind of mutual attraction between what is very new – the digital world – and what is very old – high watchmaking like what we have at Vacheron Constantin.
---
Would you consider buying a luxury watch through e-commerce yourself?
---
Of course – I actually tried this shirt I'm wearing on in a shop, but I purchased it online. However, when it comes to watches, for the pleasure of the experience, I would still pass by the boutique for a discussion and to check I chose the right strap and so on. We have a lot of new, younger clients online these days, and a lot of our loyal clients are actually the easiest to convert to online purchases, as they know us and our products so well.
---
What shifts in the distribution channels do you anticipate for the future?
---
For one thing, digital retail is going to be fully integrated. Secondly, we are seeing the strengthening of the vintage and second-hand market, and auction houses breaking record after record even during the pandemic. We also have many more requests for vintage pieces, and have our Les Collectionneurs, by which clients can purchase some of our watches from the 20th century, which we have restored in our own workshops. People are now looking out for vintage models such as Overseas, or an original Historiques American 1921. I think this interest in the vintage market will all give birth to a new distribution model. We also have implemented a trade-in option in our boutiques by which clients can bring in an old model and replace it with a new one, in partnership with Watchfinder.
---