After presenting the Master Grande Tradition Gyrotourbillon Westminster Perpétuel on the watch fair SIHH this January, the Swiss watch brand Jaeger-LeCoultre now presents another chiming model: the Master Grande Tradition Répétition Minutes Perpétuelle with silver (Ref. Q5233420) and blue dial (Ref. Q52334E1).
Jaeger-LeCoultre Master Grande Tradition Répétition Minutes Perpétuelle with blue dial (Ref. Q52334E1)
The new model of the traditional brand, which is by now manufacturing high class watches for almost two centuries, features a gong system that resurrects the chime of antique pocket sonneries. Its movement, the automatic calibre 950, is marked by a new innovative chime. Therefore the brand particularly developed an entirely novel gong configuration. Instead of lying flat in overlapping coils like the most commonly seen minute repeater gongs, two gongs weld together at their base, traveling in the same direction around the periphery of the movement, making one near-complete tour before arching upwards, traversing the entire height of the movement. They then diverge and take a terminal semi-arc around the other side of the movement, stopping just before their ends meet.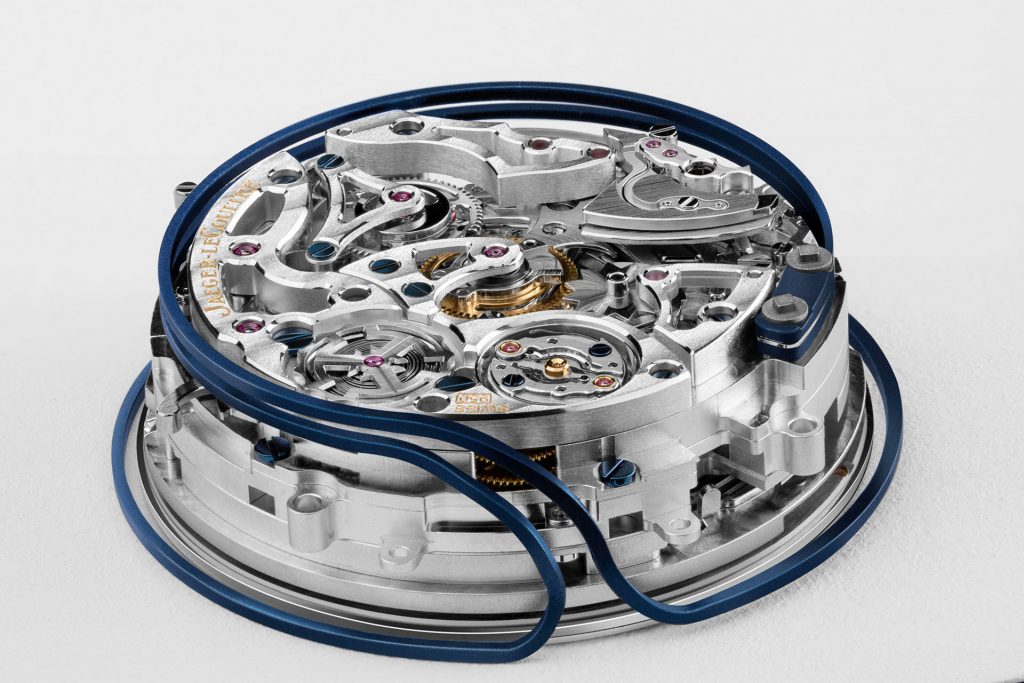 By maximizing the space containing the gongs, its capacity for sound transmission has been efficiently optimized – just like putting a mobile music player in a glass dish to amplify the sound. The square gong cross-sections and the articulated trebuchet hammers ensure that the gongs are struck with the greatest possible impact and the least interference from hammer recoil – for low as well as high pitches.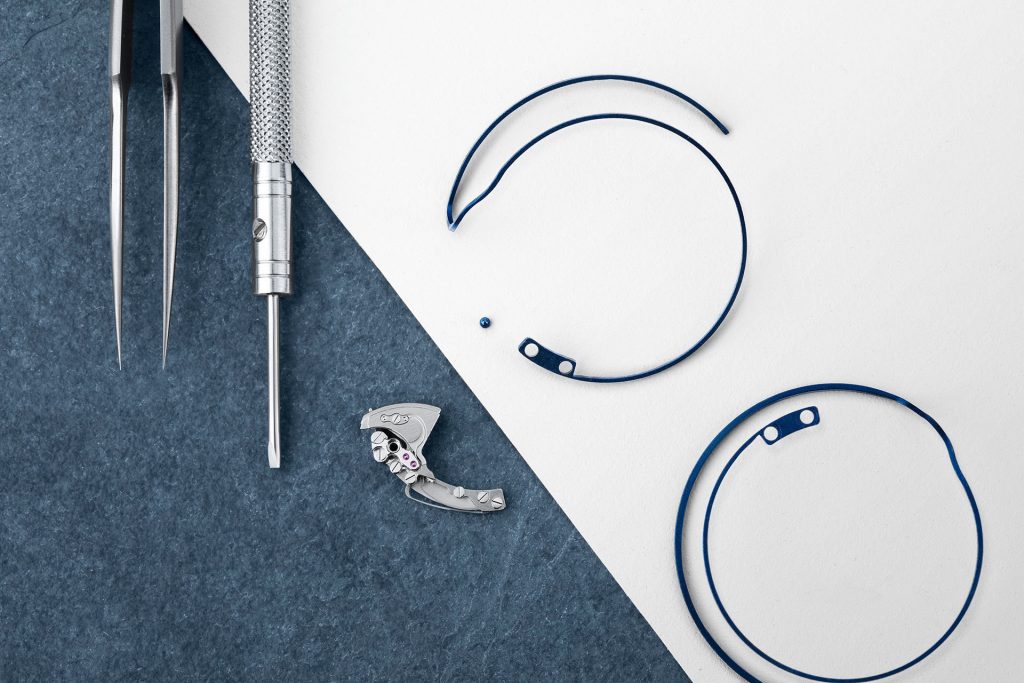 Other than that the model is equipped with a perpetual calendar, showing the date considering different length of month and year, and a minute repeater. Due to the combination with an automatic winding system, the model does not need to be upkept and maintained much when worn regularly. The winding rotor of the cailbre 950 is located within the movement between the perpetual calendar and the minute repeater. This way the mechanism is completely visible on the back of the watch. As well the new Jaeger-LeCoultre model has a so called intuitive security zone making the wearer aware, when adjusting the time or date might be stressful to the movement.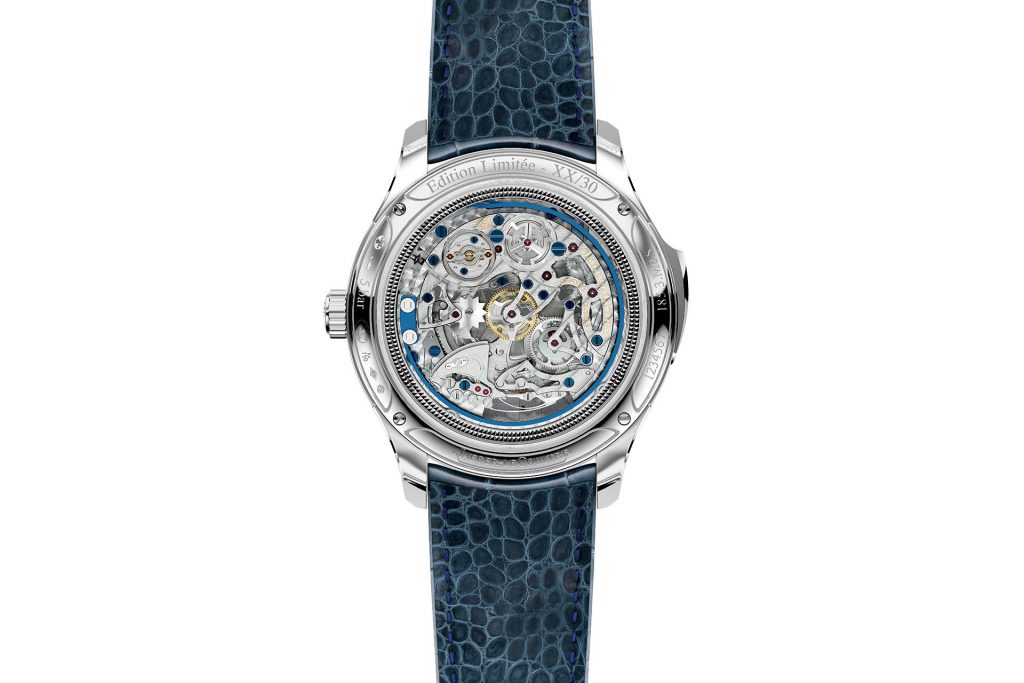 The new model's design, which is made of more than 80 handmade, alternately polished, satin-finished or sandblasted individual pieces, is particularly economic. The watch is provided with a convex bezel and broad bevels on the lugs as well as a smoothly tapered minute repeater slide. The Master Grande Tradition Répétition Minute Perpétuelle is available in two different versions. The white gold dial of the first alternative is silver-grained, while the other version has a deep blue translucent guilloche enamel dial.
Jaeger-LeCoultre Master Grande Tradition Répétition Minutes Perpétuelle with blue dial (Ref. Q52334E1)
The model has a diameter of 43 mm and a height of 13.72 mm.
---
BRAND:
Jaeger-LeCoultre
MODEL:
Master Grande Tradition Répétition Minutes Perpétuelle
REFERENCE:
Silver-grained dial Q5233420
Blue guilloché enamel dial Q52334E1
PRICE:
250'000 Euro (Q5233420)
286'000 Euro (Q52334E1)
CASE MATERIAL:
White gold
DIAMETER:
43 mm
DIAL:
Silver-grained
Blue guilloché enamel
CASE BACK:
Open
STRAP:
Blue alligator leather
CALIBRE:
950
MECHANISM:
Self-Winding
POWER RESERVE:
38 hours
FUNCTIONS:
Hours/Minutes, Minute Repeater, Perpetual Calendar (Day, Date, Month, Moon Phase, Year)