At the British Museum in London, not too far along from hallowed halls housing Egyptian mummies and Ancient Greek amphoras, there is a Clocks and Watches Room, with artefacts dating from 1300 AD to the present. From decorative domestic clocks to marine chronometers, curators strive to chronicle the story of timekeeping within a few square metres. Unfortunately, not all relics can be on display; in fact, museums usually only exhibit around five percent of their entire collection. Yet the British Museum is home to something that concerns us in this article – the jumping hours mechanism, the beating heart of Van Cleef & Arpels' Pierre Arpels Heure d'Ici & Heure d'Ailleurs watch.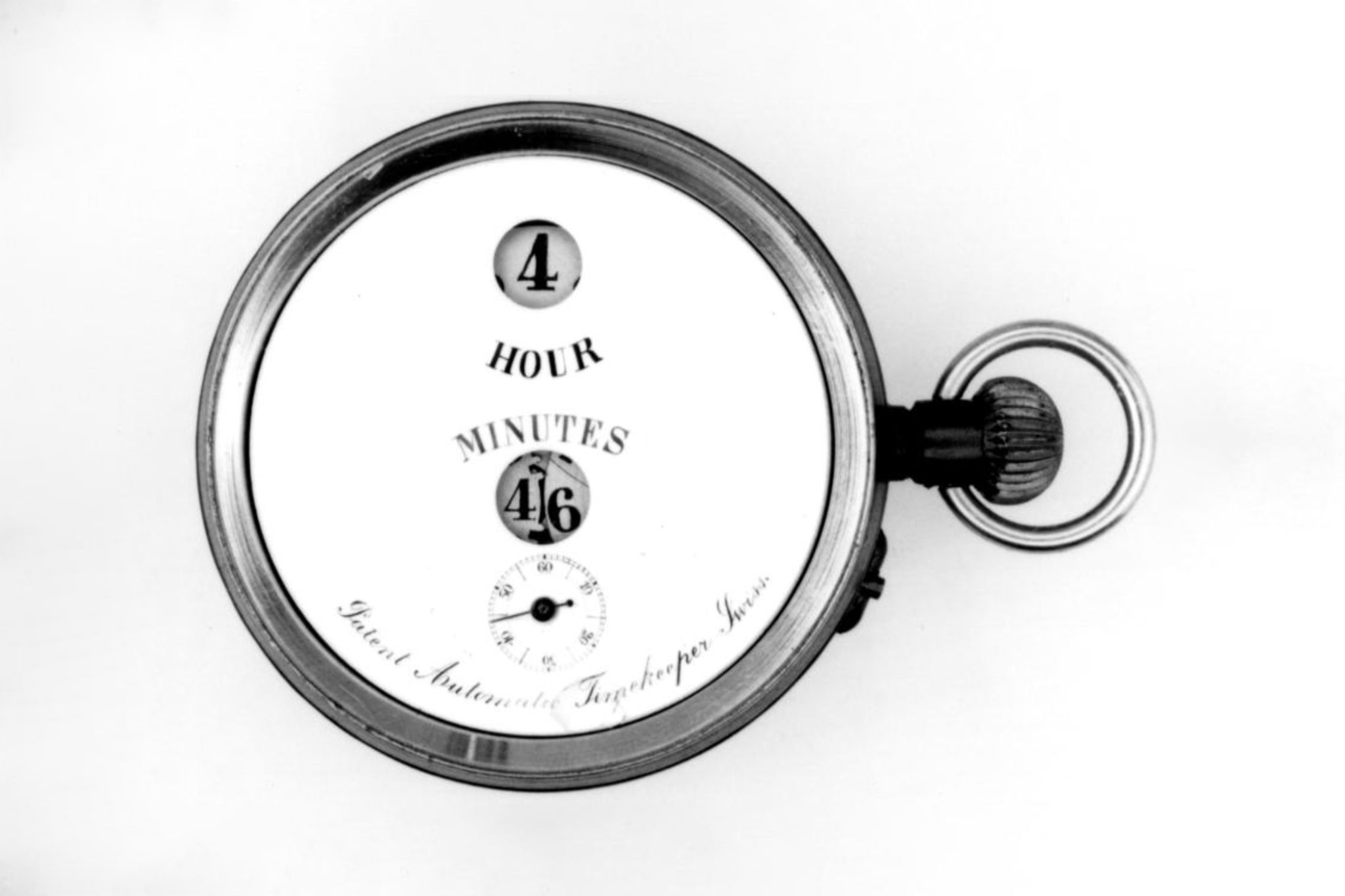 One of the six jump hour watches at the British Museum.
This particular piece, which is one of several from IWC Schaffhausen, was created in ca. 1890.
Credit © British Museum
Since the very conception of time came to life in Egypt and Mesopotamia over 5,500 years ago, as our ancestors began pouring over sundials, humanity has been looking for innovative new ways to gauge it. In the grand scheme of things, jump hour mechanisms are not particularly ancient. Yet through the lens of the more specific history of watchmaking, spanning from around the 16th century to the modern day, the mechanism has been on the scene for quite some time. While other common functions such as the GMT bezel, for example, was invented exactly 70 years ago, the jump hour was dreamt up by Austrian engineer Josef Pallweber no less than 140 years ago, in 1883.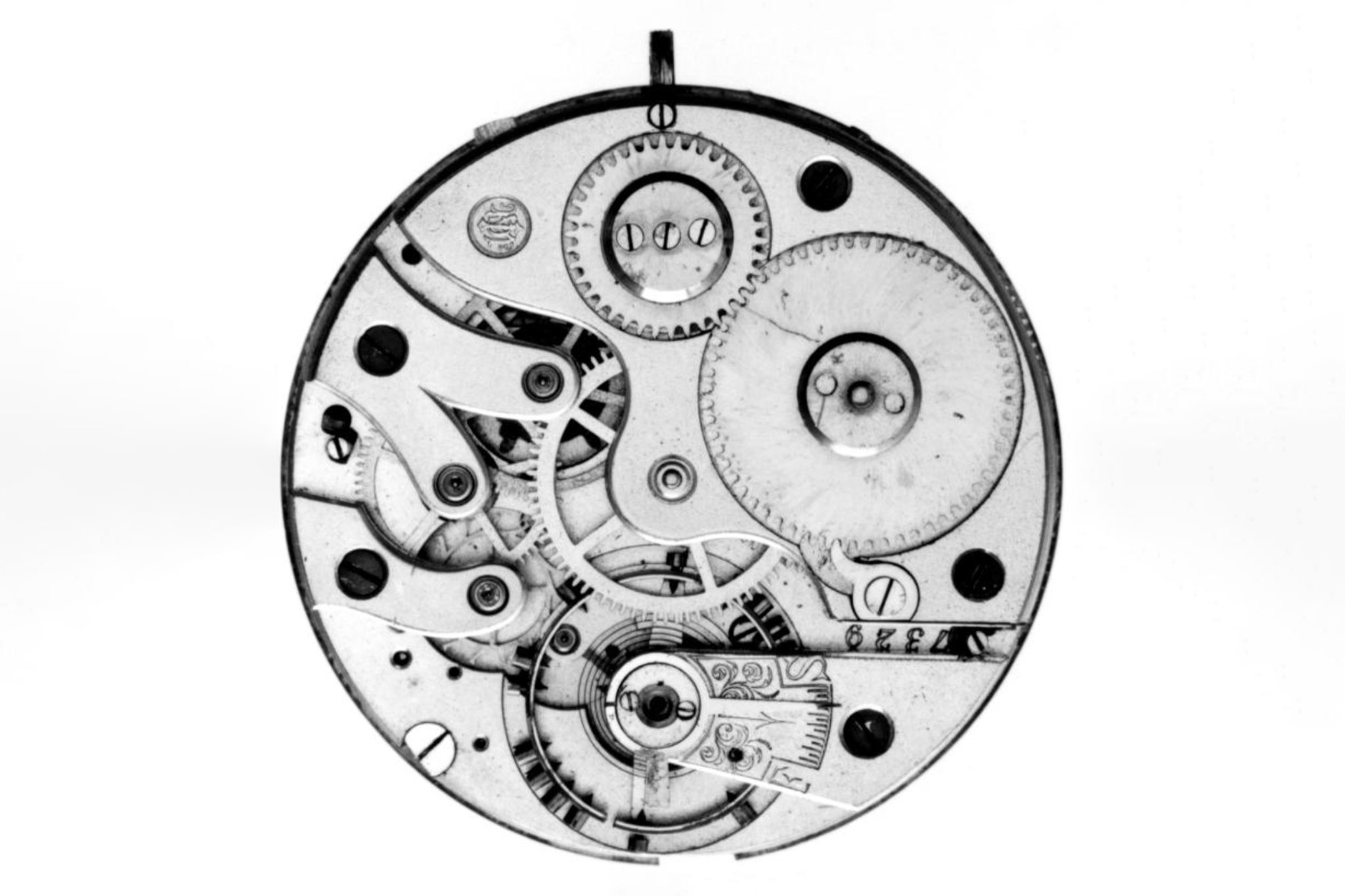 The movement inside the 1890 IWC jump hour watch: according to British Museum archives,
the movement is stamped with 'Patent Pallweber'.
Credit © British Museum
Jump hour mechanisms, unlike your typical clock face or dial, directly indicate the exact hour as opposed to sweeping its way between the hours. Usually, the hour hand is replaced by an aperture with a disc featuring the 12 hours on it. As the minute hand sweeps across the dial when it moves from 59 to 60, the hour can jump from one hour to the next. From an aesthetic perspective, the mechanism also allows for clean, minimalist dial designs – a vital characteristic for any Pierre Arpels watch.
---
The rise and fall of the jumping hour mechanism
A slow start
The consistently purist nature of jump hour watches' designs is likely a reason for their fluctuating popularity throughout the decades in line with ever-changing fashions. Following the slow rise of the jumping hour mechanism in the mid-18th century (despite huge initial investments by some companies – principally IWC – the mechanism did not take off for some time), the watches were manufactured in rather small numbers throughout the 19th century.
Picking up the pace
In the first half of the 20th century, however, jump hour watches entered their heyday as prolific brands such as Breguet, Audemars Piguet and Vacheron Constantin began to experiment with the mechanism. Appearing in the form of both pocket and wristwatches, the highly functional timepieces were popular throughout the Art Deco period and early 1930s, right up until the Great Depression. Upon reaching this point in history, watches became more likely to be traded for food than purchased for pleasure.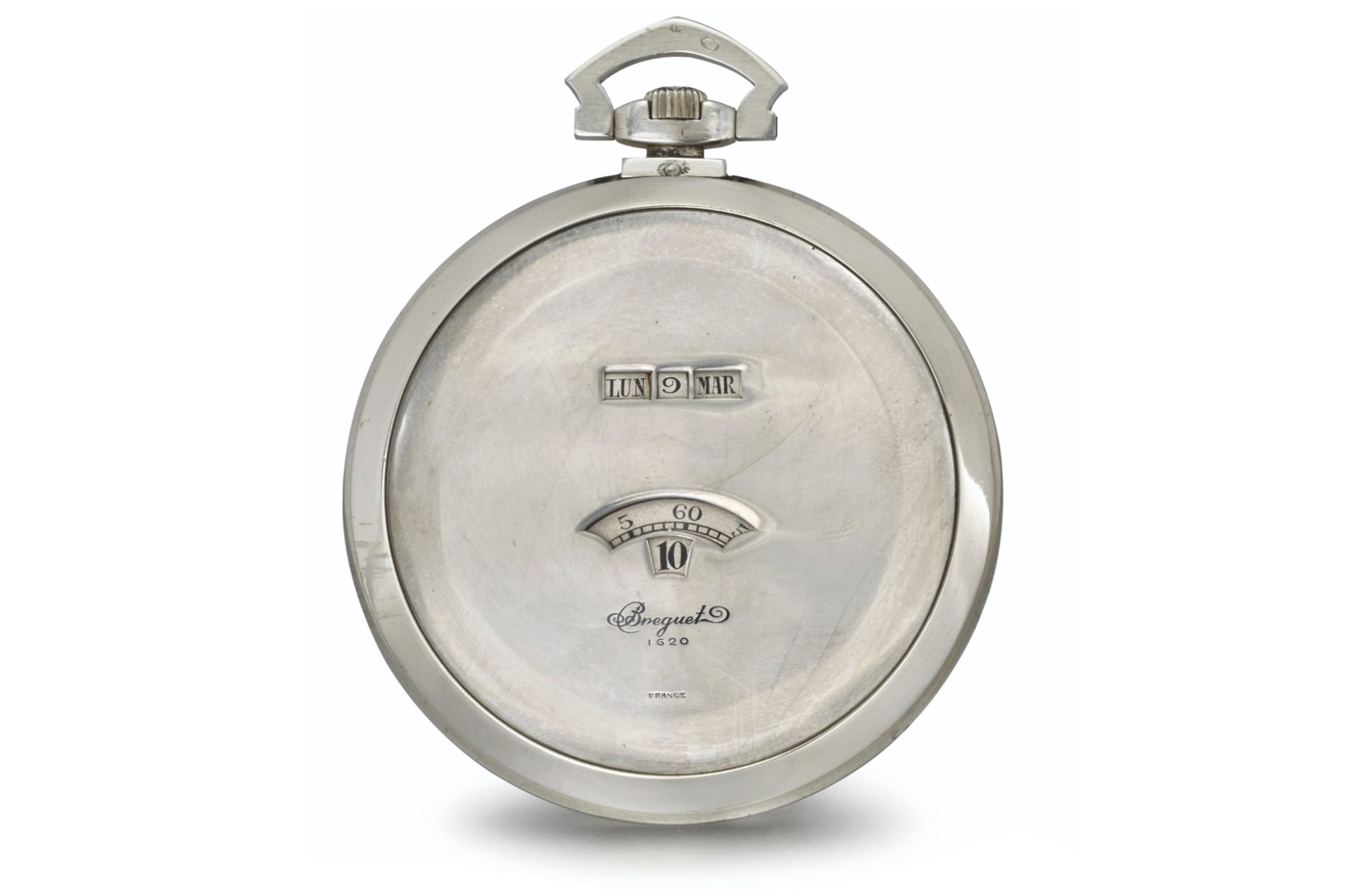 A rare, experimental Breguet jump hour perpetual calendar dress watch from circa 1928, when the world was on the cusp of entering the Great Depression.
Credit © Christie's
For the most part, interest in the jumping hour mechanism largely evaporated for the next few decades. Following the turbulence of the Second World War, many watch manufactures preferred to focus on professional tool watches, owing to the many developments that had been made while watchmakers created special pieces for armed forces across Europe and beyond. Timepieces such as diver's watches, pilot's watches, and chronographs remained in focus throughout the latter half of the century, while production of jump hour watches remained very much on the backburner.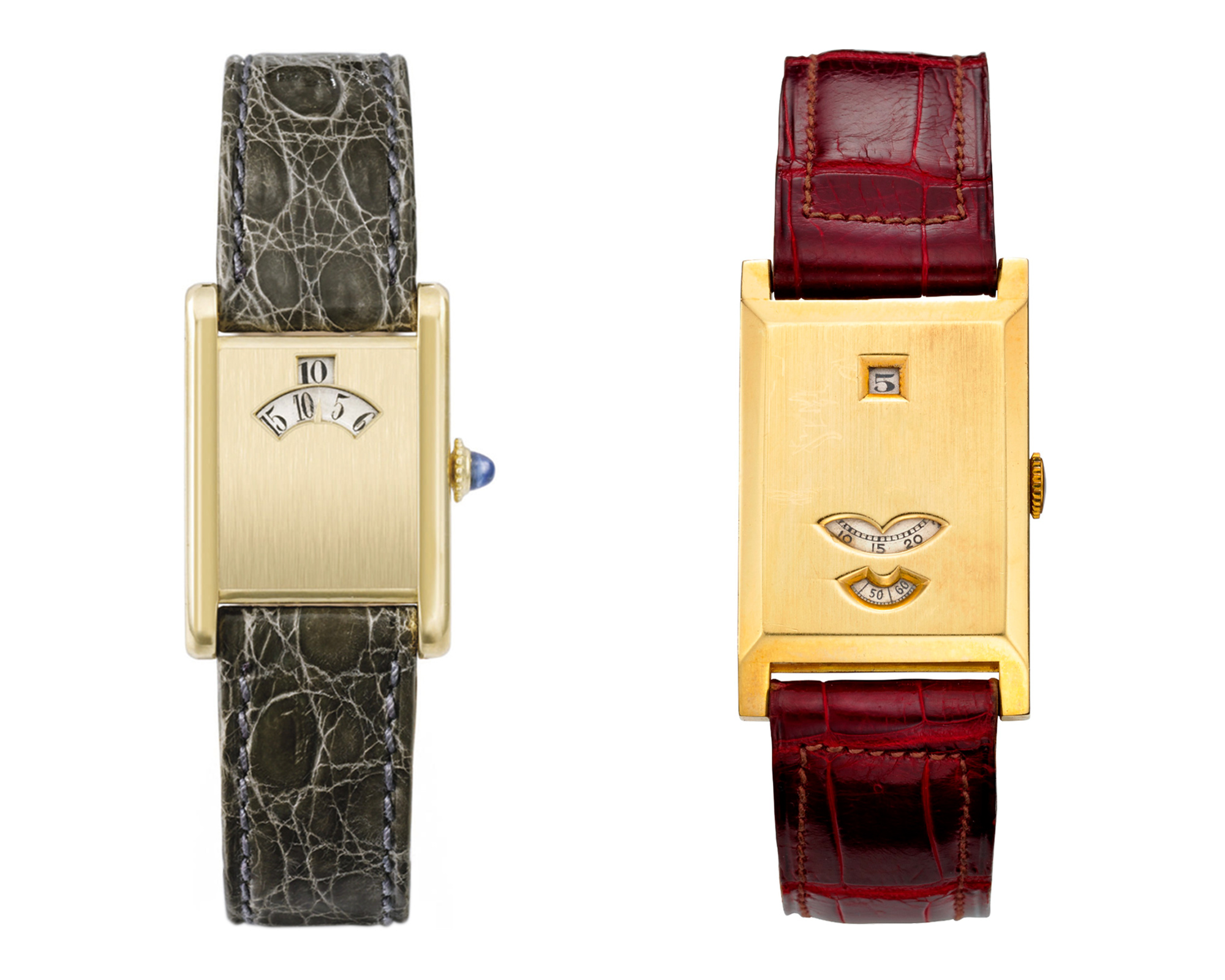 Left: Cartier Tank à Guichets, which has become something of a jumping hour watch icon today.
Right: Glycine jump hour watch from the 1940s.
Credit © Christie's
Fast-forward to the late 90s and early 2000s, and jump hour watches were tentatively enjoying a revival. Some horology houses adopted the mechanism for use in limited editions, as exciting alternatives to traditional time display became increasingly prevalent in the industry once more.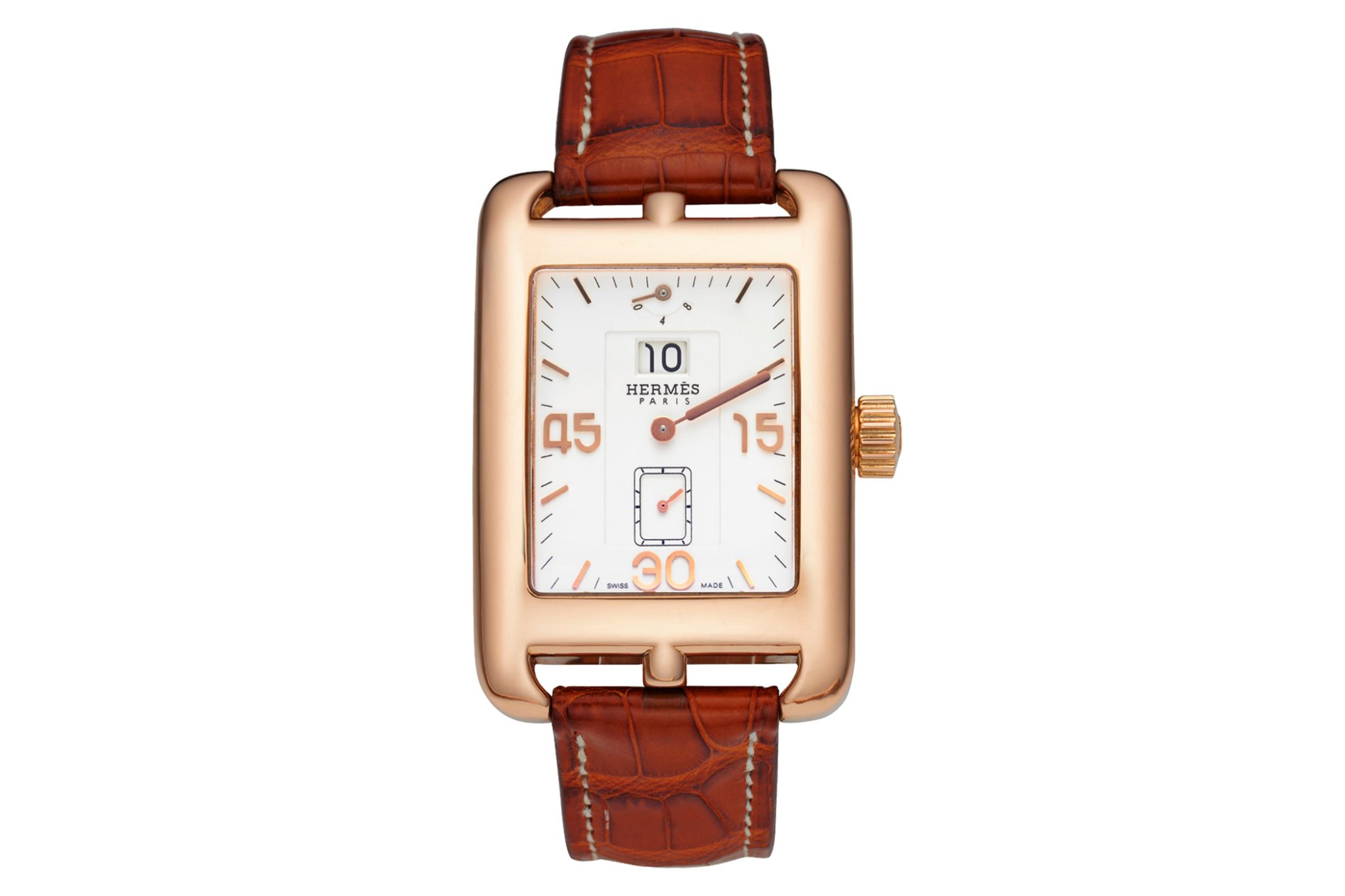 A limited edition Hermes jumping hour watch from the 2000s,
equipped with a power reserve indicator.
Credit © Christie's
The jumping hour watches of today
Close scrutiny of jumping hour watches spanning from the 19th to 21st centuries reveal that unlike many watches, not least traditional three-hand models, the design of the timepieces stays pretty consistent: simple, spacious, functional.
A Zeitwerk watch from horology house A. Lange und Söhne [left],
and the Dresden Opera House clock [right].
It's no wonder, then, that even in the modern age of sleek smart watches, jump hour watches still have their place in the world of timekeeping. Gucci's (albeit quartz) 1970s-style skater Grip watch is a prime example, featuring sleek brushed closed dials and digital-style numerals. A Lange's Zeitwerk is a more sophisticated horological example, taking inspiration from the famous five-minute clock at the Semper Opera House in Dresden. Today, however, we should keep our focus on one piece in particular: the Van Cleef & Arpels Pierre Arpels Heure d'Ici & Heure d'Ailleurs.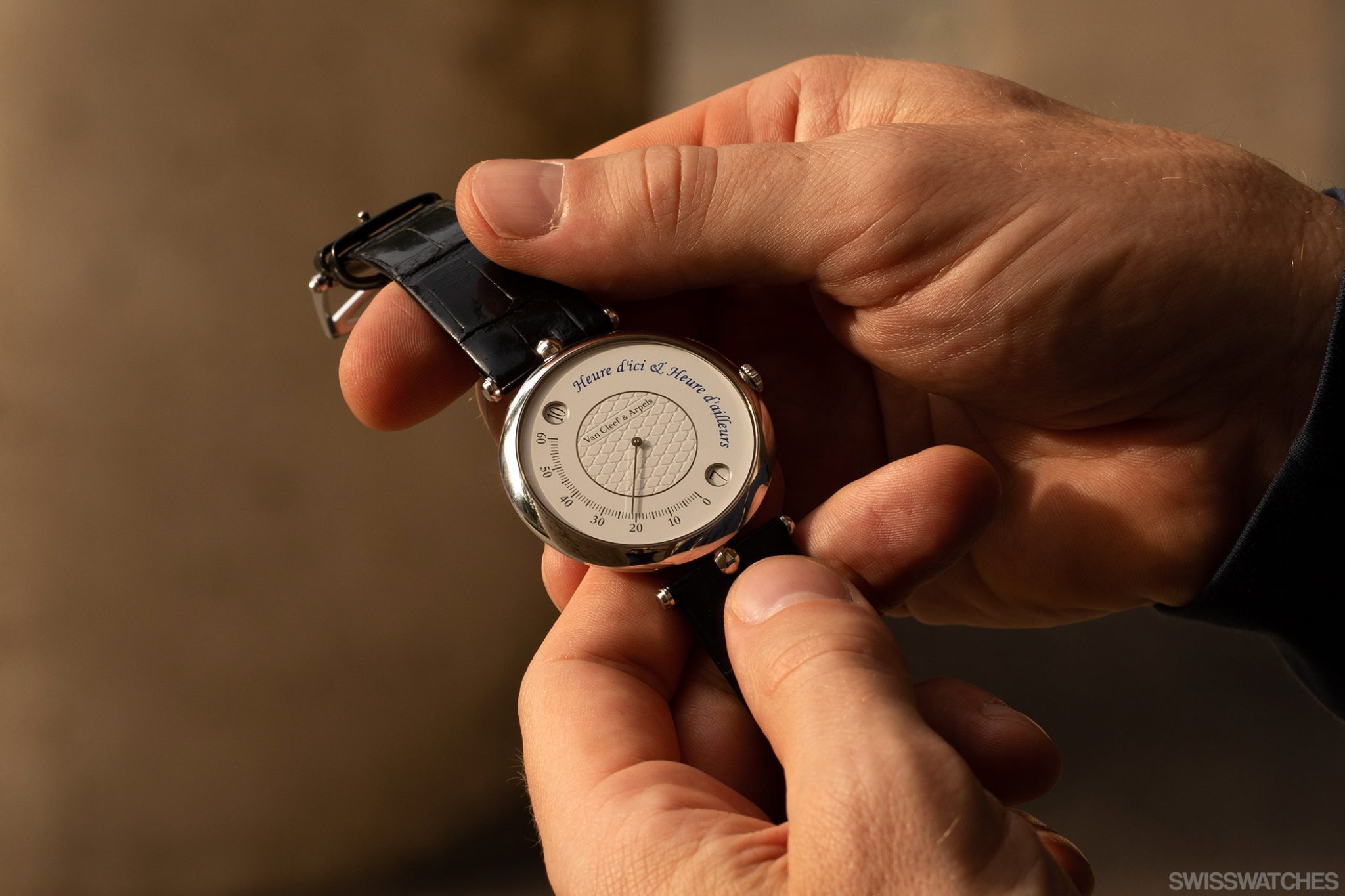 Pierre Arpels Heure d'Ici & Heure d'Ailleurs provides the means to set the
minutes and simultaneously the two time zones.
---
Pierre Arpels Heure d'Ici & Heure d'Ailleurs:
'Time here and time elsewhere'
The original Van Cleef & Arpels Pierre Arpels watch was created by the maison's founder back in 1949. Pierre Arpels was a man of travel, famously embarking upon no less than 24 journeys to Tehran within a six-month time period while working on the crown jewels for Empress Farah Pahlavi of Iran's coronation. Ever curious, he also roamed India in the hope of discovering the world's most exquisite precious stones. This insatiable appetite for travel is poured into the Pierre Arpels Heure d'ici & Heure d'ailleurs watch model, with its title translating to 'Time here and time elsewhere' – because the watch is not 'only' home to a jumping hour mechanism: it offers dual time. This is a first for Van Cleef & Arpels.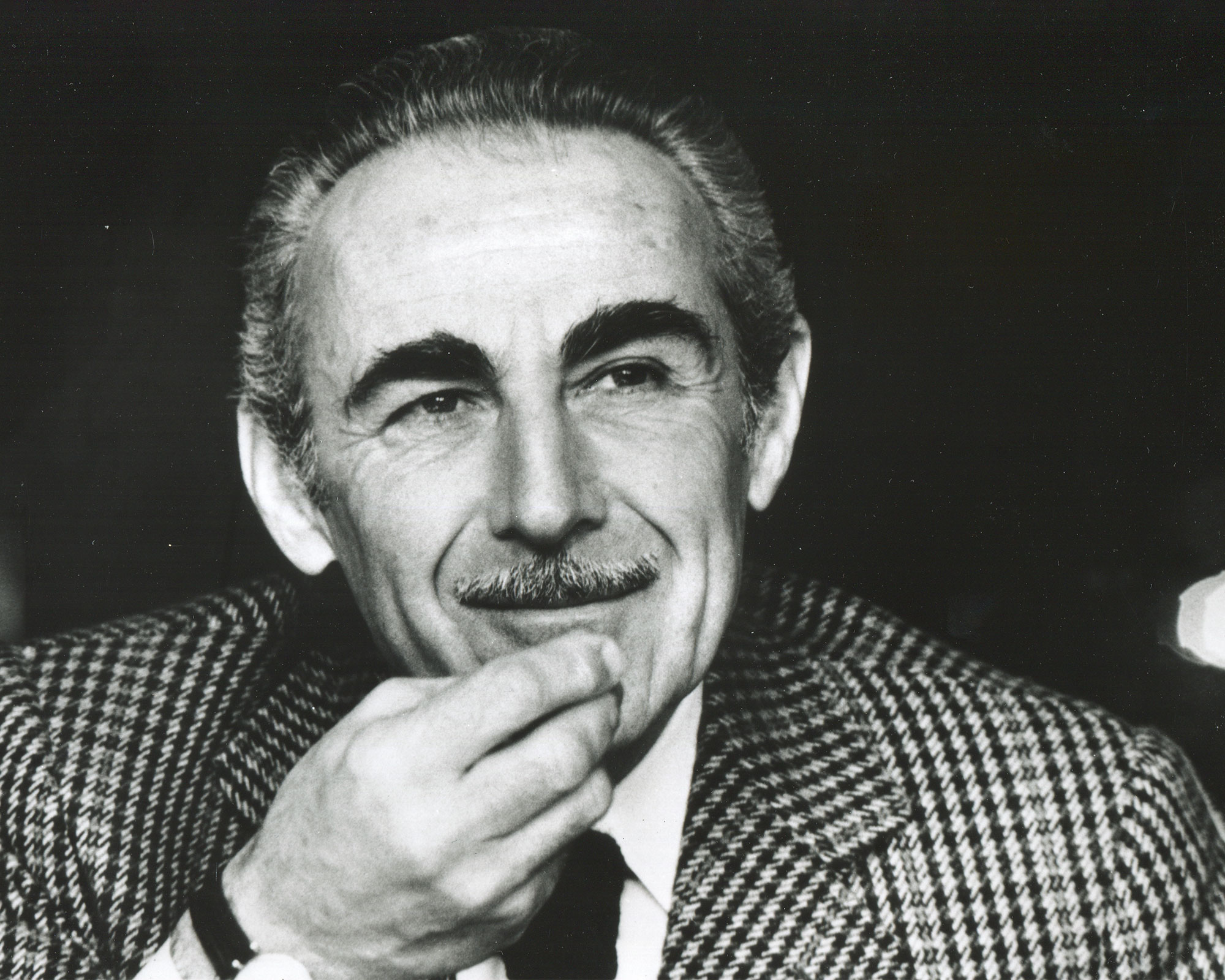 Pierre Arpels
---
'Time here and time elsewhere'
---
Navigating a maze of movements, watchmakers, and mechanisms
This is where things get interesting for us watch buffs (design fans fear not, we'll circle back to aesthetics later). While developing the Heure d'ici & Heure d'ailleurs, Van Cleef & Arpels worked alongside Agenhor (Atelier Genevois d'Horlogerie), a specialist in the design of complex mechanics and movements. The fact that Agenhor collaborated with Van Cleef & Arpels on this model already deviates from the large majority of other various Pierre Arpels watch models, which have generally used Jaeger-LeCoultre (e.g. the hand-wound 049) and Piaget (e.g. the 9P) base movements for its less complicated models.
Founded in 1996, Agenhor is the brainchild of revered Genevan watchmaker Jean-Marc Wiederrecht, who, with luminaries such as Chopard, Hermès and Roger Dubuis under his belt, has long excelled in creating ultra-thin and retrograde movements. In 1989, he went so far as to create the world's first bi-retrograde mechanism.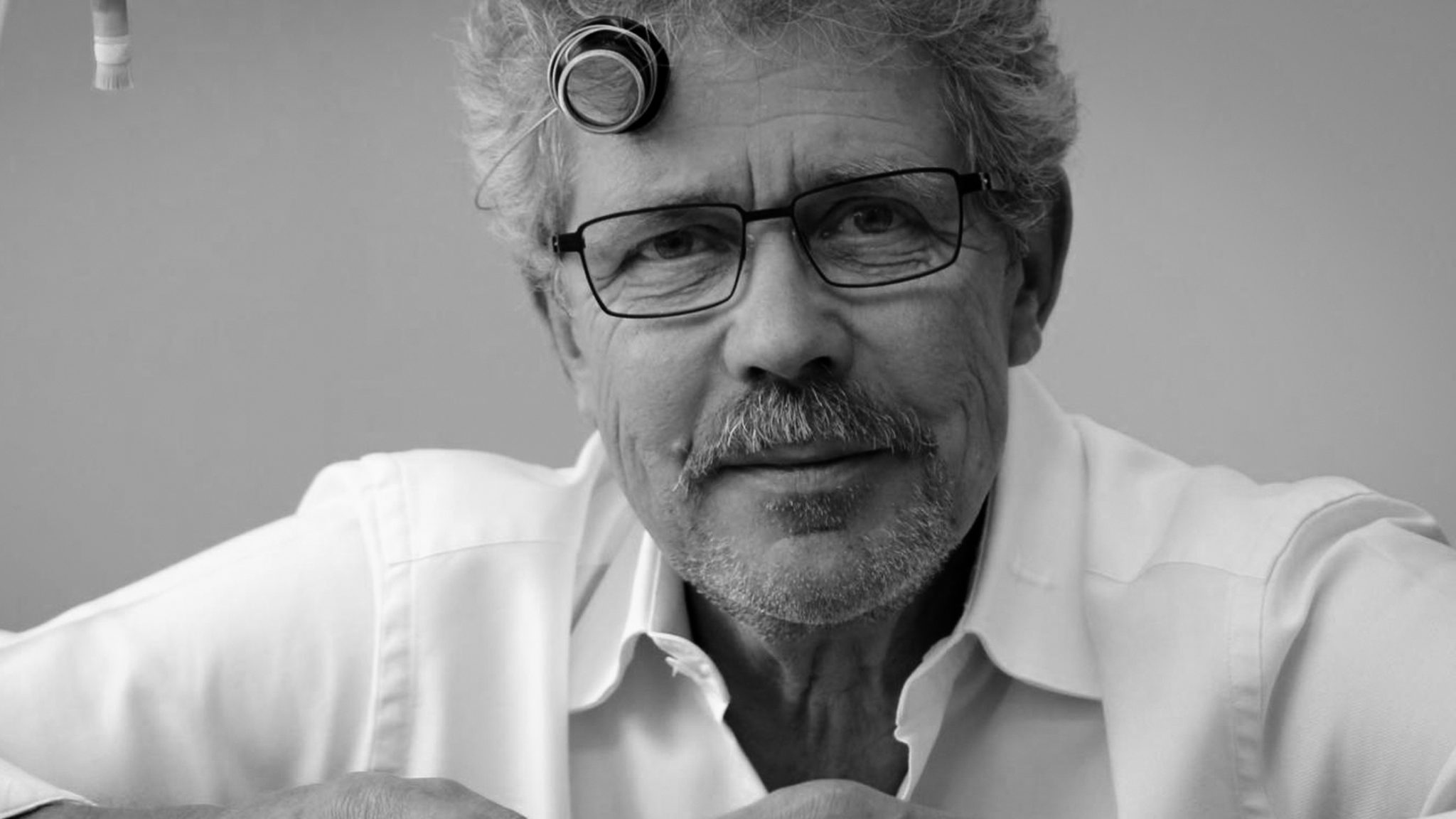 Credit © Agenhor
For this timepiece, Agenhor and Van Cleef & Arpels collaborated to create a double jumping hour and minute retrograde display. The mechanism works by displaying the home time in the dial's top aperture, while the second time zone is displayed on the lower aperture. Both jump simultaneously, thanks to a single sector that synchronises both hour discs alongside the retrograde minute hand. When the minute hand reaches 60 minutes of the graduated scale it promptly returns to the starting position, spurring the hour displays to change in sync. This is a significant innovation; some jump hour watch movements are actually out of sync, with the change of hour lagging behind the minutes.
Interestingly, this innovation marked a significant shift from Agenhor's usual tendency to add a module to (often JLC-based) movements to conceiving entire movements. This was partly possible thanks to experience gained while collaborating with Van Cleef & Arpels on the maison's Poetic Wish five-minute repeating watch in 2012. Work on the Heure d'ici & Heure d'ailleurs officially started up shortly after, with the watch officially launching in 2014.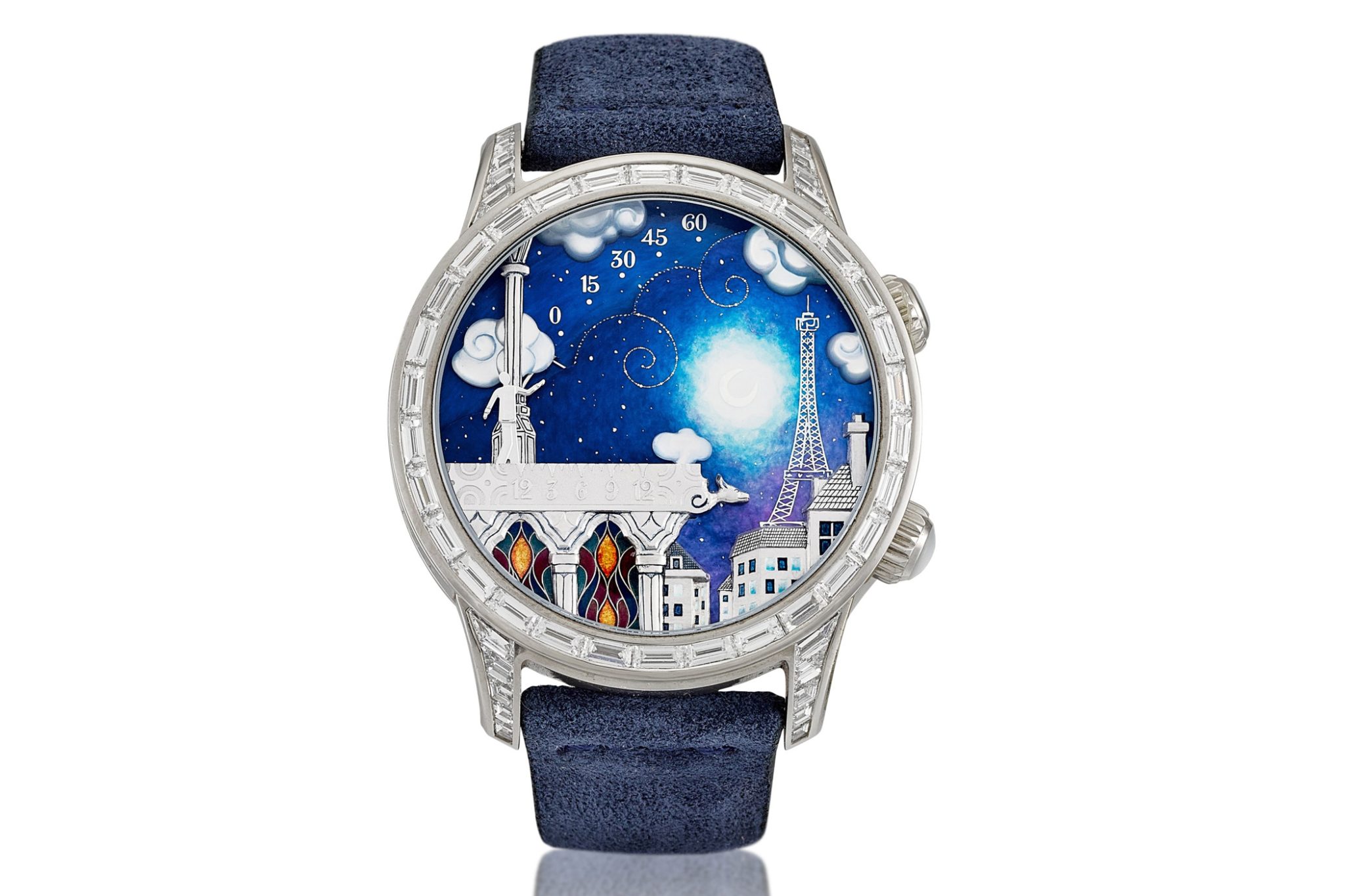 Poetic Wish from Van Cleef & Arpels
Credit © Sothebys
It's an unconventional, complicated movement – and such movements take up space. So how did Van Cleef & Arpels achieve the Pierre Arpels model's distinctively slim case size with its 7.97 mm height? The answer: the calibre uses a micro-rotor. The small platinum oscillating weight moves in both directions, thus supplying a continuous amount of energy and generating a solid 48-hour power reserve.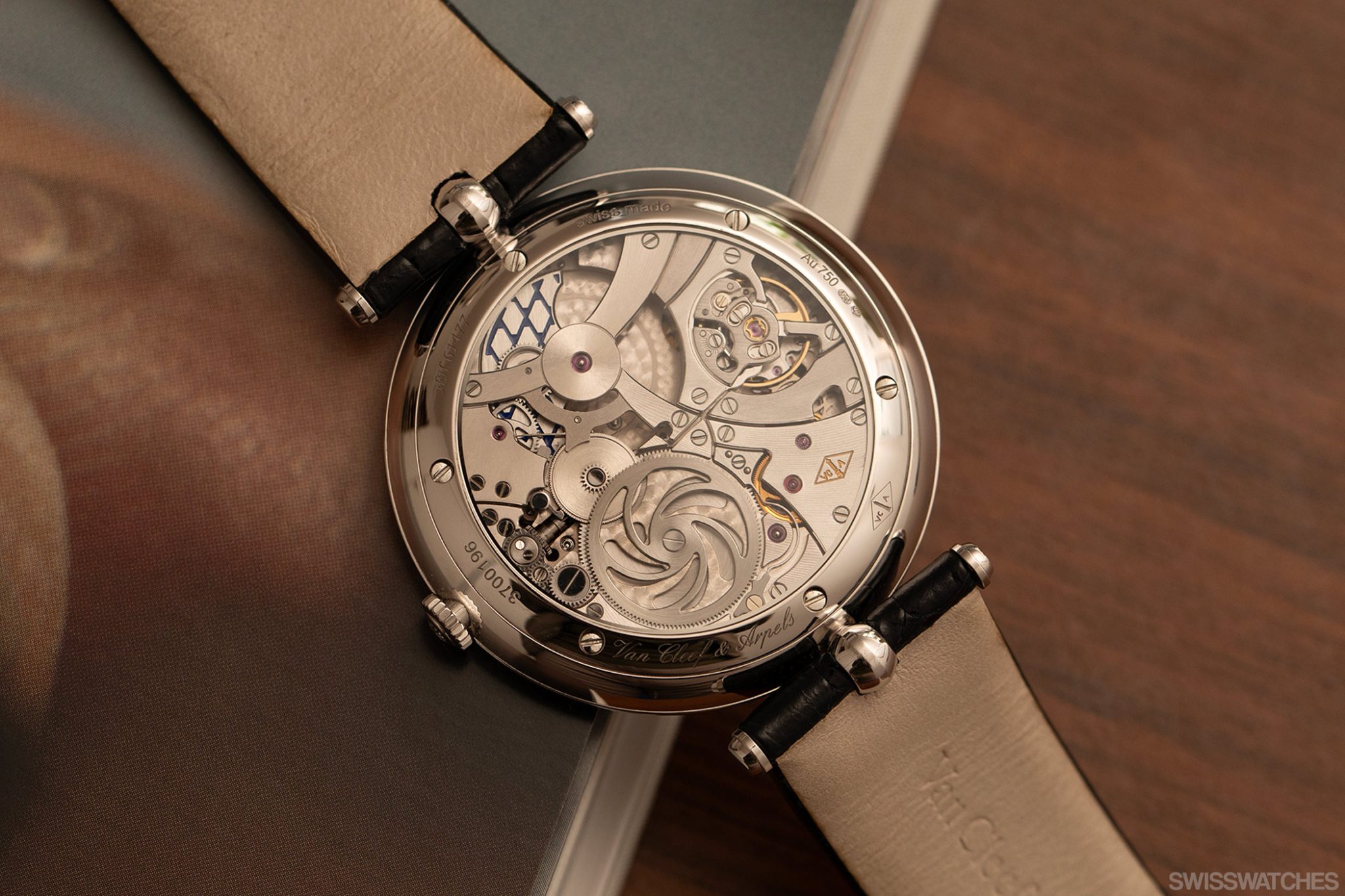 Of course, it wouldn't be a Van Cleef & Arpels piece if it didn't incorporate some beautiful decoration. As well as promoting the maison's 'Poetry of Time' mantra through the aspect of travel, the timepiece also builds upon its romanticism by adorning the bridges with an elegant snailed pattern, alongside an eye-catching and quite contemporary blue lacquered design on the micro-rotor in a nod to the piqué motif on the central part of the dial.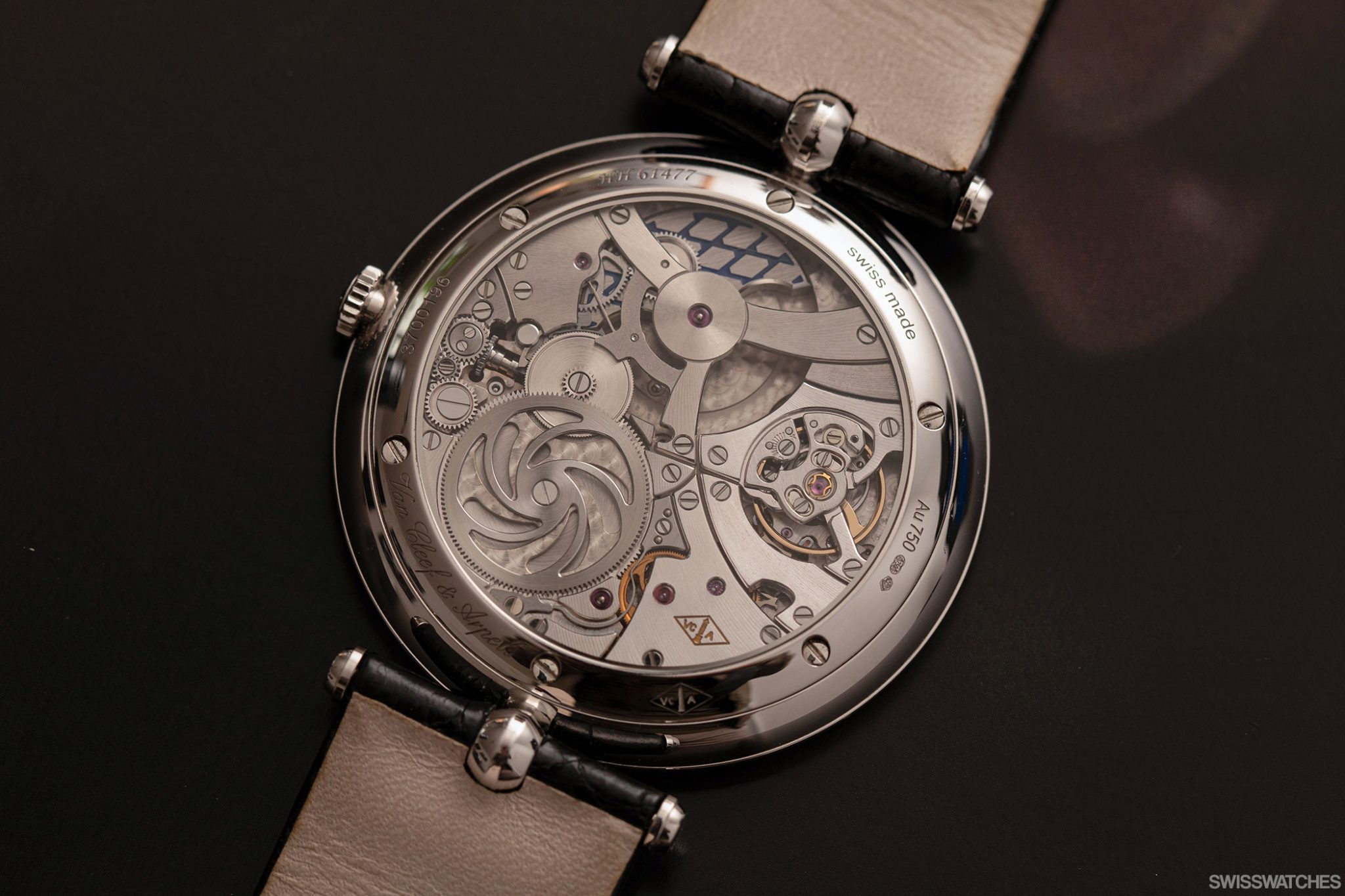 Designing the Pierre Arpels 'Heure d'Ici & Heure d'Ailleurs'
This brings us to the design part for all of the aesthetes out there. While the Pierre Arpels 'Heure d'Ici & Heure d'Ailleurs' is in many ways contemporary, from the clean white aesthetic to the purist jumping hours display, it's still bursting with history. The most interesting place to start, surprisingly enough, is with the lugs.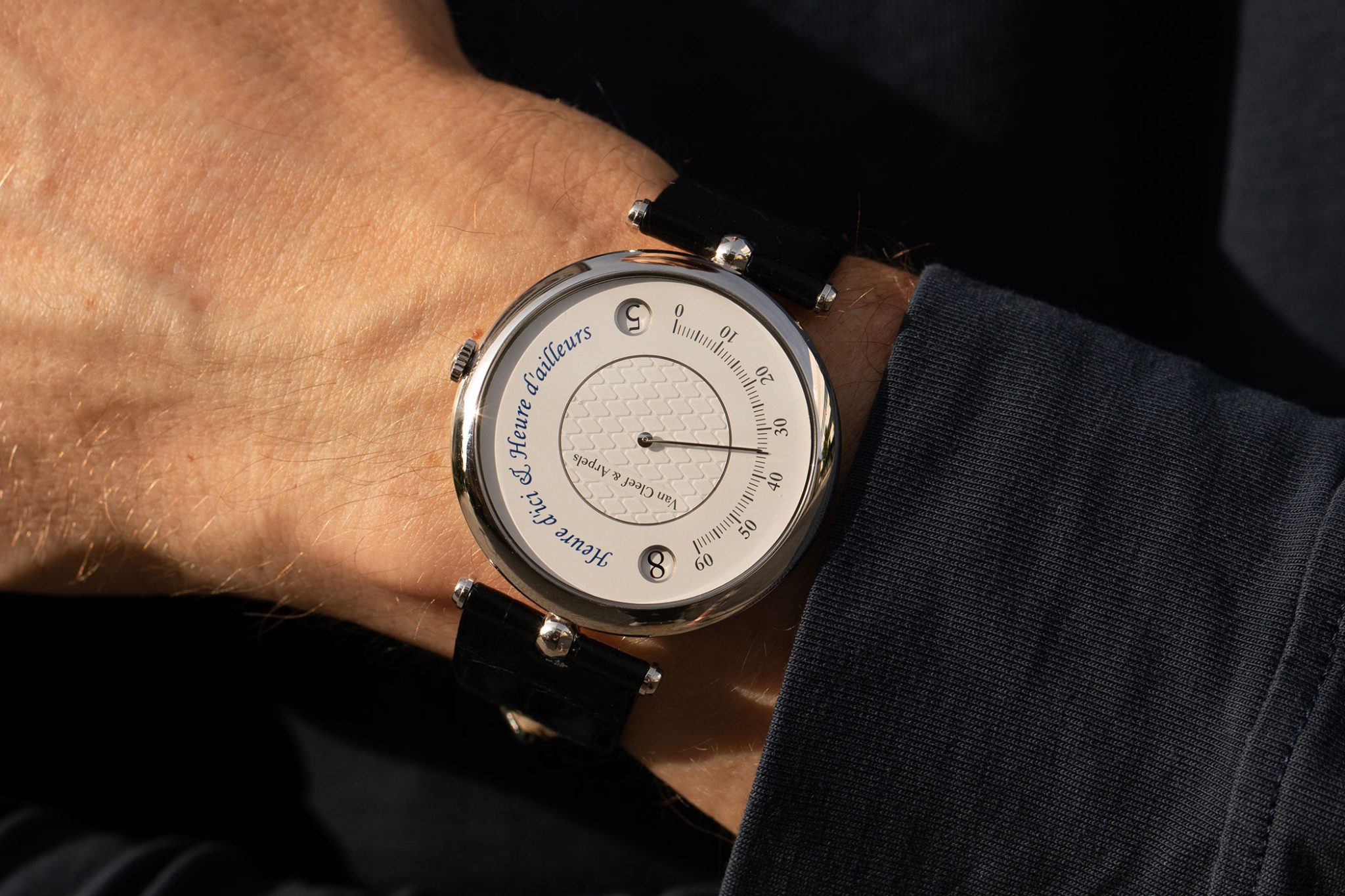 It's a story that sees us return once again to the watch collection's namesake, Pierre Arpels, who created his eponymous watch in 1949. The timepiece quickly took off in the early 1950s. Designed to match to a variety of outfits, the discreet watch was initially offered to clientele with a platinum case and black dial. It showcased a slim, round case, no seconds hand, no date, and distinctive T-bar lugs – and it is these lugs that have a tale to tell.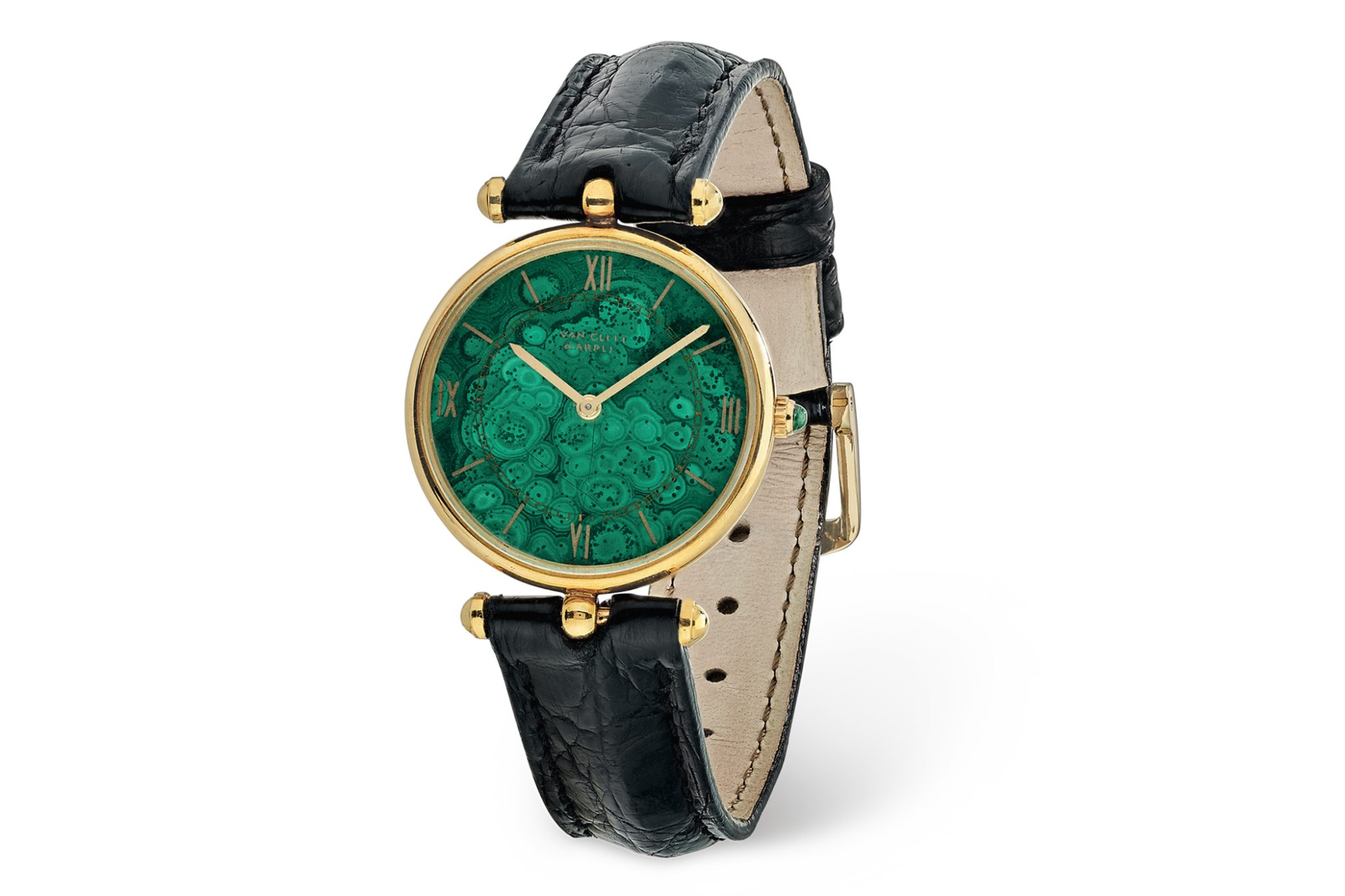 A quirky Pierre Arpels watch from 1974
Van Cleef & Arpels' home is famously situated at the Place Vendôme, a stone's throw away from Cartier's legendary flagship boutique at the Rue de la Paix. Surely it is little coincidence that Louis Cartier's innovative Vendôme strap attachment with a central bar, created in 1934, was taken up by his neighbour, Pierre Arpels, for his own eponymous watch created in 1949 – the very same year the patent expired.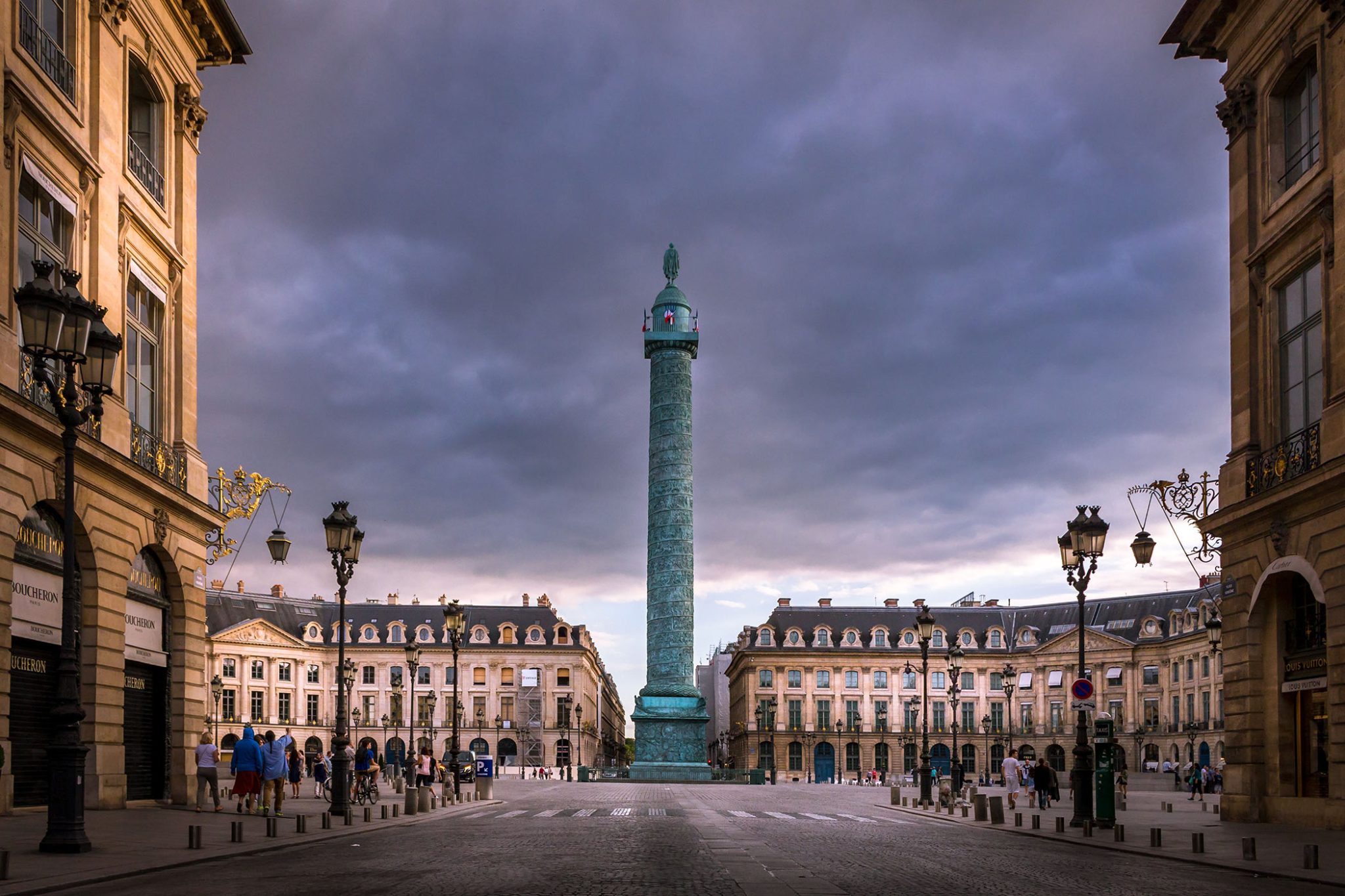 Van Cleef & Arpels' home is famously situated at the Place Vendôme
Credit © Leo Serrat
Today, T-bar lugs are a rarity, glimpsed only on a few pieces: the Cartier Pasha, the odd few vintage Vendôme watches, and a handful of beautiful old Omega De Ville pieces. T-bar lugs give such timepieces a real old-school touch, and while they might not hold a broad appeal today, they certainly exude a gentlemanly charm that's hard to miss and even harder to not appreciate. Van Cleef & Arpels grace the Heure d'Ici & Heure d'Ailleurs' T-bar lugs with a shiny black alligator strap.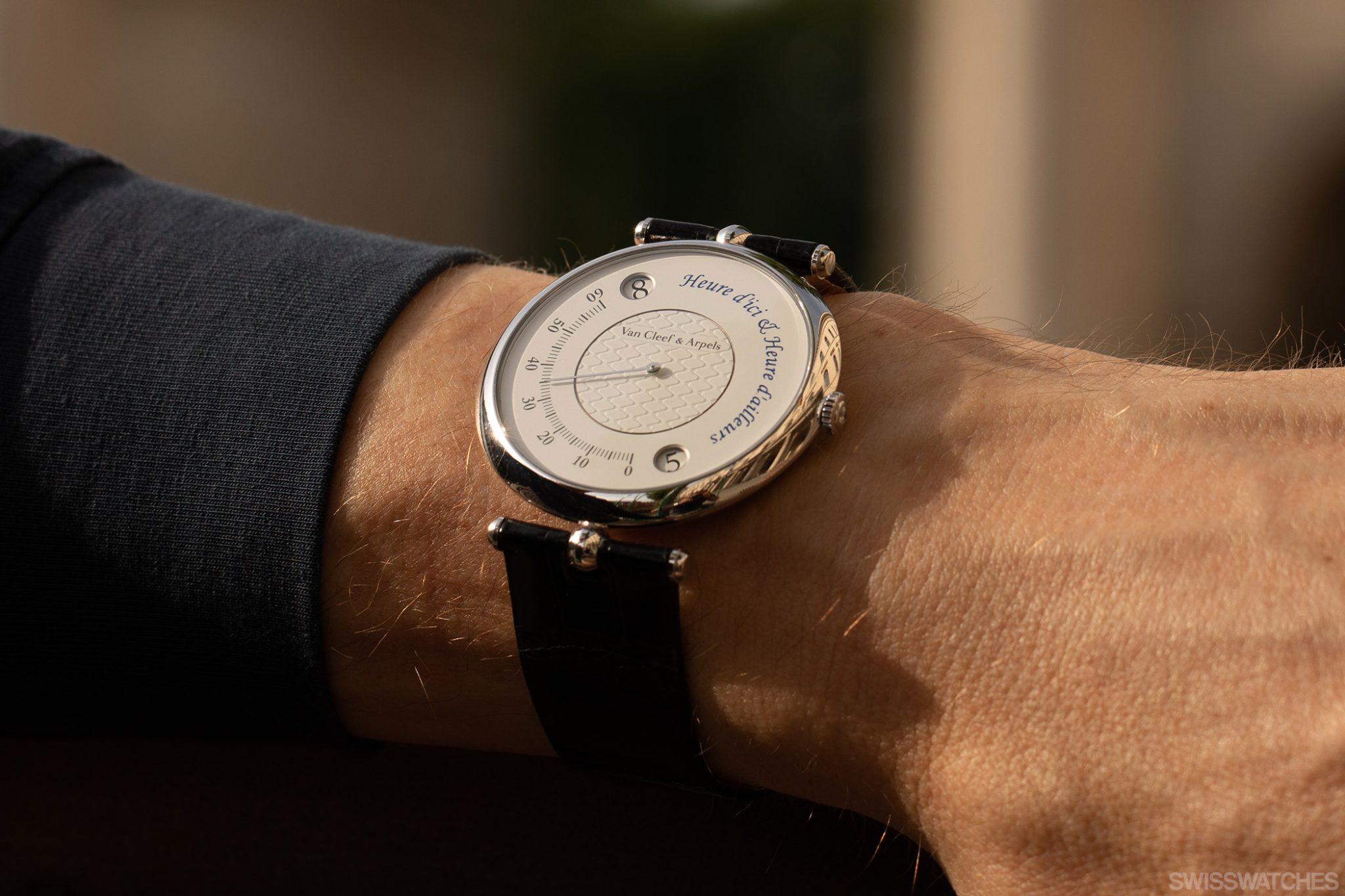 The dial: Embracing the Poetry of Time
The point of a Pierre Arpels watch is to offer the time in a discreet and elegant form – no wonder, then, that the manufacture opted for a jump hours mechanism for this dual time model. The first thing that draws one's eye to the dial, however, is not the complication, but rather the proud French inscription: Heure d'Ici & Heure d'Ailleurs.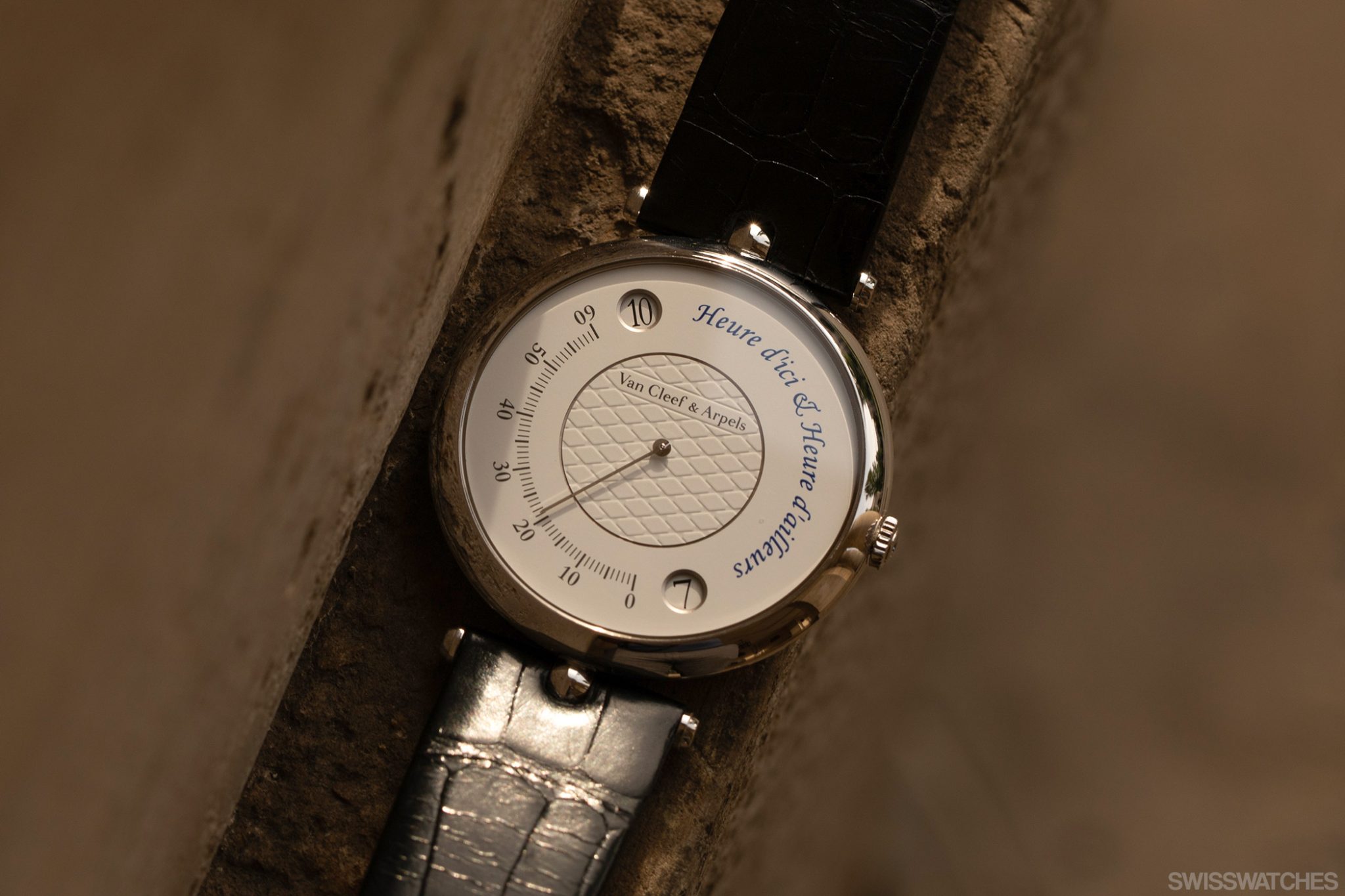 Not very many watches bear their model's name on the dial; think of famous pieces such as the Tambour, Royal Oak, Alpine Eagle or the Overseas, to name but a few. Even the minority that do, e.g. the Breitling Navitimer, print the model name subtly and symmetrically on the dial. Yet the long title of the Heure d'Ici & Heure d'Ailleurs curves across the dial from 12 to 3 o'clock. From the maison's hallmark embrace of asymmetrical design to the romantic cursive font, this design decision emphasises the poetic spirit of the timepiece.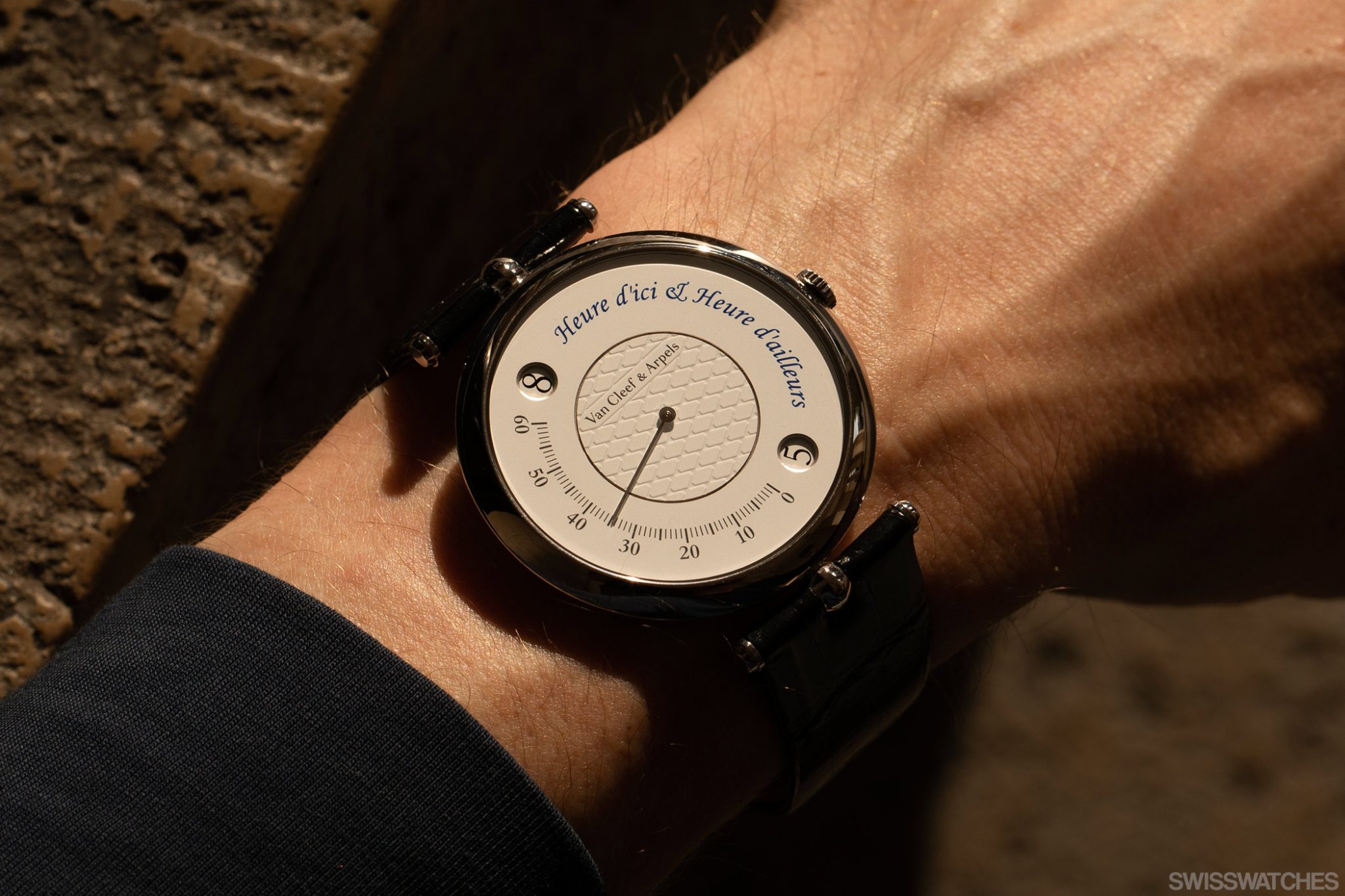 Van Cleef & Arpels' Heure d'Ici & Heure d'Ailleurs: On the wrist
The Heure d'Ici & Heure d'Ailleurs is housed in a 42 mm rhodium-plated, 18-carat white-gold case. The matching crown, adorned with a diamond, provides the means to set the minutes and simultaneously the two zones. But how does it feel to wear this special piece on the wrist?
Firstly, it's very much a gentleman's wristwatch. With the combination of a plain white dial and thin bezel, this watch looks bigger than it is – but at 42 mm, it's incredibly wearable. Having enlisted my male colleagues to test out the watch on the wrist (both having average wrist sizes of circa 18.5 mm), they reported back that it's very comfortable indeed. While I had my doubts about the comfort of a T-bar, they contentedly flexed their wrists back and forth without any discomfort to the carpel bones.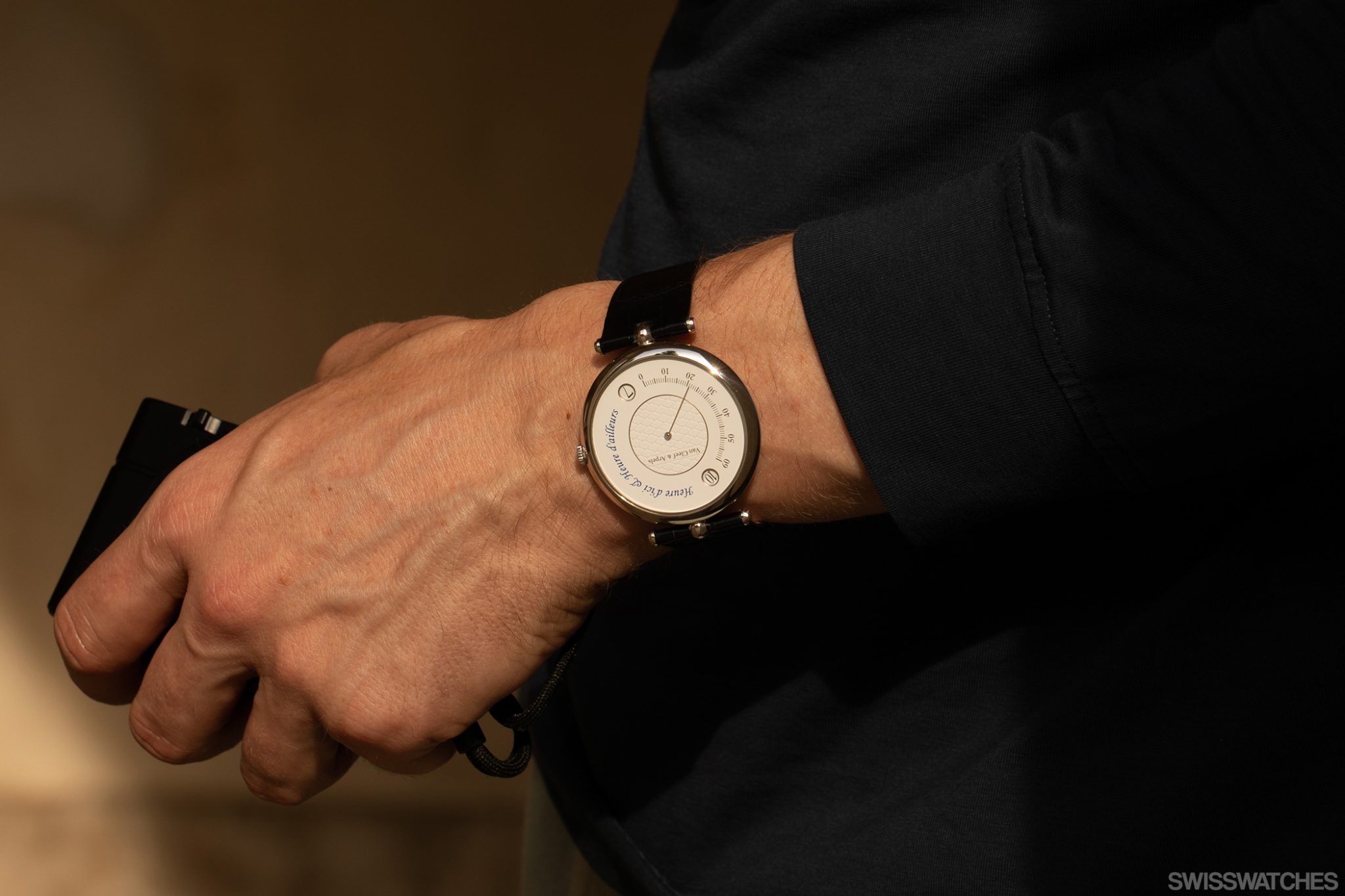 Secondly, what I was able to surmise for myself – even with a smaller female wrist – was the feeling that this watch gives you. It's satisfying to know that despite its modest single-hand two-aperture appearance, you actually have something incredibly fine and intricate on your wrist, as the open caseback discloses. Furthermore, this interesting timepiece also makes for a nice talking point with friends, as this article hopefully proves. Finally, for internationals such as myself, the Heure d'Ici & Heure d'Ailleurs is also very convenient when you need to contact people abroad; I personally chose to set it in accordance with friends in Washington. It's pretty useful to be able to see the time across the pond without having to calculate it manually every time.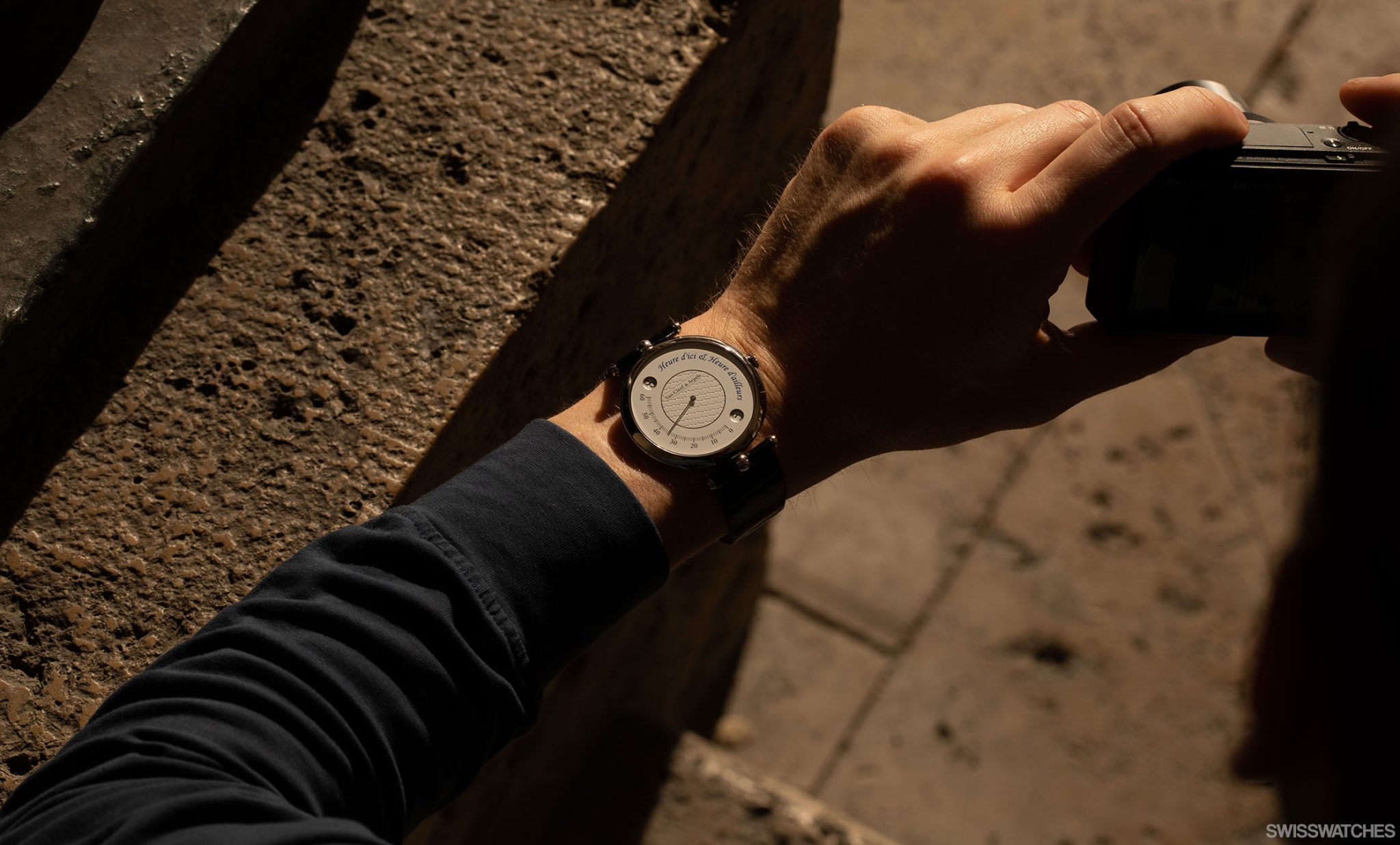 The Heure d'Ici & Heure d'Ailleurs is a Van Cleef & Arpels watch through and through. While for many, archetypal VC&A pieces that come to mind might more likely be a delicate Alhambra, charming Lady Féerie or mesmerising Midnight Planétarium, this purist jump hour watch equally exudes the maison's poetic romanticism through its subtle tributes to horological history and innovation, sophisticated masculine design, and of course a splash of adventure.
The price of the Van Cleef & Arpels' 'Pierre Arpels Heure d'Ici & Heure d'Ailleurs' (Ref. VCARO4II00) is CHF 35,100.
---
---