It's a topic that every OMEGA Speedmaster fan must have an opinion on – when it comes to protecting the dial, which is better: hesalite or sapphire crystal? In this article, we will be arguing the case for keeping it old-school, while also explaining why some choose the more contemporary, "luxurious" option of sapphire crystal.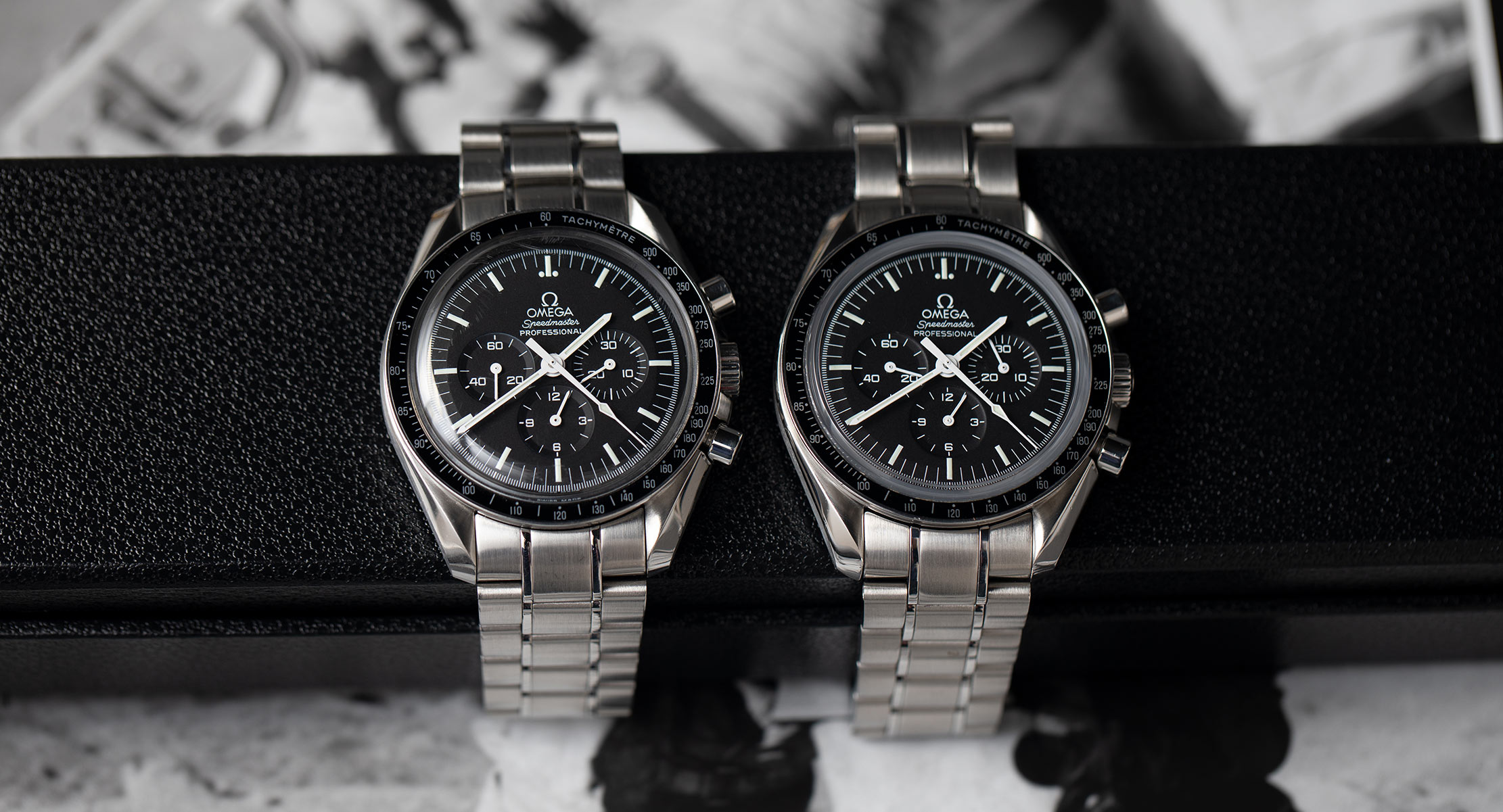 OMEGA Speedmaster Professional "Moonwatch"
with hesalite crystal – Ref.: 311.30.42.30.01.005 (left)
with sapphire crystal -Ref.: 311.30.42.30.01.006 (right)
---
Hesalite Speedmasters: What's the history?
---
Having first been introduced in 1957 as a racing chronograph, the first Speedmaster in space was worn by Wally Schirra on the Mercury Sigma 7 mission in 1962. This, of course, was two and a half years before the watch was qualified by NASA for all of its manned space flights.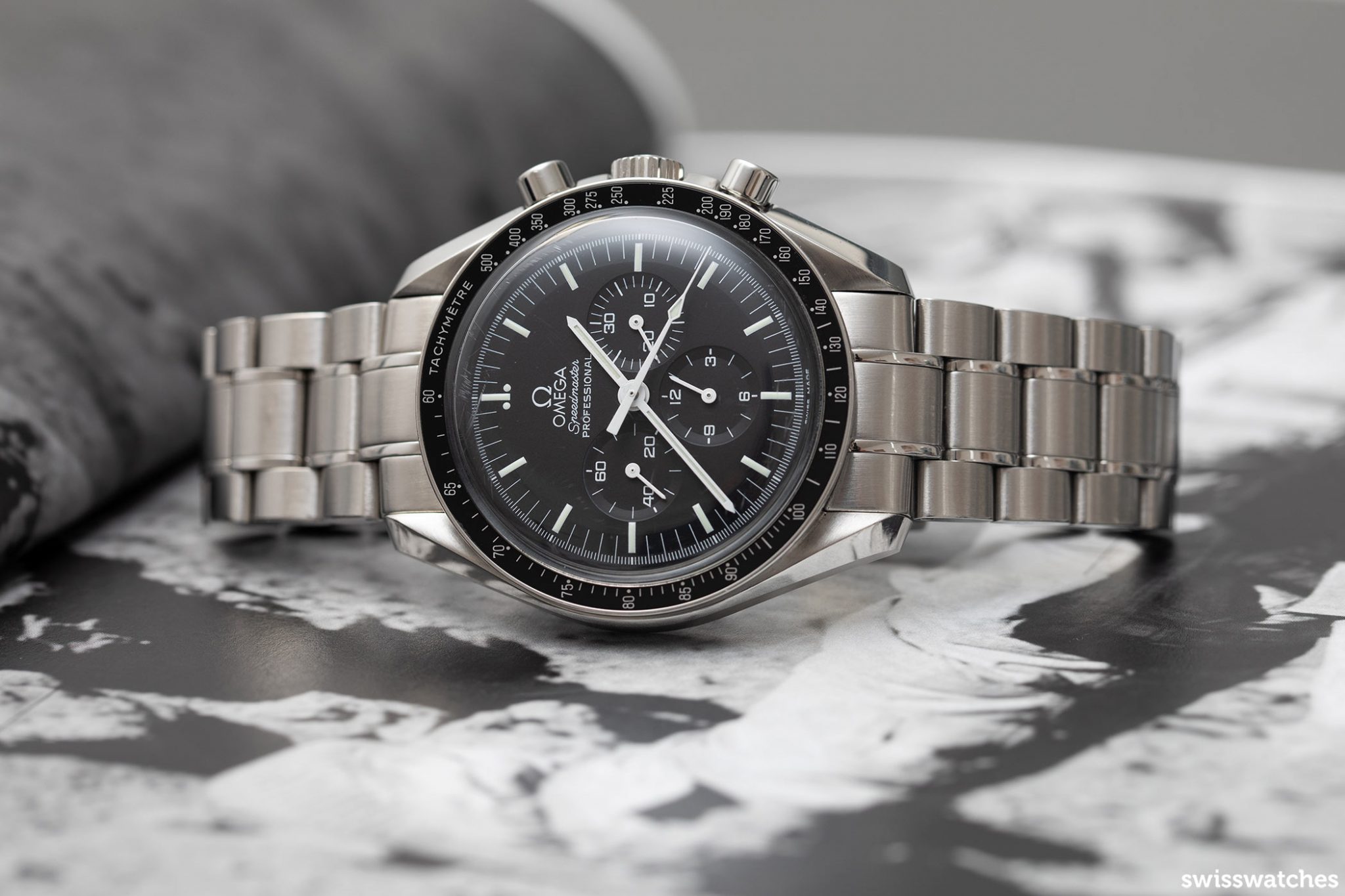 The watch's qualification in 1965 was a miracle in itself. Chronographs from three watch brands (people commonly say four, but one was eliminated upon submission) were subjected to intensive testing in ten different environments. Two of these failed to make it through even the first round. As the only watch to survive, the Speedmaster became – and remains – the only timepiece certified by NASA.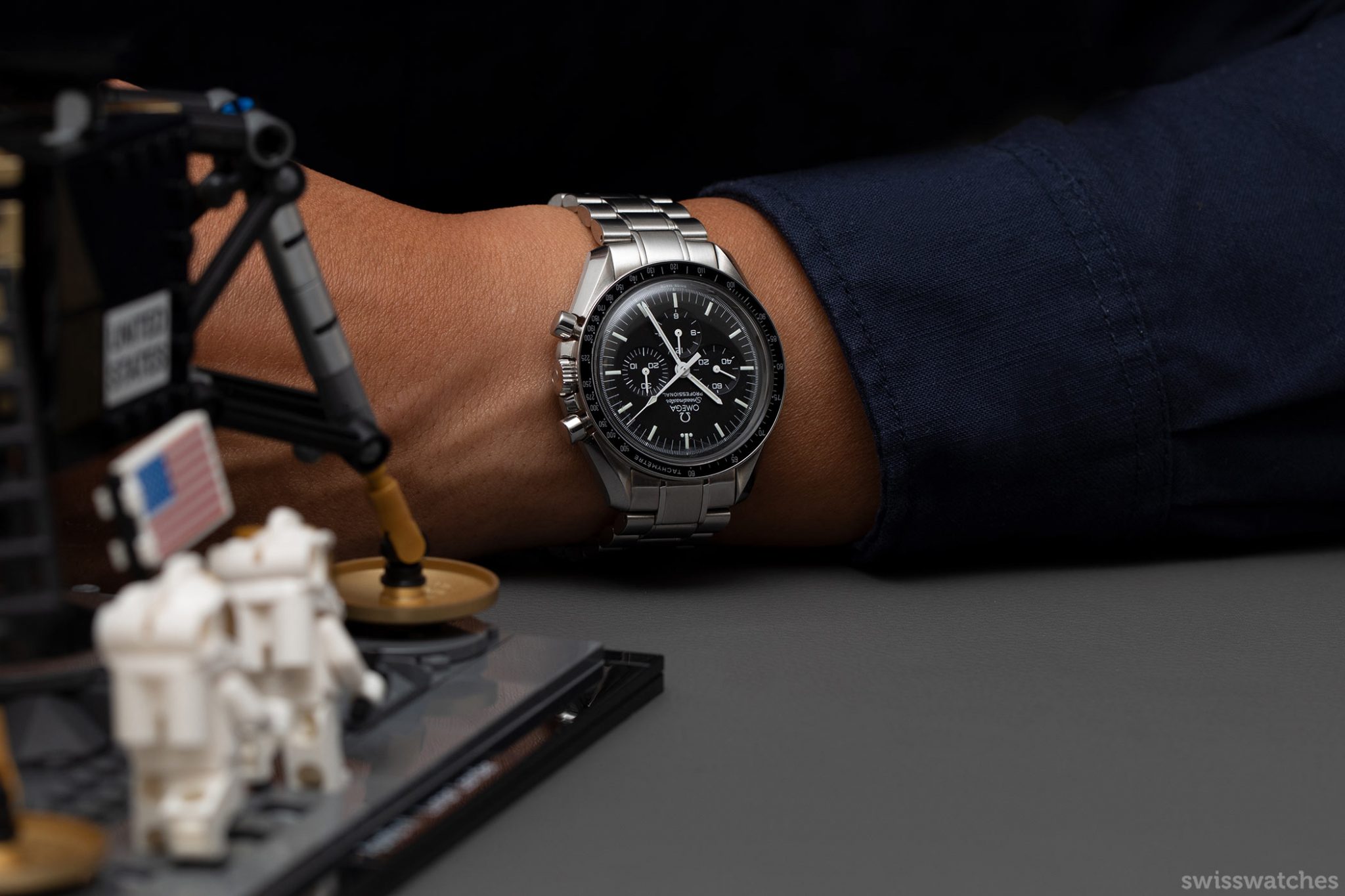 The next milestone was the Speedmaster's famous first moment on the Moon on 21 July, 1969, cementing its title as "the Moonwatch". Becoming an official part of the every astronaut's kit, each crew member was equipped with an OMEGA Speedmaster, safely secured by a Velcro strap. The watch's next famous moment was in 1970, when the Speedmaster helped to return the Apollo 13 astronauts safely to Earth, resulting in NASA awarding OMEGA the Silver Snoopy Award that same year.
Speedmaster Professional "Snoopy" from 2003
Ref.: 3578.51.00
The Apollo 17 mission in 1972 marked the end of NASA's time on the moon. Again, the Speedmaster played a prominent role, being put to use during heat and flow convection experiments. Even after Apollo 17, the chronograph made history again in 1975, as US Commander Stafford and Russian Commander Leonov famously shook hands in space – each with a Speedmaster on his wrist. It's safe to say that the Moonwatch has done more than enough to deserve its legendary nickname.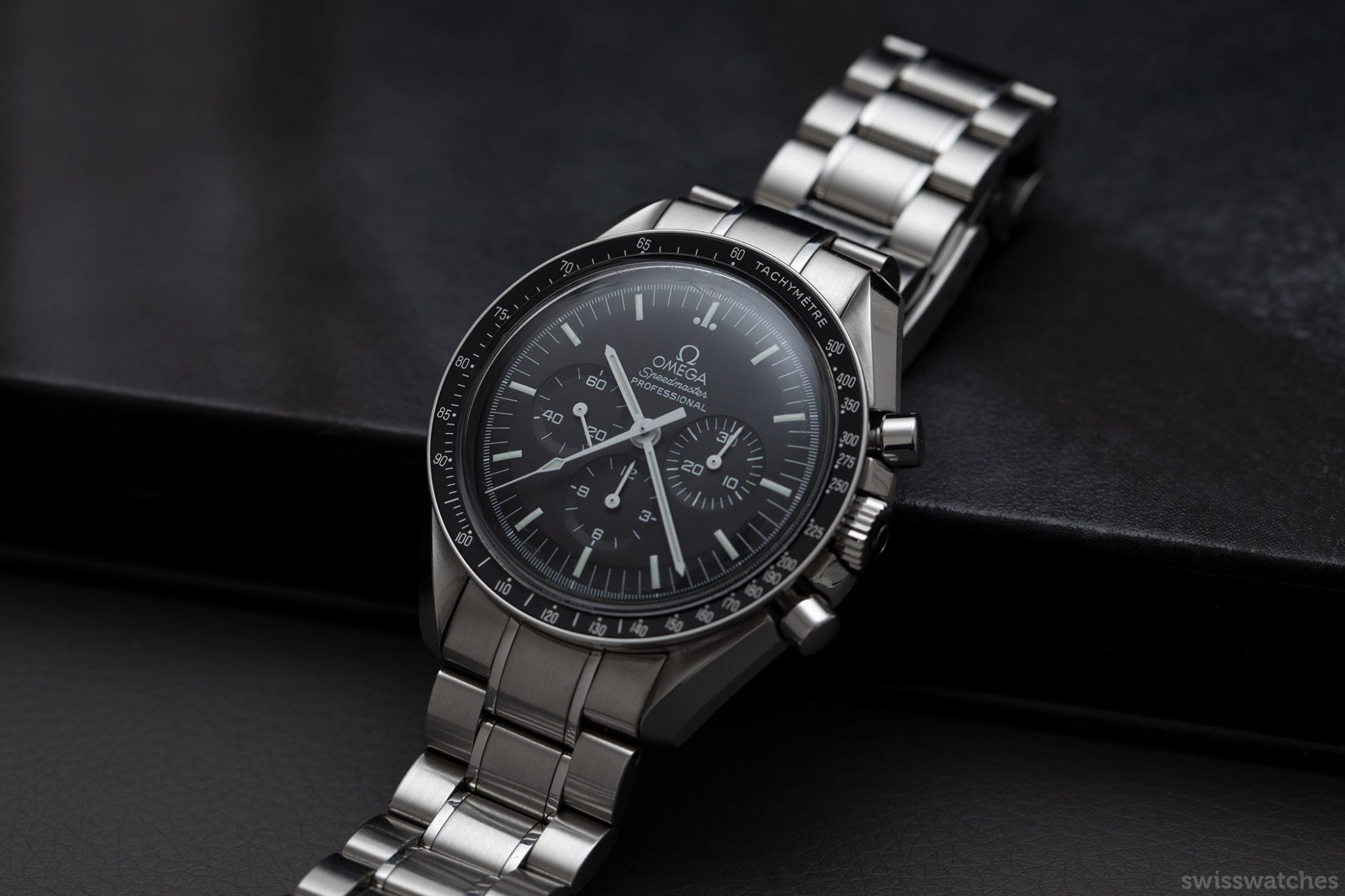 Speedmaster Professional "Moonwatch" with hesalite crystal
Ref.: 311.30.42.30.01.005
None of this would have been possible without the hesalite protecting every single one of these Speedmasters. Every model, from the first Ref.7077/6 to the 1969 gold Ref.1116/575 used hesalite. Interestingly, OMEGA offered to switch the Speedmaster to sapphire crystal, however NASA naturally did not want to run the risk of shattered glass in zero gravity.
---
Life with a hesalite Speedmaster
---
What is hesalite?
Hesalite is simply the word OMEGA uses for plexiglass, aka acrylic. Commonly found in a range of industries, from art to medicine, the material tends to appear on watches in a lower price range, such as timepieces from Swatch. It is pretty much the least expensive type of dial protection on offer. That said, as you'd expect for the Moonwatch, it has plenty of good qualities to offer.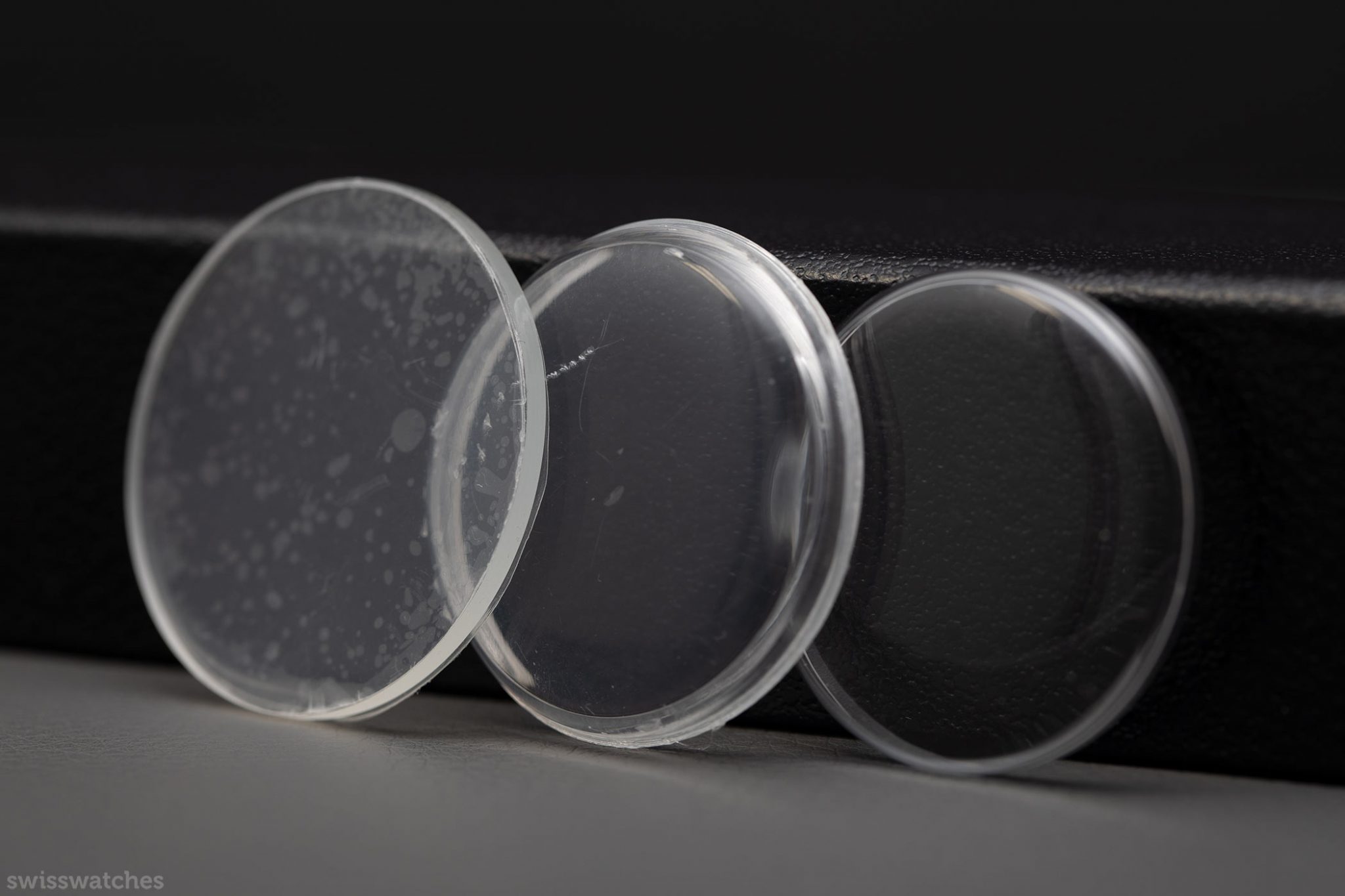 How does it fare in daily life?
Firstly, when subjected to force, thermoplastic cracks rather than shatters. This means that, whether in space or on Earth, there isn't much of a mess if hesalite receives a knock or two. Secondly, it doesn't easily smear, meaning that the watch doesn't need constant wiping to remove finger prints. Thirdly, and most importantly for Speedy fans, getting rid of scratches is simple.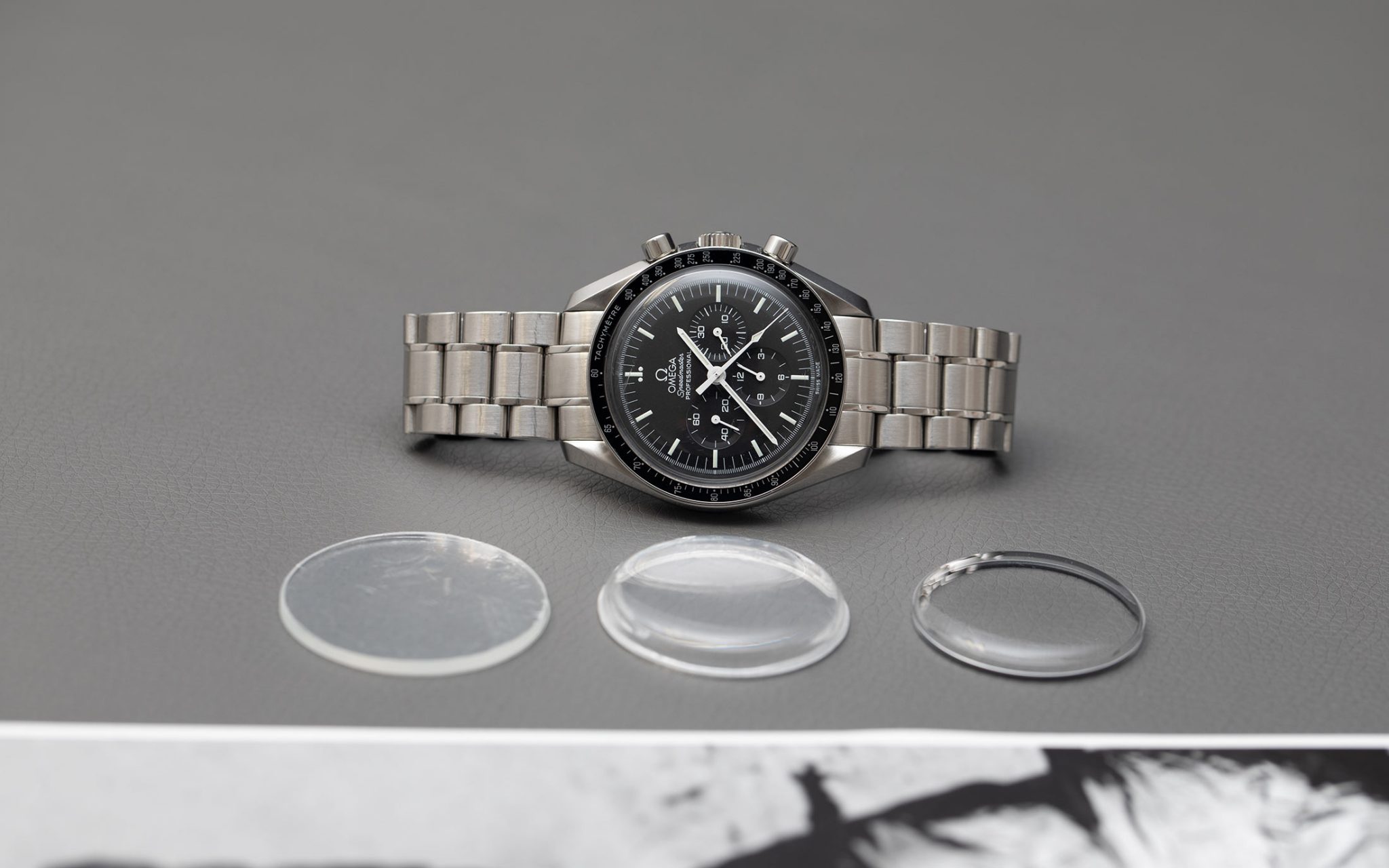 While hesalite is known for scratching easily, marks are easy to remove at home. Furthermore, some romantic-minded wearers even like to have scratches on their watch. In any case, an entire replacement of hesalite costs around 230 euros at OMEGA. This includes the new hesalite plus partial service (water-resistance service, pushers, crown and gaskets). No doubt an independent watchmaker would fix it for an even cheaper price, however this is perhaps less recommendable.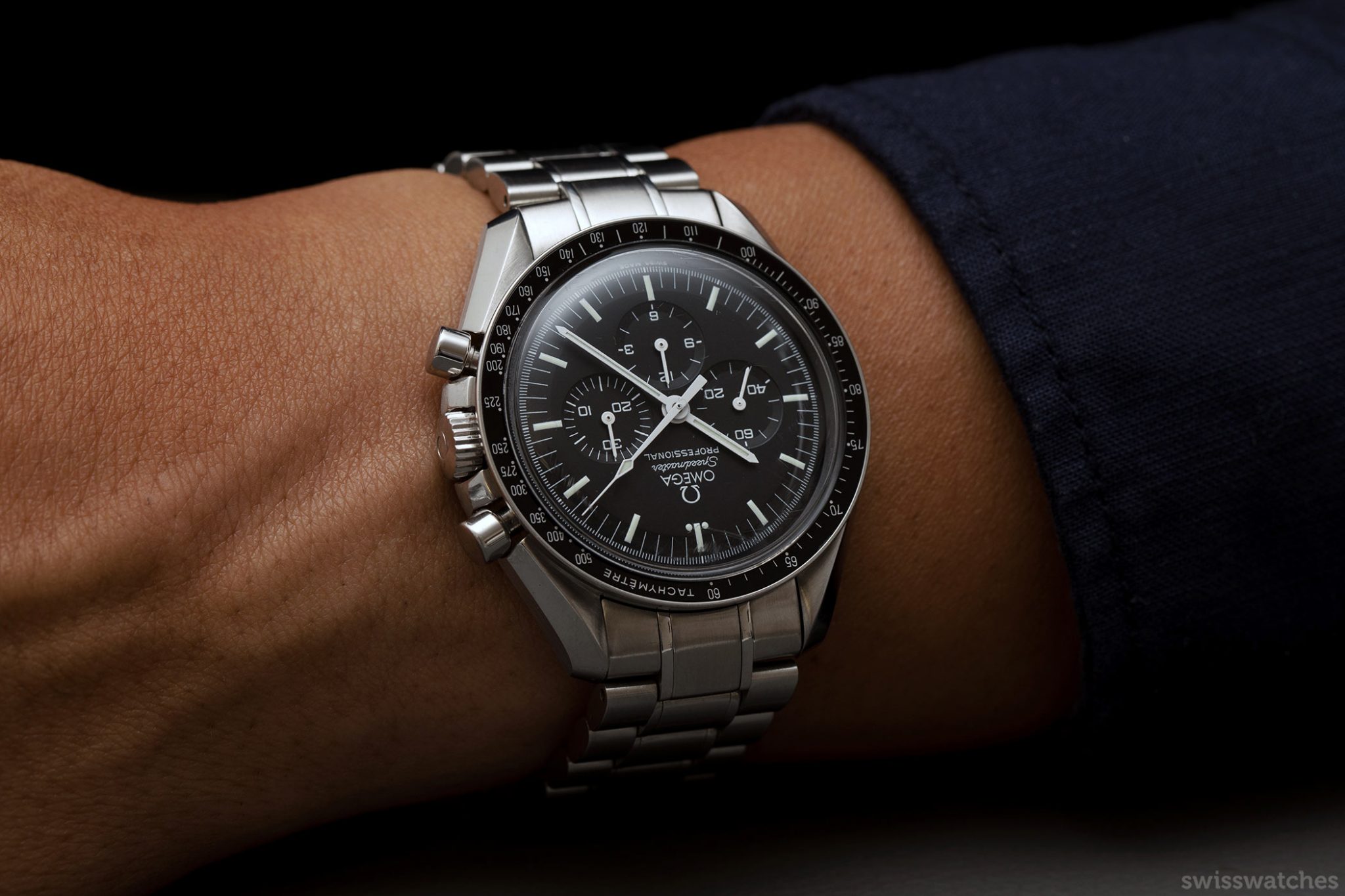 By comparison, replacing sapphire crystal costs 230 euros for OMEGA's partial service, plus the material price of sapphire crystal, which costs 160 euros. This would bring you to 390 euros, assuming it's replaced professionally at OMEGA.
How to clean hesalite
You hear some entertaining stories about how people clean their hesalite Speedmasters fairly often. My favourites include a forum user describing how they clean the hesalite with toothpaste, before licking the excess off the bezel: "Ah. Minty fresh and I've never damaged the bezel." However, think twice about this surprisingly common cleaning method, as toothpaste can get between the bezel and the hesalite. Also, toothpaste contains tiny grains that can actually scratch the hesalite, making the process counterproductive. If you do go for a hesalite Speedmaster, it's better to use Polywatch, a cream that gently grinds down the hesalite crystal.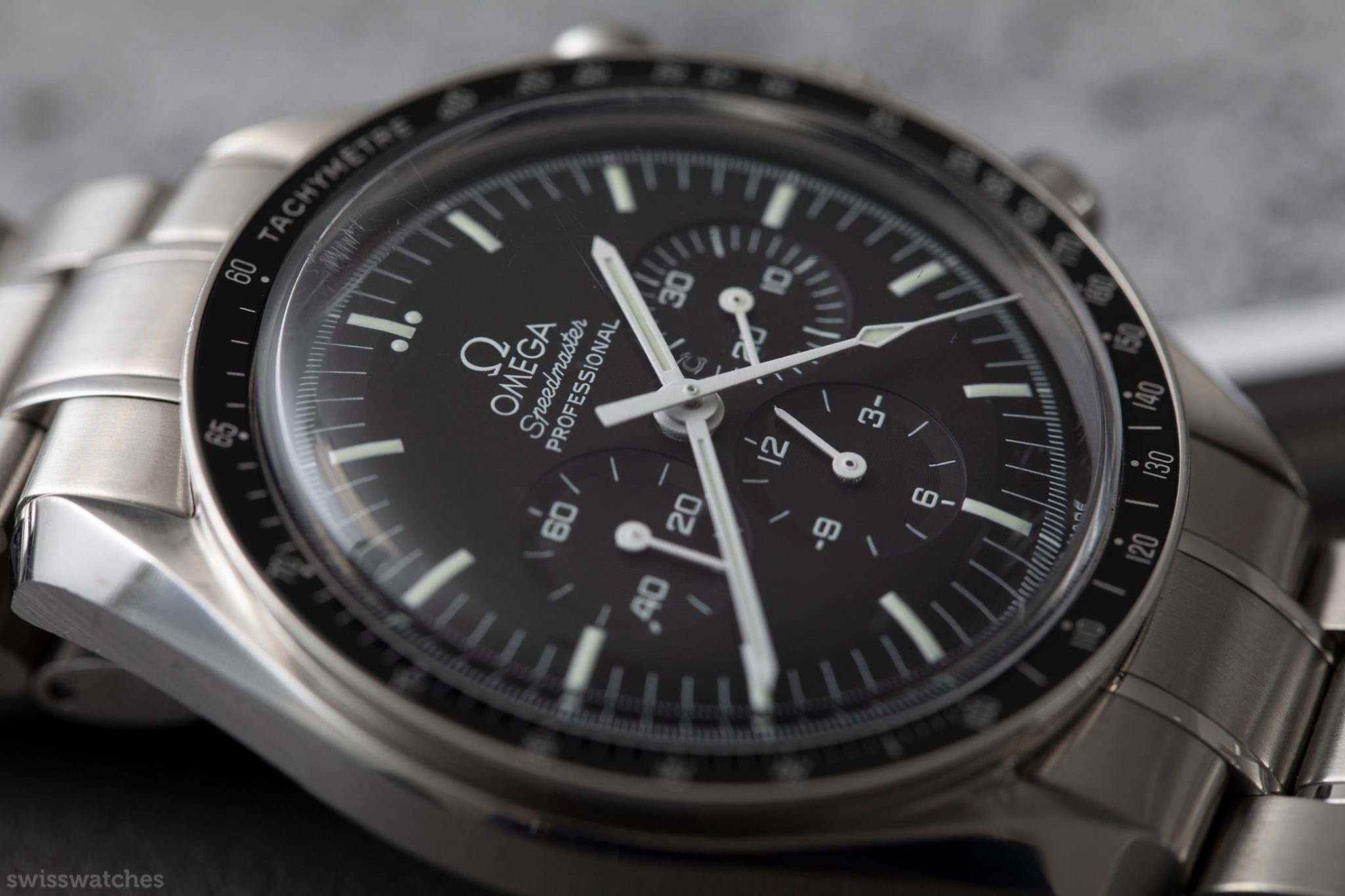 Aesthetics of hesalite
Having looked at the functional aspects, it's also worth revisiting hesalite in terms of the Speedmaster watch. As explained, hesalite is the material protecting every Speedmaster to have flown to the Moon. Even prior to the Moon landing, every model since the racing chronograph's initial launch in 1957 used hesalite. But how does it differ aesthetically to sapphire crystal Speedmaster?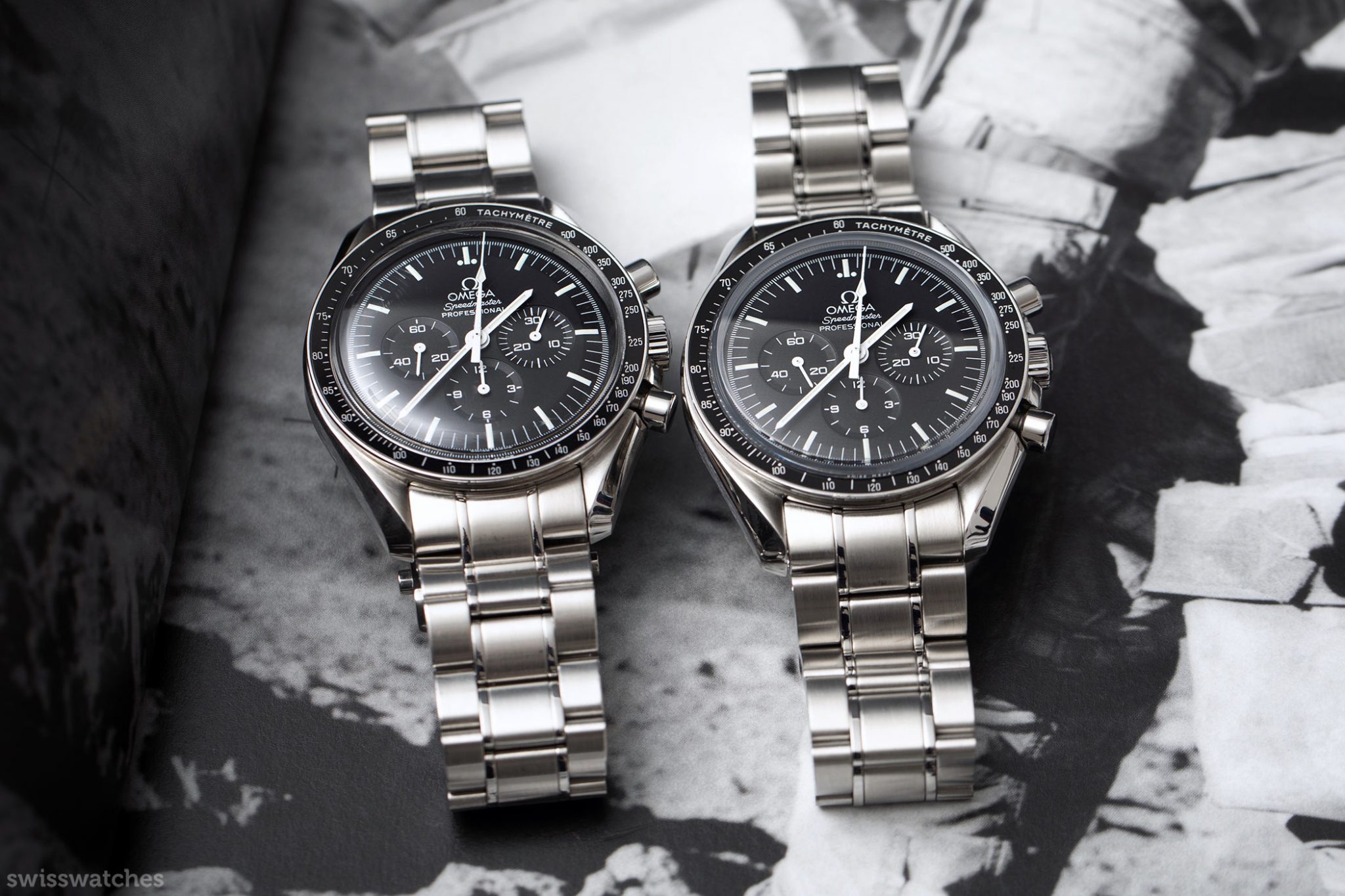 OMEGA Speedmaster Professional "Moonwatch"
With hesalite crystal – Ref.: 311.30.42.30.01.005 (left)
With sapphire crystal – Ref.: 311.30.42.30.01.006 (right)
Domed with a clear rounded rim, hesalite gives Speedmaster dials an open yet warmer, vintage feel. Interestingly, the OMEGA logo, in various forms over the years, almost always appears in the centre. Sapphire crystal models lack this subtle yet defining feature, which serves the purpose of indicating what kind of hesalite glass OMEGA used. Additionally, as this logo is on the inside of the glass rather than the exterior, it doesn't disappear from polishing.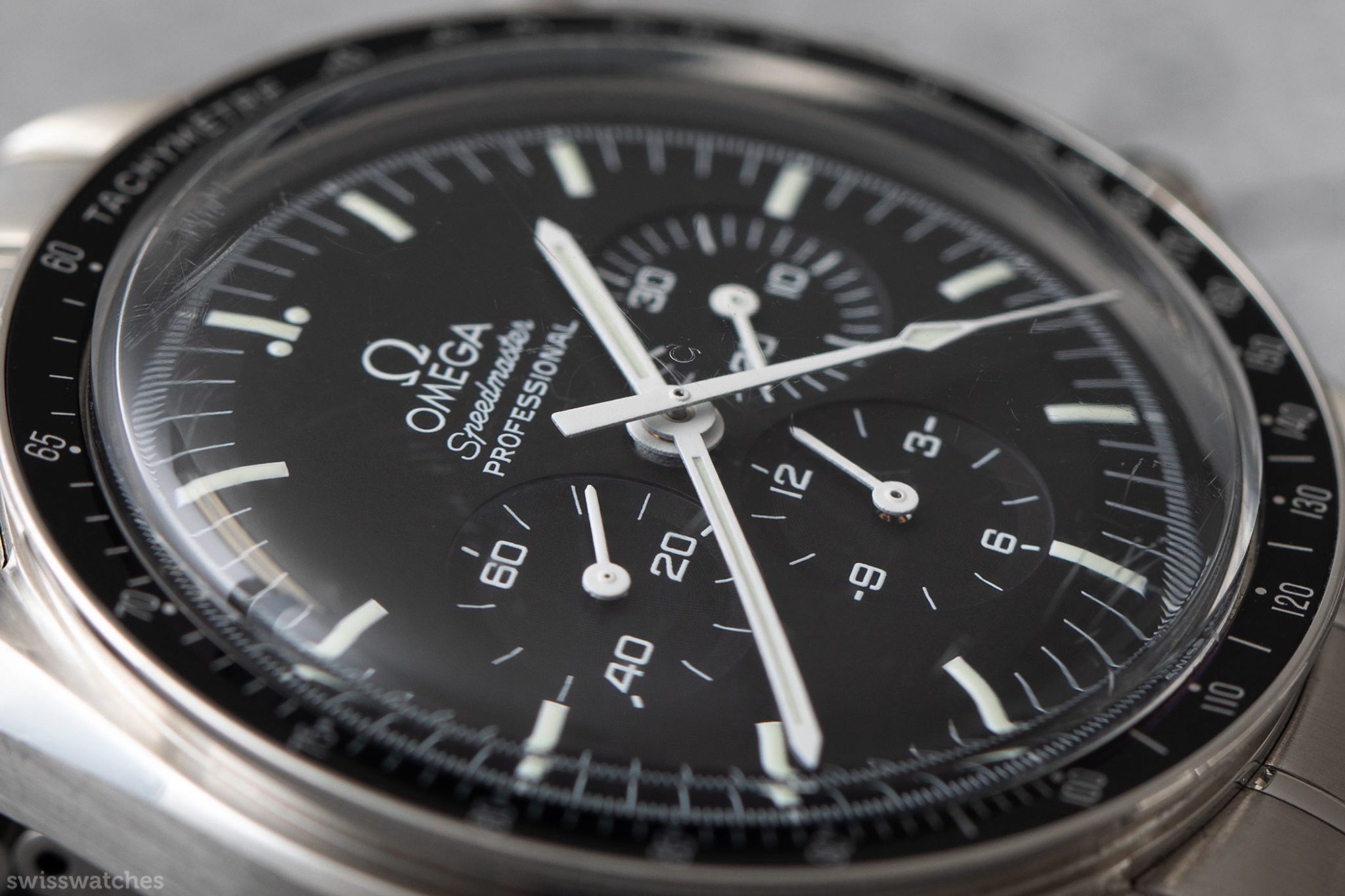 ---
Life with a sapphire crystal Speedmaster
---
What is sapphire crystal?
Sapphire crystal is much more fascinating to create than hesalite. The synthetically made material is created using the "Verneuil Process", invented by the French chemist Auguste Victor Louis Verneuil in 1893. Commonly referred to as flame fusion, it's an intense process.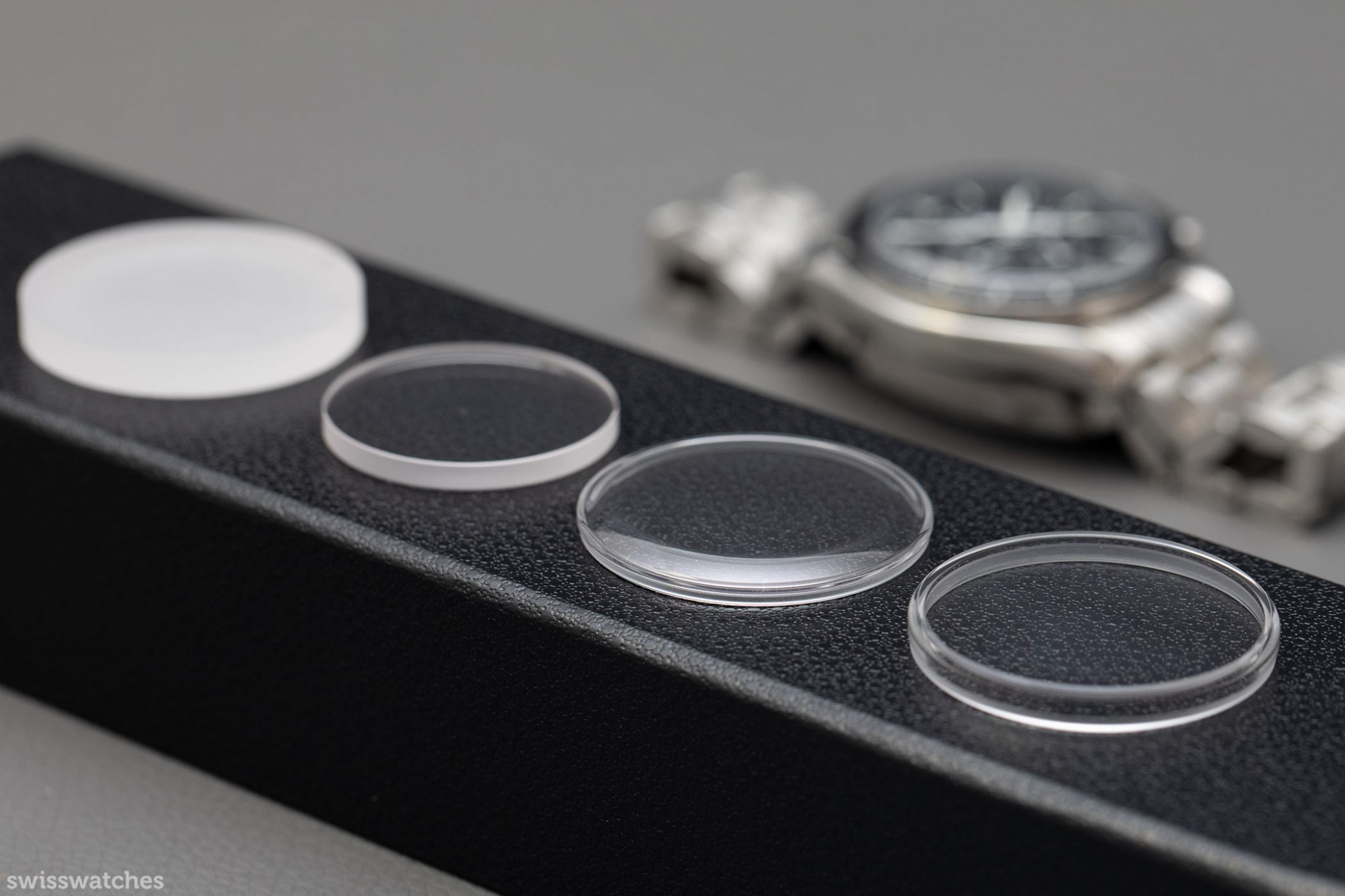 Aluminium oxide particles are sprinkled through an oxyhydrogen flame, melting upon reaching 2,000 celsius, at which point they become droplets. The droplets then fall below the melting point and fuse together, recrystallising inside a long column. This column of crystallised synthetic sapphire is then slowly removed, allowing from more crystal to form on top. When finally complete, the entire cylindrical column can be removed.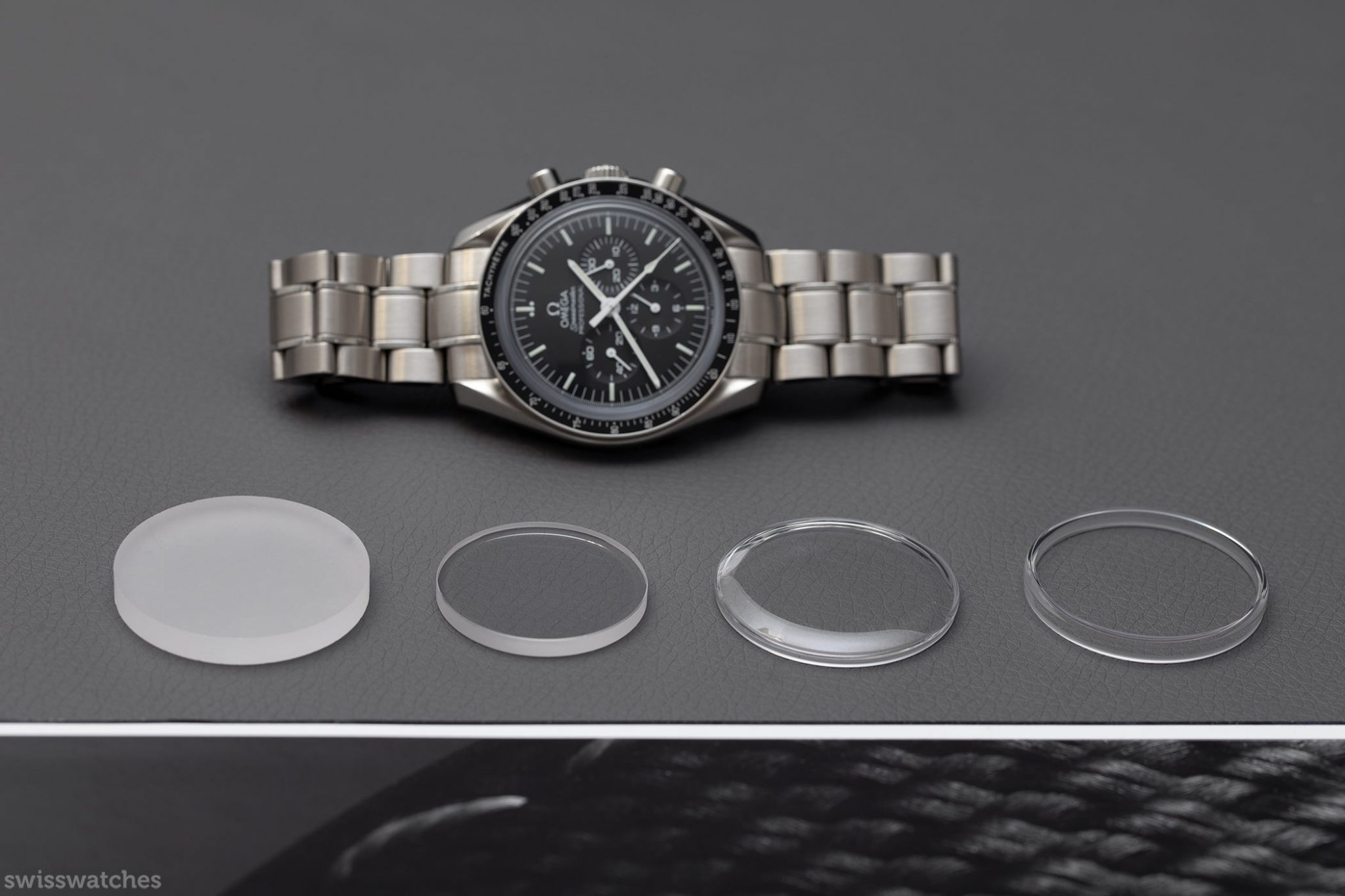 How does it fare in daily life?
Before being polished into a watch crystal, sapphire crystal is sliced using a diamond-tip cutter. This is because only a diamond or another sapphire can really scratch – let alone cut – sapphire crystal. Therefore, the material is not only incredibly scratch-resistant, but also so crystal-clear that manufactures can add layers of anti-reflective coating without any blurring effect.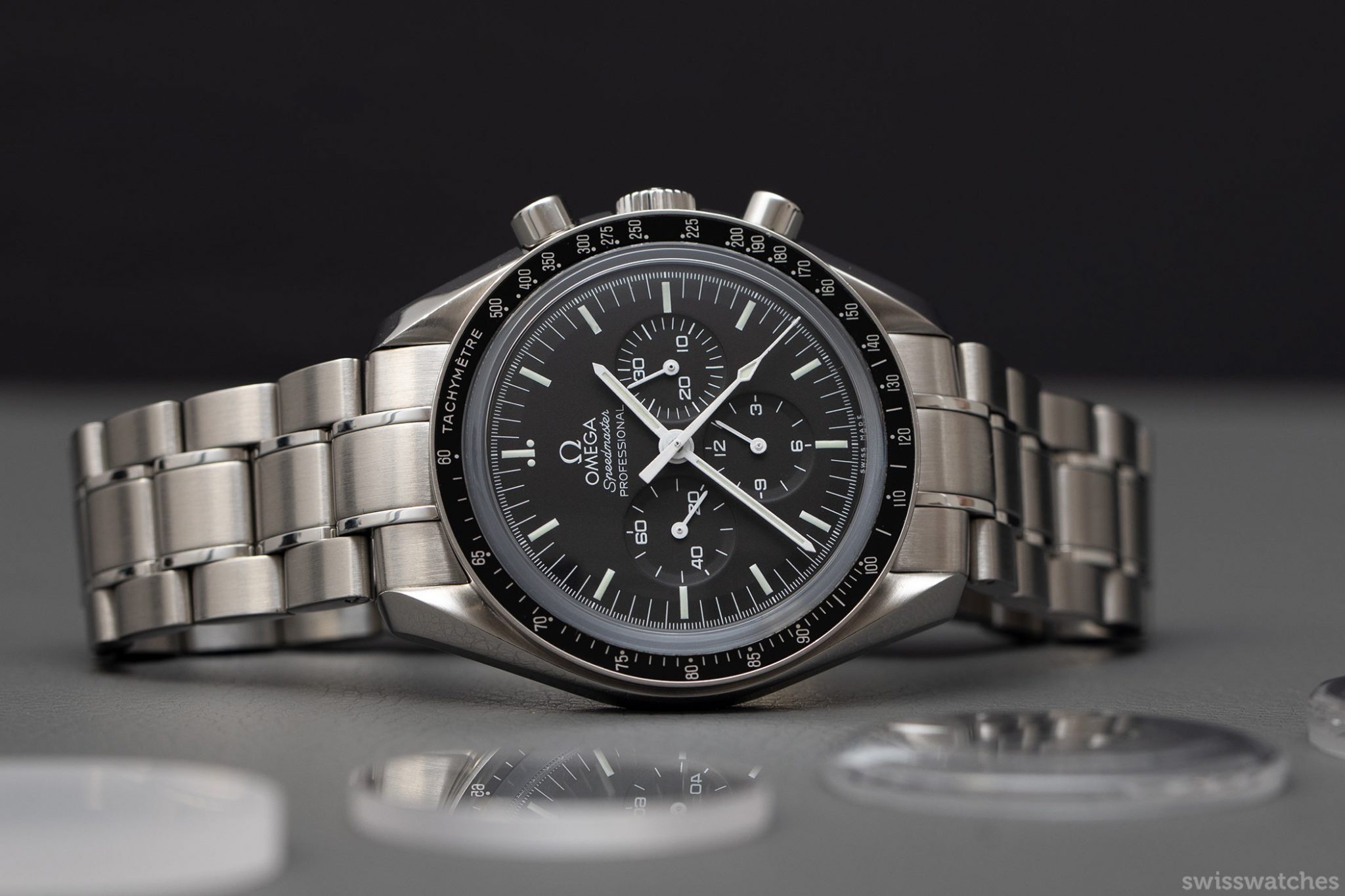 On the other hand, however, these anti-reflective coatings are necessary. Sapphire crystal, despite its incredible optical clarity, is notably more reflective than hesalite. Of course, it can be that one discovers tiny scratches on sapphire crystal over time. However, these scratches won't be directly on the glass, but rather merely on the fine layer of anti-reflective coating over it.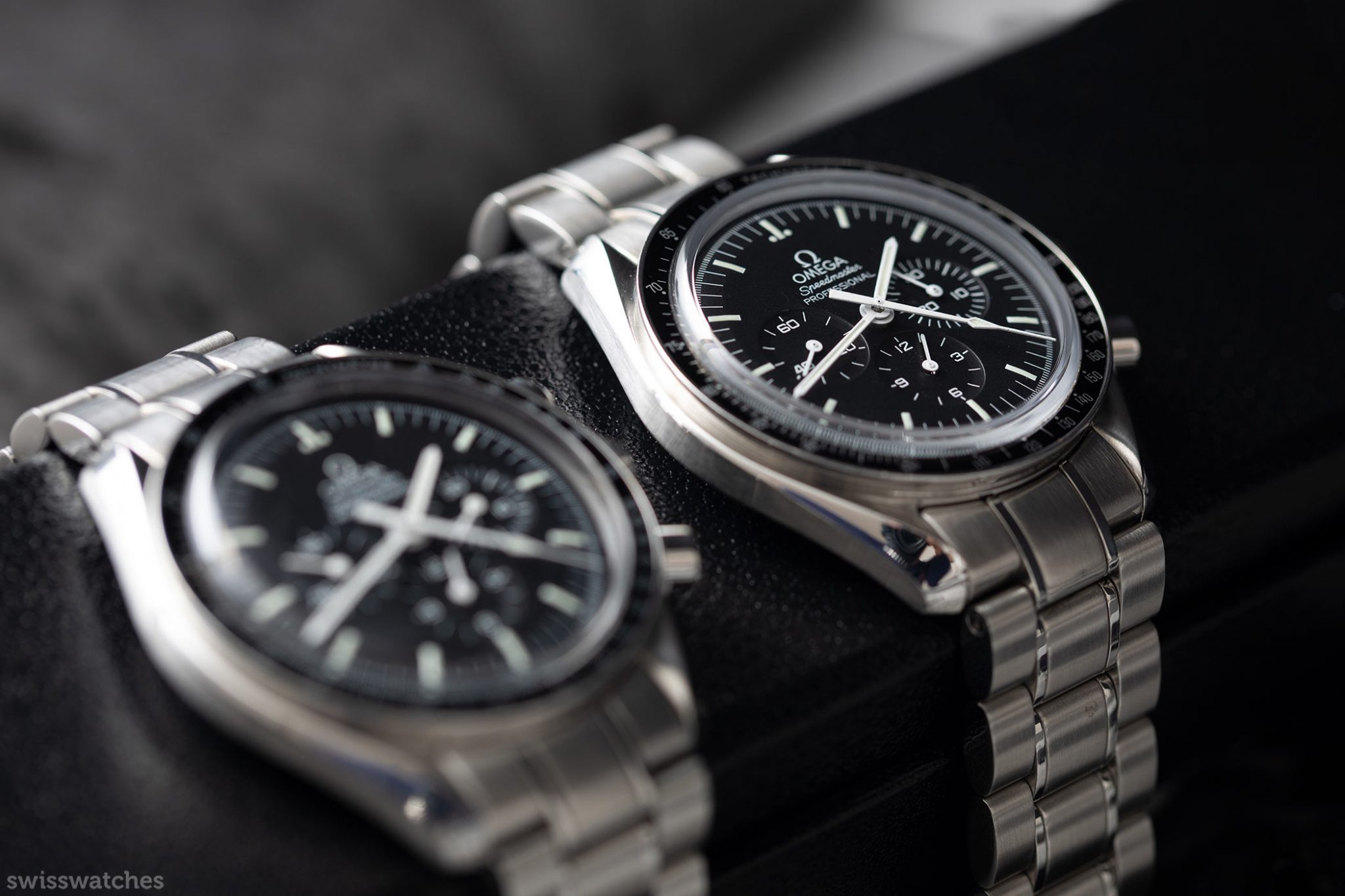 While hesalite is common on the likes of a Swatch, sapphire crystal is not only favoured for high-end Swiss mechanical watches, but also smartwatches such as Apple watches. As mentioned, sapphire crystal is incredibly difficult to damage. Its Vickers hardness (which measures the hardness of a material) is around 2,000. By comparison, hesalite's Vickers hardness is only around 500.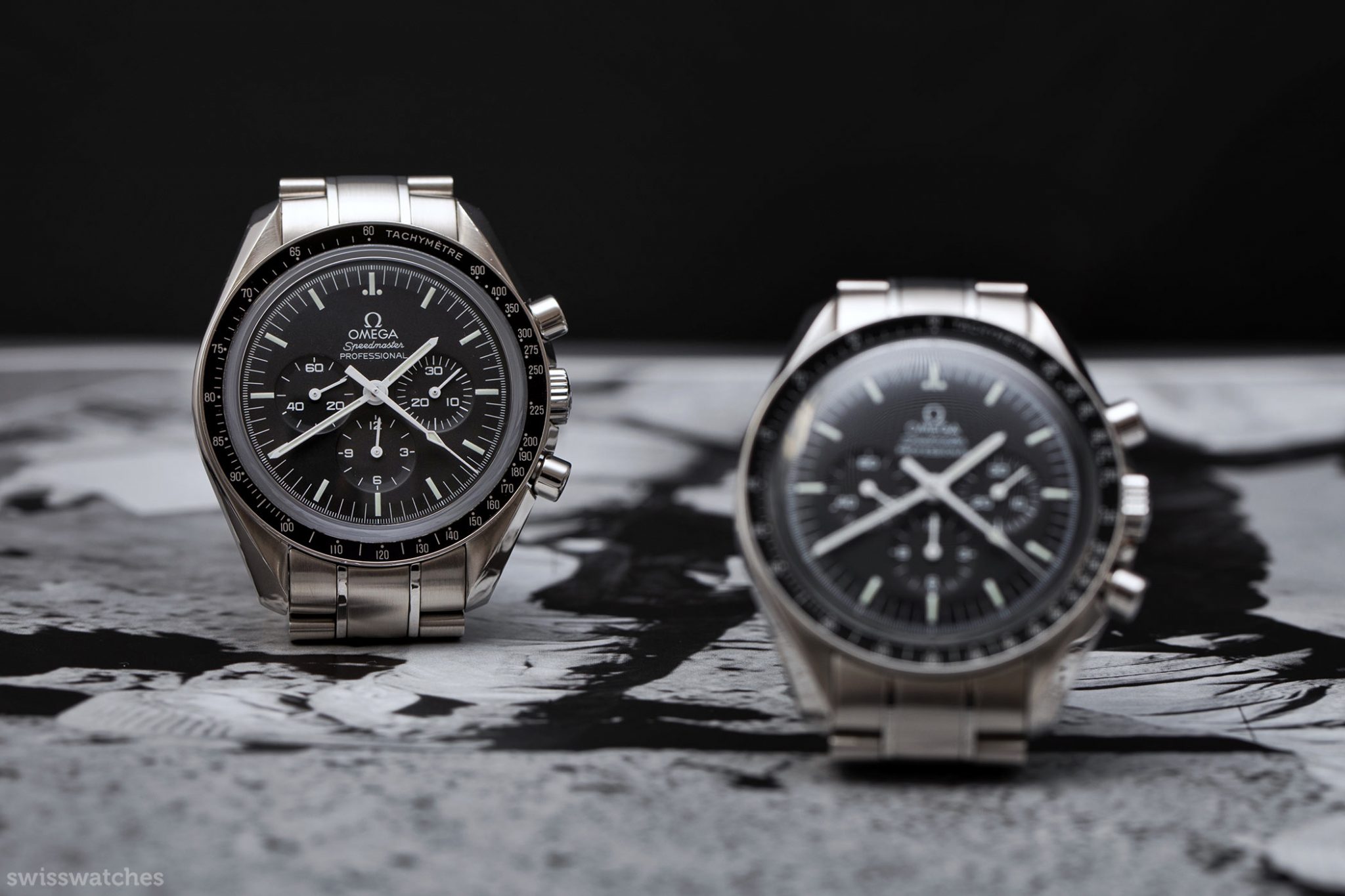 Aesthetics of sapphire crystal
However, these qualities do come at a price. While hesalite is clear for every angle, sapphire crystals appear to have a milky ring, or "halo", around the edges. As a result, the overall appearance is chunkier, arguably detracting from the Speedmaster's minimalist appeal. It's also worth noting that sapphire crystal makes the watch slightly heavier – whether or not this is a bonus is a matter of taste. For me, these various points mean that sapphire crystal's pros are cancelled out by the chunkier structure, lack of historical relevance, and higher price range.
---
What are the options today?
---
As a general rule, you can expect a hesalite Moonwatch to keep things authentic and feature a solid caseback. By contrast, sapphire crystal Speedmasters usually have a matching open caseback, therefore featuring a more decorated movement. Such models are dubbed a "sapphire sandwich" for obvious reasons.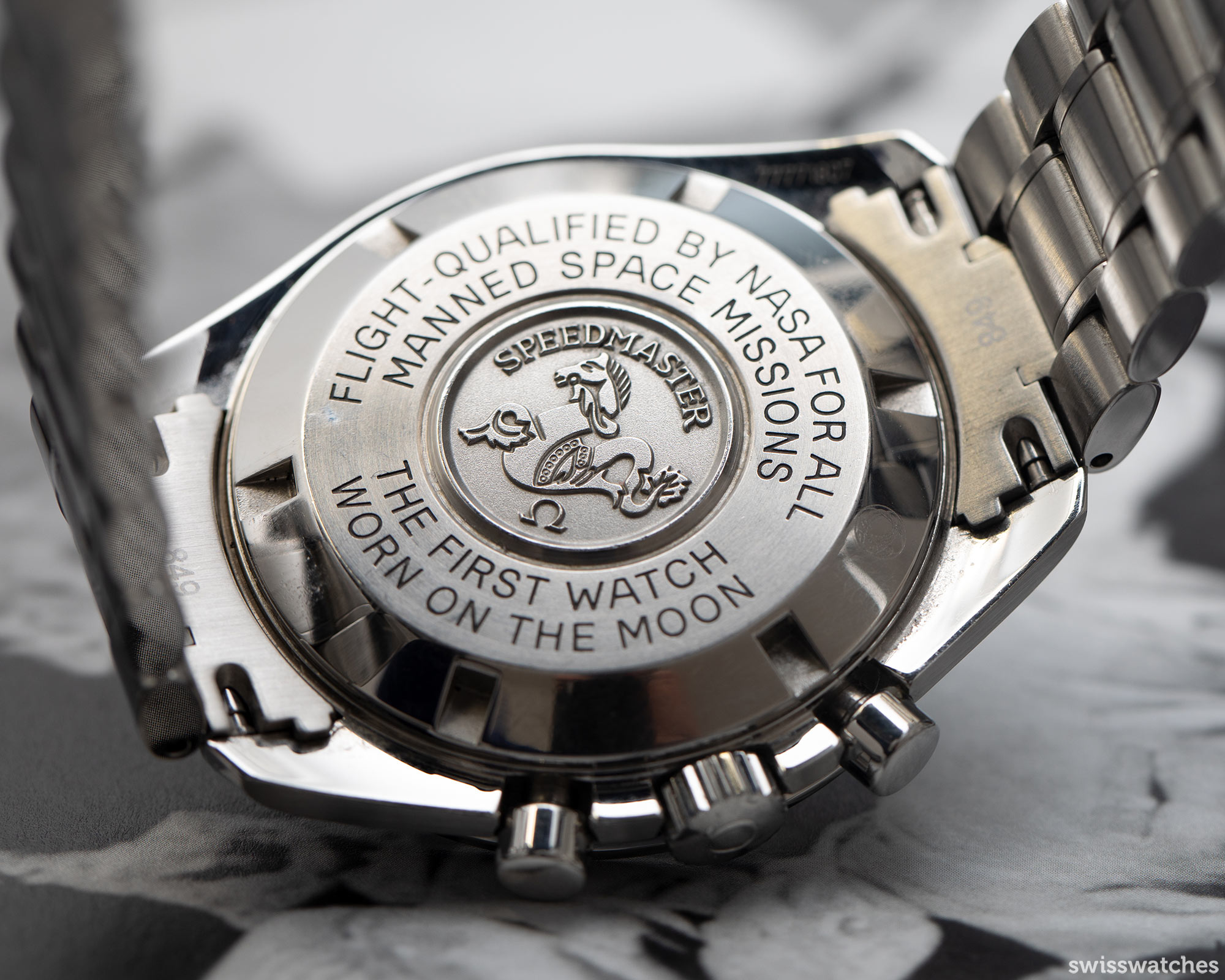 Of course, you could turn to vintage Speedmasters for a different option. Some limited models, such as one Speedmaster model introduced in 1985, feature a hesalite front and sapphire crystal caseback. In such cases, however, you will likely be facing a much higher price point, lower availability, not to mention the watch may well no longer have the original glass.
Speaking of availability, OMEGA currently offer hesalite Speedmaster Moonwatch Professional 42 mm models, and the price starts at 5,800 euros. By contrast, the four sapphire crystal models start at 6,700 euros. Whether this can be justified beyond the expenses of the production process is for you to decide.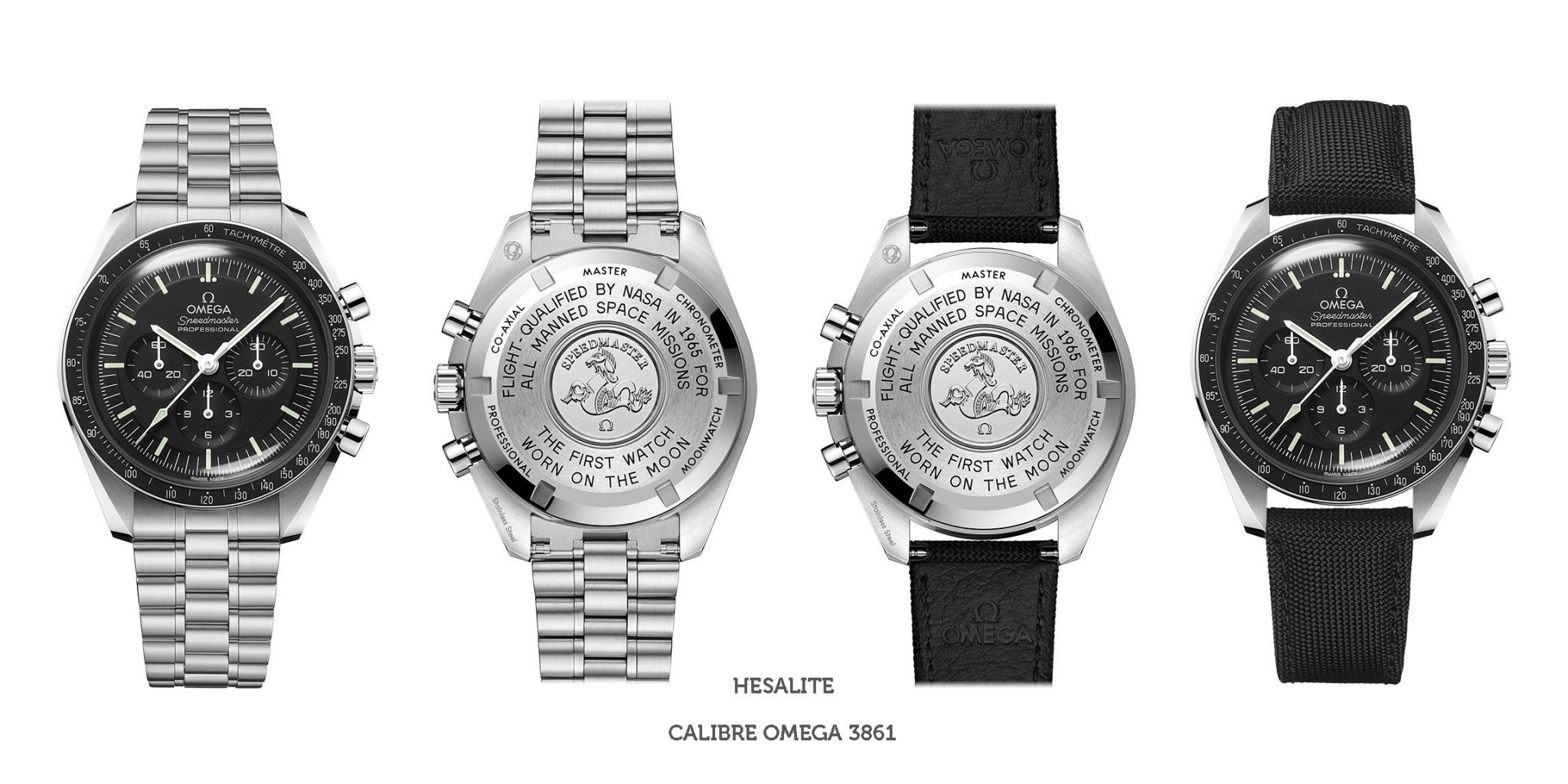 OMEGA Speedmaster Moonwatch Professional
Co-Axial Master Chronometer Chronograph 42 mm
Steel on steel – 310.30.42.50.01.001
Steel on coated nylon fabric strap – 310.32.42.50.01.001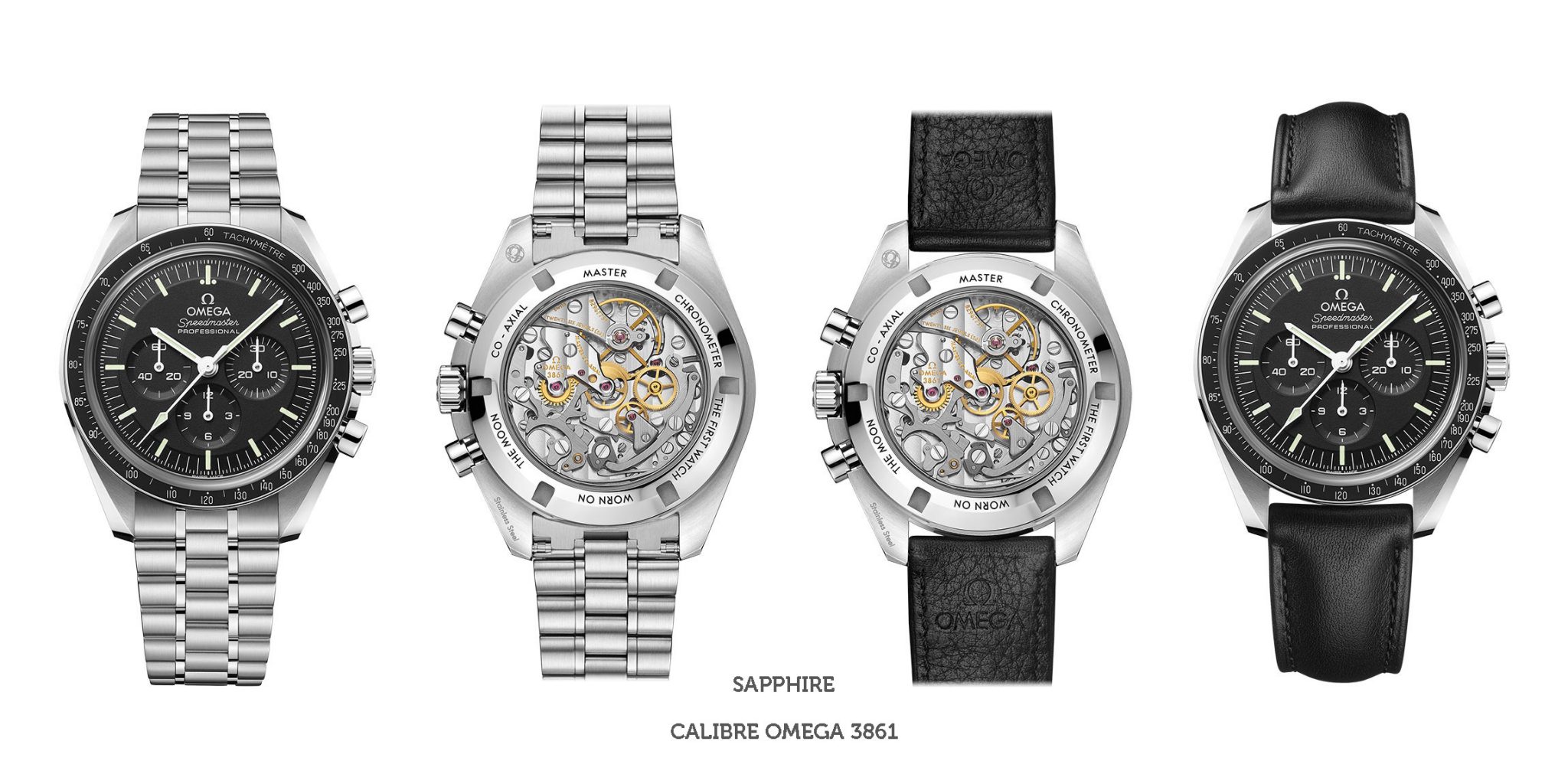 OMEGA Speedmaster Moonwatch Professional
Co-Axial Master Chronometer Chronograph 42 mm
Steel on steel – 310.30.42.50.01.002
Steel on leather strap – 310.32.42.50.01.002
As you might expect, once you've made a decision on hesalite or sapphire crystal, you're stuck with it. According to OMEGA, it is literally impossible to exchange hesalite with sapphire crystal. This is because hesalite is pressed into the front of the dial side without a seal, and sapphire with a seal. Furthermore, with sapphire crystal, there is space for the gasket. Similarly, a solid caseback cannot have a sapphire crystal replacement, as OMEGA rightly states that is product modification – something they don't do.
---
A clear winner
---
For me personally, the power of hesalite will always prevail. Of course, sapphire crystal exudes the feel of a luxury watch (it also weighs more than than the hesalite version). However, it is much less successful in emanating the story of the Moonwatch. After all, it's the sentimental history, not to mention even a source of pride in the Western world, that makes the OMEGA Speedmaster so loved to this day.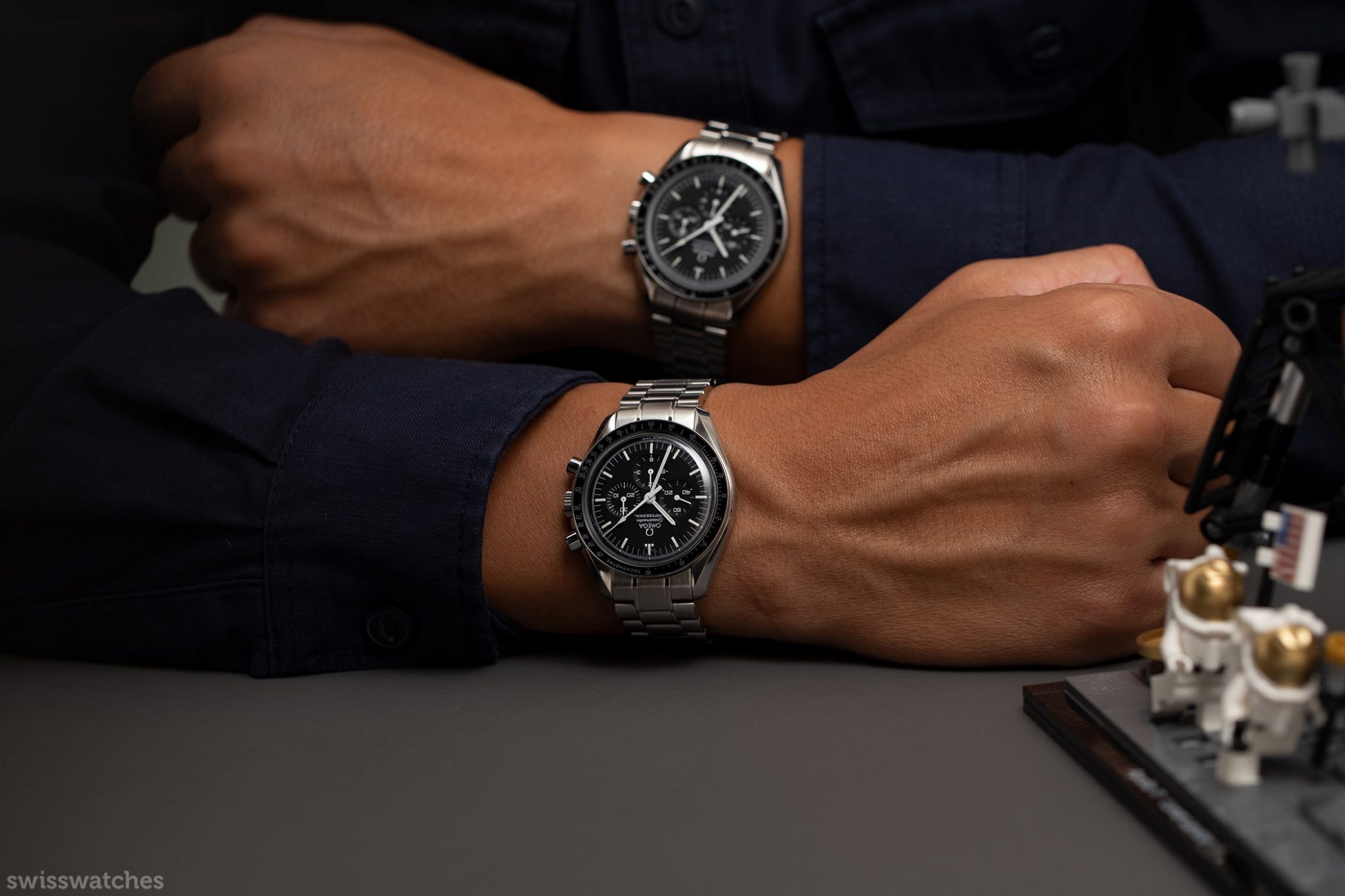 OMEGA Speedmaster Professional "Moonwatch"
with sapphire crystal -Ref.: 311.30.42.30.01.006 (above)
with hesalite crystal – Ref.: 311.30.42.30.01.005 (below)
For the non-romantics, not only is hesalite the more affordable option, but also easier to look after. While sapphire crystal is much hardier, hesalite is much easier to clean and correct in the event of scratching. This is something that would certainly set my mind at rest in daily life. Whichever way you look at it, it seems that hesalite comes out on top every time.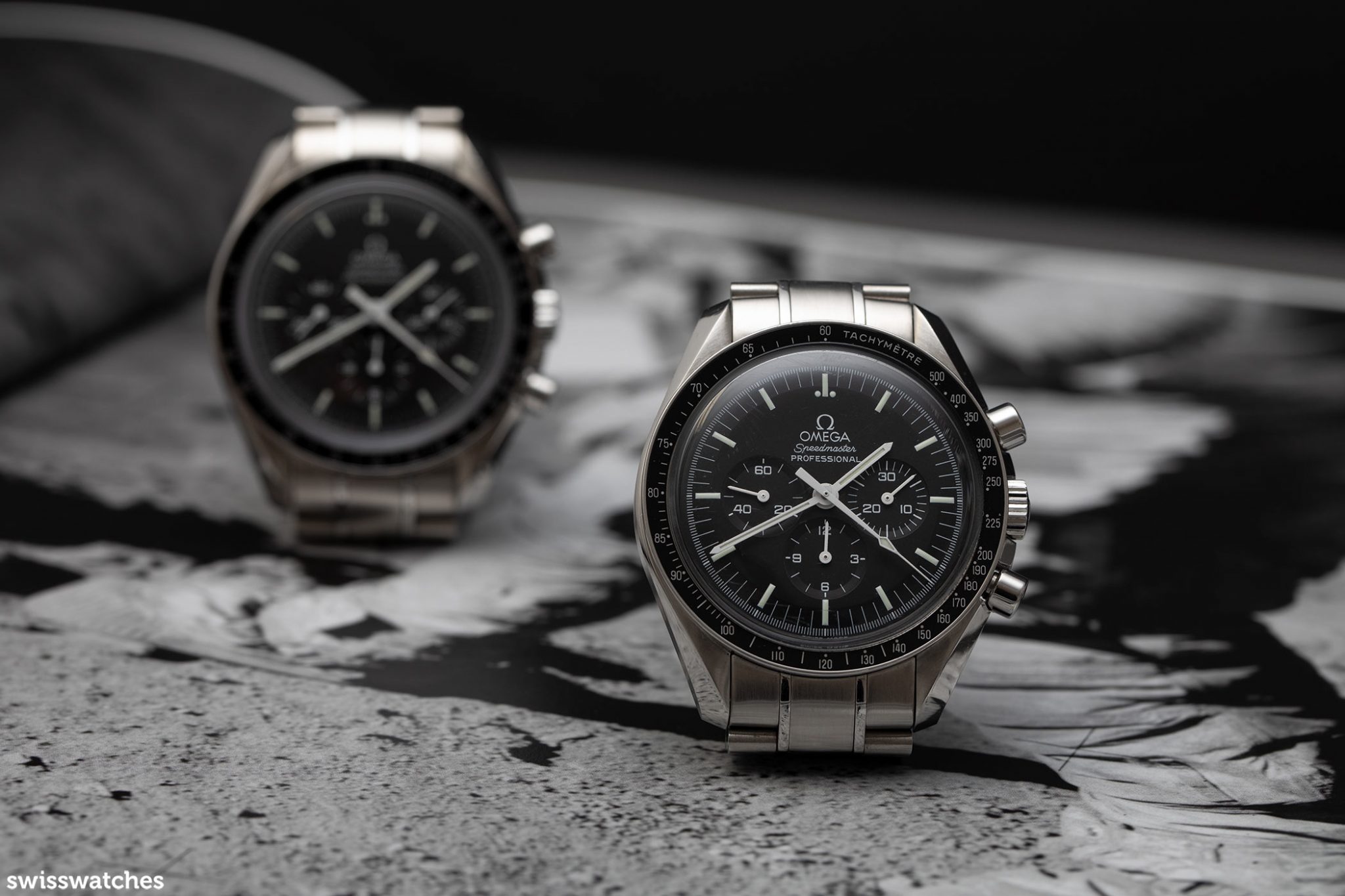 OMEGA Speedmaster Professional "Moonwatch"
with hesalite crystal – Ref.: 311.30.42.30.01.005 (right)
with sapphire crystal -Ref.: 311.30.42.30.01.006 (left)
---
Sapphire and Hesalite: Pros and Cons
---
If we haven't won you over to our side, make up your mind by taking a look at the overall pros and cons of sapphire crystal and hesalite:
| | |
| --- | --- |
| Sapphire crystal: Pros | Hesalite: Pros |
| Harder than hesalite | Flight-approved by NASA |
| Scratches less easily | Scratches are easier to remove |
| More decorated movement (usually) | Cheaper to replace |
| Optically clearer | Less reflective |
| ————— | ————— |
| Sapphire crystal: Cons | Hesalite: Cons |
| Milky ring | Scratches more easily |
| More expensive to replace/restore | Less optically clear than crystal |
| More reflective and leaves fingerprints | Steel caseback (usually) |
| Doesn't match the vintage design | Feels less "luxury" |
---
---
Sources:
Omega. n.d. OMEGA: Swiss Luxury Watches Since 1848 | OMEGA UK. [online] Available at: <www.omegawatches.com> [Accessed 19 February 2021].
Rossier, G. and Marquié, A., 2017. Moonwatch Only. 2nd ed. La Croix, Switzerland: Watchprint.com.
WatchUSeek Watch Forums. n.d. WatchUSeek Watch Forums. [online] Available at: <www.watchuseek.com> [Accessed 19 February 2021].
---