It was exactly 70 years ago that Panerai first presented its watches equipped with a tritium-based luminous material. "Luminor" was the name of this innovative substance of the hour, and it then promptly appeared in Panerai's collection of the same name. In the 60 or so years that followed, the iconic line hardly changed, and no major innovations were made.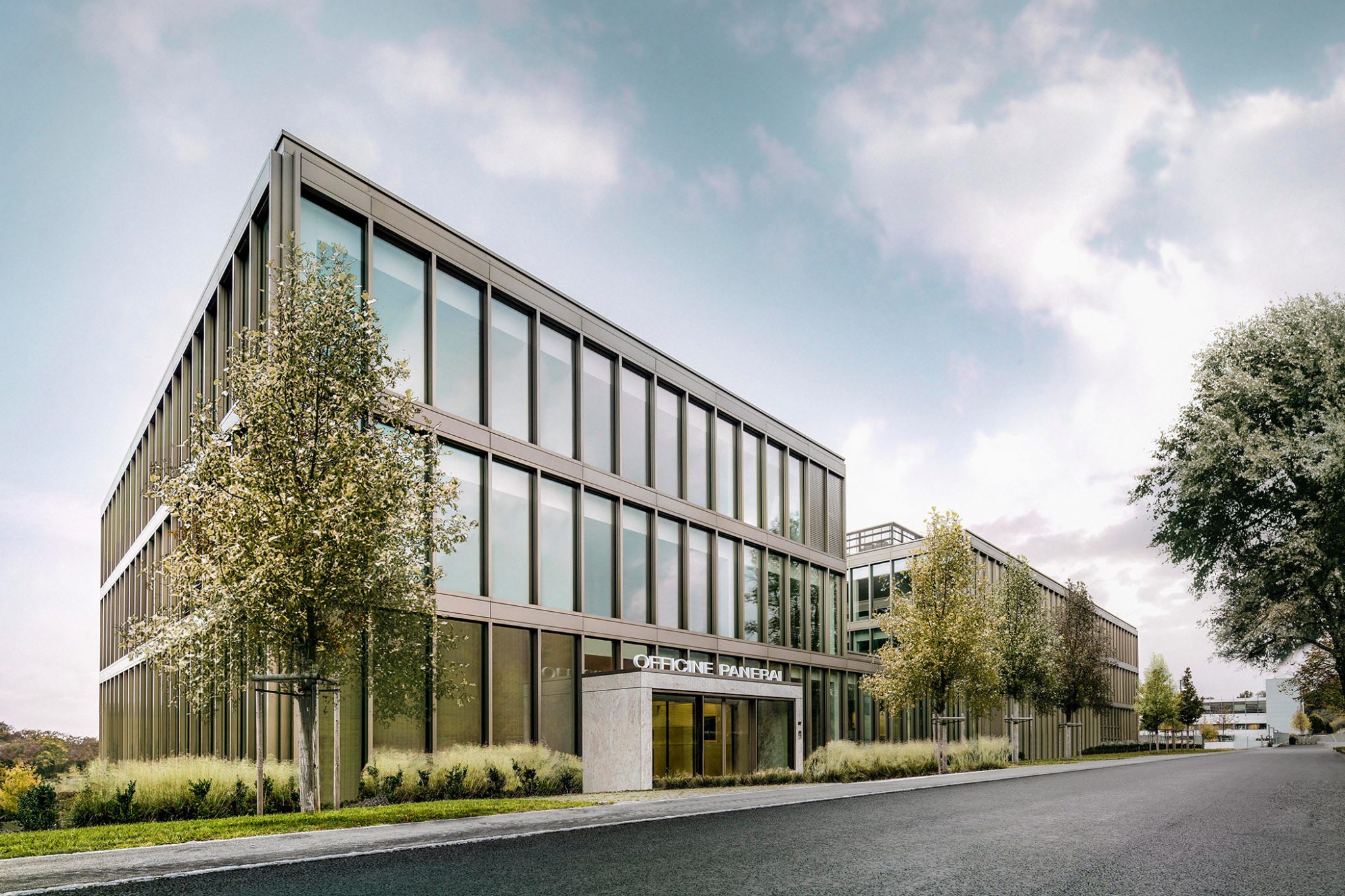 It was not until 2010, under the direction of Angelo Bonati, that the company dared to experiment with new materials and colours for the first time. With the PAM00382, released in 2011, Panerai can be credited as providing the catalyst for the bronze watch hype, which continues in the watch industry to this day. The think tank Laboratorio di Idee laid the foundation for a new technical age at Panerai. Its Research and Development Department encapsulates the brand's commitment to the continuous search for innovation.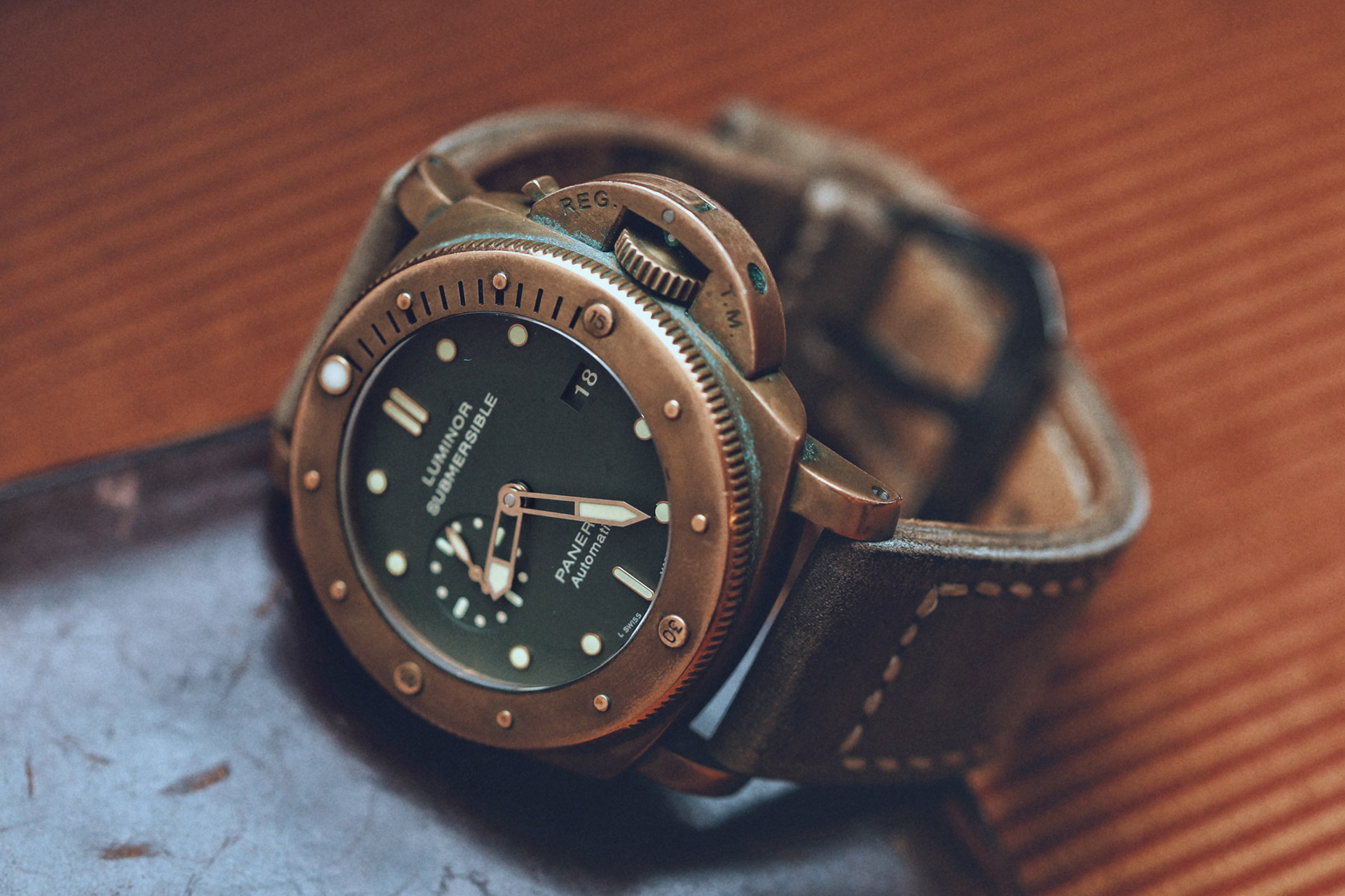 Luminor Submersible Bronzo – PAM00382
For two years now, its new CEO Jean-Marc Pontroué has been pushing boundaries with materials such as Carbotech, Fibratech or Goldtech. Next year, Pontroué even intends to go a step further and present the very first mechanical watch made of 100% recycled materials. We recently caught up with Pontroué to learn all about his high-tech innovations in 2020 and ambitious plans for 2021.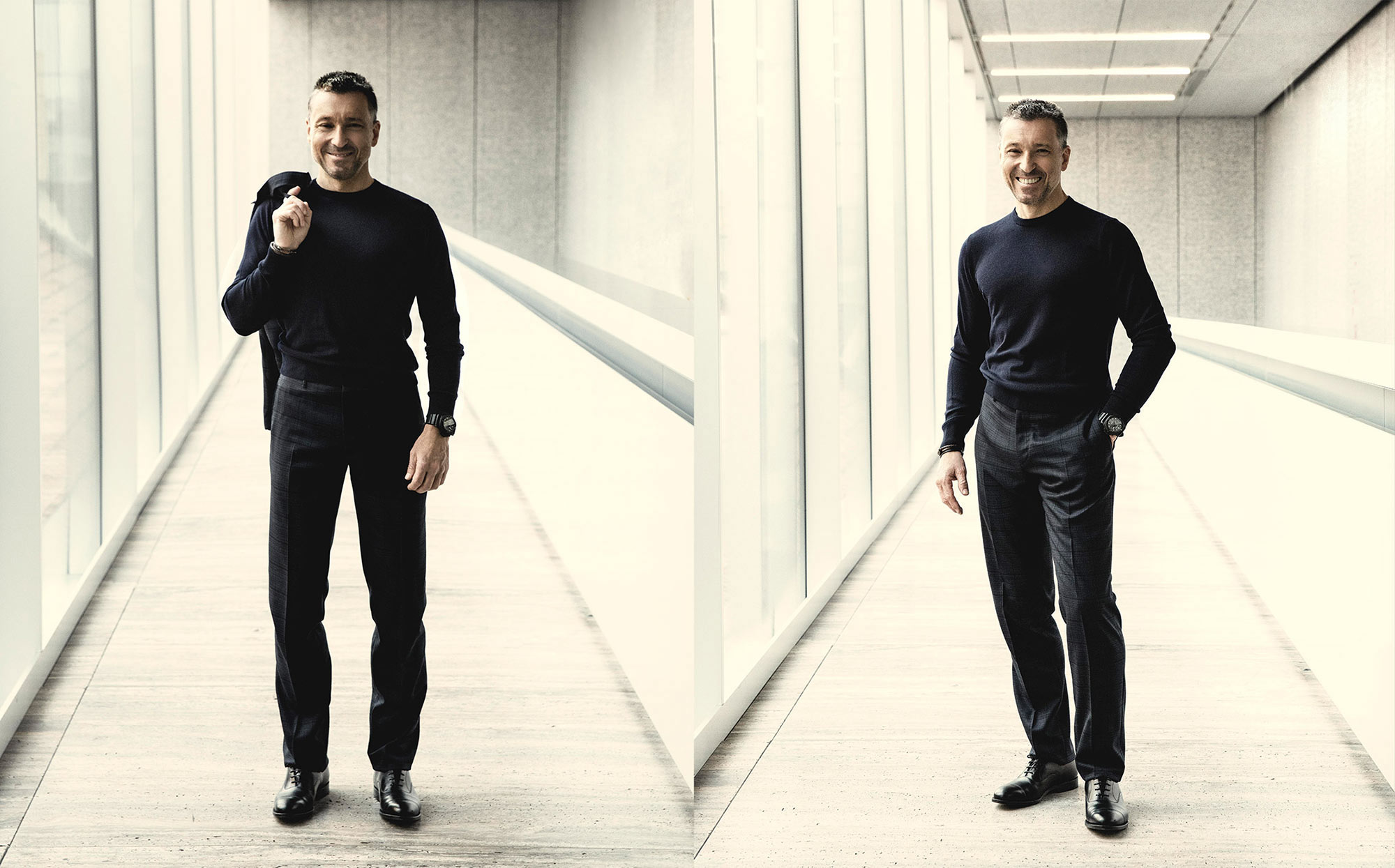 Masculine, mechanical watches
With Jean-Marc Pontroué, Panerai (a part of the Richemont Group) has found a man, who with great enthusiasm wants to expand the Laboratorio di Idee vision. Before joining Panerai, he worked as the CEO of Roger Dubuis, where he gained a great deal of experience working with unusual materials and alloys, new manufacturing processes and daringly designed watches. A team of 50 employees now stand by his side at Panerai in its state-of-the-art think tank, not only to further explore the limits of the company's own movement technology, but also to develop new materials for cases and bracelets.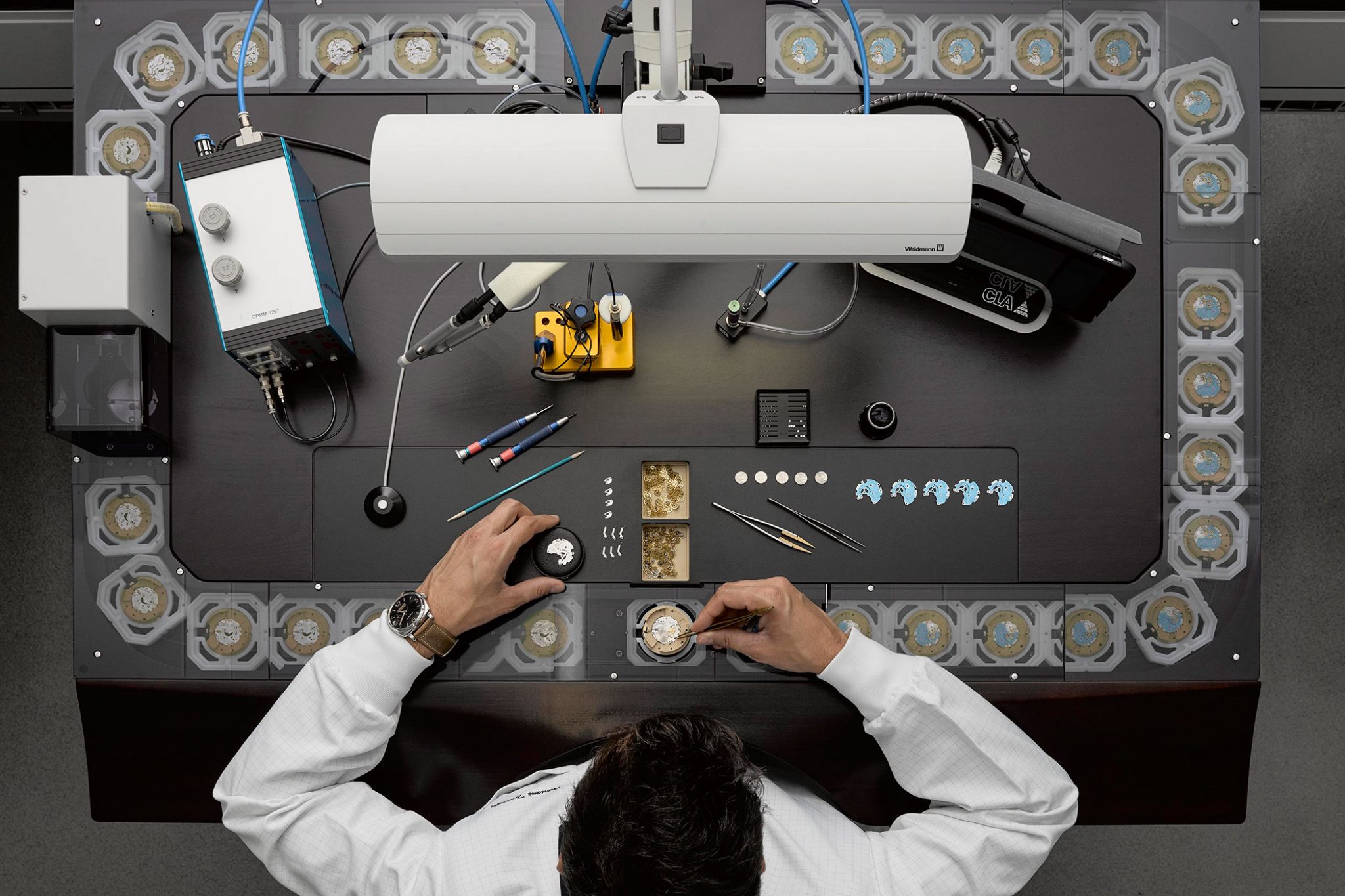 That said, for Pontroué, there are also clear boundaries when it comes to intervening in the heritage of the 160-year-old Florentine brand; "The cushion-shaped case has shaped our watches to this day, and this design should not be changed ­– Panerai will always stand for large and masculine watches. We do not make fashionable timepieces, but mechanical instruments" he states, before adding, "That said, the case, dials, straps and movements have barely changed for a long time now, and this is what we can and would like to further develop ".
Carbotech, Fibratech, Goldtech: 2020 Novelties
This year, Panerai has impressively demonstrated what this looks like in practice. On the occasion of the 70th anniversary of the Luminor collection, with its innovative luminous material, the focus is currently centred around the "Luminor Marina". Carbotech, which was first introduced last year, has returned with a new design and is now being joined by a number of new materials, including Fibratech and Goldtech. Firstly, Carbotech consists of thin layers of carbon fibre, which are fused together under high pressure at a controlled temperature, before being solidified by a specially developed polymer. In the new version of the Luminor Marina Carbotech 44 mm PAM1118, an even stronger luminous material called Super-LumiNova X1 is used. For the first time, it has also been applied to the crown protection bridge, the edge of the case, the inscriptions, and even the strap's seams.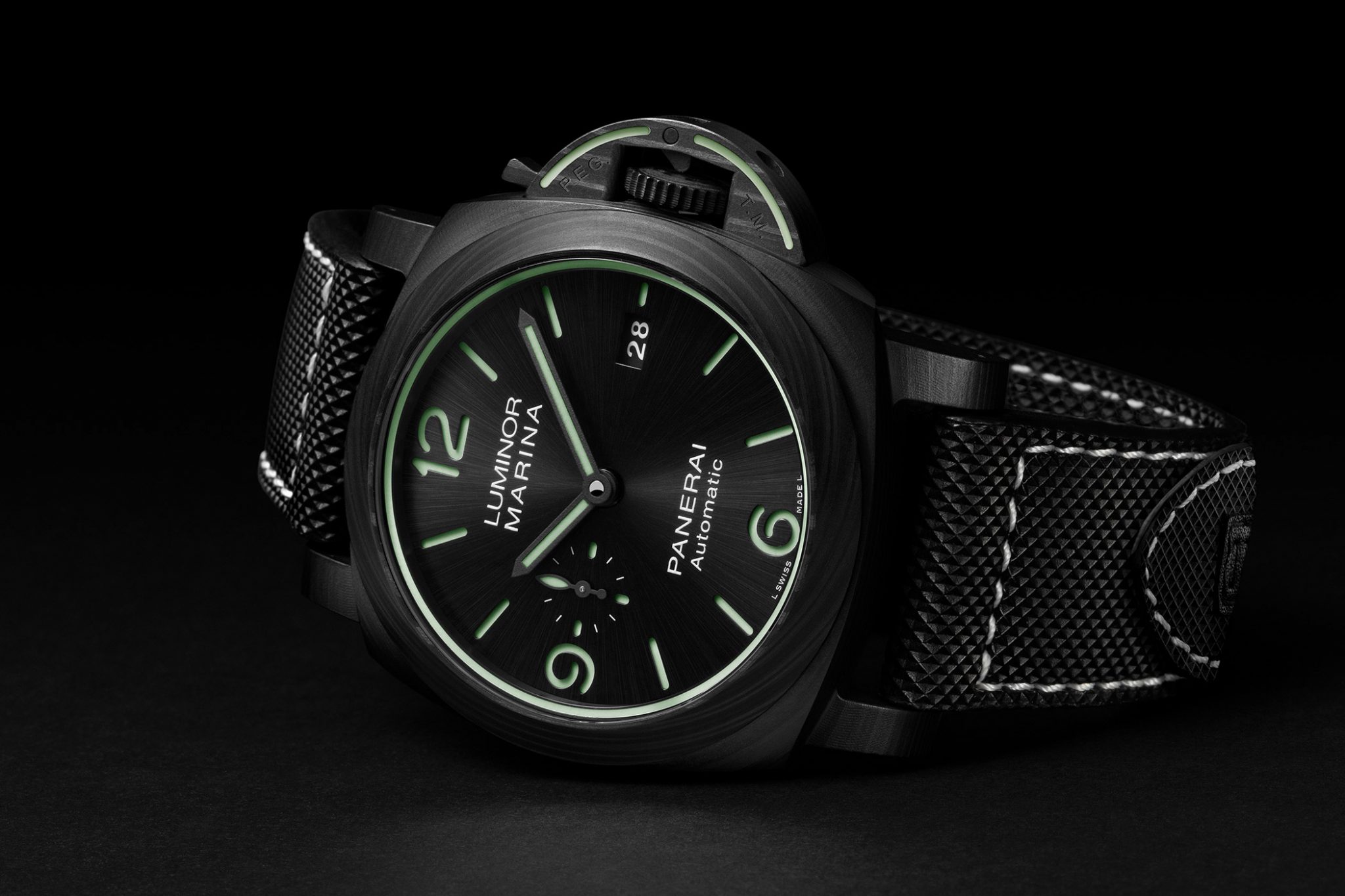 PAM 01118 (left)
PAM 01119 (right)
Meanwhile, the mineral fibre Fibratech used in the new Luminor Marina Fibratech 44 mm PAM1119 is extracted from molten basalt rock and mineral additives. The fibres are bonded with polymers to form thin layers, which are superimposed in precise alignment, then solidified at a controlled temperature and pressure. Elsewhere, also for the first time, the casing of the PAM1112 is made of Goldtech, an alloy developed in true Laboratorio di Idee style and characterized by its high copper content (24%) combined with platinum (0.4%). Both materials contribute to Goldtech's intense colour shade, not to mention its high durability and resistance to oxidation.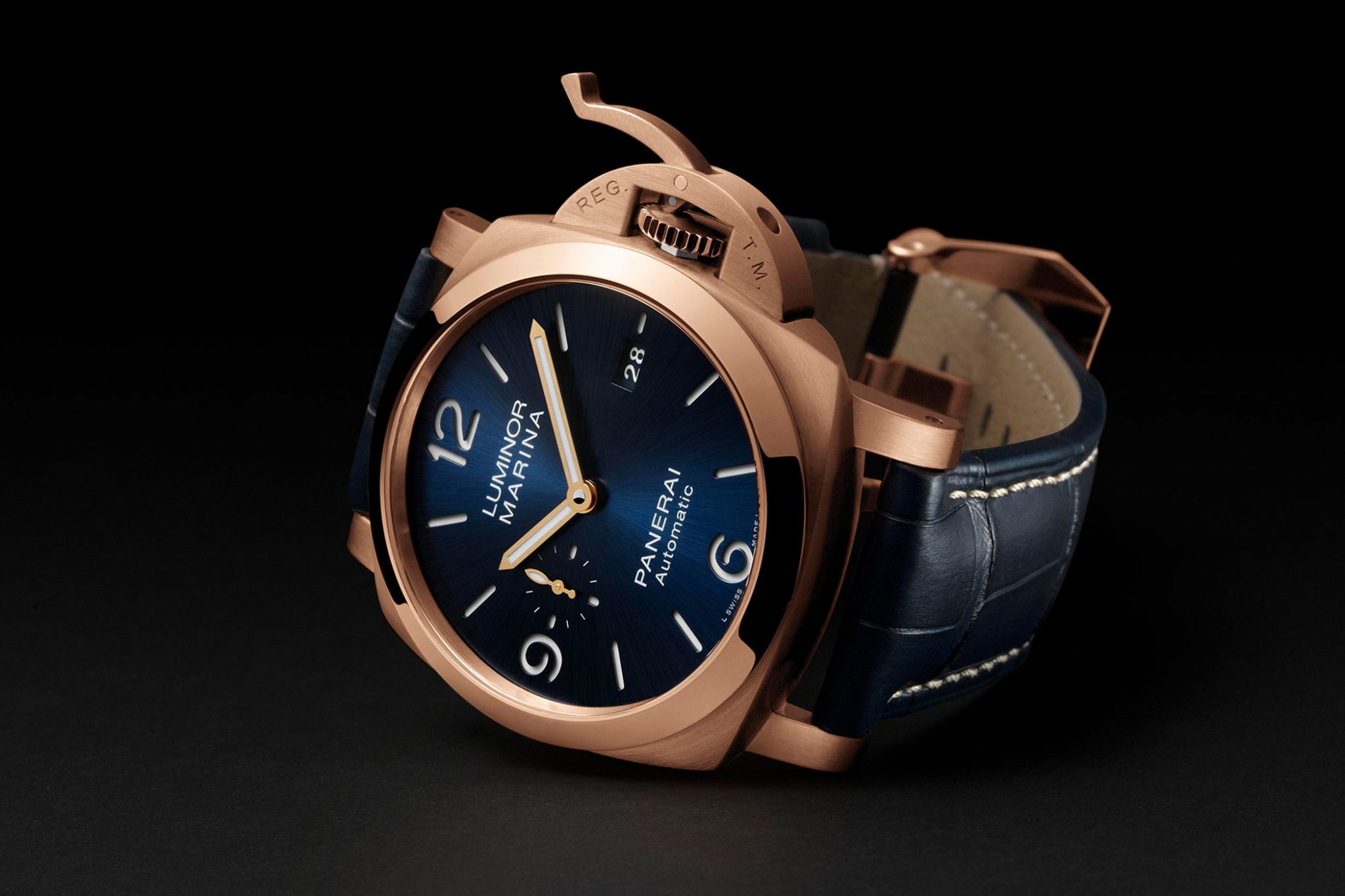 PAM 01112 (left)
PAM 01662 (right)
Then, there's the new Luminor Marina DMLS PAM1662, which combines titanium with Carbotech. The watch's case is made of a special titanium manufactured with Direct Metal Laser Sintering (DMLS) technology. Using a 3D printing process, titanium powder is applied in layers of 30 micrometres each, then sintered with a powerful optical fibre laser. Additionally, the bezel, winding crown and lever of the crown protection bridge are made of Carbotech.
70 Year Service Guarantee
In addition, another milestone for the horology house is that three of its new Luminor Marina models (PAM1117, PAM1118, PAM1119) come with no less than a 70-year service guarantee. This is something that has never been seen before in the watch industry. Although Pontroué will probably not be able to extend this service to all Panerai watches in the future, such exclusive additional services, as well as client experiences, are part of Panerai's brand strategy. "It is no longer just about the watches. I strongly believe in close partnerships with other brands from different industries, which open up completely new opportunities for us".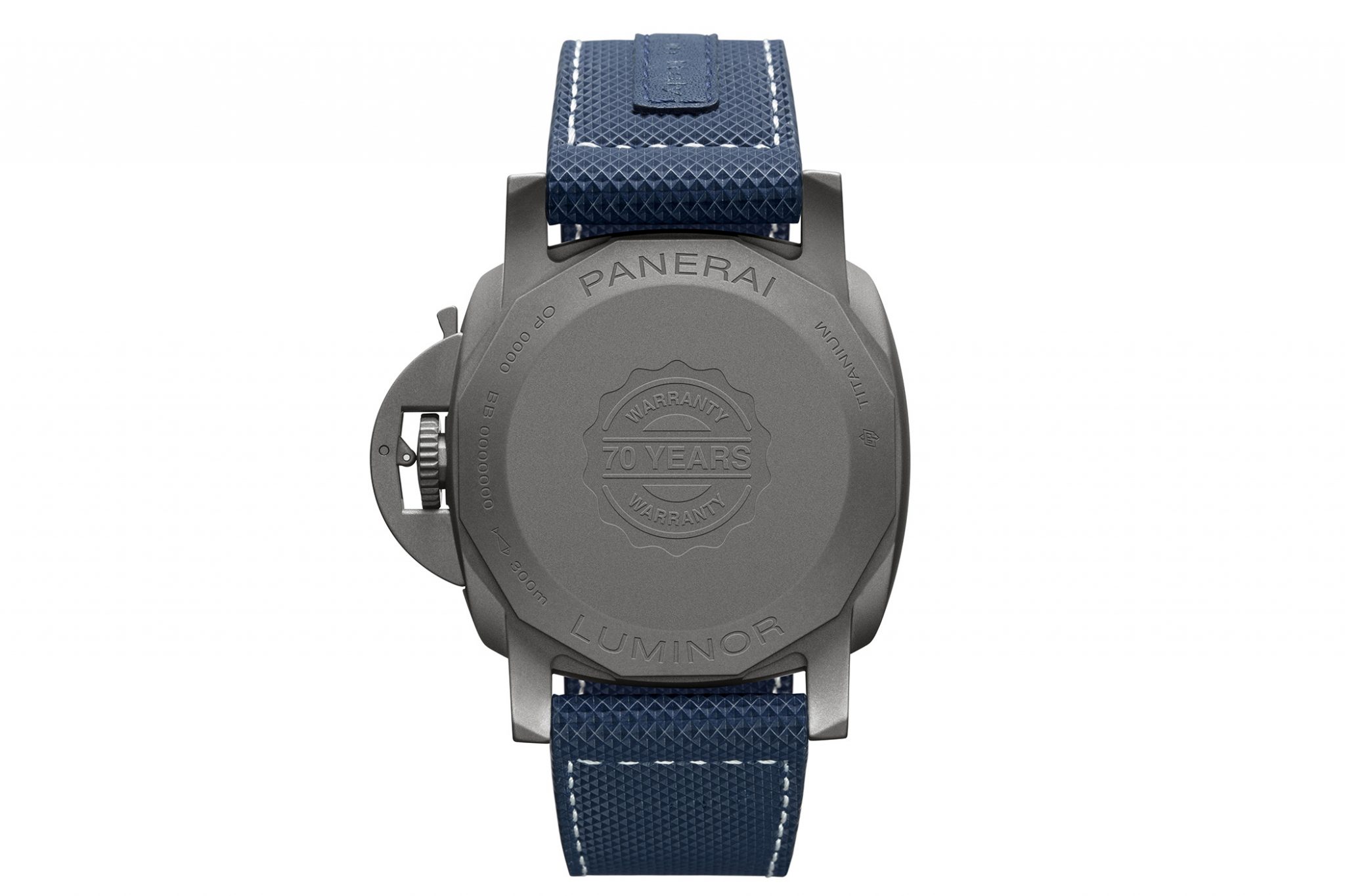 PAM 01117 – with no less than a 70-year service guarantee
He is referring, for instance, to Panerai's collaboration with the Italian sailing syndicate "Luna Rossa", whose boat technologies and materials also inspired him in the production of the watch models of the same name. The Luna Rossa dial, for example, is made of a thin layer of the sail of the AC75 monohull yacht Luna Rossa. Another part of this exclusive Panerai world of experience away from the watches – but always in connection with them, of course ­– is, for example, the collaboration with extreme sportsman Mike Horn, by which every buyer of one of the highly limited Submersible EcoPangaea Tourbillon GMT Mike Horn Edition PAM1108 is able to go on a unique Arctic expedition with the explorer – something that is ultimately paid for by the customer himself, but which would otherwise never be possible.
Mission Sustainability
Pontroué also talks about the fashion industry, which remains well ahead of the watch industry in terms of recycling. Nevertheless, the CEO is also taking action. For example, the straps of the first Submersible Mike Horn Edition (2019) are made from recycled PET bottles. For both Pontroué and Panerai, sustainability is no longer just an option but a serious mission, "especially for us, as a brand that has always been so closely linked to the sea," he says. This is not only evident in the watches, however, but also the latest packaging material, which is made of 100% recycled material. Furthermore, the company's boutiques use only LED lighting, which consume about 80% less energy than conventional light bulbs.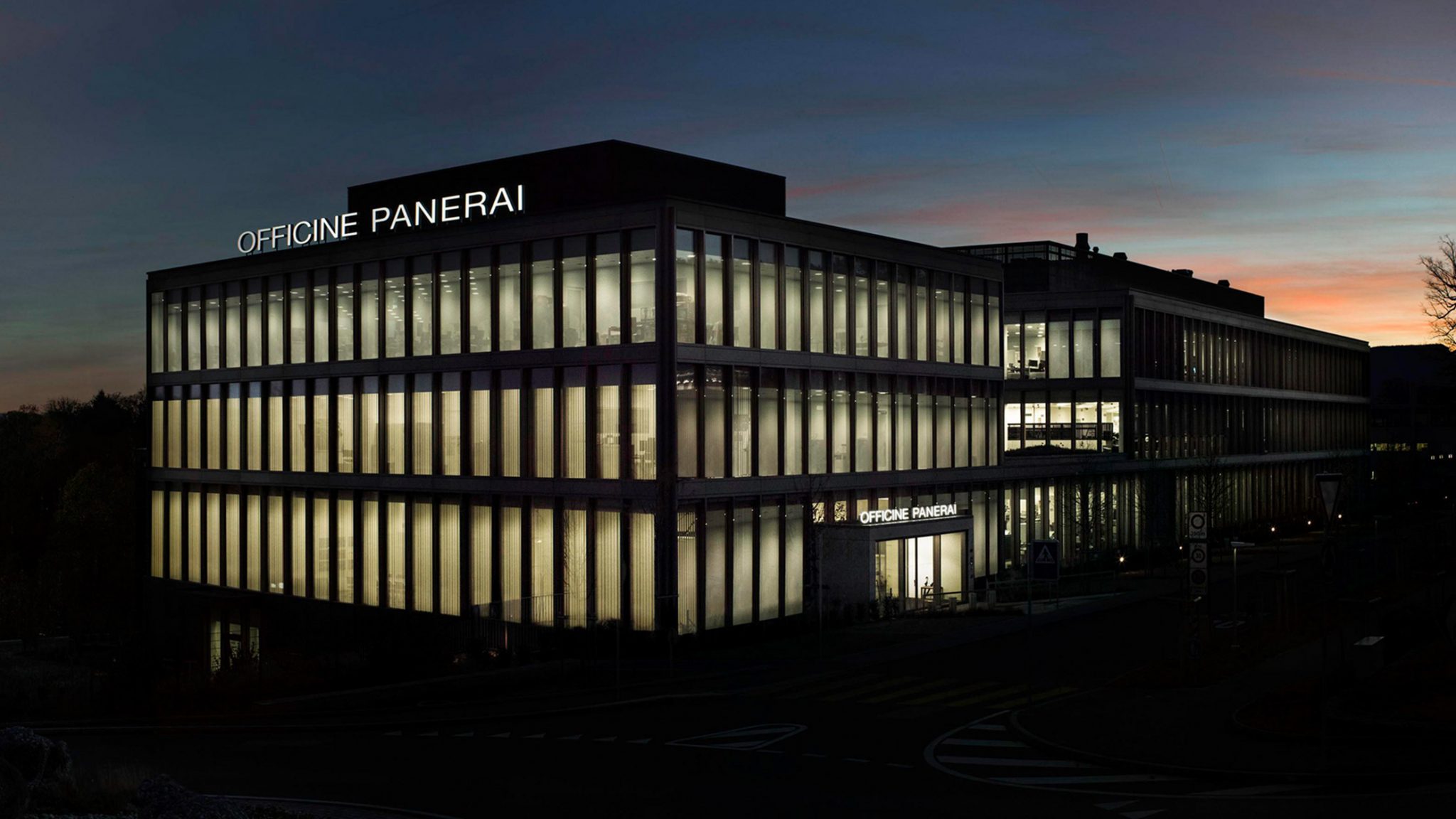 Panerai's encouraging attitude towards the responsible use of resources was also already evident in the construction of the new manufacture back in 2014, as the aim was to build a "zero-impact" manufacture in terms of CO2 emissions. To name but a few of the building's sustainable innovations: with the help of a water recovery system, rainwater is processed for use in bathroom facilities, and is also used to water plants. Furthermore, the leftover water produced during the cooling of machines is used to heat the building.
A watch made from 100% recycled materials
Pontroué has a particularly ambitious, eco-friendly target for 2021. At next year's Watches & Wonders, he wants to present the very first watch made from 100% recycled materials. This may sound a little crazy at first, but when you consider that the straps and cases are already made of recycled materials, this plan does make sense. The case, crown protection bridge, bezel and caseback of the Mike Horn Special Editions are already made of recycled metal (EcoPangaea) or titanium (EcoTitanium). So why not use movement components in the future? For starters, recycling titanium consumes less energy than extracting it from ore. Since titanium is difficult to obtain in Europe, the industry usually obtains it from America or Russia. The problem with this is that the scrap usually goes back there as well. This way, it can be recycled in Europe in an emission-saving manner.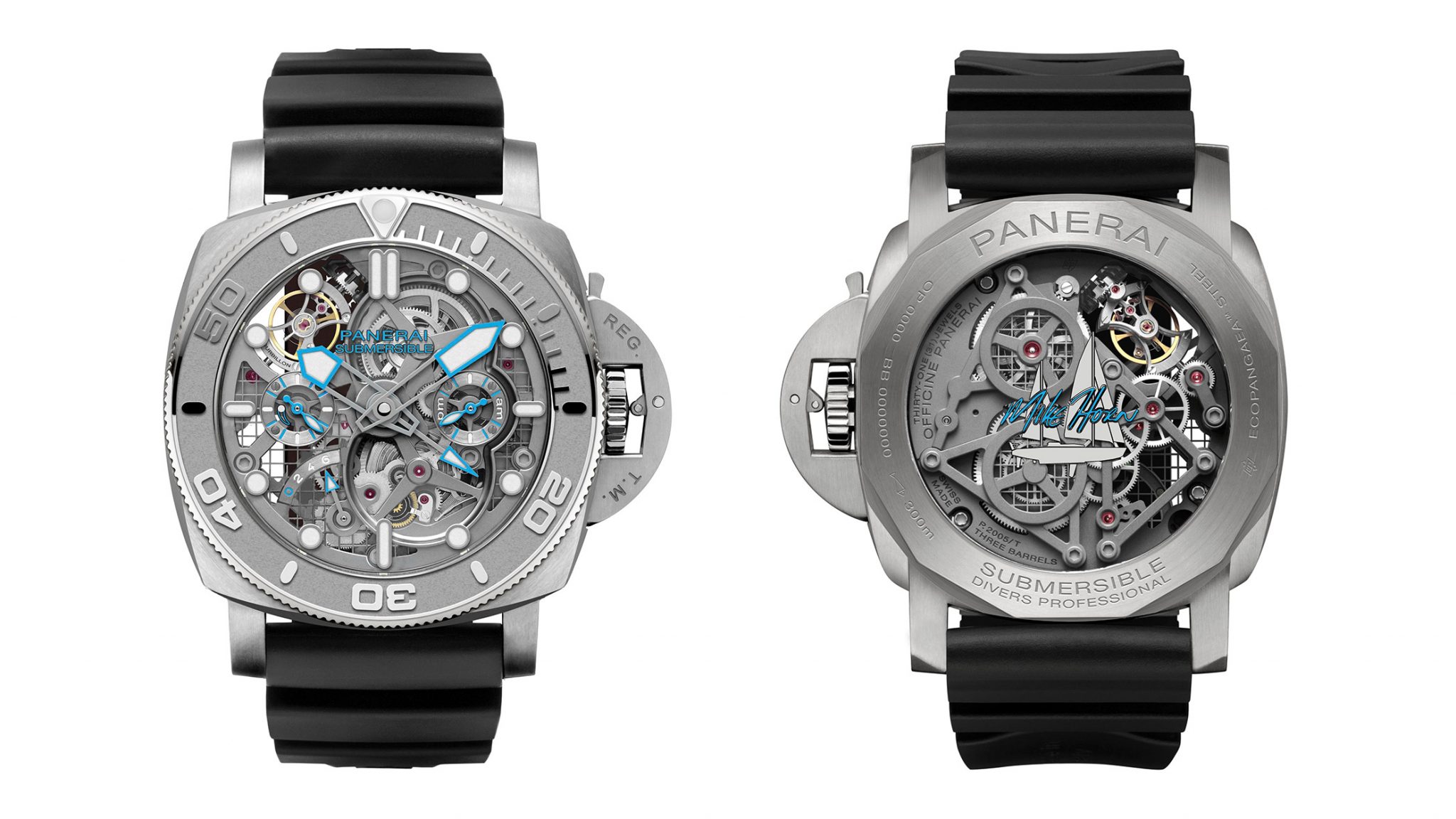 PAM 01108 – Mike Horn Edition
If recycling processes are properly thought through, and do not result in more material having to be produced again because it is missing elsewhere, then the whole watch industry can potentially benefit from this. After all, purchasing behaviour is changing and topics such as sustainability, health and nutrition are more important than ever.
A new concept for trade fairs
In recent months, Pontroué has participated in more than 1,000 video conferences. "For a brand like Panerai, with more than 500 points of sale worldwide and 150 boutiques of its own, a fair is the best way to see all the people who are important to us in a very condensed form, all within just a few days," says Pontroué, adding that "it would take a whole year [for me] to meet everyone in person." For him, the concept of trade fairs could still be made a little more consumer-friendly, but these are only minor adjustments, he says, and there is essentially no way around them.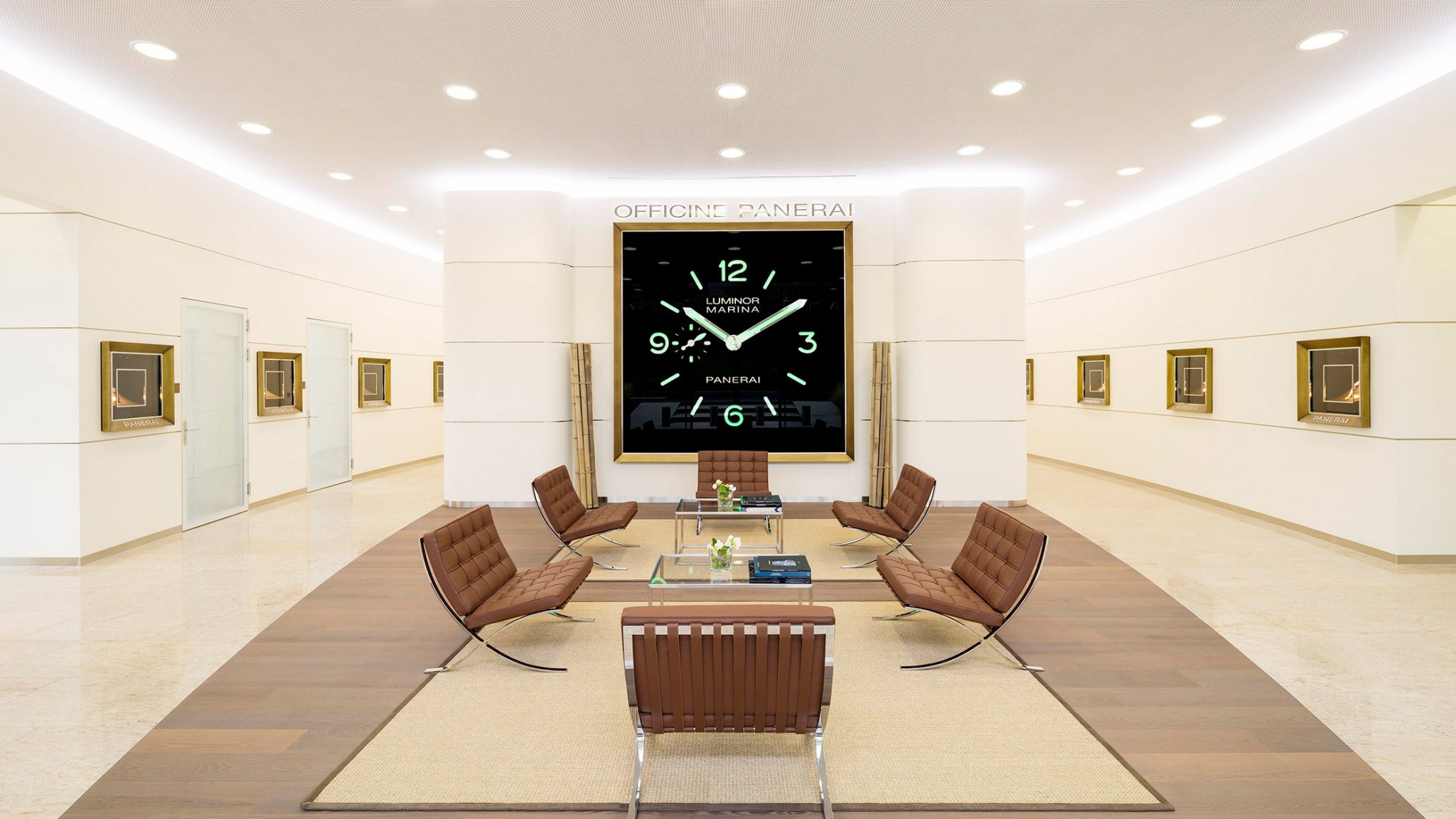 In response to our final question, as to whether a partnership in motorsport could also be considered in the future, Pontroué answers keenly, "We'll have to be patient for another year, but we'll surprise you – because that's also part of our philosophy." It will be interesting to see how Panerai will compellingly combine the controversial car industry on the one hand, and completely sustainable watches on the other.
---
---