The watch brand Panerai experienced an enormous upswing in the past 20 years. Many don't know that the Florentine brand was already established in 1887 and produces wristwatches since 1936, although in the beginning only for the Italian navy. In particular combat divers relied on the tough watches that needed to withstand the water pressure and served them great readability due to the strong luminescent numerals. Since the 1970s Panerai produces watches for the public and managed to establish an essential role in the field of professional navy diving watches.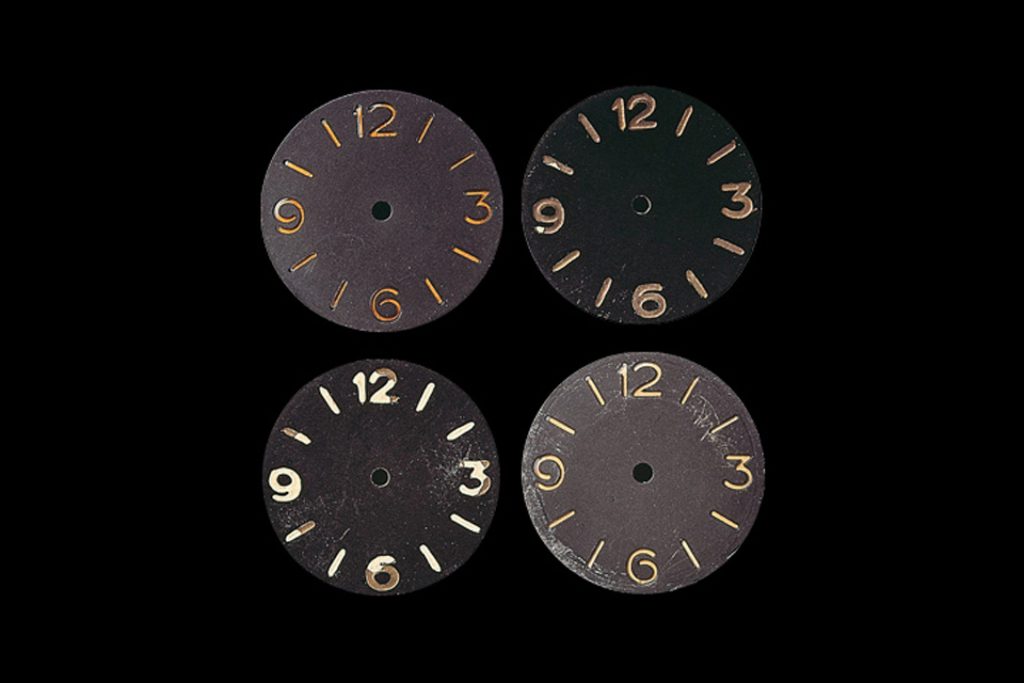 To enhance the luminosity and hence readability of the dial, two discs have been placed on top of each other
In terms of this years SIHH 2019 novelties, Panerai puts a strong focus on their 'Submersible'. The collection embodies professional diving watches that profit from the long heritage of the brand and steadily improve through technical progress and the use of new materials. Apart from the fact that most of these watches are water resistant up to 300 meters, they use materials like titanium, carbon or 'Carbotech'. The crown protection mechanism is unique on the market anyway and was developed and patented by Panerai.
When you have a close look on the dial of the new models you can notice that the inscription has changed from 'Luminor Submersible' to 'Panerai Submersible'. In the future, 'Submersible' will run as a standalone collection additional to Radiomir, Luminor and Luminor Due. The Panerai 'Submersible' novelties come with new materials, new colours and a 'Special Edition'. And if you are the lucky owner of one of the new limited editions, Panerai will take you on an exceptional journey.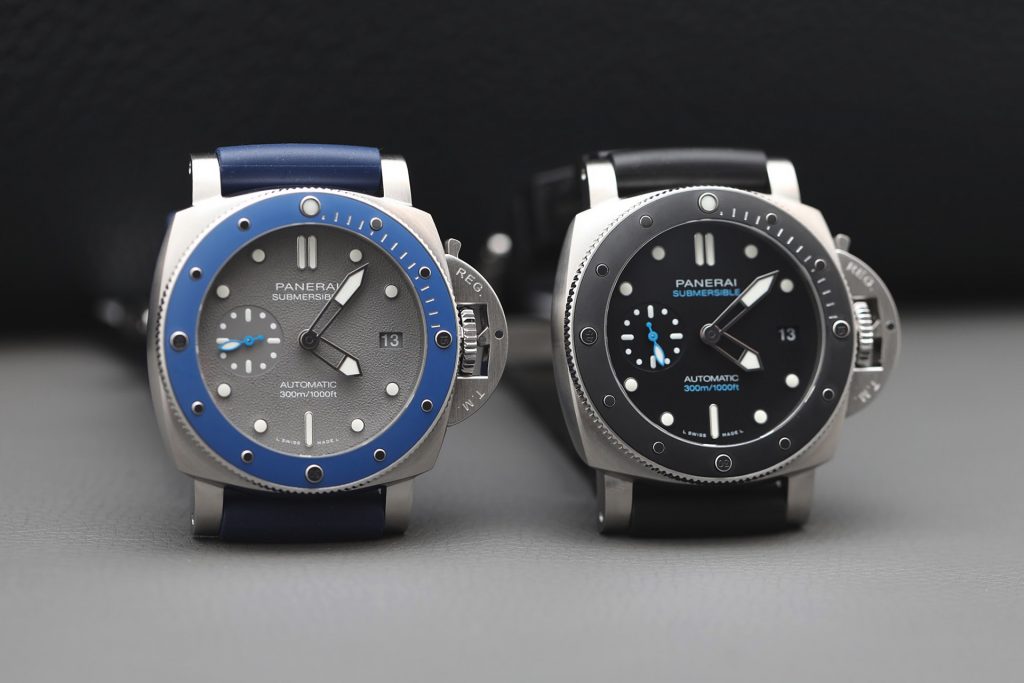 New colours and new materials – the Submersible collection 2019
New Materials: Panerai Submersible BMG-Tech
The new Panerai Submersible BMG-Tech derives from the new manufactures own think tank 'Laboratorio Di Idee' and combines a new material called BMG-Tech with Carbotech in a new watch. The case and crown protection is made of BMG-Tech, a bulk metallic glass, obtained by a particular glass-like alloy consisting from zirconium, copper, aluminium, titanium and nickel. The result – a greater strength and greater resistance to corrosion, external shocks and magnetic fields. The bezel is made of Carbotech, a material based on carbon fibre, very tough and at the same time exceptional light. The watch with the reference PAM00799 comes with new sky blue luminous hour markers and dots, a black rubber strap and an in-house mechanical automatic movement (calibre P.9010).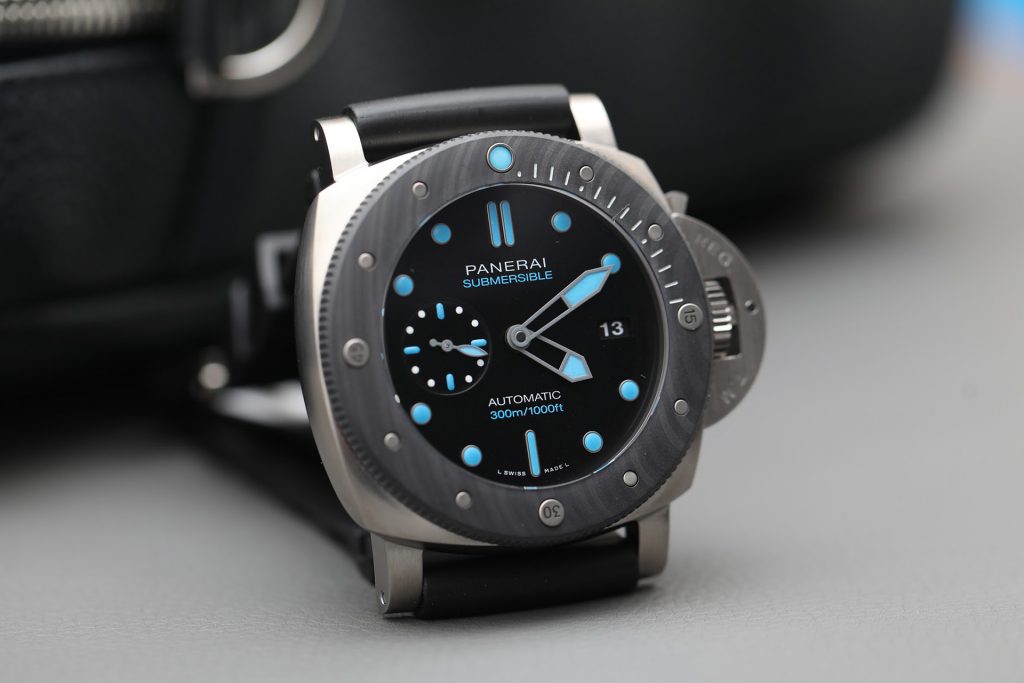 Panerai Submersible BMG-Tech made of a BMG-Tech and Carbotech
Training Session with the elite unit – four new Panerai Submersible Carbotech watches
Carbotech is made by taking extremely thin layers of carbon fibre bound together with great pressure by a special polymer. It gives every watch that typical unrepeatable structure that reminds of a camouflage pattern. Carbotech is lighter then titanium and stronger then stainless steel. At SIHH watch fair 2019 Panerai introduces two new Submersible Carbotech watches with sky blue hour markers and dots and indices that replace the numerals from its previous model. Additional to the classical version with a 47mm case size (PAM01616) they also add a 42mm case version (PAM00960) to the collection.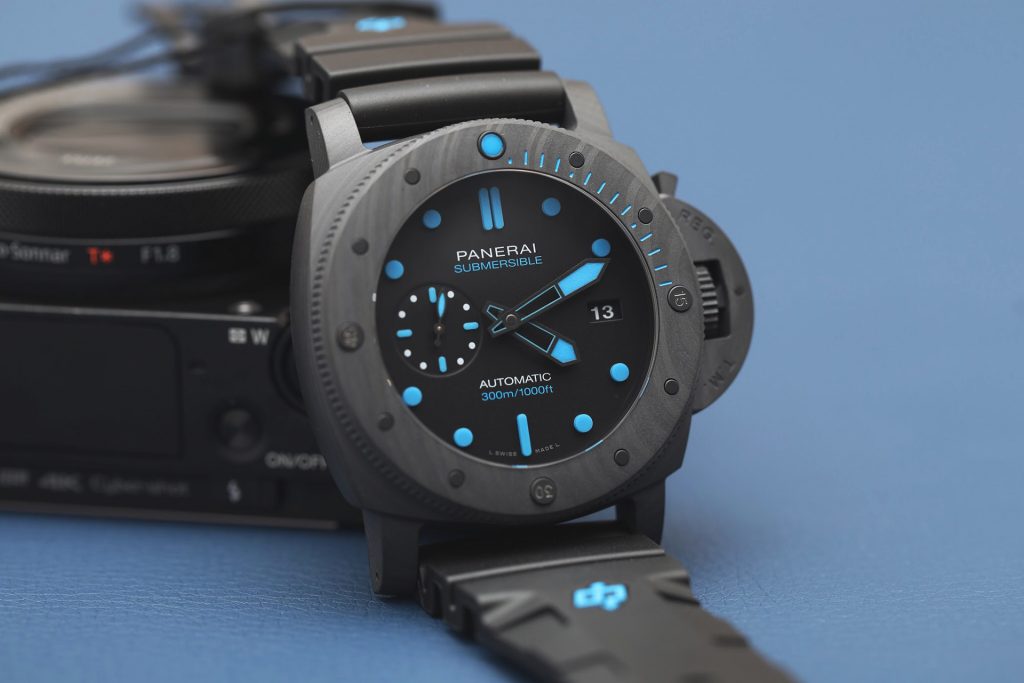 Panerai Submersible Carbotech PAM01616 in 47mm (left)
Panerai Submersible Carbotech PAM00960 in 42mm (right)
To pay even more tribute to the brands passion for professional diving watches, Panerai offers two Submersible Marina Militare Carbotech novelties with 47mm case. The dial is – compared to the regular Carbotech watches – also made of carbon. The watch type PAM00979 is black all over with white hour markers and dots. The reference PAM00961 comes with a military green rubber strap and is limited to 33 pieces. Every owner is invited to take part in an exclusive training session of the COMSUBIN, the Diving and Commando Group of the Italian Navy. All limited edition are part of Panerais 'Special Edition' watch range.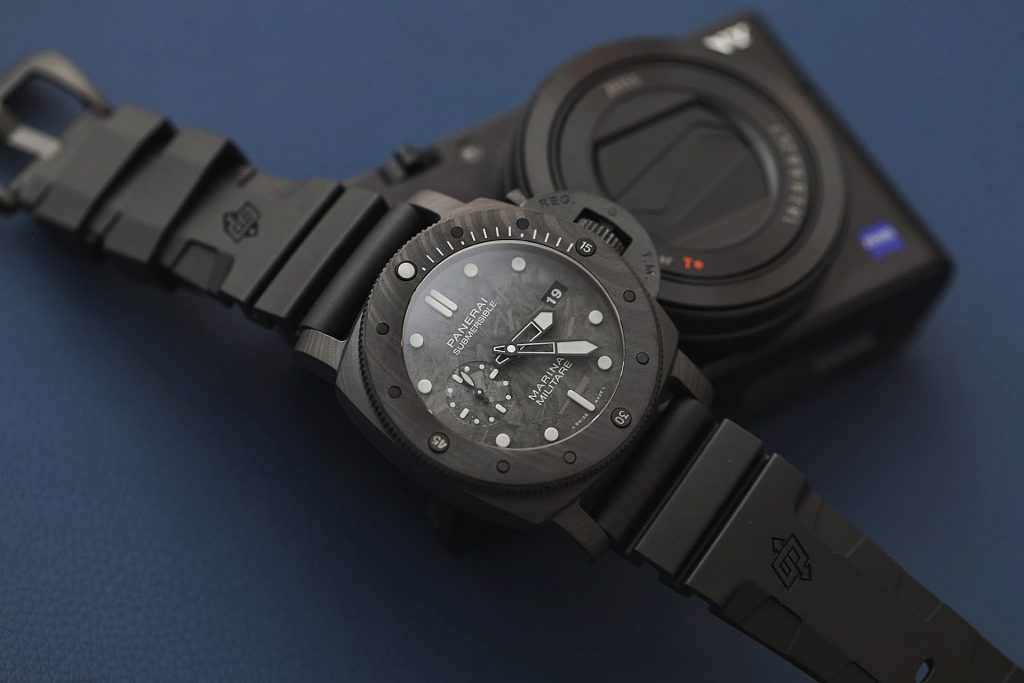 Panerai Submersible Marina Militare Carbotech has a carbon dial (left)
Panerai Submersible Marina Militare Carbotech PAM00961 – limited to 33 pieces (right)
Hero watches
In November last year Panerai already introduced a Pre-SIHH 2019 novelty; a Chronograph inspired by Gauillaume Néry (PAM00982). Néry comes from French Polynesia and is world champion in free-diving. The mate titanium case harmonizes very well with the blue hands and the blue rubber strap. It's a new colour code at Panerai and gives a friendly smile to the military watches. The chronograph is technically quite sophisticated and equipped with a flyback function and a mechanism for zeroing the seconds hand. Hence the seconds hand jumps back to zero as soon as the crown is being pulled out. It offers a perfect synchronisation of the watch with a reference signal.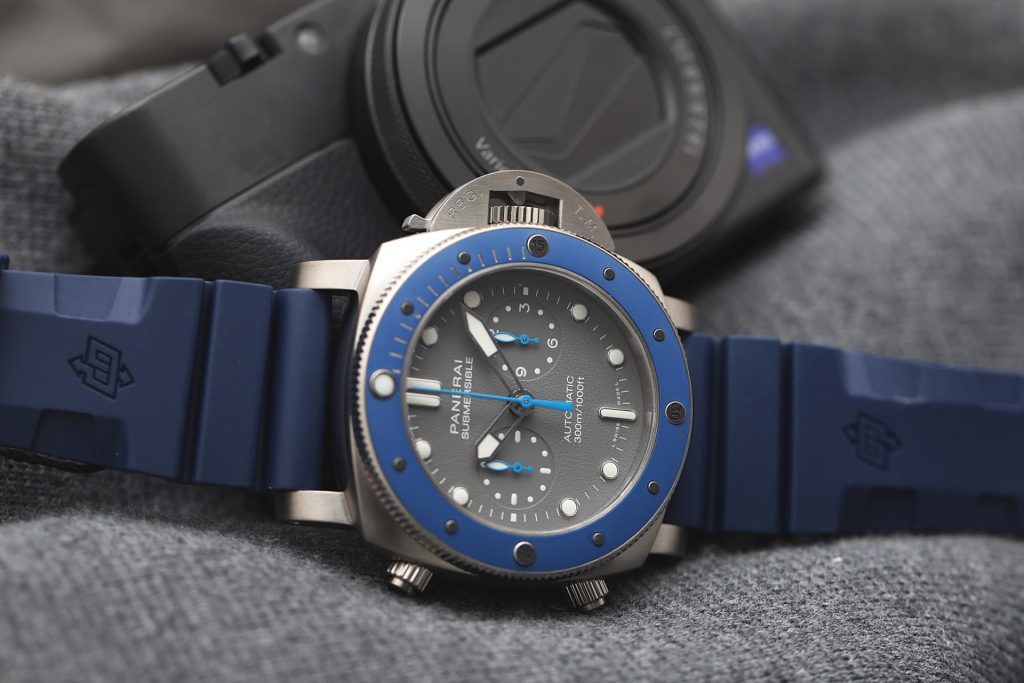 Panerai Submersible Chrono Guillaume Néry Edition PAM00982
At the fair Panerai additionally introduces a limited edition (15 pieces) of the Submersible Chrono Guillaume Néry Edition Experience (PAM00983). It is fully made of black titanium with DLC coating. The dial shimmers in floating transitions from blue to black. Again for this special edition, Panerai developed a particular idea for their exclusive clients. The owners will be invited to Moorea in French Polynesia where they will go on a whale watching diving trip with Guillaume Néry.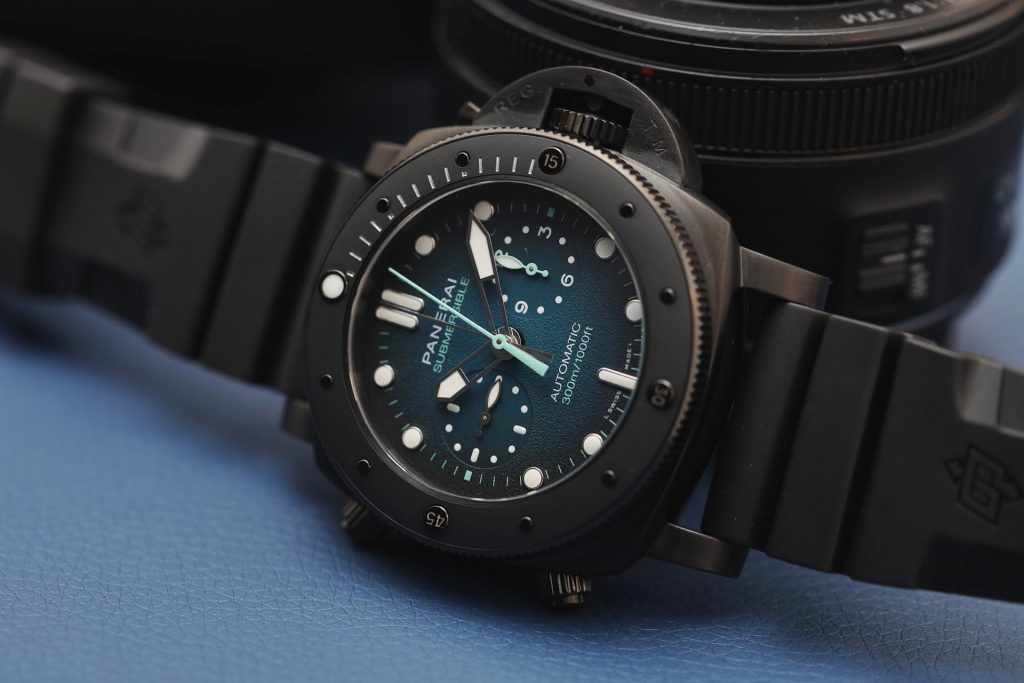 Panerai Submersible Chrono Guillaume Néry Edition Experience PAM00983 – limited to 15 pieces
Panerai also dedicated two new watches to explorer and adventurer Mike Horn who has been Panerai Ambassador for 15 years. The case, the crown protection mechanism, the bezel and the back of this Submersible Mike Horn Edition (PAM00984 and PAM00985) are made from 'Eco-Titanium', which is obtained from recycled titanium. The strap is made of recycled PET material. It's quite possible that we will see even more of this in the future as Panerai is a brand with a strong environmental conscious thinking. The new manufacture (opened in 2017) operates in compliance with the strict international environmental standards. According to internal brand information the building has been designed to reduce carbon dioxide emission to zero by implementing the latest energy saving devices and equipment for recovering and reusing waste materials. The Submersible Mike Horn Edition will be available in two versions. Reference PAM00984 is not limited and comes with a black dial and black strap.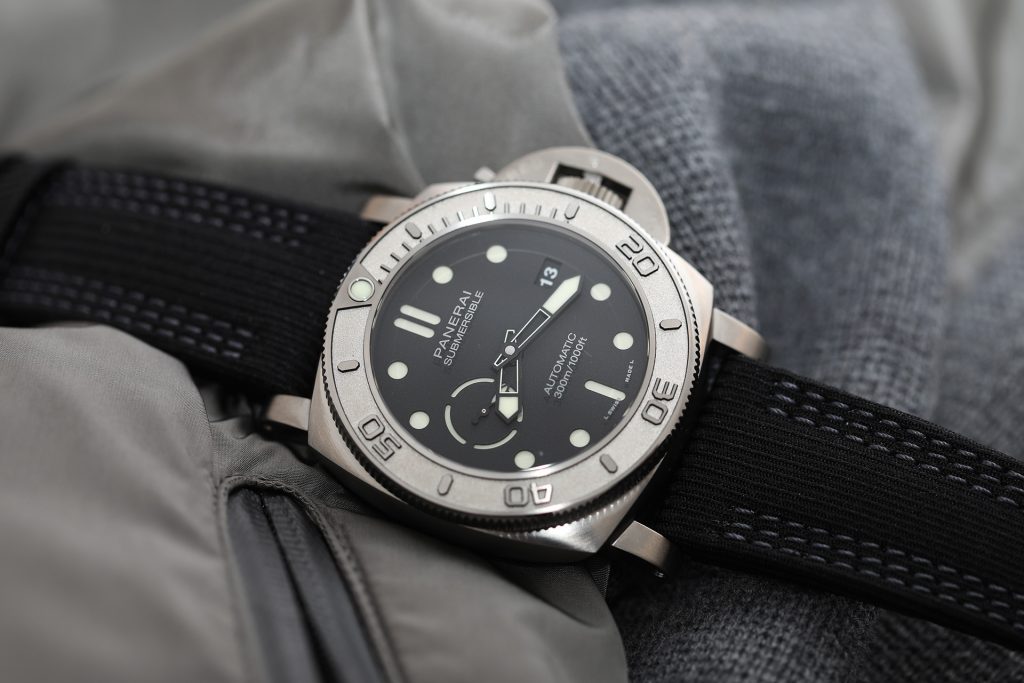 Panerai Submersible Mike Horn Edition PAM00984
PAM00985 however is limited to 19 pieces and comes with sky blue hour markers and dots placed on the black dial and a blue strap also made of recycled PET material. The 19 owners will be invited to take part in a few days of intensive training with Mike Horn among the ice floes of the Arctic, to learn more about the dangers to our ecosystem.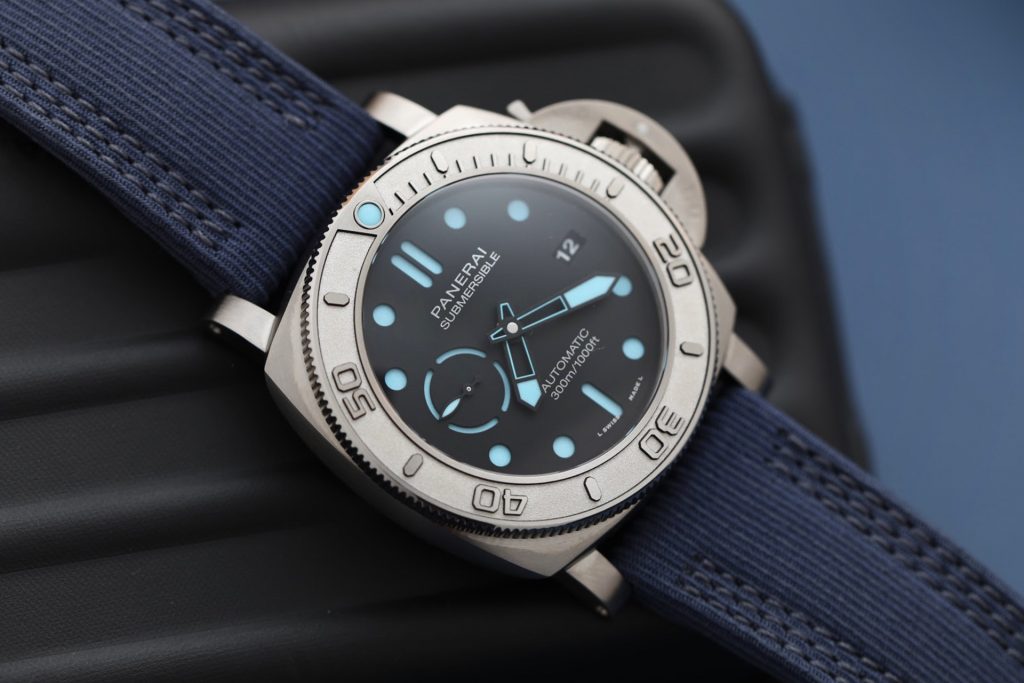 Panerai Submersible Mike Horn Edition PAM00985 – limited to 19 pieces
Besides the above mentioned novelties, Panerai also launches the Submersible Luna Rossa (PAM01039) within their 'Submersible' collection, which is dedicated to the partnership between Panerai and the Italian team Luna Rossa that will take part in the 36th edition of the America's Cup this year. The case of the watch is made of carbon fibre, just like the hull of the boat. The dial is made of sailcloth from the Luna Rossa.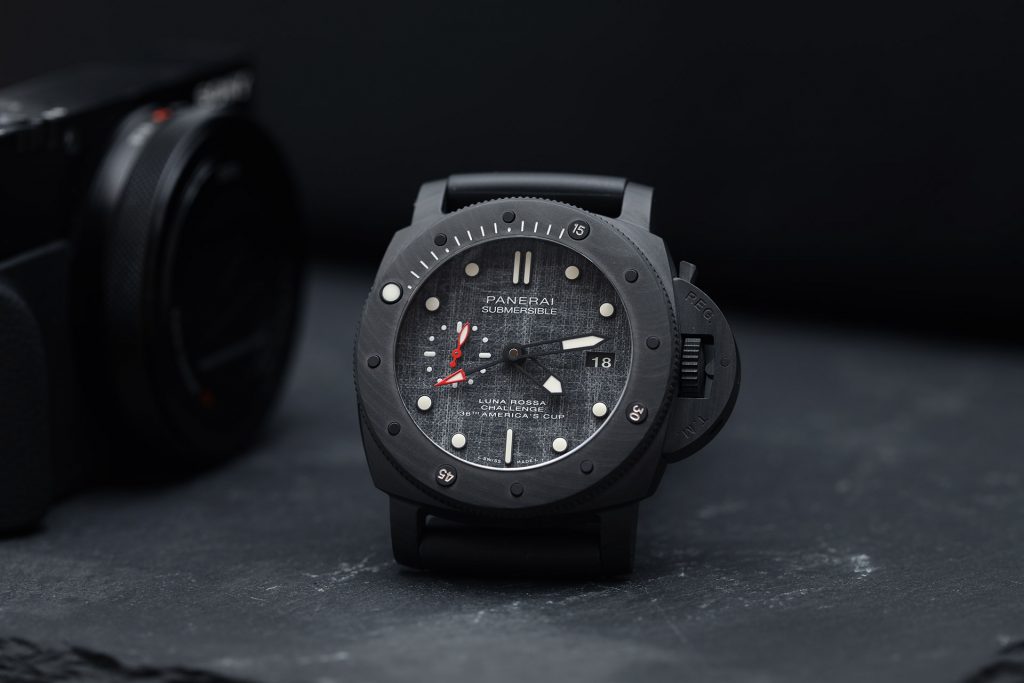 Panerai Submersible Luna Rossa PAM01039
To complete this years 'Submersible' collection range, Panerai also offers two new stainless steel watches with a blue (PAM00959) or black (PAM00683) ceramic disc that is placed on the top of the bezel.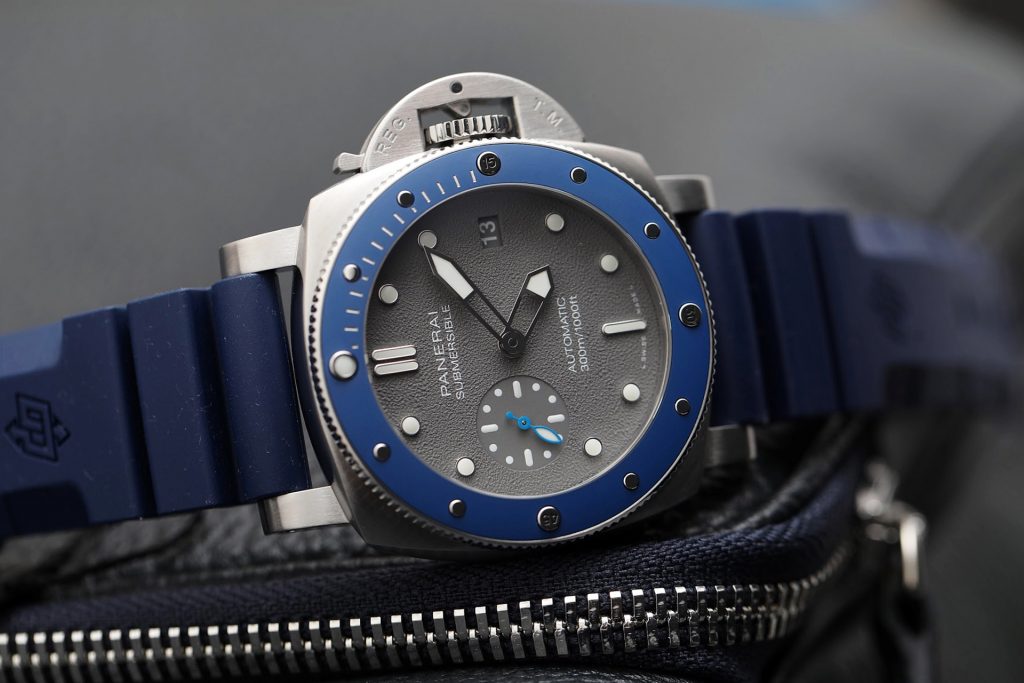 Panerai Submersible 42mm PAM00959 (left)
Panerai Submersible 42mm PAM00683 (right)
---
---