They love watches and make no secret of it: get to know our horology enthusiasts Philippe and Alexander in conversation.
---
Alexander: If we were talking about another, less desirable brand, we might point out that these new products were presented just in time for the Christmas rush.
Philippe: That's not really the point – business is good that way. But the hand that Patek Philippe has dealt is pretty impressive, even beyond all of our holiday wish lists. Personally, I even think that the dial of the new Nautilus 5990, the Travel Time Chronograph, is pretty much the most beautiful thing I've ever seen in the Nautilus collection. Depending on the light, it has an incredible depth and variation from black, to blue, to green. It is simply insanely well done. But what do you think of the hot topic among the novelties, the Reference 5811 – somehow the break from the 5711 was quite short-lived, wasn't it?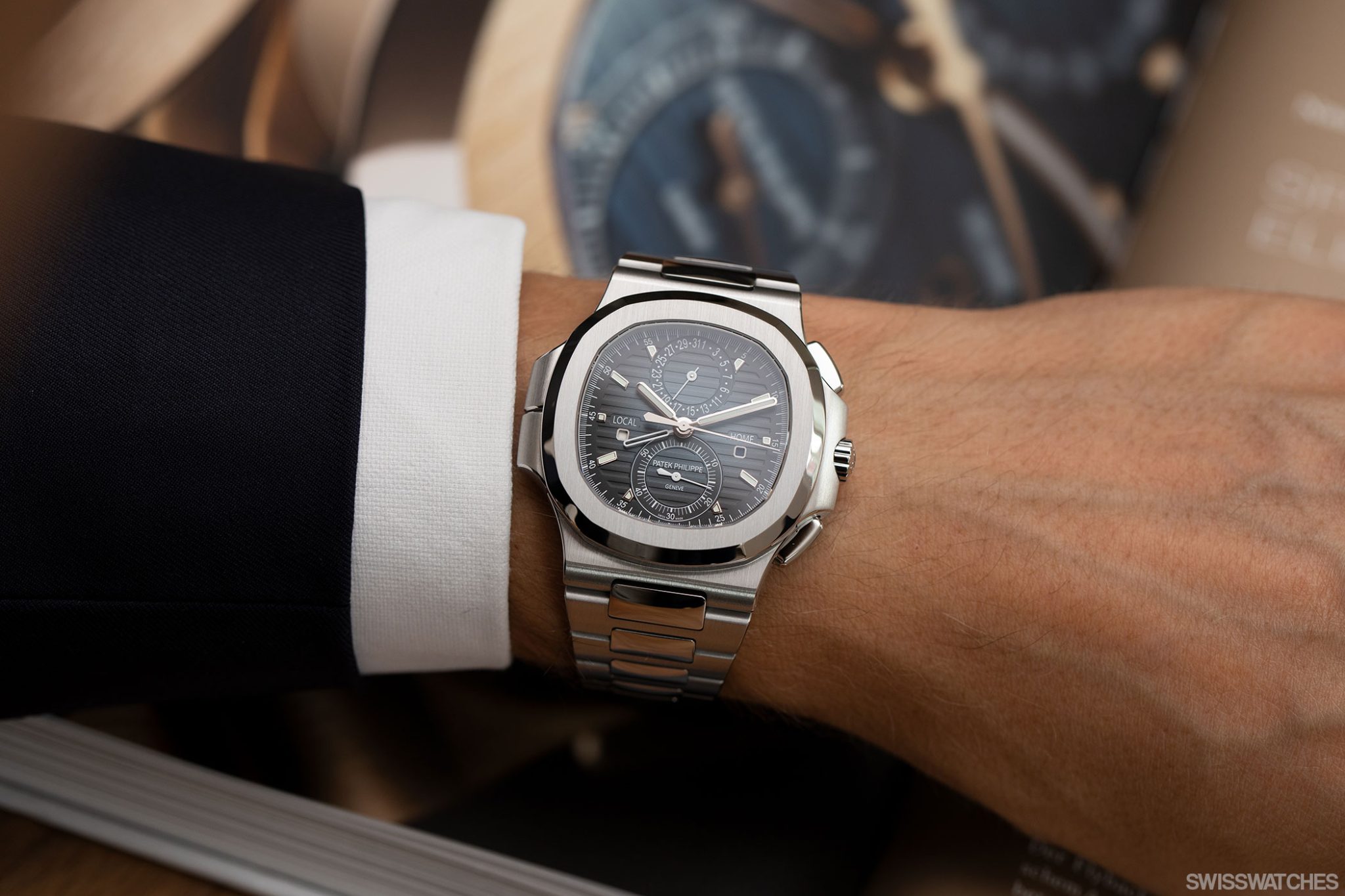 Patek Philippe Nautilus Ref. 5990/1A-001
Alexander: Yes, the discontinuation was announced at the beginning of 2021. Then came the green and the Tiffany variations, and now the 5811 has already arrived. Were some speculating on a longer break? Certainly. Did Thierry Stern announce or even promise it? Not at all – and to be honest, I find the way the 5811 is now presented very elegant and thus very much in the style of Patek Philippe. If you look for the novelties on the homepage, others are pushed more to the forefront.
From Thierry Stern's point of view, the 5811 is just one of many important references, even if it is particularly present in the public perception. Of course, the changes to the reference compared to its predecessor 5711 are rather marginal; the size has changed a bit, as well as the quality of the clasp and the construction. Meanwhile, the movement remains the same, only with the material the price changes all the more. But the watch – and once again, the dial – appeals to me (and undoubtedly many, many others) a lot. This is depite that fact that some may be disappointed in the absence of any major revolutions.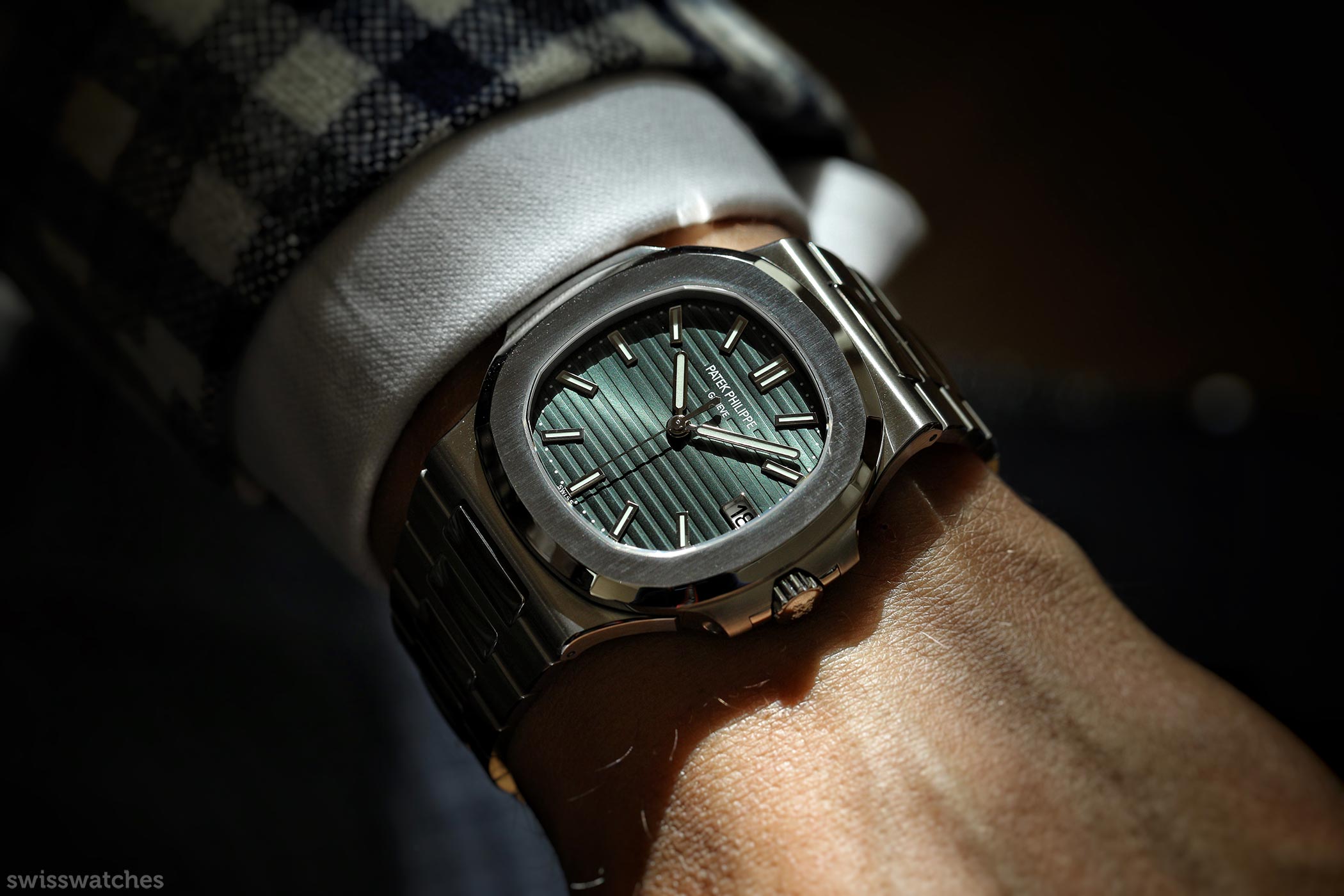 The old and new Nautilus references: 5711/1A (above) und 5811/1G (below)
Philippe: I find this yearning for change at any price a bit strange anyway. Why does a new movement necessarily have to be introduced for a new model? We're talking about a brand that's basically known for its high standards, and on top of that, a classic three-hand watch. Why should we necessarily change and improve the movement here and now? As much as I sometimes envy the owners of a classic 5711, I have to say, the 5811 still doesn't match to my personal tastes. White gold will bring quite a lot of weight to the wrist, and I like it when you don't notice the watch too much when wearing it. On top of that, I would have found a grey dial nicer.
Alexander: You're addressing a topic where for me, my heart is split in two. On the one hand, I find the colour of the new 5811 and 5990 beautiful, the salmon-coloured dial of the new World Timer Chrono 5935 is to die for, and the same goes for the green of the Split-Seconds Chrono 5204. With the latter, though, you must question why, at now around 310,000 euros, it is costing a good 15,000 euros more than the identical model in rose gold with a grey dial, although this will surely be altered soon. Still, I wish the blue, green, and salmon dials were not so ubiquitous. The black and grey dial alongside the red hands of the new Left-Handed Split Seconds Monopusher Perpetual Calendar Chrono 5373 would also look good in a slightly less exclusive model, for example.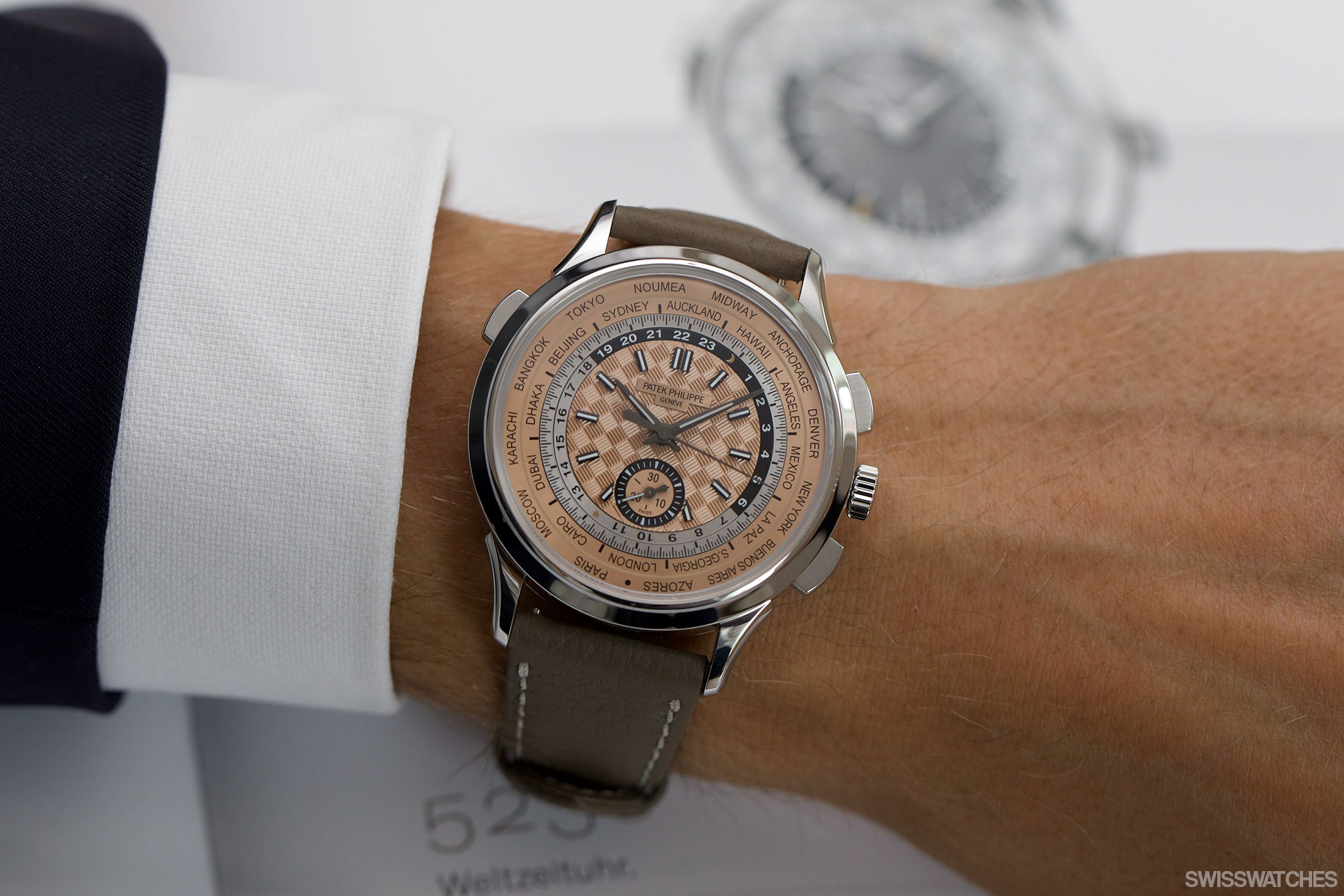 Patek Philippe Ref. 5935A-001. World Time Flyback Chronograph
Philippe: Yes, I know what you mean, even if I also find the World Timer very elegant, and I've already raved about the 5990. The 5373 also reminds me in the best sense of a unique piece that was made for Horology Ancienne.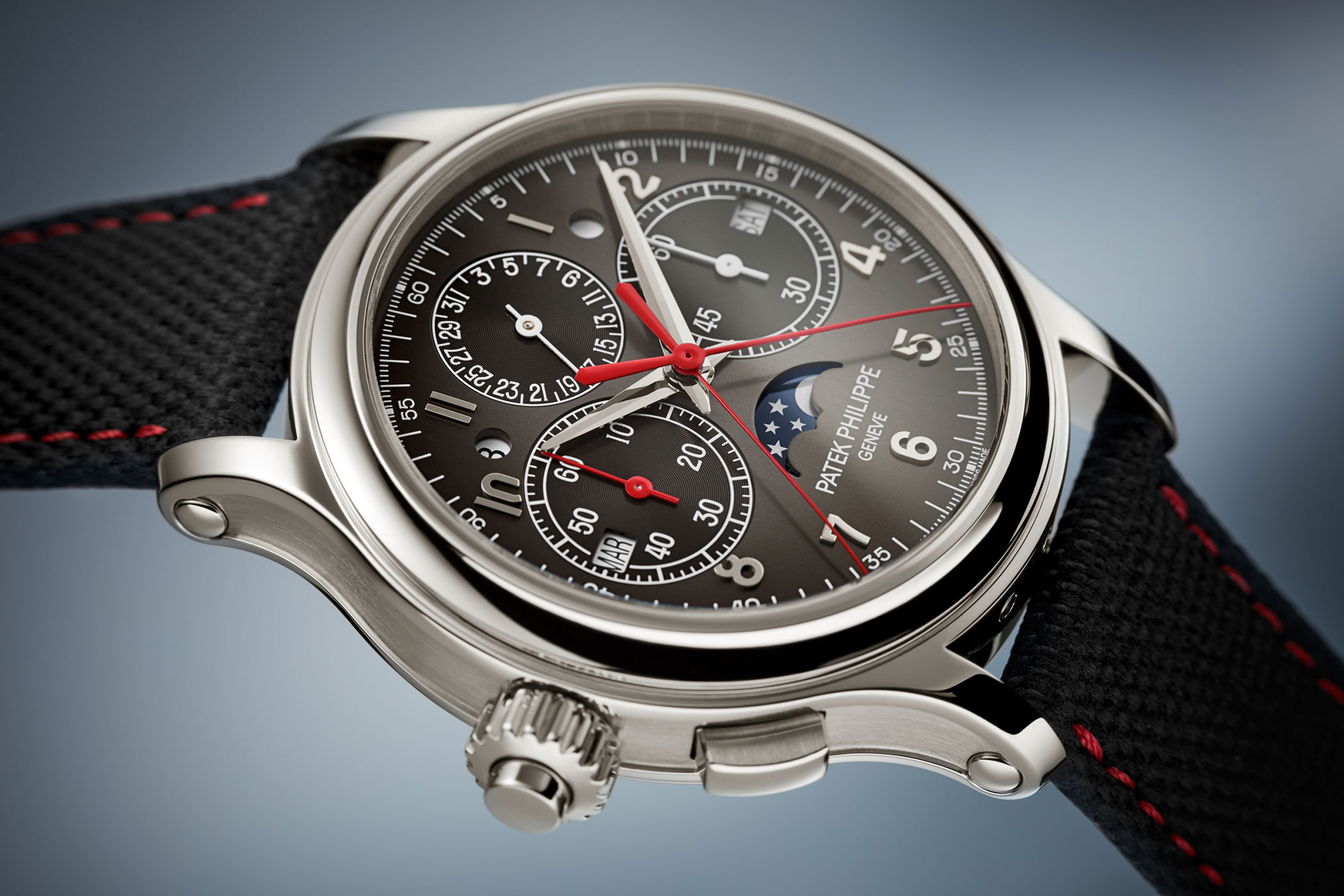 Patek Philippe Ref. 5935A-001 Grand Complication
Alexander: It indicates a very special self-confidence that the first left-handed watch from Patek Philippe in forever is presented in such a Grand Complication for hundreds of thousands of euros. It's hard to get any further from Rolex's Destro-GMT. Overall, I still find the Destro watch phenomenon a bit odd. Of course, there are a lot of left-handed people. But I remember that not so long ago, it was considered a sign of great individualism and a particularly stubborn mindset if you were right-handed and wore your watch on your right wrist – regardless of whether you were left-handed or right-handed. Also, today, most Destro models end up with right-handed collectors, who then wear them on their left wrist.
Philippe: But it has to be said, with a hand-wound model like the 5373, the crown on the left side of the case ultimately makes perfect sense. On a Rolex with an automatic movement, on the other hand, you have to operate it much less often. But now we have to talk about my secret favorite, the 5712 in rose-gold with a brown dial. It is so incredibly well done. This is a model that I don't really want to see on hairy men's wrists, but rather oversized and worn loosely on delicate, tanned women's wrists – perhaps combined with a few casual weaved cotton bracelets.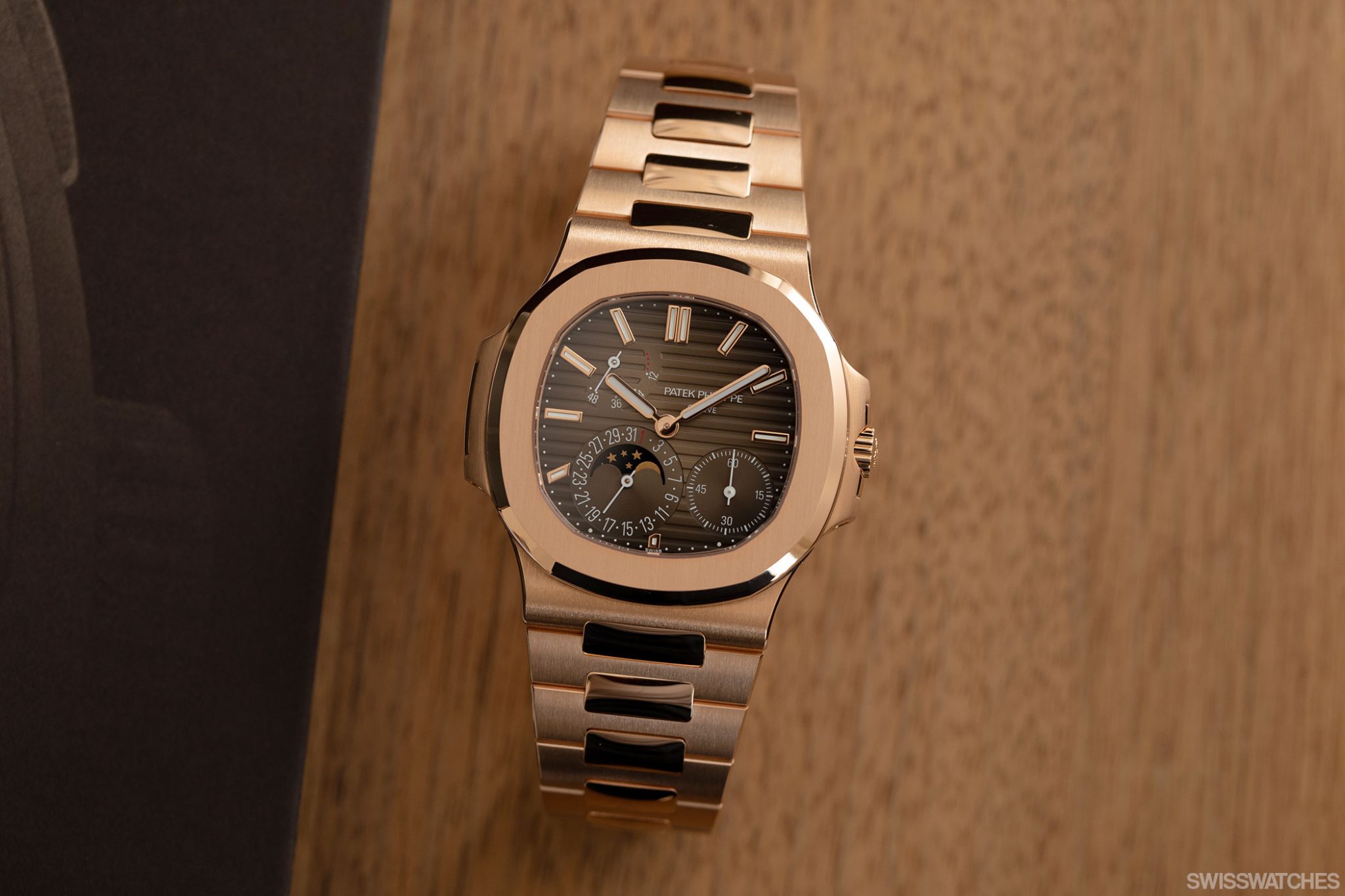 Nautilus Ref. 5712/1R-001
Alexander: That brings us to a recurring theme in this column: the perceived lack of classic non-stone-set women's models in the Patek Philippe collection.
Philippe: Exactly! Although I am aware that a good part of the world prefers gemstones on ladies' models. Realistically speaking, the new Aquanaut Luce "Rainbow" Chrono is primarily made for the Asian market, for Dubai and perhaps for Texas… Although at this point, Patek Philippe once again impressively show that they always – and everywhere – work with class; the colour gradient alone is not enough for them with the stones. Rather, they have a ring of diamonds inside and then around the rainbow of sapphires, which makes the whole thing extremely elegant. Especially when you compare it to the latest Royal Oak models completely set with stones, which I just saw at Audemars Piguet: they look like they came out of a gumball machine by comparison.
Alexander: And you know what: I would low-key love to be a guy who can wear watches with precious stones. But since I'm neither on the pop culture nor street scene, that probably won't happen in this lifetime – even though Patek Philippe serves the field more tastefully and elegantly than anyone else.
Philippe: That kind of brings us to the essence of the topic, which could be titled 'Lusting after watches in 2022'… The huge demand but also offers, such as the novelties discussed here, are so outstanding that in the face of these many, many exceptional models, everyone has to keep reminding themselves that even if you could have all the watches in the world, you don't have to have them all. In the end, it's always about finding the pieces that fit to your own life and personal habits when it comes to collecting.
---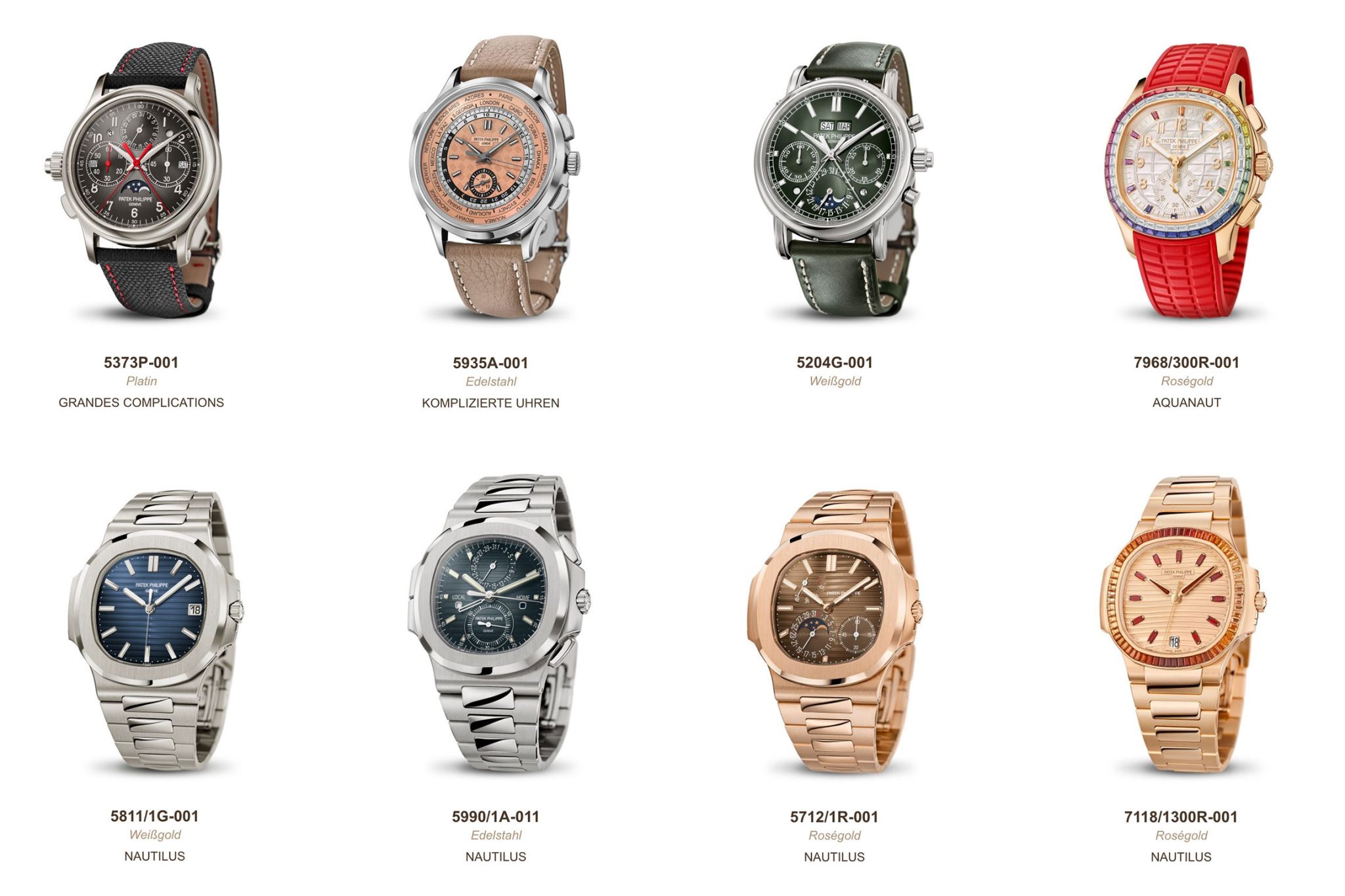 ---