Museums are a popular way to spend one's weekend. A place to take the kids, discover key moments in history, and immerse oneself in everything from portraits at the Louvre to mummified priests at the British Museum. The Patek Philippe Museum in Geneva, however, attracts rather a different crowd. The museum has drawn in countless visitors since its opening in 2001; in 2022 alone, the museum counted a record 64,000 visitors. Those who make the pilgrimage to the imposing 20th century building on the Rue des Vieux-Grenadiers – formerly used by Patek Philippe to create cases, bracelets and chains – range from passionate collectors to those simply hoping to discover the story of Swiss watchmaking since its birth in the 16th century.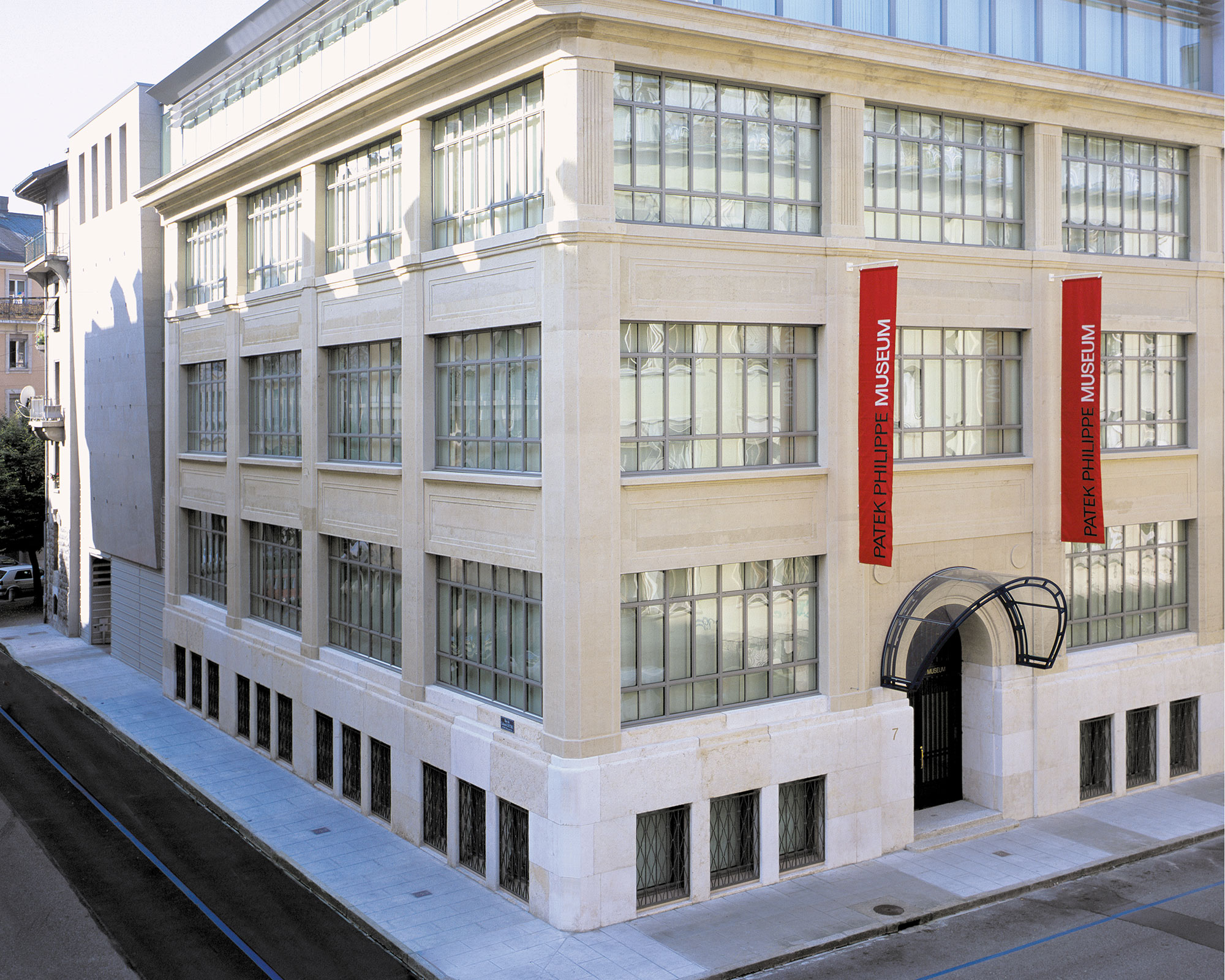 Patek Philippe Museum, Geneva
The Patek Philippe Museum houses one of the most prestigious horological collections in the world. Created by Philippe Stern, a watchmaking and entrepreneurial icon in his own right, the objects at the museum by no means all result from the labour of Patek Philippe, founded in 1839. Rather, the 2,500 timepieces, automata, portrait miniatures on enamel, and over 8,000 books collectively paint a portrait of five centuries of spectacular horological artworks and astonishing innovation. No wonder, then, that the Swisswatches team was magnetised by this mecca of mechanical creations. We journeyed from Munich to Geneva to peruse the museum and meet with the director of the Patek Philippe Museum since 2014, Peter Frieß.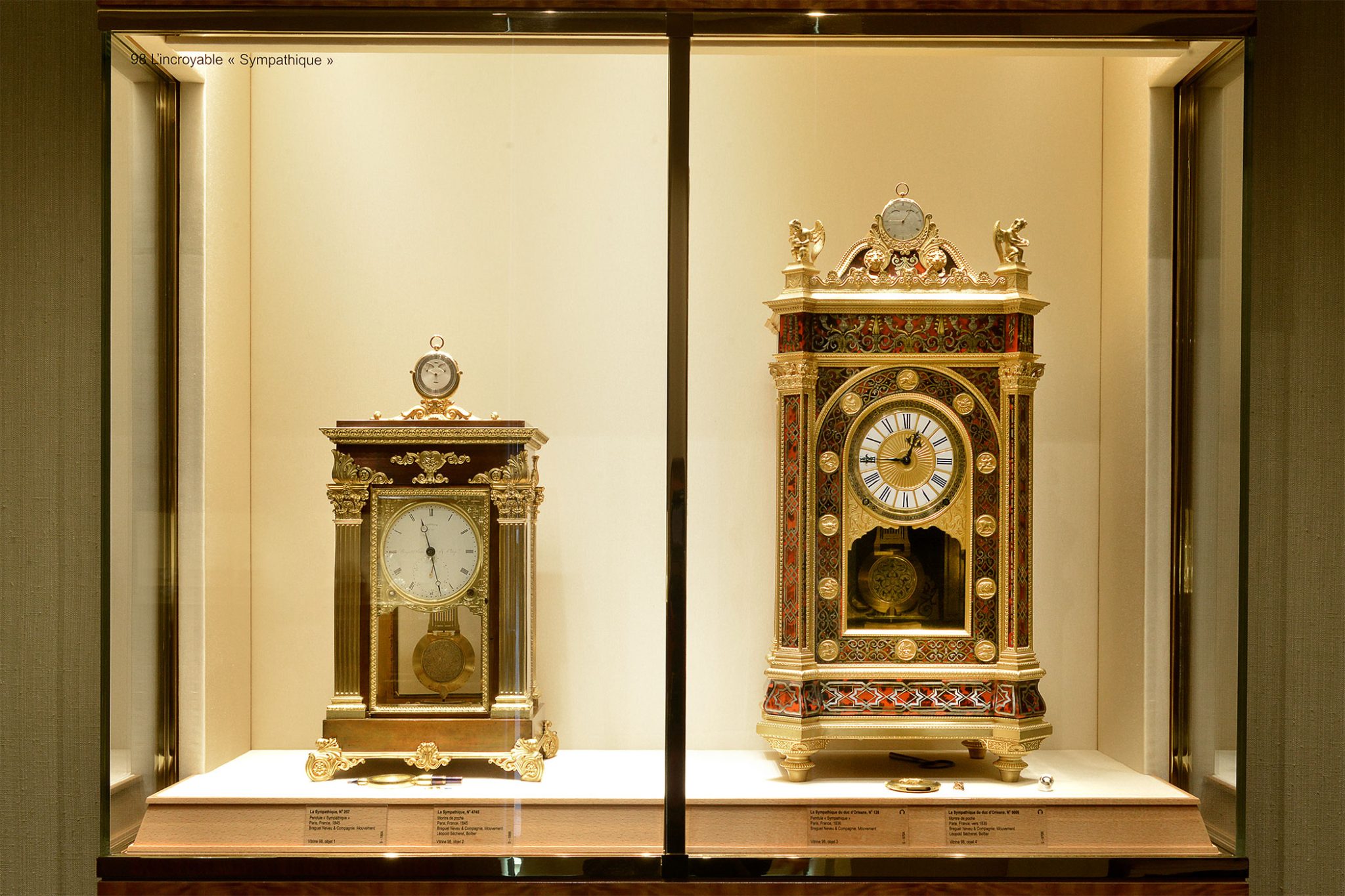 The Antique Collection: The Breguet Sympathique
---
Dr. Peter Frieß, Conservateur of the Museum
---
After obtaining a doctorate in Art History from the world-renowned Ludwig Maximilian University of Munich, Frieß served as Founding Director of the Deutsches Museum Bonn, before accomplishing transformative work in his position as President of the Tech Museum of San José, California. Today, settled in Geneva, he is a master watchmaker, restorer, director and curator – as well as close confidante of Philippe Stern. Often attending auctions on behalf of the museum, he is the driving force behind the museum's enduring success.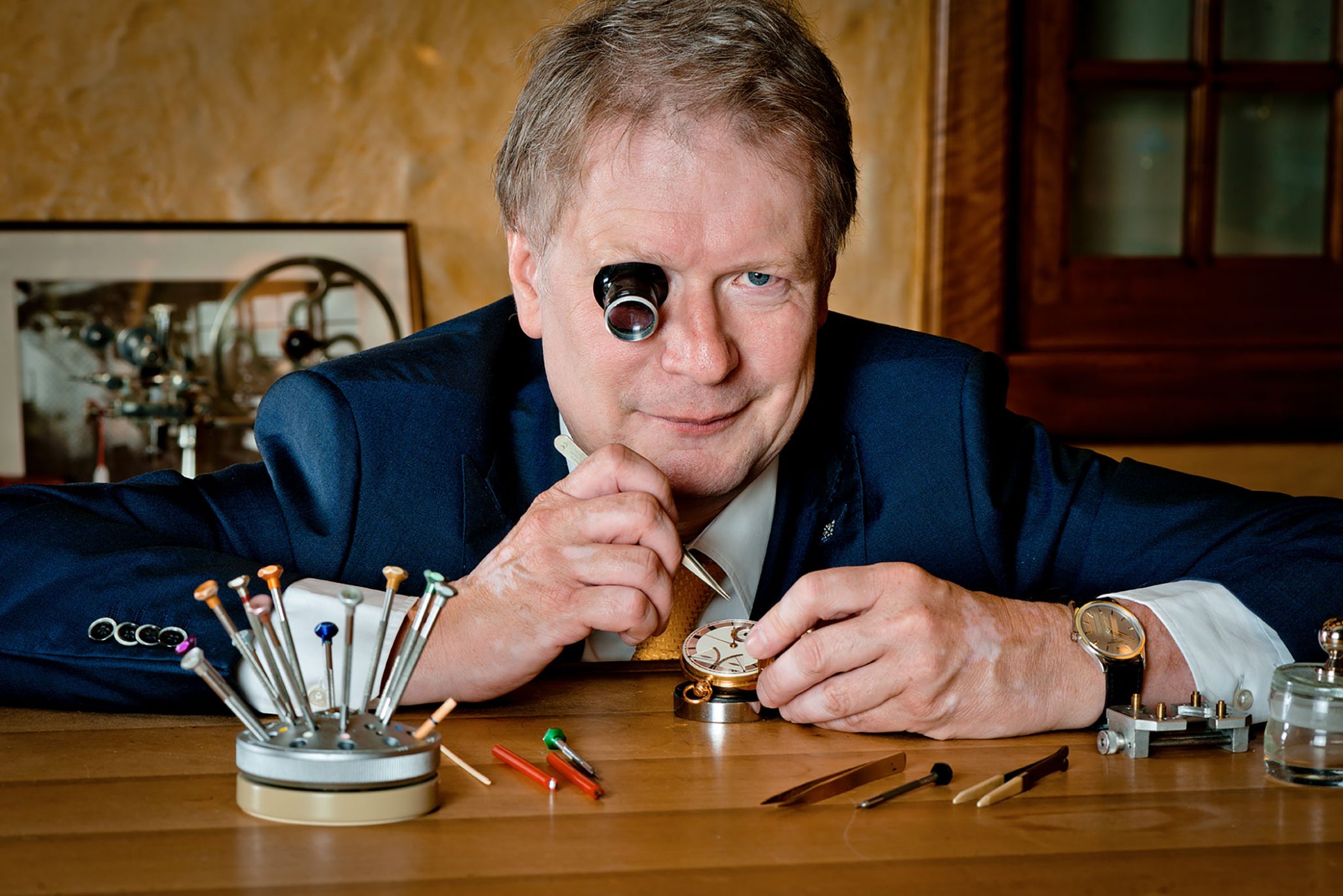 Peter Frieß: Director of the Patek Philippe Museum since 2014
For the average visitor, taking photos at the Patek Philippe Museum is strictly forbidden. Eagle-eyed security follow your every move, and those who take unauthorised photos will promptly be instructed to delete them. As journalists, however, we were able to document our outing in detail, while learning from the man who knows (albeit excluding Philippe Stern himself) more about this extraordinary museum than anyone else.
---
Inside the Patek Philippe Museum
---
The interior of the formerly industrial building is surprisingly warm. Curvaceous dark wooden banisters spiral down the four floors, while deep green patterned carpets absorb the sound of murmuring visitors, creating an ecclesiastical stillness. This hushed atmosphere is the work of Philippe Stern's wife, who personally oversaw the interior design with the aim of lending the museum the warmth and intimacy of a private residence.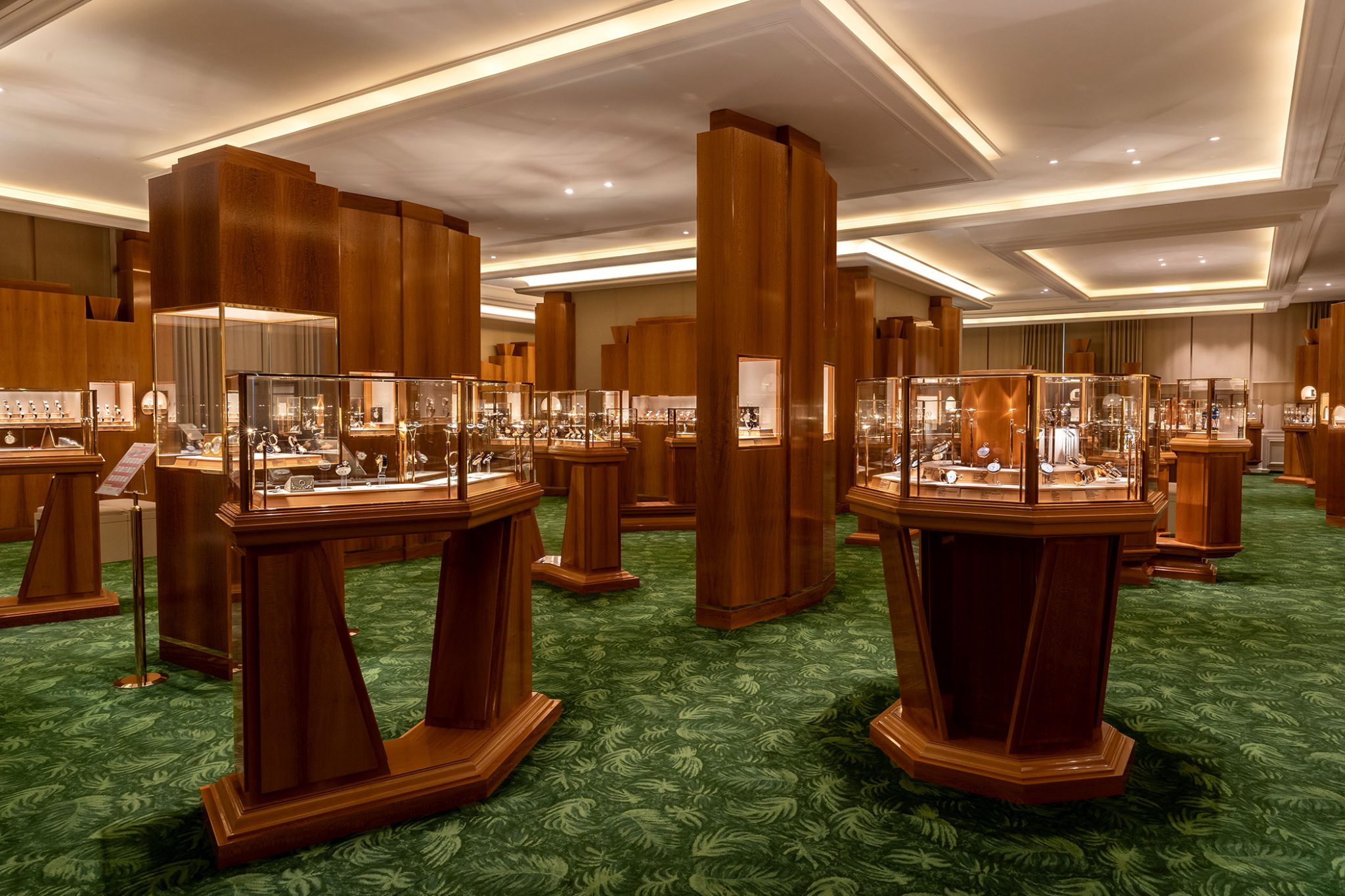 The museum is split into two main collections: the Antiques Collection and the Patek Philippe collection. This is subsequently split into twenty themed areas. While the Antiques Collection is home to a range of historic watches and enamels dating from the 16th to early 19th century, originating from both Switzerland and its European neighbours, the Patek Philippe collection recounts over 175 years of the manufacture's horological history.
Workshop area of museum: a watchmaker sits hard at work
In the lobby of the museum, visitors enter, we note amusedly, a kind of horological zoo. A watchmaker sits installed in a wooden compartment, absorbed by various restoration tasks, oblivious to the engrossed audience on the other side of the glass. The rest of the space is filled with old workbenches and large clunky iron tools that demonstrate the importance of traditional craftmanship at Patek Philippe's time-honoured manufacture, established at the dawn of the European industrial revolution.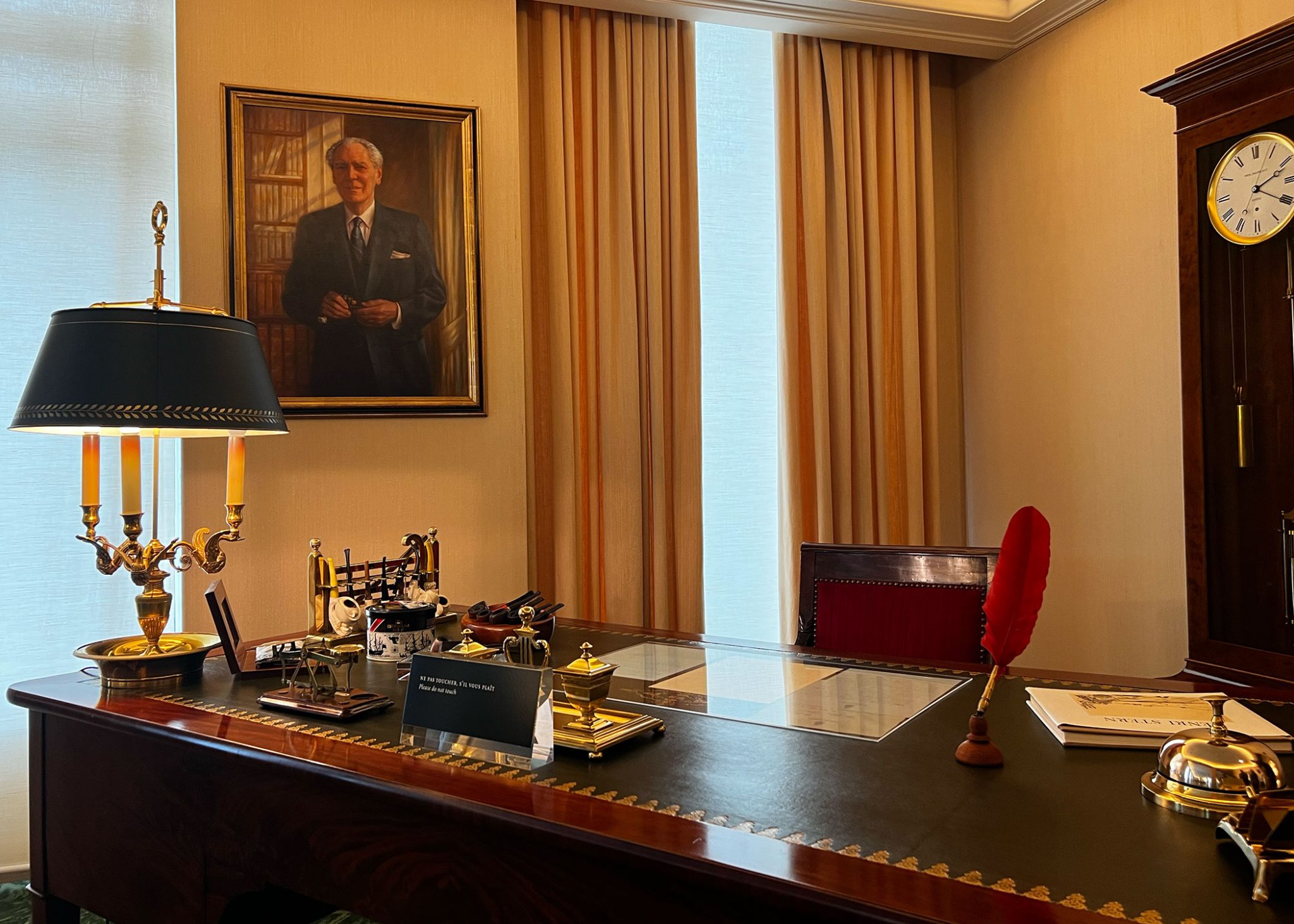 The former desk of Henri Stern
---
The Library
---
Our tour with Frieß, however, commences on the top floor, in the most prestigious room for any grand residence: the library. Home to Patek Philippe's historical archives, alongside over 8,000 books and manuscripts dating back to the 16th century, the area remains a reference point for specialists to this day, who must make an appointment in order to get access. The library, Frieß proudly informs us, holds one of the best horological book collections in the world.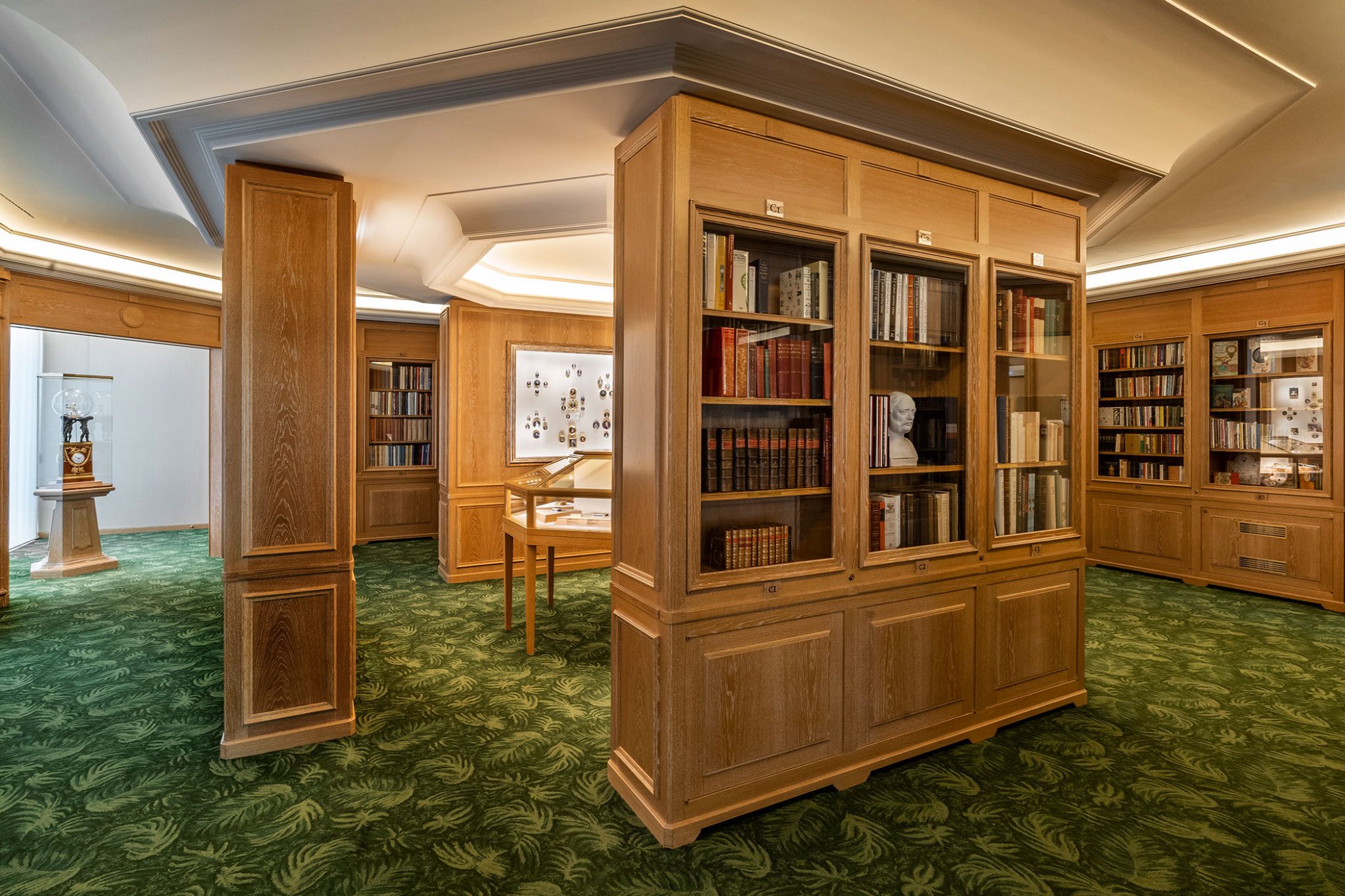 ---
Enamel painting
---
Placed in the centre of the crowded bookshelves are a number of glass cases, which display portraits and snuffboxes in miniature painting on enamel. Enamel painting is a major art form that holds great prestige in the watch industry to this day. Developed around 1620 in the workshop of Jean Toutin, in the French city of Blois, Swiss manufactures use enamel painting only for the most exclusive of pieces. Some of these paintings at the museum, Frieß informs us, are an early form of passport pictures from the 17th century, when kings would have themselves painted so that the picture could be passed onto other royal houses. He points to one, a king with a bush of dark hair radiating out of the image: 'There's one of King Louis XIV, the Sun King'.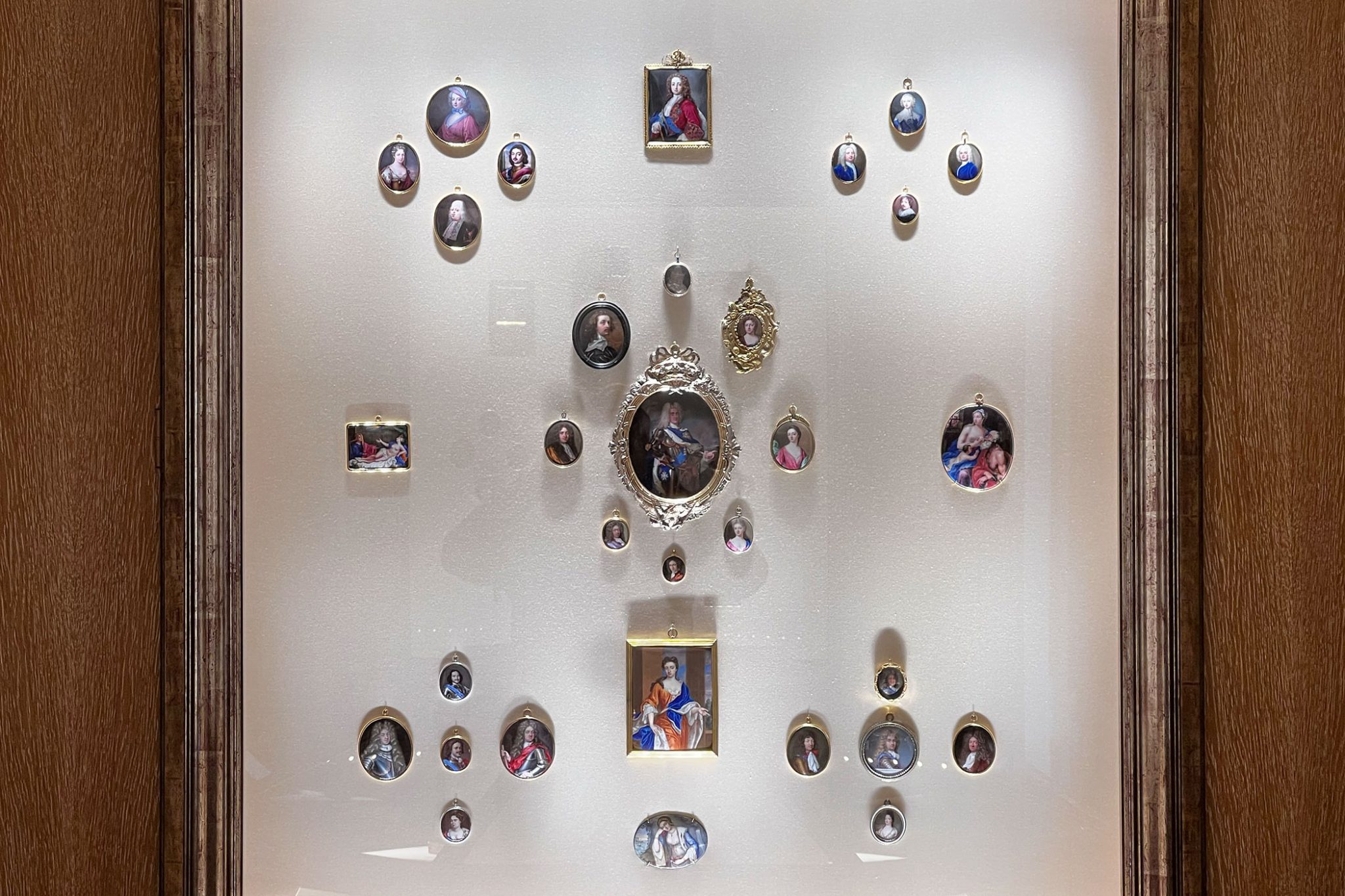 Why are these painted snuff boxes at the Patek Philippe Museum, though? Surely, they have fairly little to do with watches. 'When Antoni Patek [the Polish immigrant who went on to found the company] came to Geneva, he wasn't initially interested in watches,' Frieß explains. 'Rather, he trained with one of the most important painters here in Geneva, Jean Baptiste Arthur Calame.' Calame was a landscape painter whose paintings still sell at Bonhams for several thousand euros. 'He had a special sense for art, and he transferred this onto watches. Early paintings by Calame can be found on a number of pocket watches. The motto of Antoni Patek as well as Adrien Philippe [Patek's co-founder] was always to build the best watches, the most precise watches – but also the most beautiful.'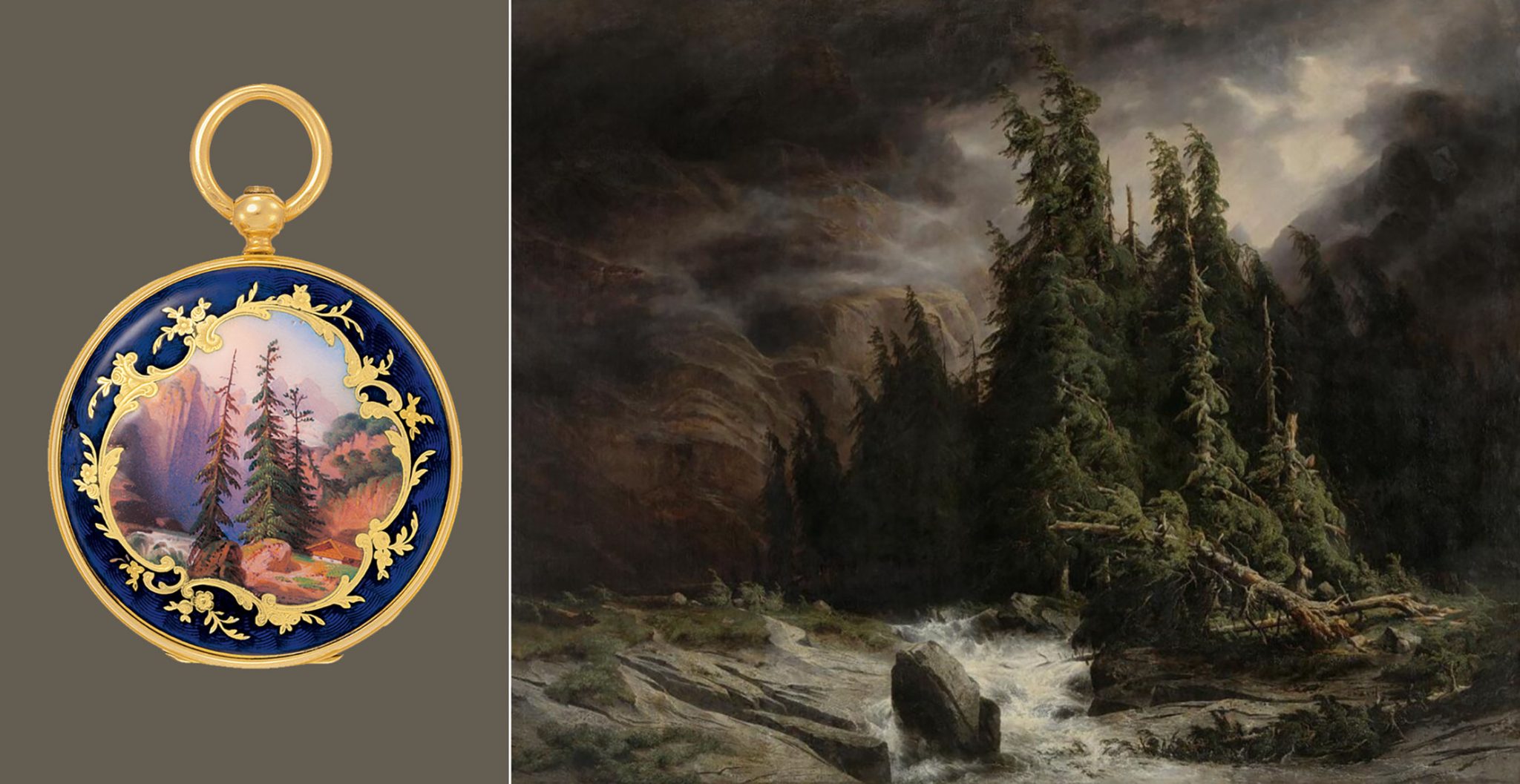 This enamel painting is based on the famous painting by Alexandre Calame (father to Jean Baptiste Arthur Calame): Orage à la Handeck (1839), which was exhibited with great success in Geneva in 1839. In the same year, it was awarded a gold medal at the Salon in Paris. Today, the painting is part of the collection of Musée d'Arts et d'Histoire in Geneva.
---
Europe: The epicentre of watchmaking
---
As we stroll around the library, Frieß is keen to emphasise the importance of Europe's role in the history of timekeeping. 'Europe is the continent of time measurement,' he states. 'Nowhere else did research and development of timekeeping spread across an entire continent in such a way. It is an ongoing interplay between science and craftsmanship. Craftsmen are the people who work to create things we need on a daily basis; scientists are the ones who advance our knowledge, leading to new possibilities for watches and their accuracy. In Europe, people actually began to use horology to regulate the community, creating a sense of order in cities during the 13th and 14th centuries. Italian cities such as Pisa, for example, became commonwealths sealed off by walls and a clocktower. Interestingly, these bell towers did not belong to the churches, but to the city themselves.'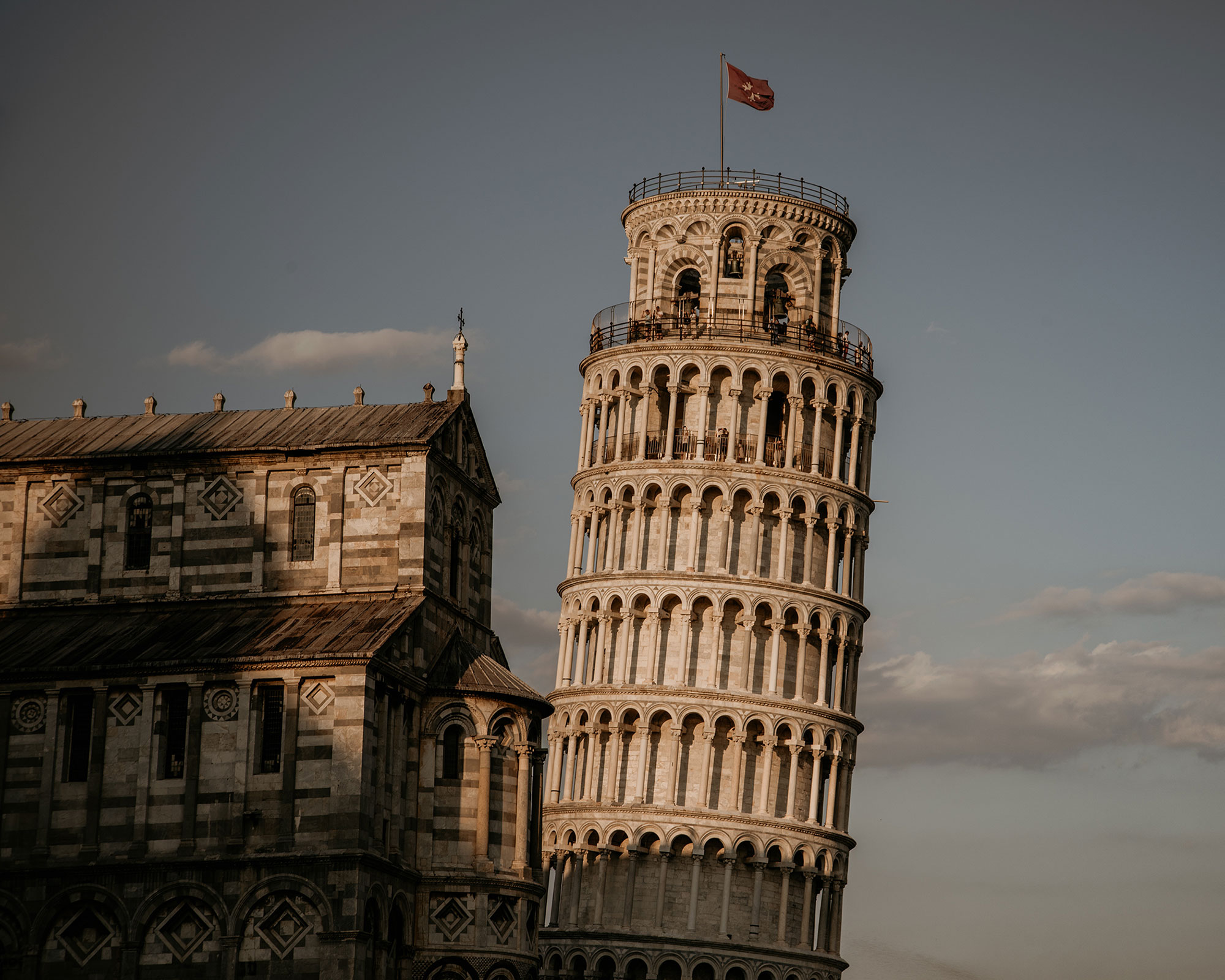 Credit © XAVIER PHOTOGRAPHY
The entire daily life of citizens was ordered through these clocktowers, with taxes demanded from the people who lived within earshot of the bells. Later, these manually rang bells were replaced by mechanisms made by blacksmiths, which are very similar to today's clocks. By the 15th century, the clock movements also had hands. 'Thus', concludes our guide, 'Europe shifted from not only giving an acoustic indication of time, but also a visual one.' It's this level of profound historical knowledge that makes Frieß so instrumental to the Patek Philippe Museum.
---
The Antique Collection (1500s to mid-1800s)
---
We descend to the second floor, home to the museum's Antique Collection spanning from the sixteenth to mid-nineteenth century. Frieß points to a pair of small clocks. 'These are two of the eight surviving oldest clocks in the world.' Portable clocks such as these most likely originated in the German town of Nuremberg around 1500; in 1511, clockmaker Peter Henlein was referred to as 'very nearly the first of those who discovered how to put small clocks into boxes.' This particular pair of clocks at the Patek Philippe Museum, however, are believed to be created around 1530 by Caspar Werner, a horologist from Nuremberg. The clocks' movements are made from the typical material at the time: iron. Around two decades later, when the first watchmaking guilds were founded in Europe, clockmakers shifted to brass, before eventually moving to a mix of brass and steel to create a better friction rating than two of the same metals.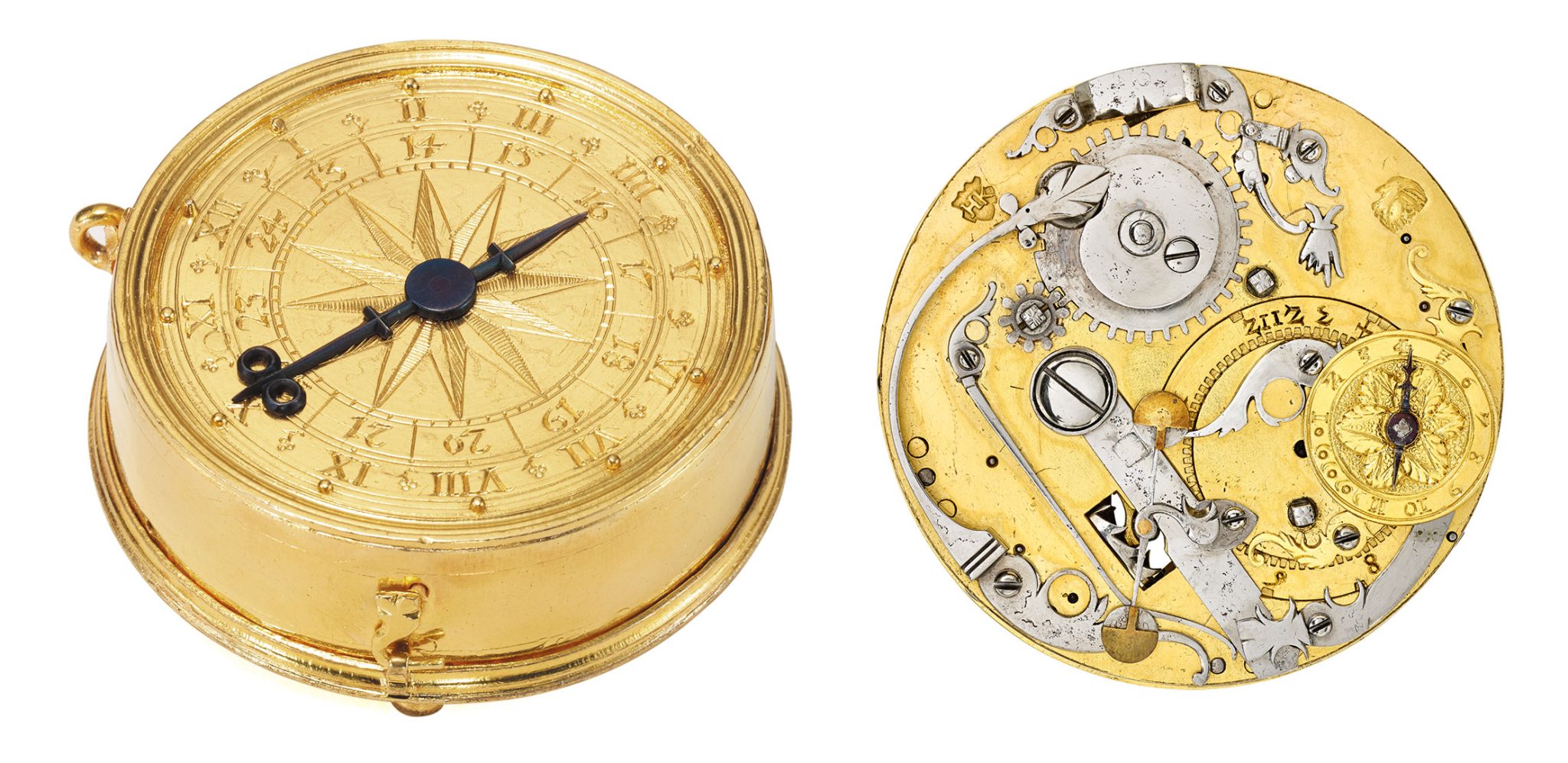 Pendant Watch, Nuremberg, 1548, movement attributed to Caspar Werner (Inventory S-892)
We move on to admire other ancient horological wonders, including mechanical watches that are set to according to the sun. 'Here's another peculiarity,' observes Frieß. 'The time shown on modern watches shows what we call the mean time; it's an average. Every day of the year is actually different. When the sun is at its highest, watches with sundials would come with silver conversion tables printed on them, or else with a booklet. These tables indicate by how many minutes the sun is ahead or behind the mean time.' Patek Philippe also installed sundials as well as compasses into the crown right up until the 1920s, when the introduction of radios meant an average time signal was widely available.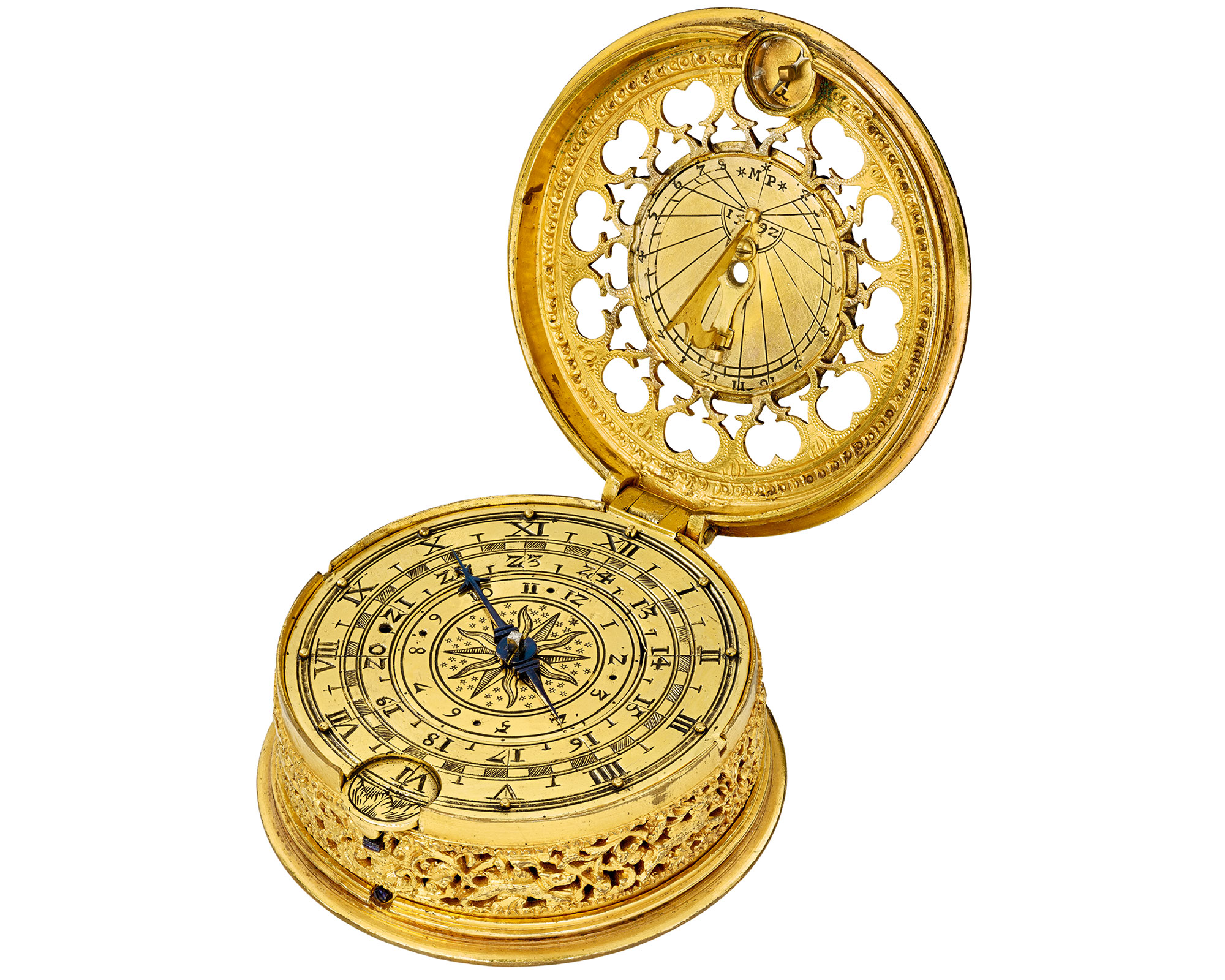 Image of sundial watch. Movement by Hans Koch, sundial by Markus Purmann, München 1570.
(Inventory S-584)
A couple of metres along, we find ourselves in front of the largest enamel watch collection in the world. These exquisite creations sparkle with diamonds and seduce visitors with their deep and varied coloured paintings. Some feature entire biblical allegories, while others take inspiration from Greek mythology. A number of them are by Jean Toutin himself, who was the first to apply metal oxide pigments and lavender oil to surfaces prepared with a base coat of white enamel. 'You won't find anything like this at the Metropolitan, Victoria and Albert, or the Louvre,' says Frieß with pride. Not all of the paintings inside the watches and their cases can be revealed at once, of course. Yet the museum offers around ten photos of each watch via an iPad available to guests. Overall, in fact, the app on the iPad has about 10,000 photographs on its database, which also allow users to zoom in and examine features even more closely than in person.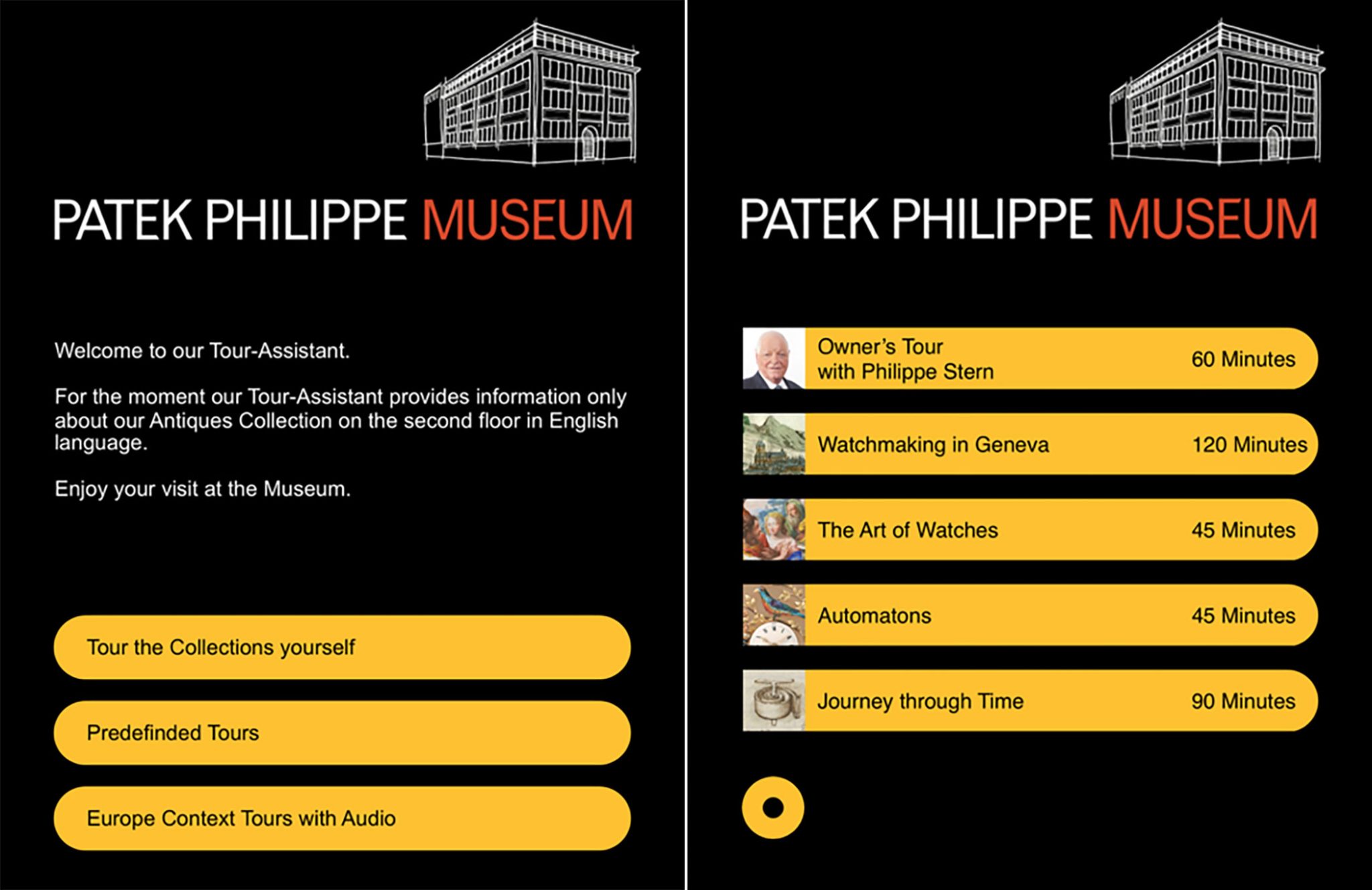 Screenshot of the Patek Philippe Museum app
As we walk, Frieß recounts endless intriguing tales from horology's vast historical archives, from production competition between France and England to Karl Marx detailing Genevan watchmaking in Das Kapital. We listen, enraptured. We pass by an array of watches by master watchmaker Breguet, including his very first tourbillon and famously complicated Perpétuelle watch with equation of time. We also have the chance to admire the world's first perpetual calendar pocket watch, dating back to 1762 and created by the English master watchmaker Thomas Mudge.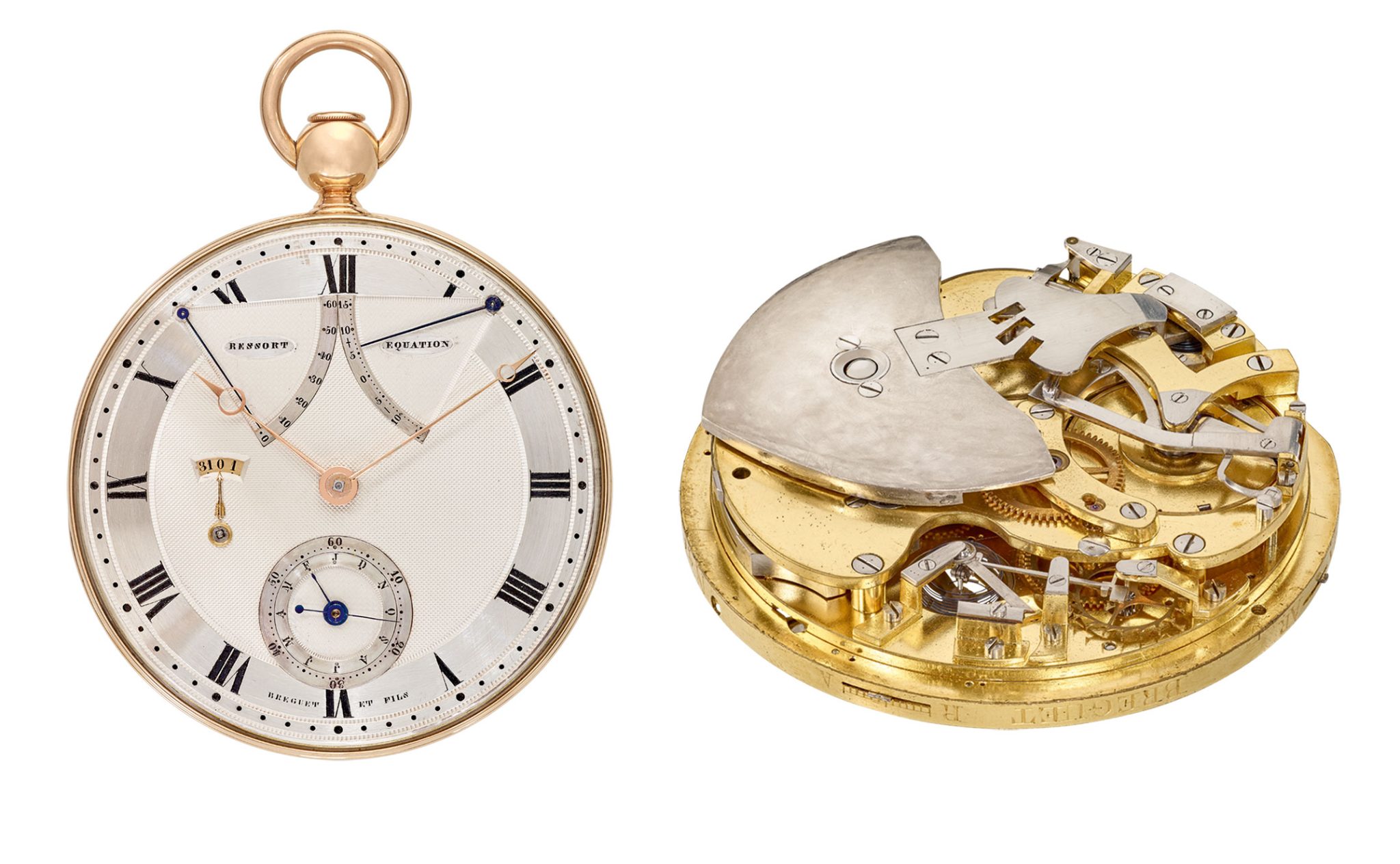 Abraham Louis Breguet, Pocket Watch with Calendar and Equation of Time, 1800, No. 217 (Inventory S-1026)
---
The Patek Philippe collection (1839 to 2000)
---
It's time to enter the true realm of Patek Philippe history. Frieß commences our tour of this floor by elaborating upon what is, and will always remain, the most crucial contribution by Patek Philippe in the world of horology. In 1842, Jean Adrien Philippe conceived the first crown-winding and setting mechanism, for which a key was no longer needed. He went on to patent this mechanism one year later, changing the face of watchmaking forever.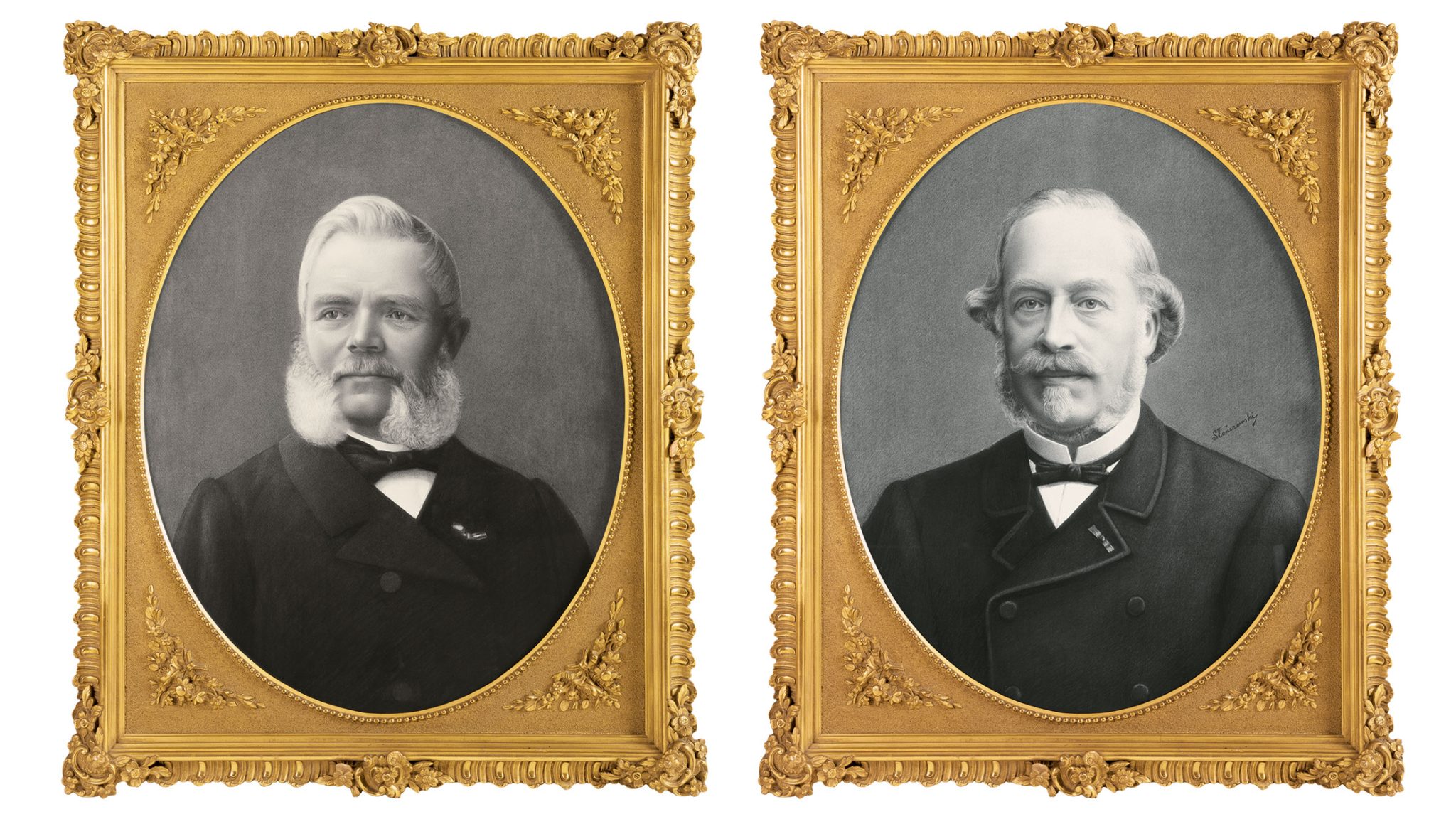 Left: Antoine Norbert de Patek (1812–1877).
Right: Jean Adrien Philippe (1815–1894).
Lithograph, ca. 1860.
By 1851, Patek and Philippe had joined forces, and around a decade later, the pair resolved to stop selling watches that required a key to be wound or set. Queen Victoria of England was one of the first to admire Patek Philippe's keyless watches, and soon afterwards, a phrase surfaced that solidified the use of keyless watches forever: 'a crowned head needs a crowned watch.' Other royal dynasties soon followed suit.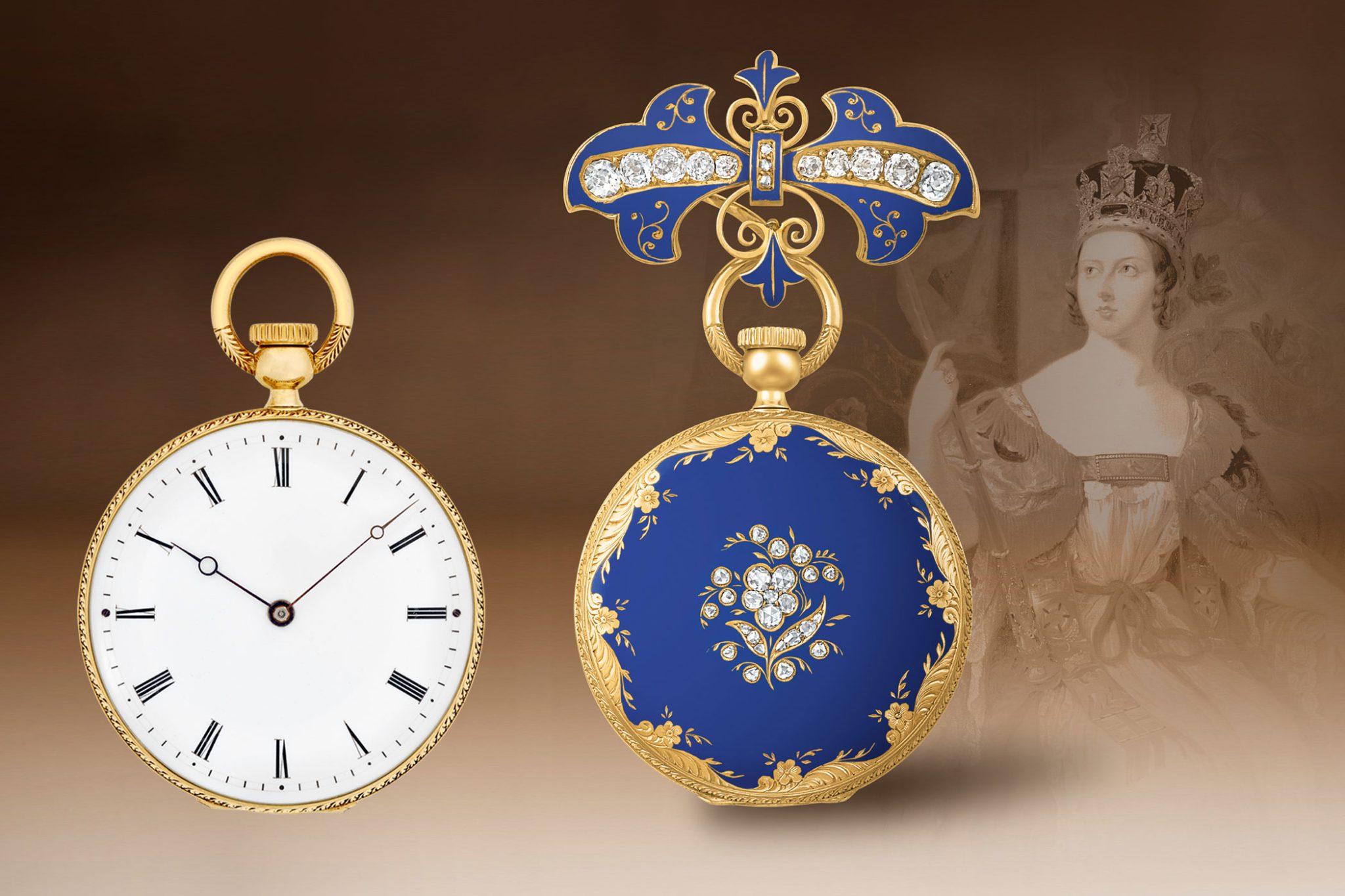 Patek, Philippe & Cie – Fabricants à Genève, 1850. Caliber 13"', No. 4536. Inventory P-24
---
Connection to Tiffany
---
As well as enticing European royalty, Patek also proved a success in America. One of its key partnerships to emerge, even prior to its keyless watches, was with the jeweller Tiffany, with the brand creating timepieces for wealthy clients and presidents alike. As early as 1849, Tiffany had already ordered six watches from Patek Philippe. Interestingly, Frieß informs us, Tiffany even opened its own watch manufacture in Geneva, although this was sadly short-lived. He points to a lavishly jewelled pendant watch with a deep blue colour, studded with star-shaped diamonds that evoke the American flag. The watch winds using a 'Calibre 14', using a traditional winding and setting mechanism by key.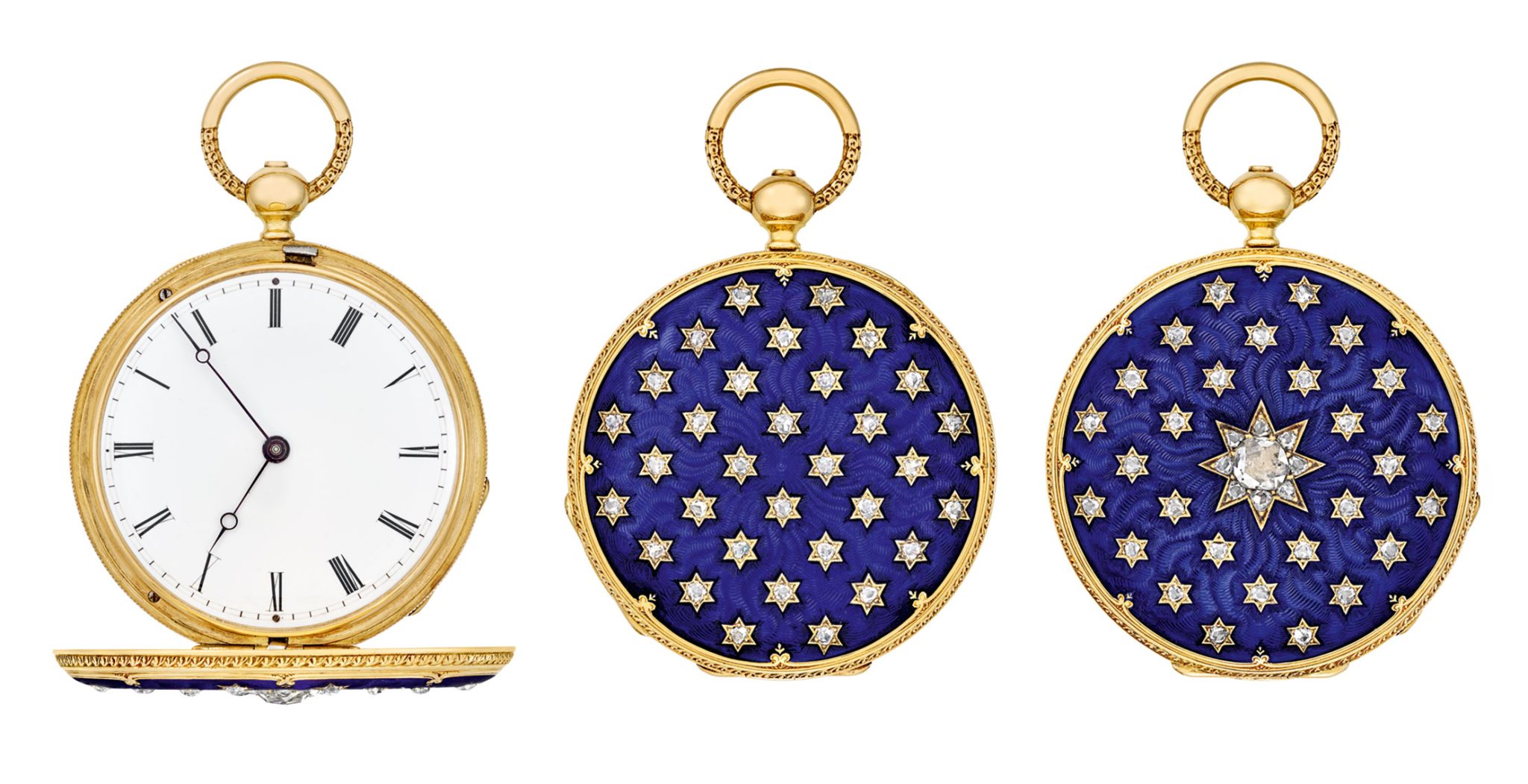 Patek, Philippe & Cie – Fabricants à Genève.
1850 movement, 1852 case, caliber 14"', No. 4740. Inventory P-1658
---
Horological milestones
---
Meandering our way through the glass cases, Frieß points out another treasure: the world's – not to mention Patek's – first perpetual calendar wristwatch. For over 250 years, the invention of a movement with a reliable perpetual calendar perplexed many a watchmaker. Fitting the calibre into a small wristwatch was even more challenging.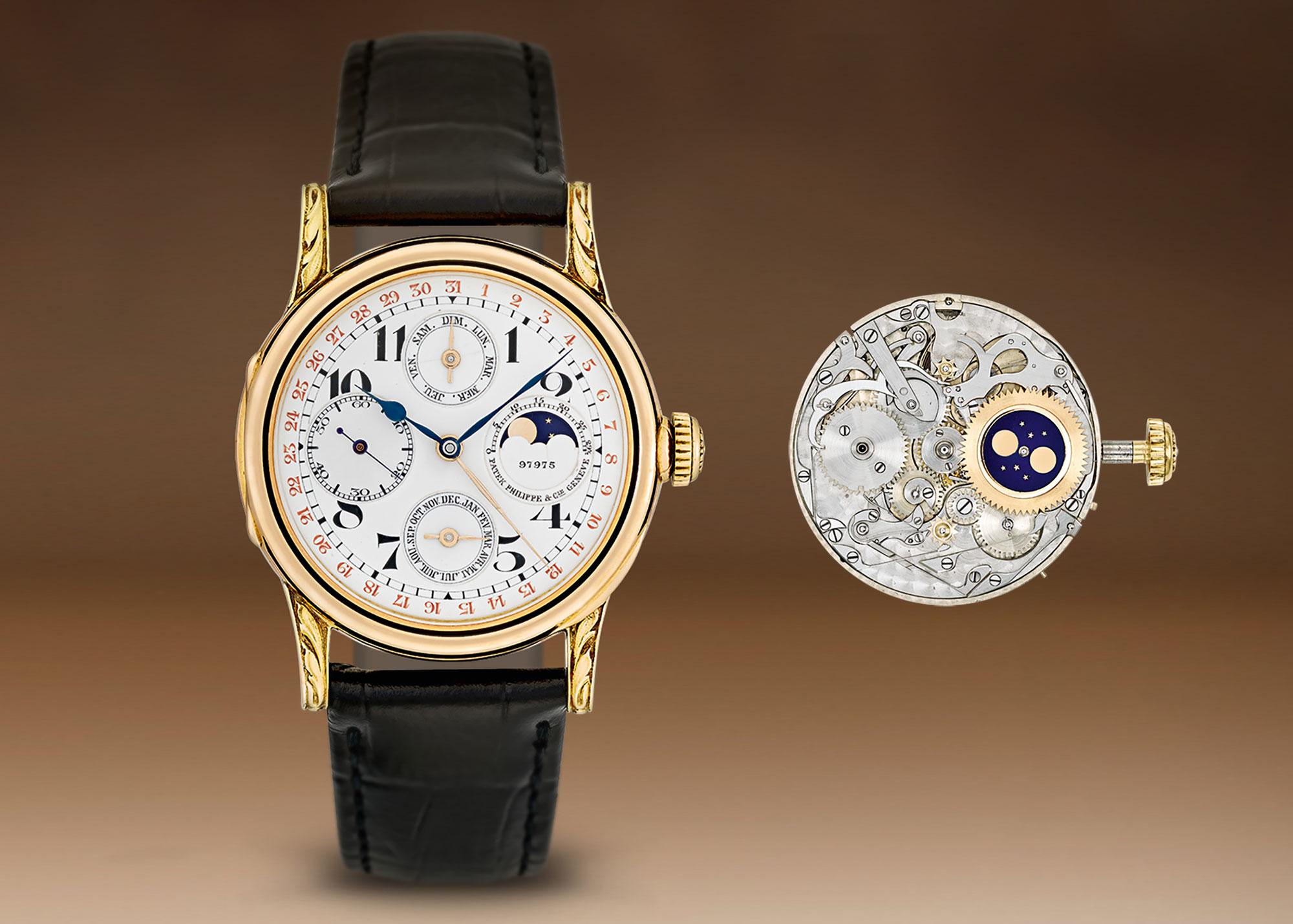 Patek Philippe & Cie – Société en nom collectif, 1898 movement, 1925 case, caliber 12"', movement No. 97975 (Inventory P-72)
This pioneering timepiece housed at the museum was quite some time in the making, spanning from 1898 to 1925. The case and movement were made at completely separate times. The final result was an impressively small 34.4 mm diameter watch, housing a 27.3 mm calibre.
Another horological feat by Patek Philippe housed at the museum comes in the guise of a beautiful ladies watch. Looking at the elegant wreath twirling around the bezel and blue pomme hands pointing prettily at Breguet numerals, one would never guess that a ground-breaking innovation lies within. The world's very first minute repeater wristwatch had appeared several years earlier, back in 1892, with the help of the Brandt brothers and manufacture Audemars Piguet. This model, on the other hand, is Patek Philippe's own first wristwatch with a repeater, created by the manufacture in 1910.It's not a minute repeater like those we know today, however. This ladies watch was, in fact, a 5-minute repeater.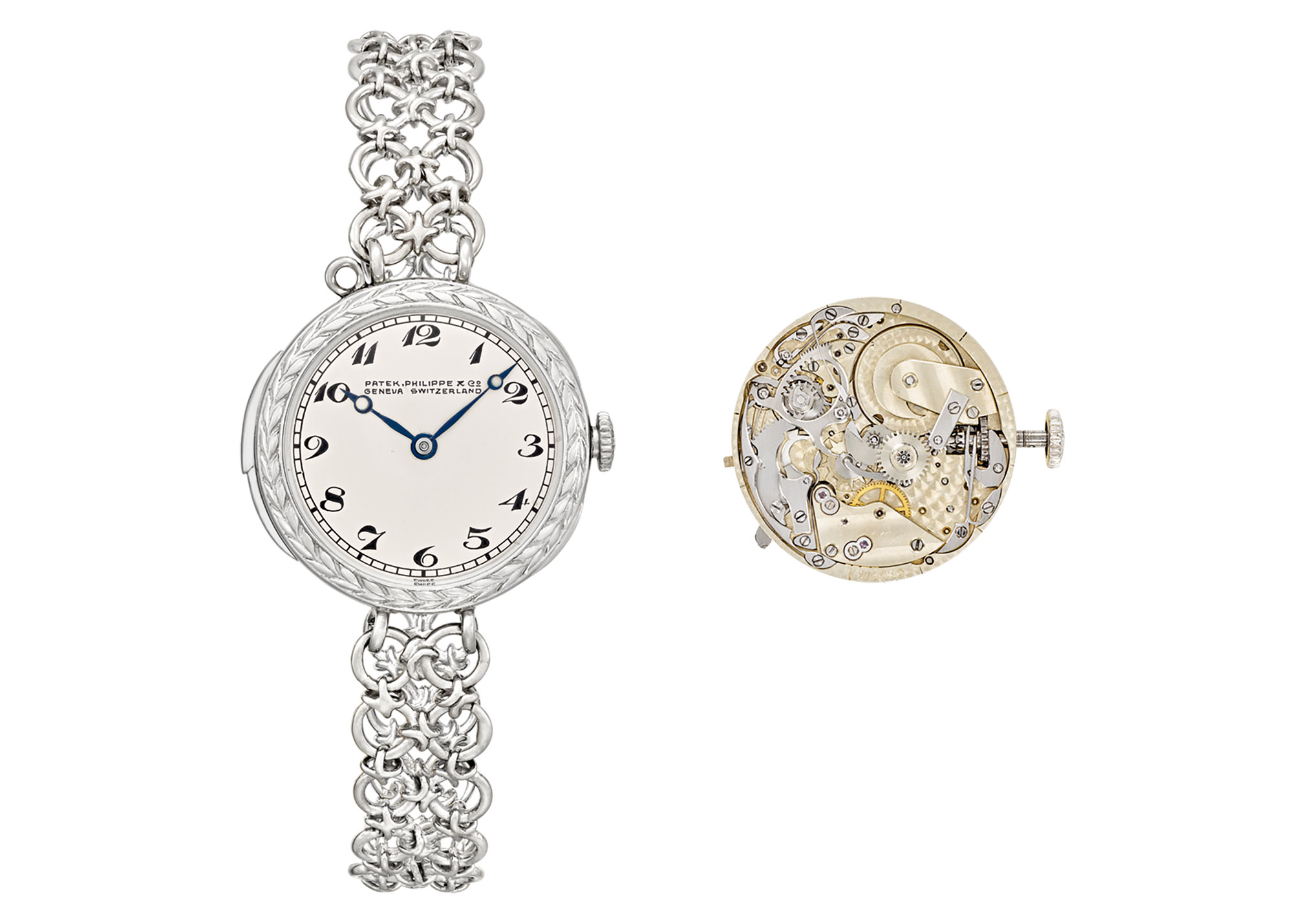 Patek Philippe & Cie – Sociéte Anonyme, 1916, caliber 10"', movement no. 174603 (Inventory P-594)
Its two gongs activate via the slider opposite the crown, subtly sitting on the case band. Its movement, we learn, is based on a raw ebauche built in the watchmaking Vallée de Joux before being finished in Patek Philippe's workshops on the Rue de Rhône, Geneva. Frieß sagely supplies us with another fact while we admire some elaborately decorated so-called quarter-repeater pocket watches popular in the mid-19th century: 'Back then, such pieces were useful because looking at the clock was considered socially impolite'. To this day, repeaters remain highly important to Patek Philippe; the company's president Thierry Stern, like his father before him, personally listens and approves every minute repeater the company produces before it leaves the manufacture.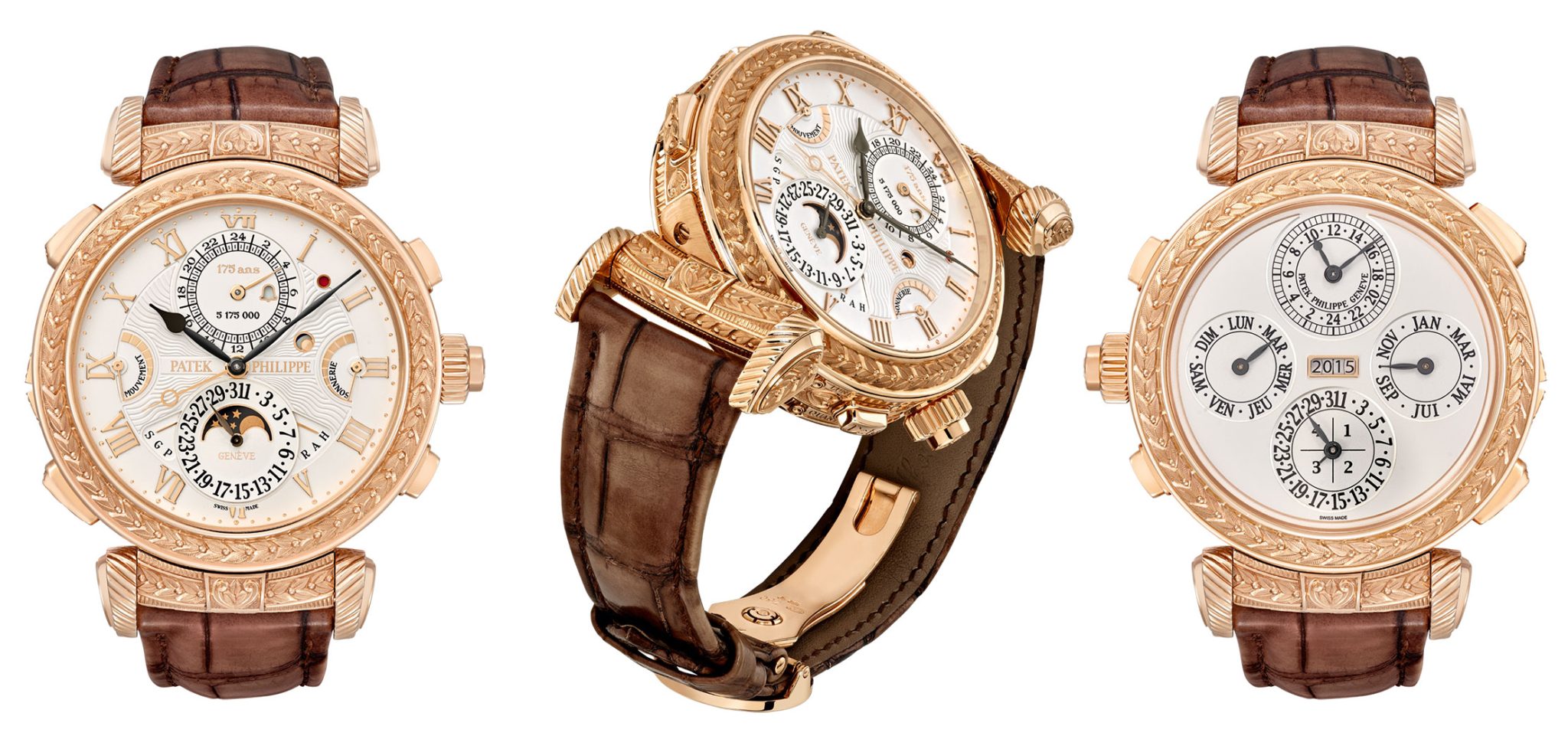 Patek Philippe SA, 2014, Reference 5175, Caliber GS AL 36-750 QIS FUS IRM (Inventory P-1742)
It would be impossible to recount a tour to the Patek Philippe museum without mentioning one of its crowning glories: a rose-gold sibling of the record-breaking steel Grandmaster Chime, which sold for a mammoth 31 million Swiss francs at the Christie's Only Watch auction in 2019.To date, only seven examples of the Ref. 5175 are in existence. Housed in an ornate hand-engraved case, the two-dial timepiece is Patek's most complicated watch of all time – integrating 20 complications, to be exact. To name but a few, the watch integrates a grande and petite sonnerie, a minute repeater, an instantaneous perpetual calendar with a four-digit year display, a second time zone, and two patented global debuts in the domain of striking timepieces: an acoustic alarm that sounds the alarm timeand a date repeater that strikes the date on demand.
---
Peter Frieß' personal favourite piece
---
Before our tour comes to a close, we have a question for Frieß: what is his favourite piece at his workplace? 'Right now, I would have to say it's very recent acquisition, which you will be the first to even publish a picture of. It's a fully enamelled 75 mm parrot indicating hours, created in Geneva for clients in the Ottoman Empire. The unsigned timepiece is over 400 years old, yet it remains in absolute mint condition. Its historical value ranks in the top five pieces of the entire Antique Collection.'
The Parrot, Object with Watch, Made for the Oriental market, Geneva, circa 1640 (Inventory S1110)
---
An unforgettable experience
---
The tragic part of this article is that a few thousand words later, we've barely scratched the surface of the museum's plethora of horological feats from across the ages. The clocks, automata, books, and watches housed inside the roughly 2,000 square metres of this museum are the work of countless dexterous artisans across the centuries. Each and every object is a unique piece in the story of Swiss watchmaking.

Treasures from the Patek Philippe Collection:
The Emergence of the Watch and the Quest for the perfect Watch.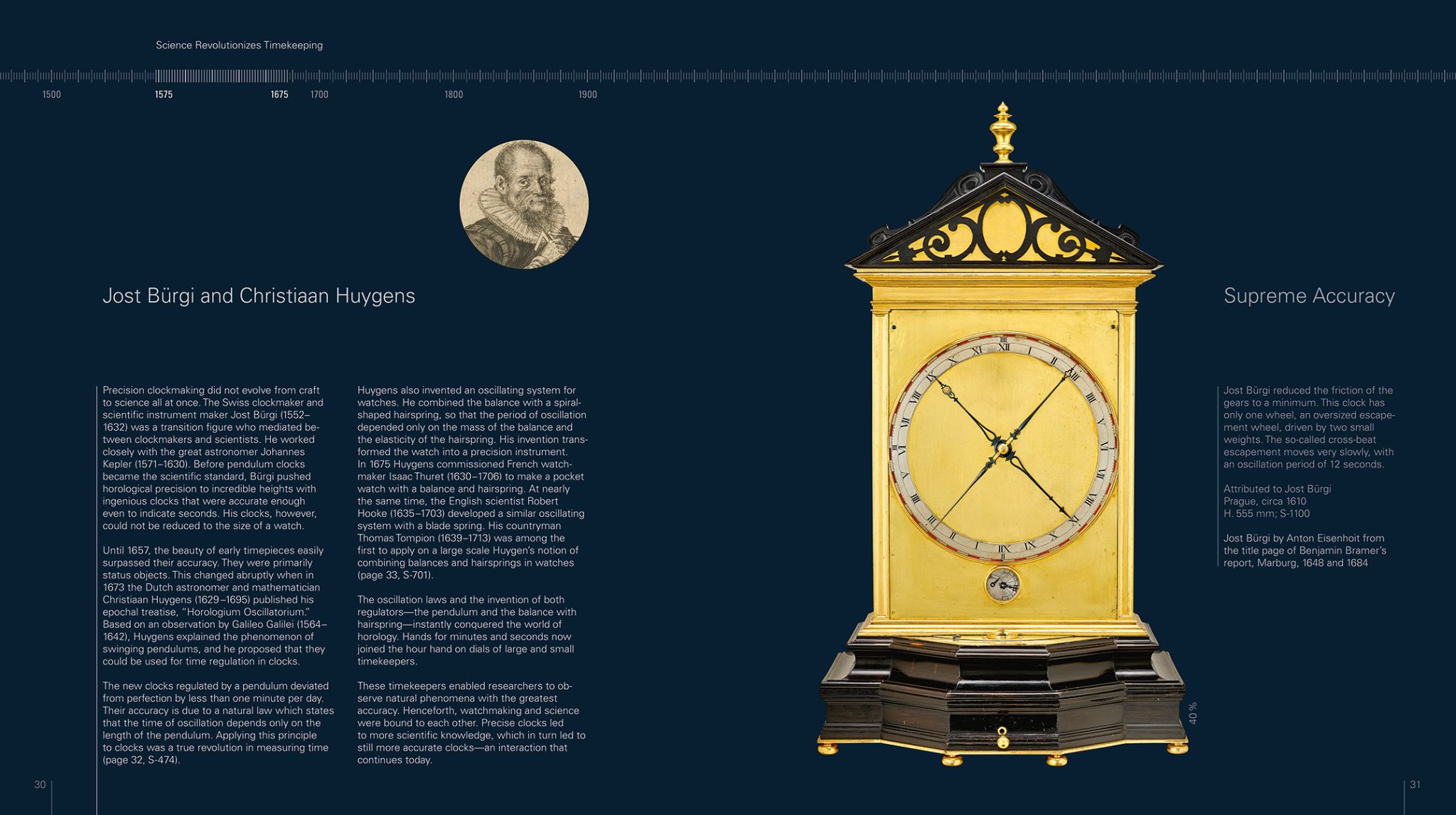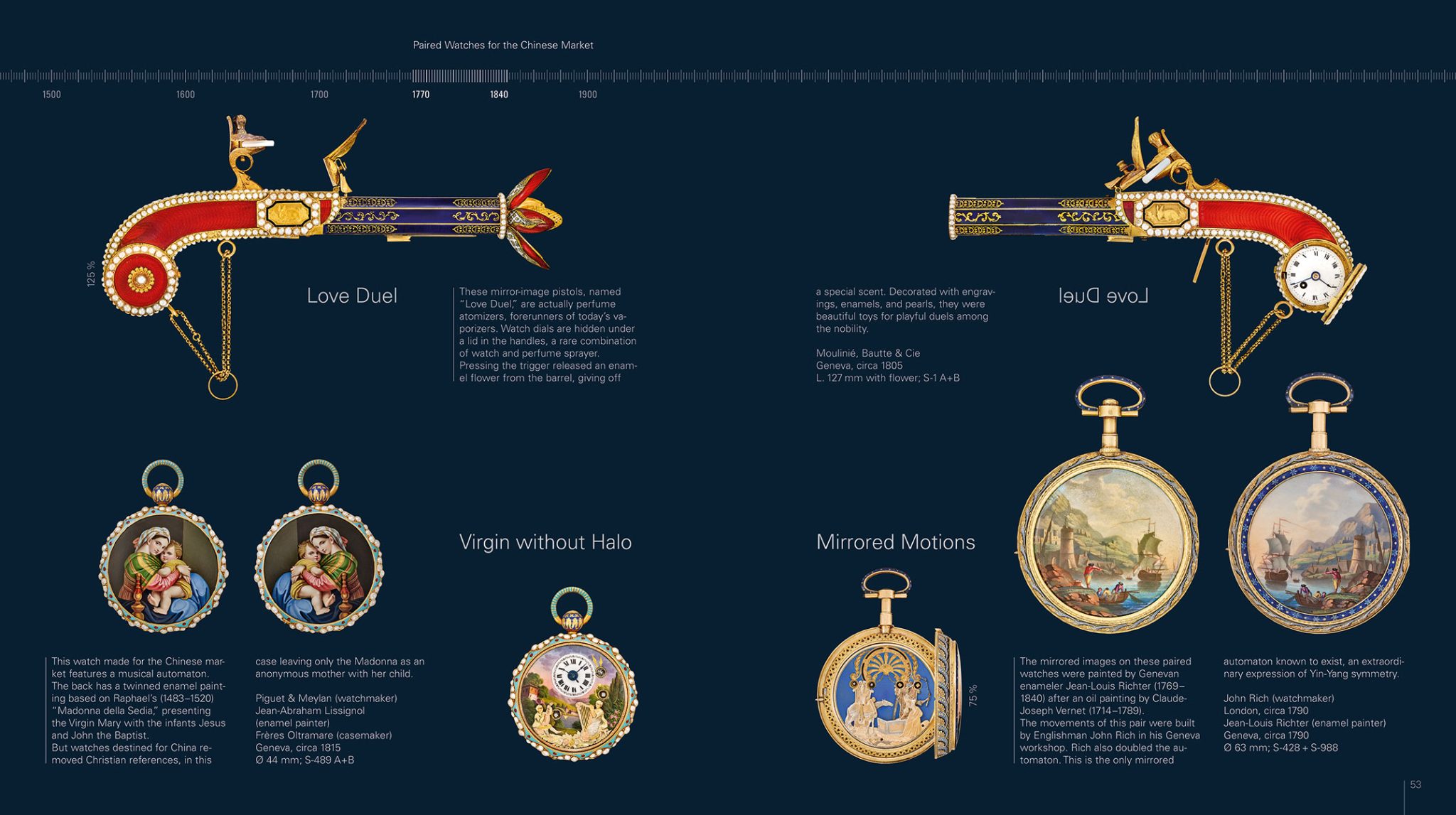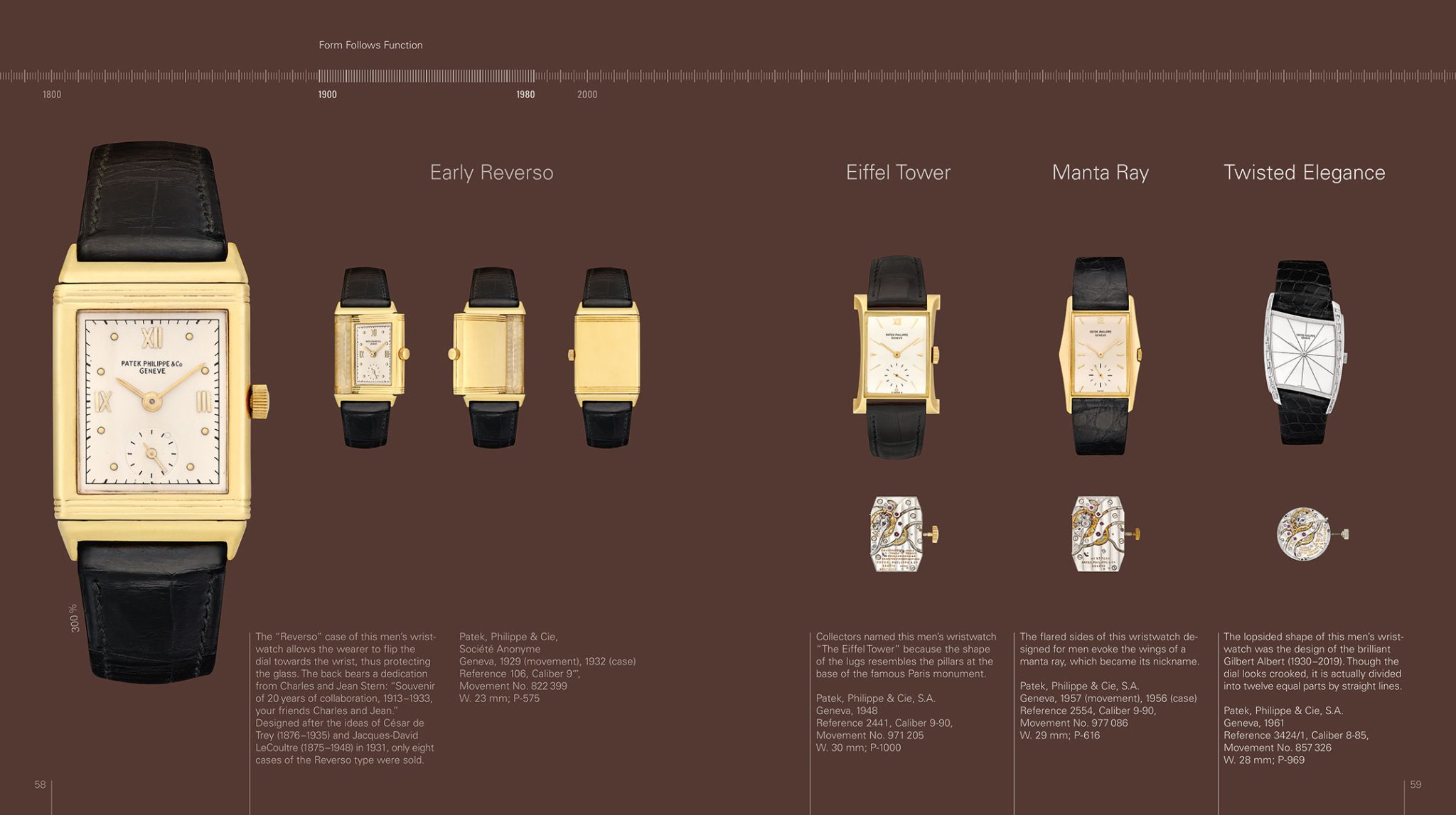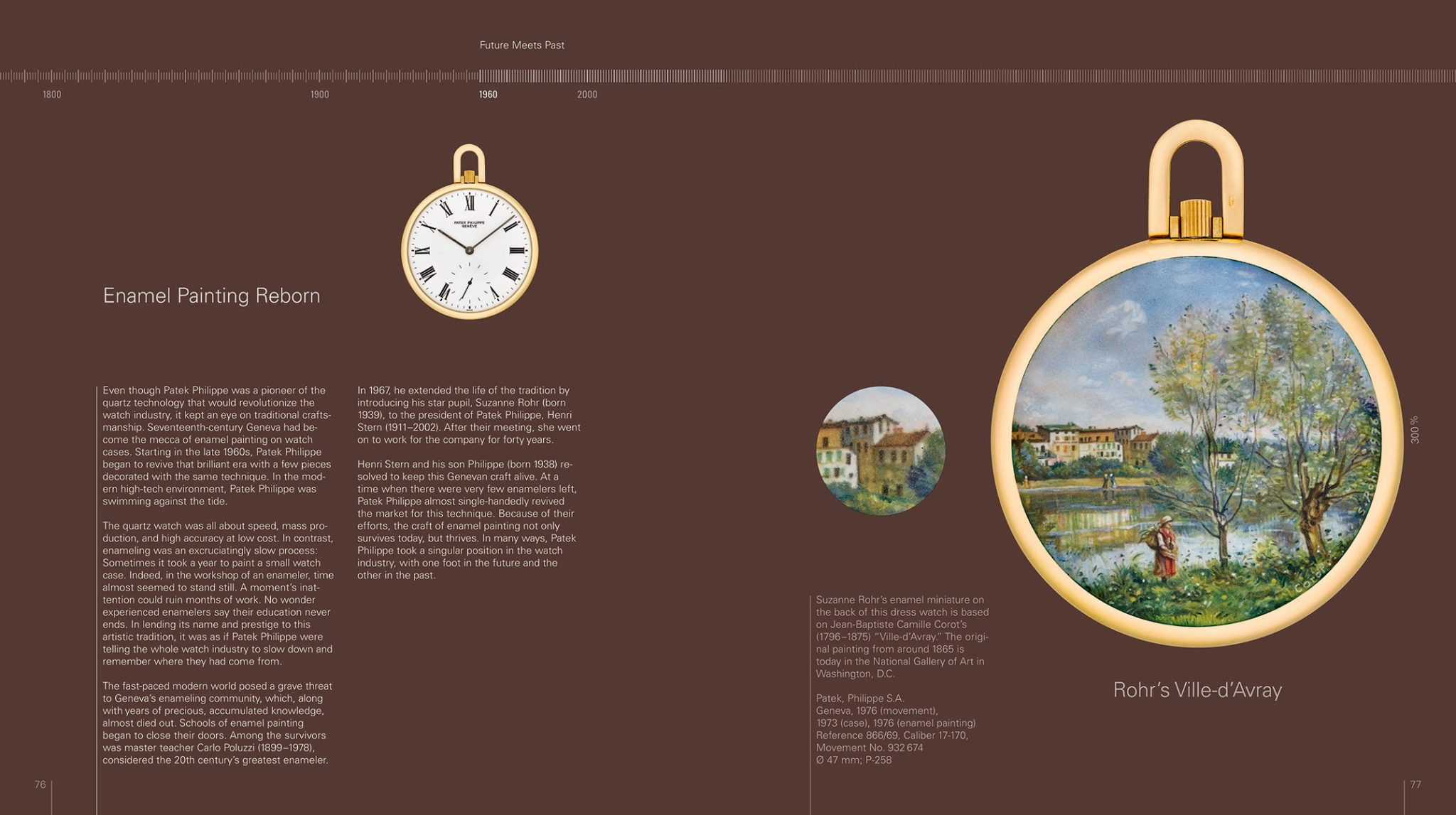 Perhaps this helps the reader imagine how it feels to leave the Patek Philippe Museum after a whirlwind two-hour tour. As any visitor will attest: days, weeks, and even months might not provide sufficient time to delve deep enough into this unique Genevan institution. Yet if you have the opportunity: pay a visit and appreciate as much as possible during the short window of time you have there. After all, as the collections prove with every mechanical marvel and meticulously decorated creation: time is the most valuable thing we have to spend.
---
---
Sources: Friess, P. (2022) Treasures from The Patek Philippe Collection: The Quest for the Perfect Watch. Geneva: teNeues.