While many Swiss brands have been around for over a century, Roger Dubuis is not amongst them. In fact, the highly exclusive brand was founded less than three decades ago, back in 1995. Perhaps this is one reason for the brand producing some of the most striking, even outrageous horological creations out there. In its own words, the watchmaker enjoys creating "something forbidden" and even "something violent". Roger Dubuis watches follow a certain formula: they are expressive, usually skeletonised and always have a highly contemporary touch. The horology house describes this unmistakable and audacious style of design as 'hyper horology'. We spoke with newly instated Roger Dubuis CEO Nicola Andreatta to find out what the future holds for the brand.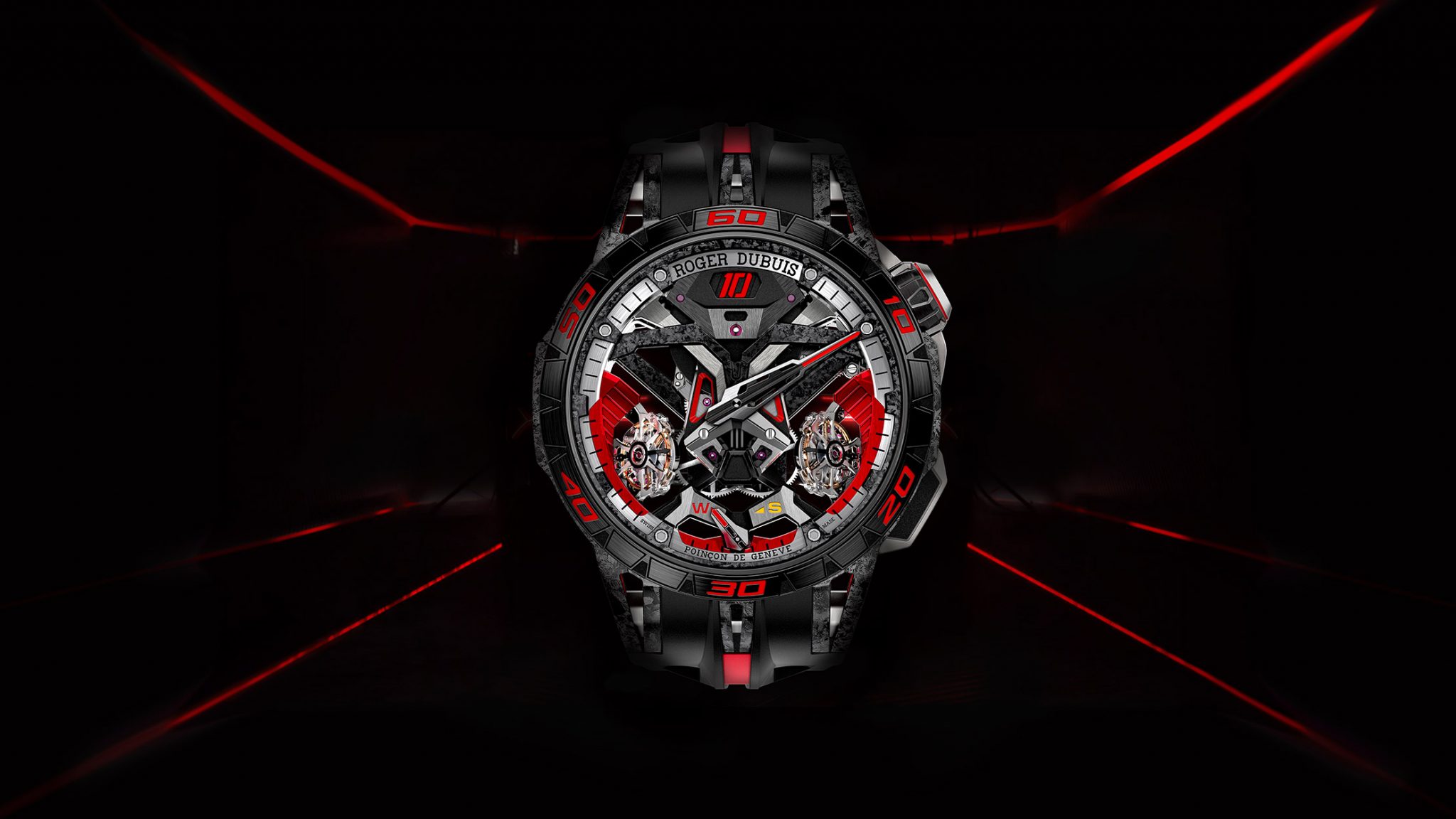 Hyper horology: Excalibur One-Off – RDDBEX0765
A brief history
Ever since 1999, Roger Dubuis has been using movements that are designed and produced in-house. The brand created its first in-house watch regulating organ in 2003 – its 'sprung balance'. It was to become one of many innovations to be dreamt up by the Swiss watchmaker; by 2005, it was producing two new calibres: the world premiere double tourbillon skeleton (RD01SQ) and minute repeater tourbillon (RD08). Moreover, it was in that same year that the brand launched its defining Excalibur collection.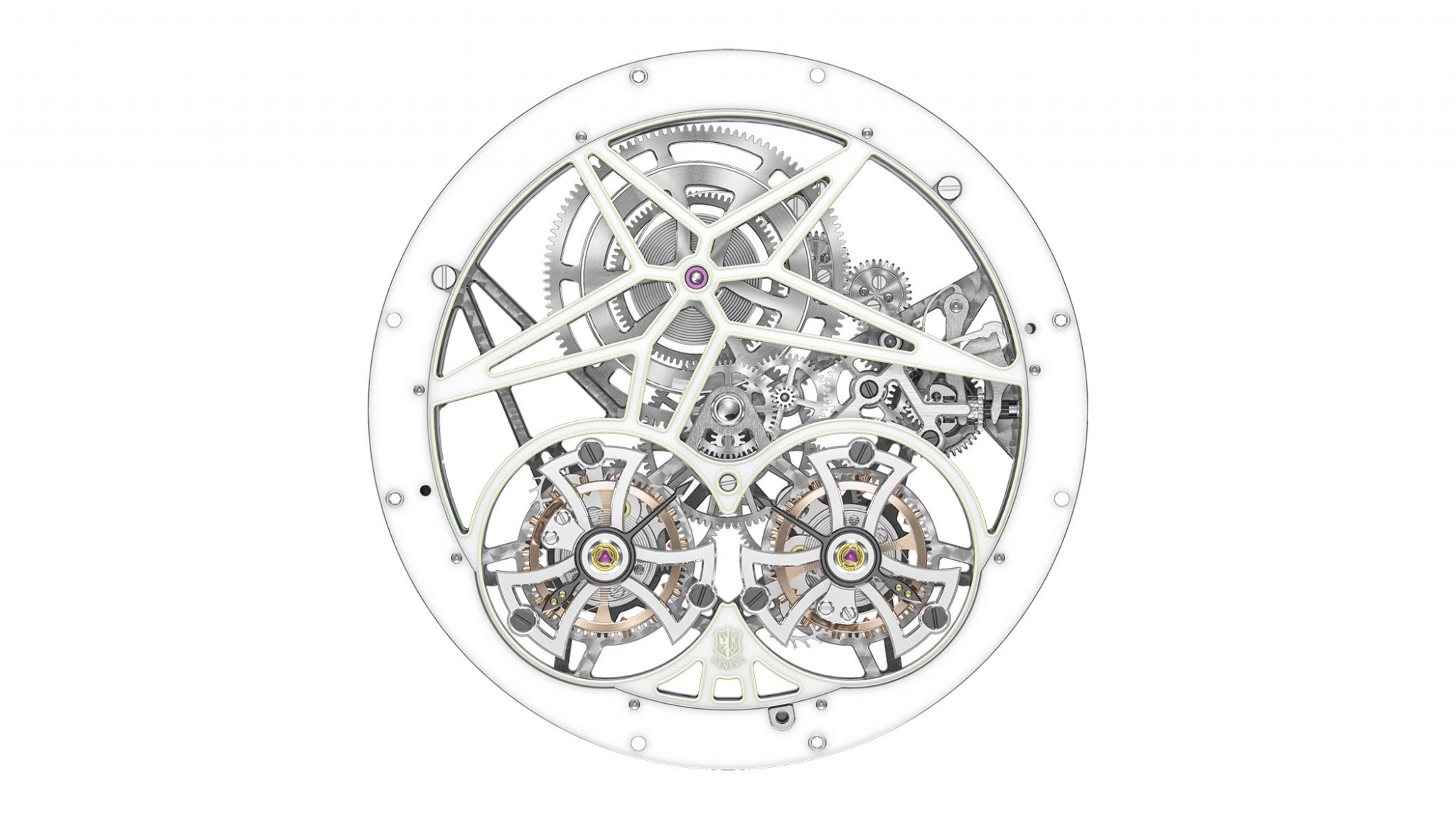 Excalibur Twofold's RD01SQ calibre
Things changed for the independent watchmaker in 2008 as the Richemont Group acquired 60% of the company, while the other 40% also came under the luxury goods holding company in 2016. Nevertheless, Roger Dubuis made great strides during this time as it launched the ground-breaking Quatuor RD101 calibre. The first movement with four sprung balances, these components worked in pairs to compensate rate variations – in other words, it was able to compensate gravity.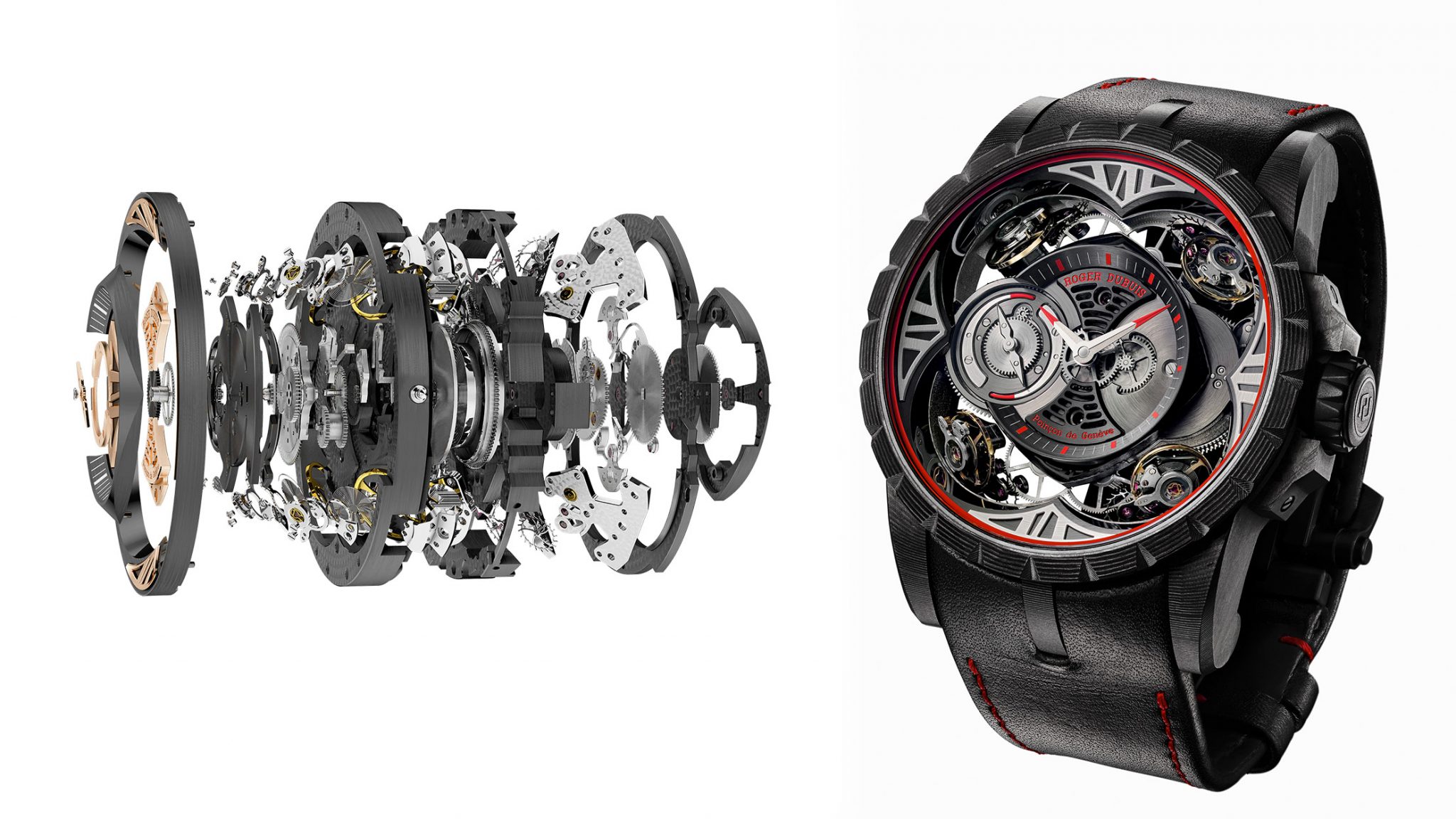 Excalibur Quatuor Carbon Calibre RD101
In 2017, Roger Dubuis achieved another world first with the Excalibur Spider Carbon. The watch marked the first time in history that a timepiece's movement plate, bridges and tourbillon upper-cage were all made of carbon. Furthermore, the Excalibur Quatuor Cobalt Micromelt – of which only eight pieces were produced – used exclusive technology usually used in the aeronautics and astronomy industries. It's worth mentioning that a previous silicon case edition of the highly coveted watch was priced at no less than 1.1 million US dollars.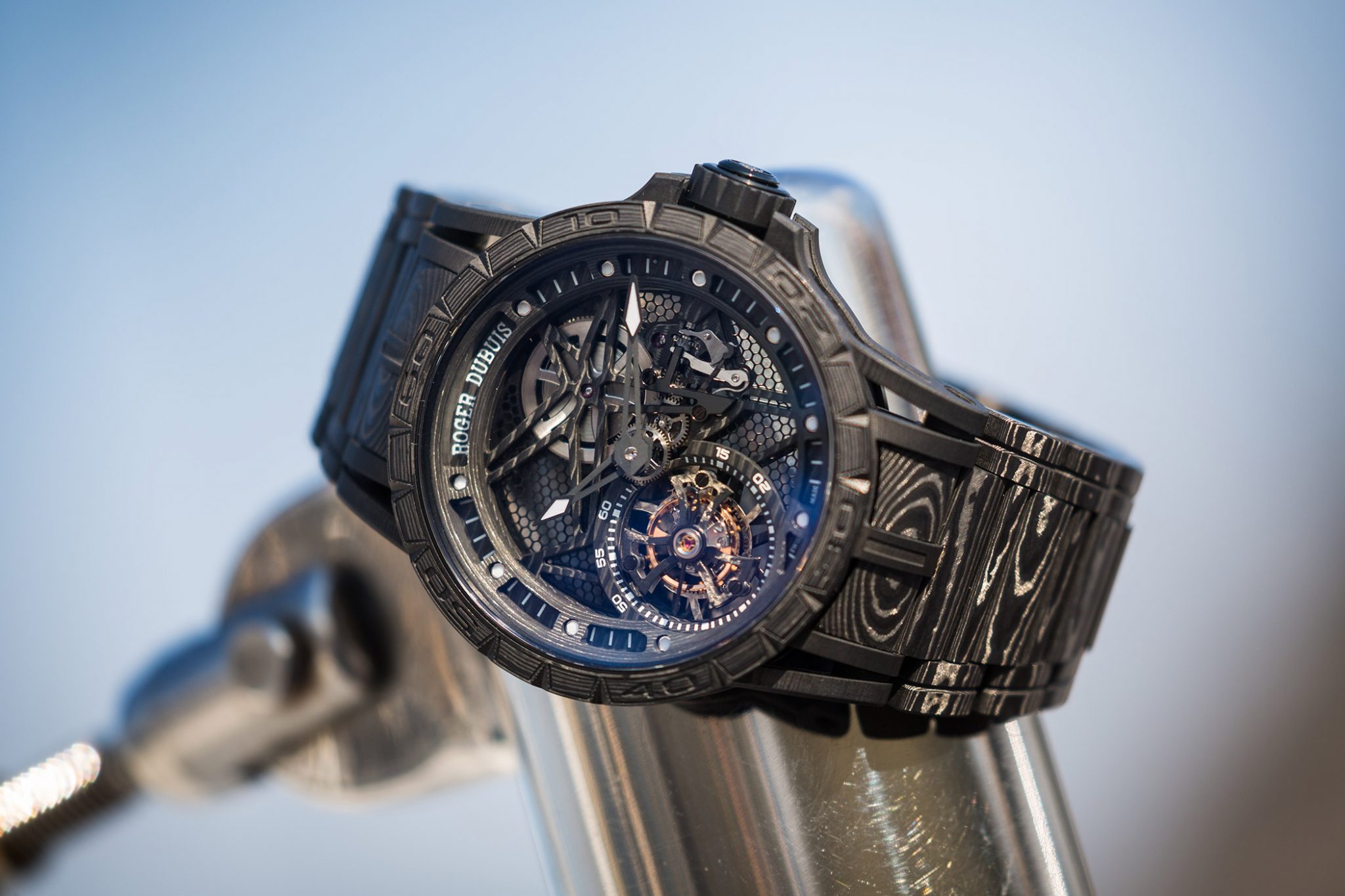 Excalibur Spider Carbon 3 (left)
Excalibur Quatuor Cobalt (Calibre RD101) (right)
2017 not only saw the production of some of Roger Dubuis' most remarkable watches, but also the start of new partnerships. Working alongside Pirelli and Lamborghini, Roger Dubuis created two new Excalibur models – the Excalibur Spider Pirelli and the Excalibur Aventador S – the latter of which had no less than five of its features patented. However, 2017 wasn't just a year of success, but also of loss.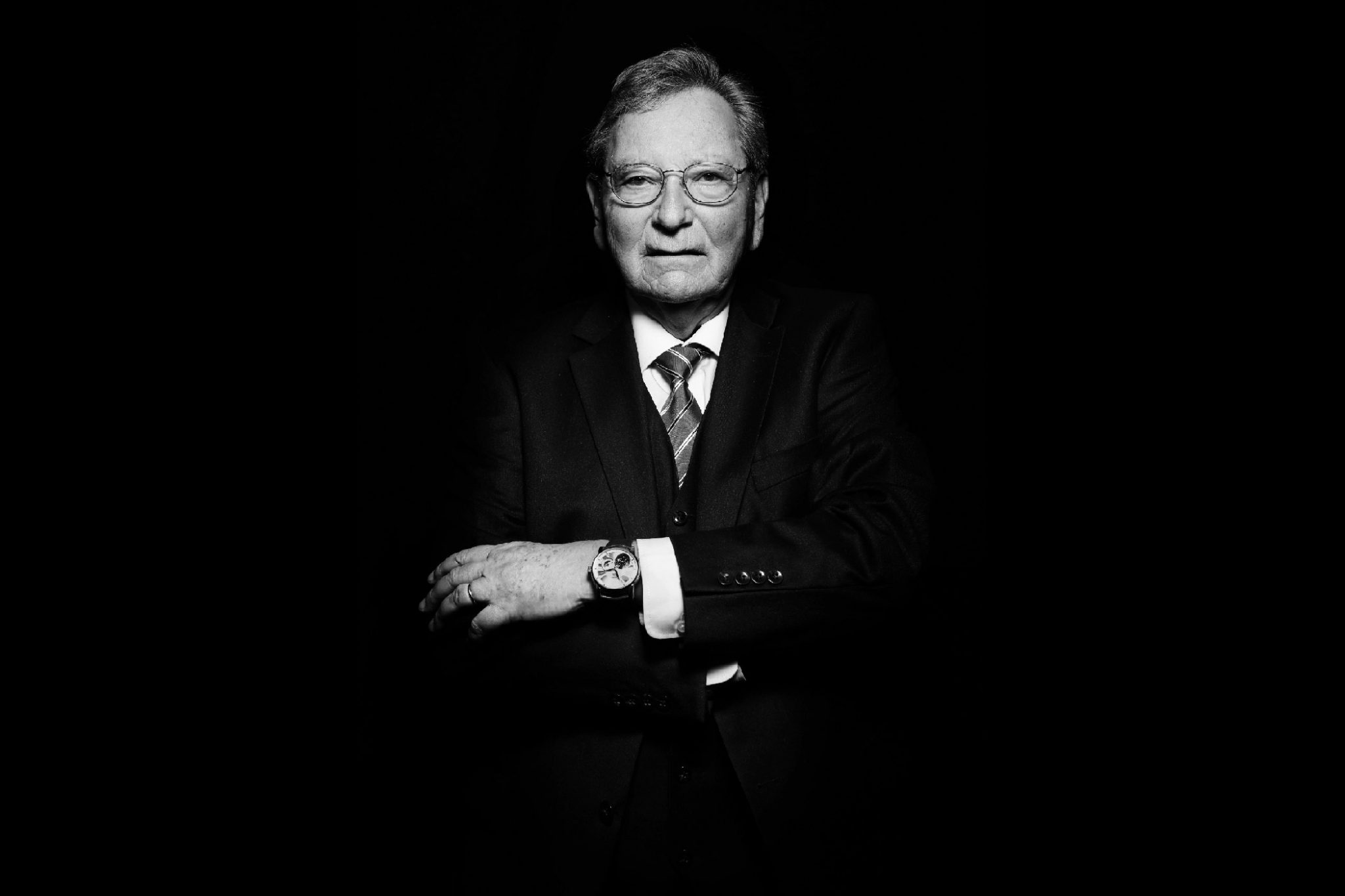 Co-Founder: Mr. Roger Dubuis
Roger Dubuis himself – who had retired from the company in 2005 but later returned as a brand ambassador – died on 14 October, 2017. Prior to co-founding the company, he had begun his career at Longines in the 1950s, before spending 14 years working in Patek Philippe's high complication workshops – hence the brand's initially somewhat more traditional pieces.
Excalibur Spider Pirelli Double Flying Tourbillon
Throughout 2018, the brand continued its collaborations with both Pirelli and Lamborghini. Furthermore, it acted as the official sponsor of the Lamborghini Super Trofeo, which takes place across four continents. In the same year, RD produced the Excalibur Huracán in collaboration with Lamborghini Squadra Corse, and the Excalibur Spider Pirelli PitStop edition with Pirelli. However, the real defining moment of the year for Roger Dubuis was the arrival of temporary CEO Emmanuel Perrin's replacement, Nicola Andreatta, in December, 2018.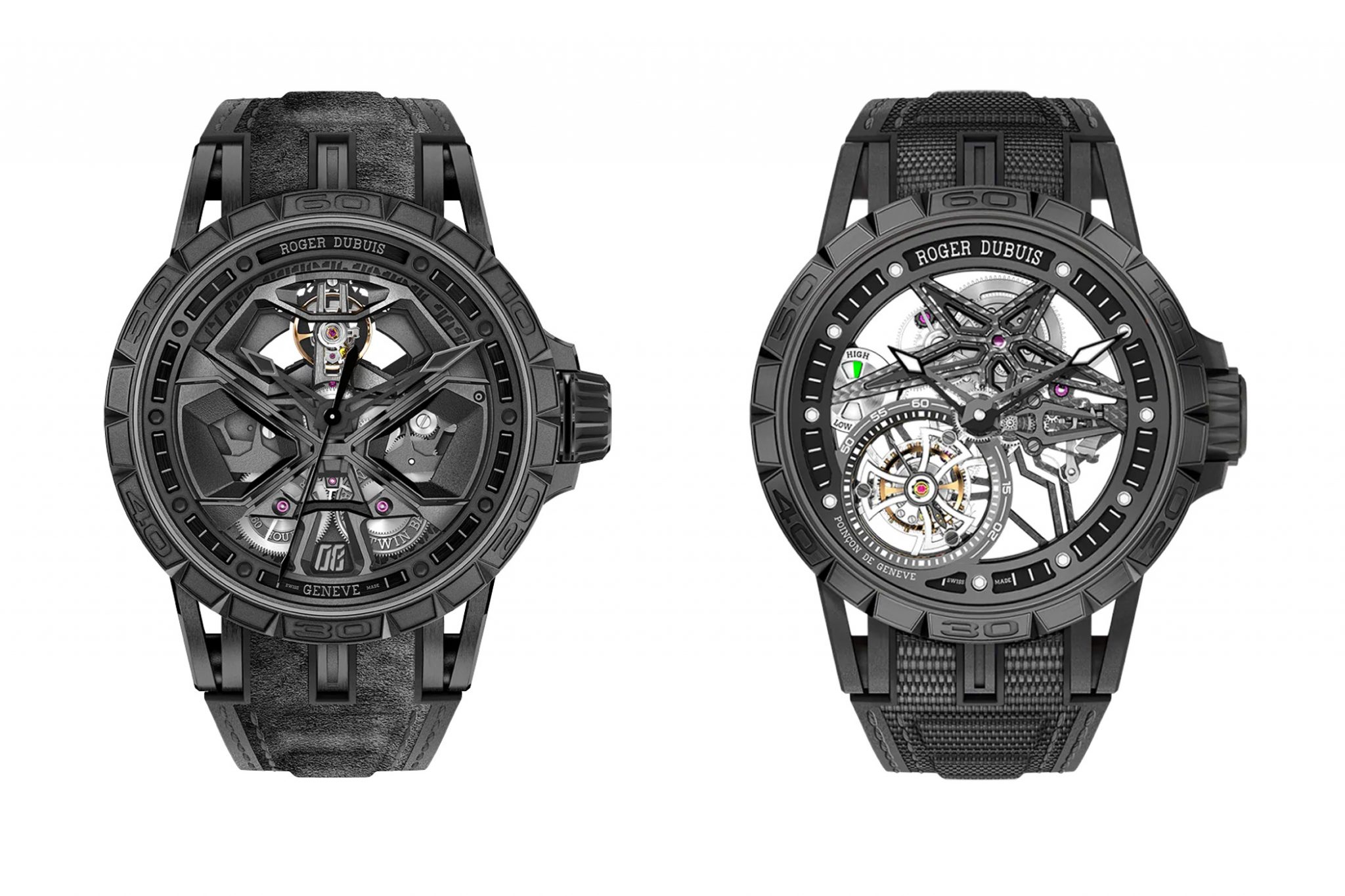 Excalibur Spider: Huracan / Pirelli Pitstop (left)
Super Trofeo Racing (right)
New CEO, same strategy?
When it comes to watches, Nicola Andreatta has covered many fields. Prior to becoming CEO at Roger Dubuis, the Italian was best-known for his position as the Vice President and General Manager of Tiffany & Co.'s watch division, remaining at the company for almost six years. Before taking on the role, Andreatta spent a decade working on his own brand, N.O.A Watches.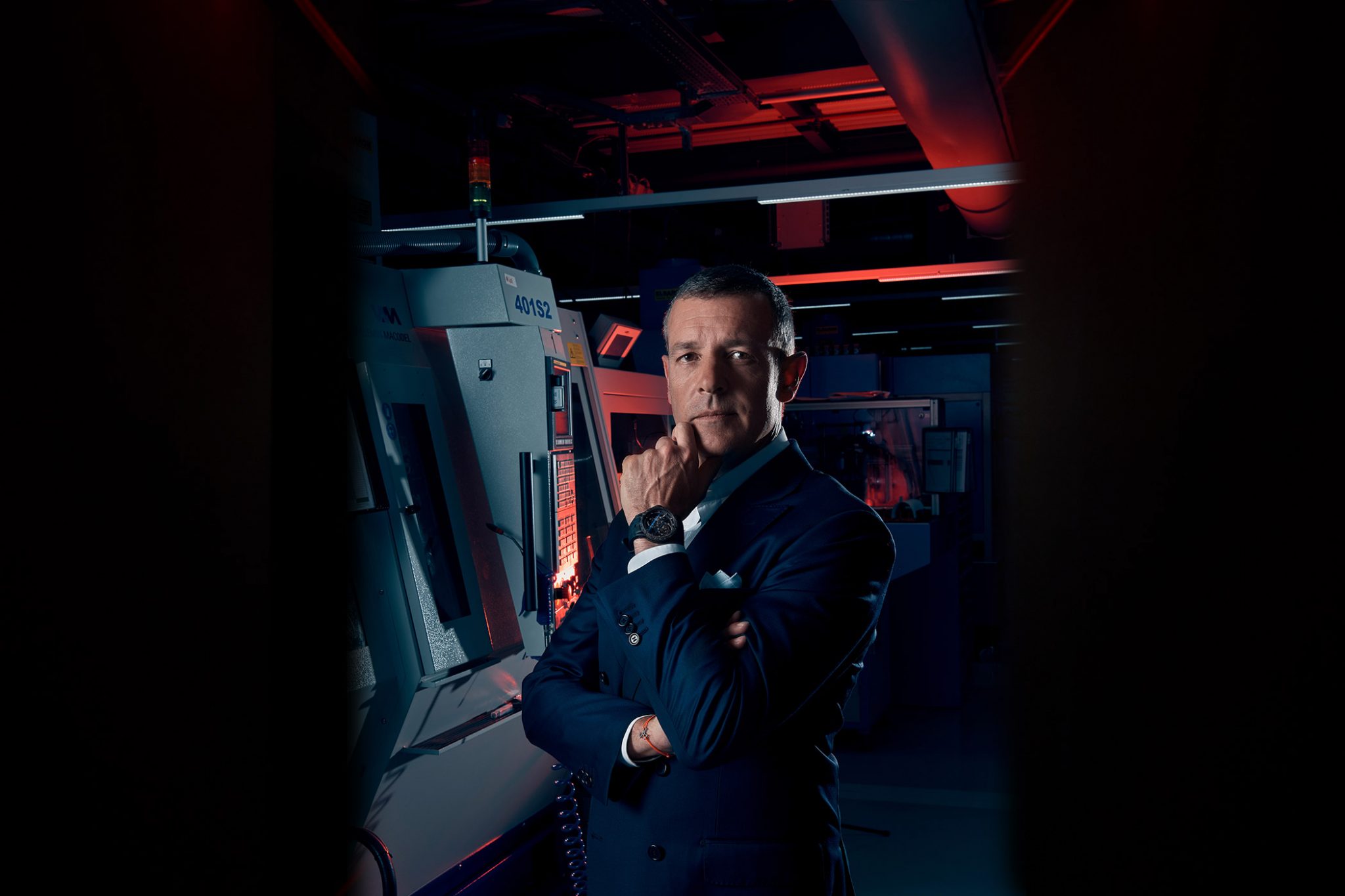 CEO Nicola Andreatta
Roger Dubuis's CEO is determined to thrill horology enthusiasts by maintaining the manufacture's disruptive and daring 'hyper horology' approach, while still keeping the brand exclusive. Indeed, 'maintaining' is integral to Andreatta's strategy. After spending his first few months exploring Roger Dubuis' various markets across the globe, it became apparent that he did not need to 'revolutionise' the company. Rather, Andreatta decided to continue with the previous executive committees' strategy, which he sees as the "best possible strategy for the brand." That said, Andreatta does plan to implement what he describes as "little adjustments."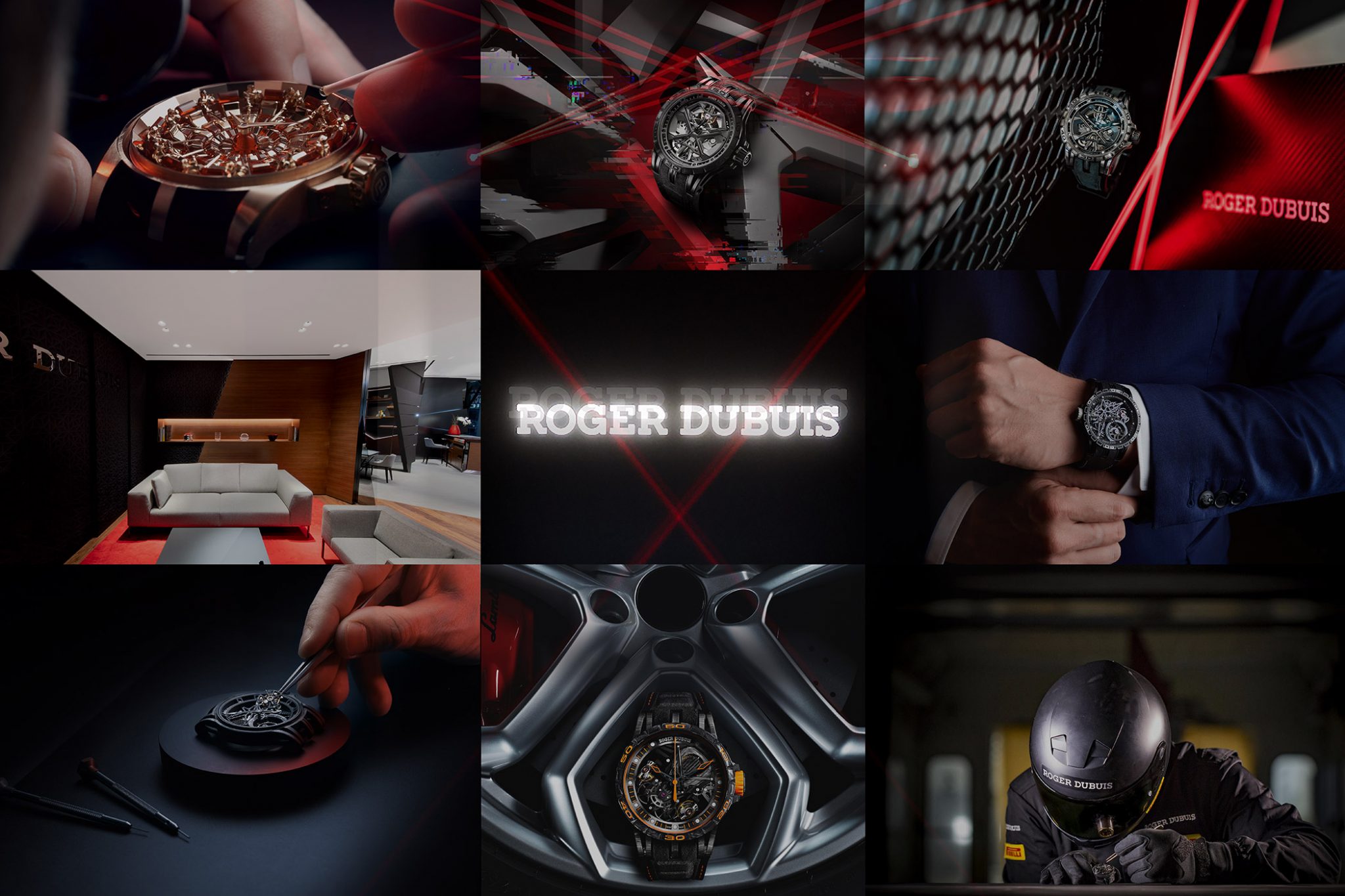 The first "little adjustment" will be the watches themselves. Andreatta is keen to ensure that Roger Dubuis follows the evolution of design aesthetically, and – more importantly – that the timepieces allow for self-expression.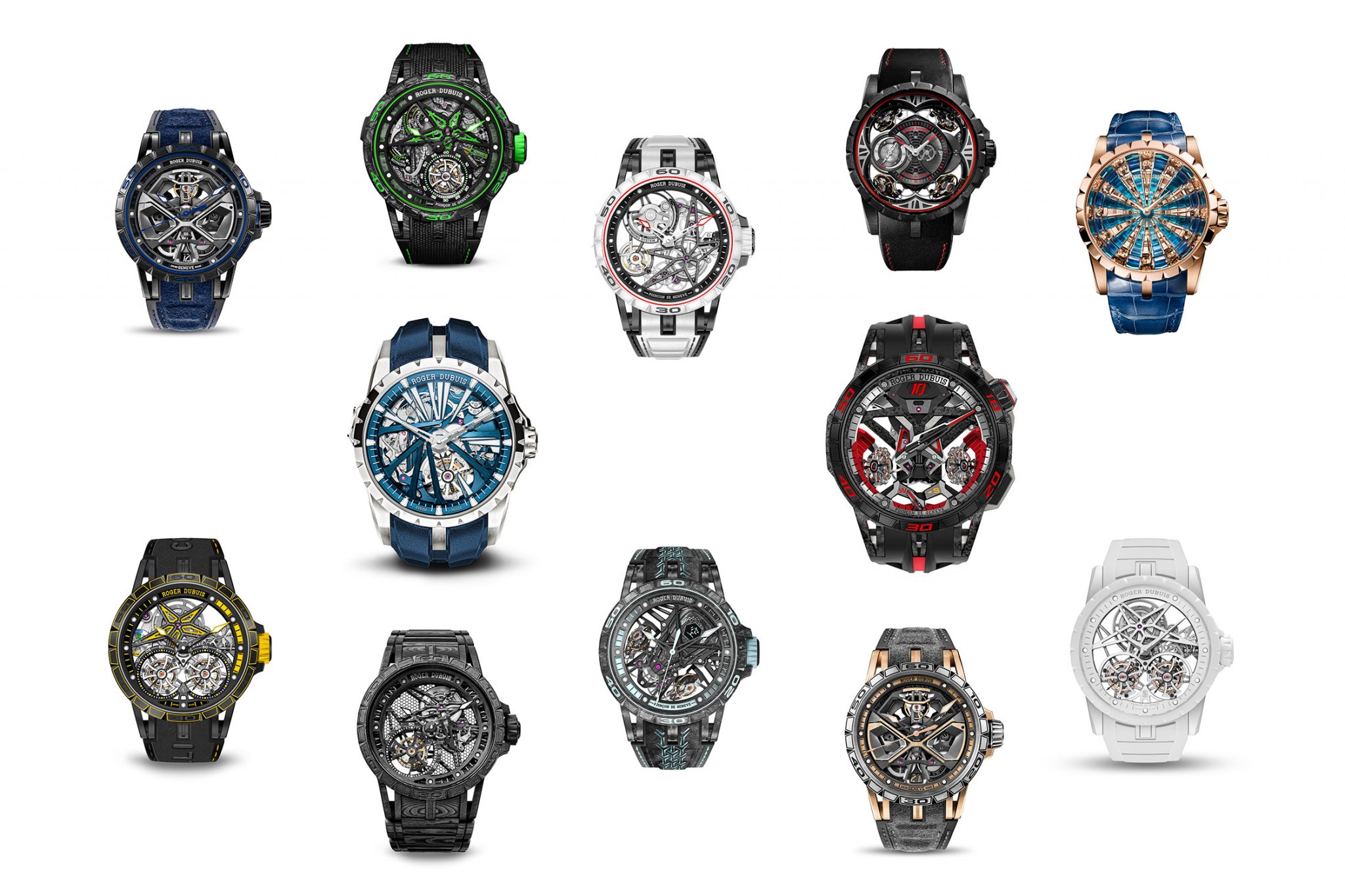 The brand plans to introduce materials, colours, and even calibres that will ensure that Roger Dubuis' reputation within the industry is at its highest. "We are going to work with other partners, which will be a part of a world of self-expression and intimate luxury," Andreatta elaborates. "We believe that our clients represent the top of the top in the world; they are entrepreneurs, they are big achievers. They are used to pampering themselves with incredible things in life, and beautiful objects. So, we want to tackle this kind of crowd and dedicate a specific part of our collection to them."
According to Andreatta, the new Diabolus In Machina and the white Excalibur Twofold revealed at Watches and Wonders 2020 are perfectly in line with what Roger Dubuis envisions for its future timepieces.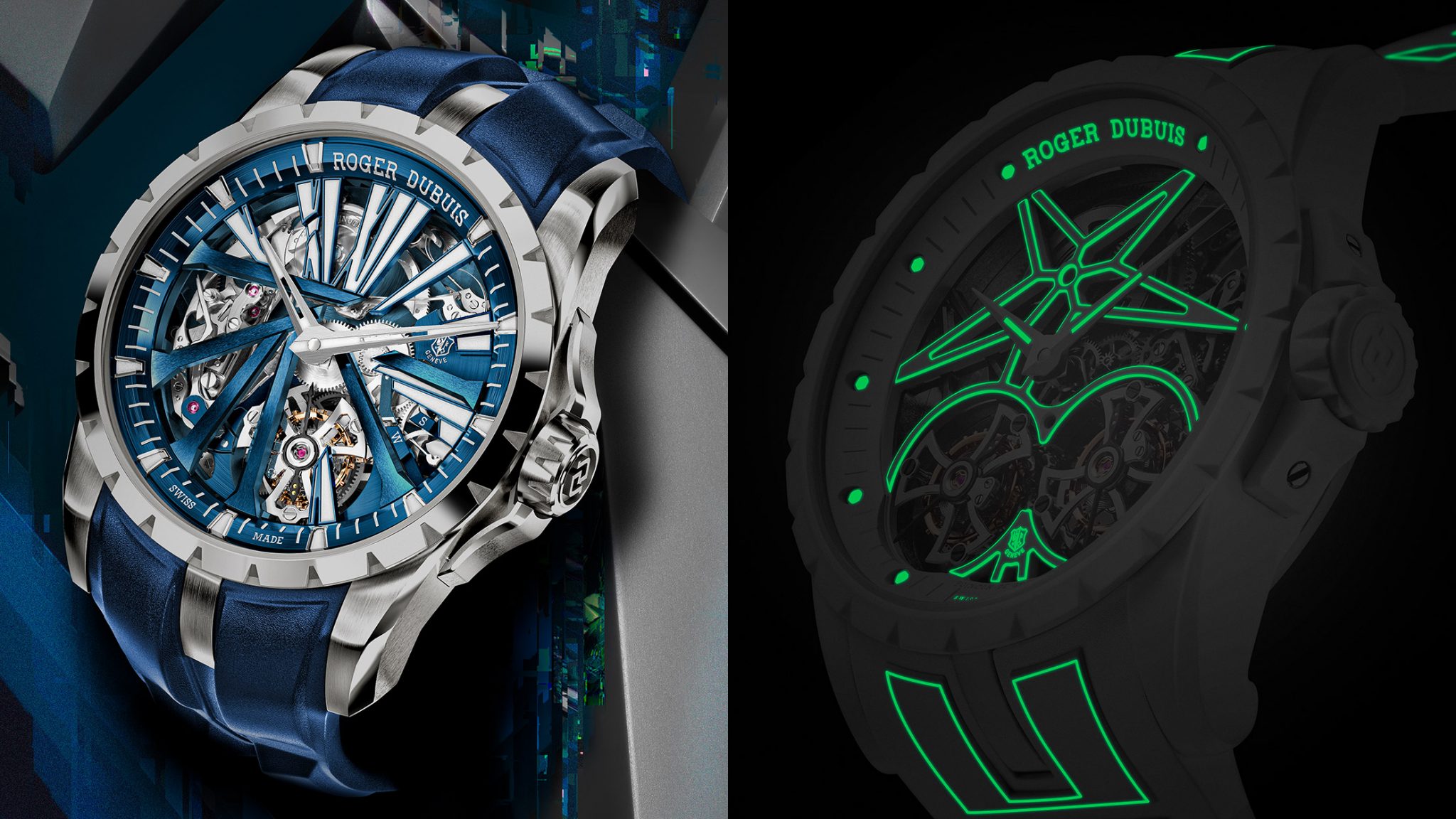 2020: Excalibur Diabolus in Machina and Excalibur Twofold
The next step in developing Roger Dubuis' strategy is to rediscover, reuse, and evolve past and present models. The manufacture is currently working on several new pieces with complications, and in the near future, we can expect to see the likes of a new perpetual calendar with a flying tourbillon.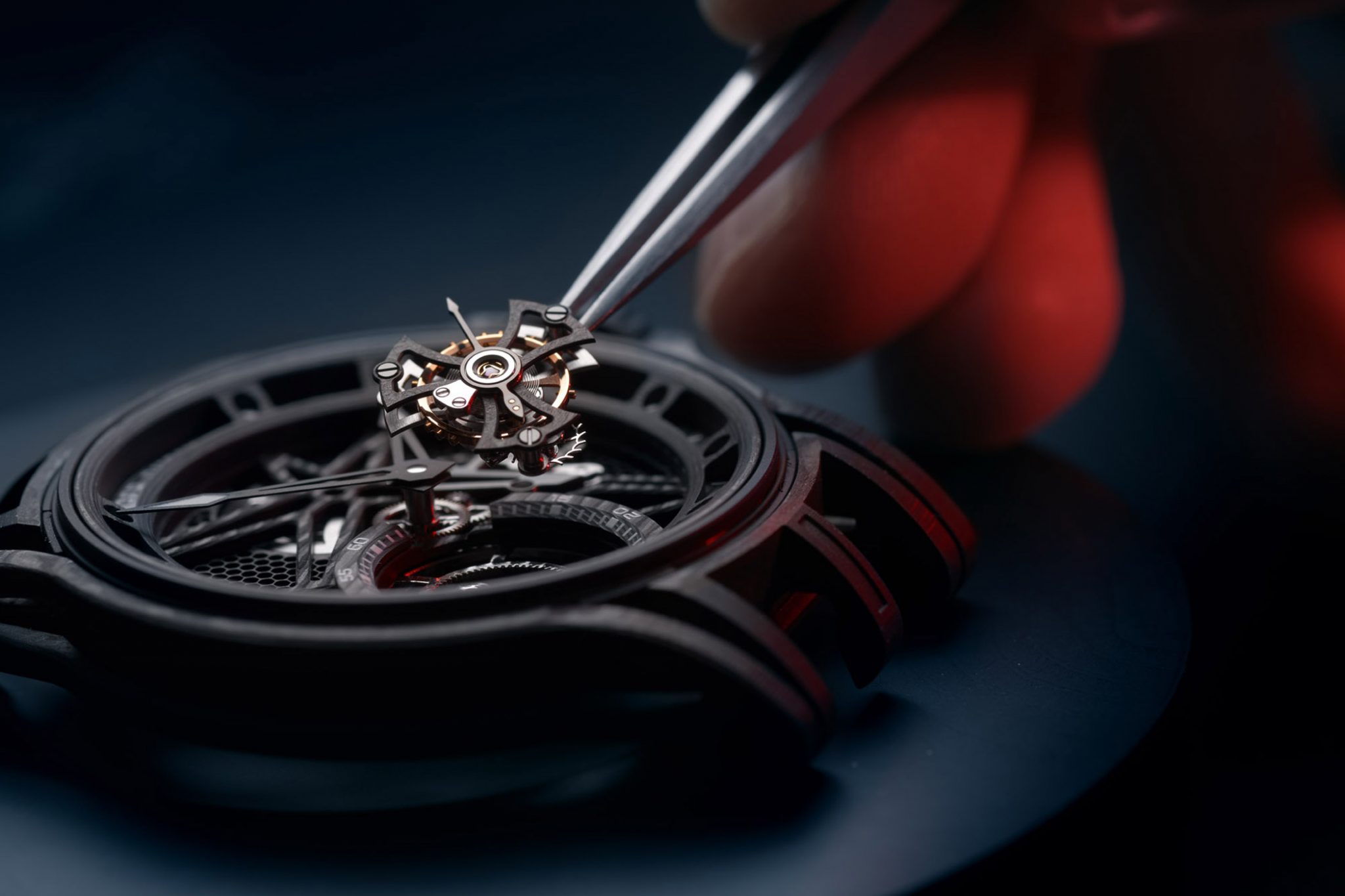 Excalibur Spider Carbon 3 (RDDBEX0752)
To create such complications, Andreatta has introduced a brand new department, the "Q Lab" – named, of course, after the fictional head of the British Secret Service's invention and development lab. Located separately to production, Andreatta hopes it will be a place in which the brand can "foster creativity and innovation, discover and experiment, and unleash every possibility for our team". Inside the "Q Lab", employees will dream up everything from new case and calibre materials to new complications. "We kept claiming we were serial innovators but I failed in really seeing the expression of that," Andreatta admits. "So now we are putting in place a real engine for innovation, which will give us both new complications and evolve our current complications – always maintaining respect to the incredible heritage of watchmaking."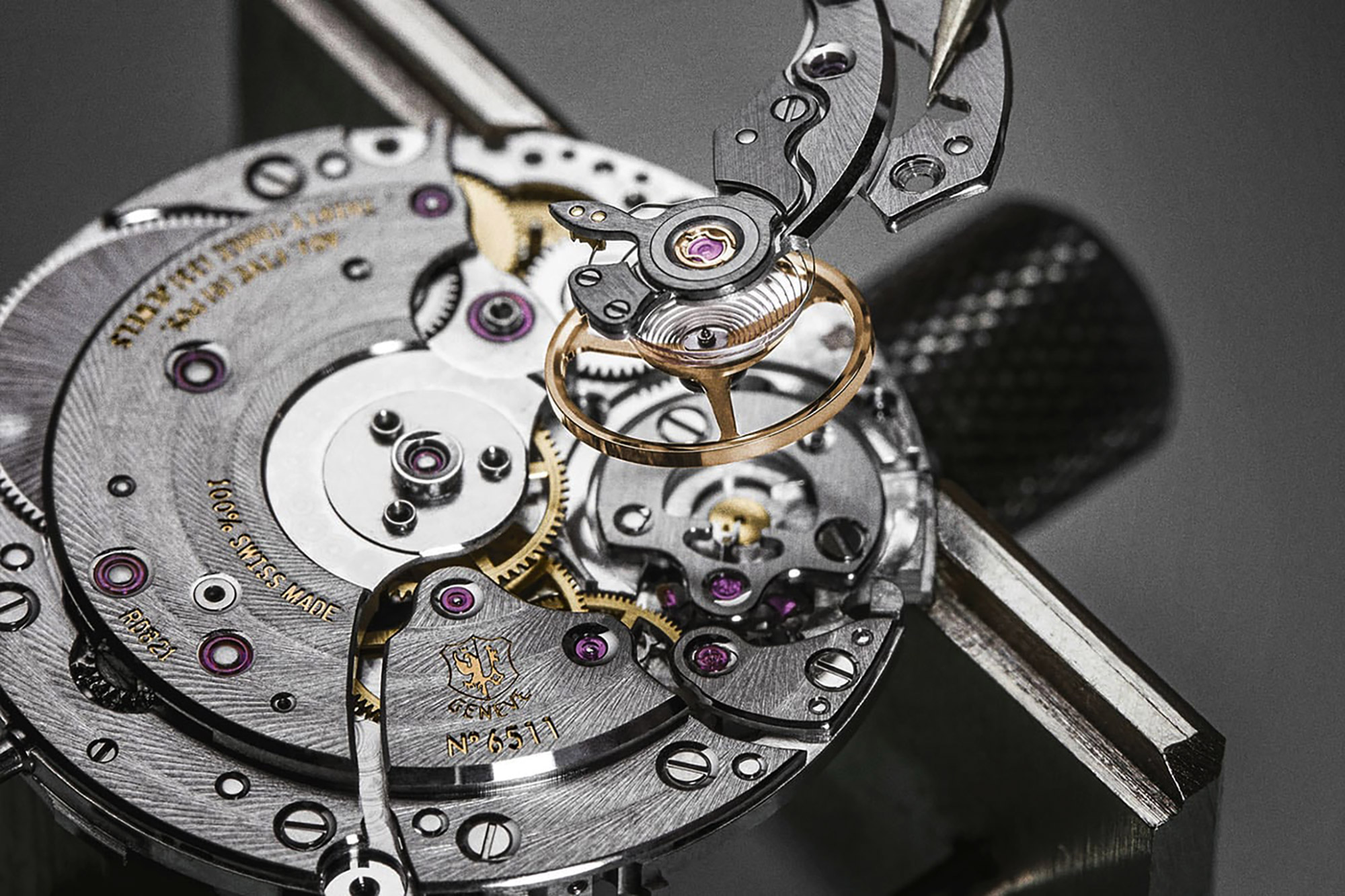 Indeed, Andreatta considers high quality watchmaking to be of the utmost importance. Upon his arrival, the CEO informed his team that the brand should be producing 100 percent Poinçon de Genève certified watches – despite this requiring an additional 30 to 40 percent extra work. Strangely enough, it would make little sense for the brand to do otherwise – after all, the Roger Dubuis manufacture finishes every part of its movements by hand. "Very few maisons are using the Poinçon de Genève," Andreatta adds. In fact, as Roger Dubuis points out on its website, of the 20 million watches produced in Switzerland each year, only 24,000 bear the coveted Poinçon de Genève. "We are by far the one watch manufacturer with the majority of products which are certified by this specific poinçon."
The digital side of things
Ever since the onset of the current health crisis, companies' online sales platforms have been in the spotlight. Interestingly, Andreatta does not seem overly keen on E-commerce. "Online sales aren't really the best thing for us because we need – and we want – to keep human contact as part of our overall process. If we are doing digital, we still always want to have some kind of interaction." As things stand, company-to-client communication plays an integral part in the brand's customer experience. From Andreatta's perspective, it's even part of the business model; Roger Dubuis' clients want one-on-one time with the watch they wish to buy, something the CEO himself can relate to. "Whenever I have a new watch in my hands, the first thing I do is touch the watch and its angles, to perceive how the watch is made. I think that most of our clients are of the same kind of sensibility. They need to get together with us and really understand the craftsmanship and everything the watches do and how complicated the timepieces are."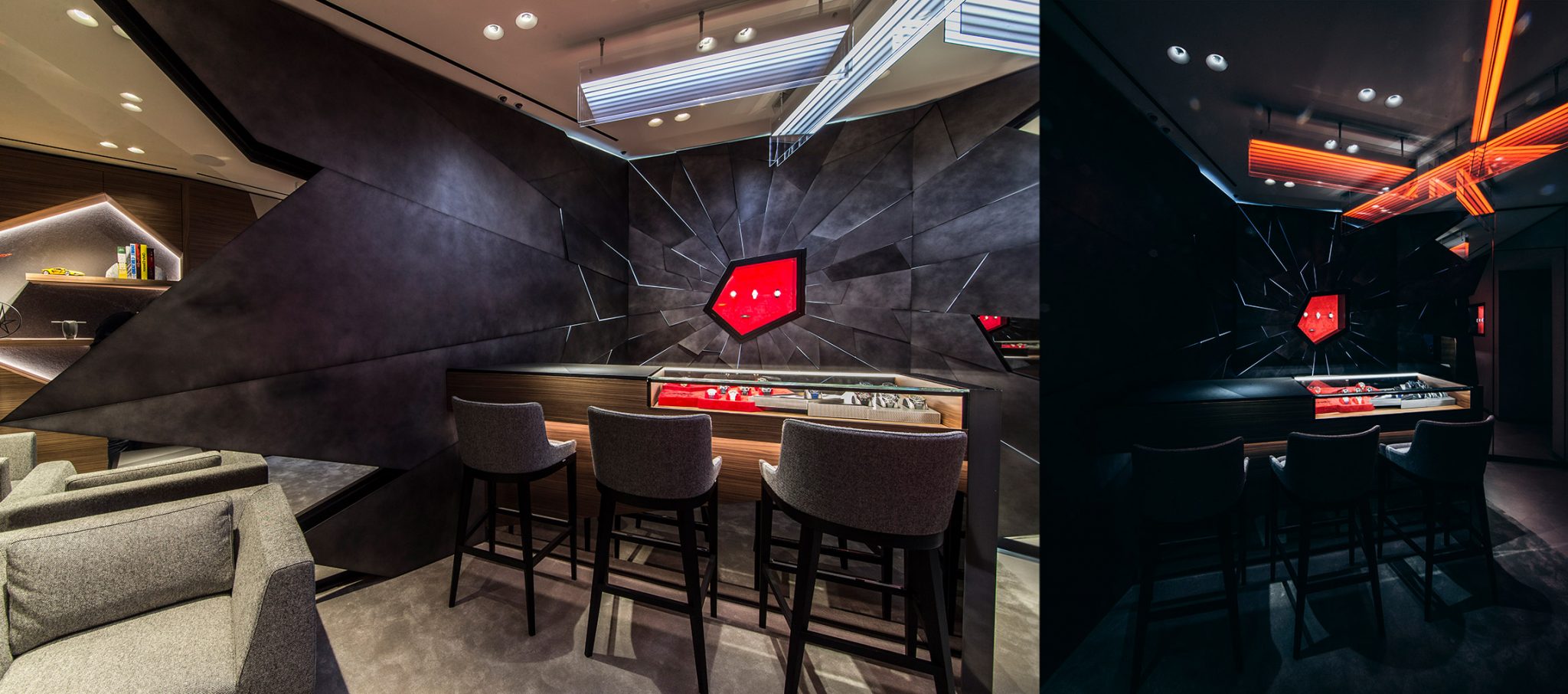 Roger Dubuis Boutique in Paris
Despite current circumstances making it difficult for clients to examine the watches in person, a series of teaser videos showcasing the Excalibur Diabolus in Machina has proved to be a hit. "We show the materials, we show the creation, we show everything with a lot of creativity to really attract the attention of our followers," explains Andreatta. And it works; according to him, the short video extracts have been watched by an incredible amount of people. "This shows that we are going in the right direction," affirms Andreatta. "Considering that all of that was made for just one watch, a unique product – that shows exactly what we are all about and what we stand for."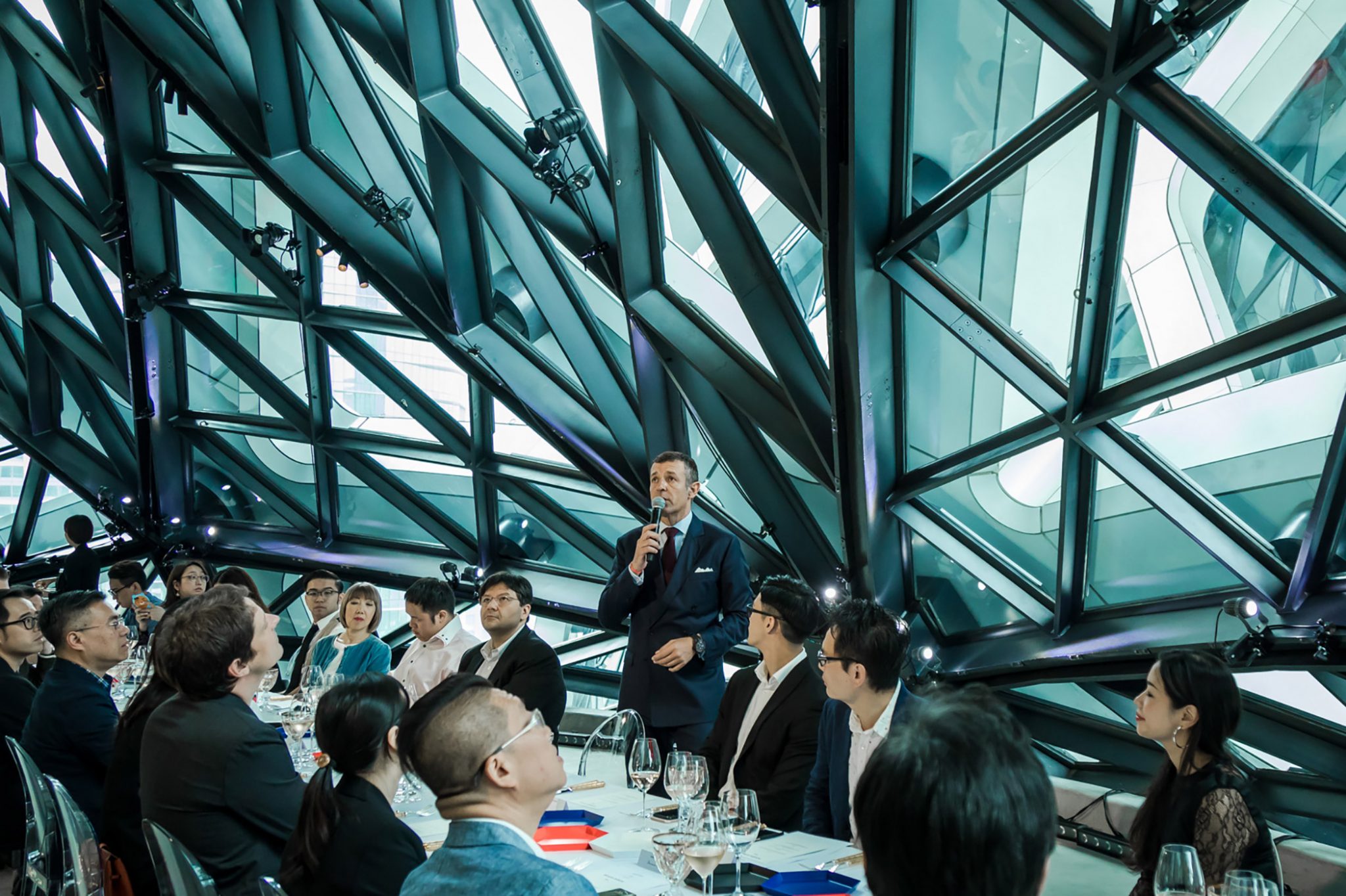 Roger Dubuis CEO: Nicola Andreatta
Finally, Roger Dubuis is not only keen for a client to personally connect with the watch, but also the horology house itself. The brand has a close relationship with its 'tribe', as it calls its customers. Roger Dubuis' relationship with its clients is something close to friendship; the maison organises dinners and events in various locations, allowing members of the 'tribe' to connect with each other. "We want us to be a part of the connection," adds Andreatta. "The world is changing, and the world is not like before. We are a part of this change."
Brand development in Germany
Roger Dubuis is known for its exclusivity – and while there are a number of boutiques in the US, it's not the same story in Europe. Germany, for example, has zero boutiques. Rather, the brand sticks to using a few trusted retailers, such as Wempe. However, this is not simply a case of lack of demand – according to Andreatta, it's much more complex than that.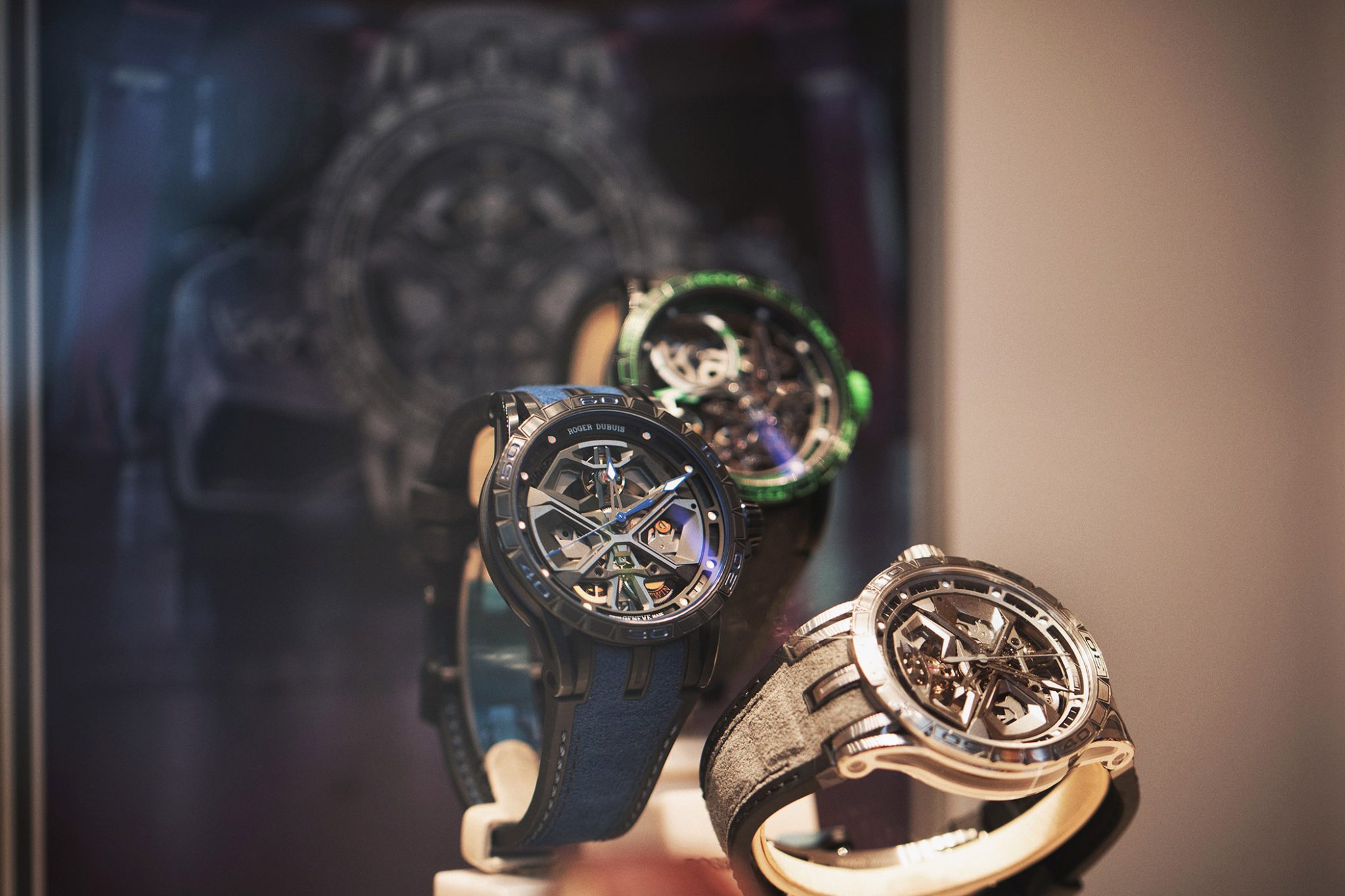 Roger Dubuis Timepieces at Wempe, Germany
"Germany can be divided a little bit in terms of population," Andreatta explains. "You have different crowds according to the city, and different tastes as you move around Germany." For example, Germans themselves are aware that tastes in outgoing Berlin couldn't be more different to those of traditional Munich. "Maybe it's just a matter of having the right geographical approach to Germany," muses Andreatta. "Some cities might have a better following than others, while some people are a bit more conservative… and as we know, we are not the most conservative brand in the world."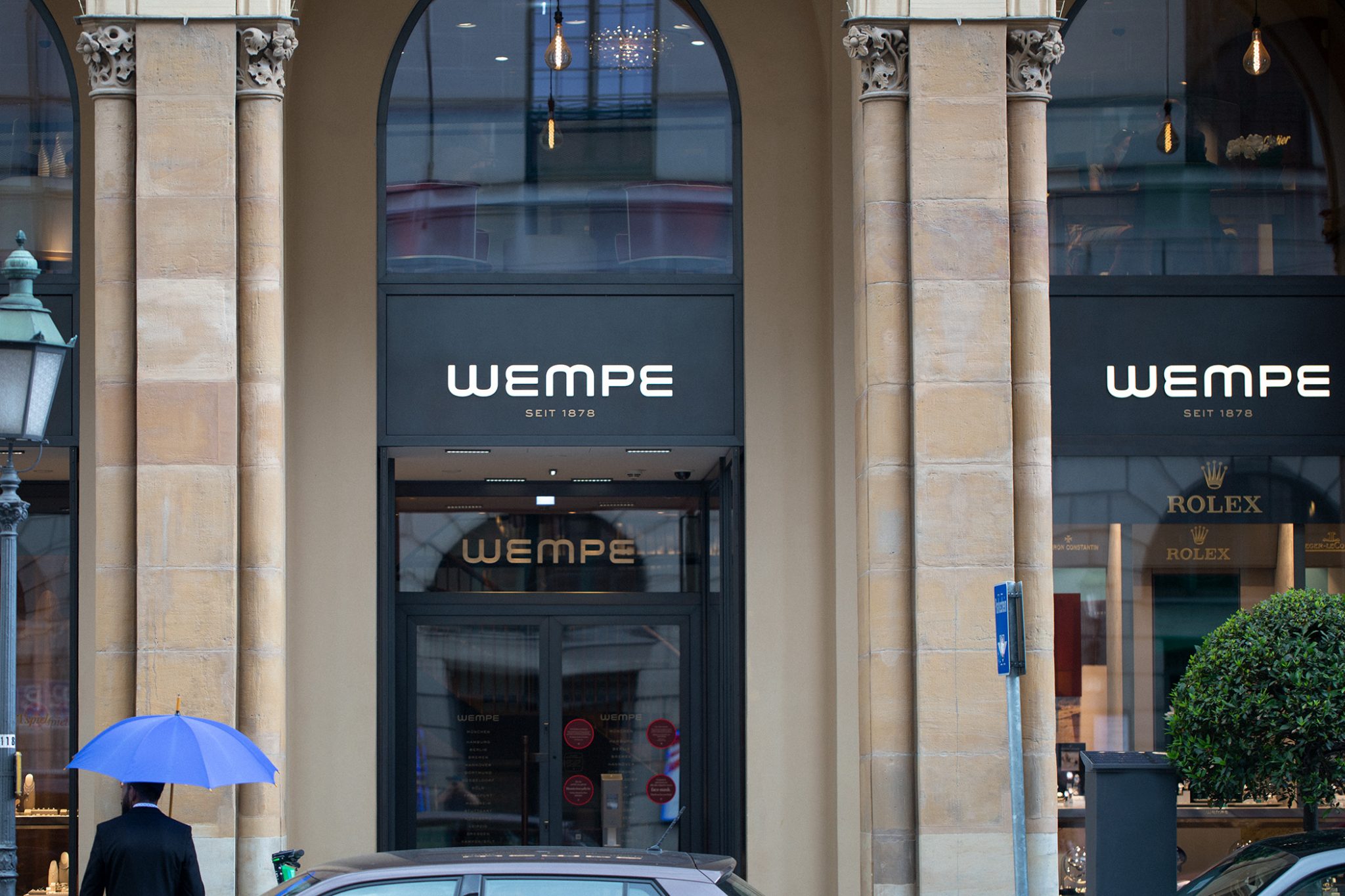 Wempe in Munich, Germany
If Roger Dubuis is to open German boutiques in the future, Andreatta must bring the excitement and 'hype' that surrounds the brand to Germany – and beyond. "It's all up to us, honestly," he says. "I do believe that as things get back to some sort of normality, in Germany and northeastern Europe, there will need to be a much bigger impulse from our side." As it stands, however, the horology house is more than happy with its current partnerships. At the end of last year, Roger Dubuis met with Wempe to discuss how to take the brand further within Germany, which Andreatta ultimately seems to believe would pay off. "In Germany, there is a good appetite for high-end watchmaking and horological complications. It's now up to us to be able to fully unleash the potential of Roger Dubuis."
---
Understanding the Collections
It has to be said that even for the ultimate Roger Dubuis aficionado, understanding the structure behind the horology house's collections is no easy task. However, the watches can essentially be categorised into four main lines: Excalibur, Excalibur Spider, plus the less well-known Velvet and Rarities watches.
Defining Collection: Excalibur
The Excalibur line offers slightly more 'traditional' (at least by Roger Dubuis' standards) watches. The case materials used aren't particularly out of the ordinary, and are typically made from classic watchmaking precious metals – e.g. titanium, rose-gold and white-gold.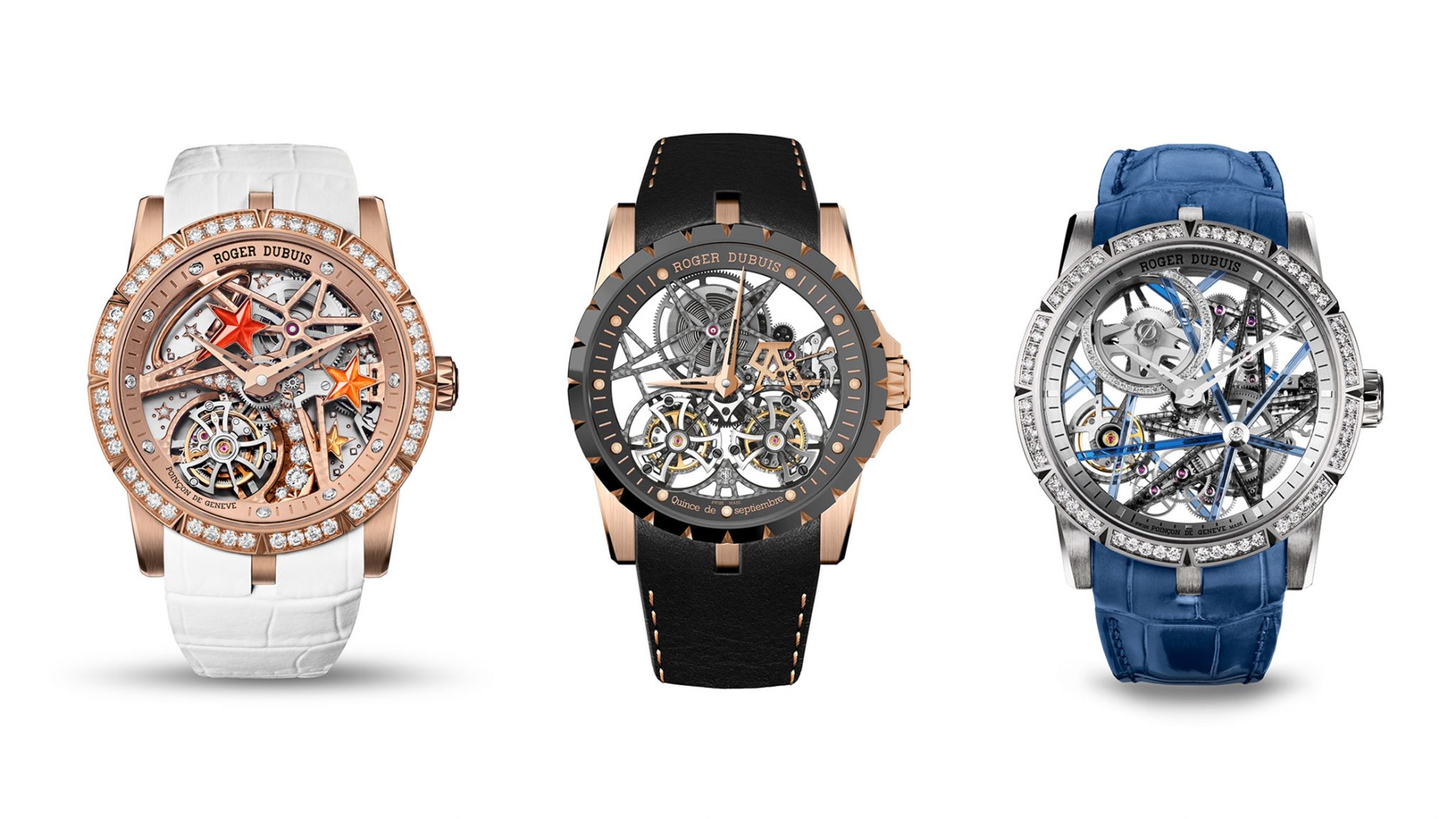 Nevertheless, the Excalibur line shows off its expertise in the area of Haute Horlogerie, showcasing a number of different complications, from the automatic skeleton to single and double flying tourbillon models. Excalibur watches currently in the limelight include the likes of the Knights of the Round Table, the Diabolus in Machina, plus the fast-paced Excalibur CarTech Micro-Melt BioDur CCM.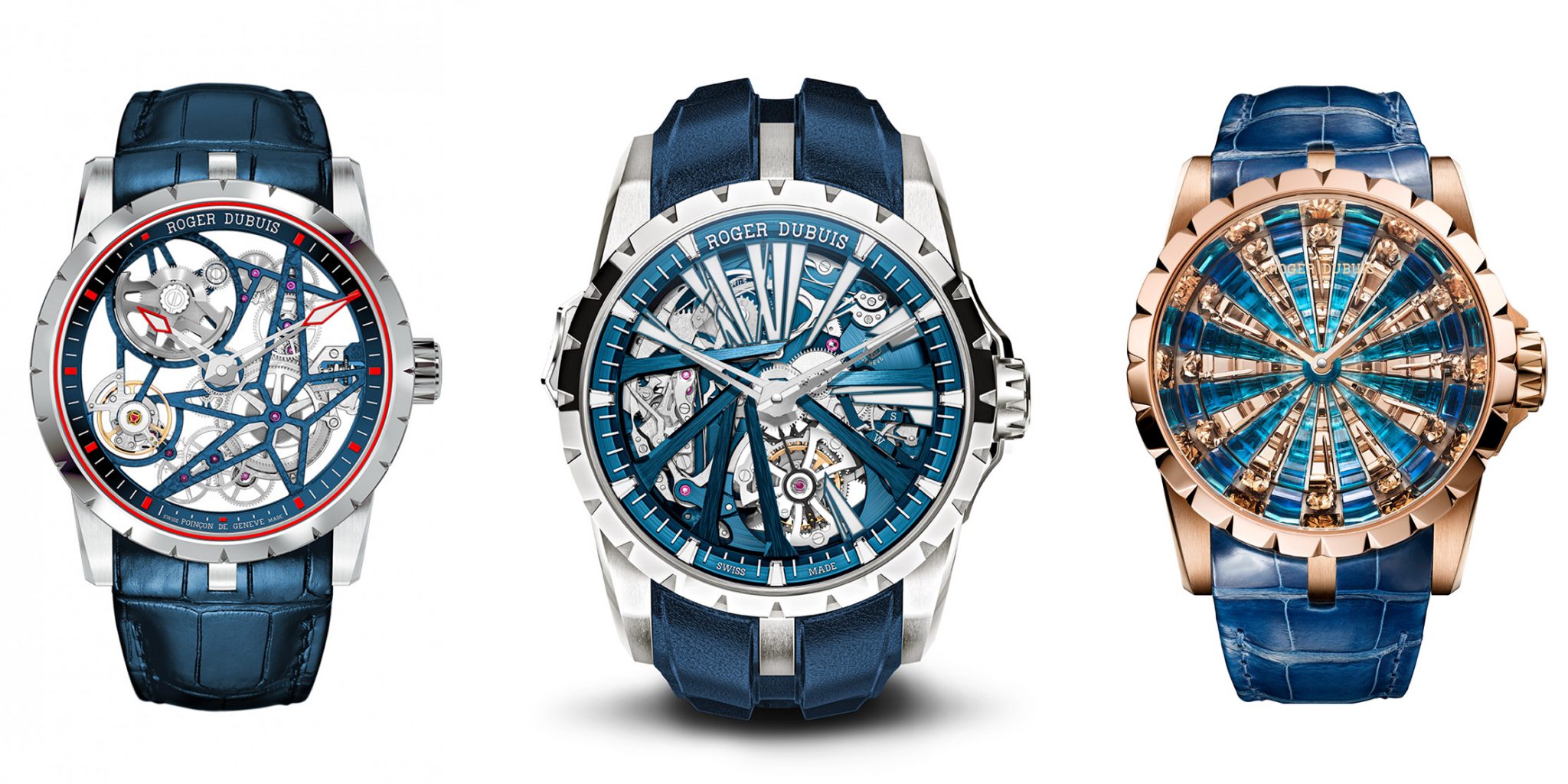 One For The Road: Excalibur Spider
This brings us to the adrenalin-filled Excalibur Spider collection. This line centres itself around cars: principally, Lamborghini and Pirelli. The Excalibur Spider watches are really about experimentation and – as is the case in the world of super cars and races – pushing the limits, by using more daring case materials such as carbon. Additionally, the watches also often use titanium for the case.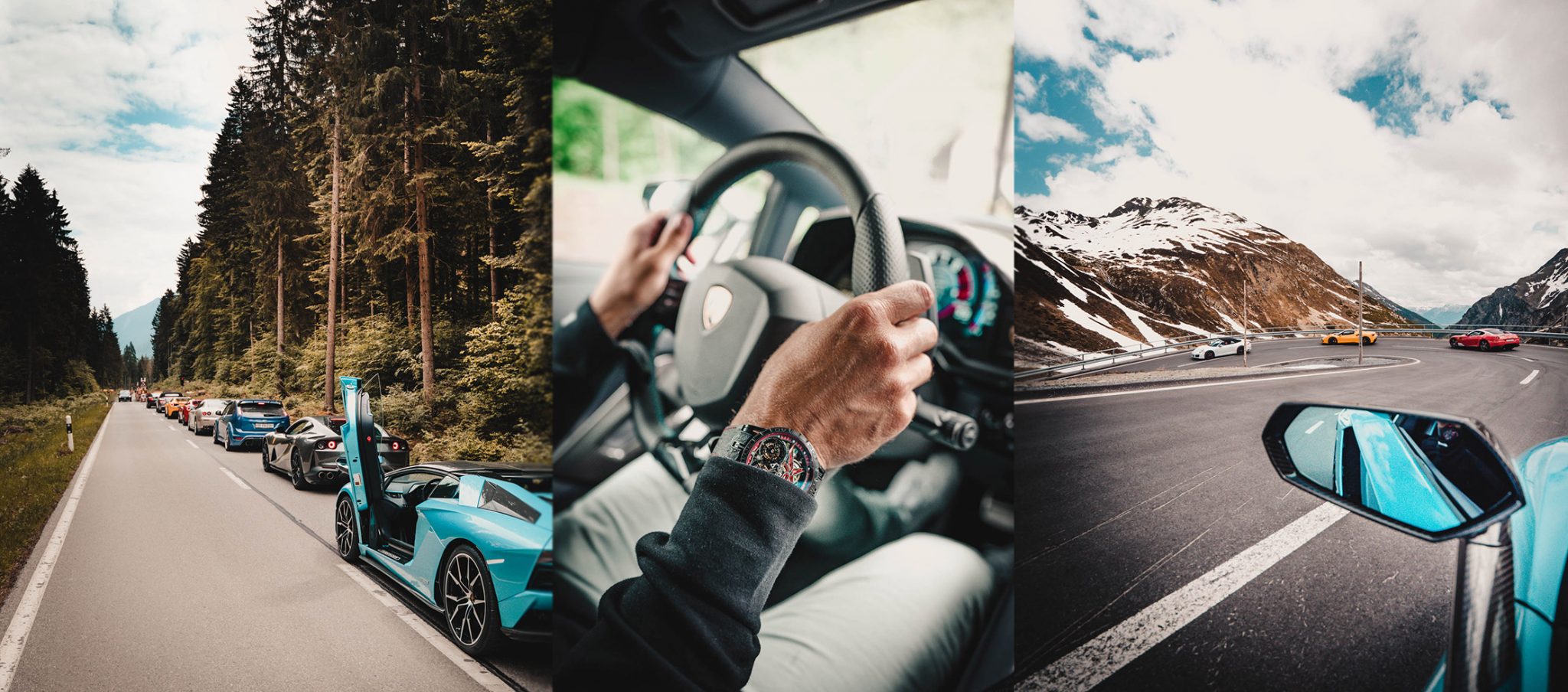 Run to Monaco 2018
The Excalibur Spider Lamborghini Squadra Corse watches split into two sub-sections; the Aventador S or the Huracàn models. Meanwhile, there is an array of variations of Pirelli's collaborative watches with Roger Dubuis. These watches use a range of different complications, such as the Pirelli PitStop's single flying tourbillon. An additional exciting element for racing fans is that the watches feature rubber inlays from Pirelli winning tyres.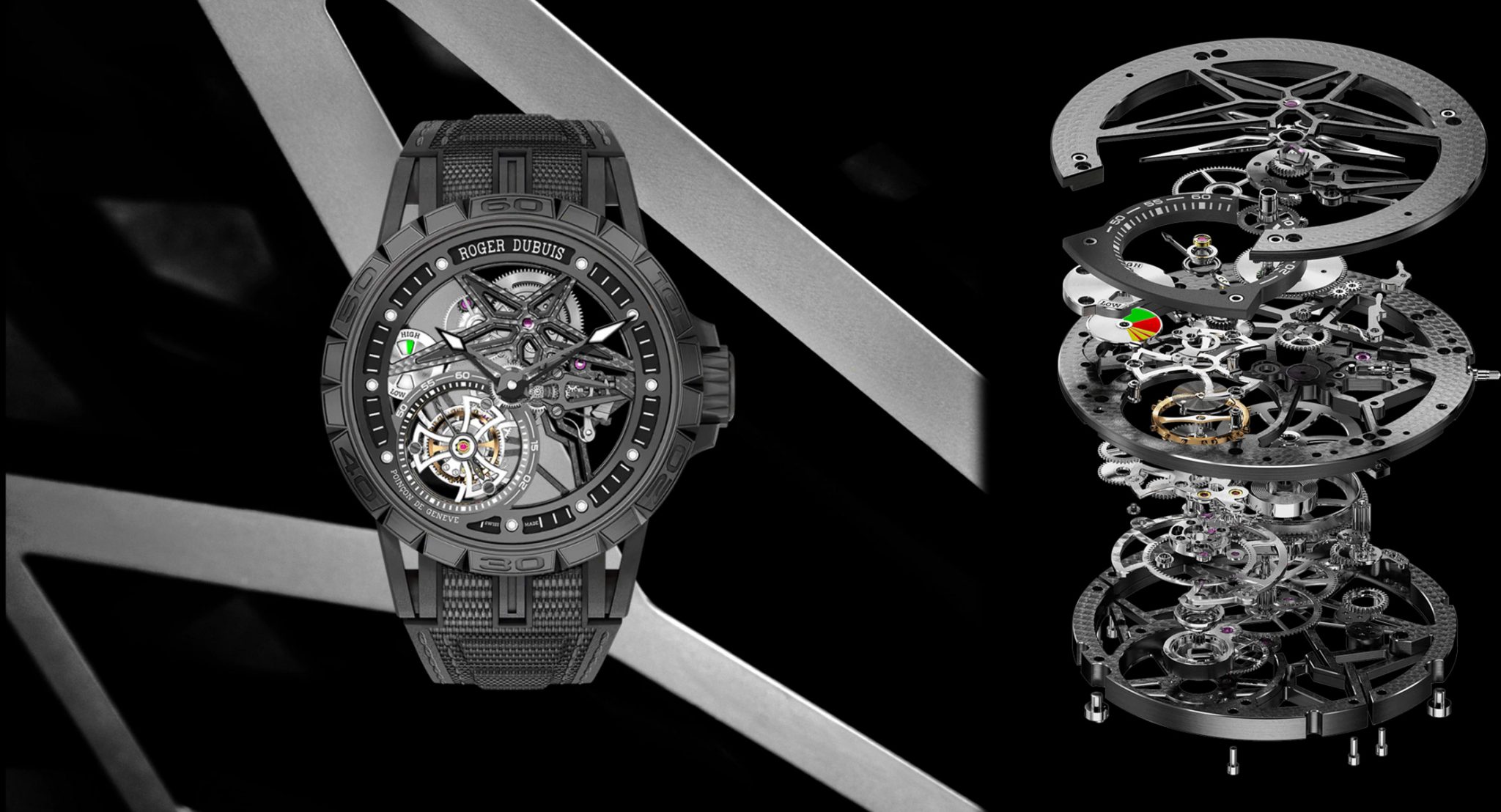 Excalibur Spider Pirelli PitStop – Single Flying Tourbillon
Highlights From Excalibur and Excalibur Spider Collections
Work of Art: Excalibur Knights of the Round Table IV
Excalibur, the name of the brand's best-known collection, refers to the sword pulled out of a rock by King Arthur – marking him as a true king. As the legend goes, "12 Knights took the oath of allegiance to King Arthur, swearing to spare no effort, overcome any obstacle and return triumphant." These 12 knights are valiantly positioned around the Excalibur Knights of the Round Table watches.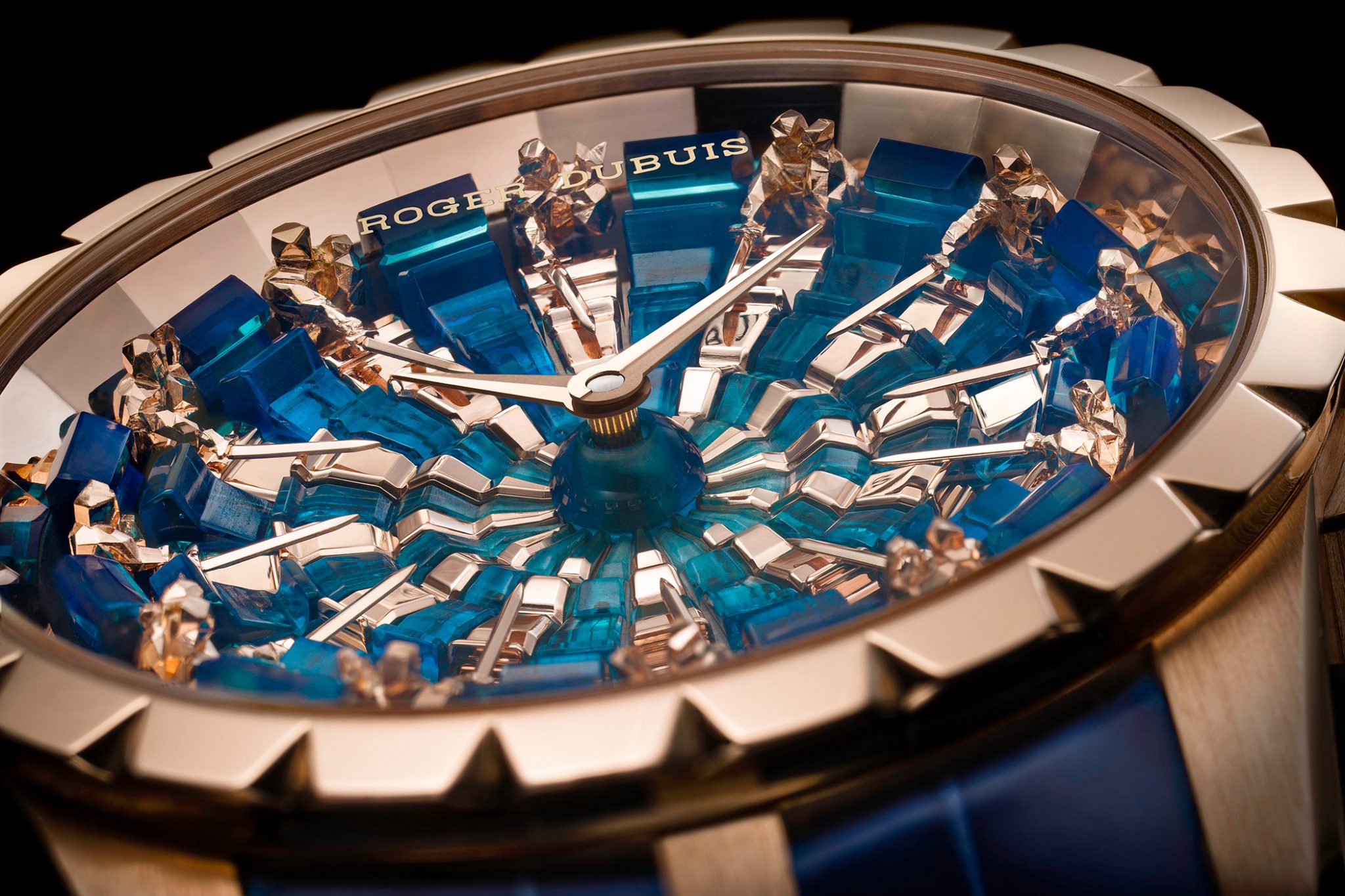 The first Excalibur Knights of the Round Table appeared back in 2013 and received a fair amount of publicity. Back then, it was a strange piece that was rather too obviously inspired by the Middle Ages. Now, however, it has developed into a contemporary, stunning, and undoubtedly luxury timepiece with a showstopping dial.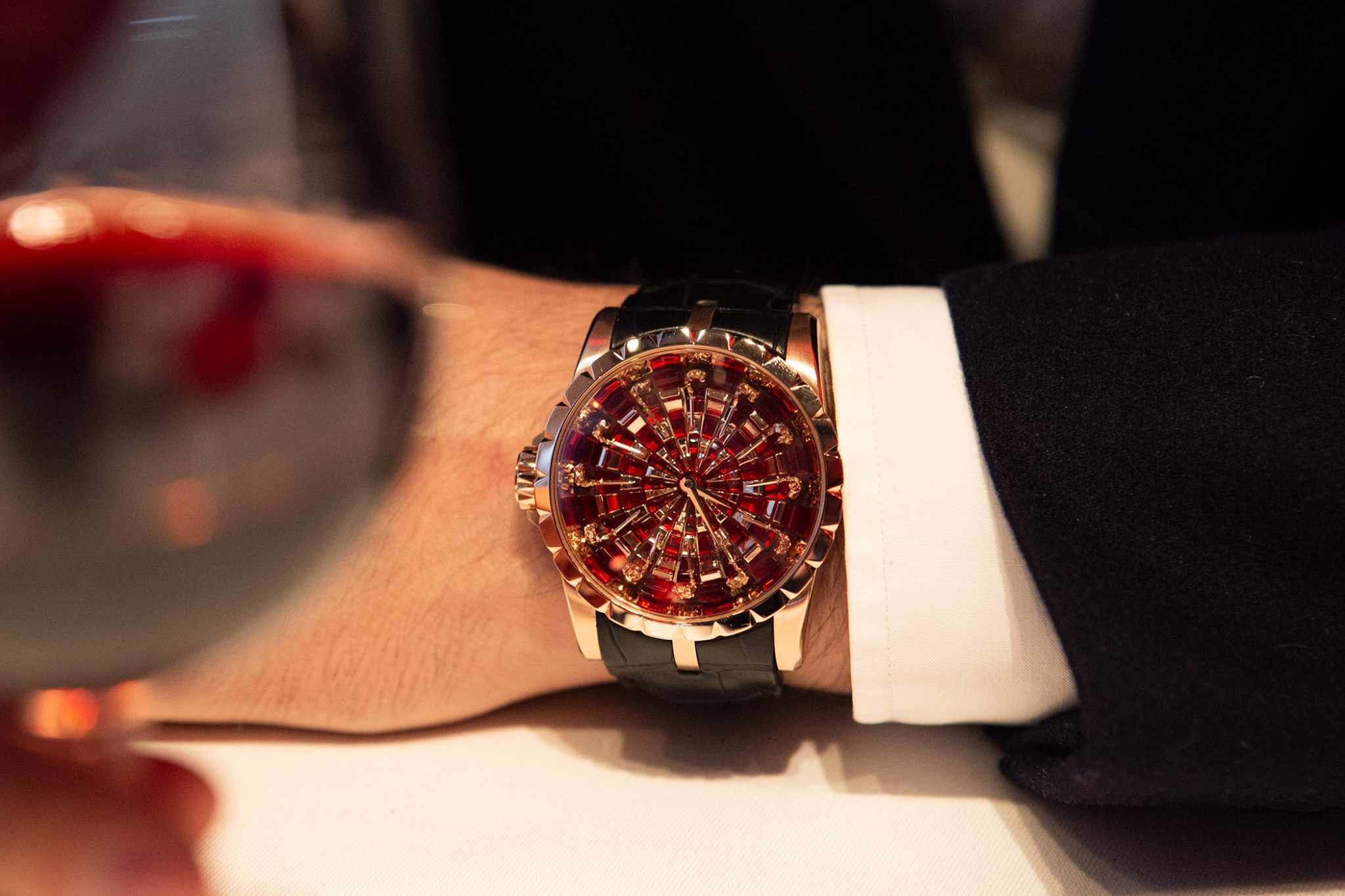 Excalibur Knights of the Round Table IV
In April 2020, the brand released its fourth 'IV' edition (RDDBEX0785). It flaunts a fluted bezel plus a fully gem-set dial with 3D solid enamel and 18-carat pink gold blocks. The knights themselves, inspired by LowPoly design art, are reproduced in 3 dimensions and measure a mere 6.5mm in height. Matching the 45 mm case, the knights have been cast in rose gold then sculpted, engraved and finished by hand. Additionally, it is powered by Roger Dubuis' latest-generation self-winding movement, the RD821, with Poinçon de Genève finishings.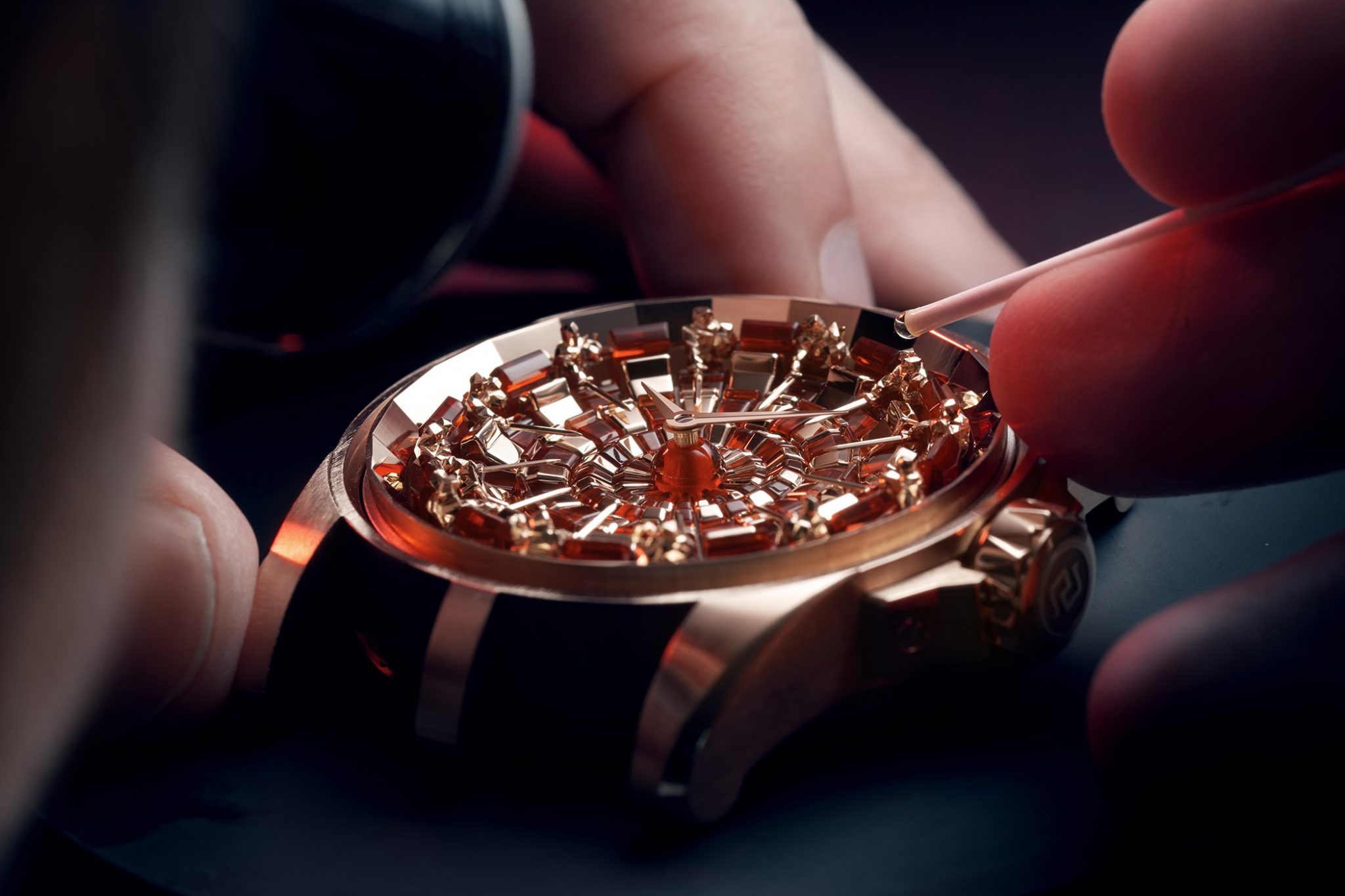 Excalibur Knights of the Round Table IV
Tribute to Lamborghini: the Aventador S and Huracán lines
Lamborghini and Roger Dubuis' partnership is a defining part of the manufacture's identity, and it presents itself in the form of the Aventador S and Huracàn models.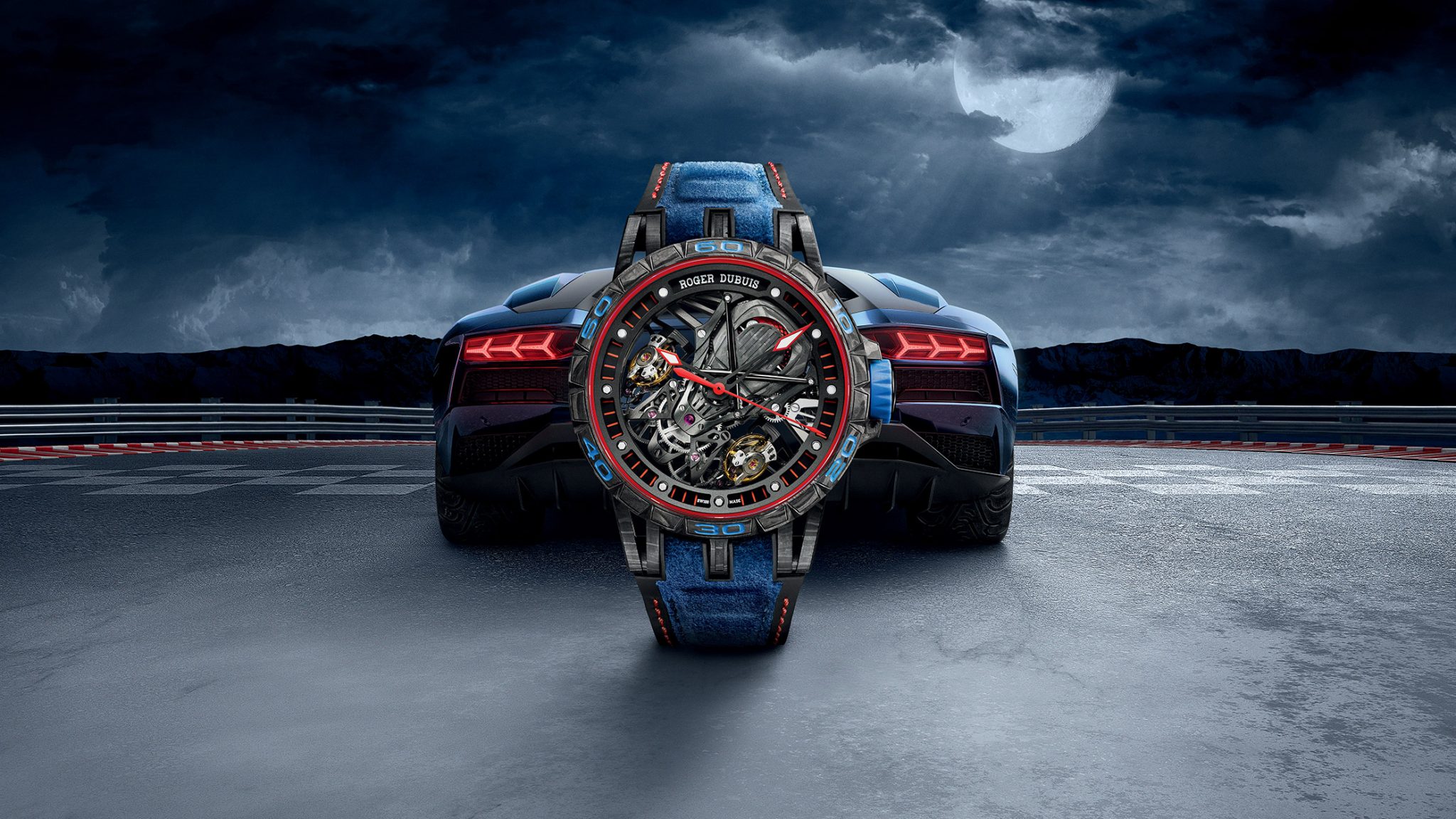 Aventador S (left)
Huracàn (right)
The Excalibur Spider Aventador S saw the creation of a number of different versions, such as the blue Excalibur Spider Aventador S (RDDBEX0686) with a 45mm forged composite C-SMC carbon case. The case is one of many of the inventive materials used by Roger Dubuis. It's worth taking the time to zoom in on the image (below) to view the Excalibur Spider's fully skeletonised dial, which reveals the 103SQ movement with 45° double-sprung balances, inspired by Lamborghini's Aventador S V12 engine. It's also visible through the exhibition caseback, meaning the incredible calibre can be observed from every angle.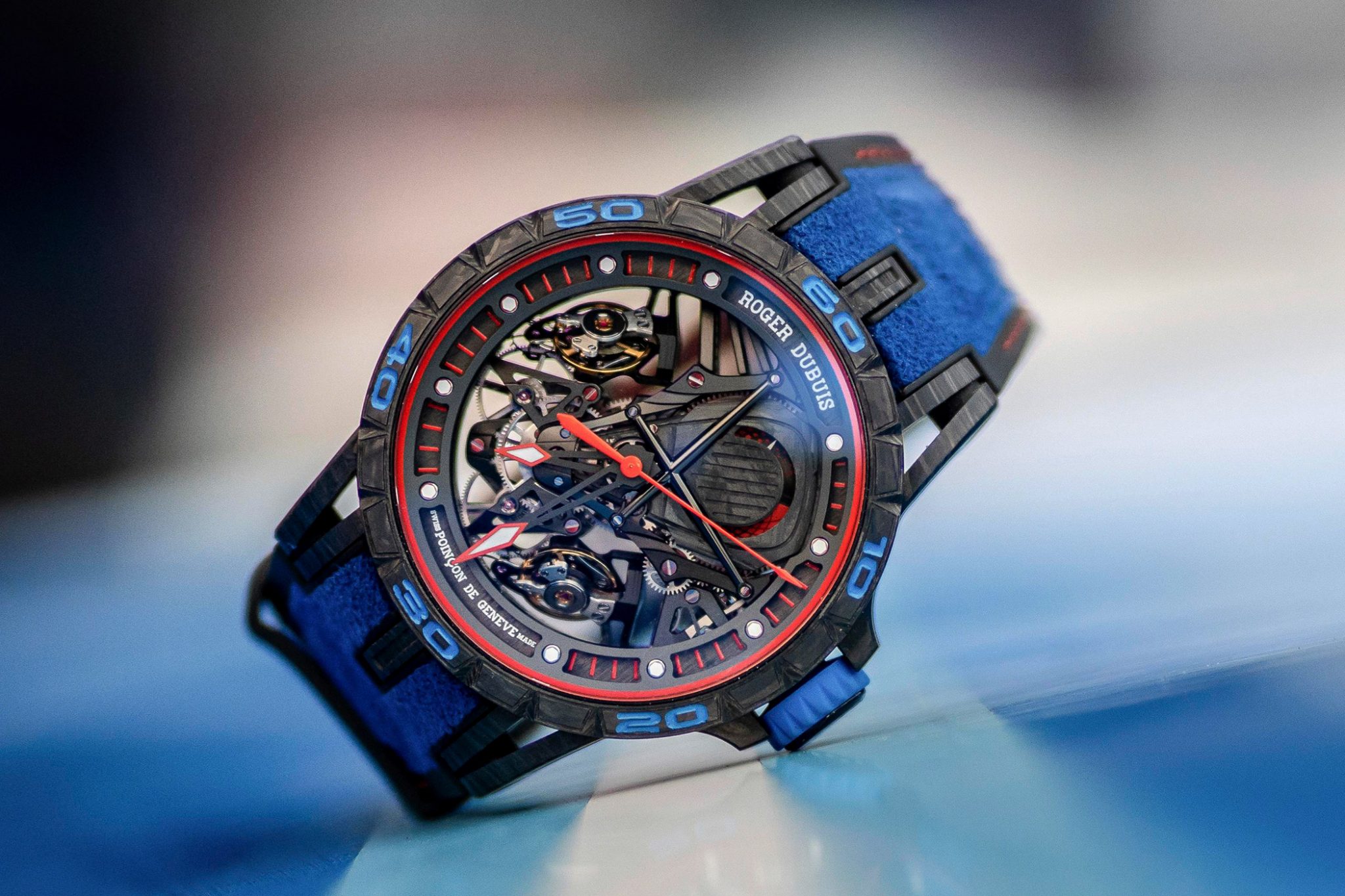 Excalibur Spider Aventador S (RDDBEX0686)
Meanwhile, the Excalibur Spider Huracàn has appeared in a number of different variations. At SIHH 2019, Roger Dubuis introduced two new Excalibur Spider Huracàn models, the Excalibur Spider Huracàn RDDBEX0748, as well as the yellow-detailed Excalibur Spider Huracàn Performante (RDDBEX0792). The former, the RDDBEX0748, displays several tell-tale signs of the collaboration – not least in terms of its calibre. The RD630 calibre was developed specifically for the partnership, and has a twin barrel power supply – or, as Roger Dubuis likes to call it, "energy tank" – allowing it to reach a power reserve of 60 hours. Taking it a step further (as always), the rotor is designed to resemble a super car wheel rim.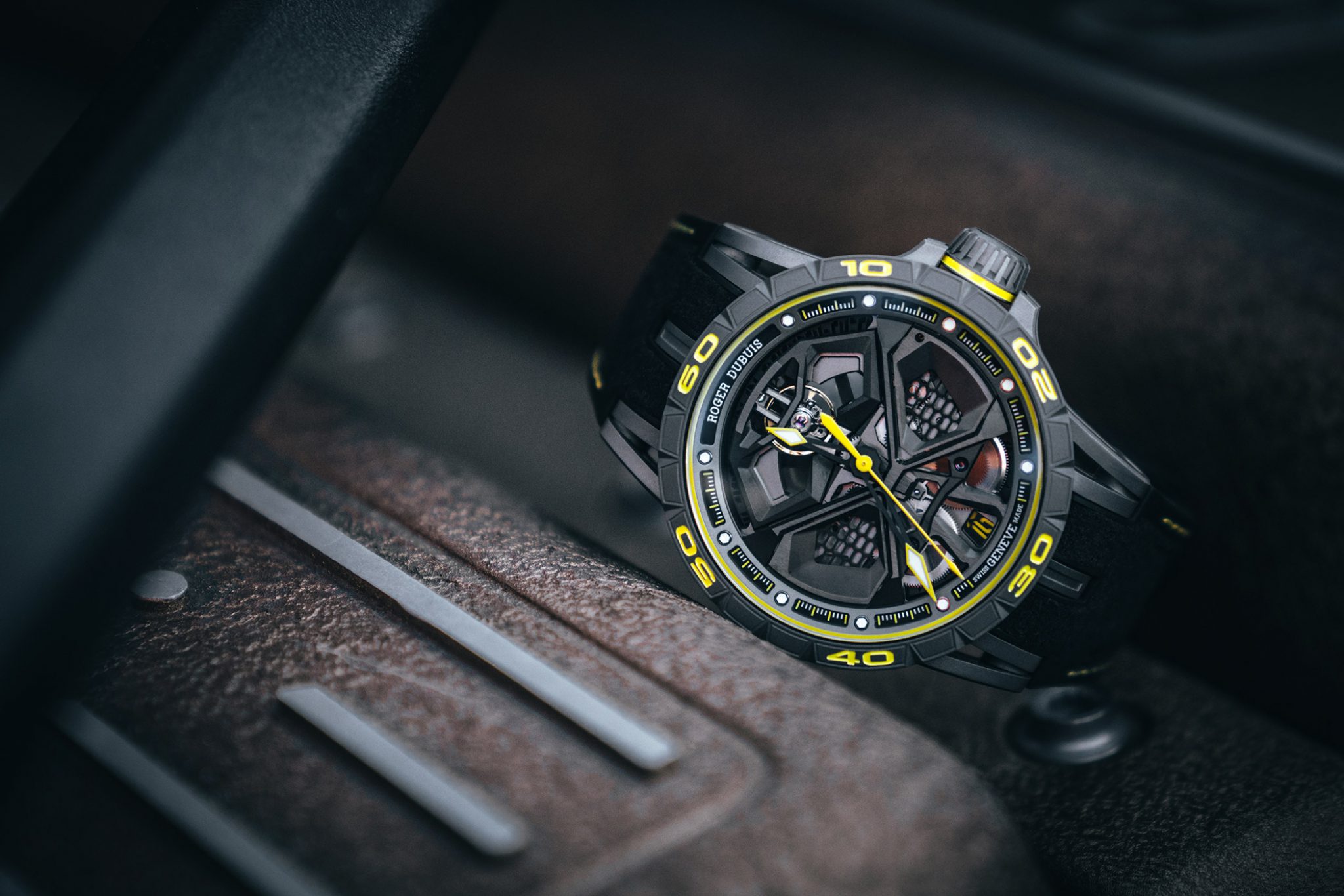 Excalibur Spider Huracàn Performante (RDDBEX0792)
Meanwhile, a particularly notable Excalibur Spider Huracàn Performante model is the titanium RDDBEX0784. From the 18-carat black PVD-coated gold hands with red transfers and white luminous SLN tips to the aluminium red varnished seconds hand, it makes for one of the brand's more overtly fast-paced pieces.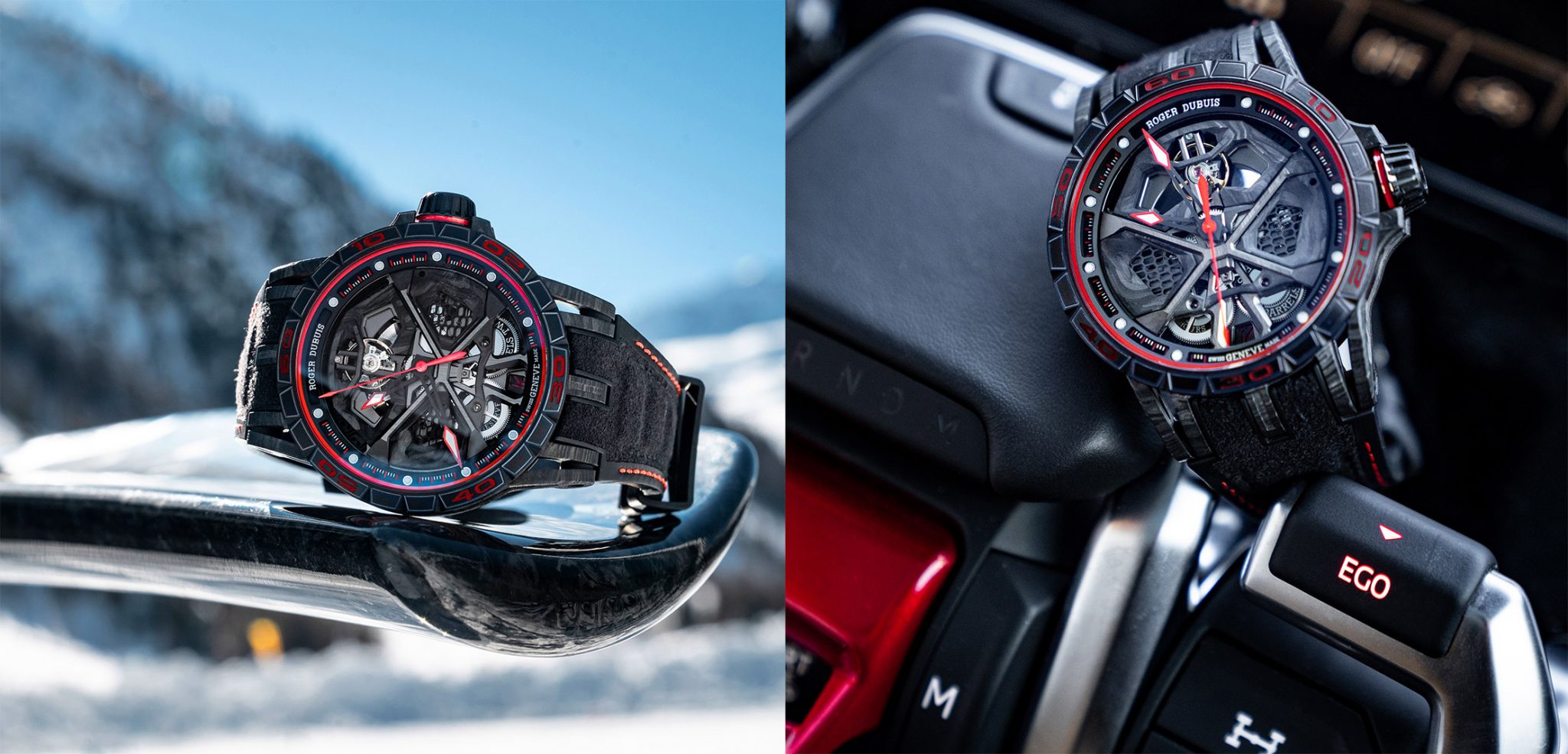 Excalibur Spider Huracán Performante (RDDBEX0784)
Partnership with Pirelli: Colourful Collaboration
Meanwhile, Roger Dubuis and Formula 1 tyre-maker Pirelli have partnered to create Excalibur Spider Pirelli Automatic Skeleton watches. Pirelli has a rather different way, however, of making its presence felt on its collaborative watches with Roger Dubuis – through colour.

Excalibur Spider Pirelli Automatic Skeleton
The colours of Pirelli tyres are used to represent different tyres according to weather conditions – e.g. when surfaces are wet, the suitable tyres with anti-slip rear tread patterns are used, and these are marked with blue.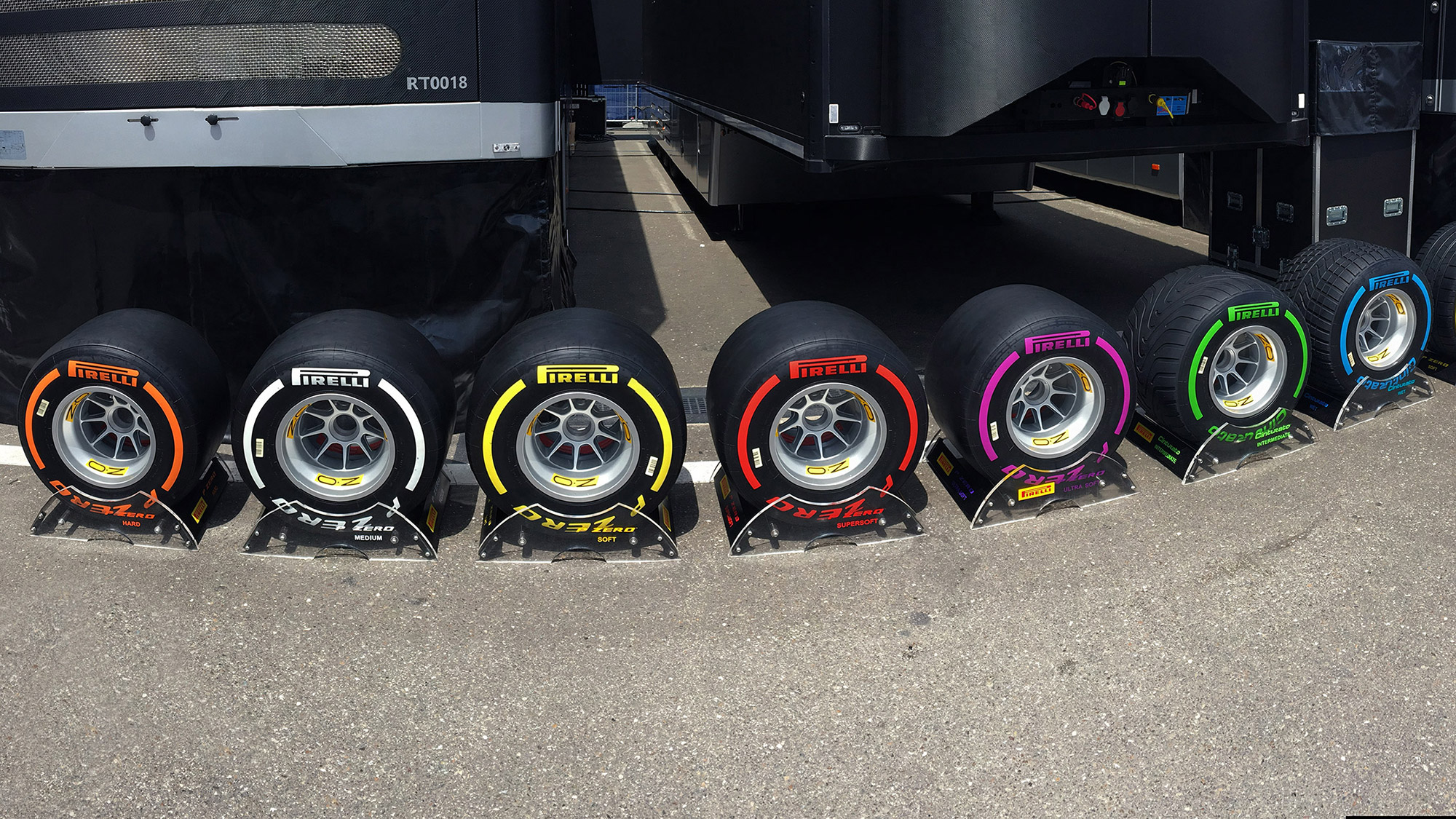 The bright colours of Pirelli tyres
Meanwhile, the Excalibur Spider Pirelli ICE ZERO 2 (RDDBEX0805) drew a fair amount of attention upon its release for different reasons. Limited to eight pieces, its sizeable 47 mm titanium black DLC case houses a double flying tourbillon with a 52-hour power reserve. Meanwhile, its strap is based upon a Pirelli tyre pattern created for ice tracks, with gritty-looking steel nails inserted throughout. What's more, this watch takes us full circle back to Andreatta, who personally delivered each piece to its new owner, before they were whisked away on an exclusive Lamborghini ice-driving trip throughout the Italian Alps. This is a perfect demonstration of how Roger Dubuis wishes to do more than wow its clients with its watches, but rather create an entire experience – whether in a unique boutique or an adrenalin-fuelled rampage through icy mountains.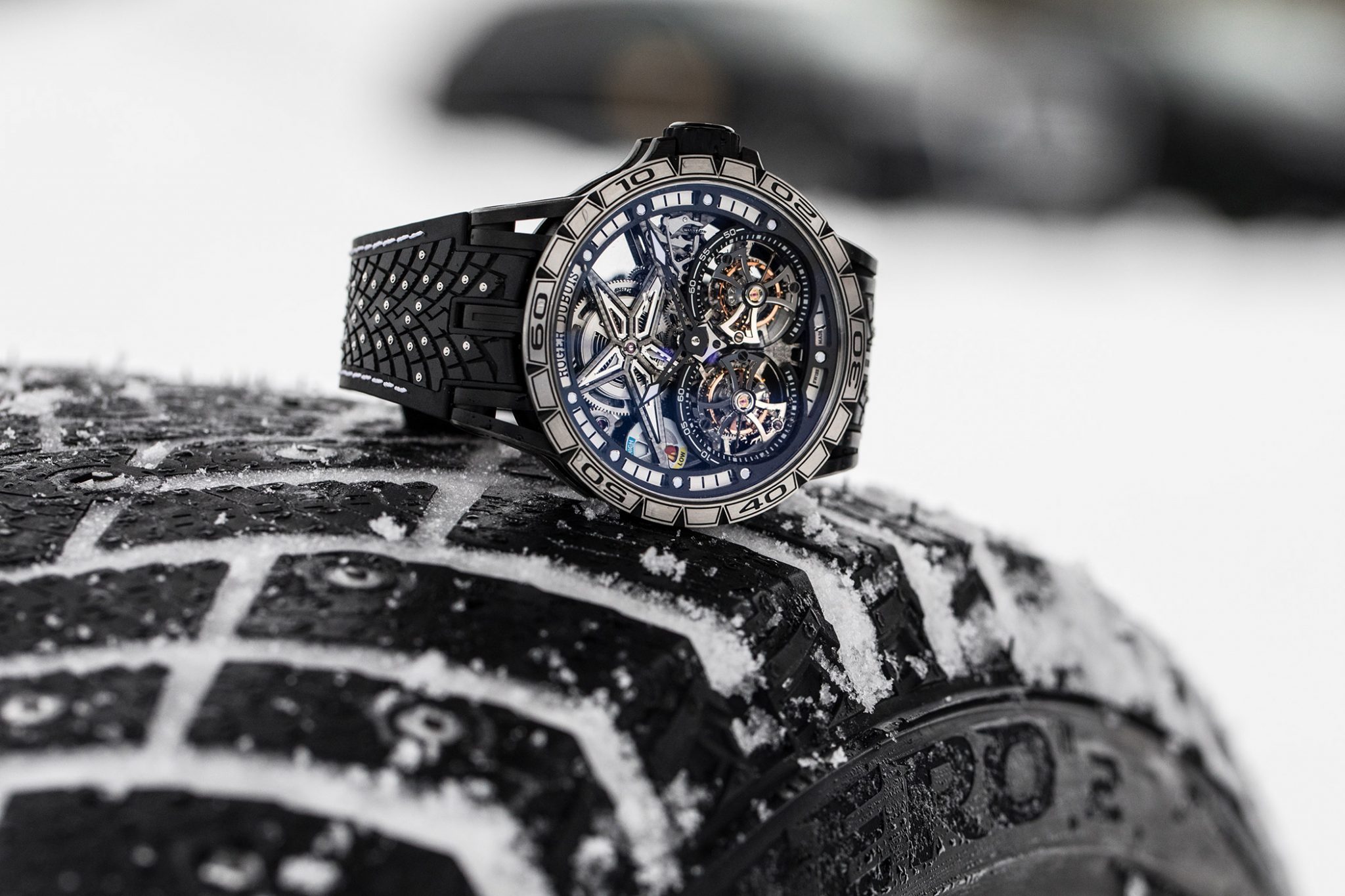 Excalibur Pirelli Ice Zero 2
Finally, we can take a look at the Excalibur Spider Pirelli Single Flying Tourbillon, introduced in 2017. Again, a rainbow of colour options were offered, this time matching the colours of the winning car tyres. The watch was more than aesthetically exciting; it integrated twin tourbillons, as well as a rubber strap created from a Pirelli tyre that was actually used in a race. The latest version, however, features only one flying tourbillon.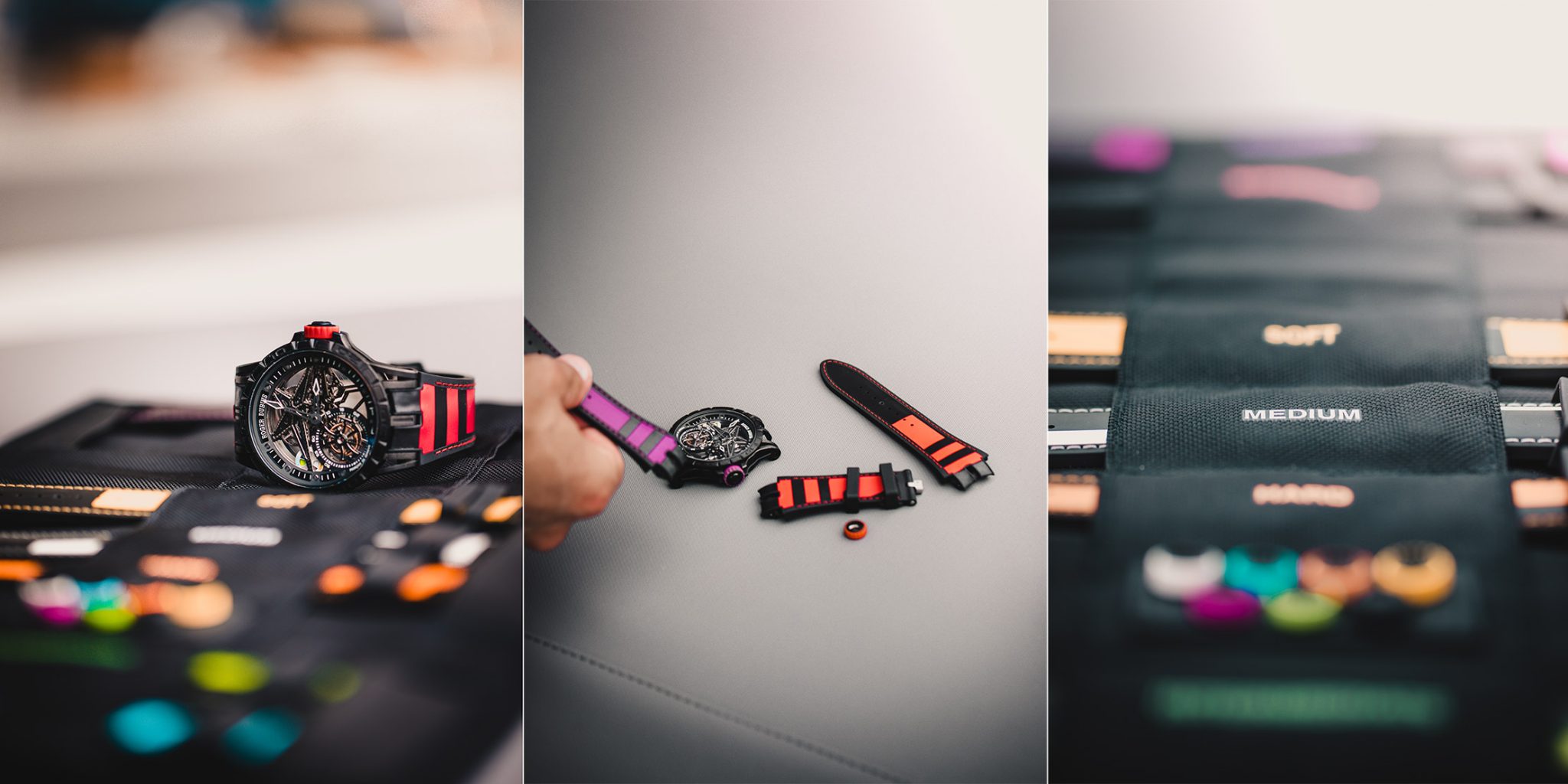 Excalibur Spider Pirelli Single Flying Tourbillon
Velvet & Rarities
This leaves only Velvet and Rarities left to discuss. The Rarities are actually more than just rare – they're unique, as clients can request the design of their own Roger Dubuis watch. This includes a choice of dials, case, and gems, as well as signed functional components and engravings. True to form, Roger Dubuis allow for full self-expression and attention to detail by even letting the client choose the packaging. Meanwhile, the Velvet timepieces are a more glitzy, sumptuous set of watches, which, like the Excalibur watches, use more traditional case materials.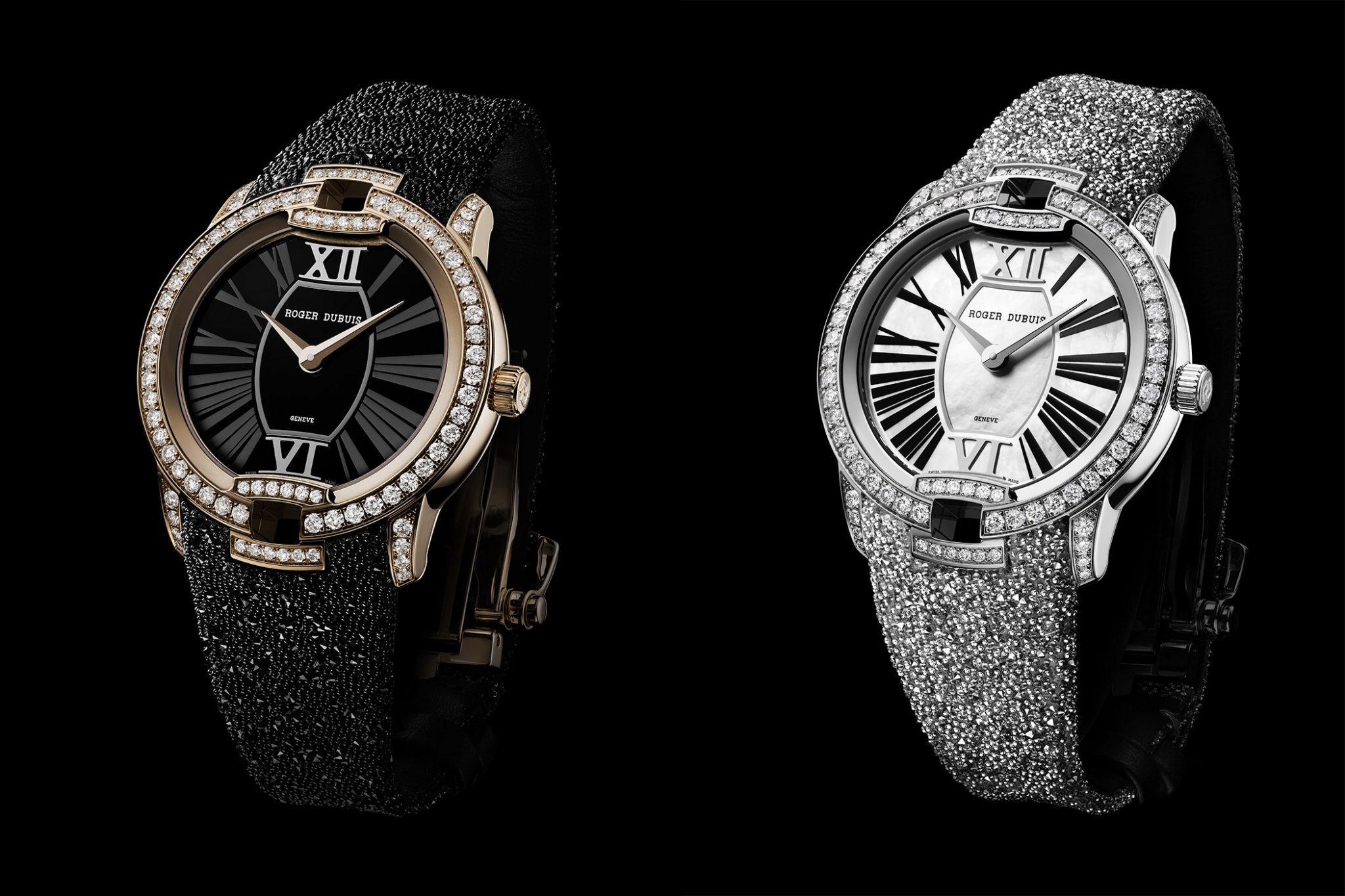 Glamorous: Roger Dubuis Velvet Collection
There's no denying that Roger Dubuis' bold, vibrant watches aren't to everyone's tastes. However, in this fast-paced world of trends and hypes, this can only be seen as a good thing. In any case, thanks to Andreatta and his not-so-'little adjustments', there's no doubt we can continue to count on the horology house to disrupt the world of watches for the foreseeable future.
---
---