Franz Linder has been president of the watch brand Mido, which is part of the Swatch Group, ever since 2002. In the watch industry, that's a hell of a long time to stay at the helm of a single brand. His recipe for success? He simply has fun with Mido. The brand, founded in 1918, has some notable milestones to its credit. Its first big breakthrough came in 1934 with the launch of the Multifort, a waterproof and anti-magnetic automatic watch, thanks to its 'Aquadura cork crown' seal. Today, Mido offers one of the most attractive promises of quality at a moderate price to be found in the world of mechanical watches. Nevertheless, this is not a mainstream brand. The movements are sometimes elaborately decorated, with Geneva stripes on the oscillating weight, guilloché or grained bridges, and blued screws. These days, you even find collectors meticulously searching for vintage models from the past decades. Just last year, for example, a Mido Bugatti watch by Ettore Bugatti was auctioned off for no less than 300,000 Swiss francs. We meet Linder for lunch in Paris, where Mido is celebrating its partnership with Red Bull Cliff Diving and where we discovered their new Ocean Star line.
1. What does a mechanical watch mean to you, which watch are you wearing today, and what watch do you wear the most?
---
For me, of course, mechanical watches mean craftsmanship and precision engineering. There are a lot of interlocking parts working together to provide a very precise display – and that is something I find truly great. Today I'm wearing the Ocean Star 600 Chronometer, which is the brand-new model we are launching here in Paris. Within the Ocean Star family, the Ocean 600 is the series that actually best combines all the values of the collection. Our goal with this watch was to really offer an additional variation; not just another alternative, but something really aesthetically different with this black, coated metal case and strap alongside the ceramic bezel. The watch has an anti-reflective sapphire crystal, 600 metre water resistance, a helium valve and the COSC-certified calibre 80 with silicon hairspring. This is technically the best we offer at Mido at the moment.
And which watch do you where most often?
As you know, I've been around here for a while and, accordingly, I do change my watch more frequently. But I have worn the blue Ocean Star GMT for a really long time now, particularly for private occasions. It's super comfortable to wear, very aesthetically pleasing and I would say it's been on my wrist most often over the last few years.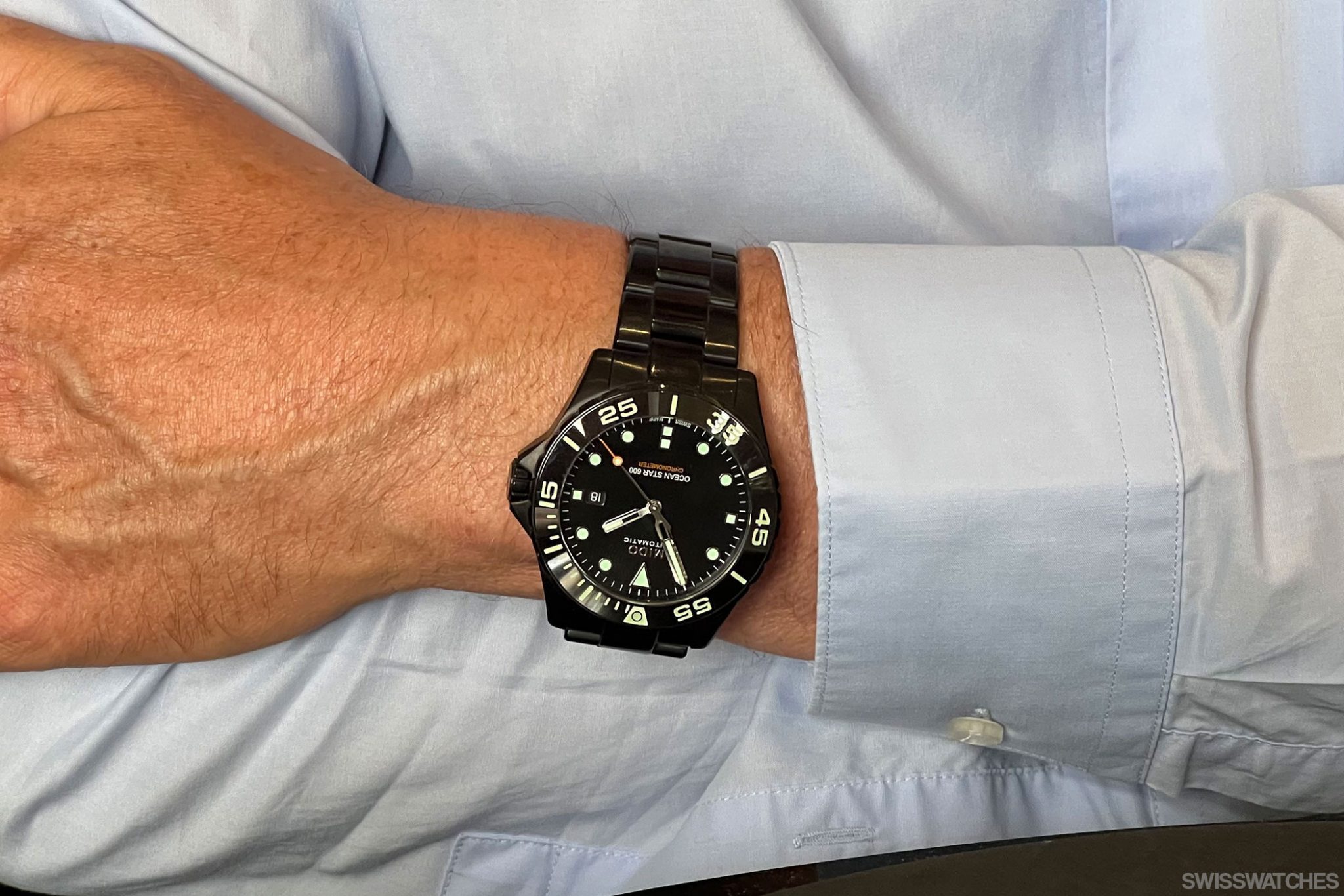 2. You have been president of the Mido brand since 2002. That is a remarkably long period in this fast-moving industry. What keeps you going for so long? And what is your strategy for success?
---
There have been other CEOs who have remained in office for a very long time. Then there was a generation change at certain brands. But as a rule, employees at the Swatch Group remain in office for quite a long time, because we are also in an industry that is oriented towards the long term. It's not an industry where you come in, quickly turn everything around and then think that's it. Our industry thrives on continuity, on giving the brand a clear identity. Additionally, of course, it's helpful if new people don't keep coming up with completely different ideas.
What is the secret behind staying so long and what is the strategy for success?
I enjoy my job. A watch brand like Mido is nice because you can be creative and really work on the DNA of the brand. It's a process that actually never ends, and it is rewarded by the great success the brand enjoys. Furthermore, my superiors seem to be happy with me so far, because I'm obviously still there.
3. In your opinion, what are the three most important Mido milestones since Georges Schaeren founded the company in 1918?
---
The most important milestone was in 1934, following the launch of the Multifort collection. At that time, Mido was very experimental and creative. It went from small, enamelled ladies' jewellery watches to the now very sought-after car radiator grille models, which are really very unique. These were actually watches in the shape of a radiator grille. Last year, for example, the Bugatti watch by Ettore Bugatti was sold. The selling price was somewhere around 300,000 Swiss francs.
From 1934 onwards, there was a stronger focus on our values, which still exist today. It was all about being innovative. There was an emphasis upon not only quality, but also robustness and timeless design. The Multifort was the first watch that was waterproof, shockproof, anti-magnetic and automatic. That was really a milestone at the time. Water resistance was of course a major challenge back then. Mido solved that by inventing the 'Aquadura' cork crown gasket. You have to imagine it as being like a wine bottle, only of course without any liquid in the watch. The cork was specially lubricated to keep it moist, then basically attached to the crown shaft in the case, before remaining just that tight for decades to come. Even if one forgot to push the crown in fully, it was just like a cork that's only pushed halfway into a wine bottle; still absolutely secure. That invention was a major breakthrough.
Another milestone took place in 1944 when the Ocean Star was launched, when it really became all about positioning to improve water resistance. Another important milestone was certainly in 1959 with the launch of the Commander. The watch today is still identical to the timepiece from back then. We have many icons in the watch industry, but to have such models that have changed so little over time is pretty incredible. Of course, the watch has been technically upgraded and brought up to date. But the aesthetics are really the same, from the diameter to the dial. We still sell the Commander today in many markets. Finally, perhaps the last major milestone was the positioning of the brand in the early 2000s: innovation, quality, precision and timeless design – coupled with a very clear focus on customers with a soft spot for mechanical watches. This had been a bit lost in the crisis-ridden 70s and 80s, when the brand had lost its DNA to a certain extent. I think we really found our way back to our roots.
4. Mido has some exciting historical models that are sold at auctions today for tens of thousands of Swiss francs. In April 2021, a Mido watch by Ettore Bugatti went for just under 300,000 euros. Do you see Mido as a collector's brand? Are you in contact with collectors?
---
Well, we get requests for historical data on certain watches all the time. What happened last year with the Bugatti was a nice way to show that Mido has a rich past. And we don't just have the Bugatti; we also have the Decompression Timer and the Centerchrono. We have beautiful historical models, and it's not like Mido is headed down a pre-owned track as is common in the luxury sector at the moment. Nevertheless, we have a lot of people who are interested in buying vintage products from us.
The Decompression Timer was also proof that collectors are also interested in it, because the watch was gone very quickly.
I am in contact with many people and what I hear from watch fans and collectors is very interesting. One particularly nice story about the Decompression Timer: a big collector from Hong Kong presented his collection to me, including the Mido models he has, and I was impressed to also see the other brands in this collection. Mido is certainly not insignificant for collectors – especially a few specific references that are in great demand.
5. How does Mido, founded in 1918 by a watchmaker Georges Schaeren, and the Red Bull Cliff Diving World Series fit together?
---
The collaboration with Red Bull Cliff Diving came about when we wanted to put more focus on our Ocean Starline. The collection has been around since 1944, but in recent years the focus has been more on Commander, Multifort and Baroncelli. So, we considered how we could combine the themes of architecture and sport so that they harmonise with each other, while keeping our values of innovation, precision, and quality in mind. To answer the question, we actually have four overlaps here. It's about precision and performance by the athletes. Then there's the issue of water – also very important to us. Plus there's the fact that more and more events are taking place in an urban setting, so not just jumping off cliffs. For example, we had a jump in Bilbao with the Guggenheim Museum in the background, plus we have the location here at the Eiffel Tower in Paris, which again inspired our Commander. Or in Sydney, where the Harbour Bridge stands, which is connected to the Multifort. In addition, Mido watches are emotional: cliff diving is likewise very emotional. Both our watches and the sport are beautiful and pleasing to watch.
6. Your automatic movements are quite elaborately decorated, with Geneva stripes on the oscillating weight, guilloché or grained bridges and blued screws. How important are these details to your customers in this price segment?
---
Whether these qualities are decisive is, of course, always an individual question. But we want to offer the customer the best possible quality in this price segment. Finishing is simply part of that, because aside from the Ocean Star, we show the movements so that the customer can enjoy them – now including on the Multifort Skeleton Vertigo, by the way. Since you can also look at the movement from the front, we have gone to great lengths to make this look attractive and to refine the components.
Tell us a little about the materials that you work with, and the ideas behind them?
Of course, we are already in the Swatch Group world. We are lucky to thus benefit from the industrial power of the group, but also from the whole Research & Development area, where we are also trailblazers in the group in many areas. We have great suppliers for cases, for ceramics and factory components.
Do you work together with Rado in the field of ceramics?
For ceramics, we work together in the group with the company Comadur. From them, of course, Rado also sources parts alongside other sister brands. We have access to them everywhere. Our standards are actually set by our suppliers, who do their own Research & Development – and we can benefit from that. I think we are on a very good level in that respect.
7. Which market is particularly important for Mido? Where can one find many of the brand's fans?
---
Traditionally, Mido is very strong in Latin America. When I look at our brand awareness and market share, Mexico is our strongest market. Mido has grown there because the brand has simply been cherished and cultivated over decades there, is very well known and enjoys an excellent reputation. Then there are various markets in Asia, where the majority of our business is done today, where Mido is very strong and in demand. Traditionally, these are markets like Thailand and Indonesia. In the last 20 years we also entered China, Korea and other markets. We have also been active in Japan for a few years. There is certainly more potential to unlock there – our market shares are certainly higher in the other markets than in Japan.
8. What is your strategy to introduce young people to mechanical watches? Many brands are trying to introduce a young target group to mechanics with smartwatches. What is the Mido brand's position on this? You said the company makes 90% mechanical watches now, and that smartwatches will probably not become an issue.
---
No, I always say, "let the cobbler stick to his last". We have developed a certain positioning over the years and strengthened the brand as a result. The precision mechanics, the durability, the details – it's a completely different claim. We sell an emotional, high quality mechanical product and we are not here to sell a purely functional product. I think these are two worlds that are really very different.
And back to the other question: what is your strategy for gaining interest for the brand from younger generation?
We try to inspire young people with beautiful products and accessible prices for mechanical watches. Of course, a thousand euros or more is a lot of money for many people, especially young people. Firstly, we want to offer the best possible price for a technically high-quality mechanical watch. Secondly, as we are doing right now here in Paris, we bring emotions into play. We like to combine the watch with activities that are not only emotional but also convey a message. Here at the cliff diving event, it's about beauty, aesthetics, as well as precision and competence. That's why we do partnerships like this one with Red Bull Cliff Diving.
9. How would you describe the Mido customer?
---
Interestingly, especially in Germany, the customer is usually well-informed, and buys our brand very intentionally. The first criterion is to like the product and the story behind it, but our customers also tend to appreciate understatement. Our customers include engineers and many tech-savvy people who could buy a more expensive watch, but with Mido they know they are getting a mechanically high-quality and beautiful product for a good price. They don't necessarily want a luxury brand as a status symbol on their wrist. Also, the younger generation likes to buy Mido as their first real mechanical Swiss watch as an entry-level watch, so to speak, into the world of watches. This is an important customer for the future, because the enthusiasm for mechanical watches actually comes from the first product.
10. Calibre 80 ticks in various Mido editions. How does it differ from ETA's Powermatic calibre, which also comes off the production line for some brands at your parent company Swatch Group?
---
Basically, it's the same movement, but we have certain components where our movements differ from the Powermatic basic movement in terms of materials and finishing. In terms of technology, it's the same principle. It's just a matter of certain components within the movement that differ.
So you then refined the Mido movements a little?
Yes, we have certain standards of our own where we try to go the extra mile.
11. What do you see as the biggest challenge in the coming years as you further establish the Mido brand?
---
The Covid years were already unusual years in the behaviour of customers and how they engaged with the subject of watches. I hope we will now see a return to normality. The challenge for the future is that we must continue to inspire young customers into engaging with mechanical watches. There is a different communication dynamic today thanks to the new digital channels than in the past. Thus, one challenge is to find the right language in these channels, where we can reach the customer and inspire them with our products. In the past, 20 years ago, it was relatively simple and straightforward: a few advertisements, a few billboards and maybe some cinema advertising – and then it was done. Today, marketing is much more complex.
12. In your opinion, in what direction is the watch industry moving?
---
That is very difficult to assess. I very much hope that people will develop more appreciation for such products again, that after the pandemic people will have more fun wearing a watch, and that there will be less speculation. You can see how behaviours have changed across many industries – but in the end, I think we are creatures of habit. We go back to our own old pleasures. Going out and being among people again, you also enjoy wearing a beautiful product. It's simply a nice feeling when your friend recognises your new watch, and you can talk about it. You don't have these emotions or conversations behind the computer at home, as there any old tracksuit will do. When I look at our positive sales figures in Germany, I feel confident.
---
---